"LEGOLAND Japan" in Nagoya to Hold First Halloween Themed Event!
The family fun kids theme park LEGOLAND Japan is going to hold a Halloween themed event called BRICK-OR-TREAT from September 14th to November 6th.
"BRICK-OR-TREAT" will be the first Halloween event held at the park since its establishment. For the event, a giant pumpkin will be displayed on the main stage made of almost 62,000 lego blocks standing at approximately 1.4m high, 2.3m wide and 1.8m deep. From the moment you enter the park, you will be sucked into a lego Halloween world.
At LEGOLAND Japan, there is a show called "Smile Connection" where characters and performers put on a fun performance for guests. This will turn into a special Halloween version in time for the spooky season! Smile Connection promises to be an event more exciting show with first-time Halloween appearances from a range of characters including Frankenstein and the Mummy.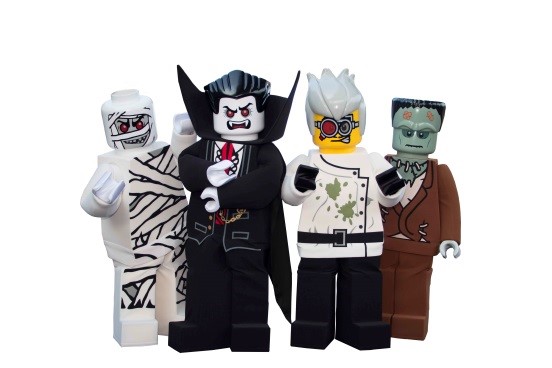 The park will also hold a Halloween costume contest on Fridays, Saturdays, Sundays and Mondays. Judges will be made up of a vampire and a clown, who will pick out children with the best outfits. And very special presents have been prepared for winners! A final winner will also be chosen out of all the winners of each contest for the best costume, and they will receive a big prize.
Kids can look forward to all the candy that is being prepared at the candy station. The shops and restaurants in the park will also receive a complete Halloween overhaul to sell Halloween themed merchandise and food.
*Full details regarding the Halloween food and merchandise will be made available at the end of August.
If you are in Japan during Halloween season, then why not make your first stop LEGOLAND Japan?
■Information
"BRICK-OR-TREAT"
Address: 2-2-1 Kinjofuto, Minato-ku, Nagoya, Aichi
Open: 10:00-20:00
Running: September 14th to November 6th
Official Homepage: https://www.legoland.jp/
Related Article:Dress Up as Your Favourite Disney Character and Join in the "Disney Halloween Fun and Run" at Tokyo Disneyland!
Related Article:Have fun making delicious creations with the new Tsukuru Oyatsu Series Pokemon Choco Maker!!
RELATED ENTRIES
Sanrio Puroland Halloween Makeup Developed in Collaboration With POLA

POLA INC. is collaborating with Sanrio Entertainment's amusement park Sanrio Puroland for their ongoing PURO HALLOWEEN PARTY event which is being held both at the park and online. The company has developed cute and sophisticated Halloween makeup inspired by the looks being worn by the Sanrio characters at Puroland for Halloween.

Halloween is a time to dress up as your favourite spooky figure, and POLA has jumped on board by creating a range of makeup looks to support Halloween outfits this year that anyone can do at home. Each look has a step-by-step visual guide as well as a video to help you along the way.

All the products used for the looks are by POLA and can all be bought at their nearly 4,000 stores including the 670 POLA THE BEAUTY branches and their flagship store POLA GINZA. Select branches in China, Taiwan, Hong Kong, Thailand, Macao, and Singapore are also stocking the items.

Cute Halloween Confections Make Their Way to Ginza Cozy Corner This October

Ginza Cozy Corner released a new collection of Halloween confections on October 19.

JOYJOY Halloween Party (9 Included) | ¥2,400 (Before Tax) | Available: October 19, 2020 – October 31, 2020

The tasty line-up features a collection of playful ghouls and ghosts partying at a haunted house. Bites include an eyeball tart, orange-flavoured Jack-o'-lantern roll cake, and lots more. Plus, the box they come in can be cut out and used as a photo prop for snapping cute Halloween pictures.

Imp's Trickster Mont Blanc | ¥580 (Before Tax) | Serving: October 19, 2020 – October 31, 2020

There's also a colourful mont blanc layered with four different creams: strawberry, lemon, melon, and blueberry, and inside—a mouth-watering tangy orange sauce surprise.

Kaori's Easy Recipe: Learn to Make Jack Skellington Stained Glass Cookies

With just a small bit of ingenuity, turn everyday food into something cute using Kaori's Easy Recipe! With a few simple ideas, an ordinary recipe magically transforms into a cute dish.

I have the perfect Halloween recipe for you this time. If we're talking Halloween, then who else but Jack Skellington is the man for the job? Here's my recipe to make Jack Skellington Stained Glass Cookies.

Ingredients

 

70g unsalted butter
50g icing sugar (or high quality white sugar if you don't have)
A pinch of salt
30g egg
110g weak flour
10g black cocoa
1 white chocolate pen
Hard candy of your choice crushed into small pieces

*To crush the candy, you can put into a zip lock bag and use a rolling pin

1


Place all ingredients except the egg into a food processor and blitz. After, place the egg into the blitzed mix and blitz once again. Once combined, wrap with cling film and place into the refrigerator for 1+ hours until set.

2


Use a rolling pin to roll out circles of equal thickness for Jack's head. Use a cutter to cut out the eyes, and place into the refrigerator one more to set.

3

Bake in the oven at 180°C for 10 minutes and take out again.

4


Place your crushed candy into the eye holes and bake for a further 5 minutes.
*The candy will melt into place and even out, so feel free to pile on the pieces

*Be careful not to overcook the candy as it will turn brown

5


Allow to cool. Be very careful handling and placing down the cookies as the eyes will be delicate. Decorate Jack's nose and mouth with the chocolate pen and he's ready for your Halloween party!

Kaori invites you into her world of character-themed food dishes in her recipe series. Be sure to check out her Instagram where she has uploaded many pictures of her character dishes!

Kaori Kubota (@kaopan27)

I live in Hokkaido and I love to make character themed foods, desserts and pastries♡

I want to see my family smile, so I enjoy putting in a bit of effort to make character foods and changing food into something cute♡

You can see more of my character foods and character bento boxes on my Instagram page → @kaopan72

Disney: Twisted-Wonderland Mobile Game Gets Themed Cafes in Tokyo, Osaka and Nagoya

LEGS, INC. has announced that it will open three cafes themed on the mobile game Disney: Twisted-Wonderland at OH MY CAFE branches in Tokyo and Osaka on November 20 and in Nagoya on November 27.

Disney: Twisted-Wonderland is a Japanese mobile game that was released on March 18, 2020. The concept, character designs, and scenario for the adventure rhythm game were conceived by Yana Toboso, the creator of the popular Black Butler manga series. The game is centred on the villains of Disney.

The cafe's theme places customers in the food hall of Night Raven College, the magic training school where the game is set. It will be adorned in decorations inspired by the game's food hall, and coupled with that, the cafe will serve up food and drink that actually appear in the game. There's also exclusive merchandise for players to get their hands on.

The Menu

There are four different lunches to pick from, all of which are low in salt content and so are a healthy option for wizards and witches flying into the cafe.

Food

<Lunch Option A>


Deluxe Menchi Katsu Sandwich | ¥1,990, with plate ¥4,290 (Before Tax)

The most popular item on the food hall's menu is the non-fried menchi-katsu meat cutlet sandwich.

<Lunch Option B>


Salmon Cream Stew | ¥1,990, with plate ¥4,290 (Before Tax)

A cream stew packed with salmon and vegetables and served with slices of baguette for dipping.

<Lunch Option C>


Tomato Base Squid Ink Pasta | | ¥1,990, with plate ¥4,290 (Before Tax)

A colourful tomato-based veggie pasta in squid ink and served with fruity yoghurt.

<Lunch Option D>


Four Mushroom Risotto | ¥1,990, with plate ¥4,290 (Before Tax)

A creamy, mild-flavoured risotto served with four different kinds of mushrooms.

Drinks


Character Drinks (7 Flavours) – Heartslabyul, Savanaclaw, Octavinelle, Scarabia, Pomefiore, Ignihyde, Diasomnia | ¥890 with coaster ¥1,790 (Before Tax)

A selection of colourful tinted waters inspired by seven different characters seen in the game.

Merchandise


Superdeformed Series Art Example


Pattern Series Art Example

Magic-wielding players can get their hands on a selection of merchandise both at the cafes, and from November 20, via the OH MY CAFE STORE website. There are two different designs for the merch line-up as pictured above.

Bonus Items

Customers who book a table in advance (¥650 before tax per person) at the cafe will receive one of 22 possible lunch mats, and if they order a drink, one of 22 coasters.

©Disney

Information

Disney: Twisted Wonderland @ OH MY CAFE

OH MY CAFE TOKYO

Address: Tokyu Plaza Omotesando, 4-30-3 Jingumae, Shibuya, Tokyo

Running: November 20, 2020 – January 31, 2021

kawara CAFE&DINING Shinsaibashi

Address: Shinsaibashi Opa Floor 9F, Nishi-Shinsaibashi, Chuo Ward, Osaka, Osaka Prefecture

Running: November 20, 2020 – February 2, 2021

kawara CAFE&KITCHEN Nagoya PARCO
Address: Nagoya PARCO, 3-29-1 Sakae, Naka-ku, Nagoya-shi, Aichi
Running: November 27, 2020 – February 9, 2021

Official Website: http://twst.ohmycafe.jp

Shibuya's L'OCCITANE CAFE Reveals Spooky Parfait For Halloween 2020

L'OCCITANE CAFE Shibuya is getting ready for Halloween with the reveal of its sweet potato and apple parfait which will be served from October 21 to 31. The Tokyo-based cafe is centred on the food culture and lifestyle of Provence in southern France.

Sweet Potato and Apple Parfait | ¥1,280 (Tax Included)

The seasonal treat is a mix of purple sweet potato and regular sweet potato, baked apples, apple sherbet, and vanilla ice, all topped off with whipped cream, roasted nuts, and almond tuile biscuits in the shape of ghosts and a pumpkin.

Information

Sweet Potato and Apple Parfait
Serving: October 21, 2020 – October 31, 2020

L'OCCITANE CAFE Shibuya
Address: 2-3-1 Dogenzaka, Shibuya, Tokyo
Opening Hours:
[Sun-Thur] 11:00~22:00 (Last Orders 21:00)
[Fri-Sat] 11:00-23:00 (Last Orders 22:00)
TEL:03-5428-1563
Access: Straight ahead of Shibuya Station's 5th Exit (Inokashira Exit)
L'OCCITANE Japan Official Website: https://jp.loccitane.com/

BT21 Cafe to Open in Tokyo, Osaka and Nagoya For Autumn 2020

The 7th run of the popular BT21 Cafe is set to open in Tokyo, Osaka, and Nagoya starting from October 17, 2020.

BT21 are the LINE messenger app characters created by K-pop group BTS. The cafe has seen six runs in Japan until now, and has proven immensely popular amongst fans for the selection of original dishes and drinks as well as exclusive merchandise. The 6th run ran back in February and March with a spring theme.

The theme of the 7th edition is centred on having a pyjama party in the long autumn evenings. The cafe artwork as well as food and merchandise is all themed on the autumn season.

FOOD

The food menu is a choice of a main, such as pasta or paella, and a side like clam chowder which is served up a cute character mug of your choice.

Fish Ragu Fusilli Pasta Set Menu Example | ¥1,490

A fusilli pasta dish served with a seafood tomato sauce.

Eggplant & Zucchini Lasagne Set Menu Example | ¥1,490

A lasagne served with the summer vegetables eggplant and zucchini as the main ingredient.

Seafood Paella Set Menu Example | ¥1,490

A Spanish dish containing Paella made with a seafood stock and served with potato wedges covered in a bravas sauce.

Margherita Pizza Set Menu Example | ¥1,490

The staple takeout pizza topped with tomatoes, mushrooms, and basil.

DESSERT

A selection of cakes served in different mugs with BT21 character designs.

Shortcake / Chocolate Cake / Mont Blanc / Cheesecake  – ¥1,290 Each

DRINKS

Drinks are self-service and include carbonated water, milk, and other beverages all of which can be topped with a dollop of character ice cream. This is a new kind of drink to be introduced at BT21 Cafe.

Character Drinks: KOYA/RJ/SHOOKY/MANG/CHIMMY/TATA/COOKY  – ¥990 Each

Glass Drinks: KOYA/RJ/SHOOKY/MANG/CHIMMY/TATA/COOKY – ¥500 Each

TAKEOUT DRINK | 1,690

The takeout drink is a blueberry milk combination.

GOODS

Fans can get their hands on a selection of original and exclusive miscellaneous merchandise all with the stay-at-home pyjama party theme.

Heart Pins | ¥600 Each (Design Chosen Randomly)


Card File | ¥1,300

Bonus Items

Cafe Original Cards

Cafe Original Coasters

Customers who book a table in advance will receive a free cafe original card, and those who order a drink a free coaster.

©BT21

Information

BT21 Cafe

Tokyo Cafe

Running: October 17, 2020 – November 23, 2020

Address: PINE UNDER FLAT B1F, 5-13-2 Jingumae, Shibuya, Tokyo

Osaka Cafe

Running: October 17, 2020 – November 27, 2020
Address: TOWER RECORDS CAFE UMEDA NU CHAYAMACHI, 10-12 Chayamachi, Kita-ku, Osaka-shi, Osaka

Nagoya Cafe

Running: October 17, 2020 – November 27, 2020
Address: TOWER RECORDS CAFE Nagoya Sakae SKYLE, 3-4-5 Sakae, Naka-ku, Nagoya-shi, Aichi

Table Bookings
Price: ¥650 (Before Tax)
BT21 Cafe Official Website: https://box-cafe.jp/

Halloween Food Served Up at Meiji Jingu Shrine's Constitution Memorial Hall

Meiji Kinenkan, also known as Constitution Memorial Hall, has announced that its beer terrace Sekirei will open up for October to serve up a Halloween themed menu.

Meiji Kinenkan is a unique and premium venue at Meiji Jingu Shrine that serves as a host to many different kinds of gatherings. It was designated as an important cultural property of Tokyo for its architecture in March of this year.

Sekirei normally opens during the summertime each year, but this year they've decided to open up for business for the autumn season too. Guests can enjoy a line-up of over 40 different food items in the beautiful autumn-kissed gardens along with beer and a selection of other beverage.

Halloween Menu

The Halloween menu arrived on Monday and features a colour arrangement of tasty bites, with an original line-up of foods and desserts conceived by Meiji Kinenkan's chef who specialises in French cuisine at the site.

Other Autumn Options

Autumn is a very pleasant season in terms of weather, and so as well as the Halloween menu, Sekirei has cooked up a separate seasonal assortment too including Japanese roast beef with vegetables, fried masutake mushroom and salmon, and more.

Sekirei has a special indoor all-you-can-drink plan as well in case it rains, so guests don't have to worry about the weather and can keep warm indoors if the occasion calls for it.

Cute Cinnamoroll Halloween Doughnuts to be Sold at Floresta in Japan

Floresta Nature Doughnuts, a chain of shops that sell delicious doughnuts that are healthier to your body than regular doughnuts, is collaboration with popular Sanrio characters Cinnamoroll and Cappuccino for some adorable Halloween doughnuts.

Cinnamoroll / Cappuccino – ¥450 Each (Before Tax)

Donning their snug Halloween hats, which are made from purple sweet potato, Cinnamoroll and Cappuccino sit atop their doughnut that's covered in white chocolate spider web and topped with a star made from pumpkin.

The doughnuts will be released at Floresta on October 17, just two weeks before Halloween, at 12:00am in Japan. They are sold individually or as part of the Cinnamoroll Hallloween Doughnuts Box which contains two of each.

Cute, colourful, and a healthier option. If you're in Japan this Halloween, join Cinnamoroll and Cappuccino for the holiday season.

Information

Cinnamoroll Hallloween Doughnuts
Serving: October 17, 2020 – October 31, 2020

Release Date: October 17, 2020 at 12:00am (JST)
Floresta Oraganic Store: https://floresta-ec.jp

*Product is limited in stock. Only orders only.

Experience Shinjuku's Famous Halloween Event Online at Virtual Shibuya

The Virtual Halloween Committee has announced that it will host an online Halloween event inside Virtual Shibuya as a result of the pandemic and to mitigate crowded streets in Shibuya, a place which becomes a sea of people during the spooky holiday season.

The event, titled Virtual Shibuya au 5G Halloween Fes, will begin on October 26 and run up to Halloween Day. It is being promoted with the hashtag #StayVirtual.


Shibuya 5G Entertainment Project launched its new digital platform "Virtual Shibuya" back in May of this year. Officially recognised by Shibuya City, Virtual Shibuya comes in response to the effects of the novel coronavirus (COVID-19) which has brought tight restrictions to the economy and people's way of life. It will enable people to continue enjoying entertainment from the comfort of their homes by participating in a whole host of virtual events and activities. The project aims to deliver content from Shibuya with live performances from artists, art exhibitions, talks, and more. The use of 5G and the latest cutting edge technology will connect the real Shibuya to a virtual space, combining the realms of the digital and real world.

The Halloween event is inviting a host of Japanese artists and comedians to perform inside the virtual space, which itself will be littered with all things Halloween like Jack-o'-lanterns, bats, and more. Users will also be able to dress their avatars in the appropriate clothing in line with the holiday season of scares. All of this aims to deliver the famous Shibuya Halloween experience that the people of Tokyo are so used to.

Virtual Shibuya au Halloween Fes

Virtual Shibuya is evolving and will be updated for the upcoming Halloween event. Users can look forward to a host of music events and talk events during this age of the 'new normal.'

au 5G Presents Kyary Pamyu Pamyu: Virtual Mini Live

Virtual Shibuya will host its very first virtual live concert to open the Halloween festival. Japanese pop star Kyary Pamyu Pamyu is included in the performance line-up, who will be serving a very special one-night-only Halloween themed show inspired by horror movies. Titled "Kyary Pamyu Pamyu Online Halloween Live 2020 THE FAMILY 10.31," you can find out more about the concert here.

au 5G Presents BiSH: Virtual Live

Japanese idol group BiSH will also be playing a special Halloween show at the event.

au 5G Presents "Everyone's 5G" – Comedy Duo Wagyu Perform

Japanese comedy duo Wagyu will perform live using 5G technology which will render them in high-speed, high quality holograms.


The rest of the line-up and more details about the event will be announced in the coming weeks.

KAWAII MONSTER CAFE HARAJUKU Collaborates With Alice's Fantasy Restaurant For Halloween Fair

KAWAII MONSTER CAFE HARAJUKU is set to collaborate with Tokyo's three branches of Alice's Fantasy Restaurant to serve up a Halloween themed menu. It will be served from September 19 to October 31.

The Halloween season is right around the corner, and the KAWAII MONSTER CAFE is once again joining in with the spooky festivities. This year, the cafe has joined hands with Alice's Fantasy Restaurant to create a collaborative Halloween menu lineup.

Colourful Rainbow Pasta With Halloween Cream | ¥1,400

Colourful pasta served in rich pumpkin sauce and with a variety of different ghost creams.

Singing Alice's Caesar Salad | ¥1,360

Alice's Fantasy Restaurant's popular Caesar salad heads to KAWAII MONSTER CAFE, an assortment of purple carrots, pumpkin, and other tasty delights. Alice is also hidden in the pasta somewhere as a black witch.

Kingpin Choppy & Henchman Humpty Dumpty Curry | ¥1,300

KAWAII MONSTER CAFE's mascot is served wearing a silk hat and comes with his fellow henchman Humpty Dumpty.

Cheshire Cat Splatter Ice Cream | ¥1,100

Soft serve ice cream topped with crunchy cereal, cotton candy, and chocolate, all drizzled in a splattered sweet strawberry sauce.

Customers who post a photo of their foot onto social media with the hashtag #tokyohalloweencollection can enter for a chance to win some Halloween merchandise.

RAYARD Hisaya-odori Park: The New Landmark of Nagoya Combines Shopping Experience With the Outdoors

Hisaya-odori Park is a park and shopping complex which opened on Friday (September 18, 2020) in Nagoya, Aichi. It will serve culture, experience, and products next to the newly renovated Nagoya TV Tower.

Hisaya-odori Park


Hammock Day


Park Wagons

The park is split into five areas like Hammock Day where you can kick back in one of the hammocks while listening to music, pick up some produce at the Farmer's Market, do some morning yoga, and more. The park will also have a line of trucks and wagons selling food, drink, items, and more.

RAYARD Hisaya-odori Park

RAYARD has also opened its second shopping complex at Hisaya-odori Park following the opening of RAYARD MIYASHITA PARK in Shibuya. The complex houses 35 restaurants and shops, 22 of which have never opened a branch in Nagoya before, which will deliver fashion, sports, food, communication, and so on.

A variety of popular cafes in RAYARD are opening in Nagoya for the first time, like the Snoopy-themed PEANUTS Cafe, the the bakery and cafe ESPRESSO D WORKS which is known for its "100 one hundred" bread which is world's first made with 100% water content, and Karuizawa's very popular cafe and restaurant Eloise's Cafe.

There'll be plenty of sweet treats to tuck into too, like crepes from ROCCA&FRIENDS CREPERIE to TEA which is so popular in Osaka that people can be waiting up to 2 hours in line, matcha desserts from Kyoto-based sweet shop Shimizu-Ippoen, and bonbons from South Korea's number one cafe Cafe de paris.

If you're wanting a real meal, enjoy some casual Italian dining at Arcoba which is managed by the former head chef of Kyoto's famous restaurant IL GHIOTTONE. Or perhaps yakiniku from Yakiniku Tokugawaen which uses Japanese black wagyu from Kyushu as the main meat on its menu. Kouji MARUTANI will also be there serving up local ingredients from Mikawa, food made with koji, a variety of craft sakes, and more.

RAYARD Hisaya-odori Park will offer a wide range of interactive experiences too such as at the creative community cafe FabCafe Nagoya which makes use of 3D printing and digital fabrication, Snow Peak which provides a live view of nature, T4 NAGOYA where you can play ping pon indoors and outdoors, narifuri which sells bicycle apparel, and so on.

There is much and more to see at RAYARD Hisaya-odori Park, so if you're in Japan this year, head to Nagoya to enjoy the autumn atmosphere.

Halloween Doughnuts Creep Their Way Into Krispy Kreme Doughnuts in Japan

Halloween arrived at Krispy Kreme Doughnuts in Japan on September 16 with the "monster HARVEST" collection of themed doughnuts. Available until November 1, the spooky lineup incorporates a selection of Japanese autumn flavours like pumpkin and purple sweet potato.

The doughnut collection is here to put us in the Halloween spirit nice and early. Krispy Kreme Japan's popular jack-o'-lantern doughnuts are back this year, as are the new black cat doughnuts which first arrived last year. A completely new purple sweet potato flavour was also introduced to the menu on September 1.

Pumpkin Pudding Jack-o'-lantern | ¥240 (Before Tax)

The jack-o'-lantern doughnuts have been made even more delicious for Halloween 2020 by using pumpkins from Hokkaido and filling them with velvety pumpkin Japanese-style pudding. Add to that the chocolate facial features and you've got yourself a tantalising treat for the spooky season.

Black Cat Caramel | ¥250 (Before Tax)

A black cat made with big white chocolate eyes and a dark chocolate face topped with crunchy almond pieces and stuffed with caramel cream.

Muchimochi Purple Sweet Potato Mont Blanc | ¥240 (Before Tax)

The tasty, chewy, and hot purple sweet potato doughnut is made with sliced sweet potato and coated in powdered sugar. It's served hot which makes the flavour even more intense.

Halloween Dozen (12 Doughnuts) | ¥2,000 (Before Tax)

Share a dozen with friends this Halloween which includes not only two of each of the ones already shown, but Krispy Kreme's popular "Chocolate Sprinkle" and "Original Glazed®" too.

Halloween Mini Box (20 Doughnuts) | ¥2,000 (Before Tax)

There's also a colourful box of 20 mini versions of the doughnuts too.

Information

monster HARVEST
Running: September 16, 2020 – November 1, 2020

Krispy Kreme Doughnuts Official Website: https://krispykreme.jp