Cardcaptor Sakura Anime Series 25th Anniversary Project Unveiled
Cardcaptor Sakura made its debut on Japanese television on April 7, 1998. To celebrate the series' 25th anniversary, a number of exciting events are underway!


CLAMP's Cardcaptor Sakura manga series was serialized in the monthly manga magazine Nakayoshi from June 1996 until August 2000 and remains a massive hit to this day.
The series celebrated its 20th anniversary in 2016 with the announcement of a new anime series, Cardcaptor Sakura: Clear Card Arc, which aired in 2018. The manga has sold over 19 million copies worldwide and its popularity has spread around the world to fans of all ages. 
Sanrio Collaboration Capsule Toys – Minifigure Series 2 / Cardcaptor Sakura 25th Anniversary Lunch Mat
To commemorate the 25th anniversary of the anime's original broadcast, a series of new goods, collaboration cafes, and events are planned for 2022. Those who grew up with the show should be sure to grab some cute items perfect for adults!
Collaboration Room
A collaboration room inspired by Cardcaptor Sakura: Clear Card Arc will also be available to book soon! Aside from Sakura, Kero, Syaoran, and Tomoyo voice lines that will play in the room, guests can also enjoy a full dinner course using concepts and designs from the Cardcaptor Sakura world. 

Those who stay at the hotel will also receive a number of special take-home goods featuring illustrations drawn exclusively for the collaboration. Other original goods will also be available for purchase through the room's catalog and on the official website.
Collaboration Cafe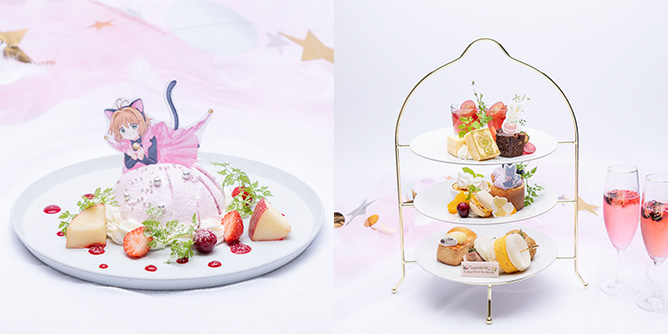 The Cardcaptor Sakura collaboration cafe that ran until February 6, 2022 at Shibuya PARCO in Tokyo will also head to Nagoya and Osaka! Don't miss the special menu and exclusive goods. 
RELATED ENTRIES
CreepHyp to Bring 10th Anniversary Exhibition to Nagoya PARCO

From February 11 to February 26, an exhibition inspired by the popular rock band CreepHyp will be held at the PARCO GALLERY on the 6th floor of the Nagoya PARCO West Building. The event is being held to celebrate the 10th anniversary of CreepHyp.

The exhibition is themed around a 'Museum of Voices.'

A person's voice is said to be a true expression of their personality. This exhibition will give fans a new sense of what CreepHyp is and will feature their music, their MC content, and various radio appearances.

Visitors will be able to listen to the member's voices, but they'll also be able to step on them, dive into them, look at them, and experience plenty of other ways to enjoy the band's content. Completely immersed in this world of voices, this experience promises to be like no other. Come experience it while you can!

The exhibition was largely created by CHOCOLATE, the creative team behind CreepHyp's past exhibitions. Exclusive merchandise will also be available on-site.

First Large-Scale Made in Abyss Exhibition to Open at Nagoya PARCO

Nagoya PARCO will hold a massive Made in Abyss exhibition from October 1 until October 16, 2022! The Tracks of the Challengers exhibition is being held to celebrate the new season of the anime series.

Exhibition Images

Photos from the Ikebukuro Venue

*Contents of the exhibition are subject to change. 

Exclusive Goods

Mini Bromide Collection

Acrylic Panel

Acrylic Stand Figure

Clear Folder

Mini Acrylic Character Stands

Tapestry

Art Board

Type 5 Energy Ration

Mug (with Coaster)

Explorer Utensil Set

Explorer Cooking Set

*All photos are sample images.

The exhibition features original drawings from the first and second seasons, as well as the film. Fans can see special video content only being screened during the event, and can enjoy artifacts from the story and photo spots perfect for grabbing shots for social media! In addition, those purchasing an audio guide ticket will be led through the exhibition by Nanachi herself! New items have been added for the Nagoya event, including a script for Made in Abyss: Dawn of the Deep Soul! Original goods will be on sale at the venue as well.

(c)つくしあきひと・竹書房/メイドインアビス「烈日の黄金郷」製作委員会

Information

Made in Abyss Exhibition ~Tracks of the Challengers~

Running: October 1 – October 16, 2022
Venue: PARCO GALLERY (Nagoya PARCO West Building 6F)

Dates for Advance Ticket Sales: October 1, 2, 8, 9, 10, 15, 16
Preorder Tickets Here:https://eplus.jp/miabyss/

Same-day tickets: Same-day tickets will be sold at the venue if space is available on the day of the event.

*Information on same-day tickets will be announced on the official Nagoya PARCO Twitter page.
Official Anime Site: http://miabyss.com/

Limited Edition Cardcaptor Sakura Earrings Available Now

Ladies brand Mayla Classic has started taking orders for a collection of earrings inspired by Cardcaptor Sakura. The gorgeous jewelry items will be available to purchase from August 5 until September 26, 2022. 

Rocket Beat

Clear

Candy Lotus

Eternal Girly

Purchase Bonus: Limited Edition Postcard (The Postcard will be the same color as the item purchased.)

Purchase Bonus: Original Box and Frame

Combining Sakura's wand and battle costumes that appear in the series, the world of Cardcaptor Sakura comes to life in dainty Mayla Classic style.

 

The shiny metal gives off an elegant mood with each sway, and the colors will ensure that customers will have both a mature and cute style. 

Will you be grabbing one of these earring sets? Mayla Classic accepts orders from overseas!

©CLAMP・ST/講談社・NEP・NHK

First 'Made in Abyss' Anime Exhibition to Open at Ikebukuro and Nagoya PARCO

To commemorate the release of Made in Abyss: The Golden City of the Scorching Sun, an exhibition will open at PARCO FACTORY in Ikebukuro on September 2 and at PARCO GALLERY in Nagoya on October 1!

Guests can see original drawings from the first and second seasons of the anime and the movie, special video content that mixes full-length anime footage with original drawings, and artifacts from the story.  Photo spots will also allow visitors to experience famous scenes from the series.

Those wanting to be guided through the exhibition can purchase the One Point Nanachi voice guide! The voice actress Shiori Izawa will lead you through key parts of the venue.

Original goods will also be on sale at the venue. A special collaboration menu will be available at Cafe Address on the 6th floor of Ikebukuro PARCO, including savory dishes, desserts, and drinks inspired by the show's characters.

Additional information will be announced on the exhibition's official website, so keep an eye out for more!

Information

Made in Abyss Exhibition ~Tracks of the Challengers~

PARCO FACTORY (Ikebukuro PARCO 7F)

Running: September 2~

PARCO GALLERY (Nagoya PARCO West Building 6F)

Running: October 1~

Cardcaptor Sakura Inspires Four Pairs of Gorgeous Pumps

Women's fashion brand mayla classic is now accepting orders for four unique pairs of pumps inspired by Cardcaptor Sakura: Clear Card!

Original Box

Rocket Beat

Clear

Candy Lotus

Eternal Girly

Purchase Bonus

The collection features four pairs of shoes inspired by Sakura's iconic battle costumes seen in the anime series.

The elaborate finishes make it seem like the costumes have been directly transformed into shoes! These are perfect to wear for a special occasion or to simply put on display in your home.

©CLAMP・ST/講談社・NEP・NHK

Sanrio Inspired Touken Ranbu Collaboration Cafes to Open in Shibuya and Nagoya PARCO

Touken Ranbu has become a worldwide phenomenon over the past decade. The handsome characters are a hit with female fans, and now, PARCO is teaming up with Sanrio to reimagine everyone's favorite swords-turned-dudes into chibi, pastel versions of themselves. Fans can enjoy seeing the kawaii form of their favorite characters at a special collaboration cafe coming to Shibuya and Nagoya soon.

Lineup at a Glance

Menu

Kogitsunemaru's Lunch Plate for Kids

Oodenta Mitsuyo and Sohayanotsurugi's Mini Burger Plate

Izuminokami Kanesada and Horikawa Kunihiro's Berry Pancakes

Konnosuke's Fruit Parfait

Goods

Acrylic Pick A (20 varieties): ¥440 each

Acrylic Pick B (20 varieties): ¥440 each

Acrylic Magnet Round 2, Set A (Random, 20 varieties): ¥550 each

Acrylic Magnet Round 2, Set B (Random, 20 varieties): ¥550 each

The cafe will offer an original menu inspired by the characters from the free-to-play video game and anime series. A shop attached to the collaboration cafe will also be selling original merchandise, so fans won't want to miss stocking up.

Mickey Mouse Merchandise Appears at Shinsaibashi PARCO in Osaka

Mickey Mouse is beloved by people all over the world. To liven up the Golden Week holiday, Shinsaibashi PARCO in Osaka is showing off the 'Mickey Mouse Osaka Collection' for a limited time, This collection, available until May 8, is the first Disney collection featured at Shinsaibashi PARCO.




A number of Mickey Mouse-inspired products created by numerous designers will be featured, all of which already have shops in Shinsaibashi PARCO. A Mickey Mouse Collection pop-up shop is also open for a limited time at THE WINDOW SHINSAIBASHI on the first floor.

©Disney

©Disney Artwork by Yoshirotten

©Disney Designed by Javier Calleja

©Disney Designed by Keiichi Tanaami

©Disney Designed by Tetsuya Nakamura

 

Visitors can also enjoy the 'Mickey Mouse Now and Future' exhibition at the PARCO GALLERY on the 14th floor. The exhibition is a collaborative art project by artists from around the world who love Mickey! Curated by Shibuya's contemporary art gallery NANZUKA, fans won't want to miss this unique collection of art.

Information

Mickey Mouse Osaka Collection

Running: April 22 – May 8, 2022

Location: 1F THE WINDOW SHINSAIBASHI

Mickey Mouse Now and Future

Running: April 23 – May 16, 2022

Location: 14F PARCO GALLERY 

Popular Tokyo Revengers Exhibition to Reopen for a Limited Time at Nagoya PARCO

The popular manga series Tokyo Revengers began serialization in Weekly Shonen Jump in 2017 and has sold over 50 million copies. The traveling Tokyo Revengers exhibition previously held in Tokyo and Osaka will now be coming to Nagoya PARCO from April 29 until May 22, 2022!

Sticker (6 varieties, random)


※Admission bonus will be available while supplies last.

※Only those showing proof of paid admission will receive a sticker.


The name of the exhibition has been changed to Tokyo Revengers Exhibition Return to commemorate its reopening. Visitors will be able to stroll around the packed event space, which also includes rare original drawings by series author Ken Wakui.

Why not stop by this popular exhibition to spend some time with your favorite characters?

Information

Tokyo Revengers Exhibition Return
Running: April 29 – May 22, 2022
Venue: Nagoya PARCO South Building 7F / Event Space
Official Site: https://revengers-exhibition.com/

Sneakers and Art Come Together at artrA Season 2 in Tokyo, Nagoya, Kyoto

Street culture is ever-evolving, and sneakers play a big part in street fashion. Combining sneakers and art, the artrA project finished up its first 7-city tour last year, and is now ready to start Season 2!

 

Season 2 will also be sponsored by ASOBISYSTEM. The shoe store atmos, on a mission to promote Tokyo's sneaker scene to the world, and the news app SmartNews are also contributing to the project as content partners to bring the event to Tokyo, Nagoya and Kyoto.

A total of 16 up-and-coming creators are participating in the exhibition. Illustrators, graphic designers, and painters will display their unique artwork based on the simple theme of one famous pair of sneakers. The original art will be sold and also transformed into artrA original merchandise. A sneaker lottery will be held, and 10 pairs of sneakers (100 pairs in total during the event) will be given away at the venues each day.

Participating Creators

an / Illustrator 
https://www.instagram.com/aooooo1995/ 

BEY / Illustrator 
https://www.instagram.com/beytaro_0912/ 

BANBU / Artist 
https://www.instagram.com/banbu.daishi/ 

hitotsume / Illustrator 
https://www.instagram.com/hitotsume/ 

Jeremy Yamamura / Artist 
https://www.instagram.com/jeremy_yamamura/ 

KENTOO / Artist 
https://www.instagram.com/k2rocker/ 

kousuke Shimizu / Artist, Art Director
https://www.instagram.com/kousuke_kou/ 

KRAP / Artist 
https://www.instagram.com/krap_sae/ 

Morita Manabu by WOOD / Artist 
https://www.instagram.com/wood_dw/ 

MOYA / Painter 
https://www.instagram.com/moya_mk16/ 

SHIOTSU (Cartoon Mafia) / DJ, Illustrator 
https://www.instagram.com/djshiotsu/ 

tarou2 / Animator, Illustrator 
https://www.instagram.com/tarou2/ 

T.D BRUDER / Artist
https://www.instagram.com/t.d.bruder/

TM paint / Artist 
https://www.instagram.com/tmpaint/ 

itui / Illustrator 
https://twitter.com/it_ui 

Shouko Nagamine / Illustrator
https://www.instagram.com/sn___illust/

Information

artrA -SEASON 2-

atmos KYOTO
Running: March 18 – March 21, 2022
Address: 420 Sakuranocho, Nakagyo-ku, Kyoto


atmos Sendagaya
Running: March 25 – March 27, 2022
Address: 3-16-9 Sendagaya, Shibuya-ku, Tokyo

atmos Nagoya
Running: April 1 – April 3, 2022
Address: Nagoya PARCO West Building 1F (3-29-1 Sakae, Naka-ku, Nagoya)

Official Site: https://www.atmos-tokyo.com

Third Installment of Popular 'cookpadLive Attack on Titan' Collaboration to Open in Tokyo and Osaka

CookpadTV is continuing to hold AniCook events, using anime and manga to make cooking more fun. A new collaboration with Attack on Titan is here, following two very successful tie-ups in the past. The cookpadLive Titan Festival Vol. 3 event will begin on March 17, 2022, and will be based on the theme of the character's memories. A lottery for entry is now open, and guests can look forward to tons of exclusive items only on sale at each venue and online during the event period.

Food

That Day's Determination…Carbonara Hamburger / That Day's Vow…Genoa Chicken Fricassee/Unyielding Will…Risotto Rice Croquettes

Desserts

The Courage to Believe…Mont Blanc Roll/Qualities of a Leader…Brownie Parfait/That Day's Sunset…Orange Cream Pancake

Drinks

Menu Order Bonus

Titan Festival Vol.3 Exclusive Goods

B-SIDE LABEL Collaboration Exclusive Goods

The event will take place in Omotesando in Tokyo and Shinsaibashi PARCO in Osaka. The collaboration menu expresses the character's worldview during The Final Season, and the limited-edition merchandise will feature newly drawn illustrations of Eren and his friends as they march towards the series' highly-anticipated end.


Along with newly-drawn illustrations, the collaboration project will also include goods made along with B-SIDE LABEL, a pop art group. Look forward to it!

©諫山創・講談社/「進撃の巨人」The Final Season製作委員会

Information

cookpadLive Titan Festival Vol. 3

Location: 

cookpadLive cafe Omotesando
Address: Ao Building 3F (3-11-7 Kitaaoyama, Minato-ku, Tokyo)
Running: March 17 – April 17, 2022
Hours: 11:00-21:00

cookpadLivecafe Shinsaibashi
Address: Shinsaibashi PARCO 5F (1-8-3 Shinsaibashisuji, Chuo-ku, Osaka)
Running: March 17 – April 17, 2022
Hours: 10:00-20:00

ART SHINSAIBASHI Event to Display Over 300 Pieces of Contemporary Art

ART SHINSAIBASHI, previously held twice in 2021, will return for its biggest showing ever from January 15 until January 22, 2022. 300 unique works of contemporary art will be on display, with some created by up-and-coming creators and others from seasoned masters of their craft. Three locations will house the art, with Space 14 at Shinsaibashi PARCO will serve as the main venue. Some of the most notable artists include Banksy, KAWS, and Jean-Michael Basquiat. Featured domestic artists include Hiroko Koshino and Youhei Sugita, the latter holding a live painting stream on January 15 and 16.

Main Venue (PARCO 14F  Space 14)

'Contemporary Art Collection'

Running: January 15 – January 22, 2022
Admission: Free
Hours: 10:00-20:00 (Admission until 30 minutes prior to closing / Closing at 16:00 on January 22)

Youhei Sugita Live Painting Stream / January 15, 16 from 14:00-15:00   

Selected Works on Display

URGE1 – KAWS

Flying Copper – Banksy

WORK#1790 – Koshino Hiroko

pith series yellow – Youhei Sugita

Anime Cel Art Collection

Pokemon

Kiki's Delivery Service

Second Venue: Daimaru Shinsaibashi Main Building 8F Artglorieux

Nick Walker Contemporary Art Collection
Running: January 12 – January 18, 2022 / 10:00-20:00 (Closing at 16:00 on January 18)



VANDAL vs LOUVRE

Yukyo Yamamoto Solo Exhibition
Running: January 19 – January 25, 2022 / 10:00-20:00 (Closing at 16:00 on January 18)


Bit Coins on the Dollars

第三会場 大丸心斎橋店本館1F 御堂筋側イベントスペース Third Venue: Daimaru Shinsaibashi Main Building 1F Event Space

Contemporary Art Pop-Up Store
Running: January 14 – January 25, 2022

How Fun! – Takashi Murakami

Information

ART SHINSAIBASHI

Running: January 15 – January 22, 2022

Location: Shinsaibashi PARCO 14F Space 14

Work Details: https://www.daimaru.co.jp/shinsaibashi/art_shinsaibashi/ 



Live Painting Stream by Youhei Sugita

Date:  January 15, 2022 at 14:00


Where to Watch: Daimaru Shinsaibashi Official Instagram Account (@daimarushinsaibashi)

*The completed works will be sold by lottery at the venue.
A lottery box will be set up at the venue, and winners will be contacted on or after January 17, 2022.

Chiikawa & Hanshin Tigers Collaboration Goods on Sale at Shinsaibashi PARCO

A collaborative pop-up shop between the character Chiikawa and the Hanshin Tigers baseball team will open at Shinsaibashi PARCO for a limited time, from December 23, 2021 until January 5, 2022.

Goods

A5-size Sticker Sheet

Face Towel

Tote Bag

Pin & Acrylic Stand in Capsules (6 varieties)

Pin & Acrylic Stand in Capsules (6 varieties)

Baseball Cap

T-shirt

T-shirt

PARCO Online Store Limited Edition T-shirt

PARCO Online Store Limited Edition T-shirt

Restaurant Bonus Campaign

Holographic Sticker

Holographic Sticker

Holographic Sticker


Instagram Present Campaign: B2 Poster (Not for Sale)

Limited-Time Items

Happy Chiikawa Bag 2022 (Year of the Tiger)

Purchase Bonus: A5-size Clear Folder (Soba)

 

Illustrations featured in this collection were drawn by original Chiikawa creator nagano, and these items will only be available at the pop-up store and the PARCO Online Store.

Information

Chiikawa Pop-up Store

Running: December 23, 2021 – January 5, 2022
Hours: 10:00-21:00
※Closing at 18:00 on December 31, 2021

※Closed on January 1, 2022 

※Opening at 9:30 on January 2, 2022

※Closing at 18:00 on January 5, 2022
Address: Shinsaibashi PARCO B1F Pop Up Space (1-8-3 Shinsaibashisuji, Chuo-ku, Osaka)

Admission: Free

PARCO ONLINE STORE

Running Until January 2, 2022 at 21:00

Restaurant Bonus Campaign

Running: December 23, 2021 – January 5, 2022

Exchange Hours: 11:00-21:00
Where to Exchange: B2F Special Site
Location: Restaurants inside Shinsaibashi PARCO

      

Instagram Present Campaign

Application Period: December 23, 2021 – January 5, 2022 at 23:59

Items

Sales Period: January 2 – January 5, 2022