NAKED FLOWER AQUARIUM -Bring You Happiness- Event Opens at Maxell Aqua Park Shinagawa
Tokyo's Maxell Aqua Park Shinagawa has opened its seasonal event NAKED FLOWER AQUARIUM -Bring You Happiness- until June 19, 2022.
The aquarium has been continuously developing entertaining exhibits and events based on the beauty of each season. The creative company NAKED uses projection mapping to transform the space with cherry blossoms in spring and fireworks in summer, allowing guests to enjoy a special atmosphere indoors.
Welcome Flower Gate 
Marine Forest 
Blooming Street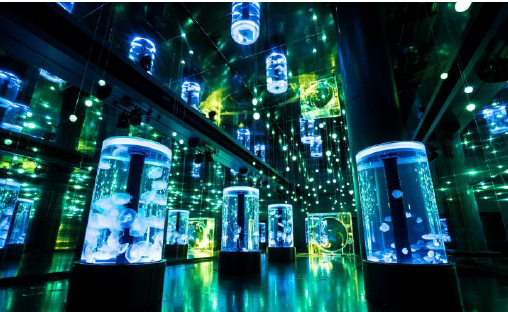 Jellyfish Ramble 
Floral Café Bar 
For spring, the Aqua Park has been decorated with gorgeous flowers and lush greenery. The new event uses state-of-the-art technology to surround visitors with a spectacular view of early summer. Each area of the aquarium was inspired by the subtheme of 'bringing happiness,' with seven different Happiness Experiences for guests to enjoy. These experiences offer things like healing sound effects and scents made to calm the mind and offer additional immersion.
The popular dolphin performance has both a day and night show. The day version offers guest participation, in which the dolphins will show off their choreographed moves. The night version was inspired by the early summer sea and uses projection mapping to bring the underwater world to life in a spectacular way.
Information
NAKED FLOWER AQUARIUM-Bring You Happiness-
Venue: Maxell Aqua Park Shinagawa
Address: Shinagawa Prince Hotel (4-10-30 Takanawa, Minato-ku, Tokyo)
Official Site: www.aqua-park.jp
RELATED ENTRIES
NAKED GARDEN ONE KYOTO to be Held at Ninna-ji, a World Heritage Site

From December 10 until December 18, 2022, creative company NAKED will hold NAKED GARDEN ONE KYOTO at Ninna-ji! The event is part of a larger next-generation art project being held around Kyoto until Christmas Day.

This exhibition marks the first metaverse-centered event at Ninna-ji, and guests will be able to enjoy a virtual fashion show in collaboration with Jotaro Saito, a kimono designer from Kyoto. Participants will begin by creating their own avatar by snapping a photo of their face. After that, they will be able to choose a kimono by Saito to use as clothing for their avatar before taking to the runway with other visitors from all around Japan.

NAKED's goal is to bring traditional Japanese kimono culture into the digital space, and the company believes that this is only the beginning. In the future, NAKED hopes to bring other artists into the metaverse as well.
 

NAKED Distanced Lanterns


NAKED Tsukubai

Five-Storied Pagoda Projection Mapping


DANDELION PROJECT

Virtual Fashion Show


Limited Edition Paper Goshuin

This year's event also includes the DANDELION PROJECT, popular with art fans around the world. Created by Ryotaro Muramatsu, the art project has appeared in a number of towns and cities around the world, inviting participants to create flowers and send them around the globe digitally as a hope for peace. Visitors can use their smartphones to send dandelion fluff digitally to other participants around the world, sharing a wish for world peace. 

This year, the participatory art piece was installed in the main temple. Why not visit this stunning exhibition in Kyoto this winter? 

Information

NAKED GARDEN ONE KYOTO Ninna-ji
Venue: Ninna-ji (Five-storied Pagoda, Main Temple)
Running: December 10 – December 18, 2022
*No admission on December 17 due to a private event.
Hours: 17:30-21:30 *Last entry at 21:00
Official Site: https://garden.naked.works/kyoto/

Tokyo Tower to Open Winter Night View Projection Mapping Event by NAKED

Creative company NAKED has announced TOKYO TOWER CITY LIGHT FANTASIA ~2022 Winter~, an event bringing some incredible projection mapping technology to the main deck of the legendary Tokyo landmark. The event will start on November 18 and will invite guests to enjoy an illuminated winter night from far above the city.

 *Concept Image

NAKED has created some unique night-viewing experiences at Tokyo Tower in the past, combining the already beautiful cityscape with some new and exciting graphics themed for each season. For winter 2022, butterflies will take to the chilly night sky one after another, creating a show like no other for its three-minute span. This also serves as a great photo opportunity!

Enjoy Tokyo as it begins to shine for the holiday season!

Information

TOKYO TOWER CITY LIGHT FANTASIA ~2022 Winter~

Venue: Tokyo Tower Main Deck 2F, North Floor
Running: November 18, 2022 – February 12, 2023
Hours: 18:00~Close
Admission: Guests can enjoy the event by paying the standard price to visit the observation deck.

Official Site: https://www.tokyotower.co.jp/

Kyoto National Museum Decorated by NAKED and Kojima Shouten's Famous Lanterns for Special Event

From December 10 until December 25, the Light and Food Ensemble event will be held in the garden of the Kyoto National Museum.

A new projection mapping show featuring enormous flowers will be shown on the wall of the Meiji Kotokan Hall, unchanged since its opening in 1897. The history of Kyoto will take center stage, however–NAKED is only there to make it all the more impressive.

NAKED will also collaborate with Kojima Shouten for the first time, decorating the venue with the local company's famous lanterns.

At the venue, local shops from Kyoto will be selling sweets to guests. Come enjoy Kyoto in a whole new way during this exclusive winter event!

Information

Light and Food Ensemble

Running: December 10 – December 25, 2022

Hours: 18:00-21:30 (Last entry at 21:00)

Light and Food Ensemble ~Evening Flower Banquet Directed by NAKED~

Venue: Kyoto National Museum

Tickets / Official Site: https://ensemblekyoto.com/

NAKED's DANDELION PROJECT to Open at Hikone Castle in Shiga

NAKED's DANDELION PROJECT will be held at Shiga's Hikone Castle for eight days starting November 5, 2022. The work will be exhibited as a part of NAKED GARDEN ONE KYOTO, a next-generation art project put on in conjunction with Kyoto City, Uji City, and Otsu City in Shiga Prefecture.

Created by Ryotaro Muramatsu, the art project has appeared in a number of towns and cities around the world, inviting participants to create flowers and send them around the globe digitally as a hope for peace. Visitors can use their smartphones to send dandelion fluff digitally to other participants around the world, sharing a wish for world peace. 

 

Following last year's event, the DANDELION art piece will be exhibited at Hikone Castle again in 2022. The castle is over 400 years old and the castle tower, completed in 1606,  is designated as a national treasure. During this time, the art piece will also be on display at Enryakuji and Shigain Monzeki Temple in Shiga. Hikone Castle is currently seeking to be registered as a World Heritage site. Why not take part in this unique project to bring the world a bit more peace?

Information

DANDELION PROJECT

Venue: Hikone Castle (1-1 Konkicho, Hikone, Shiga)

DANDELION: Hikone Castle Keep

*Hikone Castle is a satellite site of the NAKED GARDEN ONE KYOTO Project.
Dates:
November 5, 12, 19, 20, 25, 26, 27 / December 3
*The Special Autumn Colors Hikone Castle Night Viewing will be held starting on September 10. The DANDELION exhibit will be on display starting November 5.
Hours: 18:00-20:30 (Last entry at 20:00)
Official Site: https://www.knt-ks.co.jp/ec/2020/hikone/

NAKED FLOWER TOWER AUTUMN to Add Color to Nagoya's Nightscape

Creative company NAKED is currently holding the NAKED FLOWER TOWER AUTUMN event at the Chubu Electric Power Company MIRAI TOWER Sky Deck in Nagoya until December 2, 2022. 

The historic MIRAI TOWER, formerly the Nagoya TV Tower, opened in 1954. On October 12, 2022, the tower was registered as a tangible cultural property, and many companies have collaborated with the structure over the years. Now, NAKED's digital art is creating a new night experience for visitors and residents of Nagoya!

 

The NAKED FLOWER TOWER event which began this summer invited guests to enjoy Nagoya's evening views with all five senses. The tower's Sky Deck was decorated with fresh flowers, given that Aichi Prefecture is the nation's largest flower producer. It was also brought to life with a special projection mapping performance, and guests could enjoy original drinks as they gazed out at the illuminated city.

 

This event has now been reimagined for autumn, with fall flowers and grasses brightening the space. During the projection mapping show, a massive full moon is projected on the glass. You won't want to miss it!

Information

NAKED FLOWER TOWER AUTUMN
Running until December 2, 2022

Venue:
Chubu Electric Power MIRAI TOWER (formerly the Nagoya TV Tower)
Sky Deck 90m Indoor Observation Deck

Official Site: https://www.nagoya-tv-tower.co.jp/nakedinc/


NAKED GARDEN ONE KYOTO Night Walk Project Invites Guests to Stroll Through the Tale of Genji

From November 11 until December 4, NAKED will hold the unique NAKED GARDEN ONE KYOTO event in Uji. The one-of-a-kind art project is being produced through a partnership with Kyoto City, Uji City, and Otsu City in Shiga Prefecture. Several events and art exhibitions will appear in the Kyoto area until December 25, 2022.

The project first began on September 15 at Kyoto City Hall, and it will move to Uji on November 11. NAKED's unique digital art will bring color to Uji, a place steeped in Japanese history and the heart of Japanese tea culture. The Asagiri Bridge, appearing in The Tale of Genji, will be illuminated, and the Zen temple Kosho-ji will be offering tea ceremonies and a digital teamaking experience for guests to enjoy. NAKED's popular Distance Lanterns will return, allowing visitors to explore Uji at night while properly socially distancing. 

At Kosho-ji, guests can enjoy the renewed DANDELION PROJECT. Created by Ryotaro Muramatsu, the art project has appeared in a number of towns and cities around the world, inviting participants to create flowers and send them around the globe digitally as a hope for peace. Visitors can use their smartphones to send dandelion fluff with their name on it to the metaverse version of Kosho-ji and beyond, eventually causing a digital flower to bloom. 

Why not come take a quiet walk through the streets of Uji, Kyoto? 

Works

Urasenke Tea Ceremony and Digital Teamaking Experience

『DANDELION PROJECT』by RYOTARO MURAMATSU / NAKED

NAKED Distance Lantern®︎

Asagiri Bridge and Kotosaka Interactive Illuminations

NAKED Tsukubai®︎

Chazuna's New Mobility C⁺walkT Experience

NAKED FLOWERS 2022 Autumn to Open at Nijo Castle in Kyoto

NAKED will hold the NAKED FLOWERS 2022 Autumn event at Nijo Castle, a World Heritage Site in Kyoto! The event will run from October 28 until December 4 and will feature both real and digital art, including a virtual experience in the Metaverse.

The phoenix depicted on the Kara-mon of Nijo Castle will be the guide for the exhibition, which will take visitors on a tour of the property, decorated and transformed by NAKED's art. Visitors can enjoy the fantastic night view of Nijo Castle, which includes historical buildings such as the Ninomaru Palace (National Treasure), the Great Eastern Gate (Important Cultural Property), and the Kara-mon. A projection-mapping show will shine across the Kara-mon, and fall colors will light up the night sky. On the stone wall of the inner moat, phoenixes will fly, and visitors can take part! In the garden, food and beverage stalls will provide plenty of autumn sweets and hot drinks from the popular cafe TREE by NAKED Yoyogi Park. 

Guests can also see a collaborative work between artist Ryotaro Muramatsu and Yuki Ikenobo, the headmaster of the historical flower arrangement school Ikenobo. Visible in both the real world and the Metaverse, the interactive art piece will invite visitors to create their own flower arrangements using digital flowers. Why not come create a piece of your own art using flowers that will never wilt? 

Kara-mon, Important Cultural Property
Projection-Mapping




Special Scenic Spot – Ninomaru Garden
Illumination




Inner Moat
Interactive Experience / Projection-Mapping Show




Koun-tei
Illumination




NAKED's Art to Prevent Disease
NAKED Tsukubai®︎


Seiryuu Garden
Illumination




Front Garden
DANDELION PROJECT



Front Garden
Ryotaro Muramatsu x Flower Arrangement School Ikenobo's Headmaster Yuki Ikenobo
Collaboration Work (Both real and linked to the Metaverse)

Information

NAKED FLOWERS 2022 Autumn at Nijo Castle (World Heritage Site)

Venue: Nijo Castle
Running: October 28 – December 4, 2022
Hours: 18:00-22:00 (Last entry at 21:00)
Tickets/Event Details: https://flowers.naked.works/

NAKED Night Walk Art Project to Open at Famed Zuiganji Temple in Matsushima

Japanese creative company NAKED will hold a Night Walk event at Zuiganji Temple in Matsushima, located near one of the top three most scenic spots in Japan. The event will run from October 29 until November 23, 2022.

The NAKED Night Walk was created to revitalize hot spring resorts and other tourist spots during the pandemic. This special event will bring the illuminated experience to Zuiganji Temple, one of the Tohoku Region's most famous Zen temples. Guests will be invited to carry beautiful lanterns around the grounds, maintaining social distancing while enjoying the cool evening weather. These lanterns will cast one of three unique designs onto the ground below–a starry sky, a camellia flower, or a lotus. 

Guests can also enjoy NAKED's Flower Fortune Telling, pulling unique paper flowers from a massive wall, with each holding a personalized fortune. These flowers can then be tied to a nearby tree to further spread NAKED's art. You can also take home your flower as a souvenir!

The event will only run for a limited time. For more information including admission fees and hours, see the official website!

Information

NAKED Night Walk – Matsushima, Zuiganji Temple (National Treasure)

Address: Zuiganji Temple (Chonai-91 Matsushima, Miyagi District, Miyagi Prefecture)

Running: October 29 – November 23, 2022

Hours: Weekdays 17:00-20:00 / Fridays, Weekends, Holidays 17:00-21:00

Official Site: https://zuiganji.or.jp/

NAKED to Open DANDELION PROJECT for Peace in Umeda, Osaka

NAKED and Ryotaro Muramatsu's interactive art installation, the DANDELION PROJECT, is coming to Umeda, Osaka. The project aims to connect people around the world, stressing the importance of world peace. Those wanting to participate may do so from October 7 until October 9 at Umekita Sotoniwa Square. 

In July 2020, Umekita Sotoniwa SQUARE opened under a unique premise–it would be open for 1,000 days only. The outdoor area was inspired by cities of the future, featuring plenty of green space. The DANDELION PROJECT fits in perfectly with this concept, using modern technology and networking to create art that also serves as a universal prayer for peace. This is the second time the work has been exhibited in Osaka–it was shown in Nakanoshima during the Osaka Hikari no Renaissance 2021 event last December.

 

The DANDELION PROJECT is inspired by the idea of world peace and hopes to help transcend barriers and connect people in an increasingly divided world. So far, it has appeared in 25 locations–19 in Japan and six abroad. In Japan, it has popped up at Tokyo Tower, Nijo Castle, and other historical sites. Abroad, it has been shown in Paris, Singapore, San Francisco, and Shanghai. The piece aims to bring about change by planting (or installing) dandelion-inspired art around the world, while it invites people visiting these dandelion exhibits to send their prayers for peace as a digital flower in real-time. 

 

The exhibition will also be a satellite venue for NAKED GARDEN ONE KYOTO, a next-gen art project allowing guests to experience Kyoto virtually from September 15 until December 25, 2022.

Information

NAKED – DANDELION

Running: October 7 – October 9, 2022

Venue: Umekita Sotoniwa Square
*Open daily during event period
Hours: 18:00-21:00
Entry: Free
Official Site: https://sotoniwa-uk.com/ 

NAKED's Halloween Event Coming to Tokyo Tower for a Limited Time

Digital art collective NAKED will hold a special Halloween projection mapping show at Tokyo Tower! The Tokyo Tower City Light Fantasia ~Halloween Party 2022~ event will run from September 16 until October 31 on the 2nd floor of the tower's main deck. 

NAKED has collaborated with Tokyo Tower in the past to create shows inspired by the seasons. These incredible illuminations captivate audiences at night, and this fall, visitors will be captivated by autumn leaves dancing in the breeze along with silvergrass swaying and the sound of chirping insects. The scene will eventually change into something more spooky–a ghost will appear alongside witches, bats, and pumpkins! The main deck will be enveloped in Halloween colors perfect for a fall photoshoot!

Information

TOKYO TOWER CITY LIGHT FANTASIA ~Halloween Party 2022~

Venue: Tokyo Tower Main Deck (150m), 2F North Side Floor
Running: September 16 – October 31, 2022
Hours:
September 16 – September 30 / 18:00-Close
October 1 – October 31 / 17:30-Close
Entry: Guests can enjoy the main deck for only the price of entry to the observation deck.

NAKED Exhibition Inspired by Tea Master Sen no Rikyu Opens at 21st Century Museum of Contemporary Art in Kanazawa

NAKED's newest work, inspired by Sen no Rikyu, has opened at the 21st Century Museum of Contemporary Art in Kanazawa! The exhibition will run through September 3 and blends physical art pieces found in the museum with the Metaverse. 

NAKED's first exhibition at this popular Kanazawa Museum brings visitors a modern version of chanoyu, or the 'Way of Tea.' This year marks the 500th birthday of Sen no Rikyu, a historical figure who had a significant influence on the tea ceremony still found in Japan today. NAKED wants to honor his contribution to shaping this massive part of Japanese culture. Visitors are invited to a traditional tea ceremony room, but the experience itself has been modernized by NAKED. This unprecedented art exhibition allows both those who know nothing about Sen no Rikyu and those who know him well to experience his philosophy and aesthetics in an entirely new way.

Gate: Greetings from the Master

Open-air: The Crossroads of this Transient World

Wash Basin: Where the Four Seasons Float

Dry Landscape Garden: The Teachings of Rikyu

Tea Whisk: "Make a Good Tea for your Guest."

Hanging Scroll: The Master's Memories

Small Room: Evolution

Tearoom: The End and the Beginning

NAKED Fuji Canele

Tsukubai, or a low stone basin filled with water, is used to cleanse the hands before entering a tearoom. Using interactive art, the water's surface is covered in digital flowers that blossom when a guest's hands pass over the basin. 

In the 'Small Room: Evolution' area, guests will find the Sustainable Contemporary Golden Tearoom, which was created by NAKED staff together with sixth graders using golden trash collected at Kanazawa University Elementary School. The calligraphy on display in the tearoom was also done by children, with the best creations selected to be included in the exhibition. The scent was produced by EarthRing, an aroma brand located in Hakusan, Ishikawa Prefecture. The 'Tea Whisk' area offers a unique experience for all five senses, including the scent of matcha, which guests can smell when they mimic the act of prepping tea. 

In addition, guests can purchase special NAKED Fuji Canele and a Kutani ware Original Tumbler with special tea-inspired motifs. The Canele is a triple collaboration with Fukumitsuya, the oldest sake brewery in Kanazawa, so don't miss out!

Information

NAKED Meets Sen no Rikyu

Venue: 21st Century Museum of Contemporary Art, Kanazawa, Civic Gallery B
(1-2-1 Hirosaka, Kanazawa, Ishikawa)

Running: August 6 – September 3, 2022
*For more information about tickets, please visit the official website.
Tickets / Details: https://meets.naked.works/kanazawa21/

UWS AQUARIUM GA☆KYO, Inspired by Japanese Traditions and Legends, Open in Odaiba

UWS AQUARIUM GA☆KYO, an aquarium inspired by Japanese traditions and legends, opened at Aqua City Odaiba on July 13, 2022. The curious aquarium and art facility is split into five spaces, each based on a particular Japanese legend or tradition. 

Area 1 – WABISABI

Area 2 – OIRAN

Area 3 – MANGEKYO

Area 4 – YURAKU

Area 5 – RYUGU

Virtual Goldfish Scooping

This mixture of aquarium and entertainment venue was produced by GA☆KYO. Each of the five spaces invites guests to understand and appreciate a particular part of Japanese traditional culture, as well as to experience the beauty of living things. Come enjoy this unique installation the next time you're in Tokyo!

Information

UWS AQUARIUM GA☆KYO
Venue: Aqua City Odaiba 3F (1-7-1 Daiba, Minato-ku, Tokyo)
Official Site: https://uws-gakyo.com