teamLab to Open Art-Filled Botanical Garden in Osaka This Summer
Art collective teamLab will open a permanent nighttime exhibition, 'teamLab Botanical Garden Osaka,' at Nagai Botanical Garden in Osaka in the summer of 2022.
The Nagai Botanical Garden, which originally opened in 1974, reopened on April 1, 2022, after tree thinning, tree rearrangement and replanting to accommodate new root growth, and soil improvement to create an environment where plants can thrive and grow in the far future. The garden covers over 240,000 square meters and is home to 1,200 species of plants, flowers, and trees.
This summer, teamLab will transform the garden into an art space where the past, present, and future intersect, blending with nature's changing seasons and the presence of guests.
TeamLab's environmentally friendly art project, 'Digitized Nature,' aims to show "nature itself becoming art in its natural state" by using only digital technology. Nothing in the gardens needs to be destroyed to create art.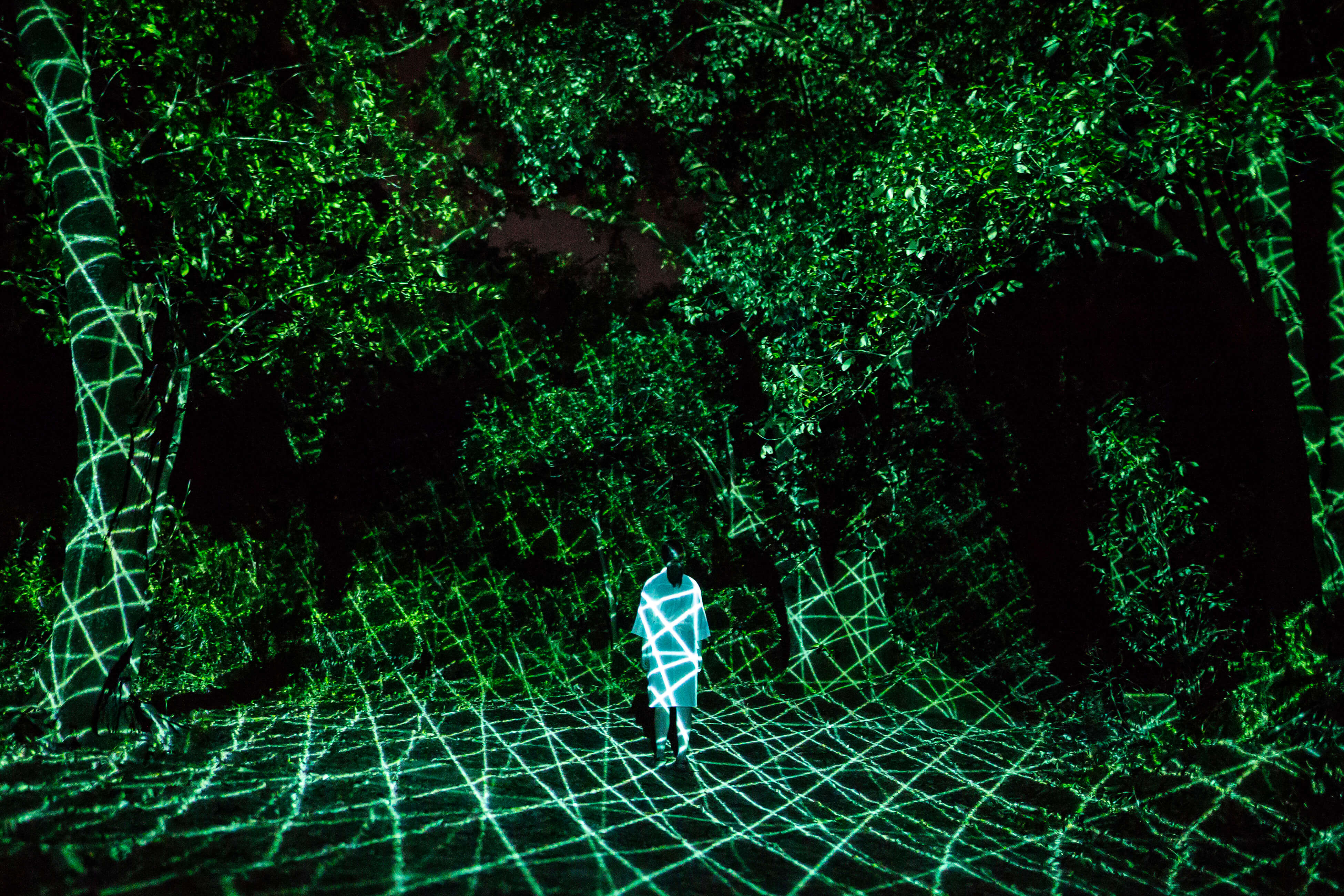 At teamLab Botanical Garden Osaka, the daytime botanical garden will become an art space at night. The space will be transformed by actual wind and rain, as well as by the behavior of the birds and the actions of visitors to the site.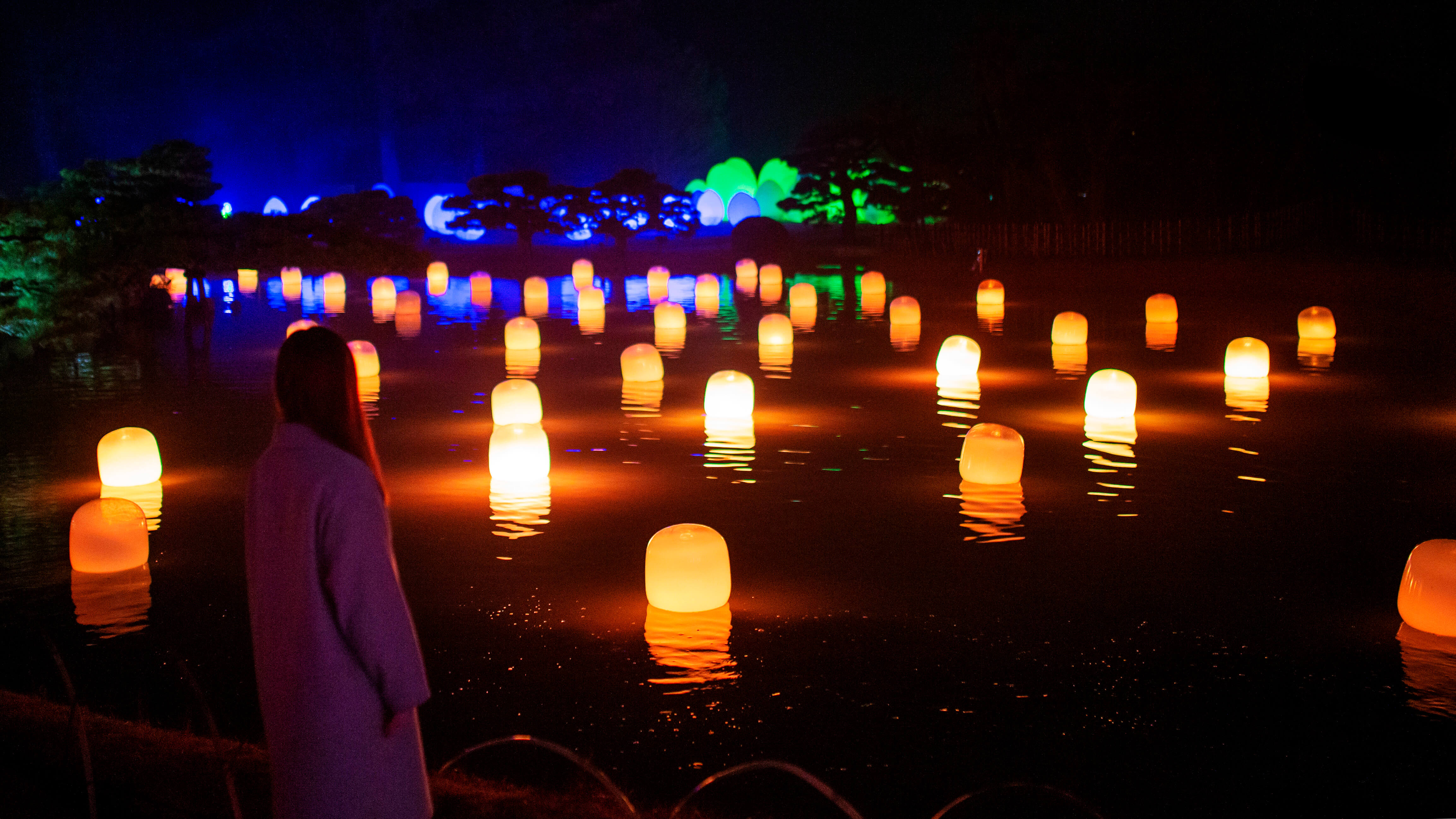 Come enjoy an illuminated garden filled with art on a warm night this summer!
©チームラボ
RELATED ENTRIES
HARAJUKU COLLECTIVE, a Collaboration Between Hot Topic & Studio Ghibli, Gets Pop-Up Store at Shinsaibashi PARCO

Last year, the HARAJUKU COLLECTIVE collaboration appeared at AF Gallery in Harajuku from August 10 until August 28, garnering massive acclaim from fans. The collection is now being sold at Shinsaibashi PARCO until March 12, 2023.

HARAJUKU COLLECTIVE is a Studio Ghibli-inspired apparel collection by the popular American counterculture chain Hot Topic. Bringing more Japanese culture to the ongoing Studio Ghibli collaboration launched in 2014, Hot Topic stores began selling original items produced by nine Japanese creators and brands, as well as some original American items produced by Hot Topic's executive designers.

The lineup of Japan-original items includes T-shirts, tote bags, and other items featuring exclusive artwork by up-and-coming creators. These items depict beloved characters from Studio Ghibli's works, as well as logos created for the collaboration. Fans won't want to miss grabbing these unique items!

 

Details on the Previous HARAJUKU COLLECTIVE Pop-Up Store: https://www.moshimoshi-nippon.jp/ja/625747

teamLab Forest Fukuoka to Introduce Spring Sakura Theme for a Limited Time

Starting March 4, the permanent museum teamLab Forest Fukuoka will transform its artwork into a stunning spring theme. Guests will be able to enjoy gorgeous cherry blossoms for a limited time, and starting March 24, the Catching and Collecting Forest will also be transformed in the same way.

TeamLab's works are created in real time by procedural generation, meaning that they are always changing and evolving. Each work changes depending on the season.

▼Starting March 4

Both Shifting Valley, Living Creatures of Flowers, Symbiotic Lives – A Whole Year per Year and Animals of Flowers, Symbiotic Lives II – A Whole Year per Year are only available to see during spring. Come and see animals made entirely of cherry blossoms as they roam through the museum!

The work titled Soft Terrain in Granular Topography shows multicolored grains of light pouring from the sky, while Flutter of Butterflies, Ephemeral Life surrounds visitors with brightly colored butterflies

▼Starting March 24

In the Catching and Collecting Forest, visitors can explore with their smartphones and catch various animals made entirely of cherry blossoms.

Information

teamLab Forest Fukuoka – SBI SECURITIES Co., Ltd.
Venue: BOSS E・ZO FUKUOKA 5F, Next to Fukuoka PayPal Dome
Address: 2-2-6 Jigyohama, Chuo-ku, Fukuoka
Official Site: http://forest.teamlab.art

Atarashii Gakko! to Perform Solo at Zepp Venues in Tokyo and Osaka in Spring 2023

Atarashii Gakko! will hold solo concerts at Zepp venues in Tokyo and Osaka in April and May of 2023.

These performances will be held almost a year after the girls held their solo concert at Zepp DiverCity in Tokyo last May. This year's events will be held at Zepp Osaka Bayside on April 30 and Zepp Shinjuku in Tokyo on May 2.

ATARASHII GAKKO! – HANAKO (Official Music Video)


ATARASHII GAKKO! – Pineapple Kryptonite (Official Music Video)


Information

Atarashii Gakko! at Tokyo & Osaka Zepp
-We're working on some amazing new songs and we're dying for everyone to see our newest evolution (Tentative title)-
April 30, 2023 – Zepp Osaka Bayside
May 2, 2023 – Zepp Shinjuku (Tokyo)
Fan's Presale Tickets (Starting January 1)
https://www.fansnet.jp/leaders

teamLab Opens Solo Exhibition at the Kumu Art Museum in Tallinn, Estonia

Art collective teamLab has opened a new solo exhibition at the Kumu Art Museum in Tallinn, Estonia. One of the largest museums in all of Scandinavia, the exhibition will run through May 7, 2023, and guests can also enjoy a large amount of Estonian art from the 18th century onward. In 2008, the Kumu Art Museum won the European Museum Forum award for the Best Museum in Europe. 

teamLab – Impermanent Flowers Floating in a Continuous Sea

 

teamLab: Impermanent Flowers Floating in a Continuous Sea depicts flowers that are continuously growing and dying, multiplying in an eternal sea in which everything is connected. Guests can feel as though they've become one with the art as they stroll through the exhibition. 

 Black Waves: Immersive Mass is made up of interconnected waves. Without a beginning or an end, visitors progress through the workspace until they too are drawn into the water.

Waves in classical East Asian art are often represented by sets of lines, but these detailed waves are unique.

teamLab – Black Waves: Immersive Mass ©teamLab

 

In Black Waves: Immersive Mass, flowers can be seen blooming, blossoming, and seeing the end of their lives. When people touch the flowers, they wither and die.

teamLab – Proliferating Immense Life ©teamlab

The flicker of flame will welcome guests to this part of the museum. Visitors can even take the work home by approaching it with the Distributed Fire app on their smartphones. When held up to another person's smartphone, the flames will connect and grow larger.

 

teamLab continues to find ways to connect people through modern experimental artworks. What will they create next?

 teamLab – Universe of Fire Particles ©teamLab

 

Kumu Art Museum –  Photo: Tõnu Tunnel. (Courtesy of the Art Museum of Estonia.)

 

 

Come dive into the world of teamLab in the frosty north!

Information

teamLab: Impermanent Flowers Floating in a Continuous Sea
#teamLabKumu
Running: November 11, 2022 – May 7, 2023
Address: Kumu Art Museum (Weizenbergi 34 / Valge 1 10127 Tallinn)
Details: https://www.teamlab.art/jp/e/kumuartmuseum/ 

teamLab Fukuyama Castle Light Festival Opens to Celebrate the Hiroshima Castle's 400th Anniversary

The art collective TeamLab will hold the TeamLab Fukuyama Castle Festival of Light event at Fukuyama Castle in Hiroshima Prefecture from December 2, 2022 to January 29, 2023. The exhibition will transform the stone walls, the tower, and the outside of the iconic castle, which is currently celebrating its 400th anniversary. Light art will transform the space in different ways depending on the number of guests and the weather. 

In August 2022, Fukuyama Castle recieved a major restoration with iron paneling installed on the north side, the only such restorative technique used on a Japanese castle to date. As guests walk around the keep, the included musical experience will change according to your walking speed and pace.

teamLab <Castle Tower> 

The stone walls of Fukuyama Castle will depict animals shaped by flowers as they continuously die and are reborn. When guests touch the flowers, they disperse; if they continue to touch and the flowers disperse too much, the animal dies and disappears.

Built during the Edo period, the castle survived the Meiji Restoration but was damaged heavily in WWII.

teamLab <Animals of Flowers, Symbiotic Lives in the Stone Wall>

Ovoids made of light sit at the bottom of the castle. When pushed by a person or blown by the wind, these unique creations will change color and interact with the nearly ovoids, which will change to the same color and make a similar tone.

teamLab <Resisting and Resonating Ovoids on the Stones of Oblivion>

In the Sketch Generals section, visitors can draw historical warlords associated with Fukuyama Castle, including Katsunari Mineno, the first lord of the Fukuyama domain and builder of Fukuyama Castle, Nobunaga Oda, Hideyoshi Toyotomi, Nagamasa Kuroda, Ieyasu Tokugawa, and Masahiro Abe. When the generals are touched, famous quotes appear in speech bubbles!

In addition, visitors can turn their own drawings of generals into pins that they can take home as souvenirs!

teamLab <Sketch Generals>

teamLab <Sketch Factory>

Several other works will be exhibited around the castle during the event as well.

 

The castle tower was designated a National Treasure in the early Showa era but was destroyed by fire in an air raid during World War II. It was rebuilt in 1966. 



teamLab's Digitized City project has become popular across the world, allowing the art collective to utilize real-world locales to display artworks without damaging or altering the location chosen.

With its lengthy history, Fukuyama Castle is a magnificent canvas, transforming as both visitors and nature interact with the lights. People, animals, nature, and art can live side by side, without boundaries. Wouldn't you like to come to visit this winter?

teamLab <Walk, Walk, Walk -Fukuyama Castle>

©チームラボ

Information

FUKUYAMA CASTLE EXPO 2022 – teamLab Fukuyama Castle Light Festival
Running: December 2, 2022 – January 29, 2023
Venue: Fukuyama Castle (1 Chome-8-3 Marunouchi, Fukuyama, Hiroshima)
Official Site: http://fukuyamacastle.teamlab.art

TeamLab Unveils Three New Works at Singapore's Permanent 'Future World' Exhibition

Art collective TeamLab has redesigned two exhibitions at Marina Bay Sands Singapore. The world's first permanent exhibition from the creators, Future World: Where Art Meets Science, was opened in 2016 at the Museum of Art and Science. Guests can now enjoy three new works along with the Digital Light Canvas, a huge, interactive space inviting guests to share their own pieces of art.

Drawing Flight

Visitors can immerse themselves in these impressive new works while experiencing a complex, three-dimensional world. They can also create new worlds with others!


Future World


The Drawing Flight, part of the Amusement Park of the Future series, is based on the concept of co-creation, allowing visitors to not only draw an airplane that will fly but also allowing them to operate it from a pilot's point of view using a tablet. Whether visitors draw a butterfly or a hawk, they'll see the world from the perspective of each creature and enter a world constructed by the creature's unique perceptions.

Aerial Climbing through a Flock of Colored Birds

In Aerial Climbing through a Flock of Colored Birds, guests are asked to perceive the world with their entire bodies. Visitors cross a space with sticks floating three-dimensionally in the air.

Autonomous Abstraction, Continuous Phenomena from the Universe to the Self

Autonomous Abstraction, Continuous Phenomena from the Universe to the Self offers a new and abstract concept. As people touch the dots, the rhythm of the dots flickers and their hue changes and disintegrates. The picture will then change dramatically, and despite these changes, the beauty remains.

Digital Light Canvas

Graffiti Nature – Red List Digital Light Canvas

 

Digital Light Canvas is a space consisting of a 15-meter-diameter circular link of light and a 20-meter-high cylinder of light made up of a collection of light dots.  Team Lab's interactive artwork, which changes depending on how many people are around, is on permanent display.

Drawing Factory

By visiting the Digital Light Canvas area, guests can also enjoy the Drawing Factory, where they can turn their own drawings into pins, T-shirts, and other items!

Come fully experience this curious art exhibition!

© チームラボ

Information

Future World: Where Art Meets Science

13th BT21 Cafe to Open in Tokyo, Yokohama, Nagoya, Osaka, and Sapporo

The 13th iteration of the BT21 Cafe will open at six venues in five cities around Japan. Fans in Tokyo, Yokohama, Nagoya, Osaka, and Sapporo will want to visit this exclusive event titled ~MAGICAL TIME~. The first cafe opens in Shibuya on November 3. In celebration of BT21's 5th anniversary, this special cafe is filled with joy and excitement and aims to give fans the best possible experience.

Cafe Menu

Magical Tea Time Set

Food Plate

Food Plate (7 varieties)

Dessert Plate

Dessert Plate (7 varieties)

Drinks

Magical Milk Tea

Black Tea

Iced Coffee / Hot Coffee

Original Goods

Acrylic Keychain (7 varieties, Random)

Acrylic Clip (7 varieties, Random)

Satin Sticker (7 varieties)

Clear Folder (2 varieties)

Handkerchief (7 varieties)

Tote Bag

Mug

Masking Tape / Balloon on a Stick

Dolomite Coaster (2 varieties) / Mirror (2 varieties)

[Online Store Exclusive] Acrylic Keychain (7 varieties, Random)

The cafe's new menu includes afternoon tea, perfect for warming the body and soul during the cold winter months. The colorful food items and desserts are sure to be a hit on social media, and fans will enjoy the Magical Milk Tea and other dishes inspired by the popular BT21 characters.

 

In addition to new merchandise and bonuses featuring newly-drawn art, a photo spot will welcome guests to the cafe and invite them to celebrate this five-year milestone. 


Why not take a break from everyday life to enjoy a magical time with these cute characters?

©BT21

Information

BT21 Cafe #13 ~MAGICAL TIME~

Venue/Dates


■Shibuya, Tokyo:

BOX cafe&space SHIBUYA109

Running: November 3 – December 10, 2022

Address: SHIBUYA109 B2F (2-29-1 Dogenzaka, Shibuya-ku, Tokyo)

■Oshiage, Tokyo:

BOX cafe&space Tokyo Solamachi

Running: January 13 – February 19, 2023

Address: Tokyo Skytree Town, Solamachi 1F (1-1-2 Oshiage, Sumida-ku, Tokyo)

■Yokohama, Kanagawa:

Collabo_Index Lumine Yokohama

Running: January 13 – February 5, 2023

Address: Lumine Yokohama 6F (2-16-1 Takashima, Nishi-ku, Yokohama, Kanagawa)

■Nagoya, Aichi:

BOX cafe&space Nagoya LACHIC #1

Running: December 2, 2022 – February 5, 2023

Address: LACHIC B1F (3-6-1 Sakae, Naka-ku, Nagoya, Aichi)

■Shinsaibashi, Osaka:

Shinsaibashi contact

Running: November 11 – December 18, 2022

Address: 1-6-24 Kitahorie, Nishi-ku, Osaka

■Sapporo, Hokkaido:

Cafe Interlude, Coach & Four Shinakawa

Running: November 3 – December 29, 2022

Address: 18-chome 3-jo, Kita-ku, Sapporo

Reservations: https://box-cafe.jp/



Online Shop

Open: November 3, 11:00 – December 4, 23:59
https://box-cafe.jp/online_store/

Grand Front Osaka to Hold Harry Potter Christmas Event

The Grand Front Osaka mall has announced an incredible Christmas celebration in collaboration with the magical world of Harry Potter! Fans will want to visit the massive shopping center between November 10 and December 25 to take part in the festivities.

Standard Decorations

Showtime Decorations

Harry Potter-Inspired Decorations

The highlight of the event is the 13-meter-tall Christmas Tree, which will be set up on the first floor of the mall's North Building. The tree will be decorated with Harry Potter-inspired ornaments like moving staircases and window frames, which will look as though they are floating in the air. At night, a light show will take place around the tree, complete with projections inspired by the four houses of Hogwarts. 

Decorated Ted E. Bear

Stamp Rally Card

House Flag Decorations

Tully's Coffee and Harry Potter Collaboration Goods and Menu

Special Harry Potter-themed decorations will be attached to many trees in the area around the nearby Umekita Plaza, and fans can also find a Harry Potter panel exhibition. An Instagram photo campaign will be held in which visitors can enter to win collab merch, so don't miss out!

Come make some magical memories at this Harry Potter event in Osaka this winter.

Information

Grand Wish Christmas 2022

Harry Potter: An Invitation to the Wizarding World of Christmas

Running: November 10 – December 25, 2022 *Excluding certain contents
Venue: Grand Front Osaka North & South Wings, Umekita Plaza, etc.
Details: https://www.grandfront-osaka.jp/xmas2022/ 

teamLab to Display First NFT Work 'Matter is Void' at teamLab Planets TOKYO in November

Art collective teamLab will exhibit its first NFT work, Matter is Void – Water, at teamLab Planets TOKYO DMM in Toyosu, Tokyo starting November 1, 2022. This is the collective's first NFT work to be released through Pace Gallery's NFT platform Pace Verso, and those interested can purchase one starting October 19 at 11:00 EST. Outside of Japan, the work will be exhibited for the first time in Paris at Paris+ par Art Basel, the world's largest contemporary art fair, and on a giant billboard in Times Square in New York City. At teamLab Planets in Tokyo, the exhibit will be housed in an incredible immersive space. 

The Matter is Void NFT project includes seven NFT works. One of these, titled Matter is Void – Water, will be on display at teamLab Planets.

"Although only one of the seven NFTs will be for sale, anyone can download and own the overall work itself, whether or not they own the NFT. In other words, the uniqueness of the work is not conferred by the NFT, and nothing can distinguish the downloaded work.  Regardless of whether a person owns the NFT or not, it is all still authentic.

teamLab's work is titled Matter is Void. However, owners of the NFT can change this title, and this change will be reflected in all works downloaded and owned by people around the world. Even the text on exhibition at teamLab Planets will be rewritten!

The value of the work change depending on the text added by NFT owners. If the words are valuable, more people will want to own it–if the words are nonsense or without value, no one will want it on display. This will keep people from writing something offensive or useless. Everyone will want to write something that will make the value increase. It's all decided by the owners!

Also, even if the NFT owner reverts back to "Matter is Void" after rewriting it in other words, the words "Matter is Void" will be written with different wording.

Once the NFT is altered, it will never go back to the way it was. That makes this a more novel and exciting experience!"

Luxury Brand Montblanc Announces Naruto Collaboration Collection

Today, luxury brand Montblanc launched a new collaboration collection with the popular anime and manga series Naruto. Items from the collection are available to purchase worldwide.

Since its release 20 years ago, Naruto has captured the hearts of fans around the world with its inspiring story and beloved characters. The designs featured in the new collection feature illustrations of the character printed in dynamic poses. The collection features everything from leather goods to writing instruments. 

The new items highlight Naruto's relationship with his mentor Jiraiya, stressing the importance of mentors and knowledge. The brushstroke-like curves on each piece emphasize the anime style, and all bags come in a refined black color with orange accents.

To celebrate the launch of this collaboration, a special short anime was created to highlight the power of writing and communication. The brief animation shows Jiraiya reflecting on Naruto's journey and the ample advice he passed down while focusing on what's important in life. Meanwhile, Naruto uses a fountain pen to write down what it really means to be a ninja.

The collection also features a new edition of Montblanc's iconic Meisterstück. The special-edition fountain pen features a Hidden Leaf Village motif in gold with a matching nib and a ruthenium-coated embellishment.

A special pop-up store is open on the first floor of Hankyu Men's Osaka until October 18. By snapping a photo of the collaboration products and posting it on social media with the hashtag #MontblancXNaruto, fans can snag an original Montblanc x Naruto memory card game. Additionally, those making a purchase will get an original furoshiki!

Whether you're a fan of Naruto or a fan of Montblanc's goods, this collaboration might be impossible to pass up.

Information

Montblanc x Naruto

Release Date: October 12, 2022

Pop-up Store

Venue: Hankyu Mens Osaka 1F

Running: October 12 – October 18, 2022

Details: https://bit.ly/3rtWGAn

The #KuromifyTheWorld Project Celebrates First Anniversary with Special Week of Events

The #KuromifyTheWorld campaign is already one year old! Created to share the adorable Sanrio character Kuromi with the world, fans will be invited to celebrate this milestone from October 20 until October 31 with special events in Tokyo, Osaka, and Nagoya. 

Kuromi's Drink Stand will be open for a limited time in Tokyo and Osaka. Customers will be invited to choose the color of their drink according to their mood, and will also be able to customize it with tags, acrylic stands, and stickers! An original photo spot will also be set up beside each drink stand, and those wanting to attend can enter the lottery to win tickets now. 

Sanrio's first and largest Kuromi ad truck will also be driving through the streets of Tokyo, Nagoya, and Osaka during the event week. 

Kuromi will also be teaming up with (G)I-DLE, a popular five-member global idol group from South Korea. Campaigns are planned to appear in Hangzhou, Suzhou, Taiwan, Korea, North America, and Europe.

Kuromi ranked in the top three in this year's Sanrio Character Awards, and her popularity is steadily growing with Gen-Z. Keep an eye out for more Kuromi-inspired events in the future!

Information

#KuromifyTheWorld Week

・Kuromi's Drink Stand: 

Running: 

Shinjuku, Tokyo: October 20 – October 24, 2022

Shinsaibashi, Osaka: October 29 – October 31, 2022

・#KuromifyTheWorld Ad Truck:

Running:
Tokyo: October 20 – October 24

Nagoya: October 26 – October 27

Osaka: October 29 – October 31

Japan's Largest Fireworks Show Opens with 800 Drones and 45,000 Fireworks

To promote the 2025 Osaka Expo, hundreds of drones and thousands of fireworks lit up the sky at the planned site for the event. SKYMAGIC LIVE PTE. LTD., known for creating original shows using drones, put on the show on Yumeshima, a man-made island in Osaka's Konohana Ward on September 25, 2022. The event was the first large-scale outdoor drone show in the Kansai region, with 800 LED-equipped drones flying through the night sky. 

Nearly 15,000 visitors were in attendance at this spectacular event. The event aims to promote a hopeful future in which Japan thrives after the impact of the pandemic, and also aims to promote the upcoming Expo to people around the world. 45,000 fireworks were set off, marking one of the largest fireworks displays in Japan. Launched to rid the area of bad luck, guests will likely never forget the unique display of futuristic technology and traditional fireworks. 

As the fireworks show began, countless drones took off one after another into the sky. As many would expect, Myak Myak, the official character of the Osaka/Kansai Expo, appeared above the crowd, standing 135 meters tall and 80 meters wide. A countdown to the Expo appeared after, with the Let's Go Expo 2025 logo shining in the sky, made entirely by synchronized drones.

Archived live footage of the event is also available. 

Ryota Shirahama, chairman of the event's organizing committee, made a comment regarding the impressive event. "Japan's resurgence is about to begin," he said. "The world has been looking down, and we want it to look up. We want people to look towards the future–that's the goal of this project. Yes, there was a pandemic. But like the phoenix seen during the drone show, we can start over. I hope that those who saw the show will be inspired to take a new step forward." 

Information

Let's Go Expo 2025 Countdown 3 ~Yumeshima Fireworks~