Kyary Pamyu Pamyu Collaborates with Osaka's Tsutenkaku Tower for LOCAL POWER JAPAN Project
In conjunction with Kyary Pamyu Pamyu's current 10th anniversary nationwide tour, the LOCAL POWER JAPAN Project was launched to energize Japan through the appeal of regional towns and cities. At each stop, Kyary collaborates with a local company or landmark to help bring more attention to smaller regions and businesses. The details of the artist's collaboration project in Osaka have been revealed ahead of the artist's performance there on June 4. 
Kyary will be collaborating with the Tsutenkaku Tower, a symbol of Osaka that has stood tall in the Shinsekai district of Naniwa-ku since 1956. The special collaboration logo was inspired by Kyary's 2021 dance track Dodonpa, which was recently performed during the artist's incredibly successful set at Coachella 2022.
Tsutenkaku has been appearing in the news often during 2022 following the installation of the Tower Slider, a see-through slide taking guests from 60 meters up to ground level as they marvel at the city views.
The collaboration product is a special Tsutenkaku and LOCAL POWER JAPAN Project ticket featuring the new logo. The back of each ticket is printed with the phrase "From Osaka, let's energize Japan!' written in Kyary's own handwriting. Collaboration tickets will be available for purchase from June 4 until June 19 at the Tsutenkaku Ticket Counter and Tsutenkaku Online Shop. Limited quantities will also be available at Fenice Sacay, the venue of Kyary's Osaka concert on June 4.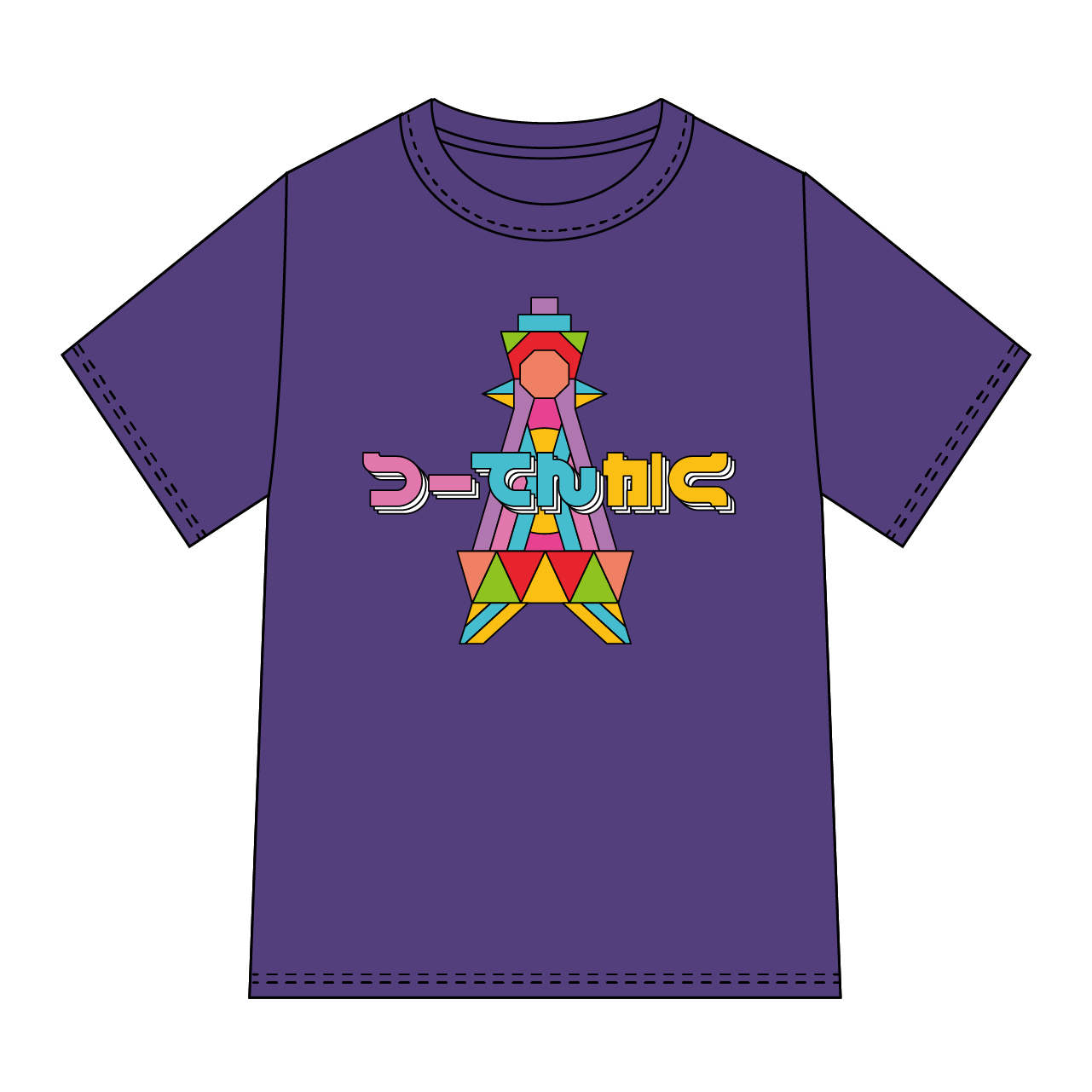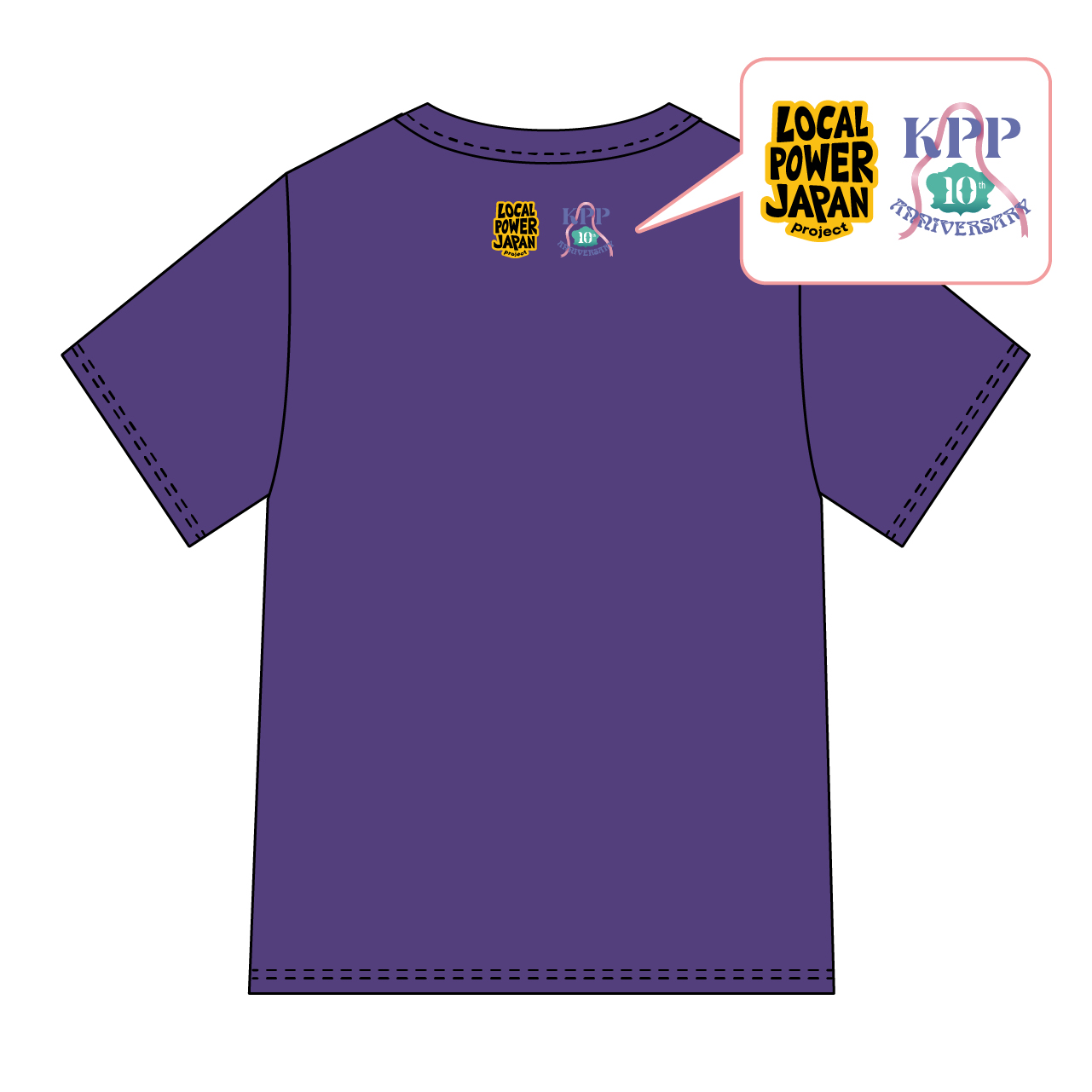 A collaborative T-shirt is also on sale featuring the new Tsutenkaku logo and the singer's 10th-anniversary logo. It will be available on the LOCAL POWER JAPAN Project online store from June 4 until July 17. 
Come transmit energy to all of Japan while enjoying a trip to Tsutenkaku Tower in Osaka as part of Kyary's incredible initiative!
Information
Tsutenkaku (Osaka) x LOCAL POWER JAPAN Project
Tsutenkaku Collaboration Ticket
Price: ¥900 (Tax Included)
Running: June 4 – June 19, 2022
Ticket includes access to General Observation Deck
Expiration Date: December 31, 2022
Where to Buy: Tsutenkaku Ticket Counter, Tsutenkaku Online Shop
Available: June 4 at 10:00 – June 19 at 23:59
*Sales will end when all tickets are sold.
Tsutenkaku Online Shop: https://tsutenkaku.base.shop

*Please allow 1-2 weeks for delivery.
**Tickets will be sold on June 4 starting at 14:00 in the lobby of Fenice Sacay, the venue of Kyary's Osaka concert. Available while supplies last.

Collaboration T-shirt
Price: ¥3,300 (Tax Included)  
Where to Buy: LOCAL POWER JAPAN Project Online Shop
Available: June 4 – June 17, 2022
https://store-localpowerjapan.com/
 
Official Site: https://localpowerjapan.com
RELATED ENTRIES
Kyary Pamyu Pamyu to Appear as a Regular on NHK Educational TV's 'Let's Play English Meets the World'

Kyary Pamyu Pamyu will appear as the Novice Wizard Kyary on NHK Educational TV's Let's Play English Meets the World. The series will premiere on April 4, 2023.

Yasutaka Nakata will produce the show's opening theme and a selection of music used throughout.

<Comment from Kyary Pamyu Pamyu>

"I'm so thrilled to be appearing on a show I've watched since I was a kid!
Even though I often perform overseas, I'm still a beginner in English. I hope I can learn together with everyone through this series!

Also, Yasutaka Nakata is providing the opening song and quite a few tracks throughout the show.

Some of the tracks you'll hear are very different than the standard Kyary songs, so I hope you'll enjoy them and sing along!"

Information

Let's Play English Meets the World (NHK Educational TV)
First Broadcast: April 4, 2023 (Airing Tuesdays at 8:35AM)

<About the Series>
People from all around the world travel to the Novice Witch Kyary's house to teach her tons of interesting things. As you listen and play along, you might also find yourself speaking English before you know it! The series will also be filled with games, cartoons, and plenty of singing and dancing, so you'll certainly want to tune in! Just what kind of fun awaits?

Kyary Pamyu Pamyu WORLD TOUR 2023 – POPPP –

May 15, 2023
New York, U.S. – Webster Hall
https://www.axs.com/events/471552/kyary-pamyu-pamyu-tickets?skin=websterhall

May 17, 2023
Los Angeles, U.S – The Novo
https://www.axs.com/artists/1262/kyary-pamyu-pamyu-tickets

June 2, 2023
Barcelona, Spain – PRIMAVERA SOUND 2023 Parc del Forum
https://www.primaverasound.com/

June 5, 2023
Paris, France – Cabaret Sauvage
https://www.seetickets.com/fr/d/event/kyary-pamyu-pamyu/cabaret-sauvage/8769451

June 7, 2023
London, England – London EartH Halll
https://www.gigsandtours.com/tour/kyary-pamyu-pamyu

June 9, 2023
Madrid, Spain – PRIMAVERA SOUND 2023 Ciudad del Rock
https://www.primaverasound.com/

More Details
https://wt2023.kyary.asobisystem.com/

HARAJUKU COLLECTIVE, a Collaboration Between Hot Topic & Studio Ghibli, Gets Pop-Up Store at Shinsaibashi PARCO

Last year, the HARAJUKU COLLECTIVE collaboration appeared at AF Gallery in Harajuku from August 10 until August 28, garnering massive acclaim from fans. The collection is now being sold at Shinsaibashi PARCO until March 12, 2023.

HARAJUKU COLLECTIVE is a Studio Ghibli-inspired apparel collection by the popular American counterculture chain Hot Topic. Bringing more Japanese culture to the ongoing Studio Ghibli collaboration launched in 2014, Hot Topic stores began selling original items produced by nine Japanese creators and brands, as well as some original American items produced by Hot Topic's executive designers.

The lineup of Japan-original items includes T-shirts, tote bags, and other items featuring exclusive artwork by up-and-coming creators. These items depict beloved characters from Studio Ghibli's works, as well as logos created for the collaboration. Fans won't want to miss grabbing these unique items!

 

Details on the Previous HARAJUKU COLLECTIVE Pop-Up Store: https://www.moshimoshi-nippon.jp/ja/625747

Kyary Pamyu Pamyu to Embark on First World Tour in Five Years

The Kyary Pamyu Pamyu World Tour 2023, titled POPPP, will begin this May!

This will be the singer's first world tour in five years, as last year's planned international tour was canceled. Kyary will perform in six cities–New York, Los Angeles, Madrid, Barcelona, Paris, and London. The Spain shows will take place during the massive Primavera Sound music festival.

In 2022, Kyary Pamyu Pamyu performed as the final act on the Gobi Stage at Coachella, the world's largest music festival held in Indio, California. The artist received accolades from both the American audience and viewers from around the world. This year, Kyary is continuing to attract attention as the first Japanese solo artist to be featured in Global Spin, an original showcase of artists from around the world made by the Recording Academy in the U.S., the organizer of the Grammy Awards.

Information

Kyary Pamyu Pamyu WORLD TOUR 2023 – POPPP –

May 15, 2023
New York, U.S. – Webster Hall
https://www.axs.com/events/471552/kyary-pamyu-pamyu-tickets?skin=websterhall

May 17, 2023
Los Angeles, U.S – The Novo
https://www.axs.com/artists/1262/kyary-pamyu-pamyu-tickets

June 2, 2023
Barcelona, Spain – PRIMAVERA SOUND 2023 Parc del Forum
https://www.primaverasound.com/

June 5, 2023
Paris, France – Cabaret Sauvage
https://www.seetickets.com/fr/d/event/kyary-pamyu-pamyu/cabaret-sauvage/8769451

June 7, 2023
London, England – London EartH Halll
https://www.gigsandtours.com/tour/kyary-pamyu-pamyu

June 9, 2023
Madrid, Spain – PRIMAVERA SOUND 2023 Ciudad del Rock
https://www.primaverasound.com/

More Details
https://wt2023.kyary.asobisystem.com/

Atarashii Gakko! to Perform Solo at Zepp Venues in Tokyo and Osaka in Spring 2023

Atarashii Gakko! will hold solo concerts at Zepp venues in Tokyo and Osaka in April and May of 2023.

These performances will be held almost a year after the girls held their solo concert at Zepp DiverCity in Tokyo last May. This year's events will be held at Zepp Osaka Bayside on April 30 and Zepp Shinjuku in Tokyo on May 2.

ATARASHII GAKKO! – HANAKO (Official Music Video)


ATARASHII GAKKO! – Pineapple Kryptonite (Official Music Video)


Information

Atarashii Gakko! at Tokyo & Osaka Zepp
-We're working on some amazing new songs and we're dying for everyone to see our newest evolution (Tentative title)-
April 30, 2023 – Zepp Osaka Bayside
May 2, 2023 – Zepp Shinjuku (Tokyo)
Fan's Presale Tickets (Starting January 1)
https://www.fansnet.jp/leaders

Report: Kyary Pamyu Pamyu's Tasty Time in Gastropolis Kobe – Sweets Edition

Kobe is filled with famous sightseeing spots like the nostalgic Ijinkan neighborhood and port. The city is packed with fashionable shops and restaurants and is highly regarded for its selection of tasty sweets!

The port city, with over 150 years of history, has fostered a unique and diverse culinary culture.

Recently, Kyary Pamyu Pamyu began starring in a series of promotional videos for the Gastropolis Kobe project. The artist traveled to the city to partake in plenty of delicious treats, and MOSHI MOSHI NIPPON went along for the ride! Here are some of the singer's favorite spots around town.

Kobe, known as a city where East meets West, is lined with sweets shops that are unique to the area.

The tea salon TOOTH TOOTH Dekoboko Sabo opened in 2019 in the Kobe City Museum and offers a menu that mixes Western food and sweets with tea and ingredients from traditional Japanese cuisine. Kyary ordered the Dekoboko Sabo Afternoon Tea Set, a collection of western sweets blended with the essence of traditional Japanese flavors. Guests are invited to enjoy their tea and sweets in a one-of-a-kind space filled with Meiji period flare and retro Western furniture. Those interested will need to make a reservation, so be sure to remember the next time you're in Kobe.

TOOTH TOOTH Decoboco Sabo

Address: 24 Kyomachi, Chuo Ward, Kobe (Inside the Kobe City Museum)

Hours: 9:30-17:30 (Last Order at 16:30) 

Closed Mondays

Official Site: https://toothtooth.com/restaurant/decoboco-sabo

The next stop was Kobe Nankin-machi, one of the three major Chinatowns in Japan. Kobe MILK is known nationwide for its Apricot Pudding, which is made with local ingredients. The raw apricot pudding is mixed with milk brought from the foot of Mt. Rokko and other ingredients from Hyogo Prefecture. Of course, Kyary ordered some, and was amazed by its fluffy texture. You can only enjoy it in Kobe–also, the shop sells other puddings mixed with seasonal fruits, so don't miss those either!

Kobe MILK

Address: Shin-Motomachi Building 1F (1 Motomachi-dori, Chuo-ku, Kobe)

Hours: Weekdays 9:30-19:00 / Weekends 9:30-19:30

Official Site: https://kobe-milk.com

For Kyary's final stop, the singer visited the Moore House, a cafe located in a building with over 100 years of history. Guests are surrounded by greenery, and the Western-style building is incredibly elegant. The Strawberry Mille-feuille Kyary ordered was created by an expert patissier and based on the strawberry mille-feuille recipe from the legendary French restaurant Maxim's de Paris in Ginza. A generous amount of custard cream complements the crispy pie crust and enhances the sweetness of the fresh strawberries. We'd recommend it with a glass of champagne–if you're of age.

Kitano Ijin-kan Moore House

Address: 2-9-3 Kitanocho, Chuo-ku, Kobe

Hours: 11:00-17:00

Closed Tuesdays

Official Site: https://www.kitanomoore.com/cafe/

The streets of Kobe are packed with sweets that you can only enjoy if you visit. Why not come experience these incredible spots like Kyary did?

Kobe Sweets Trailer: https://youtu.be/Sx9B1ZdAvlI

Report: Kyary Pamyu Pamyu's Tasty Time in Gastropolis Kobe – Kobe Beef & Nada Sake Edition

Kobe is filled with famous sightseeing spots like the nostalgic Ijinkan neighborhood and port. The city is packed with fashionable shops and restaurants and is highly regarded for its Kobe beef restaurants and tasty local spirits.

Facing the Seto Inland Sea, Kobe is surrounded by rich nature and produces plenty of tasty veggies while also bringing in tons of fresh fish. The port city, with over 150 years of history, has fostered a unique and diverse culinary culture.

Recently, Kyary Pamyu Pamyu began starring in a series of promotional videos for the Gastropolis Kobe project. The artist traveled to the city to partake in plenty of delicious fare, and MOSHI MOSHI NIPPON tagged along. Let's take a look at her top picks!

Kobe beef is the first thing that comes to mind when you hear the name of this Japanese city, right?

Teppanyaki restaurant Tajima, located in the Kobe Portopia Hotel, serves Kobe beef along with other Japanese black beef, seafood, and seasonal vegetables.

Kyary ordered the Kobe beef loin and seasonal grilled vegetables, watching with excitement as the chef prepared the meal in front of her. The steak is made from carefully selected Kobe beef and melts in your mouth. Tajima has private rooms as well as counter seating, making it a perfect location for everything from a family get-together to a first date.

Teppanyaki Tajima

Address: Kobe Portopia Hotel 2F (6-10-1 Minatojima Nakamachi, Chuo-ku, Kobe)

Hours:

11:30-14:30

17:30-21:30 *Open at 17:00 on weekends and holidays

Open Daily

Official site:https://www.portopia.co.jp/restaurant/detail/tajima/

What goes better with Kobe beef than local sake? One area of the city, Nada Gogou, has an incredibly high concentration of sake breweries.

Nada Gogo Sake Brewery opened in April 2022 in a renovated building that was formerly the location of Kenbishi, a long-established local sake brewer with over 500 years of history.

Visitors can enjoy sake and cuisine from 26 breweries in the area under the themes of 'Seasonal, Local, Compatible, Fermentation.' Here, Kyary ordered the Nada Gogou Set which includes the best possible food and drink pairings. Limited to 100 servings each day, the set includes five different sake and three seasonal small plates perfecting for pairing. The drinks and food offerings change with the seasons, allowing guests to enjoy tons of unique flavors from the region no matter what time they visit.

Nada Gogou Brewery

Address: 3-11-2 Mikagehonmachi, Hagashinada-ku, Kobe

Hours: 12:00-21:00 *Opens until 20:00 on Sunday and holidays

Closed Monday-Thursday

Official Site: https://nadagogo.com/

GOCOCU is an all-day buffet restaurant in the Kobe Portopia Hotel where guests can enjoy dishes using carefully selected ingredients from the five Hyogo provinces (Settsu, Harima, Tajima, Tanba, and Awaji) with a spectacular view of Kobe. Visitors can enjoy the chef's specialties including roasted and grilled dishes cooked in a custom-made stone oven. The restaurant is also known for its selection of alcoholic beverages, and Kyary enjoyed the Fukuju Junmai Ginjo. This particular sake has won many awards in Japan and abroad, including a gold medal at the National Sake Competition for three consecutive years. Popular for its smooth rice flavor, this well-loved brand uses rice and rice malt grown in Hyogo Prefecture. Adults can enjoy this and many more delicious beverages during buffet hours and cocktail hours after 8:30 or 9:00 on Saturdays, Sundays, and holidays.

GOCOCU ~Blessings of the Five Kingdoms~

Address: Kobe Portopia Hotel 30F (6-10-1 Minatojima Nakamachi, Chuo-ku, Kobe)

Hours: 7:00-10:30, 11:30-15:00, 17:30-21:00, 20:30-23:00

Open Daily

Official Site: https://www.portopia.co.jp/restaurant/detail/gococu/

Founded in 1659, Kiku Masamune is a leader in the sake industry. We visited the Kiku Masamune Sake Factory, opened to commemorate the 50th anniversary of its handy barreled sake, perfect for allowing customers to enjoy barrel-aged sake at home easily. Visitors can enjoy browsing sake barrels, with many created using traditional barrel making techniques that are still used today. They can also enjoy an exhibition of Yoshino cedar, the material used to make the barrels. Tours are by appointment only. Reservations are taken on a first-come, first-served basis, so early reservations are recommended!

Kiku Masamune Sake Factory

Address: Uozaki Nishimachi, Higashinada-ku, Kobe

Tour Times: 10:30~, 14:00~, 15:00~ (Each tour is approximately 30 minutes.)

Closed during New Year's holidays.

Official Site: https://www.kikumasamune.co.jp/tarusake-mf/

*No outside food or beverages are allowed inside the factory. Tastings are available at the Memorial Hall after the tour.

After reading this, you're interested in coming to Kobe, right? Enjoy some of this savory fare the next time you're in the area. 

Kobe Beef Version:https://youtu.be/-HrNq6JGO3A

Nada Sake Version: https://youtu.be/cd9_f59NWIw

Kyary Pamyu Pamyu to Perform at UNIK Asia Festival 2022

Kyary Pamyu Pamyu will perform at UNIK Asia Festival 2022, a massive music and fashion festival to be held at a large outdoor space in the middle of Hong Kong on December 10 and 11, 2022. 

UNIK Asia Festival 2022 will bring together a number of Asian artists for live performances and fashion shows. JAY B, leader of the popular Korean boy band GOT7, will also perform, along with all former members of 2NE1–CL, Minzy, Park Bom, and Sandara Park.

Also slated to perform are Feng Ze, Taiwanese band 831, rapper Tyson Yoshi, Jer and Jeremy from the idol group MIRROR, and many more international artists. 

Kyary Pamyu Pamyu and Travis Japan, who made their world debut last month, will represent Japan. Kyary has performed around the world many times, appearing at Coachella in April, and recently performing with Katy Perry at THE CONCERT 2022. 

In December, Kyary will reenact her Coachella performance with shows in Osaka and Tokyo. Tickets are available now, so grab them before they're gone!

Information

UNIK Asia Festival 2022

Dates: December 10 – December 11, 2022

Hours: 13:00-22:00

Venue: Central Harborfront, Hong Kong

Official Site: https://www.unikasiafestival.com/

Kyary Pamyu Pamyu Special Live 2022 ~Back to Coachella~

Osaka Performance

Date: December 20, 2022

Venue: Nanba Hatch (Osaka)

Contact: Kyodo Information 

https://kyodo-osaka.co.jp/ / 0570-200-888

Tokyo Performance

Dates:
December 21 – Setlist from Week 1 of Coachella

December 22 – Setlist from Week 2 of Coachella

Venue: EX THEATER ROPPONGI (Tokyo)

Contact: HOT STUFF PROMOTION

https://www.red-hot.ne.jp/ / 03-5720-9999

More Details

Kyary Pamyu Pamyu Returns to America to Perform Only Half a Year After Coachella

On October 29, Kyary Pamyu Pamyu took part in Porter Robinson's Second Sky Music Festival in Oakland, California. The following day, the popular singer also appeared at Porter Robinson + Friends, an afterparty event held in San Francisco. American fans are finding their excitement at a fever pitch as the Harajuku-based artist continues to perform abroad!

Kyary Pamyu Pamyu recently made headlines when she performed an unprecedented 62 songs at Nippon Budokan on October 19 during the final stop on her 10th-anniversary tour. Following this impressive feat, Kyary performed at yet another festival in Japan before hastily returning to the United States following her show-stopping performance at Coachella half a year ago.

Porter Robinson's Second Sky Music Festival was hosted by and featured performances by internationally acclaimed DJ and producer Porter Robinson. Other important figures in the dance music scene also appeared including SKRILLEX and RL GRIME.

The event took place in a large parking lot adjacent to the Oakland Coliseum, home of the Oakland Athletics MLB team. Since the show took place close to Halloween, plenty of decorations could be found, and fans lined up from the early morning to get inside.

Although Kyary's performance was scheduled for quite early in the day, the audience sprawled out as far as the eye could see. As DE.BA.YA.SHI. 2021 began to play, fans began to excitedly call out Kyary's name. In Japan, regulations are in place to stop the spread of the coronavirus, meaning that audience members are forbidden to yell during concerts–but no such precaution exists in the U.S. It was clear that Kyary was beyond excited to hear the audience's enthusiasm, and as the show began, the artist called out "Second Sky," to which the fans responded with excited cries. 

The audience danced wildly to Candy Racer and Dodonpa, two of Kyary's most peppy tracks, which played in succession. The singer did her best to speak English. "Hello! I'm Kyary Pamyu Pamyu from Japan," she began. She then complimented a fan in full Kyary cosplay. "Wow! Nice costume! PONPONPON costume, so nice," she said.

During CANDY CANDY -Remix-, the audience raised their hands high in the air as they followed Kyary's instructions to jump, swaying from left to right. As the audience moved in sync, a number of hit tracks began to play, including Harajuku Iyahoi and Tsukematsukeru. However, nothing could match the excitement of the moment that the intro to PONPONPON began to play. Porter Robinson, who was watching the live performance from the side of the stage, was moved to tears, and everyone could feel how big Kyary's presence was for local fans.

Kyary's performance at the Coachella Valley Music and Arts Festival in April of this year became a hot topic, showing that Kyary is still incredibly popular in the U.S. ten years after her major debut.

In addition to her largest national tour to date, Kyary has made numerous appearances at music festivals in Japan and abroad in 2022. The artist's first overseas performance during her 11th year as a performer was an incredible success and bodes well for Kyary's future.

<Setlist>
2022.10.29 "Second Sky Music Festival"
OP. DE.BA.YA.SHI.2021
1. Candy Racer
2. Dodonpa
3.Invader Invader
4. CANDY CANDY –Remix-
5. Ninja Re Bang Bang –Steve Aoki Remix-
6. Harajuku Iyahoi
7. Tsukematsukeru
8. PONPONPON –Extended Mix-
9. Fashion Monster

2022.10.30 "Porter Robinson + Friends"
OP. DE.BA.YA.SHI.2021
1. Candy Racer
2. Ninja Re Bang Bang
3. CANDY CANDY
4.Crazy Party Night-Pumpkins Strike Back-
5. Kira Kira Killer
6. Isshin Doutai
7. Harajuku Iyahoi
8. Fashion Monster
9. PONPONPON

Information

Kyary Pamyu Pamyu

Gastropolis Kobe, Featuring Kyary Pamyu Pamyu, Now Available to Watch

Kyary Pamyu Pamyu is now starring in a series of promotional videos for Gastropolis Kobe, a project aiming to share the city's incredible food culture with both domestic and international travelers. The project began on November 3, 2022.

[Kobe Beef Version] https://youtu.be/-HrNq6JGO3A

In the new videos, Kyary experiences the wonders of Kobe beef as well as local sake and desserts while exploring the city's best sightseeing spots. T

The main video will be aired on a massive screen near Shibuya Station in Tokyo starting in mid-November, and will also be available to watch online.

[Nada Sake Version] https://youtu.be/cd9_f59NWIw

[Kobe Sweets Version] https://youtu.be/Sx9B1ZdAvlI

To celebrate the campaign, four popular restaurants in Tokyo will participate in the Gastropolis Kobe Fair, inviting guests to enjoy cuisine from the capital of Hyogo Prefecture.

Interview with Kyary Pamyu Pamyu

Q: After filming, what was your impression of Kobe? 

A:  "I took pictures in all kinds of places, but honestly, they were all so close to each other. It was easy to get around and see everything–it only took between 15 and 20 minutes to get somewhere, and shooting went smoothly, so I was really able to enjoy every second!"

Q: What's your overall impression of Kobe's cuisine?

A: "There was so much amazing food. Everything was delicious and I ate and drink so much…because of how much drinking was involved in this shoot, I felt like food and alcohol were really connected in Kobe. Even between takes, the staff would ask if I wanted to try something or have another drink. I was so moved by the warmth and kindness of the people I met. This trip was filled with love and hospitality."

Q: You traveled around Kobe, right? What was your favorite place? 

A: "I love fashion and history, and Kobe had so many incredible historical buildings. I wanted to have tea at a place like that, and the view at night was unbelievable. I thought it was a great date spot or even a place you could spend time with your family and friends. I loved watching the big boats in the harbor." 

Q: There are only two months left in 2022. Is there anything you still want to do? 

A: "I've been on my Japan tour since January, so I'd finally like to relax a little bit. Maybe eat some good food and go to a hot spring. 

Q: Do you have a message for the readers?

A: "The two days of shooting in Kobe were incredible. The weather was perfect, the food was delicious, and the drinks were divine. I'd love to return on my own trip! I hope everyone enjoys the videos!"

Information

Gastropolis Kobe Web Series

Streaming: November 3, 2022 at 0:00

Gastropolis Kobe Fair

Running: November 3 – November 9, 2022

*Shiseido Parlor Harajuku will be closed from November 7 until November 10

Participating Venues: 

・TAVERN by the green

Address: THE STRINGS Omotesando 2F (3-6-8 Kitaaoyama, Minato-ku, Tokyo)

・Shiseido Parlor Harajuku

Address: WITH HARAJUKU 8F (1-14-30 Jingumae, Shibuya-ku, Tokyo)

・Ginza Onodera

Address: Il Palazzino Omotesando (5-1-6 Jingumae, Shibuya-ku, Tokyo)

・Tokyo Jugatsu

Address: Ohararyu Kaikan B1F (5-7-17 Minami-Aoyama, Minato-ku, Tokyo)

Japanese Artists to Perform in MetaTokyo Area at Metaverse Music Festival

Metaverse Music Festival will feature a MetaTokyo area this year! The event is being organized by Decentraland, a global Web3 Metaverse platform. A number of Japanese artists will perform, including Edo Lena, MISOSHITA, and Atarashii Gakko! 

In the special MetaTokyo area, a giant Metaani x Kyary Pamyu Pamyu character will be dancing to the beat. The popular collab appeared in April of this year and was an instant hit with NFT fans around the world. Those with an interest in Japanese culture can also enjoy some unique content streamed in the area. The Metaverse Music Festival will be held from November 10 until November 13, 2022.

Participating Japanese Artists

According to a recent announcement from Decentraland, Ozzy Osbourne, Soulja Boy, Dillon Francis, SNH48, and others will perform at OZZFEST, a festival organized by Ozzy Osbourne. Atarashii Gakko! will perform on the main Tower of Babel Stage.

The festival area will also feature special stages and areas in collaboration with a number of partners. MetaTokyo is one such partner sure to be a hit with audiences around the world!

Within the MetaTokyo area, Metaverse diva and artist Edo Lena and Metaverse creator MISOSHITA will perform. Other J-pop artists are scheduled to perform for audiences worldwide.

Giant Metaani x Kyary Pamyu Pamyu 

A giant Metaani x Kyary Pamyu Pamyu will appear within the Metaverse. First appearing in April 2022, guests will be treated to Kyary's popular song Dodonpa when they first enter, and will be able to take selfies with the huge character in a way not possible in the real world.

Information

Metaverse Music Festival

Date: November 12, 2022 at 2:00AM (JST)

How to Participate: 

Visit the pre-registration page below and click "WANT TO GO." 

https://events.decentraland.org/event/?id=7148716b-ff25-4d5f-8267-55fed7ab15bc

*Only the PC version of Chrome is supported.

*Visitors entering the event as a guest won't need to have a virtual currency wallet. 

*Some restrictions apply

Admission: Free

13th BT21 Cafe to Open in Tokyo, Yokohama, Nagoya, Osaka, and Sapporo

The 13th iteration of the BT21 Cafe will open at six venues in five cities around Japan. Fans in Tokyo, Yokohama, Nagoya, Osaka, and Sapporo will want to visit this exclusive event titled ~MAGICAL TIME~. The first cafe opens in Shibuya on November 3. In celebration of BT21's 5th anniversary, this special cafe is filled with joy and excitement and aims to give fans the best possible experience.

Cafe Menu

Magical Tea Time Set

Food Plate

Food Plate (7 varieties)

Dessert Plate

Dessert Plate (7 varieties)

Drinks

Magical Milk Tea

Black Tea

Iced Coffee / Hot Coffee

Original Goods

Acrylic Keychain (7 varieties, Random)

Acrylic Clip (7 varieties, Random)

Satin Sticker (7 varieties)

Clear Folder (2 varieties)

Handkerchief (7 varieties)

Tote Bag

Mug

Masking Tape / Balloon on a Stick

Dolomite Coaster (2 varieties) / Mirror (2 varieties)

[Online Store Exclusive] Acrylic Keychain (7 varieties, Random)

The cafe's new menu includes afternoon tea, perfect for warming the body and soul during the cold winter months. The colorful food items and desserts are sure to be a hit on social media, and fans will enjoy the Magical Milk Tea and other dishes inspired by the popular BT21 characters.

 

In addition to new merchandise and bonuses featuring newly-drawn art, a photo spot will welcome guests to the cafe and invite them to celebrate this five-year milestone. 


Why not take a break from everyday life to enjoy a magical time with these cute characters?

©BT21

Information

BT21 Cafe #13 ~MAGICAL TIME~

Venue/Dates


■Shibuya, Tokyo:

BOX cafe&space SHIBUYA109

Running: November 3 – December 10, 2022

Address: SHIBUYA109 B2F (2-29-1 Dogenzaka, Shibuya-ku, Tokyo)

■Oshiage, Tokyo:

BOX cafe&space Tokyo Solamachi

Running: January 13 – February 19, 2023

Address: Tokyo Skytree Town, Solamachi 1F (1-1-2 Oshiage, Sumida-ku, Tokyo)

■Yokohama, Kanagawa:

Collabo_Index Lumine Yokohama

Running: January 13 – February 5, 2023

Address: Lumine Yokohama 6F (2-16-1 Takashima, Nishi-ku, Yokohama, Kanagawa)

■Nagoya, Aichi:

BOX cafe&space Nagoya LACHIC #1

Running: December 2, 2022 – February 5, 2023

Address: LACHIC B1F (3-6-1 Sakae, Naka-ku, Nagoya, Aichi)

■Shinsaibashi, Osaka:

Shinsaibashi contact

Running: November 11 – December 18, 2022

Address: 1-6-24 Kitahorie, Nishi-ku, Osaka

■Sapporo, Hokkaido:

Cafe Interlude, Coach & Four Shinakawa

Running: November 3 – December 29, 2022

Address: 18-chome 3-jo, Kita-ku, Sapporo

Reservations: https://box-cafe.jp/



Online Shop

Open: November 3, 11:00 – December 4, 23:59
https://box-cafe.jp/online_store/

Limited Edition Kyary Pamyu Pamyu Crocs Announced

The casual footwear brand Crocs has announced a limited-edition shoe made in collaboration with Kyary Pamyu Pamyu. The exclusive model will go on sale on November 18, 2022.

Using the shape of the popular Crocs Classic Fur Sure model, the new design combines Kyary Pamyu Pamyu's unique style with the comfort that Crocs has become known for with both children and adults worldwide.

The new collaboration was inspired by the concept of "what if?" Warm and comfortable, the chic and relaxed shoes are perfect for the fall and winter months and can be worn with both casual and formal attire. The faux fur top and original leopard print give the Crocs Classic Fur Shure Clog a bold new silhouette. The inner lining is also packed with soft and fluffy material to provide comfortable cushioning and to keep feet warm even on the coldest of days.

Kyary Pamyu Pamyu's logo appears on the rivets found on the back strap, with eight Jibbitz holes appearing on the front strap. These exclusive charms can be found on the official Crocs website.

Information

KPP x Crocs Fur Sure Clogs
Release Date: November 18, 2022
Price: ¥11,000
Size: 22cm~30cm
Where to Buy: Crocs Official Online Shop (https://www.crocs.co.jp), in select stores