A kimono and business shirt collaborative clothing, "Furusode Y-shirt" is now on sale.
 "Village Vanguard Online" is now selling "Furisode Y-shirt" a collaborative kimono / business shirt piece of clothing.
The product was produced by CAMPFIRE and is an item that can only be bought at Village Vanguard Online which re-creates the illustration depicted by the popular illustrator, Shun Akagi.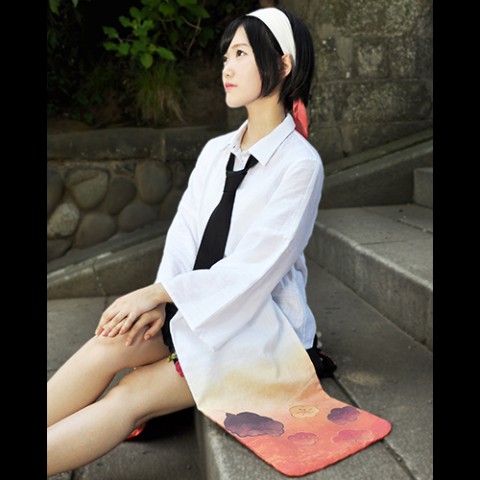 The model of this item is Idol College's Haruna Sato.
〈A comment by Shun Akagi〉
I often depict illustrations that contain the design of ethnic costumes such as Japanese clothes and China dresses.
I depicted this illustration because I wanted to mix the taste of Western style clothes and Japanese style clothes.
These days there are not so many opportunities to wear Japanese clothes. But I hope everybody will enjoy wearing Japanese clothes with a casual feeling in the future.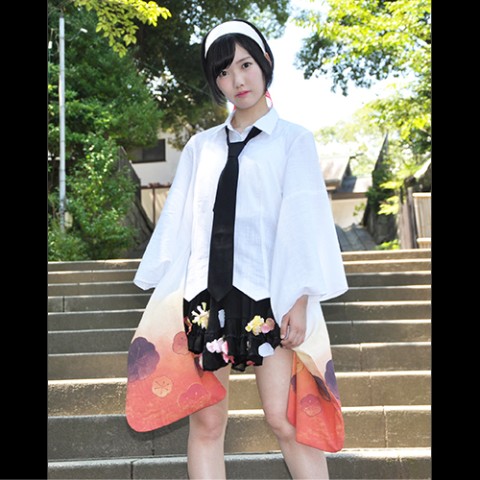 Enjoy this piece of clothing which is a collaboration between Japanese kimono and a Western-styled shirt.
RELATED ENTRIES
Japanese attire brand Relier81 began selling its "OBI Square Sandals" on the official UNITED TOKYO online store on Thursday. The sandals are made using dead stock obi which are the sashes used to tie kimono.

Who are Relier81?

Relier81 is a Kyoto-based upcycling brand which aims to maintain Japanese tradition, culture, and the original craftsmanship of its creations.

In today's era, there are less opportunities for people to wear kimono in Japan. Beautiful and breathtaking kimono, obi, and other kimono related items are gathering dust in people's wardrobes. So Relier81 began to think of a way that would enable them to still make use of kimono and kimono accessories that would fit the modern lady. That's where their upcycling skills come into play.

OBI Square Sandals – ¥29,700 (Before Tax) | Size 1: 23cm-23.5cm, Size 2: 24cm-24.5cm

Relier81 have collaborated with UNITED TOKYO for these new OBI Square Sandals, a brand which prides themselves on products that are "Made in Japan." The sandals use Relier81's "OBI Sandals" as the base which have been wrapped in carefully selected dead stock obi by UNITED TOKYO's designers. There are 12 sandal designs in total with two different kinds of elastic insoles used. The sandals lighten the burden of the feet and are super comfortable to ensure that your feet don't get tired easily.

The sandals are shipped in a special "kiribako" box with both company's logos branded on it to keep with the traditional theme.

All of these sandals are manufactured in Japan, but the ageing of artisans and lack of successors is of real concern. UNITED TOKYO's official online store has posted photos of the manufacturing process of one shoes to show people how it's done.

Kimono IN LAFORET 2020: Kimono Brands Galore to Gather at Event in Harajuku

Laforet Harajuku has announced that its next "Kimono IN LAFORET" kimono and furisode pop-up shop will run from January 4 to 22 next year.

Iroca Kimono "Leopard Gecko" – ¥63,800 (Tax Included) / Half-Width Obi – ¥26,400 (Tax Included)

Pure Silk Butterfly Black Cloth Furisode – ¥132,000 (Tax Included)

Light Blue Dove Print Polyester Furisode – ¥128,150 (Tax Included)

Eight brands will line the shelves of the annual pop-up shop, with kimono, furisode, accessories and more available for purchase, including new items.

Model and actress Shen Tanaka features as the star of the main visual for Kimono IN LAFORET 2020, mixing colourful kimono with western clothing to create a unique look. Marie Higuchi, who was the stylist for the visual, has also released some dress advice for those who love kimono or those who are beginners and newcomers to the scene.

Mixing kimono with the kind of regular clothing that screams you

Marie Higuchi is a stylist who also writes columns in Nylon Japan and Sozen. Her advice can be used by both beginners and experts alike: by mixing kimono with some of your own clothing, you can simply and easily create a stylish look that's you. This makes for a perfect outfit for a special occasion.

Styling Point

This outfit combines fishnet tights with sandals that have thick metallic soles to create an edgy kimono style. Using thick sandals makes them really stand out when wearing kimono, so you can easily incorporate them with any kimono you wear.

Items Used

Kimono/Obi/Other: iroca

Haneri: C.H.O.K.O

Obi Clip: conoco

Styling Point

The gorgeous flower head dress brings a strikingly elegant touch to the overall look of this outfit. Whether used with kimono or in your regular day-to-day outfits, it's sure to bloom beauty with whatever style you go with.

Items Used

Kimono: MIKI SAKURA

Head Dress: Atelier Senka

One Piece Shirt: Ank Rouge (Laforet Harajuku Floor 4F)

Styling Point

Coloured turtlenecks are in right now for the current season in Japan, and this kimono look incorporates one underneath the kimono. The mix of loose socks and thick-sole sneakers really adds to the flavour of this style, even more so with the addition of personal items like the vinyl record headband and lip clutch bag which make it unique.

Items Used

Kimono/Obi: Tamao Shigemune

Headband/Clutch Bag: SINZ (Laforet Harajuku Floor B0.5F)

Other: Personal items

If you're looking for kimono and furisode when visiting Japan in January, be sure to hit up Kimono IN LAFORET at Laforet Harajuku, located in Tokyo's fashion central: Harajuku.

Experiencing Japan: Dining at Denkiya Hall in Asakusa Wearing a Retro and Antique Kimono

Hi, MOSHI MOSHI NIPPON readers! Banako here again from the MOSHI MOSHI Friends group.

I have a question to ask you all. If you've been to Japan, did you ever dress up in a kimono or yukata to go sightseeing? It's become common to see not only Japanese people, but foreign travellers and tourists clad in traditional Japanese ware snapping photos in the country's historical locations. Dressing up in a kimono and walking the streets really immerses you in that Japanese spirit and transforms your experience entirely.

I visited kesatokyo in Asakusa which rents out kimono that are somewhat different from the norm, got myself a kimono, and took a trip to Denkiya Hall, a long-standing cafe in Asakusa.

Denkiya Hall is located along Senzoku-dori Shopping Street which is a 10-minute walk from the Tsukuba Express side of Asakusa Station. The street is quiet and peaceful since it's away from the hustle and bustle of the station front.

The kimono at kesatokyo are renowned through the town as they give off cute retro-antique vibes with their combination of things like lace necks, head dresses and berets.

You can get some romantic co-ords which you won't find with other kimono by matching with your friend in terms of design and accessories. I headed into the cafe excited with my kimono choice which matches the old-fashioned design of the cafe exterior.

A standout feature of this cafe is that some of the tables have arcade games attached to them. If there's a free seat at one of them, pick your favourite-looking, slot in a coin and start playing! Be sure to ask the staff to switch it on for you beforehand.

While gazing through the nostalgic games, I ordered the cafe's popular omumaki (¥700) and cream soda (¥650) while my friend got hot cakes.

Stuffed and wrapped inside the omelette is a hearty serving of fried noodles. The noodles themselves are on the thicker side and have a rich seasoning like that from the Showa period. You can also pick between different noodles.

The cream soda had deliciously sweet syrup and vanilla ice cream inside it.

Your kimono will match the atmosphere of the cafe really well, so you can take some really great pictures at any time.

Denkiya Hall opened over 100 years ago and incorporates styles from three different historical periods: Meiji, Taisho and Showa, giving it a nostalgic feeling.

Another one of Denkiya Hall's specialities is their boiled adzuki, the perfect treat to warm yourself up as the weather gets colder.

It was fun strolling around Asakusa after our cafe visit, as well as searching for more modern towns like Ginza and Omotesando.

We returned our kimono to kesatokyo at 18:40, right before the final return time. The basic rental plan for one person is ¥6,050 and it even includes hair styling! You can make reservations either via DMs on the store's official Instagram or by telephone. You're certain to get a reply on Instagram so it's recommended going that route. The shop has more details on their plans on their website.

Wearing a beautiful kimono and warming up inside a cafe during wintertime. How does that sound?

Disney Store Unveils Mickey, Minnie, Ariel & Rapunzel Summer Yukata

Disney Store Japan has announced that it will begin selling a range of original yukata and miscellaneous items for summer. Sales in-store begin on June 18 with pre-sales hitting the online store a week earlier on June 11.

Ariel/Rapunzel

The line-up sees the return of the Ariel and Rapunzel Disney princess yukata which were a hit in Japan last year as well as the new Mickey Mouse and Minnie Mouse versions. This year's assortment of accessories and miscellaneous items to co-ordinate with the yukata is also even bigger than last year.

Mickey Mouse/Minnie Mouse

The designs are chic and subtle while still celebrating the characters of the Disney world. The Mickey and Minnie yukata in particular feature retro patterns which can be enjoyed by people of all ages. The obi sash that come with the outfits also play into the story of each character.

The other items in the mix include fans, bags, and a range of cute accessories to make your yukata even more glamorous.

It would be super fun to co-ordinate the yukata together with friends. So if you're heading to Japan this summer then why not pay a visit to the Disney Store and ready yourself for the fireworks and festivals?

©Disney

Pour on the soy sauce and a scary Kabuki face will appear?! Order your Village Vanguard soy sauce dishes now!

Village Vanguard is well known for their collaborations with characters and their animal-themed designs. This time, they've made a Kabuki-themed soy sauce dish that you can order online.

Young, old, male or female, Japanese people love their traditional theatre shows called "Kabuki". One fascinating feature of Kabuki is the impressive makeup of the actors and actresses called "Kumadori


They made animal-themed soy sauce dishes, then character-themed ones, and now finally, we've got Kabuki-themed ones! There are many different designs in this new series ー you can enjoy all their different expressions! This is bound to make your dinner table a thousand times more exciting!

There are a total of six designs. Please come and choose from this wonderful selection!

Enjoy Kimono at Laforet Harajuku's 'Kimono IN LAFORET' Function

Laforet Harajuku is set to hold a kimono and furisode event from January 4 to 23 next year. A selection of 11 stores are taking part including 5 that are participating in the event for the first time. Shops include those that sell kimono which can be worn as everyday fashion to those that stock antique kimono and modern recycled kimono.

A multitude of items will be sold. Whether it's for an official event like graduation or the Coming of Age Ceremony or something that can be born with regular clothing, you're sure to find it here.

Modern Antenna

Modern Antenna is a brand based in Arashiyama, Kyoto that sells kimono with polished and sophisticated designs. Their quality is consistent with everything from the designs to the manufacturing. They don't just cater to the traditional Japanese category―they take into account fashion as a whole when creating their clothing.

Roccoya Winter Shop

Roccoya is popular for its designs that fuse together the modern and traditional. They will appear alongside several guest brands including Haikaru Confeito, Baba Soushoku, hanamame, TSUBAKIAN, and erikaDear. The line-up will include a range of new furisode as well as casual kimono that can be washed at home, various pieces that can be used at ceremonies and for everyday use such as the haneri neck piece, obi sash, shawls, and obidome. They will also sell small accessories like headdresses and hairpins.

MIKI SAKURA & Sakura Maison

MIKI SAKURA's concept for its items is "dignified women wrapped in beautiful fragrances." Sakura Maison creates original "Japanese kawaii" kimono and accessories. These two brands will come together to open a special pop-up shop where popular artists will come together.

yuminique

yuminique's brand concept is to create something just for the customer that raises their mood simply by wearing it. They sell accessories like headdresses. They picture a jewellery box under a young girl's bed when handcrafting each and every one of their products which are made from fantastic materials.

Masaboshi

Masaboshi offers news ideas with its diverse range of kimono―from antique to contemporary―that create timeless looks. They will exhibit a wardrobe of cute furisode and pop vintage kimono personally selected by them as well as a line of cool and elegant kimono that grown-ups can enjoy too.

Modern Kimono Umeya feat. Tamao Shigemune

Modern Kimono Umeya and Tamao Shigemune are coming together to showcase new and original items as well as exclusive products you can only purchase at this event.

Modern Kimono Umeya is a select shop selling kimono and accessories for people to enjoy wearing kimono freely and as they like in the best possible way to bring out themselves. Their products take inspiration from regular clothing. Tamao Shigemune is a kimono maker that creates kimono, yukata, obi sashes and accessories completely produced by her from the designing to the planning and styling. She produces things she wants herself that no one else offers.

Discover Harajuku-style kimono at Kimono IN LAFORET in the new year!

Information

Kimono IN LAFORET

Location: Laforet Harajuku

Running: January 4, 2019 – January 23, 2019

Official Website: https://www.laforet.ne.jp/

Dress in a kimono and discover the secret locations of Gojo on a walking tour in Kyoto

There is a walking tour of Gojo in Kyoto you can take to see little-know historical and famous spots around the area. The tour is led by staff who have acquired the top level in the Kyoto Kentei Test, a "sightseeing and culture test" to gauge "applicants' knowledge of Kyoto's history and culture." Staff give a truly in-depth tour taking you to places not shown in guidebooks and places even the people of Kyoto are unaware of.

The tour was conceived by Akane Kifune who works at Kyoto Kimono Rental Yumeyakata. Gojo is a place that despite being located in the heart of Kyoto, once you take one step into it you are brought to a retro town filled with lush greenery that even the locals don't know about.

The theme of the tour is "Look/Taste/Take Photos." You are taken to photo spots perfect for kimono as recommended by Yumeyakata's pro cameraman. Participants will also receive exclusive items from cafes and shops in the Gojo area not available to anyone else!

The tour begins on October 20. Rent out a kimono and tour the hidden shops and cafes of Gojo.

Information

Kimono Off the Beaten Path Gojo Walking Tour
Meeting Place: Kyoto Kimono Rental Yumeyakata – Gojo

Time: 9:00am Arrival – 10:30am Departure / 1:00pm Arrival – 2:30pm Depature
Participation Fee: ¥1,800 (Pre-Tax)
*Or ¥1,500 to participate for those who rent their kimono at Yumeyakata. A separate fee is charged however for kimono rentals starting at ¥2,800.
No. of People: 2-10
Ages: 12+
Duration: Approx. 90 minutes

Kyoto Kimono Rental Yumeyakata

Address: 128, Manjujicho, Shimogyo Ward, Kyoto, Kyoto Prefecture, 〒600-8104

Access: 3-minutes on foot from Gojo Station via the Karasuma Line.

TEL: 075-354-8515
Website: https://www.kyoto.yumeyakata.com/

Cute Neko no Buu-chan Merchandise Arrives at Village Vanguard

Village Vanguard are now selling cute new merchandise for Neko no Buu-chan, an adorable cat character created by Japanese illustrator Kino Takahashi.

This cute die cut smartphone ring functions as a stand to keep your phone propped up.

The cookie tin is filled with Buu-chan cookies! The designs are just too cute to eat.

There's even Buu-chan's first ever line of t-shirts. There's 3 colours to choose from. A must-have for this summer.

There's a range of other new Buu-chan items to get your hands on too, like stickers and badges. Litter your room with this cute kitty!

Shogi Rucksack Now Available for Pre-Order at Village Vanguard

Village Vanguard is now taking pre-orders for their shogi backpacks.

Shogi is often referred to as 'Japanese chess.' Japan is currently undergoing a shogi boom. The anime series March Comes in Like a Lion, which finished airing in March this year, follows the story of Rei Kiriyama, a 17-year-old professional shogi player. The two-season series became a hit in Japan and overseas, even getting a live action adaptation.

Sota Fujii is a 15-year-old high school student in Japan who made headlines for becoming the youngest person to achieve professional status as ranked by the Japan Shogi Association. He is currently ranked 7-dan.

Thanks to anime fans and budding young shogi players, the scene is gaining much attention with males and females of all ages. Now they can express their love for the game by wearing this backpack.

The bag comes with a pouch reading Oushou (王将), or 'King,' one of the shogi pieces. You can stow away all of your shogi pieces inside for easy access if a new opponent appears.

The bag is also perfect for mirushou, a rapidly growing population of shogi fans who like to watch shogi games but don't play and don't necessarily know the rules.

The bag can be used for carrying bigger items too, whether they're related to shogi or not. They're great for day-trips, overnight stays or as a souvenir from Japan!

If you're a fan of shogi or know someone who is, then look no further for a present than this!

How to Style Your Hair & Make-Up for Wearing Yukata

The summer season is almost here, which in Japan means summer festivals and fireworks. Wearing yukata is tradition during summer here and really gives you that summertime vibe.

But to enjoy yukata fashion even more, you've got to get the hair and make-up right too. Here's some tips!

How To Style Hair & Make-Up for Yukata: 2018 Edition
Showing us the tricks of the trade is top hair and make-up artist Yumiko Kamada of cosmetics company Shiseido who has incorporated 2018 trends and made it so that anybody can challenge themselves to it.

・Hair

1. Start off by curling your hair. Depending on how you like it done, it's good to slightly curl the tips with the curling iron too.

2. Tie your hair from behind your ears to the top of your head to separate the front and back like in picture ②.

3a. Tie each part of the hair you separated close to the top of your head.
3b. For the front, divide the inner part of your hair from the knot into two, and pass the tips of your hair through. Add some nuance to the side with a Gibson tuck.

4. Twist the front and back bundles and bring together.

5. To give the top balance, fix tightly with a hairpin. Add nuance by styling your hair around your face and finish with hairspray. Leave a refreshing impression with checkered hair decorations and transparent glass hairpins.

・Make-Up

1. For the base make-up, lightly apply liquid foundation to your skin.

2. Lightly fix with face powder and use highlighter to give your skin shine and luster.

3. Powder your eyebrows to a natural thickness and make soft.

4. Add coral cream eye colour to the outer part of the double eyelid. Apply lavender cream eye colour to the entire bottom eyelid. For single eyelids, close your eye and add the eye colour to the eyelid.

5. Carefully add mascara starting from your lash roots to brighten your eyes.

7. Add pink cream blusher to the upper parts of your cheeks. This brings out the depth of your face and makes your side profile look beautiful.

7. Use a glossy pink lipstick to give a bright look. Lightly shade off the outline to give a lighter look.

Recommended Make-Up Items: PLAYLIST Multi Painter (With New Colours)
These multi coloured creams come in paint tubes and can be used just about anywhere from your eyelids to eyebrows, cheeks, lips and so on. There are 14 colours in total (13 coloured and 1 clear). There's the lavender and coral which was used in this tutorial as well as two new summer colours. Pick them up and get on Japan's 2018 summer trends!

Dress up in a colourful and beautiful yukata and have yourself an unforgettable summer!

■Information

Shinseido:

http://www.shiseidogroup.jp/?rt_pr=trb50Yumiko Kamada (Top Hair & Make-Up Artist at Shinseido)


Yumiko Kamada is active in many fields, including advertisements, commercials, collections, female hair and make-up fashion magazines, beauty seminars, cosmetic development, technique development and more. Her luxurious and delicate craft and earned her support from women and models from inside and outside Japan. She works as the chief coordinator for 'Fashion Cantata from KYOTO' and also works on 'TOKYO KIMONO COLLECTION in Nihonbashi.'

Scary! Ice Made to Look Like Legs Sticking Out of Water

If you're in Japan this summer and can't bear the heat, then we've got a recommendation to cool you off. A fun and innovative ice cube tray made by Kyoto Ohata of Mousou Kousaku―who won the 2nd Zakka Awards―has been released at Village Vanguard.

The ice cube tray make your ice cubes look like human legs. Stick them into your drink and it'll look like someone's thighs, legs and feet are poking out. It costs ¥1,296.

The ice cubes are simple to make!

Prepare the silicon ice cube tray.

Pour lots of water into the holes at the top.

Place in the freezer for 5-6 hours.

Take off the seal and detach.

Open up the silicon tray to reveal your ice legs.

Put into your favourite drink!

You can combine the ice cubes with a bunch of different things for summer, not just drinks.

You can watch a funny example video showing how the ice cubes can be used. A male bartender makes a female customer a specially made 'cursed' cocktail. Be sure to check it out yourself!

Nothing's better in summer than a nice cold beverage chilled with some ice. How about shaking things up a bit this summer with this ice cube tray?

Mika Ninagawa's 2nd Furisode Collection Inspired by Japan's 4 Seasons Now on Sale

Furisode brand Ichikura is now taking orders at all its stores together with select La Bliss stores of Mika Ninagawa's second collection of Ichikura furiosde.

A photographer and movie director, Mika Ninagawa was responsible for the direction of the collection, adding seven new strikingly colourful furisode to the arsenal modelled by actress Aoi Morikawa.

M / mika ninagawa is a brand directed by Mika Ninagawa herself which first collaborated with Ichikura in 2017 to release a furisode collection. Sakura Miyawaki of the popular idol groups AKB48 and HKT48 was the first to model for the colourful collection series which drew huge attention.

 

Orders for the second M / mika ninagawa furisode collection opened on April 28 at 24 Ichikura stores and 3 La Bliss stores.

This collection includes seven never-before-seen designs, embodying the grace of Japan's four seasons with vibrant colours like pink and crimson.

Full details were posted on the Ichikura website on May 21, so be sure to check them out.

Furisode are traditionally worn in Japan on Coming of Age Day which celebrates those turning twenty years old. It's a once-in-a-lifetime ceremony, so why not challenge yourself to wearing one yourself?