Cardcaptor Sakura Inspires Four Pairs of Gorgeous Pumps
Women's fashion brand mayla classic is now accepting orders for four unique pairs of pumps inspired by Cardcaptor Sakura: Clear Card!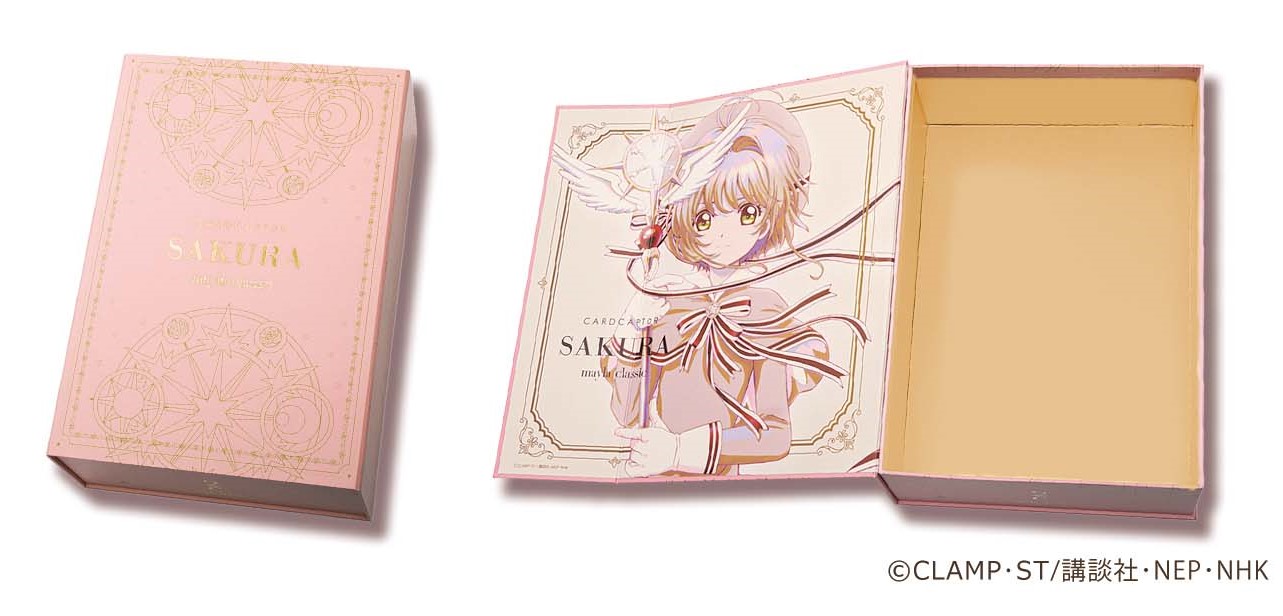 Original Box
Rocket Beat
Clear
Candy Lotus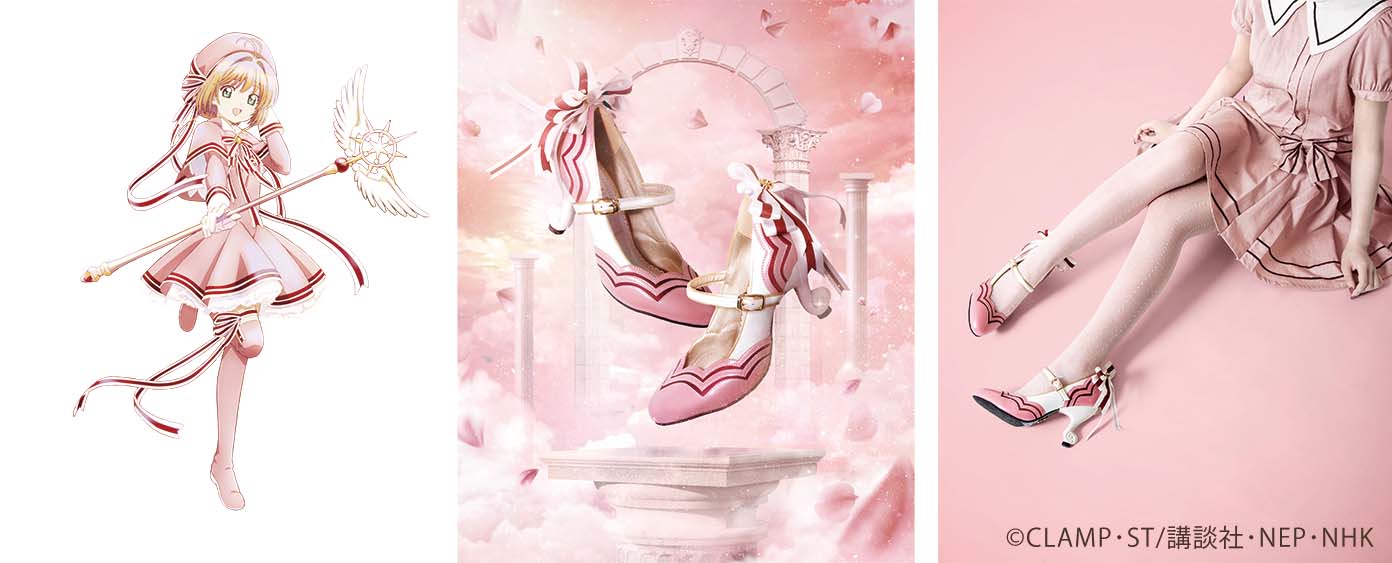 Eternal Girly
Purchase Bonus
The collection features four pairs of shoes inspired by Sakura's iconic battle costumes seen in the anime series.
The elaborate finishes make it seem like the costumes have been directly transformed into shoes! These are perfect to wear for a special occasion or to simply put on display in your home.
©CLAMP・ST/講談社・NEP・NHK
RELATED ENTRIES
Limited Edition Cardcaptor Sakura Earrings Available Now

Ladies brand Mayla Classic has started taking orders for a collection of earrings inspired by Cardcaptor Sakura. The gorgeous jewelry items will be available to purchase from August 5 until September 26, 2022. 

Rocket Beat

Clear

Candy Lotus

Eternal Girly

Purchase Bonus: Limited Edition Postcard (The Postcard will be the same color as the item purchased.)

Purchase Bonus: Original Box and Frame

Combining Sakura's wand and battle costumes that appear in the series, the world of Cardcaptor Sakura comes to life in dainty Mayla Classic style.

 

The shiny metal gives off an elegant mood with each sway, and the colors will ensure that customers will have both a mature and cute style. 

Will you be grabbing one of these earring sets? Mayla Classic accepts orders from overseas!

©CLAMP・ST/講談社・NEP・NHK

Cardcaptor Sakura Anime Series 25th Anniversary Project Unveiled

Cardcaptor Sakura made its debut on Japanese television on April 7, 1998. To celebrate the series' 25th anniversary, a number of exciting events are underway!



CLAMP's Cardcaptor Sakura manga series was serialized in the monthly manga magazine Nakayoshi from June 1996 until August 2000 and remains a massive hit to this day.

The series celebrated its 20th anniversary in 2016 with the announcement of a new anime series, Cardcaptor Sakura: Clear Card Arc, which aired in 2018. The manga has sold over 19 million copies worldwide and its popularity has spread around the world to fans of all ages. 

Sanrio Collaboration Capsule Toys – Minifigure Series 2 / Cardcaptor Sakura 25th Anniversary Lunch Mat

To commemorate the 25th anniversary of the anime's original broadcast, a series of new goods, collaboration cafes, and events are planned for 2022. Those who grew up with the show should be sure to grab some cute items perfect for adults!

Collaboration Room

A collaboration room inspired by Cardcaptor Sakura: Clear Card Arc will also be available to book soon! Aside from Sakura, Kero, Syaoran, and Tomoyo voice lines that will play in the room, guests can also enjoy a full dinner course using concepts and designs from the Cardcaptor Sakura world. 

Those who stay at the hotel will also receive a number of special take-home goods featuring illustrations drawn exclusively for the collaboration. Other original goods will also be available for purchase through the room's catalog and on the official website.

Collaboration Cafe

The Cardcaptor Sakura collaboration cafe that ran until February 6, 2022 at Shibuya PARCO in Tokyo will also head to Nagoya and Osaka! Don't miss the special menu and exclusive goods. 

Nike Opens First Installment of the Sneaker Museum at Hankyu Men's Tokyo

Everyone loves a nice pair of kicks, and no one makes sneakers quite like Nike. For 50 years, sneakerheads have coveted everything the brand creates, and a new museum project is leading fans down memory lane. The first phase of this sneaker museum is now open at Hankyu Men's Tokyo until April 7, 2022, and focuses on sneakers produced from 1972 until 1980. 

A group of curators knowledgeable about various sneaker models and historical backgrounds have gathered to handpick items by era and theme, and guests are welcome to brush up on their shoe history. 2022 marks 50 years that Nike shoes have been manufactured in Japan, and this exhibition will take place for several months over several installments. 

 

The first installment of the exhibition will highlight many different materials used to create Nike sneakers such as leather, suede, and nylon. Fans will also get to see shoes from different countries over the years! This is a rare opportunity, so please come and visit if you can!

Cardcaptor Sakura and Sanrio Collaborate on New Collection

A new collection of goods featuring Sakura Kinomoto and popular Sanrio characters is here! The collection features everyone's favorite magical girl combined with beloved characters such as Hello Kitty, My Melody Pompompurin, Cinnamoroll, and Kuromi. 

The Cardcaptor Sakura manga series was serialized from 1996 until 2000 in the monthly girls' manga magazine Nakayoshi. In 2016, a new version of the series was released titled Cardcaptor Sakura: Clear Card and the magical girl series is celebrating its 25th anniversary in 2021. An anime series aired from 1998 to 2000, with a Clear Card adaptation airing in 2018. 

Costume Design

This is the second collaboration between Sanrio and Cardcaptor Sakura, with the first coming in 2018 with Little Twin Stars. In these collaboration designs, each Sanrio character wears costumes made by Sakura's best friend Tomoyo, and Sakura wears a special costume with Hello Kitty and My Melody ears. One of these designs is only available at official Sanrio stores. 

Sanrio Store Designs

The Sanrio Characters x Cardcaptor Sakura series will be available starting November 26 at Sanrio stores and November 25 at the Sanrio online shop. 

Drawstring Bag Set: ¥1,980

Secret Acrylic Keychains (6 varieties): ¥715 each

Acrylic keychains and charms will come in blind packaging. Five of the designs have been revealed, but there is a sixth secret one to find!

Fluffy Designs

Square Tags (5 varieties): ¥660 each / A5 Clear Folder (6 varieties): ¥385 each

Special Rubber Mascot Keychains

These keychains will be available in capsule machines nationwide, and in March 2022, Cardcaptor Sakura x Sanrio plushies will also be available!

©️C,ST/K,EP,N ©️'21 SANRIO 著作(株)サンリオ

Shibuya PARCO to Host Cardcaptor Sakura Cafe for a Limited Time

Popular magical girl series Cardcaptor Sakura is getting a brand-new collaboration cafe at Shibuya PARCO for a limited time! The event is happening from November 13, 2021, until January 10, 2022, and will feature an original menu inspired by the most recent anime adaptation Cardcaptor Sakura: Clear Card. 

Plenty of sweets and themed drinks will be available, with the main character Sakura featured in the event's key visual. How would you like to come to the 'colorful à la mode' cafe?

Collaboration Menu

Sakura and Friends Sweets Party Set: ¥3,960 (Tax Included) 

Order Bonus: Sakura Clear Lunch Mat

Sakura Doll Cake (Pink ver.): ¥1,650 (Tax Included) 

Sakura Doll Cake (Blue ver.): ¥1,650 (Tax Included) 

Sakura Doll Cake (Yellow ver.): ¥1,650 (Tax Included) 

Kero's Creamy Gnocchi -Surprise: It's Takoyaki flavored?!- : ¥1,430 (Tax Included) 

Sakura's Fruit Tea Soda: ¥990 (Tax Included, available for takeout) 

Bonuses

Paper Lunch Mat for Visitors to the Cafe (2 varieties) 

Menu Order Bonus

Original Merchandise

Acrylic Diorama Stand Part 2: ¥3,080 (Tax Included) 

Swinging Keychain: ¥880 (Tax Included) 

Heart Pin (Random, 6 varieties): ¥550 (Tax Included)

Stainless Steel Bottle feat. Kero, Suppi, and Momo: ¥2,750 (Tax Included) 

Advanced Reservation Bonus – Sakura's Invitation (3 varieties) 

 

The original art for the cafe was drawn by illustrator Etoile et Griotte, and fans of the long-running series won't want to miss out!

ⓒCLAMP・ST/講談社・NEP・NHK

Information

Shibuya TOKYO PARADE goods&cafe

Running: November 13, 2021 – January 10, 2022

Hours: 11:00-20:00

Location: Shibuya PARCO 6F 

(Last Food Order at 19:00 / Last Drink Order 19:30)

Official Site: https://cafe.parco.jp/parade/detail/?id=7203

New Balance 327 Web Commercial Features AKB48 Performing New Single

AKB48's new single Nemohamo Rumor has been making waves with its catchy beat and incredible choreography. The group's first new single in a year and a half, members Nana Okada, Yui Oguri, Hitomi Honda, and others are performing the track in a new web commercial for New Balance 327 sneakers! The CM is available on ABC Mart's official website, as well as AKB48's official YouTube channel. 

To commemorate the release of the new commercial, 48 lucky people will receive a purchase bonus, including an original photo card and snapbook in a new app lottery campaign. A special pop-up will also be held on the second floor of ABC-MART GRAND STAGE Ginza starting September 23, 2021. 

ABC-MART GRAND STAGE Ginza 2F Special Pop-Up

Participating AKB48 Members

Behind-the-Scenes

While the choreography for Nemohamo Rumor is incredibly complex and demanding, the members didn't show a single sign of exhaustion or fatigue during shooting, instead happily chatting with each other and commenting on each other's performance the entire time. As we checked the footage, we were incredibly impressed by how the shoes looked as they performed. 

Stylish Bags and Sneakers Arrive at Camper's Pop-Up Shop in Isetan Shinjuku

Shoe, boots, and sneaker brand Camper opened a pop-up shop at Isetan Shinjuku on Wednesday which is set to run until April 27. The shop is a collaboration with Japanese textile designer Masaru Suzuki who has provided his iconic designs to a collection of bags and sneakers that you can get your hands on. The shop also has a display designed by Suzuki.

Pop-Up Store Line-Up

HOP STEP LIFE | ¥19,800 (Tax Included)

ANIMAL BISCUIT | ¥22,000 (Tax Included)

CHARM POINT | ¥5,500 (Tax Included)

TWINS by MASARU SUZUKI (Women's) | ¥25,300 (Tax Included)

TWINS by MASARU SUZUKI (Men's) | ¥25,300 (Tax Included)

TWINS by MASARU SUZUKI (Kid's) | From ¥12,100 (Tax Included)

Men's Building – "CAMALEON 1975" Pop-Up Store

Men's Building Pop-Up Store Original Novelty

This marks Camper's third long-awaited collaboration with Masaru Suzuki and the first in four years, and this time the series adds shoes to the mix in addition to the popular bags. Suzuki visited Camper's main office in Majorca, Spain, for detailed discussions on the designs.

Suzuki is set to attend the pop-up event on April 17. Customers who spend over ¥5,500 (tax included) on this day will receive a fabric swatch signed by Suzuki. Additionally, the men's building of Isetan Shinjuku is also opening its CAMALEON 1975 pop-up shop once again selling shoes made from recycled materials from Camper. Those who spend over ¥14,300 (tax included) at this shop will receive a free eco-friendly bag made from 100% recycled nylon.

Information

ISETAN x CAMPER Pop-Up Store

Running: April 14, 2021 – April 27, 2021

Where: Isetan Shinjuku

ISETAN x CAMPTER/Masaru Suzuku: Main Building Floors 1F & 2F

CAMALEON 1975: Men's Building Floor B1F
Opening Hours: 10:00-20:00

Official Website: https://www.camper.com/

Smell as Sweet as Cardcaptor Sakura With Her New Eau de Toilette

Pre-sales of a new Cardcaptor Sakura: Clear Card themed eau de toilette will begin at ITS'DEMO in Japan on December 11, 2020. The scented cologne is the series' second collaboration with AQUASAVON following the success of the first product design which released on January 6 this year.

Sakura Floral Scent Eau de Toilette (CCS) | 21S 80ml | ¥2,420 (Tax Included)

The packaging is inspired by Sakura's blue costume and features motifs from the series like a magic circle, Cerberus, stars, and moons. The bottle is based on Sakura's iconic Dream Staff and is a gradation of pink and white with loose glass balls at the bottom. The fragrance is a sweet mix of refreshing green apple and citrus fruits, sweet cherries, clean soap, and luxurious cherry blossom, inviting a feeling of spring.

The first collaborative design will also go on sale next year in limited quantities.

Smell as fresh as springtime Sakura with her new eau de toilette.

ⓒCLAMP・ST/講談社・NEP・NHK

Information

Sakura Floral Scent Eau de Toilette (CCS) 21S
Pre-Sales: December 11, 2020

Available: ITS'DEMO stores in Japan (Select branches not participating
Official Website: https://www.aquasavon.jp/

CLAMP Promote 30th Anniversary With Official Cardcaptor Sakura Plate

Manga artist group CLAMP are celebrating their 30th anniversary with the release of an official plate which hit the official CLAMP fan shop on Monday (November 9).

The plate, which was made by tableware company Noritake, features the original Cardcaptor Sakura design from 1998.


CLAMP 30th Anniversary Cardcaptor Sakura Noritake Plate | ¥12,000 (Tax Included)


The 23cm plate is made from bone china and has a sparkly gold leaf rim. It features Sakura and Cerberus from the series amongst a flurry of flowers and is a must-have for fans of the series.

The back of the plate bears a 30th anniversary logo. The plate, which is exclusive to the official fan shop, also comes with a stand. It's a high quality product made by the masters at Noritake and is one to not be missed by CLAMP fans.

© CLAMP・ShigatsuTsuitachi CO.,LTD. / Shueisha


Information

CLAMP 30th Anniversary Cardcaptor Sakura Noritake Plate
Order Window: November 9, 2020 – November 23, 2020
Shipping: March 2021
Buy: CLAMP OFFICIAL FAN SHOP

*Please check the official fan shop for the latest details
*Available while supplies last
*Design subject to change without notice

UGG Reveals Colourful New Merchandise in Collaboration With Tadanori Yokoo

Japanese sneaker selection shop 'atmos' and Southern California-based global lifestyle brand UGG® (a division of Deckers Brands [NYSE: DECK]) are teaming up with Japanese graphic designer and artist Tadanori Yokoo to release the colourful new CA805 x Yokoo sneakers along with a capsule collection of apparel featuring his artwork on October 9, 2020 in Japan.




CA805 X Yokoo Self Portrait | ¥20,000 (Before Tax)

  

CA805 X Yokoo Wonderland RED MULTI/PURPLE MULTI/BLUE MULTI | ¥20,000 (Before Tax)

The CA805 sneaker collection is made up of two designs: Self-Portrait and Wonderland II, both of which comes in four different colourful prints.


UGG x Yokoo Tadanori Hoodie | ¥14,000 (Before Tax)

UGG x Yokoo Tadanori Shorts | ¥8,000 (Before Tax)

UGG x Yokoo Tadanori T-Shirt | ¥6,000 (Before Tax)

The line-up also includes unisex T-shirts, shorts, and hoodies featuring famous prints by Yokoo, showcasing the high level and quality of his craftsmanship.

The collection will be released in Japan at UGG@mos, atmos, and atmos pink stores as well as their online shop and at UGG® Ginza and UGG® Japan's online shop on October 9. At UGG@mos, the collection will be available only until October 30.

Information

CA805 x Yokoo Collection
Release Date: October 9, 2020
Availabke: UGG@mos / atmos / atmos pink / atmos online shop / UGG® Ginza UGG® Japan online shop

Official Website: https://www.atmos-tokyo.com/

Cardcaptor Sakura Roomwear and Merchandise Collection Releasing by ITS'DEMO

Japanese fashion variety store ITS'DEMO has revealed its new collection of Cardcaptor Sakura: Clear Card merchandise which is set to drop in Japan on October 13, 2020.

The items feature an original design and include everything from towels to pouches, stationery, confections, cosmetics like an eyeshadow palette, and more. ITS'DEMO is also releasing a range of roomwear on October 27 for those chilly autumn nights including room shoes, socks, a blanket, and other goodies.

© CLAMP・ST/Kodansha・NEP・NHK

Information

ITS'DEMO x Cardcaptor Sakura: Clear Card
Release Date: Rolling out October 13, 2020 at ITS'DEMO stores in Japan and their online store
Line-Up: Stationery, Pouch, Towel, Food, Cosmetics, and more
Items: 106 (Includes design and colour variations)

Price Range: ¥260-¥3,900 (Before Tax)

Official Website: http://itsdemo.jp

Paris Fashion Week: Tanya Heath Paris and Yumi Katsura Collaborate to Redefine Heels

Yumi Katsura and Tanya Heath Paris have announced a special collaboration together.


The collaborative collection is set to run from June 15 to 28 this year over on Yumi Katsura's official website where they will stock shoes, heels, and other special items that are normally only available at their Paris branch.

Traditional Japanese Beauty x Paris Spirit For Women Who Want Style and Originality

Whether at weddings, parties, or during a special occasion in their life, shoes are a fundamental part of an outfit for many women. Despite that, high heels often lead to pain for the wearer.


Tanya Heath Paris is a brand that was launched by French designer Tanya Heath in 2009 which creates a unique line of shoes that have adjustable height and removable heels. This allows easy adaptability for the wearer, allowing them to change from a walking heel to a high heel with the simple click of a button. The initial design took a total of 3 years of research and development, 14 engineers, 3 shoe designers and technicians. The result was a product that has redefined the possibility of shoes.


Tanya Heath Paris has taken its concept of supporting women being free to choose when they can be cute, sexy, powerful, and elegant to collaborated with Yumi Katsura to create a heel inspired by Hokusai's famous painting The Great Wave off Kanagawa. The design comes from Yumi Katsura's dress which features a design from the same painting and is sold at Paris Fashion Week every year.

Yumi Katsura is also now selling a special ready-to-wear "Paris Coutour" collection on their website, with prices ranging from ¥50,000~¥200,000.

Order Accessories by Yumi Katsura's Creative Team

Yumi Katsura's made-to-order accessory range for wedding dresses is a popular service. They are now offering made-to-order accessories for people to enjoy at home and not just for weddings for a limited time only.

Check out Yumi Katsura's official Instagram page to see their ready-to-wear collection and shoes made in collaboration with Tanya Heath Paris.