New Sanrio Character Goods Inspired by Showa-Era Retro Candies
Sanrio has announced a line of adorable items inspired by retro candies. In Japan, dagashi refers to cheap candies, also known as 'penny candies.' Shops selling these treats still exist, but their heyday was in the Showa era. These adorable items will be available to purchase at Sanrio stores and department stores nationwide starting July 6, and they can also be found at select online stores. The lineup includes 22 items from fluffy keychains to drawstring pouches with a nostalgic feel. 
Goods Lineup
Mascot Keychain (6 varieties)
Secret Mascot (8 varieties)
Drink Case Display Shelf

Keychain with Mirror (6 varieties)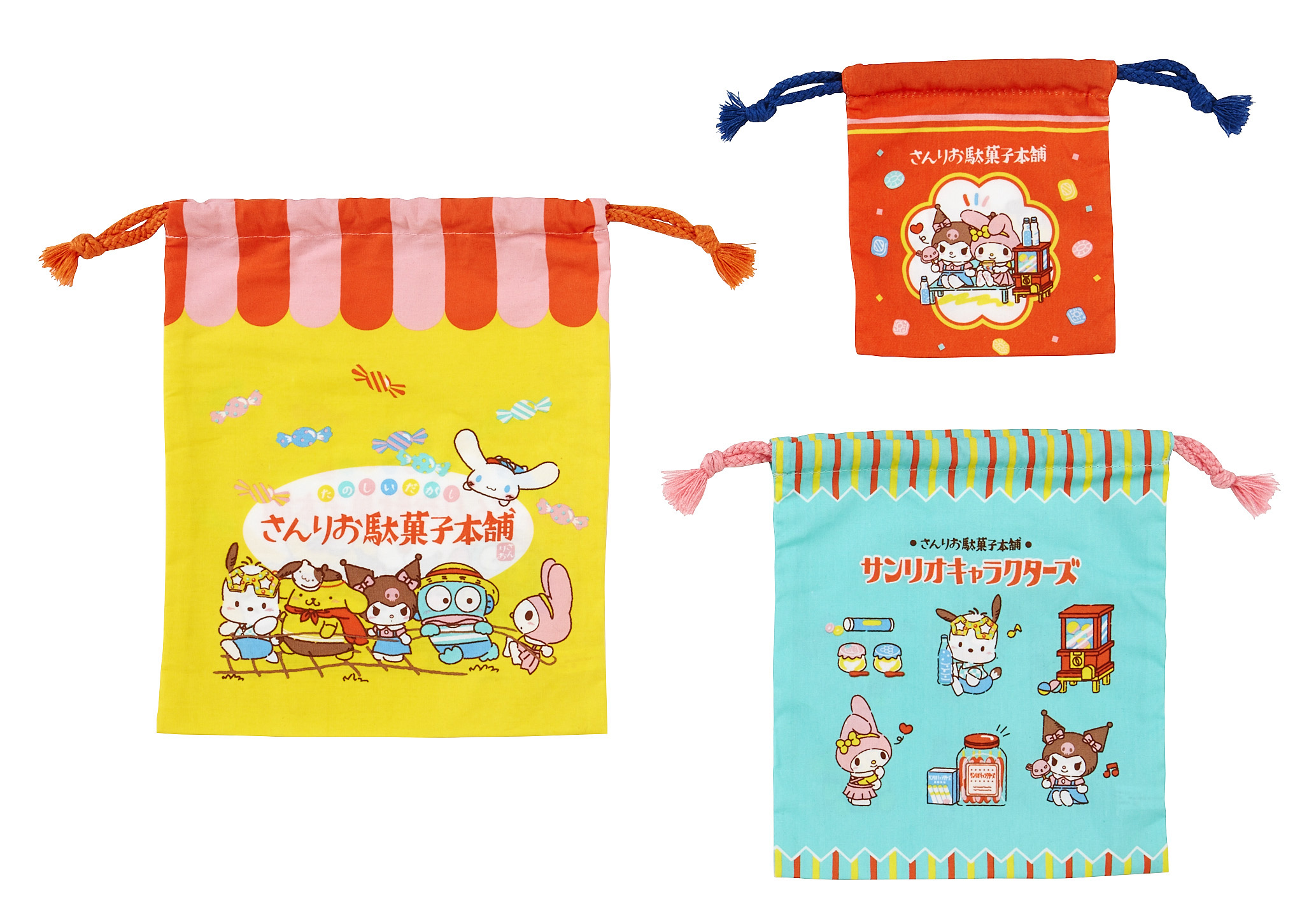 3-piece Drawstring Bag Set
Tissue Holder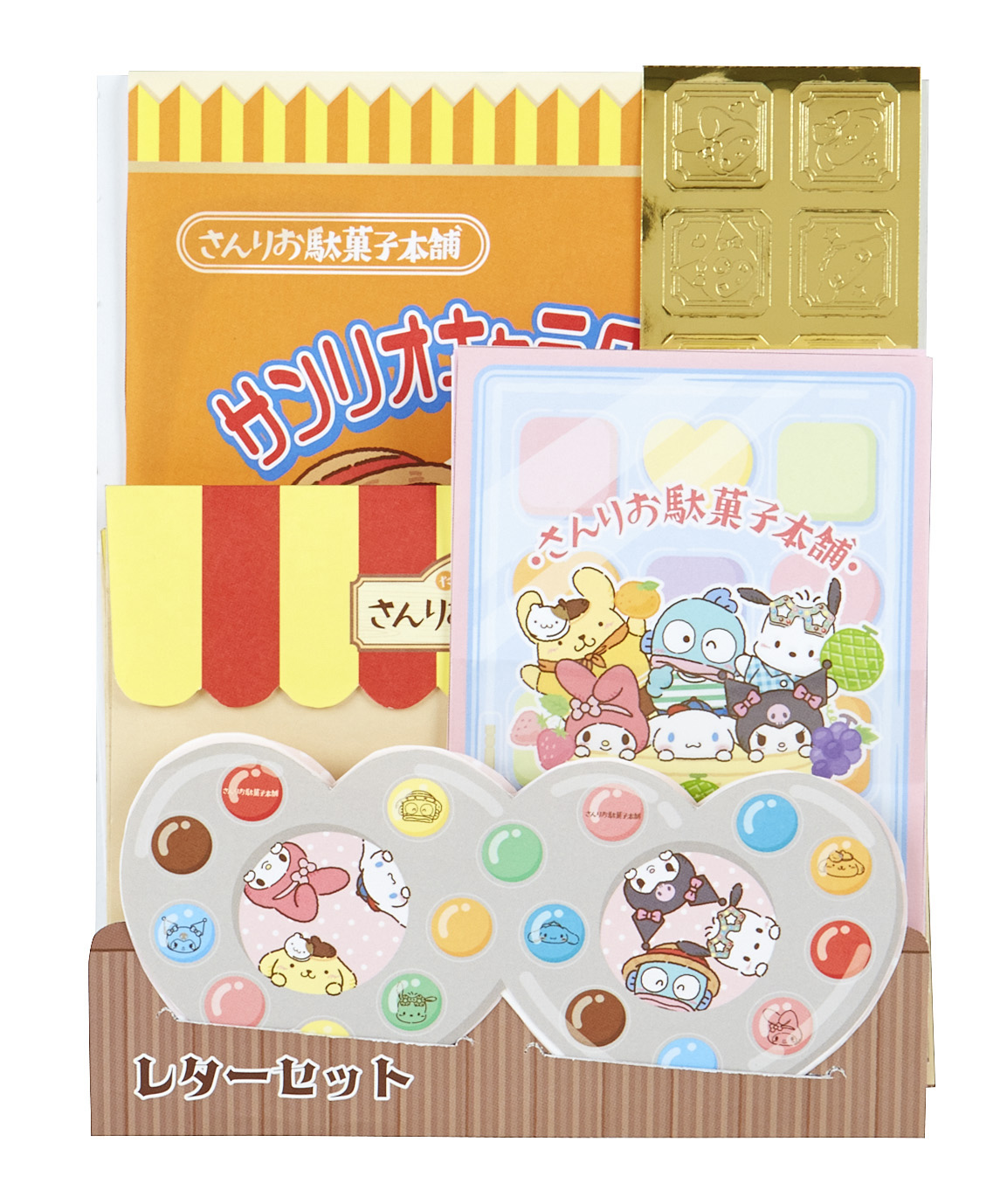 Letter Set

Ramune & Glass Bottle (4 varieties)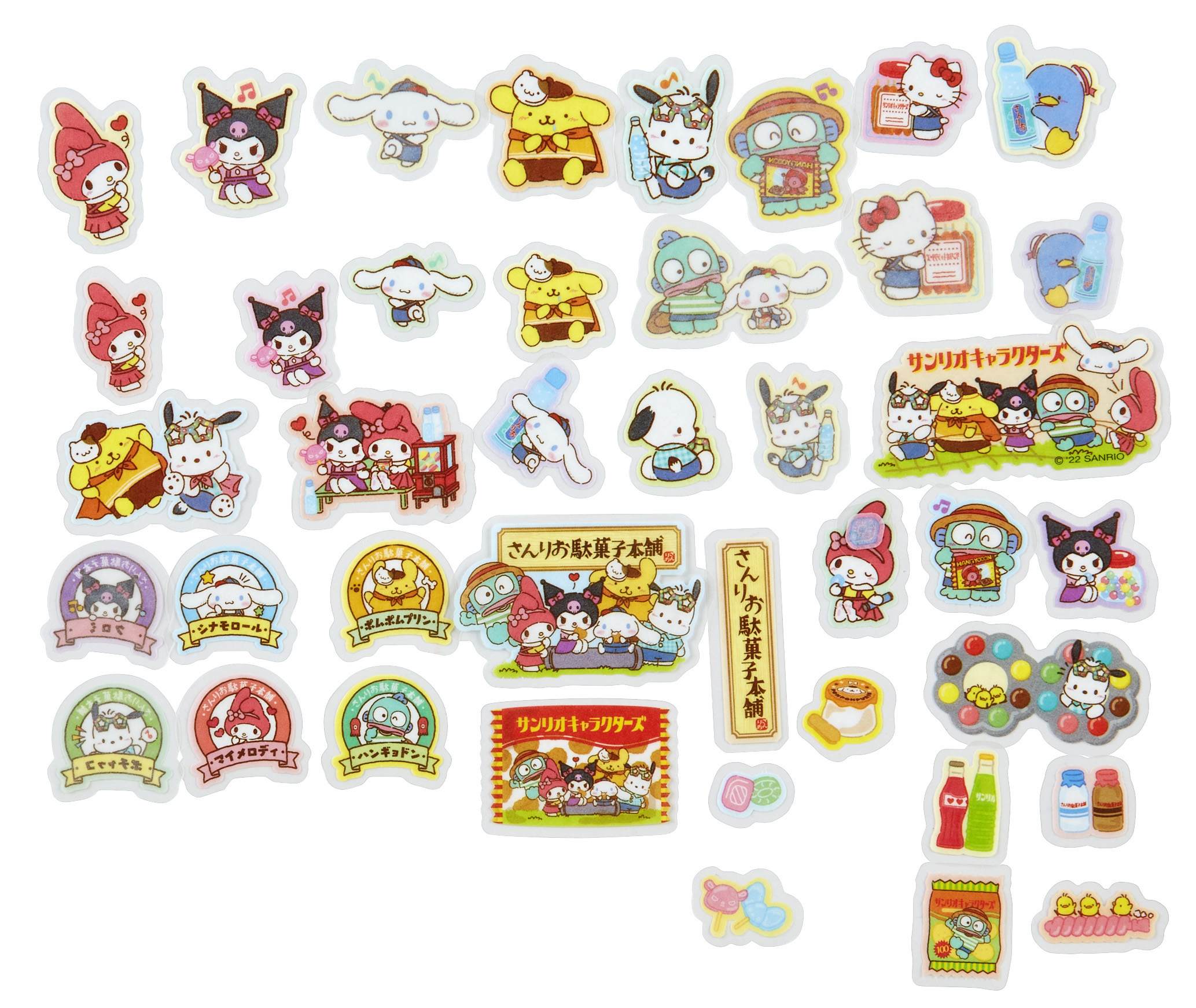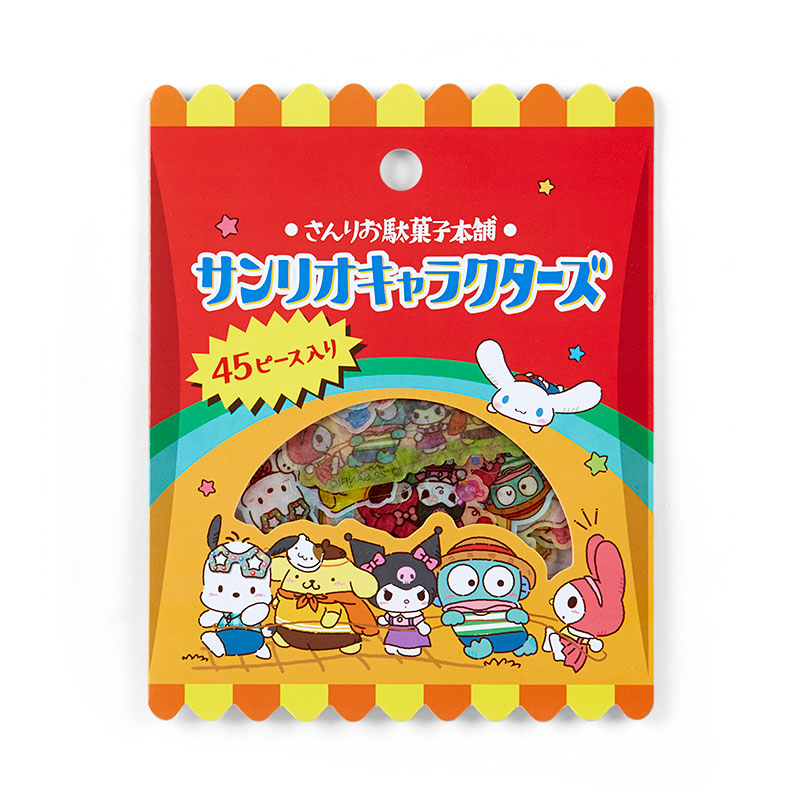 Sticker Set
Fans can grab a mischievous mascot keychain of their favorite Sanrio characters holding classic treats. Available characters are My Melody, Pompompurin, Cinnamoroll, Kuromi, Pochakko, and Hangyodon. The Secret Mascot figures are sold randomly, so fans will want to grab a bunch to find all of the available characters! These can be displayed in the available Drink Case Display Shelf. 
Other items include keychains containing mirrors, a drawstring bag set, a tissue case, and plenty of fun stickers.
RELATED ENTRIES
NIJISANJI and Sanrio Characters Collaboration Cafe to Open for a Limited Time

The NIJISANJI and Sanrio Characters Collaboration Cafe will open in Harajuku and Yokohama on August 18 and in Osaka on September 2!

Three units from the popular NIJISANJI VTuber collective will be featured at the cafe, with each talent teaming up with a particular Sanrio character, from Hello Kitty, Pompompurin, and Kuromi to Tuxedo Sam and Hangyodon.

Food Menu Purchase Bonus: Original A3-size Lunch Mat

Drink Menu Purchase Bonus: Original Postcard (3 varieties)

Drink Menu Purchase Bonus: Original Straw Tag (13 varieties)

Menu

Food

 [Kojirase Harassment] Zenryoku Boomerang Sandwich

 [Sereine Girl's School] Lunch Plate

[Eden-gumi] Curry from Eden

Dessert

[Kojirase Harassment] The Cutest Idol Parfait

 [Sereine Girl's School] Drama Club Fruit Pancakes

[Eden-gumi] Eden Sweets Plate

Drinks

[Kojirase Harassment]

 [Sereine Girl's School]

[Eden-gumi] Member Drink

The food, dessert, and drink menus were each inspired by these three unique units. Fans of Kojirase Harassment won't want to miss the tasty Zenryoku Boomerang Sandwich based on the hit song, and anyone who loves the adorable members of Serine Girl's School can grab some tasty fruit pancakes. The Eden-gumi menu consists of delectable curry and a sweets plate sure to fill you up. 13 unique drinks will also be available, each inspired by the member colors of the participating V-Tubers.



Come spend a relaxing time with your favorite characters this summer!

©ANYCOLOR, Inc. © '22 SANRIO Ⓛ

Information

NIJISANJI x Sanrio Character Collaboration Cafe

Venue/Dates:

Harajuku, Tokyo
BOX cafe&space Shinjuku MYLORD #1
August 18 – September 24, 2022


Yokohama, Kanagawa
Collabo_Index Lumine Yokohama
August 18 – September 24, 2022

Osaka
#702 CAFE&DINER Namba Parks
September 2 – September 24, 2022


Reservations / Cafe Details: https://nijisanjisanrio3-cafe.jp

Sanrio Characters Cinnamoroll, Pompompurin, and Pochakko Available as Traditional Japanese Sweets

Cinnamoroll, Pompompurin, and Pochakko are the latest to be picked up by the character-inspired Japanese confectionery series Tabemas. These tasty treats will go on sale at Lawson stores across Japan starting August 2, 2022.

Tabemas Sanrio Characters 2022

Cinnamoroll with Ribbons

Pompompurin with Ribbon

Pochakko with Ribbon

Three of the most popular Sanrio characters have been transformed into traditional wagashi sweets! Pompompurin, Cinnamoroll, and Pochakko are dressed in their finest attire, complete with ribbons. Cinnamoroll's filling is milk-flavored, while Pompompurin is pudding-flavored and Pochakko is filled with banana sweetness. Be sure to take some pictures before chowing down! Honestly, these might be too adorable to eat. 

Information

Tabemas Sanrio Characters 2022

Cinnamoroll with Ribbons

Pompompurin with Ribbon

Pochakko with Ribbon

Release Date: August 2, 2022

Where to Buy: In the chilled desserts section of Lawson convenience stores across Japan

*Not available at Natural Lawson or Lawson Store 100

*Available while supplies last. Some stores may not offer all three products.

Sailor Moon Eternal Film and Sanrio Characters Collaboration Goods Announced

Sailor Moon is celebrating its 30th anniversary this year, and Sanrio is paying homage to the recent Sailor Moon Eternal film series with a cute new collection! The Sailor Moon Eternal x Sanrio Characters series will be released sequentially starting August 18, with items available at Sanrio stores nationwide, department store Sanrio corners, and the Sanrio online shop.

Sailor Moon Eternal was a two-part film released in early 2021. A sequel two-part film, Sailor Moon Cosmos, will release in Japan in the summer of 2023. 

The new merchandise features newly-drawn designs of six Sailor Scots, Hello Kitty, My Melody, Cinnamoroll, Kuromi, Marroncream, and Pompompurin. 

Sailor Moon Eternal x Hello Kitty Super Sailor Moon Mascot Keychain: ¥3,300

Sailor Moon Eternal x My Melody Super Sailor Chibi Moon Mascot Keychain: ¥3,300

The new items will combine popular Sailor Moon characters with beloved Sanrio characters. This collab was originally announced back in January. Super Sailor Moon teams up with Hello Kitty, Super Sailor Chibi Moon is topped with a My Melody ribbon, and fans can find goods featuring more adorable pairings!

Sailor Moon Eternal x Sanrio Characters Mascot Keychain (6 varieties): ¥2,750 each

Sailor Moon Eternal x Sanrio Characters Flat Pouch: ¥1,485

The merch lineup includes keychains, pouches, and more goods that will be both functional and fashionable in your daily life, especially if you're a long-time Sailor Moon fan.

Sailor Moon Eternal x Sanrio Characters Secret Acrylic Stand (11 varieties): ¥693 each

Four secret acrylic stands will be available, featuring the four outer Sailor Soldiers. These will include Super Sailor Uranus and Little Twin Stars (Kiki), Super Sailor Neptune and Little Twin Stars (Lala), Super Sailor Pluto and Pochakko, and Super Sailor Saturn and My Sweet Piano. These will be sold randomly, so you might need to grab a few before you get the characters you want!

Sanrio Characters Autumn Sweets Buffet to be Held at Hilton Nagoya

From August 18 until November 3, visitors to the Hilton in Nagoya will be able to enjoy a special autumn buffet featuring the popular Sanrio characters Kuromi, Cinnamoroll, and Hello Kitty. 

These three characters are some of Sanrio's most loved. Kuromi is the self-proclaimed rival of My Melody, while the fluffy Cinnamoroll won first place in this year's Sanrio Character Awards. Hello Kitty has been beloved by audiences worldwide for decades, and her iconic ribbon really shines in this buffet collaboration. Themed around an autumn harvest festival in a dark forest, the event includes 27 varieties of sweets and seven savory items. From sweet potatoes and pumpkins to chestnuts and apples, guests will be able to taste the fall season!

Kuromi's Dark Forest Cake

Autumn Cinnamoroll Cake

Hello Kitty's Ribbon Cake

Crazy Mushrooms / Praline and Gianduja Truffles / Tonka Bean & Chocolate Caneles

 

Kuromi's Dark Forest Cake is a traditional German black forest cake featuring decorations inspired by the character's black hood and a pink skull. The Autumn Cinnamoroll Cake is made with rice flour and is inspired by the adorable puppy's fluffy appearance. Hello Kitty's Ribbon Cake is topped with apple compote simmered with strawberries and red wine. 

At the popular Live Station, guests can also enjoy an artistic performance by the chef himself. Visitors can also find and harvest their own Crazy Mushrooms and Truffles. 

Kuromi's Autumn Soup

Pumpkin Mont Blanc

Hello Kitty's Apple

Pastry Chef Mamoru Watanabe's specialty autumn sweets and Sanrio Characters-inspired goodies will invite you into a cute and dark forest world. Kuromi's Autumn Soup is made with Japanese chestnuts and chicken consomme poured over panna cotta made with purple sweet potatoes. The Pumpkin Mont Blanc includes four layers of milk chocolate cream, chocolate crumble, pistachio cream, and pumpkin Mont Blanc cream.

Praline Paris-Brest

Hojicha Basque Cheesecake

Green Tea Tiramisu

Come enjoy the taste of autumn with your favorite Sanrio characters!

© '22 SANRIO CO., LTD. APPR. NO. L632215

Coji-Coji and Sanrio Characters Come Together to Celebrate Cinnamoroll's 20th Anniversary

To commemorate Cinnamoroll's 20th anniversary, Coji-Coji and a ton of other Sanrio characters are coming together to celebrate!

The characters who live in fairy tale lands are always on a mission to entertain humans. Coji-Coji attends a school and studies hard every day, following the example of famous characters active in the human world. Sanrio characters have come to the school to study hard themselves, and this newly-created collaboration art shows the characters in adorable matching school uniforms.

Look forward to these new collaborative products coming in the summer of 2022, as well as other unique plans to celebrate the anniversary of Cinnamoroll!

Visiting Shibuya's Candy Apple Store | Food Review

Hello everyone! This is Midori from MOSHI MOSHI NIPPON.

Candy apples are the staple food of summer festivals. A crunchy candy coating and a sweet, fruity apple is such a divine combination. It can be quite difficult to find candy apples outside of festivals. That's where Candy Apple steps in. This is a brand new shop on the block that specialises in candy apples!

This is located just a five-minute walk from Shibuya Station's west exit. If you check out their saved Instagram story, you probably won't get lost. During the weekdays and on Saturdays, this is an Italian restaurant called Buonappetito. On Sundays, when the restaurant is closed, it transforms into a candy apple shop.

The shop interior is gorgeous.

Plain: ¥600

I ordered the plain apple without wasting any time. This is much larger than what you would usually get at a festival. Although these are usually eaten by immediately sinking your teeth in and biting out a big chunk, you can cut your apple here and enjoy it at your own pace. 

After taking your first bite, you will realise just how different this is to your normal candy apple. The apple is coated in a thin layer of candy, creating a delicious crunch. The apple is fresh, juicy and sweet. Some candy apples are made with mushy apples that are not fresh, however these apples are extremely fresh and delicious right to the last bite. 

These candy apples are full of a variety of flavours.

Cinnamon Sugar: ¥600

The apple with the dusting of beige-coloured powder is cinnamon-flavoured. The sweet cinnamon scent spreads everywhere as soon as you set it on the table. The sweet flavour of the apple and the fragrant cinnamon is a match made in heaven. 

Cocoa: ¥600

The apple covered in the brown powder is cocoa-flavoured. The slightly bitter flavour of the chocolate is a perfect match for the sweet apple. The colour contrast between the brown chocolate and white apple is also beautiful. ♪

Matcha: ¥600

The apple with the green powder is matcha as you may have already guessed! The flavouring of the Uji matcha used for this apple was carefully balanced to maximise the flavour when combined with the apple. After you take your first bite, you just won't be able to stop. 

Blueberry Yoghurt: ¥600

The bright white dusting on this blueberry yoghurt-flavoured apple is beautiful. The blueberry scent is mild and is perfect with the yoghurt.

Black Cocoa: ¥600

The pitch black colour of the Black Cocoa Candy Apple is very appetizing. The black cocoa is even more bitter than the cocoa apple, which really brings out the flavour of the sweet apple even more.

You can even get chocolate fondue for your candy apple (¥400). By adding the fairly bitter chocolate to your candy apple, you can enjoy three different kinds of sweetness when it mixes with the chocolate, candy and the apple. 

You can even order your candy apple to go, making it the perfect summer souvenir. Taking it home to enjoy is also another wonderful way to make the most of your experience. 

This candy apple shop is only open on Sundays, but you can order to take away on other days. 

This is a flavour that a festival candy apple will never be capable of offering. You can tuck into your apple inside the beautiful shop, or take it home to enjoy at home at your own pace. 

Information

Candy Apple

Address: Nomura Building 1st floor, 7-12, Sakuragaocho, Shibuya, Tokyo

Opening Hours: 11:00-20:00 (Open every week on Sundays only)

*Only the Italian restaurant Buonappetito is open on weekdays.

Instagram: https://www.instagram.com/candy_apple_369/

Papabubble's special New Year's candy is the perfect way to wish someone a happy New Year!

"Papabubble" is a delicious candy treat originating from Barcelona, Spain. Japan's "Papabubble" incorporates traditional Japanese candy craftsmanship to create the famous art candy shop that we know today! Now, Japan's Papabubble is getting ready to celebrate the year of the Rooster in 2017 with the "Shōgatsu Mix" (New Year's mix). Whether you purchase it or receive it, you are guaranteed to be filled with excitement!

The Shōgatsu Mix includes candy decorated with different patterns to wish you a good year's start. These include 3 patterns to represent "Hatsuyume" ー in Japanese traditional culture, it is considered very lucky to dream of Mt.Fuji, a hawk and an eggplant on 1st January, granting you luck for the entire year. Therefore, the candy patterns are themed around these images. There is also candy decorated with a rooster pattern. This carefully designed candy makes for the perfect new year's gift to wish someone a happy new year! These special candy packs are available for purchase from Sunday 25th December 2016.

Additionally, you can purchase lucky dip bags for the upcoming New Year. Hidden inside these lucky bags include limited edition goods that cannot be obtained in any other way, advanced goods for valentine's day and long candy which is a sign of good fortune ー what will you receive? The ¥3000 lucky dip bags include limited edition candy that cannot usually be bought and can only be purchased from that region!

Get your hands on some celebratory candy as we plunge into our next year!

■Information

papabubble

ShōgatsuMix

Limited period:25th December 2016 (Sunday) ~ 9th January 2017 (Monday)

Lucky dip bags (福袋)

Price for each variety:¥1500, ¥3000, ¥5000
Where to purchase:¥1500 &¥3000 bags – from all Papabubble stores

¥5000 bag ー Daimaru department stores (Tokyo) LUCUA (Osaka), SENDAI PARCO 2

Each product will sell starting from the business hours of each store in the New Year. Each product will stop selling once stock has run out.

ーーー

■ Related article: Year of the Rooster-themed roll cakes too cute to eat ♡ Don't miss out!

■ Related article: Limited edition "Year of the Rooster" New Years' ice-cream from Baskin-Robbins!