New Sanrio Character Goods Inspired by Showa-Era Retro Candies
Sanrio has announced a line of adorable items inspired by retro candies. In Japan, dagashi refers to cheap candies, also known as 'penny candies.' Shops selling these treats still exist, but their heyday was in the Showa era. These adorable items will be available to purchase at Sanrio stores and department stores nationwide starting July 6, and they can also be found at select online stores. The lineup includes 22 items from fluffy keychains to drawstring pouches with a nostalgic feel. 
Goods Lineup
Mascot Keychain (6 varieties)
Secret Mascot (8 varieties)
Drink Case Display Shelf

Keychain with Mirror (6 varieties)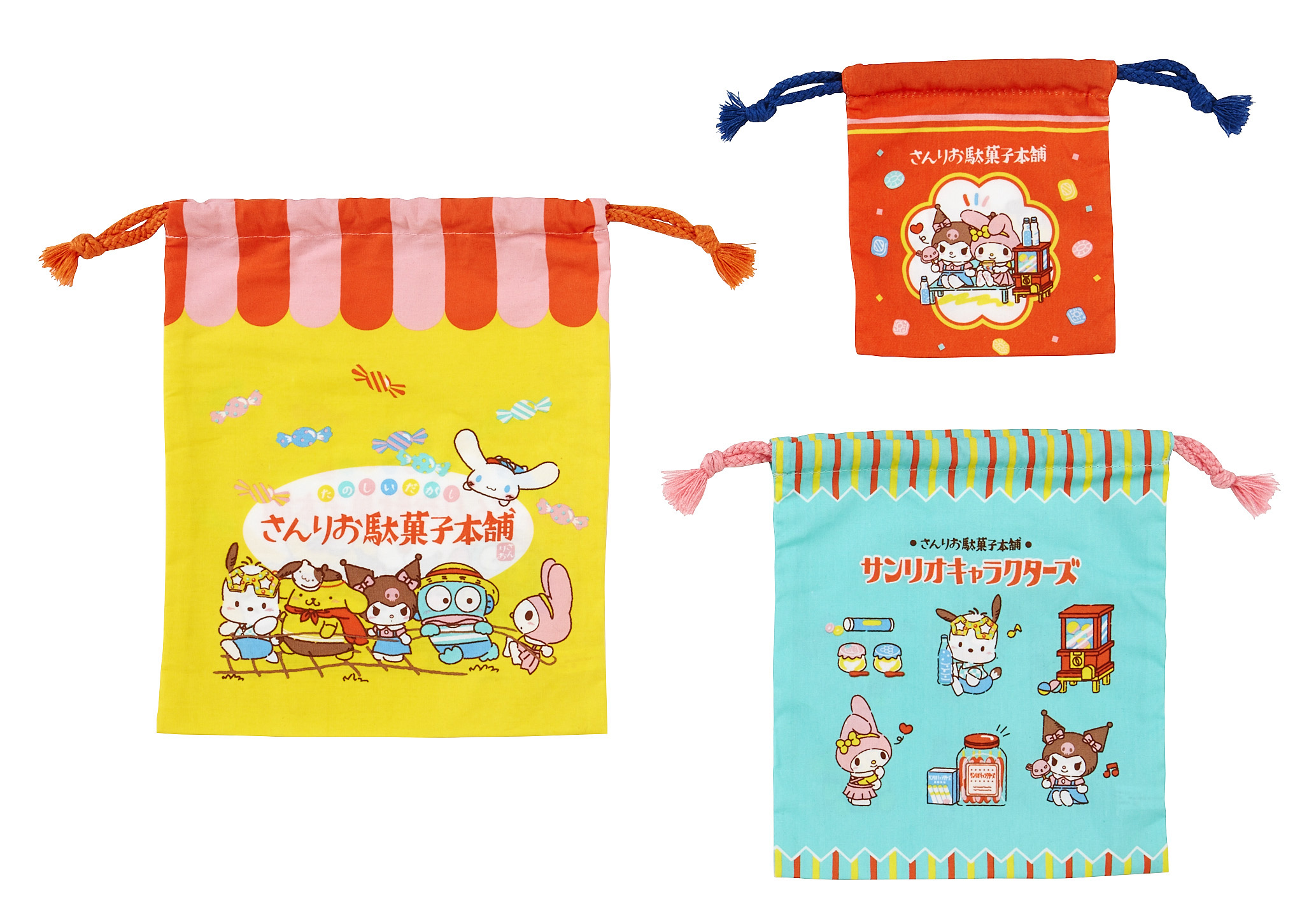 3-piece Drawstring Bag Set
Tissue Holder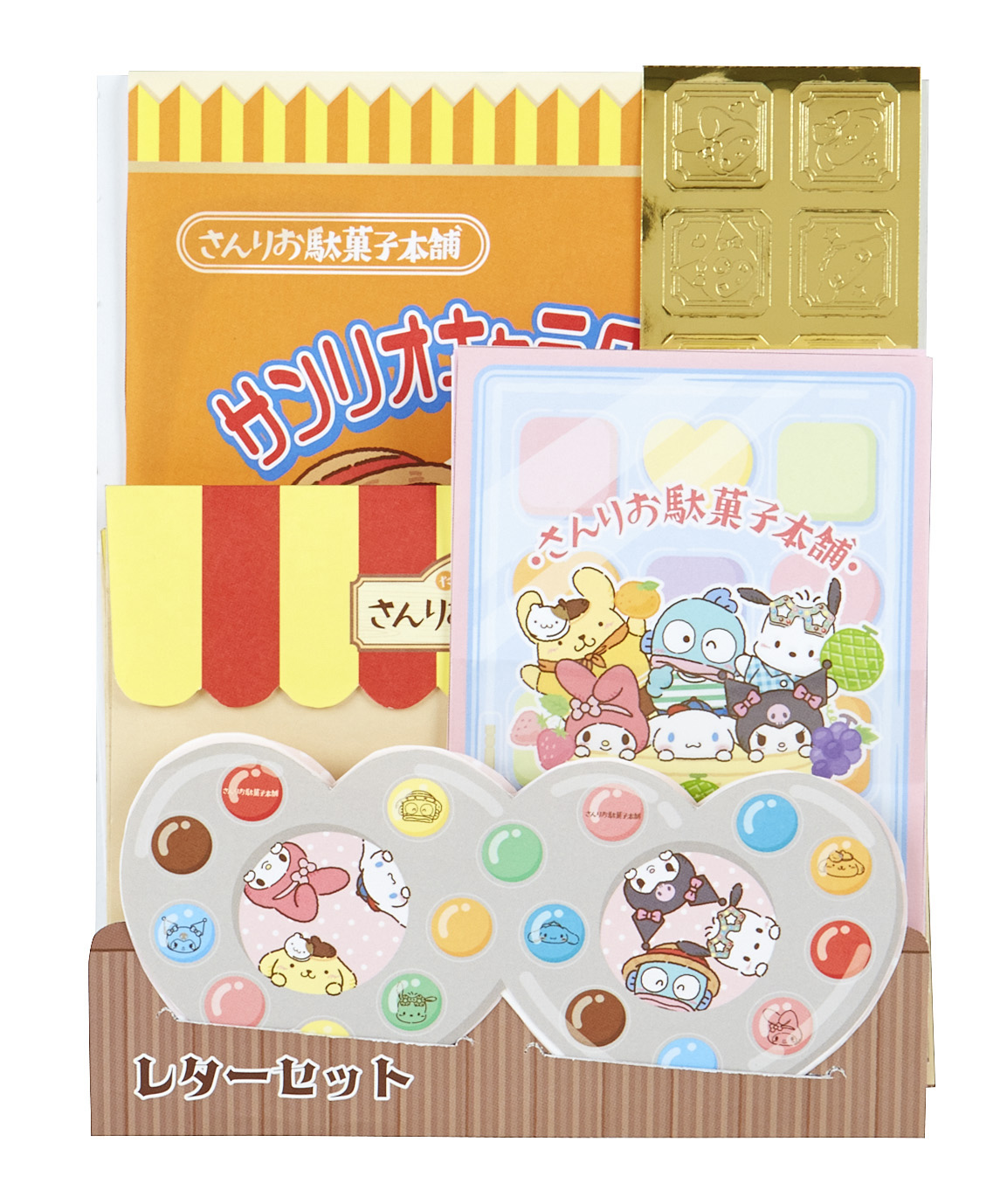 Letter Set

Ramune & Glass Bottle (4 varieties)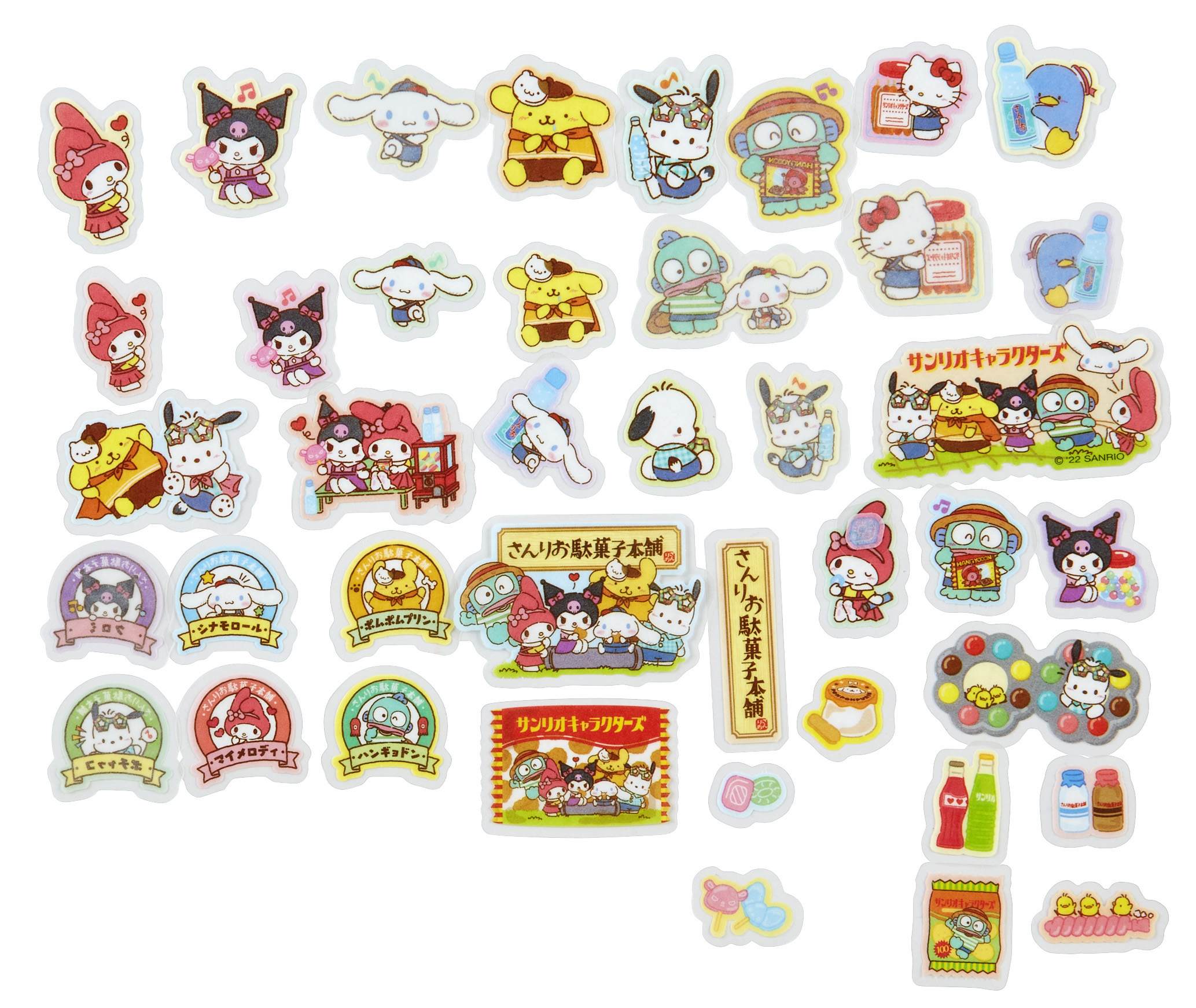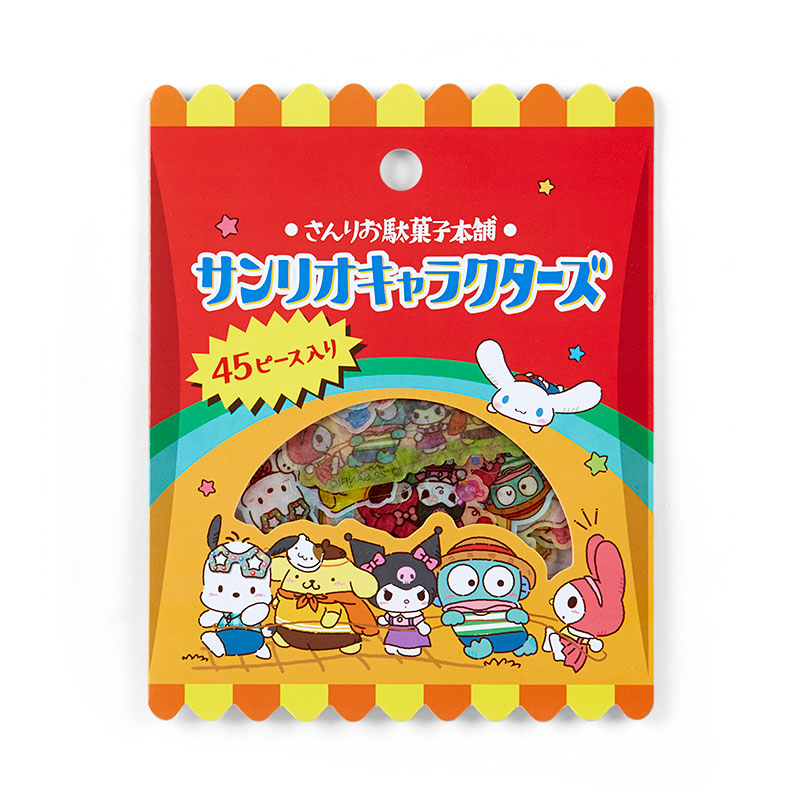 Sticker Set
Fans can grab a mischievous mascot keychain of their favorite Sanrio characters holding classic treats. Available characters are My Melody, Pompompurin, Cinnamoroll, Kuromi, Pochakko, and Hangyodon. The Secret Mascot figures are sold randomly, so fans will want to grab a bunch to find all of the available characters! These can be displayed in the available Drink Case Display Shelf. 
Other items include keychains containing mirrors, a drawstring bag set, a tissue case, and plenty of fun stickers.
RELATED ENTRIES
CANDY TUNE Releases First Album 'CANDY TUNE'

CANDY TUNE, the newest group from KAWAII LAB, released their first album on March 7. KAWAII LAB is continuing to introduce Japanese idol culture to fans around the world.

The seven-member group is comprised of members Rino Fukuyama, Mizuki Kirihara, Natsu Minami, Nanako Ogawa, Bibian Murakawa, Shizuka Miyano, and Kotomi Tachibana. Just like candy, which comes in tons of different flavors and shapes, the members will bring their own unique personalities and quirks to their pop tunes as they carry on KAWAII LAB's mission of sharing Harajuku style with the world.

Two songs on the group's first album CANDY TUNE were produced by Naoki Kubo and Suu, former members of SILENT SIREN–the sweet and playful Kiss Me Patissier and the inspiring song hanamaru. Hirotaka Hayakawa, who has produced hit songs for countless artists, also contributed. Nanairo Prologue tells the story of the seven members moving forward across a rainbow-colored bridge, andMikan na Seishun (Unfinished Youth) has a fast-paced sound sure to be a hit with new fans. The group's artist photo and the jacket art for the album were provided by Yuko Takayama (yenter).

CANDY TUNE will hold its debut concert titled KAWAII LAB. SESSION ~CANDY TUNE~ on March 14 at Spotify O-EAST. To commemorate the special occasion, IDOLATER and FRUITS ZIPPER will also perform. The three groups will perform the FRUITS ZIPPER hit track Watashi no Ichiban Kawaiitokoro together during the event, and tickets are now on sale.

Additionally, new interviews with the members and behind-the-scenes footage have been uploaded to CANDY TUNE's official YouTube channel.

Information

CANDY TUNE – CANDY TUNE (1st Digital Album)
Streaming: March 7, 2023
Streaming URL: https://kawaiilab.lnk.to/CANDYTUNE
Available to stream on all major subscription music streaming services

Tracklist:
M1 Kiss Me Patissier
M2 hanamaru
M3 Nanairo Prologue
M4 Mikan na Seishun
M5 Kiss Me Patissier -Instrumental-
M6 hanamaru -Instrumental-
M7 Nanairo Prologue -Instrumental-
M8 Mikan na Seishun -Instrumental-

[Debut Concert Details]
Event Title: KAWAII LAB. SESSION ~CANDY TUNE~
Venue: Spotify O-EAST
Date: March 14, 2023
Time: Doors open 17:30 / Show starts 18:30 / VIP Event Ends 22:30
Performers: IDOLATER / FRUITS ZIPPER / CANDY TUNE

[Tickets]
Admission: VIP ¥5,000 / General ¥3,000 / Day-of ¥3,500
Tickets: https://w.pia.jp/t/candy-tune/

<Profile>
The idol group CANDY TUNE consists of seven members: Rino Fukuyama, Mizuki Kirihara, Natsu Minami, Nanako Ogawa, Bibian Murakawa, Shizuka Miyano, and Kotomi Tachibana.

The group was formed by the KAWAII LAB project, started by ASOBISYSTEM to promote Japanese idol culture around the world. CANDY TUNE will make its debut in March 2023.

Just like candy, which comes in tons of different flavors and shapes, the members will bring their own unique personalities and quirks to their pop tunes as they carry on KAWAII LAB's mission of sharing Harajuku style with the world.

Twitter: https://twitter.com/candy_tune_
Instagram: https://instagram.com/candy__tune
TikTok: https://www.tiktok.com/@CANDY_TUNE
YouTube: https://www.youtube.com/channel/UCU0PgOXf0lxzVxN2TLzMJkw
note(Live Schedule):https://note.com/candy_tune

<What is KAWAII LAB?>

KAWAII LAB is a new project by ASOBISYSTEM aiming to promote Japanese idol culture to the world. The company works to discover, train, and produce idols with the potential to be active on the world stage.

KAWAII LAB is produced by Misa Kimura, a model and TV personality. A fan of idols for many years, Kimura was formerly the leader of the idol group Musubizm.

Other KAWAII LAB. groups include IDOLATER, a culture-holic idol group consisting of finalists from ASOBISYSTEM's first national audition in 2018, and FRUITS ZIPPER, a group transmitting NEW KAWAII from Harajuku to the world debuting in April 2022.

In March 2023, the project launched a new idol group.
KAWAII LAB. will continue to promote Japanese idol culture to the world, launching and developing new idol groups, not only in Tokyo but in other cities as well!

Twitter: https://twitter.com/kawaii__lab
YouTube: https://youtube.com/channel/UCW8Q9LBGGBgK6a-u0C0h95A
Fan Club: https://kawaiilab.asobisystem.com/

Chiikawa and Sanrio Characters Collaborate for Special Merch Collection

A collection of must-have goods featuring Chiikawa and Sanrio characters has been announced! The items will be available at the Sanrio Online Store on November 24  and Sanrio shops nationwide, including department stores, starting November 25. The popular character Chiikawa, created by illustrator nagano, has been invited into the world of Sanrio, and the results are perfectly adorable. The merch lineup includes 21 items from plush toys to acrylic keychains. Purchase bonuses will also be given to those snagging any of the items on offer.

Goods at a Glance

This marks the second collaboration between Sanrio characters and Chiikawa. Fans will want to grab these limited-edition goods, including fluffy plush toys, a mascot-style brooch set, pouches, tote bags, clear folders, and handy cases perfect for storing small items. These items feature completely original designs. Which one is your favorite?

Sana Natori and Sanrio Characters Open Second Collaboration Store in Akihabara

A new collaboration store is now open in Akihabara, bringing together the popular YouTuber Sana Natori and everyone's favorite Sanrio characters. The shop will be open until October 19, and this second collaboration features Halloween-inspired goods.

 

This time around, seven new goods are available, with 21 designs available in total. The illustrations were drawn exclusively for the collaboration.

Goods at a Glance

Pin (3 varieties)

Acrylic Keychain (3 varieties)

Acrylic Card (7 varieties)

Acrylic Figure Plate (3 varieties)

Sana Natori x Kuromi

Sana Natori x Pompompurin

Sana Natori x Lloromannic

Sticker (Set of 3)

Clear Case

Long Sleeve T-shirt

Purchase Bonus – Postcard (2 varieties)

Sana Natori is a VTuber who has become popular with audiences of all ages. Her aim is to live a proper life online, and she's known largely for her livestreams, gaming, and music.

 

Following the well-recieved first collaboration, these spooky designs are sure to be a hit this holiday season. Which goods are you after?




(C) Sana Natori (C) 2022 SANRIO CO.,LTD. APPROVAL NO. L634678

Sanrio Characters, Representatives of Japanese Pop Culture, Gather in Kyoto

The 60th Anniversary Sanrio Exhibition: The Beginning of Kawaii will be held at the Kyoto City KYOCERA Museum of Art from October 7 until December 11, 2022. Cinnamoroll, the grand prize winner of the 2022 Sanrio Character Awards, visited the event on opening day, and second place winner Pompompurin visited on October 8. 

The exhibition itself traces the long and storied history of Sanrio, as the company celebrated its 60th anniversary in 2020. Guests will be able to learn more about 'kawaii culture,' something that has since garnered worldwide attention and become massively popular with audiences around the globe. Fans of specific Sanrio characters will be able to see how each was designed, and rare drawings and products will be on display.


Visitors will be able to trace how Sanrio developed each character's personality and style over time, and will surely see how the company placed major importance on communication with audiences. Sanrio's characters continue to transcend time, popular with people of all ages.

Information

60th Anniversary Sanrio Exhibition: The Beginning of Kawaii
Venue: Kyoto City KYOCERA Museum of Art, Main Building,
North Corridor 2F (124 Okazaki Enshojicho, Sakyo-ku, Kyoto)
Running: October 7 – December 11, 2022
Details: https://www.ktv.jp/event/sanrio/


Godiva Cafe Collaborates with Sanrio Characters Badtz-Maru and Keroppi

Godiva Cafe has collaborated with Sanrio's character unit Hapidanbui twice since February, and the third collaboration is scheduled to start on September 15! All locations nationwide will sell hot or cold cocoa milk with a special sleeve and sticker featuring everyone's favorite Sanrio characters.

The third collaboration will focus on Badtz-Maru and Keroppi. The shop's cocoa milk combines smooth Godiva chocolate with milk and fresh cream, so why not grab one this fall?

Information

Godiva Cafe x Sanrio (Collaboration #3)

Hapidanbui Hot Cocoa Milk / Hapidanbui Cold Cocoa Milk

Available: September 15 while supplies last

Where to Find: All Godiva Cafe locations nationwide

Official Site: https://www.godiva.co.jp/cafe/

Maison de FLEUR Announces Sanrio Characters Collaboration

Starting September 30, the popular accessories brand Maison de FLEUR will begin selling items made in collaboration with everyone's favorite Sanrio characters at stores nationwide and online!

Currently, Maison de FLEUR is celebrating its 9th anniversary, and what better way to party than with Hello Kitty, My Melody, My Sweet Piano, Kuromi, Pompompurin, and Cinnamoroll? 

Fans are sure to love these elegant original designs of the characters wearing black dresses and tuxedos, along with Maison de FLEUR's iconic ribbon. 

Collection

The lineup includes five unique tote bags, pouches, and handkerchiefs. The brand's popular Double Ribbon Tote Bag shows off the characters surrounded by flowers in reference to the word Fleur, which means flower in French. Two colors were selected to represent the brand: pink and black. A square tote bag with the same artwork printed in color will also be available.

 

These tote bags are perfect for everyday use, and each character is surrounded by good friends. Who wouldn't smile when looking at these gorgeous items?




Come celebrate Maison de FLEUR's 9th anniversary by picking up some of these adorable goods!

©'2022 SANRIO CO., LTD. APPROVAL NO. L633775

Information

Maison de FLEUR × Sanrio Characters 9e Anniversaire
On Sale: September 30 *Available online starting September 29 at 20:00
Where to Buy: Maison de FLEUR locations nationwide, Online Store STRIPE CLUB
https://stcl.page.link/UXey, ZOZOTOWN
Official Site: http://www.stripe-intl.com/

Sanrio Characters to Celebrate Halloween with Special Campaign

Namco will be releasing some exclusive Halloween prizes featuring everyone's favorite Sanrio characters! The Halloween event will run from September 9 until October 31 at around 200 Namco Amusement Centers nationwide and on the Torumo online crane game mall.

 

During the campaign, exclusive prizes featuring brand-new designs of popular Sanrio characters will be available in crane game machines!

When ¥500 is inserted into select crane games using the link function of the Namco Point app, an original sticker will be gifted to players! Starting September 16, those collecting three of these original stickers will receive an original pin that looks just like candy! All guests need to do is show their stickers to the staff. 

Collaboration Goods

Exclusive Clear Shopping Bag (3 varieties)

Original Sticker (5 varieties)

Original Candy Pin (5 varieties)

Blanket

Prizes will also be available from Torumo, an online crane game mall. In addition, a present campaign will be held to select winners to receive a special blanket! To enter, all you need to do is play the target machine three times. During the campaign period, by following a participating store on the Namco Point app, customers will receive a limited edition shopping bag!

Come grab some of these Halloween goods and show off your Sanrio love!

ⓒ '22 SANRIO CO., LTD. APPR. NO. L633490
©Bandai Namco Amusement Inc.

Isetan Shinjuku Releases FANCY SANRIO CHARACTERS Vol. 7 Goods

The Isetan Shinjuku department store will hold a new event in collaboration with popular Sanrio characters from August 24 to August 29 2022 on the 6th-floor event space. The theme is Sweer Summer Festival, and those who want to grab some unique Sanrio swag shouldn't miss it!

Goods at a Glance

isayamax  OWCS -Cinnamoroll- [Art] 

TiTi Cinnamoroll Ice Cream Bag Charm

Sauna Boy Sauna Pompompurin T-Shirt

Ikumimama's Animal Donuts

Kuromi Donut Set / Cinnamoroll Donut Set / Pompompurin Donut Set (All 2 pieces) 

Etoile et Griotte Reuseable Bag

mikko illustrations Collaboration Imabari Hand Towel

Moon Prim Cinnamoroll PVC Frilly Pouch

WANPAKU HOUSE Pouch

FANCY SANRIO CHARACTERS, a collaboration that began in October 2017, has been held six times so far. This seventh edition will be the largest to date, with more than 40 brands making an appearance. From fashion and sundries to sweets and art, guests will be able to find some adorable merchandise both in-store and at the Isetan Mitsukoshi online store. Why not come shop for your family and friends during this cute event?
 

Ⓒ 2022 SANRIO CO., LTD. APPROVAL NO.L632357

NIJISANJI and Sanrio Characters Collaboration Cafe to Open for a Limited Time

The NIJISANJI and Sanrio Characters Collaboration Cafe will open in Harajuku and Yokohama on August 18 and in Osaka on September 2!

Three units from the popular NIJISANJI VTuber collective will be featured at the cafe, with each talent teaming up with a particular Sanrio character, from Hello Kitty, Pompompurin, and Kuromi to Tuxedo Sam and Hangyodon.

Food Menu Purchase Bonus: Original A3-size Lunch Mat

Drink Menu Purchase Bonus: Original Postcard (3 varieties)

Drink Menu Purchase Bonus: Original Straw Tag (13 varieties)

Menu

Food

 [Kojirase Harassment] Zenryoku Boomerang Sandwich

 [Sereine Girl's School] Lunch Plate

[Eden-gumi] Curry from Eden

Dessert

[Kojirase Harassment] The Cutest Idol Parfait

 [Sereine Girl's School] Drama Club Fruit Pancakes

[Eden-gumi] Eden Sweets Plate

Drinks

[Kojirase Harassment]

 [Sereine Girl's School]

[Eden-gumi] Member Drink

The food, dessert, and drink menus were each inspired by these three unique units. Fans of Kojirase Harassment won't want to miss the tasty Zenryoku Boomerang Sandwich based on the hit song, and anyone who loves the adorable members of Serine Girl's School can grab some tasty fruit pancakes. The Eden-gumi menu consists of delectable curry and a sweets plate sure to fill you up. 13 unique drinks will also be available, each inspired by the member colors of the participating V-Tubers.



Come spend a relaxing time with your favorite characters this summer!

©ANYCOLOR, Inc. © '22 SANRIO Ⓛ

Information

NIJISANJI x Sanrio Character Collaboration Cafe

Venue/Dates:

Harajuku, Tokyo
BOX cafe&space Shinjuku MYLORD #1
August 18 – September 24, 2022


Yokohama, Kanagawa
Collabo_Index Lumine Yokohama
August 18 – September 24, 2022

Osaka
#702 CAFE&DINER Namba Parks
September 2 – September 24, 2022


Reservations / Cafe Details: https://nijisanjisanrio3-cafe.jp

Sanrio Characters Cinnamoroll, Pompompurin, and Pochakko Available as Traditional Japanese Sweets

Cinnamoroll, Pompompurin, and Pochakko are the latest to be picked up by the character-inspired Japanese confectionery series Tabemas. These tasty treats will go on sale at Lawson stores across Japan starting August 2, 2022.

Tabemas Sanrio Characters 2022

Cinnamoroll with Ribbons

Pompompurin with Ribbon

Pochakko with Ribbon

Three of the most popular Sanrio characters have been transformed into traditional wagashi sweets! Pompompurin, Cinnamoroll, and Pochakko are dressed in their finest attire, complete with ribbons. Cinnamoroll's filling is milk-flavored, while Pompompurin is pudding-flavored and Pochakko is filled with banana sweetness. Be sure to take some pictures before chowing down! Honestly, these might be too adorable to eat. 

Information

Tabemas Sanrio Characters 2022

Cinnamoroll with Ribbons

Pompompurin with Ribbon

Pochakko with Ribbon

Release Date: August 2, 2022

Where to Buy: In the chilled desserts section of Lawson convenience stores across Japan

*Not available at Natural Lawson or Lawson Store 100

*Available while supplies last. Some stores may not offer all three products.

Sailor Moon Eternal Film and Sanrio Characters Collaboration Goods Announced

Sailor Moon is celebrating its 30th anniversary this year, and Sanrio is paying homage to the recent Sailor Moon Eternal film series with a cute new collection! The Sailor Moon Eternal x Sanrio Characters series will be released sequentially starting August 18, with items available at Sanrio stores nationwide, department store Sanrio corners, and the Sanrio online shop.

Sailor Moon Eternal was a two-part film released in early 2021. A sequel two-part film, Sailor Moon Cosmos, will release in Japan in the summer of 2023. 

The new merchandise features newly-drawn designs of six Sailor Scots, Hello Kitty, My Melody, Cinnamoroll, Kuromi, Marroncream, and Pompompurin. 

Sailor Moon Eternal x Hello Kitty Super Sailor Moon Mascot Keychain: ¥3,300

Sailor Moon Eternal x My Melody Super Sailor Chibi Moon Mascot Keychain: ¥3,300

The new items will combine popular Sailor Moon characters with beloved Sanrio characters. This collab was originally announced back in January. Super Sailor Moon teams up with Hello Kitty, Super Sailor Chibi Moon is topped with a My Melody ribbon, and fans can find goods featuring more adorable pairings!

Sailor Moon Eternal x Sanrio Characters Mascot Keychain (6 varieties): ¥2,750 each

Sailor Moon Eternal x Sanrio Characters Flat Pouch: ¥1,485

The merch lineup includes keychains, pouches, and more goods that will be both functional and fashionable in your daily life, especially if you're a long-time Sailor Moon fan.

Sailor Moon Eternal x Sanrio Characters Secret Acrylic Stand (11 varieties): ¥693 each

Four secret acrylic stands will be available, featuring the four outer Sailor Soldiers. These will include Super Sailor Uranus and Little Twin Stars (Kiki), Super Sailor Neptune and Little Twin Stars (Lala), Super Sailor Pluto and Pochakko, and Super Sailor Saturn and My Sweet Piano. These will be sold randomly, so you might need to grab a few before you get the characters you want!

Sanrio Characters Autumn Sweets Buffet to be Held at Hilton Nagoya

From August 18 until November 3, visitors to the Hilton in Nagoya will be able to enjoy a special autumn buffet featuring the popular Sanrio characters Kuromi, Cinnamoroll, and Hello Kitty. 

These three characters are some of Sanrio's most loved. Kuromi is the self-proclaimed rival of My Melody, while the fluffy Cinnamoroll won first place in this year's Sanrio Character Awards. Hello Kitty has been beloved by audiences worldwide for decades, and her iconic ribbon really shines in this buffet collaboration. Themed around an autumn harvest festival in a dark forest, the event includes 27 varieties of sweets and seven savory items. From sweet potatoes and pumpkins to chestnuts and apples, guests will be able to taste the fall season!

Kuromi's Dark Forest Cake

Autumn Cinnamoroll Cake

Hello Kitty's Ribbon Cake

Crazy Mushrooms / Praline and Gianduja Truffles / Tonka Bean & Chocolate Caneles

 

Kuromi's Dark Forest Cake is a traditional German black forest cake featuring decorations inspired by the character's black hood and a pink skull. The Autumn Cinnamoroll Cake is made with rice flour and is inspired by the adorable puppy's fluffy appearance. Hello Kitty's Ribbon Cake is topped with apple compote simmered with strawberries and red wine. 

At the popular Live Station, guests can also enjoy an artistic performance by the chef himself. Visitors can also find and harvest their own Crazy Mushrooms and Truffles. 

Kuromi's Autumn Soup

Pumpkin Mont Blanc

Hello Kitty's Apple

Pastry Chef Mamoru Watanabe's specialty autumn sweets and Sanrio Characters-inspired goodies will invite you into a cute and dark forest world. Kuromi's Autumn Soup is made with Japanese chestnuts and chicken consomme poured over panna cotta made with purple sweet potatoes. The Pumpkin Mont Blanc includes four layers of milk chocolate cream, chocolate crumble, pistachio cream, and pumpkin Mont Blanc cream.

Praline Paris-Brest

Hojicha Basque Cheesecake

Green Tea Tiramisu

Come enjoy the taste of autumn with your favorite Sanrio characters!

© '22 SANRIO CO., LTD. APPR. NO. L632215