France's popular fictional characters "Lisa and Gaspard" and "Hello Kitty" will collaborate!
It has been decided that a collaborative project between "Hello Kitty" and France's popular fictional characters "Lisa and Gaspard" will be carried out.
"Lisa and Gaspard" are fictional characters created by the couple Anne Gutman
(text) and Georg Hallensleben (illustration). Their first book was published in France in 1999 and 40 titles have been published here in Japan since the year 2000. The total number of books published is two million. The characters that appear in the books are "Lisa," a girl with white body and red scarf and "Gaspard," a boy with black body and blue scarf. Officially, Gaspard and Lisa are "neither dogs nor rabbits" but their exact species is not clear. What is clear is that they are both residents of Paris. They go to school and have many friends but they are "eternal friend" to each other.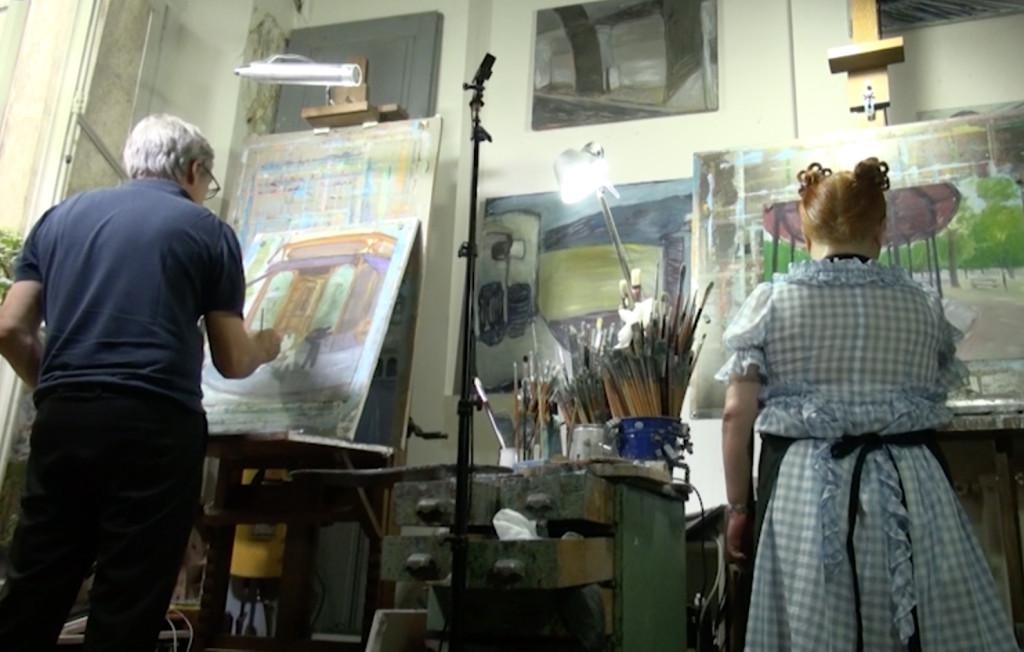 For this collaborative project, the creators of these two characters, Anne Gutman, and Georg Hallensleben and the designer of Sanrio's Hello Kitty, Yuko Yamaguchi got together in South Paris and drew seven oil paintings.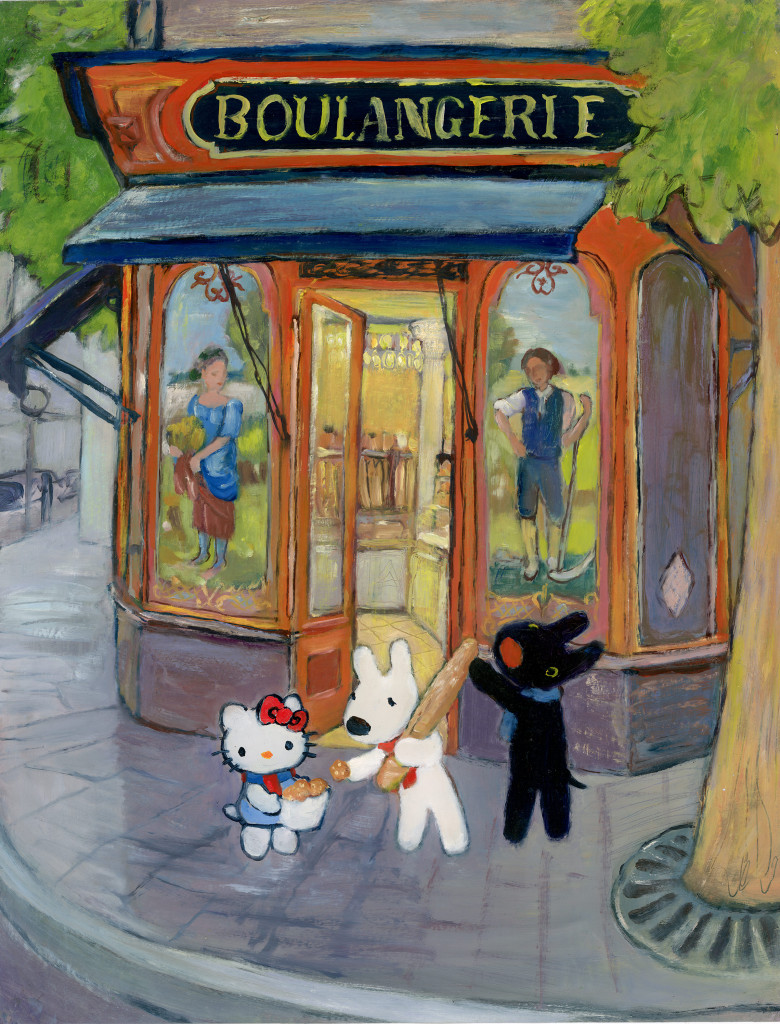 This is a first for "Lisa and Gaspard" to collaborate with some other character. From 2018, Sanrio will sell products based on these oil paintings and there is a plan to hold many special events in different categories.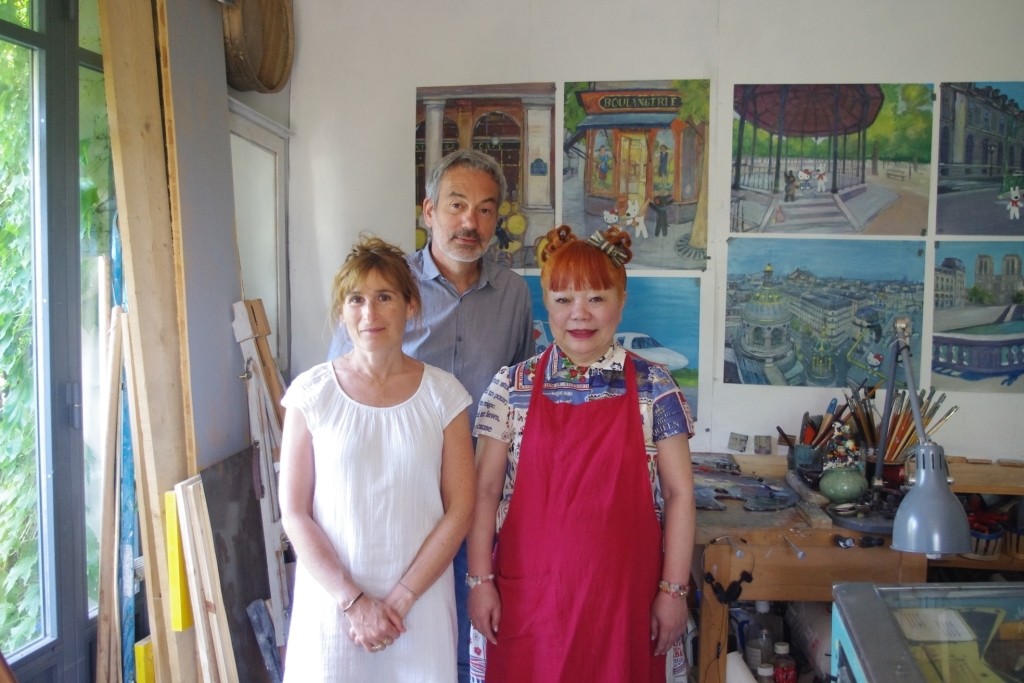 ▶︎The creators of "Lisa and Gaspard," Anne Gutman and Georg Hallensleben have this comment about this project:
"It is still unbelievable that Yamaguchi-san came all the way to our attelier to draw paintings with us! We had a great time in the atteliers both in Paris and in South France. We wish to collaborate with her again."
▶︎The designer of Hello Kitty, Yuko Yamaguchi (Sanrio) has this comment:
"I first saw "Lisa and Gaspard" when they were selected as the CM characters of Pasco in 2006.
I was surprised that these characters were drawn in oils and this experience fueled and sparked my imagination. I am pleased that this collaborative project finally came to realization 11 years after I saw these characters for the first time."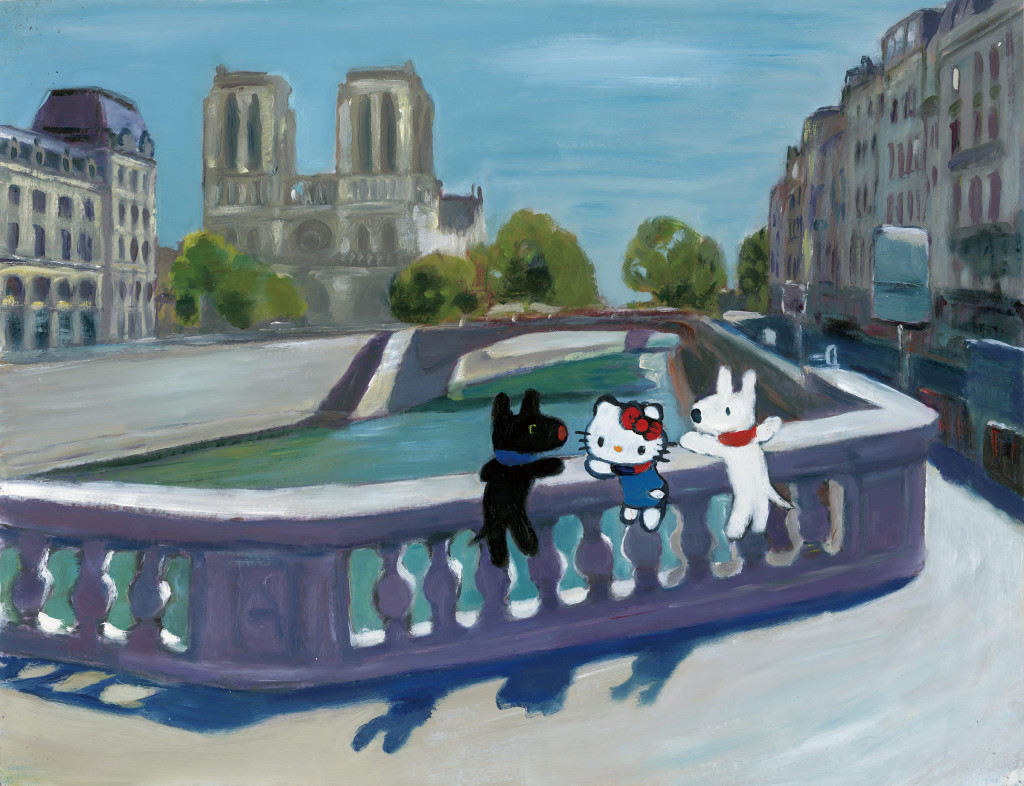 Do not miss this collaboration between "Lisa and Gaspard" and "Hello Kitty!"
RELATED ENTRIES
Hello Kitty & Mickey and Minnie Mouse New Year Osechi Food Orders Now Open

Osechi is a Japanese term referring to special food served during the New Year holidays. The food is filled with the hopes, wishes and happiness of people. Kibun Foods began taking reservations for new Hello Kitty and Disney osechi assortments via their online shop on August 1. Reservations will also began rolling out at retail stores throughout the year.

The Hello Kitty box contains a selection of traditional osechi items including red and white kamaboko cured fish paste and datemaki sweet rolled omelette as well as more modern cuisine like smoked duck.


The cute box comes with the original 1970's Hello Kitty design to celebrate her 45th anniversary. It's exclusive to Kibun Foods and can be reused as a lunchbox.

The Disney box design features Mickey and Minnie Mouse wearing traditional kimono. This box also contains traditional foods like red and white kamaboko cured fish paste and datemaki sweet rolled omelette as well as chicken in tomato sauce, smoked duck and more.

The plum blossoms and peonies give a traditional and luxurious feel to the box.

Enjoy a kawaii-charged New Year's this year with these beautiful osechi gifts.

©1976,2019 SANRIO CO., LTD. APPROVAL NO.G601662

ⒸDisney

*Photos are for illustrative purposes only

Information

Hello Kitty Osechi
Foods: 21
Price: ¥10,000 (Before Tax)
Delivery: Cold Storage
Box Size: 16.5×16.5 ×10.8cm

Disney Osechi
Foods: 25
Price: ¥11,000 (Before Tax)
Delivery: Cold Storage
Box Size: 16.5×16.5×9.7cm

Kibun Shop: https://www.kibun-shop.com

Adorable Moving Ear Hats to be Released by Sanrio

Sanrio has announced that it will release six hats with moving ears inspired by six of its characters at Sanrio stores, its online store, and shops stocking Sanrio goods in Japan on August 21.

The hats move by using an air pump that you pump with your fingers. Look adorable at events, on your Instagram story posts and pretty much anywhere by choosing from one of the six characters: Hello Kitty, My Melody, Pompompurin, Cinnamoroll, Kuromi and Pochacco.

The hats are fluffy, comfortable to wear, and of course make you look kawaii as you walk along with the ears bouncing up and down. The hats are also one size fits all and so can be worn by both kids and grown-ups!

©️1976, 1989, 1996, 2001, 2005, 2019 SANRIO CO., LTD.

Information

Sanrio Character Moving Ear Hats
Release Date: August 21, 2019

Available: At most Sanrio stores, select stores stocking Sanrio merchandise, and online via the Sanrio Shop, Rakuten, and Yahoo

Designs: Hello Kitty, My Melody, Pompompurin, Cinnamoroll, Kuromi and Pochacco

Price: ¥2,052 Each (Tax Included)

Sanrio Official Website: https://www.sanrio.co.jp/goodsinfo/mx-mimiga-ugoku-201908/

Gundam vs. Hello Kitty Merchandise Releasing at Sanrio Stores

As part of the ongoing Gundam vs. Hello Kitty project, Sanrio is releasing a new collection of chess design merchandise and other merchandise themed on both franchises at Sanrio stores across Japan, as well as its online store and in selection shops stocking Sanrio merchandise on August 17 (and August 21 for the online store).

Let's take a look at just some of the items up for grabs.

Gundam vs. Hello Kitty T-Shirts (M/L) – ¥3,456 Each (Tax Included)

Gundam vs. Hello Kitty Face Towels – ¥1,944 Each (Tax Included)

Gundam Mug – ¥1,620 (Tax Included)

Hello Kitty Mug – ¥1,620 (Tax Included)

For the 7th round of the project, fans of Hello Kitty and Gundam are encouraged to take a photo of any of the chess design items they have purchased and post it on Twitter.

If you are team Hello Kitty then you must post with the hashtag #キティチェックメイト ("Kitty Checkmate") and if you are team Gundam then post with #ガンダムチェックメイト ("Gundam Checkmate"). This hashtag campaign will begin on August 17 and end on September 16. The character with the most number of posts will be crowned as the winner of Round 7. Additionally, one random participant from both teams will be selected to win a complete set of the chess design merchandise which includes the t-shirts and both mugs.

Pick your team, get the goods and get voting!

©Sotsu・Sunrise ©'76, '19 SANRIO

Information

Gundam vs. Hello Kitty Chess Design Promotionカ

Release Date: August 17, 2019

Available: At Sanrio stores, select shops selling Sanrio merchandise, and the official Sanrio online store (from August 21, 2019 on the online store)

Sanrio Online Store: https://shop.sanrio.co.jp/

Rakuten: https://www.rakuten.co.jp/sanrio/

Yahoo! Shopping: https://shopping.geocities.jp/sanrio/

Sanrio Official Website: https://www.sanrio.co.jp/news/kt-gundam-chessdesign-20190814/

Gundam vs. Hello Kitty Project – Round 7: Twitter Posting Campaign

Running: August 17, 2019 – September 16, 2019

Participating: Purchase one of the chess design items on Twitter with the relevant hashtag. If you are team Hello Kitty then post with the hashtag #キティチェックメイト ("Kitty Checkmate") and if you are team Gundam then post with #ガンダムチェックメイト ("Gundam Checkmate").

Prize: One random participant from both teams will be selected to win a complete set of the chess design merchandise which includes the t-shirts and both mugs. More details will be posted on the project's official Twitter account.

Gundam vs. Hello Kitty Project Official Twitter: @gundamvskitty

Gundam vs. Hello Kitty Project Official Website: https://www.gundamvskitty.com

Hello Kitty Theatre Restaurant HELLO KITTY SHOW BOX Opens its Kawaii Doors to the Public

The official Hello Kitty theatre and restaurant HELLO KITTY SHOW BOX on Awaji Island had its grand opening on August 12.

Related Article: Stunning Hello Kitty Theatre Restaurant HELLO KITTY SHOW BOX to Open On Awaji Island

New photos have emerged giving us a peek inside the restaurant and at the menu.

The restaurant itself is situated in the farmlands of Awaji Island. Hiding on top of the building is an adorable hidden face of Hello Kitty which can't be seen from the ground.

At the back of the restaurant is a giant screen spanning 6 meters wide and 16 meters tall. The stage in front will give rise to a whole new kind of Hello Kitty entertainment with song, dance and performances.

The menu was conceived by Japanese chef Hal Yamashita and uses healthy, organic ingredients to make incredible dishes that both taste amazing and are fun to look at. As well as vegan dishes, there will be a dessert buffet which also uses healthier alternatives. Everything look delicious!

The interior is both cute and high class, offering the ultimate Hello Kitty restaurant. With its doors now open to the public, fans of Hello Kitty are set to flock to Awaji Island.

Ⓒ1976, 2019 SANRIO CO., LTD. 

Information

HELLO KITTY SHOW BOX

Grand Opening: August 12, 2019

Address: 177-5 Nojimahirabayashi, Awaji, Hyogo Prefecture
Business Hours: 11:00-20:00
Closed: Wednesdays
Weekday Hours: Lunch 11:00 / Cafe 15:00 / Dinner 18:00
Weekend Hours: Lunch 11:00 / Cafe 14:15 & 16:15 / Dinner 18:15

Reservations
①Reservations can be made via the homepage here (*Discount applied to all reservations)
②Reservations can also be made at the restaurant on the day depending on the number of available tables
Allotted Time: 2 hours max.

Official Website: https://awajiresort.com/hellokittyshowbox/

Love Live! & Sanrio Open Collaborative Cafes in Tokyo and Osaka

Multimedia project Love Live!―which has spawned an anime series, manga, game, movie and more―is teaming up with Sanrio to open themed cafes in Tokyo and Osaka on August 16 and September 27 respectively.

The cafe will see 20 characters from the Love Live! series music groups μ's, Aqours and Saint Snow and 20 characters from the Sanrio cast come together at the cafe, with decorations, themed food, and merchandise.

The menu features a bounty of flavourful food and drink which incorporates popular flavours, luscious taste, and hearty servings. Menu item names below are translated from Japanese.

An Unlucky Combination Food Plate – ¥1,390 (Before Tax)

An interesting assortment of a mini omurice, soy sauce ramen, and a fresh tomato caprese salad. It also comes with the pictured postcard which features a blackboard design.

Deliciousness Ensemble! Invigorating Dessert Plate – ¥1,390 (Before Tax)

This dessert set is one fit for the gods, adorned with an apple topped castella, mini pancake laced with salted caramel ice cream, an tea-flavoured jelly. This also comes with the pictured postcard featuring different characters.

If you decide to buy a drink at the cafe you'll be treated to one of the three coasters chosen randomly. They are topped with fine fruits. There are many more menu items in addition to these, so be sure to check the official website to see the full listing.


Fans of both franchises can pick up plenty of exclusive merchandise too, featuring the characters from Love Live! dressed like the Sanrio cast. There are bonus items for customers who book a table in advance too. Don't miss this first ever collaboration between Love Live! and Sanrio♡

Information

Love Live! Series x Sanrio Characters Cafe

Tokyo Cafe
Running: August 16, 2019 – October 14, 2019
Location: HARAJUKU BOX CAFE&SPACE (Lucessimo Bldg. Floor 2F, 4-28-28 Jingumae, Shibuya, Tokyo)

Osaka Cafe

Running: September 27, 2019 – October 27, 2019
Location: UMEDA BOX CAFE&SPACE( (Umeda LOFT Floor 1F, 16-7 Chayamachi, Kita Ward, Osaka, Osaka Prefecture)

Reservations: ¥500 (Before Tax)
Official Website: https://lovelive-sanrio-cafe.jp/

Stunning Hello Kitty Theatre Restaurant HELLO KITTY SHOW BOX to Open On Awaji Island

The new HELLO KITTY SHOW BOX theatre restaurant is set to bring excitement and thrills when it opens on Awaji Island on August 12.

This theatre-restaurant combination will serve up a dining experience you will never forget with a selection of healthy cuisine including vegan cooking. For entertainment, you can look forward to browsing the incredible gallery which will make use of various media art forms including 3D holograms. There will also be a range of shows made up of song, dance and musical performance.

The building itself is situated within farmlands and is crowned with the adorable hidden face of Hello Kitty which can't be seen from the ground.

The Hello Kitty Dream Gallery will use 3D holograms to bring Hello Kitty to life before your very eyes. The story will follow our feline heroine in which her dream to become a pianist comes true. The Hello Kitty Dream Entertainment Show will make use of giant LED screens and Hello Kitty will put on a cute performance of song, dance and music.

The menu was conceived by Japanese chef Hal Yamashita and uses healthy, organic ingredients to make incredible dishes that both taste amazing and are fun to look at. As well as vegan dishes, there will be a dessert buffet which also uses healthier alternatives.

And if you're hoping to stock up on Hello Kitty merchandise then you're in luck―the site's Hello Kitty shop will stock exclusive items you can't get anywhere else.

Immerse yourself in all things Hello Kitty at HELLO KITTY SHOW BOX, opening on August 12, 2019.

Ⓒ1976, 2019 SANRIO CO., LTD.

*Photos are for illustrative purposes only

Information

HELLO KITTY SHOW BOX

Grand Opening: August 12, 2019

Address: 177-5 Nojimahirabayashi, Awaji, Hyogo Prefecture
Business Hours: 11:00-20:00
Closed: Wednesdays
Weekday Hours: Lunch 11:00 / Cafe 15:00 / Dinner 18:00
Weekend Hours: Lunch 11:00 / Cafe 14:15 & 16:15 / Dinner 18:15

Reservations
①Reservations can be made via the homepage here (*Discount applied to all reservations)
②Reservations can also be made at the restaurant on the day depending on the number of available tables
Allotted Time: 2 hours max.

Official Website: https://awajiresort.com/hellokittyshowbox/

Sanrio Unveil New Sporty Merchandise Collection Featuring Hello Kitty, My Melody & Others

Sanrio has announced that it will release 24 pieces of merchandise on August 15 in support of the sports season from summer to autumn. The items feature the Sanrio characters donning their sports gear and include megaphones, charms, bags, and more.

There are many sports events happening right now, and the Sanrio cast are here to help you cheer on your favourite teams: Hello Kitty, My Melody, Pocchaco, Pompompurin, Cinnamoroll, and Kuromi.

The megaphones are a must-have, featuring cute plush toy attachments of the characters which can be used at events like a vuvuzela.


Keep your things safe with one of six "Mascot Holder" bags with each character donning different sportswear: table tennis for Hello Kitty, Tennis for My Melody, Rugby for Pompompurin, baseball for Cinnamoroll, soccer for Kuromi, and basketball for Pochacco.

And for good luck, grab one of the lucky charms which have a gold medal and message inside them. Attach them to your phone or keep them in  your pocket!

©'13, '19 SANRIO S/D・G

Information

Sanrio Character Sports Promotion
Release Date: August 15, 2019

Available: At Sanrio stores, select shops selling Sanrio merchandise, and the official Sanrio online store

Sanrio Official Online Store: https://shop.sanrio.co.jp/

Celebrate Hello Kitty's 45th Anniversary at the Hello Kitty Collection Exhibition in Chiba

Lovers of Sanrio and all things Hello Kitty won't want to miss the 45th Anniversary Hello Kitty Collection Exhibition currently being held at Sogo Chiba until August 15.

The event look backs at the kawaii history of Hello Kitty with a huge range of old and new merchandise. There's also photo spots for taking cute photos, a wall of Hello Kitty plush toys, touch interactive digital videos, and much more.

If you're looking to stock up on your collection of Hello Kitty merch then you have around 850 items to choose from including goodies exclusive to the event, pre-sales of items to be released at a later date, and more. There's even a pottery workshop as well as a chance to take your photo with the real Hello Kitty.

Kawaii Chronicles: Hello Kitty Design Museum

Get ready to witness a wide selection of Hello Kitty goods from across generations, including rare and vintage items no longer manufactured. Witness the history of Hello Kitty's kawaii world and how things changed through the years to fit each generation.

Digital Content & Plush Toy Wall

Get interactive with Hello Kitty with the wall mapping – touch the wall and see the visuals change. There's also another wall completely full of Hello Kitty toys which makes for a really cute photo opportunity.

Photo With Hello Kitty

Hello Kitty will be present on August 12 in a beautiful kimono ready to have her picture taken with you! Tickets will be handed out 30 minutes before each session. Spaces are limited so make sure you're on time!

Date: August 12, 2019 at 11:00/13:00/15:00

Location: Floor 6F Event Hall

No. of People: 20 per shoot

Workshop

Paint your very own ceramic Hello Kitty ornament. You colouring it means that yours will be unique and the only one in the world♡

Running: August 7, 2019 – August 15, 2019

Time: 11:00-16:00

No. of People: 30 per day

Price: ¥1,296

Hello Kitty Kawaii Market
Get your hands one one of 850 pieces of Hello Kitty merchandise from plush toys to stationery, interior items and more. Many of these items are exclusive to the exhibition.

Mascot Holder – ¥1,728 (400 Available – 1 Per Person) / Acrylic Key Ring – ¥648 / Mug – ¥1,080 / Hand Towel – ¥756

Replica Classical doll – ¥17,280 / Mini Mascot Brooch (20 Designs) – ¥1,080 Each (1 Per Person) / A4 Folders (Includes 2) – ¥486

Enter the adorable world of Hello Kitty this summer and help her celebrate her 45th anniversary.

Information

45th Anniversary Hello Kitty Collection Exhibition

Running: August 7, 2019 – August 15, 2019

Time: 10:00-20:00 (Until 17:00 on August 15) *Last entries are 30-minutes before closing time

Location: Sogo Chiba Floor 6F Event Hall (1000 Shinmachi, Chuo Ward, Chiba, Chiba Prefecture)

Price: Adults & University Students ¥500 (High School Students & Younger – Free)

*Those with a disability certificate can enter the exhibition for free (including one guardian)

Sogo Chiba Official Website: https://www.sogo-seibu.jp/chiba/

7 Character Themed Cafés Running in August 2019

Character cafés are an exciting experience in Japan which sees a café collaborate with well-known anime series, game series or other franchise by decorating the café interior with designs and illustrations based on them and meals and drinks inspired by them.

Before continuing this article be sure to check out our June 2019 list of character cafés as some of them are still running!

Sanrio x Ichigo Shimbun Collaboration – Ichigo Shimbun Dinder (July 11-September 30)

Ichigo Shimbun is a monthly magazine published by Sanrio which includes information about the latest character merchandise and much more. Sanrio has opened a café themed on their magazine at EGG & SPUMA which located on the 8th floor of Shinjuku Lumine EST. "Vacation" is the theme of the café where Sanrio fans can enjoy a summery food menu. Enjoy a fun summer together with the Sanrio characters♡

Full Details: https://www.moshimoshi-nippon.jp/230790

▼Ichigo Shimbun Diner
Location: EGG & SPUMA, Shinjuku Lumine EST Floor 8F, 3-38-1 Shinjuku, Shinjuku Ward, Tokyo
Running: July 11, 2019 – September 30, 2019
Business Hours: Weekdays 11:00-23:00 (Last Orders 22:00) / Weekends & Holidays 11:00-22:30 (Last Orders 21:30)
TEL: 03-6273-0255
Website: http://salt-group.jp/shop/egg-spuma/

AAA CITY SUMMER PARTY – AAA Cafés in Tokyo & Osaka (July 19-September 1)

AAA's collaborative café is themed on midsummer city pop. Their seasonal menu features drinks, desserts and more inspired by each respective colour of the group members. If you dine at the café you'll get yourself a special lunch mat, and if you order a drink, you'll get an original drink coaster. There's plenty of other exclusive AAA café merchandise too, so if you're a fan of the pop group then this is one you won't want to miss out on this summer!

▼AAA CITY SUMMER PARTY

Running

Omotesando (Tokyo): July 19, 2019 – September 1, 2019

Shinsaibashi (Osaka): July 19, 2019 – September 1, 2019

Location

Tokyo: OMOTESANDO BOX CAFE&SPACE (Pine Under Flat B1F, 5-13-2 Jingumae, Shibuya, Tokyo)

Osaka: Shinsaibashi contact (1-6-24 Kita-Horie, Nishi Ward, Osaka, Osaka Prefecture)

Reservations

・Table reservations for August 1 to September 1 opened on July 12 at 18:00 (JST)

・Reservation Price: ¥650 (Before Tax) *Comes with bonus merchandise

AAA CITY SUMMER PARTY Official Website: https://aaa-cafe-2019.jp

AAA Official Website: https://avex.jp/aaa/

Bonobono & Pompompurin's First Ever Café Collaboration (July 11-September 1)

The Harajuku, Umeda and Yokohama branches of the Pompompurin Café have teamed up with the beloved anime character Bonobono to release four menu items themed on playing together at the beach.

Both Bonobono and Pompompurin fans alike won't be able to resist the cute and delicious dishes being served at the cafes this summer.

Full Details: https://www.moshimoshi-nippon.jp/231395

▼Pompompurin Café Harajuku

Address: CUTE CUBE HARAJUKU 3F, 1-7-1 Jingumae, Shibuya, Tokyo

Opening Hours: 11:00-21:00 (Food Last Orders 20:00 / Drinks Last Orders 20:30)

Pompompurin Café Umeda
Address: Hankyu Sanbangai South Wing B2F, 1-1-3 Shibata, Kita-ku, Osaka-shi
Opening Hours: Weekdays 11:00-22:00 (Last Orders 21:30) / Weekends & Holidays 10:00-22:00 (Last Orders 21:30)

Pompompurin Café Yokohama

Address: Yokohama Sotetsu Square, 2-1-5 Minamisaiwai, Nishi-ku, Yokohama-shi

Opening Hours: 10:00-21:00 (Last Orders 20:30)

Bonobono Official Website: http://www.bonoanime.jp/

Pompompurin Café Official Website: http://pompom.createrestaurants.com

©Mikio Igarashi /Takeshobo, Fuji TV, Eiken © 1996, 2019 SANRIO CO., LTD. APPROVAL NO.S601363

Astronaut Snoopy Soars Up Tokyo Skytree (July 18-October 14)

Tokyo Skytree is now holding the FIRST BEAGLE IN SKYTREE® event in collaboration with the astronaut version of Snoopy which appeared in the original comic 50 years ago.

Every astronaut needs a good meal to keep them going. Head to the SKYTREE CAFE on the Tembo Deck on floor 340F and enjoy a selection of themed desserts, drinks and more. Astronaut Snoopy decorations line the cafe where you can get limited-edition novelties too. Soar into and learn all about space this summer with your pal Snoopy♡

Full Details: https://www.moshimoshi-nippon.jp/232293

▼FIRST BEAGLE IN SKYTREE®

Running: July 18, 2019 – October 14, 2019

Location: Tokyo Skytree Tembo Deck and Tembo Galleria

*A separate fee must be paid to to enter the Tokyo Skytree Tembo Galleria

Tokyo Skytree Official Website: http://www.tokyo-skytree.jp/en/

Snoopy Japan Website: http://www.snoopy.co.jp/

©2019 Peanuts Worldwide LLC

©TOKYO-SKYTREE

Gaspard & Lisa x Afternoon Tea TEAROOM (July 25-August 28)

The Koshigaya Laketown kaze, LaLaport Yokohama, Terrace Mall Shonan, and Nagoya LACHIC branches of the Afternoon Tea TEAROOM have joined hands with the French picture book series Gaspard and Lisa to celebrate its 20th anniversary.

The tea shops have been decorated with a special Gaspard and Lisa theme. There are photo spots at each cafe, and in the Nagoya LACHIC branch there is even a book corner with 20 books from the series. This is the perfect place to enjoy a special summer meal with your family, so don't miss out!

Full Details: https://www.moshimoshi-nippon.jp/233786

▼Lisa and Gaspard Collaboration

Running: July 25, 2019 – August 28, 2019

Afternoon Tea Official Website: https://www.afternoon-tea.net/

Lisa and Gaspard Official Website: http://www.lisagas.jp/

©2019 Anne Gutman & Georg Hallensleben / Hachette Livre

Koupen-chan Café in Shinjuku & Shinsaibashi (August 8-September 23)

The baby emperor penguin Koupen-chan, who is often the go-to sticker for many Twitter and LINE users in Japan, is illustrated by the well-known RURUTEA. Many of these social media users turn to the relaxing, soft and cuddly penguin to send soothing words of encouragement and a fuzzy hug to their loved ones. No wonder our adorable penguin has over 300,000 followers on Twitter.

The café returns from 2017 with a refreshed image which plunges deeper into the depths of Koupen chan's affectionate world. There are even more features packed into this year's collaboration menu. No matter what you order, your table will be overflowing with adorable penguin love.

Full Details: https://www.moshimoshi-nippon.jp/241560

▼Koupen-chan Café 2019 Summer

Tokyo Cafe

Location: SHIBUYA BOX CAFE&SPACE (Shibuya LOFT Floor 2F, 21-1 Udagawacho, Shibuya, Tokyo)

Running: August 8, 2019 – September 23, 2019

Osaka Café

Location: Shinsaibashi contact (1-6-24 Kita-Horie, Nishi Ward, Osaka, Osaka Prefecture)

Running: September 5, 2019 – October 6, 2019

Reservation Price: ¥500 (includes a complementary souvenir for making the reservation)

*A limit of 4 seats can be reserved through 1 reservation.

Official Website: https://koupenchan-cafe2019.jp/

©RURUTEA

Did you enjoy this list? Be sure to visit a character café while in Japan this summer.

Sanrio's Bridal Jewellery Fair: Get Your Own Sanrio Marriage Registration Form

U-TREASURE is a Japanese jewellery and goods brand aimed at adults who still like cute and playful accessories.

The Shinjuku branch and online store are currently holding the Sanrio Characters Bridal Jewellery Fair where you can get your hands on an original and official Japanese Sanrio Characters U-TREASURE marriage registration form.

The form features familiar faces from the Sanrio cast including Hello Kitty, My Melody, Pompompurin, Cinnamoroll and more.

The designer of the form explained that the composition was made so that the characters are looking directly at the bride to show that they are celebrating lots too. The blue background is inspired by "Something Blue" which is what a bride wears for good luck. And if you look closely at the background it is actually made up of lots of tiny characters.

Add a touch of fun and cuteness to your wedding with this official Sanrio marriage registration form.

ⓒ1976, 1988, 1989, 1996, 1999, 2001, 2005, 2019 SANRIO CO., LTD.

Information

U-TREASURE Shinjuku

Address: Nishi-Shinjuku KOIDE Bldg. Floor 2F, 3-1-3 Nishi-Shinjuku, Shinjuku, Tokyo

Business Hours: 11:00-19:00

Closed: Wednesdays & Thursdays (except on National Holidays)

U-TREASURE Online Shop: https://www.u-treasure-onlineshop.jp/

Sanrio Puroland's All-Night Halloween Party to Feature Guest Performances by Scha Dara Parr, m-flo & chelmico

Sanrio Puroland, Tokyo's theme park home to Hello Kitty and her friends, has teamed up with music company Melody fair to create a very special one-night-only Halloween party called SPOOKY PUMPKIN 2019 〜PURO ALL NIGHT HALLOWEEN PARTY〜 which will take place on October 26.

This marks the 6th year of Puroland's all-night event which never fails to sell out every ticket every single time. This year, there will be 4 live stages instead of the usual 3 allowing for even more exciting entertainment. There will be alcohol, performances from some big names in Japanese music, appearances from the Sanrio character cast, special openings of select park attractions and restaurants, and more for a truly unique club night experience you won't find anywhere else.

The park will be decorated in all things Halloween, and guests must dress according to the dress code which is titled "Orange or Pumpkin."

m-flo

chelmico

There is a huge list of artists are lined up with 40 expected to perform. The first batch have been announced already and includes Scha Dara Parr, m-flo, chelmico, Mom, BILLIE IDLE®, xiangyu, 4s4ki, DJ To-i (from DISH//), 掌幻と昴、LEGEND Of Densetsu a.k.a. Cypress Ueno, OTOTOY FRIDAY, Makita Sports、Poseidon Ishikawa, Shaka bose, JUN INAGAWA, Kubotakai, DJ DEVILMINTKIRYU, DJ yksb, and DJ Hello Kitty. The rest are to be announced at a later date.

There will also be a special pre-celebration for Hello Kitty's birthday which is officially on November 1.

This fun all-night Halloween festival welcomes everybody include those who have never been to a music festival or club before.

Links to where you can buy tickets are listed below. If you buy them from Reco Ticket you'll get the above-pictured exclusive Hello Kitty ticket.

Enjoy a Halloween party like no other this year at Sanrio Puroland.

©2019 SANRIO CO., LTD.

Information

SPOOKY PUMPKIN 2019 〜PURO ALL NIGHT HALLOWEEN PARTY〜

Date: October 26, 2019

Time: Open 22:00 / Finish 05:00 (subject to change)

Location: Sanrio Puroland (1-31 Ochiai, Tama, Tokyo)

Lineup: Scha Dara Parr, m-flo, chelmico, Mom, BILLIE IDLE®, xiangyu, 4s4ki, DJ To-i (from DISH//), 掌幻と昴、LEGEND Of Densetsu a.k.a. Cypress Ueno, OTOTOY FRIDAY, Makita Sports、Poseidon Ishikawa, Shaka bose, JUN INAGAWA, Kubotakai, DJ DEVILMINTKIRYU, DJ yksb, DJ Hello Kitty … & more TBA

Tickets: Advance ¥5,000 (Tax Included) *Available from August 3 at 10am (JST) / Same-Day ¥6,000 (Tax Included)

Reco Tickets: https://reco-ti.jp/l?dn=73001

Lawson Tickets:  https://l-tike.com/spooky-pumpkim2019

e+:  https://eplus.jp/spookypumpkin2019/

Ticket Pia: https://w.pia.jp/t/spooky-pumpkin/ (P-Code: 159-441)

Event Page: https://www.puroland.jp/spookypumpkin2019/

Sanrio's Cinnamoroll to Open His Own Beverage Shop 'Sky Drink Stand' in Harajuku

Sanrio fans will be delighted to hear that the adorable long-eared white puppy himself Cinnamoroll is set to get his very own drink shop called Cinnamoroll Sky Drink Stand which will open in Harajuku on August 22 for four days. The shop will make use of a revamped Cinnamoroll Talk app which was released in June last year and lets you chat with the character.

The theme of this limited-time shop aims to send you soaring up into the clouds with its fluffy decor and decorations where the shop's owner Cinnamoroll will be waiting to serve you some super special drinks.

There are 27 drinks in total to choose from. At the counter you can converse with Cinnamoroll, and depending on how he answers your questions, the colour, flavour and toppings of your drink will change. Your specially made and unique drink will arrive bottled with a handwritten name label on the front.

You'll even be able to order your drink in advance from August 17 using the Cinnamoroll Talk app which is compatible with Google Assistant. After you say, in Japanese, "OK Google, Cinnamoroll ni Osora Dorinku Onegai" (OK Google, please give me a Cinnamoroll Sky Drink), the order window will pop up. After you've talked with Cinnamoroll on the app you will receive an order number to collect your drink.


Commemorate your trip to the drink stand by taking a photo at the above-pictured photo spot and look like a member of staff yourself with your special drink.

©'01, '19 SANRIO

Information

Cinnamoroll Sky Drink Stand
Location: BOK Gallery Takeshita Street (Tousen Harajuku, 1-16-6 Jingumae, Shibuya, Tokyo)
Running: August 22, 2019 – August 25, 2019 (*Open to the press and invitees only on August 21)
Price: ¥700 (Tax Included) per drink
Business Hours: 11:00-20:00
*Greeting events will be held at scheduled occasions where Cinnamoroll and friends will appear at the drink stand