Yamada Coffee on the Amami Islands to release cafe au lait made with home blend speciality coffee and sugarcane
To celebrate 4 years since the opening of "Yamada Coffee Amami Island," the shop are releasing a their own in-house blended speciality coffee mixed with non‐centrifugal cane sugar* from sugarcane grown in the Amami Islands. This is the kind of beverage that is drank in the Southern islands. The cafe au lait sweetening base has an authentic coffee flavour and a delicious sweetness that is body-friendly.
The "kibiore" sweetening, which will be sold from September 8th, is a cafe au lait base mixed with speciality coffee home brewed by Yamada Coffee in Amami in Kagoshima and non‐centrifugal cane sugar taken from locally grown sugar cane on the Amami Islands.
The shop's speciality coffee uses 100% high quality coffee beans that meet international standards which are blended to create a balance that maintains the beans' rich flavour even when used in in a cafe au lait, and also leaves a fresh and smooth aftertaste.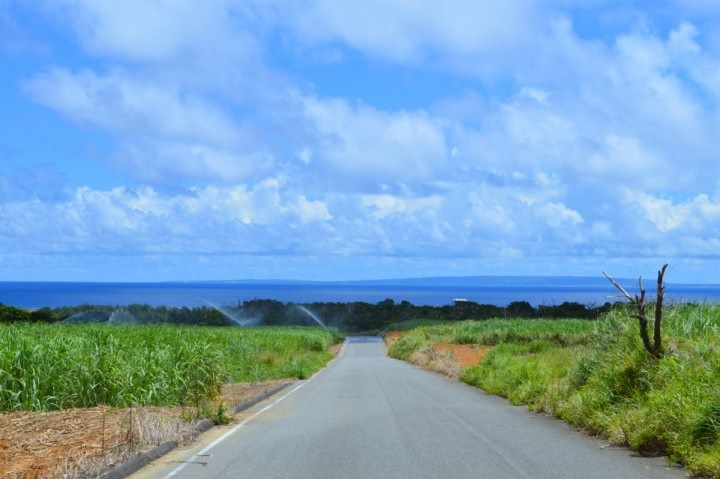 The sugar is made from 100% non‐centrifugal cane sugar that comes from exceptional local sugarcane grown on the Amami Islands which has been grown in lots of sunlight in the South.
The non-centrifugal cane sugar contains lots of minerals. It is well-accepted that when compared to brown cane sugar, it is the superior choice, containing less acidity and bitterness. Cafe au lait bases are normally made with white sugar, but Yamada Coffee use non‐centrifugal sugar in order to create a cafe au lait base that is friendly to your body.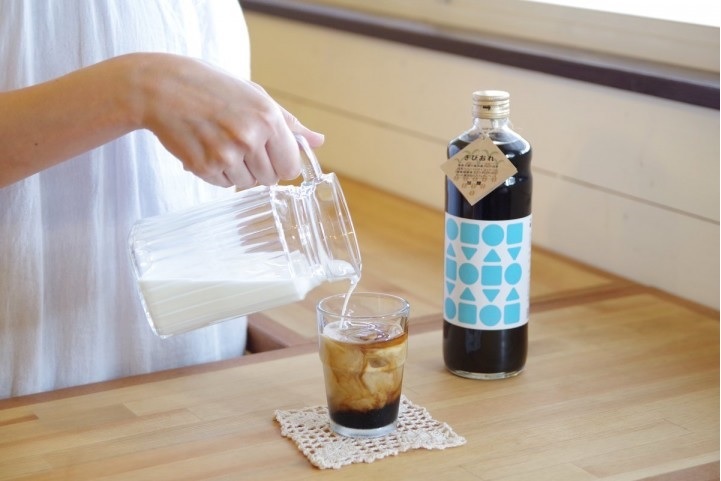 Not a single preservative, colouring or flavouring is used – their "kibiore" simply uses coffee and non‐centrifugal sugar. Yamada Coffee want to make kibiore a thing of Amami Ōshima and so are also releasing gift sets that can be used as Bon Festival or end-of-year gifts by people both inside and outside Amami Ōshima.
During your trip to Amami Ōshima, be sure to stop by Yamada Coffee for a sit down with one of their special cafe au lait!
■Information
Kibiore (sweetening)
On sale Friday September 8th
Price: ¥1,600 (tax incl.)
Shelf Life: 1 year from the day of manufacturing
Storage: Store at room temperature and keep out of direct sunlight.
How to Use: Shake well. Use 4 parts milk. Drink.
Available: In-store at Yamada Coffee and online
Link:
https://amamiycoffee.theshop.jp/items/7888915
*Non-centrifugal cane sugar: A variety of sugar produced differently than regular sugar. Because the sugar crystals and cane juice of the molasses are solidified and crystallised and not separated, the sweetness and flavour of the raw ingredient create a much stronger flavoured sugar.
RELATED ENTRIES
Tokyo Stroll: The Café That You Want to Visit to See Someone #11 – 'Hatoya' in Asakusa

In this edition of The Café That You Want to Visit to See Someone, I visited Hatoya which is located in Asakusa Shin-Nakamise Arcade.

The streets of Tokyo's historical district of Asakusa are packed to end with cafés. You can be spoiled for choice, but Hatoya stood out to me in particular as it's an especially old café. Business there began back in 1927 but the actual building was built back in the Taisho period, meaning its history spans more than 90 years ago!

The outside appearance of the shop is smart and chic so it's very easy to spot. I couldn't tell by looking from the outside, but the inside is full of old decorations and odds and ends which make you feel the history of the café.

One reason why I wanted to visit this place so much is because I was drawn to their logo. It's really retro-kawaii so I just couldn't resist!

You should take some photos too if you visit.

It was time to head inside. It's really comfy and cozy in there; the atmosphere was nice and relaxed.

Framed on the wall is a map of the Asakusa area during the Taisho era. Hatoya became famous back then because people could buy coffee for a mere 5 sen (a single sen is one-hundredth of a yen).

When business first began at Hatoya, because the café was opposite the stage door of a theatre, all of the famous actors and actresses would pop in. Some include famous Japanese comedian Roppa Furukawa and film actor Kiyoshi Atsumi who played Tora-san in the film series Otoko wa Tsurai yo.

I ordered the café's popular hotcakes which cost ¥600. They have been making these same hotcakes since before the war.

They were nice and fluffy and had a deliciously gorgeous brown colour. The flavour was out of this world when the butter melted from the heat of the hotcakes and mixed together with the syrup.

The portion might look like a lot but they are fluffy and have a light flavour so can be finished with no problem.

And is the café's signature milkshake (¥500).

It's so refreshing that you can knock it back all in one go. It has a simple flavour but it tasted so good!

I also ordered the ¥600 cream soda, my favourite beverage.

I've been to many cafés, and have covered many in this series, but this is the first I have dined at with such a deep history. I found myself enthralled by the stories of the owner who has continued to treasure the café and maintained it all the same since it opened. I feel like I have learned about a world I never knew about. The next time I go to Hatoya with a friend I'll be sure to let them in on its history. I encourage you to visit too!

Writer/Model: Ema Tanioku
Photographer: Haruka Yamamoto
Design: Yuko Abe (ASOBISYSTEM)

TALENT PROFILE

Ema Tanioku

"Emaeri" is the nickname for models Ema and Eri Tanioku, who are Aomoji fashion model twins. Ema and Eri Tanioku specialise in twin fashion coordination. Over the years their fanbase has increased due to their cute looks. Ema Tanioku spreads Harajuku culture within Japan as well as overseas and works as a Harajuku Tourism Ambassador. Starting off as a model, Ema has broadened her talent range from fashion magazines to TV, and from playing the lead role in dramas to movies.

Popular Tokyo Café Bakery BREAD, ESPRESSO & to Open in Fukuoka

Bakery café BREAD, ESPRESSO &  has made quite a reputation in Omotesando, Tokyo for its stylish interior and delicious coffee and bread. The bakery café is now opening a new branch in Fukuoka called BREAD, ESPRESSO & HAKATA & on September 25th, 2019.

To commemorate 10 years in business, BREAD, ESPRESSO & will be opening their first ever branch in Hakata, Kyushu. The café bakery will be nestled between Hakata Station and CANAL CITY HAKATA. Whether you are a busy commuter looking for a heartwarming cup of coffee or a traveling tourist, the location is ideal for anyone looking for a quick rest stop. 

The new café bakery is approximately 165 m² in size, making it the largest branch. The shop is decorated with a pure white base theme and has the perfect comfortable environment to enjoy a coffee. 

Mu: ¥330 (after tax)

French Toast: ¥750 (after tax)

BREAD, ESPRESSO &'s popular Mu and French Toast will be on the menu along with Hakata-limited goods. If you are searching for some delicious bread in Hakata, please make your way to BREAD, ESPRESSO &.

Information

BREAD, ESPRESSO & HAKATA & (パンとエスプレッソと博多と)

Address: 101, 2-8-12, Hakata Ekimae, Hakata Ward, Fukuoka 

Opening Hours: 8:00 ー 20:00

No regular holidays. 

TEL:092-292-1190

Website: http://www.bread-espresso.jp/

5 Best Cute and Stylish Cafes in Fukuoka

Sat on the northern shore of Kyushu is Fukuoka Prefecture, a hot spot for tourists both Japanese and foreign, particularly those visiting from parts of Asia such as China, Taiwan and South Korea.

Fukuoka has its fair share of famous tourist destinations and a delicious collection of gourmet restaurants, but did you know it's also home to lots of different cute and stylish cafes? Today, Instagrammer moe takes us on her trip around Fukuoka's plethora of popular coffee shops and shows 5 must-visit locations.

10 Coffee Brewers

A popular coffee shop also based in in Ōita Prefecture, 10 Coffee Brewers has another branch in Fukuoka's Daimyo district. The mouthwatering beverage you see in the photo above is a vanilla smoothie with tapioca pearls and a shot of espresso. Topped with Oreo cookies, marshmallows and cream, this crave-inducing coffee delight offers a mix of tasty treats and textures that are sure to fill you up after a cup♡

▼10 Coffee Brewers

Address: 1-10-18 Daimyo, Chuo Ward, Fukuoka

Opening Hours: 11:30-19:00

Closed: Mondays

Official Instagram Page: https://www.instagram.com/10coffee.fuk/

green bean to bar CHOCOLATE

I ordered two different mousses together with my coffee, both exclusive to this Fukuoka branch of the cafe chain. On the left is the Vietnam x Hojicha and on the right is the Tanzania With Crumble. The cacao beans in both are sourced in separate locations. You can order several different flavours to combine with your mousse. As well as hojicha there is sesame seed, mikan and more. The mousse is crafted with a beautiful spiral shape that screams Instagram-worthy at whatever angle you point your camera at. You can even order them for takeout♡

▼green bean to bar CHOCOLATE

Address: Nishietsu Tenjin CLASS Floor 1F, 1-19-22 Imaizumi, Chuo Ward, Fukuoka

Opening Hours: 11:00-21:00

Closed: Wednesdays

Official Website: https://greenchocolate.jp/

COFFEE & CAKE STAND LULU

LULU's beverages are served in simple and stylish cups. The drink on the left is the Houjicha Latte and the one on the right is a LULU Latte. Though the Houjicha Latte is a pure white colour it still has that proper houjicha taste to it. Their puddings are a must-try too and can be ordered for takeout but they were all sold out on this day. Their bouncy puddings are really popular, so if you see them on sale there you should definitely pick one up!

▼COFFEE & CAKE STAND LULU

Address: 2-3-26 Yakuin, Chuo Ward, Fukuoka

Business Hours: Weekdays 9:00-18:00 / Weekends & Holidays 11:00-19:00

Closed: Thursdays

Official Facebook Page: https://www.facebook.com/COFFEE-CAKE-STAND-LULU-1045325205611217/

NO COFFEE

NO COFFEE promotes a coffee lifestyle with their contemporary decor and drinks. The drinks in the photos are the matcha latte with espresso and frozen banana mocha.

The matcha latte mixes sweet matcha latte with a shot of full-bodied espresso to create a refreshing combination. The frozen banana mocha is my personal favourite and a perfect choice for when the weather's hot. The cafe is also a concept shop that sells a variety of miscellaneous items.

▼NO COFFEE

Address: 3-17-12 Hirao, Chuo Ward, Fukuoka

Business Hours: 10:00-19:00

Closed: Mondays (except on national holidays in which case the cafe will close on the following Tuesday)

Official Website: https://nocoffee.net/

W/O STAND

Last on the list is W/O STAND, a coffee chain that's popular not only in Tokyo but in Fukuoka too. The hypnotic drink in the photo is a caramel macchiato. It's common to see the illustration on the cup on Instagram in Japan. The picture is different depending on which branch you visit. Their menu is huge too so you'll definitely want to go back more than once to get coffee.

▼W/O STAND

Address: ARKCUBE103, 1-3-5 Daimyo, Chuo Ward, Fukuoka, Fukuoka Prefecture

Business Hours: 11:00-19:00

No Fixed Holidays

Official Instagram Page: https://www.instagram.com/without_stand_fukuoka/

Did you enjoy this list? Which cafe do you want to visit the most?

moe has many more photos of drinks, desserts and food she has tried in Fukuoka on her Instagram page too. If you're planning a trip to Fukuoka when travelling to Japan, be sure to follow moe's Instagram.

Photos & Text: momo

Translation: Joshua Kitosi-Isanga

COFFEE♥STORY is a video series by coffee company UCC Ueshima Coffee Co., Ltd. that shows the process by which coffee is made before it ends up in a cup between your palms.

The second video in the series was just released in YouTube and celebrates cold brew coffee, a big contender in Japan's coffee culture. Check it out below.

The fire surrounding cold brew coffee was lit in New York and has become a popular way of drinking coffee in Japan.

Did you know that cold brew coffee was actually one of the elements that helped brew a coffee culture in Japan? After Japan's first cafe arrived in Tokyo during the Meiji period (1868-1912), coffee spread up and down Japan in various forms. When the Showa period (1912-1926) rolled around, cafes introduced tools to make cold brew coffee served in tall glasses and it has been enjoyed ever since. American third wave coffee shop owners in Japan who knew of this method took these utensils back to their own country and reinvented what is now known as cold brew coffee.

Japan went on to establish its own cafe culture. It is said that Japanese people were not only the "world's first" to create cold brew coffee, but instant coffee and canned coffee too.

COFFEE♥STORY#02 explores this story with footage of traditional and beautiful Japanese houses and gardens. Be sure to check it out.

Information

UCC COFFEE♥STORY Official Website

Roasted COFFEE LABORATORY Sets the Latest Shibuya Culture Trend With New Summer Drinks

As we approach summer, coffee shop Roasted COFFEE LABORATORY is releasing three new drinks on Tuesday May 28.

Tapioca Cherry Latte ¥600 + tax

As we're approaching summer, the griotte cherry season is also upon us and the Tapioca Cherry Latte is making full use of this seasonal fruit! The cherry provides an element of sourness to contrast the homemade syrup, which is poured over the carefully balanced ice latte. With the first sip, you are immediately hit by the refreshing sourness of the cherry, which spreads all over your mouth. The slight bitterness of the iced latte accents the flavour. Your taste buds will be embraced by a gentle creaminess… and then surprised by the chewy tapioca pearls! It's filling, delicious and fancy ー this is full satisfaction in a cup!

Left: Espresso Tonic (¥550) / Right: Espresso Lime Freezing (¥620)

The Espresso Tonic contains strong espresso coffee which is accented by the sharpness of the tonic water. The agave syrup creates an overall bittersweet flavour. The drink is topped with aromatic, fresh mint.  

The Espresso Lime Freezing consists of ice and frozen lime which is topped with espresso for a fresh yet bittersweet flavour. This icy drink is the perfect way to combat the heat of the summer and get refreshed!

*This is not available at the Tokyu Department store (Toyoko) branch.

Roasted COFFEE LABORATORY was established in Jinnan, Shibuya in 2016 as a joint roastery and coffee shop. Holding the reputation of "MADE IN SHIBUYA" up high, Roasted COFFEE LABORATORY is a place where you can indulge in the high quality freshness of home-roasted coffee beans, homemade desserts and meals that are overflowing with originality, music, art, and events that are coloured with a mixed variety of culture. The roastery has established its roots firmly in Shibuya, the home of street culture, making it the perfect place for it to thrive. They define the culture of "today"and never fail to come up with something new daily to entice your curiosity.

This is your chance to get on top of the latest trends and enjoy a moment of supreme bliss to yourself!

Enjoy Coffee in a Stylish Japanese Environment at STREAMER COFFEE COMPANY's New Shop

STREAMER COFFEE COMPANY are opening a new coffee shop titled Kuramoto Baisen Charyou Kyouya Hachiemon on September 7 in Takayama, a city known as the 'Little Kyoto' of Gifu Prefecture.

STREAMER COFFEE COMPANY set out to open as Japanese coffee shop to compete with the rest of the world. This year, it is celebrating 8 years since its establishment. They currently operate 17 independent coffee chains across the country. The company maintains a diverse background of skaters and musicians, but their baristas also boast world class skill in coffee making. It developed its first nitro cold brew coffee in 2014 and successfully put out the Nitro Latte in 2016. They serve 180,000 beverages every month and have many fans from both Japan and overseas.

Now, STREAMER COFFEE COMPANY are challenging themselves to something new: Kuramoto Baisen Charyou Kyouya Hachiemon. The shop's concept is 'Japanese style.'

The entrance is fitted with a classic Japanese noren, or sign curtain, that walk through to enter. Upon entering, you are greeted by the shop's simple and modern decor which is decked out with Japanese elements like white wood furniture and tatami mats. Customers can look forward to enjoying their coffee in a relaxed and spacious environment.

The shop is a nod and support to Gifu's ride to successful tourism and will cure the fatigue of travel for all its customers by offering them top quality experience.

STREAMER COFFEE COMPANY aim to combine coffee with Japanese-style ingredients. Their main event will be their matcha lattes with harnesses their skilfully made coffee with matcha from Uji in Kyoto. They will also serve other Japanese treats using high quality matcha from Kyoto including shaved ice made with syrup-covered anko, soft serve ice cream, and more.

Their coffee cups, too, remind one of Japan. Mino pottery goes back to the Azuchi-Momoyama period of Japan. This traditional pottery ware first came from Tono, which is also located in Takayama, Gifu.

If you're looking to enjoy coffee and sweets in Japan in an authentic Japanese-style environment, then look nowhere else.

■Information

Kuramoto Baisen Charyo Kyoya Hachiemon

Address: 5-13-13 Hanasatomachi, Takayama, Gifu Prefecture

Day of Opening: September 7, 2018

Opening Hours: 7:00am-8:00pm

TEL: 0577-57-7860

STREAMER COFFEE COMPANY Official Website: https://streamer.coffee

"Kyocha Coffee" will be sold at Hotel Nikko Narita

A new type of coffee made by grinding tea leaves and coffee beans together called,"Kyocha Coffee" will be sold at Hotel Nikko Narita Main Building 1F "Coffee Lounge" from the 1st of March 2018 (Thurs.) to the 30th of April (Mon.).

"Kyocha Coffee" is a brand-new coffee produced by the coffee artisans of Kyoto Nishijin and the masters of an established tea shop.

Ujicha sent directly from the tea-processing fachility and strictly selected coffee beans gathered from all around the world are blended together to make this new drink. The "umami" and "bitterness" of Japanese tea take the taste of coffee to a higher level.

Hotel Nikko Narita Main Building 1F "Coffee Lounge" offers two varieties, "Hoji" using Hojicha (roasted green tea) and "Sen" which has the sweetness of quality green tea and the sourness of the lightly roasted coffee.

Let's experience the brand-new combination of coffee and Japanese tea!

◼︎Information

Kyocha Coffee

Available date: 2018,03,01 (Thurs.) to 04,30 (Mon.)

Available place: Main Building 1F "Coffee Lounge"

Available time: 7:00 to 22:00

TEL:0476-32-0015

Price: Tall / 600 yen, short / 500 yen

※The price includes tax and service fee

※Hot only

Hotel Nikko Narita

Address: 500, Tokko, Naritashi, Chiba Prefecture

Access: 10 minutes on the shuttle bus from Narita International Airport

【Tokyo Stroll】Head to Vegetable Corporation in Motoasakusa for Coffee, music, and something for all five of your senses

Having appeared in many magazines such as "mer", popular model Shibasaki is here today to start her "MY BOOM" pick-up plan. Since returning from her exchange in Korea, Shibasaki has been enlightened by delicious coffee. On this very day, she stepped foot into coffee bean and beer specialist shop "Vegetable Corporation", which also provides music.

The shop is easily accessible. It is only a 5-minute walk from Inarichō station (Tokyo Metro Ginza line) and Shin-okachimachi Station (Toei Ōedo line). It can be reached within a 10-minute walk from Tawaramachi Station (Tokyo Metro Ginza line), Kuramae Station (Toei Ōedo Line) and Ueno station (JR Yamanote line).

Shop owners Ryota Mikami and Syotaro Hayashi also own the music label Vegetable Record. Straying from an original format, the dream of entertaining many people with their music was the foundation for their new business. This is where the latest technology is fused with analogue, and coffee beans are sold with download codes alongside craft beer.

You can purchase coffee beans with an album download code or create your own personalized pack. The package label is decorated with their album artwork, creating a product that stimulates all five of your senses. Of course, there is the option of purchasing just the beans on their own.

You can also buy roaster coffee beans from Fukui prefecture that were specially selected by COZY COFFEE. You can enjoy the changing flavour of coffee that has been freshly brewed and when it cools. The deeply roasted coffee beans come in six varieties. You can taste the coffee before making a purchase whilst simultaneously enjoying the wonderful music – there's no rush here. Relax and enjoy carefully choosing your dream beans at your own pace.

Shibasaki got right on the coffee tasting. As her preferences lean towards light flavours, she was recommended the Dominica Princess.

 "The flavour spread through my entire mouth. The scent of rum was amazing! The aftertaste was refreshing like black tea. Non coffee-lovers would be alright with this!" said Shibasaki, affixing her seal of approval.

Next, Shibasaki experienced the changing flavour of coffee by trying it at different temperatures. It was time to try a freshly brewed coffee. Not only can you purchase coffee beans here, but also drip coffee (tax included price: ¥500). You can take out the drip coffee, so we recommend you enjoy a nice stroll around the area with a cup of coffee in one hand.

This is one of the popular items on the menu – the walnut and honey toastie (kurumi to hachimitsu no hottosando). The price including tax is ¥600. If you're feeling rather peckish, you could try this dessert-like toastie.

The toastie is filled with juicy honey and the texture is like apple pie. It was so tasty that Shibasaki couldn't help but exclaim "yum!" after just her first mouthful. By the way, this menu goes great with coffee and beer!

In addition, the signboard menu's craft beer includes VERTERE craft beer, which is the best beer out of the 23 from Okutama's breweries.

These are different to ordinary beers – the fruity dessert beer is particularly popular. Shibasaki took advantage of it being midday and drank a glass.

You can taste vanilla beans and orange in the brunch cream (price including tax: ¥700). It is more bittersweet than bitter to make a glass you can enjoy. Shibasaki's verdict: "You can taste the fruity flavour so much that you won't even think it is beer! It was so easy to drink! Even those who do not like beer will be able to easily gulp it all down".

She was very impressed.

※The brunch cream is currently sold out and therefore further sales are being postponed. For the latest updates, please check the store's Instgram account. (https://www.instagram.com/vegetablecorporation/)

Not only can you purchase their music through coffee beans and craft beer, but also CDs and cassette tapes. From the analogue generation to the digital native generation, Vegetable Cooperation is devoted to music and cannot stop loving it. How about spending a moment of supreme bliss at Vegetable Corporation yourself?

■Information

Vegetable Corporation

Address: 1st floor Matsushima Building, 1-14-7, Motoasakusa, Taitō ward, Tokyo

Opening hours:11:00 〜 23:00 (Saturdays, Sundays & national holidays: 10:00 〜 23:00)

Fixed holidays: None

Access:A 5-minute walk from Inarichō station (Tokyo Metro Ginza line) and Shin-okachimachi Station (Toei Ōedo Line). A 10-minute walk from Tawaramachi Station (Tokyo Metro Ginza line), Kuramae Station (Toei Ōedo Line) and Ueno station (JR Yamanote line)

Model: Saki Shibata @shibasaaki

Through her nickname "Shibasaki", the much loved, multitalented model Saki Shibata has reached out to girls and women of all ages. Born an Aichi girl, Shibasaki grew to become a fashion model, featuring on the front cover of magazine "mer". Her activity extends to broadcasting on the local radio and on Internet TV. Although time passes and trends change, you can always count on our Shibasaki to stay by your side. This is why many, many girls support her.

Writer:Ryoichi Komaba

Photographer :Kayo Sekiguchi

Translator: Samantha Fernandes

The coffee bean and beer specialty store, "Vegetable Corporation" which also runs a music label opens shop in Motoasakusa

The music label, "Vegetable Record" has opened a coffee bean and beer specialty store in Motoasakusa. Their concept is that the store itself can be a format for introducing their music.

At this shop you can enjoy coffee from COZY COFFEE, a collaborating coffee specialty store and beer from Beer Cafe VERTERE, a collaborating beer specialty store. In the gallery space inside the shop exhibitions, pop-up shops and yoga lessons will be held periodically.

COZY COFFEE is a "home-roasting" coffee specialty store located in Eiheiji, Fukui Prefecture. Their concept of coffee can be explained as follows. "One cup of coffee should be freshly brewed. It should be enjoyed at different temperatures – a little lukewarm and at room temperature. Real coffee should taste good even if it is cold."

Beer Cafe VERTERE is a local craft beer brewery located in Okutama. Their concept of beer is as follows. "Imagine who, where and how you will drink beer and create a beer-drinking experience of your very own."

Vegetable Corporation is promoting a new concept of broadcasting music, one that does not depend on CD sales. They are offering such products as "Roasted Coffee Series" – coffee beans with music and "Craft Beer Bottle Series" – beer with music.

By printing music download barcodes on the coffee bean packaging and beer bottle tags they are aiming to introduce their music in this way.

Vegetable Record is offering a catchy and friendly format and sales method, to broaden people's interest in music.  They don't want to depend just on the music composition.

Just as the atmosphere of the venue changes the impression of a live performance, Vegetable Record's concept is "each person should experience and enjoy music, coffee and beer with a free-spirit." Accordingly, they do not make suggestions that this piece of music will match this coffee or that beer.

They are offering a new format for music using coffee and beer as the "encounter point." By offering these "music attached" products they are trying to broaden the possibilities of music. They want to promote the idea that music can be enjoyed with all of your 5 senses.

Why not enjoy music in a new way, together with good coffee and good beer!

■Information

Vegetable Corporation

Address: Matsushima Building 1F, 1-14-7 Motoasakusa, Taito-ku, Tokyo 111-0041

Hours: 11:00~23:00 (Sat. Sun. and holidays 10:00~)

Holiday: Unfixed

"Iwamotocho/Higashi Kanda Family Bazar"- A "must visit" for all coffee&shopping-lovers

Higashi Kanda/Iwamotocho has been known as the "birthplace of the fabric industry in Japan" since the Edo Era.

"Iwamotocho/Higashi Kanda Family Bazaar" used to be a small bazaar but the number of the visitors counts more than 100 thousand and many pop-up restaurants gather at the event in addition to many clothing stores and sundry goods stores.

This year, "Shiritsu Coffee Shogakko (elementary school)" owned by Hisashi Yoshida who has been a teacher at a local elementary school for 21 years will participate the event for the first time.

Under the concept of "every school is a meeting place," the shop collaborates with many kinds of artists and restaurants and participates in many kinds of art events and sells coffee at IT companies. 

"Drip Coffee one-drink-free ticket" will be offered!


"Kind Wear" will offer 400 yens worth of"Drip Coffee one-drink-free tickets" which can be used at Shiritsu Coffee Shogakko for those of who spend more than 5,000 yen or registered as a member on the 25th (Sat.)/26th (Sun.) of November and the 2nd of December.

Kind Wear will sell formal wear for both men and women, stylish pillows and silver cars.

"Shiritsu Coffee Shogakko" menu

Drip Coffee 400 yen (tax not included)

A hand-dripped coffee roasted by the skilled roaster who Yoshida, the owner of the shop puts his trust in.


Café Latte 500 yen (tax not included)

A mild and rich latte of a special espresso.

Dirty Chai 600 yen (tax not included)

A latte mixed spicy-flavored chai and espresso-shot. You can enjoy the exotic and adult-tasting bitterness.


Baked Goods 300 yen (tax not included)~

Baked goods can be enjoyed on a day-by-day-basis.

Let's enjoy a coffee and buying goods at "Iwamotocho/Higashi Kanda Family Bazaar."

■Information

77

th

Iwamotocho/Higashi Kanda Family Bazaar

Address: 〒101-0032 3rd street, 8-9, Iwamotocho, Chiyodaku, Tokyo

Business hours: 9:00 to 17:00

Date: 2017,11,25 (Sat.), 26th (Sun.), 12,02 (Sat.), 03 (Sun.)

URL:http://www.family-bazar.com/

Shiritsu Coffee Shogakko

Address: 1F, LOKO Building, 12-6, Uguisudanicho, Shibuyaku, Tokyo

Business hours: Tuesday to Thursday 11:00 to 19:00, Friday to Sunday 11:00 to 23:00

Fixed holiday: Mondays

Access: 6 minutes on foot from Tokyo Toyoko Line Daikanyama Station Front Entrance

10 minutes on foot from JR/Tokyu/Kyoo/Tokyo Metro Shibuya Station

URL:https://www.facebook.com/coffeeelementaryschool/

Kind Wear

Address: 〒101-0031, 2-2-5, Higashi Kanda, Chiyodaku, Tokyo

Access: 7 minutes on foot from JR Line Akihabara Station (Showa Street Entrance)

4 minutes on foot from Hibiya Line Akihabara Station (4th Exit)

4 minutes on foot from Chikatetsu Toei Shinjuku Line Iwamotocho Station (A4 Exit)

7 minutes on foot from Tsukuba Express Line Tsukuba Express Akihabara Station (A1 Exit)

A café that offers special coffee! Ebisu's popular café "Sarutahiko Café" is for coffee lovers.

Hello, my name is Shiota. I am the curator of MOSHI MOSHI BOX Harajuku Information Center.

Ebisu is an area that tops my chart in "the area in which I want to reside." I visited Ebisu, an area where many fashionable and food-loving people gather with one of my center staff, Ellie.

In this article, I will introduce to you the special coffee shop, "Sarutahiko Coffee" Ebisu Main Store which is gathering much attention nowadays.

The interior the shop has a warm atmosphere.

The inside of the store is small but it has a cozy atmosphere. The interior's color coordination is very fashionable.

And the charm point of this shop is that the staff are all very friendly. They are not pushy with their customers but are very kind and thus the atmosphere of the shop is very good. I can tell that they are relating with their coffee and customers with love. I visited the shop before, privately and at that time I stayed in the shop for a long time.

Tomoyuki Otsuka – the head of the shop.

He used to be an actor but changed his job and started to sell coffee.

He studied about coffee very hard and has lots of knowledge about coffee.

He did not have enough money to install a counter when he first started the shop, so he made the counter himself. He said he sanded the planks used in his shop himself using sandpaper!

Official coffee shop of Sarutahiko Shrine in Ise

Many coffee shops in Japan have an English name but Sarutahiko Coffee uses Kanji characters for the shop's name (猿田彦珈琲).The name "Sarutahiko" was officially bestowed by Sarutahiko Shrine in Ise.

So, the shop is officially approved by the shrine. They also sell souvenirs other than coffee. The shrine enshrines "Michihiraki" so the souvenirs are popular as gifts at wedding parties.

Michihiraki blend (5 packs) (959 yen, tax included)

Menu items which make you want to drink many cups of coffee

Sarutahiko Coffee offers hand-dripped coffee. It feels good to watch the staff making your coffee. Sarutahiko Coffee is a coffee shop which promotes the culture of "hand dripped coffee." Before they started offering hand dripped coffee, such coffee was thought to be the "wrong" way to make coffee.

Classic French Short (399 yen, tax included)

The deep dripped hand dripped coffee is more bitter than other coffees. It has less sourness and it is easy to drink.

Caramel Flappe Short (529 yen, tax included)

This drink is not too sweet and has a strong coffee flavor. It is recommended for those of you who love sweet desserts and do not drink coffee so often. The ice melts tenderly inside your mouth so you won't get a headache.

Coffee of the day, Sarutahiko French (300 yen, tax included)

When we see "coffee of the day," it makes us think that we will only be able to drink this coffee today, so we had better not miss this chance.

The "coffee of the day" offered on the day I visited the shop was "Sarutahiko French," a standard coffee of the shop which is bitter but fresh at the same time.

The Japanese-style design of the cup is very cute.

By the way, did you notice that the prices of the menu items noted above are cheaper than the usual prices in other shops? Very reasonable indeed!

This is because the head of the shop wants to create a community-based shop.

"I want my customers to visit my shop several times per day and feel that the shop is a part of their daily lives."

The head of the shop is surely a passionate person who loves his coffee, customers and the local area he resides in.

I became a fan of Sarutahiko Coffee through this visit.

Currently, there are seven branches of Sarutahiko Coffee inside Tokyo. Let's visit one of their shops and have a real good coffee!

◼Information

Sarutahiko Coffee Ebisu Main Shop

Address: 1F, Saito Building, 1-6-6, Ebisu, Shibuyaku, Tokyo

Business hours: weekdays: 8:00 to 1:00

Saturday and Sunday: 10:00 to 1:00

Holidays: no holidays

TEL: 03-5422-6970

【Tokyo Cafe】 Break away from the busy city for a cup of coffee at "GRAIN BREAD BREW" located near Hikawa Shrine.

Today's feature looks at GRAIN BREAD BREW – a café that sits snug nearby Hikawa Shrine in Shibuya. This special café brings warmth to your everyday and receives a perfect score when it comes to spaciousness.

The shop owner, who makes coffee apparatus and tumblers, is a big sandwich-lover. After travelling the world and trying out different sandwiches, the owner came up with delicious sandwich recipes and wanted many people to taste them. This is how the café was born. The café's name derives from special keywords. "Grain" is used to make the store's "bread". Coffee beans are carefully selected to "brew". This makes the "GRAIN BREAD BREW" we know and love today.

The bright and spacious entrance creates a friendly atmosphere. The interior uses white as a colour theme base. Here, comfortable furniture has been gathered and arranged perfectly. The warm-coloured lighting brings the interior design into perspective, filling the room with a warm atmosphere.

The iconic and cute squirrel is the café's mascot character. It is inspired by the animals that gather outside Hikawa Shrine, which is located nearby. These squirrel mascots are everywhere inside the café – can you spot them  all?

The coffee beans used to brew the specialty coffee are carefully selected from across the world. In order for the full flavour to be extracted from the beans, a coffee press is used. Our team recommends a hot cup of fresh, sour, yet fruity Ethiopian Yirgacheffe Domeruso (¥450 + tax).

What makes the coffee press superior to a flannel drip and paper drip is the ability to press the natural oil of the coffee beans directly into the mug, making the perfect cup.  You can enjoy the true essence of coffee to your hearts content right here at this café.

The sandwiches are made using a variety of breads including ciabatta, toast, pita bread and much more. Each type of bread has been specially made to draw out maximum flavour. The monster-style sandwich is filled with a generous 100g of bacon and costs ¥1,000 (+ tax). The springy texture of the ciabatta bread is complimented by the flavour of olive oil. A thick slice of bacon, rich balsamic vinegar, and to top off the texture, a bit of sliced cucumber. At a glance, the dish looks quite filling, but it is surprisingly light. No need to share – those who get full quite easily can still finish it off on their own!

Our recommendation from the sweets menu is the fluffy French toast brûlée. This uses seasonal fruits and is accompanied with ice cream. (¥800 + tax). The texture of this lovable dessert is created by preparing the egg mix for 24 hours. This dish is plated up with apple compote and honey, and vanilla ice cream with a nut garnish. The three parts to the dessert exist in perfect harmony, ensuring that you do not tire of the taste. Every mouthful is something to look forward to.

The company also sells coffee-making equipment and a variety of goods that are easy for anyone to use. The Wallmug Demita (¥800 + tax) is a popular product designed as a result of a collaboration of many famous brands. You can purchase a tumbler and micro coffee dripper (¥700 + tax) to make a set. These are just a few items included in the lineup of easy-to-use goods!

If you are searching for a place where you can remove yourself from the bustling city, enjoy a relaxing atmosphere and soothe your senses, please visit GRAIN BREAD BREW. There is also a takeout menu, so you can enjoy nice coffee whilst watching the autumn leaves of the shrine forest.

Photos by:Kayo Sekiguchi
Editor:Namiko Azuma
Original text by:Ryoichi KOMABA

Translated by: Samantha Fernandes

Source:She magazine http://she-mag.jp/diary/81280?wid=54544

◼︎ Information

GRAIN BREAD BREW

Address: 2-20-18, Higashi, Shibuya-ku, Tokyo
Tel:080-4355-2016
Hours:11:00 〜 21:00 (Saturday 8:00 〜 Sunday 8:00 〜 19:00)
Holidays:Mondays (The café is closed the day after a national holiday)
WEB: http://www.grainbb.com