HiGH&LOW THE WORST X Screenshot Featuring NCT127's Yuta Nakamoto and BE:FIRST's Ryoki Miyama Released
With over 5.56 million people coming to see the films in theaters and box-office revenue of over ¥7.8 billion, the High&LoW film series has inspired audiences around Japan for years. In 2019, the film High&Low The Worst was released as a collaboration with Hiroshi Takahashi's manga Worst and Crows, which have collectively sold over 80 million copies. A sequel, High&Low The Worst X, will be released in theaters nationwide on September 9, 2022.
Kazuma Kawamura (THE RAMPAGE) plays Fujio Hanaoka, a seemingly well-mannered student at Oya High School who has a passion for taking on his enemies in battle. The school is filled with delinquents wanting to take power, each with their own crazy fighting styles. Wanting to challenge the leader of Oya, Yoshiki Murayama, Hanaoka must also get ready to take on the Housen Academy, as the two schools have hostilities yet to be squashed. This sequel will see the biggest showdown in series history on a massive scale never seen before. A new rival, Senomon Technical High School, will appear as well.
Yuta Nakamoto (NCT127) will play Ryo Suzaki, the right-hand man and childhood friend of Senomon Technical High School's gang leader. A loner, he gradually became unbeatable in fights as his physical abilities grew. Before transferring to Senomono, he was known as the 'loner genius' who never spent time with anyone. After reuniting with his childhood friend Amagai, he aims to become stronger with his friend by his side.
Amagai Kouhei, the head of Senomon, is played by Ryoki Miyama (BE:FIRST). A ruthless man, he thinks of others only as pawns in his game. He wants to unite the schools in the area, creating a 'three-school alliance' with Kamasaka High School and Ebara Commercial High School to take down Oya High.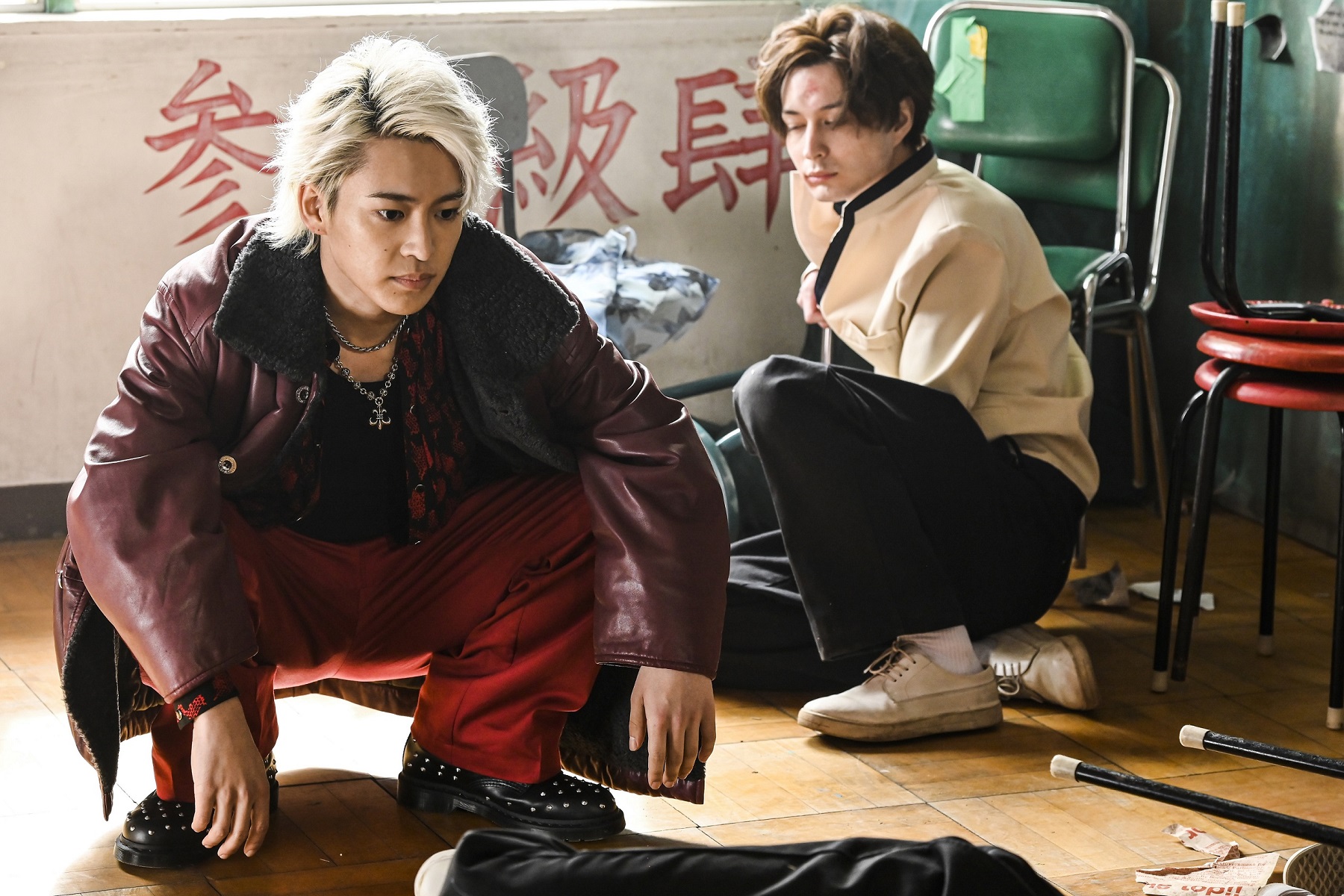 These new photos show off the power and swag that these characters are sure to bring to the big screen. How will Oya High School stand up to the three-school alliance? The most powerful high schools in the history of the series will clash in the film when it releases this September. The characters, action, music, and emotion have all been bumped up when compared to the previous film. Are you ready?
Keep an eye out for more information about the film coming soon. 
©2022「HiGH&LOW THE WORST X」製作委員会
©髙橋ヒロシ(秋田書店) HI-AX
RELATED ENTRIES
Fans Asked to Name Blimp Inspired by the Upcoming Film 'Doraemon: Nobita's Sky Utopia'

The film Doraemon: Nobita's Sky Utopia will be released on March 3, 2023. The 42nd Doraemon movie follows Doraemon, Nobita, and his friends as they venture off to find Utopia, a perfect land in the sky where everyone lines in joy and happiness. They do so using an airship with a time warp function on their adventure, and to commemorate the film's release, the Flying Doraemon Project began on January 14. A real-life 17-meter-long Doraemon blimp will soon appear in the sky, and fans are being asked to decide on a name for the craft.

The blimp, inspired by the Doraemon movie, will feature popular characters including Nobita, Shizuka, Suneo, and Gian. The blimp is the largest unmanned airship in Japan.

The message of the Flying Doraemon Project is to convey the feeling that in this day and age, children and adults alike can once again look upward and move forward toward their hopes and dreams.

Fans are asked to contribute ideas for the blimps name during the application period. Check the website for more details!

BE:FIRST Releases 360 Reality Audio / Dolby Atmos Versions of First Album BE:1 on Streaming Services

The 360 Reality Audio and Dolby Atmos versions of BE:FIRST's first album BE:1 are now available on all major streaming services. The album was first released on August 31 and managed to chart extremely high, instantly becoming a massive hit. 360 Reality Audio uses Sony's 360 impresive stereoscopic sound technology, allowing sound to pour in from all directions. This allows music lovers to experience their favorite songs in three-dimensions, making it feel as if they were at a live concert. 

The group's first album BE:1 contains 15 songs from various genres, including BE:FIRST's debut song Gifted. It also includes Bye-Good-Bye, which has been streamed more than 100 million times, and Scream, which took the top spot on the Billboard Japan Overall Song Chart JAPAN HOT 100. The album includes a total of 15 songs, many from different genres, so if you haven't listened, this is the best way to do so! 

BE:FIRST Releases Special Video for Milli-Billi from First Album 'BE:1'

A video related to the song Milli-Billi from BE:FIRST's first album BE:1 was released on November 30 at 21:00! Following its release on August 31, 2022, BE:1 has become a massive hit with fans worldwide.

Milli-Billi -???????- / BE:FIRST

Milli-Billi is a hip-hop track in which each and every member of the group tried their hand at rapping! Filled with BE:FIRST character while also being fresh and new, this fast-paced relay-style song has become a fan favorite.


A video of SOTA dancing with KAITA, the choreographer of the song, was posted on TikTok, quickly becoming a hot topic not only among fans but also among dancers. Numerous dance cover videos have been posted since.

Milli-Billi is very popular among the group's fans and there's no doubt that this will be a winner. Every music video that the group has uploaded so far has managed to pull in incredible amounts of views, so we look forward to seeing how well this one performs.

Check out the video to see what it's all about!

Eve to Sing Theme Song for Christmas Comedy Film 'Black Night Parade'

Popular singer Eve will sing the theme song for the film Black Night Parade, coming to theaters nationwide on December 23, 2022. A new trailer featuring the track has also been released alongside the announcement.

Eve's YouTube channel has over 4.2 million subscribers with video views of over 1.9 billion. The new song, Shirayuki, was written by the singer himself, who has become incredibly popular with overseas music fans as well. The track manages to be both gentle and powerful in equal measure, combining an orchestra with Eve's unique vocals. In conjunction with the release of the trailer, an exclusive pre-release version of the song has been posted to TikTok.

Black Night Parade Trailer: https://youtu.be/57CkdVMky4o

Black Night Parade was originally manga series by Hikaru Nakamura, the creator of Arakawa Under the Bridge and Saint Young Men. The live-action film will be directed by Yuichi Fukuda, who has worked on a number of live-action film adaptations of manga series including Gintama and Kyo Kara Ore Wa! Fukuda also wrote the screenplay along with Tetsuo Kamata. The protagonist Miharu Hino will be played by Ryo Yoshizawa, while Shino Hojo will be played by Kanna Hashimoto. Taishi Nakagawa will play Kaizer Tanaka and Keisuke Watanabe will play Teppei Kohira.  

The story follows Miharu Hino, a man who is completely hopeless at everything he does. He failed his entrance exam, failed at job hunting, and has no love life to speak of. After working at a convenience store for three years, he meets a man in a black Santa suit who kidnaps him, offering him a job. Miharu then begins working at Santa Claus House, a mysterious company at the North Pole that delivers gifts to children around the world.

Comment from Eve

"I'm incredibly honored because I loved both the original manga and Fukuda's past works. I wrote this song Shirayuki with the hope that Christmas could be an important day for everyone. I would be so glad if this song makes you nostalgic for winter, making you imagine the cold air that stings your nose and the stars in the clear night sky. I love Kunehito, so I am looking forward to seeing him in the film."

©︎2022「ブラックナイトパレード」製作委員会 ©︎中村光/集英社

Sword Art Online Celebrates 10th Anniversary with New Original FIlm

Reki Kawahara's web novel Sword Art Online began in 2002, later becoming a popular light novel series. The anime series debuted in 2012, followed by a second season in 2014 and a third in 2018. Following the characters Kirito and Asuna as they traverse a virtual reality MMORPG, the series has seen major success, with the light novels selling over 30 million copies worldwide. 

During Sword Art Online's anniversary event on November 6, it was revealed that a new film project is in the works. A brief teaser was also revealed, though concrete information is hard to come by at this point in time. 

Be sure to check back soon for new information about the film!

【STORY】

"This may be a game, but it's not something to take lightly."

The world's first VRMMORPG, Sword Art Online, has turned into a game of death. Over a month has passed since 10,000 users were trapped in the game world.

Asuna, who conquered the first level of the floating castle of steel Aincrad, continues her journey to the top floor along with Kirito.

With the help of the female informant Argo, the attack seemed to be going well. However…

The top player groups leading the attack are the ALS (Aincrad Liberation Force) and the DKB (Dragon Knights Brigade).Although they should be working towards the same goal, war breaks out.
Behind the scenes, a mysterious figure lurks…

What awaits Kirito and Asuna as they continue their journey?

©2020 川原 礫/KADOKAWA/SAO-P Project

THE FIRST SLAM DUNK Film Reveals Main Cast, Theme Song

THE FIRST SLAM DUNK will be released in theaters nationwide on December 3, 2022.

Ahead of the film's release, more information about the main cast and music has been released. Toei Animation showed off a new promo video for the film during a livestream last week, and fans now know who will be playing the five main characters. 

The Birthday will perform the film's opening theme, while 10-FEET will perform the ending theme Dai Zero Kan. The newest trailer is available to watch on Toei Animation's official YouTube channel.

Shugo Nakamura will portray Ryota Miyagi, while Jun Kasama will play Hisashi MItsui. Shinichiro Kamio will play Kaede Rukawa, Subaru Kimura will play Hanamichi Sakuragi, and Kenta Miyake will play Takenori Akagi. More information about the film is expected to be released soon!

© I.T.PLANNING,INC.

© 2022 THE FIRST SLAM DUNK Film Partners

Mrs. GREEN APPLE Releases Music Video for 'Soranji'

Mrs. GREEN APPLE will release the new song Soranji on November 9. The 10th single comes over three years after the group's last release, and the Utopia ARENA SHOW Blu-ray and DVD will be released on December 14, 2022.

The music video for Soranji has been uploaded to YouTube. The song will serve as the theme for the film With Love from the Gulag, scheduled to be released in theaters nationwide on December 9. Motoki Ohmori is credited as the Music Video Planning Director, and the lyricist worked closely with video director Seri Yoshiharu to bring the song to life.

Soranji – Mrs. GREEN APPLE

The Soranji single also includes a cover of Ado's I'm Invincible, currently a hit track due to its inclusion in ONE PIECE FILM RED, and Floriginal, a song being used in the fragrance and music collaboration project PARFATUNE. The limited first edition includes a bonus DVD with documentary footage of the production process, as well as a luxurious original sleeve case and a 24-page Soranji photo book.

The Utopia Blu-ray and DVD will include all 23 songs from the one-night-only live performance held on July 8, 2022, as well as special behind-the-scenes rehearsal footage. 

Anime Film 'The Tunnel to Summer, the Exit of Goodbyes' Wins Special Award at Bucheon International Animation Festival

Mei Hachimoku and Kukka's light novel The Tunnel to Summer, the Exit of Goodbyes won the 13th Shogakukan Light Novel Award upon release. The film adaptation, which was released in theaters nationwide on September 9, 2022, managed to win the Korean Society of Cartoon and Animation Studies Award at the Buncheon International Animation Festival 2022.

The Buncheon International Animation Festival has been held in Buncheon, northern South Korea, for over 20 years, and is accredited by the Academy of Motion Picture Arts and Sciences as one of the leading international animation film festivals in Asia. There are six categories of competition, and the anime film was entered in the Feature Film category.

The special prize is awarded to the most popular film at the festival. "This film took us to a place that we could see, hear and feel. The impressive music also struck a chord with audiences," a comment reads.

"I never thought I'd win an award," said the film's director Tomohisa Taguchi. "I'm so happy and honored! The fact that this film was so appreciated in Korea is proof that we were able to create a universal film that transcends borders. I'm so happy to be a part of the long history of the Buncheon International Animation Festival!"

The film will also be screened in the Japanese Animation Competition at the 35th Tokyo International Film Festival, which starts on October 24. On October 31, the film was screened at an interview event featuring the film's director.

©2022 八目迷・小学館/映画『夏へのトンネル、さよならの出口』製作委員会

Blue Giant Anime Film's Teaser Trailer Hints at Incredible Jazz Soundtrack

In 2013, Shinichi Ishizuka's Blue Giant manga series hit the scene. Serialized in Big Comic, the series has sold over 8.8 million copies to date, and readers seem to have fallen in love with the author's depiction of emotion. Ishizuka has even influenced the real-world jazz scene with his creation.

 

Blue Giant will be turned into an anime film in February 2023, directed by Yuzuru Tachikawa, known for his work on Mob Psycho 100 and Death Parade. The script is being written by NUMBER 8, the editor of the original manga and the story director for the Blue Giant Supreme spin-off. Studio NUT is handling the animation.

 

As the manga series largely focuses on the world of jazz, the film's soundtrack is already being highly anticipated by fans. World-renowned pianist Hiromi Uehara is composing the original music that the film's jazz trio JASS performs. He'll also play the piano for the character Yukinori Sawabe.

 

Saxophonist Tomoaki Baba will play the saxophone for the character Dai. Auditions were held in cooperation with Universal Music, featuring leading players from Japan and abroad. Baba was an easy choice, wowing judges with his large sax and powerful performance.

 

Shun Ishiwaka, the drummer of the band Millennium Parade, will play the drums for Dai's classmate Shunji Tamada. One of the most sought-after drummers on the scene, Ishiwaka is active in a number of genres. 

Hiromi Uehara's piano performance is sure to wow audiences. His incredible technique and emotionally-charged performances have wowed the world for years. 

 

"I never thought the day would come that I'd be able to truly recreate the music I had heard only in my head," Uehara said. "I'll put all my passion into it." The pianist is a fan of the work and has continuously expressed his excitement about the project. 

"As I performed the saxophone as Dai, I could feel his passion and his obsession for music," said Tomoaki Baba. Ishiwaka also expressed excitement. "We had a lot of fun going through the trial and error process," he said. Baba and Ishiwaka, both from Hokkaido, were in the same big band when they were in elementary school, and oddly enough, the members feel a connection like that of their respective characters.

Original manga author Shinichi Ishizuka expressed his excitement about the project. "I'm so glad that Uehara is on board. I want to thank all of the musicians for their awesome sounds!"

Be sure to check the film out when it releases next February!

 

©2023 映画「BLUE GIANT」製作委員会 ©2013 石塚真一/小学館

BE:FIRST Releases Poignant Music Video for First Love Song 'Message'

Popular boys group BE:FIRST has released the music video for Message. The track was featured on the group's chart-topping first album BE:1 released on August 31.

Message is BE:FIRST's first love song, featuring a soundscape punctuated by sweet guitar riffs. The mid-tempo ballad is a collaboration between singer-songwriter eill, whose songs reflect elements of soul and R&B and whose silky, soulful voice is incredibly addicting; Matt Cab, whose musical sense and unique sound is perfect for a wide range of genres; and MATZ and SKY-HI, who have attracted attention as next-generation artists who lead the Japanese dance music scene.

The music video shows seven people in love and was filmed like a drama series. The seven performers portray their daily lives as they fall in love, struggle with love, and learn to move forward. The powerful dance is also a highlight. Check out the dramatic performances of the seven members in this elaborate setting.

BE:FIRST is currently on its first nationwide tour, titled BE:FIRST 1st One Man Tour "BE:1" 2022-2023. The tour will take the members to 17 cities nationwide for a total of 29 shows.

Be sure to watch this dance-filled music video, offering a glimpse at a new side of BE:FIRST.

The Klutzy Witch Anime Film Reveals First Key Visual, Stunning Main Cast

The first key visual for The Klutzy Witch: Fuka and the Dark Witch has been revealed. The main cast was also announced, with Honoka Inoue playing Fuka, Matsumi Tamura playing Fuka's childhood friend Chitose, and Manaka Iwami playing another of Fuka's friends Karin.

"I hope that both children and adults alike will come to the theater to enjoy the magic and fun together," Satoko Narita, the original children's book author, commented. Enaga Senno, the original illustrator, also gave a comment along with a new illustration. "I'm looking forward to seeing Fuka, Karin, and Chitose's adventure!"

"I've always wanted to be a witch, ever since I was a little girl, so I'm extremely happy," said Honoka Inoue.

Produced by Production I.G, the film, directed by Takayuki Hamana and written by Kiyoko Yoshimura, will be released in Spring 2023. It's based on the popular children's book series which has sold over 1.6 million copies in total and will feature character designs by Marumi Sugita. Set in a world filled with witches and wizards, the story follows the apprentice witch Fuka after she breaks the seal of a dark witch who almost destroyed the world.

Movie tickets paired with a clear bookmark set will be available for preorder at select theaters and online starting October 14, 2022.

Ⓒ成田サトコ・千野えなが・ポプラ社/アニメ「らくだい魔女」製作委員会

Ado Wins Big for Two Consecutive Months: Recochoku Announces Best Songs for September 2022

Japanese music streaming site RecoChoku has announced the top song and album rankings for September 2022.

Ado tops both the single and album charts for the second month in a row with her tracks from the movie ONE PIECE FILM RED. The singer provided the singing voice of Uta, the main character in the film which was released nationwide on August 6, 2022. The theme song for the film, New Genesis, ranked top in the weekly rankings on September 7, September 14, and September 28. Back in August, Ado dominated the charts as well, with I'm Invincible and Where the Wind Blows taking the top spots.

 

Ado also took first place in September's album ranking with her collection of songs from ONE PIECE FILM RED. A number of other popular artists worked on the album, including Yasutaka Nakata, Mrs. GREEN APPLE, Vaundy, FAKE TYPE., Hiroyuki Sawano, Yuta Orisaka, and Motohiro Hata. The album for the film also ranked top in the weekly rankings on September 7, September 14, and September 28. 


In August, Ado took the top spot for both most popular song and most popular album on RecoChoku's download ranking, and the singer has done it again in September.

If you haven't listened to Ado's collection of songs from the new ONE PIECE film, this is your sign to do so.

RecoChoku Monthly Music Award – September 2022

(Announced October 1, 2022)


Single Ranking
1st Place: New Genesis (Uta from ONE PIECE FILM RED) – Ado (Released June 8, 2022)
2nd Place: Hitotsuboshi – KOH+
3rd Place: Start Over – THE BEAT GARDEN
4th Place: Velvet – back number
5th Place: I'm Invincible (Uta from ONE PIECE FILM RED) – Ado
https://recochoku.jp/ranking/single/monthly/

Album Ranking
1st Place: Uta's Songs from ONE PIECE FILM RED – Ado (Released August 10, 2022)
2nd Place: Luxury Disease – ONE OK ROCK
3rd Place: YUZU ARENA TOUR 2022 SEES -ALWAYS with you- Yuzu
4th Place: Hitotsuboshi ~Galileo Collection 2007-2022 – KOH+ 
5th Place: BE:1 – BE:FIRST
https://recochoku.jp/ranking/album/monthly/ 
  

©尾田栄一郎/2022「ワンピース」製作委員会