Kyary Pamyu Pamyu Collaborates with Miyazaki Chicken Nanban Shop Aji no Ogura for LOCAL POWER JAPAN Project
Currently on the second half of her 10th anniversary 31-show nationwide tour, Kyary Pamyu Pamyu has continued to energize Japan through the appeal of regional towns and cities with the LOCAL POWER JAPAN Project. At each tour location, the artist collaborates with a local company, creating special collaboration logos and products that have become the talk of social media. Details of Kyary's collab project in Miyazaki have been revealed ahead of her July 16th concert. 
In Miyazaki, the artist will collaborate with Aji no Ogura, which opened in 1956 and is known as the birthplace of Chicken Nanban. The dish's roots stem from an old western restaurant called 'London' located in Nobeoka City, where it was often prepared for the staff. The founder of Aji no Ogura, Kai Yoshimitsu, trained at the London restaurant. Chicken Nanban is now very popular in Miyazaki and throughout Japan, featuring deep-fried breast meat marinated in sweet vinegar and topped with tartar sauce.
The collaboration with Aji no Ogura pays tribute to Kyary's latest album CANDY RACER, which is also the name of her current tour. The shop's logo has also been transformed into something much more colorful.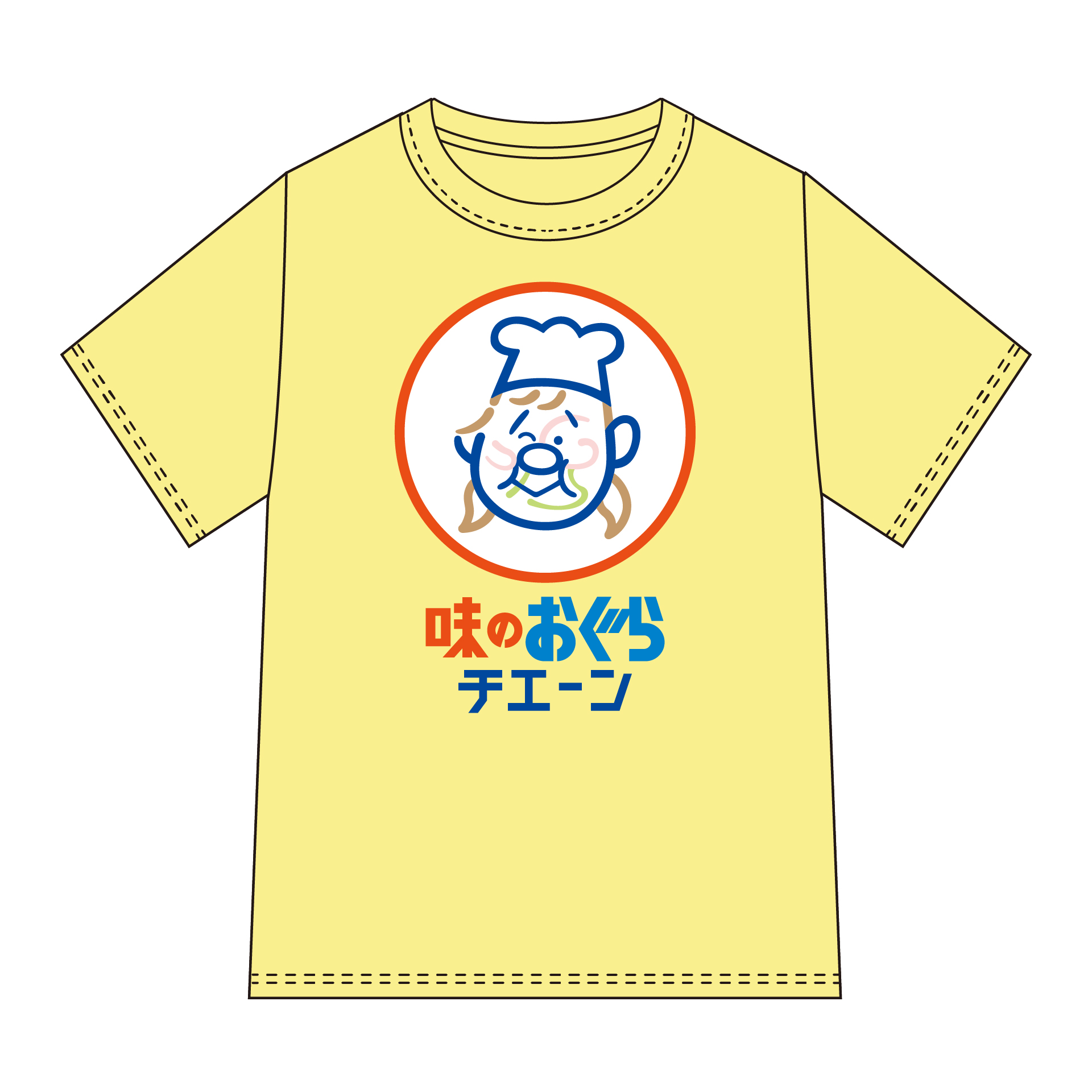 A collaborative T-shirt is also on sale featuring the new logo and the singer's 10th-anniversary logo. The shirt is available on the LOCAL POWER JAPAN Project website for two weeks only starting July 14, so grab one quickly!
Information
Miyazaki's Aji no Ogura x LOCAL POWER JAPAN Project
Collaboration T-shirt
Price: ¥3,300 (Tax Included)
Where to Buy:
LOCAL POWER JAPAN Project Online Shop (https://store-localpowerjapan.com/)
Sales Period: July 14 – July 27, 2022
*Please allow two weeks to one month from order completion to product shipment.
*A portion of T-shirt sales will be donated to local projects and social programs.
*Please check the online shop for details.
Official Site: https://localpowerjapan.com
RELATED ENTRIES
Kyary Pamyu Pamyu, Atarashii Gakko! Participate in Adobe DANCE VIDEO FES

Calling all dancers! Starting August 5, Adobe began the Adobe DANCE VIDEO FES, which is accepting dance video submissions until August 31, 2022. Those wanting to participate will be dancing to one of four songs by a few very unique artists: Dodonpa by Kyary Pamyu Pamyu, Emome no Natsu by Lucky Kilimanjaro, STARLIGHT by iri, and WOO! GO! by Atarashii Gakko! The campaign challenges contestants to create a dance video in which they show off their original dance moves to the song of their choice. These videos can be easily edited using Adobe Premiere Rush, a piece of software that can also be installed on smartphones.

If you're not incredibly confident in your dance moves, don't worry. Rather than contestants being judged on their technical or editing skills, dancers will be evaluated on the amount of fun they have! The event is meant to emulate the excitement of a summer festival, so both beginners and pros are invited to participate. Just record your dance and upload it to YouTube, Instagram, Twitter, or TikTok with the designated hashtag.

If the video you upload is selected by one of the participating artists, it will be featured in the official campaign dance video. Creators will also have the opportunity to appear in the artists' live performances and dance videos in the future.

In addition, a total of 22 entrants will be selected by drawing to receive Sennheiser wireless headphones, a 12-month Adobe Creative Cloud Complete Plan, a pair of tickets to the D.LEAGUE 22-23 season opener, or an Amazon gift certificate worth ¥30,000.

Comments from Participating Artists

Kyary Pamyu Pamyu: "Dodonpa is a song that's perfect for all kinds of dances, so I hope that you'll dance in your own special way! I'm hoping I can find an amazing dancer to perform with me at my Budokan show on October 19, so I'm looking forward to hearing from you!"

Lucky Kilimanjaro: "Our band's concept is to surprise the world every day, so we were so honored that our song was chosen!
We hope you'll express yourself and show us your unique dances!"

iri: "My new song STARLIGHT is a difficult song to choreograph, so I'm really looking forward to seeing the dances you come with!"

Atarashii Gakko!: "We're happy to announce that our song WOO! GO! has been chosen as a track for Adobe DANCE VIDEO FES! I hope you can add some really cool edits to your videos so that they reach the largest amount of people! Whoever submits the most impressive video will get to appear in an official dance video. We're waiting to see your dances!"


Enter this contest with the same energy as if you were participating in a summer festival!

Kyary Pamyu Pamyu Teams Up with Zunda Saryo as Final LOCAL POWER JAPAN Project Collaboration

Kyary Pamyu Pamyu recently wrapped up her 10th-anniversary tour with an extra performance in Okinawa on July 23. After completing 30 shows over six months, the longest tour of her career, Kyary will perform a solo concert at Nippon Budokan on October 19 to truly conclude this epic tour.

 

As part of her tour, the singer has continued to energize Japan through the appeal of regional towns and cities with the LOCAL POWER JAPAN Project. At each tour location, the artist collaborates with a local company, creating special collaboration logos and products that have become the talk of social media. Kyary has announced the final collaboration for the project, bringing the total to 32. 

During the national tour, the Miyagi concert scheduled for June 25 was canceled due to difficulties at the planned venue, Tokyo Electron Hall Miyagi, after an earthquake hit off the coast of Fukushima Prefecture in March. Although the artist wasn't able to hold her planned performance in the area, she still wants to share the charm of Miyagi with the rest of Japan. The singer will team up with Zunda Saryo, a leading company in the area, for a special release.

Zunda-mochi is a traditional treat popular in Sendai. Loved for centuries, this seasonal delicacy is made by boiling and mashing young soybeans which can only be harvested for a few short days in summer before they turn yellow and ripen. These are then mixed with sugar and wrapped around a rice cake. Zunda Saryo produces many different varieties of this luxurious treat, allowing people to eat them whenever and however they like. From the Zunda Shake to the Zunda Roll Cake, these sweets contain many health benefits–they are rich in protein, vitamins, and minerals. So don't feel any guilt the next time you eat your fill!

 

For this collaboration, Zunda Saryo's reimagined logo pays homage to the artwork seen on the jacket of the 'KPP 2014 JAPAN ARENA TOUR COLORFUL PANIC TOYBOX' Blu-ray release. The company's edamame-inspired mark has been redesigned to feature Kyary's distinctive headpieces, and the artist can be seen smiling with a Zunda Shake in hand.

A colorful collaborative T-shirt is also on sale featuring the new logo and the singer's 10th-anniversary logo. The shirt is available on the LOCAL POWER JAPAN Project website for two weeks only starting July 29, and a portion of the proceeds will be donated to Miyagi Prefecture to help repair the Tokyo Electron Hall Miyagi which was damaged by the June earthquake.

Information

Zunda Saryo (Miyagi Prefecture) x LOCAL POWER JAPAN Project Collaboration T-shirt
Price: ¥3,300 (Tax Included)
Available: July 29 – August 11, 2022

Special Site: https://localpowerjapan.com

Idol Group FRUITS ZIPPER Releases 4th Single 'RADIO GALAXY,' Music Video Revealed

FRUITS ZIPPER, a new idol group from ASOBISYSTEM, has a simple concept: "From Harajuku to the World." Ready to transmit what they call 'NEW KAWAII' from Harajuku, an area known for fashion and individuality, to their soon-to-be global fanbase, the group consists of seven members: Amane Tsukiashi, Suzuka Chinzei, Yui Sakurai, Luna Nakagawa, Mana Manaka, Karen Matsumoto, and Noel Hayase.

This spring, the group released the song Watashino Ichiban Kawaiitokoro, which exploded in popularity on TikTok racking up over 200 million plays. The song also ranked on the TikTok HOT SONGS list and ranked at #1 on Spotify's viral chart. Fans requested a music video, and after its release, it pulled in over 1.1 million views in one month.

The group's long-awaited new single RADIO GALAXY was released on July 29, 2022.

This is FRUITS ZIPPER's 4th single, created in collaboration with trackmaker, singer, and producer YUC'e, who has provided songs for numerous artists and idols in the past.

YUC'e is known for her dance music inlaid with 'KAWAII' elements, and the artist has become incredibly popular both in Japan and abroad. It's no surprise that she chose to work with the adorable members of FRUITS ZIPPER, who are aiming to bring Harajuku culture to fans around the world.

A music video for RADIO GALAXY was posted to YouTube ahead of the song's streaming release.

FRUITS ZIPPER's artist photos were created by YUKARI, a video director, art director, and 3DCG artist from the digital creative company OFBYFOR TOKYO.

RADIO GALAXY – FRUITS ZIPPER (Music Video)

A special campaign to celebrate the release of the new song is ongoing on a number of music streaming sites. In addition, FRUITS ZIPPER will hold their first solo concert at Ebisu LIQUIDROOM on September 12.

For a long time, RADIO GALAXY was only known to fans in the in-crowd who saw it performed at FRUITS ZIPPER live shows. Now, everyone can dance along! 

Kyary Pamyu Pamyu Concludes National Tour, Final Performance to be Held at Nippon Budokan in October

On July 23, Kyary Pamyu Pamyu held an extra performance at Koza Music Town in Okinawa as a part of her 10th-anniversary tour, 'Kyary Pamyu Pamyu ANNIVERSARY JAPAN TOUR 2022 CANDY WAVE.' The tour has also been held to promote the singer's latest album, Candy Racer.

The tour began on January 16 at Atsugi City Cultural Hall in Kanagawa. Kyary created the tour to both thank fans for the past 10 years of support and to help those around Japan to forget the gloomy days of the pandemic, giving them a new happy memory to hold onto.

 

The tour was the longest in the singer's career, with Kyary performing 30 shows over a six-month period. The tour marked the first time the artist had held a solo concert in Yamagata, Akita, Nara, Tottori, and Nagasaki. 

"I know some of you will be watching me perform for the first time, so I've prepared plenty of songs to get you pumped up," the artist called out during her first Okinawa performance. The setlist included Candy Racer and Dodonpa from Kyary's new album, as well as classic tracks like PONPONPON, Tsukematsukeru, and CANDY CANDY for a total of 18 tracks. The venue was lively and filled with smiles until the very last moment.

During the encore, Kyary chatted with the audience, expressing her gratitude as she wrapped up six long months of touring. 

"What would it feel like to tour for six months? I had a lot of thoughts about what it would be like, but now that it's over, I want to do it all over again. This tour made me realize how lucky I am–I get so much energy and joy from everyone. You're the reason that I can enjoy doing these concerts. You're all a part of me," Kyary said. "I want to thank all of my fans! I want to thank everyone!"

In April, Kyary Pamyu Pamyu performed at Coachella 2022, one of the world's largest music festivals. The artist received incredible acclaim both in Japan and abroad.

 

In conjunction with the nationwide tour, the LOCAL POWER JAPAN Project was launched to energize Japan through the appeal of regional towns and cities. 

 

This project was a new attempt to enliven local communities by collaborating with companies that have roots in the rural locations where Kyary's concerts were held. These company's logos were reimagined, paying homage to the artwork associated with Kyary's previous song releases. Over the course of the tour, Kyary collaborated with 31 local businesses, including a collab with Little Tokyo when the artist visited the U.S. in April. 

 

Kyary Pamyu Pamyu, who has overcome a number of trials and difficulties during her career, will hold her first solo performance at Nippon Budokan in six years on October 19. Tickets are on sale now, and fans can look forward to a memorable night!

Photo by Masamune Maeda

Kyary Pamyu Pamyu Collaborates with Okinawa's Okashi Goten for LOCAL POWER JAPAN Project

Kyary Pamyu Pamyu inspired music lovers around the world in April when she performed at Coachella, one of the largest music festivals on Earth. The second half of the singer's 10th anniversary nationwide tour 31-show has begun, and in conjunction with this special event, the LOCAL POWER JAPAN Project was launched to energize Japan through the appeal of regional towns and cities. As with past concert locations, a new collaboration has been announced ahead of Kyary's June 23 performance in Okinawa, where the artist held an additional show. 

In Okinawa, Kyary is teaming up with the popular souvenir shop Okashi Goten, known for its Beni-imo (purple sweet potato) tarts. The shop itself looks similar to Shuri Castle from the outside, and as guests enter, they're surrounded by products made exclusively from Okinawan ingredients. This collaboration pays homage to where it all began, with the special logo inspired by Kyary Pamyu Pamyu's 2011 debut mini-labum Moshi Moshi Harajuku. 

Fans will be able to buy a special box of these tasty tarts, with the outside stamped with 'Moshi Moshi Beni-imo Tart' and a drawing of Kyary inspired by the cover of her 2011 album. 

 

This item is now available at all shops offering Okashi Goten products and at the Okashi Goten online store.

A collaborative T-shirt is also on sale featuring the new logo and the singer's 10th-anniversary logo. The shirt is available on the LOCAL POWER JAPAN Project website for two weeks only starting July 22.

Information

Okashi Goten (Okinawa) x LOCAL POWER JAPAN PROJECT – Moshi Moshi Sweet Potato Tart

Price: ¥756 (Tax Included)
Available: July 23 – August 31, 2022 *Dates may vary at certain stores.
Where to Buy: Okashi Goten locations, online store
(Available while supplies last.)
Official Online Store:  https://www.okashigoten.com/

Collaboration T-shirt
Price: ¥3,300 (Tax Included)
Where to Buy:
LOCAL POWER JAPAN Project Online Shop
https://store-localpowerjapan.com/
Available: July 22 – August 4, 2022

Official Site: https://localpowerjapan.com

Kyary Pamyu Pamyu Collaborates with Nagasaki's Famous 'Hamburger Shop Hikari'

Kyary Pamyu Pamyu has made waves around the world since performing at Coachella, one of the world's largest music festivals, in April. 

Currently embarking on the second half of her 10th anniversary 31-show nationwide tour, the singer is gaining momentum as she aims for her solo concert at Nippon Budokan in October. As part of her tour, the singer has continued to energize Japan through the appeal of regional towns and cities with the LOCAL POWER JAPAN Project. At each tour location, the artist collaborates with a local company, creating special collaboration logos and products that have become the talk of social media. Details of Kyary's collab project in Nagasaki have been revealed after the artist performed in the prefecture on July 18.

In Nagasaki, the artist will collaborate with Hamburger Shop Hikari, a beloved local restaurant that originally opened in 1951. Sasebo burgers are well known in Japan, and all ingredients are sourced from Sasebo City in Nagasaki. These burgers are much larger than the burgers you may be used to and have become a local delicacy throughout the country.

After the war, a U.S. military base was established in Sasebo. The recipe for the Sasebo burger is said to have originated from a recipe found on this base in the 1950s. The collaboration with Hamburger Shop Hikari, known as the origin of these famous burgers, pays tribute to Kyary's new single Maybe Baby. The adorable visual shows a waitress at the shop delivering tasty burgers in a hurry.

A collaborative T-shirt is also on sale featuring the new logo and the singer's 10th-anniversary logo. The shirt is available on the LOCAL POWER JAPAN Project website for two weeks only starting July 17, so grab one while you can.

Information

Nagasaki's Hamburger Shop Hikari x LOCAL POWER JAPAN Project

Collaboration T-shirt

Price: ¥3,300 (Tax Included)

Where to Buy:

LOCAL POWER JAPAN Project Online Shop (https://store-localpowerjapan.com/)

Sales Period: July 17 – July 30, 2022
https://store-localpowerjapan.com/
Official Site: https://localpowerjapan.com

Upcoming Film 'We Are Not Alone,' Starring Yutaro, to Release in December

The popular actor Yutaro will star in the upcoming film We Are Not Alone, scheduled to release in theaters in December 2022.

The film promises to be a unique take on the world of today, focusing heavily on justice, greed, and egoism. It will be directed by Tomoaki Kaneko and produced by yucca. 


The film will ruthlessly depict the contrast between the darkness of adults and today's youth. It will take place in a desolate shopping district and follow the main character, Shun Miyata (Yutaro), who is not good at interacting with others, and who works part-time at a bento shop. More information will be announced on the official film website soon, so keep an eye out!

Comment from Tomoaki Kaneko (Director)


"What are we living for? Everyone has their own story,  their own reasons, and their own justifications. It may seem easy to distinguish between right and wrong, but everyone has their own beliefs, and some of those thoughts may be distorted. Rather than immediately labeling someone as 'evil,' the world might be made a little better if we can imagine why people do what they do. 

This film is set in Tokyo, but the story doesn't depict the standard 'positive, glamorous, fun' version of Tokyo, instead telling a more somber and lonely story. The actors expressed themselves in such a powerful way, and I was impressed by the way they took on these challenging roles. 

This story may not be upbeat, but it can be perceived in so many different ways depending on the viewer. I hope that the positivity in the film will come through and inspire everyone to see things from a different angle."


Comment from Yutaro

"I'm Yutaro, and I play Shun Miyata.

I didn't expect to be cast in the lead role after the audition, so the pressure was immediately on! But when I read the script, I was told by the director and staff that I was the only person who could play the part of Shun. I was immediately determined to do my best. 

The film tells the story of a young man who is slowly moving towards the future and searching for his own right answer. Is love what he imagined it to be, and are the righteous words he's been saying really righteous at all? I hope you'll come to see the film in theaters and connect with it in some way. We are not alone."

Summary

Shun Miyata isn't good at interacting with people. Submitting his work to tons of publishers to fulfill his dream of becoming a novelist, the response isn't great. Needing a change of pace, he moves to Tokyo and starts working part-time at a bento shop. The friendly and beautiful shopkeeper Yuriko Kodama and another part-time worker Yuka Kosaka welcome him to the city, and his new life in Tokyo seems to be off to a good start.


But happiness doesn't always last.



One day, Shun and Yuka discover Yuriko's secret–a brutal plan involving the entire shopping district and the local chairman Saiki.  Agonizing over their inability to take any action, Shun and Yuka begin to grow closer.

What are these two young people feeling? An ordinary landscape can hold unexpected darkness, and this work will bring those fears to light. 

Harajuku's KAWAII MONSTER CAFE Participates in Saudi Arabia's Jeddah Season 2022 Event

Jeddah Season 2022, a cultural entertainment festival in Saudi Arabia, ran from May 2 until July 2, 2022. During the festivities, a special collaboration concert event featuring MONSTER GIRL from KAWAII MONSTER CAFE in Harajuku and RAM RIDER took place at the Anime Village area, an interactive event filled with popular Japanese IPs produced by Avex. 

This was the first overseas collaboration with musician RAM RIDER, who worked to bring the world of KAWAII MONSTER CAFE to life. The audience was thrilled by this special set that included a stunning dance performance directed by content director Harris and a DJ set by RAM RIDER that included a variety of popular anime tracks. 

KAWAII MONSTER CAFE was a popular Harajuku entertainment restaurant loved by tourists and locals alike. At Jeddah Season 2022, MONSTER GIRL's presence took the audience by storm, and the performers strolled around the venue taking photos with fans.

At the Anime Village, fans could engage with tons of popular Japanese IPs like Boruto, Captain Tsubasa, Godzilla, Pac-Man, and many more. For the first time in the Middle East, a giant Gundam diorama measuring approximately 6 meters was put on display. The entrance gate was inspired by the Kaminarimon gate in Asakusa, and visitors could enjoy Japanese food in a futuristic environment. 

The Anime Village managed to bring Japanese culture to the people of Saudi Arabia, and hopefully, this incredible event will take place again in the near future.

Produced by: KAWAII MONSTER CAFE
DJ: RAM RIDER
Performer: MONSTER GIRL (Ciel, Catherine)
Performance Director: Harris
VJ: Kohei Taki (yenter)

KAWAII LAB. Report #4: FRUITS ZIPPER Group Interview②

FRUITS ZIPPER, a new idol group from ASOBISYSTEM, has a simple concept: "From
Harajuku to the World." Ready to transmit what they call 'NEW KAWAII' from Harajuku, an area known for fashion and individuality, to their soon-to-be global fanbase, the group
consists of seven members: Amane Tsukiashi, Suzuka Chinzei, Yui Sakurai, Luna
Nakagawa, Mana Manaka, Karen Matsumoto, and Noel Hayase.

Four members of FRUITS ZIPPER sat down with us for an interview about their overseas
aspirations. 

Could you introduce yourself?

-Luna Nakagawa

"Hi, everyone, I'm Luna Nakagawa! My talent is having perfect pitch. I absolutely love to
sing, and lately, my favorite song to sing is Celine Dion's It's All Coming Back to Me Now.

My dream is to become a Living National Treasure and to become the Alicia Keys of the idol world!" 

–Amane Tsukiashi

"I'm Amane Tsukiashi, 22 years old from Okayama Prefecture. My blood type is O and my
favorite foods are ramen and Motsunabe. 

My hobbies are watching movies and dramas, collecting makeup, solo karaoke, flower
arranging, idol appreciation, and eating!"

–Yui Sakurai

"Everyone reading this on Moshi Moshi Nippon, it's nice to meet you! I'm Yui Sakurai, and my member color is mint green!

My favorite things are tea, ramen, strawberries, fashion, and makeup research. I also have two professional nail certifications!
In my photos, I might come off as really cool and stoic, but to be honest, I'm usually
smiling. A fan told me that my smile makes me look like one of the Seven Gods of Fortune, so now I have the brilliant nickname 'Seven Gods of Fortune Smile♡'"

–Karen Matsumoto

"I'm Karen Matsumoto, and my color is baby pink! I'm 20 years old and my special skill is
piano! I have no experience singing and dancing, but I'll do my best to keep up with the
other members!"

To get started–when you think about other countries, what pops into your head?

 

–Yui Sakurai

"I imagine incredible scenery! The last time I went abroad for work, I did my best to
communicate with fans. Even though I couldn't speak their language, they were so friendly and they seemed to understand my thoughts. They smiled at me so much, so I think I'll get along with foreign fans right away!" (laugh)

-Luna Nakagawa

"I think of broadening my horizons, learning about other cultures, and meeting new people. 

In my experience studying abroad, I could really feel the difference in values and ways of
thinking when communicating with people my age.

I was amazed when I could experience things I had never seen in Japan. I thought that
another country's culture was amazing and I wanted to imitate it. At the same time, it
made me realize that I was proud to be Japanese too. When you travel abroad, you
discover so much and become a more empathetic and kind human. It made me realize that there were plenty of things that I didn't even know about myself, so I hope that by
traveling more, I can learn more." 

–Amane Tsukiashi

"I imagine the unknown.
The only foreign country I've ever been to is Korea. I know that there are so many cultures, landscapes, and worlds out there that I've never seen before." 

–Karen Matsumoto

"When I went to Taiwan on a school trip, I loved the tapioca and the rice so much. It made me wonder what other delicious food is waiting for me out there!" 

Imagine you end up going abroad as FRUITS ZIPPER. What do you think you'd do better than the other members?

–Amane Tsukiashi

"I'd be good at keeping the mood going and taking on challenges. 

I want to experience cultures that don't exist in Japan, so I want to actively try new things–not just food, but local attractions and even skydiving!" 

-Luna Nakagawa

"I've studied abroad but I don't speak English fluently. 

When I go abroad, for some reason, I become a much stronger communicator with much more confidence. I feel like I'll be best at communicating with the locals in the spirit of "it'll work out somehow." (laughs)

–Yui Sakurai

"I've been trying to figure out what I could do best…

This is a tough question! (laugh)

People don't know most of what's going on in the world, 

and I've been told that my reaction to things abroad is pretty huge. 

Since we'll have a ton of first-time experiences abroad, 

I want to keep my big reactions coming. 

That way, even fans who aren't with us can watch from wherever they are

and get a taste of what we're experiencing! (laugh)

That counts, right? 

Or maybe I just want to go sightseeing." (laugh)

–Karen Matsumoto

"The other members tell me that I'm a good communicator. Even when I was a student,
my grades in English weren't great, but I still had the top grades in communicative English, so I feel like I can speak it somehow!" (laugh)

While abroad, you're told that you can do anything you want for a whole day. What would you do?

–Yui Sakurai

"I'd eat good food, explore some beautiful places, do some shopping, and get a massage
under the stars before I went to sleep! (laugh) 

I'd like to see the ocean too! 

The last time I went abroad for business, I didn't get to do much sightseeing, so I want to
do lots of things unique to wherever I'm visiting."

-Luna Nakagawa

"I want to try out some extreme attractions, like some of those huge roller coasters they
only have overseas. In some places, I want to experience the local culture too, of course. 

If I go to Hollywood, I wanna meet Dwayne Johnson." (laugh)

–Amane Tsukiashi

"I want to rent a car so I can drive around and see all sorts of different landscapes. 

I've always loved driving, nature, beautiful scenery, and going to places I've never been
before, so I'd like to combine all of those things into one."

–Karen Matsumoto

"I'd want to go shopping with my friends!" 

What do you think would happen if you traveled abroad with the FRUITS ZIPPER members?

–Amane Tsukiashi

"The group is filled with super energetic members who give their all during every event, so I think that if an event takes place on Halloween, they'd do something great with costumes and things like that. Just imagine how fun that would be!" 

-Luna Nakagawa

"Someone will definitely end up causing trouble, like losing their passport or wallet. To be
specific, I feel like Mana will lose her passport and Karen will lose her wallet. Suzuka's always eating weird food so she'll probably get food poisoning." 

–Yui Sakurai

"Luna and Noel both speak English, so I'm sure they'll have great conversations with the
locals and become good friends, high-fiving and hugging! (laugh)

Even in Japan, the two talk to each other in English a lot and seem to have a lot of fun!

I usually try to listen to their conversations, but I have no idea what they're saying. I'll
probably end up making friends with the locals through gestures and facial expressions!" 

–Karen Matsumoto

"I think I'll end up getting lost!" 

Thank you so much for chatting with us. Is there anything you'd like to say before we wrap up?

–Yui Sakurai

"Thinking of going abroad and traveling the world is such a huge concept, it's hard for me
to imagine, but it makes me so happy to think that the number of people who will be happy to see us will expand beyond our borders. I believe that idols have the power to make
people happy even if they can't speak your language, and that's the kind of idol I want to
be. We'll do our best to live up to our concept, "From Harajuku to the World!" 

-Luna Nakagawa

"Someday I want to go on an overseas adventure with FRUITS ZIPPER and have a real-life meet and greet with fans!!!

I hope to create many wonderful memories with my fans in the future!" 

–Amane Tsukiashi

We'll do our best to expand the activities of FRUITS ZIPPER globally as soon as we can so
that we can all see lots of new things together! I'm so excited for what the future holds–
just imagining it has me so thrilled!"

–Karen Matsumoto

"I want to be able to perform overseas as often as possible, like Kyary Pamyu Pamyu!!" 💪🏻

The next KAWAII LAB Report will focus on IDOLATER!

Be sure to check it out!

The official Facebook page of FRUITS ZIPPER is now open!

KAWAII LAB. Report #3: Introducing Two New Members of IDOLATER–a Long-Haired Model and a Gambler who Sings Too Well

KAWAII LAB. is a project spearheaded by ASOBISYSTEM with the aim of introducing the world to popular Japanese idol culture. Announced at the group's solo concert 'New IDOLATER' on April 24, Fuuka Oishi and Ririka Satsuki joined the lineup consisting of Ayu Okuda, Kurumi Tsukishiro, and Yukino Fushiki.

Today, we're introducing the two newest members–Fuuka Oishi and Ririka Satsuki.

Fuuka Oishi

▼Social Media Accounts

Twitter https://twitter.com/idolater_fuka

Instagram https://www.instagram.com/idolater_fuka/

▼Birthday

July 25, 1999

▼Height

163cm

▼Blood Type

B

▼Birthplace

Chiba Prefecture

▼Favorite Foods

Cheesecake, High Cocoa Chocolate (86~95%), Beef Tongue, Skirt Steak, Yakitori (Gizzards, Gristle)

▼Favorite Musical Artists

SEKAI NO OWARI, SKY PEACE

▼Favorite Manga/Anime/TV Shows/Radio Shows

One Piece, Naruto, Kotaro Lives Alone

▼Best Way to Spend a Day Off

Netflix、YouTube、Hanging out at a cafe

▼Favorite Phrase

Different Strokes for Different Folks! Everyone is different and everyone's great. 

▼Places She'd Like to Visit

Wherever I can see the beautiful ocean!

Korea, France

▼Favorite Part of Herself

The fact that I laugh a lot–and everything else!

▼Color

Light Blue

Born in 1999. With her characteristic long black hair and dainty yet listless atmosphere,
she's a model who has been attracting attention from all sides. Supported by creators and
having appeared as a model for fashion brands, she has also starred in TV commercials and in music videos. 

I Want to Die – Centimillimental

Although she has no experience singing or dancing, Fuuka brings her natural cheerfulness
to the group.

Ririka Satsuki

▼Social Media Accounts

Twitter https://twitter.com/idolater_ririka

Instagram https://www.instagram.com/idolater_ririka/

▼Birthday

August 17, 2000

▼Height

158cm

▼Blood Type

AB

▼Birthplace

Fukuoka Prefecture

▼Favorite Foods

Ramen, Gingko, Gyoza

▼Favorite Musical Artists

Avril Lavigne

Lady Gaga

Namie Amuro

▼Favorite Manga/Anime/TV Shows/Radio Shows

Tokyo Revengers, Attack on Titan, Demon Slayer: Kimetsu no Yaiba, Haikyu!!

▼Favorite Way to Spend a Day Off

Sleep, go to the movies alone, play slot machines (Juggler machines are my favorite!)

▼Favorite Phrases

・There is always light beyond the clouds.

・Stick to your guns. 

▼Places She'd Like to Visit

Hokkaido, Guam, Dubai, London

▼Favorite Part of Herself

Opening my big mouth, my smile.

▼Goal for the Year

Performing live at Zepp!

▼Color

Yellow

With a powerful and husky voice, Ririka previously appeared on TV Tokyo's 'The Karaoke
Battle U-18 Utauma Koshien.' In 2019, she appeared on AbemaTV's 'Koisuru Shuumatsu
Homestay' and became incredibly popular with middle and high school students. Recently,
she appeared on Nippon TV's 'Monomane Grand Prix,' and is active in a number of other
activities. 

Ririka Satsuki's strength lies in her singing ability. 

Be sure to check out her song covers on TikTok!

https://www.tiktok.com/@satsuki_ririka

Ririka also enjoys gambling, preferring the Juggler line of slot machines. She'd like to keep
it up in the future, if she's able. 


Her powerful, husky voice has created a kind of chemical reaction in IDOLATER. 

Stay tuned for the next installment of the IDOLATER series!

Next week's KAWAII LAB report will focus on FRUITS ZIPPER. 

FRUITS ZIPPER Releases Music Video for Popular TikTok Track 'Watashino Ichiban Kawaii Tokoro'

FRUITS ZIPPER, a new idol group from ASOBISYSTEM, has a simple concept: "From Harajuku to the World." The girls have just released the music video for their 2nd digital single Watashino Ichiban Kawaii Tokoro (The Cutest Thing About Me).

The group is ready to transmit what they call 'NEW KAWAII' from Harajuku, an area known for fashion and individuality, to their soon-to-be global fanbase.

Watashino Ichiban Kawaii Tokoro – FRUITS ZIPPER 

FRUITS ZIPPER has been going strong since its launch in April this year, appearing at numerous idol events and selling out tickets to its solo shows immediately after they went on sale.

The song Watashino Ichiban Kawaii Tokoro has exploded in popularity on TikTok, racking up over 200 million plays.

The song also ranked on the TikTok HOT SONGS list and charted on Spotify's viral chart for three weeks in a row.

 

Initially, no music video for this song was planned, but due to fan response and the track's huge popularity, the decision was made to produce one after all. The video is filled with the 'NEW KAWAII' that FRUITS ZIPPER wants to be known for, so check it out!

To commemorate the release of the music video, a playback campaign is currently underway on Spotify from June 23 until June 29. Fans will be able to see a different member on Spotify Canvas for each day of the campaign.

Don't miss the share campaign! Seven winners will be chosen by random drawing to win an autographed Polaroid snapshot of the FRUITS ZIPPER members.

KAWAII LAB. Report #2: FRUITS ZIPPER Group Interview ①

FRUITS ZIPPER, a new idol group from ASOBISYSTEM, has a simple concept: "From Harajuku to the World." Ready to transmit what they call 'NEW KAWAII' from Harajuku, an area known for fashion and individuality, to their soon-to-be global fanbase, the group consists of seven members: Amane Tsukiashi, Suzuka Chinzei, Yui Sakurai, Luna Nakagawa, Mana Manaka, Karen Matsumoto, and Noel Hayase.

Three members of FRUITS ZIPPER sat down with us for an interview. 

"Could you introduce yourself?" 

–Noel Hayase

"Hi, everyone! I'm the youngest member of FRUITS ZIPPER, Noel Hayase, and I'm 18 years old. I'm half-German and half-Japanese, but I attended an international school, so I'm pretty good at languages. I speak Japanese, English, German, and a little French! I like to play games, watch videos, and just hang out with friends, but I also love dancing and moving my body. I also like to work with technology, and edit my own videos and songs." 

–Suzuka Chinzei

"Everyone reading this on Moshi Moshi Nippon, it's nice to meet you! 

My name is Suzuka Chinzei, but you can call me Osuzu!

I spend about ⅓ of my waking hours thinking about food, especially gyoza 🥟and fried tofu. I'd prefer my gyoza with a thin skin and filled with veggies. I'm a big fan of pairing alcohol with my food too!

I grew up in Nishinomiya in Hyogo Prefecture. Fans of the anime series The Melancholy of
Haruhi Suzumiya will be familiar with the town–I used to do the dance from that show all the
time. I've loved dancing since I was a kid. My mom told me that once when I was young, I
started dancing to the song Kawaii Kakurenbo, but I was crying because I didn't WANT to dance–I just couldn't help it. I guess I just want to dance on a cellular level. 

I started appearing on NHK Educational TV's Tensai Terebi-kun MAX when I was in 5th grade.
Since then, I've started appearing on different variety shows, and I'm currently working on
Nyanchuu! Uchuu! Housou Chu-! and German for Travel. 

–Mana Manaka

"Nice to meet everyone!

I'm Mana Manaka–nicknamed Manafy–and my member color in FRUITS ZIPPER is light blue!

Previously, I worked at KAWAII MONSTER CAFE HARAJUKU, and I did my best to transmit 'KAWAII' from Harajuku to the world❤️

This is my first time working as an idol, but I'm going to work hard to embody the idea of 'KAWAII' and to create the 'NEW KAWAII' that FRUITS ZIPPER has to offer through music, dance, and by sharing Japanese idol culture!"

"A question for Mana–what is KAWAII MONSTER CAFE HARAJUKU?"


–Mana Manaka

"KAWAII MONSTER CAFE HARAJUKU is part-restaurant, part-entertainment venue, part-art installation. It was directed by Sebastian Masuda, the 'king of kawaii,' and guests can order really unique and colorful dishes in an amazing space designed to look like the inside of a monster's belly!"

"Nice to meet you! Here's a question from readers: why did you decide to become an idol?"

–Noel Hayase

"Since I was a kid, I've always wanted to be center stage. When I saw an artist performing live, I started to think "wow, I'd love to see what they're seeing," so I decided to pursue a career in the music industry. Thanks to some of the connections I've made over the years, I'm now able to pursue the idol life! I'm glad that I chose this path because I love being on stage with the other members of FRUITS ZIPPER."

–Suzuka Chinzei

"I decided I wanted to be an idol a long time ago when I ended my time on Tensai Terebi-kun MAX. Right after, I was photographed in a school uniform for Shueisha's Aoharu Magazine. The problem was that I was already in my mid-teens at that point. I thought it was too late to become an idol, so I just put those feelings away.

After that, I had so many different opportunities to appear in different plays and variety shows, but there was always this nagging feeling in my chest. It's hard to describe, but I just felt like something was missing. 

During that period of stress and confusion, there was a lot of discussion about my joining ASOBISYSTEM. When I looked at their website, I saw that they were recruiting members for a new idol group. I started freaking out, and my mom–who was standing next to me at the time–
said that I should talk with them about it. I went to the person in charge and asked them about what it would take to be an idol. I realized, in that moment, that I didn't want to go the rest of my life without trying it out. Now I can say that I made the right decision, I guess. (laugh)

–Mana Manaka

"Harris, the content director of KAWAII MONSTER CAFE and the current manager of FRUITS ZIPPER, contacted me out of the blue and asked if I was interested in idols. When he brought up the subject, I followed my gut. I instantly knew it would be fun, so I decided to just take a leap of faith!" 

"Moving on, tell us about what you've worked on the hardest up until this point in your life."

–Noel Hayase

"When I was a student, I tried to balance my studies with my performing arts activities. I had done a little modeling work before I started working as an idol, but once I joined FRUITS ZIPPER I got incredibly busy. My final exams coincided with my prep period and my idol debut! Once I
overcame all of that and successfully graduated, I felt so much stronger. (laugh)

–Suzuka Chinzei

"In my teens, I wanted to find a balance between being 'normal' and being 'special.' 

From a young age, I had been working in a space where I was surrounded by adults. I think that made me feel special, compared to my peers. 

But living in that world was difficult as well. There were so many things that I felt I was missing out on–things that I felt I couldn't catch up to. 

One day, I was riding the bullet train alone. I lived in Hyogo Prefecture, but I commuted to Tokyo at least three days a week. When I passed by Nagoya, I suddenly got really sick with a fever, and my parents rushed me to the hospital. 

I remember wondering how adults dealt with things like that. There were so many days that I would call my mom from Yamagata as a fifth-grader, crying my eyes out.

The world of entertainment is so vastly different from the real world, and I desperately wanted a sense of normalcy. I needed that comfort. I'm not sure what the definition of 'normal' is, but I
guess I didn't want anyone to take away that innocent childishness from me. Looking back, I worked so incredibly hard to protect it."

–Mana Manaka

"During my time as a poster girl for KAWAII MONSTER CAFE HARAJUKU, I worked hard to create a space that people could enjoy. I wanted everyone to leave satisfied and smiling and I wanted them to come back again. Looking back on those days, every day was so happy and the space was just so welcoming. I don't think that the KAWAII MONSTER CAFE could have been successful without the team members who worked so hard to create the best possible experience. Every moment was heaven." 

"Thanks for sharing. FRUITS ZIPPER's concept is "From Harajuku to the World." If you end up
going abroad, what would you like to do?" 

–Noel Hayase

"I'd love to do a special concert in each of the countries I've been to. Each concert would be created for each country–we'd wear unique costumes and have unique sets. At the same time, I feel like we can bring Japanese idol culture to the world by staying true to ourselves. I can dream. I want to do something really spectacular!"

–Suzuka Chinzei

"Right now, I'm working on an educational program called German for Travel. I've learned so many phrases, so I'd like to try them out in real life–things like ordering a meal and explaining my thoughts about the food to the waiter. I do a cute dance on the show too, so I'd like to do that with the waiter too! I'm still a little too nervous to try it alone, so I'd ask our half-German member Noel Hayase–who speaks 3.5 languages!–to be next to me the whole time. 

I'd also like to lay down in the middle of the Sedona desert and see a UFO!"

–Mana Manaka

"I want us to appear in a major festival! 

After that, I'd love to represent Japan on the world stage at something like Japan Parade or Japan Expo. I want to spread Japanese idol culture to the world through 'KAWAII,' something that's so universally loved! 

Personally, I love musicals and theme parks, so I'm hoping to travel a lot in the future." 

"Last question. What is the most important thing about being an idol to you?"

–Noel Hayase

"Being an idol means always having a goal. It's more fun and more useful to keep thinking about where I want to go and how I want to be. If I were to take part in idol activities without a goal, I'd lose sight of why I'm doing what I'm doing. I started down this path because I had a goal in mind, and I intend to keep doing so."

–Suzuka Chinzei

"I think the most important thing is to make everyone happy and to increase the Earth's
vibrations! Human beings can't be happy-go-lucky every day–we all have our own problems and negative feelings. But I hope that our music, our videos, and our live performances can support everyone during those difficult times. 

I also think that 'fun' is something that spreads from person to person. When I'm performing
live, I'm truly enjoying myself from the bottom of my heart. The other members can sense
those honest feelings, and they carry them home to their families, to their friends at school, and maybe to their grandparents who they haven't seen in a while. That sense of 'fun' is contagious–it lets us connect with people. I want everyone to have fun more than anything. Maybe we can make the entire world happy, in time. (laugh)

–Mana Manaka

"FRUITS ZIPPER wants to give everyone strength and happiness through our activities. Above all else, I value always being energetic and positive, and I always want to have fun!" 

"Thank you so much for chatting with us. Is there anything you'd like to say before we
conclude?"

–Noel Hayase

"It's only been a short time since I debuted and I have zero experience as an idol, so there's a
ton that I don't know. Even still, I have a dream that I want to achieve and I will do my best to achieve it. Because I want to show everyone my dream, I'll do my best to make it come true
with energy and a smile. I hope you'll come along with us and support us as much as you can!"

–Suzuka Chinzei

"FRUITS ZIPPER will keep spreading 'NEW KAWAII' around the world in all kinds of ways!

I hope that we can awaken the 'NEW KAWAII' that's been inside of you all along!" 

–Mana Manaka

"We're just getting started, but we're going full speed ahead! I can't wait until we can travel and meet fans around the world. Through Japanese idol culture and our 'NEW KAWAII,' we hope to
connect the world and bring happiness to everyone we meet!

From Harajuku to the world!!!"