30th Anniversary Sailor Moon Museum Reveals More Details About Volume 2
The Sailor Moon franchise's 30th-anniversary museum is open from July 1 to December 30 at Tokyo's Roppongi Museum. The series became a global phenomenon in the 1990s and remains incredibly popular with audiences around the world to this day. The museum itself is located near Azabu-Juban, where Sailor Moon took place. 
The exhibition will feature the largest-ever collection of original illustrations by Sailor Moon's creator Naoko Takeuchi. Over 600 items will be on display and the event will also include an 'immersive experience theater' and a 'hologram manuscript exhibit.'
This exhibition is divided into three periods, with Vol. 2 running from September 10 to November 6.
Two Original Illustrations to be Displayed
Goods at a Glance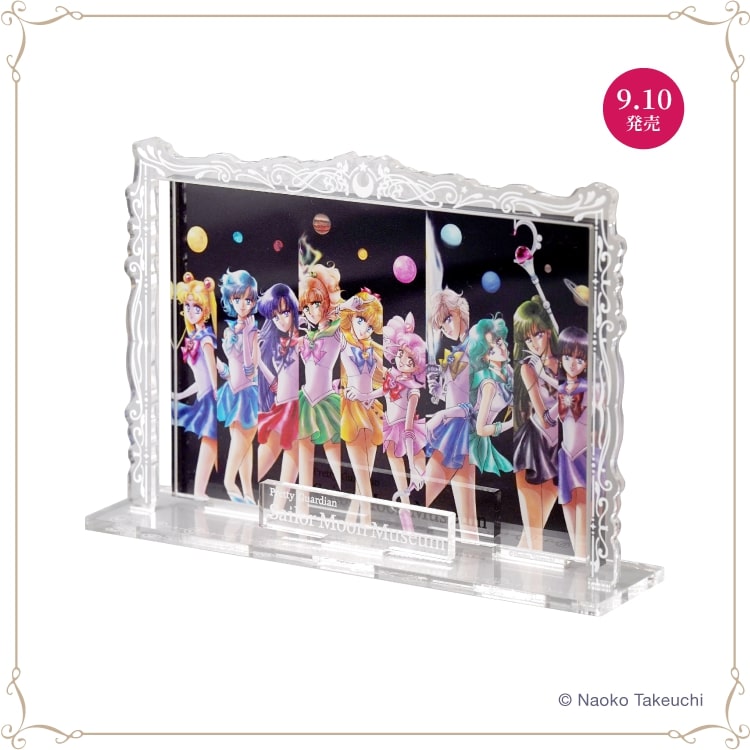 Acrylic Stand Figure
Pin Collection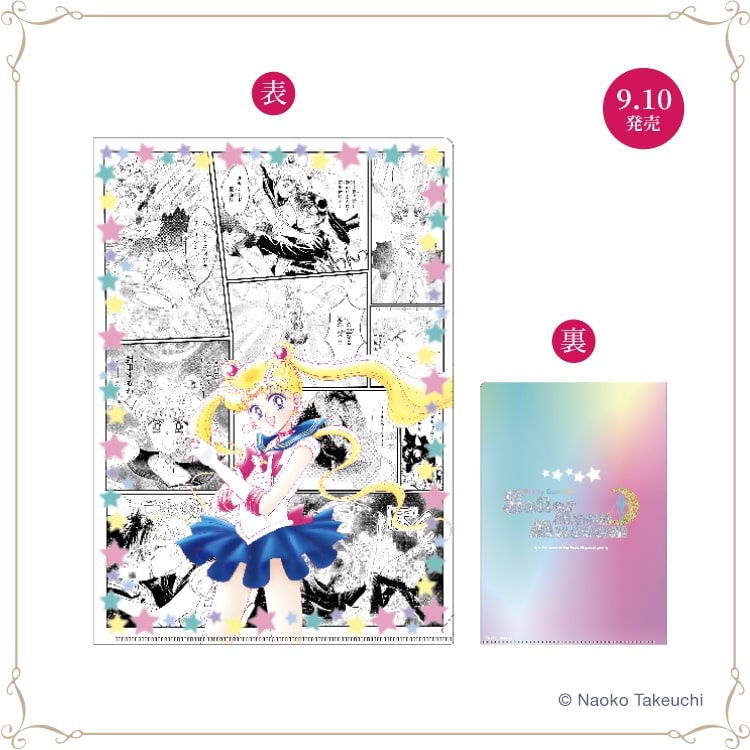 Clear File
During Vol. 2, the original color drawings on display will be replaced with 60 new drawings from Part 3 and Part 4 of the original work. The exhibition will include beautiful original color drawings of the 10 Sailor Soldiers, including Sailor Uranus, Sailor Neptune, Sailor Pluto, and Sailor Saturn. Two of the original drawings scheduled to be on display have been teased in advance along with some new original goods that will be available starting September 10. Stay tuned for more information!
(C) Naoko Takeuchi
Information
Sailor Moon Museum
Running: July 1 – December 30, 2022
Vol. 1 – July 1 – September 4, 2022
Vol. 2 – September 10 – November 6, 2022
Vol. 3 – November 12 – December 30, 2022
Hours: 10:00-18:00 (Last Entry at 17:30)
Venue: Roppongi Museum (5-6-20 Roppongi, Minato-ku, Tokyo)
Tickets/Official Site: https://sailormoon-museum.com/
RELATED ENTRIES
Sailor Moon Collaborates with Crafts from Around Japan to Celebrate 30th Anniversary

PREMICO is known for creating collaborations between popular anime characters and traditional Japanese crafts. Now, to celebrate the 30th anniversary of Sailor Moon, some special items are available from around Japan at the PREMICO online store.

Special anniversary items created by master craftsmen around Japan are now available to order, all inspired by the theatrical release Sailor Moon Eternal. These five items come from Fukushima Prefecture, Ishikawa Prefecture, Tokyo, Kagawa Prefecture, and Fukuoka Prefecture, and you can see details of each below!

Be sure to get your hands on some of these exclusive collaboration items!

Fukushima Prefecture – Aizu Lacquer Music Box

Aizu lacquer ware has a history of over 400 years in the Aizu region of Fukushima Prefecture. Sailor Moon's Crisis Moon Compact has been painted on glossy black lacquer, and the symbols of the ten Sailor Soldiers surround it. By opening the lid, fans will hear the show's theme song, Moonlight Densetsu. 

Ishikawa Prefecture – Kutani ware Dishes (Set of 3)

Kutani ware, a style of Japanese porcelain, is produced in the Kaga region of Ishikawa Prefecture. The vivid colors seen on these plates were inspired by the brightness of the Sailor Moon franchise. The set includes three plates: one inspired by the inner soldiers, one featuring both the inner and outer soldiers, and one displaying everyone's favorite cats, Luna, Artemis, and Diana. 

Tokyo – Edo Faceted Glass

This Edo faceted glassware depicts the twinkling of the stars, each made with care by a dedicated craftsman. Two colors are available: a light crimson color with the symbols of the inner soldiers and Super Sailor Chibi Moon and a lapis lazuli color with the symbols of the outer soldiers.

Kagawa Prefecture – Wooden Kagawa Lacquerware Bowls (Set of 2)

Kagawa lacquerware is characterized by its use of colorful lacquer to create delicate and detailed patterns. This pair of bowls feature the symbols of Super Sailor Moon and Tuxedo Mask on bright vermilion and black backgrounds.

From the Crisis Moon Compact and the Silver Crystal to the famous Mask, these bowls are decorated with gorgeous gold and silver coloring and traditional maki-e finishing.

Fukuoka Prefecture – Hakata Woven Long Wallet

Hakata cloth is a silk fabric made by weaving a thin warp yarn and a thicker weft yarn together in a tightly-packed weave to create a stiff, ribbed appearance. This beautiful wallet features feminine colors and powerful symbols such as the legendary silver crystal and the inner soldier's symbols, along with a golden crescent moon. 

 

(c)武内直子・PNP/劇場版「美少女戦士セーラームーンEternal」製作委員会

Sailor Moon Ear Cuffs Available from Fashion Brand Bancolle! For a Limited Time

On September 6, orders opened for a new collection of Sailor Moon Ear Cuff sets! Each set comes with two ear cuffs, one shaped like a Sailor Scout's bow and the other like a tiara. Currently, the lineup includes the five inner scouts: Sailor Moon, Sailor Mercury, Sailor Mars, Sailor Jupiter, and Sailor Venus. 

The ribbon ear cuffs feature each character's signature color, and wearing both is sure to show off your love for the iconic series.

The Cosmic Heart Compact appears in the middle of Sailor Moon's ribbon, and each set's simple design makes them easy to match with any outfit. 

Match them with ear accessories you own or use a combination of your favorite characters for a super-special look!

Stay tuned for information about Volume 2 of the new Sailor Moon jewelry line!

©武内直子・PNP・東映アニメーション

©Naoko Takeuchi

Information

Sailor Moon Sailor Ear Cuff Set 

Available to Order: September 6 – September 28 at 23:00

Items to Ship: December 2022

Details/Orders: https://p-bandai.jp/item/item-1000180317/?utm_source=amr 

*These items will also be available at the Sailor Moon store and some general retail stores.

Sailor Moon Museum Reveals Second Round of Exclusive Merch, New Cafe Menu

The Sailor Moon franchise's 30th-anniversary museum is open from July 1 to December 30 at Tokyo's Roppongi Museum. The series became a global phenomenon in the 1990s and remains incredibly popular with audiences around the world to this day. The museum itself is located near Azabu-Juban, where Sailor Moon took place. 

 

The museum is divided into three volumes, with the second starting on September 10. During this phase, the many original color drawings currently on display will be replaced by 60 color drawings mainly from the third and fourth parts of the original work. All 10 main characters will be on display, including Sailor Uranus, Sailor Neptune, Sailor Pluto, and Sailor Saturn.

New Merch at a Glance



Hand Cream


Clear Shoulder Bag

Fluffy Socks (Super Sailor Moon)

MA01 (NV) ※Available to Order

StyleDoll Princess Serenity

Postcard Set (B)


Clear Folder (Set of 2, B)


Sailor Moon & Tuxedo Mask Plushie Set


Bento Box with Cutlery


Sailor Moon Case

Cafe Menu at a Glance



Outer Senshi Plate


Sailor Soldier Duo Soda Float



With the start of Vol. 2, new goods and a new cafe menu will be available. More than 70 goods will be available, including a wide variety of items using original drawings of the 10 Sailor Soldiers. A cafe menu featuring the four Outer Senshi will also be revealed, so why not come show your love of this classic series?

© Naoko Takeuchi

Information

Sailor Moon Museum
Running: July 1 – December 30, 2022

Vol. 1 – July 1 – September 4, 2022

Vol. 2 – September 10 – November 6, 2022

Vol. 3 – November 12 – December 30, 2022

Closed: September 5-9, November 7-11

Hours: 10:00-18:00 (Last Entry at 17:30)

Weekends & Holidays after Vol.2: 10:00-20:00 (Last Entry at 19:30)
Venue: Roppongi Museum (5-6-20 Roppongi, Minato-ku, Tokyo)

Tickets

Tickets will include a date and time to help reduce congestion.
Same-day tickets will also be available on e+ and at the counter at the venue.

For more information, check out the official website.
e+ Ticket Page: https://eplus.jp/sf/word/0000153589

Ticket Details / Official Site: www.sailormoon-museum.com 

Q-pot Announces 8th Sailor Moon Collaboration Collection

Q-pot, an accessory brand whose products are made to look like tasty desserts, will be collaborating with Sailor Moon for the eighth time! To celebrate Sailor Moon's 30th anniversary, new items will be available at select Q-pot locations and the Q-pot Online Shop starting August 5, 2022.

Accessory Lineup

Sailor Moon is part of our history. These meltingly sweet accessories will bring back plenty of beautiful childhood memories. 

Cosmic Heart Ganache Cupcake: ¥13,860 / Bag Charm: ¥12,760 (Tax Included)

This seemingly melt-in-your-mouth sweet and sour strawberry chocolate is topped with a clear and juicy jelly. The Cosmic Heart Ganache Cupcake represents the classic Cosmic Heart Compact and is perfect for any fan.

Prism Heart Macaron Necklace: ¥17,600 / Bag Charm: ¥16,500

The long-awaited Prism Heart Macaron is here! Sailor Chibi Moon's transformation item, the Prism Heart Compact, has been reborn as a tasty macaron, perfect to pair with any outfit!

Makeup Whipped Cream Charm Necklace: ¥30,800 / Ring, Earrings, Charm: ¥6,050 each (5 varieties / 1 piece)

Sailor Moon's transformation items from past generations have been reimagined alongside some tasty whipped cream! This nostalgic set will bring back tons of happy childhood memories. Each of the five whipped cream charms is removable, and these items can also be purchased as charms, rings, or earrings.

Sailor Moon Melty Memories Toy Box Necklace: ¥27,500 / Earrings: ¥12,100 (3 varieties)

The Sailor Moon Melty Memories Toy Box looks like a toy box turned upside down, and is filled with the Transformation Brooch, Moon Stick, Crystal Star Compact, Cosmic Heart Compact, and Spiral Heart Moon Rod.

Each of these pieces are perfect for longtime Sailor Moon fans, or as gifts for someone special in your life. The necklace also features a star and heart-shaped design with asymmetrical left and right chains.

To celebrate this eighth collaboration, customers will also be able to snag some special bonuses. Those spending ¥44,000 or more (including tax) will receive a light-up accessory stand. To celebrate Sailor Moon's 30th anniversary, fans will receive their purchases in a special box decorated to look like a cake.

Come celebrate the 30th anniversary of Sailor Moon with some gorgeous accessories and sweets!

Information

Q-pot. x Sailor Moon 8th Accessory Collection

Order Period: August 5 – August 21, 2022

Where to Buy: Q-pot. Omotesando / Q-pot. Takashimaya Shinjuku / Q-pot. Tokyo Skytree Town Solamachi / Q-pot. Ikspiari / Q-pot. LUCUA (Osaka) / Q-pot. Online Shop (12:00PM~)

Items will be available from early December.

Q-pot. Online Shop: https://shop.q-pot.jp/

*Only accessories and bonuses are available to order. 

These items will not be available at other Q-pot stores or Q-pot CAFÉ locations. 

*The Q-pot. International Online Shop will not offer these products. 

*The Q-pot. Online Shop does not ship outside of Japan. We apologize for the inconvenience. 

*Q-pot Café products, including Sailor Moon collaboration sweets and goods, will not be eligible for a bonus gift.

Sailor Moon Eternal Film and Sanrio Characters Collaboration Goods Announced

Sailor Moon is celebrating its 30th anniversary this year, and Sanrio is paying homage to the recent Sailor Moon Eternal film series with a cute new collection! The Sailor Moon Eternal x Sanrio Characters series will be released sequentially starting August 18, with items available at Sanrio stores nationwide, department store Sanrio corners, and the Sanrio online shop.

Sailor Moon Eternal was a two-part film released in early 2021. A sequel two-part film, Sailor Moon Cosmos, will release in Japan in the summer of 2023. 

The new merchandise features newly-drawn designs of six Sailor Scots, Hello Kitty, My Melody, Cinnamoroll, Kuromi, Marroncream, and Pompompurin. 

Sailor Moon Eternal x Hello Kitty Super Sailor Moon Mascot Keychain: ¥3,300

Sailor Moon Eternal x My Melody Super Sailor Chibi Moon Mascot Keychain: ¥3,300

The new items will combine popular Sailor Moon characters with beloved Sanrio characters. This collab was originally announced back in January. Super Sailor Moon teams up with Hello Kitty, Super Sailor Chibi Moon is topped with a My Melody ribbon, and fans can find goods featuring more adorable pairings!

Sailor Moon Eternal x Sanrio Characters Mascot Keychain (6 varieties): ¥2,750 each

Sailor Moon Eternal x Sanrio Characters Flat Pouch: ¥1,485

The merch lineup includes keychains, pouches, and more goods that will be both functional and fashionable in your daily life, especially if you're a long-time Sailor Moon fan.

Sailor Moon Eternal x Sanrio Characters Secret Acrylic Stand (11 varieties): ¥693 each

Four secret acrylic stands will be available, featuring the four outer Sailor Soldiers. These will include Super Sailor Uranus and Little Twin Stars (Kiki), Super Sailor Neptune and Little Twin Stars (Lala), Super Sailor Pluto and Pochakko, and Super Sailor Saturn and My Sweet Piano. These will be sold randomly, so you might need to grab a few before you get the characters you want!

Sailor Moon 30th Anniversary Museum to Feature Themed Cafe

The Sailor Moon franchise's 30th-anniversary museum will run from July 1 to December 30 at Tokyo's Roppongi Museum. The series became a global phenomenon in the 1990s and remains incredibly popular with audiences around the world to this day.

Visitors to the museum can also enjoy the Sailor Moon Museum Cafe, which will offer delectable dishes inspired by the series!

Cosmic Heart Compact Dessert Plate: ¥1,730 (Tax Included)


This dessert plate features a colorful and fluffy recreation of Sailor Moon's Cosmic Heart Compact. With raspberry mousse as a base, a crispy icing cookie sits on top.

Sailor Moon Museum Sliders: ¥1,850 (Tax Included)


The signature menu features sliders decorated with the museum's logo along with a salad and soup inspired by one of the main character's colors. Guests can enjoy two different sliders: steamed chicken basil sauce and shrimp and egg.

In the Name of the Moon, I'll Punish You! Omurice: ¥1,650 (Tax Included)

This omurice features Sailor Moon's classic silhouette and is finished with a rich and creamy white sauce. Served with a salad, this meal is well-balanced and very filling!

Sailor Soldier Rainbow Parfait: ¥1,480 (Tax Included)


This colorful parfait was inspired by Sailor Mercury, Sailor Mars, Sailor Jupiter, Sailor Venus, and Sailor Moon. Filled with fruits and jellies, this treat is filled with unique textures and tastes.

Sailor Chibi Moon's Pudding a la Mode: ¥1,630 (Tax Included)


This adorable arrangement of sweets inspired by Sailor Chibi Moon has a retro feel. Filled with strawberries, white peaches, and ice cream, this dessert will look great on social media!

New menu items will be included during the second volume of the museum starting September 10, so stay tuned!

Come surround yourself with all things Sailor Moon! Which of these adorable treats do you want to try? 

©Naoko Takeuchi

Information

Sailor Moon Museum

Running: July 1 – December 30, 2022

Vol.1: July 1 – September 4, 2022
Vol.2: September 10 – November 6, 2022
Vol.3: November 12 – December 30, 2022
*Closed September 5-9, November 7-11

Hours: 10:00-18:00 (Last entry at 17:30)

Venue: Roppongi Museum (5-6-20 Roppongi, Minato-ku, Tokyo)

Official Site: sailormoon-museum.com

Sailor Moon Museum Details Second Round of Exclusive Merchandise

The Sailor Moon franchise's 30th-anniversary museum will run from July 1 to December 30 at Tokyo's Roppongi Museum. The series became a global phenomenon in the 1990s and remains massively popular to this day.

 
The exhibition will feature the largest-ever exhibition of original illustrations by Sailor Moon's creator Naoko Takeuchi, at over 600 pieces. The museum will have three phases, each swapping out different pieces, so fans can have a different experience depending on when they visit!

The event will include an 'immersive experience theater,' which will display colored images on a massive 4.5 x 8-meter screen with special effects. Fans can also enjoy a 'hologram manuscript exhibit,' which will display the Sailor Scouts' famous dialogue. Plenty of merchandise will also be available for purchase, with the second round of available goods just announced!

Original Merchandise (Second Lineup)

Clear Folder ('90s Anime Logo)

Clear Folder (Random, 5 varieties)

Masking Tape Holder

Masking Tape (Luna, Artemis & Diana)

Hat ('90s Anime Logo)

Cloth Shirt ('90s Anime Logo)

Aurora Sticker (Random, 10 varieties)

Reversible Cushion (Luna & Artemis)

Pochette (Luna)

Face Powder Collection (5 varieties)

The second round of original merchandise features many items utilizing the '90s anime logo, including a shirt, hat, and clear folders. A themed masking tape holder was made to resemble Sailor Moon's Moon Stick, and the tape itself features the cats Luna, Artemis, and Diana.

 

The interior of the special store created for the exhibition was designed by Wataru LINDA Igarashi, an art director known for his cute pieces based on the concept of 'window shopping.' 

Come experience some serious nostalgia at the Sailor Moon museum later this year!

© Naoko Takeuchi

Information

Sailor Moon Museum

Running: July 1 – December 30, 2022

Vol.1: July 1 – September 4

Vol. 2: September 10 – November 6

Vol. 3: November 12 – December 30

Closed: September 5-9, November 7-11

Hours: 10:00-18:00 (Last entry at 17:30)

Venue: Roppongi Museum (5-6-20 Roppongi, Minato-ku, Tokyo)

Official Site: sailormoon-museum.com

Sailor Moon Museum Details Exclusive On-Site Merchandise

The Sailor Moon franchise's 30th-anniversary museum will run from July 1 to December 30 in Tokyo's Roppongi Museum. The series became a global phenomenon in the 1990s and remains popular to this day.



The exhibition will feature the largest-ever exhibition of original illustrations by Sailor Moon's creator Naoko Takeuchi, at over 600 pieces. Rare original color drawings and some never-before-scene creations will be on display, and fans won't want to miss this incredible chance. The museum will have three phases, each swapping out different pieces. Fans can have a different experience depending on when they visit!

Postcard Set (A): ¥880 (Tax Included)

Clear Folder A (Set of 2): ¥770 (Tax Included)

Nakayoshi Extras Reprint – Premium Card Collection Graffiti Ver. 1 / Ver. 2: ¥1,650 

 

A special store at the exhibition will sell original goods featuring original artwork by the original series creator Naoko Takeuchi. Postcards and clear folders feature colorful designs of famous scenes from the series, and longtime fans will appreciate a reproduced collection of trading cards that appeared in Nakayoshi Magazine.

 

New original goods will be available during each period of the museum. In late June, the interior of the exhibition and the second batch of original merchandise will be revealed!

© Naoko Takeuchi

Information

Sailor Moon Museum

Running: July 1 – December 30, 2022

Vol.1: July 1 – September 4

Vol. 2: September 10 – November 6

Vol. 3: November 12 – December 30

Closed: September 5-9, November 7-11

Hours: 10:00-18:00 (Last entry at 17:30)

Venue: Roppongi Museum (5-6-20 Roppongi, Minato-ku, Tokyo)

Official Site: sailormoon-museum.com

Sailor Moon Museum Reveals Collection of Original Drawings Made for Current Exhibition

The Sailor Moon franchise's 30th-anniversary museum will run from July 1 to December 30 at Tokyo's Roppongi Museum. The series became a global phenomenon in the 1990s and remains popular to this day.


The exhibition will feature the largest-ever collection of original illustrations by Sailor Moon's creator Naoko Takeuchi. Rare original color drawings and some never-before-scene creations will be on display. The museum will have three phases: volume 1 (July 1 – September 4), volume 2 (September 10 – November 6), and volume 3 (November 12 – December 30), and during each phase, new works will be available for guests to peruse.


The event will also include an 'immersive experience theater,' which will display colored images on a massive 4.5 x 8-meter screen with special effects. Fans can also enjoy a 'hologram manuscript exhibit,' which will display the Sailor Scouts' famous dialogue. Anime materials and a selection of classic merchandise from the 90s to the modern-day will be available to peruse, as well as outfits from the musicals.

Prior to the start of the exhibition, three new original drawings have been created by original author Naoko Takeuchi. These exclusive images will be on display throughout the event!

© Naoko Takeuchi

Information

Sailor Moon Museum

Running: July 1 – December 30, 2022

Vol.1: July 1 – September 4, 2022
Vol.2: September 10 – November 6, 2022

Vol.3: November 12 – December 30, 2022
*Closed September 5-9, November 7-11
Hours: 10:00-18:00 (Last entry at 17:30)

Venue: Roppongi Museum (5-6-20 Roppongi, Minato-ku, Tokyo)

Official Site: www.sailormoon-museum.com

Sailor Moon Commemorates 30th Anniversary with Museum, Details Revealed

The Sailor Moon franchise's 30th-anniversary museum will run from July 1 to December 30 in Tokyo's Roppongi Museum. The series became a global phenomenon in the 1990s and remains popular to this day.

The exhibition will feature the largest-ever exhibition of original illustrations by Sailor Moon's creator Naoko Takeuchi, at over 600 pieces. Rare original color drawings and some never-before-scene creations will be on display, and fans won't want to miss this incredible chance. The museum will have three phases: volume 1 (July 1 – September 4), volume 2 (September 10 – November 6), and volume 3 (November 12 – December 30). 

The event will also include an 'immersive experience theater,' which will display colored images on a massive 4.5 x 8-meter screen with special effects. Fans can also enjoy a 'hologram manuscript exhibit,' which will display the Sailor Scouts' famous dialogue. Anime materials and a selection of classic merchandise from the 90s to the modern-day will be available to peruse, as well as outfits from the musicals.


More information regarding original merchandise and the on-site cafe menu will be announced soon, so stay tuned!

© Naoko Takeuchi

Information

Sailor Moon Museum

Running: July 1 – December 30, 2022

Vol.1: July 1 – September 4

Vol. 2: September 10 – November 6

Vol. 3: November 12 – December 30

Closed: September 5-9, November 7-11

Hours: 10:00-18:00 (Last entry at 17:30)

Venue: Roppongi Museum (5-6-20 Roppongi, Minato-ku, Tokyo)

Official Site: sailormoon-museum.com

Sailor Moon Eternal Film Inspires Bridal Jewelry Collection

The U-Treasure brand is known for releasing incredible jewelry for adults based on popular brands and characters. This time, the company has released a number of bridal pieces inspired by Sailor Moon Eternal The Movie, including an engagement ring, wedding rings, and more.

Crisis Moon Compact Ring

Moonlight Ring Eternal ver.

Moon Kaleidoscope Half Eternity Ring

Moon Kaleidoscope Ring

Crystal Carillon & Pegasus Dream Necklace

The Crisis Moon Compact Ring engagement ring is made in a solitaire style and embellished with the Crisis Moon Compact on the stone seat supporting the diamond. The simple wedding bands feature a moon design in the center, perfect for fans of the series who don't want to be too flashy.

 

The Moon Kaleidoscope Half Eternity Ring contains 15 diamonds and can be worn as an engagement ring or a wedding band. The Moon Kaleidoscope Ring is a wedding band with the moon kaleidoscope motif inspired by Super Sailor Moon.

 

The Crystal Carillon & Pegasus Dream Necklace features a cute design with a Pegasus plate set in a resin that resembles a crystal bell.

Which of these designs would you prefer to wear to show off your love story? 

Universal Cool Japan 2022 Unveils Anime and Game-Inspired Food Menus and Merchandise

Universal Studios has revealed new menu and merchandise details for its Cool Japan 2022 event to be held from March 4 to August 28, 2022. Five globally-beloved anime and game series will be featured at the park this year including Sailor Moon and Attack on Titan.

Attack on Titan

Food

Levi Popcorn Bucket

Syringe Pen

Cushion

 

At the Studio Stars Restaurant, guests can find menu items inspired by the characters Eren and Levi, a dessert with a gentle sweetness inspired by Mikasa's red scarf, and much more. The park's famous popcorn bucket will feature Levi for a limited time, with the treat inside flavored by the character's favorite tea. The new lineup of merchandise includes a ballpoint pen resembling a syringe, an extremely important item in the series. A stuffed animal showing Levi taking down a titan is also a must-buy for fans.

Detective Conan

Food

Ribbon Hair Clip / Miniature Car

Printed Cookie Set

 

Fans of the ace detective can enjoy a sandwich shaped like Conan's bowtie, perfect for posting on social media. A number of new items will be for sale at Universal during the event, with the printed cookie tins serving as a perfect souvenir. 

HUNTER×HUNTER

Food

Mizumishiki Glass / Muffler Towel

Headphone Pouch / Card Case

Immerse yourself in all things Hunter x Hunter as you explore the Cool Japan 2022 event. A stylish headphone pouch and a hilarious towel are just a few items you'll be able to buy exclusively at the park. 

Sailor Moon

Food

Universal Heart Compact

Ribbon Hair Clip

 

The Sailor Moon area features menu items inspired by Tuxedo Mask and Sailor Moon, a cake in the shape of Sailor Chibi Moon's heart compact, colorful desserts symbolizing the five inner Sailor Soldiers and drinks for one of each of the four outer Senshi. The full lineup of goods includes bag charms, face towels, and ribbon hair clips too cute for girls to resist!

Monster Hunter

Roasted Meat

Poogie Churritos

Recovery Potion Bottle

Figure

Get ready to embark on your own adventure with a potion bottle and huge slab of meat, perfect for keeping your energy up! Fans of Monster Hunter will find plenty to love here, with a collaborative figure perfect for completing any fan's shelf.

Which area would you be most excited to visit?

©諫山創・講談社/「進撃の巨人」The Final Season製作委員会 
原作/青山剛昌「名探偵コナン」(小学館「週刊少年サンデー」連載中)
© 2022 青山剛昌/名探偵コナン製作委員会
©P98-22 ©V・N・M
©Naoko Takeuchi
©武内直子・PNP・東映アニメーション
©CAPCOM CO., LTD. ALL RIGHTS RESERVED.
書・紫舟
WIZARDING WORLD and all related trademarks, characters, names, and indicia are © & ™ WBEI. Publishing Rights © JKR. (s22)
Minions and all related elements and indicia TM & © 2022 Universal Studios. All rights reserved.TM & © Universal Studios & Amblin Entertainment
Universal Studios Japan TM & © Universal Studios. All rights reserved.
© Nintendo

Information

Universal Cool Japan 2022

Running: March 4 – August 28, 2022

Official Site: http://www.usj.co.jp/