Pokemon GO Holds Special Drone Show in Akagawa, Yamagata Prefecture
To celebrate six years of Pokemon Go, an incredible drone show was held during the Akagawa Fireworks 2022 presentation in Yamagata Prefecture on August 20, 2022. 
The presentation sought to get audiences excited for summer fun, with the phrase "let's go on an adventure this summer" appearing in the air above the huge audience of 40,000. The Pokemon GO logo and popular Pokemon were recreated by around 700 drones.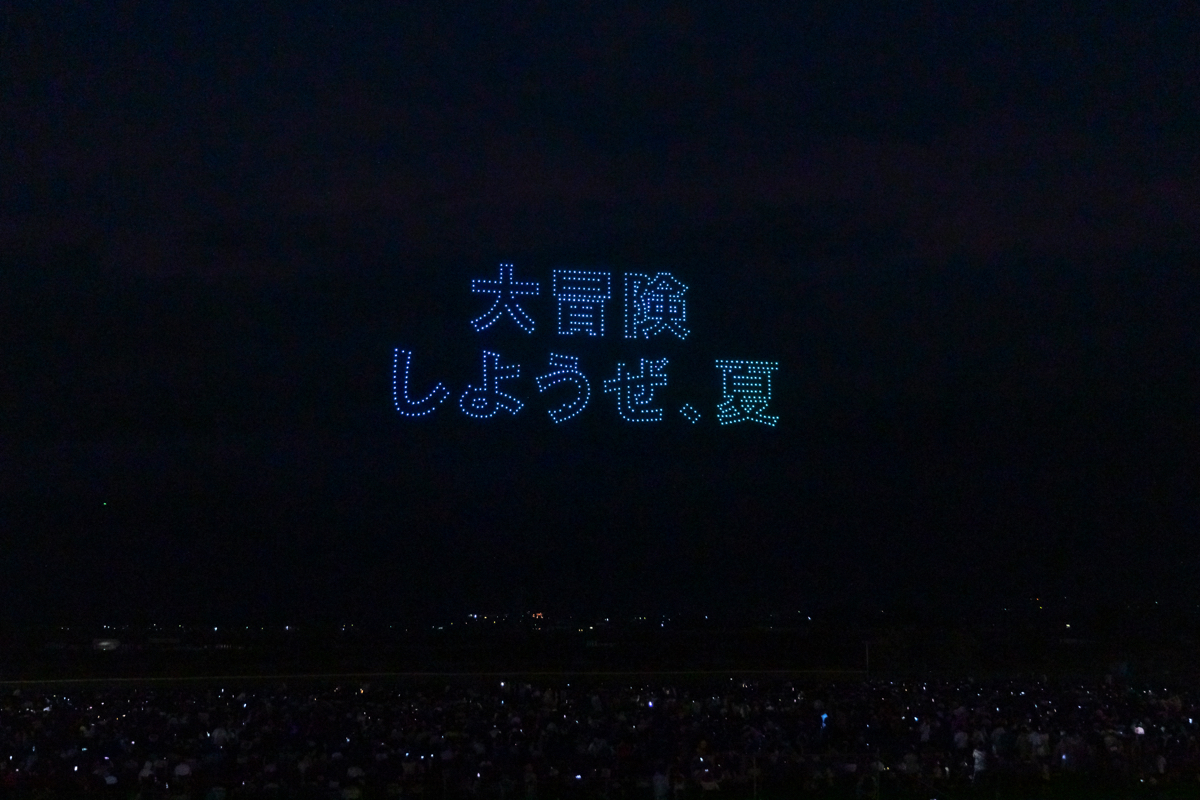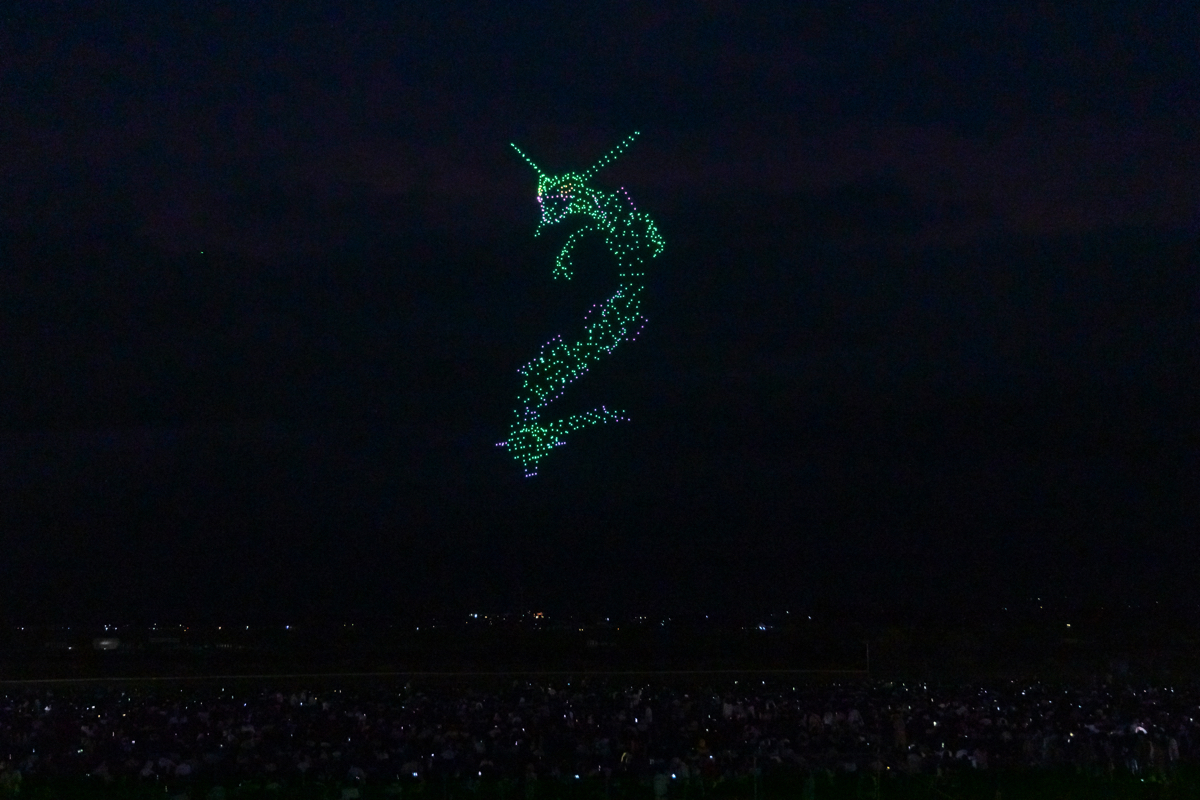 Music from the mobile game played during the impressive show, as Pikachu and a 100-meter-tall Charizard moved across the sky. Alolan Exeggutor, Gengar, Wailord, and Rayquaza also appeared, creating a night to remember for Pokemon fans in the town of Tsuruoka. 
Pokemon GO Special Drone Show at Otaru Ushio Matsuri
The show itself was a surprise for the audience, with applause and excitement instantly palpable as it began. After the drone presentation concluded, the Akagawa Fireworks display began.
The Pokemon GO Special Drone Show was first held at the 56th Otaru Ushio Matsuri in Otaru, Hokkaido on July 24. Watch it in full above!
©2022 Niantic, Inc.
©2022 Pokémon. ©1995-2022 Nintendo/Creatures Inc. /GAME FREAK inc. ポケモン・Pokémon は任天堂・クリーチャーズ・ゲームフリークの登録商標です。 
Information
Pokemon GO Special Summer Drone Show at Akagawa Fireworks 2022  
Date: August 20, 2022 / 19:05-19:15
Venue: Akagawa Fireworks Presents 2022 / Fireworks Launching Area
Official Site: https://www.pokemongo.jp/
RELATED ENTRIES
Japan's Largest Fireworks Show Opens with 800 Drones and 45,000 Fireworks

To promote the 2025 Osaka Expo, hundreds of drones and thousands of fireworks lit up the sky at the planned site for the event. SKYMAGIC LIVE PTE. LTD., known for creating original shows using drones, put on the show on Yumeshima, a man-made island in Osaka's Konohana Ward on September 25, 2022. The event was the first large-scale outdoor drone show in the Kansai region, with 800 LED-equipped drones flying through the night sky. 

Nearly 15,000 visitors were in attendance at this spectacular event. The event aims to promote a hopeful future in which Japan thrives after the impact of the pandemic, and also aims to promote the upcoming Expo to people around the world. 45,000 fireworks were set off, marking one of the largest fireworks displays in Japan. Launched to rid the area of bad luck, guests will likely never forget the unique display of futuristic technology and traditional fireworks. 

As the fireworks show began, countless drones took off one after another into the sky. As many would expect, Myak Myak, the official character of the Osaka/Kansai Expo, appeared above the crowd, standing 135 meters tall and 80 meters wide. A countdown to the Expo appeared after, with the Let's Go Expo 2025 logo shining in the sky, made entirely by synchronized drones.

Archived live footage of the event is also available. 

Ryota Shirahama, chairman of the event's organizing committee, made a comment regarding the impressive event. "Japan's resurgence is about to begin," he said. "The world has been looking down, and we want it to look up. We want people to look towards the future–that's the goal of this project. Yes, there was a pandemic. But like the phoenix seen during the drone show, we can start over. I hope that those who saw the show will be inspired to take a new step forward." 

Information

Let's Go Expo 2025 Countdown 3 ~Yumeshima Fireworks~

Japan's Futuristic Fireworks Show STAR ISLAND Coming to Singapore for the First Time in Three Years

One of Japan's best fireworks extravaganzas is headed to Singapore! Star Island Singapore Countdown Edition 2022-2023 will ring in the new year on December 31, 2022 at The Float on Marina Bay. 

STAR ISLAND is a futuristic fireworks show that blends traditional fireworks with cutting-edge technology such as 3D sound, laser lighting, and unique performances in a spectacular location. The first overseas presentation was launched in Singapore in 2018, and the second in 2019 drew 20,000 people. The show was also brought to Saudi Arabia in September 2019. 

This year's event, the third to be held in Singapore, is expected to draw 22,000 visitors. Sponsored by JCB, the only international credit card brand from Japan, and Sanrio, a prequel show will run from December 25 until December 30 at the Marina Bay Sands event plaza near the venue. This is totally free to attend, so why not come check it out?

Information

STAR ISLAND SINGAPORE COUNTDOWN EDITION 2022-2023 Presented by JCB

Date: December 31, 2022
Venue: The Float at Marina Bay (Singapore)

Official Site:
http://www.star-island.jp(Japan)
http://www.starisland.sg/ (Singapore)

*The contents of the production are subject to change.
Please check the official website for details.

*Ticket sales will begin on October 20, 2022.
For details, please see the official website.

Official Pokemon Baby Brand Monpoke Reveals Autumn/Winter Collection

Monpoke, the official Pokemon baby brand, has released the lookbook for its 2022 Autumn/Winter collection! New items include pajamas, jackets, and other apparel and sundries for infants and toddlers. Monpoke, which launched in 2019, has added two new familiar Pokemon to the lineup this time around–Gengar and Mimikyu. 

Nighttime-only Diapers featuring Sleepymon Design

Pikachu and the Nighttime Adventure, the Second Book in Rikako Matsuo's Monpoke Picture Book Series

The adorable diapers will help keep babies dry all night, and these helpful products will be released nationwide in early November 2022. The new picture book will be released on September 21, so be ready to add it to your nighttime reading routine.

©Pokémon. ©Nintendo/Creatures Inc./GAME FREAK inc.

Pokemon Shirts Offering New Embroidery Options Featuring Popular Silhouettes

Starting September 2, customers will be able to snag some new customizable shirts from Original Stitch featuring embroidered silhouettes of popular Pokemon!

Fans will be able to add these silhouettes to the left chest, right hem, or left cuff of their shirt. 25 different Pokemon are available to choose from, all from the original game titles, Red and Green. 

Light Blue Dungaree / Navy Oxford / Gray Navy Dungaree / Black Checkered Gingham / Gray Kanoko

Poke Ball / Great Ball / Ultra Ball / Premier Ball / Dive Ball / Moon Ball

Customers can choose from six fabrics, including dungaree in light blue and gray-navy, black checkered gingham, white herringbone, and more.

For shirt buttons, customers can also choose from a collection of Poke Balls from the series. These customizable shirts are available to order globally. 

Pokemon Baby Brand Monpoke Releases First Baby Rings

U-Treasure, known for its gorgeous jewelry for adults inspired by pop culture icons, has released something for babies as well! Under the official Pokemon baby brand Monpoke, the company has unveiled some adorable baby rings to commemorate your child's birthday. The pieces are on sale now.

Customers can design their own special piece of jewelry for their child by selecting a Pokemon and a birthstone. The back of each ring can be engraved with up to six characters, where you could include a child's name, birthday, weight, or height. They are made in sizes to fit children's tiny fingers, and parents can also wear them as necklaces until the children grow up. Many people give them as gifts to commemorate their child's first steps into adulthood. Monpoke is the first official Pokemon brand to appear at U-Treasure Concept Store Ikebukuro and the online shop.

Which of these beautiful designs would you choose? 

Available Pokemon: Pikachu, Gengar, Eevee, Smeargle, Ludicolo, Piplup, Mime Jr., Dedenne, Mimikyu

 

Available Stones: Garnet, Amethyst, Aquamarine, Diamond, Emerald, Moonstone, Ruby, Peridot, Sapphire, Pink Tourmaline, Blue Topaz, Tanzanite

Information

Monpoke Baby Ring

Release Date: August 18, 2022

Where to Buy: U-Treasure Concept Store Ikebukuro, U-Treasure Online Shop

Online Shop/Details: https://u-treasure.jp/special/86

Pokemon Shirts Releases Second Round of Designs Inspired by Diamond and Pearl

Pokemon and Original Inc. are back with some new Pokemon Shirts. The second round of patterns inspired by Diamond and Pearl were released on July 22, 2022!

Dialga Pattern

Lucario Pattern

 

25 new designs have been added, bringing the total to 429 patterns. Fans can customize a number of products with the design of their choice, from T-shirts to masks and bandanas. 

Honchkrow Pattern

The new patterns feature Pokemon like Dialga, Lucario, and Honchcrow, among many others. For more information, check out the Pokemon Shirts official site!

*Customers can combine patterns when customizing a shirt. 

A third round of designs will be announced in the future, so keep an eye on the official website and Twitter page for more details.

Information

Pokemon Shirts

Available Countries: Japan, America, Taiwan, Hong Kong, Singapore, Malaysia, Philippines, India, Indonesia, England, Spain, Germany, Italy, France, Canada, Australia, New Zealand

Official Site: https://originalstitch.com/jp/pokemon

FamilyMart Starts Pokemon Campaign, Pikachu Pineapple Frappe Now Available

FamilyMart stores nationwide have started a campaign in collaboration with the free-to-play mobile game Pokemon Cafe ReMix! From June 21 until July 18, visitors will be able to pick up some special treats and exclusive merchandise.

Pikachu Frappes

A new addition to the Frappe series, customers will be able to enjoy Pikachu's Pineapple Frappe starting June 21, featuring Pikachu in a cute cafe uniform. Made with golden pineapple pulp, the drink is perfect for summer, offering a refreshing sweet and sour taste. There are three cup designs available–one with Pikachu in red, one in blue, and another in green.

Original Merchandise Campaign

Part I: June 21, 10:00~ / Original PP Coaster (4 varieties)

Part 2: July 5, 10:00~ / Cafe Menu Design Original Memo Pad (4 varieties)

*Sample Images

A goods campaign is also underway. Customers purchasing three qualifying products will receive exclusive merchandise–while supplies last, of course! The event will run from June 21 at 10:00 through July 18.

Stamp Campaign

Left: 5 stamps, Original Lunch Bag / Right: 10 stamps, Original Plates (Set of 3)

Collecting stamps on the FamilyMart app can also net fans some special prizes! At the same time, Pokemon fans can use the app to win tickets to Pokemon GO Fest 2022 Sapporo.

© 2022 Pokémon. © 1995-2022 Nintendo/Creatures Inc./GAME FREAK inc.
Developed by Genius Sonority Inc.
ポケットモンスター・ポケモン・Pokémonは任天堂・クリーチャーズ・ゲームフリークの
登録商標です。Nintendo Switchのロゴ・Nintendo Switchは任天堂の商標です。

©2022 Niantic, Inc. ©2022 Pokémon. 
©1995-2022 Nintendo/Creatures Inc. /GAME FREAK inc. 
ポケモン・Pokémonは任天堂・クリーチャーズ・ゲームフリークの登録商標です。

Diglett's Mysterious Forest Website Opens to Commemorate T-Shirt Launch

Original Inc. teamed up with the Pokemon Company in February 2019 to create Pokemon Shirts, an online store where fans from around the world can customize and purchase a selection of shirts featuring their favorite Pokemon characters. On June 10, 2022, a new Diglett T-Shirt collection was released, and to commemorate the release, a unique new website has opened to show off a collection of Diglett in their natural habitat.

Pokemon T-shirts allow customers to create their own shirts by selecting the fabric, patches, and size. In this new collection, customers can choose between two fabrics: Washi or recycled suvin cotton.

On the special website, guests can input their name and plant a virtual seed using a serial number included with each shirt. As the days pass by, each plant will grow, and the forest will become more dense and diverse!

Come hang out with Diglett while designing your very own sustainable T-shirt!


Pokeball Transformed into Engagement Ring with Stunning 143 Facets

U-Treasure, a company offering proper jewelry inspired by pop culture, has announced a Pokemon diamond in the shape of a Pokeball! The gorgeous item will be released on June 9 and will be eligible for international shipping at the U-Treasure online store. The product itself will be on display at the U-Treasure Concept Store in Ikebukuro.

Pokeball Diamond

The Pokeball-inspired diamond has a staggering 143 facets, more than double the 58 found in a standard round brilliant cut. The more facets a diamond has, the more light it reflects.

Those wanting to set this diamond in an engagement ring will need to purchase the ring separately. The Pokeball Diamond is compatible with any rings found in the U-Treasure collection.

Golden Pineapple Garigari-kun with Pokemon Packaging Now Available

Have you heard of Garigari-kun? Japan's most popular popsicle, this treat is perfect for the hot summer months. A Golden Pineapple version is now available!

With a flavor targeted at adults, the Golden Pineapple Garigari-kun includes crunchy pineapple shaved ice with a crunchy texture inside juicy pineapple ice cream. Made with 33% pineapple juice, the flavor is authentic, and the ice granules used are finer than the standard Garigari-kun ice. 




The packaging for each set of six popsicles will feature Satoshi, Pikachu, Leon, and Charizard as a tie-in project with the ongoing Pokemon anime series. A campaign is currently underway with 1,000 possible winners snagging a special acrylic stand (8 varieties). These goods will feature the trainers participating in the Pokemon World Championships.

Choose your favorite trainer and enter to win a magnificent prize!


©Nintendo・Creatures・GAME FREAK・TV Tokyo・ShoPro・JR Kikaku ©Pokémon

Information

Golden Pineapple Garigari-kun (Box of 6)

Release Date: May 30, 2022

Customizable Pokemon T-Shirts Now Available, Concept Video Starring Diglett Released

Original Inc. teamed up with the Pokemon Company in February 2019 to create Pokemon Shirts, an online store where fans from around the world can customize and purchase a selection of shirts featuring their favorite Pokemon characters. On June 10, 2022, a new Diglett T-Shirt will be released! What's so special about these shirts? They're made from Earth-friendly materials!

Pokemon T-shirts allow customers to create their own shirts by selecting the fabric, patches, and size. In this collection, fans can select 15 different embroidered Pokemon badges from Pokemon Red and Green, including Pikachu, Gengar, and Snorlax. These patches can be placed on the left side of the chest, right sleeve, right front hem, or the left back hem. The patches are small and easy to pair with any type of daily activity. Each shirt is available in five sizes (XS, S, M, L, or XL). 

Customers can choose from two fabrics: Washi or recycled suvin cotton. The Washi is a knitted fabric made of Japanese paper fiber, with natural fibers used for the name, sewing thread, and washing instructions label, making it completely environmentally friendly. It also has antibacterial, deodorizing, and UV-blocking properties, and is recommended for wearing in hot and humid weather. The recycled suvin cotton is made from recycled cotton that was originally discarded during the spinning process. Blended with organic cotton, it has a silky sheen and feel and is extremely comfortable.

Prior to the release of the new shirts, 'Diglett's Simple T-shirt, a concept movie set in a mysterious forest, was posted to YouTube. As stated in the Pokedex, "If a Diglett digs through a field, it leaves the soil perfectly tilled and ideal for planting crops. These T-shirts made of Japanese paper or recycled cotton will be returned to the soil before long, making it even more rich and fertile.

'Diglett's Simple T-shirt' Concept Movie


In addition, a YouTube Live premiered on May 27 at 7:00 PM highlighting the life of a Diglett. During the stream, the Diglett responded to user comments, so be sure to go take a peek and drop a line!

YouTube Live – 'Do Your Best, Diglett!'


How would you like one of these environmentally friendly shirts?

U-Treasure Announces Pokemon Ring and Necklace Inspired by Snorlax

The U-Treasure brand is known for releasing incredible jewelry for adults based on beloved brands and characters. The company is now taking orders for two pieces of Pokemon jewelry inspired by everyone's favorite chunky roadblock, Snorlax! Orders are open until June 21, 2022. Snorlax appears in all his glory and is covered with a glossy black finish. 

Snorlax Silver Ring / Snorlax Silver Necklace

How about grabbing some Snorlax jewelry for yourself or a loved one? (Maybe it's not the best ring to propose with, though.)