Japan's Futuristic Fireworks Show STAR ISLAND Coming to Singapore for the First Time in Three Years
One of Japan's best fireworks extravaganzas is headed to Singapore! Star Island Singapore Countdown Edition 2022-2023 will ring in the new year on December 31, 2022 at The Float on Marina Bay. 
STAR ISLAND is a futuristic fireworks show that blends traditional fireworks with cutting-edge technology such as 3D sound, laser lighting, and unique performances in a spectacular location. The first overseas presentation was launched in Singapore in 2018, and the second in 2019 drew 20,000 people. The show was also brought to Saudi Arabia in September 2019. 
This year's event, the third to be held in Singapore, is expected to draw 22,000 visitors. Sponsored by JCB, the only international credit card brand from Japan, and Sanrio, a prequel show will run from December 25 until December 30 at the Marina Bay Sands event plaza near the venue. This is totally free to attend, so why not come check it out?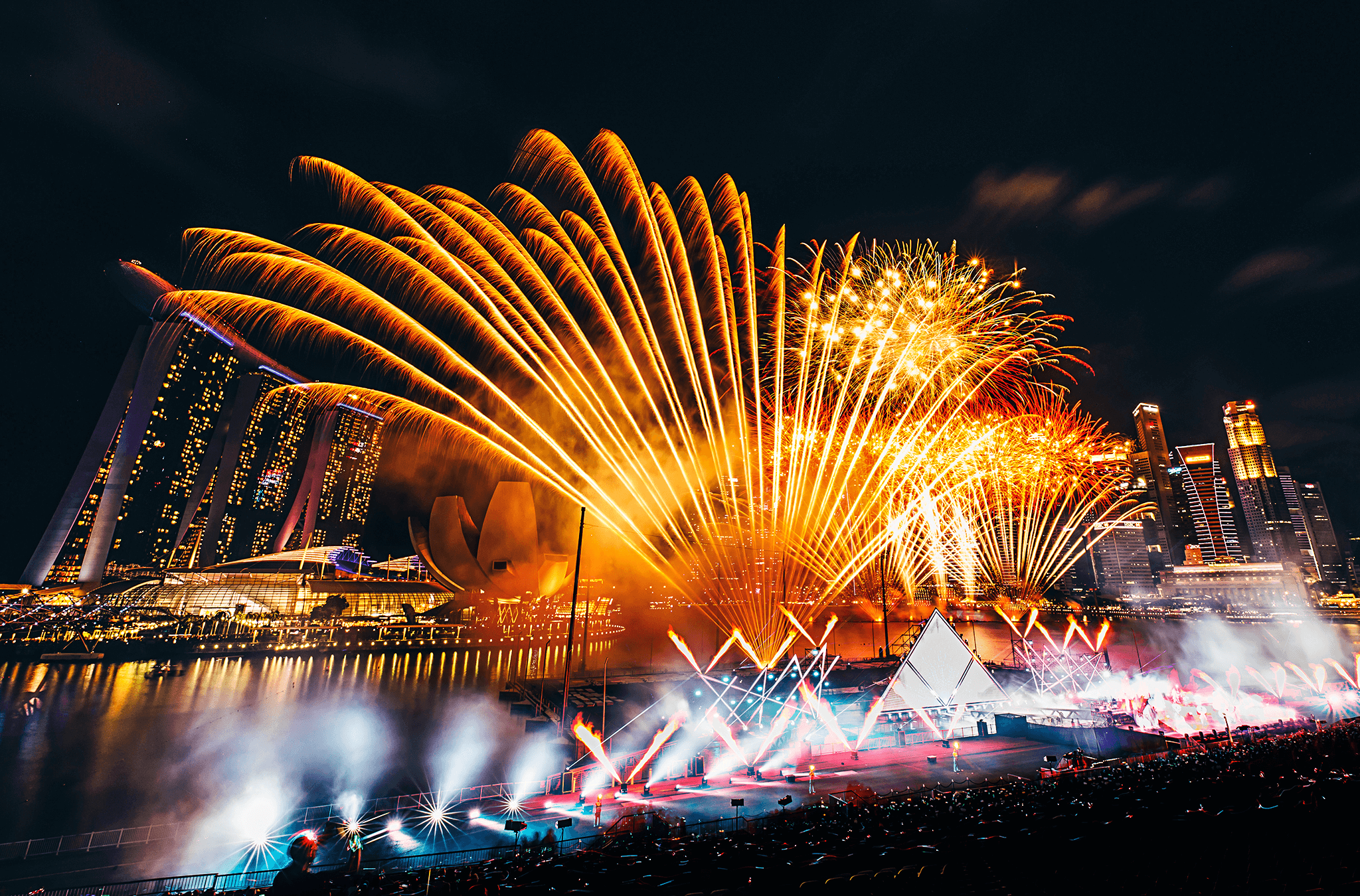 Information
STAR ISLAND SINGAPORE COUNTDOWN EDITION 2022-2023 Presented by JCB
Date: December 31, 2022
Venue: The Float at Marina Bay (Singapore)
Official Site:
http://www.star-island.jp(Japan)
http://www.starisland.sg/ (Singapore)
*The contents of the production are subject to change.
Please check the official website for details.
*Ticket sales will begin on October 20, 2022.
For details, please see the official website.
RELATED ENTRIES
TeamLab Unveils Three New Works at Singapore's Permanent 'Future World' Exhibition

Art collective TeamLab has redesigned two exhibitions at Marina Bay Sands Singapore. The world's first permanent exhibition from the creators, Future World: Where Art Meets Science, was opened in 2016 at the Museum of Art and Science. Guests can now enjoy three new works along with the Digital Light Canvas, a huge, interactive space inviting guests to share their own pieces of art.

Drawing Flight

Visitors can immerse themselves in these impressive new works while experiencing a complex, three-dimensional world. They can also create new worlds with others!


Future World


The Drawing Flight, part of the Amusement Park of the Future series, is based on the concept of co-creation, allowing visitors to not only draw an airplane that will fly but also allowing them to operate it from a pilot's point of view using a tablet. Whether visitors draw a butterfly or a hawk, they'll see the world from the perspective of each creature and enter a world constructed by the creature's unique perceptions.

Aerial Climbing through a Flock of Colored Birds

In Aerial Climbing through a Flock of Colored Birds, guests are asked to perceive the world with their entire bodies. Visitors cross a space with sticks floating three-dimensionally in the air.

Autonomous Abstraction, Continuous Phenomena from the Universe to the Self

Autonomous Abstraction, Continuous Phenomena from the Universe to the Self offers a new and abstract concept. As people touch the dots, the rhythm of the dots flickers and their hue changes and disintegrates. The picture will then change dramatically, and despite these changes, the beauty remains.

Digital Light Canvas

Graffiti Nature – Red List Digital Light Canvas

 

Digital Light Canvas is a space consisting of a 15-meter-diameter circular link of light and a 20-meter-high cylinder of light made up of a collection of light dots.  Team Lab's interactive artwork, which changes depending on how many people are around, is on permanent display.

Drawing Factory

By visiting the Digital Light Canvas area, guests can also enjoy the Drawing Factory, where they can turn their own drawings into pins, T-shirts, and other items!

Come fully experience this curious art exhibition!

© チームラボ

Information

Future World: Where Art Meets Science

Japan's Largest Fireworks Show Opens with 800 Drones and 45,000 Fireworks

To promote the 2025 Osaka Expo, hundreds of drones and thousands of fireworks lit up the sky at the planned site for the event. SKYMAGIC LIVE PTE. LTD., known for creating original shows using drones, put on the show on Yumeshima, a man-made island in Osaka's Konohana Ward on September 25, 2022. The event was the first large-scale outdoor drone show in the Kansai region, with 800 LED-equipped drones flying through the night sky. 

Nearly 15,000 visitors were in attendance at this spectacular event. The event aims to promote a hopeful future in which Japan thrives after the impact of the pandemic, and also aims to promote the upcoming Expo to people around the world. 45,000 fireworks were set off, marking one of the largest fireworks displays in Japan. Launched to rid the area of bad luck, guests will likely never forget the unique display of futuristic technology and traditional fireworks. 

As the fireworks show began, countless drones took off one after another into the sky. As many would expect, Myak Myak, the official character of the Osaka/Kansai Expo, appeared above the crowd, standing 135 meters tall and 80 meters wide. A countdown to the Expo appeared after, with the Let's Go Expo 2025 logo shining in the sky, made entirely by synchronized drones.

Archived live footage of the event is also available. 

Ryota Shirahama, chairman of the event's organizing committee, made a comment regarding the impressive event. "Japan's resurgence is about to begin," he said. "The world has been looking down, and we want it to look up. We want people to look towards the future–that's the goal of this project. Yes, there was a pandemic. But like the phoenix seen during the drone show, we can start over. I hope that those who saw the show will be inspired to take a new step forward." 

Information

Let's Go Expo 2025 Countdown 3 ~Yumeshima Fireworks~

Pokemon GO Holds Special Drone Show in Akagawa, Yamagata Prefecture

To celebrate six years of Pokemon Go, an incredible drone show was held during the Akagawa Fireworks 2022 presentation in Yamagata Prefecture on August 20, 2022. 

The presentation sought to get audiences excited for summer fun, with the phrase "let's go on an adventure this summer" appearing in the air above the huge audience of 40,000. The Pokemon GO logo and popular Pokemon were recreated by around 700 drones.

Music from the mobile game played during the impressive show, as Pikachu and a 100-meter-tall Charizard moved across the sky. Alolan Exeggutor, Gengar, Wailord, and Rayquaza also appeared, creating a night to remember for Pokemon fans in the town of Tsuruoka. 

Pokemon GO Special Drone Show at Otaru Ushio Matsuri

The show itself was a surprise for the audience, with applause and excitement instantly palpable as it began. After the drone presentation concluded, the Akagawa Fireworks display began.

The Pokemon GO Special Drone Show was first held at the 56th Otaru Ushio Matsuri in Otaru, Hokkaido on July 24. Watch it in full above!

©2022 Niantic, Inc.
©2022 Pokémon. ©1995-2022 Nintendo/Creatures Inc. /GAME FREAK inc. ポケモン・Pokémon は任天堂・クリーチャーズ・ゲームフリークの登録商標です。 

Information

Pokemon GO Special Summer Drone Show at Akagawa Fireworks 2022  

Date: August 20, 2022 / 19:05-19:15

Venue: Akagawa Fireworks Presents 2022 / Fireworks Launching Area

Official Site: https://www.pokemongo.jp/

Virtual Talent Kizuna Ai to Hold Global Online Fireworks Event

From her debut in 2016 until 2021, Kizuna Ai was the most subscribed VTuber on YouTube, and the one responsible for the term 'Virtual YouTuber.' Now, this legendary star will be holding a concert available to fans of Japanese culture around the world, while also showing off the beauty of a Japanese fireworks festival. The event will take place on Facebook's Oculus, on the Venues app, on September 25, 2021 in Japan. Anyone who has an Oculus Quest can view the concert for free.

Oculus Venues is a VR video platform, allowing users to enjoy a variety of concerts, sporting events, and comedy shows from the front row. There's no need to worry about grabbing expensive tickets or dealing with crowds when you can enjoy your favorite events from the comfort of your own home!

In January 2021, Kizuna Ai announced a contract with UTA (United Talent Agency), one of the four major agencies in the United States. In April and May, she went on her first virtual US tour. Under the theme of connecting with everyone in the world, Kizuna Ai is attempting this new challenge using Oculus to get closer to fans than ever before. As a guest artist, world-renowned performers HANABI will perform, blending traditional Japanese culture with cutting-edge technological art in this one-of-a-kind DJ-directed space.

Will you be tuning in to Kizuna Ai's fireworks concert?

Information

Kizuna Ai Virtual Fireworks Concert

Date: September 25, 2021, 12:00 (September 24, 20:00 PDT)

Where: Oculus Venues

Admission: Free

Restream: To be streamed on YouTube (Date to be announced.)

Official Site: https://www.oculus.com/

MIDTOWN ART PALETTE Brings Dreamy Digital Artwork to Tokyo Midtown For Summer

Tokyo Midtown's annual MIDTOWN ART PALETTE has returned again for the summer, opening on July 16 and running until September 5. This year, the event delivers a Digital Art Garden with gorgeous dream-like digital artwork.

Digital Art Garden

Last year's event

Experience a distinctively Japanese way to stay cool and refreshed on a wooden veranda with light and mist dancing through the outdoor space inspired by traditional Japanese rock gardens. Find yourself bewitched by an enchanting summer evening as the digital art transforms throughout the day.

This year's event is being held with all proper social distancing measures in place.

Take digital art home with you with AR fireworks

Locate five QR codes dotted around Tokyo Midtown which when accessed via your smartphone will award you with artistic AR fireworks, allowing you to enjoy fireworks with you wherever you point the camera on your screen, including at home.

Kyoto's Popular Ramen Restaurant MENBAKA Kyoto Fire Ramen to Open New Branch in Singapore

MENBAKA Kyoto Fire Ramen, a ramen restaurant in Kyoto that's particularly popular with foreigners in Japan, is expanding overseas by opening a new branch on the 5th floor of Singapore Orchard in Singapore on November 24, 2020.

MENBAKA Kyoto Fire Ramen


Menbaka first opened in 1984 and has gone on to become a popular ramen bar, focusing on the use of green onion in its dishes for its flavour and fragrance enhancement. In recent years, the Kyoto branch has seen a significant increase in the number of foreign visitors to Japan dining at the restaurant, and in 2017 it ranked number six in the country on Tripadvisor as the most popular restaurant in Japan with foreigners. It has gone on to be reported on in news and media outlets, including the video created by the Japan National Tourism Organization as part of its global campaign.

MENBAKA Kyoto Fire Ramen Singapore

The Singapore branch will open as a franchise of SOUTH EAST ASIA FOOD ENTERTAINMENT PTE. LTD. with carefully-selected suppliers and ingredients to ensure the taste is as close to the Japanese as possible. The restaurant will serve not only ramen but food entertainment as well.

Singapore Orchard, where the restaurant is opening, is a shopping mall and major tourist destination of Singapore. Like other countries around the world, Singapore is having to restrict the number of foreigners entering the country as a result of the COVID-19 pandemic which has also led to restaurants limiting the number of available tables, social distancing measures being put in place, and so on. The restaurant's opening date was originally scheduled for April 2020 but was postponed due to the pandemic so its grand opening is now scheduled for November 24.

If you're in Singapore and want to try some authentic Japanese ramen at the same time, be sure to visit MENBAKA Kyoto Fire Ramen.

Information

MENBAKA Kyoto Fire Ramen
Address: Cineleisure Orchard 5F, 8 Grange Rd, Singapore 239695
TEL: +65-6970-8408
Opening Hours: 12:00-21:00
No Fixed Holidays

Hatsune Miku and Rascal the Raccoon to Collaborate at Magical Mirai 2020 in Osaka

Nippon Animation and Crypton Future Media are set to collaborated for the 4th time by bringing together the popular character Rascal from the Japanese animated series Rascal the Raccoon and VOCALOID. The two companies will release pre-sales of collaborative merch at Magical Mirai 2020 in Osaka from November 27 to 29.

Rascal celebrate hits 40th anniversary back in 2017, the same year his collaboration with VOCALOID began. "Japanese Festival" is the theme for the merchandise line-up which sees the adorable raccoon come together with familiar faces from the VOCALOID roster including Miku, Rin, Len, Luka, KAITO, and MEIKO, all of whom are donning their appropriate festive garbs. There's also a "Firework Festival" collection of merchandise too which was designed in collaboration with Japanese illustrator Omutatsu.

The merchandise will also be released at the official Nippon Animation shop ANi★CUTE in Ikebukuro, Tokyo on December 18, 2020.

Artwork sample

Merchandise sample

Information

Magical Mirai 2020 in OSAKA
Running: November 27, 2020 – November 29, 2020
Venue: INTEX Osaka Buildings 3 and 4
Address: 1 Chome-5-102 Nankokita, Suminoe Ward, Osaka
Official Website: https://magicalmirai.com/2020/
COCOLLABO Official Website: https://www.cocollabo.net/sp/Magicalmirai2020/

Nippon Animation Official Shop ANi★CUTE
Release Date: December 18, 2020
Location: Sunshine City Alpa 2F
Address: 3-1-2 Higashi-Ikebukuro, Toshima-ku, Tokyo
Opening Hours: 10:00-20:00
TEL: 03-6914-2668

Jurassic World Café by PARCO Opens in Singapore

PARCO Pte Ltd, the Singaporean division of Japanese department store chain PARCO, opened the new Jurassic World Café at ION Sky on the 56th floor of the ION Orchard shopping centre in Singapore on November 6, 2020. The café comes as the first Jurassic World Café to open in South East Asia and serves an original line-up of food and drink, an exhibit of everybody's favourite Velociraptor Blue from Jurassic World, a selection of exclusive merchandise, and more.

Jurassic World Café Singapore


The Jurassic World film series is hugely popular in Singapore, and so it's only fitting that the country gets its own themed cafe. The menu is diverse, consisting of a special selection created by PARCO's own The Guest Cafe & Diner as well as local food like Nasi Lemak, unique picks like the Brachiosaurus Mint Pandan beverage, and much more. There will even be a merchandise shop for fans to pick up a souvenir on their way home.

PARCO Singapore has collaborated with The Guest Cafe & Diner, a cafe which collaborates with franchises and of which there are five branches in Japan, on five separate occasions up and down South East Asia, including the Minions Cafe which opened for a limited time in Singapore in 2017. PARCO Singapore is continuing to expand its reach outside of Singapore with other collaborative cafes and exhibitions.

 

The Menu


Danger lurks at every corner in Jurassic World, and that fact is captured in the menu line-up.

Cafe Bonus Items


There will also be special gifts given to customers.

To see the full line-up, be sure to check out the official website below and pay a visit to Jurassic World Café Singapore.

Information

Jurassic World Café Singapore – A concept by PARCO
Location: ION Sky, ION Orchard Floor 56F, MRT Orchard, 2 Orchard Turn, Singapore 238801
Running: November 6, 2020 – January 3, 2021 (Closed November 13)
Opening Hours: 11:00-22:00
Official Website: www.jurassicworldcafe.sg

Snow Fireworks to Light Up the Winter Skies of Miyazaki at Phoenix Seagaia Resort

Phoenix Seagaia Resort, a resort located in Miyazaki Prefecture whose brand slogan claims them as the most beautiful in all of Japan, has announced a heart-warming new experience for the winter season.

Seagaia's Snow Fireworks

Miyazaki doesn't see a lot of snowfall, but this winter, the prefecture is welcoming an all-new fireworks festival which will launch fireworks into the sky that falls like pure white snow. Phoenix Seagaia Resort is also offering a guest plan which combines a stay at the resort with front row seats to the fireworks.

Running: December 4, 2020 – February 27, 2021 (Fridays and Saturdays only + January 10, 2021)
Time: 20:00 (Approx 3 minutes)
Bookings: https://bit.ly/3lurZWK

Starlight Winter Illuminations

THE LIVING GARDEN is the garden area of Sheraton Grande Ocean Resort exclusive to guests. This winter, the garden will be lit up with 30,000 LED lights and lanterns to create a magical, starry sky-like atmosphere by both of the garden's pools.

Running: November 1, 2020 – February 28, 2021
Location: THE LIVING GARDEN, Sheraton Grande Ocean Resort
Illumination Times: Sunset to 23:00

Price: Free (Exclusive to Sheraton Grande Ocean Resort guests)

A Cosy Menu For a Warm Stay

Gazebos by the waterside at THE LIVING GARDEN

S'mores

Sheraton Grande Ocean Resort will also serve s'mores, hot cocktails, and other treats at THE LIVING GARDEN with gazebos and fire pits. Enjoy fluffy marshmallow s'mores served with nuts and salted chocolate.

Running: November 6, 2020 – February 28, 2021 (Excluding Wednesdays & Thursdays)

Times: 19:30-23:00 (Last Orders 22:30)

Location: KUROBAR, THE LIVING GARDEN, Sheraton Grande Ocean Resort

1→10, Inc. Brings Magical Shores Interactive Land Art to Siloso Beach in Singapore

Japanese creative studio 1→10, Inc. opened up Singapore's first ever permanent interactive land art exhibition "Magical Shores" on January 23 this year together with Lighting Planners Associates (LPA), a lighting company based in both Tokyo and Singapore.

Magical Shores spans 400 meters of Sentosa's Siloso Beach, turning it into an immersive, multi-sensory experience of AI-operated lights and sounds which elevate the beauty of the surrounding natural environment.

Guide To Magical Shores | Siloso Beach, Sentosa:

AI technology responds to visitors on the beach, giving them a breathtaking and unique performance. Sensors are dotted around the area which use sensing data to react based on people's movement around the beach. The AI is constantly developing as it collects big data about the temperature and climate of Siloso Beach as well as that of people's movements.


In two of the interactive areas, people can witness the "Circle of Life" beginning with the big bang. After that there is magma, followed by heavy rainfall and eventually flowing water which gives birth to life. Cells divide as plants begin to sprout, fish swim in the sea, and birds and insects sing in the mountains. At the end, life falls, and the process begins again.


Japanese musician Masakatsu Takagi was put in charge of the music and sound design of the exhibition. Takagi is known for having written the music for Wolf Children and The Boy and the Beast. He took inspiration from his music project "Marginalia," a sound diary where he would record the sounds of birds, insects, the wind, rain, and so on from his studio window. Takagi did field recording on the beach to capture the sounds of nature to use for the art exhibition.

Kuniyuki Takahashi also offered his musicianship to the exhibition. Based in Sapporo, he is an internationally-recognised composer. He also recorded the sounds of Siloso Beach, and together with Takagi, created the perfect soundtrack for Magical Shores.

Magical Shores is currently temporarily closed as a result of the coronavirus but will resume once more as soon as the situation allows it.

DJ Arisa Komiya from OMOTENASHI BEATS Celebrates First Overseas Performance at Anime Festival in Singapore

Last October, Zepp Divercity, Tokyo was filled with excitement and thrill as the Anime Rave Festival Vol.2 took place, which saw the appearance of a brand new DJ at the scene: Arisa Komiya from OMOTENASHI BEATS.

What's more, it hasn't even been two months since the DJ released her CD full of non-stop anisongs called SUPER OMOTENASHI BEATS vol.1 × DJ Arisa Komiya on October 2 and she has already leaped across a border for her first ever overseas performance at Anime Festival Asia Singapore 2019,  which flies the flag for Japanese culture and aims to spread the love for Japanese music. The festival was held at Suntec Singapore Convention and Exhibition Centre.

Arisa Komiya took to the stage on the second day of Anime Festival Asia Singapore 2019. The floor shook in beat to the thudding fans and the entire evening was a great success. The DJ's kicked off her overseas debut at C3AFA AKIBA STAGE, which was met with a swarm of hiphop fans. Next, she performed on the LUMICA stage, which saw a sea of penlights sway in beat, each fan unshakable with admiration. Komiya left the venue being assured of her strong fanbase in Singapore. 

 

DJ Arisa Komiya is sure to continue performing in Japan and overseas. Keep an eye on her and OMOTENASHI BEATS because they are sure to have a lot in store for everyone.

Information

SUPER OMOTENASHI BEATS vol.1 × DJ Arisa Komiya

Release: October 2, 2019

A 35-Track Mix CD of Non-Stop Anisongs by Love Live! Sunshine!! School Idol Group Aqours Member DJ Komiya Arisa.

 

CD: ¥2,338 (Before Tax)

CD + Blu-ray: ¥4,074 (Before Tax)

*Blu-ray includes the NONSTOP MIX BACKGROUND MUSIC VIDEO and MAKING VIDEO

Purchase Here: https://omotenashibeats.jp/discography/shop.php?id=1030637

OMOTENASHI BEATS Official Website: https://omotenashibeats.jp/

Japanese Fireworks Light Up the Night Sky Of Saudia Arabia

In celebration of the annual Saudi National Day―which commemorates the establishment of the Kingdom of Saudi Arabia―STAR ISLAND held a special event at Jeddah Fountain View on September 23 entitled "STAR ISLAND SAUDI ARABIA NATIONAL DAY EDITION" which was attended by Salman bin Abdulaziz Al Saud, the King and Prime Minister of Saudi Arabia.

STAR ISLAND was created in Japan and describes itself as 'future firework entertainment.' It fuses traditional Japanese fireworks with cutting-edge technology such as 3D sound, lighting and lasers. It has been taken both around Japan and overseas.

The event completely sold out, with close to 300,000 people gathering to witness the jaw-dropping, one-night-only firework spectacle forged specially for the 89th Saudi National Day. Also in attendance was Tsukasa Uemura who is the Ambassador of Japan at the Embassy of Japan in Saudia Arabia, as well as Amr Banaja, the CEO of General Entertainment Authority Saudi Arabia.

This was the second STAR ISLAND to be held outside of Japan. A special edition was prepared for the celebrations. The theme was "The Boy and The Falcon." In the show, young boys from both countries went on a trip around the world with a falcon, experiencing many difference cultures. The boys travelled to the year 2030 to see that both countries were still as wonderful as ever.

The story touched on Saudi Vision 2030, a long-term plan by Saudi Arabia which looks to further grow itself as a tourism nation, develop public sectors, and diversify its economy.

During the performance, local dance groups and Japanese performers stood on stage together to celebrate Saudi Arabian tradition and other cultures. It was an historical moment for the books.

The event was held at the behest of the Saudi Arabian General Authority for Entertainment (GEA), resulting in the development and vitalisation of both countries' entertainment markets as well as helping to create jobs. It also deepened the relationship between Japan and Saudi Arabia.

Information

STAR ISLAND SAUDI ARABIA NATIONAL DAY EDITION

Date: September 23, 2019

Time: 21:00-22:30 (Doors opened 19:00)

Location: Jeddah Fountain View (2099 Al Kurnaysh Rd, Al Hamra District, ,حي الحمراءJeddah 23212)

Official Website: http://www.star-island.jp