New Planetarium Project in Oita Prefecture Highlights Sushi, Not Stars
In Saiki City, located in the southernmost part of Oita Prefecture, visitors will find a unique project. For a limited time, guests can enjoy a sushi-netarium, where sushi–not stars–will be featured in the sky. Saiki City, where the event takes place, is a treasure trove of seafood thanks to the Bungo Channel and boasts the largest catch in Oita Prefecture. It's also known as Oita's premier sushi destination, with more than 350 varieties of ocean delicacies to enjoy each year. Saiki Sushi, made from fresh local fish, is known for its firm texture and for having just the right amount of fat. To promote this tasty dish throughout Japan, the interactive sushi-netarium promotion was created!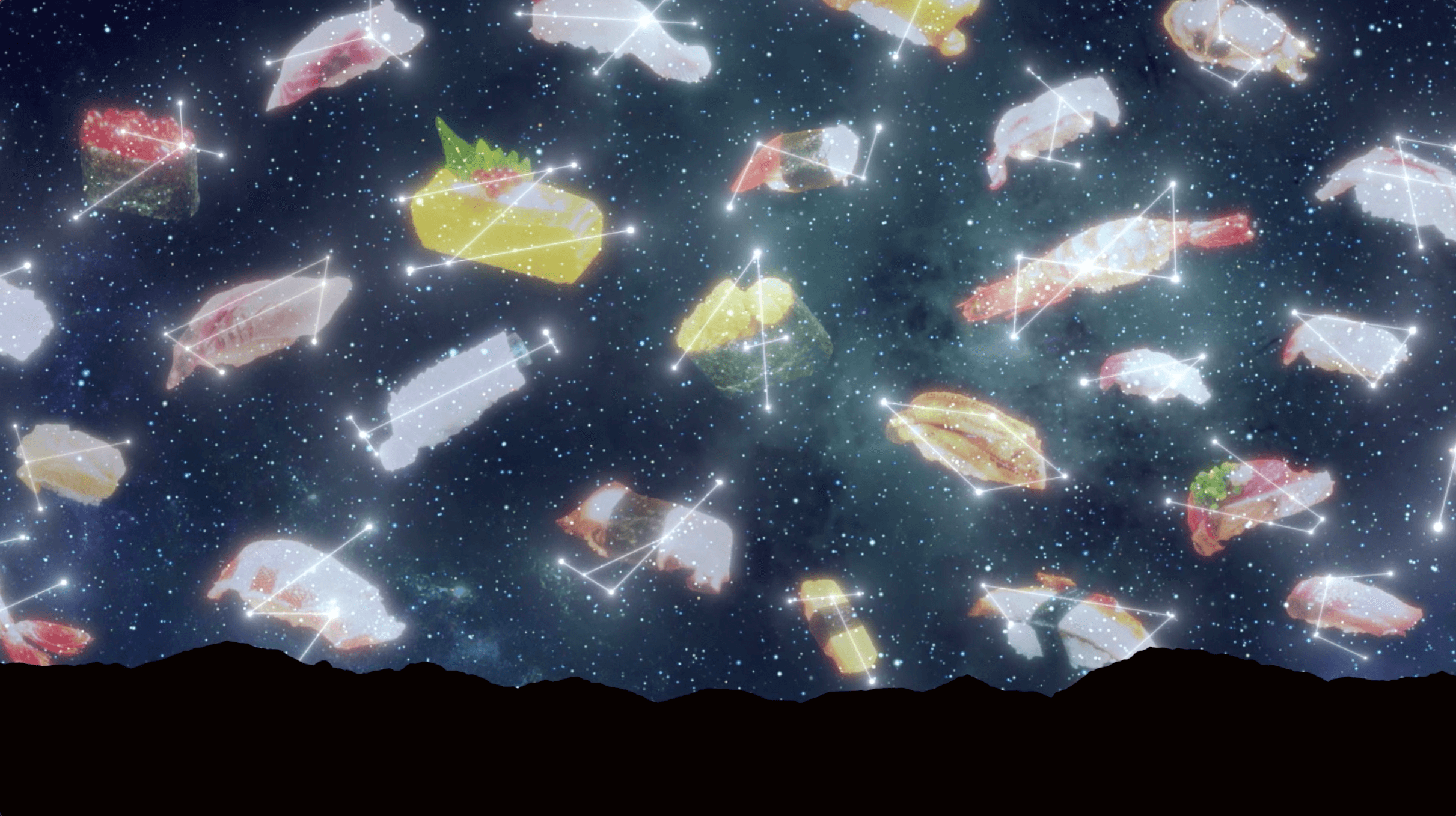 A Planetarium Experience Featuring Soothing Music and a Sky Filled with Sushi
The sushi-netarium is said to have a relaxing effect comparable to that of Beppu Onsen, the most famous tourist attraction in Oita. Those taking part will be able to see not only a sky filled with sushi, but a sushi meteor shower and the Gari Borealis. As you watch, it might become impossible not to crave sushi! Visitors will be able to take part in this special viewing at certain locations in Beppu City and at Oita Airport from September 22 until November 30. In a public announcement, the city invited guests to eat plenty of tasty local food and soak in the Beppu Onsen before enjoying the sushi-netarium to wrap up a wonderful day. 
The Beautiful 'Sushi Projector'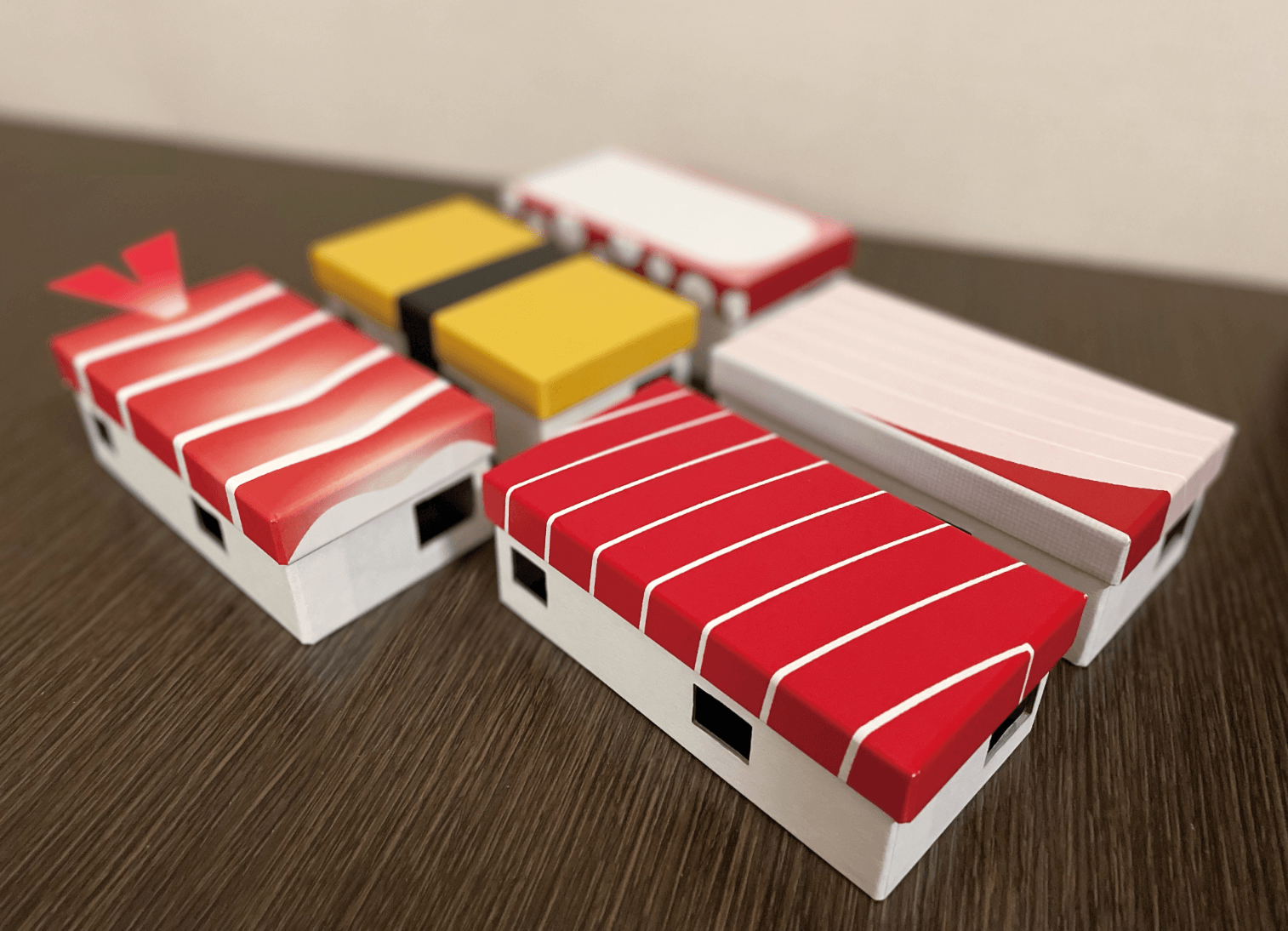 Check out these impressive projectors made exclusively for the sushi-netarium! These original sushi projectors in the shape of Saiki sushi are the only five such projectors in the world and come in the shapes of tuna, yellowtail, octopus, egg, and shrimp. 
Come enjoy this strange sushi-centric activity in the south of Japan! Participating facilities are listed on the website below.
RELATED ENTRIES
Attack on Titan in HITA Smartphone App Reveals Captain Levi 3D-AR Experience

Attack on Titan was created by Hajime Isayama, a manga artist born and raised in Hita, Oita Prefecture. Fans of the manga and anime series can experience the world of the famous series in his hometown, and by downloading a specific smartphone app and traveling to a specific location, they can now experience a new 3D-AR experience featuring Captain Levi. The installation will be installed at the camp resort Paradiso Oita in Oita Prefecture.

The AR application uses colored model data of the Captain Levi statue erected in the plaza in front of Hita Station on March 6, 2021. The realistic image of Captain Levi can be viewed from 360 degrees, and visitors can even take commemorative photos with the popular character!

The installation will be located at the Paradiso Oita Front Ridge, which costs nothing to enter. The grand opening will take place on July 22, 2022. With its convenient location just off the Amagase-Takatsuka interchange on the Oita Expressway, many believe that the installation will help to revive tourism in the area. 

Information

Attack on Titan – Captain Levi 3D-AR

Release Date: July 14, 2022

Address: Paradiso Oita Front Ridge (9619-1 Tobata, Kusu, Kusu-ku, Oita)

Access: 3 minutes from Amagase-Takatsuka IC on the Oita Expressway

Attack on Titan in HITA Official Site: https://shingeki-hita.com

PAGEBOY Collaborates with Hamazushi on New Sushi-themed Apparel Collection

High casual brand PAGEBOY has begun selling limited-edition collaboration items with sushi chain Hamazushi at stores nationwide, the official web store, and ZOZOTOWN. An original novelty box will be gifted to customers buying collab items while supplies last!

Lineup

Long Sleeve T-Shirt

Short-Sleeve T-Shirt

Short-Sleeve Patterned T-Shirt

Bucket Hat

Socks

Plates

Fans of the popular sushi chain can grab a shirt featuring Hamazushi's unique wave pattern motifs. Unisex brand PAGEBOYLIM also announced a simultaneous collaboration, with a long-sleeve T-shirt perfect for the guys out there.

Singer yama to Hold Two-Day Planetarium Concert at Tokyo Skytree Town

Konica Minolta Planetarium TENKU will hold a special two-day live event featuring one of the most beloved singers of this generation, yama. LIVE in the DARK w/yama will take place on December 8 and 9, in which the artist will be surrounded by glittering stars as he sings some of his more popular tracks.

yama

By holding a concert inside a planetarium, guests will be able to focus more intently on the sounds being made while surrounded by darkness. The video production during the performance will be handled by HERE., a visual design studio known for working with other popular artists. Would you want to experience a live show in such a unique venue? 

Keina Suda Chosen to Perform Theme Song to Upcoming Mari Okada Film Dog Star

The grand opening of Konica Minolta Planetarium Manten NAGOYA is scheduled for October 27, 2021. The original film Dog Star: Kimi to Miageru Fuyu no Seiza-tachi (Winter Constellations to Look Up With You) is set to be screened as the location's first event, and singer-songwriter Keina Suda has been chosen to perform the movie's theme Yomosugara (All Night). Ahead of the film's premiere, advanced tickets will be on sale starting October 20, and those who purchase one will receive a special character acrylic stand!

Dog Star: Kimi to Miageru Fuyu no Seiza-tachi Trailer #2

Advance Ticket Bonus: Acrylic Stand

Keina Suda, chosen to perform the theme song for Dog Star: Kimi to Miageru Fuyu no Seiza-tachi

Konica Minolta Planetarium Manten NAGOYA will be Japan's first planetarium to use the LED dome system DYNAVISION-LED, which utilizes self-luminous LED elements instead of a projector. 

Before making his major debut, Keina Suda was a popular Vocaloid producer going by the name Balloon. During this period, his song Charles became a smash hit, getting over 100 million views on YouTube. The musician wrote the song Yomosugara for the film. The writer of the film, Mari Okada, is also known for her work on Anohana: The Flower We Saw That Day and The Anthem of the Heart. 

A completely original story written by Mari Okada

A friendship between two boys begins to twinkle in the light of the winter constellations. 

Nobunaga Shimazaki plays Kousuke, a boy who is crazy about the stars, while Yama Uchida portrays Natsuki, active on the track and field team. This is a coming-of-age story woven together with the starry sky made of LED lights only available at Manten NAGOYA. 

Kousuke, a boy who loves stars, failed his high school entrance exam. He reluctantly enrolls at his second-choice school, where he meets Natsuki, a member of the track and field team. He compares the brilliance of Natsuki to that of Sirius, the first magnitude star that shines with a fierce intensity. Kousuke thinks Natsuki is not the same as him, who is only the second magnitude star with little presence. However, the fate of the two twinkling stars is about to change drastically…

Planetariums in Tokyo to Show Night Flower Film Narrated by Taishi Nakagawa

A stunning new film is coming to the Konica Minolta Planetarium in Tokyo Skytree Town and Planetaria Tokyo in Yurakucho Mullion starting November 19, 2021! Night Flower ~Blooming for One Night on a Starry Island~ will take guests on a journey to Iriomote Island in Okinawa, known for its beautiful starry sky. At night, this island is home to Sagaribana, a flower that only blooms at night and seems to glow in brilliant shades of white, pink, or red. The film is narrated by actor and model Taishi Nakagawa.

Journey to an Immersive Starry Island

Iriomote Island, a world heritage site, is filled with rich nature and a vast ecosystem of living things. From this island, 84 of the 88 constellations scattered across the sky can be seen, including the Crux. A number of these constellations have been captured in this film, with plenty of detail given by Taishi Nakagawa. It almost feels like a date with him–and who could resist that?

Feel as Though You've Been Transported to the Jungle

Using the SOUND DOME® stereoscopic sound system, even the tiniest sound of a bird chirping or leaves rustling will feel as close as can be. Along with the narrator, Manami Kakudo provides the theme song to the film which will leave audiences with goosebumps. 

Mysterious Flowers Blooming Beneath a Starry Sky

The Sagaribana is a whimsical flower, almost alien in its appearance. They bloom for only one night, closing up by morning. This can teach us a valuable lesson: that each day, and each night, is precious, and life can be more fragile than we realize. 

Information

Night Flower ~Blooming for One Night on a Starry Island~

Release Period: November 19, 2021 ~

Runtime: About 40 minutes

Address: Planetaria Tokyo (Yurakucho Mullion) / Konica Minolta Planetarium (Tokyo Skytree Town)

*Screening times will vary depending on the day and time of year. 

*Facility hours are subject to change. 

Official Site: https://planetarium.konicaminolta.jp/program/night_flower/ 

Japanese Michelin Star Chef to Open New Restaurant Kimura Don in Shinjuku

A new restaurant by the name of Kimura Don is set to open inside Shinjuku Takashimaya's Restaurant Square on July 20, 2021.

Kimura Don is a new donburi restaurant produced by Koji Kimura, a chef whose popular sushi bar Sushi Kimura, located in Futakotamagawa, has held two Michelin stars since 2013. His new eatery continues the traditions and techniques honed at Sushi Kimura while spinning innovation into new donburi rice bowl dishes conceived from the many ideas Kimura has conceived over the years.

The donburi to be served recreates that perfect balance between vinegared rice and toppings which Kimura mastered at his sushi bar. Customers can enjoy a range of additions including donburi classics such as meat and fish as well as seasonal ingredients. The restaurant also uses locally grown and reared produce and ingredients that's also environmentally-friendly from Tokyo such as Kinuhari rice from Hachiojo and Akigawagyu beef. This will help to foster a relationship between local farmers and consumers. 

Lunchtime Dishes | ¥3,500 Each | Serving Times: 11:00-17:00 (Last Orders 16:00)

Pick from five different donburi bowls such as tuna, pilchard, and roast beef. Each season will also has its own exclusive dish made with seasonal ingredients. There's also a special option to order a set of two smaller versions of the dishes too for ¥3,800. 

Evening Courses | From ¥12,000 | Serving Times: 17:00-23:00 (Last Orders 22:00)

The evening course line-up is also made up of five different bowls as well as seven seasonal snacks.

Koji Kimura | Comment

"I've been set up in Futakotamagawa for 16 years. I studied how to prepare sushi rice for many years, since it serves as the foundation, so that I could create unique sushi. I have made sushi rice that's unique and draws a line under other restaurants, rice which when combined with toppings explodes with umami flavour. I use this same sushi rice as the basis for lots of innovative donburi dishes, and I'd love for people to enjoy a taste at the first place in Japan to do this."

Online Planetarium Season 2 Begins

Season two of Astro Connect's Online Planetarium series began on Friday. The project, which has streamed every Friday since April 2020, is a chance for people to connect with the stars and space.

The project began as a means of entertainment for people who have been in lockdown and unable to go outside due to the COVID-19 pandemic. Our time indoors has increased, and so Online Planetarium serves as a way for people to have fun while begin able to travel. The stream, which is in Japanese, focuses on talking about space and stars.

Sanrio Announces 60th Anniversary Exhibition 'The Beginning of Kawaii'

From Hello Kitty to Pompompurin, Cinnamoroll, My Melody, and more – Sanrio's internationally adored cast of characters can be universally agreed to be representatives of Japan culture of 'kawaii.' In celebration of Sanrio's 60th anniversary, the company have announced an exhibition centred on the beginning of kawaii culture. The event will take place at TOKYO CITY VIEW from September 17, 2021 to January 10, 2022.

60th Anniversary Sanrio Exhibition: The Beginning of Kawaii is currently taking place at Matsuzakaya Art Gallery in Nagoya until June 12 and will move to Ōita Prefectural Art Museum where it will run from July 10 to September 5 before heading to TOKYO CITY VIEW.

 

© 2021 SANRIO CO., LTD. APPROVAL NO. SP610376

This exhibition will not only look back over Sanrio's 60-year history, but will also dive into how Japan's culture of 'kawaii' came about. Fans of Sanrio and Japan's kawaii can expect product and design showcases, in-depth explanations, and more.

Over 800 products, documents, and materials related to Sanrio will be presented, many of which will shine a spotlight on some of their most famous characters out of their roster of 400, such as Hello Kitty and My Melody, and other characters that might not be known to those outside Japan such as best friends Patty & Jimmy.

What to look out for at Sanrio's 60th anniversary exhibition

Unforgettable Tower by Sebastian Masuda

Sebastian Masuda, a pioneer of kawaii culture, will showcase his symbolic art pieces at the event at TOKYO CITY VIEW's observation deck, combining his iconic work against a breathtaking background.

 

The Beginning of Kawaii

Learn about the history of Sanrio's culture of kawaii, beginning as a service to 'move people's hearts' through gifts and products. Visitors will get a chance to see the secrets of Sanrio's iconic style which draw a line under fancy products from other companies.

There will also be a chance to see Japanese illustrators Takashi Yanase, Ado Mizumori, and Rune Naito's work with Sanrio.

The Birth of the Characters

What makes something kawaii or not kawaii? Why do characters not necessarily need to have a story to become so popular? These questions are more will be answered as the exhibition looks at the birth of Sanrio's characters.

Sanrio's Characters

How did their hit characters come to be? During the 1980's, Japan was a warzone for characters. Sanrio changed how characters became popular, moving from characters that were popular with everyone to creating characters that people wanted for themselves – their own personal characters. Discover how Sanrio's long list of characters came about, including ones that have stood the test of time and ones that have declined in popularity.

Ichigo Shimbun

Ichigo Shimbun is a magazine published by Sanrio all about Sanrio and their characters – a familiar read to all fans in Japan. The magazine will be featured at the exhibition.

Hello Kitty: The Character Who Turned Into a Global Icon

Hello Kitty is known the world over, with even Lady Gaga having worn a dress of Hello Kitty plush toys in the past. This dress will be exhibited at the event, amongst many other things related to Sanrio's global idol.

A Battle Between Artists

Artists from various artistic background will participate in the exhibition by creating a range of different Sanrio works. Participating artists and their specialities include Ryūsuke Fukahori (objects), Hajime Nakatomi (bamboo art), Takaya Mori (sculptor), Mio Hashimoto (sculptor), and Risa Fukui (paper cut-outs).

Information

60th Anniversary Sanrio Exhibition: The Beginning of Kawaii

Running: September 17, 2021 – January 10, 2022

Where: TOKYO CITY VIEW (Roppongi Hills Mori Tower Floor 52F)

Address: 6-10-1 Roppongi, Minato-ku, Toky0

Price: TBA

60th Anniversary Sanrio Exhibition: The Beginning of Kawaii Official Website: https://sanriocharactermuseum.com/

The final livestreaming of Online Planetarium Announced

Astro Connect, the space and astronomical project organizer, has been organised the project called Online Planetarium with ABLab, the astronomical online salon, to livestream the sky where you can observe the stars every Friday night since April 16, 2020. The final livestream will take place on April 16, 2021, which marks the first anniversary of project launching. The renewal of project will begin after April as Season 2.

We used to visit the Planetarium to explore and experience the universe with expert commentary until before the pandemic began. This time, they will deliver it to your home. You can observe the universe while listening to the interaction between a presenter and a commentator live. Also, the viewers can send questions directly to the presenter during the livestream to experience the new communication style of planetarium. 





Why don't you spend a luxurious time at home while watching the starry sky over the online planetarium?

Sanrio Harmonyland Announces 30th Anniversary Event

Sanrio Harmonyland, the popular Sanrio character themed theme park in Oita, has announced the commemoration of its 30th anniversary with a special event titled 'HARMONYLAND 30th ANNIVERSARY' which will begin on April 26. Visitors can look forward to parades, a special night show with fireworks, celebratory merchandise, a special food menu, and more.

Memorial visual created by Japanese manga author and character designer Eisaku Kubonouchi

Harmonyland Parade Parallel 30th Memories

Daniel and Kuromi to make an appearance before the start of the parade

Throughout its 30-year history, Harmonyland has hosted many shows and parades for guests. For their 30th anniversary celebration, a special parade titled Parade Parallel 30th Memories will have three runs throughout 2021 and into 2022 which will feature a set list of nostalgic, old-time show and parade music. Guests will be able to experience what it felt like to be at Harmonyland back when each song was first performed. Check out the song list for the first run below.

Parade Song List

Parallel World 1st (April 23, 2021 – Late August 2021)

Hajimaru yo Party from Parade Shiroi Tori Kara no Okurimono (First performed in 1991)
Celebration from The Celebration Parade (First performed in 1996)
Happiness from Parade Shiroi Tori Kara no Okurimono (First performed in 1991)
Hajimaru yo Party from Parade Shiroi Tori Kara no Okurimono (First performed in 1991))

Parallel World 2nd (Starting Early August 2021)

Parallel World 3rdnd (Starting Early January 2022)

30th Anniversary Night Party

A very special night show will take place which will see appearances from fan-favourites Hello Kitty, Dear Daniel, Cinnamoroll, and Kuromi who will be joined by a cast of dancers. Expect new music written just for this show as well as fireworks.

30th Anniversary Merchandise

An exclusive line-up of merchandise will be sold featuring a memorial visual created by Japanese manga author and character designer Eisaku Kubonouchi.

30th Anniversary Menu

Of course, it wouldn't be a celebration without a themed menu either, which will include meals, desserts like an ice cream float and soft serve ice cream, and more.

ⓒ 2021 EISAKU KUBONOUCHI / METEOR STREAMS

ⓒ 2021 SANRIO CO., LTD. TOKYO, JAPAN 著作 株式会社サンリオ

Kirby Café Begins Serving its Spring Picnic Themed Menu

The Kirby Café branches in Tokyo and Hakata rolled out their Spring 2021 menu on Friday which is set to run until June 6. Themed on a springtime picnic, the line-up includes three items: six siz different temari-zushi servings, cherry blossom mochi, and a cherry blossom latte, all inspired by the Kirby video game series.

The Menu

Cherry Blossom Temari-zushi: Eat In ¥2,178 / Takeout ¥2,138

A serving of six sushi rolls perfect for a spring picnic. Each roll features designs that will be instantly-recognisable to Kirby fans.

Souvenir – Lunchbox (4 Designs)

Kirby's Spring Search | ¥1,078 (Tax Included)

Kirby is playing hide and seek under the cherry blossom tree in this cute dish which is adorned with shiny coloured candy.

Cherry Blossom Latte | ¥968 (Tax Included)

A light pink-coloured cherry blossom latte with a touch of salt. Mix everything together for a tasty sipping experience.

Harajuku Whips Up Oita Prefecture's Jazz Youkan Sweet Adzuki Bean Block

The Jazz Youkan is a cute confection made from sweet adzuki red bean paste and made to look like a little piano. It's made in Japan's Oita Prefecture, but Tokyo residents can now enjoy this sweet treat at HARAJU Cross JAPAN MASTERY COLLECTION_est which is located on Floor B1F of WITH HARAJUKU, a shopping complex in front of Harajuku Station. It is being sold until February 14 in three flavours: Chocolat, Matcha Chocolat, and Classic.

The Jazz Youkan

The Jazz Youkan is a confectionery made by Jazz to Youkan Yufuin CREEKS, a shop in Yufu, Oita. It's part of their concert series of sweets and pairs well with a cup of coffee or glass of wine.

Line-Up (Prices Include Tax)

Chocolat | ¥2,646

The seasonal winter Chocolat is made with sweet white bean paste, couverture chocolate, dried cherries, fig, and raisins. All the chocolates in this series are individually handmade by the shop's chocolatiers, and this time, the classic Chocolat variant has been made even more delicious. It's smooth, moist, and rich without being too sweet. Best enjoyed with coffee or wine.

Matcha Chocolat | ¥2,646

If you love matcha then this is the treat for you. It's different from the normal Chocolat version of this sweet as it's made without dried fruits. Instead, it contains large-grained adzuki beans for an irresistible texture.

Classic | ¥2,160

The Classic version is made with brown sugar from Okinawa and adzuki beans and contains dried figs soaked in wine. Another perfect pairing with coffee or wine, and the piano face shows the work of true Japanese artistry.

©冬季限定 ジャズ羊羹 chocolat

Information

Jazz Youkan
Order Window: January 16, 2021 – February 14, 2021
Orders: TEL: 03- 6384-5815 / E-mail: shop_est@japanmasterycollection.jp
Sales Window: February 7, 2021 – February 14, 2021
Where: HARAJU Cross JAPAN MASTERY COLLECTION_est
Address: 1-14-30 Jingumae, Shibuya, Tokyo
Opening Hours: 12:00-18:00
Jazz to Youkan Yufuin CREEKS Official Website: http://www.jazz-youkan.com/