BABYMETAL Announces First International Tour in 3 Years with Swedish Metal Band Sabaton
Joakim Brodén, the vocalist for Sabaton, served as a guest performer on the song Oh! MAJINAI (feat. Joakim Brodén) found on Babymetal's third album METAL GALAXY released on October 11, 2019. This will be the first time that the two groups have performed live together since the BABYMETAL WORLD TOUR 2018 in JAPAN EXTRA SHOW – DARK NIGHT CARNIVAL in October 2018 at Saitama Super Arena.
BABYMETAL will release its first concept album, THE OTHER ONE, on March 24, 2023. Ahead of release, five singles will be available to download and stream worldwide, with one releasing in October, November, January, February, and March. Be sure to watch out for Babymetal as they rock the world once again!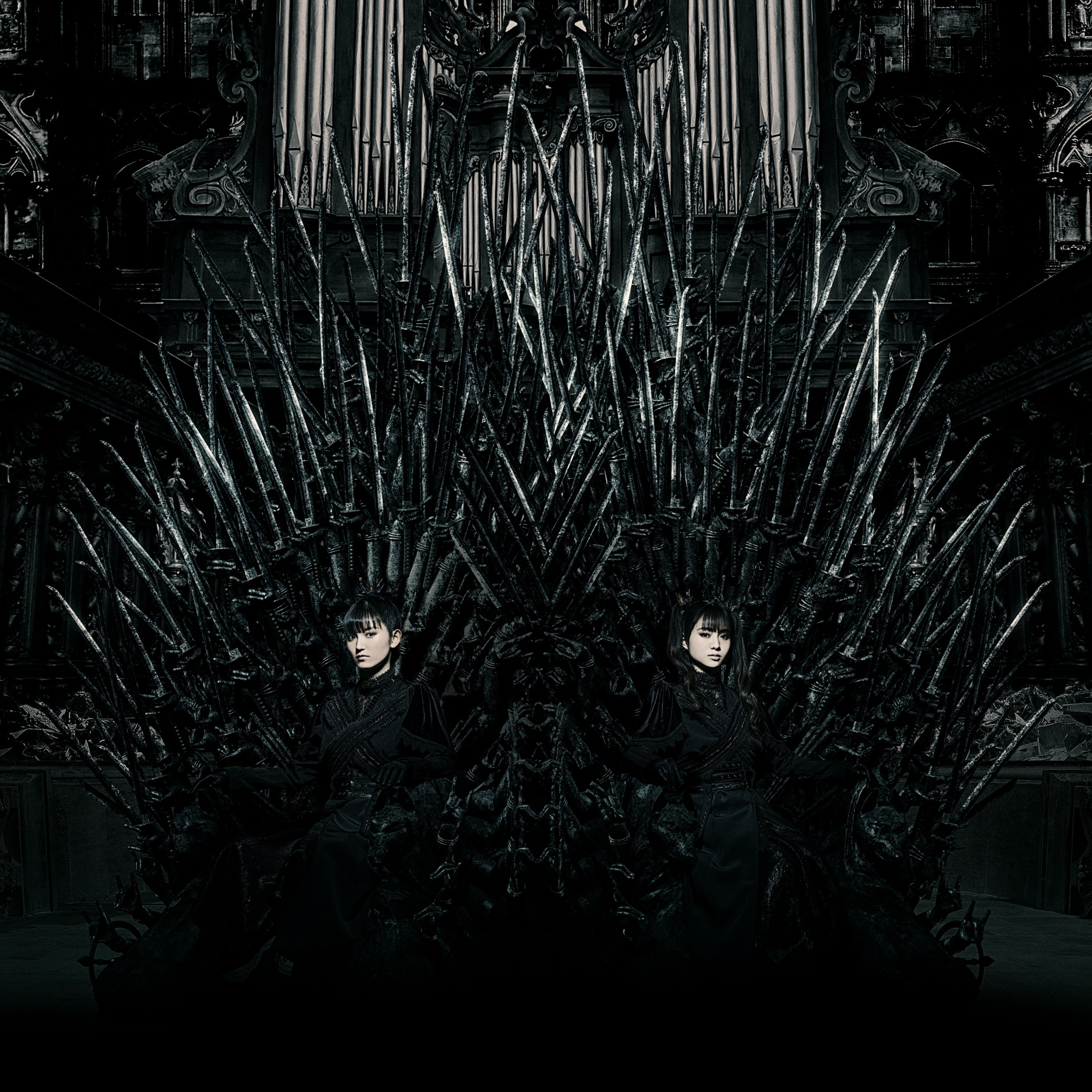 RELATED ENTRIES
Presale Tickets for BABYMETAL's Solo Concert at Makuhari Messe in January 2023 Now on Sale

In October 2021, BABYMETAL announced that it would "seal" itself off from the world until further notice. On January 28 and 29, 2023, BABYMETAL will hold the 'BABYMETAL RETURNS -THE OTHER ONE' 2-day concert at Makuhari Messe in Chiba and pre-sale tickets are now available for purchase! These won't last, so grab yours while you can.

BABYMETAL released the first of five monthly consecutive singles, Divine Attack -Shingeki-, in October, with Monochrome following in November. New songs are on the way in January, February, and March, so look forward to plenty of new content!

Information

BABYMETAL RETURNS – THE OTHER ONE-

Dates: January 28, January 29

Venue: Makuhari Messe International Exhibition Hall

Official Ticket Sales: 

Available: November 26 at 12:00 – December 4 at 23:59

Sales Page:  https://pia.jp/v/babymetal23-hp/

BABYMETAL RETURNS – THE OTHER ONE – Special Site: 

BABYMETAL Releases Second Teaser Video for New Song 'Monochrome'

Popular metal band BABYMETAL has announced that five singles will be available to download and stream worldwide prior to the release of the new album THE OTHER ONE on March 24, 2023, with songs releasing in October, November, January, February, and March. A second teaser video for the new song Monochrome has been released, with the track available to stream worldwide on November 18.

The official lyric video for the song will also be released on November 18. 

In April 2022, THE OTHER ONE was announced as a way to relaunch the group in the METALVERSE, a piece of the virtual metaverse. Monochrome shows off a restored parallel world and asks a strange question–the fireworks shot into the sky were monochrome, but what color were they to the children? The song draws inspiration from Ragnarok from Norse mythology and shares a wish for the day when the starry sky will be filled with all the colors of the rainbow. 

Last year, following the tenth year of the group's activities, BABYMETAL announced that it would "seal" itself off from the world until further notice.  They are now ready to return to performing, and on January 28 and 29, 2023, the duo will hold the 'BABYMETAL RETURNS -THE OTHER ONE' 2-day concert at Makuhari Messe in Chiba. Starting in April 2023, the band will tour the UK and Europe with Sabaton, a power metal band from Sweden.

More information and new content will be announced in the coming weeks, so be sure to check social media and the official BABYMETAL site.

BABYMETAL Releases 'MONOCHROME' from New Album 'THE OTHER ONE'

BABYMETAL has announced that five singles will be available to download and stream worldwide prior to the release of the new album THE OTHER ONE on March 24, 2023, with songs releasing in October, November, January, February, and March. The first song, Divine Attack -Shingeki-, was released on October 21, instantly trending on social media. An official lyric video was released on the same day. Now, the second song is here! On November 18, fans will be able to download and stream  MONOCHROME. 

Last year, following the tenth year of the group's activities, BABYMETAL announced that it would "seal" itself off from the world until further notice.  In April 2022, THE OTHER ONE was announced as a way to relaunch the group in the METALVERSE, a piece of the virtual metaverse. The upcoming concept album will be inspired by the idea of a BABYMETAL that fans don't know, and a total of 10 songs have been discovered within THE OTHER ONE restoration project, with each song representing a specific theme based on 10 separate parallel worlds that the members have discovered. MONOCHROME is based on a restored parallel world.

The fireworks shot into the sky were monochrome, but what color were they to the children? The song draws inspiration from Ragnarok from Norse mythology and shares a wish for the day when the starry sky will be filled with all the colors of the rainbow. An inspirational jacket photo has also been released.

On January 28 and 29, 2023, the duo will hold the 'BABYMETAL RETURNS -THE OTHER ONE' 2-day concert at Makuhari Messe in Chiba. Starting in April 2023, the band will tour the UK and Europe with Sabaton, a power metal band from Sweden.

More information and new content will be announced in the coming weeks, so be sure to check social media and the official BABYMETAL site.

Information

Monochrome

Available Worldwide November 18, 2022

Download/Streaming Links

BABYMETAL RETURNS – THE OTHER ONE –

Dates: January 28 / January 29, 2023

Venue: Makuhari Messe International Exhibition Hall

Times:

OPEN 16:00 / START 18:00 (January 28)

OPEN 15:00 / START 17:00 (January 29)

BABYMETAL RETURNS – THE OTHER ONE – Special Site: https://www.babymetal.com/theotherone/

Sabaton THE TOUR TO END ALL TOURS

Special Guest: BABYMETAL

Supporting Act: LORDI

Sabaton OFFICIAL WEBSITE: https://www.sabaton.net/

BABYMETAL TOUR INFORMATION: https://www.babymetal.com/tour/

BABYMETAL Official Website: http://www.babymetal.com

ONE OK ROCK to Join Muse on North American Tour Starting February 2023

ONE OK ROCK has become an incredible success with audiences around the world. The Japanese rock band will join Muse's North American tour starting in February 2023 as special guests along with Evanescence, and the three musical acts will tour arenas in the US and Canada for around a month.

The band released their album Luxury Disease in September. Immediately following this, ONE OK ROCK headlined a 23-city North American tour, selling out a number of shows.

Be sure to follow ONE OK ROCK as they continue their upward climb to become international superstars!

WILL OF THE PEOPLE WORLD TOUR 2023

02/25/2023 Chicago, IL – United Center

02/26/2023 Minneapolis, MN – Target Center

02/28/2023 Austin, TX – Moody Center

03/02/2023 Houston, TX – Toyota Center

03/03/2023 Ft. Worth, TX – Dickies Arena

03/05/2023 St. Louis, MO – Chaifetz Arena

03/07/2023 Columbus, OH – Nationwide Arena

03/09/2023 Toronto, ON – Scotiabank Arena

03/11/2023 Quebec City, QC – Videotron Centre

03/12/2023 Quebec City, QC – Videotron Centre

03/14/2023 Montreal, QC – Bell Centre

03/15/2023 Montreal, QC – Bell Centre

03/17/2023 New York, NY – Madison Square Garden

03/19/2023 Philadelphia, PA – Wells Fargo Center

*ONE OK ROCK will perform from February 25 until March 19.

BAND-MAID Completes U.S. Tour with Over 20,000 in Attendance, Welcomed Back to Japan in a Huge Way

Globally popular girl band BAND-MAID has successfully concluded their first solo tour in the U.S. in about three years. Immediately after returning to Japan, the group was met with a sold out crowd when they performed as the supporting act for the Guns N' Roses JAPAN TOUR held at Saitama Super Arena on November 6, 2022. Following the event, BAND-MAID even became a trending topic on Twitter!




BAND-MAID made a splash during their U.S. tour, playing a total of 13 packed shows and getting plenty of media coverage. Given that the Guns N' Roses JAPAN TOUR was the group's first performance after returning home to Japan, it received massive attention from fans both locally and abroad.


Miku Kobato (Gt. & Vo.), KANAMI (Gt.), MISA (Ba.), and AKANE (Dr.) strolled onto the stage and performed the instrumental track from now on. The audience was shocked watching these petit girls in maid outfits perform such heavy rock! SAIKI (Vo.) appeared as the following song, DICE, began to play, with her powerful voice tearing through the intense ensemble. BAND-MAID's goal of world domination certainly came through in their performance–of course, the song DOMINATION began to huge fanfare, with the girls being shown on the big screen next to the stage. It was clear that each of them was enjoying the performance to the fullest. During Manners, MISA's incredible bass took the spotlight, with the sound of shredding guitar punctuating the powerful track. Miku Kobato's strong chorus was also a fan favorite, and as the song Daydreaming began, SAIKI's voice captivated the audience. BAND-MAID left the stage amidst a sea of applause after performing a total of seven songs ranging from quiet instruments to rock ballads.

 

In addition to their appearance at MERRY ROCK PARADE 2022 on December 18 in Japan, the band will also perform solo at Tokyo Garden Theater on January 9, 2023. This will be the largest solo performance in the band's history, so fans won't want to miss it!

 

Information

MERRY ROCK PARADE 2022

Dates: December 17 – 18, 2022
Time: Doors open at 9:00, show starts at 11:00
BAND-MAID will perform on December 18
http://www.merryrockparade.jp/

Solo Performance

BAND-MAID TOKYO GARDEN THEATER OKYUJI
Tickets now available to preorder at eplus
Date: January 9, 2023
Sales Period: November 5 – November 13 at 23:59
Tickets: https://eplus.jp/band-maid/

BABYMETAL Releases First Digital Track from 2023 Album 'THE OTHER ONE'

Ahead of the release of the new album THE OTHER ONE on March 24, 2023, BABYMETAL has announced that it will release five digital singles worldwide in October, November, January, February, and March. The first single, Divine Attack -Shingeki-, is now available to stream. 

Last year, following the tenth year of the group's activities, BABYMETAL announced that it would "seal" itself off from the world until further notice. In April 2022, THE OTHER ONE was announced as a way to relaunch the group in the METALVERSE, a piece of the virtual metaverse. 

The upcoming concept album will be inspired by the idea of a BABYMETAL that fans don't know, and a total of 10 songs have been discovered within THE OTHER ONE restoration project, with each song representing a specific theme based on 10 separate parallel worlds that the members have discovered. Divine Attack -Shingeki- is based on the parallel world of 'CAVALRY,' and follows the members of BABYMETAL down a road less traveled. Listening to the song conjures an image of a cavalry troop running into battle and into the future, and SU-METAL wrote the lyrics for the song–a first for the group.

BABYMETAL has finally broken the seal, and on January 28 and 29, 2023, the duo will hold the 'BABYMETAL RETURNS -THE OTHER ONE' 2-day concert at Makuhari Messe in Chiba. Starting in April 2023, the group will tour the UK and EU and the Swedish band Sabaton. More information will be announced in the near future, so keep an eye on social media and BABYMETAL's official website!

Information

THE OTHER ONE – BABYMETAL

Divine Attack -Shingeki- (First Single)

Release Date: October 21, 2022

Streaming Links: https://bm.lnk.to/DivineAttack

BABYMETAL Announces 2023 Concert, Concept Album to Release Simultaneously Worldwide

In October 2021, BABYMETAL announced that it would "seal" itself off from the world until further notice. After celebrating a decade of incredible music, fans were shocked by the announcement–but now, the group has announced a comeback. On January 28 and 29, 2023, BABYMETAL will hold the 'BABYMETAL RETURNS -THE OTHER ONE' 2-day concert at Makuhari Messe in Chiba. It was also announced that the group would release its first concept album, THE OTHER ONE, on March 24, 2023. The album will begin streaming worldwide on this date. 

On the official website, a legend map depicting all of BABYMETAL's future activities has been revealed. The upcoming concept album will be inspired by the idea of a BABYMETAL that fans don't know, and a total of 10 songs have been discovered within THE OTHER ONE restoration project, with each song representing a specific theme based on 10 separate parallel worlds that the members have discovered. Five singles will be available to download and stream worldwide, with one releasing in October, November, January, February, and March, prior to the album's release on March 24, 2023.

Presale tickets for the 2-day concert are now available to purchase. Official advance and general sales dates will be announced on the official website soon. Keep an eye on BABYMETAL as they return to rock the world once again!

Information

THE OTHER ONE – BABYMETAL (Concept Album)

Release Date: March 24, 2023

BABYMETAL RETURNS -THE OTHER ONE-

Dates: January 28 / January 29, 2023

Venue: Makuhari Messe International Exhibition Hall

Special Website: https://www.babymetal.com/theotherone/

BE:FIRST Starts Nationwide Tour Featuring 29 Shows in 17 Cities, Announces Additional Dates

30.September.2022 | MUSIC

BE:FIRST, the 7-member boy band created from winners of SKY-HI's 6-month "THE FIRST" audition, has continued to rise the ranks in the Japanese pop music world. The group has just started its first nationwide tour, 'BE:FIRST 1st One Man Tour "BE:1" 2022-2023,' which will see the boys perform 29 shows in 17 cities. The tour began in Hiroshima on September 23. 

The group released its first album, BE:1, on August 31, and it immediately reached the top slot on the Billboard Japan Overall Albums Chart. At the first stop on the tour, the boys performed plenty of tracks from the album, including Bye-Good-Bye which has been streamed over 100 million times. They also sang the album's leading track Scream and Message, their first love song. As BE:FIRST's popularity soars, the group announced two additional shows to take place in Tokyo and Osaka. Keep an eye on what they do next!

Additional Performances

January 26, January 27, 2023 – Yoyogi National Gymnasium, Tokyo

January 31, February 1, 2023 – Osaka-Jo Hall, Osaka

Rina Sawayama Releases Second Album, Announces First Japan Tour

22.September.2022 | MUSIC

Born in Niigata and living in London, international singer-songwriter Rina Sawayama released her second album Hold The Girl on September 16. The album is Sawayama's first in two and a half years and was written and recorded over the past year and a half. With an overarching pop sound, the album blends other genres expertly, from country, electro, and R&B to folk, metal, and rock. Hold The Girl manages to track Sawayama's personal growth, sharing her goals for the future while fully accepting her past. The album has already received rave reviews from media outlets worldwide, including Rolling Stone, The Times, DIY, The Mail on Sunday, and more. "Among contemporary pop stars, Rina Sawayama certainly stands out," The Times reads.

 

Sawayama has also announced that she will hold her first solo Japan tour in January 2023, stopping in Tokyo, Nagoya, and Osaka. Her performance at Summer Sonic 2022 was a smash hit, so don't miss your chance to see her live if you couldn't make it!

FEMM Releases Music Video for 'Falling For A Lullaby,' Announces European Tour Dates

Japanese electronic dance duo FEMM continues to impress. While still relatively unknown in Japan, the main track from their latest album Tokyo Ex Machina, We Got Each Other, managed to chart for 12 consecutive weeks on the major U.S. radio chart MEDIABASE/Activator Chart, rising as high as #48 as of June 22, 2022. 

The song Fxxk Boyz Get Money, ranked in the Top 10 on Billboard's World Albums chart and was also selected as the Best Indies Album at HMV in the U.K. The girls have continued to become popular in the U.S. in Europe. 

The pandemic forced the duo to cancel all festival appearances in the U.S. and Europe. Their recent album Tokyo Ex Machina took over five years to complete.

The music video for Falling For A Lullaby is finally here featuring Jenna Andrews, who previously worked with BTS on the video for Butter. Inspired by the current cyberpunk craze, this song is worth a few dozen listens at a minimum.

Falling For A Lullaby(Music Video)

In terms of visuals, FEMM has received high acclaim from Western media outlets such as Vice, Noisey, and DAZED. The new video was made along with BRDG, a close friend with many fans around the world, and YAMACHANG, one of the best laser artists in Japan. The work stands out for its incredible use of light and color.

Starting in July, the duo will embark on a European tour. The dates are listed below, so if you live in the UK, France, or Germany, don't miss this stellar show!

Rock Band ONE OK ROCK Announces North American Tour This Fall

Japanese rock band ONE OK ROCK has steadily been expanding its activities around the world, and fans in North America are in for a treat. The band will embark on its first North American tour in three years starting on September 19, 2022, with many shows featuring You Me At Six and Fame On Fire as starting acts.

ONE OK ROCK will also release its first single of 2022, Save Yourself, on June 24. Keep an eye out for when the band comes to your town!

Tour Schedule

09/19/2022 Austin, TX – Emo's

09/20/2022 Houston, TX – House of Blues

09/21/2022 Dallas, TX – House of Blues

09/23/2022 Orlando, FL – House of Blues

09/24/2022 Atlanta, GA – Tabernacle*

09/25/2022 Charlotte, NC – The Underground

09/27/2022 Philadelphia, PA – Franklin Music Hall

09/28/2022 Silver Spring, MD – The Fillmore

09/30/2022 New York, NY – Hammerstein Ballroom

10/01/2022 Boston, MA – House of Blues

10/02/2022 Montreal, QC – Club Soda

10/04/2022 Toronto, ON – Rebel

10/05/2022 Detroit, MI – Saint Andrews Hall*

10/07/2022 Cleveland, OH – House of Blues

10/08/2022 Chicago, IL – Concord Music Hall

10/09/2022 Minneapolis, MN – The Fillmore

10/11/2022 Denver, CO – Ogden Theatre

10/12/2022 Salt Lake City, UT – The Complex

10/14/2022 Portland, OR – Roseland Theater

10/15/2022 Vancouver, BC – Harbour Event Centre

10/16/2022 Seattle, WA – Showbox SoDo

10/19/2022 Oakland, CA – Fox Theater

10/20/2022 Los Angeles, CA – Hollywood Palladium

*Fame On Fire will not appear at these shows.

Japanese Pop Icon Kyary Pamyu Pamyu Announces Her First World Tour in Four Years

Following her storming sets at this year's Coachella Festival and the 10th anniversary of her debut album, globally celebrated Japanese Pop Icon Kyary Pamyu Pamyu will return to the UK for the first time in four years to perform at London EarTH Concert Hall on Friday 25th November. Tickets go on sale Friday 29th April at 10am via www.gigsandtours.com and www.ticketmaster.co.uk. Full European tour dates here.

The new UK show not only in celebration of the 10th anniversary of her debut album but will also see her perform tracks off her fifth album Candy Racer. The show also succeeds a major Japanese tour and dates across Europe.

Kyary Pamyu Pamyu began her career working as a model for a number of Harajuku-based magazines. Appearing on countless covers, her outspoken style and unique worldview have attracted global attention, with her captivating doll-like appearance inspiring many to learn more about Tokyo street fashion. Kyary made her music debut in 2011 with the mini-album Moshi Moshi Harajuku produced by Yasutaka Nakata of CAPSULE fame.

The music video for PONPONPON has been viewed over 180 million times. Her hit song Ninja Re Bang Bang was remixed by globally-renowned DJ Steve Aoki for the Nintendo Switch title Ninjala. In addition to her numerous performances around Japan, Kyary has also embarked on four successful world tours. In 2021, the artist's 10th debut anniversary, Kyary launched the new KRK LAB label.

Kyary Pamyu Pamyu continues to fascinate her fans with her free-spirit and original expressions that one would never imagine from her cute appearance. Her presence as an icon of "HARAJUKU," a combination of artist and fashion activities, has attracted attention from all over the world.

Information

KYARY PAMYU PAMYU

When: FRIDAY 25 NOVEMBER 2022

Where: UK, LONDON EARTH CONCERT HALL

TICKETS ON SALE FRIDAY 29TH APRIL AT 10AM

WWW.GIGSANDTOURS.COM / WWW.TICKETMASTER.CO.UK

 

KYARY PAMYU PAMYU IN EUROPE

http://cw.kyary.asobisystem.com

MON 14 NOV 2022 GERMANY, COLOGNE GLORIA

WED 16 NOV 2022 GERMANY, BERLIN COLUMBIA THEATER

FRI 18 NOV 2022 FRANCE, PARIS ÉLYSÉE MONTMARTRE

SUN 20 NOV 2022 SWITZERLAND, ZURICH PLAZA