Coji-Coji and Sunday Brunch to Release First Limited Edition Christmas Cakes
Momoko Sakura's popular character Coji-Coji and the Shimokitazawa branch of Sunday Brunch are teaming up for some exclusive Christmas cakes! Preorders are scheduled to open on November 1, 2022. 
Currently, a special collaboration menu featuring Coji-Coji is available at Sunday Brunch Shimokitazawa. This has been a huge hit, and on weekends, young people in their 20s and 30s can be seen lining up for a seat. The newly-announced Christmas cakes are a first for the popular collab, and fans won't want to miss snagging one for their holiday table. Sunday Brunch will also release its standard Christmas cakes alongside these new additions. 
Coji-Coji's Christmas Fruit Tart
This lovely shortcake is decorated with Coji-Coji's face and scrumptious fruit. The strawberry filling suits the outer layer perfectly. 
[Price] Small (12cm): ¥3,800 (Tax Included) / Large (15cm): ¥4,800 (Tax Included)
*Must be picked up at the Shimokitazawa location. Delivery is not available. 
*Preorders open from November 1 until December 18 both online and in-store. 
*Limited quantity available.
Strawberry & Gingerbread Man
This Christmas shortcake blends strawberries, blueberries, and a delightful gingerbread man. The fluffy sponge will melt in your mouth, and this is a must-have for strawberry lovers!
*Must be picked up at the Shimokitazawa store.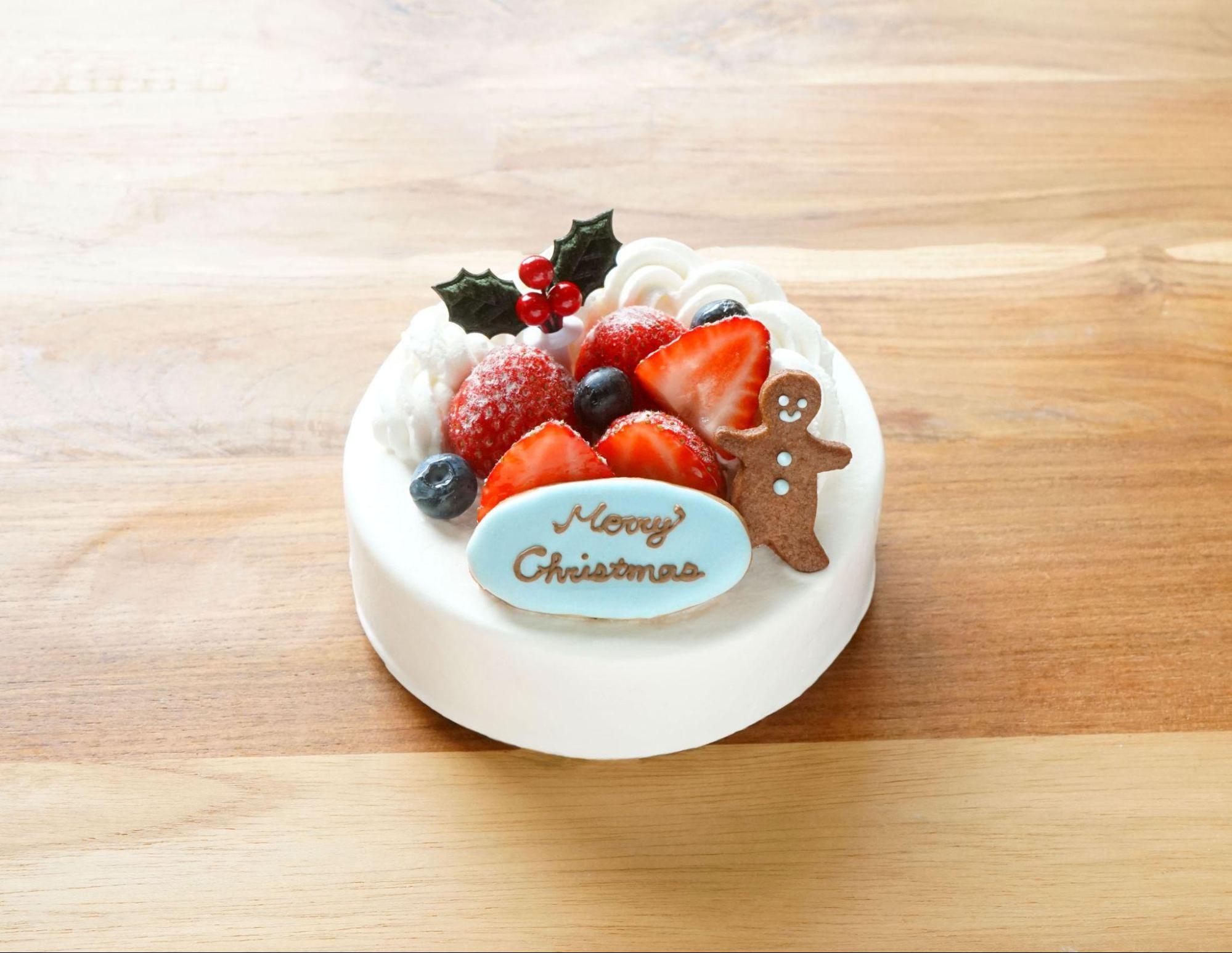 [Price] Small (12cm): ¥3,600 (Tax Included) / Large (15cm): ¥4,600 (Tax Included)
Information
Coji-Coji x Sunday Brunch Christmas Cakes
Collaboration Cafe
Venue: Sunday Brunch Shimokitazawa (2F, 2-29-2 Kitazawa, Setagaya-ku, Tokyo) 
Online Store: https://sundaybrunch.stores.jp/
RELATED ENTRIES
Hat Brand CA4LA Releases Chainsaw Man Collaboration Collection

CA4LA has announced a collection of hats inspired by the Chainsaw Man anime! The lineup includes three items: a marine cap, a bucket hat, and a cap, all of which incorporate images of popular characters from the series. Fans won't want to miss adding these to their fashion lineup!

Collection

 

MARINE CAP

With a bit of samurai flare, this hat's brim is finished to look like the cutting edge of a sword with a silver leather tip. This is for more daring fashionistas and will certainly make an impact!

HAT

This bucket hat incorporates the image of Chainsaw Man himself cutting his enemies in two. The orange color scheme on the brim is also worth noting.

CAP

The design of this cap was inspired by the adorable Pochita. The zipper decoration around the brim resembles a chainsaw, and the size-adjustable cord is reminiscent of Pochita's tail! 

Find these exclusive hats at CA4LA stores nationwide and online on December 9!

Information

Chainsaw Man x CA4LA

Release Date: December 9, 2022

Godiva Japan Launches Animal Crossing: New Horizons Valentine's Day Collection

Godiva Japan has announced an exclusive collaboration with Animal Crossing: New Horizons for Valentine's Day 2023! Products in the collection will be available in limited quantities and for a limited time starting January 6, 2023 at Godiva stores nationwide, Godiva Online, the Godiva cafe, and convenience stores nationwide.

 

Fans of chocolate and this beloved Nintendo Switch title can find unique assortments of tasty treats decorated with images of different characters and logos from the Nintendo Switch game. Certain bundles also come with an original pouch, and some assortments are only available at certain locations or at convenience stores nationwide. A total of six items will be available.

 

These products will also be sold in an original collaboration-only box depicting Godiva's 2023 Valentine's Day collection theme, a merry-go-round, and characters from the game.

~Godiva meets Animal Crossing~

Heart

Leaf Symbol

Chocolate with Game Logo

Tom Nook

Timmy and Tommy

Isabelle

Dom

Marshall

Rosie

Godiva meets Animal Crossing Assortment (6 pieces)

Godiva meets Animal Crossing Assortment (6 pieces) with Original Pouch

Godiva meets Animal Crossing Assortment (9 pieces)

Godiva meets Animal Crossing Assortment (9 pieces) (Events Only)

Tom Nook

Isabelle

Timmy & Tommy

Chocolate with Game Logo

Godiva meets Animal Crossing Assortment (4 Pieces) *Convenience Store Exclusive

Godiva meets Animal Crossing G Chocolate Assortment & Tin (7 pieces)

©2020 Nintendo

Information

Godiva meets Animal Crossing

Release Date: January 6, 2023

Where to Buy: Godiva stores nationwide, Godiva Online Shop, Godiva Cafe, Convenience Stores nationwide

*Limited quantities available

Official Site: https://www.godiva.co.jp/

LILY BROWN Releases Fifth Collaboration Item with LE SSERAFIM's Sakura Miyawaki

In April, the LILY BROWN brand began a new project featuring LE SSERAFIM's Sakura Miyawaki as a model.

 

The fifth item in the collaboration series will go on sale on December 9 at stores nationwide, at the official online store, and at a number of other online shops like USAGI ONLINE and ZOZOTOWN.

 

Ahead of release, a special page was opened on the official online store and USAGI ONLINE on December 2. Pre-orders opened the same day.

Fashion lovers will want to buy this layered item consisting of a mini dress made of shirt material and a cami slip.

 

The mini-length shirt dress has a large sharp collar and tucked sleeves for a fashionable look, while the cami dress has a corset-like design on the front, and the stitchwork gives it plenty of body.

 

The skirt is delicately embroidered with Miyawaki's original hand-drawn flowers, and the generous amount of fabric creates a flattering silhouette for any body type.

Ad Museum Tokyo and Felissimo Collab on Nail Stickers Inspired by Edo Period Trends and Showa Style

Felissimo's Museum Department has teamed up with Ad Museum Tokyo to release a collection of nail stickers inspired by famous works of art from the Edo Period. They also released an incense collection inspired by classic matchbooks on November 21, 2022. Nishiki-e is a type of Japanese multi-colored woodblock printing, and those interested in traditional art will love showing off their new style with these easy-to-apply stickers. 

Edo Trend Nishiki-e Gel Style Nail Stickers

One Hundred Beauties from Famous Places of Edo – Ninghocho

Sixteen Female Sennin

Keisei Oyodo – Ichikawa Masunojou

Showa Modern Incense with Matchbox Labels

These incense sets were inspired by classic matchboxes, each featuring ads from the time. Each stick burns for about 10 minutes, making them perfect for use in your spare time. After using the incense, these are perfect for using as boxes for jewelry or other small items!

Felissimo Releases Items Inspired by Popular Manga Series Ranma ½

On November 16, Felissimo unveiled a collection of original items inspired by Rumiko Takahashi's popular manga series Ranma ½ on their official website. These items were made for adults to enjoy, and the collection includes plenty of apparel and items for the home. Whether you're looking for pajamas, tote bags, or pillowcases, Felissimo's got you covered!

Naruto Patterned Pajamas

These soft pajamas are perfect for the cold winter months and were inspired by the PJs Ranma wears in the series.

Fluffy P-chan Pouch

With his yellow bandana and fluffy body, this P-chan pouch is sure to brighten up your desk at school or work!

Pouch

This scene of Ranma walking along the fence while Akane follows on the ground is one of the most well-known moments in the series. Now, fans can relive it each time they reach for a pencil or pen.

Sweatshirt

This romantic moment from the series has been immortalized on a sweatshirt perfect for adults to wear with muted colors and a sleek design.

Pass Case

These pass cases are perfect for your Suica card and are each printed with popular battle poses from the series. 

2-WAY Earrings with Tassels

These earrings feature designs of Ranma, Akane, Shampoo, and P-chan. The tassels can be removed for a more subtle look. 

Reversable Tote Bag

This tote bag features a mature black design with a print of Ranma and friends. It's also reversible, with the opposite side a sleek white with flowers. This bag easily fits A4-size items.

Character Nail Stickers

Decorate your nails with Ranma, Akane, and Shampoo! These gel-like nail stickers are decorated with gold and silver foil. Tip: paint your nails different colors for unique effects!

 

Socks

These socks can be paired with a number of styles. While they were inspired by the classic manga series, there's no reason you can't wear them with a proper dress for a night out!

 

Pillowcase

These pillowcases will bring some fun to your bedroom! Whether you want something romantic or cute, snag one of these while you can.

monopo Collaborates with Kyoto-Based Brand Shokuraku Asano to Share Traditional Japanese Textiles with the World

Global creative agency monopo is teaming up with Shokuraku Asano, a 100-year-old obi maker from Kyoto! The company is working to create a digital experience for interested viewers, sharing each artisan's personal story. Those who love Japanese culture are welcome to enjoy traditional Japanese crafts in an entirely new way!

Using a one-of-a-kind QR obi, a new storytelling method is showing off the hard work and love that goes into the company's textiles. A special website and video allow interested viewers to experience the process of making an obi digitally, simply by using their smartphone. Even those unable to visit Japan to see these obi in person can dive into the history of the area's textiles and become more acquainted with one part of Kyoto's manufacturing culture. 

Kyoto was the ancient capital of Japan. The city is known for its history and preservation of Japanese culture, and prior to the pandemic, the city was constantly filled with visitors from around the world anxious to learn more about the country's traditional culture. When the pandemic hit the world in 2020, it changed the city forever–tourists disappeared and the city became much quieter. Now that Japan has opened its borders, however, tourists are returning in droves.

While Shokuraku Asano upholds tradition, it also seeks to leave a mark on new generations by embracing new technology. This unique project is worth noting, so get your smartphone out and start learning!

We applaud monopo's attempt to share this incredible traditional Japanese craftsmanship with people around the world. 

Chiikawa and Sanrio Characters Collaborate for Special Merch Collection

A collection of must-have goods featuring Chiikawa and Sanrio characters has been announced! The items will be available at the Sanrio Online Store on November 24  and Sanrio shops nationwide, including department stores, starting November 25. The popular character Chiikawa, created by illustrator nagano, has been invited into the world of Sanrio, and the results are perfectly adorable. The merch lineup includes 21 items from plush toys to acrylic keychains. Purchase bonuses will also be given to those snagging any of the items on offer.

Goods at a Glance

This marks the second collaboration between Sanrio characters and Chiikawa. Fans will want to grab these limited-edition goods, including fluffy plush toys, a mascot-style brooch set, pouches, tote bags, clear folders, and handy cases perfect for storing small items. These items feature completely original designs. Which one is your favorite?

Short Film Featuring Star Wars Character Grogu and Studio Ghibli's Dust Bunnies Released on Disney+

Over the past few decades, Star Wars has become one of the most beloved properties with fans around the world.

 

Grogu, known by many fans as Baby Yoda, first appeared in The Mandalorian, a series on Disney+ currently celebrating its third anniversary. 

 

With his mysterious background and incredible use of the Force, the tiny and adorable character became a hit with fans around the world, quickly making him one of the most popular characters in the recent Star Wars series.

 

World-renowned Japanese animation studio Studio Ghibli recently produced a short animation starring Grogu and Makkuro Kurosuke, also known as the Wandering Soot or, in the title for the short, Dust Bunnies. The characters first appeared in the film My Neighbor Totoro.

 

Studio Ghibli director Hayao Miyazaki and producer Toshio Suzuki have long been friends with Lucasfilm president Kathleen Kennedy, who readily agreed to produce the short as a symbol of their longstanding friendship. The short was directed by Katsuya Kondo.

Will you give this a watch on Disney+?


(C)2022 & TM Lucasfilm Ltd.(C)2022 Studio Ghibli.

Information

Zen – Grogu and Dust Bunnies

Streaming: November 12, 2022

Available on Disney+

Family Restaurant Coco's Announces Collaboration with Uta no Prince-sama: The Movie

Japanese family restaurant chain Coco's has announced a new collaboration with Uta no Prince-sama: The Movie! The campaign will begin on November 15.

Coco's Original Clear Folder

Phase 1: November 15 – November 28

Phase 2: November 29 – December 12

Phase 3: December 13 – December 26

*Sample images only. 
*Available while supplies last.

Menu

ST☆RISH Dream Cocotte Hamburger Steak

UUUU Wild Mud Pie

SAMURAIZM Sweet Anmitsu

Lottery Prize: Coco's Original Big Towel

Collab Menu Purchase Bonus: Original Postcard with QR Code including Special Christmas Voice Message

Life-size Panels

Exclusive In-Store Goods

Coco's Original Acrylic Stand (7 varieties, Random)

Coco's Original Pin (7 varieties, Random)

Goods Available Online

180cm Banner / B2 Tapestry

The campaign will feature a collaboration menu inspired by the idol group ST☆RISH, which appears heavily in Uta no Prince-sama: The Movie, along with collaboration desserts inspired by the songs UUUU and SAMURAIZM  that appear in the film. Those ordering any item from the campaign menu will receive an original Coco's clear folder.

 

Shinomiya Natsuki (Taniyama Kishow), Ichinose Tokiya (Miyano Mamoru), Ajima Cecil (Toriumi Kousuke), Jinguji Ren (Suwabe Junichi), Ittoki Otoya (Terashima Takuma), Kurusu Sho (Shimono Hiro), and Hijirikawa Masato (Suzumura Kenichi). Fans will want to keep an eye out for life-size panels at select locations and exclusive merchandise!

 ©UTA☆PRI-MOVIE ST PROJECT

Information

Coco's x Uta no Prince-sama: The Movie Campaign

Start Date: November 15, 2022

*This campaign will take place at all 511 stores except the Yamaguchi Ube Airport location.

Details: https://utaprist.cocos.jp/

ONE PIECE FILM RED and Cake.jp Collaboration Vending Machine Appears in AEON MALL Locations

Cake.jp, a website specializing in cakes and sweets, is installing special vending machines in AEON MALL locations! These machines are part of a collaboration with ONE PIECE FILM RED.

The collaboration vending machines will offer canned cakes inspired by Luffy, Uta, and Shanks from the popular film. Each cake tin features original designs by Cake.jp and each character's cake has a unique flavor. 

Flavors

Luffy: A refreshing cake with orange cream, jelly, blueberry cream, and more.

Uta: A colorful cake with a variety of flavors including melon, lemon, orange, and blueberry cream.

Shanks: A chocolate-based cake with berry cream and a perfect balance of richness and acidity.

Collaboration Vending Machine

While the Cake.jp official website sells these cakes exclusively in a set of three, the collaborative vending machine allows customers to purchase them separately. Fans of all ages will love these tasty treats, so after seeing the film why not pick up some of these sweets for yourself or a friend?

 

(C)尾田栄一郎/2022「ワンピース」製作委員会

Nijigen no Mori Announces New Goods and Menu Items in Fifth Collaboration with Demon Slayer

On November 19, Nijigen no Mori, an amusement park located on Awaji Island in Hyogo, will begin its fifth collaboration with the popular anime series Demon Slayer. New merchandise, such as acrylic keychains and long-sleeve t-shirts, and menu items will be available, so fans shouldn't miss their chance to visit!

A limited number of hand warmers with an original illustration of Kyojuro will be given to guests who participate in the Natagumo Mountain Night Walk event after November 19. Don't let the cold weather stop you from taking part in the festivities!

New Merchandise

Rectangular Pin

Acrylic Keychain

Acrylic Stand

Long-sleeve T-shirt (White/Black)

The new lineup of original goods includes pins, keychains, acrylic stands, and long-sleeve T-shirts featuring beloved characters from the series. All illustrations were provided by ufotable exclusively for this collaboration event.

New Menu

Tanjiro's White Dashi Udon

Kyojuro's Spicy Korean Soup with Shredded Beef

Drinks: Original Clear Bottle (8 varieties)

Exclusive Lunch Mat

Hand Warmer with Original Design

The Demon Slayer food truck will offer warm food and drinks for the winter season. The White Dashi Udon features tasty noodles and yams, while Kyojuro's collaboration dish is filled with spiciness. Hot drinks will be served in a special way–just pick a clear bottle featuring your favorite character!

Those who purchase items from the collaboration menu will receive a coaster with an exclusive design, and those who want to purchase a special lunch mat can do so for only ¥650. Come enjoy the cold months with your favorite characters!

©吾峠呼世晴/集英社・アニプレックス・ufotable

Snidel Home Unveils Harry Potter Homewear Collection

Through a partnership with Warner Bros. Consumer Products, loungewear brand Snidel Home has announced a limited-edition Harry Potter collection. Items will go on sale starting November 11 and will be available at participating stores nationwide and online at USAGI ONLINE and the Snidel Home official website. 

Collection

 

Each piece features embroidery inspired by the four Hogwarts houses and the beloved Golden Snitch. Enjoy the magical Harry Potter Collection with its college-style, vintage-inspired designs, and magical touches.

WIZARDING WORLD characters, names, and related indicia are © & ™ Warner Bros. Entertainment Inc. Publishing Rights © JKR. (s22)