Let's find out the fabulous aspects of Oita Prefecture! Check out the events which will be held in October.
Oita Prefecture in Kyusyu is known as the number one hot spring prefecture in Japan. Oita Prefecture is called "the hot spring prefecture – Oita" and the amount of hot spring water and the number of hot springs known to be No.1.
. The PR video "Shinfuro" broadcasted two years ago and last year gathered much attention but Oita has many other amazing sightseeing spots, indigenous products and delicious foods. In this column, I will introduce to you the sightseeing spots, products, art facilities and culture of Oita Prefecture.
-Sightseeing spots and experience in Oita-
Oita Prefecture Kokuto Peninsula Usa Area
Rokugo Manzan located in Kokuto Peninsula has been open for 1300 years. In commemoration of this, Kyusyu National Museum will hold a special exhibition which introduces the mystery of Rokugo Manzan which is known as the birthplace of syncretism of Shinto and Buddhism. The exhibition exhibits rare cultural assets including four important cultural properties. One of the important cultural properties is the Buddhist statue "Monju Senji Monju Bosatsu" which can be seen only once every 12 years.
▼Information
Rokugo Manzan Special Exhibition
Date: September 13th 2017 (Wed.) to November 5th (Sun.) (eight weeks)
Venue: Kyusyu National Museum Cultural Exhibition Room
Disclosing hidden cultural assets / light ups and special events
At each temple of Rokugo Manzan, a light-up event (two hours) will be held from the 28th of October to the 9th of December and food such as soup will be offered to visitors. Traditional performing arts such as Kagura can also be seen.
-Oita Prefecture's sightseeing spots which are suitable for the autumn touring season-
"Yabakei" and "Kurushimashi Teien" are known as very famous sightseeing spots in Japan. "Yabakei" is the beauty spot of Nakatsushi. "Ichimoku Hakkei"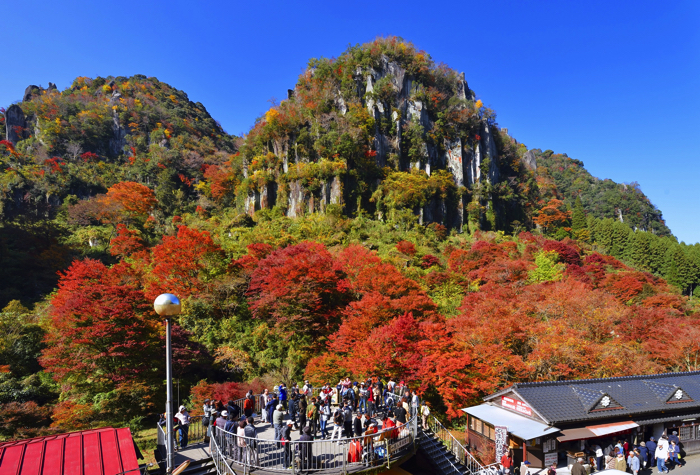 located in the center of "Yabakei," a famous spot which is surrounded by huge rock mountains. The contrast of the rocks and autumn leaves is a must-see.
 "Goryo Momiji" can be seen when the autumn leaves in Yabakei fall. The sight of the tunnel of red leaves and the carpet of colorful leaves is so beautiful.
 "Kyu Kurushima Teien" is a beautiful sightseeing spot in Kusumachi. The garden was created in 1829 and consists of three small gardens. It is very exciting to think about the history of the garden while walking through it.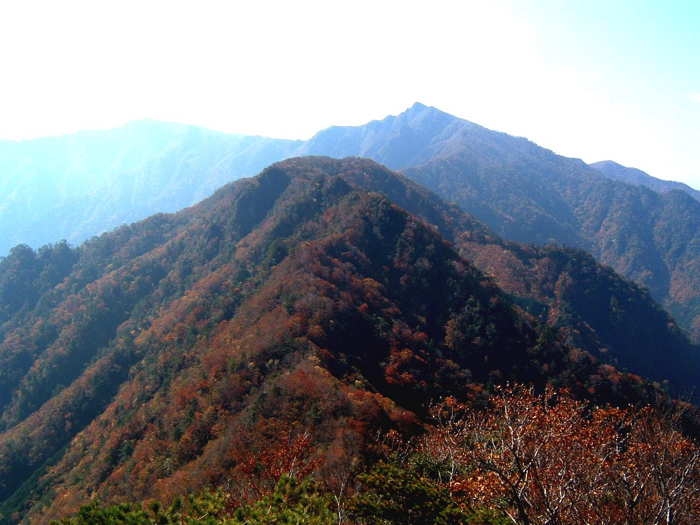 "Sobo / Katamuki / Okue" located in Oita Prefecture and Miyazaki Prefecture is a treasure spot of rare animals and has a beautiful view and untouched nature. Many people are awed by its unique view which changes depending on the season. The location becomes very beautiful especially from mid October to late October. The location was designated as a UNESCO Eco Park which is an ideal place where nature and human society exist together in a peaceful manner.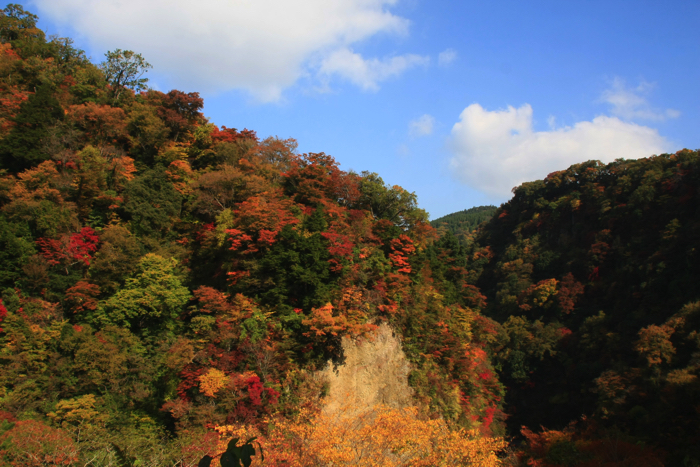 "Kyusuikei" in Kusugun Kusucho has a huge cliff with a length of about 2km. Natural forests and beautiful canyons can be seen in this spot. The view from "Kue 'Yume' Otsuribashi" is very beautiful. The spot is packed with many climbers during the autumn season.
The Mini Yonku (Japanese racing car toy) club will hold a race (elementary school children can participate in this event)
"THMF Hitahashiri," a Mini Yonku club set up a racing course in Hitashi. Elementary school students can use the racing course for free and enjoy this event together with adults. The racing course holds an event where visitors can play with Mini Yonkus handed out for free. An "elementary school students-limited race" is held every Sunday from 14:00 and a night race is held every second and fourth Saturday.
▼Information
Elementary School Students-limited race
Address: 273-1, Mizumecho, Hitashi, Oita Prefecture
Date: 15:00 to 20:00, 10:00 to 21:00 – Sat, Sun and holidays, Mon – holiday
TEL: 080-1776-1208
-Sports experience in Oita-
Rugby is gaining much popularity nowadays!!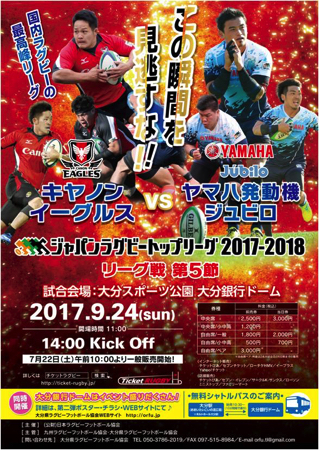 Oita Prefecture is where the final match of the world rugby tournament is to be held. The 5th match of the league of Japan Rugby Top League 2017-2018 will be held at Oita Ginko Dome on the 24th of September (Sat.). Many people are awaiting a fierce battle.
▼Information
Japan Rugby Top League 2017-2018 Season League 5th match
Date: September 24th, 2017 (Sat) 14:00 kickoff
Venue: Oita Sports Park Oita Ginko Dome / 1351 Yokoo, Oitashi, Oita Prefecture
Oita×Kumamoto "Baitoku Campaign" will be offered!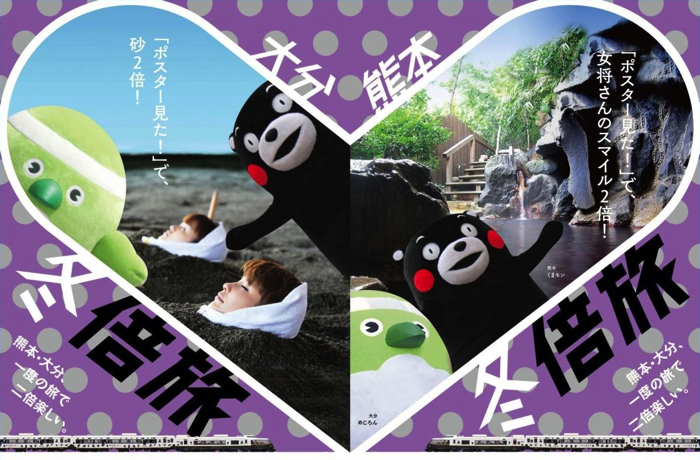 After the earthquake of Kumamoto, Oita and Kumamoto are working actively to re-establish the areas. So, Beppu and Aso will hold "Baitabi Campaign"
On October 3rd (Tue.) Kumamon and Mejiron (mascots) will appear in the Kansai area. They will participate in events such as in central square in the JR Osaka Station City Atrium.
▼Information
Baitabi Campaign
TEL: 097-534-3500
-Foods and events of Oita-
"Oita Kurafeshu 2017" is an event at which shochu (Japanese alcohol) and nihonshu (Japanese sake) can be enjoyed.
"Oita Kurafeshu 2017" is an event created under the concept of "the entertainment of sake" at Osakashi kitaku / Hotel Hankyu International.
They will offer full-fledged shochu and nihonshu made by various kuramotos (sake breweries). You can enjoy the allurement of Oita through Oita's foods and drinks including sake and local dishes.
▼Information
Oita Kura Feshu 2017
Date: October 13th, 2017 (Fri.) 19:00 to 21:00 (reservation 18:15~)
Reservation due date: September 25th
Fee: 3,900 yen
Venue: Hotel Hankyu International 6th floor "Zuicho" / 19-19, Chayamachi, Kitaku, Osaka
 "Oita Kabosu Fair in GINZA" at which food items using kabosu (a type of citrus fruit) can be enjoyed.
This fair which offers kabosu produced in Oita will be held at Ginza. Bars, Japanese cuisine restaurants, sushi restaurants and French restaurants will be participating in the event. Let's enjoy kabosu dishes created by topnotch restaurants in Ginza.
▼Information
Oita Kabosu Fair in GINZA
Date: Septemeber 15th, 2017 (Fri.) to 30th (Sat.)
Eat and shout to release your stress! Yufuin Ushigui Zekkyo Taikai will be held.
"Yufuin Ushigui Zekkyo Taikai" has been held 43 times. After enjoying BBQ using lots of "Hoshu Yufuin Gyu"(beef) produced in vast grass farms, participants scream at the top of their lungs. The winner of this contest will be judged according to the volume of the scream and on how unique the content of the scream was.
▼Information
Yufuin Ushigui Zekkyo Taikai
Date: October 9th, 2017 (Mon. / holiday) fixed number / 600 persons
Fee: 3,500 yen – older than junior high school students / 2000 yen – below elementary school students
Venue: Yufushi, Yufuin Machikawagami, Namiyanagi Bokujo
TEL:0977-85-4464
Schedule
◎9:00 selling entrance tickets
◎10:30 open
◎11:30 collecting the participators of the shouting event
◎12:00 shouting event
◎13:00 lottery event
◎14:00 results announced and and / awards ceremony
"Oita Bungo Ushi's" support shop "Sumibi to Wine"
"Sumibi to Wine" is a meat/wine specialty store which has eight branch stores in Osaka, Kyoto and Tokyo. Oita Bungo Ushi (beef) is the brand beef of Oita which is healthy and has a high-quality taste, smell and texture. The "Kuju Yume Pork" and moule they offer are both produced in Oita.
▼Information
Sumibi to Wine Kyobashiten
Address: K Buratto, Keihan Kokabashi, 1-5-1, Higashinocho, Toshimaku, Osakashi, Osaka
TEL:050-5570-6706
The sky hot spring "CITY SPA Tenku" from which Beppu Port can be seen
"CITY SPA Tenku"
"CITY SPA Tenku" is a hot spring facility in "JR Oita City" near JR Oita Station. Since the hot spring is located 80m above ground, you can enjoy the view of Beppu Port, Takasami Mountain and Tsurumidake. They offer a natural, brown-colored hot spring which is called "natrium ammonium hydrogen salt hot spring." The hot spring has a smooth texture.
▼Information
CITY SPA Tenku
Address: 19F-21F, JR Oita City, directly connected with Oita Station, 1-14, Kanameshi, Oita
TEL:097-513-2641
Let's enjoy the wonderful autumn in Oita that has many gorgeous spots.