With just a small bit of ingenuity, turn everyday food into something cute using Kaori's recipe series! With a few simple ideas, an ordinary recipe magically transforms into a cute dish.
 This time, I will introduce to you "Rilakkuma Henshin Halloween Plate."
1: Ingredients
Rice / 180g
Mentsuyu (Japanese noodle soup / half a cup
Slice cheese / two slices
Cheddar slice cheese / one slice
Thinly sliced ham / one slice
Seaweed / 1/2 sheet
Sausages / two
2: Make Rillakuma-colored rice (90g) by adding and mixing mentsuyu with the cooked rice. Mix it in well so all the rice is the same color.
 3: Mentsuyu rice→Rilakkuma
White rice→Korilakkuma
Separate the rice into two groups, one to make the face (80g) , and the other to make the ears (5g). Use saran wrap to form the rice into the correct shape.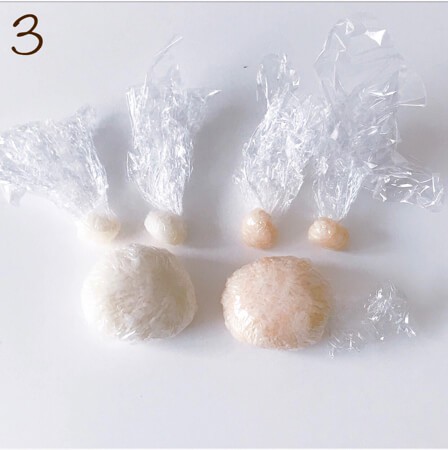 4: Boil the sausages.
Cut the slice cheese (5mm) and roll it at an angle on the sausage.
When you roll the cheese, melt the cheese with your hand's heat and attach to the sausage so that the cheese will look like the bandage of a mummy.
Place the cheese cut in a circle on top of the blank space and place the seaweed on top of the circular cheese. This will become the eyes.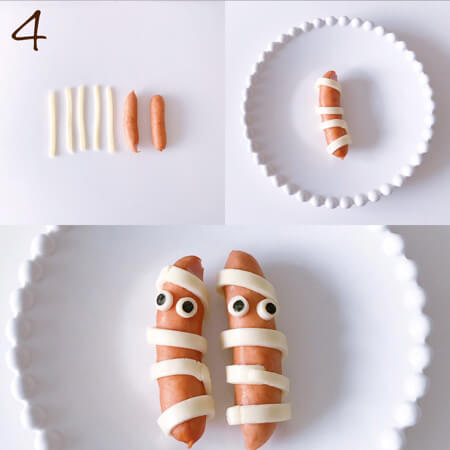 5: Fix the ears using fried pasta (refer to "Purin Chan no Milk Pudding"). Attach the cheese to the mouth and ears and make the eyes and mouth by using the seaweed. As in step 4, complete Rilakkuma by using the slice cheese and placing the parts so everything is balanced.
6: Place a hat on Korilakkuma using the seaweed
Cut the seaweed like in the photo. If the seaweed sticks up hold it down and into place by using some saran wrap.
After attaching the seaweed, fix the ears using fried pasta. In the same way as you did for Rilakkuma, make the eyes and mouth with seaweed and ears with sliced ham. Use a toothpick to cut the slice of cheddar cheese. This will for the head parts of the pumpkin. Now, place this on top of the hat.
Voila! It is now complete. The combination of mentsuyu rice and cheese is fantastic, isn't it?  This is a great recipe to use at a Halloween party or a Halloween bento box.
 Kaori also invites you into her world of character-themed rice dishes in her recipe series! Please check out her Instagram where she has uploaded many pictures of her character dishes!
■profile
Kaori Kubota (@kaopan27)
I live in Hokkaido and I love to make character-shaped meals, desserts and breads.
I enjoy making character foods because I want to see my family smiling,
The character foods and character bento boxes are introduced in my Instaglam page→@kaopan27