【Kyoto Stroll】 Two travellers, one day of tourist spots, gourmet food and activities in Kyoto!
A stroll around Kiyomizu-dera Temple
Looking for somewhere to enjoy the wonderful atmosphere of Kyoto to take photos, the girls headed to the area around Kiyomizu-dera temple. They made their way to Ninen-zaka and Sannen-zaka – two of Kyoto's most beautiful streets. Whilst peeping around the souvenir shops on Ninen-zaka and Sannen-zaka, they soaked up the beautiful atmosphere.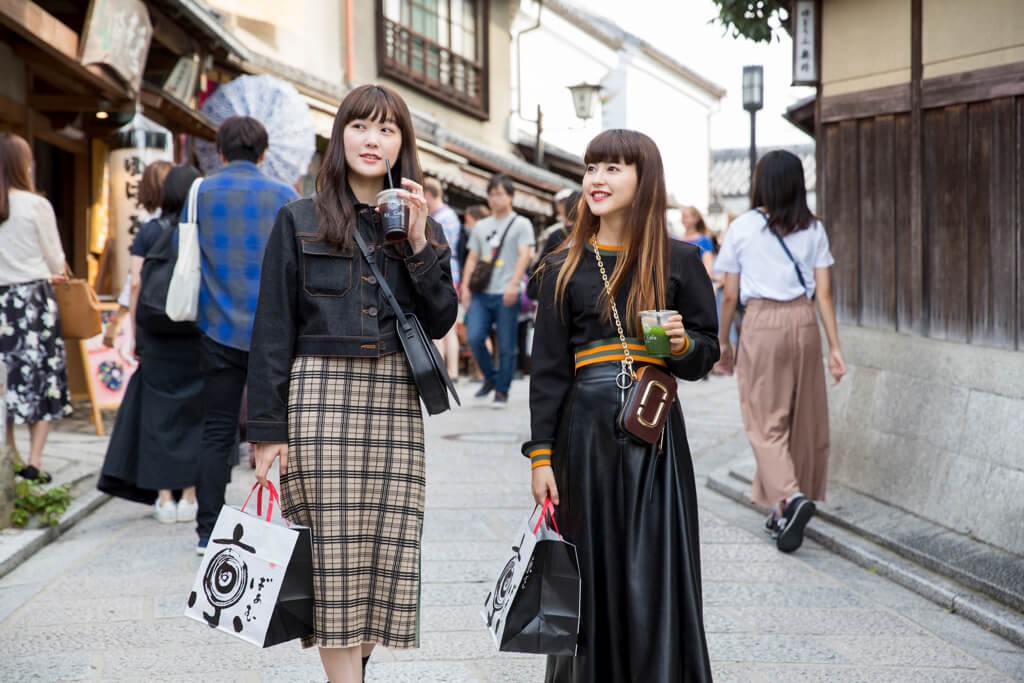 You can find many of the most beautiful street views of Japan in Kyoto – wherever you choose as your photo spot, your photo will look good! If you want to take a really wonderful photo, check out Yuri and Hikari's photo spots!
The girls pause to catch their breath – after coming all the way to Kyoto, of course you have to try the tea!
Kyo Baum Kiyomizu is located near Ninen-zaka. Here, the girls took a break to drink some green tea, which they felt was moderately sweet. Kyo Baum Kiyomizu was the perfect place to cool down after all that walking!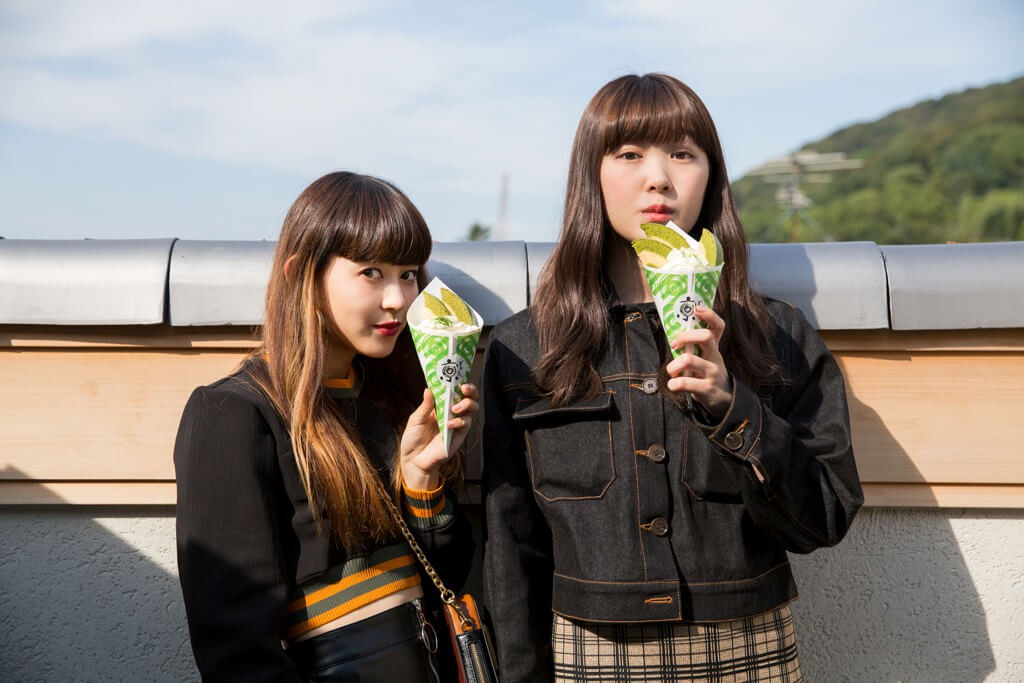 If you have room in your stomach then you might want to try a matcha-flavoured Baumkuchen (log cake) at "Kyo Baum". The girls recommend the Kyo Baum Cornet (¥540), which is full of "Kyo Baum". The log cake is coated in matcha fondant and coated with sugar. This is a popular Kyoto souvenir.
Yuri: The combination of fresh cream and the Kyo Baum is delicious〜
■Information
Kyo Baum Kiyomizu store 京ばあむ 清水店
Address:2-229, Kiyomizu, Higashiyama Ward, Kyoto
Opening hours: 09:00 〜 18:00 (Opening hours vary each season)
A hidden gem of a photo spot!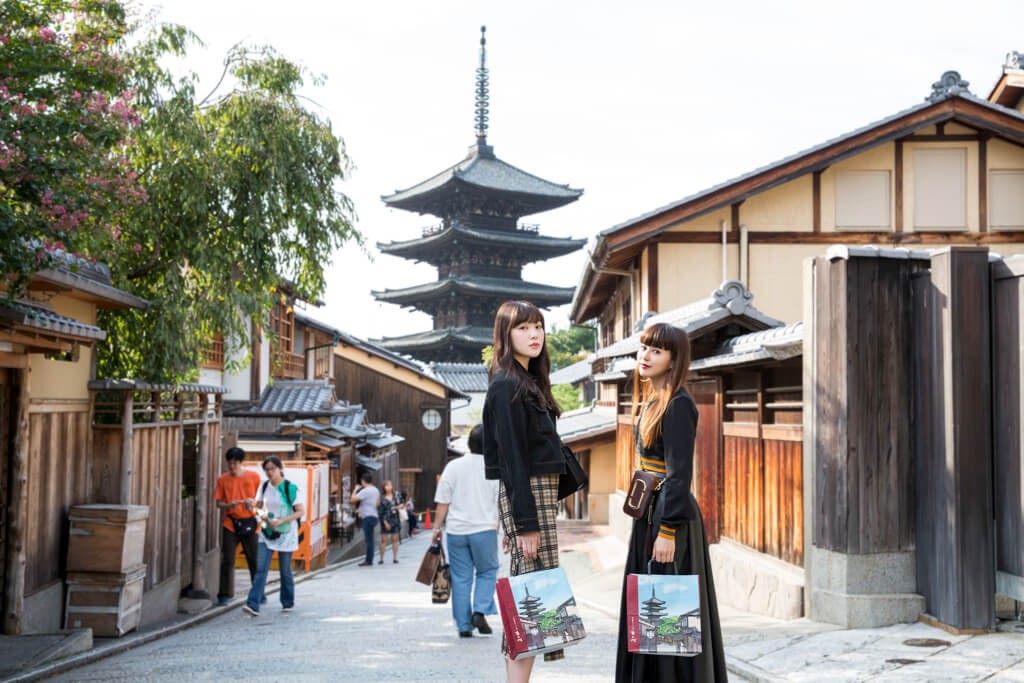 A quick stop at the shop to take a photo and they're off again!
With the scenery of the streets of Kyoto and the Tower of Yasaka in the background, this photo spot is a very valuable discovery by YuRi-chan and Hikari-chan!
To end the day: A stroll along Kamo river, Gion
When you ask of a typical "Kyoto" spot, the answer would be Gion. Before returning home, our two travellers stopped by Gion, absorbing the typical Kyoto street view and walking along the Kamo river.
It doesn't matter where you take a photo in Kyoto, it will always come out as a beautiful image. Check out Hikari-chan and YuRi-chan's SNS threads to see pictures of their time in Kyoto.
Hikari: This is the second time I have been on a stroll around Kyoto but this time I had a completely new experience. I looked around the Otabe factory, experienced making traditional Otabe sweets by hand and much more – I made the most out of a day in Kyoto! I've always been a fan of matcha and I eat it a lot, but to actually eat matcha treats in the homeland of matcha makes me feel extremely satisfied!
Yuri: Kyoto is the best place for matcha treats! There are so many different types of delicious sweets! The freshly made Yatsuhashi and the Kyo Baum were so delicious – I could easily keep eating and loose track! Making Yatsuhashi by hand was a fun experience! Although we only spent one day in Kyoto, my heart and stomach were completely satisfied! I love to eat – this was the best girls holiday ever! I want to visit Kyoto again 〜♪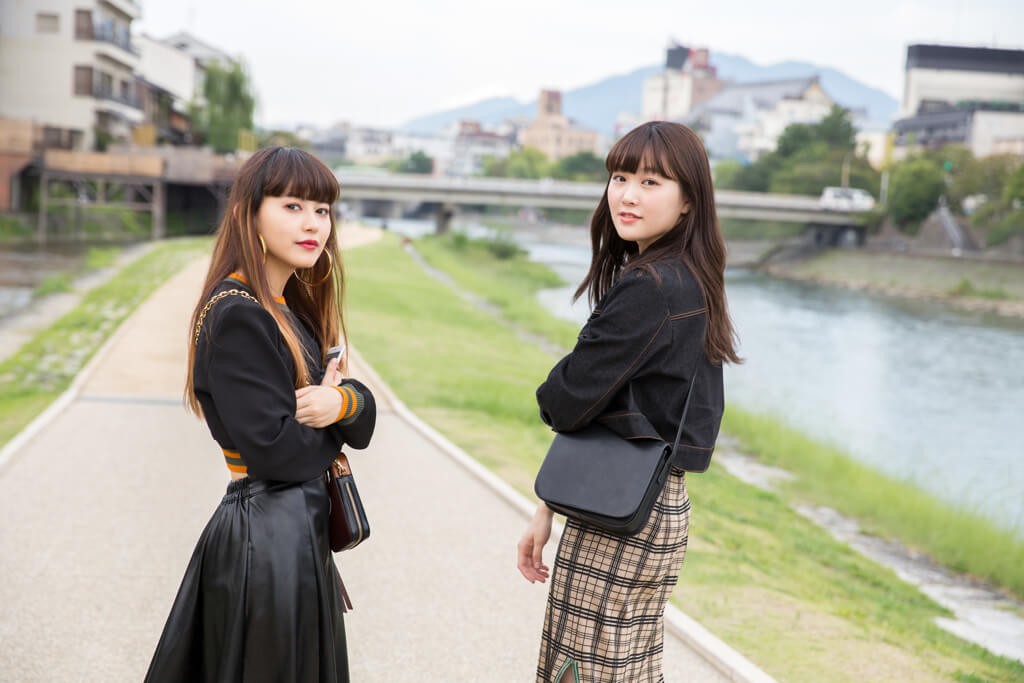 From tasting Kyoto-limited sweets and making Yatsuhashi to visiting tourist spots, Kiyomizudera temple and the Kamo river, this day was packed with adventure! What did you think? After spending a day with the girls in Kyoto, how about going yourself?
Model:
Hikari Shibata Instagram:@_sbthkr
Hikari-chan is active in many popular fashion magazines. She has both a transparent and fresh impression and her own individual fashion sense. She shares a variety of different aspects of her lifestyle on Twitter, Instagram and other SNS sites. She receives a tremendous amount of support from young girls of the same generation. Alongside her modeling career, she is also a photographer. She holds photo exhibitions in regions outside Tokyo and within Tokyo. As a creator, she also runs her own portrait website called "HIKARICAMERA".
Yuri Suganuma Instagram:@yurippa93
Yuri has good fashion sense and has featured in a variety of magazines. She is more commonly known by the nickname Yurippa. She receives a tremendous amount of support from girls of her age group and her SNS posts are highly influential. She has amazing makeup skills and is engaged in the development of cosmetics. She has recently made an appearance on TV and has performed in music videos. Her talents stretch further than just modeling.
Photograph :Kayo Sekiguchi
Writer:Sayuri Mizuno(ASOBISYSTEM)
RELATED ENTRIES
Kyoto's Capsule Hotel Anshin-Oyado Now Offering Plan to Take Guests to Sacred Sword Locations

Capsule hotel Anshin-Oyado Premiere Kyoto Shijo Karasuma introduced a new plan on September 6 which gives guests the chance to go and see sacred places across Kyoto associated with Japanese swords.

October 4th is known as "Japanese Sword Day" in Japan. In Kyoto alone, the number of people visiting from distant places to see sacred sword places, as well as collect goshuin stamps from shrines and temples, is on the increase-as is the number of people staying at Anshin-Oyado Premiere Kyoto Shijo Karasuma. That's where this new guest plan comes into play.

The plan will take guests around different parts of Kyoto, so the hotel as prepared three options to cater to all guests' needs: one that offers a rental bicycle, a ticket to use the subway or bus, or the normal plan. You will receive a map which shows you the most efficient way to get around all the locations. There is also a QR code on the map which not only shows where you can park your bicycle if you go for that option, but also where to collect goshuin stamps.

Moreover, to really slash home those sword memories, guests will be lent a free selfie-stick which also acts as a tripod. There is also a separate powder room for guests wanting to dress up in full sword cosplay gear too which can be used until checkout.

Guests can also rent a portable power bank for their phone so they don't have to worry about their battery running out when snapping photos amongst other amenities, and have free use of the massage chairs, foot baths, open-air baths, and more to rest up after their long pilgrimage around Kyoto seeing the different swords.

Information

Sacred Sword Site Plan

Running: September 6, 2019 – Late December 2019 (subject to change)

Target: Guests staying at Anshin-Oyado Premiere Kyoto Shijo Karasuma

Information (Japanese): http://ur0.work/UmQa

 

Anshin-Oyado Premiere Kyoto Shijo Karasuma

Six Scrumptious and Satisfying Sodas in Kyoto You Have To Try

At MOSHI MOSHI NIPPON, we have introduced a lot of kawaii bubble tea drinks you can in enjoy in Kyoto. However, we have much more to offer you than just bubble tea news! Today we have summarised the top soda drinks you can enjoy in Kyoto which both look and taste amazing. With the help of kyoto cafe life tiara 's phenomenal photos, we will be introducing you our top six picks.

SHIN-SETSU /Nakagyō-ku

Blood Orange (left)  Blue Curaçao (right): ¥690

With a variety of 24 colourful cream sodas on the menu, this café offers a rainbow of flavours to enjoy. Your aesthetic soda is best enjoyed within the the picturesque American-style interior of the café, which is filled with antiques and cute pink decorations.

▼SHIN-SETSU

Address: 277 Enpukujimaecho, Nakagyo Ward, Kyoto

Opening Hours:

Weekdays: 12:00-19:00(L.O)

Saturdays 13:00-19:00(L.O)

Sundays 12:00-19:00(L.O)

No fixed holidays

Official Instagram: @shinsetsu.kyoto

Rhône(ローヌ)

On top of the refreshing blue ocean of soda floats a scoop of ice cream ー what a nostalgic image. The bright red cherry accents the flavour. Rhône serves not only delicious sodas but also homemade pudding and many other delicious desserts which are sure to leave your stomach satisfied. 

 

▼Rhône

Address: 645-1, Sanjoinokumacho, 

Nakagyo Ward, Kyoto

Opening Hours: 12:00-22:00

Closed: Wednesdays and Thursdays

Kissa Zou (喫茶ゾウ)

After becoming a big hit in Nagoya, Kissa Zou opened a new branch in Kyoto earlier this year in April. An adorable elephant (zou) can be seen riding the very top of your scrumptious soda. It is just too cute to eat!

▼ Kizza Zou 

Address:440-3 Santeicho, Kamigyo Ward, Kyoto,

Opening Hours: 9:00-18:00(L.O 17:00)

No fixed holidays

NOTTA CAFE

Cream Soda with Oiri Sweets (left) :  ¥600 Custard Pudding (right): ¥500

NOTTA CAFE's cream sodas have decorated the front pages of magazines before. A large crowd of oiri (Japanese-style round sweets) of a variety of colours can be seen huddled together riding the ice cream float on top of this cream soda. This ice cream soda is one of a kind and full of a variety of textures and flavours so you must try it.

▼NOTTA CAFE

Address: 37 Saiinkitayakakecho, Ukyo Ward, Kyoto

Opening Hours: 11:30-20:00 (Wednesdays: 11:30-21:00)

Closed: Mondays (additional irregular holidays)

Kissa Soirée (喫茶ソワレ)

Blue Sky Cream Soda (left) Strawberry Cream Soda (right): ¥700 each

This soda is topped with vanilla ice cream and a sakuranbo cherry. When the ice cream mixes with the soda, it becomes creamy. The interesting interior of this café is the perfect place to enjoy your luxurious sparkly cream soda.

▼Kissa Soirée

Address: 95, Nishikiyamachidori Shijo Agaru Shincho, Shimogyo-ku, Kyoto

Opening Hours

1st floor: 13:00-19:00 (L.O.18:00)

2nd floor: 14:00-19:30 (L.O.18:45)

Closed:Mondays

Maeda Coffee (前田珈琲)

This butterfly pea herb tea has minty aroma and a refreshing taste.  When you mix it, it gradually turns pink so you can enjoy the flavour as well as the changing appearance of your drink.

▼Maeda Coffee

Address:  236 Takoyakushi Dori Karasuma Nishi Iru Hashibenkeicho, Nakagyo- ku, Kyoto

Opening Hours: 7:00-19:00

Open all year round.

If you are ever in Kyoto, make sure to check out these cafés. If you are looking for more inspiration, look no further than kyoto cafe life tiara's Instagram, which is full of delicious desserts in the Kansai region.

Text and photos: @happy_pinkrose_tiara

5 Temples in Kyoto Announce Exclusive Viewings For Their Secret Cultural Assets

The history of Yamashina dates back over 1,400 years when Kyoto, then known as "Heian-kyō," was the official capital of Japan. Located in the southeastern part of Kyoto, Yamashina is rich in history, abound with nature, and has maintained a traditional industry that has gone unbroken since ancient times.

This year, with the arrival of Japan's new emperor and the opening of a brand new era, five of Yamashina's great temples are set to unveil several cultural assets, which until now have never been shown to the public.

They are as follows.

Anshoji Temple's Wooden Jūichimen Kannon Statue (Important National Treasure)

Kajū-ji Temple's Sliding Door Panel Artwork  – "Eight Views of Ōmi" & "Tatsuta River Autumn Leaves" (Important National Treasures)

Zuishinin Temple's Gold Lacquered Fan Inkstone Case & 4-Panel Folding Screen

Bishamon-do Temple's Imperial Prince Flag & Tortoise Shell Doors

Honkokuji Temple's Kyōzō (Important National Treasure)

Get away from the hustle and bustle of central Kyoto and steep yourself in its history with this very special once-in-a-lifetime opportunity.

Information

Special Viewings

Running: November 16, 2019 – December 1, 2019

Viewing Times:

Anshoji Temple, Kajū-ji Temple & Honkokuji Temple: 9:00-16:30 (Last Entries 16:30)

Zuishinin Temple: 9:00-17:00 (Last Entries 16:30)

Bishamon-do Temple: [Until November 31] 8:30-17:00 (Last Entries 16:30) / [From December 1] 8:30-16:30 (Last Entries 16:00)

Price

Anshoji Temple: ¥500 / Kajū-ji Temple: ¥400 / Bishamon-do Temple: ¥500

Zuishinin Temple: ¥500 (¥700 during illuminations at 6pm-8:30pm)

Honkokuji Temple: ¥500 (+¥500 to view the Kyōzō)

More details can be found over on Totteoki Kyoto Travel: https://totteoki.kyoto.travel/ (Japanese)

Cute & Shiny Doraemon Cookies & Dango Tin Are Kyoto Souvenirs You Can't Leave Without

If you're looking for must-buy souvenirs while in Kyoto then look no further. Heso Production are set to begin releasing Doraemon cookies and a cookie tin early this month at that are exclusive to souvenir shops and variety stores in Kyoto.

The cute printed cookies feature not only familiar faces from the Doraemon series, including the adorable cat robot himself, but illustrations of sights that are quintessential to traditional Kyoto culture including the five-story pagoda and the Daimonji bonfire.

Another must-grab is this shiny Doraemon tin. Also exclusive to Kyoto, the tin features a way-too-cute shiny design of Doraemon who is holding some dango.

The tin is filled with lemon flavoured ramune candy, a perfect nibble to have while travelling.

©Fujiko Pro・Shogakukan・TV Asahi・Shinei・ADK

Information

Dokodemo Doraemon Kyoto Exclusive Printed Cookies

Contains: 20

Price: ¥800 (Before Tax)

Release Date: Early September 2019 (Date may differ from store to store)

Location: Souvenir shops and variety stores in the Kansai region

Dokodemo Doraemon Kyoto Exclusive Shiny Tin

Contains: 2 bags (8g each) of lemon flavoured ramune candy

Price: ¥600 (Before Tax)

Release Date: Early September 2019 (Date may differ from store to store)

Location: Souvenir shops and variety stores in the Kansai region

Heso Production Official Website: https://www.heso-pro.com/

Feast On Kyoto Vegetables & Italian Cuisine at MERCER BRUNCH TERRACE HOUSE KYOTO

MERCER BRUNCH TERRACE HOUSE KYOTO is a restaurant located by the Kamo River in Kyoto which serves brunch-style lunches with French toast during the day while in the evening it offers the chance to casually enjoy a gourmet dining experience. The restaurant has whipped up all-new dinner menu dishes that focuses on "steak, Kyoto-produced vegetables, and Italian."

MERCER BRUNCH TERRACE HOUSE KYOTO can be found on the 3rd and 4th floors of PONTONITE which has become a new landmark of Pontocho, a district in Kyoto right next to the Kamo River. From the restaurant one can enjoy a picturesque view of the river, streets and more. The restaurant's terrace seats are popular with couples, girl get-togethers, and overseas visitors as they offer the closest view of the Kamo River.

Lobster Grill & Bisque Omelette – ¥2,400 (Before Tax)

Fresh Fish Bottarga & Sautéed Manganji Togarashi Pepper – ¥1,800 (Before Tax)

The restaurant's new menu line-up will be served in the evening from 5pm. This includes the Lobster Grill & Bisque Omelette which is made with luxurious ingredients including Kobe beef fillet and lobster as well as nutrient-packed vegetables grown in Kyoto, the Fresh Fish Bottarga & Sautéed Manganji Togarashi Pepper, and many more. The restaurant is also now starting a "Prefix Dinner Course" which lets you picks your favorite main course amongst other things.

For drinks you can order one of MERCER BRUNCH's many whiskies or wines as well as fresh a mojito, fruity cocktails and more. There's even desserts prepared that go perfectly with the Kyoto vegetable and Italian cuisine combination.

Information

MERCER BRUNCH TERRACE HOUSE KYOTO

Address: 123 Ishiyacho, Kiyamachi Sanjo Sagaru, Nakagyo Ward, Kyoto , Kyoto Prefecture
Opening Hours:

[Mon-Thurs] 11:00-23:30 (Last Orders 22:30)

[Fri & Day Before Public Holiday] 11:00-Midnight (Last Orders 22:30)

[Sat] 10:00-Midnight (Last Orders 22:30)

[Sun & Public Holiday] 10:00-23:30(Last Orders 22:30)

*Dinner time is from 17:00

No Fixed Holiday

Official Website: https://mercer-brunch-kyoto.com/index.html

teamLab Now Holding Digital Art Exhibition at World Heritage Site Shimogamo Shrine in Kyoto

With the increase in number of collaborations between contemporary digital art and traditional and historical Kyoto sites, teamLab is getting in on the action with its new digital art exhibition "Digitized Forest at the World Heritage Site of Shimogamo Shrine."

We are joined by Instagrammer Macchan who recently attended the exhibition and who has provided photos for us.

Shimogamo Shrine is a shrine located between the Kamo River and Mount Kōya. It was registered it as a World Heritage Site by UNESCO. The shrine is associated good luck in marriage and welcomes sightseers from Japan and around the world. It can be reached by the 205 Bus from Kyoto Station and getting off at either Shimogamo Shrine (下鴨神社) or Tadasu Forest (糺ノ森前). It's also about a 20-minute taxi ride from Kyoto Station.

This marks the third run of teamLab's "Digitized Forest" exhibition at Shimogamo Shrine, and this year's exhibition has been made even bigger. It is running until September 2, 2019.

Floating by the Rōmon Gate of the shrine are spheres of light which change colour and emit various musical tones unique to the colour when touched by a person. They also react to the other spheres around them, changing to the same colour and letting out the same tone, creating a chain reaction.

Egg-shaped orbs of light can be found dotted around the Tadasu Forest by the shrine which illuminate the trees. Like the light spheres, when the eggs are pushed they change colour and play a musical noise specific to that colour, the sound and tone spreading through the forest.

These objects of light can also be found at Mitarashi Pond where they float on the water. The orbs shine brightly and then fade slowly as if breathing. If pushed by people or blown by the wind they will change colour and emit sound.

The best part about teamLab's art exhibitions is how visitors become part of the exhibition itself by interacting with the installations, offering a much more engaging experience than simply looking. Visit Shimogamo Shrine before the exhibition ends to see digital art meet a traditional Japanese shrine at night.

If you're looking for more sightseeing recommendations for Kyoto then be sure to follow Macchan on Instagram!

Photos by まっちゃん

Information

Shimogamo Shrine
Address: 59 Shimogamo Izumikawachō, Sakyo Ward, Kyoto, Kyoto Prefecture
Official Website: https://www.shimogamo-jinja.or.jp/english/

Digitized Forest at the World Heritage Site of Shimogamo Shrine, Kyoto Art by teamLab – TOKIO INKARAMI
Running: August 17, 2019 – September 2, 2019
Time: 18:30-22:00 (Last Entries 21:30)
Location: Shimogamo Shrine

Price: Weekdays ¥1,300 / Weekends ¥1,500
*Free entry for elementary school children and below. Must be accompanied by a parent or guardian aged 20+.

Official Website: https://www.teamlab.art/e/shimogamo/

Help Me Choose! Japan's Trending Makeup #3: Autumn & Winter Cosmetics

"Help Me Choose!" is the first ever featured article series where I, Yuri "Yurippa" Suganuma, feature as the writer, model and director.

I've been conservative with my eyeliner when doing my makeup recently, instead wanting to go for a more effortless style to convey my eyes. I've also been having more fun with eyeshadow, and I've wanted to make my lips the centerpiece of my makeup, so I've been making additions and subtractions which has slowly led to a more grown-up look.

So, for my recommended autumn/winter cosmetics this time around I'll be focusing on eyeshadow, lips, and cheeks. These are items I've been interested in and am buying. Here's my review.

▶︎THREE

THREE Dimensional Vision Eye Palette 03 – ¥7,020 (Tax Included)

This palette features four colours, none of which you will ignore. The colours also have different textures including pearl, matte powder, and cream.

Today's Makeup:

①For the whole eyelid

②For the undereye

③Adds gradation to the double eyelid

④Adds accent to the inner corner

I tried playing around a bit! Although I added colour and glitter to the inner corners of my eyes I'm all about it.

According to THREE, this is the order you should put these items on:

1. Add the ② cream eyeshadow to your whole eyelid

2.Add the ③ colour as a base around the edge of your ueye

3.Layer ① on your whole eyelid

4.Finish with ④ as a highlighter

Using the cream eyeshadow as a base brings out the orange to make it look even better!

Part of the fun of this eye palette is how easily arranged it all is. The colours in this palette in particular are extremely popular.

▶︎RMK

RMK Stone Blossom Brush 03 – ¥3,456 (Tax Included)

The thin powder blends softly into your cheeks. It gives gentle colouring while still bringing your whole face to life, making it an indispensable item. And terracotta looks good on anyone.

And how about combining it with this?

RMK Stone Blossom Lips 05 – ¥3,780 (Tax Included)

This lipstick is a smooth cream type. The orange hype is just beginning. It has a slightly deep colour and gives off a casual grown-up vibe. It also has moisturizing ingredients in it making it great for winter when your lips dry up.

By the way, this collection was inspired by the stony beaches of Málaga in Spain. The items are limited-edition so get your hands on them ASAP.

▶︎CHANEL

(New Colour) Rouge Allure Velvet Extreme 130 – ¥4,536 (Tax Included)

From my always-favourite Rouge Allure Velvet series comes a new colour and a limited-edition colour from CHANEL! At first glance, No. 130 looks like a deep red, but when you put it on it also has a slight purple tinge to it, serving up a wine colour.

The deep burgundy makes you look like a lady and is sure to captivate. If you're a girl who loves autumn/winter collections then you won't be able to resist the colour of this one!

(Limited Edition Colour) Rouge Allure Velvet Extreme 128 – ¥4,536 (Tax Included)

Orange beige. Beige lipstick has yet to become a thing around the world, but this colour isn't overly plain and even works on myself! The beige has a subtle, healthy orange in it. Another stylish colour from CHANEL.

Another thing I like is how the case is matte (normally in the Velvet series it's glossy). Autumn/winter vibes, I'm all about it!

▶︎GUERLAIN

GUERLAIN Glitter Eyeliner 02 KAKI & 03 BURGUNDY – ¥5,508 Each (Tax Included)

This glittery liquid eyeliner gleams and looks just as it does when applied to yourself. It gives your eyes a beautiful impact, and both of this colours are good taste.

▶︎SHIRO

SHIRO Ginger Lipstick 9I08 Vintage Brown – ¥4,320 (Tax Included)

SHIRO have released their very first lipstick collection. The vintage brown has a deep, elegant look to it. SHIRO really are amazing. They've become a brand I just can't let go. Everyone who sees this colour says it's cute. I especially want to recommend this one to those of you who are beginners to orange and browns. It's a really stylish one.

Incidentally, the brand actually changed its logo to commemorate its 10th anniversary, from "shiro" to "SHIRO."

"Do you have anything a little more natural?"

▶︎THE PUBLIC ORGANIC

THE PUBLIC ORGANIC Essential Oil Colour Lipstick Noble Orange – ¥700 (Tax Included)

This organic cosmetic item is 100% natural. It's made with the skin in mind to ensure it's good to it. It also has a nice roughness to it like when taking your makeup off with soap. This terracotta orange adds just a touch of colour so as to make full use of the lips' natural colour.

This lipstick was originally released as a limited-edition item last year and blew up on social media, but they are set to bring it back as a regular item this year on September 25.

ーYurippa's Closing Commentsー

In the end, I end up going for deep coloured lips and burgundy eyes every autumn and winter, but with these items they're not just simply deep reds or browns. When you apply them they have a faint orange or purple in them. I think that was the original intention of those brands. I love little devilish things like that, and so I recognize to the fun of cosmetics year by year.

I'm actually really into the new eyeshadow from TOMFORD, but I wasn't able to get ahold of it by the photoshoot so I had to leave it out this time, TOMFORD's eyeshadow is amazing  too!

I'm a girl who loves autumn and winter, so I'm looking forward to the coming seasons. I want to use lots of different coloured items and become an even more beautiful woman―more than in summer and more than I am now!

Writer / Model  Yuri Suganuma
Photographer  / Haruka Yamamoto

TALENT PROFILE

Yuri Suganuma

Yuri Suganuma is a model with a high fashion sense that has been picked up by various magazines. She receives much love and support from girls of the same generation as her to whom she is known by her nickname "Yurippa." She has a huge influence across her social media. Recently, she has stepped into other fields outside of modelling, such as appearing in TV shoots and in music videos. She is skilled in make-up and involved in the development of cosmetics.

Explore Japanese Hojicha Tea-Flavoured Desserts in Kyoto

Kyoto is the homeland of Japan's tea. Tea shop Itohkyuemon was first established in Kyoto towards the end of the Edo period of Japan in 1832. It has since become a well-established tea shop that has gained popularity for its high quality tea and tea-based desserts. The shop will be holding a special event called Itohkyuemon X Uji Hojicha Tea Fair from September 2, 2019. This is the perfect opportunity to explore the wonderful flavours of Japan's famous hojicha tea from the homeland of Japan's tea. 

Hojicha tea is deeply rooted in Kyoto's daily culture. At Itohkyuemon, the tea leaves are roasted at a high temperature, creating a wonderful and comforting aroma. The fair will see the release of a wide range of hojicha-infused desserts such as parfaits, a dessert plate, ice cream, chocolate, daifuku, cheesecake, kitkats, chocolate cake, tiramisu and much more.  This is the perfect opportunity to immerse yourself in a range of sweet hojicha flavours. 

The brand new Uji Hojicha Parfait consists of homemade hojicha jelly layered with refreshing hojicha ice cream. This is garnished with a hochicha senbei wafer and drizzled with hojicha syrup. This parfait allows you to taste the variety of wonders of hojicha all in one glass.

Want to tantalize your tongue with more tea? The Hojicha Tea Ceremony set comes with a hojicha daifuku and a drink to complete your parfait experience. 

The Uji Hojicha Chocolate Cake which was previously sold at the Gion-Shijo store has now returned. However, this is in limited supply. The Uji Hoji Dessert Plate includes a slice of Uji Hojicha Chocolate Cake, a Hojicha Mini Parfait, Hojicha Chocolate Ganache, a slice of Hojicha Cheesecake and a Hojicha Daifuku. This is the perfect way to explore hojicha in a variety of dessert forms. 

This is the perfect opportunity to explore the wonderful flavours of one of Japan's most beloved teas. 

Information

Itohkyuemon X Uji Hojicha Fair 2019 

Running: September 2 ー 30, 2019

Available at: Uji Main Store, JR Uji Ekimae Store (in front of Uji Station), Gion Shijo Store, Byodoin Store, Kyoto Ekimae Store (in front of Kyoto Station), Online Shop.

*The desserts sold can differ from shop to shop. 

Website: https://www.itohkyuemon.co.jp/site/houjicha/ (scheduled to open on September 2) 

Uji Hojicha Parfait

Available from: September 2, 2019 

Price: ¥1,080 (on its own, after tax)

¥1,480  (drink set included, after tax) 

Hojicha Tea Ceremony: ¥1,780 (after tax)  

Uji Hojicha Dessert Plate

Available from: September 2, 2019 

Price: ¥1,680 (on its own, after tax)

¥1,980 (drink set included, after tax)

Andy Warhol Exhibition to Grace Kyoto's Kyocera Museum of Art in 2020

An exhibition centred around Andy Warhol, the American artist who was at the forefront of the pop art movement, is set to roll up to the Kyocera Museum of Art in Kyoto on September 19, 2020.

The exhibition will showcase pieces available only at the The Andy Warhol Museum in Pennsylvania, US. It will be the first Andy Warhol exhibition of its kind to hit Japan and will also touch on his deep knowledge of Kyoto.

The exhibition will be the first to take place in the museum's new Toyama Cube building which is currently under construction.

More details will be announced on the exhibition's website and social media accounts below.

Kyo no Ondokoro Nishijin Bettei: A Traditional Kyoto Townhouse Transformed Into a New Hotel

Wacoal Corp, the owners of Kyo no Ondokoro―a chain of traditional townhouses turned into hotels―are opening a new branch in the Nishijin area of Kyoto on October 1, 2019.

Kyo no Ondokoro Nishijin Bettei will be the fifth branch of their hotel chain. It was designed by Akira Minagawa―the owner of Japanese clothing label Minä Perhonen―and architect Yoshifumi Nakamura.

The Nishijin area is located a little distance away from the city centre meaning one can avoid the hustle and bustle of the busy streets. The hotel is renovated from a luxurious 95 year old townhouse which was originally set up by merchants in Nishijin silk fabrics to house guests.

It has been renovated to make it feel as if guests are living there and thus feel like they are living in Kyoto.

The first floor features a fully-equipped kitchen with wine cellar as well as a spacious dining area where one can cook up and feast on meals made with ingredients and produce from Kyoto.

Dotted throughout are various art pieces selected by Minagawa to elevate that at-home feeling.

The townhouse also offers lots of convenient services including bagging storage, transport service, guidebooks catered to each season, and more. Staff can also offer information about shops and restaurants in the surrounding areas, and they can also sign you up to food plans packed with Kyoto flavours, and more.

If you want to feel like you're living in Kyoto then book now with Kyo no Ondokoro Nishijin Bettei.

Information

Kyo no Ondokoro Nishijin Bettei

Address: 265-1 Tatekameyacho, Kamigyo Ward, Kyoto, Kyoto Prefecture

Grand Opening: October 1, 2019

Price: ¥150,000 per night (Before Tax)

Capacity: 8 people

Bookings: Open from September 2, 2019 (*Open now on select websites)

Check-In: From 16:00 (Wacoal Shin-Kyoto Building front desk open 10:00-17:00)

Check-Out: By 11:00

Kyo no Ondokoro Official Website: https://www.kyo-ondokoro.kyoto/

4 Must-Try Kawaii Bubble Teas & Desserts in Kyoto

Japan is a haven for bubble tea and tapioca-based beverages. Here on MOSHI MOSHI NIPPON we have covered many shops selling these tasty drinks in Harajuku―the town which started the tapioca boom in Japan―but today we will be heading to the ancient city of Kyoto.

We are joined by Kyoto café life tiara who posts photos of the best drinks and desserts they have tried around the Kansai region of Japan. They have provided us with photos of two must-try bubble teas and two must-try desserts in Kyoto.

ROCCA & FRIENDS PAPIER KYOTO in Shijo

ROCCA & FRIENDS PAPIER KYOTO is just a 5-minute walk from Shijo Station. The cafe is made from a traditional townhouse along an old-fashioned Kyoto-esque street.

It takes a little while for your drink to arrive placing your order, but that's because each beverage is carefully handmade from fresh. I ordered the mango smoothie soda and the strawberry smooth soda. Both are fruity and super refreshing and full of chewy tapioca pearls.

▼ROCCA & FRIENDS PAPIER KYOTO

Address: 735-2 Shinkamanzacho, Shimogyo Ward, Kyoto, Kyoto Prefecture

Opening Hours: 10:00-18:00

Closed: Mondays

Official Instagram Page: https://www.instagram.com/rocca.papier/

&Hana in Shijo

&Hana is located at the back of Kyoto Daimaru. The cheese rose tapioca milk tea I bought is a cute pink colour. It's a mix of rose which is good for skin and relaxation, sweet brown sugar tapioca, and sour cheese.

Draped at the back of the cafe are bunches of dried flowers which provide an Instagrammable background for your drinks.

▼&hana

Address: 619 Nishiuoyacho, Shimogyo Ward, Kyoto, Kyoto Prefecture

Opening Hours: Weekdays 11:00-22:00 / Weekends & Holidays 10:00-22:0

No Fixed Holidays

Official Instagram Page: https://www.instagram.com/and_hana_/

KISSHOKARYO KYOTO in Gion

This honey and tea parfait is special because they only serve 20 of them a day. Tapioca pearls go well not just in drinks but in desserts like this one too♡

The fluffy shaved ice is a perfect match with the homemade Earl Grey tea syrup. The rest of the parfait is made up of milk tea flavoured jelly, tapioca pearls, tea ganache, and other delightful surprises.

I enjoyed mine with lots of syrup and roasted soybean flour!

▼KISSHOKARYO KYOTO Gion Honten

Address: 306 Ishibashicho, Higashiyama Ward, Kyoto

Opening Hours: 10:00-19:00 (Last Orders 18:30)

No Fixed Holidays

Official Website: https://kisshokaryo.jp/

MASHOLA in Kawaramachi

MASHOLA is a South Korean-style cafe which of course sells tapioca pearl drinks, but also this delicious capo egg brulee tart as well. As soon as you put the order in their fire up the tarts fresh along with hot tapioca pearls for a heavenly melt-in-the-mouth experience.

They also sell bottled strawberry milk packed full of fresh strawberries, and for an extra ¥80 you can top if off with tapioca.

▼MASHOLA

Address: 406 Sakuranocho, Nakagyo Ward, Kyoto, Kyoto Prefecture

Opening Hours: 11:00-20:00

No Fixed Holidays

Official Website:  https://mashola.business.site/

Did you enjoy this list? Kyoto café life tiara has lots of other tempting recommendations of drinks and desserts on their Instagram page too, so if you're looking for something to try while in the Kansai region of Japan be sure to give them a follow.

Text & Photos: @happy_pinkrose_tiara

Translation: Joshua Kitosi-Isanga

Colourful New Agar & Mango Jelly Drink Released at Kyo Yakasa Pudding in Kyoto

Kyo Yakasa Pudding opened its doors to the world back in April, and since then they have whipped up many different kinds of Japanese custard pudding, known as purin. Earlier this month they released their all new "Yasaka Cider," a jelly-like drink which became a hit on Japanese Instagram (search with #京八坂プリン).

The shop's most popular product since launching is the Kyo Yasaka Pudding―named just like the shop. It has a honey and lemon flavoured jelly which is full of agar and mango jelly balls, giving it a cute appearance and very refreshing flavour and completely new kind of texture.

Now, the shop has released its new Yasaka Cider. The word "Cider" in Japanese doesn't actually refer to the alcoholic drink, but instead is usually a carbonated mixture of lemon and/or lime.

Available this summer only, the Yasaka Cider is the perfect accompaniment for cooling yourself down while strolling the streets of Kyoto, filled with Kyo Yasaka Pudding jelly, agar balls, mango jelly balls, and an in-house made lemon slice and honey mix. The beverage is made fresh to order and comes in a cute bag which you can carry around easily with you.

There are lots of great photo opportunities for Instagram in the store too! If you're in or travelling to Kyoto this summer then be sure to stop.

Information

Kyo Yakasa Pudding

Address: 87-4 Hoshinocho, Higashiyama, Kyoto, Kyoto Prefecture

Opening Hours: 10:00-17:30

No Fixed Holidays

Website: http://www.kyo-yasaka-pudding.co.jp