You can meet with KYARY PAMYU PAMYU! A live invitation campaign will be held
CHINTAI will hold a campaign where the ticket of the first Halloween solo live of KYARY PAMYU PAMYU which will be held at Shibuya Tokyo Taiikukan on the 28th of October ("KYARY PAMYU PAMYU THE SPOOKY OBAKEYASHIKI〜PUMPKINS STRIKE BACK") can be won (quantity limited). The ticket comes with an after party where you can meet with Kyary in person (10 pairs / 20 persons).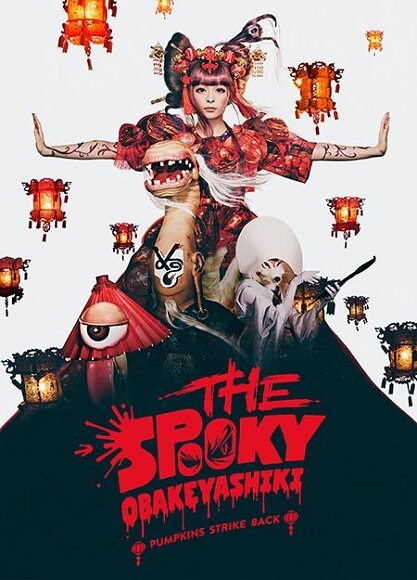 In the special party room, you can enjoy Halloween food and drinks and take photos with KYARY. It will surely become a special night!
Moreover, the notification video of this campaign ("CHINtiger's" CHINTAI's official character) movie which imitates the trailer movie of KYARY's live precisely) was released.
CHINtiger's special movie
Plus, the announcement was made that a mysterious character called "KAWAii CHINtiger" will appear somewhere near Tokyo Taiikukan. Don't miss it!
■Information
KYARY PAMYU PAMYU Pumpkin Live 2017
THE SPOOKY OBAKEYASHIKI ~PUMPKINS STRIKE BACK~
Venue: Tokyo Taiikukan
Date: 2017,10,28 (Sat.) 17:00 open / 18:00 start
2017,10,29 (Sun.) 16:00 open / 17:00 start
URL:http://tso.kyary.asobisystem.com
CHINTAI presents after party / live invitation campaign
http://chintai-cpn2017.com/kpp/
RELATED ENTRIES
Kyary Pamyu Pamyu's Kabuki Themed Concert Showcased in Documentary On YouTube

Kyary Pamyu Pamyu's 'Oto no Kuni Live Tour 2019' has been taking the singer to various locations across Japan steeped in the country's cultural heritage. The tour gets its name from Kyary's song Oto no Kuni taken from her album Japamyu.

Following the success of her show at the sacred Izumo Shrine in Shimane Prefecture―a region said to be the birthplace of Japan's many gods―Kyary took her traditional show to Minami-za in Kyoto, the oldest theatre in Japan. What's more is that she held it on the final day of Japan's Heisei period before the country transitioned into the current Reiwa period. The concert fused Kyary's iconic pop culture fantasia with traditional Japanese kabuki theatre.

A 9-minute medley of the concert, featuring tracks such as Ninja Re Bang Bang and Oto no Kuni, is set to be played back live on NHK World Japan today (August 19) and again on NHK General TV on September 14. It will also feature a talk with Kyary and show host Shingo Murakami.

A special documentary featuring behind-the-scenes footage as well as clips of the concert was uploaded onto Kyary's official YouTube channel. The video showcases Kyary's training for the concert carried out with kabuki actor Ainosuke Kataoka. Check it out below.

Information

「SONGS OF TOKYO」

August 19, 2019 on NHK World Japan (0:10-0:38 / 6:10~ / 12:30~ / 18:30~)

August 15, 2019 on NHK General TV (0:05-0:33)

Line-Up: Kyary Pamyu Pamyu / Shingo Murakami, Chiaki Horan

Kyary Pamyu Pamyu Official Website: http://kyary.asobisystem.com/

Kyary Pamyu Pamyu & Yasutaka Nakata Joined by Kizuna AI at SUMMER SONIC 2019

Yasutaka Nakata is the internationally acclaimed architect of kawaii music and music producer of huge Japanese names such as Kyary Pamyu Pamyu and Perfume.

The DJ and music producer is known for having collaborated with a whole string of big artists, such as Kenshi Yonezu on the song NANIMONO as well as Charli XCX on Crazy Crazy. Despite having only just dropped his new song Pico Pico Tokyo (feat. Momo Mashiro) recently, he just released a new song entitled Kizunami (cover) for digital download on August 16. The track is a cover of Kyary Pamyu Pamyu's song Kizunami taken from her fourth studio album Japamyu which Nakata Produced. It is covered by virtual talent Kizuna AI who has almost 2.7 million subscribers on her YouTube channel.

To celebrate the release of the new song, Kizuna AI appeared as a surprise guest on Yasutaka Nakata and Kyary Pamyu Pamyu's set at SUMMER SONIC 2019 which was held in Tokyo and Osaka. In a very special collaboration, she sang the song alongside Kyary―the singer of the original track.

As with the Osaka show, the RAINBOW STAGE at the Tokyo concert had an admission limit due to how much music fans were anticipating this stage.

When the intro to Fashion Monster started playing as the first song of Yasutaka Nakata's set, the crowd's excitement went straight through the roof. But it didn't stop there however, as it shot into the stratosphere when Kyary Pamyu Pamyu walked onto the stage, clad in a beautiful white outfit.

Nakata and Kyary's set was an energetic amalgamation of song mash-ups and alternative arrangements, treating the crowd to familiar hit after hit. It reestablished Nakata's status as a spearhead of the industry.

He joined Kyary in front of his DJ booth for CANDY CANDY and waved his hands left and right with the crowd to Kyary's directions. The two of them rolled out even more big numbers including Invader Invader, PON PON PON and Ninja Re Bang Bang which also had fun new arrangements.

When the intro to Kizunami started up, Kizuna AI's chorus entered the fray at which Kyary asked, "Whose voice is that?" Kizuna AI suddenly appeared on the giant LED screen at the back of the stage, and the crowd reacted instantly. She riled everyone up by calling "Summer Sonic!" before joining Nakata and Kyary in a dream collaboration.

The 19-song set was up with Mondai Girl and finally Oto no Kuni during which the crowd waved their towels in unison.

Kizuna AI's cover of Kizunami is now available for digital download and is streaming on Spotify.

Stream Your Favourite Japanese Artist Anytime With Deezer's New 'Asian Music' Channel

Have you ever tried typing in your favourite Asian artist into Spotify only to find only some or none of their music is on there? All of that is about to change as the music streaming platform Deezer introduces its new 'Asian Music' channel to bring fans closer to their favourite acts, both mainstream and underground.

Deezer boasts 14 million monthly active users in 180 countries around the world who are connected to an ever-expanding catalogue of 53 million tracks.

Available now worldwide, the new music channel will help support local genres in Japan, Singapore, Malaysia, Philippines, and Indonesia. It features exclusive and personal playlists from the biggest artists across the continent such as Kyary Pamyu Pamyu (Japan), Tabitha Nauser (Singapore), and Gloc-9 (Philippines). The editors at Deezer have also created dedicated playlists for each country to help fans find their favourite artists as well as introduce them to new acts.

The playlists created by Deezer's editors for Japan include: Top J-Pop, J-Pop Rising, Top J-Rock, and Japan 90s Hits. Look forward to listening to the biggest names in the land of the rising sun right now such as Perfume, Aimyon, and tofubeats and get familiar with rising acts like Manon and AAAMYYY.

Deezer's Asian Music section can be accessed here. Find your new favourite artist today.

Kyary Pamyu Pamyu, Marshmello, Ninja & More to Perform at Metarama Festival in Las Vegas

Kyary Pamyu Pamyu released her new song KIMI GA IINE KURETARA in May and subsequently went on to put on a Kabuki-style concert at Minami-za in Kyoto.

The pop sensation continues to spread Japanese culture across the globe as she announces her appearance at the Metarama festival in Las Vegas this October.

Metarama is a gaming and music festival that is being held for the first ever time this year. It features a line-up of influencers in both music, such as Marshmello and Snoop Dogg, and gaming including Ninja and Pokimane.

Tickets are now on sale so be sure to get yours ASAP.

Join Kyary Pamyu Pamyu as She Tours the Sacred City of Izumo in Latest Video

Recently, Kyary Pamyu Pamyu held a special one-night-only live performance at Izumo Taisha; a sacred and grand Shinto shrine located in Shimane prefecture which is said to be the origin of Japan's gods. Kyary's Otono Kuni Live Tour 2019 performance embraced the sacred atmosphere and the theme of her recent fourth album Japamyu. On that night in particular, her new song Otono Kuni really struck a chord!

Wanna know more about her godlike live concert on holy grounds?!

Here's the concert live report: https://www.moshimoshi-nippon.jp/191957

Travelling to Japan? Let Kyary be your tour guide!

Kyary has just released a travel movie where she returns to the sacred land but this time, as your tour guide and not a performer! Join Kyary and get discovering with her new tourist video! She has also set up a special website dedicated to her sightseeing adventures in Izumo.

Kyary strolls around Izumo: The sacred land where the sun sets.

From legends to ancient history, Izumo is a gold mine of culture and secrets that Kyary will share with you! In this beautiful short movie, you can join Kyary and enjoy a day of fun!

Whether you want to visit Izumo or you've already been,or maybe you're considering a trip to Japan and you're not quite sure where to go! This movie is something you'll definitely love to see so please check it out!

Japanese Music Artists Performing Overseas in 2019: Part 3

With summer fast approaching, concertgoers are gearing up for this year's music festivals and live shows. We previously covered numerous Japanese bands and artists performing who overseas this year in parts one and two of this feature, but since the previous entry, even more acts have been announced.

Here is a new list of artists embarking outside Japan this summer.

Suchmos

For the first time in their career, rock group Suchmos are set to embark on their first ever Asia Tour this June. They will hit up 6 locations, beginning in Hong Kong before heading to Taipei, Seoul, Shenzhen, Shanghai and Beijing.

▶︎ Suchmos ASIA TOUR 2019

2019/6/2 @ Music Zone @ KITEC, Hong Kong

2019/6/7 @ Legacy Taipei, Taipei

2019/6/9/ @ YES24 Live Hall, Seoul (*w/ HYUKOH)

2019/6/12 @ B10 Live, Shenzhen

2019/6/14 @ Modern Sky Lab, Shanghai

2019/6/16 @ Tango Live (Floor 3F), Beijing

Suchmos Official Website: https://www.suchmos.com

→News Update (June 1, 2019)
Following unexpected illness of one of their members, Suchmos have cancelled all remaining dates on their upcoming overseas tour.

【NEWS】
アジアツアー追加公演が決定しました。

■6/28(金) ジャカルタ
会場は後日発表

■6/30(日) バンコク
Moon Star Studio 1

▼公演詳細はこちら▼https://t.co/HzrqIYa1FQ pic.twitter.com/ooz5TLntDL

— [ALEXANDROS] (@alexandroscrew) 2019年4月13日

[ALEXANDROS]

Rock band [ALEXANDROS] are also heading on tour in Asia throughout June and July. The band are currently on their "Sleepless in Japan Tour" in promotion of their newest album Sleepless in Brooklyn and will take their concerts across Asia for 8 shows, starting with Shanghai on June 21 and wrapping in Seoul on July 21. This also marks their first time performing in Shanghai and Beijing.

 

▶︎ Sleepless 2019 Asia Tour

2019/6/21 @ Modern Sky Lab, Shanghai

2019/6/23 @ Beijing Omni Space, Beijing

2019/6/28 @ Jakarta (*Venue TBA)

2019/6/30 @ Moon Star Studio 1, Bangkok

2019/7/5 @ Music Zone @ E-Max, Hong Kong

2019/7/7 @ Legacy Taipei, Taipei

2019/7/19/ @ Bentley Music Auditorium, Kuala Lumpur

2019/7/21 @ MUV HALL, Seoul

[ALEXANDROS] Official Website: https://alexandros.jp

SAKANAQUARIUM 2019 "834.194"
6月28日 上海&6月30日 深セン公演

明日5月1日12:00よりチケット販売が始まります。
券種・プレイガイドはサカナクションHPに掲載しています。https://t.co/GyH6y5B25n

— sakanaction (@sakanaction) 2019年4月30日

Sakanaction

Sakanaction have announced that they will play in Shanghai and Shenzhen at the end of June. Upon unveiling the news the band created their own Weibo account, a Chinese social media platform. The rock band will release their new album 834.194 in June, their first album release since sakanaction was released 6 years ago in March 2013. The Asia dates were added to their ongoing Japan tour. This will be their second set of headline concerts outside in Japan since they performed overseas for the first time back in 2013 in Taiwan. The band are known for their use of cutting-edge technology at their shows, so foreign fans can look forward to seeing what they have in store for them next month.

  

▶︎ SAKANAQUARIUM 2019 "834.194"

2019/6/28 @ Modern Sky Lab, Shanghai

2019/6/30 @ A8 Live, Shenzhen

Sakanaction Official Website: http://sakanaction.jp

BAND-MAID

Earlier this month, five-piece maid rock band BAND-MAID announced the European leg of their 2019 world tour, one which will begin this June and one whose decided theme is Gekidou, or "tumultuous." All shows on BAND-MAID's 2018 world tour sold out completely. The initial European leg of their long-awaited new world tour will take them to 3 countries for 4 performances. They will then head to the US in September.

Related Article: BAND-MAID Announces European Leg Of 'Tumultuous' 2019 World Tour

▶︎BAND-MAID WORLD DOMINATION TOUR 2019 【激動】 ~gekidou~

6/22 – London, UK @ Islington Assembly Hall

6/23 – Paris, France @ Le Trabendo

6/24 @ Bochum, Germany @ Zeche

6/26 @ Hamburg, Germany @ DAS LOGOS

9/26 @ NYC Gramercy Theater, US

9/28 @ Dallas Cambridge Room, US

9/30 @ LA ECHOPLEX, US

10/1 @ LA ECHOPLEX, US

World Tour Info: https://bandmaid.tokyo/contents/241952

BAND-MAID Official Website: https://bandmaid.tokyo/

Kyary Pamyu Pamyu, CAPSULE, m-flo & More

The biggest names in Japanese pop music are set to take over Los Angeles at QTAQUEST LIVE and OTAQUEST KICK OFF PARTY which is set to take place at THE NOVO by Microsoft on July 3, 2019. Both OTAQUEST LIVE and OTAQUEST KICK OFF PARTY serve as the opener to Anime Expo, the biggest anime convention in the US, which will run from July 4 to 7. CAPSULE, Kyary Pamyu Pamyu, Crazy Boy, HIROOMI TOSAKA and m-flo are set to deliver Japanese entertainment to US lovers of Japanese music and entertainment.

Related Article: Kyary Pamyu Pamyu, Yasutaka Nakata & CRAZYBOY to Perform at QTAQUEST LIVE in Los Angeles

▶︎OTAQUEST LIVE

Date: July 3, 2019

Time: OPEN 17:00 / START 18:30

Location: THE NOVO by Microsoft, Los Angeles, California, US

Line-Up: CRAZYBOY / HIROOMI TOSAKA / m-flo / CAPSULE / Kyary Pamyu Pamyu

OTAQUEST KICK OFF PARTY

Date: July 3, 2019

Time: OPEN/START 22:00

Location: THE NOVO by Microsoft, Los Angeles, California, US

Line-Up: ☆Taku Takahashi / TeddyLoid / Yasutaka Nakata (CAPSULE) / …and more

Event Website: https://live.otaquest.com/

Tickets: https://www.axs.com/events/372261/otaquest-live-tickets?skin=novo

Ai Otsuka

This year, Ai Otsuka celebrates her 15th anniversary since her debut. The singer-songwriter released her greatest hits album Ai am BEST, too in January this year, and she is currently in the midst of her nationwide Japan tour. 5 Asia dates have been added to the tour. Her previous Asia tour took her to just three cities: Taipei, Shenzhen and Guangzhou, but this year she is spreading her wings and will perform in Guangzhou, Chengdu, Shanghai and Taipei.

 

▶︎ AIO PIANO at ASIA vol.2 

2019/7/17 @ Dr. Sun Yat-sen's Memorial Hall, Guangzhou

2019/7/19 @ 特侖蘇音楽庁, Chengdu

2019/7/27 @ BANDAI NAMCO SHANGHAI BASE DREAM HALL, Shanghai

2019/7/28 @ BANDAI NAMCO SHANGHAI BASE DREAM HALL, Shanghai

2019/8/17 @ ATT SHOW BOX 大直, Taipei

Ai Otsuka Official Website:  http://avex.jp/ai/

If you love Japanese music and a Japanese band or artist are coming to a city near you this year, then be sure to show your love and support by getting your hands on a ticket to see them live.

Kyary Pamyu Pamyu stars as herself in the drama My Family Goes Viral!

Kyary Pamyu Pamyu will make a guest appearance in the 7th episode of the drama My Family Goes Viral (Mukai no Bazuru Kazoku) which will air on 16th May! Kyary Pamyu Pamyu's latest song KIMIGA IINE KURETARA became the opening theme song for My Family Goes Viral which stars Rio Uchida as the main character. Kyary's last appearance in a drama was four years ago on the CX Kei drama series A Restaurant with Many Problems (Mondai no aru restaurant).

For this episode, Kyary has challenged herself to the role of… herself!

So, what's the episode all about?

As main character Akari Kagari (Rio Uchida) spends her days working at a café, her mother Hinako, a housewife, gets stuck deep into a social media obsession after posting a cooking video which got a like from Kyary Pamyu Pamyu! Just one like from Kyary as she was casually scrolling social media and all of a sudden, the entire Kagari family is plunged into chaos!

 

And what was Kyary's opinion on all this?!

Q. What are your thoughts on taking part in the drama?

I haven't really taken part in any dramas in my life. I've rarely ever even been to a drama set so I was really nervous! As I played the role of me, there wasn't any need to create a new personality or anything, so I just acted like myself and I had so much fun!

Q. What was your impression when you watched the drama?

It's so now! I watch this drama every day and it makes my heart thud uncontrollably! After the characters took a small step into the world of social media, so much drama started to unfold! The opening theme song KIMIGA IINE KURETARA is also perfect to describe the world of the drama! I want viewers to enjoy the song along with the drama!

KIMIGA IINE KURETARA became available for digital download and streaming from 10th May so please check it out along with the drama!

Kyary Pamyu Pamyu Becomes Beard-Wearing Hikikomori in 'KIMI GA IINE KURETARA' Music Video

Kyary Pamyu Pamyu has just dropped the music video for her new song KIMI GA IINE KURETARA which was also released digitally today. Written and produced by Yasutaka Nakata, the song serves as the main theeme for the Japanese drama Mukai no Bazuru Kazoku. It centers around social media and captures that jubilant feeling you get when someone 'likes' one of your posts.

The music video begins with a scene of Kyary donning a long beard and moustache as she sings lonely sings to herself. Here she is insecure, unhappy, troubled and tired, having lost all of her energy. She has become a complete hikikomori, or "shut-in," and is living life without self-care as shown in the fact that she hasn't tended to her facial hair in a while, nor her head hair which has become messy. She continues in this state until the final scene where she bursts into song and dance in a bright and happier world.

In the scene that plays backwards, we see that even if she herself goes backwards, she will continue the struggle forward. Kyary expresses in the first person the conflict that people get into on social media and the online world.

The music video was created by Fantasista Utamaro, who worked on her previous video Oto no Kuni, and artist, creator and strategist Nakayaman. They took up the role of creative directors under their duo unit Nakayaman*Tasista Utamaro.

The video is laced with social satire and relevant messages to the real world, so be sure to check it out.

Information

Kyary Pamyu Pamyu – KIMI GA IINE KURETARA (Lyrics/Composition: Yasutaka Nakata)

Main theme for Japanese drama Mukai no Bazuru Kazoku.

Digital Download: https://kppm.lnk.to/kik

AbemaTV 5 Hour Special Live Broadcast

Program Name: Release Commemoration "KIMI GA IINE KURETARA Kyary ga Ataru! Kyary's IINE Dream Kuji"

Broadcasting: May 16, 2019 at 19:00-11:59 (JST, subject to change) on AbemaTV

Channel: SPECIAL2

Link: https://abema.tv/channels/special-plus/slots/8noKjLk7cUCRiF

KPP CAMP in Okinawa

Ryukyu Nissan DAYZ Presents KPP CAMP in OKINAWA ~Renai tte Issei Muzukashii Desu yo ne Hen~

Date:  May 25, 2019
Time: Open 15:00 / Start 16:00
Venue: Ginowan Seaside Park, Okinawa
Line-Up: Kyary Pamyu Pamyu, Shota Shimizu, Koresawa

Interview: Kyary Pamyu Pamyu & Sabrina Carpenter discuss what it is that draws them to pop music

Kyary Pamyu Pamyu will release her new single KIMIGA IINE KURETARA on May 10. The song is used as the main theme song for the Japanese TV drama Mukai no Bazuru Kazoku. The pop track's music embodies the feeling you get when you get a 'like' on social media. The song is a positive and supportive message to the lost kids in today's social media age.

Another modern pop icon enjoying huge popularity is American singer-songwriter and actress Sabrina Carpenter. She is known for starring as Maya Hart in the Disney Channel series Girl Meets World. Her professional music career began in 2015 with the release of her debut album Eyes Wide Open. The singer recently came to Japan to perform at Ex Theater Roppongi on April 4 in support of her 2018 album Singular Act: I. We were able to bring both these pop icons together for a chat.

---

――You were already a fan of Kyary, weren't you, Sabrina?

Sabrina Carpenter: Yes, I'm a fan! Her nails look really cute today!

Kyary Pamyu Pamyu: Oh, thank you!

――How did you come to know about Kyary?

Sabrina:So, my sister was in the car with her boyfriend. He's actually a big fan. He put on PONPONPON, and I was like, "Oh my gosh, this is amazing!" I got into it and I sent him this video of me singing the song from top to bottom. Ever since then I've been a huge fan, I did a deep dive and listened to everything.

――You previously posted PONPONPON as your favourite song on your Instagram story.

Sabrina:Yeah, that was the last time I was here. It's been just under a year.

Kyary :Wow. That makes me really happy to hear.

――The theme of today's talk is "A Chat With US & Japanese Pop Icons." You're both active internationally in your careers. What have your experiences been like performing abroad?

Sabrina: I guess for me, I think abroad there's obviously a language barrier for us, and so I think the most powerful thing is to see how powerful the music translates, the melodies, and the way songs make you feel. It has such an impact on the crowds, and you know, also seeing people crying even though we're speaking different languages. I think that's probably been the most moving aspect of performing abroad. The crowds have been bigger on this [Japan] tour, and there's been a lot of new music that they've been singing along to. There's also been a lot of things they bring to the show, like the flags and the posters and signs. I think they just bring so much energy to every show. [But] whenever I finish a song, it'd be so quiet you could hear a pin drop, and that was something I had to get used to because usually we're very loud in America. But this time they were pretty loud.

Kyary:I've had the chance to tour various countries like America and China. Even though I don't expect them to be able to speak Japanese, everybody remembers all the Japanese lyrics [in my songs]. Obviously it's not a language they use often so there are some mistakes here and there, but that's what makes it so sweet.

Sabrina:That's me! That's me singing your songs! [laughs].

――So with music you are able to bring people together regardless of language or country. What's the most important think when it comes expressing yourselves?

Kyary:What's important for me is challenging myself to doing the things that I want to do. I'm a solo artist, and so I get support from my staff members to everything to life, but I always treasure thinking up and expressing concepts with each new song. And to do that I regularly write down the things that interest me, like when watching a film. I go to watch various different things.

Sabrina:I'm very similar in the way that I don't like to do the same thing twice, or three times. I feel like it's not stretching me as a person or as an artist, and it's also not stretching the fans. I think they deserve to grow just as much as we do. They're along for this ride. Obviously they look for some sort of guidance, some sort of love they get from the artist they look up to. I think it's also important for me to take those risks and challenges to inspire them to take risks and challenges too.

 

――What's something that has inspired you both recently?

Kyary:If we're talking recently… Tim Burton's "Dumbo."

Sabrina:Dumbo! I loved that too!!

Kyary:I've seen the original animated version, but Tim Burton has taken all the great things about it and put his unique spin on it. It turned out really wonderful. The CG in the facial expressions is superb too. It was a really charming fantasy [movie]. It made me tear up.

Sabrina:Aww, that's so cute! [laughs] [For me] probably the places I've been travelling. I will find so much inspiration within different places, different cultures. The kind of art and photography I see in the places I'm in.

――Have you been inspired by anything in Japan?

Sabrina:Harajuku! I went for my first the day before yesterday. I've been to Tokyo many times but I've never had a day off so I never got to explore.

Kyary:Which part of Harajuku did you go to?

Sabrina:The vintage shops in Ura-Harajuku. We also went to teamLab, that whole art museum.

Kyary:The teamLab exhibitions are so good, I've been too!

Sabrina:It was so beautiful.

――You mentioned Harajuku. Kyary knowns Harajuku inside and out. She might be able to recommend you some places to visit.

Kyary:Sabrina is someone who would look good in any outfit, so I want to see you try dressing up in Lolita clothes [laughs]. I think you will look really cute.

Sabrina:Yeah, I would love to! I honestly was looking for a lot of like 'kawaii' [stuff].

Kyary:I recommend the basement floor of Laforet Harajuku, they have things like Lolita and punk fashion. That might be a good spot for you.

Sabrina:Yeah! I wanna get some. You'll have to style me.

――Both of you are close to your fans through social media. When talking about things that inspire you in daily life and let you discover new things, has social media been a big influence?

Sabrina:I think for me it has forced me to think a little bit more about what [fans] would want to see in my daily life. Which I feel like normally I wouldn't be living through my phone; I'd be living through my eyes. But because I'm close with them I think that that has made me want to kind of be more interactive with them, show them parts of my days.

――So in a sense, it feels like you're working together with your fans?

Sabrina:Yeah, it really does. If they weren't at the shows we couldn't do the shows. No one would come, there'd be no show!

――How about you, Kyary?

Kyary:When I perform abroad I can see who has been tagged on social media at the shows so I can see everyone's thoughts and comments. Being able to see things like that so directly makes it a great tool. It often cheers me up seeing people write things about me or when they send me messages, so [social media] is also a motivator to work hard.

Sabrina:Usually with social media the experiences that you have sometimes are more negative than they are positive. But it also depends on how you're looking at it. I shouldn't say that because there's many positive experiences. I think the most positive things that I've been able to see on social media are honestly just the fact that there are so many people in the world that we don't know, and the majority of people use it to say really kind things to one another and support each other.

 

――Kyary's new song KIMIGA IINE KURETARA is about social media. How did you feel when you received the song from [your producer] Yasutaka Nakata?

Kyary:The song is the main theme for the TV drama Mukai no Bazuru Kazoku, and so it's a song that's based around that, but honestly the first time I heard it I really felt that it was relevant to today. We really live in an age right now where social media penetrates out everyday lives, and for that reason it felt very 2019.

――I really like how the song features sounds that remind you of the action of 'liking' something [on social media].

Kyary:Yeah, it has a 'Pyu!' kind of sound.

Sabrina:That's funny.

――What did you focus on when recording?

Kyary:I focused on how I sang the first verse. The pitch in the first verse of this song is low. I have a high voice, so that part was a little tough.

Sabrina:That's funny. I sound like a man.

――No, no, that's not true [laughs].

Sabrina:I'm the opposite of Kyary. I always have a tough time with the higher parts [laughs].

――What's something you both really strive to work on in what you do?

Sabrina:I think honestly like you step out of your comfort zone. It's the same as how we have to try new things to feel inspired. When you're creating a show or you're creating visuals for an album―that's when you get to let you personality come through.  Because it's all live, you know. They're paying to see a live show so I think it's important that they see a live show.

Kyary:My concept has always been to take the things that girls dream of and bring them to life in the real world. When I'm coming up with a theme, I sometimes have moments where I'm stuck for a good idea. But I'm not alone, I know it will all come together in the end because of all the people I have around me.

――Your recent outdoor solo concert at Izumo-taishi as part of your 2019 Oto no Kuni Live Tour was full of ideas that were very like you.

Kyary:In my performances I value that feeling of bringing to life a dream-like world while at the same time not wanting it to end. Like when you go to an amusement park and think, "I don't wanna go home yet." I want people to have that same kind of feeling.

Sabrina:It's something not many people get to do so you have to have fun with it.

――What draws you both to pop music?

Sabrina:I personally think it is one of the most difficult genres of music to make, and make it properly. Because it is something that has to connect with such a large diverse group of people. We're not just like catering to one person or one type of fan. I think pop music is 'popular music,' so it's the thing that regardless of what you're supposed to like you end up liking it, and so I think that's why it's really hard but it's also very rewarding. I've just always been a fan of it overall. And like I said for me it doesn't matter what language it's in, it's more just like the way the song makes you feel, the melodies of the song, what the song's about. I think that makes good pop music.

――It's true that pop music can't be boiled down to a single definition. So could you say then that pop music can be anything?

Sabrina:It's 80,000 different genres [laughs].

Kyary: [Laughs]. In my case, people call my music pop music, but at the beginning it was more subcultural. It wasn't music that everybody liked. But more people came to hear about me around the time Tsukema Tsukeru [was released]. From there I was able to experience my music reaching out to various different people, which made me really feel that pop music doesn't have any rules.

Sabrina:It also just makes you feel good. There's a lot that makes us feel not great you know, in life, that I think it's one thing we all look to. I wanna come to [Kyary's] show.

Kyary:Please do! Where do you live in America?

Sabrina:I live in LA, but I'm originally from Pennsylvania.

Kyary:Ah, I'm performing at an event in LA [OTAQUEST LIVE] in July!

Sabrina:Amazing. I'll be there. We'll link up, I'll show you some cool spots. Shopping! Rodeo Drive.

Interview & Text: Jin Sugiyama

Photo:MURA

Translation: Joshua Kitosi-Isanga

Meet & Hang Out With Kyary Pamyu Pamyu and See it Broadcast Live on Television

Kyary Pamyu Pamyu's new song KIMI GA IINE KURETARA, which is used as the main theme for the Japanese drama Mukai no Bazuru Kazoku, will be released digitally on May 10, 2019.

A digital CD cover and artist photo have been released for the new song. The CD cover is split into two different photos: the left half is the same outfit as the artist photo with Kyary donning pink clothing and head accessory, while in the right half, for some reason, she is wearing a moustache and beard, opting for a more ruffled look.

The unveiling of this bearded Kyary comes alongside the news that the singer will release a new music video on May 10.

To celebrate the release, Kyary is holding a campaign entitled KIMI GA IINE KURETARA Kyary ga Ataru! "Kyary no Iine Dream Kuji". This campaign asks fans to post on Twitter the things they would love to do with Kyary, whether it be eating her home cooking, or going to Harajuku with her to shop and have her coordinate a full outfit for you. The lucky winner will get to meet with Kyary personally and have their dreams come true! The entire experience will be broadcast live for five hours on AbemaTV on May 16.

With preparations for the Olympics next year taking place this year, excitement and anticipation are growing around Kyary Pamyu Pamyu for her to spread Japanese culture through her unique perspective. Stay tuned for the latest news on her.

Kyary Pamyu Pamyu's KPP CAMP & Other Events in Okinawa for May and June

During the hot summer season and spring break, tourists from both Japan and overseas flock to enjoy the sunny beaches of Okinawa.

Tourists tend to steer away from the island from early May to June because of Japan's rainy season, but in fact on Okinawa there aren't many long spells of rain, and the temperature is at a comfortable warmth. Not many people know that it's also the best season for saving money when travelling there.


With that in mind, a new campaign entitled Okinawa E-Motion has been set up this year. Various resort events will take place for people to enjoy what they are calling a "flying summer"―or experiencing the earliest summer in Japan.

This first annual Okinawa E-Motion will take place from May 18 to June 2 with a host of events themed around food, music and art. It will begin with the opening event "Magic Beach & Beach Bar Walk" which combines food with magic. This will be followed by a string of exciting events including KPP CAMP organised by Kyary Pamyu Pamyu, Bar Walk Naha hosted by several restaurants in Okinawa's capital of Naha, ASOBEACH!!! where artists and DJs will come together to hold an outdoor music festival, the popular food festival OKINAWA FOODO FLEA and more. There will also be marine activities, the Art Spot―the list goes on.

May 25th – KPP CAMP

KPP CAMP is a music event organised by Kyary Pamyu Pamyu. This is the second time she has held the event, the first being back in June last year at Hibiya Open Air Concert Hall. The theme this year is "unique combinations."

Artists performing at the event include the genius singer-songwriter Shota Shimizu and the bear-masked female singer Koresawa who's voice can be described nothing short of addictive. Enjoy this one-night-only special event outdoors in Okinawa on the first ever summer of Japan's new Reiwa period!

Ryukyu Nissan DAYZ Presents KPP CAMP in OKINAWA ~Renai tte Issei Muzukashii Desu yo ne Hen~
Date:  May 25, 2019
Time: Open 15:00 / Start 16:00
Venue: Ginowan Seaside Park, Okinawa
Line-Up: Kyary Pamyu Pamyu, Shota Shimizu, Koresawa
Ticket Price: Reserved Seating ¥5,000 (Tax Included) / Student Reserved Seating ¥4,000 (Tax Included) *Student ID required
Ticket Release Date: April 26, 2019

Pre-Sale Ticket Window: April 5, 2019 at 18:00 – April 9, 2019 at 23:59 (via KPP Fan Club and KPP CAMP)
KPP Fan Club: https://kyary.net/
KPP CAMP Official Pre-Sale: https://pia.jp/v/kppcamp19hp/

*Applications for an exclusive JTB Entertainment access tour open on April 12 when buying pre-sale tickets on KPP CAMP via: https://jtb-entertainment.net/tour/2019/kpp/ (Link available from April 12 at 17:00 JST). Please note that concert tickets are not included with the access tour plan.

*Those aged 4+ years must hold a valid ticket. Those aged 3 years and under must sit on a parent or guardian's lap. However, where a seat is required, a valid t icket must be held

*Event will go ahead if it rains but be cancelled during stormy weather.

Enquiries: PM AGENCY – TEL: 098-898-1331 (Weekdays 10:00-18:00) / https://www.pmnet.co.jp

May 25th – Bar Walk Naha

Bar Walk Naha is a popular food event that has been held 6 times to date. The team behind it came up with the concept of bringing together famous restaurants people have always wanted to visit as well as great restaurants people never knew about. Attendees are given a guide map to five restaurants for this bar-crawl-like event. Experience the culture of Naha while chowing down on new gourmet delights!

June 1st & 2nd – ASOBEACH!!! / OKINAWA FOOD FLEA

ASOBEACH!!! is an outdoor music festival that has garnered huge reception as a long-running event. It will serve as the main event to wrap up Okinawa E-Motion. It will be held alongside OKINAWA FOOD FLEA at Nami no Ue Umisora Park.

Plenty of other events are lined up on the scheduled too. For full details of everything going on check the campaign's official website.

Concert Review: Kyary Pamyu Pamyu's One-Night-Only Live Performance at the Sacred Izumo Shrine

Kyary Pamyu Pamyu released her fourth studio album in autumn 2018. The album, which was produced by Yasutaka Nakata, takes an oriental approach. Kyary kicked off her live tour "Otono Kuni Live Tour 2019", which was based on one of the most impressive songs on the album called "Otono Kuni". Kyary took to the stage at one of Japan's most loved world heritage sites to enhance the album concept. On Saturday 30th March, Kyary Pamyu Pamyu kicked off her live performance "Maboroshi no Utopia ~Izumo-taisha no Yoru~" at Izumo Grand Shrine in Shimane, which is known to be the origin of Japan's many gods.

Japanese singer Akihiro Miwa, who is a big fan, praised Kyary Pamyu Pamyu on her performance: "You were like the reincarnation of Izumo no Okuni herself", he stated, referring to the originator of Japanese traditional Kabuki theatre "Izumo no Okuni", who worked as a server at Izumo Shrine.

Kyary dressed in Japanese-style clothing decorated with gold chains and crystals. Although her fashion was criticised for not staying true to the old times, she also received compliments that her personal style as an artist has pierced through the generations and rules the times.

As an artist whose outrageous fashion just cannot be comprehended, Kyary has jumped all over the world to perform at numerous stages. Now, with the words "the modern day Izumo no Okuni" spoken by Miwa kept close to her heart, Kyary pushed onwards and took over the stage at Izumo Shrine!

As you walk amidst the majestic atmosphere when approaching Izumo Shrine, all of a sudden, you are faced with a giant frame surrounding a stage. Excitement rose as people wondered just how Kyary Pamyu Pamyu was going to present her story from inside the picture frame. The inside of the picture frame was decorated with plants that are often seen in European fairytale books, along with wild rabbits and butterflies. You can also catch a glimpse of a pop border and polka dots. You just can't categorize this artwork into any time period or say it is based on just one country! It cannot be summed up as being "Japanese-style" either. This exquisite world is very Kyary-like!

First, a movie-like opening played before the audience, through which the story was explained. The God of Music called the "Oto Ryu" protected the country of music (Otono Kuni) so that the people could live a peaceful life filled with fun and dancing. However, one day, this peaceful living was snatched away by an evil spirit. The God of Music was sealed away into a mountain and the plants and trees withered. The people forgot what music was and lost their smiles. The God of Music could sense the calamity from inside the mountain and began to cry. From the dragon's tears, the Princess of Music; Kyary Pamyu Pamyu was born with the purpose of restoring the country's smiles and peace.




Gentle, orchestral music started to play, leading into the song! Kanzen Keitai". The majestic figure of Kyary Pamyu Pamyu was accompanied to the stage. Against the white curtains, her golden dress floated like a goddess – very much like the descendant of the god of Izumo. Kyary's clear voice resonated through Izumo forest. For a moment, the audience was pulled into her mystical fairytale world.

When the curtains opened, the frame was filled with cherry blossoms in full bloom. At this point, Kyary performed her killer tunes "Kira Kira Killer" and "Tsukema Tsukeru", to which the crowd suddenly went wild. Kyary then announced: "This live performance is limited to tonight only! I decided to include some of my older songs for nostalgia's sake!"

She did not just perform songs from her new album Japamyu, but also some of her songs she hasn't performed in a long time from "Suki Sugite Kiresou", "Noriko to Norio" and "Unite Unite" to her debut song "PONPONPON" which was a world hit! This line up was overflowing with variety and really kept the tempo going!

As the surrounding area got darker, the forest and cherry blossoms were illuminated with the lighting and the area became a mystical land. After another video was played on the curtains, Kyary returned to the stage in a cute and cool outfit! This time, she wore a Japanese-style pink dress and arrived on a pastel pink cloud! She then kicked off with one of her most famous songs: Ninja Re Bang Bang, but this time in a cappella style! This is the first time she has ever performed this song in a capella!

She then announced to her fans: "The atmosphere here at Izumo Shrine is just too good! There are times I feel like crying even though I'm mid-performance!"

After relaying her deep thoughts to her fans, she moved on to "Enka Natrium", for which she taught her fans some easy choreography so that everyone danced as one!

She then continued to perform some of her biggest uptempo hits "Invader Invader" and "Fashion Monster", at which the climax of the night was reached. Then, with the power of Kyary's music, the God of Music was freed from the mountain and came spiralling down to earth. The grand figure of the dragon could be seen projected on the curtains. As this concluded the end of the main part of the live performance, Kyary immediately performed the main song of the evening "Otono Kuni", which wrapped up the evening.

Kyary Pamyu Pamyu's then performed her brand new song KIMI GA IINE KURETARA for the first time! This song will be used as the theme song for the new drama 'Mukai no Bazuru Kazoku'; the drama which is currently big news in the media! The theme of the song is SNS and was heavily inspired by the drama. Whilst singing her new pop tune with passion, she performed a dance with one dancer for the first time. She described the dance as the "most difficult she has ever done".

Kyary Pamyu Pamyu performed her original performance "Otono Kuni" in the special and traditional environment of Izumo Shrine. As we are approaching 2020, which is the year that Japan will host the Olympics, Japan is aiming to spread its culture worldwide now more than ever! Kyary, who was compared to the founder of Kabuki theatre Izumo no Okuni, mixed traditional culture and innovation to present a unique show. This evening was living proof that Kyary's unique culture is being spread worldwide.

For the second part of her Otono Kuni Tour 2019", Kyary unveiled her next venue to be Minami-za, the kabuki 'holy ground.' This tour will be a link to "Kyoto Mirai Matsuri 2019: Minami-za Reopening Commemoration". On the last day of the Heisei era of Japan (30th April), Kyary will hold a collaboration live performance with Minami-za in Kyoto! This will be a one day-limited special performance called "Kyary Kabuki Kabuki". Kyary, who was compared with the founder of Kabuki herself, is sure to provide a dramatic collaboration performance! Just what kind of fusion of traditional culture and modern reform will she hit us with this time?

There's just no stopping Kyary Pamyu Pamyu!

Information

KIMI GA IINE KURETARA

Digital Release: May 2019 (Subject to Change)

*Opening theme song for NTC drama series Mukai no Bazuru Kazoku, Yomiuri Telecasting Corporation.

Izumo-taisha Concert – Maboroshi no Utopia ~Izumo-taisha no Yoru~ (Otono Kuni Live Tour 2019)

Date: Saturday 30th March 2019

Time: Doors 17:00 / Start: 18:00

Venue: Izumo-taisha Eastern Shrine Gardens (Higashi Shinen)

Address: 195 Kizukihigashi, Taishachō, Izumo, Shimane Prefecture

Otono Kuni Live Tour 2019 – Part 2

Title: Kyoto Mirai Matsuri 2019: Minami-za Reopening Commemoration

-OTOMATSURI-

Kyary Pamyu Pamyu Otono Kun Live Tour 2019 – Part 2: Kyary Kabuki Kabuki

Date: Saturday 30th April 2019

Slot 1 – Doors 12:00 / Start: 13:00

Slot 2 – Doors 17:00 / Start: 18:00

Venue: Kyoto Minami-za,198 Nakano-cho, Shijo-dori, Yamato-oji nishiiru, Higashiyama-ku

Official Waebsite: https://www.miraimatsuri.com