Enjoy art works in a building which used to be a sento (public bathhouse). The second program event of HITAKIBA, "Miyanoyu" will be held in Nezu, Tokyo
An art space which used to be a sento called HITAKIBA will hold its second program event, "Datsuijo de Geijutsuka to Buntsusuru Hi" every weekend (Friday, Saturday, Sunday) from the 1st of December 2017 to the 24th at "Miyanoyu" located in Nezu, Tokyo.
The second program of the sento art entertainment event, "HITAKIBA" (the name of the first event was "Yokujo to Hitakiba wo Meguru Chisana Boken" and it gained much popularity) will start.
The keyword of the event is "letter." All parts of the good-old sento such as the cute tiled bath tub and good old magical fire place will be filled with lots of art works. Many artists will visit the sento and you can enjoy chatting with them or watching them drawing paintings. ※ taking a bath is not possible.
It is a magical space where you will surely feel like you have wandered off into the world of paintings. The fun part of this event is that you can receive an interesting letter from the artists if you put a letter inside the locker of the changing room.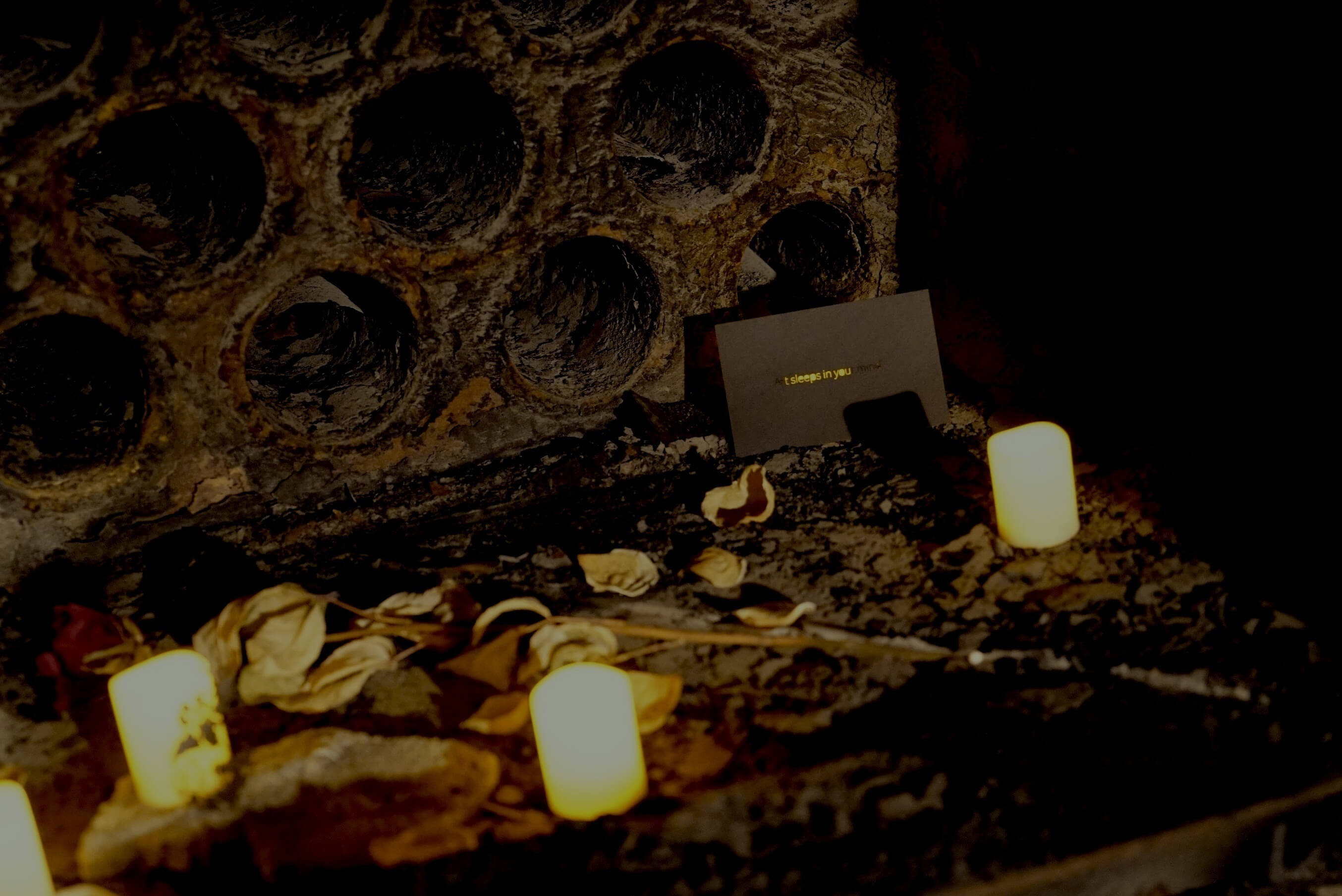 You can meet with the artists and find out your sensibility regarding art by participating in this event. You will for sure have many new discoveries by participating in this event which is a very rare event in Tokyo. Let's enjoy the artworks with your friends, boyfriend/girlfriend or family members.
Let's spend a great day with artists in an old bath house!
■Information
Date: Friday, Saturday, Sunday – 2017,12,1 (Fri.) to 12,24 (Sun.)
Time: 15:00 to 20:00 ※ last entrance 19:30
Venue: Motosento "Miyanoyu"
Access: 2-19-8, Nezu, Bunkyoku, Tokyo ※1 minute on foot from Chiyoda Line Nezu Staion
Ticket: 1,100 yen (500 yen – students) ※tickets can be bought at the counter of the sento
You can visit the sento as many times as you want during the session!
Web site: http://cirq-cirq-cirq.com/letter/
RELATED ENTRIES
Boat Race Tokoname in Aichi Prefecture to Screen Popular Films at Drive-in Theater

The Boat Race track at BOATRACE Tokonome will be home to a 3-day Drive-in Theater event on November 19, 20, and 21. The vast west parking lot will welcome guests to enjoy three films from the safety and privacy of their vehicles. In past years, the Hamanako, Tokuyama, Naruto, and Mikuni locations have participated. Now, it's Tokoname's turn!

Selected Films

La La Land (with subtitles) – November 19, 2021

© 2017 Summit Entertainment, LLC. All Rights Reserved.

The Secret Life of Pets 2 (dubbed) – November 20, 2021

© 2019 Universal Studios. All Rights Reserved.

A Whisker Away – November 21, 2021

© 2020「泣きたい私は猫をかぶる」製作委員会

This lineup of films can be enjoyed by families, lovers, and friends. The final film, A Whisker Away, is a coming-of-age fantasy set in the city of Tokoname. Visitors can enjoy these films on one of the largest air screens in Japan, at 722 inches. Don't miss some additional boat race content that even beginners can enjoy!

Information

BOATRACE de DRIVE-IN THEATER in BOATRACE Tokoname

Dates: November 19, 20, 21 – Doors open at 18:00, film starts at 19:00

Address: BOATRACE Tokoname West Parking Lot (4-111 Shinkaicho, Tokoname-shi, Aichi)

Official Site: https://boatrace-driveintheater.com

Sanrio Puroland Announces Snow Globe-Themed Christmas Event

This holiday season, Sanrio Puroland will hold its Puro Christmas celebration from November 5 until December 26, 2021. The snow globe-themed event is sure to bring some cheer to the Tokyo area!

Snow Globe Lights

Photo Spots

Puro Christmas Special Greeting

Kitty & Daniel's Party-Party Christmas

Exclusive Menu

Puro Christmas Limited-Time Merchandise

'The Puro Christmas' Musical Show

Guests will be treated to an entire world of Sanrio characters within a glittering snow globe, and each of them will be wearing limited-edition Christmas costumes. Seasonal photo spots and opportunities to spend time with characters will line the space, along with Christmas trees and other holiday decorations!

The special Christmas food menu features a Santa Claus theme and dishes are dotted with red and green. Exclusive snow globe-themed merchandise available for purchase includes keychains, pins, and sweets that are perfect to give as a gift this holiday season. In addition, a special four-day event 'Kitty & Daniel's Party-Party Christmas' will invite guests to enjoy a full buffet while watching a live performance and partaking in a photo session after the meal!

First performed in 2018, 'The Puro Christmas' musical show is making a comeback this year after becoming a big hit with fans. 

© 2021 SANRIO CO., LTD. TOKYO, JAPAN  著作 株式会社サンリオ

MUSER FEST.2021 -MUSIC AID- Event Holds Spin-Off Event for One Night Only

Last month's MUSER FEST.2021 -MUSIC AID- event isn't quite over! A spin-off event, ZIP-FM presents LIVE LIVE! Super Collaboration with MUSER FEST.2021, will be broadcast online on October 22 at 21:00. Since August, collaborative live performances have been planned with different guest artists each month on ZIP-FM's LIVE LIVE! With MUSER FEST.2021 program hosted by CHAI. This event is the culmination of these plans and the lineup is sure to get fans pumped. 

Performing artists include YUNA from CHAI, Suzuka and Mizyu from Atarashii Gakko!, Tabu Zombie from SOIL & "PIMP" SESSIONS, and Shingo Suzuki from Ovall. Ryo Kishimoto from fox capture plan will also join the live performance as a supporting artist. An archived stream will be available for two weeks after the live show, and tickets are on sale now on the official MUSER website. 

 

Information

ZIP-FM presents LIVE LIVE! Super Collaboration with MUSER FEST.2021

Broadcast Date: October 22, 2021 from 21:00-22:00

Price: 2,000YELL – ¥2,200 (Tax Included) *Includes access to archive

Buy Tickets: https://muser.link/__b/events/573 

Archive Available from October 23 – November 5 at 23:59

Archive Ticket Sales Period: October 23 – November 5 at 23:59

Official Site: https://muser.link/

no mark.Café in Tokyo Collaborates with Parent-Child Art Unit Musee du Aouvre

Located in an old traditional Japanese house in Kiyosumi Shirakawa, no mark.Café has a cozy ambiance for guests looking to escape the hustle and bustle of the city. From October 15 until November 30, the cafe is collaborating with the parent-child art unit Musee du Aouvre, and thirteen works from the group's blog will be on display throughout the building. A campaign will also be held, giving visitors the chance to receive some original coasters and a small wind God figure to sit on the side of a coffee cup. 

Campaign Present A. Aouvre Coaster / B. Aouvre Wind God Figure

The cafe aims to be a place where guests can enjoy art as they relax, and to further this idea, they will be collaborating with a number of artists in the 'CAFE DE ART' project. 

The first collaboration is with Musee du Aouvre, an art unit consisting of a father and son duo who copy famous works of art. These aren't just any forgeries–they are incredibly adorable and pay proper homage to the original creations. Thirteen works will be selected from the pair's blog and will be exhibited under the title 'The no mark.Café Great Counterfeit Exhibition.' A 2022 calendar and postcards of the works will be on sale at the store, and videos will provide information about the original works of art. Visitors can also participate in the Twitter and Instagram campaign to win a special collaborative item!

Daruma Themed Exhibition and Auction Featuring 11 Artists Opens in Shimokitazawa

From October 13 to October 27, artists are flocking to BONUS TRACK Gallery in Shimokitazawa to display some incredible works based on daruma, a type of lucky Japanese traditional doll. These works will also be up for sale in an online auction happening during the event period!

October 2020 Exhibition

October 2020 Exhibition





The motif of BONUS TRACK is the daruma, which are seen as symbols of perseverance and good luck in Japanese culture. This marks the third time that artists have been invited to create and sell their daruma-inspired works.

20% of the final bid price for each piece will be donated to various organizations. 30% will be given to the venue, while 50% will be given to the artists themselves. 

During the first event, donations went towards the Nippon Foundation's Emergency Relief Fund for Coronavirus. Other organizations supported include the Kitazawa Osekkai Club, a group involved in PTA and youth committee activities in the area, and Peace Wanko Japan, a dog protection organization in Hiroshima. 

New 'Ways of Telling' Exhibition Unravels People's Narratives in Artistic Ways

'Ways of Telling' Venue  Photographer: Kioku Keizo

The Ways of Telling Exhibition is now open at the Shibuya Koen-dori Gallery in Tokyo. The focus of the gallery is to closely inspect how people 'tell,' or communicate with others. Human beings often depend on hearing or seeing as ways to get information, but there are many other ways to express thoughts and emotions, from paintings and photography to video creation. The exhibition highlights different attempts to receive and express invisible 'narratives,' and visitors will have to rely on their imagination to understand each piece.

'Ways of Telling' Venue  Photographer: Kioku Keizo

'Ways of Telling' Venue  Photographer: Kioku Keizo

'Ways of Telling' Venue  Photographer: Kioku Keizo

Exhibition Space Design – Hideyuki Nakayama Architecture / Photo: Takashi Kato

Eight artists have contributed to the exhibition, each utilizing a wide variety of mediums. Hideyuki Nakayama, the architect behind the exhibition space, wanted to encourage visitors to use their imagination. "A building is a place that has been given a name and a fixed purpose, but I tried not to see it that way. I wanted it to feel like a different place for each guest. I hope that the space will overlap with the underlying purpose of the exhibition, in a way," he explains. 

Bringing together both the seeing and the blind, a special book club was established as a place to discuss each person's 'way of seeing' when it comes to art. In the exhibition space, Rinko Kawauchi's book Hajimari no Hi, containing images and thoughts captured by blind individuals during the book club, will be displayed in both words and other mediums. 

Manga Artist Kazuo Umezu's Work Featured in UMEZZ ART PROJECT Exhibition

UMEZZ ART PROJECT logo featuring self-portrait by Kazuo Umezu ©Kazuo Umezu

The UMEZZ ART PROJECT, focusing on the works of manga artist Kazuo Umezu, is coming to Tokyo City View in Roppongi Hills in Tokyo from January 28 until March 25, 2022. The artist is widely known for his work on a number of horror series including Cat Eyed Boy and The Drifting Classroom, Working in the industry since 1962, his works have inspired a number of other manga creators, with Urusei Yatsura and Inuyasha creator Rumiko Takahashi once serving as Umezu's assistant.

Orochi(1969-1970)


The Drifting Classroom(1972-1974)


My Name is Shingo(1982-1986)


*Dates of serialization in parentheses.


©楳図かずお/小学館

Tokyo Mega Illumination at Tokyo City Keiba to Collaborate with NAKED for AR Experience

2021 marks the fourth year that the Oi Racecourse, also called Tokyo City Keiba, will be bathed in a sea of over eight million colorful lights! The Tokyo Mega Illumination is back from October 16, 2021, until April 10, 2022, and features a water fountain show synchronized to music, a 100-meter tunnel covered in twinkling lights, and more. This year, in the Twinkle area of the event, guests can enjoy various AR illuminations created as a collaboration with NAKED, a creative production company headquartered in Shibuya. The NAKED BIG BOOK interactive experience will also welcome visitors to enjoy a projection mapping experience like no other.

NAKED BIG BOOK

Pergola (Interactive)

Illuminated Logo

AR Horse Camera Filter

AR Lights
Limited-Time Area: Tree Playing with Lights (Lawn Area)

NAKED's most popular work, NAKED BIG BOOK, utilizes projection mapping to allow guests to turn the pages of a giant book and experience a unique world separate from their own. Using web filters and AR, guests can also see the object as a pop-up picture book! 

During this special collaboration held on a horse racing track, visitors can also see a giant white horse in AR as they explore the grounds. Colorful horseshoes and stars will pop up from people's footprints, and the sound of visitors' steps will take on the sound of a horse's hooves instead. Be sure to make some memories by snapping commemorative photos with themed filters during the event!

Information

Tokyo Mega Illumination 2021-2022

Open: 

October 16, 2021 – April 10, 2022

Open Saturday and Sunday throughout October (Closed October 31)

Open Daily from November 1, 2021 – January 10, 2022 (Closed on Race Days and January 1)

Open Friday, Saturday, Sunday, and Holidays from January 11, 2022 – April 10, 2022 (Closed April 1)

Tickets are sold for the following week. New tickets for the following week go on sale each day at 0:00. 

Tickets: https://www.asoview.com/channel/tickets/gCscCKZ8EA/

Official Site: https://www.tokyomegaillumi.jp/

Machida City Museum Hosts Looking at Prints: Techniques, Expressions and Histories Exhibition

The Machida City Museum of Graphic Arts in Machida, Tokyo, is currently holding the Looking at Prints: Techniques, Expressions, and History exhibition until December 5, 2021. Featuring over 130 prints created with a large variety of techniques, guests can take a deep dive into how each piece of art was made. 

An Up-to-Date Parody of the Four Classes – Utagawa Kunisada. 1857. Letterpress, wood, multi-color printing. 

Artists featured in the exhibition have used many different techniques to create their masterpieces, including woodblocks, copper plates, lithographs, and stencils. The main exhibit introduces famous printmakers such as Albrecht Durer, Pablo Picasso, and Shiko Munakata, but also a number of lesser-known artists who utilized less traditional techniques. All explanations are in an easy-to-understand manner, so why not come learn about art in Tokyo? 

Information

Looking at Prints: Techniques, Expressions, and Histories

Running: Until December 5, 2021 (Closed Mondays)

*Contents will undergo partial changes throughout the exhibition. 

Hours: 

Weekdays – 10:00 AM until 5:00 PM

Weekends/Holidays – 10:00 AM until 5:30 PM

*Last admission 30 minutes before closing. 

Address: Machida City Museum of Graphic Arts (4-28-1 Haramachida, Machida, Tokyo)

Official Site: http://hanga-museum.jp/

Sumikko Gurashi Themed Cafes Open in Tokyo, Osaka, and Aichi to Commemorate Second Theatrical Movie

To commemorate the release of the their second movie, 'Sumikko Gurashi: Aoi Tsukiyo no Mahou no Ko,' Sumikko Gurashi will be opening the limited-time 'Night Party with Sumikko' cafe in Osaka on October 20, Tokyo on October 21, and Aichi on November 11.

 

(Advance Reservation Benefit Only) Original Invitation with Postcard (Five types)

Menu

Tokage's Night Party Curry: ¥1,430 (Tax Incl.)

Shirokuma's Warming Hot Rice Casserole: ¥1,430 (Tax Incl.)

Five's Recommended Children's Lunch: ¥1,650 (Tax Incl.)

Magician's Party ~Açai Bowl~: ¥1,430 (Tax Incl)

Aoi Tsukiyo's Fruit Punch: ¥1,100 (Tax Incl.) + ¥220 for one mini ice cream

Sumikko's Pudding Ice Cream: ¥880 each (Tax Incl.)

Starry Drink: ¥990 each (Tax Incl)

Dolomite Coaster

Hot Café Au Lait: ¥880 (Tax Incl.)

Original Goods

Acrylic Keyholder (Random out of five): ¥770 (Tax Incl.)

Phosphorescent Sticker (Random out of eight): ¥605 (Tax Incl.)

Acrylic Stand (Random out of five): ¥880 (Tax Incl.)


Muddler (Three types): ¥1,100 each (Tax Incl.)

Mug Cup: ¥1,980 (Tax Incl)

Purse: ¥1,100 (Tax Incl.)

Fluorescent Pen Set: ¥1,100 (Tax Incl.)

A5 Clear File Duo: ¥605 (Tax Incl.)

Bandanna: ¥1,870 (Tax Incl.)

The Sumikko Gurashi characters are beloved by both adults and children for their gentle touch and tone. Their first movie, 'Sumikko Gurashi Tobidasu Ehon to Himitsu no Ko' was released in November 2019 and received great popularity. The sweet story of the Sumikko's adventures through a story-book world attracted over 1.2 million viewers across Japan.

The heartwarming cafe menu includes "Tokage's Night Party Curry," "Shirokuma's Warming Hot Rice Casserole," Five's Recommended Children's Lunch,""Magician's Party ~Açai Bowl~," "Aoi Tsukiyo's Fruit Punch," "Starry Drink," and more. The cute, Instagrammable dishes feature the characters who feature in the movie, which tells a mysterious story that begins under a blue moon in the Sumikko's hometown. A lineup of limited edition goods and perks will also be available, adding to the movie excitement.

 

Enjoy a cute, social-media friendly meal and original merchandise at the exciting Sumikko Gurashi cafe!

©2021 Japanese Sumikko Gurashi Association Film Club

Information

Sumikko Gurashi Cafe

Date/Store

Tokyo: BOX cafe&space Tokyo SolaMachi (Previously TOKYO BOX cafe&space Tokyo SolaMachi)

October 21 ~ December 5 2021

1-1-2 Tokyo Sky Tree Town Solamachi 1F, Oshiage, Sumida-ku, Tokyo

Shinsaibashi, Osaka: kawara CAFE&DINING Shinsaibashi

October 20 ~ December 5 2021

1-4-3 Shinsaibashi OPA 9F, Nishishinsaibashi, Chuo-ku, Osaka City, Osaka

Aichi & Nagoya: BOX cafe&space Nagoya LACHIC 1F (Previously NAGOYA BOX cafe&space A) 

November 11 ~ December 12 2021

3-6-1 LACHIC Basement 1F, Sakae, Naka-ku, Nagoya City, Aichi

Reservation Fee: ¥650 (¥715 incl. tax) *Reservation comes with benefits *Up to four seats can be reserved per application.

Cafe Online Shop opens November 11 12:00 until December 12 at 23:59

Reservations & Official Site: https://sumikkogurashi-movie-cafe.jp 

Official Twitter: https://twitter.com/cafe_sumikko 

Online Shop: https://sumikkogurashi-movie-cafe.jp/online_store 

Contemporary Art Festival ART@FUKUOKA Opens at Daimaru Fukuoka Tenjin

Department store Daimaru Fukuoka Tenjin will host the contemporary art festival ART@FUKUOKA for the first time, from October 13 until October 25, 2021. 

The art market is growing year by year, with more and more people curious about incorporating unique works into their interior design, or purchase pieces as assets. In particular, the contemporary art market has become the focus of a large movement and continues to elevate a number of new personalities. The ART@FUKUOKA festival will feature 300 works by promising young artists from both Japan and abroad. This is a great chance for those unfamiliar with the contemporary art world to get a feel for what it represents!

Main Building 8F Works at a Glance

Banksy「Golf Sale」

Sadamasa Motonaga – Untitled

©Motonaga Data Research Office

Nick Walker – Vandalism

DOLK – Winner blue dolk

ONEMIZER – Bicause Pipi

ART ~New Expressions~ (Main Building Antenna Plus 1F) Works at a Glance

The contemporary art movement is gaining more popularity worldwide. Each year, expressions become more and more diverse, and more unique creators spring onto the scene. The ART ~New Expressions~ section focuses on artists with the potential to lead the next generation. 

Syoichi Mukai 

 BABYTECTOR [PRISM]. 2021. 

Takakura Kazuki

  Emoji_Alligator_Emoji (Output. ver). 2021. 

KENZ


  BREAK DANCE. 2021. 

Wakaba Higuchi

  Panther and Phoenix. 2021. 

Information

ART@FUKUOKA

Running: October 13 – October 25, 2021

Entry Free

Address: Daimaru Fukuoka Tenjin

Venue 1/Main Building, 8F: 10:00-6:00 *Closes at 5 PM on October 25

Venue 2/Antenna Plus, Main Building 1F: 10:00-8:00

Official Site: https://www.daimaru.co.jp/fukuoka/

10 Locations in Japan and Beyond Participating in Naked's DANDELION PROJECT

The DANDELION PROJECT has a powerful message: we're all connected, even during these isolating times. Naked's interactive art project began in Tokyo, Singapore, and other cities last year, and given their success, locations are now set to open at Heian Shrine in Kyoto and Kumamoto Castle this fall.

The original idea for the project came from artist Ryotaro Muramatsu, who decided to plant (or install) dandelion art pieces worldwide and bring people together to help them bloom. Those participating in the installations are able to send their wishes for world peace on digital dandelion fluff to other locations where DANDELIONs are planted around the world, and these messages are delivered in real-time. Even those unable to attend one of these installations can participate from home on the official website. 

With new DANDELION PROJECT locations set to open around Japan, places with historical significance are happy to participate, including Kamigamo Shrine and Ninna-ji Temple in Kyoto, Kumamoto Castle, and Kochi Castle. There are plans to hold more events around the world in the near future. 

DANDELION PROJECT Locations

Tokyo – Tokyo Tower Main Deck

Tokyo – TBS drama series Japan Sinks: People of Hope Collaboration, Akasaka

Kyoto – Kamigamo Shrine (World Heritage Site)

Kyoto – Ninna-ji Temple (National Treasure/World Heritage Site)

Kyoto – Heian Shrine (Important Cultural Property)

Kyoto – Kosho-ji

Aichi – Kochi Castle (Important Cultural Property) 

Saga – Saga Prefectural Observation Hall 

Kumamoto – Kumamoto Castle (Important Cultural Property)

Korea – Seoul