KAWAII MONSTER CAFÉ HARAJUKU will sell Christmas season-limited menu items
A popular concept restaurant in Harajuku Tokyo, "KAWAII MONSTER CAFE HARAJUKU" will sell Christmas season-limited menu items from the 7th of December (Thurs.) to the 25th (Mon.)
The new menus items are very unique and have a "poisonous" cuteness.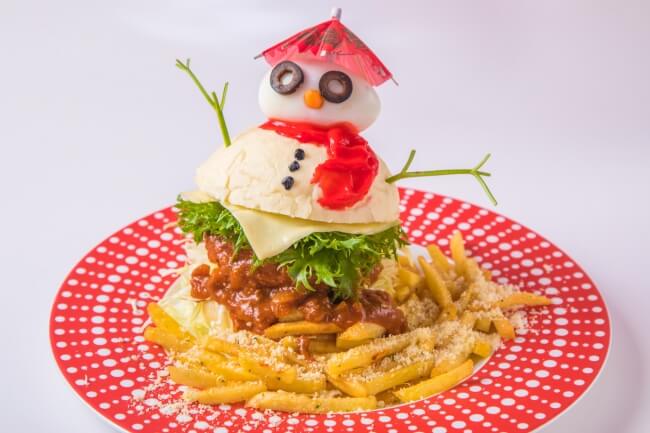 White Pop Burger Snowman 2,280 yen (tax not included)
A cute burger which depicts a snowman wearing a Santa Clause hat. It is a product comprised of a gratin croquette and meat sauce suitable to be eaten during the winter season.
Makka na 0hana no Tonakai Sweets 1,450 yen (tax not included)
A dessert shaped like a reindeer with a red nose. The belly of the reindeer is made with strawberry moose and the face is a chocolate/cream sandwich. It is recommended for those of you who like sweet desserts.
Merry Monster 1,450 yen (tax not included)
A dessert using the motif of Choppy, the character of the store. It is a Christmas dessert with soft moose stuffed with berry sauce.
Moreover, a special dinner course will be offered from the 18th of December (Mon.) to the 25th. It is a gorgeous plan which comes with MOET & CHANDON.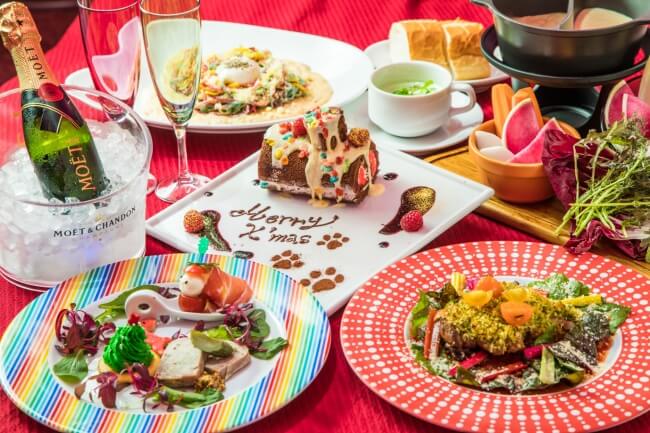 ONE WEEK CHRISTMAS DINNER COURSE with MOET & CHANDON 5,500 yen (tax not included) ※all you can drink – 2 hours
Content of the course (six dishes)
Appetizer: A gift from Santa Clause (three appetizers)
Salad: Winter-vegetable salad – early style
Warm vegetable: hot soup
Pasta: Colorful rainbow pasta – Christmas white
Main dish: Grilled chicken thigh with bone seasoned with sweet herb/bread crumbs
Dessert: Special Christmas cake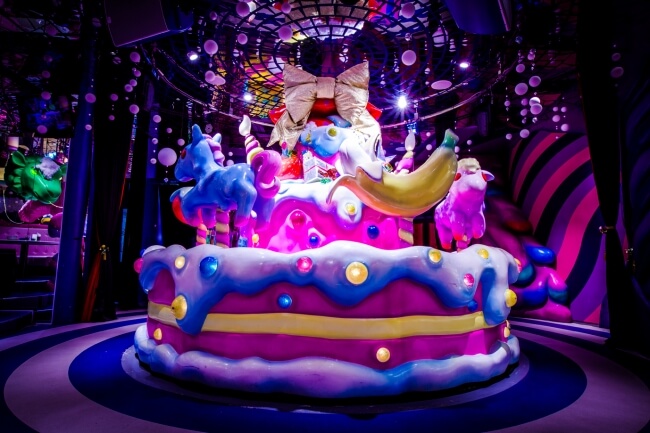 All the menu items noted above are cute and photogenic making them suitable to be uploaded onto your Instagram!
Let's enjoy a crazy and happy Christmas at "KAWAII MONSTER CAFÉ."
■Information
KAWAII MONSTER CAFE HARAJUKU Christmas menu
Date: 2017,12,07 (Thurs.) to 12,25 (Mon.)
KAWAII MONSTER CAFE HARAJUKU
Address: Square Building 4F, 31-10, 4th street, Jingumae, Shibuyaku, Tokyo
Business hours: weekdays, Saturday – lunch 11:30 to 16:30 (last entrance 15:30, last order 16:00, 90 minutes)
Dinner: 18:00 to 22:30 (L.O. 22:00)
Sunday / national holidays – 11:00 to 20:00 (L.O. 10:30)
2 hours – when the café is crowded
Fixed holiday: None
TEL:03-5413-6142
URL:http://kawaiimonster.jp
RELATED ENTRIES
Valentine's Dessert Sets Served Up at Harajuku's Tea Latte Shop CHAVATY

CHAVATY, a cafe in Harajuku that serves tea lattes made with high quality tea leaves, is getting ready for Valentine's Day early with the release of some tasty new desserts which they began serving up on Thursday (January 14).


Valentine's Set | ¥1,100 (Before Tax)


Valentine's Scone Set (6 Included) | ¥2,480 (Tax Included)


Raspberry Chocolate | ¥970 (Tax Included)

The Valentine's Set comes with a cute scone as well as fondant chocolate made with rich, high-grade chocolate from the French chocolate brand Cacao Barry. It also comes with a tea latte of your choice. There's also a scone set which comes with two each of three different scones for a total of six including the Berry & Cocoa Pink Chocolate, Orange & Chocolate Chip Double Chocolate, and Dried Fruits & Nuts White Chocolate. CHAVATY has also made their own seasonal homemade spread: the Raspberry Chocolate.

Information

CHAVATY Valentine's Set
Running: January 14, 2021 – February 14, 2021

Address: Minami-Harajuku Bldg. 1F, 4-6-9 Jingumae, Shibuya, Tokyo

Official Website: https://chavaty.shop-pro.jp/

SNOOPY MUSEUM TOKYO's PEANUTS Cafe Serves Up New Menu Items Inspired by the Comics

The PEANUTS Cafe at SNOOPY MUSEUM TOKYO rolled out new menu items on Saturday (January 16) as part of a new exhibition called "Snoopy to Kyoudai" (Snoopy and Siblings) featuring a sandwich and desserts inspired by scenes from the beloved Peanuts comics.

The New Menu Line-Up

Snoopy Flower Basket Sandwich | ¥1,400 (Before Tax)

This flower basket is based on a scene when Snoopy meets with his siblings who pay him a visit after he recovers from being unwell and they eat sandwiches together. The tasty sandwiches are stuffed with pastrami beef and veg so you too can get your fill like Snoopy. The basket also comes with mini corn dogs and crispy fries. This is one to share (or hog all to yourself!)

Olaf's Pancakes | ¥1,200 (Before Tax)

These pancakes are inspired by Olaf, who was first introduced in the ocmics as the winner of the Ugly Dog Contest. They are loaded with ice cream, fruit, a whole Japanese custard pudding, fresh cream, and a drizzle of caramel sauce.

Belle's Raspberry Milkshake | ¥900

A doughnut-topped raspberry milkshake like the one that appears in the comics. It's a nod to Belle, Snoopy's only sister.

©2021 Peanuts Worldwide LLC (短縮形 ©2021 Peanuts)

Information

PEANUTS Cafe SNOOPY MUSEUM TOKYO
Running: January 16, 2021 – July 11, 2021
Address: Minami-Machida Grandberry Park Park-Life Site, 3-1-1 Tsuruma, Machida, Tokyo
TEL: 042-850-7390
PEANUTS Cafe Official Website: http://www.peanutscafe.jp/snoopymuseum-tokyo/

Tokyo's Kirby Café Whips Up Chocolate and Fruit Loaded Limited-Time Menu

The Kirby Café in Tokyo, which is based entirely around the popular Kirby video game series, will release a new limited-time menu on January 15 called 'Chocolate de PUPUPU' which will be served until February 28. The fruit and chocolate-packed line-up features three items. Item names are translated from Japanese by MMN.

The 'Chocolate de PUPUPU' Menu


Kirby Café's Stovetop Dessert Pizza ~Looking Out the Chocolate Train Window~ | ¥1,380 (Before Tax)


Waddle Dee Also Loves Chef's Chocolate Pan Stew! | ¥1,480 (Before Tax)


Old Odyssey | ¥780 (Before Tax)


Which of these delightfully cute treats do you want to inhale?

Information

Kirby Café
Running: January 15, 2021 – February 28, 2021
Official Website/Table Reservations: https://kirbycafe.jp

Harajuku's BOTANIST Tokyo Reveals its Spring 2021 Menu

BOTANIST's flagship shop BOTANIST Tokyo is set to begin serving up its spring season menu for the new year at its second floor BOTANIST Cafe from January 8 to March 31.

Quinoa Teapot Salad & Potage (Vegan-Friendly) | ¥1,500 (Tax Included)

A sophisticated salad of quinoa, crunchy carrot and red onion, tomato, and more, all served in a cute teapot.

Salmon Salad & Waffles | ¥1,500 (Tax Included)

Naturally sweet vegan waffles with lime-drizzled vegetables and served with slightly salted salmon and cream cheese. Pour over the maple syrup to make the cream cheese even richer and enjoy a completely different flavour.

Cherry Blossom Jelly & Fromage Mousse (Vegan-Friendly) | ¥50 (Tax Included)

Refreshing cherry blossom flavoured jelly made with rich and velvety soy cream. The cherry blossom petal topping and sparkly appearance of the jelly makes this a luxurious looking dessert.

Cherry Blossom Chiffon Cake | ¥800 (Tax Included)

A fluffy cherry blossom chiffon cake dusted with cherry blossom powder. It's a sweet and subtly salty mix topped with fresh cream.

Left: Three Berry Smoothie, Right: Strawberry & Raspberry Sweet Sake Smoothie (Vegan-Friendly) | ¥850 Each (Before Tax)

The Three Berry Smoothie incorporates the chunky texture of strawberries, sweetness of blueberries, and tangy taste of raspberries, creating a rich but not overly-sweet beverage. The Strawberry & Raspberry Sweet Sake Smoothie is one to go for if you love amazake.

Strawberry Decoration Hot Chocolate (Collaboration Drink) | ¥800 (Tax Included)

This luxurious strawberry hot chocolate is made in collaboration with Dari K, a craft chocolate maker who uses high quality cacao beans from Indonesia.

Select items on the spring menu are available for takeout as well as via Uber Eats in Japan, perfect for enjoy an indoor hanami this year.

BOTANIST Tokyo's first floor shop will also release its spring series of products, such as the limited edition Botanical Spring Hair Perfume.

Information

BOTANIST Tokyo
Address: 6-29-2 Jingumae, Shibuya, Tokyo
TEL: Floor 1F Shop: 03-5766-3777 / Floor 2F Cafe: 03-5766-3778
Opening Hours: 11:00-19:30 (Currently operating on decreased hours)
Official Website: https://shop.botanistofficial.com/ 

Japan's Kirby Cafe to Celebrate the Near Year With a Special 2021 Menu Addition

The Kirby Cafe in Tokyo has announced a seasonal dish for the new year as part of the cafe's "Sweet NEW YEAR 2021" celebration which it will begin serving from January 1, 2021.


Kirby Burger & New Year Dessert | ¥1,980 (Before Tax)

The dish comes with a miniature version of Kirby Cafe's popular burger on a teeny-tiny plate measured at just 10cm in circumference.

The mini dish looks super cute lined up next to the cafe's plush toys.


The plate that the food is served on comes as a free souvenir which you can take home with you after eating. These will be limited in stock so will be available while supplies last for the New Year.

Information

Sweet NEW YEAR 2021
Kirby Burger & New Year Dessert
Serving: January 1, 2021 – January 31, 2021
Kirby Cafe Official Website/Table Reservations: https://kirbycafe.jp

Kyary Pamyu Pamyu Unveils Shiseido Beauty Square Spring 2021 Look

Following her Winter 2020 look for Shiseido Beauty Square, Japanese pop icon Kyary Pamyu Pamyu is serving something different with the unveiling of her look for Spring 2021.

The theme of this look is "2021: A Beauty Odyssey" with her hair, makeup, and outfit fusing together space and Harajuku-style beauty. It serves a romantic future full of hopes and dreams for the present.


The look was once again made in collaboration with top Shiseido hair and makeup artist Tadashi Harada.

If you're in need of makeup ideas for the New Year, and are in Tokyo this winter, be sure to pay a visit to Shieido Beauty Square where you're sure to discover a new you.

Information

Shiseido Beauty Square

Address: WITH HARAJUKU Floor 1F, 1-14-30 Jingumae, Shibuya, Tokyo

Opening Hours: 11:00-20:00

No Fixed Holidays
TEL: 03-5413-7717

Official Website: https://beautysquare.tokyo/

*Website available in English, Japanese, and Chinese

Tokyo's New Halal Food Truck Opens in Harajuku

Mr.HALAL opened its second Japanese branch, Mr.HALAL Harajuku, on Saturday (December 19). Mr.HALAL first opened as a mobile eatery in Marunouchi in February 2020, serving New York-style chicken over rice with its mantra "Healthy, Tasty, Spicy for Everyone." Since then, it has delivered New York food culture to the people of Tokyo's business district.

Now, the mobile food branch is expanding to serve to even more people as it celebrates its 1st anniversary by opening a new branch in Harajuku, Japan's hub for trends and youth culture.

Chicken Over Rice

Mr.HALAL's chicken over rice is made to order with high quality basmati rice coupled with fresh vegetables. All sauce toppings are original, made with yogurt and spicy red sauce. All ingredients and items on the menu are of course Halal-certified.

Other dishes include chicken over salad, burritos, soups, and more.

Information

Mr.HALAL Harajuku
Grand Opening: December 19, 2020
Address: Rhythm Omotesando, 4-30-2 Jingujmae, Shibuya, Tokyo
Opening Hours: 11:30-20:00
No Fixed Holidays
Access: 1-minute on foot from Meiji Jingumae Station
TEL: 070-8424-6145
Mr.HALAL Official Website: https://www.mr-halal.com

KAWAII MONSTER CAFE HARAJUKU Collaborates With Ty On Photo Room and Food

The KAWAII MONSTER CAFE in Harajuku is celebrating its 5th anniversary with a special collaboration with the multinational toy company Ty. The collaboration is running from December 18, 2020 to January 17, 2020.


©︎Ty Inc.Oak Brook,IL USA

Photo Spot: "My Ty Room"

©︎Ty Inc.Oak Brook,IL USA ©︎KAWAII MONSTER CAFE

KAWAII MONSTER CAFE's iconic Mel-Tea-Room has been transformed into the "My Ty Room" with fluffy plush toys adoring a bed and making for a truly kawaii photo spot. There are also panels detailing more about Ty for people to get to know the brand more. If you're in Japan for the kawaii experience, then look no further than this room for some Instagram-worthy shots.

人気エリアがTyギフトステージに

©︎Ty Inc.Oak Brook,IL USA ©︎KAWAII MONSTER CAFE

All of Ty's toys have their own birthdays, so to celebrate everyone's at the same time, KAWAII MONSTER CAFE's popular "Sweets-Go-Round" area, which features a giant moving cake stage in the middle, has been turned into the "Ty Gift Stage." Guests will find plush toys inside and dangling out of present boxes. There will also be an appearance of a mascot of a Ty toy that has never been showcased in Japan before.


Beanie Boos Reagan the Kitty (M) / Beanie Boos Enchanted the Owl (L) / Beanie Boos Tasha Leopard (KC)

If there's a plush toy you're interested in you can buy it at the cafe, including toys in Christmas colours for the holiday season. The toys come in three sizes, and there's other merch to pick up too like key rings, pencil cases, and more.

Ty x KAWAII MONSTER CAFE Collab Menu

Six menu items combine Ty's toys with KAWAII MONSTER CAFE's kaleidoscopic world. This includes some of Ty's most popular characters as well as the cafe's own character Mr Choppy.

Collab Food Menu Excerpt


Colourful Dotty Curry | ¥1,300

A colourful vegetable curry inspired by Dotty the Leopard filled with carrots, daikon radishes, beets, and more.

Colourful Pop Buger – Mr Choppy | ¥1,480

A burger based on KAWAII MONSTER CAFE's own Mr Choppy. It's filled with sautéed chicken and covered in a honey mustard sauce.

Gilda the Flamingo Cake | ¥950

A fresh cream-filled cake made with chocolate mousse and sat on a fluffy pancake. It also has a cute rainbow just like the one in the cafe's Ty room.

Fantasia Cupcake | ¥900

Fantasia the Unicorn has turned into a cute cupcake with an adorable marshmallow nose.

Colourful Christmas Heather Parfait | ¥2,400 (Available until December 25)

The cafe's popular "Colourful Poison Parfait" has been turned into Heather the Unicorn Cat, topped with strawberry, lemon, and ramune ice cream.

Information

Ty x KAWAII MONSTER CAFE Collaboration

Location: KAWAII MONSTER CAFE HARAJUKU
Address: YM Square Bldg. 4F, 4-31-10 Jingumae, Shibuya, Tokyo

Opening Hours: 11:30-19:00

No Fixed Holidays
Access: 5-minutes on foot Harajuku Station via JR / 1-minutes on foot from Meiji-Jigumae Station via Chiyoda Line and Fukutoshin Line

Official Website: https://kawaiimonster.jp/day/pc/

Bookings: https://www.tablecheck.com/shops/kawaiimonster/reserve

Ginza's Italian Restaurant FARO Earns Michelin Star

FARO, an innovative Italian restaurant in Ginza, Tokyo, has earned itself a Michelin Star in Michelin Guide Tokyo 2021 which went on sale on December 10, 2020.

Located on the 10th floor of the Tokyo Ginza Shiseido Building, the restaurant offers a taste of contemporary Italy, fusing tradition and innovation with a menu that incorporates Japanese ingredients and culture for an original dining experience.

Chef's Special: Potato spaghetti

The individual credited with the creation of a new food culture is FARO's executive chef Kotaro Noda who is the only Japanese person to own two Michelin-starred restaurants in Italy. He has been at the forefront of the Italian cooking world for the past 20 years.

Vegan Menu: Daikon Mochi [Winter Season Item]


Flower Tart

FARO puts a lot of work into its array of colourful vegan courses. These courses aren't only aimed at vegans either – they are available to anyone wanting to eat delicious and healthy food.

The restaurant is also a display of Japanese craftsmanship, with all cutlery, crockery, table accessories, and more made using traditional Japanese methods, like the lattice work on the doors from Niigata Prefecture, the Tajimi and Arita ware, fabrics from Imabari, Edo kiriko cut glasses, and more.

The decor of FARO is an elegant and stylish fusion of both Japanese and western tastes, with a colour gradation representing the earth, sea, and sky. This colouring offers a completely different dining in both the daytime or during evening hours.

Information

FARO
Address: 8-8-3 Ginza, Chuo-ku, Tokyo

Opening Hours: [Lunch] 12:00-13:30 / [Dinner] 18:00-20:30

Closed: Sundays/Mondays/Mid August/New Year Holidays
TEL: 0120-862-150 / 03-3572-3911
Official Website: https://faro.shiseido.co.jp/ 

Gintama Themed Cafes to Open in Shibuya and Sapporo in Collaboration With Tower Records

Tower Records is promoting the upcoming release of the anime film Gintama The Final by turning two of its own Tower Records Cafe branches in Sapporo and Shibuya into Gintama-themed spaces serving inspired dishes and selling exclusive merchandise.

Merch Collab

Gintama x  Tower Records Trading Acrylic Key Rings (6 Designs) | ¥800 (Before Tax)


Gintama x  Tower Records Towel | ¥2,500 (Before Tax)

Get your hands on a Gintama x  Tower Records key ring or towel featuring the main cast wearing Tower Records aprons just like the real-life staff at the music store chain. These items are available to pick up at 41 Tower Records stores, three Tower Records Cafes, and their official website.

Cafe Collab

Tower Records Cafe has collaborated with numerous anime series before, but this will be its first with Gintama. Two menus will be rolled out, the first being served from January 1, 2021 to January 14, 2021 and the second from January 15, 2021 to January 24, 2021. The first menu is themed on the series's six main characters while the second menu will be based around Gintama The Final as well as the two-part anime special Gintama The Semi-Final.

Menu ① (Excerpt)


Kagura's Tenshidon With Kombu Salad | ¥1,480 (Before Tax)

Inspired by the heroine of Gintama, Kagura, and served with her favourite vinegar kombu salad.

Toshiro Hijikata's Mayo Chicken Nanban | ¥1,480 (Before Tax)

Hijikata is known for his love of mayo, so it was only right that this mayo chicken nanban be served with three types of mayonnaise.

Gintoki's Week's Worth Of Sugar Parfait | ¥1,380 (Before Tax)

A strawberry-loaded parfait with plenty of sugar content, just how Gitoki likes it.

Kotaro Katsura's Elizabeth Dessert | ¥1,380 (Before Tax)

An Elizabeth crepe with something hidden inside…

Gintoki's Perm Drink | ¥750 (Before Tax)

A cotton candy dessert drink inspired by Gintoki's luscious natural perm.

Shinsuke Takasugi's Blueberry Smoothie | ¥750 (Before Tax)

A cool blueberry smoothie whose delicious flavour comes from it being chilled in the refrigerator.

Menu ② (Excerpt)


Yorozuya's Special Curry | ¥1,480 (Before Tax)

Inspired by the friendship between the three members of Yorozuya, with the white rice representing Gintoki, the pink (sakura denbu) Kagura, and the blue (powdered cheese) Shinpachi.

Sadaharu's Pancakes | ¥1,280 (Before Tax)

Inspired by the pet of Yorozuya, served with three sides representing the three members.

Shinpachi's Ramune | ¥750 (Before Tax)

A ramune based on Shinpachi, topped with a cherry to express his cherry boy-ness!

Takeout-Only Menu

Gintama Quote Omurice | ¥1,280 (Before Tax)

Classic Japanese omurice served with one of six famous quotes in Japanese from the series. Not available at the Nagoya Sakae SKYLE or Umeda NU Chayamachi branches.

Yorozuya Gin-chan's Takeout Drink | ¥900 (Before Tax)

A takeout drink based on Yorozuya Gin-chan with two different coloured jellies at the bottom to represent Shinpachi and Kagura with the white Calpis drink being Gintoki.

Bonus Items


Coasters (6 Designs)

Those who reserve the bonus item ticket at Ticket Pia machines will receive one of six possible Tower Records x Gintama coasters.

Menu ① Postcards (6 Designs)

Menu ② Postcards (6 Designs)

For every item ordered on the menu, you'll get a free postcard. This includes takeout items.

Set of 3 Bookmarkers (6 Designs)

Those who order a food item, dessert, and a drink all together will get a set of three bookmarkers.

Lunch Mat (During Menu ② Servings Only)

Those who dine at the cafe during the second menuy serving will receive a free lunch mat featuring the key visual for Gintama The Semi-Final.

©空知英秋/劇場版銀魂製作委員会
©空知英秋/集英社・テレビ東京・電通・BNP・アニプレックス

Information

Gintama x Tower Records Merch Collab
Pre-Orders: December 10, 2020

Release Date: December 24, 2020
Merch Collab Page: https://tower.jp/gintama/

Gintama x Tower Records Cafe Collab
TOWER RECORDS CAFE Shibuya
Address: Tower Records Shibuya Floor 2F, 1-22-14 Jinnan, Shibuya, Tokyo

Opening Hours: 10:45-20:50
Menu ①: December 24, 2020 – January 7, 2021

Menu ②: January 8, 2021 – January 17, 2021

*Closes at 17:20 on December 31 and closed for the day on January 1 and 2

TOWER RECODRS CAFE Sapporo PIVOT
Address: PIVOT Floor 5F, 4 Chome Minami 2 Jonishi, Chuo Ward, Sapporo, Hokkaido
Opening Hours: 11:20-20:00

Menu ①: January 5, 2021 – January 21, 2021

Menu ②: January 22, 2021 – February 7, 2021

TOWER RECODRS CAFE Nagoya Sakae SKYLE (Takeout Menu Only)
TOWER RECORDS CAFE Umeda NU Chayamachi (Takeout Menu Only)
Menu ①: January 5, 2021 – January 14, 2021
Menu ②: January 15, 2021 – January 24, 2021

Cafe Collab Website: https://tower.jp/gintamacafe

Gintama The Final
Release Date: January 8, 2021
Official Website: https://wwws.warnerbros.co.jp/gintamamovie/

Gintama The Semi-Final (dTV Japan Only)
Episode 1: January 15, 2021

Episode 2: January 20, 2021
Official Website: https://pc.video.dmkt-sp.jp/ft/s0007147?campaign=sgm100149

Sailor Moon Eternal Cafes to Open in Tokyo, Osaka, Nagoya and Elsewhere in Japan

To promote the release of Sailor Moon Eternal, Japanese company LEGS is opening up six limited-time cafes themed on the film in five cities across Japan, beginning with Tokyo and Nagoya on December 24, 2020.

Sailor Moon Eternal is an upcoming two-part anime film set to release in 2021, with the first part dropping on January 8 and the second on February 11. The cafes, which are inspired by the films, were designed in collaboration with popular art director WATARU LINDA IGARASHI.

"Eternal Memories" is the name of the concept for the cafes which will transport customers into a magical and elegant world.

The Menu

The cafe menu features an enchanting line-up of food, desserts, and drinks based on characters and references in the films.

Food & Dessert

Usagi's Moon Floating Yogurt Bowl | Ami's Aqua Sparkling Parfait | Rei's Vivid Salmon Chirashi Sushi – ¥1,399 Each

Luna's Black Sesame Paste Doughnut – ¥899 | Moon Crisis Milk Crepe!! – ¥1,599

Drinks


Usagi's Eternal Soda | Ami's Eternal Soda | Rei's Eternal Soda | Makoto's Eternal Soda | Minako's Eternal Soda – ¥899 Each

Chibiusa's Eternal Soda Jelly | Hotaru's Eternal Soda Jelly – ¥999 Each

Original Merchandise


Merch line-up

The cafes will also sell their own original and exclusive merchandise to get fans excited for Sailor Moon Eternal.

Bonus Items

Customers who book a table in advance (¥650 per person before tax) will receive one of six possible face mask faces, and for every drink ordered, one of 11 original paper coasters.

©Naoko Takeuchi・PNP / Sailor Moon Eternal Production Committee

Information

Tokyo: TOKYO BOX cafe&space Tokyo Solamachi
Running: December 24, 2020 – February 21, 2021

Aichi: NAGOYA BOX cafe & space
Running: December 24, 2020 – March 7, 2021

Osaka: Abeno contact
Running: January 7, 2021 – February 21, 2021

Tokyo: SHINJUKU BOX cafe&space Lumine EST Shinjuku
Running: January 8, 2021 – February 28, 2021

Okinawa: Okinawa BOX cafe&space
Running: January 8, 2021 – February 28, 2021

Hokkaido: Coach & Four Shinkawa-Dori Cafe Interlude
Running: January 29, 2021 – March 14, 2021

Pretty Guardians Official Fan Club Pre-Bookings: December 4, 2020 – December 8, 202
General Pre-Bookings: December 17, 2020 at 18:00 (JST)

Cafe Official Website: https://sailormoon-cafe.jp/

Shizuoka's Strawberry Cafe Ichigo BonBonBERRY ATAMIHOUSE. Releases Winter Menu

Ichigo BonBonBERRY ATAMIHOUSE. is the first cafe to open in Atami specialising exclusively in strawberry desserts. This Christmas, the cafe is serving up a new Christmas cake, winter afternoon tea set, and strawberry milk beverage, all of which hit the menu on Friday (December 4).

Hitorijime Christmas Cake | ¥1,000 (Before Tax) *Comes with drink

A dreamy Christmas cake for one loaded with cream and sweet strawberries. There's a strawberry on top and more in the middle squished between soft sponge.

Winter Afternoon Set | ¥1,200 (Before Tax)

The cafe has turned its popular afternoon tea into a wintertime version for Christmas, served with a mini bavarois in the shape of a strawberry, strawberry ice cream, melty fondant chocolate, and a rum raisin chocolate tiramisu. A delightful combination of sweet, tangy, and rich flavours.

Hot Strawberry Milk | ¥400 (Before Tax)

A hot strawberry milk to feel cosy in the cold winter weather, topped with plenty of cream and a sprinkling of strawberry powder. Enjoy it as it is or mix together for a creamier beverage.

The winter menu is seasonal and so will only be available this wintertime.

Information

Ichigo BonBonBERRY ATAMIHOUSE.
Address: 3-16 Tawarahonchō, Atami, Shizuoka
Opening Hours: 10:00-18:00
Access: 2-minutes from Atami Station (JR Line side)
Official Website: http://www.atami-bonbonberry.com