【Tokyo Stroll】 The café that you want to visit to see someone #4 Cats working at Shinjuku-sanchome's Café Arles
"Good service, a jolly owner and cute cats – this café is sure to heal you!"
I'm Ema Tanioku and today I'll be introducing you to yet another café in Tokyo as the fourth edition of my series "The café that you want to visit to see someone". Today I'll be reporting about my visit to Café Arles which can be found at Shinjuku-sanchome. Ever since hearing that there were cats at this café, I've been set on going 〜♪♪
The café is very easy to access. To get to there, you can take the Toei Shinjuku line to Shinjuku-sanchome. From here, you can get to the café within a five-minute walk. Walking around the Shinjuku Suehirote theatre, the café soon came into sight. Somehow, I could sense the presence of cats just from the atmosphere…
There it was! The entrance to the café was decorated with many ornaments of cats and dogs. I don' know why but I was filled with excitement before even having entered.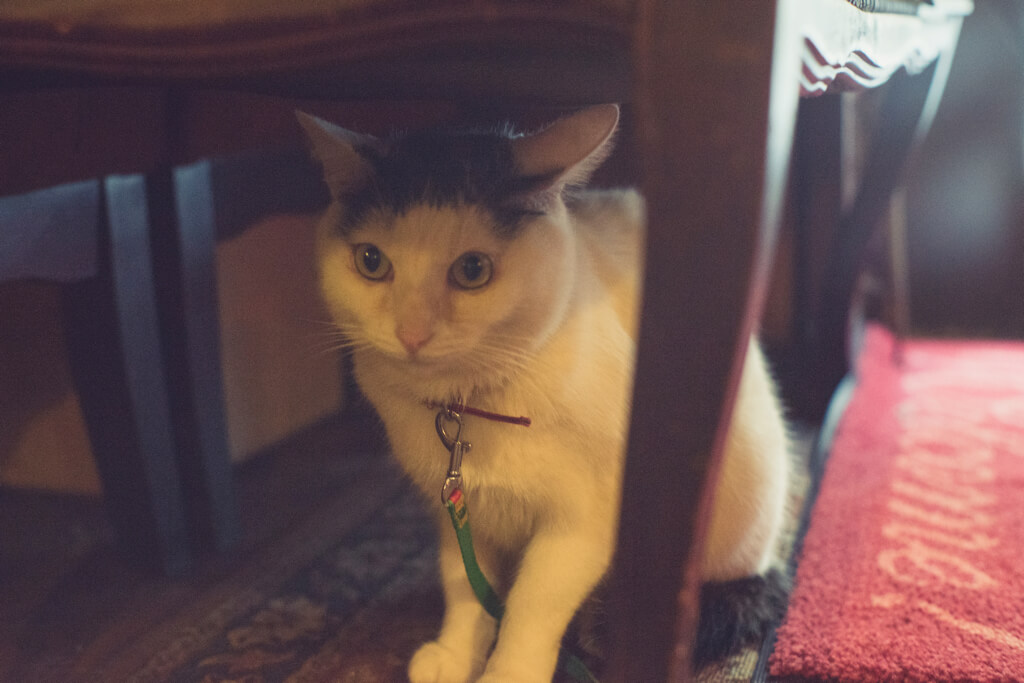 As soon as I entered, I immediately spotted a cat.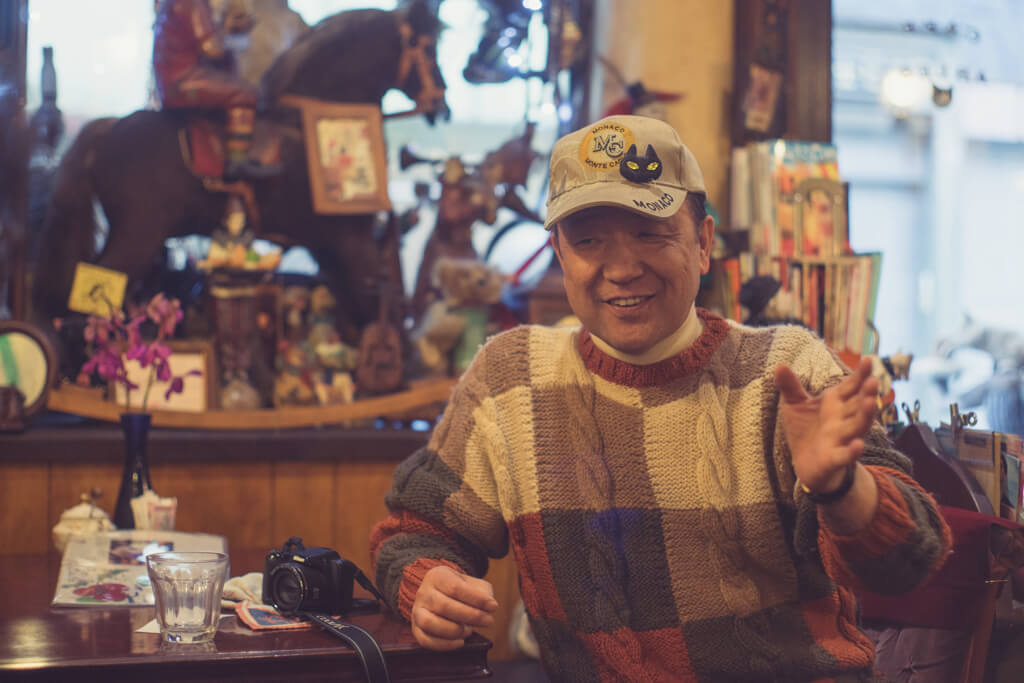 I was then greeted by the cat's master who had a sweeping grin across his face and was wearing a hat with a cat broach. I could really feel his love for cats ♪♪
I took a sweeping glance over the café – cats, cats and more cats – there were so many cat-themed goods everywhere! Apart from cats goods, the master also collects clown goods and displayed everything all huddled together to decorate the café.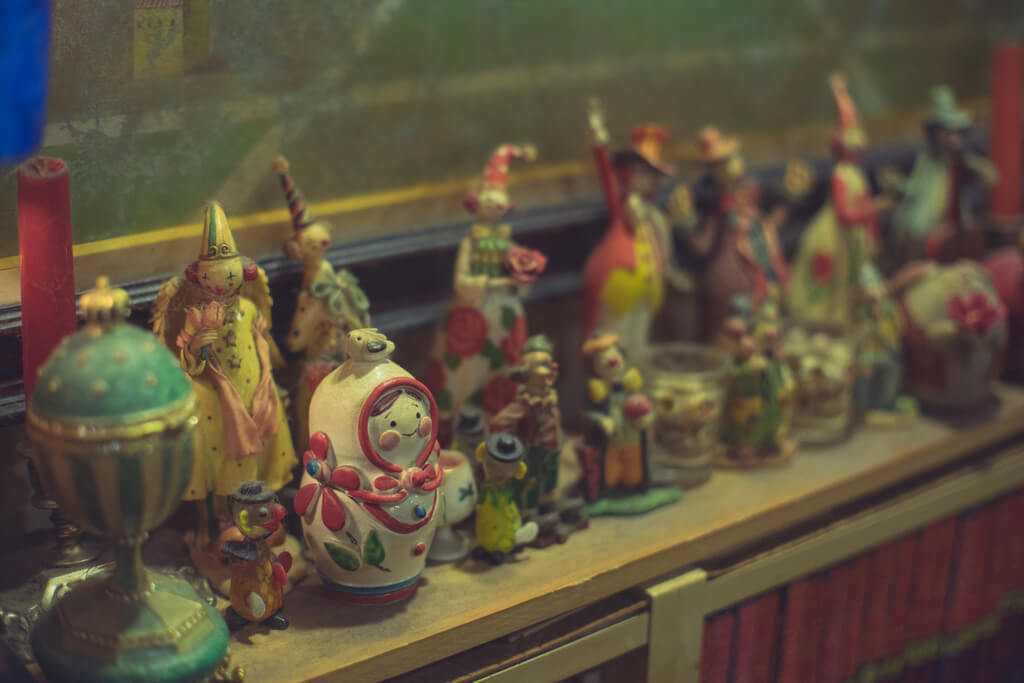 Although this was my first time at Café Arles, I immediately felt right at home as a warm feeling grew within me. I asked the master what got him into the café business and I was surprised by his response. It all started when the master was working at a mahjong parlour, where a person they knew asked them to start up a café.
The master then thought about the numerous paintings he had collected and how he was in search of a place to display them. The idea of choosing his own music, menu and decorating a café interior to his own taste really struck a chord with him.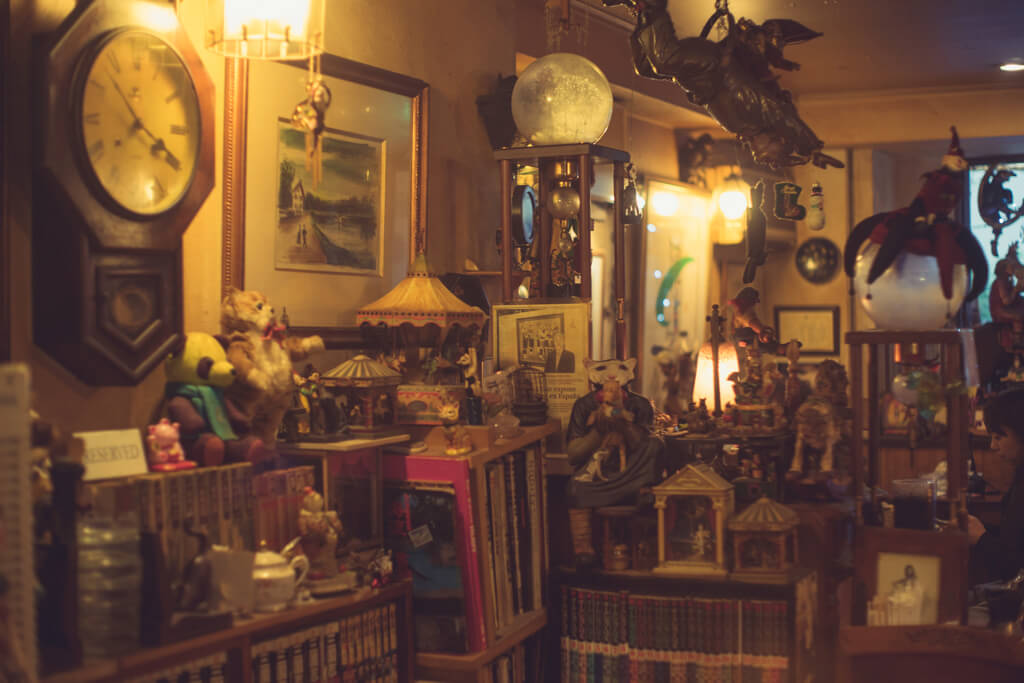 There are many paintings displayed in the café. Amongst these are some by modern artist Tomomi Kondo, who made the paintings "please your master" and "cool your thighs", which feature the kaban neko (café cats) Ishimatsu and Jirocho, who are "working hard" by lazing around.
Café Arles is fun and draws in even more fun. The atmosphere is filled with the love and enjoyment of the customers. That's why I immediately felt so at home as soon as I entered. You can easily spend a long time here.
I asked the master what he recommends from his menu. His response? "My recommendation is what you want to eat the most!" he said wisely. I felt like eating Napolitan spaghetti and so that is what I ordered! (Price: ¥720 including tax)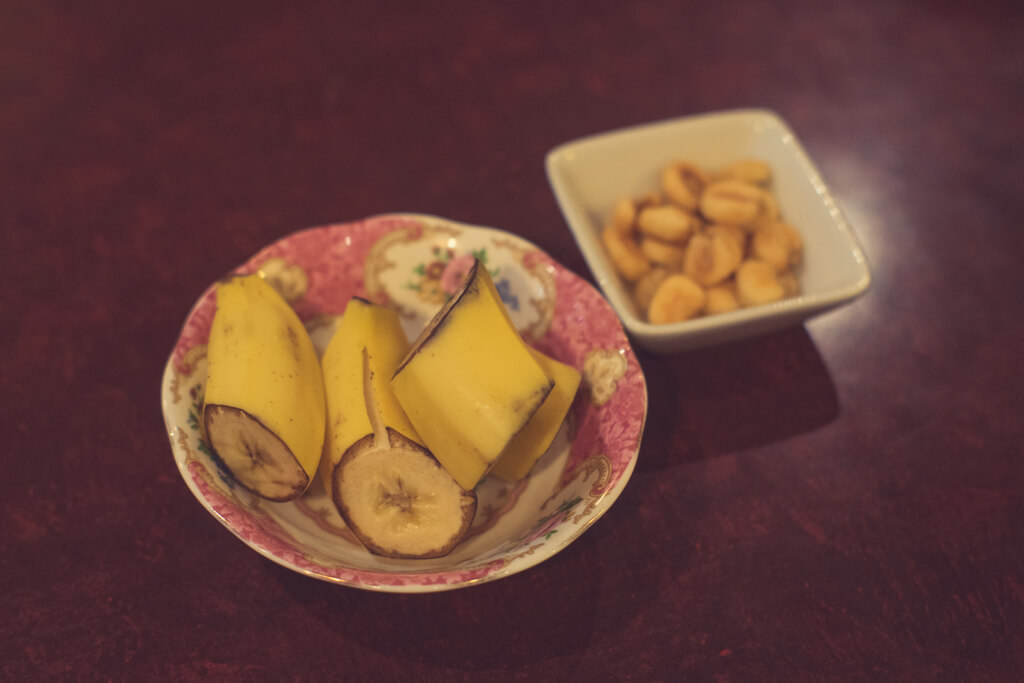 It came with banana and giant corn ❤ – this excellent service made me so happy!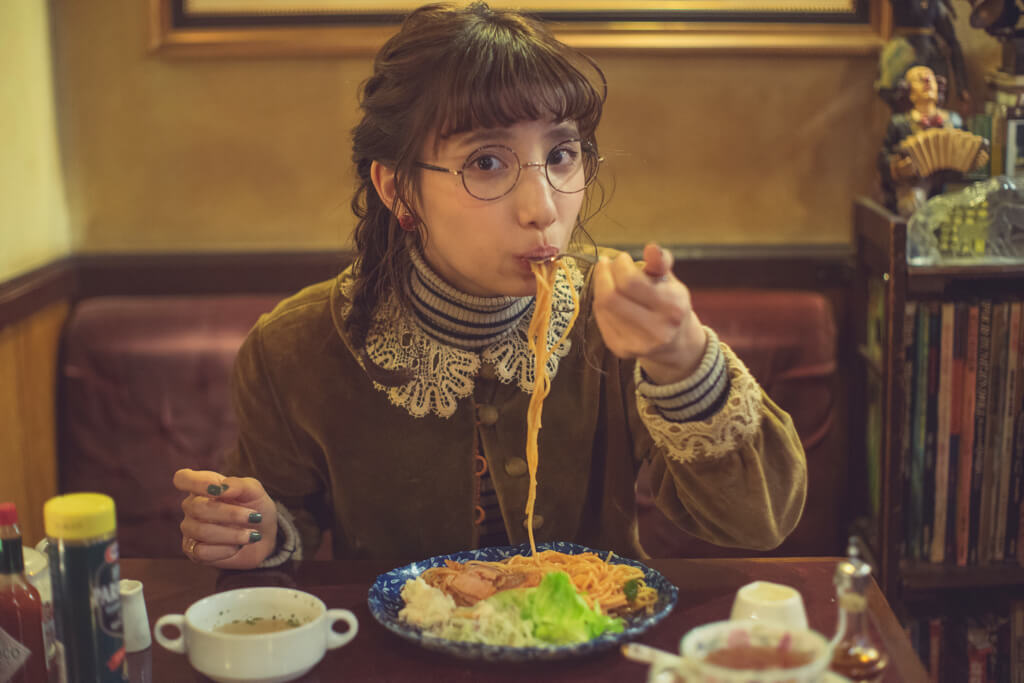 The gentle flavour of this homemade dish was delicious and I could really taste the Showa-retro Napolitan flavour to it. The drink, soup and salad services available gives this meal a perfect score for portion size satisfaction!
The master allowed me to take his café cat Jirocho-kun out for a walk. This was the first time I'd ever walked a cat – a new, fresh experience!
Jirocho-kun is a very calm and obedient cat, so we had a lovely stroll together. Speaking of which, Jirocho-kun loves his owner so much that he runs to meet him whenever he hears his car pull up at the shop.
This year marks the 40th anniversary of the café. "I enjoyed every minute of it" explained the master happily. The master created a place where everyone can be happy and in return everyone supports him. Perhaps this cycle is the motivational force that has kept and will continue to push this café to live and thrive.
I'm glad I came to this café today and met such a special person.
I want to come here again and have another chat with the master!
■Information
Cafe Arles
Address:1st floor, 5-10-8, Shinjuku, Tokyo
Opening h0urs: 11:30 〜 22:00
Regular holidays days: Sundays, New Year's period holiday period
Access:398 metres from Shinjuku Sanchome station (reach via Toei-Shinjuku line/ Tokyo Metro Marunouchi line
URL:https://tabelog.com/en/tokyo/A1304/A130401/13087540/
Model & Writer: Ema Tanioku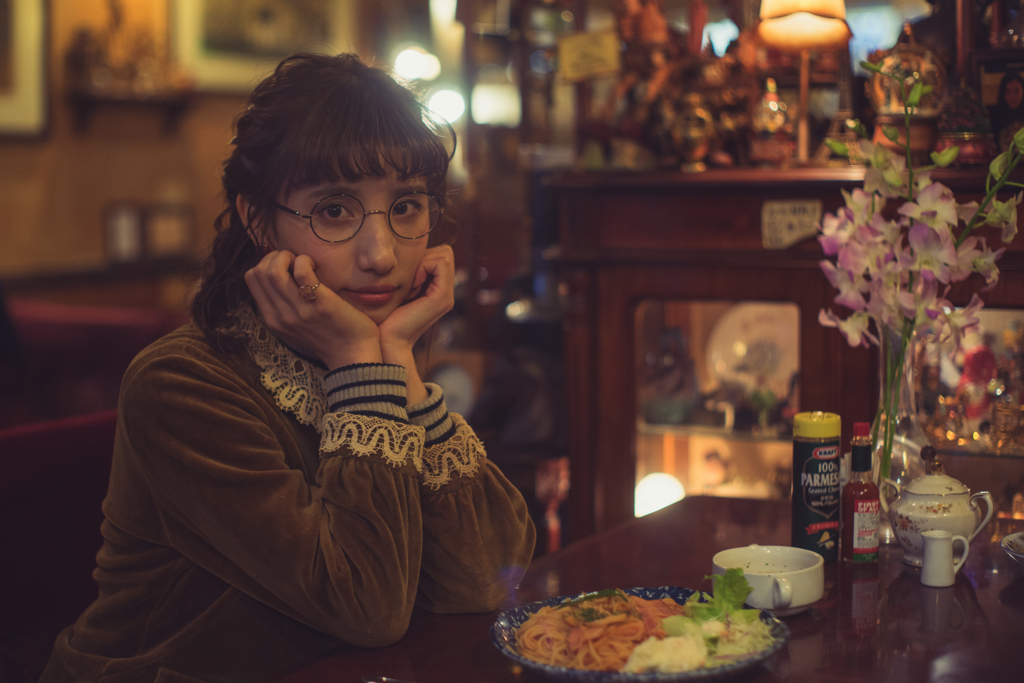 Profile: "Emaeri" is the nickname for models Ema and Eri Tanioku, who are Aomoji fashion model twins. Ema and Eri Tanioku specialise in twin fashion coordination. Over the years their fanbase has increased due to their cute looks. Ema Tanioku spreads Harajuku culture within Japan as well as overseas and works as a Harajuku Tourism Ambassador. Starting off as a model, Ema has broadened her talent range from fashion magazines to TV, and from playing the lead role in dramas to movies.
Instagram:@ematanioku
Photographer:Haruka Yamamoto
Editor:Ryoichi Komaba
Design:Yuko Abe (ASOBISYSTEM)
Translated by: Samantha Fernandes
RECOMMENDED ENTRIES
【Tokyo Stroll】The cafe you that you want to visit to see someone #3 "Galant" —a retro café in Ueno

"It's a mysterious café vacuum sealed with an energy that feels like it's the time of the Japanese economic miracle"

We're at the third installment of this series where we take a stroll to old-fashioned cafes filled with a sense of nostalgia.

I, Ema Tanioka, will be introducing to you another retro café that I am in love with. Today, we go to "Galant" in Ueno, a town where the Showa mood still lingers.

Galant has continued to be loved by many people since it opened its doors back in 1977. This year marks the 40th anniversary of the popular café. "Galant" sounds a little space-y, don't you think? It's a little different from the norm. When I enquired to the staff about the origin of the café's name, they told me that it comes from the Mitsubishi Galant as the owner is a fan of cars. To think that a car's name became the name of a café! But it has a ring to it and is easy to remember, so it might actually be a huge success.

Anyway, without further ado, let's make our way there!

Galant is on the 2nd floor of this building. As you head up the stairs, it no longer felt like I was in the real world. A completely different world opened before me. Because of the entrance's chic brickwork, I was surprised by the dazzling lights floating inside.

And here!

Here too! There was so much sparkle.

The first thing to peak my interest was the uniform the staff were wearing. So cute… You don't see that red & yellow combination much these days. It helped amplify that retro mood of the café even more.

The male staff wore red & black! Black was the base colour and had that well defined, guy-like feel to it. Together with the checkered vests, it completed that retro look. It was wonderful. The café was also playing popular Showa era songs. I really felt like I had stepped back in time.

And then… and then! The menu arrived!

The most popular item on the menu is the chocolate parfait (¥900 tax incl.). It was absolutely stuffed with cream all the way to the middle. For people who love sweet things this is an irresistible delight. By the way, I must ask, what do you do when it comes to the cherry on top of the parfait? The truth is, I absolutely love parfaits, but I'm really not into the cherry – I usually leave it until the end. Even though it looks so cute on the parfait…

Another item is the cream soda (¥750 tax incl.). When going to a café, you just have to get a cream soda!! It's because you don't see them around much besides at cafes and family restaurants, so I'm the person that ends up ordering one unintentionally when if I see it on the menu.

There's a nice fat serving of ice cream in there. It's a drink you can enjoy that has the aesthetic of a dessert. The melon soda is crystal clear like a precious gem. The best part about cream soda is how the ice cream slowly melts into the drink. It's pretty fun to watch!

Galant is the kind of café where the more you get to know it, the more you start to love it. Its fans have been supporting it for many years, and even when I become a grandma in the future, I reckon it'll still be bustling all the same.

■Information

Galant (ギャラン)

Address: 6-14-4 Ueno, Taitō, Tokyo

Open: 8:00-23:00

Open all week.

Access: 2-minutes' walk from Ueno Station via the Tokyo Metro Ginza Line / 1-minutes' walk from Exit 5b at Ueno Station via the Hibiya Line

Model&Writer:Ema Tanioku

Profile:Ema and Eri Tanioku are well-known Aomoji-kei twin models that go by their duo name "EmaEri." Their twin-like fashion co-ordination and cute looks have earned them a fast growing fan base. They are officially appointed tourism ambassadors and work both in Japan and overseas to promote Harajuku culture. They work as fashion models in a wide range of areas and have appeared in fashion magazines as well as on TV, in dramas, movies and more.  Instagram:@ematanioku

Photograph:Haruka Yamamoto

Editor:Ryoichi Komaba

Design:Yuko Abe(ASOBISYSTEM)

Translation:Joshua Kitosi-Isanga

【Tokyo Stroll】The cafe that you want to visit to see someone #2 "Nanatsumori"—An Attractive Cafe in Kōenji

"A coffee lounge where you can step back in time and spend it in luxury."

Showa, retro-style coffee shops that are comfortable and echo a sense of nostalgia. I, Ema Tanioka, love going to these kinds of cafés. I hope to make you want to visit a place like this, the kind of place where you want to meet with someone.

For today's stroll, I went to Kōenji, a conveniently accessible location from the city just one stop from Shinjuku on the Chūō Line. When you think of Kōenji, you think of its plentiful second hand clothes shops and shops selling miscellaneous goods, among others, all with their individual traits. It's the kind of town where you're sure to discover something new each time you visit.

This time around, I went to "Nanatsumori," a café that has a retro look to it from the outside. It was built in Showa 53 (the year 1978). I heard that the building was originally used as a tea house.

At the front of the café is an old-fashioned shaved ice machine. I couldn't help turning it.

Upon entering, you can see the interior of the café has weathered. It has an atmosphere reminiscent of the Showa era, like you've just stepped back in time. No matter where you take a photograph in the café it will look beautiful.

There were lots of mysterious ornaments inside; I couldn't help but reach my hands out to touch everything♪

But, in the end, I didn't know what any of the things I'm holding in the photos were. How on earth do you use this stuff…?!

While pondering that, just simply gazing around the interior of the café filled me with a feeling of excitement.

>>next page

【Tokyo Stroll】The cafe that you want to visit to see someone #1 The popular cafe in Jinbo-cho called "Sabouru" that has retro interior and nostalgic food.

"Although there are many great things about chain stores, the café has their own dream."

The café that reminds me of Showa era is somehow nostalgic and comfy inside.

I, Emma Tanioku, who love to visit the new café restaurants is going to introduce the café that will make you want to see particular person in their café.

Today, I came to Jinbo-cho that is good access from middle of Tokyo, and you don't have to change the train line from Shibuya station.

Jinbo-cho is socially known as the town which has many secondhand bookstores, it is actually the town for gourmets as well.There are many hidden old-established restaurants in this great town.

I want to introduce this café that I was especially curious about.

"Sabouru" which you can say its representative retro cafe. It locates right there from the exit A7 in Jinbo-cho train station.This 62 years historical café has established in 1955.

In front of this café which appears to look like small mountain hut, there is a red public telephones surrounded by some flowers, plants and a totem pole.This makes me want to take a picture in front of there.This public phone is actually functional, so I heard some people are still using it.

There are floor first, semi basement and mezzanine inside. It is little dark inside, but you can still enjoy reading books.Either if you come here alone or with your friends, you can spend the relaxed time.

The miscellaneous goods that decorated inside the café were donated by customers.

Even though they are all different kinds of souvenirs from all over the world, they look like it's coordinated perfectly.I bet the customers who are big fan of this café decide to buy the good souvenirs which are going to match with this store's atmosphere. For your information, you can decorate your souvenirs inside the cafe even if you are not regular customer.

>>next page

【Tokyo Cafe】Visit the café which has a menu that gives you great impact Vol,6 "Kissa Housekibako"

I rode the train on Keio line, Shinjuku station the hustle and bustle high building area on the back. For about 15 minutes, I was staring at the slowing changing view from the train. I got to the restaurant in Chitose-karasuyama that many girls from all over Japan come here to get "drinkable jewelry."

I looked inside from the laced curtain looked like ribbon on the door. The toys that I used to play with when I was little looked like they were smiling at me as if they are saying "come inside."

When I opened the door, I felt like I leaped back from Heisei era to Showa era. There are photographs of Seiko Matsuda, who is a popular pop idol in Showa era, and her songs were playing. It is such a nostalgic atmosphere. The person who runs this café which is like a full of dreams and admires when she was little is Naomi Kanai. "I opened this café, "Kissa Housekibako" since I love too much about the Japanese pop idols and goods in Showa era. I mainly collect the music and items from 1970 to late 80s. I am very happy when the girls who don't even know about this era visit here and say it is cool or cute about the stuff in this café," she gently told us.

Anyway, the main purpose of this visit is "drinkable jewelry" as known as "cream soba" which was everyone's favorite food when they are little.

The standard color of cream soda is supposed to be green, but the one in "Kissa Housekibako" appeared in a very girly color. They appeared in cute and shiny spring colors.

Peach flavored one named "rose quarts(550yen include tax)" taste sweet and sour. This drink goes with the strong love songs sung by "candies" which was a famous Japanese idol group take light steps.

Strawberry flavored one named "Ruby(550yen include tax)" is like a sweet taste of love. This clear spring color reminds me of Seiko Matsuda's hit song, "Red sweet pea."

The grape flavored one named "Amethyst(550yen include tax)" taste of matured love. The sexy form of the cup reminds me of "Pinklady", the famous Japanese pop idol group who  dances gorgeously.

You may be able to encounter limited flavor and refreshing idol songs in this summer!

You cannot miss the spaghetti Neapolitan(600yen include tax)  if you want to enjoy Showa taste. It has chewy spaghetti noodle and bacon, onions and bell pepper chopped in large sizes. The texture of soft noodles and the sour taste of tomato ketchup took me into the nostalgic world.

It has been 8 years since the opening. "Thanks to social media, people even from other countries visit here to get the colorful cream soda. This café is made of Showa era culture, but Heisei era culture support us as well." Not only young people but also people from other countries have been attracted by their music and items. "Hosekibako" (Jewelry box) that is made by Naomi-San has full of smiles from all over the world.

Ueki Yuriko(food writer)

■Information

Kissa Housekibako

Address:4-18-18 Oyama Mansion102, Minorakuyama Setagaya-ku, Tokyo

Tel:03-5969-8577

Hours:10:00AM to 6:30PM

Official site:http://housekibako.wixsite.com/2009

Related article:【Tokyo Stroll】The cafe that you want to visit to see someone #1 The popular cafe in Jinbo-cho called "Sabouru" that has retro interior and nostalgic food.

Related article:【Tokyo Cafe】Visit the café which has an original menu that will give you great impact volume 3. Kinshicho "Kissa Knit"

【Tokyo Cafe】Visit the café that has an original menu which gives you great impact volume 4 Asakusa "Tengoku"

When I was walking in the town, I heard the conversation that made me a little scared.

"I'm heading to the "Tengoku(heaven)" first." The guy who looks like about seventy years old said. He was walking really cheerfully. I was curious about him, and decided to chase after him, then he entered the café called "Tengoku(heaven)."

The heaven's door was a small glassed door. There were lovely retro plastic food figures decorated in the entrance. Asakusa which is considered to be the town that has a lot of good places to eat is one of the most popular sightseeing spots in Tokyo. This little and warm appearance café is an oasis for many tourists who try to take breaks from walking in this town.

Inside the "Tengoku," you can smell something sweet. The feast of this paradise is a special pancake which has a burnt in mark of "Tengoku." (550yen)

They start mixing the ingredients after getting an order, and cook on copper sheets. It tastes crunchy on the outside, and fluffy inside. When I put butter and maple syrup, the flavor of the milk gets stronger. The owner, Rumi Ueno was particular about this orthodox pancake. The taste of this pancake really made me relieve and reminds me of my mom who made pancake for snack when I was little.

 "Tengoku's special hotdog" appeared on my table with great impact. The sausage sticking out from the hotdog bun is about 25 centimeters long!

when you bite it, the juice spreads in your mouth with the bun. The crunchy texture's of sausage really goes with moist bread. There are four toppings that you can choose from. This nostalgic and addictive taste plain hotdog made me want to get another one to take for strolling in this town.

You can have good luck if you drink up the coffee which comes with the set menu.

There are two characters saying good fortune in the bottom of coffee cup. If you get disappointed by drawing bad luck on your oracle at Sensouji temple, you will be saved by this good surprise. This very detailed hospitality is exactly like you are in heaven.

If you are in trouble not knowing what to get for souvenir, you should get the original merchandise that you only can get in here!

"I've been to heaven five times this month." "What about you? How many times you've been to heaven?" People were talking something like that with Edo dialect. The café where people having this funny conversations is like a "gourmet's nirvana" which is totally different world from the hustle and bustle sightseeing place.

■Coffee Tengoku

Address: 1-41-9 Asakusa, Taito-ku, Tokyo

https://tabelog.com/tokyo/A1311/A131102/13025425/

Yuriko Ueki(Writer)

■Related article:【TokyoCafe】Visit the café which has an original menu that will give you great impact volume 3.

■Related article:【TokyoCafe】Visit the café which has original menu that give you great impact 2
RELATED ENTRIES
Japan's Largest Sake Event TOKYO SAKE FESTIVAL to be Held in Shinjuku in October

Japan's largest sake event, TOKYO SAKE FESTIVAL 2022, will run from October 4 until October 6 at the Shinjuku Sumitomo Building's Triangle Square.

The event's aim is to make sake more mainstream around the world, with the first festival taking place in 2020. Tokyo Sake Festival blends sake with entertainment, showing off the very best of Japanese culture to those who may be new to craft sake. For the third year, former NMB48 member Yui Takano will serve as ambassador. Takano is known for leaving her idol career to manage the sake specialty store Yui Sake Shop. 

Tokyo Sake Festival 2022 is bringing together forty carefully selected sake breweries from around Japan, including Inoue Seikichi, winner of the Champion Sake award at IWC 2022. Tonoike Sake Brewery, winner of Kura Master 2022's President's Award, will also be in attendance. The full lineup can be found on the official website.

Popular influencers and artists from Raphael to BOYS AND MEN and Ukon Takafuji will take the stage during the event, so be sure to swing by if you're a fan of Japanese spirits!

Information

TOKYO SAKE FESTIVAL 2022

Dates: 

October 4: Part 1 13:30-16:30 / Part 2 18:00-21:00
October 5: Part 1 13:30-16:30 / Part 2 18:00-21:00
October 6: 16:00-19:00
Venue: Shinjuku Sumitomo Building Triangle Square
(2-6-1 Nishishinjuku, Shinjuku-ku, Tokyo)

Buy Tickets/Details: https://tokyosakefestival.bitfan.id/

Dev-c Group from VTuber Project VEE Debuts with Huge Ad in Shinjuku

To celebrate the debut of Dev-c, the new VTuber unit from VEE, a giant ad has appeared in Shinjuku Station! Fans should head to the Promenade connecting Shinjuku Station to Shinjuku 3-come from September 5 until September 11 to catch a glimpse of these new talents!

The ad shows Uriyone, Anew Uparu, Cotonoha, Luminous Sweet, and Aomiya Yozuri strolling down a Tokyo street.

 

Spread out behind them are images of the members of Dev-a and Dev-b, who previously debuted.

 

VEE has managed to bring together some incredible talents so far. On the right side, fans will see Dev-c's key visual and a message from VEE to fans, so if you're near Shinjuku, be sure to check it out!

Information

Dev-c Billboard Celebrating the Group's Debut

On Display: September 5 – September 11, 2022
Location: Tokyo Metro Shinjuku Station – Promenade Area
Official Site: https://vee-official.jp/


*To prevent the spread of COVID-19, try to social distance and enjoy responsibly.
*Please do not contact station staff regarding the billboard.

Halloween Afternoon Tea Featuring AR Technology Coming to Shinjuku

From September 1 until October 31, the District Brasserie, Bar, and Lounge at the Kimpton Shinjuku Tokyo will be offering a spooky Halloween-themed afternoon tea set. The tasty treats won't be the only scary thing on the plate–the event will incorporate AR technology! By holding up your phone, you'll be able to see monsters moving around on your plate.

The goodies will also be available for take-out, making them perfect for souvenirs or at-home Halloween parties! Nine types of Halloween sweets, six small dishes, and two tea sachets will be included. Why not spend Halloween in a more elegant way in 2022?

Information

Kimpton Halloween MONSBLANC Afternoon Tea
Running: September 1 – October 31, 2022
Hours: 11:30-17:00 (Last Order at 15:00), 2-hour seatings
*Reservations must be made by 16:00 on the previous day.
Venue: Kimpton Shinjuku Tokyo, District Brasserie, Bar, and Lounge
Reservations/Details: https://bit.ly/3Qi5d3K

Official Site: https://www.kimptonshinjuku.com/jp/

Stuffed Animal Pickles the Frog Inspires Limited Time Collaboration Cafe in Shinjuku

Have you ever heard of Pickles the Frog? The adorable plush has become popular enough to inspire his own collaboration cafe in Shinjuku from May 25 until June 6! A special menu will be available at Brilliant Cafe located on the 11th floor of the Odakyu Department Store.

Green Curry Plate

Birthday Cake Plate

Fruit Tea Soda Float

As part of Pickle the Frog's birthday celebration, the cafe will feature a limited menu of three delectable items. Why not come celebrate Pickle's special day on June 1? 

A pop-up shop will also be opened soon, so keep an eye out!

Information

Pickles the Frog x Brilliant Cafe

Running: May 25 – June 6, 2022
Venue: Odakyu Department Store Shinjuku 11F (1-1-3 Nishishinjuku, Shinjuku, Tokyo)

Cat Illustration Series mofusand Inspires Themed Cafes in Tokyo and Osaka

Popular on LINE and other texting apps and illustrated by Jyuuno, mofusand is a curious collection of cute and slightly surreal cats. As with most things that go viral in Japan, these adorable characters will be featured in a themed cafe for a limited time! The Tokyo location will open on May 19 and the Osaka location will welcome visitors starting May 26, 2022.

Cafe Visitor Bonus: Sticker (6 varieties)

Drink Order Bonus: Coaster (6 varieties)

Menu

Fried Shrimp Sandwich Plate

Grilled Vegetable Curry

Nyanko Burger

Salmon Mentaiko Cream Pasta

Taiyaki

Nyanko Parfait

Black Cat Pancake

Nyan Lime Nata de Coco

Green Nyanko Float / Yello Nyanko Float / Blue Nyanko Float

Nyanko Cafe Latte / Nyanko Milk Tea

Merchandise

Sticker

Clear Folder

 

All menu items draw inspiration from the many mofusand characters and are perfect for posting on social media! Special bonuses will be given to those visiting the cafe and making select purchases, and a merchandise corner will be selling limited-edition goods featuring new artwork!

©mofusand

Information

mofusand cafe

Venue/Dates: 
Tokyo

BOX cafe&space Shinjuku Mylord #2

May 19 – July 10, 2022
Shinjuku Mylord 7F (1-1-3 Nishishinjuku, Shinjuku-ku, Tokyo)

Osaka

kawara CAFE&DINING Shinsaibashi

May 26 – June 19, 2022
Shinsaibashi Opa 9F (1-4-3 Nishishinsaibashi, Chuo-ku, Osaka) 

Reservations / Official Site: https://mofusand-cafe.jp
mofusand cafe Official Twitter: @mofusand_cafe

Pixar Fest Pop-Up Store by Small Planet to Open at Shinjuku Odakyu for the First Time

From April 13 until April 25, fans of Disney Pixar will want to visit the first floor of the Odakyu Department store in Shinjuku! The Pixar Fest Pop-Up Store by Small Planet will be selling a large collection of items featuring popular characters from Toy Story, Monsters, Inc., Cars, and more!

A wide variety of PIXAR goods such as bags, towels, mugs, stationery, and apparel will be available, and the Disney Friend of Nature Pop-Up Store by Small Planet will be held simultaneously, featuring sustainable and eco-friendly Disney items.

PIXAR FEST POP UP STORE by Small Planet Goods at a Glance

[Exclusive Event Item] IC Card Case: ¥2,310 

[Event Exclusive Item] Drawstring Bag: ¥660 *On sale April 16

[Event Exclusive Item] Random Pin Collection (12 varieties): ¥440 each

Purchase Bonus: Tote Bag

Purchase Bonus: Acrylic Coaster

Starting April 13, guests spending ¥6,600 (including tax) or more at the venue will receive one special tote bag while supplies last! Starting April 23, guests spending ¥2,750 (including tax) will receive a Toy Story acrylic coaster.

Disney FRIEND OF NATURE POP UP STORE by Small Planet Goods at a Glance

[Event Exclusive Item] Mug Made from Recycled Goods "Green Vibes Only!": ¥2,310

[Event Exclusive Item] Eco Bag "Green Vibes Only!": ¥3,190 *On sale April 15

Be sure to visit the pop-up shop to grab some exclusive merch while you can!

©Disney/Pixar
©Disney

Information

Pixar Fest Pop-Up Store by Small Planet

Disney Friend of Nature Pop-Up Store by Small Planet
Running: April 13 – April 25, 2022
Hours: 10:00-20:30 *Closes at 20:00 on April 17 and April 24
Venue: Odakyu Department Store Shinjuku Main Building 1F, Special Venue (In front of the Central Entrance)
Address: 1-1-3 Nishishinjuku, Shinjuku-ku, Tokyo
Access: In front of the Shinjuku Station West Entrance
Official Site: https://www.odakyu-dept.co.jp/

Odakyu Department Store Shinjuku to Open MOOMIN POPUP STORE by Small Planet

From March 30 until April 12, fans of Moomin will want to visit the Odakyu Department Store in Shinjuku for a special pop-up store!

Lineup

Odakyu Preorder Items 


Toto Bag

Synthetic Leather Coaster

Masking Tape

Event Exclusives

T-Shirt

Acrylic Keychain

Stainless Steel Tumbler

Purchase Bonuses

(March 30 ~) Bonus for purchases of ¥6,600 or more

Pocket Thermos Bottle, Joxter Cloud Design (Not for Sale)

(April 2 ~) Bonus for purchases of ¥3,300 or more

Sea Orchestra Acrylic Keychain (Not for Sale)


(April 9 ~) Bonus for purchases of ¥5,500 or more

Snufkin & Joxter Acrylic Stand Set (Not for Sale)

The pop-up store, which was very well-received last year, focuses on Snufkin, one of the most popular Moomin characters. This year, Snufkin's father, Joxter, will also be making an appearance. The venue will be decorated with original artwork, and a wide variety of Moomin merch will be available, including plush toys, sundries, apparel, and much more.

Information

MOOMIN POPUP STORE by Small Planet

Running: March 30 – April 12, 2022
Address: Odakyu Department Store Shinjuku Main Building 1F (1-1-3 Nishi-Shinjuku, Shinjuku-ku, Tokyo)
Access: Shinjuku Station West Exit
Official Site: https://www.odakyu-dept.co.jp/

BEAMS EYE on OKAYAMA Event to be Held in Shinjuku and Taipei, Taiwan

BEAMS Japan will hold an event highlighting the wonders of Okayama Prefecture in both Shinjuku, Tokyo, and Taipei, Taiwan! The event will feature specialty products from 11 businesses in Okayama, and is now open in Shinjuku, with the Taipei event beginning in February 2022. Certain items are also available at the official BEAMS online shop.

Selected Products

Okayama prefecture is known for its mild climate and nature. BEAMS Japan has developed 81 unique products, with some highlighting the denim creation in the region and others showcasing local crafts.

As Okayama is closely associated with Momotaro, a figure out of Japanese folklore, peaches are very prominent in the region and can be seen in a number of these special products. 

Selected products from the collection will be available at the Taipei location from February 24 until March 13, 2022. Although travel has been made incredibly difficult during the pandemic, this pop-up shop was made possible by Okayama prefecture and BEAMS Japan. 

Code Geass Celebrates 15 Years With Themed Cafe in Shinjuku, Tokyo

Anime series Code Geass is celebrating its 15th anniversary in 2021. To celebrate, a winter-themed Code Geass Cafe will open in Shinjuku for a limited time, from December 2, 2021, until January 23, 2022. The cafe will feature a lineup of luxurious and stylish food and drink items to celebrate Lelouch's birthday. 

Bonuses

Menu

Food

[Lelouch] Chicken Steak

[Suzaku] Demi-glace Steak

Cream Pasta with Shrimp and Mushrooms

Dessert

Happy Birthday Plate

Student Council's Afternoon Tea Set

[Nunnally] Black Tea Whipped Cream Millefeuille

Christmas Glass Parfait

New Year Glass Parfait

Drink

Lelouch, Suzaku, Nunnally

Student Council's Tea Party (Black Tea, Coffee)

Original Goods

Pin (9 varieties, random)

Acrylic Keychain (9 varieties, random) 

Acrylic Stand (9 varieties, random) 

Clear Folder Set (2 included) 

Acrylic Stand (Lelouch, Suzaku, Nunnally) 

Acrylic Board

Muddler Spoon Set

Satin Pouch

Code Geass debuted in October 2006, and the series was recently re-aired in Japan with a new opening and ending theme. A new series, Code Geass: Z of the Recapture, is coming in the future. 

Lelouch's birthday is on December 5, so there will be plenty of treats to celebrate. Be sure to come give your well wishes!

©SUNRISE/PROJECT L-GEASS Character Design ©2006-2017 CLAMP・ST

Information

Code Geass Cafe -Winter Celebration-

Shinjuku, Tokyo

Address: BOX cafe&space Shinjuku Mylord Building 1 7F (1-1-3 Nishi-Shinjuku, Shinjuku-ku, Tokyo)

Running: December 2, 2021 – January 23, 2022

Reservations: https://cafe-cg.jp/

Online Shop Open: December 2, 2021 at 11:00 – January 23, 2022 at 23:59

Cafe Official Online Shop: https://cafe-cg.jp/online_store

MOUSSY Announces Third Installment of Art and Fashion Venture PROJECT U

High-casual brand MOUSSY launched a new art and fashion venture in March 2021 titled PROJECT U. The third installment of the project is launching on September 10, and has been made in collaboration with artist JUN INAGAWA.

 

PROJECT U was created to bring MOUSSY together with a variety of talented creators and artists, and to see what possibilities could open up from different collaborations. MOUSSY has fused fashion and culture together countless times in the past along with popular characters from Disney and other brands. PROJECT U focuses exclusively on art!

The third installment of PROJECT U will feature plenty of apparel, from T-shirts and hoodies to tote bags and skateboards. JUN INAGAWA helped design these limited-edition items, with some featuring imagery from his 'Otaku x Street' collection, as well as a theme he works with often: destruction and rebirth. Apparel will be available in two unisex sizes.

The SHEL'TTER TOKYO and MOUSSY FLAGSHIP SHOP will also be holding JUN INAGAWA's solo exhibition and accompanying workshop. For more info on the apparel or exhibition, head to the PROJECT U special site!

Information

PROJECT U Third Installment

 

Release Date & Location:

September 10, 2021

MOUSSY Lumine EST Shinjuku, SHEL'TTER WEB STORE

September 17, 2021

The SHEL'TTER TOKYO / MOUSSY FLAGSHIP SHOP, MOUSSY Stores

PROJECT U: https://www.moussy.ne.jp/project_u/

Official Site: http://www.moussy.ne.jp

My Teen Romantic Comedy SNAFU Pop-up Shop to Open in Shinjuku

Romantic comedy anime series My Teen Romantic Comedy SNAFU (shortened to OreGairu in Japanese), is getting a Pop-up shop at the AMNIBUS STORE inside Shinjuku Marui Annex from September 3 until September 19. 

All merchandise sold at the Pop-up shop will feature newly-drawn original illustrations of Yukino Yukinoshita, Yui Yuigahama, and Iroha Isshiki in maid attire. 

Event Pre-sale Merchandise

Pins (Random, 9 designs): ¥440 each (Tax Included) / Box of Pins: ¥3,960 (Tax Included)
*Box contains randomly selected pins.

Acrylic Keychain (Random, 9 designs): ¥715 each (Tax Included) / Box of Keychains: ¥6,435 (Tax Included) *Box contains randomly selected keychains.

1/7 scale BIG Acrylic Stand (3 designs): ¥3,300 each (Tax Included)

Mug (3 designs): ¥1,650 each (Tax Included)

Clear Folder (4 designs): ¥440 each (Tax Included)

Life-size Tapestry (3 designs): ¥10,780 each (Tax Included)

Yui Yuigahama Mug: ¥1,650 (Tax Included)

Event Box Purchase Bonus


Those who buy 1 box of Pins will receive a holographic pin as a special gift!

Those who buy 1 box of Acrylic Keychains will receive a holographic Acrylic Keychain as a special gift!

Limited-edition Event Photos (7 varieties)

For every ¥2,200 spent on event-related merchandise (including tax), customers will receive a random Limited-edition Event Photo.

©Wataru Watari、Shogakukan/My Teen Romantic Comedy SNAFU Production Committee

©渡 航、小学館/やはりこの製作委員会はまちがっている。完

Information

My Teen Romantic Comedy SNAFU Pop-up Shop

Running: September 3 – September 19, 2021

Location: Shinjuku Marui Annex 6F / AMNIBUS STORE (3-1-26 Shinjuku-ku, Tokyo)

Hours: 11:00-20:00

Admission by Lottery: To reduce the risk of transmitting COVID-19 and ease congestion in the store, guests will receive a numbered ticket and will be admitted by lottery. Tickets will be available from 10:40-10:50 from September 3-5. 

AMNIBUS STORE Twitter: https://twitter.com/AMNIBUS_STORE

Details: https://store.amnibus.com/oregairu-shinjuku0101annex/

Official Site: https://www.0101.co.jp/005/

Japanese Michelin Star Chef to Open New Restaurant Kimura Don in Shinjuku

A new restaurant by the name of Kimura Don is set to open inside Shinjuku Takashimaya's Restaurant Square on July 20, 2021.

Kimura Don is a new donburi restaurant produced by Koji Kimura, a chef whose popular sushi bar Sushi Kimura, located in Futakotamagawa, has held two Michelin stars since 2013. His new eatery continues the traditions and techniques honed at Sushi Kimura while spinning innovation into new donburi rice bowl dishes conceived from the many ideas Kimura has conceived over the years.

The donburi to be served recreates that perfect balance between vinegared rice and toppings which Kimura mastered at his sushi bar. Customers can enjoy a range of additions including donburi classics such as meat and fish as well as seasonal ingredients. The restaurant also uses locally grown and reared produce and ingredients that's also environmentally-friendly from Tokyo such as Kinuhari rice from Hachiojo and Akigawagyu beef. This will help to foster a relationship between local farmers and consumers. 

Lunchtime Dishes | ¥3,500 Each | Serving Times: 11:00-17:00 (Last Orders 16:00)

Pick from five different donburi bowls such as tuna, pilchard, and roast beef. Each season will also has its own exclusive dish made with seasonal ingredients. There's also a special option to order a set of two smaller versions of the dishes too for ¥3,800. 

Evening Courses | From ¥12,000 | Serving Times: 17:00-23:00 (Last Orders 22:00)

The evening course line-up is also made up of five different bowls as well as seven seasonal snacks.

Koji Kimura | Comment

"I've been set up in Futakotamagawa for 16 years. I studied how to prepare sushi rice for many years, since it serves as the foundation, so that I could create unique sushi. I have made sushi rice that's unique and draws a line under other restaurants, rice which when combined with toppings explodes with umami flavour. I use this same sushi rice as the basis for lots of innovative donburi dishes, and I'd love for people to enjoy a taste at the first place in Japan to do this."