【Tokyo Stroll】 The café that you want to visit to see someone #4 Cats working at Shinjuku-sanchome's Café Arles
"Good service, a jolly owner and cute cats – this café is sure to heal you!"
I'm Ema Tanioku and today I'll be introducing you to yet another café in Tokyo as the fourth edition of my series "The café that you want to visit to see someone". Today I'll be reporting about my visit to Café Arles which can be found at Shinjuku-sanchome. Ever since hearing that there were cats at this café, I've been set on going 〜♪♪
The café is very easy to access. To get to there, you can take the Toei Shinjuku line to Shinjuku-sanchome. From here, you can get to the café within a five-minute walk. Walking around the Shinjuku Suehirote theatre, the café soon came into sight. Somehow, I could sense the presence of cats just from the atmosphere…
There it was! The entrance to the café was decorated with many ornaments of cats and dogs. I don' know why but I was filled with excitement before even having entered.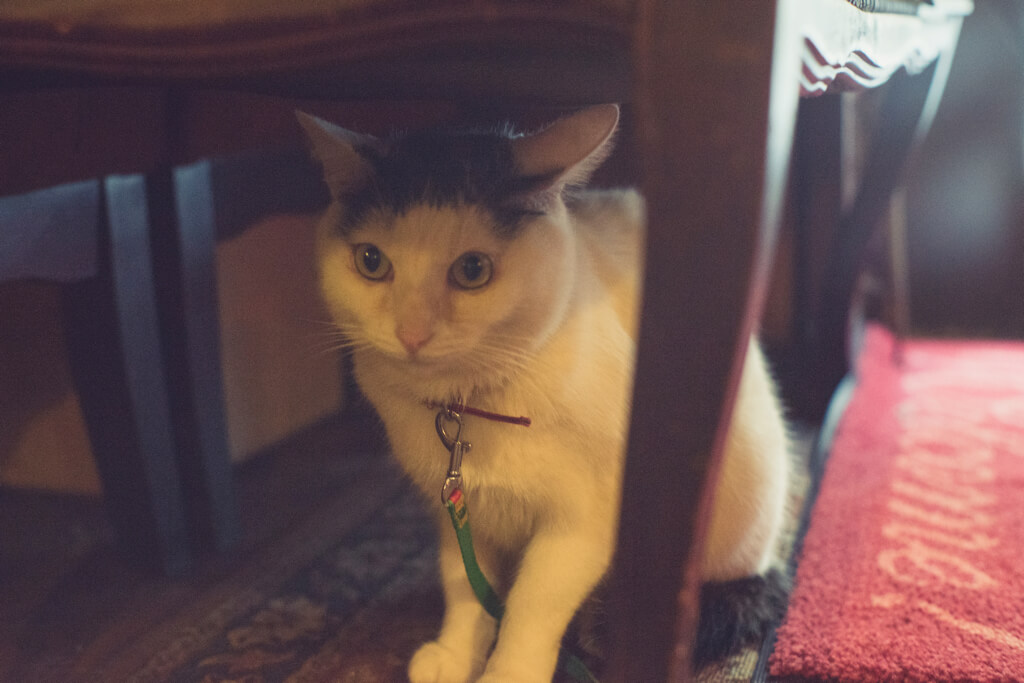 As soon as I entered, I immediately spotted a cat.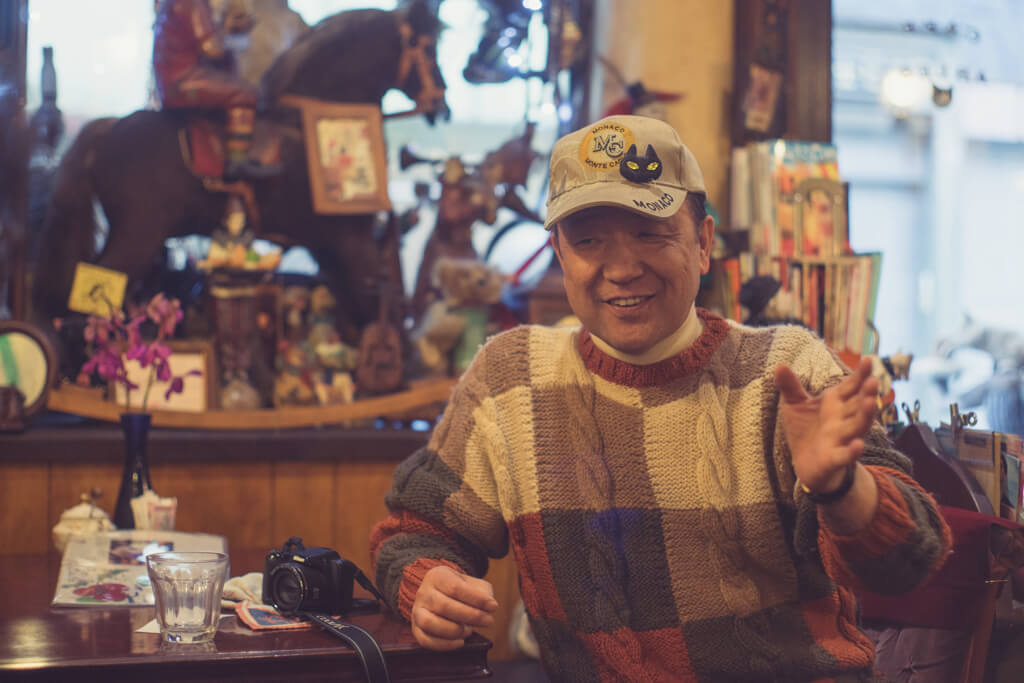 I was then greeted by the cat's master who had a sweeping grin across his face and was wearing a hat with a cat broach. I could really feel his love for cats ♪♪
I took a sweeping glance over the café – cats, cats and more cats – there were so many cat-themed goods everywhere! Apart from cats goods, the master also collects clown goods and displayed everything all huddled together to decorate the café.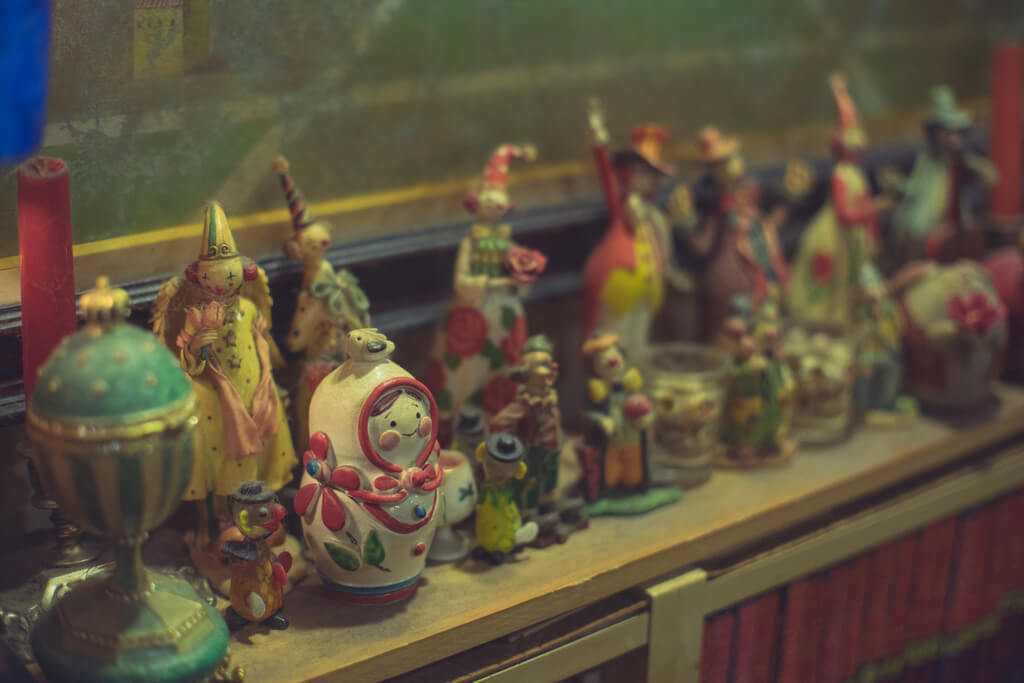 Although this was my first time at Café Arles, I immediately felt right at home as a warm feeling grew within me. I asked the master what got him into the café business and I was surprised by his response. It all started when the master was working at a mahjong parlour, where a person they knew asked them to start up a café.
The master then thought about the numerous paintings he had collected and how he was in search of a place to display them. The idea of choosing his own music, menu and decorating a café interior to his own taste really struck a chord with him.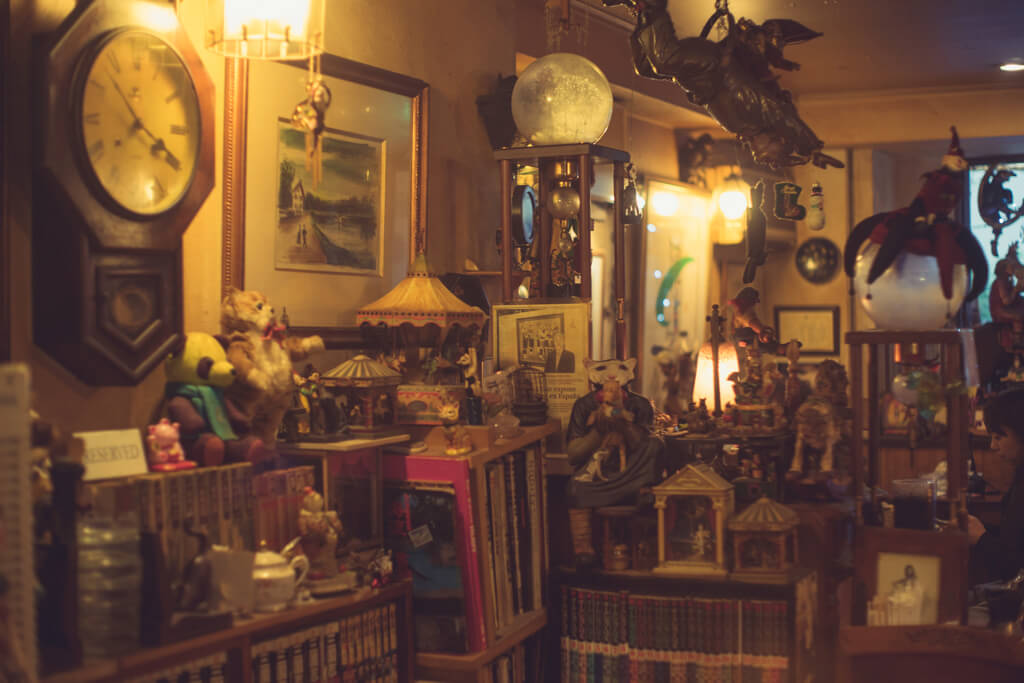 There are many paintings displayed in the café. Amongst these are some by modern artist Tomomi Kondo, who made the paintings "please your master" and "cool your thighs", which feature the kaban neko (café cats) Ishimatsu and Jirocho, who are "working hard" by lazing around.
Café Arles is fun and draws in even more fun. The atmosphere is filled with the love and enjoyment of the customers. That's why I immediately felt so at home as soon as I entered. You can easily spend a long time here.
I asked the master what he recommends from his menu. His response? "My recommendation is what you want to eat the most!" he said wisely. I felt like eating Napolitan spaghetti and so that is what I ordered! (Price: ¥720 including tax)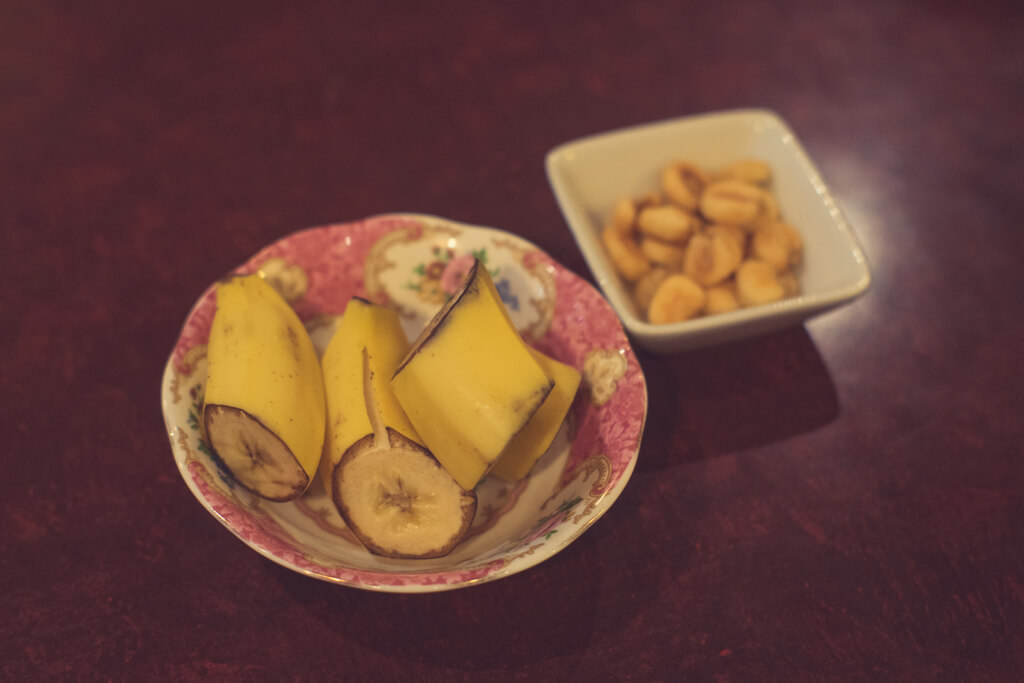 It came with banana and giant corn ❤ – this excellent service made me so happy!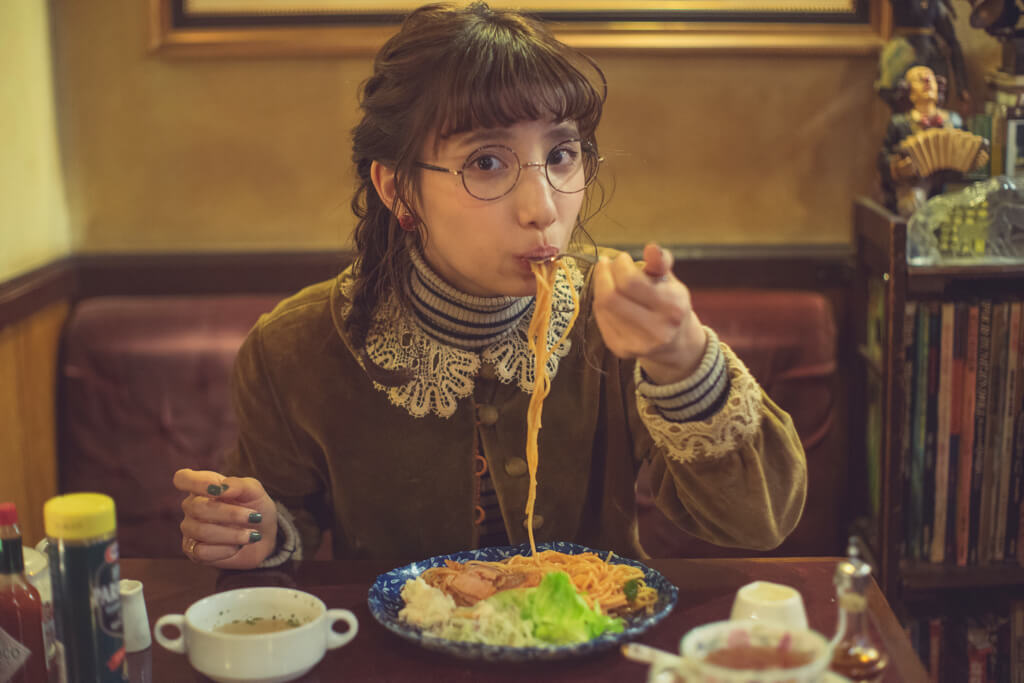 The gentle flavour of this homemade dish was delicious and I could really taste the Showa-retro Napolitan flavour to it. The drink, soup and salad services available gives this meal a perfect score for portion size satisfaction!
The master allowed me to take his café cat Jirocho-kun out for a walk. This was the first time I'd ever walked a cat – a new, fresh experience!
Jirocho-kun is a very calm and obedient cat, so we had a lovely stroll together. Speaking of which, Jirocho-kun loves his owner so much that he runs to meet him whenever he hears his car pull up at the shop.
This year marks the 40th anniversary of the café. "I enjoyed every minute of it" explained the master happily. The master created a place where everyone can be happy and in return everyone supports him. Perhaps this cycle is the motivational force that has kept and will continue to push this café to live and thrive.
I'm glad I came to this café today and met such a special person.
I want to come here again and have another chat with the master!
■Information
Cafe Arles
Address:1st floor, 5-10-8, Shinjuku, Tokyo
Opening h0urs: 11:30 〜 22:00
Regular holidays days: Sundays, New Year's period holiday period
Access:398 metres from Shinjuku Sanchome station (reach via Toei-Shinjuku line/ Tokyo Metro Marunouchi line
URL:https://tabelog.com/en/tokyo/A1304/A130401/13087540/
Model & Writer: Ema Tanioku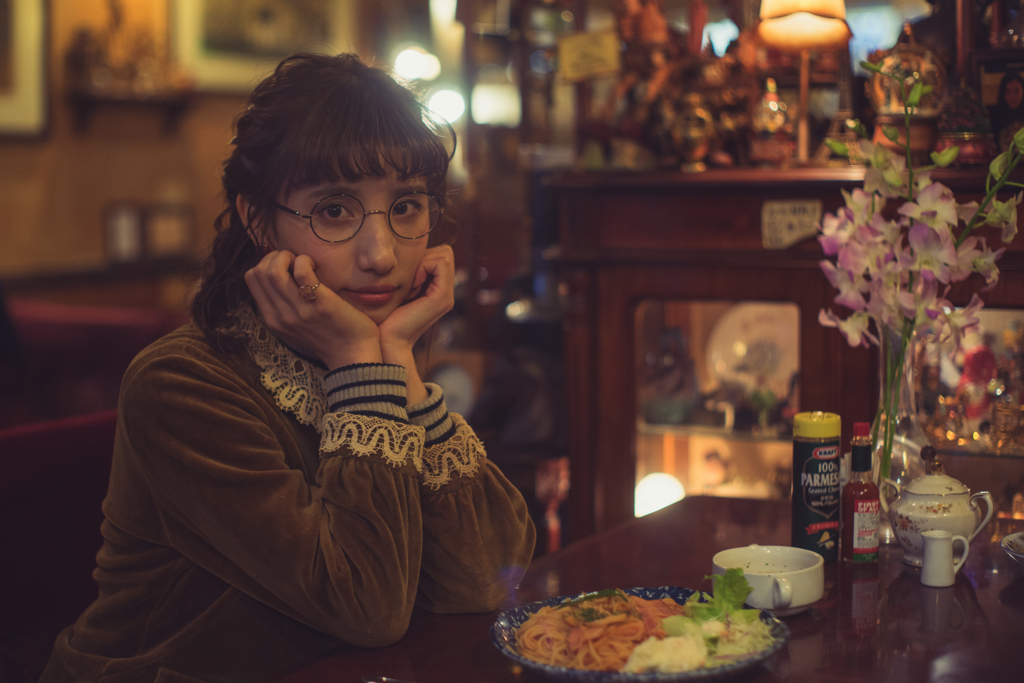 Profile: "Emaeri" is the nickname for models Ema and Eri Tanioku, who are Aomoji fashion model twins. Ema and Eri Tanioku specialise in twin fashion coordination. Over the years their fanbase has increased due to their cute looks. Ema Tanioku spreads Harajuku culture within Japan as well as overseas and works as a Harajuku Tourism Ambassador. Starting off as a model, Ema has broadened her talent range from fashion magazines to TV, and from playing the lead role in dramas to movies.
Instagram:@ematanioku
Photographer:Haruka Yamamoto
Editor:Ryoichi Komaba
Design:Yuko Abe (ASOBISYSTEM)
Translated by: Samantha Fernandes
RECOMMENDED ENTRIES
【Tokyo Stroll】The cafe you that you want to visit to see someone #3 "Galant" —a retro café in Ueno

"It's a mysterious café vacuum sealed with an energy that feels like it's the time of the Japanese economic miracle"

We're at the third installment of this series where we take a stroll to old-fashioned cafes filled with a sense of nostalgia.

I, Ema Tanioka, will be introducing to you another retro café that I am in love with. Today, we go to "Galant" in Ueno, a town where the Showa mood still lingers.

Galant has continued to be loved by many people since it opened its doors back in 1977. This year marks the 40th anniversary of the popular café. "Galant" sounds a little space-y, don't you think? It's a little different from the norm. When I enquired to the staff about the origin of the café's name, they told me that it comes from the Mitsubishi Galant as the owner is a fan of cars. To think that a car's name became the name of a café! But it has a ring to it and is easy to remember, so it might actually be a huge success.

Anyway, without further ado, let's make our way there!

Galant is on the 2nd floor of this building. As you head up the stairs, it no longer felt like I was in the real world. A completely different world opened before me. Because of the entrance's chic brickwork, I was surprised by the dazzling lights floating inside.

And here!

Here too! There was so much sparkle.

The first thing to peak my interest was the uniform the staff were wearing. So cute… You don't see that red & yellow combination much these days. It helped amplify that retro mood of the café even more.

The male staff wore red & black! Black was the base colour and had that well defined, guy-like feel to it. Together with the checkered vests, it completed that retro look. It was wonderful. The café was also playing popular Showa era songs. I really felt like I had stepped back in time.

And then… and then! The menu arrived!

The most popular item on the menu is the chocolate parfait (¥900 tax incl.). It was absolutely stuffed with cream all the way to the middle. For people who love sweet things this is an irresistible delight. By the way, I must ask, what do you do when it comes to the cherry on top of the parfait? The truth is, I absolutely love parfaits, but I'm really not into the cherry – I usually leave it until the end. Even though it looks so cute on the parfait…

Another item is the cream soda (¥750 tax incl.). When going to a café, you just have to get a cream soda!! It's because you don't see them around much besides at cafes and family restaurants, so I'm the person that ends up ordering one unintentionally when if I see it on the menu.

There's a nice fat serving of ice cream in there. It's a drink you can enjoy that has the aesthetic of a dessert. The melon soda is crystal clear like a precious gem. The best part about cream soda is how the ice cream slowly melts into the drink. It's pretty fun to watch!

Galant is the kind of café where the more you get to know it, the more you start to love it. Its fans have been supporting it for many years, and even when I become a grandma in the future, I reckon it'll still be bustling all the same.

■Information

Galant (ギャラン)

Address: 6-14-4 Ueno, Taitō, Tokyo

Open: 8:00-23:00

Open all week.

Access: 2-minutes' walk from Ueno Station via the Tokyo Metro Ginza Line / 1-minutes' walk from Exit 5b at Ueno Station via the Hibiya Line

Model&Writer:Ema Tanioku

Profile:Ema and Eri Tanioku are well-known Aomoji-kei twin models that go by their duo name "EmaEri." Their twin-like fashion co-ordination and cute looks have earned them a fast growing fan base. They are officially appointed tourism ambassadors and work both in Japan and overseas to promote Harajuku culture. They work as fashion models in a wide range of areas and have appeared in fashion magazines as well as on TV, in dramas, movies and more.  Instagram:@ematanioku

Photograph:Haruka Yamamoto

Editor:Ryoichi Komaba

Design:Yuko Abe(ASOBISYSTEM)

Translation:Joshua Kitosi-Isanga

【Tokyo Stroll】The cafe that you want to visit to see someone #2 "Nanatsumori"—An Attractive Cafe in Kōenji

"A coffee lounge where you can step back in time and spend it in luxury."

Showa, retro-style coffee shops that are comfortable and echo a sense of nostalgia. I, Ema Tanioka, love going to these kinds of cafés. I hope to make you want to visit a place like this, the kind of place where you want to meet with someone.

For today's stroll, I went to Kōenji, a conveniently accessible location from the city just one stop from Shinjuku on the Chūō Line. When you think of Kōenji, you think of its plentiful second hand clothes shops and shops selling miscellaneous goods, among others, all with their individual traits. It's the kind of town where you're sure to discover something new each time you visit.

This time around, I went to "Nanatsumori," a café that has a retro look to it from the outside. It was built in Showa 53 (the year 1978). I heard that the building was originally used as a tea house.

At the front of the café is an old-fashioned shaved ice machine. I couldn't help turning it.

Upon entering, you can see the interior of the café has weathered. It has an atmosphere reminiscent of the Showa era, like you've just stepped back in time. No matter where you take a photograph in the café it will look beautiful.

There were lots of mysterious ornaments inside; I couldn't help but reach my hands out to touch everything♪

But, in the end, I didn't know what any of the things I'm holding in the photos were. How on earth do you use this stuff…?!

While pondering that, just simply gazing around the interior of the café filled me with a feeling of excitement.

>>next page

【Tokyo Stroll】The cafe that you want to visit to see someone #1 The popular cafe in Jinbo-cho called "Sabouru" that has retro interior and nostalgic food.

"Although there are many great things about chain stores, the café has their own dream."

The café that reminds me of Showa era is somehow nostalgic and comfy inside.

I, Emma Tanioku, who love to visit the new café restaurants is going to introduce the café that will make you want to see particular person in their café.

Today, I came to Jinbo-cho that is good access from middle of Tokyo, and you don't have to change the train line from Shibuya station.

Jinbo-cho is socially known as the town which has many secondhand bookstores, it is actually the town for gourmets as well.There are many hidden old-established restaurants in this great town.

I want to introduce this café that I was especially curious about.

"Sabouru" which you can say its representative retro cafe. It locates right there from the exit A7 in Jinbo-cho train station.This 62 years historical café has established in 1955.

In front of this café which appears to look like small mountain hut, there is a red public telephones surrounded by some flowers, plants and a totem pole.This makes me want to take a picture in front of there.This public phone is actually functional, so I heard some people are still using it.

There are floor first, semi basement and mezzanine inside. It is little dark inside, but you can still enjoy reading books.Either if you come here alone or with your friends, you can spend the relaxed time.

The miscellaneous goods that decorated inside the café were donated by customers.

Even though they are all different kinds of souvenirs from all over the world, they look like it's coordinated perfectly.I bet the customers who are big fan of this café decide to buy the good souvenirs which are going to match with this store's atmosphere. For your information, you can decorate your souvenirs inside the cafe even if you are not regular customer.

>>next page

【Tokyo Cafe】Visit the café which has a menu that gives you great impact Vol,6 "Kissa Housekibako"

I rode the train on Keio line, Shinjuku station the hustle and bustle high building area on the back. For about 15 minutes, I was staring at the slowing changing view from the train. I got to the restaurant in Chitose-karasuyama that many girls from all over Japan come here to get "drinkable jewelry."

I looked inside from the laced curtain looked like ribbon on the door. The toys that I used to play with when I was little looked like they were smiling at me as if they are saying "come inside."

When I opened the door, I felt like I leaped back from Heisei era to Showa era. There are photographs of Seiko Matsuda, who is a popular pop idol in Showa era, and her songs were playing. It is such a nostalgic atmosphere. The person who runs this café which is like a full of dreams and admires when she was little is Naomi Kanai. "I opened this café, "Kissa Housekibako" since I love too much about the Japanese pop idols and goods in Showa era. I mainly collect the music and items from 1970 to late 80s. I am very happy when the girls who don't even know about this era visit here and say it is cool or cute about the stuff in this café," she gently told us.

Anyway, the main purpose of this visit is "drinkable jewelry" as known as "cream soba" which was everyone's favorite food when they are little.

The standard color of cream soda is supposed to be green, but the one in "Kissa Housekibako" appeared in a very girly color. They appeared in cute and shiny spring colors.

Peach flavored one named "rose quarts(550yen include tax)" taste sweet and sour. This drink goes with the strong love songs sung by "candies" which was a famous Japanese idol group take light steps.

Strawberry flavored one named "Ruby(550yen include tax)" is like a sweet taste of love. This clear spring color reminds me of Seiko Matsuda's hit song, "Red sweet pea."

The grape flavored one named "Amethyst(550yen include tax)" taste of matured love. The sexy form of the cup reminds me of "Pinklady", the famous Japanese pop idol group who  dances gorgeously.

You may be able to encounter limited flavor and refreshing idol songs in this summer!

You cannot miss the spaghetti Neapolitan(600yen include tax)  if you want to enjoy Showa taste. It has chewy spaghetti noodle and bacon, onions and bell pepper chopped in large sizes. The texture of soft noodles and the sour taste of tomato ketchup took me into the nostalgic world.

It has been 8 years since the opening. "Thanks to social media, people even from other countries visit here to get the colorful cream soda. This café is made of Showa era culture, but Heisei era culture support us as well." Not only young people but also people from other countries have been attracted by their music and items. "Hosekibako" (Jewelry box) that is made by Naomi-San has full of smiles from all over the world.

Ueki Yuriko(food writer)

■Information

Kissa Housekibako

Address:4-18-18 Oyama Mansion102, Minorakuyama Setagaya-ku, Tokyo

Tel:03-5969-8577

Hours:10:00AM to 6:30PM

Official site:http://housekibako.wixsite.com/2009

Related article:【Tokyo Stroll】The cafe that you want to visit to see someone #1 The popular cafe in Jinbo-cho called "Sabouru" that has retro interior and nostalgic food.

Related article:【Tokyo Cafe】Visit the café which has an original menu that will give you great impact volume 3. Kinshicho "Kissa Knit"

【Tokyo Cafe】Visit the café that has an original menu which gives you great impact volume 4 Asakusa "Tengoku"

When I was walking in the town, I heard the conversation that made me a little scared.

"I'm heading to the "Tengoku(heaven)" first." The guy who looks like about seventy years old said. He was walking really cheerfully. I was curious about him, and decided to chase after him, then he entered the café called "Tengoku(heaven)."

The heaven's door was a small glassed door. There were lovely retro plastic food figures decorated in the entrance. Asakusa which is considered to be the town that has a lot of good places to eat is one of the most popular sightseeing spots in Tokyo. This little and warm appearance café is an oasis for many tourists who try to take breaks from walking in this town.

Inside the "Tengoku," you can smell something sweet. The feast of this paradise is a special pancake which has a burnt in mark of "Tengoku." (550yen)

They start mixing the ingredients after getting an order, and cook on copper sheets. It tastes crunchy on the outside, and fluffy inside. When I put butter and maple syrup, the flavor of the milk gets stronger. The owner, Rumi Ueno was particular about this orthodox pancake. The taste of this pancake really made me relieve and reminds me of my mom who made pancake for snack when I was little.

 "Tengoku's special hotdog" appeared on my table with great impact. The sausage sticking out from the hotdog bun is about 25 centimeters long!

when you bite it, the juice spreads in your mouth with the bun. The crunchy texture's of sausage really goes with moist bread. There are four toppings that you can choose from. This nostalgic and addictive taste plain hotdog made me want to get another one to take for strolling in this town.

You can have good luck if you drink up the coffee which comes with the set menu.

There are two characters saying good fortune in the bottom of coffee cup. If you get disappointed by drawing bad luck on your oracle at Sensouji temple, you will be saved by this good surprise. This very detailed hospitality is exactly like you are in heaven.

If you are in trouble not knowing what to get for souvenir, you should get the original merchandise that you only can get in here!

"I've been to heaven five times this month." "What about you? How many times you've been to heaven?" People were talking something like that with Edo dialect. The café where people having this funny conversations is like a "gourmet's nirvana" which is totally different world from the hustle and bustle sightseeing place.

■Coffee Tengoku

Address: 1-41-9 Asakusa, Taito-ku, Tokyo

https://tabelog.com/tokyo/A1311/A131102/13025425/

Yuriko Ueki(Writer)

■Related article:【TokyoCafe】Visit the café which has an original menu that will give you great impact volume 3.

■Related article:【TokyoCafe】Visit the café which has original menu that give you great impact 2
RELATED ENTRIES
Tokyo Stroll: The Café That You Want to Visit to See Someone #12 – 'Sepia' in Shibamata

In this edition of The Café That You Want to Visit to See Someone, I visited Sepia in Shibamata, a Showa-retro style cafe which I've always wanted to visit.

The cafe is just a 2-minute stroll from Shibamata Station which appears in the Japanese film Otoko wa Tsurai yo. The walk along the road that leads to Sepia, which is nearby the Buddhist temple Shibamata Taishakuten, is a pleasant one. Tokyo is a city consistently perceived as one that is cutting-edge in every aspect, but what I felt from each and every building surrounding Shibamata Station was a kind of warmth that you feel when something has history to it.

It's been seven years since I came to Tokyo. Visiting Shibamata made me me realised how many places there are which I still don't know about. It invigorated me. As my mind wandered with these pondering thoughts, I finally spotted the sign outside the cafe, and it sure is a cute one!

The moment I stepped inside, I stood, my mouth agape, and looked at my surroundings. It's the first time I've entered such a bright, shining cafe. It was littered with characters I've never seen before, manga, magazines, and more.

When you hear the word kira kira ("glitter," "sparkle"), the first thing that comes to mind for a lot of people is probably Harajuku and the Harajuku style, but Sepia's version of kira kira is a nostalgic one betwixt 1965 and 1975 during the Showa Period. The cafe is incredibly delicate in every spot and corner, like I'm looking inside some grand treasure chest.

The owner of Sepia is Kiyoko Hasezawa. The cafe gets its name from the manga Milky Sepia Monogatari by Ako Mutsu. Ms. Hasezawa said that she wanted to bring to life the world of the manga she loved. The cafe is full of her dreams and is enjoyed by everyone, both children and adults alike.

The cafe menu is even inspired by the food that appears in the Milky Sepia Monogatari manga. The hard pudding I had, which combined caramel sauce and cream, was an absolute delight.

Homemade Showa Pudding & Cream Soda Set: ¥1,200

If we're talking cafes, then you can't go wrong with cream soda. The cream soda served at Sepia comes in seven different flavours and colours: melon, Blue Hawaii, strawberry, lemon, peach, grape, and orange. I was spoilt for choice on which to go for, but in the end I went with the pink-coloured strawberry. It had a sweet flavour and was really delicious.

Strawberry Cream Soda: ¥750

I devoured the hotcakes too. The pastry was so fluffy and tasty – I could have eaten a hundred of them. The second one I ate with honey.

Hotcakes: ¥600


At the back of the cafe, they also have the "Candy Candy Museum." There's a personal collection of items from Candy H Milky, a female fashion enthusiastic who used to be a customer at Sepia. There's a photo spot for snapping a photo in the cafe too.

It's a great time getting to go and look at the displays after eating. I recommend going to see the collection yourself with your own eyes. Entry to the museum is ¥300.

There's a tearoom up on the second floor which has a nostalgic vibe to it. I felt warm and relaxed, like I'd been transported to my grandma's house.

Humans can't travel back in time, but if we look after mementos properly, we can go back there in our minds and memories. Sepia, a place that continues to be cherished and loved, is everybody's treasure trove.

My oh my, I really want to go back there again.

Writer/Model:Ema Tanioku
Photographer:Haruka Yamamoto
Design:Yuko Takayama(ASOBISYSTEM)

Information

Sepia
Address: 7-4-11 Shibamata, Katsushika-ku, Tokyo
Days Open: Fridays, Saturdays, Mondays
Business Hours: 12:00-17:00 (Last Orders 16:30)
For the latest information, visit Sepia's official Twitter page @sepia_mama

Minnie Mouse Design Merchandise to be Sold at Lumine EST Shinjuku's 'Positively Minnie' Event

Lumine EST Shinjuku is set to hold a campaign from July 21 to August 31 this year as part of Walt Disney Japan's "Positively Minnie" promotion.

Disney "Positively MINNIE"

Minnie Mouse is known as an independent, charming spirit as well as a fashion icon. Positively Minnie is a promotional campaign launched by Disney for the global market which has Minnie inspiring all with her positive personality. She intends to teach us to live our best lives how we want to.

No shortage of Kawaii merchandise

29 shops inside Lumine EST Shinjuku are participating in the event by stocking their own range of Minnie Mouse merchandise. Let's take a look at some of them.

Minnie Mouse Ringer Telephone T-Shirts: ¥5,490 Each (Tax Included)

Shop: GYDA (Floor B1F) *Lumine EST exclusive, limited edition

Minnie Mouse Fleece Lined Tight Skirt: ¥8,800 (Tax Included)

Shop: Merry Jenny (Floor 2F)

Minnie Socks: ¥2,750 (Tax Included)

Shop: Tabio (Floor 3F) *Limited edition item

Minnie Mouse Mobile Cases: ¥4,180 Each (Tax Included)

Shop: Lycka (Floor 4F) *Lumine EST exclusive, limited-edition

Large Rollbahn Notebooks With Pocket: ¥850 Each (Tax Included)

Shop: Smith (Floor 6F) *Lumine EST exclusive

There will also be a pop-up shop by PONEYCOMB on the first floor of Lumine EST Shinjuku where you can get your hands on limited-edition merchandise with original art. It will be open from July 31 to August 13, and the items will also be available on Lumine's online shop until August 31.

When customers buy select items from the pop-up shop, they'll receive one of the three top stickers pictured above. When they order online, they'll receive one of the bottom three.

Luminest EST Shinjuku will be decorated in all things Minnie Mouse for the event, so that fashionista Minnie can serve her positive vibes to all who visit this summer.

©DISNEY

Information

Lumine EST Shinjuku Positively Minnie Campaign
Running: July 21, 2020 – August 31, 2020

Location: Lumine EST Shinjuku (Connected to JR Shinjuku Station's East Exit) / Lumine Online Shop

Campaign Website: https://www.lumine.ne.jp/est/positivelyminnie/ *Accessible from July 14 at 18:00 (JST)

Lumine Online Shop: https://i.lumine.jp/

Tokyo's New Shaved Ice Cafe 'Kakigoori Parlor Floche' Opens in LUMINE EST Shinjuku

A new shaved ice shop by the name of Kakigoori Parlor Floche is now open on the 8th floor food arena "The PARK SHINJUKU" inside LUMINE EST Shinjuku for a limited time until August 31, 2020.

Kakigoori Parlor Floche is inspired by floche, a cake served at a Japanese cafe in the 70s and 80s which they have turned into shaved ice. Its luxurious taste is similar to a cake, with an appearance that's sure to have you smiling when it arrives at the table. It's topped generously with cream, creating a cake x shaved ice fusion.

"Floche" is a French word meaning fluffy, a fitting name for a shop specialising in serving sweet and fluffy shaved ice. They have prepared three different flavours: Tiramisu, Shortcake, and Japone.

Shortcake: ¥980 (Before Tax)

Tiramisu: ¥830 (Before Tax)

Japone: ¥880 (Before Tax)

If you're in Tokyo this summer, don't miss out on this delicious and refreshing line-up.

Information

Kakigoori Parlor Floche
Opening Hours: 11:00-21:00 (Last Orders 20:00)
Address: LUMINE EST Shinjuku 8F, 3-38-1 Shinjuku, Shinjuku-ku, Tokyo
TEL: 03-6457-4566
No Fixed Holidays

Official Website: https://www.potomak.co.jp/shop/6392/

New Japanese Haori Brand NOBLE SAVAGE to Arrive in Shinjuku Isetan

When talking about traditional Japanese clothes, the first to come to mind is undoubtedly the kimono, something adored the world over. But another type of traditional attire from Japan that's gaining attention for adapting more to today's modern lifestyle is the haori. NOBLE SAVAGE is a new brand by 10th generation owner of Kondaya Genbei set to be sold inside Shinjuku Isetan for a limited time.

NOBLE SAVAGE is redefining tradition by taking the ancient dyeing and weaving techniques forged in Japan and adding new value to them by adapting them to today's lifestyle.

The haori is incorporated into a diverse number of outfits in Europe and America, from everyday clothes to streetwear. Kondaya Genbei has a history spanning over 280 years. Using their enormous inventory is materials from around the world, they are using Japanese techniques to weave new haori.

NOBLE SAVAGE Haori: ¥63,800

This design is known as the yabure-kouji, an iconic design by the 10th generation owner. It's a revival of a pattern worn by people working in kabuki theatre around 250 years ago and holds the meaning of "breaking down order."

NOBLE SAVAGE Haori: ¥418,000

This muga silk is handwoven with wild silkworm and dyed with vegetables. The pockets are arranged with a special silver leaf that has been used by Kondaya Genbei for 100 years.

NOBLE SAVAGE Haori: ¥69,300

Made from deadstock Laos fabric and dyed with catechu, something which has been used since the Nara Period, the haori gets a distinct earth colour.

NOBLE SAVAGE is also collaborating with Pascal marie desmarais to release washable face masks online at Isetan on June 16 at 10:00 (JST).

NOBLE SAVAGE will showcase their products at a showrooming in Isetan Shinjuku from June 17 to 23 and sell them from June 24 to 30.​

Modern Japonisme Beauty Products and Fragrances Arrive at SABON's Shinjuku Pop-Up Store

Japanese beauty company SABON opened its first ever pop-up shop on Wednesday on the first floor of Isetan Shinjuku in the makeup and promotion section. The shop will run until June 23, 2020.


Items on show include classic SABON products as well as their "TOKYO CELEBRATION" line-up, a collection of "modern Japonisme" items made in collaboration with millennial generation Japanese calligrapher MAMI. The fragrance of this special collection is "Clear Citrus Green" which combines notes of sparkling lemon, fresh verdure, transparent jasmine, and dreay orange blossom.

The collection is first on pre-sale at the Isetan Shinjuku pop-up store until June 23. After that, it will go on limited sales at SABON stores across Japan and SABON's online store on June 25.

Additionally, customers who spend over ¥8,000 (tax included) on the TOKYO CELEBRATION collection have the chance to receive the above-pictured fan. These are available while supplies last.

Information

Pop-Up Shop
Location: Isetan Shinjuku (1st Floor Makeup/Promotion)
Running: June 10, 2020 – June 23, 2020

Line-Up: SABON Products / TOKYO CELEBRATION Collection

Prices: ¥1,300-¥18,500 (Before Tax)

Official Website: https://www.sabon.co.jp

TOKYO MYSTERY CIRCUS Releases More Snoopy Merchandise as Part of SCRAP x SNOOPY Puzzle Game Project

As part of the second SCRAP x SNOOPY Puzzle Game Project taking place at TOKYO MYSTERY CIRCUSーthe world's first puzzle-themed theme parkーthe Shinjuku-based theme indoor theme park has its third batch of original and exclusive merchandise which is comprised of 8 new pieces.

This will be the final batch of merchandise made for the project, featuring illustrations of Snoopy, Charlie Brown, and other characters from Peanuts and themed around the puzzle game.

Puzzle Origami: ¥1,000

7 of the 8 origami designs come with their own puzzle. When you make your own Snoopy and Charlie Brown, the puzzle is completed too.

Puzzle Mirror: ¥1,000

Puzzle Folders: ¥900 Each

Puzzle Handkerchief: ¥1,200

The merchandise line-up sold at TOKYO MYSTERY CIRCUS is available to people not participating in the event too. The first two batches of merchandise are also available via the online SCRAP GOODS SHOP.

An English version of the second puzzle game, officially titled "Snoopy and the Secret Recipe," was released at TOKYO MYSTERY CIRCUS on June 11 so that English speakers can enjoy the event too.

© 2020 Peanuts Worldwide LLC

Information

SCRAP x SNOOPY Puzzle Game Project

Event Page: https://mysterycircus.jp/snoopy/en/

TOKYO MYSTERY CIRCUS

Address: APM Bldg., 1-27-5 Kabukicho, Shinjuku, Tokyo, 160-0021

Opening Hours: Weekdays 11:30-23:00 / Weekends & Holidays 09:30-23:00

No Fixed Holidays.

Price: Free Entry (*Separate tickets required for games)

TOKYO MYSTERY CIRCUS x Snoopy Official Website: https://mysterycircus.jp/snoopy/en/

PEANUTS TRAILER SHOP: Official Men's Snoopy Shop to Open in Shinjuku

Sony Creative Products Inc., an agent of the Peanuts franchise in Japan, has announced that it will open an official men's shop called "PEANUTS TRAILER SHOP" in Yaraicho, Shinjuku on June 6, 2020.

Yaraicho is an ancient and historical area just a 3-minute walk from Kagurazaka Station via the Tokyo Metro Tōzai Line. PEANUTS TRAILER SHOP will open in a part of Yaraicho called "Oku Kagurazaka" which is home to a variety of stylish restaurants, galleries, and more. The shop is in fact inspired by American-style trailers.

The shop will sell cabinets and lockers from British furniture company Bisley; foldable chairs from US chair makers Clarin whose chairs have been used at Madison Square Garden, stadiums, schools, and elsewhere; clothes from Brittany, France-based company Le Minor; bags and wallets from Joe Porter; glasses from French tempered glass tableware and kitchenware manufacturer Duralex; and more.

So that everyone can enjoy a relaxing shopping experience, customers must book a slot in advance to shop at PEANUTS TRAILER SHOP which can be done via their official website.

©2020 Peanuts Worldwide

Information

PEANUTS TRAILER SHOP
Address: 41 Yuraicho, Shinjuku, Tokyo
TEL: 03-6280-8576
Opening Hours: 11:00-19:00
Closed: Wednesdays

Official Website: https://peanutstrailershop.jp

Tokyo's Robot Restaurant to Open Ticket Centre This March

Tokyo's internationally-acclaimed, located in Kabukicho, Shinjuku, is set to open a new ticket centre sometime this month.

The ticket centre will be located in the very middle of Kabukicho facing the Shinjuku Toho Building. Since it will be close to a range of luxury hotels, it means both foreign tourists and locals can easily get to it. It means to be a facility that can be used easily by anyone and everyone.

The ticket centre will also sell a range of tickets for various activities. It will also provide sightseeing and tourist services where they can recommend local restaurants, tourist sites, and more.

Information

Ticket Centre

Address: 1-18-7 Kabukicho, Shinjuku, Tokyo

No Fixed Holidays

Opening Hours: 11:00-21:00

TEL: 03-3200-5500

Access: 5-minutes on foot from Seibu Shinjuku Station, Shinjuku-sanchome Station, and JR Shinjuku Station

Official Website: https://www.shinjuku-robot.com/pc/?lng=en

Isetan Shinjuku's Restaurant Floor EAT PARADISE Turns Into a Pink Paradise

To celebrate the 30th anniversary of EAT PARADISEーthe restaurant floor located on the 7th floor of Isetan Shinjuku in Tokyoーthe entire area, as well as restaurants and cafes throughout Isetan Shinjuku, are going pink from March 4 to 31. 

Chocolate Printanière – ¥2,860 (+Separate 10% Service Charge) @ Le Salon Jacques Borie / *5 served per day


Watch this animated chocolate dessert melt as you pour over the hot sauce and tuck in. The centre is filled with a fluffy berry cream.

Vacherin With Japanese Strawberries – ¥1,320 @ Cafe Rejiig


Located on the 8th floor of the men's building, Cafe Rejiig is serving up a pink-coloured French dessert made up of a tower of meringue, ice cream, and various other delicious delights.

Strawberry & Cranberry Cream Mont Blanc Parfait – ¥1,211 @ latte chano-mama

latte chano-mama is a cafe popular with mothers who go there with their children. The cafe's new mont blanc parfait is made with strawberries and sponge which has cranberry sauce hidden inside.

Left: Pink Non-Alcoholic Cocktail – ¥981 / Right: Pink Champagne Cocktail – ¥1,201 @ The Stand


These two cocktails are cherry blossom-inspired. As well as all of these cute pink delights, EAT PARADISE is celebrating with a range of other dishes other than desserts and drinks too, like soba and risotto.

There's plenty of visually-striking items to tuck into at EAT PARADISE for their 30th anniversary, so be sure to pay a visit if you're visiting Tokyo this spring.

TOKYO MYSTERY CIRCUS Releases Snoopy Merchandise as Part of SCRAP x SNOOPY Puzzle Game Project

As part of the second SCRAP x SNOOPY Puzzle Game Project taking place at TOKYO MYSTERY CIRCUSーthe world's first puzzle-themed theme parkーthe Shinjuku-based theme indoor theme park has released ten pieces of original and exclusive merchandise.

What is the SCRAP x SNOOPY Puzzle Game Project?

Visitors are joining Snoopy and the Peanuts Gang for a whole bunch of puzzle-solving fun. The project begin in November 2019, and will run through three periods. The first edition has seen over 10,000 people play this first puzzle game, which is titled "Snoopy and the Clue Solving Circus" and has players helping Snoopy to retrieve his Circus Leader badge back. The second game, "Snoopy and the Secret Recipe," will begin on February 26. In the meantime, a selection of 10 pieces of merchandise have dropped.

Mugs (2 Designs) – ¥1,400 Each

Paper Napkins (Set of 10) – ¥600

Art Card Set w/ Puzzle (Set of 5) – ¥1,000

The two mugs see Snoopy wearing his chef's hat and ready to cook up some delicious pastries for the new game. There's also a paper napkin set, items that come with their own unique puzzles, and more. Available at the TOKYO MYSTERY CIRCUS shop, these items can all be purchased by non-participants of the game too.

Information

SCRAP x SNOOPY Puzzle Game Project

Event Page: https://mysterycircus.jp/snoopy/en/

TOKYO MYSTERY CIRCUS

Address: APM Bldg., 1-27-5 Kabukicho, Shinjuku, Tokyo, 160-0021

Opening Hours: Weekdays 11:30-23:00 / Weekends & Holidays 09:30-23:00

No Fixed Holidays.

Price: Free Entry (*Separate tickets required for games)

Official Website: https://mysterycircus.jp/en/

Sanrio to Open Official My Melody Shops in Tokyo, Osaka and Nagoya to Celebrate Character's 45th Anniversary

Sanrio has announced that it is opening an official My Melody store to commemorate the popular character's 45th anniversary this year. It will open for a limited time on the first floor of Takashimaya Shinjuku in Tokyo from February 12 to 25.

The store is a must-visit for fans of Sanrio's kawaii white rabbit where they can get their hands on a huge assortment of merchandise, including exclusives, so adorable you'll want to add everything to your collection.

The line-up looks back at My Melody's 45 years in the business. The first 4,000 people to visit the store will be given a limited-edition shopping back, and the first 1,000 people who spend over ¥2,000 (tax included) will receive a free card.
*One card per person, per transaction

The store will also feature interactive projection mapping showcasing My Melody's 45-year history which when touched reacts. On February 15, the designer for the store will be drawing illustrations as well as doing signings for people.

As well as Takashimaya Shinjuku, the shop is set to hit Nagoya's Takashimaya Gate Tower Mall Nagoya and Osaka Takashiyama. Check the dates below, and help My Melody commemorate her 45th anniversary!

©'76, '20 SANRIO 著作(株)サンリオ

Information

My Melody 45th Anniversary Shop
Location: Takashimaya Shinjuku 1st Floor Main Square
Running: February 12, 2020 – February 25, 2020 (Closed February 19)
Opening Hours: [Mon-Thurs & Sun] 10:00-20:00 / [Fri-Sat] 10:00-20:30

Signings
Date: February 15, 2020 (Two Slots – ①11:30 / ②15:00)
No. of People: 20 per slot
Location: My Melody 45th Anniversary Shop
How to Participate:
・Receive a lottery draw ticket to the signing at the shop on the day (February 15) between 10:00-10:20.

・In the case that there are more people who want to join, one person may not receive two tickets for two signings. Additionally, tickets will not be handed out after 10:20.

・Winners and the order they will enter the signing will be announced at 10:20.

・Those who are chosen will receive a "Buyers Ticket." This must be exchanged for a ticket to attend the signing by spending more than ¥4,000 (tax included) at the My Melody 45th Anniversary Shop and handing over your Buyers Ticket.

*Signings and illustrations will only be done on paper and not merchandise.

*Requests for designs cannot be made

・My Melody 45th Anniversary Shop Nagoya
Running: March 25, 2020 – April 7, 2020
Location: Takashimaya Gate Tower Mall 7th Floor Rose Terrace

・My Melody 45th Anniversary Shop Osaka
Running: April 1, 2020 – April 7, 2020
Location: Takashimaya 1st Floor Good Shock Place

Sanrio Official Website: https://www.sanrio.co.jp/

Enjoy a Succulent Grilled Lamb Yakiniku Experience in Kabukicho, Shinjuku

On December 18, yakiniku restaurant LAMB ONE, which specialises in succulent matured lamb, opened in Kabukicho, Shinjuku. The restaurant provides the perfect opportunity for guests to grill their own light and healthy meal with friends and family. The high-quality meat is low in calories and high in protein. Each seat is at a counter and there are even single grill seats for the perfect dinner treat alone. 

The restaurant offers Japanese-style set meals which include meat, fried vegetables, rice, soup and kimchi . Some of the more basic set meals include the shio koji marinated lamb shoulder roast and the sesame miso lamb shoulder roast. For customers who are really looking for a luxury treat, there is a set that includes three different kinds of matured lamb and a set that includes Spring Lamb Chop Steak where you can enjoy both the shio koji and sesame miso marinades. You can swap your fried vegetables for caesar salad or your white rice for mixed grain rice. Just seeing this beautiful and balanced meal before your eyes will leave you feeling satisfied. After your meal, enjoy the small warabimochi dessert. 

When most people think of a yakiniku restaurant, the general impression is a large number of friends gathering together, merrily tucking in to meat and sides while the table fills with empty beer glasses. LAMB ONE, however, is the perfect place to enjoy a delicious Japanese-style meal in your own way without being disturbed by others. If you're travelling around Tokyo, this would be the perfect hearty dinner to finish your day.