【Tokyo Cafe】Visit the café which has an original menu that will give you great impact volume 3. Kinshicho "Kissa Knit"
Kinshi-cho is the town which used to flourish by means of a knitting mill. Now, this town has become one of main train stations which has a lot of huge commercial facilities. When I was walking there thinking it changed a lot compared with that period, the signboard says "Kissa Knit" which glows like a fireplace came into my sight.
Just at the moment I thought "it sounds so warm", the cold wind chilled me. I open the door in excitement. The sound of a bell made me feel as if I had been transported through time to Showa period.
This café was built in 1966 by the father of Tamie Ozawa who was running a knitting mill. "Kissa Knit" was born since they wanted to maintain the name of knitting at least. The first few years after they opened this café, they only served several light meal menus, but now there are so many menus such as barbeque set and Kani zosui (crab hotpot and rice porridge) that you don't usually see at this kind of café. Mrs. Tamie said "it is only because our regular customers said they wanted to eat porridge since a big hospital has opened close by." I can totally tell why this place has been loved by regular customers.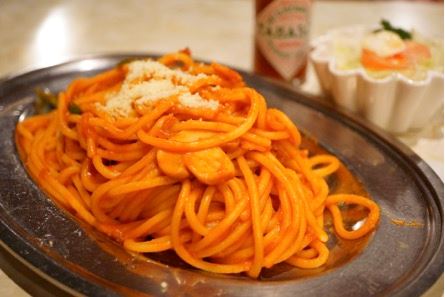 The most popular menu is "Spaghetti Neapolitan (770yen and includes a soft drink)." The ketchup sauce sticks to the thick and chewy spaghetti. The spaghetti Neapolitan makes me nostalgic every time I eat it. The ever-popular menus always make me fulfilled.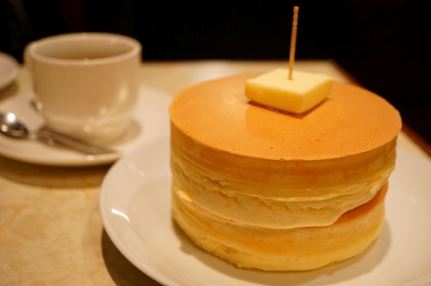 The special "Hot cake (750yen and includes a soft drink)" with a toothpick sticking through butter on top is the trade mark. Two pancakes that are cooked a in copper plate are about five centimeter's thick. You pour syrup on the top of butter which was melts with the heat.
When I cut it with a knife, I was surprised by the crispy surface. The thick and heavy pancake is fluffy when I brought it into my mouth. I was fascinated with that gap. The recommended foods are decorated in the showcase at the entrance.
These plastic food models have been sitting in the entrance of this restaurant for about fifty years. The fact that these models colors are fading tells me that this "Kissa knit" has been passed down by the passed father, to his daughter, to her grandkids and to their grand-grand kids. Currently, three generations are in charge of this business. All the waiters and waitresses are wearing bordeaux-colored knit vests. Their uniform reminds me of the period of time of knitting mills. This cold time of the year makes me want to be visit "Kissa knit."
*All prices are tax-included
*Set menus comes with either coffee, tea, milk, or kombu-cha
■Kissa Nitto
Address: 4-26-12 Kotobashi, Sumida-ku, Tokyo
https://tabelog.com/tokyo/A1312/A131201/13076100/
Yuriko Ueki (Writer)
−−−
■Related article:【TokyoCafe】Visiting Japanese Coffee shop where you can encounter the foods which give you great impact. Vol.1
■Related article:【TokyoCafe】Visit the café which has original menu that give you great impact 2
RELATED ENTRIES
Cheese Tea Shop machi machi Showcases Christmas 2020 Beverage

Taiwanese cheese tea shop machi machi is releasing a new drink in Japan this holiday season on December 1: the 'Flurry Strawberry Milk With Crème Brûlée.'

machi machi is an extremely popular cheese tea chain in Taiwan that has been called the 'king of cheese tea' by Taiwanese news outlets. Each and every cup poured is made fresh with tea from Taiwan to which rich cream cheese is added for a salty kick, creating a new kind of dessert drink.

Flurry Strawberry Milk With Crème Brûlée | ¥750 (Before Tax)


The new Christmas beverage being served in Japan uses fresh strawberries which adds a delightful sweetness to the milk. It's topped with crushed Oreos and combined with crème brûlée for a variety of layered flavours. The Oreos add crunch to the dessert drink so that it's a delicious experience down to the last sip.

If you've never had Taiwanese cheese tea, and are in Japan this Christmas, don't miss out on this seasonal drink, available for the whole month of December.

Information

Flurry Strawberry Milk With Crème Brûlée
Serving: December 1, 2020 – December 31, 2020
Available: machi machi stores in Japan
Official Website: https://machimachi.baycrews.co.jp

Sanrio's Little Twin Stars Get Themed Cafe in Osaka This Holiday Season

Sanrio's popular characters Kiki & Lala, also known as the Little Twin Stars, are getting their own themed cafe which will open for a limited time at the Fruits Parlor & Bakery Season & Co. in LINKS UMEDA in Osaka From December 3, 2020 to January 24, 2021.

The cafe will serve up a variety of menu items inspired by the Little Twin Stars as well as sell related merchandise. There will also be a photo spot for taking cute pictures, and a special dessert assortment made in collaboration with the popular artist Dream Ami which includes a parfait made up of their favourite sweet treats.

Cafe Menu (Prices Listed Before Tax)

Menu ①: December 3, 2020 – December 25, 2020


Little Twin Stars Shortcake (X'mas Ver.) | ¥1,900


Kiki's Shooting Star Sweets Parfait | ¥1,600

Menu ②: December 26, 2020 – January 24, 2021


Little Twin Stars Tart | ¥1,700


Lala's Shooting Stat Sweets Parfait | ¥1,700

Drinks Menu (Excerpt) (Available Throughout Collaboration)

Little Twin Stars Strawberry Tea Latte | ¥1,000

Dream Ami's Special Collaborative Menu (Available Throughout Collaboration)

Dream Ami×Little Twin Stars Star Sweets 2020 2,100円

Customers who spend more than ¥1,000 (before tax) on merchandise at the cafe will also receive a free A4 folder. These are available while supplies last.

Dream Ami's collaborative dessert looks both cute and delicious and definitely worthy of being on a Little Twin Stars menu!

Information

Little Twin Stars Collaborative Cafe
Running: December 3, 2020 – January 24, 2021
Location: Fruits Parlor & Bakery Season & Co.
Address: LINKS UMEDA (Floor 1F), 1-1 Ofukacho, Kita-ku, Osaka-shi, Osaka
Opening Hours: 9:30-22:00 (Last Orders 21:30)
TEL: 06-6743-4212

Official Website: https://season-co.shop

Japanese Koala's March Cookies Collaborates With Pokémon On Cheesecake Moomoo Milk Flavour

Koala's March is one of the many tasty treats made by Japanese confectionery company Lotte. They are bite-sized cookies with sweet fillings. Lotte is teaming up with Pokémon to release 48 Koala's March products with Pokémon prints on them.

Koala's March With Pokémon – Cheesecake Moomoo Milk Flavour

The crunchy biscuits feature a variety of Pokémon prints on them along with the Pokémon's names' in Japanese. They are filled with sweet cheesecake-flavoured chocolate. The collaboration is inspired by Moomoo Milk, an HP-restoring medicine seen in Pokémon. Together with the original Koala's March prints, there are a total of 96 individual designs to find.

A proper tasty snack for any Pokémon Trainer out there!

©LOTTE/Koala's March Project

©Nintendo・Creatures・GAME FREAK・TV Tokyo・ShoPro・JR Kikaku ©Pokémon

Snoopy's PEANUTS Cafe in Japan Collaborates With Pake On Leopard Print Zipper Bags

Four branches of the Snoopy-themed PEANUTS Cafe, as well as its online shop, launched a collaboration with the Japanese zipper bag brand Pake® on Friday (November 27) to release a collection of leopard print zipper bags.

PEANUTS Cafe Nagoya Gets New Interior Design Artwork

As part of the collaboration, PEANUTS Cafe Nagoya has put up a colourful piece of framed artwork on the first floor. At first glance, it looks like simple leopard print, but if you look closely, you can see Snoopy floating around in that colourful world.

PEANUTS Cafe x Pake Zipper Bag "The Clandestine" | ¥1,100 (Before Tax)

PEANUTS Cafe and Pake's collaborative zipper bags come in blue and pink, both with leopard print backgrounds visible thanks to the clear bag allowing you to also see the items you put inside.

Snoopy art from an old-time Peanuts comic

The artwork used on the zipper bag is taken from a Peppermint Patty story published in January 1975 over several days. It's the scene when Patty's dad is late arriving home and can't sleep so is invited to Snoopy's room. She jumps onto his waterbed and he goes flying up and down.

© 2020 Peanuts Worldwide LLC

Information

PEANUTS Cafe x Pake
Participating Branches: PEANUTS Cafe Nakameguro / PEANUTS DINER Yokohama / PEANUTS Cafe Kobe / PEANUTS Cafe Snoopy Museum / PEANUTS Cafe Nagoya
PEANUTS Cafe Online Shop: https://www.peanutscafe.jp/online/

Strawberry Shortcake Crepe Arrive For Christmas 2020 at gelato pique cafe

gelato pique cafe in Japan is celebrating the holiday season with a series of 'WHITE CHRISTMAS' themed crepes and soft serve ice creams until December 27.

The cafe is a branch of the loungewear brand gelato pique. It aims to create desserts for adults. This Christmas, it is serving up some holiday special crepes and ice creams.

Strawberry Shortcake Crepe | ¥880 (Before Tax)

A fat crepe stuffed with strawberries and adorned in a way that's just like a shortcake. It contains not only strawberries, but raspberries, and cream. The whole wheat biscuit adds texture to the crepe so it's delicious to the last bite.

Pique Bear Crepe | ¥1,180 (Before Tax) *Limited quantity served each day


A snowy, all-white crepe made with sweet strawberries, milk gelato, and whole wheat biscuit. It's topped with a cute white chocolate bear.

Holiday Special Soft Creams – From Left: Strawberry Custard, Rich Milk, Mix | ¥450 Each (Before Tax)

The strawberry custard ice cream is made with smooth, sweet, and rich custard cream and strawberry for a melt-in-the-mouth combination. The rich milk ice cream is a mix of refreshing milk and rich vanilla. The mix option combines both of these flavours which results in a real mouth-watering treat.

If you're in Japan this holiday season, don't miss out on these delightful desserts.

Information

WHITE CHRISTMAS
Running: November 16, 2020 – December 27, 2020
Gelato pique cafe Official site:https://pique-cafe.com/
*The Gotemba Premium Outlets branch of gelato pique cafe is only selling the Strawberry Custard Cream Soft Cream
*The Tamagawa Takashimaya S.C. branch is not selling soft creams

Make Your Own Chocolate Pokémon Pies With Lotte's Confectionery DIY Kit

Japanese confectionery company Lotte is launching a new version of its popular Choco Pie dessert in collaboration with Pokémon.

Pokémon Trainers out there with sweet tooths are given an ordinary blank Choco Pie which they can decorate with the accompanying assorted chocolates, nuts, and sweets to create their favourite Pokémon. They can create their own from their mind or follow the recipe provided.

Choco Pie Art with Pokémon will be released by Lotte in Japan on November 24, 2020.

©Nintendo・Creatures・GAME FREAK・TV Tokyo・ShoPro・JR Kikaku ©Pokémon

Luxurious Christmas Desserts Whipped Up at Ginza's SHISEIDO PARLOUR SALON DE CAFE

SHISEIDO PARLOUR SALON DE CAFE in Ginza, Tokyo, is serving up Christmas cheer this year in the form of a delightful selection of desserts from December 1 to 29.

Christmas Angel Parfait | ¥2,300 (Tax Included)

Made with super sweet Le Lectier pears and combined with assorted berries, this parfait is like a gift from the heavens.

Present From The Heavens w/ Drink | ¥2,500 (Tax Included)

A super cute Christmas assortment with a Christmas present made from white chocolate and berry yam, a snowman made from yuzu citrus-laced milk ice cream, and more.

Shiseido Parlour Story w/ Drink | ¥2,600 (Tax Included) *Served weekdays only

Ensemble Chocolate w/ Drink | ¥2,200 (tax Included)

A brownie made from a combination of Belgian, French, and Swiss chocolate surrounded by ganache, ice cream, and more, served with a spread of berry sauce.

Strawberry Parfait | ¥2,000 (Tax Included)

A simple but deliciously sweet parfait made with koiminori strawberries from Nagasaki. It's served with ice cream and sauce but only contains 10g sugar content.

Information

SHISEIDO PARLOUR SALON DE CAFÉ
Address: Tokyo Ginza Shiseido Building 3F, 8-8-3 Ginza, Chuo-ku, Tokyo

TEL: 03-5537-6231 (Reservations Not Required)

Opening Hours:

[Mon-Sat] 11:00-21:00 (Last Orders 20:30)

[Sun & Public Holidays] 11:00-20:00 (Last Orders 19:30)

Closed: Mondays (Except Public Holidays) / New Year Holidays

Official Website: https://parlour.shiseido.co.jp/

Pikachu Caramel Frappes Zap Their Way to Pikachu Sweets by Pokémon Cafe This Holiday Season

Pikachu Sweets by Pokémon Cafe in Ikebukuro, Tokyo, is adding the new "Caramel Pika Pika Frappe" to its menu this holiday season from December 5, 2020 to January 15, 2021.

Caramel Pika Pika Frappe | ¥700 (Before Tax)

The adorable beverage is based on the Japanese custard pudding known as purin. It's laced with caramel sauce, closed off with a squirt of whipped cream, and finished with a sprinkling of chocolate chips for accent.

Pikachu Sleeves

The drink also comes with one of four possible Pikachu sleeves which feature designs in promotion of the upcoming animated film Pokémon the Movie: Secrets of the Jungle (also known as Pokémon the Movie: Coco) which will be released in Japan on December 25, 2020 and in the US in 2021.

© 2020 Pokémon.©1995-2020 Nintendo/Creatures Inc./GAME FREAK inc.
Pokémon, ポケットモンスター, and ポケモン are registered trademarks of Nintendo, Creatures Inc., and GAME FREAK inc.
© Nintendo・Creatures・GAME FREAK・TV Tokyo・ShoPro・JR Kikaku
© Pokémon © 2020 Pikachu Project

McDonald's Luxurious Chocolate Frappes in Collaboration With GODIVA Are Mouth-Watering

McDonald's Japan has revealed two new beverages which will be sold at McCafé by Barista branches of McDonald's from November 25: the "GODIVA Chocolate Espresso Frappe & Macaron" and the "GODIVA Chocolate Espresso Frappe."

This is McCafé by Barista's first collaboration with the Turkish chocolate company GODIVA. The drinks were made under the supervision of Yannick Chevolleau, an executive chef and chocolatier pâtissier at GODIVA, bringing together a match made in heaven of rich chocolate and espresso.

GODIVA Chocolate Espresso Frappe – Regular Size (¥540)

The beverage contains a dark chocolate sauce which combines cacao powder and roasted cacao beans which is mixed together with fragrant espresso and milk before being topped with whipped cream drizzled in a couverture chocolate sauce made from 54% Belgian chocolate.

GODIVA Chocolate Espresso Frappe & Macaron – Regular Size (¥540)

You can also get it topped with a vanilla-flavoured macaron which adds sweetness to the rich beverage and looks even more Instagram-worthy.

Information

GODIVA Chocolate Espresso Frappe & Macaron
GODIVA Chocolate Espresso Frappe
Serving: November 25, 2020 – Mid January 2021 (subject to change)
Available: At McCafé by Barista branches of McDonald's in Japan

Mickey & Friends Disney Christmas Cupcakes to be Released at Ginza Cozy Corner

Japanese confectionery company Ginza Cozy Corner is teaming up with Disney once again to release a new Christmas collection of cupcakes on December 1.

Colourful Disney treats for the holiday season

This sweet seasonal collection is inspired by Mickey & Friends and contains nine unique cupcakes which depict the characters getting ready for their Christmas party.

Disney Christmas Collection (Contains 9) | ¥2,500 (Before Tax)

Cupcakes include a Santa-hat wearing, chocolate ganache-filled Mickey cream cheese cake, a strawberry jam-filled Minnie mousse cake, a lemon and mint cream-packed, Christmas decoration-adorned Donald tart, a banana and mint cream Pluto tart, an orange cream Goofy chocolate cake, and more.

The cakes are packed in a special Disney Christmas box which is sure to catch the attention of sweet tooths this holiday season, perfect for stay-at-home Christmas parties.

Information

Disney Christmas Collection
Running: December 1, 2020 – December 25, 2020

Ginza Cozy Corner Official Website: https://www.cozycorner.co.jp/

Starbucks Japan Reveals Matcha x Matcha White Chocolate Frappuccino®

Starbucks Coffee Japan has revealed that its second instalment of its limited-edition holiday season 2020 beverages will be the "Matcha x Matcha White Chocolate" and "Matcha x Matcha White Chocolate Frappuccino®" which customers can order from November 24. A new batch of festive Starbucks merch will also hit Japanese branches on November 30.

A harmonious fusion of matcha and sweet white chocolate

Matcha x Matcha White Chocolate Frappuccino® Tall ¥590 (Tall-size only)

Matcha x Matcha White Chocolate: Short ¥450 / Tall ¥490 / Grande ¥530 / Venti® ¥570 (Hot option only)

Matcha is one of Starbucks Japan's signature flavours and just to happens to have been in the spotlight in last year's holiday season drinks. This year sees marbling mixture of of rich matcha sauce and sweet white chocolate syrup with the Frappuccino®, finished with a squirt of whipped cream, brownie bits, and snowy powdered sugar. The hot version comes as a marriage of matcha and white mocha mixed together with steamed milk to warm the cockles of hearts during the cold months.

New holiday season merchandise

The theme of the second batch of merchandise is "Brilliant Season" which capture the bright and sparkly vibe of winter like with the snowflake-covered stainless steel bottle, a glass mug with beads in it that move around when shaken, a snow globe, and more. The perfect line-up for capturing the holiday season mood during your coffee break.

Starbucks Japan is currently serving the Berry x Berry No-Bake Cheesecake Frappuccino® and Berry x Berry White Mocha holiday season drinks for the holiday season until November 24 when they will be replaced by the Matcha x Matcha White Chocolate and Matcha x Matcha White Chocolate Frappuccino®. It is also serving the Starbucks® Christmas Blend, Gingerbread Latte, and Macadamia Toffee Latte until Christmas Day.

Information

Matcha x Matcha White Chocolate and Matcha

Matcha White Chocolate Frappuccino®

Running: November 1, 2020 – December 25, 2020

Available: Starbucks in Japan
Starbucks Japan Official Website: https://www.starbucks.co.jp/

Toy Story's Little Green Men and Lots-o' Get Turned Into Confections at Japanese Convenience Stores

Bandai's character-inspired Japanese confectionery series Tabemas has revealed that its next batch of sweet treats will be inspired by the Little Green Men and Lots-o'-Huggin' Bear from the popular Pixar movie franchise Toy Story. The confections will hit 7-Eleven convenience stores in Japan on November 21, 2020.


Tabemas Toy Story | ¥258 Each (Before Tax)

The lovable Little Green Men and Toy Story 3's main antagonist Lots-o have been fully recreated, down to the finest details, into delicious confections. The details are well crafted you can almost hear the aliens chanting "OOOOOH" in unison! The sweets are also made with a dough called "nerikiri" which is used in making traditional Japanese wagashi sweets.

The Little Green Men are matcha flavoured while Lots-o is strawberry flavoured. Both contain Japanese bean paste, and neither use artificial colourings. Their colours comes from the original ingredients. Each sweet is also only 100kcal making is a perfect quick treat.

'Tabemas' is an abbreviation of the Japanese words taberareru masukotto, meaning 'mascots that you can eat.' It is a Japanese confectionery series that combines well-known characters and Japanese sweets made from ingredients like red bean paste, sugar and rice flour.

©Disney/Pixar

Information

Tabemas Toy Story 25th Anniversary – Little Green Man & Lots-o'-Huggin' Bear
Release Date: November 21, 2020
Available: At the chilled sweets section of 7-Eleven convenience stores in Japan

*Available while supplies last

*Stock date may differ from branch to branch

*Select stores not participating

Official Website: https://www.bandai.co.jp/candy/tabemas/toystory/