Shinjuku is a bustling tourist destination popular for its diverse shopping opportunities, locations for first-hand cultural experience, restaurants and more. It's a convenient place absolutely packed with sightseers during their free time. Today we will show you a list of 8 hot spots you must visit when going to Shinjuku.
Rental Kimono Shop – "VASARA"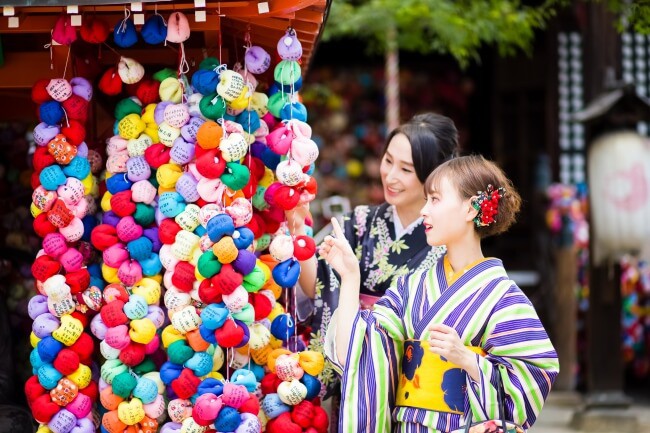 The newly opened "Shinjuku Ekimae Shop" is located inside Nihon Ryoko Shinjuku Branch Europe Plaza which is located near Shinjuku Station. Shinjuku is close to sightseeing locations such as Tokyo Dome and various event spots and is a good place to hold wedding parties and after-parties. Baggage services and basic hair set services are also available for free and kimonos can be rented from ¥2,900.
Full Details: http://www.moshimoshi-nippon.jp/69916
NEWoMan
This shopping mall opened in April 2016 at Shinjuku Station's south exit. It's also connected to the Expressway Bus Terminal. The mall is lined with an array of fashion boutiques, food shops and restaurants as well as the latest stores including a newly launched café and more. The stylishly modern interior makes it fun even for window shopping. There's also a vegetable garden on the roof where you can enjoy lush greenery in the concrete jungle.
Samurai Museum
The "Samurai Museum" is an 8-minute walk on foot from JR Shinjuku Station's east exit. The museum is stocked with real samurai swords and armour, and visitors can witness sword battles and more to deepen their understanding of the Japanese samurai. You can even try on helmets and battle surcoats to take a photo in. Staff offer detailed explanations of the items on display, making it a very popular spot for foreigners.
Kabukicho
Kabukicho is an entertainment district in Shinjuku that has become a huge attraction to tourists for its restaurants, izakaya, nightclubs and more. It has been dubbed "The Sleepless Town" as its streets become most active at nighttime. Kabukicho is famed as a red-light district, packed with karaoke chains, host clubs and hostess clubs. It's also known for its many individual gay bars.
Omoide Yokocho
Omoide Yokocho ("Memory Lane"), also known as "Yakitori Alley" and quite amusingly "Piss Alley," is a collection of bars, yakitori stalls and eateries located at Shinjuku Station's west exit. The shops are lined up and separated by a single door, a remnant of the Showa spirit. Omoide Yokocho is becoming a popular sightseeing spot for overseas visitors.
Tokyo Metropolitan Government Building
The Tokyo Metropolitan Government Building is free to enter and has many tourists racing to the top to catch an unbroken view of Shinjuku from its 202m high observation deck. From there, visitors can steal a panoramic gaze at Tokyo, with the spectacular sight changing form depending on where you stand. There's also souvenir shops and restaurants inside so you can enjoy a bit of shopping while seeing Tokyo from above.
Shinjuku Gyoen
Located just 5-minutes by foot from Shinjuku Station is Tokyo's green oasis. Shinjuku Gyoen offers respite in the hustle and bustle of the big city, lavish with gorgeous foliage and an ever-changing sight through the four seasons. It continues to charm locals and tourists with its green grace, and when spring arrives, the park is met by over 1,300 cherry blossom trees, making it a yearned for location for picnic get-togethers.
TOKYO MYSTERY CIRCUS
Tokyo Mystery Circus opened on December 19th this year in Kabukicho, Shinjuku as the world's first and Japan's biggest theme park themed around the concept of "mystery". You will unite a team of 3 and infiltrate the enemy's hide-out within 30 minutes. You can enjoy a truly thrilling experience in the game "THE SECRET AGENT Saisyu Heiki wo Hakaiseyo (destroy the lethal weapon)". The game can be played several times and is extremely fun completing the clear rank with the other players. They also have games in English, so don't be shy!
Full Details: https://www.moshimoshi-nippon.jp/75218
We hope you enjoyed our pick for 8 must-see locations in Shinjuku and proves useful during your trip.