Japan's largest cycling resort "PLAYatre" will be opened in Ibaraki Prefecture
The station building of JR Tsuchiura Station "perch tsuchiura" will be renewed and changed into the Japan's largest experimental-based cycling resort, "Playatre."
This facility will be a base camp which will have showers, coin lockers, a rental cycle space, a cycle shop and a cycling café. They will all be opened at the starting point of "Tsukuba Kasumigaura Rinrin Road," a 180km long cycling course with various kinds of historical/cultural sources such as Kasumigaura's water area and Tsukuba Mountain's rich nature area.
It takes about 49 minutes on train from Tokyo (directly connected to the station) to get to PLAYatre and it is the entrance of the cycling course, "Tsukuba Kasumigaura Rinrin Road" which includes Kasumigaura are and Tsukuba Mountain. They will introduce an active resort life to their customers via the "bicycle" which is different from existing resort experiences. The facility will be Japan's largest cycling facility where visitors can bring their own bicycles and accommodation facilities will also be offered.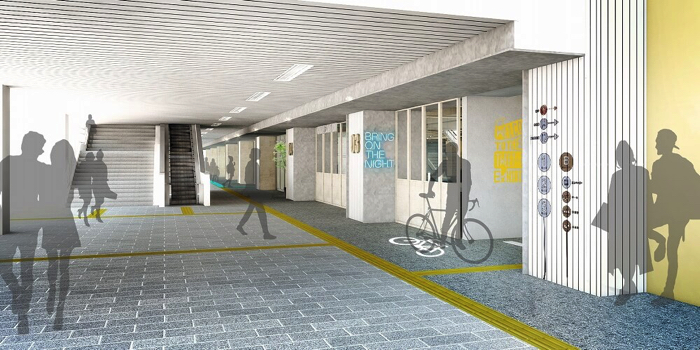 Under the theme of casting off from the existing shopping buildings, they are aiming to introduce a new station-facility model "Koto (experience) Shohigata (consumption) Ekibiru (station building) model based on two key words, "distributing information" and "offering experiences." The facility will not sell many products but will offer "experiences" to their customers.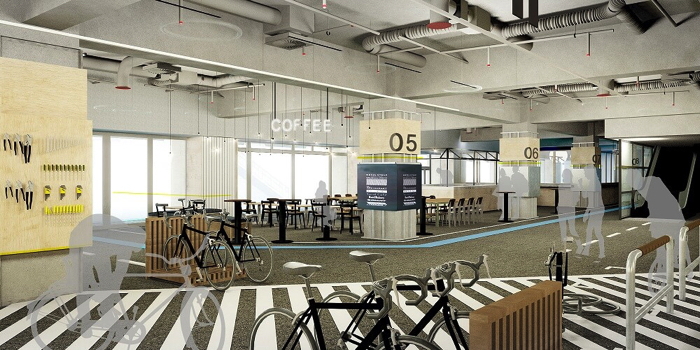 They are planning to open new facilities subsequently such as a cycling hotel, restaurants, a food market gathering popular shops from around Ibaraki before opening day (2019, Autumn).
Let's tour around the resort while enjoying cycling.
■Information
PLAYatre TSUCHIURA/perch tsuchiura
Address: 300-0035, 1-30, Ariakecho, Tsuchiurashi, Ibaraki Prefecture
TEL:029-835-3000
RELATED ENTRIES
Kyary Pamyu Pamyu Visits Iwashita New Ginger Museum in Tochigi Prefecture

Iwashita Foods, a staple in Tochigi Prefecture for over 123 years, has teamed up with Kyary Pamyu Pamyu's LOCAL POWER JAPAN Project! The project was launched to energize Japan through the appeal of regional towns and cities, and the singer is teaming up with the company known widely throughout the region for its ginger. Along with a selection of collaboration goods, a meet-and-greet will be held at the Iwashita New Ginger Museum in Tochigi City! Guests will be able to meet the popular mascot character Iwashika-chan in a new Kyary-inspired outfit. 


The LOCAL POWER JAPAN PROJECT aims to bring attention and support to local industries and to inspire more tourism to rural areas that were hit hard by the pandemic. Kyary hopes to enliven local communities by collaborating with companies that have roots in the rural locations she is visiting on her current national tour. 

On January 16, 2022, Kyary embarked on the largest tour of her career, 'Kyary Pamyu Pamyu 10th ANNIVERSARY JAPAN TOUR 2022 CANDY WAVE.' The 30 stops on the new tour include many that Kyary has not visited before, and were chosen based on the singer's desire to perform for fans who may not typically be able to attend one of her shows.


The collaboration logos created for the project were inspired by Kyary's past releases while also keeping the spirit of the original company intact. T-shirts featuring these collaborative logos are available for a limited time, and a portion of the proceeds are given back to fund local development and social programs.

On May 21, Kyary Pamyu Pamyu stopped by the Iwashita Fresh Ginger Museum on the way to her Tochigi concert. The singer was given a tour of the facility by Iwashita Foods president Kazunori Iwashita. A video of Kyary's visit to the museum will be posted to YouTube soon!

The mascot character of Iwashita New Ginger, Iwashika-chan, appeared at Kyary's Tochigi concert held at Tochigi Prefectural Cultural Center in Utsunomiya on May 21, 2022. The adorable deer danced along with Kyary as Tsukematsukeru played to huge fanfare. 

Iwashita New Ginger goods inspired by Kyary Pamyu Pamyu are now on sale at the Iwashita New Ginger Museum and the Iwashita New Ginger Online Shop until June 20. There are limited quantities of T-shirts and other merchandise not available anywhere else, so don't miss out!

The Iwashita New Ginger Museum holds meet-and-greets with its mascot character Iwashika-chan every Saturday and Sunday, as well as on holidays. Typically, the deer appears in seasonal outfits, but during a few appearances in June, she'll appear in a special Kyary-inspired costume!

Information

Iwashita New Ginger x Kyary Pamyu Pamyu LOCAL POWER JAPAN Project Collaboration Goods

On Sale: May 25 – June 20, 2022

Iwashita New Ginger x Kyary Pamyu Pamyu LOCAL POWER JAPAN Project Collaboration T-Shirt

Available in limited quantities starting in late June 2022

Iwashita New Ginger Museum: https://shinshoga-museum.com/
Iwashita New Ginger Online Shop: https://www.shinshoga.shop/shopbrand/ct103

Kyary Collab Ver. Iwashika-chan Greeting

Dates: June 5 / June 12, 2022

Times: 11:00, 14:00 (Twice a day) 

*The greeting at 16:00 will feature the regular seasonal event costume.

Admission: Free

Details: https://shinshoga-museum.com/event/kpp-iwashika-greeting

Rose Garden ~Spring Rose Festival~ Opens at Ashikaga Flower Park in Tochigi

Starting May 9, Ashikaga Flower Park is celebrating spring with the Rose Garden ~Spring Rose Festival~ event. Since April, the Fujinohana Monogatari Ofuji Festival has been drawing guests to the park to see the symbolic wisteria. As the weather warms up, the rose festival will be held at the same time as the Great Wisteria Festival 2022, which is scheduled to end on May 22. 

Guests can enjoy the rainbow-colored world of wisteria and roses, which are at their best until the middle of May. From now until May 15, visitors can also see the flowers lit up each night.

Come visit Ashikaga Flower Park and enjoy 2,500 roses from 500 different varieties!

Information

Rose Garden ~Spring Rose Festival~

Dates & Hours: 

May 9 – May 15 / 8:00-20:30 (Includes Night Illuminations)

May 16 ~ / 9:00-18:00

Official Site: https://www.ashikaga.co.jp/

Fujinohana Monogatari Ofuji Festival 2022 Opens at Ashikaga Flower Park in Tochigi

The Fujinohana Monogatari Ofuji Festival 2022 in Tochigi began slightly ahead of schedule on April 16, 2022.

After temperatures rose to higher than normal over the past few weeks, Ashikaga Flower Park's symbolic wisteria bloomed earlier than expected. If the high temperatures persist, the blooming process will speed up considerably, with some flower clusters growing up to 10cm in a single day.

The park is one of Japan's top destinations for wisteria, boasting 350 trees that typically bloom from mid-April to mid-May. The stunning flowers, which dangle from wooden trellises, come in many colors including violet, blue, pink, white, and yellow. Each color tends to bloom at different times: pink first, followed by purple, white, and then yellow wisteria. CNN praised the massive wisteria tree as looking similar to the "tree of souls in the film Avatar," and the park was the only place in Japan selected as one of the '10 Global Dream Destinations' in 2014.

Information

Fujinohana Monogatari Ofuji Festival 2022

Running: April 16 – May 22, 2022

*Illuminations: April 20 – May 15, 2022
Times: 

April 16 – April 19  9:00-18:00

April 20 – April 22  8:00-20:30

April 23 – May 8    7:00-21:00

May 9 – May 15    8:00-20:30

May 16 – May 22  9:00-18:00

 

*Dates and hours are subject to change depending on blooming conditions.

*Click on the link below to see the current flower status.

Three New Additions to the Poké Lid Project Appear in Utsunomiya, Tochigi Prefecture

Three new Pokemon manhole covers have been unveiled in Utsunomiya, Tochigi Prefecture as part of the ongoing Poké Lid project. These new additions to the long-running initiative feature Electabuzz, Skwovet, Electrike, Crustle, and Thundurus along with images of the city. These are the first Poké Lids to be installed in Tochigi Prefecture.

Poké Lids placed across Japan feature completely original Pokémon designs making each individual one the only one in the world. Meant to highlight the attractions and beauty of locales around the country while drawing in tourism, The Pokémon Company is also working to make each one of them PokéStops for Pokémon GO.

New Poké Lids Installed in Utsunomiya

① Electabuzz & Skwovet Poké Lid: 5-10-1 Motoimaizumi, Utsunomiya

② Electrike & Crustle Poké Lid: 2-chome Ozo, Utsunomiya

③ Thundurus Poké Lid: Hei-254 Nissatomachi, Utsunomiya
 

©Pokémon. ©Nintendo/Creatures Inc./GAME FREAK inc.

Sauna Art Appears at Underground Experience in Tochigi Prefecture

From October 30 until November 23, 2021, a unique underground experience is taking place at a former quarry in Oyamachi, Utsunomiya. UnderMuseumChallenge 01 GATE invites guests to enjoy massive pieces of artwork while pondering the boundaries between society, nature, daily life, and the body. The main focal point of the exhibition is the Genki Furnace, a piece of sauna-inspired art.

Usually, this old quarry isn't open to the public. This year's event will offer two types of tickets: one allowing visitors to view art and drive through the underground space, and the sauna art experience. Takashi Kurimayashi's art will certainly stick with you, so either choice is a positive one. The sauna art experience will invite guests to stand within the furnace as they are surrounded by hot herbal steam. The website asks that visitors bring a swimsuit, change of clothes, and their own towel. 

The quarry is located about a 30-minute drive from the center of Utsunomiya. Stone from the area is well-known across Japan, and this particular region was named a Japanese Heritage Site in 2018. Last year, more than 700,000 tourists visited the region. 

Four Must-See Winter Illuminations in the Kanto Region This Holiday Season

Even though it feels like 2021 just started, winter is already approaching! Though the weather is turning cold and the leaves are falling from the trees, there are plenty of colorful events taking place throughout the Kanto region sure to warm your body and soul. Holiday lights can transform even the darkest and most frigid evenings into magical memories. Here at Moshi Moshi Nippon, we've compiled the four best winter illumination locations for 2021, perfect for dates, family outings, or even solo reflection!

[Ashikaga, Tochigi Prefecture] 20th Anniversary Garden of Light ~Flower Fantasy 2021~

In October 2017, Ashikaga Flower Park was recognized as having one of the three best illumination events in Japan, along with the Sapporo White Illumination in Hokkaido and the Huis Ten Bosch Kingdom of Lights in Nagasaki. It has also ranked number one in the Night View Convention and Visitors Bureau Illumination Awards for five consecutive years from 2016 until 2020. Be sure to visit the popular and newly-renovated Flower Castle!

Location: Ashikaga Flower Park

Running: Until February 14, 2022

Details: https://www.moshimoshi-nippon.jp/515578

[Shinagawa, Tokyo] Tokyo Mega Illumination 2021-2022 x NAKED

Tokyo's Oi Racecourse will be decorated with over eight million lights until April 2022! The location is complete with a water fountain show and a 100-meter tunnel bathed in light, while creative production company NAKED has teamed up with the event to offer AR illuminations guests can only experience here!

Location: Oi Racecourse

Running: Until April 10, 2022

Details: https://www.moshimoshi-nippon.jp/512032

[Inagi, Tokyo] Yomiuriland Jewellumination The Light of Hope! ~A Diverse Symphony of Color~

Yomiuriland's newest illuminations were produced by Ishii Motoko, and the park is home to the world's first light display to use LED lights made to glitter like jewels. These lights have a low environmental impact, and are perfectly suited for the event's theme of "Hope." 

Location: Yomiuriland

Running: Until April 3, 2022

Details: https://www.moshimoshi-nippon.jp/503875

[Hibiya, Tokyo] HIBIYA Magic Time Illumination 2021

 

Locations throughout Hibiya in Tokyo will be transformed into magical Christmas scenes, with trees lit up in a gradient of colors. This year's lights were designed to be sustainable, with the LED lights used utilizing 40% less power compared to regular bulbs.

Location: Tokyo Midtown Hibiya, Hibiya Nakadoori, Hibiya Chanter locations

Running: Until February 14, 2022

Massive Winter Illumination Event Begins at Ashikaga Flower Park in Tochigi

Ashikaga Flower Park in Tochigi prefecture is one of the best places in the country to view wisteria (fuji) flowers and is well-known for its tunnel of purple blooms. In recent years, the park has also become popular for its winter illumination, and from October 16, 2021, until February 14, 2022, over 5 million bulbs will be on display during the 20th Anniversary Garden of Light ~Flower Fantasy 2021~ event!

Flower Castle

Illuminated Flower Basin

Illuminated Flower Basin

Magnificent Wisteria

Rose Garden of Light

Rose Garden of Light – Blue Version

The Tale of the Wisteria of Light

Illuminated Water Lilies

Rainbow Magic

Everyone's Earth

The Tree of Life

Snow World

White Wisteria Tunnel

Yellow Wisteria Tunnel

2021 marks the 20th anniversary of the winter illumination event at Ashikaga Flower Park. In October 2017, the location was recognized as having one of the three best illumination events in Japan, along with the Sapporo White Illumination in Hokkaido and the Huis Ten Bosch Kingdom of Lights in Nagasaki. It has also ranked number one in the Night View Convention and Visitors Bureau Illumination Awards for five consecutive years from 2016 until 2020. 

The popular Flower Castle has been completely redone for the event's anniversary. A professional florist also helped design the illuminated flower basins. The park's famous wisteria flowers will be illuminated in many unique ways and in different colors. A special blue light performance will take place to show appreciation for medical professionals who have assisted during the pandemic. 

Information

20th Anniversary Garden of Light ~Flower Fantasy 2021~

Running: October 16, 2021 – February 14, 2022

Illumination Hours: 16:30-20:30 (Until 21:00 on weekends and holidays.) 

*Open until 21:00 on weekends and 21:30 on weekends and holidays from early December until early January (tentative)

Details: https://www.ashikaga.co.jp/flowerfantasy_special2021/jp/index.html

Ashikaga Flower Park Turns On the Lights For 'The Garden of Illuminated Flowers'

Ashikaga Flower Park in Ashikaga, Tochigi, has announced an illumination event for the autumn and winter seasons called "The Garden of Illuminated Flowers ~Flower Fantasy 2020~" which will run from October 17, 2020 to February 7, 2021.

The annual event is being held a week later than usual in order to implement the necessary precautions against COVID-19 and to ensure visitors are divided from one another so that they can enjoy the event as always safely. Masks will need to be worn and visitors must sanitise their hands as well as have their temperature checked with the on-site thermal camera before entering the park.

Held for the 19th time this year, the event was ranked among the Top 3 biggest light-up events in Japan in 2017 alongside Sapporo White Illuminations and Huis Ten Bosch Illuminations. It was also ranked top by night view critics in Japan as best the illumination event for four consecutive years.

So, why is this event adored so much?


The Miraculous Great Wisteria

Due to COVID-19, people were unable to enjoy the blossoming wisteria during this year's spring season, but now they can be enjoyed in autumn and winter in the form of illuminations.

Illuminated Water Lilies

Water lilies are enjoyed from summer through autumn. These water lily lights by the waterside are like little individual flower spirits.

Illuminated Rose Garden

A panoramic spectacle of vivid red rose lights. A special blue light-up will also take place to give gratitude to frontline workers who will be busy this season.


A Flower Story of Illuminated Wisteria

The multicoloured wisteria that bloom from mid-April to mid-May at the park are also being represented as dazzling illuminations which will reflect off the water surface to create a magical atmosphere.

Snow World

Santa Claus will be at the park from late November to late December to hand out presents to children.

Enter a romantic world of Japanese illuminations at Ashikaga Flower Park.

FUFU NIKKO: The New Hot Spring Hotel in Nikko, Tochigi Prefecture

Kato Pleasure Group is set to open its 4th branch of FUFU NIKKO hotels in Nikko, Tochigi on October 2, 2020 following their Atami, Lake Kawaguchi, and Nara branches.

A resort steeped in Japanese history and culture

The site in which the hotel is located has a sacred air to it. It dates back to the Meiji Period and has continued into modern times. Upon entering the hotel, your ears are treated to the sound of classical music. Overhead you will spot high ceilings made from wood which give it a warm and welcoming atmosphere.The shadows of the outside walls, the warmth of the inviting lights, and the metallic decorations which catch the light present a calm and quiet mood.

Classy and sophisticated cuisine

Both the food and plates it is served on capture the essence and beauty of the Japanese way. Meals are prepared using seasonal ingredients from Tochigi as well as high quality foods like foie gras, truffles, and caviar. Each dish expresses elegance and refinement and combines both Japanese and Western flavours.

Hot spring water sourced from Tamozawa

All rooms at the hotel are fitted with hot springs or large baths which natural light from the outdoors shining through. In the open-air baths, guests get to experience the surrounding sights of nature coupled with the sound of the flowing stream and chirping birds.

Information

FUFU NIKKO JAPAN

Grand Opening: October 2, 2020

Address: 1573-8 Honcho, Nikko, Tochigi Prefecture

Official Website: https://www.kpg.gr.jp/

Indulge in a Strawberry Heaven at Hoshino Resorts KAI in Tochigi Prefecture

A new hotel plan has arrived at three branches of Hoshino Resort's hot spring hotel brand KAI in Tochigi Prefecture where guests can enjoy the luxury of strawberries together with their stay. Tochigi is famous for growing strawberries, and so all three hotels will serve up their own unique succulent strawberry experiences. The branches in question are KAI Kawaji, KAI Kinugawa, and KAI Nikko.

For roughly the past 50 years, Tochigi has enjoyed the largest cultivation of strawberries in the whole of Japan. Hoshino Resorts KAI is taking advantage of this milestone by presenting guests with a strawberry experience they won't forget, with the delicious fruit comprising the whole of their stay from checking in to checking out. Each hotel branch will have different varieties of strawberries in stock, and guests will discover new ways to enjoy them. They will also be presented a map highlighting different locations to indulge in strawberry desserts, so they can carry on their fruitful after checking out on the road home too.

KAI Kawaji: Strawberry Picking at a Japanese-Style Hot Spring Inn

KAI Kawaji's "Satoyama Ichigo Taizai" (Satoyama Strawberry Stay) plan offers a one-night stay with a strawberry picking session by the watermill in the hotel grounds. The strawberries there are juicy and sweet and ripen on the stalks. During your stay, you can go and pick them at your leisure. The strawberries grown there are a variety called tochiotome which have a full-bodied aroma are sweet with the perfect amount of sourness. In the evenings, a sunken hearth will be lit at the watermill so you can stay warm in the fresh winter outdoors while you pick your strawberries. Guests can also enjoy a strawberry sweet red-bean soup made with rare white strawberries which came out as a new variety of Tochigi Prefecture strawberry in 2018. They have less sourness and are super sweet with a smooth texture.

Running: January 15, 2020 – February 29, 2020 (Check In)

Price: From ¥25,000 (1 room for up to 2 people / Service charge included / Tax not included)

Reservations/Official Website: https://kai-ryokan.jp/kawaji/

KAI Kinugawa: Taste and compare seasonal strawberries

KAI Kinugawa's "Mingei Ichigo Taizai" (Folk Craft Strawberry Stay) plan will see the appearance of the tochihime strawberry which has been dubbed the "phantom strawberry." This sweet variety is large and has a soft flesh and is exclusive to Tochigi. Guests will be able to taste and compare this and a handful of other types, as well as tuck into various strawberry confections. They will pick from 300 cute different bowls from the bowl gallery and pile inside them strawberries and assorted confections. In the evenings, strawberries will also be served boiled in white wine. A two-day and one-night experience you'd expect from the place that boasts the biggest strawberry haul in Japan.

Running: December 10, 2019 – February 29, 2020 (Check In)

Price: From ¥29,000 (1 room for up to 2 people / Service charge included / Tax not included)

Reservations/Official Website: https://kai-ryokan.jp/kinugawa/

Note: Limited to 5 separate bookings per day

KAI Nikko: Revel in wintertime Okunikko

KAI Nikko is located beside the grand Lake Chūzenji. Their "Zekkei Ichigo Taizai" (Spectacular View Strawberry Stay) plan will see their lobby, which offers a panoramic view of Mount Nantai, turn into a tearoom inspired by the rest stops of Nikkomou, an event that took place during the Edo Period when the Tokugawa Shogunate made their pilgrimage to Nikko. Guests can enjoy the contrast between the setting sun and the snow, as well as the pink-coloured sky when morning breaks. Taking place between sunset and sunrise, guests can tuck into rare white strawberries and warm confections made with yōkan―a Japanese jellied dessert made from red bean paste, agar, and sugar―which is a local specialty of Nikko.

Running: December 1, 2019 – February 29, 2020 (Check In)

Price: From ¥28,000 (1 room for up to 2 people / Service charge included / Tax not included)

Reservations/Official Website: https://kai-ryokan.jp/nikko/

Note: Limited to 2 separate bookings per day

Enjoy you're a seasonal strawberry fill like never before at Hoshino Resorts KAI.

From Wine to Hydrangeas Taste the Regional Shaved Ice Flavours of Japan at Hoshino Resorts KAI

Hoshino Resorts hot spring ryokan brand KAI is offering guests the opportunity to explore different regional shaved ice desserts that are served with delicious regional syrups and toppings. Shaved ice is a traditional summer dessert that was even mentioned in the famous work The Pillow Book, which was written by Sei Shonagon during her time as Empress Consort Teishi's court lady during the 990s and early 1000s of the Heian period.

The concept of KAI expresses both originality and the thirst for experimenting to make something new. The event offers a range of original flavours, embracing the Japanese tradition of eating flavoured shaved ice to battle the heat of summer. From wine-flavoured shaved ice in Nagano, to Hydrangea shaved ice at Hakone, this is the perfect opportunity to try a range of shaved ice desserts that are full of vibrant colours. These regional flavours are sure to spark your curiosity for discovery in that region. 

Wine Shaved Ice: Hoshino Resorts KAI Matsumoto (Asama Onsen, Nagano)

The cone-shaped region of Kikyogahara, which is located next to Matsumoto city, is well known for its wine production. This area produces around 50 different kinds of Kikyogahara wine. The flavoured syrup for this shaved ice comes from concord grape wine sourced from Kikyogahara. Each porcelain bowl for the dessert is handmade. Customers can enjoy the smooth, rounded feel of the grape pattern on the bowl as they dig into their dessert. As the alcohol is burned out of the dish, even those who do not like alcohol can enjoy this mature dessert. From the carefully prepared wine syrup to the handmade bowl, you will be able to feel all the hard work put into the making of these luxurious desserts. This is the perfect way to cool off after a hot day.

Hydrangea Shaved Ice: Hoshino Resorts KAI Hakone

Due to the altitude differences at Hakone, you can enjoy the beautiful hydrangeas for an even longer time than other areas of Japan. There is a Hydrangea train (Ajisai Densha) that runs up the mountains providing passengers with the beautiful view of blooming flowers, creating the perfect summer memories. Observing the large groups of flowers in full bloom fills you with such a refreshing feeling. Their beautiful colours are expressed in the colour of this hydrangea shaved ice.  

Strawberry Shaved Ice: Hoshino Resorts KAI Nikko (Chuzenji Onsen, Tochigi)

Tochigi prefecture has been Japan's no.1 producer of strawberries for 50 years straight. This shaved ice is served in a strawberry-shaped bowl and is served with sweet yet slightly sour strawberry syrup and a topping of bittersweet matcha sauce. Here, you can enjoy a cool evening up 1,300 metres high overlooking beautiful scenery from inside the establishment whose spectacular interior that boasts Tochigi's traditional art of Kanuma Kanoko craft. 

Tomato Flavoured Shaved Ice: Hoshino Resorts KAI Aso (Sonomoto, Oita)

As tomatoes thrive during the summer, this tomato shaved ice is the perfect way to cool down. This shaved ice is sweet and slightly sour and the vibrant red colour is enough to refresh you. Tomatoes are low in calories and contain an abundant range of healthy nutrients. They are also high in vitamin C which is good for your skin and is known for helping prevent illness. Tomatoes are also a good supply of vitamin E, which is good at slowing the effects of aging. Take a seat on the terrace and enjoy your shaved ice as a refreshing breeze rolls by. This is the perfect way to enjoy a cool summer with a healthy and delicious dessert. 

Neputa Shaved Ice: Hoshino Resorts KAI Tsugaru (Owani Onsen, Aomori)

The Neputa Shaved Ice represents the Hirosaki Neputa Festival that takes place in the summer at the old castle town of Hirosaki. To represent Tsugaru Vidro coloured glass, which is an important part of Tsugaru culture, red, blue and green coloured jelly pieces decorate the top of the shaved ice. These colours also represent the vibrant colours of Neputa festival. This Instagram-worthy dessert shows off the best of the fresh colours of Tsugaru. 

Information

Kai Regional Shaved Ice Desserts 2019

Running: July 13, 2019 – August 31, 2019

Entry: Free

Hoshino Resorts Kai Official Website: https://kai-ryokan.jp/

Visit Ashikaga Flower Park for the Great Wisteria Festival to enjoy 350 Wisteria trees and 5000 Azalea in full bloom!

The Great Wisteria Festival 2019 will be held in Ashikaga Flower Park from Saturday 13th April.

During the festival, the park will be in full bloom, featuring mainly wisteria. The wisteria will only be in bloom from a week before to a week after the festival, adding to the precious value of the festival. If you pay a visit, you can enjoy over 150-year-old wisteria trees spread over a 600-tatami trellis area, an 80 m-long white wisteria tunnel, a tunnel of Kibana wisteria, and even more wisteria trees in full bloom.

Various colours of wisteria bloom in order over the course of a month, from pale crimson, violet and white to yellow. CNN praised the park as a magical scenery of spreading light, and it was the only Japanese location to be voted as one of the "2014 top 10 world dream destinations".

Dazzling pale crimson (cherry blossom-coloured) wisteria.

Best seen: mid ー end of April

Great wisteria (designated as a protected species of Tochigi prefecture)

Best seen: End of April ー early May

More than 5,000 Azalea plants

Best seen: mid-April ー early May

Azalea can be found all over the world. Including the species that are specially cultivated in parks, there are over 1,000 species. These flowers dazzle with vivid colours in the sunlight, which looks especially beautiful when they are in full bloom. Ashikaga Flower Park station opened in April 2018, meaning that you only have to walk for three minutes to reach the beautiful flowers.

During the holidays, bring your family and friends to the park and enjoy the dazzling flowers to your heart's content!

Information

The Great Wisteria Festival 2019

Running: Saturday 13th April ー Sunday 19th May 2019 (subject to change).

Opening hours: 07:00 ー 18:00

(During the illumination eventfrom 18th April ー 12th May, the park will be open until 21:00).

※ The illumination may start earlier or later depending on when the flowers bloom.

Access: 3-minute walk from Ashikaga Flower Park station  

Special website: https://www.ashikaga.co.jp/fujinohana_special2019/jp/