The popular gyudon restaurant chain "Yoshinoya" will release "Shiro Curry" for a limited time offer at "Yoshinoya" restaurants throughout Japan.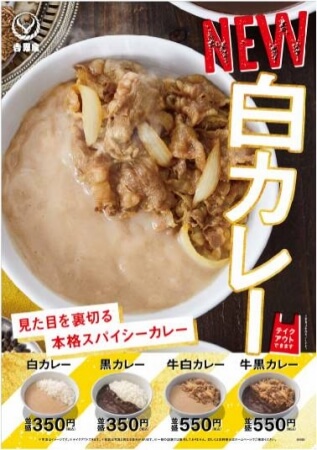 "Shiro Curry" is a full-fledged spicy curry which looks like a cream stew.
This curry uses 12 kinds of spices including black/white pepper and therefore you can enjoy a full-fledged curry taste.
You can also enjoy various kinds of tastes by adding toppings such as beef, cheese and soft-boiled eggs.
Moreover, they will hold a "Follow & Tweet Campaign" from the release date of this product, January 11th, where 46 free-sampling tickets of "Shiro Curry" will be handed out to lottery winners.
Check out the official website of Yoshinoya RE: detailed information【@yoshinoyagyudon】.
 "Shiro Curry" is a playful and tasty curry. Let's eat this new product and the standard curry "Kuro (black) Curry)" so as to help you ride out this cold winter season.
◼︎Information
Shiro Curry
Release date: 2018,01,11 (Thurs.) 10:00
Price: ordinary serving – 350 yen / large serving – 450 yen
※the dish can be taken out
※please note that some Yoshinoya restaurants will not sell this product.