【Tokyo Stroll】Shopping & Sightseeing with Mozuku-kun the Dog: #2 Makuhari Shintoshin Pecos Pet Mall (Part 2)
Yuna Yabe is a dog lover whose eyes are set on becoming a seasoned pet owner with her beloved pet dog Mozuku. Continuing from where we left off in part one of this two-part article, Yuna will show us more of the Makuhari Shintoshin branch of Pecos, a huge pet store located in AEON Pet Mall!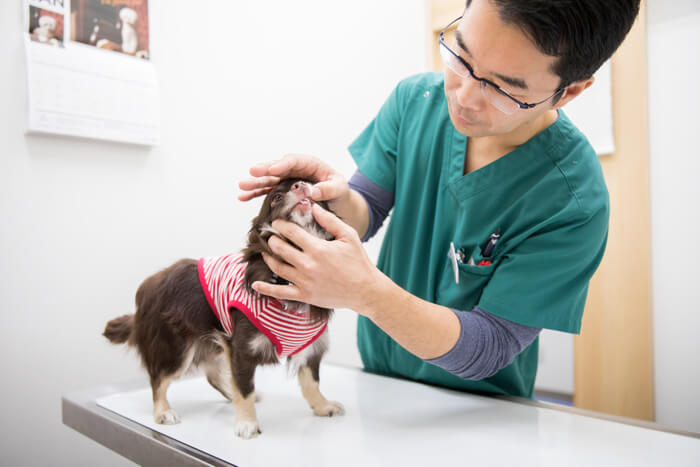 In this second part, Yuna will introduce us to the 1st floor facilities of Pecos. The first thing is the 24-hour AEON Pet hospital. This animal hospital offers first aid to pets at any time of the day. They provide CT scans, X-rays, surgery and internal medic treatment, so if you feel something if off with your pup then contact them immediately. They also offer physical examinations for your pet dog. If you take them for an examination you can detect signs of illness early on, so a lot of people take their dogs for a yearly checkup. (Checkups are offered until February 28th this year)
So Yuna took Mozuku for an examination too! The results showed that he was a good weight and in very good health. He was even complimented on his nice fur. Keep being healthy, okay, Mozuku? ♪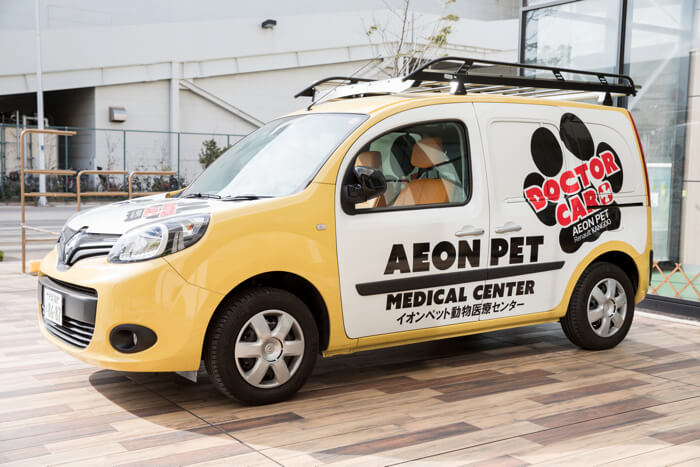 This is the "Doctor Car" for transporting pets. The original purpose of the car is that it's an ambulance used for pet care during natural disasters. There's even equipment inside for emergency first-aid treatment. On normal days, it's used for doctor's visits and seeing injured pets.
The showpiece of Pecos in Makuhari Shintoshin is the pool facility. The aqua fitness service uses the water's buoyancy and pressure to allow your pet to exercise in a short period of time in an efficient and low load manner. It's highly recommended for rehabilitation after an operation and for tackling a lack of exercise! During the aqua fitness, a trainer will be there to look after your pet with the utmost care and attention, so you can feel at ease when handing them over.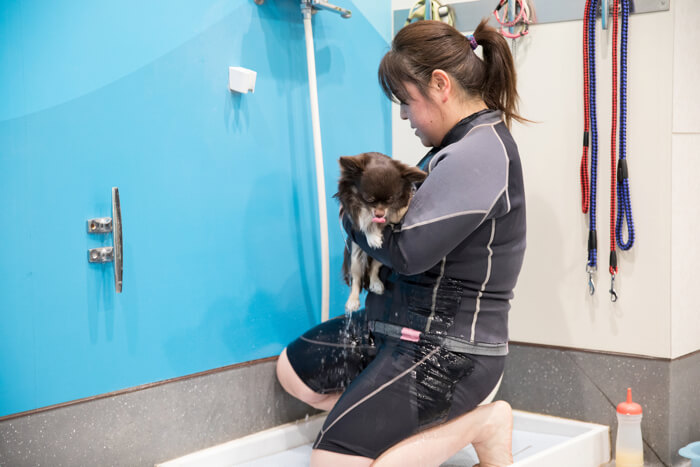 This was Mozuku's first time in the pool. He had a worried look on his face while floating in the water, so the first thing was for him to get used to it with a shower and a bath.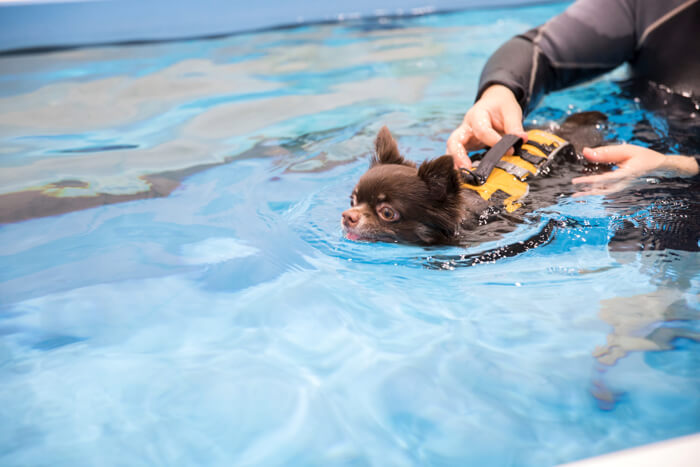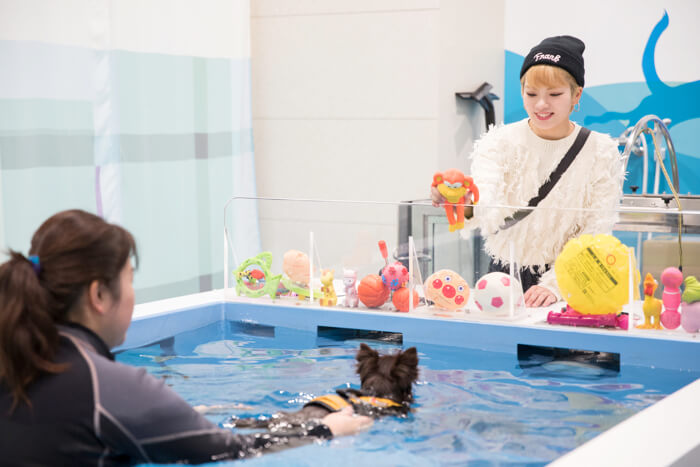 Your pup will wear a life jacket until it's gotten accustomed to being in the water, so you can let them enjoy swimming without worry of them sinking. There's also lots of toys for your dog to play with – perfect for helping them relax!
Mozuku wouldn't settle at first in this new environment, but he got used to the water straight away and showed off his dog paddling skills. The water current in the pool is always flowing, so big dogs can enjoy swimming too.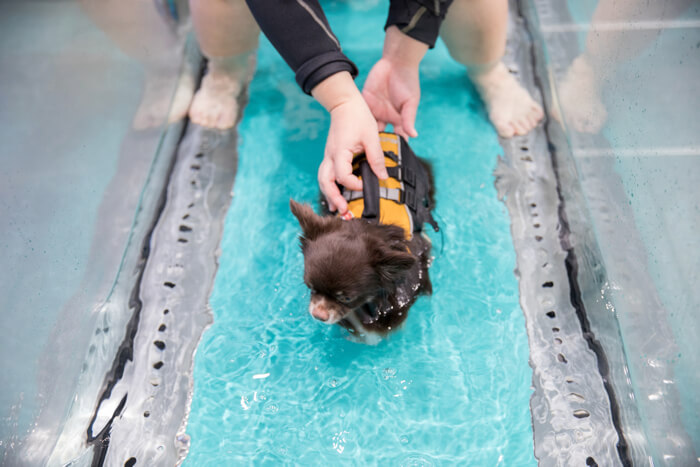 This is a treadmill that uses water resistance. It uses the flowing power of water but isn't a burden on your dog's body at all. It's rehabilitation for walking.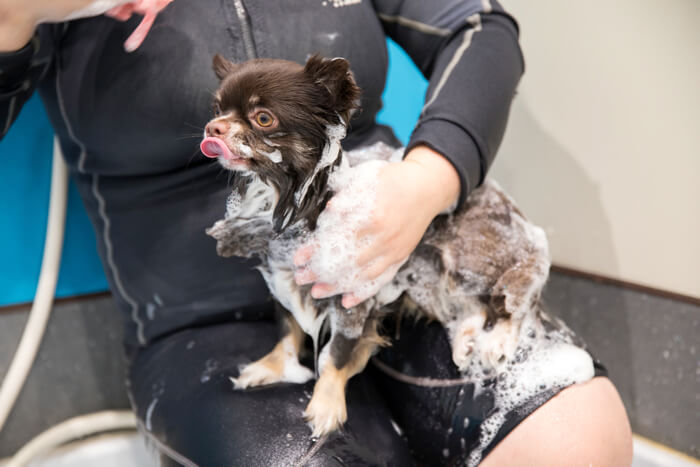 After a dip in the pool, it's some for shampooing. The shampoo uses safe ingredients so it's fine if your pup licks it off.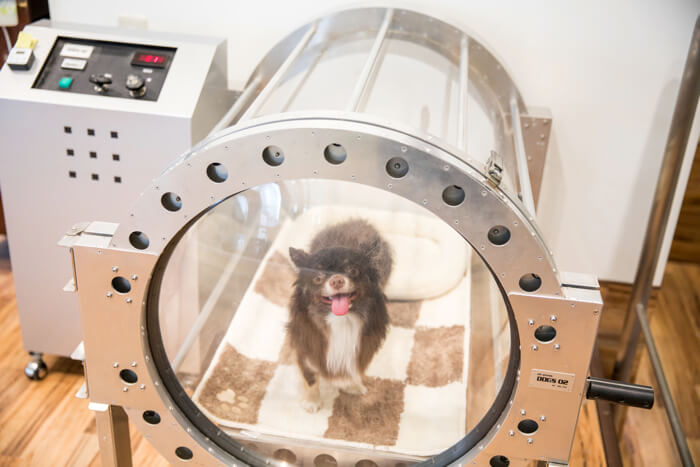 This is the pet hotel, a super convenient facility for if you're on a trip or going for some shopping. The hotel charges per hour, so you can even leave your dog in the hotel's hands if you need to do a bit of quick shopping. There's even a beauty salon where your dog can get a trim or use one of the oxygen capsules! Mozuku refreshed himself in a capsule too after a swim in the pool.
Yuna bought Mozuku a roll cake from a shop on the second floor for being such a good boy the entire time! There was quite a lot for Mozuku to eat, so Yuna helped him out.
Pesco in Makuhari Shintoshin has it all when it comes to your dog. They even have a dog run in the facility, so you should go try it out when the weather's nice for a stroll and some shopping!
■Information
Pecos (Makuhari Shintonshin branch)
Address: 1-8 Toyosuna, Mihama-ku, Chiba-shi, Chiba Prefecture
Access: "Kaihin Makuhari Station" and "Shin-Narashino Station" accessible via the JR Keiyo Line
Opening Hours: 10:00-21:00 (*the animal hospital is open 24-hours a day)
Contact: 043-298-1122
Homepage: https://www.aeonpet.com/pecos/makuharishintoshin/index.html
Model:Yuna Yabe/Mozuku @yunaaay1030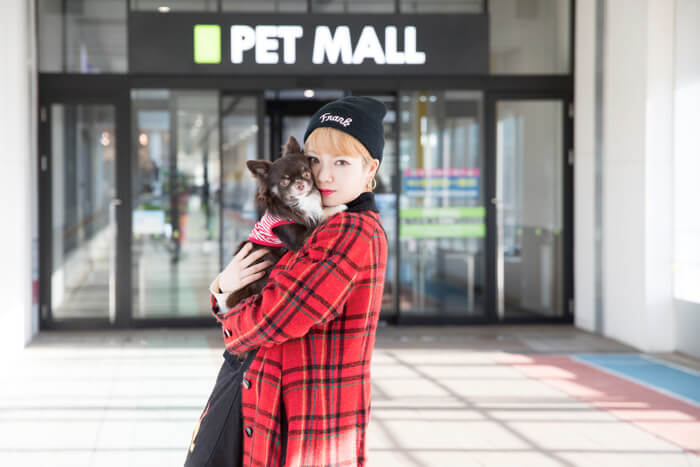 Yuna Yabe won the grand prix prize at the "Zipper×ASOBISYSTEM Model Auditions" at the age of 15. She is an expert not only in fashion but make-up and video editing too. She's an influential figure to the people in her generation. Recently, her work has expanded greatly, such as appearing in music videos. Her activity continues to grow and looks to be very promising indeed.
Writer:Ryoichi Komaba
Photograph:Kayo Sekiguchi
Translation:Joshua Kitosi-Isanga
RECOMMENDED ENTRIES
【Tokyo Stroll】Shopping & Sightseeing with Mozuku-kun the Dog: #2 Makuhari Shintoshin Pecos Pet Mall (Part 1)

Yuna Yabe is a dog lover whose eyes are set on becoming a seasoned pet owner. This series follows her journey as she takes her pet dog, Mozuku-kun, strolling around the city. For her second entry, Yuna headed to the Makuhari Shintoshin branch of "Pecos," located inside the AEON Pet Mall in Kaihin Makuhari, Chiba Prefecture. This is part one of two.

The closest stations to Pecos are Kaihin Makuhari Station and Shin-Narashino Station, both accessible via the JR Keiyo Line. There are also buses that go straight to the mall, making it super convenient if you come by train. There's also a car park right next to the mall if you decide to take the road, so it's easy to go there with a pet dog. Pecos in Makuhari Shintoshin is the biggest pet store in Japan, with the first floor spanning 820.6㎡ and the second 979.8㎡. They offer just about everything you could imagine from a pet shop in Japan, from food and clothes to an animal hospital and pet hotel.

The food corner accounts for one entire corner of the shop's second floor. Usually, they stock over 40 different varieties of dog food, and you can always buy something from there catered to your dog's breed and/or age. You can of course also take your dog around the shop with you, so if you're lost on what to buy then you can leave it in their hands (or paws).

A particularly popular brand of dog food in the shop is "Wellness" series, pictured above. The food is made up of carefully selected natural ingredients, so one reason for its popularity is how owners can be at ease while letting their dog eat this food.

Besides dog food, the shelves are also lined with plenty of snacks and supplements! Most of the supplements are for mature dogs, but even so, Yuna was absorbed in checking out what they had, thinking: it's still a bit early for Mozuku, but I'm interested in thinking about the future.

This original premium dog food can only be bought at AEON pet shops, including Pesco. It's made in Japan, so if you have a dog in Japan and are a dog lover who worries about your pet, you can absolutely trust this brand.

There's even cakes that you can buy for your pet if you're looking to gift yours something for their birthday or a commemoration. Mozuku wasn't about to leave the cake showcase that easily, almost as if he knew everything in there was delicious.

This one is perfect for pet owners who like a drink: alcohol for dogs. But don't worry, there's not actually any alcohol in there. So how about it? Having a nice evening drink together with your beloved pup?

This corner is filled with leads, beds and clothes for your dog. They have a wide range of sizes and varieties, making this area popular with fashion-conscious owners.

One popular aspect of the store praised by owners who have gone to buy clothes at Pecos is how you can actually let your dog try the clothes on in-store. You must have had that experience where you tried buying something, but it ended up being too dog, right? Well, if you're allowed to let your dog try on something before buying it, you can easily pick an outfit that looks great and is comfortable on them.

Here's Mozuku in the middle of trying something on. His ears are hidden by the turtleneck… he looks most displeased!

Pesco also sells convenient products for heading out with your dog, like dog seats for your car and prams. You can actually rent a test pram to check its usability, allowing you to consult with your pup on which best to choose.

In addition to products for your pet, the Makuhari Shintoshin branch of Pecos also has an animal hospital, trimming salon and pet hotel. It's filled with everything your pet could dream of! In part two of this article, Yuna will show the facilities of Pecos, like the animal hospital and pool, so don't miss out!

Continued in Part Two.

■Information

Pecos (Makuhari Shintonshin branch)

Address: 1-8 Toyosuna, Mihama-ku, Chiba-shi, Chiba Prefecture

Access: "Kaihin Makuhari Station" and "Shin-Narashino Station" accessible via the JR Keiyo Line

Opening Hours: 10:00-21:00 (*the animal hospital is open 24-hours a day)

Contact: 043-298-1122

URL:https://www.aeonpet.com/pecos/makuharishintoshin/index.html

Model:Yuna Yabe/Mozuku @yunaaay1030

Yuna Yabe won the grand prix prize at the "Zipper×ASOBISYSTEM Model Auditions" at the age of 15. She is an expert not only in fashion but make-up and video editing too. She's an influential figure to the people in her generation. Recently, her work has expanded greatly, such as appearing in music videos. Her activity continues to grow and looks to be very promising indeed.

Writer:Ryoichi Komaba

Photograph:Kayo Sekiguchi

Translation:Joshua Kitosi-Isanga

【Tokyo Stroll】Shopping & Sightseeing with Mozuku-kun the Dog: #1 Bondi Café Yoyogi Beach Park

Yuna Yabe is new to pet ownership. With her eyes set on becoming a better owner, Yuna is going all out with by starting up a brand new regular article series. For her first entry, Yuna is introducing a fun café she visited together with her puppy!

The café the two of them visited is called "Bondi Café Yoyogi Beach Park" and it's located in the Okushibu area. It's 324m from Yoyogi-koen Station via the Chiyoda Line and 5 minutes by foot from Yoyogi-Hachiman Station via the Odakyu Line. It's easy to get to from either station. What's better is that it's close to places like the Bunkamura museum, Tokkyu Hands and NHK meaning you can make a day out of your trip on a stroll with your dog.

First of all, let's learn a little bit about the protagonist of our story. Mozuku-kun is a 1-and-a-half-year-old male long coat chihuahua. His latest interests include chasing the robot Roomba vacuum cleaner. His charm points are his brown eyes and nose and sticking his tongue out. Please treat him well♪

The café has a service that includes a rug and water bowl for dogs. But it seems like Yuna's lap is where Mozuku-kun feels most at ease!

Behind the café is a promenade where you can take a leisurely walk without having to worry about incoming cars. It's generally a quiet area, making it a peaceful and pleasant stroll for even scaredy-dogs.

The roads in this area are paved beautifully so it's a perfect spot to snap a photo with your puppy for Instagram.

The café looks out onto Inokashira-Dori, so you can get a view of Yoyogi Park and the green ambience of the tree-lined streets. The lavish greenery is gorgeous, it'll make you forget you're even in Shibuya! Even Mozuku-kun was in pretty high spirits. I wonder if he noticed all the green too?

On the café's list of recommendations is their homemade tofu pancake with coconut butter for ¥900 (tax included). You can get a heap full of fruits like in the photo above to top your pancake for an extra ¥500. If you're a fruit lover then definitely try ordering this.

There are 5 sauces to choose from to top your pancake, including the classic maple syrup and even chocolate. Yuna went with caramel sauce, her absolute favourite.

Mozuku was well behaved at first, but after seeing Yuna enjoying her food so much he stuck his tongue out in complete captivation and begged. But the pancake is a little too rich in flavour for Mozuku-kun, so he was given his favourite dog food later on.

This is a caramel macchiato (¥700 tax incl.) made using speciality coffee by the barista who creates the drinks one by one to perfection. The latte art is super cute, so be sure to take a selfie with your puppy and upload it on your social media. You'll definitely get a lot of likes.

If you're looking to go out on a stroll somewhere a little different from usual, then we recommend Bondi Café Yoyogi Beach Park. It's easily accessible from Shibuya and Harajuku, plus they have plenty of welcoming service for pets! The café is also close to Yoyogi Park, so it might be nice to take a walk there too. Yuna was happy with the terrace seats as they were spacious meaning you can use them without worry of other mischievous dogs. That's all for today – look forward to next time!

■Information

Bondi Café Yoyogi Beach Park

Address: Barbizon 55 1F, 1-15-2 Tomigaya, Shibuya, Tokyo

Access: 324m from "Yoyogi-koen Station" via the Chiyoda Line / 5-minutes by foot from "Yoyogi-Hachiman Station" via the Odakyu Line

Opening Hours: 9am-2am (last orders at 1am)

Telephone: 03-5790-9888

Homepage: http://bondicafe.net/bondi-cafe-yoyogi-beach-park/

Model:Yuna Yabe/Mozuku @yunaaay1030

Yuna Yabe is skilled not just in the area of fashion but also make-up, as well as editing her own videos. She is an influential figure to the people of her generation. She has recently appeared in music videos and her sphere of activity is growing and expected to spread.

Writer:Ryoichi Komaba

Photograph:Kayo Sekiguchi

Translation: Joshua Kitosi-Isanga

【Tokyo Stroll】Asakusa Sightseeing: Eating and Walking Down Nakamise Shopping Street & Rickshaw Riding at Kaminarimon

Today's Tokyo stroll destination is Asakusa. Asakusa is a popular tourist spot for people coming to Japan and is always packed.

However, today's weather forecast predicted rain! So Yuna and Ellie's first stop on their Tokyo stroll was to buy umbrellas from Shinagawa.

Buying an umbrella at AEON in Shinagawa Seaside

Shinagawa Station is linked to the shinkansen and numerous airports, so you will find many people from inside and outside Japan waiting there. A convenient place to visit when in Shinagawa if you want something is the Shingawa Seaside branch of AEON.

The shopping complex can be reached in 10 minutes by bus or taxi. If you use Shinagawa Seaside Station it's just a 5 minute walk.

When looking for somewhere that sells umbrellas to make being in the rain a bit more fun, Yuna and Ellie discovered "fururi," a place that sells vinyl umbrellas with colourful designs that you can change – simply screw off the top of the umbrella frame, remove the vinyl sheet and replace it with whichever one you like.

There are 48 designs to enjoy with a 60cm umbrella.

Yuna chose a cute design that has blue and yellow water drops. Ellie went for a pink design. A colourful umbrella means turning that rain induced frown upside down. Asakusa is the place to go if you want something fight off the rain!

Eat and walk down Nakamise Shopping Street♪

As you come to the Kaminarimon Gate you must first press your hands together and bow before heading through to Nakamise Shopping Street. The street is lined with lots of shops selling all kinds of goodies from toys to food to souvenirs.

The first item Yuna and Ellie came across were little randoresu keyrings. This is most definitely the kind of souvenir you can only get in Japan. Ever since popular Hollywood actresses put out photos of themselves donning these backpacks, they have become popular overseas for their colourfulness and durability. There are even people who wear them as a fashion item.

The next treasure they found were the 'daigaku imo'! Daigaku imo are candied sweet potatoes. The outside is crunchy and the outside is soft. They are deliciously sweet. You absolutely must try them if you come across them in Japan.

Approaching Sensō-ji

When you come out of Nakamise Shopping Street you will find yourself at Sensō-ji, Asakusa's ancient Buddhist temple.

The first step to take when going to shrines and temples in Japan is washing your hands, which is called "temizuya." Hold the ladle with your right hand and wash your left hand and vice versa. Take the ladle with your right hand and scoop some water. Pour the water into your left hand and rinse your mouth with it. Make sure to never bring the ladle to your mouth. Spit the water next to the fountain, never directly back into it. (Bonus: Check out our step-by-step guide to praying etiquette and shrines and temples in Japan.)

Subsequently, approach the main temple building. After praying, toss in a monetary offering. Then put your hands together and bow once. Since there is no shrine here you do not need to clap. Finally, perform a light bow to complete the prayer.

I wonder what those two were praying for. They look unusually serious.

There are lots of great places to take photos around Sensō-ji so be sure to have a good look around.

Tour Asakusa on a rickshaw

After their temple walk, Yuna and Ellie boarded a rickshaw to scope the Asakusa townscape. The rickshaws have a tarpaulin rain cover and lap blanket in case of rain so you can still have fun even when the weather is bad.

We recommend taking a photo at Dempoin Street when riding your rickshaw as pictured above! It's a special kind of place that you can only find in Asakusa so be sure to take a memorable picture.

Did you enjoy Yuna and Ellie's sightseeing trip to Asakusa? There's lots of other amazing places to find in Asakusa too! We'll be sure to post about them here on MOSHI MOSHI NIPPON so stay tuned.

Models: Yuna Yabe, Ellie

Photo: Kayo Sekiguchi

Writer: Sayuri Mizuno (ASOBISYSTEM)

Translator: Joshua Kitosi-Isanga

Introducing: Randoseru

We'd like to introduce to you the randoseru bags used in today's article which both Yuna and Ellie modelled for in a Narita tourism article. As mentioned above, the Japanese randoseru, firm backpacks made from leather or leather-like material, are recognised as a fashion item overseas. The randoseru used in today's article were are the 24 colour randoseru and 3STYLE randoseru from AEON.

Yuna: 24 Colour Randoseru (Burgundy) – ¥35,000 (tax excl.)

Ellie: 3STYLE Randoseru (Caramel) – ¥48,000 (tax excl.)

The 3STYLE randoseru can be used as a shoulder bag or handbag. If you're interested in either of their randoseru, then be sure to pop into your nearest AEON store.

AEON.com: https://www.welcome-aeon.com/

【Tokyo Stroll】Kill some time at tourist spots around Narita Airport during your flight layover

Many people find themselves with a lot of free time when at Narita Airport, whether in transit or going back home, and must find things to fill the time with. In this edition of Tokyo Stroll, we take a look at some of the best tourist spots around Narita Airport to fill your time with if you find yourself in this situation.

From visiting temples to buying souvenirs, the surroundings of Narita offer a range of exciting things to make those long hours fly by! Let's take a stroll together with Yuna Yabe and Eri to see some of the wonderful sights.

Visit "Naritasan Shinshoji Temple" just 10-minutes from the airport by train

If you have a spare 2 or so hours to kill then Naritasan Shinshoji Temple is a great location to stop by. Simply board the Limited Express train from Narita Airport via the Keisei Main Line and get off at Keisei Narita Station. The journey is just 10 minutes. What greets you as you approach the shrine is a 15 meter high gate constructed from keyaki wood. Many people enter through this gate to go and worship at the main building.

As Yuna and Eri walked toward the main building through the Niomon Gate they came to the Nioike Pond where turtle-shaped rocks were poking out of the water. There were lots of turtles sunbathing on top of the rocks. Legend says that if you throw a coin onto one of the rocks and a turtle goes onto the same rock your wish will be granted. You can see lots of coins on the rocks.

Once you pass the pond and climb the stairs you will arrive at Naritasan Shinshoji Temple's main building.

The Goma Ceremony has been practiced at the temple every single day since its founding. People's prayers are offered to Fudomyoo in front of a fire to fulfill people's worries and wishes. After praying, Yuna and Eri received a temple seal for their goshuincho temple seal notebook.

They also got their hands on an omikuji each. They opened it up, and… both of them received "Great Blessing," the best fortune you can receive from an omikuji! The omikuji have English written on the back too, so be sure to flip yours over if you can't read Japanese.

Naritasan Shinshoji Temple also has a number of designated important cultural properties, so there's plenty of amazing architecture to see if you visit. If you've got some spare time while in transit, then how about taking some time to learn some Japanese history?

■Information

Naritasan Shinshoji Temple

Address: 1 Narita, Narita, Chiba

Access: 10-minutes' walk from Keisei Narita Station via the Keisei Main Line

Website: http://www.naritasan.or.jp/

Get souvenirs at the AEON Mall only available in Japan!

While you can get your hands on souvenirs at the airport, it wouldn't be wrong to assume that most people want something sold only in Japan such as snacks or other little trinkets. The next spot we're taking a look at is the Narita branch of the AEON Mall. You can get a direct bus there from Narita Airport. Buses also leave from Keisei Narita Station, the closest station to Naritasan Shinshoji Temple.

The AEON Mall has it all – clothes shops, entertainment facilities, sundries, food and more. It's perfect for shopping with friends or having fun together with your family at the entertainment services. It's equipped with just about anything for anyone to enjoy.

We recommend doing your souvenir shopping at AEON Mall. And what better to spend your money on that Japanese snacks!

Yuna's Recommended Snack

The most popular snack bought by travelers is the baumkuchen cake. It's packed with just the right amount of sweetness. You can get a full, uncut cake in its distinct round shape, or you can get individual cut pieces in bags.

Eri's Recommended Snack:

One of the big snacks to buy from Japan is matcha flavoured Kit Kat. You can get this and many other flavours of Kit Kat at the AEON Mall. There are even limited edition seasonal flavours that are sold with the changing seasons, so make sure to be on the look out.

Besides snacks, cosmetics are another popular item. The AEON Mall is lined with a string of different brands who also offer testers of their products. There are plenty of affordable items to find in the line-up perfect as a gift to a friend. The best way to find something you like is to just get in there.

People from all over the world visit the AEON Mall in Narita so there are duty free counters. It's possible to get tax exemption from items purchased in the mall. There's a counter near the 1st floor beauty products corner so make sure to head there once you've bought something.

After a long day of sightseeing and shopping, we're back at Narita Airport. Did you enjoy seeing some of the tourist spots around the airport?

Narita Airport also offers the Transit & Stay Program for people who have long layovers, so be sure to check it out and make the most of your time there.

Models:Yuna Yabe / Eri

Photos:Kayo Sekiguchi

Writer:Sayuri Mizuno (ASOBISYSTEM)

Translator:Joshua Kitosi-Isanga
RELATED ENTRIES
Japan's Elephant Zoo Ichihara Elephant Kingdom to Receive Revamp For Spring 2021

Ichihara Elephant Kingdom is the home to the largest number of elephants in Japan. The zoo has announced major renovations set for completion next spring which will allow for the elephants to live an even more enjoyable life.

Ichihara Elephant Kingdom is located in central Chiba and is home to 12 elephants. It's also home to around 80 other species of animals like red pandas, beavers, capybaras, hippos, and more. The zoo also has a variety of attractions, like the Elephant Ride which sits behinds where the elephants live, and the Elephant Lift where you can ride up and down an elephant trunk. The Head of  Ichihara Elephant Kingdom, Sayuri Sakamoto, served as the writer for the 2005 Japanese drama film Shining Boy & Little Randy. One of the zoo's Asian elephants, Randy, was also a model for the film.

The renovations will introduce a new home for the elephants as the current one is seeing wear over time, as well as a new large-scale pond for the elephants to play in, a playground, and more. The zoo has always ensured a safe distance between visitors and the elephants so people can enjoy watching them will making sure the elephants stay happy. It is now creating new spaces to continue that service.

The water pond the zoo is building for the elephants is called Elephant Splash, and they are launching a crowdfunder on October 27, 2020 to ask for people's help with funding the project. It will allow a new space for the elephants to play which visitors are sure to enjoy too, like seeing the 1- and 2-year-old Ramu and Momoka splashing around.

The crowdfunding project has nine different tiers including tickets to an evening cherry blossom party at the park, a chance to ride the elephants, and more. The campaign will end on January 15, 2021, the same date as Ramu's birthday.

Information

Ichihara Elephant Kingdom

Opening Hours: 10:00-16:00 (Last Entries 15:00)

Access

Car:
About 5 minutes from Ichihara-Tsurumai interchange of Ken-O Expressway

Highway-Bus:
About 65 minutes from Tokyo station,
About 80 minutes from Yokohama station,
About 35 minutes from Haneda airport
to Ichihara-Tsurumai Bus Terminal.
About 5 minutes by our free shuttle bus from Ichihara-Tsurumai Bus Terminal.

Train:
About 10 minutes from Takataki station of Kominato railway by the zoo's free shuttle bus.

Official Website: http://www.zounokuni.com/english/

Fujikawaguchiko Autumn Leaves Festival 2020 Begins This November

The Fujikawaguchiko Tourism Association will host this year's Fujikawaguchiko Autumn Leaves Festival, which will be the 22nd run, to help support the tourism industry in the northern region of Fuji which has seen a great impact as a result of the COVID-19 pandemic.

With much less people travelling to Japan during the pandemic, and the virus having continued for a long time, the Fujikawaguchiko Tourism Association is instead focusing on travellers within the country by hosting various events that can be enjoyed at Fujikawaguchiko.

All the necessary precautions will be taken at this year's festival, including taking people's temperature upon arrival, the mandatory wearing of face masks, alcohol gel being available at the site, and more. This will protects not only the locals but sightseers too, and so cooperation is being asked of everyone visiting.

At this year's festival, visitors can look forward to the popular Momiji Tunnel of maple trees which will be lit up at sunset until 10:00pm. The beautiful autumn colours can be enjoyed with Mount Fuji in the background. There will also be food, souvenirs, and a variety of activities to be enjoyed.

The Momiji Tunnel is an absolute must-see for anyone visiting Yamanashi during autumn and is nothing less than Instagram-worthy.

Information

22nd Fujikawaguchiko Autumn Leaves Festival
Location: Around Lake Kawaguchi
Running: November 7, 2020 – November 29, 2020

Opening Hours: 9:00-19:00 (Light up is from sunset to 22:00)
Access: 25 mins from Kawaguchiko Station by bus (nearest bus stop: Itchiku Kubota Art Museum Stop)
Entry: Free

*Please observe social distancing and government guidelines in relation to COVID-19.

*Fujikawaguchiko is a World Heritage Site and recognised as a place of natural beauty. Please take your trash home with you.

Tokyo Midtown Announces Winter Event 'MIDTOWN WINTER MOMENTS'

Tokyo Midtown has announced that its winter event 'MIDTOWN WINTER MOMENTS' will run from November 19, 2020 to February 28, 2021.

"ANOTHER WORLD" is the concept for this year's rendition of the annual event, which will see new winter illuminations, Christmas decorations, the opening of an ice rink, and plenty of other fun experiences for people to enjoy throughout the entire day, right into the evening.

MIDTOWN WINTER LIGHTS

A highlight of the event will be the "MIDTOWN WINTER LIGHTS," warm illuminations to light fires in hearts during the cold winter season that will create a dazzling spectacle the likes of which cannot be missed.

Path of Light – An Illuminated World

The pedestrian walkway will welcome a strip of gorgeous golden lights affixed to towering trees to guide your way. More golden lights than ever before are being prepared this year to pull visitors into a romantic and dreamy world.

SNOW LIGHT GLOBE – A World of Snow

The SNOW LIGHT GLOBE is a giant 3-meter tall and 4.5-meter wide snow globe inside which glistens sparkling snow, crystals, and aurora. The lights are ever-changing throughout the day, presenting itself differently every time you look at it.

STEP LIGHT – A Colourful World

STEP LIGHT is a fun and interactive illumination display with lights that light up when you step on them, creating a colourful walkway.

Running: November 19, 2020 – February 28, 2021

Time: 17:00-23:00 (Until 24:00 around the plaza)

Location: Midtown Garden

MIDTOWN ICE RINK – A World of Ice

MIDTOWN ICE RINK is something people in Tokyo look forward to every winter. This year, the rink is opening in November. It's one of the biggest ice rinks in Tokyo and provides real ice for people to skate on, welcoming everyone from children and beginners to pros. The rink will be open into the evening too when it will be lit up so people can enjoy a little night skating session.

Running: November 19, 2020 – February 28, 2021
Time: 11:00-21:00 (Last Entries 20:00)

*Opens at 17:00 on November 19 and is closed on January 1

*Opening hours subject to change depending on weather
Location: Tokyo Midtown
Prices:

General (High School Students and older) – Weekdays ¥2,000 / Weekends & Public Holidays ¥2,500

Children (Junior High School Students and younger) Weekdays ¥1,500 / Weekends & Public Holidays ¥2,000

Midtown Christmas Trees

Various Christmas trees will be set up in the Tokyo Midtown garden area, indoors, and elsewhere to set in the holiday season mood.

Running: November 19, 2020 – December 25, 2020

Present Christmas Tree – A World of Fantasy

The Tokyo Midtown garden will welcome a mysterious kind of Christmas tree for the first time every this year—one which sprouts presents. 25 presents will be grown, and in December one will be given out each day.

Time: 17:00-23:00
Location: Midtown Garden

Santa Tree – A Miniature World


Around 1,800 individual Santa Claus ornaments will make up the 4-meter tall Santa Tree inside the Tokyo Midtown Galleria

Time: 11:00-Midtown
Location: Galleria 1F Tree Shower

Choose! Choose! AR Tree – An Original World

Tokyo Midtown also has something for people to enjoy at home. They can use an app that makes use of AR tech so that a Christmas tree can appear when you go to take a photo which you can decorate with an assortment of ornaments. There's over 1,000 possible combinations. More details about this will be posted on the event website in early November.

Gaze at the Starry Sky in a Hot Swimming Pool This Winter at HOSHINOYA Okinawa

HOSHINOYA Okinawa has announced its new "Hoshizora Hot Pool" experience where guests will be able to stay warm in the hotel's warmed-up swimming pool while gazing up at the winter night sky. It will run from December 1, 2020 to February 28, 2020.

Okinawa enjoys a mild winter each year; it's uncommon for the temperature to dip below 15℃. Winter is a time where all of us enjoy being in the warmth of indoors, but in Okinawa you can enjoy being outside even during the cold season. And that's where Hoshizora Hot Pool comes in as the end of the year approaches, a time when there are many events and celebrations to be had.

The outdoor pool at HOSHINOYA Okinawa can be heated and so is perfect during the winter season. Guests are invited to soak in the infinity pool, where you can hear the sounds of the waves, and where it looks like the sea and sky become one. Almost all 88 of the constellations can be seen in Okinawa, and since the sky is clear during the winter nights, it's the opportune time to be turning your gaze skyward.

Glowing lanterns make for a romantic atmosphere

When the sun sets, lanterns are lit by the poolside and breathe a warmth light to the cool evenings. The lights sway back and forth, reflecting off the water to create a magical atmosphere.

Hot cocktails by the pool

Guests will also be able to order from the bar once the lanterns are lit from the evening with a selection of refreshing drinks made with fresh fruits to hot cocktails to warm the body.

Float beneath the starry sky to the sounds of the waves

Guests can enjoy floating in the pool as an endless tapestry of stars unravels itself overhead. The Hoshino Resorts Banta Cafe will be open for business in the evening too. Guests can order some fruity desserts, rent lanterns, and more.

Information

Hoshizora Hot Pool
Address: 474 Gima, Yomitan, Nakagami District, Okinawa
Running: December 1, 2020 – February 28, 2021
Price: Free (Drinks from the bar however must be paid for)

Time: Open 24 hours (But only adults can use the pool after sunset)

Bar Opening Hours: Sunset until 22:00

*Available to HOSHINOYA Okinawa guests only

Irumi Banta
Opening Hours: 19:00-22:00 (Last Orders 21:00

Price: Dessert Set for Two = ¥2,728 (Before Tax)

*Available to guests and non-guests

Official Website: https://hoshinoya.com

Ibaraki Prefecture Announces Official Tours of Mount Tsukuba and Lake Kasumigaura

Ibaraki Prefecture has been promoting the areas of Mount Tsukuba and Lake Kasumigaura with a variety of events and programs since 2018. For 2020, one of the programs the prefecture has announced is 'Mount Tsukuba PLAY 2020' which invites people on a trial tour around Mount Tsukuba and Lake Kasumigaura.

About Mount Tsukuba

Mount Tsukuba is the doorstep to tourism in Ibaraki Prefecture, known for its iconic double peaks which has it listed officially as one of the "100 Most Beautiful Mountains in Japan." The mountain offers 10 different courses for climbers, all of which boast gorgeous views and scenery throughout all four seasons. It also has a famous shrine halfway up the mountain known as Tsukubasan Shrine which is considered the physical enshrinement of the mountain itself. The shrine has long been a place of worship for people.

About Lake Kasumigaura

Lake Kasumigaura is the second-largest lake in Japan after Shiga Prefecture's Lake Biwa. It is loved by locals and tourists for its beautiful natural environment and the expanse of its breathtaking view. It also has its own cycling route, Tsukuba Kasumigaura Ring Ring Road, which is an official National Cycling Route that has become a popular route with cyclists in recent years.

During the autumn season on weekends, the area offers a special long-ride cycling tour as an opportunity for people to soak up the local area, as well as kids programs, concerts for parents and their children, and other activity programs and guide tours. Bookings are now available online.

A Look at Mount Tsukuba PLAY 2020

Mount Tsukuba and Lake Kasumigaura – 2 Day 1 Night Sports Experience Tour

Mount Tsukuba PLAY 2020 is offering a special sports tour for elementary school kids where a guide will take them to climb Mount Tsukuba and canoe around Lake Kasumigaura, amongst other activities.

A Photogenic Tour in the Small Town by the Lake Shore

atacamaki, a 'slow photographer' and resident of Kasumigaura, will be taking photographers on a two day trip around the lake and surrounding area with rental bicycles to teach them how to shoot photos like a pro.

Concert in Tsukuba Forest

A concert will be held for children in the forest where they can lay down on the grass and be at one with nature as they enjoy the performance. The performance will be played by Akashi Yamada, the forest instructor and a singer-songwriter.

Cycling Along the Kokai River and Near Chikusei With Tsukuba Mounta in the Background

A local guide will give parents and children a tour of Tsukuba and all the must-see spots. The 37km cycling tour will offer plenty for people to see and encourages beginners to cycling.

A Long Cycling Tour Around Lake Kasumigaura, Kitaura, and Tsukuba

The program also offers a two-day long distance cycling tour of 100km.

Get Lucky in Marriage and Matchmaking This October in Shimane's City of Matsue

Japan's city of Matsue in Shimane Prefecture is wanting to create a new kind of sightseeing and tourist experience that encourages people to stay for a time in the city, and so it has launched the "Re Happy! Campaign."

In the old Japanese calendar, October is known as Kamiarizuki, or 'the month when deities are around.' The Izumo region of the country is known as a place where deities from all across Japan gather, and so October here has been called the one true Kamiarizuki. There are many different kinds of deities, but today we'll be looking at those associated with matchmaking and marriage, and mapping out a route you can take around Matsue to up your luck when it comes to these things.

Shop Name: Ohori to Hakucho


We begin at Ohori to Hakucho, a confectionery shop that sells cute sweet treats and local delicacies, some of which are themed on increasing your luck with marriage ties.

Kounkaku inside Matsu Castle

There are many old and traditional Japanese houses around Matsue Castle which make for Instagram-worthy photos, so find the right spot as you walk around and snap some pictures.

Heart-Shaped ema board


Ema are small wooden plaques strung up at shrines on which people write their wishes. Write one yourself so that the deities can receive your desires.

Tamatsukuri Onsen

After a long stroll of sightseeing, head to the Tamatsukuri Onsen hot spring for a relaxing bathe. It's said that sitting in an onsen hot spring beautifies your skin. Sit back and enjoy the fireworks on the screen while sipping on some high-grade sake.

Matsue is a great place to visit whether on your own or as a couple, with plenty of spots to up your luck with matchmaking and marriage.

Snow Fireworks to Light Up the Winter Skies of Miyazaki at Phoenix Seagaia Resort

Phoenix Seagaia Resort, a resort located in Miyazaki Prefecture whose brand slogan claims them as the most beautiful in all of Japan, has announced a heart-warming new experience for the winter season.

Seagaia's Snow Fireworks

Miyazaki doesn't see a lot of snowfall, but this winter, the prefecture is welcoming an all-new fireworks festival which will launch fireworks into the sky that falls like pure white snow. Phoenix Seagaia Resort is also offering a guest plan which combines a stay at the resort with front row seats to the fireworks.

Running: December 4, 2020 – February 27, 2021 (Fridays and Saturdays only + January 10, 2021)
Time: 20:00 (Approx 3 minutes)
Bookings: https://bit.ly/3lurZWK

Starlight Winter Illuminations

THE LIVING GARDEN is the garden area of Sheraton Grande Ocean Resort exclusive to guests. This winter, the garden will be lit up with 30,000 LED lights and lanterns to create a magical, starry sky-like atmosphere by both of the garden's pools.

Running: November 1, 2020 – February 28, 2021
Location: THE LIVING GARDEN, Sheraton Grande Ocean Resort
Illumination Times: Sunset to 23:00

Price: Free (Exclusive to Sheraton Grande Ocean Resort guests)

A Cosy Menu For a Warm Stay

Gazebos by the waterside at THE LIVING GARDEN

S'mores

Sheraton Grande Ocean Resort will also serve s'mores, hot cocktails, and other treats at THE LIVING GARDEN with gazebos and fire pits. Enjoy fluffy marshmallow s'mores served with nuts and salted chocolate.

Running: November 6, 2020 – February 28, 2021 (Excluding Wednesdays & Thursdays)

Times: 19:30-23:00 (Last Orders 22:30)

Location: KUROBAR, THE LIVING GARDEN, Sheraton Grande Ocean Resort

Ashikaga Flower Park Turns On the Lights For 'The Garden of Illuminated Flowers'

Ashikaga Flower Park in Ashikaga, Tochigi, has announced an illumination event for the autumn and winter seasons called "The Garden of Illuminated Flowers ~Flower Fantasy 2020~" which will run from October 17, 2020 to February 7, 2021.

The annual event is being held a week later than usual in order to implement the necessary precautions against COVID-19 and to ensure visitors are divided from one another so that they can enjoy the event as always safely. Masks will need to be worn and visitors must sanitise their hands as well as have their temperature checked with the on-site thermal camera before entering the park.

Held for the 19th time this year, the event was ranked among the Top 3 biggest light-up events in Japan in 2017 alongside Sapporo White Illuminations and Huis Ten Bosch Illuminations. It was also ranked top by night view critics in Japan as best the illumination event for four consecutive years.

So, why is this event adored so much?


The Miraculous Great Wisteria

Due to COVID-19, people were unable to enjoy the blossoming wisteria during this year's spring season, but now they can be enjoyed in autumn and winter in the form of illuminations.

Illuminated Water Lilies

Water lilies are enjoyed from summer through autumn. These water lily lights by the waterside are like little individual flower spirits.

Illuminated Rose Garden

A panoramic spectacle of vivid red rose lights. A special blue light-up will also take place to give gratitude to frontline workers who will be busy this season.


A Flower Story of Illuminated Wisteria

The multicoloured wisteria that bloom from mid-April to mid-May at the park are also being represented as dazzling illuminations which will reflect off the water surface to create a magical atmosphere.

Snow World

Santa Claus will be at the park from late November to late December to hand out presents to children.

Enter a romantic world of Japanese illuminations at Ashikaga Flower Park.

Halloween Food Served Up at Meiji Jingu Shrine's Constitution Memorial Hall

Meiji Kinenkan, also known as Constitution Memorial Hall, has announced that its beer terrace Sekirei will open up for October to serve up a Halloween themed menu.

Meiji Kinenkan is a unique and premium venue at Meiji Jingu Shrine that serves as a host to many different kinds of gatherings. It was designated as an important cultural property of Tokyo for its architecture in March of this year.

Sekirei normally opens during the summertime each year, but this year they've decided to open up for business for the autumn season too. Guests can enjoy a line-up of over 40 different food items in the beautiful autumn-kissed gardens along with beer and a selection of other beverage.

Halloween Menu

The Halloween menu arrived on Monday and features a colour arrangement of tasty bites, with an original line-up of foods and desserts conceived by Meiji Kinenkan's chef who specialises in French cuisine at the site.

Other Autumn Options

Autumn is a very pleasant season in terms of weather, and so as well as the Halloween menu, Sekirei has cooked up a separate seasonal assortment too including Japanese roast beef with vegetables, fried masutake mushroom and salmon, and more.

Sekirei has a special indoor all-you-can-drink plan as well in case it rains, so guests don't have to worry about the weather and can keep warm indoors if the occasion calls for it.

Learn Japanese History at Kyoto's Nijo Castle Festival With the NAKED SAMURAI App

NAKED, INC. has announced the launch of a new project called 'NAKED SAMURAI' that will debut at Nijo Castle Festival 2020 which begins on October 14, 2020.

NAKED has fused technology with reality for many different projects, such as CITY LIGHT FANTASIA—an evening projection mapping exhibit—which has been showcased in the observation deck halls of government buildings and towers, the Night Walk event in Hokkaido and Aomori, and more.

With the effects of COVID-19 changing the way we live our lives, so too does NAKED have to change the way it blends tech with real life. And that's where NAKED SAMURAI comes in which the company is taking to Nijo Castle, one of Japan's many tourist hot spots as well as a World Heritage Site.

See historical architecture while learning Japanese history

NAKED SAMURAI is an app used for smartphones that has a samurai as your guide with fully-recoded lines. The samurai will tell users the history and stories behind the various spots at Nijo Castle from his perspective. When putting your phone up to certain places, certain sites that are normally locked at Nijo Castle will open up onto the app, giving you a rare look into what's inside.

Tokugawa Ieyasu, Toyotomi Hideyori, and other historical figures make an appearance

Your guides include Tokugawa Ieyasu, the founder and first shogun of the Tokugawa Shogunate who ordered the building of Nijo Castle, and Toyotomi Hideyori, the general responsible for uniting Japan. They can both give you different insights into Nijo Castle.

Using the app lets you see how Nijo Castle looked back in these historical figures' days during the Edo Period, as well as former castle tower before it was destroyed in 1750, and much more.

Information

Nijo Castle Festival 2020
Running: October 14, 2020 – December 7, 2020
Location: Nijo Castle

Address: 541 Nijojocho, Nakagyo Ward, Kyoto
Time: 8:45-16:00 (Castle closes at 17:00)

Price: General ¥1,030 / Junior to High School Students ¥350 / Elementary School Students ¥200
Official Website: https://nijo-jocastle.city.kyoto.lg.jp/event/nijojomatsuri/

*Certain parts of the event require a separate fee

*Schedule and details subject to change or cancellation depending on the situation of COVID-19

SUPER NINTENDO WORLD Will Open at Universal Studios Japan in Spring 2021

Universal Studios Japan (USJ) has announced that its new Nintendo-themed area SUPER NINTENDO WORLD will open in spring 2021. The park was originally scheduled to open last year, the year of the Tokyo Olympics, but the date was postponed due to COVID-19.

SUPER NINTENDO WORLD: A Nintendo Fan's Dream

SUPER NINTENDO WORLD will be the first-ever multilevel Nintendo-themed area at USJ, and the first of its kind in the world. Fans of the internationally beloved games can expected to see a whole host of rides and attractions dedicated to their favourite characters, from Mario Kart to Yoshi and beyond, as well as themed restaurants, merchandise shops—the list goes on. There is endless amount of fun for fans to feel a part of the Nintendo world as they take up the role of Mario and hit blocks to receive coins, collect items, and much more.

While the grand opening of SUPER NINTENDO is still a while away yet, USJ has everyone covered. The new and first of its kind Mario Cafe & Store will officially open inside the park's Hollywood Area on October 16, 2020. Let's take a closer look.

Mario Cafe & Store

Mario Cafe & Store's location inside the Hollywood Area


This Mario themed space will serve up food and drink inspired by everybody's favourite plumber as well as sell merchandise.

The cafe and shops' exterior designs

The cafe and shop can be easily spotted thanks to the red and green "M" and "L" letters on the windows symbolising Mario and Luigi as well as the Mario and Luigi hats. Gamers can enjoy this exciting space while they wait for the official opening of SUPER NINTENDO WORLD.

Mario & Luigi themed food

The food and drink line-up pays tribute to the beloved Mario video game franchise with instantly-recognisable motifs.

①Strawberry Shortcake Mario Hat Pancake Sandwich ②Grape Cheesecake Luigi Hat Pancake Sandwich ③Mario's Strawberry Cream Fruit Cream Soda ④Luigi's Apple Cream Fruit Cream Soda ⑤Soft Drinks (Super Mushroom, comes with drinks bottle)

Everything on the menu is sure to have you snapping some photos for Instagram.

Exclusive Mario merchandise

The shop is located next to the cafe and offers a whole range of exclusive merchandise with references to the Mario games like the brothers' hats, Princess Peach's crown, and more.

There's also a special "WHOSE CAP?" series of goods to grab.

Stay tuned for future updates on SUPER NINTENDO WORLD.

*Photos are for illustrative purposes only

WIZARDING WORLD and all related trademarks, characters, names, and indicia are © & ™ Warner Bros. Entertainment Inc. Publishing Rights © JKR. (s20)
Minions and all related elements and indicia TM & © 2020 Universal Studios. All rights reserved.
TM & © 2020 Sesame Workshop © 2020 Peanuts Worldwide LLC © 1976, 2020 SANRIO CO., LTD. APPROVAL NO.EL0061901
TM & © Universal Studios & Amblin Entertainment TM & © Universal Studios. All rights reserved.
Nintendo properties are trademarks and copyrights of Nintendo. © Nintendo.

Review | ART AQUARIUM MUSEUM: A Magical Place Swimming With Life

ART AQUARIUM MUSEUM officially opened permanently in Nihonbashi, Tokyo, on August 28, 2020. Before that, it was simply an exhibition that was held around Tokyo which brought together over 10 million visitors throughout its run, exhibiting goldfish in a variety of breathtaking ways.

We visited ART AQUARIUM MUSEUM together with Japanese model Yuna Yabe to take a deeper dive into what lies within those doors.

ART AQUARIUM MUSEUM can be found in Nihonbashi, an area of which served as one of many places where ART AQUARIUM previously held its exhibitions. Nihonbashi is steeped in tradition and is actually the place where Japan's goldfish culture spawned from during the Edo Period.

ART AQUARIUM was conceived and is managed by Hidetomo Kimura, an author and general producer. It's a collaboration between art, design, and entertainment, all fused into an aquarium to create a completely unique experience. The museum has taken what was once a pop-up exhibition and expanded it many-fold, housing close around 30,000 goldfish.


The aquarium is divided into different areas each with its own unique theme that plunges visitors into a multitude of fantastical worlds. One of the must-sees when visiting ART AQUARIUM MUSEUM is the masterful Oiran works—giant goldfish bowls as pictured above—which are inspired by the red light district of the Edo Period.

Perhaps the most striking and gorgeous part of the Edo Period was Hanamachi, the districts where geisha worked. The high-ranking courtesans, known as Oiran, engaged in what was known as the Oiran Dochu, or procession of the courtesans, and this too has been captured at the museum in the designs of the beautiful fish tanks in this area.


Another unmissable part when visiting the aquarium are the Goldfish Shrines, towering fish tanks lined up like a column of water trees which make for an incredible viewing experience.

The lighting and music is ever-changing, and so transports visitors into a completely different realm every time. It can be one way one moment, and in the next instant it changes entirely.


From the second floor you can overlook the fish shrines with dynamic 3D visuals in the background. These visuals change depending on the season, so you'll be in for a treat however many times you visit.

There are countless works of goldfish art scattered throughout the aquarium—too many to count, so your eyes will never grow tired.


Suigian Lounge – Old Pine Tree Area

ART AQUARMIUM MUSEUM even has its own dining lounge where guests can enjoy a meal while gazing at a painting of old pine trees, a cultural property of the Edo Period said to have been painted by those of the Kano school of Japanese painting. Traditional performances are also carried out on the stage for diners.


These drinks are ¥1,200 each (before tax)

Every five days, a new line-up of cocktails is served at Suigian Lounge. Japan used to be divided into 24 sekki rather than the now-used four seasons of springs, summer, autumn, and winter. These were further divided into 72 Kō, which are five days apart each. That's where the lounge gets its idea for changing its cocktails every five days. So you're sure to find an interesting flavour on every visit.


Kagyo Ryoran – Joy Area 

Kagyo Ryoran is a separate cafe lounge at the aquarium where they serve authentic Japanese sweets in collaboration with famous confectionery shops.


From Left Clockwise: Goldfish Sarasa ¥750 / Palet D'or Cacao Soda ¥900 / Echire Butter & Cream Castella ¥800 / lohasbeans coffee Matcha Tiramisu ¥850 / Goldfish Jelly ¥750 (All Before Tax)

The cafe serves up range of tasty Japanese desserts, from traditional ones to others inspired by goldfish and some made in collaboration with other shops.

Large Plush Toys: ¥3,200 Each (Before Tax)

The aquarium event sells its own souvenirs, such as goldfish plushies in various sizes, original confections, collaborative products, and more.

"Everything was magical—the goldfish, the sounds, the lights, the atmosphere!" explains Yuna. "They have a lot of different varieties of goldfish, and the fish tanks come in all shapes and sizes, which makes for plenty of Instagram-worthy moments. And since it's inspired by Edo culture, it has a Japanese vibe to it too. The fish are always swimming around, so no two moments are ever the same, meaning you're offered something fresh every time you visit."

If you're visiting Tokyo, be sure to pay a visit to ART AQUARIUM MUSEUM.

Information

ART AQUARIUM MUSEUM
Address: 1-3 Nihonbashihoncho, Chuo Ward, Tokyo
Opening Hours: 10:00-22:00 (subject to change)
No Fixed Holidays
General Admission: Adults (13 and over) ¥2,300 (Tax Included) / After Dark Ticket: Adults (13 and over) ¥2,000 (Tax Included)

*Free for 12 and under
Official Website: https://artaquarium.jp/en/

*ART AQUARIUM MUSEUM is currently operating with social distancing and COVID-19 preventative measures. Special permission was granted to take these photos safely without a mask.