【Tokyo Stroll】Shopping & Sightseeing with Mozuku-kun the Dog: #2 Makuhari Shintoshin Pecos Pet Mall (Part 2)
Yuna Yabe is a dog lover whose eyes are set on becoming a seasoned pet owner with her beloved pet dog Mozuku. Continuing from where we left off in part one of this two-part article, Yuna will show us more of the Makuhari Shintoshin branch of Pecos, a huge pet store located in AEON Pet Mall!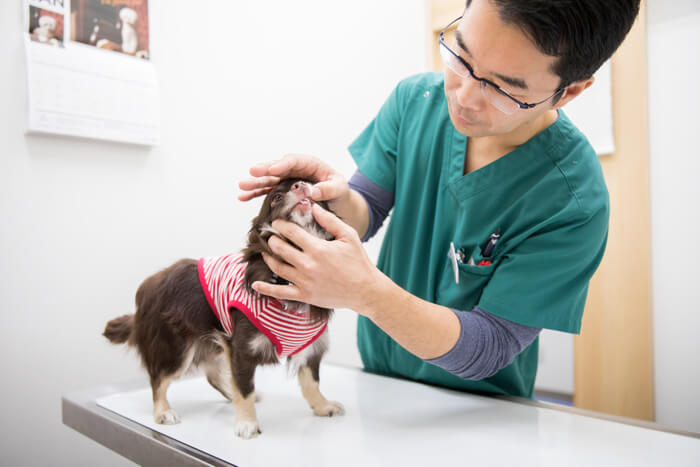 In this second part, Yuna will introduce us to the 1st floor facilities of Pecos. The first thing is the 24-hour AEON Pet hospital. This animal hospital offers first aid to pets at any time of the day. They provide CT scans, X-rays, surgery and internal medic treatment, so if you feel something if off with your pup then contact them immediately. They also offer physical examinations for your pet dog. If you take them for an examination you can detect signs of illness early on, so a lot of people take their dogs for a yearly checkup. (Checkups are offered until February 28th this year)
So Yuna took Mozuku for an examination too! The results showed that he was a good weight and in very good health. He was even complimented on his nice fur. Keep being healthy, okay, Mozuku? ♪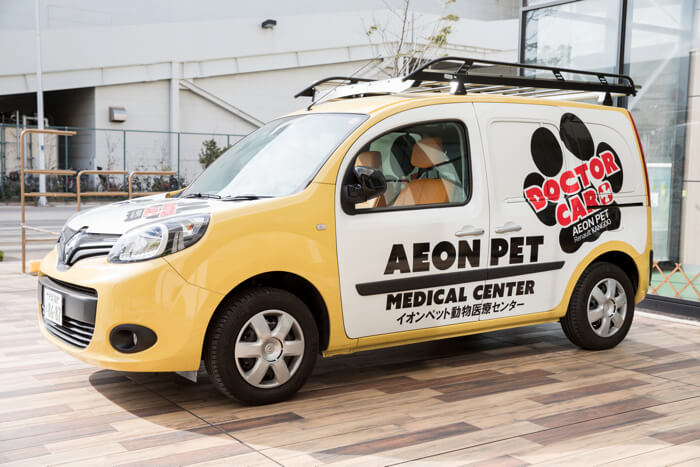 This is the "Doctor Car" for transporting pets. The original purpose of the car is that it's an ambulance used for pet care during natural disasters. There's even equipment inside for emergency first-aid treatment. On normal days, it's used for doctor's visits and seeing injured pets.
The showpiece of Pecos in Makuhari Shintoshin is the pool facility. The aqua fitness service uses the water's buoyancy and pressure to allow your pet to exercise in a short period of time in an efficient and low load manner. It's highly recommended for rehabilitation after an operation and for tackling a lack of exercise! During the aqua fitness, a trainer will be there to look after your pet with the utmost care and attention, so you can feel at ease when handing them over.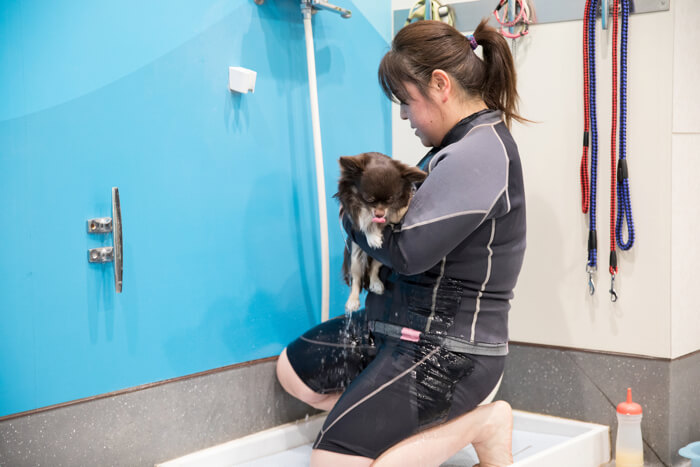 This was Mozuku's first time in the pool. He had a worried look on his face while floating in the water, so the first thing was for him to get used to it with a shower and a bath.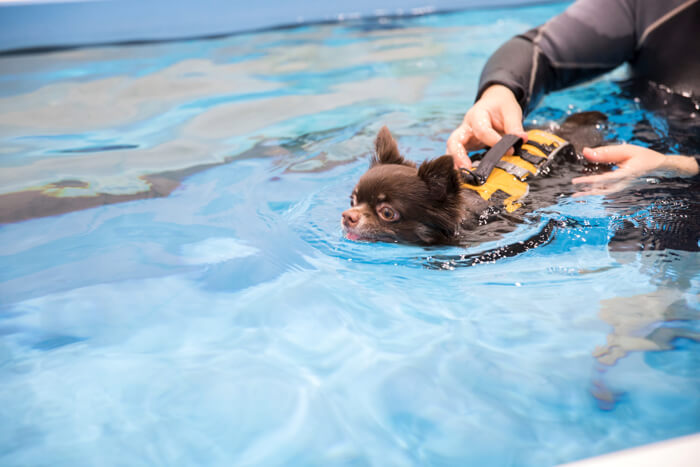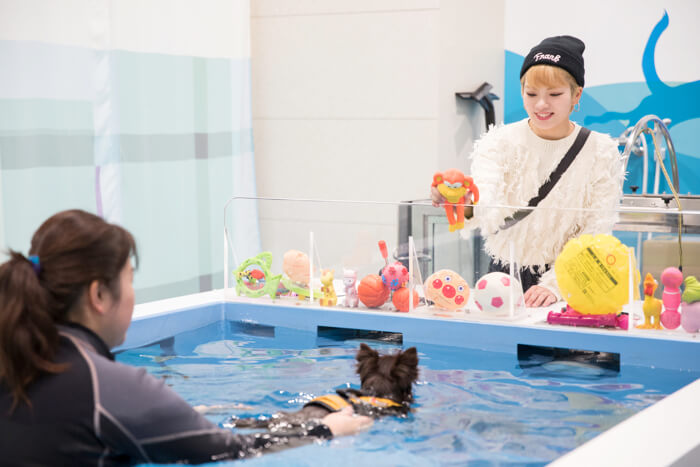 Your pup will wear a life jacket until it's gotten accustomed to being in the water, so you can let them enjoy swimming without worry of them sinking. There's also lots of toys for your dog to play with – perfect for helping them relax!
Mozuku wouldn't settle at first in this new environment, but he got used to the water straight away and showed off his dog paddling skills. The water current in the pool is always flowing, so big dogs can enjoy swimming too.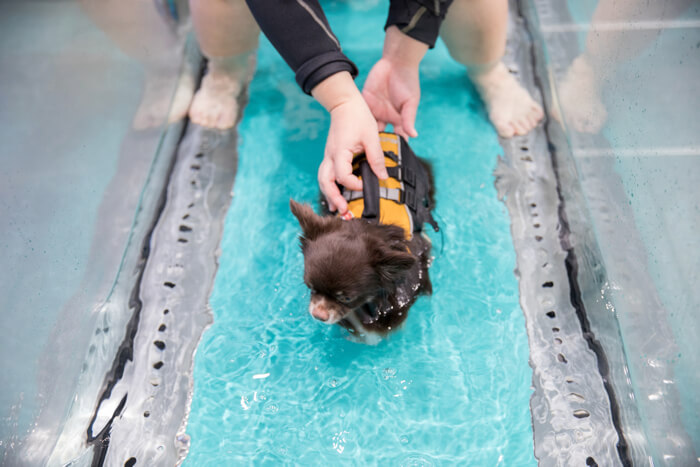 This is a treadmill that uses water resistance. It uses the flowing power of water but isn't a burden on your dog's body at all. It's rehabilitation for walking.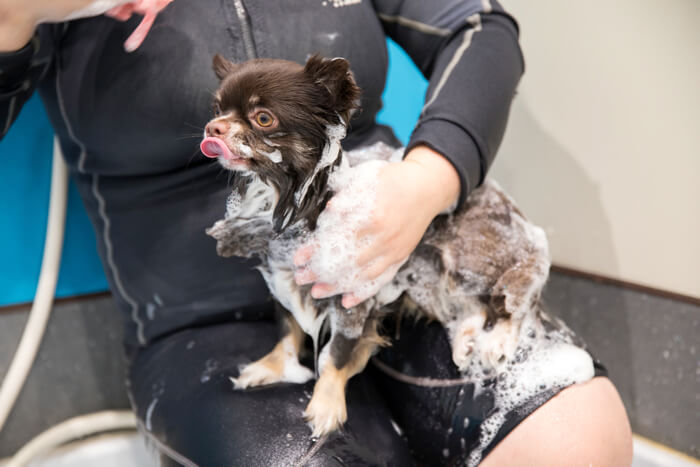 After a dip in the pool, it's some for shampooing. The shampoo uses safe ingredients so it's fine if your pup licks it off.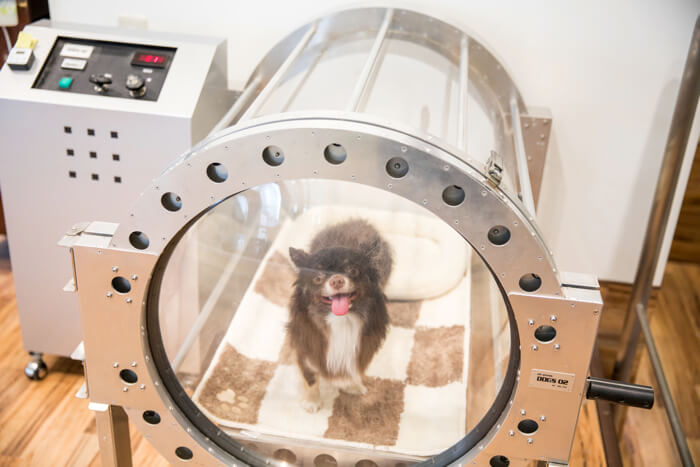 This is the pet hotel, a super convenient facility for if you're on a trip or going for some shopping. The hotel charges per hour, so you can even leave your dog in the hotel's hands if you need to do a bit of quick shopping. There's even a beauty salon where your dog can get a trim or use one of the oxygen capsules! Mozuku refreshed himself in a capsule too after a swim in the pool.
Yuna bought Mozuku a roll cake from a shop on the second floor for being such a good boy the entire time! There was quite a lot for Mozuku to eat, so Yuna helped him out.
Pesco in Makuhari Shintoshin has it all when it comes to your dog. They even have a dog run in the facility, so you should go try it out when the weather's nice for a stroll and some shopping!
■Information
Pecos (Makuhari Shintonshin branch)
Address: 1-8 Toyosuna, Mihama-ku, Chiba-shi, Chiba Prefecture
Access: "Kaihin Makuhari Station" and "Shin-Narashino Station" accessible via the JR Keiyo Line
Opening Hours: 10:00-21:00 (*the animal hospital is open 24-hours a day)
Contact: 043-298-1122
Homepage: https://www.aeonpet.com/pecos/makuharishintoshin/index.html
Model:Yuna Yabe/Mozuku @yunaaay1030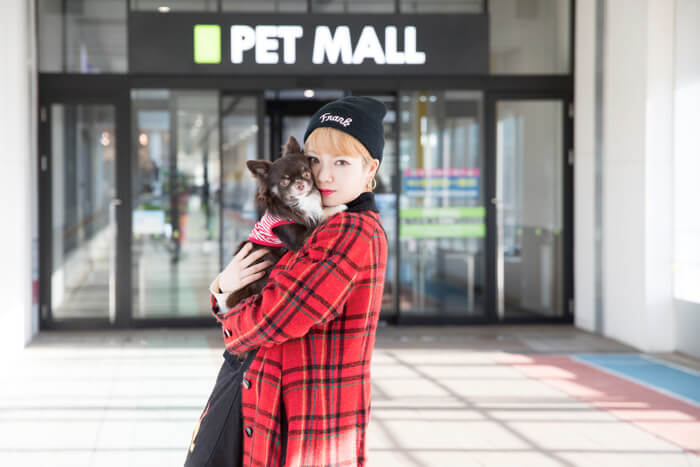 Yuna Yabe won the grand prix prize at the "Zipper×ASOBISYSTEM Model Auditions" at the age of 15. She is an expert not only in fashion but make-up and video editing too. She's an influential figure to the people in her generation. Recently, her work has expanded greatly, such as appearing in music videos. Her activity continues to grow and looks to be very promising indeed.
Writer:Ryoichi Komaba
Photograph:Kayo Sekiguchi
Translation:Joshua Kitosi-Isanga
RECOMMENDED ENTRIES
【Tokyo Stroll】Shopping & Sightseeing with Mozuku-kun the Dog: #2 Makuhari Shintoshin Pecos Pet Mall (Part 1)

Yuna Yabe is a dog lover whose eyes are set on becoming a seasoned pet owner. This series follows her journey as she takes her pet dog, Mozuku-kun, strolling around the city. For her second entry, Yuna headed to the Makuhari Shintoshin branch of "Pecos," located inside the AEON Pet Mall in Kaihin Makuhari, Chiba Prefecture. This is part one of two.

The closest stations to Pecos are Kaihin Makuhari Station and Shin-Narashino Station, both accessible via the JR Keiyo Line. There are also buses that go straight to the mall, making it super convenient if you come by train. There's also a car park right next to the mall if you decide to take the road, so it's easy to go there with a pet dog. Pecos in Makuhari Shintoshin is the biggest pet store in Japan, with the first floor spanning 820.6㎡ and the second 979.8㎡. They offer just about everything you could imagine from a pet shop in Japan, from food and clothes to an animal hospital and pet hotel.

The food corner accounts for one entire corner of the shop's second floor. Usually, they stock over 40 different varieties of dog food, and you can always buy something from there catered to your dog's breed and/or age. You can of course also take your dog around the shop with you, so if you're lost on what to buy then you can leave it in their hands (or paws).

A particularly popular brand of dog food in the shop is "Wellness" series, pictured above. The food is made up of carefully selected natural ingredients, so one reason for its popularity is how owners can be at ease while letting their dog eat this food.

Besides dog food, the shelves are also lined with plenty of snacks and supplements! Most of the supplements are for mature dogs, but even so, Yuna was absorbed in checking out what they had, thinking: it's still a bit early for Mozuku, but I'm interested in thinking about the future.

This original premium dog food can only be bought at AEON pet shops, including Pesco. It's made in Japan, so if you have a dog in Japan and are a dog lover who worries about your pet, you can absolutely trust this brand.

There's even cakes that you can buy for your pet if you're looking to gift yours something for their birthday or a commemoration. Mozuku wasn't about to leave the cake showcase that easily, almost as if he knew everything in there was delicious.

This one is perfect for pet owners who like a drink: alcohol for dogs. But don't worry, there's not actually any alcohol in there. So how about it? Having a nice evening drink together with your beloved pup?

This corner is filled with leads, beds and clothes for your dog. They have a wide range of sizes and varieties, making this area popular with fashion-conscious owners.

One popular aspect of the store praised by owners who have gone to buy clothes at Pecos is how you can actually let your dog try the clothes on in-store. You must have had that experience where you tried buying something, but it ended up being too dog, right? Well, if you're allowed to let your dog try on something before buying it, you can easily pick an outfit that looks great and is comfortable on them.

Here's Mozuku in the middle of trying something on. His ears are hidden by the turtleneck… he looks most displeased!

Pesco also sells convenient products for heading out with your dog, like dog seats for your car and prams. You can actually rent a test pram to check its usability, allowing you to consult with your pup on which best to choose.

In addition to products for your pet, the Makuhari Shintoshin branch of Pecos also has an animal hospital, trimming salon and pet hotel. It's filled with everything your pet could dream of! In part two of this article, Yuna will show the facilities of Pecos, like the animal hospital and pool, so don't miss out!

Continued in Part Two.

■Information

Pecos (Makuhari Shintonshin branch)

Address: 1-8 Toyosuna, Mihama-ku, Chiba-shi, Chiba Prefecture

Access: "Kaihin Makuhari Station" and "Shin-Narashino Station" accessible via the JR Keiyo Line

Opening Hours: 10:00-21:00 (*the animal hospital is open 24-hours a day)

Contact: 043-298-1122

URL:https://www.aeonpet.com/pecos/makuharishintoshin/index.html

Model:Yuna Yabe/Mozuku @yunaaay1030

Yuna Yabe won the grand prix prize at the "Zipper×ASOBISYSTEM Model Auditions" at the age of 15. She is an expert not only in fashion but make-up and video editing too. She's an influential figure to the people in her generation. Recently, her work has expanded greatly, such as appearing in music videos. Her activity continues to grow and looks to be very promising indeed.

Writer:Ryoichi Komaba

Photograph:Kayo Sekiguchi

Translation:Joshua Kitosi-Isanga

【Tokyo Stroll】Shopping & Sightseeing with Mozuku-kun the Dog: #1 Bondi Café Yoyogi Beach Park

Yuna Yabe is new to pet ownership. With her eyes set on becoming a better owner, Yuna is going all out with by starting up a brand new regular article series. For her first entry, Yuna is introducing a fun café she visited together with her puppy!

The café the two of them visited is called "Bondi Café Yoyogi Beach Park" and it's located in the Okushibu area. It's 324m from Yoyogi-koen Station via the Chiyoda Line and 5 minutes by foot from Yoyogi-Hachiman Station via the Odakyu Line. It's easy to get to from either station. What's better is that it's close to places like the Bunkamura museum, Tokkyu Hands and NHK meaning you can make a day out of your trip on a stroll with your dog.

First of all, let's learn a little bit about the protagonist of our story. Mozuku-kun is a 1-and-a-half-year-old male long coat chihuahua. His latest interests include chasing the robot Roomba vacuum cleaner. His charm points are his brown eyes and nose and sticking his tongue out. Please treat him well♪

The café has a service that includes a rug and water bowl for dogs. But it seems like Yuna's lap is where Mozuku-kun feels most at ease!

Behind the café is a promenade where you can take a leisurely walk without having to worry about incoming cars. It's generally a quiet area, making it a peaceful and pleasant stroll for even scaredy-dogs.

The roads in this area are paved beautifully so it's a perfect spot to snap a photo with your puppy for Instagram.

The café looks out onto Inokashira-Dori, so you can get a view of Yoyogi Park and the green ambience of the tree-lined streets. The lavish greenery is gorgeous, it'll make you forget you're even in Shibuya! Even Mozuku-kun was in pretty high spirits. I wonder if he noticed all the green too?

On the café's list of recommendations is their homemade tofu pancake with coconut butter for ¥900 (tax included). You can get a heap full of fruits like in the photo above to top your pancake for an extra ¥500. If you're a fruit lover then definitely try ordering this.

There are 5 sauces to choose from to top your pancake, including the classic maple syrup and even chocolate. Yuna went with caramel sauce, her absolute favourite.

Mozuku was well behaved at first, but after seeing Yuna enjoying her food so much he stuck his tongue out in complete captivation and begged. But the pancake is a little too rich in flavour for Mozuku-kun, so he was given his favourite dog food later on.

This is a caramel macchiato (¥700 tax incl.) made using speciality coffee by the barista who creates the drinks one by one to perfection. The latte art is super cute, so be sure to take a selfie with your puppy and upload it on your social media. You'll definitely get a lot of likes.

If you're looking to go out on a stroll somewhere a little different from usual, then we recommend Bondi Café Yoyogi Beach Park. It's easily accessible from Shibuya and Harajuku, plus they have plenty of welcoming service for pets! The café is also close to Yoyogi Park, so it might be nice to take a walk there too. Yuna was happy with the terrace seats as they were spacious meaning you can use them without worry of other mischievous dogs. That's all for today – look forward to next time!

■Information

Bondi Café Yoyogi Beach Park

Address: Barbizon 55 1F, 1-15-2 Tomigaya, Shibuya, Tokyo

Access: 324m from "Yoyogi-koen Station" via the Chiyoda Line / 5-minutes by foot from "Yoyogi-Hachiman Station" via the Odakyu Line

Opening Hours: 9am-2am (last orders at 1am)

Telephone: 03-5790-9888

Homepage: http://bondicafe.net/bondi-cafe-yoyogi-beach-park/

Model:Yuna Yabe/Mozuku @yunaaay1030

Yuna Yabe is skilled not just in the area of fashion but also make-up, as well as editing her own videos. She is an influential figure to the people of her generation. She has recently appeared in music videos and her sphere of activity is growing and expected to spread.

Writer:Ryoichi Komaba

Photograph:Kayo Sekiguchi

Translation: Joshua Kitosi-Isanga

【Tokyo Stroll】Asakusa Sightseeing: Eating and Walking Down Nakamise Shopping Street & Rickshaw Riding at Kaminarimon

Today's Tokyo stroll destination is Asakusa. Asakusa is a popular tourist spot for people coming to Japan and is always packed.

However, today's weather forecast predicted rain! So Yuna and Ellie's first stop on their Tokyo stroll was to buy umbrellas from Shinagawa.

Buying an umbrella at AEON in Shinagawa Seaside

Shinagawa Station is linked to the shinkansen and numerous airports, so you will find many people from inside and outside Japan waiting there. A convenient place to visit when in Shinagawa if you want something is the Shingawa Seaside branch of AEON.

The shopping complex can be reached in 10 minutes by bus or taxi. If you use Shinagawa Seaside Station it's just a 5 minute walk.

When looking for somewhere that sells umbrellas to make being in the rain a bit more fun, Yuna and Ellie discovered "fururi," a place that sells vinyl umbrellas with colourful designs that you can change – simply screw off the top of the umbrella frame, remove the vinyl sheet and replace it with whichever one you like.

There are 48 designs to enjoy with a 60cm umbrella.

Yuna chose a cute design that has blue and yellow water drops. Ellie went for a pink design. A colourful umbrella means turning that rain induced frown upside down. Asakusa is the place to go if you want something fight off the rain!

Eat and walk down Nakamise Shopping Street♪

As you come to the Kaminarimon Gate you must first press your hands together and bow before heading through to Nakamise Shopping Street. The street is lined with lots of shops selling all kinds of goodies from toys to food to souvenirs.

The first item Yuna and Ellie came across were little randoresu keyrings. This is most definitely the kind of souvenir you can only get in Japan. Ever since popular Hollywood actresses put out photos of themselves donning these backpacks, they have become popular overseas for their colourfulness and durability. There are even people who wear them as a fashion item.

The next treasure they found were the 'daigaku imo'! Daigaku imo are candied sweet potatoes. The outside is crunchy and the outside is soft. They are deliciously sweet. You absolutely must try them if you come across them in Japan.

Approaching Sensō-ji

When you come out of Nakamise Shopping Street you will find yourself at Sensō-ji, Asakusa's ancient Buddhist temple.

The first step to take when going to shrines and temples in Japan is washing your hands, which is called "temizuya." Hold the ladle with your right hand and wash your left hand and vice versa. Take the ladle with your right hand and scoop some water. Pour the water into your left hand and rinse your mouth with it. Make sure to never bring the ladle to your mouth. Spit the water next to the fountain, never directly back into it. (Bonus: Check out our step-by-step guide to praying etiquette and shrines and temples in Japan.)

Subsequently, approach the main temple building. After praying, toss in a monetary offering. Then put your hands together and bow once. Since there is no shrine here you do not need to clap. Finally, perform a light bow to complete the prayer.

I wonder what those two were praying for. They look unusually serious.

There are lots of great places to take photos around Sensō-ji so be sure to have a good look around.

Tour Asakusa on a rickshaw

After their temple walk, Yuna and Ellie boarded a rickshaw to scope the Asakusa townscape. The rickshaws have a tarpaulin rain cover and lap blanket in case of rain so you can still have fun even when the weather is bad.

We recommend taking a photo at Dempoin Street when riding your rickshaw as pictured above! It's a special kind of place that you can only find in Asakusa so be sure to take a memorable picture.

Did you enjoy Yuna and Ellie's sightseeing trip to Asakusa? There's lots of other amazing places to find in Asakusa too! We'll be sure to post about them here on MOSHI MOSHI NIPPON so stay tuned.

Models: Yuna Yabe, Ellie

Photo: Kayo Sekiguchi

Writer: Sayuri Mizuno (ASOBISYSTEM)

Translator: Joshua Kitosi-Isanga

Introducing: Randoseru

We'd like to introduce to you the randoseru bags used in today's article which both Yuna and Ellie modelled for in a Narita tourism article. As mentioned above, the Japanese randoseru, firm backpacks made from leather or leather-like material, are recognised as a fashion item overseas. The randoseru used in today's article were are the 24 colour randoseru and 3STYLE randoseru from AEON.

Yuna: 24 Colour Randoseru (Burgundy) – ¥35,000 (tax excl.)

Ellie: 3STYLE Randoseru (Caramel) – ¥48,000 (tax excl.)

The 3STYLE randoseru can be used as a shoulder bag or handbag. If you're interested in either of their randoseru, then be sure to pop into your nearest AEON store.

AEON.com: https://www.welcome-aeon.com/

【Tokyo Stroll】Kill some time at tourist spots around Narita Airport during your flight layover

Many people find themselves with a lot of free time when at Narita Airport, whether in transit or going back home, and must find things to fill the time with. In this edition of Tokyo Stroll, we take a look at some of the best tourist spots around Narita Airport to fill your time with if you find yourself in this situation.

From visiting temples to buying souvenirs, the surroundings of Narita offer a range of exciting things to make those long hours fly by! Let's take a stroll together with Yuna Yabe and Eri to see some of the wonderful sights.

Visit "Naritasan Shinshoji Temple" just 10-minutes from the airport by train

If you have a spare 2 or so hours to kill then Naritasan Shinshoji Temple is a great location to stop by. Simply board the Limited Express train from Narita Airport via the Keisei Main Line and get off at Keisei Narita Station. The journey is just 10 minutes. What greets you as you approach the shrine is a 15 meter high gate constructed from keyaki wood. Many people enter through this gate to go and worship at the main building.

As Yuna and Eri walked toward the main building through the Niomon Gate they came to the Nioike Pond where turtle-shaped rocks were poking out of the water. There were lots of turtles sunbathing on top of the rocks. Legend says that if you throw a coin onto one of the rocks and a turtle goes onto the same rock your wish will be granted. You can see lots of coins on the rocks.

Once you pass the pond and climb the stairs you will arrive at Naritasan Shinshoji Temple's main building.

The Goma Ceremony has been practiced at the temple every single day since its founding. People's prayers are offered to Fudomyoo in front of a fire to fulfill people's worries and wishes. After praying, Yuna and Eri received a temple seal for their goshuincho temple seal notebook.

They also got their hands on an omikuji each. They opened it up, and… both of them received "Great Blessing," the best fortune you can receive from an omikuji! The omikuji have English written on the back too, so be sure to flip yours over if you can't read Japanese.

Naritasan Shinshoji Temple also has a number of designated important cultural properties, so there's plenty of amazing architecture to see if you visit. If you've got some spare time while in transit, then how about taking some time to learn some Japanese history?

■Information

Naritasan Shinshoji Temple

Address: 1 Narita, Narita, Chiba

Access: 10-minutes' walk from Keisei Narita Station via the Keisei Main Line

Website: http://www.naritasan.or.jp/

Get souvenirs at the AEON Mall only available in Japan!

While you can get your hands on souvenirs at the airport, it wouldn't be wrong to assume that most people want something sold only in Japan such as snacks or other little trinkets. The next spot we're taking a look at is the Narita branch of the AEON Mall. You can get a direct bus there from Narita Airport. Buses also leave from Keisei Narita Station, the closest station to Naritasan Shinshoji Temple.

The AEON Mall has it all – clothes shops, entertainment facilities, sundries, food and more. It's perfect for shopping with friends or having fun together with your family at the entertainment services. It's equipped with just about anything for anyone to enjoy.

We recommend doing your souvenir shopping at AEON Mall. And what better to spend your money on that Japanese snacks!

Yuna's Recommended Snack

The most popular snack bought by travelers is the baumkuchen cake. It's packed with just the right amount of sweetness. You can get a full, uncut cake in its distinct round shape, or you can get individual cut pieces in bags.

Eri's Recommended Snack:

One of the big snacks to buy from Japan is matcha flavoured Kit Kat. You can get this and many other flavours of Kit Kat at the AEON Mall. There are even limited edition seasonal flavours that are sold with the changing seasons, so make sure to be on the look out.

Besides snacks, cosmetics are another popular item. The AEON Mall is lined with a string of different brands who also offer testers of their products. There are plenty of affordable items to find in the line-up perfect as a gift to a friend. The best way to find something you like is to just get in there.

People from all over the world visit the AEON Mall in Narita so there are duty free counters. It's possible to get tax exemption from items purchased in the mall. There's a counter near the 1st floor beauty products corner so make sure to head there once you've bought something.

After a long day of sightseeing and shopping, we're back at Narita Airport. Did you enjoy seeing some of the tourist spots around the airport?

Narita Airport also offers the Transit & Stay Program for people who have long layovers, so be sure to check it out and make the most of your time there.

Models:Yuna Yabe / Eri

Photos:Kayo Sekiguchi

Writer:Sayuri Mizuno (ASOBISYSTEM)

Translator:Joshua Kitosi-Isanga
RELATED ENTRIES
Kyo no Ondokoro Marutamachi: Rent An Entire Kyoto Townhouse to Yourself

Kyo no Ondokoro Marutamachi is set to open in the Goshominami area of Kyoto on April 25, 2020. The single-accommodation hotel is a complete renovation of a traditional Kyoto-style townhouse.

Kyo no Ondokoro Marutamachi comes as the 7th branch of hotels from Kyo no Ondokoro. It's a single building to rent for up to 4 people, who can enjoy taking a soak in the man-made carbonated spring bath which is kind to the skin and hair, using the soft water shower, and getting ready in the spacious makeup corner. It's the perfect getaway for girl groups travelling together.

The hotel is in a convenient location for sightseeing in the ancient capital of Kyoto. The building has been completely renovated to adapt to modern lifestyle while still retaining those traditional elements of a Kyoto townhouse that was built during the Meiji Periodーand in an area that's rich in traditional scenery.

The lounge space sofa seats are inspired by Japanese rock gardens

The lounge space, which connects the second-floor bedrooms and the washitsu Japanese-style room, are furnished with unique round sofas. All the rooms open up to each other so guests can enjoy the company of each other during their travel stay.

Hinoki cypress artificial carbonated spring bath

Amenities

The round bath is made from hinoki cypress, and the carbonated water lets you stay glowing and nice and warm after you step out of it. The bathroom is also stocked full of amenities like shampoo courtesy of popular brand THREE.

Up to four people can apply their makeup together in the makeup corner

The makeup corner is big enough to sit four people so they can get ready for their day or night out together while chatting.

Colourful art pieces also adorn the walls of the makeup room, Japanese-style room and elsewhere to add a touch of beauty to them.

If you're planning a trip to Kyoto with the girls then why not book at Kyo no Ondokoro Marutamachi when it opens on April 25?

Information

Kyo no Ondokoro Marutamachi

Address: 341-2 Shōshōiotabichō, Nakagyō-ku, Kyoto, 604-0873

Grand Opening: April 25, 2020

Price: ¥30,000 per night

Bookings: Opened on March 27, 2020

Offcial Website: https://www.kyo-ondokoro.kyoto/en/

Pan Am to Release Travel Inspired Clothing Collection in Collaboration with MIZUNO

Japanese sportswear brand Mizuno is collaborating with Pan American World Airways (Pan Am) to release a clothing collection called "52 Collaboration with PAN AM" in their "Go to by mizuno" series of lifestyle attire for active adults at the end of March. It will be available in Mizuno stores, Mizuno's official online shop, and pop-up shops in Japan.

Travel is the theme of the collection, and is the first co-developed line-up from "Go to by mizuno." It incorporates the functionality of sportswear while promoting the fun and excitement of travel.

What is Pan Am?

Pan American World Airways, commonly known as Pan Am, was at the forefront of the airline industry during its 64-year run. It was the first company to adopt the Boeing 707 when it ordered 20 of them for commercial use in 1955. It became the world leading airline in both name and reality in the 1960s. In 1972, Idlewild Airport (now John F. Kennedy International Airport) became a hub for Pan Am, and they also set up a company building in Manhattan. The airline is still fondly remembered today, and is sure to be a name mentioned by those who have travelled around the world.

Collaboration Items

The clothing line-up of 38 itemsーspanning T-shirts, caps, socks, travel bags, and moreーfeatures the Pan Am logo and is made from waterproof and stretchy sports clothing that can be used for everyday wear.

Information

52 Collaboration with PAN AM

Sold at:
17 Mizuno stores (including MIZUNO TOKYO and MIZUNO OSAKA CHAYAMACHI)
Mizuno online shop
Department Stores (Kawanishi Hankyu, Nishinomiya Hankyu, Kintetsu Department Store, Nara, Kashihara, Moriguchi Keihan Department Store, Kobe Hankyu, Kawagoe, Fukudaya Department Store, Utsunomiya)
*Pop-up shops from late March to early May (check official website for shop list)
*Shonan Tsutaya pop-up exhibition (March 20-April 27)

Official Website: https://www.mizuno.jp/52goto/

World's Largest Athletic Tower Banpaku BEAST to Open at Expo '70 Commemorative Park in Osaka

Banpaku BEAST is set to open as the largest athletic tower in the world at Expo '70 Commemorative Park on March 15, 2020, standing 24 meters tall.

The hexagonal tower was created by German-based amusement park attraction developers KristallTurm. It has four floors, each of which is its own "athletic area," as well as an observation deck. It is a comprehensive workout tower, offering 120 different kinds of athletic activities such as climbing and slacklining, meaning the fun will never end in a single day, and will have you wanting to go back for more.

The tower makes use of its full height; expect to use your entire body during your ascension, ride barrels, bikes, and more. Safety is guaranteed while still offering a heart-racing experience for those thrill-seekers. The facility can be used by both kids and adults alike who want to test themselves and feel refreshed after a good workout.


See Banpaku BEAST in action in the official video above.

Information

Banpaku BEAST

Location: Expo '70 Commemorative Park, Suita, Osaka

Time: Reception 9:30-15:00 / Open 10:00-16:30

Price: General ¥3,500 / Elementary school children and below ¥3,000
*Separate fee charged for entry to Expo '70 Commemorative Park's Natural and Cultural Gardens (General ¥260/ Elementary school children and below ¥80)
Access: 5-minutes from Expo Memorial Park Station via Osaka Monorail

Official Website: https://www.se-amuse.jp/bampakubeast/

MOSHI MOSHI ROOMS Opens Sentō Bathhouse and Sumō-Themed Fusion Accommodation Called 'DOSUKOI'

MOSHI MOSHI ROOMS is located in the heart of Harajuku's tourism welcomes travellers from all over the world to immerse in Japanese culture in a way they've never experienced before. The cherry blossom-themed accommodation SAKURA is a blooming success throughout the year and ORIGAMI's mesmerizing and clever designs never fail to make tourists crease their necks in amusement. 

The third Japanese culture accommodation has stomped into MOSHI MOSHI ROOMS as a fusion of sumō wrestling and sentō bathhouse culture called 'DOSUKOI'. The word dosukoi is phrase that sumo wrestlers shout out to get hyped up – perfectly summing up your excitement as you explore this spectacular fusion world from corner to corner. From a giant sumō hand to a historical sentō bathtub with a magnificent mural artwork scenery, the entrance, living room and sentō-style bathing area is overflowing with originality.

Living Room

The entrance to the living room is themed around a sentō bath. The tiled roof and traditional entranceway noren fabric dividers will be the first thing to welcome tired travellers. 

A giant sumō hand overshadows the light on the ceiling, representing the tsuppari striking technique used by sumō wrestlers. The furniture, including the soft sofa, rug and chairs, is white and beige to represent the colour of the sumō ring. 

The relaxing room is punctuated with powerful illustrations of sumō wrestlers that cover the wallpaper. 

Bathroom


The round bathtub is made from Japanese cypress wood and is large enough to fit 3-4 people – perfect to soak off your tiredness with friends and family. A large wall painting (mural)  of a grand ocean view dominated by Mount. Fuji stretches across the wall. A purple curtain is suspended above the circular bath, representing the mizuhikimaku curtain which hangs above a sumō ring. 

The dressing area is equipped with a fridge and chair like a traditional bathhouse. DOSUKOI guests will also find complimentary bath salts which are a gift.

The grand mural is an original piece by Kiyoto Maruyama – one of Japan's three remaining sentō mural artists. This graceful painting was created using a large and smaller brush. As you admire the bold colours and fine details of this rare art, which is fading away as society progresses, you will be sent on a journey back through time. 

Bedroom

The spacious sleeping area consists of two levels, each of which has enough room for two people to sleep. The room also has another bed in storage, meaning that up to five guests can stay. 

Sink and Toilet

The separate sink area is equipped with a hair dryer. There is also a Japanese Washlet toilet with multiple functions. 

Amenities and Extras

The kitchen is fully equipped with cooking utensils, a microwave, refrigerator and all the daily essentials. 

After a long, relaxing hot soak, put on a light yokozuna yukata robe and you'll feel just like a sumō champion. There are also many amenities and items that fit with the DOSUKOI theme. 

MOSHI MOSHI ROOMS isn't just a hotel but is also the perfect party space for you and your friends to get together. As the cold days are still with us, how about warming up in a toasty sentō-style bathtub with your friends?

Winners Announced For The 7th Washoku World Challenge Competition

The final round for the 7th Washoku World Challenge Competition was held in Tokyo on February 20 and 21, which saw WANG Wei Ping of China, and chef at SUN with AQUA JAPANESE DINING SUNTORY, as the winner.

The two-day event brought together five chefs from Hong Kong, Singapore, Paris, Donostia-San Sebastian, and New York come together to compete and show their skills create dishes based on the competition's main theme of "Umami" and this year's theme of "Texture and Mouthfeel."

The judges said: "This 7th edition demonstrates that the finalists' technical level keeps improving every year. Creating Japanese dishes that incorporate the characteristics and unique ideas of other countries' culinary cultures, while respecting the fundamentals of Japanese cuisine built on the concept of umami, expands the potential of Japanese cuisine. The creations of each one of the finalists embodied this notion."

Middle Contender: WANG Wei Ping, 1st Place Winner

WANG Wei Ping's Dish

On the first day, the chefs used the same ingredients to create a "nimonowan." On the second day, they forged their own original dishes using five or more ingredients which they arranged on a Japanese "hangetsubon" tray.

When reacting to his victory, Wang Wei Ping said: "I thank the owner and other members of my restaurant. After returning to Shanghai, I would like to continue conveying the excellence of Japanese cuisine, which is both healthy and tasty."

Finalists

Hong Kong

First Place: WANG Wei Ping (China, SUN with AQUA JAPANESE DINING SUNTORY)

USA

Second Place: Yael PEET (USA, Fury's) *The restaurant will be open this summer.

Singapore

Third Place: Loh Man HONG (Singapore, FAT COW)

Paris

Wojciech POPOW (Poland, Beaverbrook)

Judges

– Head Judge: Mr. Yoshihiro MURATA

(Chairman of Japanese Culinary Academy, Owner and chef of Kikunoi, Japanese Cuisine Goodwill ambassador)

– Deputy Head Judge: Mr. Masahiro NAKATA

(Director of Taiwa Gakuen Education Inc. President of Kyoto Culinary Art College)
– Judge: Mr. Hideaki MATSUO

(Owner of Japanese Cuisine KASHIWAYA, Japanese Cuisine Goodwill ambassador)
– Special Judge: Yoshio KOJIMA

(Comedian)

Kyoto Aquarium to House 20 Types of Jellyfish With New 'Jellyfish Wonder' Area

Kyoto Aquarium is currently undergoing a large-scale renovation and is set to reopen on April 29, 2020.

When it reopens, visitors will be able to visit the new jellyfish area, called "Kurage Wonder" (Jellyfish Wonder), which will span 350㎡ in width and 40 meters in length. It will house the largest number of different species in western Japanーup to 20ーwith around 5,000 individual jellyfish to see, like the northern sea nettle and pacific sea nettle.

The area begins at 10 individual water tanks where you can see how moon jellyfish change and grow. It then moves onto the 6.5 meter circumference "GURURI" panorama tank which offers a 360° view of 1,500 moon jellyfish.

This tank is entered through an arch, which once you pass through leads you under the tank where your vision is filled with the sight of countless moon jellyfish.

The new "Kyoto Jellyfish Research Lab" has also been built where guests can observe the staff breeding and researching jellyfish on a day-to-day basis. Enjoy hearing how the jellyfish are cared for behind the scenes while chatting together with the staff. Various other activities you can participate in will be introduced in the future too.

Discover the wonderful world of jellyfish at the newly-renovated Kyoto Aquarium.

Information

Kyoto Aquarium

Address: 35-1 Kankijicho, Shimogyo Ward, Kyoto

Reopening: April 29, 2020

Access: 15-minutes on foot west from Kyoto Station's Central Exit / 7-minutes on foot from Umekōji-Kyōtonishi Station via the JR San'in Main Line

Official Website: https://www.kyoto-aquarium.com/en/

Tokyo Tokyo Official Souvenir Shop Opens in Haneda Airport

Tokyo Toyko, a website that provides information on things to do in Japan's capital, opened its own souvenir shop, called Tokyo Tokyo Official Souvenir Shop, in EDO KOJI on February 22, 2020, which is located on the fourth floor of Haneda Airport International Passenger Terminal.

As part of an effort to promote the appeals of Tokyo to the world, Tokyo Metropolis is carrying our PR work and branding with the catchphrase "Tokyo Tokyo Old meets New."

Happy Daruma / Mamehapi

Edo Kimekomi Waving Cat

The "Tokyo Omiyage Seisaku Project" aims to develop products in collaboration with Tokyo Metropolis and local businesses with the "Tokyo Tokyo" brand. To date, 50 products (excluding colour variations) have been produced, from traditional crafts to stationery, food, and moreーall embodying the spirit of Tokyo.

The shop design features illustrations of Asakusa and Shibuya, two a symbols of Tokyo that have been around since the Edo Period and are and hub of traditional and contemporary Japanese culture respectively. The shop is also planning to hold workshops, where you can learn to make your own daruma and origami.

If you're travelling to or from Haneda Airport, then be sure to pay a visit to Tokyo Tokyo Official Souvenir Shop where you can pick up souvenirs that combine traditional and contemporary culture.

Information

Tokyo Tokyo Official Souvenir Shop

Location: EDO KOJI – Haneda Airport International Passenger Terminal (Floor 4F)

Address: 2-6-5 Hanedakuko, Ota Ward, Tokyo

Opening Hours: 8:00-21:00 (Open all year round)

Raise Your Own Sky Lantern at New Greenpia Tsunan in Niigata

New Greenpia Tsunan, a resort facility in Tsunan, Niigata, is holding an exciting sky lantern event every day until March 31, 2020.

 

The sky lantern event is held every winter at New Greenpia Tsunan, and has returned again for 2020. It began in 2012 as a means of showing respect for and praying for the revival of disaster-stricken areas, such as the areas affected by the 2011 Tohoku earthquake, the Nagano and Niigata earthquake, and so on. Every year, couples and families come together to put their prayers and wishes into the lanterns before letting them go into the night sky. The countless lanterns raised at once soar up high and light up the black cloak of the night like burning stars.

For 2020, the event will also sell lantern t-shirts, handkerchiefs, hand towels, cookies, and other themed items.

 

If you're travelling in or around Niigata in Japan this year, then don't miss New Greenpia Tsunan's very special winter event.

Information

Sky Lantern Event

Running: Everyday until March 31, 2020 (Except select days where the site is closed or booked)

Location: New Greenpia Tsunan (12300 Akinari, Tsunan, Nakauonuma-gun, Niigata)

Time: Weekdays – From 18:00 / Saturdays & Days Before Public Holiday – From 18:00 & 20:00 / March Onward – From 18:30

Booking: Bookings available until 17:00 on the day at New Greenpia Tsunan

Price: ¥1,500 (1 lantern)

Official Website: https://new-greenpia.com/

*In the case of stormy weather, the event will not proceed on that day

Spring's Arrived Early in Chiba as the Strawberry Picking Season Begins

Chiba Prefecture is one of the leading places in Japan for growing strawberries. Thanks to its warm climate, the prefecture enjoys hearty a strawberry harvest, which it celebrates with strawberry-picking events and markets across the prefecture. The true fun in strawberry picking in Chiba is that you get to taste a variety of different types, all ripe, there and then, so you can compare flavours.

To further promote the wonderful world of its succulent strawberries, Chiba Prefecture has set up a special website, and is also hosting a photo campaign entitled "Chiba Strawberry Fair 2020." This is also the season to try an original type of strawberry grown in Chiba Prefecture called the "Chi-Ba Berry."

Check out Strawberry Fields Chiba's special website

The Strawberry Fields Chiba website has a wealth of information on strawberry varietiesーincluding the "Chi-Ba Berry"ーas well as places to pick strawberries in the prefecture, places selling strawberries, and more. If you're interested in finding out more about strawberries in Chiba, then check out their website below.

Strawberry Fields Chiba Official Website: https://chiba-ichigo.jp

Chiba Strawberry Fair 2020

People who post a photo on Instagram of their time in Chiba enjoying the strawberries with the hashtag #ちばいちごフェア2020 ("Chiba Strawberry Fair 2020") have the chance to win the above-pictured Chi-Ba Berry-kun plush toy. The campaign is running until February 29, 2020.

Strawberry picking season in Chiba runs until May, so if you're planning a trip there this year, make sure you don't leave without trying the prefecture's famous strawberries.

ART LAB KYOTO: The New Shop Opening at Kyoto City Kyocera Museum of Art

ART LAB KYOTO is the new museum shop set to open at Kyocera Museum of Art on March 21, 2020 in line with the revamp currently undergoing at the museum, with design work being co-created by Japanese architects Jun Aoki and Tezzo Nishizawa.

Kyoto is known as a hub of Japanese culture, managing to maintain traditions while constantly evolving. ART LAB KYOTO will embody everything about this idea when it opens after the museum's revamp. The spacious shop will not only sell merchandise related to the exhibitions, but books and goods related to art from Kyoto both traditional and contemporary, items in collaboration with external artists, original and exclusive sweets, and more. ART LAB KYOTO will also host events promoting the diversity of art and culture in Kyoto.

Information

ART LAB KYOTO

Address: Kyoto City Kyocera Museum of Art Floor B1F (124 Okazaki Enshojicho, Sakyo Ward, Kyoto)

Grand Opening: March 21, 2020

Closures: Open every day until April 30, 2020 except March 23. The schedule commencing May will be posted at a later date on the official website.
Opening  Hours: 10:00-19:00

Official Website (English): https://kyotocity-kyocera.museum/en/

5 Must-Visit Beautiful and Romantic Lantern Festivals in Japan | 2020 Edition

The season for Japan's enchanting and romantic lantern events has finally arrived, and the line-up this year is diverse, from events where lanterns are the main attraction to lantern-lined festivals and Japanese matsuri festivals.

Hankyu Travel International compiled a list of these events , and we've pulled out some of the best ones for you.

Hanamaki Hoshi Meguri no Yoru | Iwate Prefecture

This year marks the third run of "Hanamaki Hoshi Meguri no Yoru," an event held during winter for guests staying at Hanamaki Onsen. The event is comprised of many elements, including fireworks, folk entertainment, and more. People will also write wishes and messages or draw pictures on their lanterns before sending them up into the winter night sky. Afterwards, they can enjoy a dip in the hot springs at Hanamaki Onsen to warm themselves up and unwind from the day.

Running: January 26, 2020/February 22, 2020/February 11, 2020/February 16, 2020/February 24, 2020

Location: Namari Ski Center
Address: Nakadaira-36-1 Namari, Hanamaki, Iwate

▼Hanamaki Hoshi Meguri no Yoru Tour
https://www.hankyu-travel.com/kokunai/keyword/%E3%81%AF%E3%81%AA%E3%81%BE%E3%81%8D%E6%98%9F%E3%82%81%E3%81%90%E3%82%8A%E3%81%AE%E5%A4%9C/?p_baitai=9599

China Lantern Festival | Chiba Prefecture

Tokyo German Village is hosting its second China Lantern Festival, inspired by the typical traditional festivals held in China during spring. A selection of 30 lantern installations of varying sizes made by the world's biggest lantern maker Lantern Group have been set up in the 50,000 square meter area. Pieces include lanterns over 10 meters long and high, lanterns floating on the water, moving lanterns, and more.

Running: November 23, 2019 – April 5, 2020

Location: Tokyo German Village

Address: 419 Nagayoshi, Sodegaura, Chiba

▼Tokyo German Village Tour
https://www.hankyu-travel.com/kokunai/keyword/%E6%9D%B1%E4%BA%AC%E3%83%89%E3%82%A4%E3%83%84%E6%9D%91/?p_baitai=9599

Tsunan Yuki Matsuri | Niigata Prefecture

Since 2012, the people of Tsunan in Niigata have raised sky lanterns into the sky to pray for the revival from the disaster that the Tohoku earthquake brought in 2011. It is a two-day festival, with the first day of the event taking place at night, and the second being the main day of the festival. The festival is so popular that tickets never fail to sell out quickly every year. It brings with it a host of events, from the lanterns to the snowboard straight jumping tournament, the hanging of snow lanterns, snowmobile rides, and more.

Running: March 14, 2020 (There will also be a lantern event the night before on March 13, 2020)

Location: New Greenpia Tsunan

Address: 12300 Akinari, Tsunan, Nakauonuma-gun, Niigata

▼Niigata Tsunan Sky Lantern Festival Tour
https://www.hankyu-travel.com/chubu-hokuriku/niigata/lantern/?p_baitai=9599

Nagasaki Lantern Festival | Nagasaki Prefecture

This festival was originally held during the Chinese New year by the people of Nagasaki Chinatown, but in 1994 it was given the name "Nagasaki Lantern Festival." To date, it has been attended by over 1 million people. This year, around 15,000 lanterns of varying sizes are set to light the streets. Taking place across several areas, some standout pieces include the peach-coloured lanterns at Nagasaki Chinatown, the ceiling lanterns at Hamanomachi Arcade, the water lanterns at Nagashimagawa Park, and more. On weekends, there are also parades, traditional Chinese performance, and other exciting events. And if you head to Nagasaki Confucian Shrine (also known as Koshi-byo), you can offer a love lantern to pray for happiness in your relationship.

Running: January 24, 2020 – February 9, 2020
Locations: Nagasaki Chinatown/Central Park/Tojin Yashiki/and elsewhere
Address: Various places throughout the city of Nagasaki

▼Nagasaki Lantern Festival

Hankyu Travel International Tour: Hankyu Travel International

Nagasaki Tourism Page: https://travel.at-nagasaki.jp/en/what-to-see/62/

Ryukyu Lantern Festival 2019-2020 | Okinawa Prefecture

Murasaki Mura Ryukyu Kingdom Theme Park is known for having originally been used as the set for several historical drama series, and was subsequently turned into a theme park after filming was finished. The Ryukyu Lantern Festival welcomes a variety of different lanterns, including Chinese lanterns, paper lanterns, various Asian lanterns, and more, each of which bring a completely different atmosphere depending on the area you are in. This year sees the welcome return of the annual lantern contest where 45 individual lantern pieces are exhibited. There are also different street performances every day on the Night Lantern Stage, as well as projection mapping displays, the Night Lantern Cafe, and more.

Running: December 1, 2019 – March 31, 2020

Location: Murasaki Mura Ryukyu Kingdom Theme Park

Address: 1020-1 Takashiho, Yomitan, Nakagami-gun, Okinawa

Murasaki Mura Official Website: https://murasakimura.com/

Be part of one of Japan's many beautiful lantern festivals this year and witness some seriously breathtaking night scenes.

You Can Take Your Pets to These Hotels and Accommodations in Japan

Online travel booking website Rakuten Travel has released this year's list for the most popular hotels and accommodations you can stay at with pets in Japan. The list is based off travellers' reviews taken from the website. This list has been updated and published every year since 2014, making this its 6th run.

Placing number one on the list for the first time is Yutsura, a ryokan Japanese-style inn which opened in Shizuoka in April 2018 and can be rented by one person or group for one night. Up to six people in a single group can stay there along with up to 5 small dogs weighing 5kg or less. It's highly favoured amongst travellers who want to take their dogs on the road due to the extent the inn caters for pets. Guests can enjoy having the dogs in their rooms as well as feed their pets there, all without being a bother to other guests.

Nipponia Sawara Merchant Town Hotel in Chiba Prefecture came in second place. You can feel the history of this hotel accommodation which is renovated from a traditional storehouse and townhouse. It allows up to three pets in a room which collectively weigh 25kg. There are three types of rooms to choose from, including one with a dog park. It also offers various services, including a free night for one dog, snacks and amenities for dogs, and more.

In third place is Dog Pension R65 in Shizuoka Prefecture which allows not only big and small dogs, but cats and other pets too. It offers large footbaths for dogs to use, dog parks, and many other services that cater to pets. The hotel also offers cottage-type accommodation rooms separate from the main building too if you're looking to spend some peaceful time away with your beloved companion.

If you're looking to travel around Japan with your pet, be sure to check if a hotel allows animals. Check the link below for the full Top 10 list.