【Tokyo Stroll】Shopping & Sightseeing with Mozuku-kun the Dog: #2 Makuhari Shintoshin Pecos Pet Mall (Part 1)
Yuna Yabe is a dog lover whose eyes are set on becoming a seasoned pet owner. This series follows her journey as she takes her pet dog, Mozuku-kun, strolling around the city. For her second entry, Yuna headed to the Makuhari Shintoshin branch of "Pecos," located inside the AEON Pet Mall in Kaihin Makuhari, Chiba Prefecture. This is part one of two.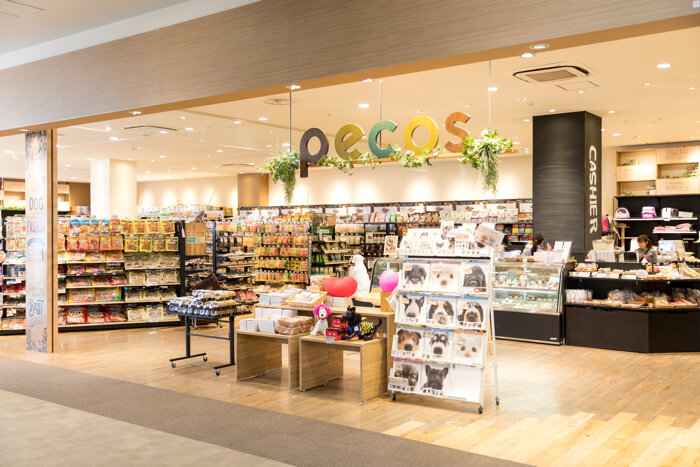 The closest stations to Pecos are Kaihin Makuhari Station and Shin-Narashino Station, both accessible via the JR Keiyo Line. There are also buses that go straight to the mall, making it super convenient if you come by train. There's also a car park right next to the mall if you decide to take the road, so it's easy to go there with a pet dog. Pecos in Makuhari Shintoshin is the biggest pet store in Japan, with the first floor spanning 820.6㎡ and the second 979.8㎡. They offer just about everything you could imagine from a pet shop in Japan, from food and clothes to an animal hospital and pet hotel.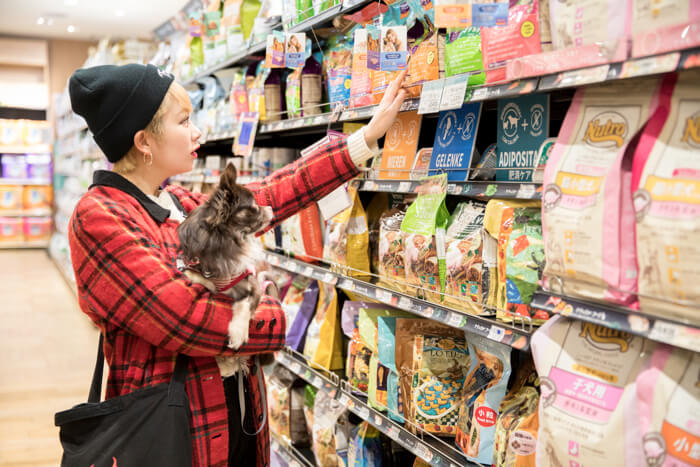 The food corner accounts for one entire corner of the shop's second floor. Usually, they stock over 40 different varieties of dog food, and you can always buy something from there catered to your dog's breed and/or age. You can of course also take your dog around the shop with you, so if you're lost on what to buy then you can leave it in their hands (or paws).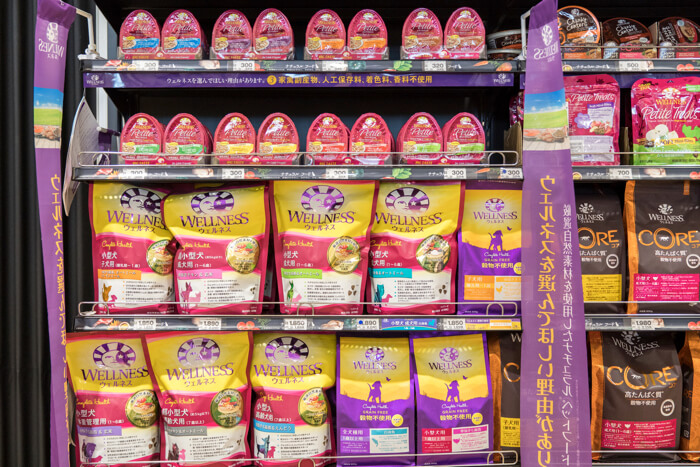 A particularly popular brand of dog food in the shop is "Wellness" series, pictured above. The food is made up of carefully selected natural ingredients, so one reason for its popularity is how owners can be at ease while letting their dog eat this food.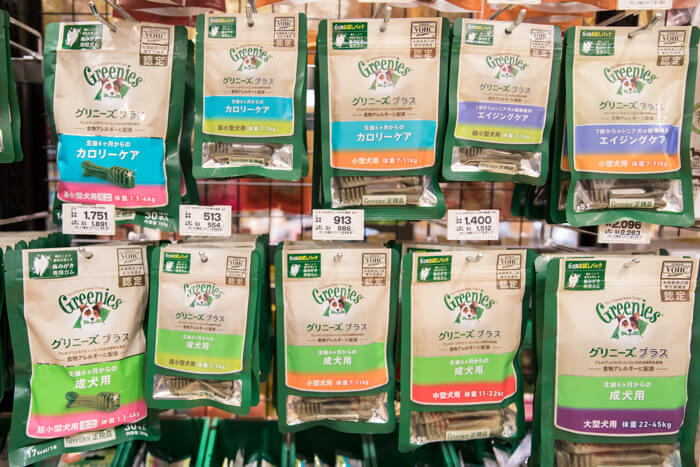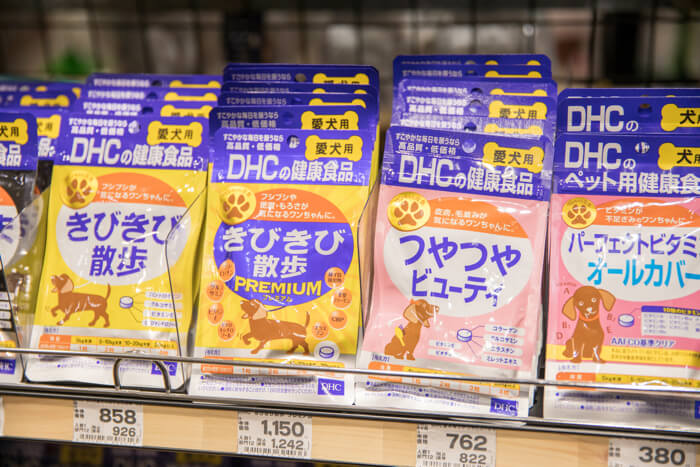 Besides dog food, the shelves are also lined with plenty of snacks and supplements! Most of the supplements are for mature dogs, but even so, Yuna was absorbed in checking out what they had, thinking: it's still a bit early for Mozuku, but I'm interested in thinking about the future.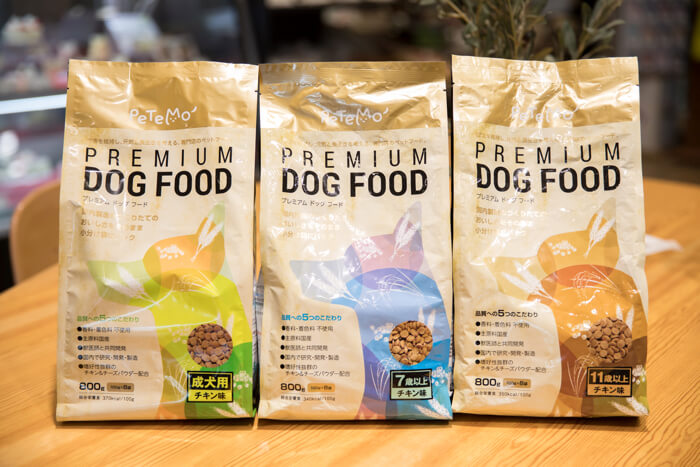 This original premium dog food can only be bought at AEON pet shops, including Pesco. It's made in Japan, so if you have a dog in Japan and are a dog lover who worries about your pet, you can absolutely trust this brand.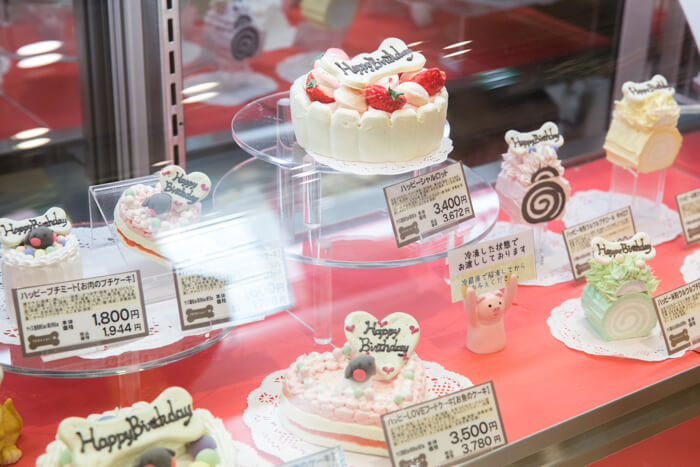 There's even cakes that you can buy for your pet if you're looking to gift yours something for their birthday or a commemoration. Mozuku wasn't about to leave the cake showcase that easily, almost as if he knew everything in there was delicious.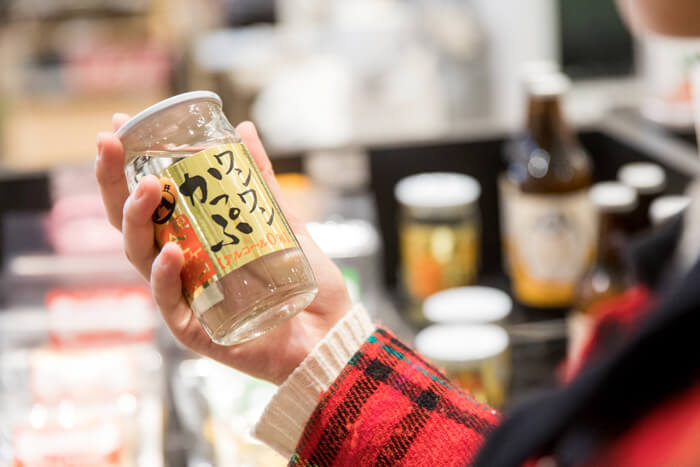 This one is perfect for pet owners who like a drink: alcohol for dogs. But don't worry, there's not actually any alcohol in there. So how about it? Having a nice evening drink together with your beloved pup?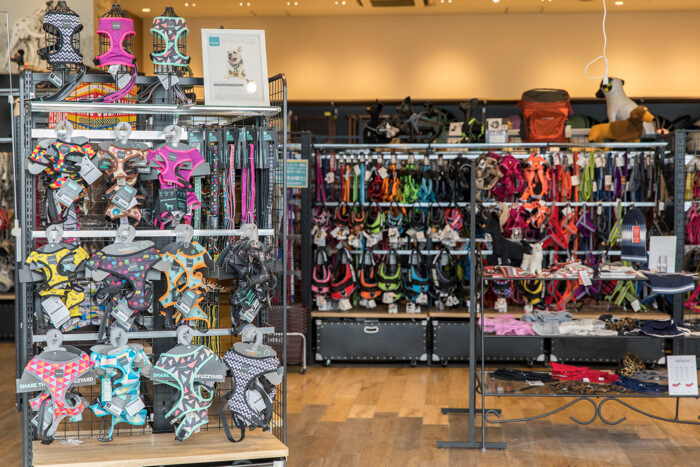 This corner is filled with leads, beds and clothes for your dog. They have a wide range of sizes and varieties, making this area popular with fashion-conscious owners.
One popular aspect of the store praised by owners who have gone to buy clothes at Pecos is how you can actually let your dog try the clothes on in-store. You must have had that experience where you tried buying something, but it ended up being too dog, right? Well, if you're allowed to let your dog try on something before buying it, you can easily pick an outfit that looks great and is comfortable on them.
Here's Mozuku in the middle of trying something on. His ears are hidden by the turtleneck… he looks most displeased!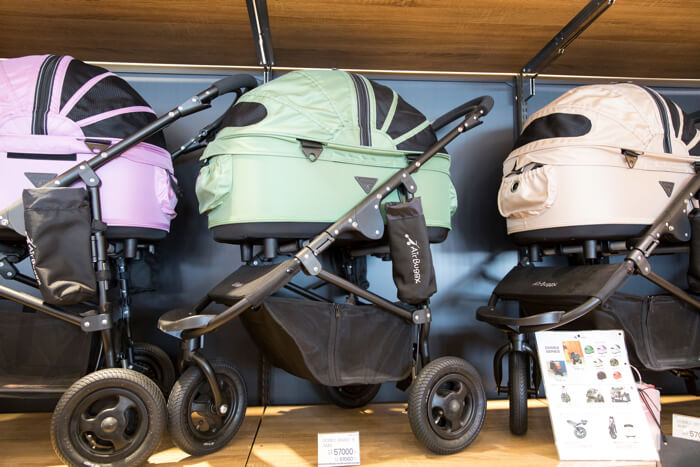 Pesco also sells convenient products for heading out with your dog, like dog seats for your car and prams. You can actually rent a test pram to check its usability, allowing you to consult with your pup on which best to choose.
In addition to products for your pet, the Makuhari Shintoshin branch of Pecos also has an animal hospital, trimming salon and pet hotel. It's filled with everything your pet could dream of! In part two of this article, Yuna will show the facilities of Pecos, like the animal hospital and pool, so don't miss out!
Continued in Part Two.
■Information
Pecos (Makuhari Shintonshin branch)
Address: 1-8 Toyosuna, Mihama-ku, Chiba-shi, Chiba Prefecture
Access: "Kaihin Makuhari Station" and "Shin-Narashino Station" accessible via the JR Keiyo Line
Opening Hours: 10:00-21:00 (*the animal hospital is open 24-hours a day)
Contact: 043-298-1122
URL:https://www.aeonpet.com/pecos/makuharishintoshin/index.html
Model:Yuna Yabe/Mozuku @yunaaay1030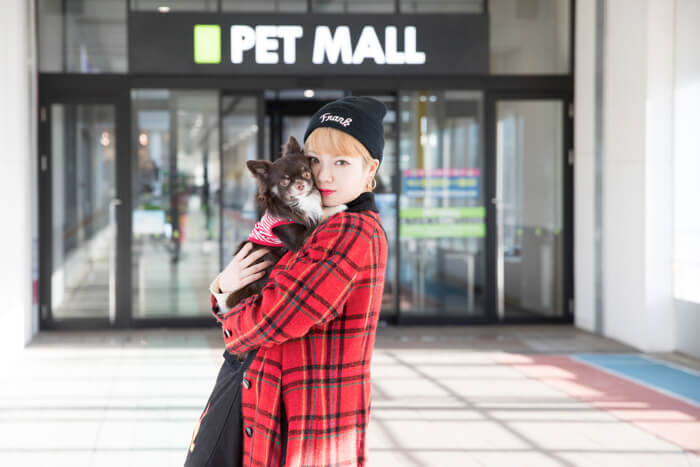 Yuna Yabe won the grand prix prize at the "Zipper×ASOBISYSTEM Model Auditions" at the age of 15. She is an expert not only in fashion but make-up and video editing too. She's an influential figure to the people in her generation. Recently, her work has expanded greatly, such as appearing in music videos. Her activity continues to grow and looks to be very promising indeed.
Writer:Ryoichi Komaba
Photograph:Kayo Sekiguchi
Translation:Joshua Kitosi-Isanga
RECOMMENDED ENTRIES
【Tokyo Stroll】Shopping & Sightseeing with Mozuku-kun the Dog: #2 Makuhari Shintoshin Pecos Pet Mall (Part 2)

Yuna Yabe is a dog lover whose eyes are set on becoming a seasoned pet owner with her beloved pet dog Mozuku. Continuing from where we left off in part one of this two-part article, Yuna will show us more of the Makuhari Shintoshin branch of Pecos, a huge pet store located in AEON Pet Mall!

In this second part, Yuna will introduce us to the 1st floor facilities of Pecos. The first thing is the 24-hour AEON Pet hospital. This animal hospital offers first aid to pets at any time of the day. They provide CT scans, X-rays, surgery and internal medic treatment, so if you feel something if off with your pup then contact them immediately. They also offer physical examinations for your pet dog. If you take them for an examination you can detect signs of illness early on, so a lot of people take their dogs for a yearly checkup. (Checkups are offered until February 28th this year)

So Yuna took Mozuku for an examination too! The results showed that he was a good weight and in very good health. He was even complimented on his nice fur. Keep being healthy, okay, Mozuku? ♪

This is the "Doctor Car" for transporting pets. The original purpose of the car is that it's an ambulance used for pet care during natural disasters. There's even equipment inside for emergency first-aid treatment. On normal days, it's used for doctor's visits and seeing injured pets.

The showpiece of Pecos in Makuhari Shintoshin is the pool facility. The aqua fitness service uses the water's buoyancy and pressure to allow your pet to exercise in a short period of time in an efficient and low load manner. It's highly recommended for rehabilitation after an operation and for tackling a lack of exercise! During the aqua fitness, a trainer will be there to look after your pet with the utmost care and attention, so you can feel at ease when handing them over.

This was Mozuku's first time in the pool. He had a worried look on his face while floating in the water, so the first thing was for him to get used to it with a shower and a bath.

Your pup will wear a life jacket until it's gotten accustomed to being in the water, so you can let them enjoy swimming without worry of them sinking. There's also lots of toys for your dog to play with – perfect for helping them relax!

Mozuku wouldn't settle at first in this new environment, but he got used to the water straight away and showed off his dog paddling skills. The water current in the pool is always flowing, so big dogs can enjoy swimming too.

This is a treadmill that uses water resistance. It uses the flowing power of water but isn't a burden on your dog's body at all. It's rehabilitation for walking.

After a dip in the pool, it's some for shampooing. The shampoo uses safe ingredients so it's fine if your pup licks it off.

This is the pet hotel, a super convenient facility for if you're on a trip or going for some shopping. The hotel charges per hour, so you can even leave your dog in the hotel's hands if you need to do a bit of quick shopping. There's even a beauty salon where your dog can get a trim or use one of the oxygen capsules! Mozuku refreshed himself in a capsule too after a swim in the pool.

Yuna bought Mozuku a roll cake from a shop on the second floor for being such a good boy the entire time! There was quite a lot for Mozuku to eat, so Yuna helped him out.

Pesco in Makuhari Shintoshin has it all when it comes to your dog. They even have a dog run in the facility, so you should go try it out when the weather's nice for a stroll and some shopping!

■Information

Pecos (Makuhari Shintonshin branch)

Address: 1-8 Toyosuna, Mihama-ku, Chiba-shi, Chiba Prefecture

Access: "Kaihin Makuhari Station" and "Shin-Narashino Station" accessible via the JR Keiyo Line

Opening Hours: 10:00-21:00 (*the animal hospital is open 24-hours a day)

Contact: 043-298-1122

Homepage: https://www.aeonpet.com/pecos/makuharishintoshin/index.html

Model:Yuna Yabe/Mozuku @yunaaay1030

Yuna Yabe won the grand prix prize at the "Zipper×ASOBISYSTEM Model Auditions" at the age of 15. She is an expert not only in fashion but make-up and video editing too. She's an influential figure to the people in her generation. Recently, her work has expanded greatly, such as appearing in music videos. Her activity continues to grow and looks to be very promising indeed.

Writer:Ryoichi Komaba

Photograph:Kayo Sekiguchi

Translation:Joshua Kitosi-Isanga

【Tokyo Stroll】Shopping & Sightseeing with Mozuku-kun the Dog: #1 Bondi Café Yoyogi Beach Park

Yuna Yabe is new to pet ownership. With her eyes set on becoming a better owner, Yuna is going all out with by starting up a brand new regular article series. For her first entry, Yuna is introducing a fun café she visited together with her puppy!

The café the two of them visited is called "Bondi Café Yoyogi Beach Park" and it's located in the Okushibu area. It's 324m from Yoyogi-koen Station via the Chiyoda Line and 5 minutes by foot from Yoyogi-Hachiman Station via the Odakyu Line. It's easy to get to from either station. What's better is that it's close to places like the Bunkamura museum, Tokkyu Hands and NHK meaning you can make a day out of your trip on a stroll with your dog.

First of all, let's learn a little bit about the protagonist of our story. Mozuku-kun is a 1-and-a-half-year-old male long coat chihuahua. His latest interests include chasing the robot Roomba vacuum cleaner. His charm points are his brown eyes and nose and sticking his tongue out. Please treat him well♪

The café has a service that includes a rug and water bowl for dogs. But it seems like Yuna's lap is where Mozuku-kun feels most at ease!

Behind the café is a promenade where you can take a leisurely walk without having to worry about incoming cars. It's generally a quiet area, making it a peaceful and pleasant stroll for even scaredy-dogs.

The roads in this area are paved beautifully so it's a perfect spot to snap a photo with your puppy for Instagram.

The café looks out onto Inokashira-Dori, so you can get a view of Yoyogi Park and the green ambience of the tree-lined streets. The lavish greenery is gorgeous, it'll make you forget you're even in Shibuya! Even Mozuku-kun was in pretty high spirits. I wonder if he noticed all the green too?

On the café's list of recommendations is their homemade tofu pancake with coconut butter for ¥900 (tax included). You can get a heap full of fruits like in the photo above to top your pancake for an extra ¥500. If you're a fruit lover then definitely try ordering this.

There are 5 sauces to choose from to top your pancake, including the classic maple syrup and even chocolate. Yuna went with caramel sauce, her absolute favourite.

Mozuku was well behaved at first, but after seeing Yuna enjoying her food so much he stuck his tongue out in complete captivation and begged. But the pancake is a little too rich in flavour for Mozuku-kun, so he was given his favourite dog food later on.

This is a caramel macchiato (¥700 tax incl.) made using speciality coffee by the barista who creates the drinks one by one to perfection. The latte art is super cute, so be sure to take a selfie with your puppy and upload it on your social media. You'll definitely get a lot of likes.

If you're looking to go out on a stroll somewhere a little different from usual, then we recommend Bondi Café Yoyogi Beach Park. It's easily accessible from Shibuya and Harajuku, plus they have plenty of welcoming service for pets! The café is also close to Yoyogi Park, so it might be nice to take a walk there too. Yuna was happy with the terrace seats as they were spacious meaning you can use them without worry of other mischievous dogs. That's all for today – look forward to next time!

■Information

Bondi Café Yoyogi Beach Park

Address: Barbizon 55 1F, 1-15-2 Tomigaya, Shibuya, Tokyo

Access: 324m from "Yoyogi-koen Station" via the Chiyoda Line / 5-minutes by foot from "Yoyogi-Hachiman Station" via the Odakyu Line

Opening Hours: 9am-2am (last orders at 1am)

Telephone: 03-5790-9888

Homepage: http://bondicafe.net/bondi-cafe-yoyogi-beach-park/

Model:Yuna Yabe/Mozuku @yunaaay1030

Yuna Yabe is skilled not just in the area of fashion but also make-up, as well as editing her own videos. She is an influential figure to the people of her generation. She has recently appeared in music videos and her sphere of activity is growing and expected to spread.

Writer:Ryoichi Komaba

Photograph:Kayo Sekiguchi

Translation: Joshua Kitosi-Isanga

【Tokyo Stroll】Asakusa Sightseeing: Eating and Walking Down Nakamise Shopping Street & Rickshaw Riding at Kaminarimon

Today's Tokyo stroll destination is Asakusa. Asakusa is a popular tourist spot for people coming to Japan and is always packed.

However, today's weather forecast predicted rain! So Yuna and Ellie's first stop on their Tokyo stroll was to buy umbrellas from Shinagawa.

Buying an umbrella at AEON in Shinagawa Seaside

Shinagawa Station is linked to the shinkansen and numerous airports, so you will find many people from inside and outside Japan waiting there. A convenient place to visit when in Shinagawa if you want something is the Shingawa Seaside branch of AEON.

The shopping complex can be reached in 10 minutes by bus or taxi. If you use Shinagawa Seaside Station it's just a 5 minute walk.

When looking for somewhere that sells umbrellas to make being in the rain a bit more fun, Yuna and Ellie discovered "fururi," a place that sells vinyl umbrellas with colourful designs that you can change – simply screw off the top of the umbrella frame, remove the vinyl sheet and replace it with whichever one you like.

There are 48 designs to enjoy with a 60cm umbrella.

Yuna chose a cute design that has blue and yellow water drops. Ellie went for a pink design. A colourful umbrella means turning that rain induced frown upside down. Asakusa is the place to go if you want something fight off the rain!

Eat and walk down Nakamise Shopping Street♪

As you come to the Kaminarimon Gate you must first press your hands together and bow before heading through to Nakamise Shopping Street. The street is lined with lots of shops selling all kinds of goodies from toys to food to souvenirs.

The first item Yuna and Ellie came across were little randoresu keyrings. This is most definitely the kind of souvenir you can only get in Japan. Ever since popular Hollywood actresses put out photos of themselves donning these backpacks, they have become popular overseas for their colourfulness and durability. There are even people who wear them as a fashion item.

The next treasure they found were the 'daigaku imo'! Daigaku imo are candied sweet potatoes. The outside is crunchy and the outside is soft. They are deliciously sweet. You absolutely must try them if you come across them in Japan.

Approaching Sensō-ji

When you come out of Nakamise Shopping Street you will find yourself at Sensō-ji, Asakusa's ancient Buddhist temple.

The first step to take when going to shrines and temples in Japan is washing your hands, which is called "temizuya." Hold the ladle with your right hand and wash your left hand and vice versa. Take the ladle with your right hand and scoop some water. Pour the water into your left hand and rinse your mouth with it. Make sure to never bring the ladle to your mouth. Spit the water next to the fountain, never directly back into it. (Bonus: Check out our step-by-step guide to praying etiquette and shrines and temples in Japan.)

Subsequently, approach the main temple building. After praying, toss in a monetary offering. Then put your hands together and bow once. Since there is no shrine here you do not need to clap. Finally, perform a light bow to complete the prayer.

I wonder what those two were praying for. They look unusually serious.

There are lots of great places to take photos around Sensō-ji so be sure to have a good look around.

Tour Asakusa on a rickshaw

After their temple walk, Yuna and Ellie boarded a rickshaw to scope the Asakusa townscape. The rickshaws have a tarpaulin rain cover and lap blanket in case of rain so you can still have fun even when the weather is bad.

We recommend taking a photo at Dempoin Street when riding your rickshaw as pictured above! It's a special kind of place that you can only find in Asakusa so be sure to take a memorable picture.

Did you enjoy Yuna and Ellie's sightseeing trip to Asakusa? There's lots of other amazing places to find in Asakusa too! We'll be sure to post about them here on MOSHI MOSHI NIPPON so stay tuned.

Models: Yuna Yabe, Ellie

Photo: Kayo Sekiguchi

Writer: Sayuri Mizuno (ASOBISYSTEM)

Translator: Joshua Kitosi-Isanga

Introducing: Randoseru

We'd like to introduce to you the randoseru bags used in today's article which both Yuna and Ellie modelled for in a Narita tourism article. As mentioned above, the Japanese randoseru, firm backpacks made from leather or leather-like material, are recognised as a fashion item overseas. The randoseru used in today's article were are the 24 colour randoseru and 3STYLE randoseru from AEON.

Yuna: 24 Colour Randoseru (Burgundy) – ¥35,000 (tax excl.)

Ellie: 3STYLE Randoseru (Caramel) – ¥48,000 (tax excl.)

The 3STYLE randoseru can be used as a shoulder bag or handbag. If you're interested in either of their randoseru, then be sure to pop into your nearest AEON store.

AEON.com: https://www.welcome-aeon.com/

【Tokyo Stroll】Kill some time at tourist spots around Narita Airport during your flight layover

Many people find themselves with a lot of free time when at Narita Airport, whether in transit or going back home, and must find things to fill the time with. In this edition of Tokyo Stroll, we take a look at some of the best tourist spots around Narita Airport to fill your time with if you find yourself in this situation.

From visiting temples to buying souvenirs, the surroundings of Narita offer a range of exciting things to make those long hours fly by! Let's take a stroll together with Yuna Yabe and Eri to see some of the wonderful sights.

Visit "Naritasan Shinshoji Temple" just 10-minutes from the airport by train

If you have a spare 2 or so hours to kill then Naritasan Shinshoji Temple is a great location to stop by. Simply board the Limited Express train from Narita Airport via the Keisei Main Line and get off at Keisei Narita Station. The journey is just 10 minutes. What greets you as you approach the shrine is a 15 meter high gate constructed from keyaki wood. Many people enter through this gate to go and worship at the main building.

As Yuna and Eri walked toward the main building through the Niomon Gate they came to the Nioike Pond where turtle-shaped rocks were poking out of the water. There were lots of turtles sunbathing on top of the rocks. Legend says that if you throw a coin onto one of the rocks and a turtle goes onto the same rock your wish will be granted. You can see lots of coins on the rocks.

Once you pass the pond and climb the stairs you will arrive at Naritasan Shinshoji Temple's main building.

The Goma Ceremony has been practiced at the temple every single day since its founding. People's prayers are offered to Fudomyoo in front of a fire to fulfill people's worries and wishes. After praying, Yuna and Eri received a temple seal for their goshuincho temple seal notebook.

They also got their hands on an omikuji each. They opened it up, and… both of them received "Great Blessing," the best fortune you can receive from an omikuji! The omikuji have English written on the back too, so be sure to flip yours over if you can't read Japanese.

Naritasan Shinshoji Temple also has a number of designated important cultural properties, so there's plenty of amazing architecture to see if you visit. If you've got some spare time while in transit, then how about taking some time to learn some Japanese history?

■Information

Naritasan Shinshoji Temple

Address: 1 Narita, Narita, Chiba

Access: 10-minutes' walk from Keisei Narita Station via the Keisei Main Line

Website: http://www.naritasan.or.jp/

Get souvenirs at the AEON Mall only available in Japan!

While you can get your hands on souvenirs at the airport, it wouldn't be wrong to assume that most people want something sold only in Japan such as snacks or other little trinkets. The next spot we're taking a look at is the Narita branch of the AEON Mall. You can get a direct bus there from Narita Airport. Buses also leave from Keisei Narita Station, the closest station to Naritasan Shinshoji Temple.

The AEON Mall has it all – clothes shops, entertainment facilities, sundries, food and more. It's perfect for shopping with friends or having fun together with your family at the entertainment services. It's equipped with just about anything for anyone to enjoy.

We recommend doing your souvenir shopping at AEON Mall. And what better to spend your money on that Japanese snacks!

Yuna's Recommended Snack

The most popular snack bought by travelers is the baumkuchen cake. It's packed with just the right amount of sweetness. You can get a full, uncut cake in its distinct round shape, or you can get individual cut pieces in bags.

Eri's Recommended Snack:

One of the big snacks to buy from Japan is matcha flavoured Kit Kat. You can get this and many other flavours of Kit Kat at the AEON Mall. There are even limited edition seasonal flavours that are sold with the changing seasons, so make sure to be on the look out.

Besides snacks, cosmetics are another popular item. The AEON Mall is lined with a string of different brands who also offer testers of their products. There are plenty of affordable items to find in the line-up perfect as a gift to a friend. The best way to find something you like is to just get in there.

People from all over the world visit the AEON Mall in Narita so there are duty free counters. It's possible to get tax exemption from items purchased in the mall. There's a counter near the 1st floor beauty products corner so make sure to head there once you've bought something.

After a long day of sightseeing and shopping, we're back at Narita Airport. Did you enjoy seeing some of the tourist spots around the airport?

Narita Airport also offers the Transit & Stay Program for people who have long layovers, so be sure to check it out and make the most of your time there.

Models:Yuna Yabe / Eri

Photos:Kayo Sekiguchi

Writer:Sayuri Mizuno (ASOBISYSTEM)

Translator:Joshua Kitosi-Isanga
RELATED ENTRIES
Tokyo Disney Resort Reveals Its Spooky Halloween Programme and Character Costumes

Get ready for some spooky fun as Tokyo Disney Resort® transforms for the 52-day-long horrifically exciting Disney Halloween from September 10 to October 31. Head to DisneySea to be captivated by the new harbor show Festival of Mystique, or get spooked out of your skin at the Spooky "Boo!" Parade at Disneyland. Today, we will be revealing the spooky looks of both parks.

Tokyo DisneySea Festival of Mystique Costumes

Working with the main theme of a medieval European halloween, inspiration has been taken from the living creatures and waves at the port town Porto Paradiso. 

Mickey Mouse's costume inspiration comes from the the bones and scaly body of a sea creature. He will also be seen wearing a broach decorated with beautiful jewels. 

Minnie Mouse's costume resembles that of a medieval princess. You will see her in a fancy hat that bears beautiful pearls. Her costume is covered in scales on the chest and on the back which really suits her.

Tokyo Disneyland's Spooky Boo! Parade Costumes

Disney friends have joined forces with a group of spooky spirits. You just can't miss out on this rare chance to see your favourite Disney characters disguised as ghosts and skeletons. The strange and unusual atmosphere is sure to send a chilling shiver down your spine. 

Mickey and Minnie will be completely refreshing their colourful look. Mickey's necktie and Minnie's skirt are very mysterious and particularly intriguing.  Please come check them out!

Enjoy the beautiful costumes and the fun range of events this Halloween at Tokyo Disney Resort.

©️Disney

A Date With Yutaro: Soaking Up the Japanese Summer Sun & Visiting the Art Aquarium | Tokyo Stroll

It's been a while since our last date with Yutaro. He's been very busy with film shoots. He had some spare time today so we paid a visit to Nihonbashi for our next date. "ECO EDO Nihonbashi: Enjoy Cool Edo With All Five Senses" is an event held every year in the Nihonbashi area which takes the Edo period cultural idea of "coolness"―an in, to enjoy being cool during the summer-and puts a modern spin on it. There are many exciting things to look forward to, including the art aquarium which proves massively popular every year.

We gave ourselves more time to arrive at the meeting place to be in the safe side, but it seems Yutaro-kun was already there waiting for us!

Nihonbashi Information Center | IPPIN CAFÉ "Sparkling Herb Tea" – ¥518 (Tax Included)

"Here, you must be boiling." Yutaro-kun kindly offers a cup of IPPIN CAFE's limited-edition sparkling herb tea. It's a delicious mix of fizzy soda and lemon, a perfect refreshment for the summer. Since he ordered takeout the drink came with a goldfish straw. Goldfish are a staple sight during Japanese summer festivals so it's very fitting for the occasion! 

With our drinks in hand, it's time to head to Nihonbashi for our Edo summer date!

Wind-Chime Forest Path

Lining the path between Fukutoku Shrine and Fukutoku Garden is the Wind-Chime Forest Path where around 200 Edo-style wind chimes dangled. This year, during the evenings, the path is illuminated with beautiful lighting. 

When the breeze rolls past the wind chimes ring one by one-a cool and refreshing sound.

"I hear each one of these Edo wind chimes are individually handmade by craftsmen."

When you hear the sound of the wind chimes it makes you feel cool like a gentle breeze of the wind.

After strolling along the Wind-Chime Forest Path we make our way towards this year's ECO EDO Art Aquarium event.

The moment we step instead Yutaro is already dazzled by all the goldfish: "Wow! I knew about this place from what I'd seen online, but this my first time here! This art aquarium really is something!"

The full title of the event is "ECO EDO Nihonbashi ART AQUARIUM 2019 ~Edo, Coolness of Kingyo~ & Night Aquarium."  Goldfish were a huge part of the common culture in Nihonbashi during the Edo period. This event recreates that and brings that "coolness" aspect while combining it with contemporary art by having people observe the fish in lots of different artistic environments.

Super Oiran

"This is the biggest fish tank, apparently it has 3,000 fish swimming inside!"

"Seeing the light reflect on the water from the illuminations lets you see the fish in a different light, doesn't it?"

Looks like Yutaro-kun is having a lot of fun taking photos.

He's equally interested in just about every fish tank!

These other fish tanks have a different aesthetic to them. Their Japanese-style designs make for great photos.

Kaleidorium 3D

"This one's beautiful, it's like a kaleidoscope."

It really does look like one. When you take a peek instead you can glimpse all kinds of colourful fish gently swimming around.

Ceiling Kingyo

"There're goldfish swimming on the ceiling too. So cool! This aquarium is incredible. It brings together the great culture of Edo and contemporary art."

The Art Aquarium bustles every single year with visitors, but this year will mark its last run. It's being held at Nihonbashi Mitsui Hall, so if you have the chance to go then please do.

We of course checked out some local Nihonbashi treats too! We stopped by morozoff for some cheesecake after the aquarium.

morozoff Kamadashi Cheesecake (Goldfish) – ¥270 Each (Tax Included)

These cute cheesecakes with their goldfish designs are available for a limited time only. They're filled with sweet red bean paste. They perfect with iced tea.

"Got some! Let's eat them while we head back."

Goldfish Lantern Walkway

Our first date in Nihonbashi was so much fun. While on the date Yutaro-kun spoke about the new live-action film he's in, Kaguya-sama: Love Is War.

"It's a romance film with mind games to try and make the other person confess their love. I play the character Tsubasa. His number one highlight scene is the kabedon scene. That was my first day shooting, so I was super nervous, but I got along well with the other actors, and the atmosphere on set was harmonious, so I was able to relax for the shoots. Tsubasa is a genuine guy who will believe things that have been said to him in earnest. You've definitely gotta check out all his scenes throughout the film!"

"A lot of the cast are the same age as me, so we were all energetic together in the waiting room. There's a scene at the end where all the cast get together. It took 3 days to shoot so we ended up getting along really well."

"This film has made me realise that love comes in many shapes, and that mind games happen in a variety of ways between guys and girls. There's cute scenes that express that small bit of pride that teenagers have, the embarassment they feel, when they get butterflies, scenes that will warm your heart. The film has various elements to it so I thoroughly enjoyed watching it myself. I hope that couples in love in their teens and twenties watch it, and I also hope that married couples watch it and crack up laughing too."

"In the film it's summer break, and they go and see fireworks and stuff. It's definitely one to watch durnig the summer. You're gonna come watch it too, right? Shall we go?"

An offer we cannot refuse! We'll definitely go and see it with you, Yutaro-kun! 

Model: Yutaro

Writer: Yuki Yokoo

Photographer: Kayo Sekiguchi

Information

ECO EDO Nihonbashi 2019 ~Enjoy Cool Edo With All Five Senses~

Running: July 5, 2019 – September 23, 2019

Location: Nihonbashi Area

TEL: 03-3242-0010 (Nihonbashi Information Center)

Event Page: https://www.nihonbashi-tokyo.jp/en/ecoedo2019/

ECO EDO Nihonbashi ART AQUARIUM 2019 ~Edo, Coolness of Kingyo~ & Night Aquarium

Running: July 5, 2019 – September 23, 2019

Location: Nihonbashi Mitsui Hall Floor 5F (Entrance at 4F),  COREDO Muromachi 1, 2-2-1 Nihonbashimuromachi, Chuo Ward, Tokyo

Opening Hours: Art Aquarium 11:00-19:00 / Night Aquarium From 19:00

[Sun-Fri] 11:00-22:00 (Last Entries 22:00) [Sat & days prior to public hoiday] 11:00-23:30 (Last Entries 23:00)

Access: Directly connected to Exit A6 of Mitsukoshimae Station, accessible on the Tokyo Metro Ginza Line and Hanzomon Line / Directly connected to Shin-Nihombashi Station / 8-minutes on foot from East Exit of Kanda Station JR 8-minutes on foot from Nihonbashi Exit of Tokyo Station

TEL: 03-3270-2590

Event Page: https://www.nihonbashi-tokyo.jp/en/ecoedo2019/contents/005.html

Kaguya-sama: Love Is War Film

Release Date: September 6, 2019

Adapted from the manga of the same name by Aka Akasaka (Shueisha/Weekly Young Jump)

Cast: Sho Hirano (King & Prince), Kanna Hashimoto, Hayato Sano, Natsumi Ikema, Nana Asakawa, Mayu Hotta, YUTARO, Takashima Masahiro, Jiro Sato

Official Website: https://kaguyasama-movie.com/

TALENT PROFILE

Yutaro

Yutaro was born in Hiroshima on June 3rd 1998. His modeling career has earned him lots of attention as a fashion icon of the new generation. The famous model also works as a "charisma" shop assistant. Yutaro has gained his reputation as a "mysterious and handsome guy" from his appearance on Japanese variety shows. His debut was made on the show "Gyoretsu no Dekiru Horitsu Sodanjo" and has since then appeared on numerous different TV shows. He challenged himself to appear on stage for the very first time in March this year and is gaining popularity by the day for his diverse work.

Tokyo Stroll: The Café That You Want to Visit to See Someone #11 – 'Hatoya' in Asakusa

In this edition of The Café That You Want to Visit to See Someone, I visited Hatoya which is located in Asakusa Shin-Nakamise Arcade.

The streets of Tokyo's historical district of Asakusa are packed to end with cafés. You can be spoiled for choice, but Hatoya stood out to me in particular as it's an especially old café. Business there began back in 1927 but the actual building was built back in the Taisho period, meaning its history spans more than 90 years ago!

The outside appearance of the shop is smart and chic so it's very easy to spot. I couldn't tell by looking from the outside, but the inside is full of old decorations and odds and ends which make you feel the history of the café.

One reason why I wanted to visit this place so much is because I was drawn to their logo. It's really retro-kawaii so I just couldn't resist!

You should take some photos too if you visit.

It was time to head inside. It's really comfy and cozy in there; the atmosphere was nice and relaxed.

Framed on the wall is a map of the Asakusa area during the Taisho era. Hatoya became famous back then because people could buy coffee for a mere 5 sen (a single sen is one-hundredth of a yen).

When business first began at Hatoya, because the café was opposite the stage door of a theatre, all of the famous actors and actresses would pop in. Some include famous Japanese comedian Roppa Furukawa and film actor Kiyoshi Atsumi who played Tora-san in the film series Otoko wa Tsurai yo.

I ordered the café's popular hotcakes which cost ¥600. They have been making these same hotcakes since before the war.

They were nice and fluffy and had a deliciously gorgeous brown colour. The flavour was out of this world when the butter melted from the heat of the hotcakes and mixed together with the syrup.

The portion might look like a lot but they are fluffy and have a light flavour so can be finished with no problem.

And is the café's signature milkshake (¥500).

It's so refreshing that you can knock it back all in one go. It has a simple flavour but it tasted so good!

I also ordered the ¥600 cream soda, my favourite beverage.

I've been to many cafés, and have covered many in this series, but this is the first I have dined at with such a deep history. I found myself enthralled by the stories of the owner who has continued to treasure the café and maintained it all the same since it opened. I feel like I have learned about a world I never knew about. The next time I go to Hatoya with a friend I'll be sure to let them in on its history. I encourage you to visit too!

Writer/Model: Ema Tanioku
Photographer: Haruka Yamamoto
Design: Yuko Abe (ASOBISYSTEM)

TALENT PROFILE

Ema Tanioku

"Emaeri" is the nickname for models Ema and Eri Tanioku, who are Aomoji fashion model twins. Ema and Eri Tanioku specialise in twin fashion coordination. Over the years their fanbase has increased due to their cute looks. Ema Tanioku spreads Harajuku culture within Japan as well as overseas and works as a Harajuku Tourism Ambassador. Starting off as a model, Ema has broadened her talent range from fashion magazines to TV, and from playing the lead role in dramas to movies.

Haneda Airport Releases First Bubble Tea Which Passengers Can Enjoy as They Fly

XFLAG STORE + HANEDA is a small branch of XFLAG STORE and is located in Terminal 1 of Haneda Airport. On August 13th, they released three energising bubble tea flavours served in a bottle that you can take on board with you when travelling along domestic air routes. The three bubble tea flavours are; MILK TEA, HOJICHA (a type of green tea) and MATCHA. 

These bubble tea flavours are limited to XFLAG STORE + HANEDA and were created with the intention of providing a splash of energizing fun to tiresome travels. 

As long as you screw the lid on properly, you can store your delicious drink in your bag and even carry it onto your flight so you can enjoy it whilst soaring through the clouds. This is the first time a shop at Haneda airport has ever sold a bubble tea drink with the intention of flight passengers taking it on board with them.

*Drinks and liquids are usually permitted on domestic flights in Japan. Please check the specific rules of your flight by referring to the official website of your airline. 

To commemorate the release of the new bubble teas, XFLAG STORE + HANEDA has launched an Instagram campaign with the chance to win an Amazon gift card worth ¥10,000 (approx. 80GBP/95USD). 

To take part in the Instagram campaign for the chance to win a ¥10,000 Amazon gift card, be sure to take a photo with your XFLAG STORE + HANEDA bubble tea drink and then post the picture on Instagram with the following three hashtags:

#旅タピ #タピオカ #空の上で飲めるタピオカドリンク

Four winners will be selected.

Get your summer holidays off to a soaring start with a beautiful bottle of bubble tea. 

Information

MILK, HOJICHA, MATCHA Bubble Teas

Price: ¥650 (before tax)

Release Date: August 13, 2019 

Available at: XFLAG STORE + HANEDA 

Address: Haneda Airport Terminal 1 South Wing, floor 3 (3-3-2 Haneda Airport, Ota Ward, Tokyo)

*Bubble teas sold may differ in appearance to the images in this article. 

* The MILK Bubble Tea (cup) is also available at XFLAG STORE SHINSAIBASHI. Both the HOJICHA and MATCHA Bubble Tea flavours are limited to XFLAG STORE + HANEDA.

XFLAG STORE Portal Website: https://xfl.ag/soratapi

4 Must-Visit Fireworks Festivals in Kyoto This Summer

Kyoto―also known as the "old capital" and said to be the birthplace of Japanese culture. In its 1,200 year history, this ancient city has given rise to much of what can be considered quintessential Japanese culture. Fireworks are a monumental feat of summer in Japan with countless festivals up and down the country dedicated to them, and Kyoto is no exception.

If you're in Kyoto this summer then you mustn't miss these 4 fireworks festivals.

Kameoka Peace Festival Hozugawa River Fireworks Festival – A Magnificent Arsenal of 8,000 Beauties

This long-running event is held every year to pray for world peace. Its spectacular display features a lineup of fireworks specially selected by the Japan Fireworks Artist Association which aims to evolve the tradition of firework culture. Expect to see the night sky illuminated with a rainbow of colours from the festival's launch of 8,000 fireworks, including the Starmine which shoots a cloud of bright stars into the overhead abyss, as well as some original fireworks crafted for the festival such as the "Kamemaru Hanabi."

▼Kameoka Heiwasai Hozugawa Fireworks Festival (Kameoka Peace Festival Hozugawa River Fireworks Festival)

Date: August 11, 2019

Time: From 19:30
Location: Hozubashi Bridge
Official Website: http://kameoka-hanabi.jp/

Kyoto Nantan City Fireworks Festival – The Spectacular Starmine

Held by the riverbed of the Katsura River, the fireworks festival in Nantan makes use of the opposite shore from the viewing point which makes the fireworks look like they are raining down from the sky like a waterfall. The finale of this festival welcomes the behemoth of all Starmine fireworks which rips across the night sky in a blazing spread. The festival is also held as part of the Bon Festival and so lanterns are let loose down the Ōi River, creating a sight of subtle grace and beauty.

▼Kyoto Nantan City Fireworks Festival

Date: August 14, 2019

Time: From 19:30

Location: Katsura River
Official Website: http://www.yagi-hanabi.com/

Miyazu Toronagashi Fireworks Festival – Floating Lanterns & Fireworks For 400 Years

Held in the city of Miyazu, this festival combines fireworks with floating lanterns and shoryobune―boats adorned with tanzaku paper slips that are sent out to light the way for the deceased as part of the Bon Festival.  Floating lanterns on the water (known as toronagashi in Japanese) in Miyazu began 400 years ago. This year, it was counted as one of Japan's three biggest toronagashi events.

Together with the boat, around 10,000 lanterns are sent into Miyazu Bay, creating a beautiful and majestic atmosphere. Close to 3,000 fireworks are set to illuminate the sky above, leading to an indescribable beauty as the fireworks and lights give off their own light.

▼Miyazu Toronagashi Fireworks Festival

Date: August 14, 2019

Time: From 19:30

Location: Shimasaki Park
Official Website: https://www.kyo.or.jp/miyazu/hanabi/

Ine Fireworks – Fireworks Galore Envelop Ine Bay

Around 1,200 fireworks climb up and over Ine Bay, lighting the calm water surface and the funaya boat houses of Ine with their brilliance. The boat houses themselves are also strung and lined with hanging lanterns.

▼Ine Fireworks

Date: August 24, 2019

Time: 20:15

Location: Ine, Kyoto
Official Website: http://www.ine-kankou.jp/inehanabi/

Did you enjoy our pick? It isn't summer in Japan without fireworks. If you're travelling to Kyoto to catch some sun this year, finish the day off with one of its many fireworks festival―from traditional Kyoto-esque events to large-scale ones with 8,000 fireworks ready to be deployed.

Celebrate Hello Kitty's 45th Anniversary at the Hello Kitty Collection Exhibition in Chiba

Lovers of Sanrio and all things Hello Kitty won't want to miss the 45th Anniversary Hello Kitty Collection Exhibition currently being held at Sogo Chiba until August 15.

The event look backs at the kawaii history of Hello Kitty with a huge range of old and new merchandise. There's also photo spots for taking cute photos, a wall of Hello Kitty plush toys, touch interactive digital videos, and much more.

If you're looking to stock up on your collection of Hello Kitty merch then you have around 850 items to choose from including goodies exclusive to the event, pre-sales of items to be released at a later date, and more. There's even a pottery workshop as well as a chance to take your photo with the real Hello Kitty.

Kawaii Chronicles: Hello Kitty Design Museum

Get ready to witness a wide selection of Hello Kitty goods from across generations, including rare and vintage items no longer manufactured. Witness the history of Hello Kitty's kawaii world and how things changed through the years to fit each generation.

Digital Content & Plush Toy Wall

Get interactive with Hello Kitty with the wall mapping – touch the wall and see the visuals change. There's also another wall completely full of Hello Kitty toys which makes for a really cute photo opportunity.

Photo With Hello Kitty

Hello Kitty will be present on August 12 in a beautiful kimono ready to have her picture taken with you! Tickets will be handed out 30 minutes before each session. Spaces are limited so make sure you're on time!

Date: August 12, 2019 at 11:00/13:00/15:00

Location: Floor 6F Event Hall

No. of People: 20 per shoot

Workshop

Paint your very own ceramic Hello Kitty ornament. You colouring it means that yours will be unique and the only one in the world♡

Running: August 7, 2019 – August 15, 2019

Time: 11:00-16:00

No. of People: 30 per day

Price: ¥1,296

Hello Kitty Kawaii Market
Get your hands one one of 850 pieces of Hello Kitty merchandise from plush toys to stationery, interior items and more. Many of these items are exclusive to the exhibition.

Mascot Holder – ¥1,728 (400 Available – 1 Per Person) / Acrylic Key Ring – ¥648 / Mug – ¥1,080 / Hand Towel – ¥756

Replica Classical doll – ¥17,280 / Mini Mascot Brooch (20 Designs) – ¥1,080 Each (1 Per Person) / A4 Folders (Includes 2) – ¥486

Enter the adorable world of Hello Kitty this summer and help her celebrate her 45th anniversary.

Information

45th Anniversary Hello Kitty Collection Exhibition

Running: August 7, 2019 – August 15, 2019

Time: 10:00-20:00 (Until 17:00 on August 15) *Last entries are 30-minutes before closing time

Location: Sogo Chiba Floor 6F Event Hall (1000 Shinmachi, Chuo Ward, Chiba, Chiba Prefecture)

Price: Adults & University Students ¥500 (High School Students & Younger – Free)

*Those with a disability certificate can enter the exhibition for free (including one guardian)

Sogo Chiba Official Website: https://www.sogo-seibu.jp/chiba/

Experience Tasting Mount Koya's Famous Sesame Tofu at ONAKA PECO PECO in Tsukiji

ONAKA PECO PECO by Rurubu Kitchen is a cafe located in Tsukiji, a district in Chuo, Tokyo. They serve rice balls filled with locally sourced ingredients from various locations in Japan. In the evenings, the rice balls can be enjoyed with delicious sake.

If you visit the cafe right now you'll be able to try sesame tofu (goma tofu) made by the long-running restaurant Kadohama. Sesame tofu is a meibutsu―or "local speciality"―of Mount Koyo.

While it is possible to buy sesame tofu on Kadohama's online store, the only places you can eat them out at is at their restaurant on top of Mount Koya or at select branches of department stores such as Mitsukoshi or Isetan. We visited ONAKA PECO PECO by Rurubu Kitchen for a taste of this exquisite collaboration.

Mount Koya is located in the Ito district of northern Wakayama Prefecture and is home to the town of Koya. The region is encased an abundant mountainous landscape. The Japanese Buddhist monk Kūkai opened the sacred mountain around 1,200 years ago. In 2004, Mount Koya which was registered as a World Heritage Site by UNESCO in 2004 under the "Sacred Sites and Pilgrimage Routes in the Kii Mountain Range" category. It has since become a popular tourist destination with Japanese and foreign travellers alike.

Here is the heavenly menu lineup at ONAKA PECO PECO which is packed full of Kadohama's sesame tofu.

There are five items which are made with the sesame tofu: an onigiri rice ball, crab soup, cold tofu, pork shabu shabu, and a drink.

Time to tuck in and try this famous food which has been enjoyed for many years!

White Vegetables & Steamed Pork Shabu w/ Koji Sesame Tofu Sauce – ¥800

This dish is garnished with a generous serving of fresh white vegetables and succulent meat. It includes lotus root, enoki mushrooms, cauliflower, and pork. It also comes with a white sauce made with sesame tofu, shio koji, and sesame oil. The sauce has a mild flavour in which you can get the full glorious taste of the tofu. It's smooth and refreshing so is a perfect pick for the hot summer.

Sesame Tofu & Plum Cheese-Loaded Rice Ball – ¥250

This rice ball is a flavourful combination of a sesame tofu and plum paste and lots of cheese.

This fat rice ball is wrapped in paper like a hamburger. The rich taste of the tofu and cheese reduces the sourness of the plum, giving it a gentler flavour.

Sesame Tofu & Egg Crab Soup – ¥400

The soup is an amazing combination with the rice ball. It has a miso soup base filled with green onion, enoki mushrooms, and crab. The elastic-y tofu is cut into big satisfying chunks. Its rich, creamy flavour combined with the crab is to die for.

Sesame Tofu & Sweet Sake Jelly Drink – ¥350

The cute white-coloured beverage is a healthy mix of sesame tofu paste and sweet sake. It retains the pulpy texture of the tofu and the aftertaste is super refreshing.

You can order the drink for takeout so you can take a stroll around the streets of Tsukiji.

Kadohama Sesame Tofu – Eat In: ¥300 / Takeout: From ¥240

If you're looking to enjoy the sesame tofu on its own then you've got to try it with either the wasabi and soy sauce or brown sugar. You can also order this to take away too. Each box contains one piece of tofu.

The cafe is also selling exclusive merchandise as part of the collaboration. The collection includes a t-shirt, sacoche bag, and cap. Each item has a simple design making them easy to incorporate into looks.

Easy access to Kadohama's sesame tofu―which is made using traditional cooking methods that have been passed down generations at Mount Koya―can only be enjoyed at ONAKA PECO PECO by Rurubu Kitchen. If you're in Tokyo this summer, then take a trip to Tsukiji district to try this healthy and nutrient-packed tofu.

Model: Ririka Satsuki

Writer: Sayuri Mizuno (MMN Editorial Team)

Photographer: Haruka Yamamoto

Translator: Joshua Kitosi-Isanga

Information

ONAKA PECO PECO by Rurubu Kitchen

Address: 4-7-3 Tsukiji, Chuo Ward, Tokyo (Along Harumi-dori)

Opening Hours: 10:00-14:00 / 17:00-22:00 (Last orders at 22:00)

Closed: Sundays

Access: 10-minutes on foot from Ginza Station / 7-minutes on foot from Higashi-Ginza Station / 5-minutes on foot from Tsukiji Station

Official Website: http://onakapecopeco.com/

Experience Kyoto at Night: 5 Must-See Spots – MOSHI MOSHI NIPPON

The ancient city of Kyoto enjoys waves of tourists and sightseers from around the world throughout the year. It is particularly hot during the summertime because it's situated in a valley. If you've never walked around Kyoto's towns at night then we invite you to add it onto your list of sightseeing experiences.

We have compiled a list of 5 must-visit locations to best enjoy Kyoto's nightscape. We are joined by Taka, a Japanese Instagrammer who conveys the beauty of Kyoto through his picturesque photographs which has has provided us today.

Kyoto Station & Kyoto Tower

The modern architecture of Kyoto Station is a juxtaposition against the traditional image of Kyoto. There are lots of great places inside the station where you can get up high and gaze down at Kyoto's streets, but the absolutely unmissable nighttime spot are the mirrored windows. When evening sets in, you can see Kyoto Tower―which is opposite the station―reflected on the outside. Of course, you can enjoy the tower during the day too, but at night they light it up, making for a truly magical sight.

▼Kyoto Station

Address: Higashishiokoji Kamadonocho, Shimogyo Ward, Kyoto, Kyoto Prefecture

Kyoto Station Building Official Website: https://www.kyoto-station-building.co.jp/

▼Kyoto Tower

Address: 721-1 Higashishiokojicho, Shimogyo Ward, Kyoto, Kyoto Prefecture

Opening Hours: 9:00-21:00 (Last Entries 20:40)

*Opening hours subject to change without notice

Official Website: https://www.keihanhotels-resorts.co.jp/kyoto-tower/

Yasaka Shrine

Yasaka Shrine is an easy sightseeing spot to reach being just a 5-minute stroll from Gion-Shijo Station. The shrine is a power spot said to provide good luck when it comes to marriage ties. It bustles with visits from people from around the world and is in fact open 24-hours a day.

Paying a visit at night provides you with an entirely different look at Yasaka Shrine. Why not dine out along Shijō Street and take a walk to the shrine when the sky turns dark?

▼Yasaka Shrine

Address: 625 Gionmachi Kitagawa, Higashiyama Ward, Kyoto, Kyoto Prefecture

Official Website: http://www.yasaka-jinja.or.jp/

Kyoto Minamiza Theatre

Minamiza is the oldest theatre in Japan and is officially registered as a Japanese Tangible Cultural Property. Like Yasaka Shrine, the closest station to the theatre is Gion-Shijo Station. Leave through Exit 6 and it's right outside.

Minamiza has a long history spanning back to 1610 when it was founded. In May this year, Kyary Pamyu Pamyu performed a special concert there entitled Kyary Kabuki Kabuki which made use of projection mapping, fusing history and tradition with the latest cutting-edge technology to provide a concert like no other. The theatre is becoming a new sightseeing spot as it is lit up at nighttime. All of the lights are turned on until 10pm after which just the roof lights are kept on.

▼Kyoto Minamiza Theatre

Address: 198 Nakanocho, Higashiyama, Kyoto, Kyoto Prefecture

Official Website: https://www.shochiku.co.jp/play/theater/minamiza/

Ninenzaka

Ninenzaka is a long winding road that leads up to Kiyomizu-dera temple and is also a very famous tourist spot. It is registered under the Important Preservation Districts for Groups of Historic Buildings. In the daytime, the street bustles with locals and tourists dipping in and out of the souvenir shops, but the dark evenings of Ninenzaka are another kind of wonderful. The number of tourists drops significantly at night meaning you can have the street all to yourself and take plenty of photos, warm lanterns lighting your way.

▼Ninenzaka

Address: 2 Kiyomizu, Masuyacho, Higashiyama Ward, Kyoto, Kyoto Prefecture

Official Website: http://www.2nenzaka.ne.jp/

Kiyomizu-dera

Kiyomizu-dera is a 25-minute walk from Kiyomizu-Gojō Station which is reached via the Keihan Main Line. Registered as a UNESCO World Heritage Site, this ancient Buddhist temple is a very popular tourist destination. What we want those of you to see when visiting in the evening is the beautiful sunset which can be seen from the temple, colouring the streets of Kyoto a gorgeous orange.

▼Kiyomizu-dera

Address: 1-294 Kiyomizu, Higashiyama Ward, Kyoto, Kyoto Prefecture

Opening Hours: https://www.kiyomizudera.or.jp/access.php

Official Website: https://www.kiyomizudera.or.jp/

Taka has visited so many incredible locations in Kyoto, so if you're planning a trip there and need some recommendations be sure to follow him on Instagram.

Photos: Taka

Stay in a Traditional Japanese Hotel in Kosuge Village Where the Population is Just 700

NIPPONIA Kosuge Genryū no Mura is a new hotel opening in the village of Kosuge in Kitatsuru District, Yamanashi Prefecture on August 17. The hotel is renovated from an old Japanese-style house that was originally used for local personages and was constructed over 150 years ago.

Kosuge is about two-hours from Tokyo and is completely enveloped in the natural environment with 95% of the land occupied by trees and nature. Its population is around 700 which is a mere third of its peak population. It is currently faced with a serious depopulation problem due to its ageing population.

The hotel will open in an effort to pass on the beautiful landscapes and culture of the village to the next generation. It hopes to aid in solving the problem of its declining population and empty houses while acting as a means to bring in tourism and sightseeing.

The hotel serves as just the first part of this village revitalisation project. It features 4 guest rooms called OHYA as a restaurant that seats 22.

There are three rooms in the main building and one in the basement. Each is designed with privacy in mind and each has its own concept.

OHYA 1

From the rooms guests can enjoy the view of the gorgeous Japanese-style gardens surrounding the hotel.

The restaurant menu concept is titled 24 Sekki, which denotes the twenty four seasonal turning points of the old Japanese calendar, and is made using carefully local ingredients so that guests can enjoy an authentic Kosuge experience.

All the staff at the hotel are local villagers. The majority of the ingredients used in there are grown and produced by the farmers of Kosuge. The hotel also offers other services for guests to  get to know the area better such as nature walks and bike rides through the village. You are made to feel like one of the locals.

A second building will be renovated in May 2020 to accommodate two more rooms. There are 70-100 vacant buildings in Kosuge, so there are plans in place to receive permission from landlords to make further repairs, improvements and renovations.

If you're travelling to Japan and are looking for a truly remote experience then why not visit the quaint little village of Kosuge in Yamanashi Prefecture?

Information

NIPPONIA Kosuge Genryū no Mura

Address: 3155-1 Kosuge, Kitatsuru District, Yamanashi Prefecture (In Japanese: 山梨県北都留郡小菅村3155-1)

Grand Opening: August 17, 2019

Rooms: 4 (10 People)

Price: From ¥25,000 per person (includes one breakfast)

Access:
①Approximately 2 hours by car from Tokyo.
②1 hour by bus from Ōtsuki Station via the JR Chūō Main Line, 70-minutes by car from Oume Interchange
③1 hour by bus from Okutama Station via the Ōme Line, 20-minutes by car from Lake Okutama

TEL: 042-887-9210

Reservations: Open from August 1, 2019 via the following website: https://www.ikyu.com/vacation/00050804/

Gaze at Shooting Stars at Akiyoshidai in Yamaguchi Prefecture with New Night Tour

Akiyoshidai is located in Mine, Yamaguchi. It is Japan's biggest karst plateau and is designated as a natural monument. If you love the stars in the night sky then you'll want to hear about the new shooting star night tours that have been announced by the Mine City Tourism Information Center.

Cities, towns and villages across Japan are seeking to cater tourist and travelers needs to experience something that only that place can offer which can be enjoyed by simply by 'looking.'

Akiyoshidai is a very popular site with photographers as it offers a clear and unbroken view of the stars. Mine City Tourism Information Center is capitalizing on this by offering more tours to visitors.


This series of tours will make it easier for people to travel to Akiyoshidai from the town area while taking advantage of a location where there is little artificial light.

Check the official website for more details on how you can witness the incredible Japanese night sky.

Information

Akiyoshidai Stars Accomodation Plan

Visiting Hakone? Pick Up A Freshly Baked Hakone Basque Cheesecake

A brand new Basque Cheesecake shop called Hakone Cheese Terrace opened on July 26th. The carefully balanced rich flavour and smooth texture of these cheesecakes makes them the perfect Hakone souvenir! Basque cheesecake is a type of burnt cheesecake that originated from Basque, Spain.

Hakone is home to a large number of Japan's popular tourist spots as well as relaxing hot springs and beautiful nature. Located just 1.5 hours from Tokyo, Hakone has an extraordinary atmosphere which will heal both your body and mind. Hakone Cheese Terrace opened to enhance the appeal of the nature surrounding Hakone resorts and to contribute to the fascinating culture of the area. 

The basque cheesecake comes in a mini cup so customers can enjoy this delicious treat while on the go exploring the local area. This is also the perfect souvenir size.

The cheesecakes at Hakone Cheese Terrace are made mostly from locally sourced ingredients. For a creamy, fresh taste, milk sourced from the south of Hakone is combined with high-quality cream cheese. An original recipe blend is used for a rich flavour and smooth texture.

The cheesecakes are baked fresh at the shop so you can enjoy your cheesecake at its most delicious stage. Rock salt, black pepper and soy sauce are available as toppings for customers to discover a new flavour.

Come enjoy the flavours of Hakone to your heart's content at Hakone Cheese Terrace. 

Information

Hakone Cheese Terrace  

Address: 54 Motohakone, Hakone, Ashigarashimo-gun, Kanagawa

Access: 3-minute walk from Motohakone Minato, 1-minute walk from Hakone Jinja Iriguchi (Hakone Shrine entrance), Hakone Tozan Bus.

Opening Hours:  9:00 ー 16:00

Official site: https://hakone-cheese-terrace.com/

3 Kyoto Tourist Spots to Visit and Cool Down at This Summer

The bustling Kyoto Prefecture is located in the Kansai region of Japan, adored for its historical architecture and richness in traditional Japanese culture for which it brings in tourists every year both Japanese and foreign.

Summertime in Kyoto is renowned for being very hot. We've compiled a list of 3 must-visit locations where you can cool down during the summer heat―each of which have beautiful sights―and how to get to them.

Explore the Caverns of Shizushi Limestone Cave Park

The only limestone caves in Kyoto Prefecture, Shizushi Limestone Cave Park offers an exciting mix of outdoor activities from cave exploration to camping, bird watching and much more. The caves are a designated national monument of Kyoto Prefecture. Many fossils have been collected from the caves that date back to before the Permian period (which ended 252.2 million years ago) including fusulinida and crinoids. The temperature of the caves sits between 12℃-15℃ throughout the year making it a very popular spot for cooling off during times of hot weather.

▼Shizushi Limestone Cave Park
Address: Shizushi, Kyotamba, Funai District, Kyoto

Access: Board a JR bus from Sonobe Station (JR Sagano Line) bound for Enpuku (園福線) and get off at Hinokiyama (桧山). Change onto a Choei (町営) bus. Get off at the Shizushi Limestone Cave entrance (鐘乳洞口) and walk for 5 minutes.

Opening Hours: 9:00-17:00

Website: http://www.kyotamba.org/質志鐘乳洞公園/

Beach Swings and Sunsets at Yuhigaura

Yuhigaura sits on the coast of Kyoto's Tango area and is known for its iconic sunsets. Every year during summertime, giant swings made from driftwood and other materials are placed onto the beaches. Sitting on these during the evening sunset make for an incredibly picturesque scene.

And this year they're serving an original drink called the "Magic Hour" for a limited time.

▼Yuhigaura
Address, 390 Aminocho Hamazume, Kyotango, Kyoto Prefecture

Access: Board the Limited Express Hashidate (特急はしだて号) train at Kyoto Station and get off at Yūhigaura-Kitsu-onsen Station (夕日ヶ浦木津温泉)

Homepage: http://yuukan.com/news/17/?view_oft=0

Amanohashidate Sandbar Illuminations


Last year's illuminations at the Amanohashidate sandbar brought in over 30,000 people. The sandbar is one of Japan's three scenic views. The illumination event is held annually with this year's running from July 13 to September 1. The lights turn the sandbar into a truly magical spectacle.

A special bar is also open for the light-up where you can get drinks along with several other exciting events surrounding it.

▼Amanohashidate Light-Up
Address: Monju, Miyazu, Kyoto

Running: July 13, 2019 – September 1, 2019
Event Details:  https://www.facebook.com/amanohashidate.machiakari/

Stay cool this summer in Kyoto by hitting up one of these tourist hot spots!