【Tokyo Stroll】Shopping & Sightseeing with Mozuku-kun the Dog: #2 Makuhari Shintoshin Pecos Pet Mall (Part 1)
Yuna Yabe is a dog lover whose eyes are set on becoming a seasoned pet owner. This series follows her journey as she takes her pet dog, Mozuku-kun, strolling around the city. For her second entry, Yuna headed to the Makuhari Shintoshin branch of "Pecos," located inside the AEON Pet Mall in Kaihin Makuhari, Chiba Prefecture. This is part one of two.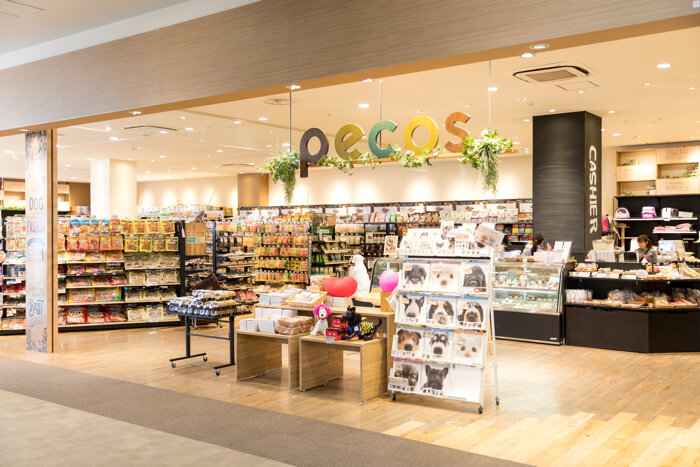 The closest stations to Pecos are Kaihin Makuhari Station and Shin-Narashino Station, both accessible via the JR Keiyo Line. There are also buses that go straight to the mall, making it super convenient if you come by train. There's also a car park right next to the mall if you decide to take the road, so it's easy to go there with a pet dog. Pecos in Makuhari Shintoshin is the biggest pet store in Japan, with the first floor spanning 820.6㎡ and the second 979.8㎡. They offer just about everything you could imagine from a pet shop in Japan, from food and clothes to an animal hospital and pet hotel.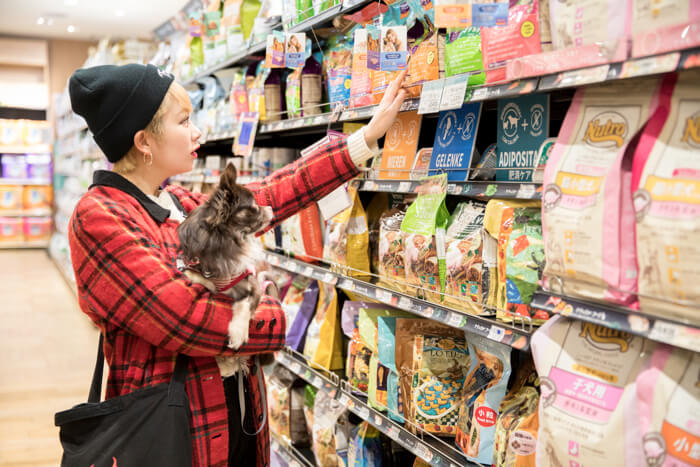 The food corner accounts for one entire corner of the shop's second floor. Usually, they stock over 40 different varieties of dog food, and you can always buy something from there catered to your dog's breed and/or age. You can of course also take your dog around the shop with you, so if you're lost on what to buy then you can leave it in their hands (or paws).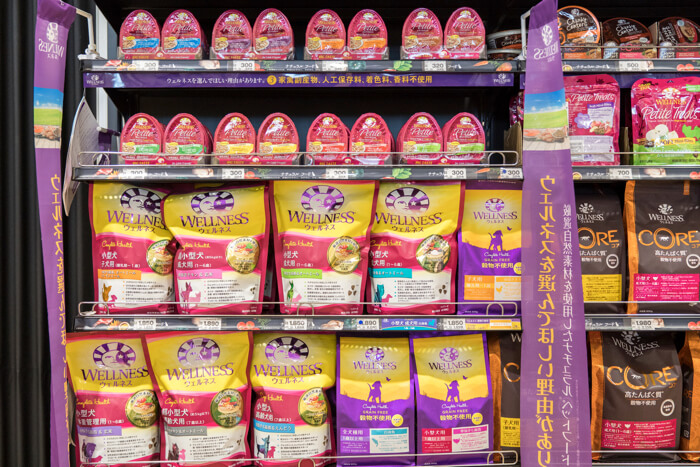 A particularly popular brand of dog food in the shop is "Wellness" series, pictured above. The food is made up of carefully selected natural ingredients, so one reason for its popularity is how owners can be at ease while letting their dog eat this food.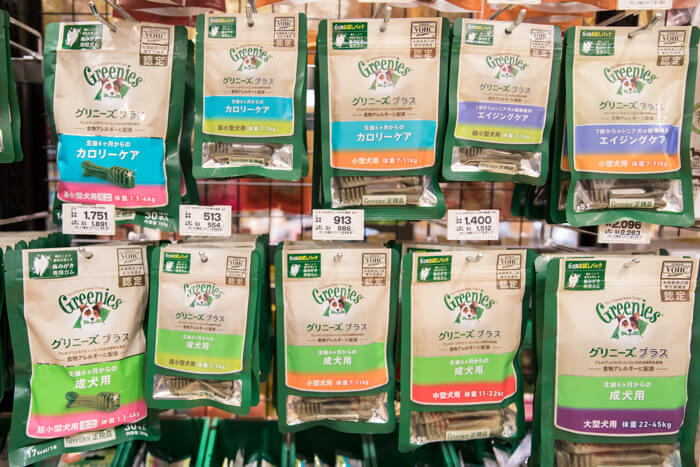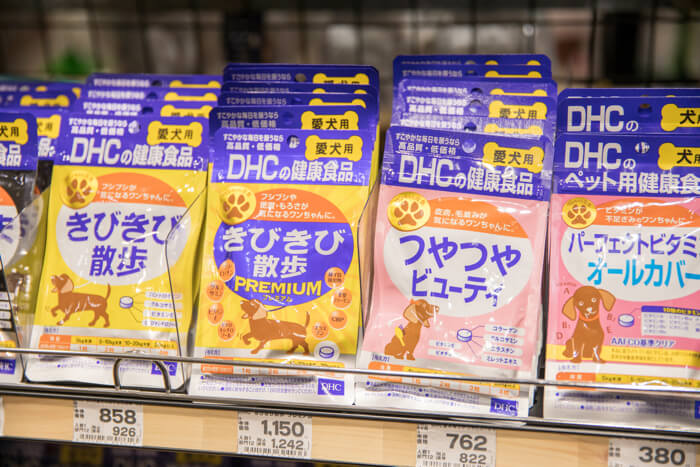 Besides dog food, the shelves are also lined with plenty of snacks and supplements! Most of the supplements are for mature dogs, but even so, Yuna was absorbed in checking out what they had, thinking: it's still a bit early for Mozuku, but I'm interested in thinking about the future.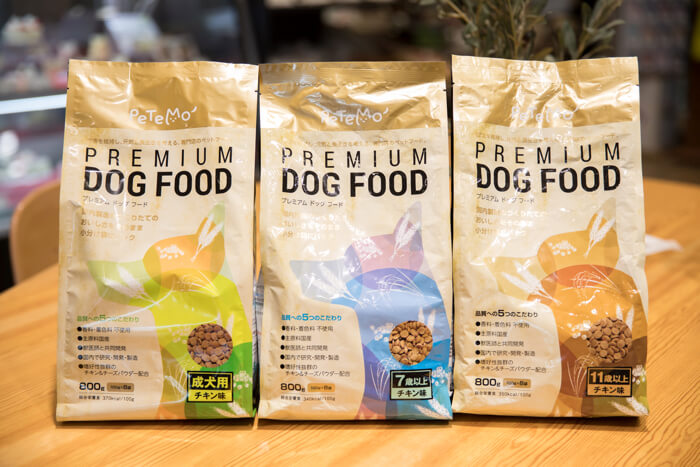 This original premium dog food can only be bought at AEON pet shops, including Pesco. It's made in Japan, so if you have a dog in Japan and are a dog lover who worries about your pet, you can absolutely trust this brand.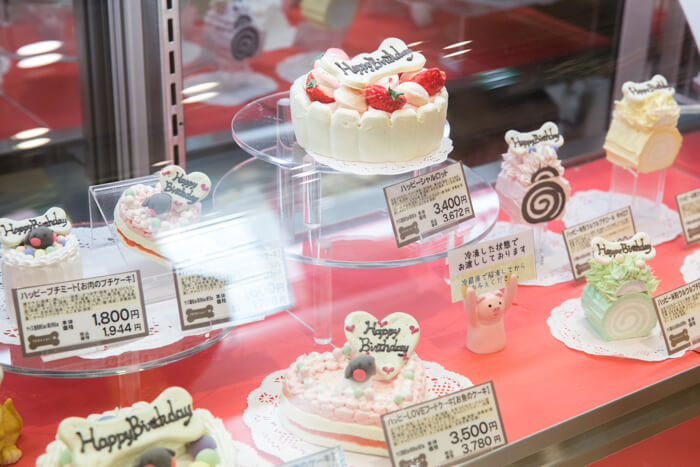 There's even cakes that you can buy for your pet if you're looking to gift yours something for their birthday or a commemoration. Mozuku wasn't about to leave the cake showcase that easily, almost as if he knew everything in there was delicious.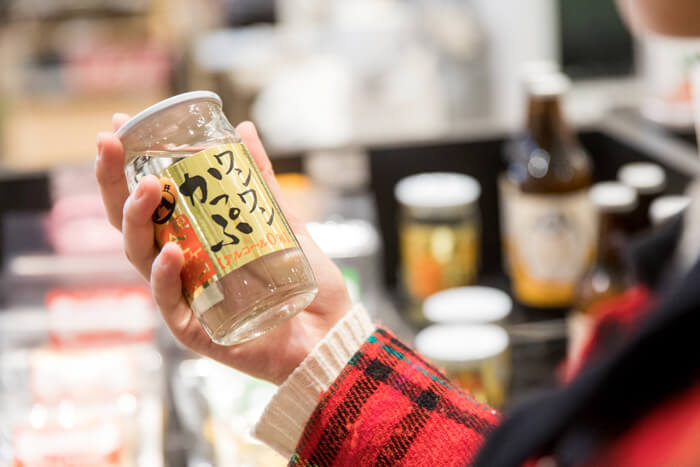 This one is perfect for pet owners who like a drink: alcohol for dogs. But don't worry, there's not actually any alcohol in there. So how about it? Having a nice evening drink together with your beloved pup?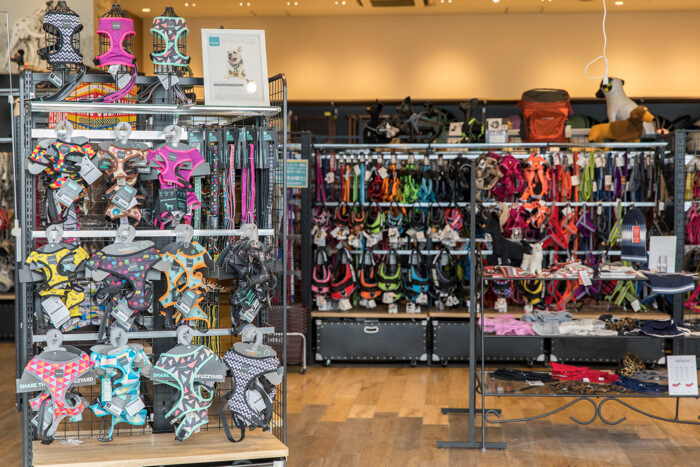 This corner is filled with leads, beds and clothes for your dog. They have a wide range of sizes and varieties, making this area popular with fashion-conscious owners.
One popular aspect of the store praised by owners who have gone to buy clothes at Pecos is how you can actually let your dog try the clothes on in-store. You must have had that experience where you tried buying something, but it ended up being too dog, right? Well, if you're allowed to let your dog try on something before buying it, you can easily pick an outfit that looks great and is comfortable on them.
Here's Mozuku in the middle of trying something on. His ears are hidden by the turtleneck… he looks most displeased!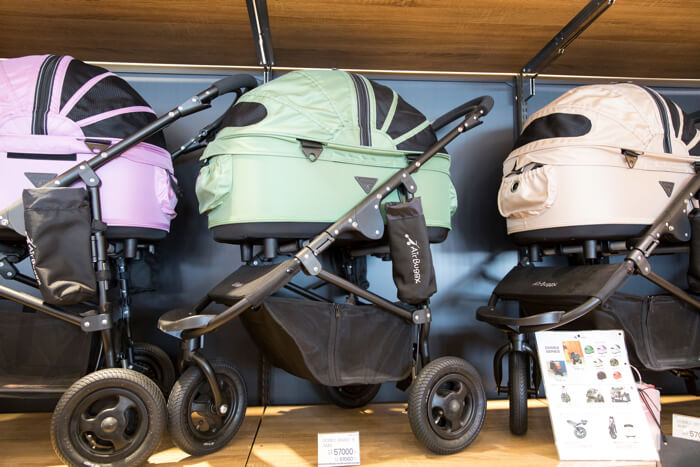 Pesco also sells convenient products for heading out with your dog, like dog seats for your car and prams. You can actually rent a test pram to check its usability, allowing you to consult with your pup on which best to choose.
In addition to products for your pet, the Makuhari Shintoshin branch of Pecos also has an animal hospital, trimming salon and pet hotel. It's filled with everything your pet could dream of! In part two of this article, Yuna will show the facilities of Pecos, like the animal hospital and pool, so don't miss out!
Continued in Part Two.
■Information
Pecos (Makuhari Shintonshin branch)
Address: 1-8 Toyosuna, Mihama-ku, Chiba-shi, Chiba Prefecture
Access: "Kaihin Makuhari Station" and "Shin-Narashino Station" accessible via the JR Keiyo Line
Opening Hours: 10:00-21:00 (*the animal hospital is open 24-hours a day)
Contact: 043-298-1122
URL:https://www.aeonpet.com/pecos/makuharishintoshin/index.html
Model:Yuna Yabe/Mozuku @yunaaay1030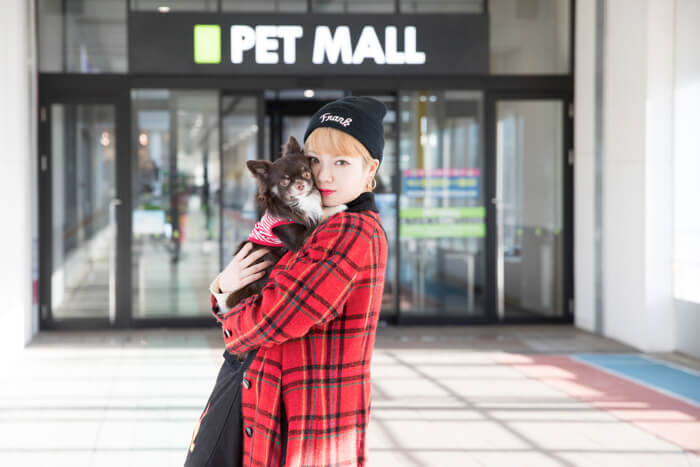 Yuna Yabe won the grand prix prize at the "Zipper×ASOBISYSTEM Model Auditions" at the age of 15. She is an expert not only in fashion but make-up and video editing too. She's an influential figure to the people in her generation. Recently, her work has expanded greatly, such as appearing in music videos. Her activity continues to grow and looks to be very promising indeed.
Writer:Ryoichi Komaba
Photograph:Kayo Sekiguchi
Translation:Joshua Kitosi-Isanga
RECOMMENDED ENTRIES
【Tokyo Stroll】Shopping & Sightseeing with Mozuku-kun the Dog: #2 Makuhari Shintoshin Pecos Pet Mall (Part 2)

Yuna Yabe is a dog lover whose eyes are set on becoming a seasoned pet owner with her beloved pet dog Mozuku. Continuing from where we left off in part one of this two-part article, Yuna will show us more of the Makuhari Shintoshin branch of Pecos, a huge pet store located in AEON Pet Mall!

In this second part, Yuna will introduce us to the 1st floor facilities of Pecos. The first thing is the 24-hour AEON Pet hospital. This animal hospital offers first aid to pets at any time of the day. They provide CT scans, X-rays, surgery and internal medic treatment, so if you feel something if off with your pup then contact them immediately. They also offer physical examinations for your pet dog. If you take them for an examination you can detect signs of illness early on, so a lot of people take their dogs for a yearly checkup. (Checkups are offered until February 28th this year)

So Yuna took Mozuku for an examination too! The results showed that he was a good weight and in very good health. He was even complimented on his nice fur. Keep being healthy, okay, Mozuku? ♪

This is the "Doctor Car" for transporting pets. The original purpose of the car is that it's an ambulance used for pet care during natural disasters. There's even equipment inside for emergency first-aid treatment. On normal days, it's used for doctor's visits and seeing injured pets.

The showpiece of Pecos in Makuhari Shintoshin is the pool facility. The aqua fitness service uses the water's buoyancy and pressure to allow your pet to exercise in a short period of time in an efficient and low load manner. It's highly recommended for rehabilitation after an operation and for tackling a lack of exercise! During the aqua fitness, a trainer will be there to look after your pet with the utmost care and attention, so you can feel at ease when handing them over.

This was Mozuku's first time in the pool. He had a worried look on his face while floating in the water, so the first thing was for him to get used to it with a shower and a bath.

Your pup will wear a life jacket until it's gotten accustomed to being in the water, so you can let them enjoy swimming without worry of them sinking. There's also lots of toys for your dog to play with – perfect for helping them relax!

Mozuku wouldn't settle at first in this new environment, but he got used to the water straight away and showed off his dog paddling skills. The water current in the pool is always flowing, so big dogs can enjoy swimming too.

This is a treadmill that uses water resistance. It uses the flowing power of water but isn't a burden on your dog's body at all. It's rehabilitation for walking.

After a dip in the pool, it's some for shampooing. The shampoo uses safe ingredients so it's fine if your pup licks it off.

This is the pet hotel, a super convenient facility for if you're on a trip or going for some shopping. The hotel charges per hour, so you can even leave your dog in the hotel's hands if you need to do a bit of quick shopping. There's even a beauty salon where your dog can get a trim or use one of the oxygen capsules! Mozuku refreshed himself in a capsule too after a swim in the pool.

Yuna bought Mozuku a roll cake from a shop on the second floor for being such a good boy the entire time! There was quite a lot for Mozuku to eat, so Yuna helped him out.

Pesco in Makuhari Shintoshin has it all when it comes to your dog. They even have a dog run in the facility, so you should go try it out when the weather's nice for a stroll and some shopping!

■Information

Pecos (Makuhari Shintonshin branch)

Address: 1-8 Toyosuna, Mihama-ku, Chiba-shi, Chiba Prefecture

Access: "Kaihin Makuhari Station" and "Shin-Narashino Station" accessible via the JR Keiyo Line

Opening Hours: 10:00-21:00 (*the animal hospital is open 24-hours a day)

Contact: 043-298-1122

Homepage: https://www.aeonpet.com/pecos/makuharishintoshin/index.html

Model:Yuna Yabe/Mozuku @yunaaay1030

Yuna Yabe won the grand prix prize at the "Zipper×ASOBISYSTEM Model Auditions" at the age of 15. She is an expert not only in fashion but make-up and video editing too. She's an influential figure to the people in her generation. Recently, her work has expanded greatly, such as appearing in music videos. Her activity continues to grow and looks to be very promising indeed.

Writer:Ryoichi Komaba

Photograph:Kayo Sekiguchi

Translation:Joshua Kitosi-Isanga

【Tokyo Stroll】Shopping & Sightseeing with Mozuku-kun the Dog: #1 Bondi Café Yoyogi Beach Park

Yuna Yabe is new to pet ownership. With her eyes set on becoming a better owner, Yuna is going all out with by starting up a brand new regular article series. For her first entry, Yuna is introducing a fun café she visited together with her puppy!

The café the two of them visited is called "Bondi Café Yoyogi Beach Park" and it's located in the Okushibu area. It's 324m from Yoyogi-koen Station via the Chiyoda Line and 5 minutes by foot from Yoyogi-Hachiman Station via the Odakyu Line. It's easy to get to from either station. What's better is that it's close to places like the Bunkamura museum, Tokkyu Hands and NHK meaning you can make a day out of your trip on a stroll with your dog.

First of all, let's learn a little bit about the protagonist of our story. Mozuku-kun is a 1-and-a-half-year-old male long coat chihuahua. His latest interests include chasing the robot Roomba vacuum cleaner. His charm points are his brown eyes and nose and sticking his tongue out. Please treat him well♪

The café has a service that includes a rug and water bowl for dogs. But it seems like Yuna's lap is where Mozuku-kun feels most at ease!

Behind the café is a promenade where you can take a leisurely walk without having to worry about incoming cars. It's generally a quiet area, making it a peaceful and pleasant stroll for even scaredy-dogs.

The roads in this area are paved beautifully so it's a perfect spot to snap a photo with your puppy for Instagram.

The café looks out onto Inokashira-Dori, so you can get a view of Yoyogi Park and the green ambience of the tree-lined streets. The lavish greenery is gorgeous, it'll make you forget you're even in Shibuya! Even Mozuku-kun was in pretty high spirits. I wonder if he noticed all the green too?

On the café's list of recommendations is their homemade tofu pancake with coconut butter for ¥900 (tax included). You can get a heap full of fruits like in the photo above to top your pancake for an extra ¥500. If you're a fruit lover then definitely try ordering this.

There are 5 sauces to choose from to top your pancake, including the classic maple syrup and even chocolate. Yuna went with caramel sauce, her absolute favourite.

Mozuku was well behaved at first, but after seeing Yuna enjoying her food so much he stuck his tongue out in complete captivation and begged. But the pancake is a little too rich in flavour for Mozuku-kun, so he was given his favourite dog food later on.

This is a caramel macchiato (¥700 tax incl.) made using speciality coffee by the barista who creates the drinks one by one to perfection. The latte art is super cute, so be sure to take a selfie with your puppy and upload it on your social media. You'll definitely get a lot of likes.

If you're looking to go out on a stroll somewhere a little different from usual, then we recommend Bondi Café Yoyogi Beach Park. It's easily accessible from Shibuya and Harajuku, plus they have plenty of welcoming service for pets! The café is also close to Yoyogi Park, so it might be nice to take a walk there too. Yuna was happy with the terrace seats as they were spacious meaning you can use them without worry of other mischievous dogs. That's all for today – look forward to next time!

■Information

Bondi Café Yoyogi Beach Park

Address: Barbizon 55 1F, 1-15-2 Tomigaya, Shibuya, Tokyo

Access: 324m from "Yoyogi-koen Station" via the Chiyoda Line / 5-minutes by foot from "Yoyogi-Hachiman Station" via the Odakyu Line

Opening Hours: 9am-2am (last orders at 1am)

Telephone: 03-5790-9888

Homepage: http://bondicafe.net/bondi-cafe-yoyogi-beach-park/

Model:Yuna Yabe/Mozuku @yunaaay1030

Yuna Yabe is skilled not just in the area of fashion but also make-up, as well as editing her own videos. She is an influential figure to the people of her generation. She has recently appeared in music videos and her sphere of activity is growing and expected to spread.

Writer:Ryoichi Komaba

Photograph:Kayo Sekiguchi

Translation: Joshua Kitosi-Isanga

【Tokyo Stroll】Asakusa Sightseeing: Eating and Walking Down Nakamise Shopping Street & Rickshaw Riding at Kaminarimon

Today's Tokyo stroll destination is Asakusa. Asakusa is a popular tourist spot for people coming to Japan and is always packed.

However, today's weather forecast predicted rain! So Yuna and Ellie's first stop on their Tokyo stroll was to buy umbrellas from Shinagawa.

Buying an umbrella at AEON in Shinagawa Seaside

Shinagawa Station is linked to the shinkansen and numerous airports, so you will find many people from inside and outside Japan waiting there. A convenient place to visit when in Shinagawa if you want something is the Shingawa Seaside branch of AEON.

The shopping complex can be reached in 10 minutes by bus or taxi. If you use Shinagawa Seaside Station it's just a 5 minute walk.

When looking for somewhere that sells umbrellas to make being in the rain a bit more fun, Yuna and Ellie discovered "fururi," a place that sells vinyl umbrellas with colourful designs that you can change – simply screw off the top of the umbrella frame, remove the vinyl sheet and replace it with whichever one you like.

There are 48 designs to enjoy with a 60cm umbrella.

Yuna chose a cute design that has blue and yellow water drops. Ellie went for a pink design. A colourful umbrella means turning that rain induced frown upside down. Asakusa is the place to go if you want something fight off the rain!

Eat and walk down Nakamise Shopping Street♪

As you come to the Kaminarimon Gate you must first press your hands together and bow before heading through to Nakamise Shopping Street. The street is lined with lots of shops selling all kinds of goodies from toys to food to souvenirs.

The first item Yuna and Ellie came across were little randoresu keyrings. This is most definitely the kind of souvenir you can only get in Japan. Ever since popular Hollywood actresses put out photos of themselves donning these backpacks, they have become popular overseas for their colourfulness and durability. There are even people who wear them as a fashion item.

The next treasure they found were the 'daigaku imo'! Daigaku imo are candied sweet potatoes. The outside is crunchy and the outside is soft. They are deliciously sweet. You absolutely must try them if you come across them in Japan.

Approaching Sensō-ji

When you come out of Nakamise Shopping Street you will find yourself at Sensō-ji, Asakusa's ancient Buddhist temple.

The first step to take when going to shrines and temples in Japan is washing your hands, which is called "temizuya." Hold the ladle with your right hand and wash your left hand and vice versa. Take the ladle with your right hand and scoop some water. Pour the water into your left hand and rinse your mouth with it. Make sure to never bring the ladle to your mouth. Spit the water next to the fountain, never directly back into it. (Bonus: Check out our step-by-step guide to praying etiquette and shrines and temples in Japan.)

Subsequently, approach the main temple building. After praying, toss in a monetary offering. Then put your hands together and bow once. Since there is no shrine here you do not need to clap. Finally, perform a light bow to complete the prayer.

I wonder what those two were praying for. They look unusually serious.

There are lots of great places to take photos around Sensō-ji so be sure to have a good look around.

Tour Asakusa on a rickshaw

After their temple walk, Yuna and Ellie boarded a rickshaw to scope the Asakusa townscape. The rickshaws have a tarpaulin rain cover and lap blanket in case of rain so you can still have fun even when the weather is bad.

We recommend taking a photo at Dempoin Street when riding your rickshaw as pictured above! It's a special kind of place that you can only find in Asakusa so be sure to take a memorable picture.

Did you enjoy Yuna and Ellie's sightseeing trip to Asakusa? There's lots of other amazing places to find in Asakusa too! We'll be sure to post about them here on MOSHI MOSHI NIPPON so stay tuned.

Models: Yuna Yabe, Ellie

Photo: Kayo Sekiguchi

Writer: Sayuri Mizuno (ASOBISYSTEM)

Translator: Joshua Kitosi-Isanga

Introducing: Randoseru

We'd like to introduce to you the randoseru bags used in today's article which both Yuna and Ellie modelled for in a Narita tourism article. As mentioned above, the Japanese randoseru, firm backpacks made from leather or leather-like material, are recognised as a fashion item overseas. The randoseru used in today's article were are the 24 colour randoseru and 3STYLE randoseru from AEON.

Yuna: 24 Colour Randoseru (Burgundy) – ¥35,000 (tax excl.)

Ellie: 3STYLE Randoseru (Caramel) – ¥48,000 (tax excl.)

The 3STYLE randoseru can be used as a shoulder bag or handbag. If you're interested in either of their randoseru, then be sure to pop into your nearest AEON store.

AEON.com: https://www.welcome-aeon.com/

【Tokyo Stroll】Kill some time at tourist spots around Narita Airport during your flight layover

Many people find themselves with a lot of free time when at Narita Airport, whether in transit or going back home, and must find things to fill the time with. In this edition of Tokyo Stroll, we take a look at some of the best tourist spots around Narita Airport to fill your time with if you find yourself in this situation.

From visiting temples to buying souvenirs, the surroundings of Narita offer a range of exciting things to make those long hours fly by! Let's take a stroll together with Yuna Yabe and Eri to see some of the wonderful sights.

Visit "Naritasan Shinshoji Temple" just 10-minutes from the airport by train

If you have a spare 2 or so hours to kill then Naritasan Shinshoji Temple is a great location to stop by. Simply board the Limited Express train from Narita Airport via the Keisei Main Line and get off at Keisei Narita Station. The journey is just 10 minutes. What greets you as you approach the shrine is a 15 meter high gate constructed from keyaki wood. Many people enter through this gate to go and worship at the main building.

As Yuna and Eri walked toward the main building through the Niomon Gate they came to the Nioike Pond where turtle-shaped rocks were poking out of the water. There were lots of turtles sunbathing on top of the rocks. Legend says that if you throw a coin onto one of the rocks and a turtle goes onto the same rock your wish will be granted. You can see lots of coins on the rocks.

Once you pass the pond and climb the stairs you will arrive at Naritasan Shinshoji Temple's main building.

The Goma Ceremony has been practiced at the temple every single day since its founding. People's prayers are offered to Fudomyoo in front of a fire to fulfill people's worries and wishes. After praying, Yuna and Eri received a temple seal for their goshuincho temple seal notebook.

They also got their hands on an omikuji each. They opened it up, and… both of them received "Great Blessing," the best fortune you can receive from an omikuji! The omikuji have English written on the back too, so be sure to flip yours over if you can't read Japanese.

Naritasan Shinshoji Temple also has a number of designated important cultural properties, so there's plenty of amazing architecture to see if you visit. If you've got some spare time while in transit, then how about taking some time to learn some Japanese history?

■Information

Naritasan Shinshoji Temple

Address: 1 Narita, Narita, Chiba

Access: 10-minutes' walk from Keisei Narita Station via the Keisei Main Line

Website: http://www.naritasan.or.jp/

Get souvenirs at the AEON Mall only available in Japan!

While you can get your hands on souvenirs at the airport, it wouldn't be wrong to assume that most people want something sold only in Japan such as snacks or other little trinkets. The next spot we're taking a look at is the Narita branch of the AEON Mall. You can get a direct bus there from Narita Airport. Buses also leave from Keisei Narita Station, the closest station to Naritasan Shinshoji Temple.

The AEON Mall has it all – clothes shops, entertainment facilities, sundries, food and more. It's perfect for shopping with friends or having fun together with your family at the entertainment services. It's equipped with just about anything for anyone to enjoy.

We recommend doing your souvenir shopping at AEON Mall. And what better to spend your money on that Japanese snacks!

Yuna's Recommended Snack

The most popular snack bought by travelers is the baumkuchen cake. It's packed with just the right amount of sweetness. You can get a full, uncut cake in its distinct round shape, or you can get individual cut pieces in bags.

Eri's Recommended Snack:

One of the big snacks to buy from Japan is matcha flavoured Kit Kat. You can get this and many other flavours of Kit Kat at the AEON Mall. There are even limited edition seasonal flavours that are sold with the changing seasons, so make sure to be on the look out.

Besides snacks, cosmetics are another popular item. The AEON Mall is lined with a string of different brands who also offer testers of their products. There are plenty of affordable items to find in the line-up perfect as a gift to a friend. The best way to find something you like is to just get in there.

People from all over the world visit the AEON Mall in Narita so there are duty free counters. It's possible to get tax exemption from items purchased in the mall. There's a counter near the 1st floor beauty products corner so make sure to head there once you've bought something.

After a long day of sightseeing and shopping, we're back at Narita Airport. Did you enjoy seeing some of the tourist spots around the airport?

Narita Airport also offers the Transit & Stay Program for people who have long layovers, so be sure to check it out and make the most of your time there.

Models:Yuna Yabe / Eri

Photos:Kayo Sekiguchi

Writer:Sayuri Mizuno (ASOBISYSTEM)

Translator:Joshua Kitosi-Isanga
RELATED ENTRIES
Kurobe Gorge Trekking Tour Offers Breathtaking Two-Day Trolley Journey

The Kurobe Gorge Trolley in Toyama will offer a special two-day journey through the fall foliage on October 29 and November 1, 2021. 

Atobiki Bridge

Okukane Bridge

Promenade

Babadani Jigoku

On the day of the tour, guests will enjoy a leisurely journey through nature as a Kurobe Gorge tour guide explains the features of the surrounding environment. 

Kyoto's Kurodani Temple, Typically Closed to the Public, to Accept Visitors for Limited Time

Constructed in 1175, the Kurodani Temple is one of the head temples of the Jodo Sect of Buddhism. Though typically closed to the public, the grounds will open for a short period to allow guests to experience some beautiful autumn scenery beginning November 12, 2021. This temple is associated with the Shinsengumi and served as the headquarters of the Aizu Clan at the end of the Edo period, so those interested in history won't want to miss out on this incredible opportunity. 

[Night] Shiun Garden

[Day] Autumn Leaves at the Main Gate

[Day] Shiun Garden

[Night] Autumn Leaves at the Main Gate

Temple Grounds at Sunset

The Tiger's Room

Ohoujou Garden

Founders Hall

Live Koto Performance

Gokoushiyuiamidabutsu, 'Afro Buddha' 

Guests will be able to enjoy the gorgeous autumn temple scenery during both daytime and nighttime, with the night viewing also offering some traditional Japanese live music. Visitors can also see various temple treasures and historical items, as well as the Tiger Room, known for its painted doors. The unique and aptly named Afro Buddha will also be on display. After training for an extremely long period of time, the Buddha's hair piled up, giving him this strangely modern appearance. 

On a clear day, guests will be able to see clear to the Abeno Harukas building in Osaka. Vividly painted ceilings and other statues will completely surround visitors in spiritual history. At night, traditional Japanese music will be played at three different times in the front gardens. On Friday, Saturday, and Sunday, the temple will offer a Premium Plan, allowing interested guests to enter the grounds 30 minutes before general admission starts. (This will require reservations made on the official website.) This will also include a guided tour!

How would you like to experience this piece of Japanese history while surrounded by unforgettable autumn foliage? 

Information

Special Autumn Viewing

Kudodani Temple, Kyoto – The Head Temple of the Jodo Sect of Buddhism

Address: 121 Kurodanicho, Sakyo-ku, Kyoto

Night Viewing Details: https://www.kurodani.jp/lightup/

Day Viewing Details: https://www.kurodani.jp/sp_daytime/

Daytime Viewing

Running: November 12 – December 5, 2021

Hours: 10:00-16:30 (Final Admission at 16:00)

Special Viewing Areas: Mikado, Daihojo, the Gardens, two locations at the main gate

Night Viewing

Running: November 12 – December 5, 2021

Hours: 17:30-20:30 (Final Admission at 20:00)

Live traditional Japanese music will be performed in the garden located in front of the Main Hall at 17:45, 18:30, and 19:15

Junei Hotel Kyoto Adds New Plan Allowing Guests to Reserve Entire Property

The Junei Hotel Kyoto Imperial Palace West, a small luxury hotel located in the heart of Japan's ancient capital, has revealed a new plan allowing guests to rent out the entire premises. Imagine being in a hotel with only your closest family and friends!

The Junei Hotel Kyoto Imperial Palace West – Guest Room

The Junei Hotel Kyoto Imperial Palace West – Bathroom

The Junei Hotel Kyoto – Bamboo Suite

The Junei Hotel Kyoto – Bamboo Suite Bathroom

The Junei Hotel Kyoto – Standard Room

The Junei Hotel Kyoto – Standard Bathroom

The Junei Hotel Kyoto – Breakfast at Futago

The Junei Hotel Kyoto – Futago Restaurant Interior

The Junei Hotel Kyoto – Dinner at Futago

Arashiyama Yusaitei

Arashiyama Yusaitei

Kibune Riverbed

Hozucho River Boat Ride

The Junei Hotel Kyoto Rooftop View of Kiyomizu-dera Lights

The Junei Hotel Kyoto Rooftop Garden Moon Viewing

With two locations in Kyoto, guests will be able to enjoy the entirety of the hotel in complete privacy while still enjoying hotel hospitality. With between 8-11 rooms, this would be the perfect spot for a family gathering, wedding reception, graduation trip with friends, corporate meeting place, or even for overseas guests!

The Junei Hotel Kyoto Imperial Palace West opened in 2017 as a community-based luxury hotel with only eight rooms, with a single mission: bringing the beauty of Japan to the world. Beyond simply finding a place to sleep for the night, the hotel wants guests to experience something special and to provide an unforgettable experience. By partnering with local tourism associations, the Junei Hotel hopes to accurately convey the traditions and singular culture of the city of Kyoto. 

In March 2020, a second location opened. The Junei Hotel Kyoto is surrounded by bamboo, and in fact, the theme of the hotel itself is bamboo and the moon. Each of the guest rooms is decorated with traditional and local bamboo crafts, and every detail is pulled from the natural beauty of Higashiyama, Kyoto. 

The restaurant attached to the hotel, Futago, is the perfect place for adults to unwind and recharge. The kappo-style course menu features Kyoto vegetables and seasonal ingredients, blending the delicious with the nutritious. Chefs will cook each dish using a variety of methods, and guests will be amazed by how the flavor of the meat changes from course to course. The menu changes each month, so be sure to come back throughout the year!

Guests can also rent out Arashiyama Yusaitei, a gorgeous building deep in the forests of Kyoto perfect for wedding receptions, photoshoots, tea ceremonies, and more. The rooftop garden offers a stunning view of Kiyomizu-dera and is also perfect for moon viewing. Those wanting to get even closer to nature can enjoy a boat ride down the Hozucho river, and for those craving desserts, a Japanese sweets-making class is also available!

Who would you take with you on a private stay at the Junei Hotel Kyoto? 

Universal Studio Japan to Expand Super Nintendo World with Donkey Kong Area

Since opening in March, Super Nintendo World at Universal Studios Japan has caught the world's attention, leading global game fans to pray even harder for Japan to reopen for tourism. Now, the park is scheduled to level up with a new Donkey Kong-themed area scheduled to open in 2024. 

Currently, Super Nintendo World is filled with Mario-inspired attractions, dining options, and shops, recreating some of the most memorable parts of the franchise in a larger-than-life way. The new Donkey Kong area will feature a roller coaster and more interactive experiences, as well as themed merchandise and food options. Guests will be able to walk through lush jungles, where Donkey Kong and his friends live. The creation of the new area will more than double the size of Super Nintendo World. 

Launched as an arcade game by Nintendo in 1981, Donkey Kong quickly took the world by storm, with games continuing to be released on Nintendo systems from the SNES to the Nintendo Switch. As of March 2021, the series has sold over 65 million units worldwide.

Comment from Nintendo's Shigeru Miyamoto

"I am very happy to be able to make the world of Donkey Kong a reality following the world of Mario. I am looking forward to creating a thrilling Donkey Kong experience with the amazing team at Universal. It will take some time until it is completed, but it will be a unique area for not only people who are familiar with Donkey Kong games but for all guests."

WIZARDING WORLD and all related trademarks, characters, names, and indicia are © & ™ Warner Bros. Entertainment Inc. Publishing Rights © JKR. (s21)
Minions and all related elements and indicia TM & © 2021 Universal Studios. All rights reserved. TM & © Universal Studios & Amblin Entertainment. TM & © Universal Studios. All rights reserved. © Nintendo

Three Unique Japanese Cafes You'll Want to Visit Again and Again

Most of us have been spending more and more time at home over the past year. It's time to get out for a change of scenery, and what better activity than cafe hopping! Check out these unique cafes around Japan, each offering a safe and relaxing space to enjoy a day out. 

[Saitama] Bath Cafe BIVOUAC

This cafe located in Kumagaya City offers a full range of bath and sauna facilities, as well as a restaurant featuring healthy dishes filled with local, freshly-picked veggies. 

Details: https://www.moshimoshi-nippon.jp/497213

[Gifu] Activity Cafe Takayama Zenko-ji

Set inside a Buddhist temple, this cafe invites anyone, regardless of faith or nationality, to enjoy a cup of tea while experiencing traditional culture. It's also a great space to work remotely, with free Wi-fi!

Details: https://www.moshimoshi-nippon.jp/484296

[Tokyo] NANARIDA

Filled with plants and light, NANARIDA has been dubbed a digital detox cafe, not allowing smartphones or laptops each Sunday. Leaving your phone with the staff will grant you a free beverage, so come enjoy some tea and conversation. 

Details: https://www.moshimoshi-nippon.jp/493631

TEXT: Natalie(MOSHI MOSHI NIPPON)

Editor's Choice! 3 Best Exhibitions to Visit Before Time Runs Out

Autumn has shaped up to be a great time for art lovers to explore Japan, with a number of inspiring exhibitions of all different genres popping up around the country. The editorial team at Moshi Moshi Nippon has taken special notice of three must-visit events still open now, so be sure to check these out while you still can!

[Tokyo] 'Shonen, Shou' 

Yasunari Ikenaga, a leading figure in the world of contemporary beauty painting, is currently holding an exhibition featuring portraits of the up-and-coming actor and model Shou. Pay special attention to the delicate techniques the artist utilizes to capture the subject's expressions. 

Running: Until October 15, 2021

Details: https://www.moshimoshi-nippon.jp/497728

[Fukuoka] teamLab Forest

Art collective teamLab has opened a permanent museum in Fukuoka City! Those wanting to see the interactive exhibits transformed for autumn, however, better hurry before the event ends.

Now Open

Details: https://www.moshimoshi-nippon.jp/500506

[Saitama] Machi Tawara: #JustOneLike – From Salad Anniversary to Size of the Future

Japanese poet Machi Tawara, the winner of the Kadokawa Tanka Award in 1986, is a powerhouse in the world of prose. Her 1987 book Salad Anniversary sold over three million copies, and 35 years later, the writer is still at the forefront of her field. This exhibition depicts her life in words and is sure to inspire. 

Running: Until December 5, 2021

Details: https://www.moshimoshi-nippon.jp/500300

Text: Natalie (MOSHI MOSHI NIPPON)

Virtual Model imma Becomes New Pinkoi Campaign Character, Web Commercial Released

Taiwan-based e-commerce platform Pinkoi, one of Asia's largest, is celebrating its 10th anniversary with a special project! Virtual model imma is the face of the campaign as a character named 'Pin Tripper,' and a new web commercial featuring the personality along with a song written by popular artist Daoko is now available! In addition, the newest issue of the web magazine 'Pinkoi Zine' is also available on the official Pinkoi website, featuring a tour of unique items from cities around Asia in the style of a travel report. 

For the campaign, the Pantone Color Institute defined Pinkoi's two corporate brand colors, 'Pinkoi Navy' and 'Pinkoi Salmon Pink.' Japanese illustrator Noritake then designed the Pinkoi x Noritake Limited Collaboration line of goods using these unique shades. These will only be available for a short time, so be sure to snag some while you can!

Comments


imma


"Pinkoi is fun to use, because it allows you to find trendy items from cities all over Asia. I found lots of items I don't come across very often, and items that made me feel as though I were travelling around the continent. (laugh) I hope that you'll enjoy the new web commercial and the special 'Pin Trip Report' in the newest Pinkoi Zine issue! And, of course, enjoy shopping at Pinkoi too.



Daoko


For this campaign, I was able to create a new song with trackmaker Yohji Igarahi. The theme was 'sense of speed.' I think I was able to express my identity as a rapper, while also maintaining the important image of neon lights shining at night. My impression of Pinkoi is that it has a huge variety of products not available on typical Japanese sites, and as someone who loves online shopping, I was super excited to work with them!

Basketball Culture Space TOKYO 23 Reopens on Cat Street in Harajuku

TOKYO 23, a shop promoting basketball culture, is set to reopen as a large-scale shop in Harajuku on September 18, 2021. 

TOKYO 23 x JUN INOUE TEE (Black/White): ¥5,500 each (Tax Included)

Guests will enter the space to find a basketball court at the center, both keeping with the theme of the shop and maintaining a minimalist vibe. The location is bold, using a balance of different upcycled materials and gray-tone colors reminiscent of the Tokyo streets. 

JUN INOUE was in charge of designing the lanterns throughout the store, giving a more traditional Japanese feel to the modern storefront. The store is dotted with artworks by Inoue as well as Reina Koyano, both located in Los Angeles. 

The coffee shop "LATTEST" will also be a permanent fixture in the store, and is the perfect place for visitors to relax and take in the art and feeling of the TOKYO 23 store. To commemorate the opening of this massive space, special collaborative JUN INOUE x TOKYO 23 T-shirts will be on sale for a limited time. 

Information

TOKYO 23

Opening: September 18, 2021

Address: Harmony Harajuku 1F (4-28-21 Jingumae, Harajuku, Tokyo)

Hours: 11:00-22:00

Phone: 03-6804-2635

Official Site: https://www.atmos-tokyo.com/brands/tokyo23

Meiji Marble Chocolate Themed Hotel Room Opens at The Royal Park Hotel Kyoto Umekoji

In celebration of Meiji's popular Marble chocolate, The Royal Park Hotel Kyoto Umekoji is collaborating with the confectionery brand to offer a Marble themed hotel room for guests. The room opened on July 27.

Showa retro-style posters, telephone, and other decorations

Meiji's colourful Marble chocolate was first released in 1961. It turned 60-years-old in February of this year, meaning it has continued to be enjoyed by three generations. Grandparents have passed them onto mothers and fathers, and them to their own children. Now the whole family can celebrate the chocolate in a themed hotel room in Kyoto.


Named the Marble Room, the hotel room is decorated in seven colours just like the chocolates themselves. This includes seven individual pillows on the sofa, balloons, wall decorations, and more. There's even a crane game inside the room where guests can obtain some chocolates for free.

Also inside the room are Showa retro-style posters and a telephone, and guests can watch all of the old Marble commercials on the television which have aired these past 60 years. Guests also receive a free smartphone ring, eco bag, pouch, and other little freebies as part of the plan.

teamLab's Enchanting Ovoids Light Up Chiba Art Festival 2021

Japanese digital art collective teamLab has announced their plans to set up a public art exhibition at Chiba Art Festival 2021 which will take place at Chiba Port Park from July 31 to September 5.

Autonomous Resonating Life and Resonating Trees, teamLab, 2017.

team lab will be showcasing their interactive ovoid digital art exhibit Autonomous Resonating Life and Resonating Trees. The art group describes the work: " The resisting and resonating ovoids placed amongst the trees shine. The light of the ovoids and the light of the trees are autonomous: they shine brightly and then fade slowly, as though they are breathing. When an ovoid is pushed, the colour of the light it emits changes and the tone unique to that color echos. The light that originated from that ovoid resonates out to other ovoids and trees nearby. The tone resonates out continuously in the same way as the light, spreading throughout the ovoids and trees."


Chiba Art Festival is one of several cultural programs hosted by Chiba Prefecture. The Tokyo Olympics and Paralympics are not solely for enjoying sports; they're also an opportunity to enjoy the culture of Japan, and so the country is running many different cultural events across and around the capital. The theme of the festival is to showcase artwork that the city wishes to pass on to the next generation. Many pieces are being displayed around Chiba, including at the Chiba Prefectural Museum of Art, such as illustrations, photos, and more.

Satoyama Jujo THE HOUSE IZUMI: Rent Out a Renovated Japanese House in Niigata

Japanese design company Jiyujin launched its new Satoyama Jujo THE HOUSE chain of accommodations this month which offer a single group of guests a one-night stay in an entire house.

The first branch to open is IZUMI which features a fully-renovated Japanese-style house located in the city of Uonuma in Niigata. A gorgeous outlook is offered from the house with an unbroken view of lush forests, rice fields, and Mt. Makihata, which is listed as one of the '100 Famous Japanese Mountains.'

A breathtaking view awaits guests from the open-air bath

The spacious living room

Fully renovated from a 150-year-old private house, the building is supported by beautiful wooden beams and columns, and in the middle the oe, a sunken hearth. This, along with the beams and sashigamoi joints, are made from keyaki Japanese zelkova which is an elm-like tree. This species of tree is rare even in a tree-covered region such as Uonuma. The lumber used for this house was cut, preserved, and dried out for a number of decades before being processed into building material for the house. The heart in the middle of the living room is reminiscent of a time when large families would gather around one and serves to recreate that lifestyle.

The Nishiyama region is known for is production of delicious rice. IZUMI in fact looks out over Kabanosawa, a special and important place of rice production in Nishiyama. This vantage point also gives guests an opportunity to appreciate the hot and cold temperatures of the daytime and evening, the rivers, the shape of the land, and the earth the city sits on. The drastic change in temperatures in the day and night are especially noteworthy as this, along with the basin between the mountains, gives rise to a sea of clouds.

IZUMI sits on a hill that overlooks the rice paddies, making it a perfect location for spotting the sea of clouds. Minamiuonuma's sea of clouds has over a 70% chances of appearing in the autumn and spring seasons.

The number one reason why Japan's old, long-standing, and precious private houses are demolished is due to the cold getting in and it being too dark inside. Even those who want to see them preserved for tradition, including those who live in them already, would rather live in a modern home. That's why Jiyujin has begun a renovation project instead of a demolition one. By refurbishing the houses, the ancient framework can be fixed up and preserved while a range of contemporary amenities are incorporate to fit with modern lifestyles. The Satoyama Jujo accommodations are built so they can be used for over 100 years.

For dinner, there are three options for guests. The first is a dinner at SANABURI which earned itself a Michelin star in Michelin Guide Niigata 2020. The second is a meal at a restaurant that earned the status of Bib Gourmand in the same guide. The third is to prepare your own meal in the house. There are plenty of shops around the station nearby where you can buy local ingredients.

After a delicious meal, guests can take a soak in the open-air tub and enjoy gazing out across the fields and the beautiful mountains which stand almost 2,000 meters high.

Information

Satoyama Jujo THE HOUSE IZUMI

Japanese Name: 里山十帖 THE HOUSE IZUMI

Address: 671-1, Amanosawa, Minamiuonuma, Niigata, 〒949-6433, Japan

Official Website: Opening early July 2021

Access: 7-minutes by car from Jōetsu International Skiing Ground Station (JR Joetsu Line) / 16-minutes by car from Shiozawa-Ishiuchi IC

Art and Illuminations Fuse at Chiba Park For Nighttime Entertainment

YohaS is set to collide the real and digital worlds at Chiba Park with an event titled YohaS 2021 Night Park Gallery which will run from July 6 to 10.

Lightning artwork (*For illustrative purposes only, art will be different for the event)

The event held back in 2019

YohaS is a collaborative project between Chiba City and Tsubakimori Komuna. It was launched to boost and develop the nighttime economy of Chiba, with its first event having taken place as the evening portion of the Ooga Hasu Flower Festival held in Chiba back in 2018. YohaS was unable to be held last year due to the pandemic and so an event was held online. This year sees its return with an event taking on the theme of "Silent Lips" which refers to the current situation with COVID-19 and how we cannot see peoples' smiles or lips due to them wearing face masks.

The title of the YohaS 2021 event is "Night Park Gallery" which will turn Chiba Park into an art gallery and fuse it with breathtaking lighting and illuminations by Sun Effects. There will be six stages produced by Hiroaki Kumagai, a former member of Cirque du Soleil, each of which will offer equally incredible performances with their own stories from July 6-9. Visitors can also purchase YohaS wristbands, t-shirts, anti-bacterial sprays, and more.

For those still unable to attend in person, YohaS will also open an online version of the event called Virtual YohaS in Chiba Park which can be accessed via a PC or smart device.

Information

YohaS 2021 Night Park Gallery

Running: July 6, 2021 – July 10, 2021
Opening Hours: 17:00-21:00
Location: Chiba Park

Address: 3 Chome-1-1 Benten, Chuo Ward, Chiba, 260-0045, Japan

Entry: Free
YohaS Official Website: https://www.yohas.fun/