Suede's "Puma®×HELLO KITTY" edition will be released
The standard sports-brand shoes of the world, Puma and Hello Kitty which has been loved by people all over the world since 1974 announced that they will sell a collaborative edition of Suedes in commemoration of Puma Suedes' 50-years anniversary. This product will be released on the 9th of February in Japan.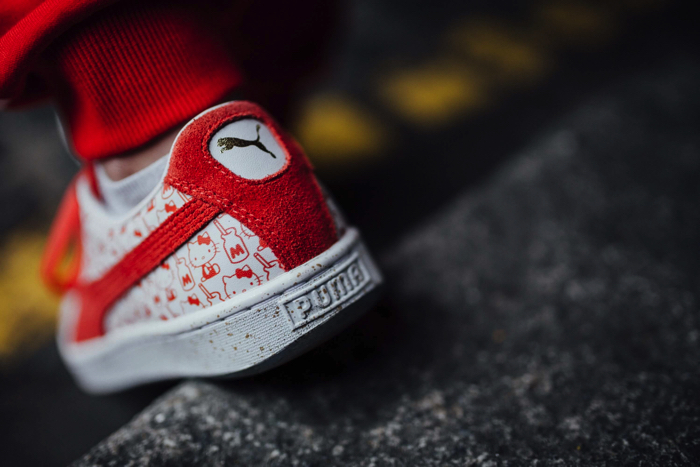 Suede has been releasing funky, fresh, elegant and sporty collections but the new edition is precisely made, colorful and cute.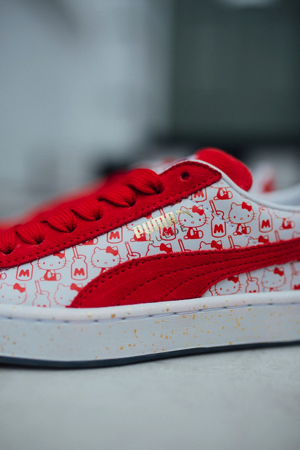 The toe, shoe tongue, shoe lace, heel and form stripe are colored in vivid red and a graphic design of HELLO KITTY is printed on the side.
The collection also includes T-shirts, set-ups and knapsacks.
Let's get this sporty HELLO KITTY product.
◼︎Information
Suede × HELLO KITTY Collection
Release date: 2nd of August, 2018
Available stores: Puma Online Store (jp.puma.com)
Puma Stores and stores that sells Puma's products
Some Sanrio Shops
Sanrio Online Shop
TEL:0120-125-150
RECOMMENDED ENTRIES
ASICS Tiger collaborates with Disney to release "Snow White" shoes

ASICS Tiger Japan have collaborated with the Disney franchise "Snow White" to release 3 new pairs of limited edition trainers: two pairs of "GEL-LYTE" and one pair of "GEL-LYTE GS."

To commemorate the 80th anniversary of Disney's first full-length animated movie, ASICS have created special model shoes that capture the image of the titular princess.

There are two "GEL-LYTE" designs. One model features Snow White's cape on the shoe's upper in a burgundy colour. The big ribbon is made of velvet and is removable. The insole has an apple print to complete this pair of Snow White-esque trainers.
 
The other model uses black as the main colour on its upper and a huge golden crown on the tongue. The inside of the shoe is purple, only adding to the regal and queenly design of this model.

 
Finally, the "GEL-LYTE GS" model is aimed at kids. They are themed around the seven dwarfs: Doc, Grumpy, Happy, Sleepy, Bashful, Sneezy and Dopey. The uppers of each pair correspond to the colours worn by each dwarf. The insoles are also fitted with the character designs.

ASICS has an established reputation for its easy-to-wear footwear. Now you can get your hands on their "Snow White" designs. Feel like a princess with these big red ribbon-fitted trainers.

■Information

GEL-LYTE Snow White Collaboration

On Sale: December 2nd, 2017

Available at ASICS Tiger in Harajuku & Shinsaibashi.

ASICS Tiger Harajuku

Address: ASICS Tiger Harajuku 1F, 1-5-10 Jingumae, Shibuya, Tokyo
Open: Weekdays – 11am-8pm / Weekends & Holidays – 9am-8pm
No fixed holidays.

ASICS Tiger Osaka Shinsaibashi

Address: Shinsaibashi OPA (Kirei-kan), 1-9-2 Nishishinsaibashi, Chuo, Osaka-shi, Osaka
Open: 11am-9pm

Website: http://www.asicstiger.com/jp/ja-jp/

Now you can walk like a robot cat from the future with Doraemon Reebok shoes

Reebok and Doraemon combine in these baby-blue shoes.

To the casual observer, Doraemon must appear to be the patron saint of Japan; his image can be found everywhere. Doraemon's face or colour scheme crops up on goods ranging from McDonald's toys to PC cushions to face masks.

For those unfamiliar with His Works, Doraemon is a robot cat sent back from the future to help schoolboy Nobita navigate the trials and travails of everyday life by producing a series of amazing devices.

While we may have to wait a little longer for a genuine "anywhere door" or "memory bread," we can now walk, run, and exercise in style with these new Doraemon Reebok trainers, which certainly catch the eye.

LINE FRIENDS & Hello Kitty Release New Kawaii Collaborative Merchandise!

It has been announced that official LINE characters, known as the "LINE FRIENDS," will team up with the internationally loved Hello Kitty to release a line of new collaborative merchandise. To celebrate, 'Greeting Events' will be held at stores and events around Japan.

This newly announced series is officially titled LINE FRIENDS & HELLO KITTY and was revealed on August 3rd, and features a cute line-up of merchandise and items that you can use in your everyday routine – t-shirts, phone cases, towels and much more.

The greeting events are a special, one-time only opportunity to give people the chance to meet Brown of LINE FRIENDS and Hello Kitty to have their photo taken with them. There will also be limited edition merchandise available at the selected stores where the event will be held.

This is a must-see for fans of LINE FRIENDS and Hello Kitty who will now be able to meet the kigurumi (costume character) versions of Brown and everyone's favourite kawaii kitty. There are two Hello Kitty designs to see – the above classic design, and her "Hello Kitty Town" look which is made to look like Hello Kitty art from the 70s.

Fans out there, be sure to check out this dream collaboration.

■Information

LINE FRIENDS & HELLO KITTY – Character Greeting Events

1. Takashimaya Yokohama Store 6F (at Kids Patio)

Date: Sunday August 6th – 10:30 / 13:00 / 14:30 / 16:00 (max. 30 people per slot)

Address: 1 Chome-6-31 Minamisaiwai, Nishi-ku, Yokohama, Kanagawa

※Tickets for each slot will be handed out at the 1F Sagami Railway (or Sotetsu) Entrance from 9:30am-9:55am on the day of event. From 10:00am onwards they will be available at the 6F Sanrio counter. (https://www.sanrio.co.jp/shop/sh013111m/)

※Tickets are numbered and given on a first-come, first-served basis. 1 ticket per person.

※Photos with the characters are taken with your own personal camera.

2. LINE FRIENDS STORE Harajuku

https://www.linefriends.jp/offline

Date: Tuesday August 8th – 13:30 / 16:30 (max. 20 people per slot)

Address: JPR Jingumae 432 Bldg, 4-32-13 Jingumae, Shibuya, Tokyo

3. sanrio vivitix HARAJUKU

https://www.sanrio.co.jp/shop/sh6669100/

Date: Tuesday August 8th – 12:00 / 15:00 (max. 20 people per slot)

Address: CUTE CUBE HARAJUKU 1F, 1-7-1 Jingumae, Shibuya, Tokyo

※Those who spend more than ¥1,080 (including tax) on Sanrio merchandise on the day of the event are eligible to receive a ticket for a photo with Hello Kitty and Brown upon payment. Only the people with a slot ticket are eligible.

※Please prepare your own camera for taking the photo.

※Those who do not hold a photo ticket are still free to watch.

4. LaLaport TOKYO-BAY (central stage in 1F North Building)

Date: Thursday August 10 – 11:00 / 13:30 / 15:00 (max. 30 people per slot)

Address: 1F LaLaport TOKYO-BAY North Building, 2-1-1 Hamacho, Funabashi, Chiba

※Those who spend more than ¥1,080 (including tax) on Sanrio merchandise at Sanrio Gift Gate in LaLaport TOKYO-BAY (https://www.sanrio.co.jp/shop/sh3641100) on the day of the event are eligible to receive a ticket for a photo with Hello Kitty and Brown upon payment. Only the people with a slot ticket are eligible.

※Please prepare your own camera for taking the photo.

※A stage event will be held called "Hello Kitty to Brown to Tanoshiku Odorou!" (Dance With Hello Kitty and Brown!)

※Those who do not hold a photo ticket are still free to watch.

5. LINE FRIENDS CAFE & STORE Fukuoka

https://www.linefriends.jp/offline

Date: Saturday August 26th – 14:00 / 16:00 (max. 20 people)

Address: 2-4-18 Tenjin, Chuo-ku, Fukuoka-shi, Fukuoka

Shop Campaign – Limited Edition Ticket Holder

You can receive a "LINE FRIENDS & HELLO KITTY" design ticket holder if you have your receipts from purchasing at both LINE FRIENDS STORE and sanrio vivitix. There are two designs to choose from. You may pick your favourite one.

※Please note that the ticket holders are limited in quantity so will not be available after all have been bought.

※Your receipts will be stamped when receiving the item.

【Campaign Shhops】

〈Tokyo〉

LINE FRIENDS STORE Harajuku (JPR Jingumae 432 Bldg, 4-32-13 Jingumae, Shibuya, Tokyo / Tel: 03-3434-0597)

sanrio vivitix HARAJUKU (CUTE CUBE HARAJUKU 1F, 1-7-1 Jingumae, Shibuya, Tokyo / Tel: 03-5786-1500)

〈Fukuoka〉

LINE FRIENDS CAFE & STORE Fukuoka (2-4-18 Tenjin, Chuo-ku, Fukuoka-shi, Fukuoka / Tel: 092-406-3674)

sanrio vivitix Tenjin Chikagai (2 Chome Tenjin, Chuo Ward, Fukuoka-shi, Fukuoka / Tel: 092-726-3091)

Sanrio Official Homepage: https://www.sanrio.com

Related Article:The "Pen Pineapple Apple Pen" guy gets his very own smartphone game!

Related Article:"Summer Festival in Sanrio Puroland"will be held soon! Don't miss this "summer illumination"

France's popular fictional characters "Lisa and Gaspard" and "Hello Kitty" will collaborate!

It has been decided that a collaborative project between "Hello Kitty" and France's popular fictional characters "Lisa and Gaspard" will be carried out.

 

"Lisa and Gaspard" are fictional characters created by the couple Anne Gutman

(text) and Georg Hallensleben (illustration). Their first book was published in France in 1999 and 40 titles have been published here in Japan since the year 2000. The total number of books published is two million. The characters that appear in the books are "Lisa," a girl with white body and red scarf and "Gaspard," a boy with black body and blue scarf. Officially, Gaspard and Lisa are "neither dogs nor rabbits" but their exact species is not clear. What is clear is that they are both residents of Paris. They go to school and have many friends but they are "eternal friend" to each other.

 

For this collaborative project, the creators of these two characters, Anne Gutman, and Georg Hallensleben and the designer of Sanrio's Hello Kitty, Yuko Yamaguchi got together in South Paris and drew seven oil paintings.

This is a first for "Lisa and Gaspard" to collaborate with some other character. From 2018, Sanrio will sell products based on these oil paintings and there is a plan to hold many special events in different categories.

 

▶︎The creators of "Lisa and Gaspard," Anne Gutman and Georg Hallensleben have this comment about this project:

"It is still unbelievable that Yamaguchi-san came all the way to our attelier to draw paintings with us! We had a great time in the atteliers both in Paris and in South France. We wish to collaborate with her again."

▶︎The designer of Hello Kitty, Yuko Yamaguchi (Sanrio) has this comment:

"I first saw "Lisa and Gaspard" when they were selected as the CM characters of Pasco in 2006.

I was surprised that these characters were drawn in oils and this experience fueled and sparked my imagination. I am pleased that this collaborative project finally came to realization 11 years after I saw these characters for the first time."

Do not miss this collaboration between "Lisa and Gaspard" and "Hello Kitty!"

Kaori's easy recipe – learn to make a character-themed chocolate gateau!

With just a small bit of ingenuity, turn everyday food into something cute using Kaori's recipe series! With a few simple ideas, an ordinary recipe magically transforms into a cute dish. Today we'll be looking at a recipe perfect for Valentine's Day – a super delicious chocolate gateau!

1: Ingredients

・15cm diameter round bowls

・ 200g coverture chocolate

・ 150g unsalted butter

・ 4 egg yolks

・ 50g salt

・ 25g wheat flour

・ 25g Van Houten cocoa powder

・ 4 egg whites

・ 30g granulated sugar

2: Mix the egg yolks and sugar well.

3: Melt the coverture chocolate and unsalted butter in a bowl over hot water. Add this to the egg yolks and sugar and mix.

4: ① Whisk the egg whites and granulated sugar until soft peaks form and add a small amount of this to the mixture made in step 3.

② Sieve the wheat flour and cocoa powder into the mixture.

 ③ Add the remaining egg whites into the mix and stir well.

④ Spread the mixture into a baking tin. (As the mixture will rise then sink whilst being cooked, it is ok to fill the tin up to 9/10 of the way.

5: Put the cake mix into the oven at 170℃ for 10 minutes and then turn it down to 160℃ for 20 – 25 minutes. After rising, a dip will form in the centre of the cake.

6: Make the decoration cookies for the top of the cake. (See Kaori's Hello Kitty Halloween Cookies recipe: https://www.moshimoshi-nippon.jp/65290 )

You will need 50g of icing sugar and 9g of egg white to make the icing for the cookies. Add the egg whites bit by bit to the icing sugar whilst mixing well. After mixing, you can start decorating the cookies. (Today I've put the icing on using my finger).

Once the icing has hardened, melt a chocolate pen (or any kind of chocolate) and use a toothpick to draw Hello Kitty's nose and eyes in the centre of each cookie. Fill the hole in the centre of your chocolate gateau 8/10 of the way with fresh cream and then add the cookies and some strawberries to the top to decorate.

※ A few important points*

1. The cake will still be delicious after 3 days.

2. This cake is best enjoyed at room temperature. If you store it in the fridge, I recommend leaving it out at room temperature about an hour before serving.

3. If you are going to give this to somebody as a gift, then I recommend either avoiding the fresh cream or decorating just before presenting to the recipient. Today I've put my cake in a gift box purchased from Seria.

Kaori invites you into her world of character-themed dishes in her recipe series! Please check out her Instagram where she has uploaded many pictures!

■ Profile

Kaori Kubota (@kaopan27)

I live in Hokkaido and I love to make character-themed meals, desserts and breads. ♡

I enjoy adding just a few small touches to a recipe to make cute bentos and character-themed dishes that put smiles on my family's faces.

Please check out my character-themed bento boxes on my Instagram page→@kaopan27
RELATED ENTRIES
Painfully Kawaii Sanrio Figures Feature the Characters Sleeping Peacefully

Takara Tomy Arts is rolling out a new sleepy collection of Sanrio character figures at capsule toy machines in Japan this month.

The adorably dozing collection

Pochacco

Tuxedosam & Hello Kitty

The line-up includes Hello Kitty, Kerokerokeroppi, Pochacco, Badtz-Maru, and Tuxedosam with their heads leaning to the right, perhaps exhausted from being cute all day long. This is the first line-up in a series of these figures. And if you line more than one up together, it looks like they're sleeping on each others' shoulders.

©2021 SANRIO CO.,LTD. APPROVAL NO. S620286

Sanrio Releases Hello Sweet Days Dress-Up App in the US, Canada, and South Korea

Digital content enterprise Cocone has made Sanrio's popular character dress-up game Hello Sweet Days available in the US, Canada, and South Korea. The app hit the overseas countries on June 10, allowing for fans outside Japan to enjoy dressing their avatars up like their favourite Sanrio characters.

Hello Sweet Days first launched in Japan back in August 2017 and has since amassed over 2 million downloads. It rolled out to Taiwan, Hong Kong, and Macao in 2020, and now an English version has finally been made available. There are plans to release the app to even more countries in the future.

Pre-registration opened early in South Korea on May 24 when it garnered 60,000 advance sign-ups. Those who registered early even received K-pop idol-style fashion items. Since releasing last Thursday, it is now being used by over 300,000 fans in South Korea.

Head on over to the App Store or Google Play and enjoy Hello Sweet Days in English now!

© 2021 SANRIO CO., LTD. TOKYO, JAPAN Ⓗ. APPROVAL NO. S620438 ©cocone corp.

Sanrio Announces Kawaii Musical 'From Hello Kitty'

Sanrio has announced that their popular cast of characters are set to perform at an attraction-style musical titled From Hello Kitty which will run at the IHI Stage Around Tokyo on from July 26 to September 26.

All of the familiar faces from Sanrio's character roster, including Hello Kitty, Dear Daniel, Cinnamoroll, Pompompurin, My Melody, and the Little Twin stars—all of whom ranked high on this year's Sanrio Character Ranking—will make an appearance alongside notable Japanese actors Shota Takasaki, Dai Gotou, and Kodai Miyagi.

The musical is a historical lookback at 60 years of Sanrio and a delivery of their core message: to help everyone in the world get along. A special edition of the 'Miracle Gift Parade' held at Sanrio Puroland will also take place with an original story.

The art direction of the stage performance is being done by Sebastian Masuda, the music composed by music producer Hyadain, and the choreography created by Yukio Ueshima who has worked on countless Broadway musicals including a theatrical adaptation of the popular sports manga series The Prince of Tennis.



The musical is taking place at IHI Stage Around Tokyo, a unique theatre with 360-degrees rotating audience seats surrounded by movable huge screens and stages. The audience seats that are placed on a huge circular platform slowly rotates to each stage set as the story moves on, without waiting for set changes. Visitors will also be able to take photos with different Sanrio characters each day.

IHI Stage Around Tokyo is produced by TBS Television, Inc., Imagine Nation B.V., and The John Gore Organization Inc.

2021 Sanrio Character Ranking: Cinnamoroll Takes Home the Crown For the Second Year in a Row

Sanrio announced the final results and winners of the 36th Sanrio Character Ranking, an annual event where fans vote for their favourite Sanrio character to see who is the most popular. A total of 21,346,750 votes were submitted for 2021.

2021 Sanrio Character Ranking: General Ranking

Comments from the Winners

1st Place: Cinnamoroll
"I'm going to treasure this feeling forever! Thank you all for your support!♪"



2nd Place: Pompompurin
"Thanks so much for cheering me on!♡ I'm so grateful for all the love!"



3rd Place: Pochacco
"I can't believe I got 3rd again this year! It's thanks to all your support! I'm going to try hard next year too!"

2021 Sanrio Character Ranking: Collaboration Category

This year sees Cinnamoroll take the top spot for the second year in a row. In the first round-up of announcements, Cinnamoroll was already at number one, but in the second round-up he dipped to 2nd place. That didn't stop him however as after gaining over 2.3 million votes, he grabbed that shiny crown once again. Pompompurin, who is celebrating his 25th anniversary this year, came in 2nd again, and Pochacco in 3rd again. Hello Kitty, who ranked 5th last year, came in 6th place this year – a place she kept since the second round-up. SHOW BY ROCK!! who will commemorate her 10th anniversary next year came in 8th once again. Kuromi, who received much love from overseas fans this year, climbed from last year's 7th to 5th this year, making it the first time she has clocked in the Top 5 spot in 11 years. Cogimyun came in 10th after coming in 13th last year, making it her first time in the Top 10.

The Collaboration Category, which began in 2013, saw 27 entrees from different businesses and creators. Popular creators Azuki and Hapidanbui took 1st place this year.

Sanrio Character Ranking 2021 to Announce Winner in Collaboration With Tokyo Girls Collection

Sanrio has announced that the announcement ceremony for the winner of the 2021 Sanrio Character Ranking will take place in collaboration with Tokyo Girls Collection (TGC), a semi-annual fashion festival in Tokyo, on June 8. The event will be streamed live on Hello Kitty and TCG's respective LINE accounts, as well as Sanrio's official YouTube account, so that more people can tune in to this year's announcement and see which of Sanrio's characters will take the crown.

80 characters are participating in this year's Sanrio Character Ranking which will be announced in order from 80 to 1. This year also sees the return of the sub-award categories including Collaboration. Hosting the event as MC is tarento and actress Nao Asahi and the Japanese comedy duo Wagyu ga Tsutome.

But the winner announcement is not the only event scheduled for 2021's ranking. Since this time is a collaboration with TGC, there will be a fashion runway where popular models will show off their looks, a live performance with JO1 and the Sanrio characters, a rap battle, and more.

Fashion Runway: Famous models display the Sanrio character aesthetic

On the fashion stage, a line-up of well-known Japanese models will serve fashion inspired by Sanrio's most famous characters including My Melody, Kuromi, Little Twin Stars, and Pompompurin.

Marie Iitoyo and Maika Yamamoto will use a real-time composite photography system as they dress up as the adorable My Melody and her rival Kuromi. Serving the dreamy star-filled world of Kiki and Lala are Kaane and Sakura Saiga, Yoshiaki & Michi, and Rikariko. For the Pompompurin section, which is themed on the golden retriever's daily life, we have Nana Kato, Ami Komuro, Natsuki Deguchi, Sachi Fujii, and Roy. But that's not all as Sakachin, Yuki Higashihara, and Reina, who won the LINE LIVE auditions to appear on this year's fashion runway, will also appear.

A heated rap battle between the Sanrio characters

In the rap battle, KIRIMI-chan, Kuromi, Kogimyun, and Pompompurin will go head to head against special guests Tsukasa Saito of comedy duo Trendy Angel and Yuriyan Retriever. 

The Sanrio cast join music artists for a concert

The adorable Cinnamoroll, who is also expanding his work as an idol, will perform alongside JO1, while Hello Kitty will sing with singer-songwriter Sonoko Inoue.

A new virtual experience using the latest technology

Japanese digital advertising company CyberAgent, who produced virtual events and 3DCG content, will be using the latest in 3DCG and XR tech to blur the lines between reality and the virtual space with an interactive experience, such as people's comments on social media and the video displaying in real time, and more.

Sanrio Character Themed Afternoon Tea and Cafe Items Arrive at EGG & SPUMA

The Shinjuku branch of EGG & SPUMA is now hosting "Sanrio Characters CAFE," a menu of food and drink themed on Sanrio's beloved characters. Running until August 31, the cafe has also been decorated in colourful and cute Sanrio designs.

Receive a free coaster with your order

The menu line-up features lots of fruits, including the Cinnamoroll crème brûlée which is served on weekdays only, fruit sandwiches which will include My Melody themed ones this month and June, Hello Kitty and Keroppi ones in July, and Little Twin Stars in August. There's also fruity jelly and more.

If you're a Sanrio fan look to indulge a little more, then there is also a two-tiered afternoon tea set. The upper plate includes Kiki & Lala sandwiches, a Keroppi tart, the Cinnamoroll crème brûlée, and more. On the bottom plate there is Hello Kitty apple jelly, My Melody strawberry caprese salad, Kuromi canapé, and so on. There will also be special pancakes and a jelly dessert arriving in June which must be booked in advance.

Which of these Instagram-worthy delights do you want to tuck into?

Information

Sanrio Characters CAFE
Address: EGG & SPUMA Shinjuku Lumine EST (Floor 8F), 3-38-1 Shinjuku, Shinjuku-ku, Tokyo,  160-0022
Running: May 15, 2021 – August 31, 2021

Opening Hours: 11:00-20:00 (Last Orders 19:00)
TEL: 03-6273-0255
Official Website: http://www.salt-inc.co.jp/egg-and-spuma/

2021 Sanrio Character Ranking: Pompompurin Takes 1st Place in Interim Results

Votes for the 2021 Sanrio Character Ranking opened on April 9. Fans around the world have been voting for their favourite characters to win this year. The winner is set to be announced on June 8, but results of 1st place to 10th place for the second round-up have been revealed. These interim results were collected from votes placed online, in Sanrio's Ichigo Shimbun magazine, and Sanrio's online shop.

Taking the number one spot of the interim results is Pompompurin who made his debut 25 years ago. In 2nd place is Cinnamoroll, who is not far behind in the voting numbers. In 3rd is Pochacco, in 4th is My Melody, and in 5th is Kuromi. These characters are usually ones to rank high each year. Hello Kitty has moved up two places from the first round-up to 6th. Yoshikitty, the character representing music artist YOSHIKI, is in 8th.

Entering the Top 10 for the first time ever is Kogimyun in 9th place. There's still a little ways to go until votes close on May 24, so it could still be anyone's game. The winner will be announced online on June 8 at 19:30 (JST).

Comments from the Top 3 (Translated by MMN)

1st Place: Pompompurin

"Wow, 1st place! Thanks for all your support♪ I'm super happy, so lemme tell you something! I found an island that's shaped like me! The world we live in sure is exciting. My dream is to go there with you all after getting 1st place♪"

2nd Place: Cinnamoroll

"Thanks so much for your support! I love you all, and I want you to see me become an idol, stand on a big stage, and sing and dance for you♪"

3rd Place: Pochacco

"I'm still in 3rd place from the first round-up! Thank you, allll♪ It's all thanks to your support. Make a stop with me on our walk. If I'm together with you all, we're sure to see a brand new world. Keep supporting me, okay?"

Top 5 Characters Ranking Analysis

1st Place: Pompompurin

Pompompurin has been in the Top 3 for several years in a row. He last took 1st place in 2016. This year marks the 25th anniversary of his debut. He's looking to be number one after five long years.

2nd Place: Cinnamoroll

Cinnamoroll is a very busy individual, even making a CD debut. He first took 1st place in 2017 and has done three times in total. Will he take home the top spot again like last year?

3rd Place: Pochacco

Pochacco finally entered the Top 3 again last year for the first time in 23 years. This veteran character actually achieved this feat five years in a row between 1991-1995. Will 2021 be his year?

4th Place: My Melody

My Melody has been in the Top 5 for 24 years in a row. She has gone up one place since the first round-up. She has been in the Top 3 every year since 2017.

5th Place: Kuromi

Also known as My Melody's rival, Kuromi has seen a huge increase in popularity in recent years, and her place in the Sanrio Character Ranking has surged. Will she enter the Top 3 for the first time ever and beat her biggest rival, My Melody!?

Voting at the Sanrio Character Ranking is open to fans around the world. Hurry and make your vote before they close on May 24!

©'21 SANRIO S/F·G 著作(株)サンリオ

Information

2021 Sanrio Character Ranking Interim

Vote Deadline: May 24, 2021

Final Result Announcement: June 8, 2021 @ 19:30 (JST)

Vote Here: https://ranking.sanrio.co.jp/en/

Sanrio's Hello Kitty Inspires Cute Robot Set by LOVOT

GROOVE X's home robot series LOVOT is set to launch its first collaboration with Sanrio's beloved character Hello Kitty on May 17 with the release of a limited-edition set of two robots.

Yellow nose sold separately

The Hello Kitty x LOVOT original set comes with a charm (pictured far right)

Dress up in a cute Hello Kitty outfit


Those who purchase this set receive an original cloissone ware charm, each of which has a unique serial number on it. There's also a cute Hello Kitty outfit for dressing up your robot. The base of these robots, all of which are handmade individually, are coloured white like Hello Kitty and features her cute whiskers and red ribbon.

LOVOT launched four years ago and began selling its home robots in December 2019. This marks the company's first tie-up with Hello Kitty, a character known to all around the world.

2021 SANRIO CO., LTD. APPROVAL NO. S620221

Hello Kitty Diamond Necklaces Released by Japanese Luxury Jewellers U-TREASURE

Japan's luxury character jewellery brand U-TREASURE, which creates accessories for character-loving adults, released a new collection of Hello Kitty-inspired necklaces on Tuesday which are available for a limited time until May 25.

The necklaces feature a simple design with a single diamond stone tipped with Hello Kitty's ribbon. The necklaces come in various versions including platinum, yellow gold, pink gold, and also silver with cubic zirconia. The collection is available to purchase at U-TREASURE's concept store in Ikebukuro and their online shop.

<Hello Kitty Ribbon Necklaces> Platinum 950: ¥88,000 / K18 Yellow Gold, K18 Pink Gold: ¥88,000 / Silver & Cubic Zirconia: ¥16,500

©2021 SANRIO CO., LTD.

Hello Kitty x INTERGRATE Design Cosmetics Releasing This Spring

Shiseido's self-makeup brand INTERGRATE is set to release select beauty products with limited-edition Hello Kitty packaging on May 21. The theme of the collection is Meet "LOVELY." In the run up to its release, Hello Kitty cans can enjoy three filters of the popular Sanrio character over on INTERGRATE's official Instagram page.

INTERGRATE Limited-Edition Pro Finish Foundation Special Set K (2 Types) | ¥1,430 Each (Tax Included)

Colour palette

INTERGRATE Limited-Edition Pro Liquid Special Set K | ¥1,760 Each (Tax Included)

Colour palette

INTERGRATE Limited-Edition Water Jelly Crush Special Set K (2 Types) | ¥2,200 Each (Tax Included)

Colour palette

INTERGRATE Limited-Edition Triple Recipe Eyes Special Set K (2 Types) | ¥2,200 Each (Tax Included)

Colour palette

The limited-edition designs feature Hello Kitty and her cute friends who are ready to help you apply your makeup. The collection focuses on three each of INTERGRATE's iconic foundations and eye shadows. This includes the Pro Finish series which has foundation in a compact case, durable liquid foundation, and water jelly crush. Pick from three foundations too which come in a triple set. For this limited-edition collaboration, you can enjoy the pink PK704 and brown BR703, both of which are popular colours.

Sanrio Announces 60th Anniversary Exhibition 'The Beginning of Kawaii'

From Hello Kitty to Pompompurin, Cinnamoroll, My Melody, and more – Sanrio's internationally adored cast of characters can be universally agreed to be representatives of Japan culture of 'kawaii.' In celebration of Sanrio's 60th anniversary, the company have announced an exhibition centred on the beginning of kawaii culture. The event will take place at TOKYO CITY VIEW from September 17, 2021 to January 10, 2022.

60th Anniversary Sanrio Exhibition: The Beginning of Kawaii is currently taking place at Matsuzakaya Art Gallery in Nagoya until June 12 and will move to Ōita Prefectural Art Museum where it will run from July 10 to September 5 before heading to TOKYO CITY VIEW.

 

© 2021 SANRIO CO., LTD. APPROVAL NO. SP610376

This exhibition will not only look back over Sanrio's 60-year history, but will also dive into how Japan's culture of 'kawaii' came about. Fans of Sanrio and Japan's kawaii can expect product and design showcases, in-depth explanations, and more.

Over 800 products, documents, and materials related to Sanrio will be presented, many of which will shine a spotlight on some of their most famous characters out of their roster of 400, such as Hello Kitty and My Melody, and other characters that might not be known to those outside Japan such as best friends Patty & Jimmy.

What to look out for at Sanrio's 60th anniversary exhibition

Unforgettable Tower by Sebastian Masuda

Sebastian Masuda, a pioneer of kawaii culture, will showcase his symbolic art pieces at the event at TOKYO CITY VIEW's observation deck, combining his iconic work against a breathtaking background.

 

The Beginning of Kawaii

Learn about the history of Sanrio's culture of kawaii, beginning as a service to 'move people's hearts' through gifts and products. Visitors will get a chance to see the secrets of Sanrio's iconic style which draw a line under fancy products from other companies.

There will also be a chance to see Japanese illustrators Takashi Yanase, Ado Mizumori, and Rune Naito's work with Sanrio.

The Birth of the Characters

What makes something kawaii or not kawaii? Why do characters not necessarily need to have a story to become so popular? These questions are more will be answered as the exhibition looks at the birth of Sanrio's characters.

Sanrio's Characters

How did their hit characters come to be? During the 1980's, Japan was a warzone for characters. Sanrio changed how characters became popular, moving from characters that were popular with everyone to creating characters that people wanted for themselves – their own personal characters. Discover how Sanrio's long list of characters came about, including ones that have stood the test of time and ones that have declined in popularity.

Ichigo Shimbun

Ichigo Shimbun is a magazine published by Sanrio all about Sanrio and their characters – a familiar read to all fans in Japan. The magazine will be featured at the exhibition.

Hello Kitty: The Character Who Turned Into a Global Icon

Hello Kitty is known the world over, with even Lady Gaga having worn a dress of Hello Kitty plush toys in the past. This dress will be exhibited at the event, amongst many other things related to Sanrio's global idol.

A Battle Between Artists

Artists from various artistic background will participate in the exhibition by creating a range of different Sanrio works. Participating artists and their specialities include Ryūsuke Fukahori (objects), Hajime Nakatomi (bamboo art), Takaya Mori (sculptor), Mio Hashimoto (sculptor), and Risa Fukui (paper cut-outs).

Information

60th Anniversary Sanrio Exhibition: The Beginning of Kawaii

Running: September 17, 2021 – January 10, 2022

Where: TOKYO CITY VIEW (Roppongi Hills Mori Tower Floor 52F)

Address: 6-10-1 Roppongi, Minato-ku, Toky0

Price: TBA

60th Anniversary Sanrio Exhibition: The Beginning of Kawaii Official Website: https://sanriocharactermuseum.com/

Sanrio x Odakyu Romancecar Merchandise Collection Released

The Romancecar Museum in Japan opened its doors to the public on Monday, and as a special collaboration, the museum has teamed up with Sanrio to release an exclusive collection of merchandise featuring Hello Kitty, Pochacco, Cinna,oroll, Pompompurin, Badtz-Maru, and other characters by Sanrio.

Hello Kitty Plush Box | ¥3,080 (Tax Included)

Train Car Model Magnets: SE 3000/SSE 3000/NSE 3100/LSE 7000/HiSE 10000/RSE 20000/VSE 50000/GSE 70000 – ¥550 Each (Tax Included)

Sanrio Characters Souvenir Bag | ¥880 (Tax Included)

The line-up includes a Hello Kitty plush packaged in a box inspired by the GSE 70000 Odakyu Romancecar train model, a selection of magnets, a bag with the Sanrio characters wearing train staff uniform, and more.

©️ 2021 SANRIO CO., LTD.
©️ 2021 Odakyu Electric Railway Co., Ltd.