"Tabemasu's" Japanese sweets items using the motifs of HELLO KITTY and Pomu Pomu Purin are available at LAWSON.
The Japanese sweets items using the motifs of HELLO KITTY and Pomu Pomu Purin are available at LAWSONs throughout Japan (except LAWSON stores in Okinawa, Natural LAWSON and LAWSON Store 100).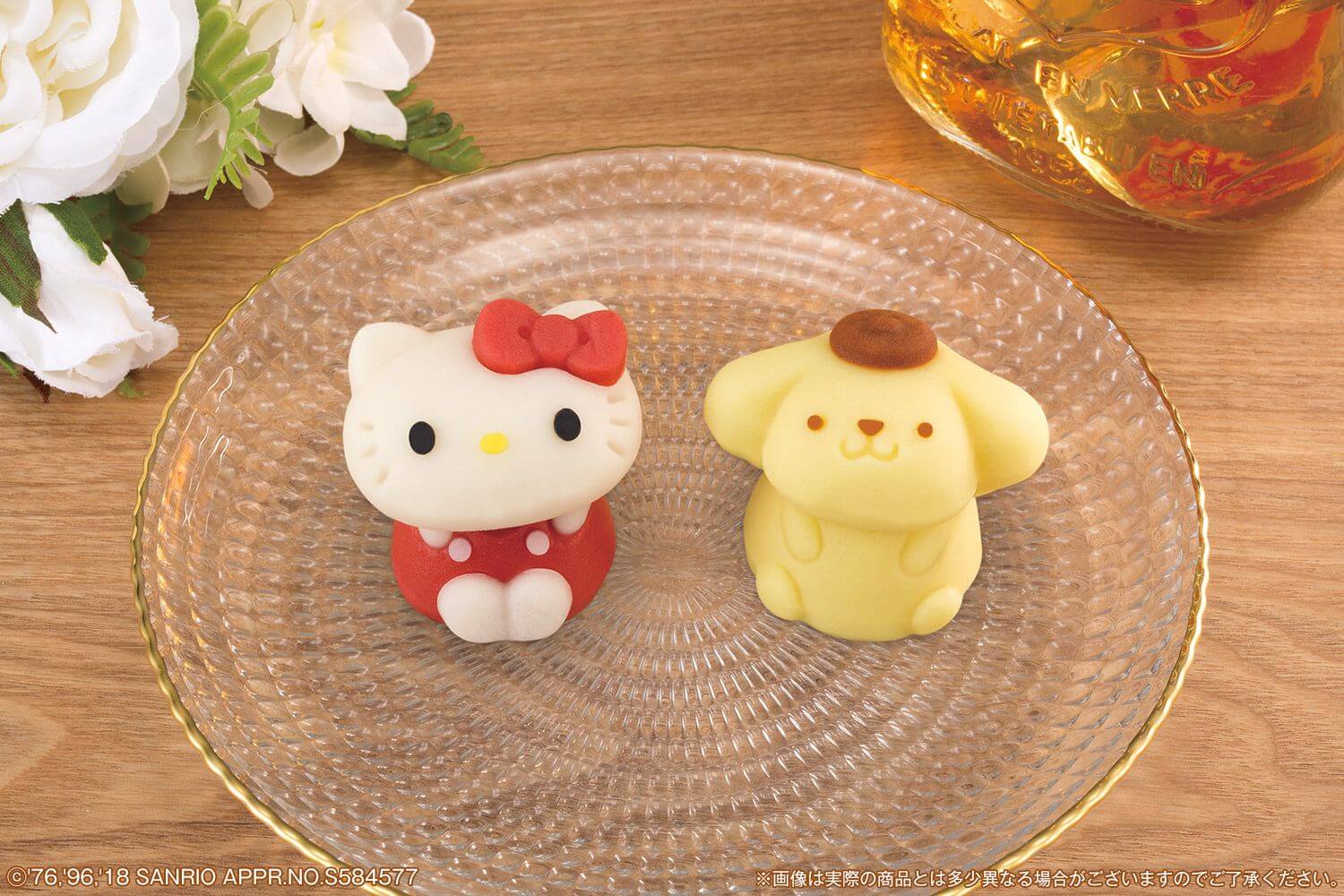 "Tabemasu" is a series of Japanese sweets items, the name being a contraction of the series name, "Taberareru Mascot (eatable mascot characters)." The series uses the dough made of bean-jam, sugar and mochi powder called "nerikiri" to express the characters. It is a series of a new type of Japanese sweets items that you might feel guilty eating since the cuteness of characters are expressed in a detail.
This time, "Tabemasu HELLO KITTY" and "Tabemasu Pomu Pomu Purin" using the motifs of the two characters of Sanrio were added to the series. The sweets items express the characters' features in detail such as KITTY's ribbon, Pomu Pomu Purin's beret and cute eyes. HELLO KITTY has the flavor of apple and Pomu Pomu Purin has the flavor of pudding and both sweets items can be enjoyed by both children and adults. Let's enjoy the delicate taste and soft texture of these Japanese sweet items.
The quantity of each sweet items is limited, so let's get them as soon as possible!
■Information
Tabemasu HELLO KITTY / Pomu Pomu Purin
Price: 259 yen – each (280 yen – tax included)
Release date: 2018/02/27 (Tue.)~
Available stores: Chilled corner of each LAWSON (except for stores in Okinawa).
※The sweet items are not available at Natural LAWSON and LAWSON Store.
※Please note that the quantity of each sweet item is limited.
RELATED ENTRIES
Hello Kitty Double Wall Glasses by GOODGLAS Are Perfect For Dessert Servings

Japanese glass company GOODGLAS re-released the red versions of its Hello Kitty double wall glasses on Friday after they sold out in just two months when they first went on sale on July 20.

Handmade Hello Kitty Double Wall Glass

Hello Kitty Double Wall Glass (Red) | ¥3,600 (Before Tax)

Glass products at GOODGLAS are all handmade and use the traditional glass blowing method.

Not just cute but practical too

Limited Edition Blue Colour

The glasses can be used for beverages too. Winter is on the horizon, so this is the perfect vessel to sip a cosy hot drink from.

Enjoy a tea break at home with Hello Kitty

限定カラーゴールド

When you pour either your hot or cold drink into the glass, Hello Kitty's face stands out even more—and depending on the beverage you pour inside, you can create different looks.

©︎1976, 2020 SANRIO CO., LTD.TOKYO,JAPANⓁ

Information

Hello Kitty Double Wall Glass Red
Re-released: October 23, 2020
GOODGLAS Japan Official Website:  https://www.r-kj.com/

Sanrio Puroland Announces Christmas 2020 Event PURO RAINBOW CHRISTMAS

Sanrio Puroland has announced that this year's PURO RAINBOW CHRISTMAS event will run from November 13 to December 25. The theme for 2020 is "Rainbows," and this time around, the event can be enjoyed both at the park and online.

Colourful and Kawaii Christmas Food

Sanrio Puroland will once again serve up a special Christmas menu of ten items, with iconic characters like Hello Kitty, My Melody and the Little Twin Stars wearing colourful Santa Claus hats.


Food includes dishes like "Hello Kitty's Christmas Gift Curry" with Hello Kitty holding a Christmas present, the snow white "Rainbow Christmas☆Snow Omelette Pasta," and more. There are also desserts such as "My Melody's Pink Yule Log Cake" and "Pochacco's Pistachio & Strawberry Tree Parfait." The multi-coloured menu line-up takes up Christmas classics like chicken and snow.

Cute Rainbow Coloured Merchandise

Mascots | ¥1,650 Each (Tax Included)

A collection of different mascots from Sanrio Puroland each wearing colourful Santa outfits.

Confectionery Set | ¥1,080 (Tax Included)

An assortment of confections served in an eye-catching box featuring familiar Sanrio faces.


Christmas Illuminations – "Rainbow Santa's Christmas Eve"

An exciting Christmas illumination show will take place at Puroland Village to the sound of Christmas-y Puroland music. Lights will brighten up the place with in a kaleidoscope of colours.

PURO RAINBOW CHRISTMAS Special Greeting

Visitors will be able to meet and take photos with the Sanrio characters in person for one whole minute. The cast will wear Christmas red outfits from November 13 to December 1 and change into white costumes from December 5. This will take place on the first floor Event Corner and will see Hello Kitty, My Melody, Pompompurin, Cinnamoroll, Wish me mell, and Dear Daniel make an appearance.  It will be carried out using social distancing measures.

Enjoy Puroland Christmas at Home

This year, Sanrio Puroland will stream past popular Christmas events held at the park on the Japanese video streaming site SHOWROOM on December 12. Shows include "HAPPY GIFT CHRISTMAS" from 2016, "The Puro Christmas" from 2019, and more.

Infinite Online Greetings

Sanrio Puroland launched online content back in June in response to COVID-19 which included getting to meet the characters online. They will host a special Christmas version on December 22 also on SHOWROOM where the characters will wear their white costumes from the Christmas show "The Puro Christmas." Participating characters include Hello Kitty, My Melody, Pompompurin, Cinnamoroll, Little Twin Stars (Kiki & Lala), Wish me mell, and Dear Daniel.

©'13,'20 SANRIO S/D・G ©'15,'20 SANRIO S/T・F ©'15,'20 SANRIO S/F・G ©'17,'20 SANRIO MP,TX©'75,'76,'79,'84,'85,'86,'88,'89,'90,'92,'93,'96,'98,'99,'01,'04,'05,'10,'12,'20 SANRIO

Lipton Tea Announces Hello Kitty Collaboration With Cute Yellow Label Designs

Tea brand Lipton has announced its first-ever collaboration with popular Sanrio character Hello Kitty to release limited-edition designs of its Yellow Label tea in Japan. The tea will hit shelves in Japan this December.

Teabag design

Join Hello Kitty for a cup of tea with her first ever tie-up with Lipton, a company that has been sipped for 130 years. Hello Kitty is donning a cute teacup hat, a design made exclusively for this collaboration, which features on the packaging as well as the teabag packs.

The packs will be sold at major supermarkets and elsewhere in Japan this winter from December. And to celebrate Tea Day in Japan, as well as Hello Kitty's Birthday—both of which fall on November 1—select items in this new tea range will be released early at the end of this month at Sanrio.

Lipton Japan will also post the first chapter of an original 4-panel Hello Kitty comic on its Twitter page in early November. The cute comic will be centred on Hello Kitty enjoying her cup of tea.

Information

Lipton Yellow Label Hello Kitty Design (25 Bags)

Price: ¥300

Lipton Yellow Label Hello Kitty Design (50 Bags)

Price: ¥500

Lipton Japan Official Website: http://www.lipton.jp/

My Melody and Kuromi Bubble Tea to be Served at Pearl Lady in Japan

Bubble tea chain Pearl Lady, which is celebrating its 17th anniversary this year, is teaming up with Sanrio for the second time to release two new drinks themed on the popular characters My Melody and Kuromi on October 16, 2020. My Melody and Kuromi are also celebrating their 45th and 15th anniversaries respectively.

Black Lemonade | Strawberry Milk Tea (w/ Novelty) – ¥500 Each (Tax Included)

The two beverages are Sweet Strawberry Milk Tea, which is inspired by the cute My Melody, and Black Lemonade, which is based on her rival Kuromi.

When ordering either of the drinks at Pearl Lady, customers will also get one of 6 possible badges as pictured above. One of the designs is a secret, so you'll need some luck if you want that one.

Demon Slayer Confections Slash Their Way Into Lawson Convenience Stores in Japan

Bandai Candy's character-inspired Japanese confectionery series Tabemas collaborating with the popular TV anime series Demon Slayer: Kimetsu no Yaiba to release two confections themed on the show's main characters Tanjiro Kamado and Nezuko Kamado as well as a collection of tarts. The sweet treats will hit the chilled desserts corner of Lawson convenience stores in Japan on October 20, 2020.

Tabemas x Demon Slayer


Tabemas x Demon Slayer: Kimetsu no Yaiba (Tanjiro Kamado/Nezuko Kamado) – ¥264 Each (Before Tax)

The tarts feature all the little details of the beloved characters, from the scar on Tanjiro's forehead and his earrings to the bamboo pipe in his sister Nezuko's mouth and her hair adornment. It also captures the designs of their clothes. Both are filled with Japanese red bean paste with Tanjiro being chocolate flavoured and Nezuko strawberry flavoured.

Demon Slayer Tarts


Demon Slayer Tarts | ¥231 (Before Tax)

An assortment of biscuit base tarts laced with caramel mousse. The tart designs feature a range of popular characters from the anime series including the Kamado siblings, Zenitsu, Inosuke, Shinobu, and Tomioka.

Demon Slayer: Kimetsu no Yaiba is a manga series by Koyoharu Gotouge serialised in Weekly Shonen Jump. The popular series has over 100 million copies in circulation and spawned a hit anime series last year. The upcoming anime film Demon Slayer: Kimetsu no Yaiba the Movie: Mugen Train, which is being animated by ufotable, is set for release tomorrow on October 16, 2020 will serve as a direct sequel to the 2019 anime series.

©Koyoharu Gotouge/Shueisha・Aniplex・ufotable

Sanrio Puroland Unveils 30th Anniversary Key Visual

December 7, 2020 will mark the 30th anniversary since the opening of Sanrio Entertainment's theme park Sanrio Puroland. To celebrate, the park will begin holding a special 30th anniversary event from the same day. In the run up to the special day, Sanrio Puroland is holding a crowdfunding campaign and is accepting messages from fans.

At the event, Sanrio Puroland will host a special live show as well as sell celebratory merchandise, serve up anniversary food, and more. Full details are scheduled to be released in mid-November.

Sanrio Puroland has been affected greatly by COVID-19 which has seen the park closed for a long time, and so it has launched a crowdfunding page to ask for guests' support to help it celebrate its 30th anniversary instead of giving up on it all. There's a selection of goodies to get your hands on for those who donate such as T-shirts and more.

Puroland is also requesting messages from guests of their memories and experiences had at the park so that a 30th anniversary theme song can be made from them. Messages can be posted on Twitter with the hashtag #ピューロ30周年届け私のエピソード.

©'13,'20 SANRIO S/D・G ©'15,'20 SANRIO S/T・F ©'15,'20 SANRIO S/F・G ©'17,'20 SANRIO MP,TX
©'75,'76,'79,'84,'85,'86,'88,'89,'90,'92,'93,'96,'98,'99,'01,'04,'05,'10,'12,'20 SANRIO

Information

Sanrio Puroland 30th Anniversary Event
Crowdfunding Page: https://motion-gallery.net/projects/spl-ohl
Crowdfunding Duration: October 6, 2020 at 13:00 (JST) to November 17, 2020 at 23:59 (JST)

Guest Messages
Running: October 6, 2020 to October 31, 2020 at 23:59 (JST)募集期間:2020年10月06日(火)~10月31日23:59
How to send your message: Post on Twitter with the hashtag #ピューロ30周年届け私のエピソード

Official Website: https://www.puroland.jp/30th/

Cute Cinnamoroll Halloween Doughnuts to be Sold at Floresta in Japan

Floresta Nature Doughnuts, a chain of shops that sell delicious doughnuts that are healthier to your body than regular doughnuts, is collaboration with popular Sanrio characters Cinnamoroll and Cappuccino for some adorable Halloween doughnuts.

Cinnamoroll / Cappuccino – ¥450 Each (Before Tax)

Donning their snug Halloween hats, which are made from purple sweet potato, Cinnamoroll and Cappuccino sit atop their doughnut that's covered in white chocolate spider web and topped with a star made from pumpkin.

The doughnuts will be released at Floresta on October 17, just two weeks before Halloween, at 12:00am in Japan. They are sold individually or as part of the Cinnamoroll Hallloween Doughnuts Box which contains two of each.

Cute, colourful, and a healthier option. If you're in Japan this Halloween, join Cinnamoroll and Cappuccino for the holiday season.

Information

Cinnamoroll Hallloween Doughnuts
Serving: October 17, 2020 – October 31, 2020

Release Date: October 17, 2020 at 12:00am (JST)
Floresta Oraganic Store: https://floresta-ec.jp

*Product is limited in stock. Only orders only.

Hello Kitty Collaborates With Japanese Ramen Restaurant Kourakuen

Kourakuen Holdings Corporation launched a collaboration campaign together with Sanrio's popular character Hello Kitty on September 26 which is set to run to October 25.

Hello Kitty takes over Kourakuen

For the duration of the collaboration, the Roppongi and Dogenzaka branches of Kourakuen will be decorated in all things Hello Kitty

Free folder with child meal sets

A free and exclusive A4 size folder will be given to all who order the children's meal set. This is available at select branches only and the folders are limited in stock.

Kourakuen original merchandise

Kourakuen x Hello Kitty Soy Sauce Plate | ¥200 (Tax Included)

Kourakuen x Hello Kitty Folder | ¥100 (Tax Included)

A special line-up of original and exclusive merchandise will also be sold at all Kourakuen branches including soy sauce plates, folders, and more.

Sanrio Releases 2020 Autumn and Winter Cosmetic Series

Sanrio has released a colourful new line-up of heart-focused cosmetic items—lip cream, hand cream, and lip tint—for the autumn and winter season. The packaging features everyone's favourite Sanrio characters such as Hello Kitty, My Melody, Little Twin Stars, and many more. Additionally, they have released cute heart marks for people to put on their face.

Heart Marks (3 Designs) | ¥1,430 Each (Tax Included)

Use the heart-shaped sponge to dip into the cheek cream and stamp a cute heart on your face.

Hand Cream (10 Designs) | ¥605 Each (Tax Included)

Keep your hands moist during the colder seasons. There are five different scents to choose from.

Lipstick (9 Designs) | |715 Each (Tax Included)

Heart-shaped scented lipstick, each capped off with an adorable character from Sanrio's roster.

Lip Tint (6 Designs) | ¥770 (Tax Included)

Tint your lips and keep them moisturised at the same time. Pick from red, coral pink, or pink.

Other items in the line-up include hand cream and mini towel sets, lip cream and hand cream sets, and more. Autumn and winter's chilly months can be beaten with a little self-care, so be sure to check this collection out.

©'76, '85, '89, '93, '96, '01, '05, '20 SANRIO
©'15,'20 SANRIO S/F・G

Information

Available: Sanrio stores in Japan and select department stores stocking Sanrio Products

Sanrio Online Shop: https://shop.sanrio.co.jp/

Sanrio Puroland Begins Halloween 2020 Event 'PURO HALLOWEEN PARTY'

Sanrio Puroland's Halloween event "PURO HALLOWEEN PARTY" is now on and is set to run up to Halloween Day, with everyone's favourite characters dressed in their spooky attire ready to greet guests, themed food and decorations, Halloween illuminations, and more.

Sanrio characters greet guests in their Halloween costumes

Masquerade Party is the theme of this year's Halloween event at Puroland.

"Miracle Light" Halloween illuminations

Photo Spot

The event welcomes a new illumination show to the beat of Halloween tunes as well as a photo spot that combines cute pastel and stylish dark themes for the Masquerade Party theme.

Meet characters dressed in Masquerade Party outfits

There's also a chance to meet your favourite characters dressed in Masquerade Party attire for one minute by yourself.


There's plenty of pastel and dark inspired food and merchandise too, available both at the park and the Sanrio Puroland Online Shop. The park is also carrying out video calls for visitors who can meet the Sanrio characters online using talkport.

Pastel & Dark food menu

The spooky menu includes the "Hello Kitty & Dear Daniel Dark Masquerade Beef Curry," "Sleepy Pompompurin's Halloween Beef Ramen," and more.

©1976, 2009 SANRIO CO., LTD.  ©1976, 1989, 1993, 1999, 1996, 2001, 2020 SANRIO CO., LTD.

Information

PURO HALLOWEEN PARTY

Running: September 11, 2020 – October 31, 2020

Sanrio Puroland Official Website: https://www.puroland.jp

Sanrio's Cute Face Mask Bags Keep Your Mask Safe With Hello Kitty and Cinnamoroll

Pre-sales for Sanrio's new face mask bags opened on Wednesday (September 9) on Asunarosha's online shop. There are two bag designs, one with Hello Kitty and another with Cinnamoroll.

Hello Kitty Face Mask Bag ¥700 (Before Tax) / Cinnamoroll Face Mask Bag ¥700 (Before Tax)

Now you can store your masks safely and hygienically wherever you go and make it look cute.

The bags are made from TPU plastic and combines the strength of plastic with the lightweightness of silicone, so your mask won't get dusty and even if the bag gets wet or dirty, the face mask stays safe and in tact.

The bags also take on an adorable rainbow colour when the light hits them, adding a bit of fun to the face mask routine.

©1976, 2001, 2020 SANRIO CO., LTD.

My Melody and Kuromi Merchandise to Release in Collaboration With Women's Fashion Magazine bis

In celebration of My Melody's 45th anniversary and Kuromi's 15th anniversary, Sanrio is collaborating with the Japanese women's fashion magazine bis, published by Kobunsha, to release a collection of new products on October 7, 2020. The items will be sold at select Sanrio stores, Sanrio's online shop, and KOBUNSHA SELECT SHOP. Merchandise made in collaboration with The Skips will also be released in early October via The Skips' online shop.

bis is a fashion magazine aimed at women in their 20's that focuses on 'sweet with a hint of poison' fashion culture. Their style is a combination of vintage and trends to express cuteness that isn't sickly sweet.

The My Melody and Kuromi collaboration incorporates bis's motifs of bees and roses, the latter of which often appears on the magazine's front covers. My Melody has been drawn in the style of how she looked when she first appeared in 1975. Likewise, though Kuromi came much later, she has been drawn in that 70's style too.

 My Melody & Kuromi Plush Toys | ¥2,420 Each


Face Mask Pouch (bis) | ¥2,530

The lineup ranges from soft plush toys to a velvet tote bag, mugs, and more.

My Melody & Kuromi T-Shirts (bis) | ¥3,080 Each


The Skips My Melody & Kuromi Heart Hairband | ¥2,640 *Launching early October 2020

There's also a mini 130ml thermal bottle, T-shirts—the list goes on, for a total of 34 items.

Celebrate My Melody and Kuromi's anniversary milestones with bis's collaboration.

© 1976, 2005, 2020 SANRIO CO.,LTD.