MMN Festival: Saki Shibata, Ayumi Seto & Yuri Suganuma to Hold Official Tours as Tour Guides
MOSHI MOSHI NIPPON FESTIVAL 2018 in SHIBUYA will be held on March 24 and 25. At the event, three popular models – Saki Shibata, Ayumi Seto and Yuri Suganuma  – will work as tour guides at the festival to hold official tours for attendees!
Let's take a close look at each of their tours and what you can look forward to.
Yuri Suganuma
After watching the stage performances where Yuri Suganuma will appear you will participate in a workshop with her. You'll be making a swag, which is a popular stylish wall decoration. A range of flowers will be provided, so pick your favourite and get hands-on in designing your own original swag. After it's complete, the tour will conclude with a commemorative photo together.
■Date: March 25th
■Duration: 1 Hour 30 Minutes
■No. of People: 11
■Price: ¥3,500 (Includes workshop charge. Workshop scheduled to last 30 mins.)
13:00 Stage performances (w/ Yuri Suganuma)
14:30 Workshop
14:50 Commemorative photo
15 : 00     Viewing the stage
Register here: https://www.airbnb.jp/experiences/198915
Ayumi Seto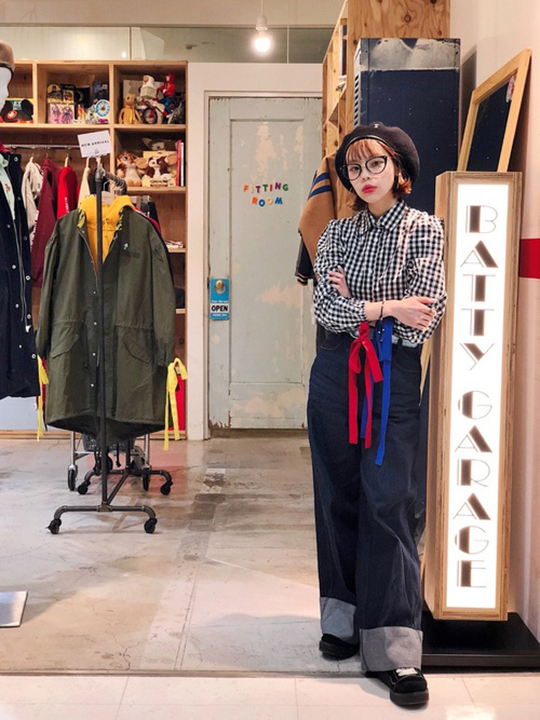 You will participate in a workshop organized by "Aymmy in the batty girls," an apparel brand for which Ayumi Seto works as the Director. After the workshop, you will join Ayumi Seto and go to the "Aymmy in the batty girls" store where she will showcase recommended spring items and outfit coordinates.
■Date: March 24th
■Duration: 1 Hour
■No. of People: 5
■Price: ¥2,000 (Includes workshop charge.)
11:00 Workshop: Design a mug
11:30 Spring recommendations at Aymmy store
12:00 Finish
■Date: March 25th
■Duration: 1 Hour
■No. of People: 5
■Price: ¥2,000 (Includes workshop charge.)
16:00 Workshop: Design a mug
16:30 Spring recommendations at Aymmy store
17:00 Finish
Register here: https://www.airbnb.jp/experiences/198906
Saki Shibata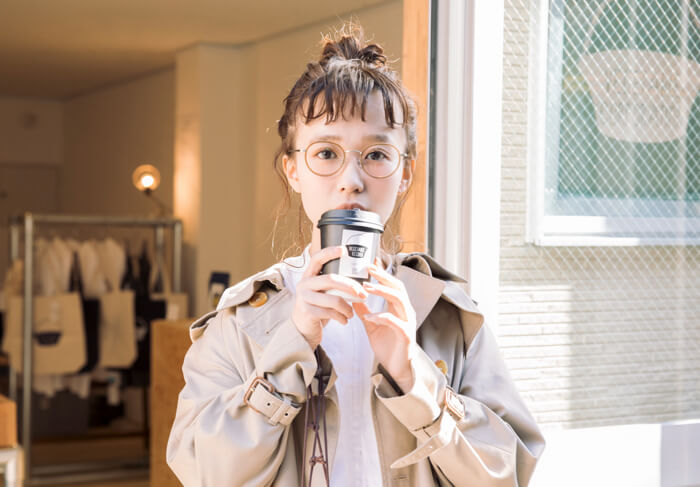 Saki Shibata will take on the role of a tour guide and show you around the Shibuya and Harajuku area! This special one-off tour will take you to spots in Shibuya and Harajuku that Saki visits often. You'll also dress up in a kimono and pray at a shrine and more. The tour will take place on the 24th and 25th. The prices and schedules differ for each day so be sure read the details carefully.
■Date: March 24th
■Duration: 4 Hours
■No. of People: 9
■Price: ¥3,500 (Includes dining and workshop charges.)
■Schedule:
12:00 Create an accessory at the CHACO workshop in Laforet Museum Harajuku
13:00 Stage performances (w/ Saki Shibata)
14:30 Light meal
15:15 Walk along Cat Street
16:00 Finish at SHIBUYA CAST.
Register here: https://www.airbnb.jp/experiences/198879
■Date: March 25th
■Duration: 3 Hours
■No. of People: 9
■Price: ¥7,000 (Includes dining and workshop charges.))
■Schedule:
12:00 Meet at SHIBUYA CAST. for kimono fitting
12:45 Walk to Onden Shrine in kimono
13:55 Pray at Onden Shrine & receive goshuin
13:15 Stroll along Cat Street towards SHANTi
14:00 Late lunch at SHANTi
Register here: https://www.airbnb.jp/experiences/198895
Tours – How to Apply
To sign up for the tours, head to the Airbnb website and select the time and date. Please note that once all spaces have been filled the application window will close.
The application pages for each tour are different. Links and information will be posted on the MOSHI MOSHI NIPPON Twitter page, so be sure to follow us.
*Please note that payments can be made by card only.
■Information
MOSHI MOSHI NIPPON FESTIVAL 2018 in SHIBUYA
Locations: SHIBUYA CAST. / Tower Records Shibuya / Laforet Museum Harajuku / Onden Shrine
Dates: Saturday 24 March – Sunday 25 March
Time: 11:00-21:00 *Times differ at each area
RELATED ENTRIES
Nijo Castle Light-Up Event Streaming Tickets Now Available

One of seventeen Historic Monuments of Ancient Kyoto is currently being illuminated in a sea of otherworldly lights. Nijo Castle in Kyoto is the location for the One to Ten: Evening Party, using projection mapping to bring out the beauty of this magnificent locale. For those who can't visit in person, an event on December 7 is inviting people to watch the lights online, including the illumination of the Karamon Gate and the Ninomaru Garden. Tickets for the online event go on sale on December 3, 2021. 

To capture the feeling of being on-site and to convey the incredible atmosphere, a camera will guide viewers along the normal route through the castle grounds with audio commentary. The popular 'Special Performance,' which only allows a limited number of people each day due to space constraints, will be available to view in its entirety during the stream. 

The live event will air on December 7 at 10:00 PM JST, and will be archived until December 26 at midnight. Tickets to watch are available from December 3 until December 26. 

Information

One to Ten: Evening Party at Nijo Castle

Running: November 5 – December 12, 2021 *Closed December 8

Hours: 18:00-21:20 (Grounds close at 22:00)

*The event may be canceled due to inclement weather. Content may be changed at the discretion of the organizer.

Official Site: https://yakai.1-10.com/nijojo/

Yokohama Spaghetti & Cafe Offering Afternoon Tea with Cute Miniatures

If you're looking to feel like a kid again, Yokohama Spaghetti & Cafe is offering a chance to have afternoon tea with some adorable miniatures in a dollhouse atmosphere. The popular set will be reimagined during December to feature a Christmas motif, and is the perfect backdrop for Twitter or Instagram pictures!

'Afternoon Tea for 'me' and 'my friends,' drink included: ¥1,380 per person (Tax Included)

The set includes seven beautiful desserts crafted by a pastry chef and features seasonal fruit. Whether you enjoy tea and cakes by yourself or with friends, feel free to take pictures of the miniatures for a jolt of cuteness. 

Information

Yokohama Spaghetti & Cafe

'Afternoon Tea for 'me' and 'my friends' 

Available: Daily after 15:00

No reservations needed

Address: Tokyu Square 1 B1F, 2-3-2 Minatomirai, Nishi-ku, Yokohama (Connected to Minatomirai Station)

Hours: 11:00-21:00 

Official Instagram: https://www.instagram.com/hama.spa/

Manga Series Dandadan Gets Collaboration Merch at Tower Records to Celebrate Volume 3

To celebrate the release of volume 3 of the Dandadan manga series, participating Tower Records locations in Japan will be selling some collaborative merchandise starting on December 3. The items will also be available to purchase on Tower Records Online. 

Acrylic Keychain (8 varieties): ¥715 (Tax Included) 

*This product is limited to 16 per person.

Square Pins (6 varieties): ¥605 (Tax Included) 

*This product is limited to 12 per person. 

Sticker (Momo Ayase, Okarun, Aira Shiratori & Turbo-Granny, 3 Varieties): ¥880 each

Tiny Pin: ¥660 (Tax Included) 

Sticky Note Set: ¥880 (Tax Included) 

Towel:  ¥2,200 (Tax Included) 

Reversible Reuseable Bag: ¥2,200 (Tax Included) 

T-shirt (Okarun, Turbo-Granny, 2 varieties): ¥3,850 each

©︎龍幸伸 / 集英社

Information

Dandadan x TOWER RECORDS

Release Date: December 3, 2021 *Reversable bag will go on sale December 10

Participating Locations: Shibuya, Shinjuku, Sapporo PIVOT, Sendai PARCO, Ikebukuro, Akihabara, Machida, Kawasaki, Nagoya Kintetsu Pass'e, Umeda NU Chayamachi, Fukuoka PARCO

Tower Records Online: https://tower.jp

Details: https://tower.jp

Tokyo Revengers Anime Special Event Visual Unveiled

A special event for the wildly popular Tokyo Revengers anime series will be held on December 18, 2021. The first visual for the event has been released!

The new image shows Takemichi, Chifuyu, Peh-yan and the founding members of the Tokyo Manji Gang taking a well-deserved break. Takuya Eguchi, who plays the role of Shuji Hanma, will make an appearance during the evening show. Along with the members of the Tokyo Manji Gang, members of Valhalla will be present too, so it's sure to be a wild time. 

Exclusive merchandise will be sold at the venue, and pamphlets featuring cast photos and special interviews will be handed out. Good luck charms will be on sale, with many seen in episode 22 of the anime series. 

Tickets went on sale December 1 and are available on a first-come, first-served basis. 

©和久井健・講談社/アニメ「東京リベンジャーズ」製作委員会

Information

Tokyo Revengers Special Event at Tachikawa Stage Garden

Date: December 18, 2021

Day Show: Opens at 13:00, Show Starts at 14:00

Evening Show: Opens at 17:00, Show Starts at 18:00

Tickets: https://special.canime.jp/tokyo-revengers-anime/ticket/

*注意事項等の詳細は受付URLからご確認ください。

Dean Fujioka to Hold Special Livestream to Celebrate New Album 'Transmute'

To commemorate the release of his long-awaited third album, Dean Fujioka will hold a special Livestream on Niconico and YouTube on December 8, 2021. 

The title of the new album 'Transmute' was chosen to convey the message of how important it is to 'mutate' in order to survive in today's chaotic and unpredictable world. During the stream, Fujioka will talk about his thoughts on the album's creation, his current nationwide tour, and more. 

This will be the first live appearance of Dean Fujioka on Niconico in about 9 months, so be sure to tune in!

Information

Dean Fujioka 3rd Album 'Transmute' Special Livestream

Date: December 8, 2021 at 19:00 JST

Niconico Livestream: https://live.nicovideo.jp/watch/lv334463401

YouTube Official Channel: https://www.youtube.com/user/deanfujiokanetjp

Starring: Dean Fujioka / MC: Chan-Kawai

Transmute

Release Date: December 8, 2021

Limited Edition A: Transmute (Trinity) / CD+DVD with LP Jacket: ¥6,600 (Tax Included) 

Limited Edition B: Transmute (Lucaism) / CD+DVD Digipak with three sides: ¥6,600 (Tax Included) 

Standard Edition: Transmute (Epigenesis) / CD+DVD: ¥5,500 (Tax Included) 

Dean Fujioka Official Site: http://www.deanfujioka.net

Condom Battler Goro, Anime Teaching Proper Condom Application, Gets New Episode

There are plenty of bizarre anime series out there, but at least this one has a helpful message. Lovers Labo has released the second part of 'Condom Battler Goro,' a short anime series aiming to spread helpful knowledge about condom use. The new episode is available via YouTube. 

Part One:https://youtu.be/EzD4aOgFxvA
Part Two:https://youtu.be/mkH88T1cf04

 

The first episode aimed to convey common skills and knowledge about wearing condoms, but the new episode is tackling one very specific issue: unplanned pregnancies. The easy-to-understand story explains that people shouldn't be embarrassed to ask for or wear a condom and that the prejudice surrounding such a thing is completely false. 

Sure, it's strange, but it's a message worth sharing. 

Naoki Onogawa Museum of Art in Kagawa Prefecture Holds Folklore Exhibition

The Yokai Art Museum, which often works with local artists and community organizers in the 'maze town' of Shodoshima in Kagawa Prefecture, is currently holding the 'Folklore Exhibition' at the Naoki Onogawa Museum of Art. Six new works inspired by the Setouchi region are on display until December 26, 2021. 

Naoki Onogawa creates incredible sculptures made from tiny origami cranes that are folded one by one using only 1cm paper–and they're made without tweezers! After experiencing the Tohoku Earthquake in 2011 when he was a student, he visited Rikuzentakata City in Iwate Prefecture a year after the disaster. Shocked and deeply impacted by what he saw, he began making origami cranes. The way he utilizes cranes is not as the traditional symbol of peace, but as solemn prayers to encase his feelings that have no other outlet. His works have a delicate and mysterious beauty that pulls in visitors and makes them think about the meaning of life itself. 

His new works, six of which were inspired by the Setouchi area, were on display at the Setouchi Municipal Museum of Art from March 9 to May 5, 2021.

My History with Paper Cranes | A Message from Naoki Onogawa

"Origami was my passion when I was a child. The origami crane is one of the most famous forms of traditional origami, and as I spent time making them, I started to feel that I could channel my emotions into them. It started to become a habit, then an obsession. I couldn't stop. There was no endpoint or goal in mind, I just made them as often as I could. 

In 2011, the Tohoku Earthquake happened. In April of the following year, I visited Rikuzentakata City to listen to the community's stories and to see the devastation firsthand. It was terrifying to see how helpless human beings are in the face of nature, but even still, I was struck by how strong human beings could be to persevere. No matter our age, race, gender, or status, we all face the major threats of nature, while also living in harmony with it. At that time, I was very aware that it was important to live in the moment. Beside a school building that had been totally destroyed by the tsunami, I saw a thousand paper cranes. 

It was akin to a solitary ritual. The paper cranes were used to express those feelings that had nowhere else to go and to pray for those who had been lost. I can't really put it into words, but the cranes I make now might have come from those solemn prayers. This is the place for my cranes now. When I look at them now, I think that origami cranes are incredibly precious, and hide something mysterious within them. They are the ultimate beauty in my mind. 

Each of us has our own personal journey with these paper cranes. It's up to each person to decide how he or she feels and how his or her thoughts are layered. I just hope that while looking at these works people will find their hearts moved."

Information

Naoki Onogawa Folklore Exhibition

Address: Naoki Onogawa Museum of Art (289-33 Aza-Higashi-Motohama Kou, Tonosho, Shode-gun, Kagawa)

Running: November 26 – December 26, 2021

Hours: 10:00-18:00 (Last Entry at 17:00) *Closed Wednesdays

Admission: 

Adults: ¥1,500 / Middle School Students: ¥750 / Elementary School Children and Younger: Free

Official Site: http://shl-olive.co.jp/

Art Project ART BASE ZERO next Highlights Up-and-Coming Artist CHRIS

The Human Miracle Company launched ART BASE ZERO next in October 2021 to highlight up-and-coming artists. Inspired by 90s street culture in Tokyo, their new exhibition with CHRIS, whose works are made using a decollage technique, will open at Tokyo Hinode Pier from December 4 until December 26, 2021. 

Selected Items

CHRIS is a contemporary artist inspired by Tokyo street culture of the 90s. He uses the decollage technique, which utilizes cutting, tearing and removing pieces of an original image. At first glance, his style seems to be normal paintings, when in fact he uses pasting and forming printed materials to express them in new three-dimensional ways. To get this effect, he shapes them over and over again over a long period of time. In addition to participating in domestic and international art fairs and holding solo exhibitions, CHRIS has collaborated with fashion brands such as Columbia, GOD SELECTION XXX, GUESS, atmos, and more. 

Information

CHRIS x Hi-NODE Exhibition "Love is a battlefield (It's hard to see Love)"

Running: December 4 – December 26, 2021

Hours: 9:00-21:00 

Address: Hi-NODE, Tokyo Hinode Pier (2-7-103 Kaigan, Minato-ku, Tokyo)

Official Instagram: @artbasezero_next

Online Shop: Open to the public starting at 9:00 AM on December 4

Online Shop/Official Site: https://www.thehumanmiracle.com

McCafe by Barista to Offer Cookies & Cream Frappe for Winter Season

McDonald's Japan locations with McCafe by Barista installations will begin selling the Cookies & Cream Frappe for a limited time starting December 8, 2021. The McCafe by Barista corner employs full-time baristas serving 'authentic cafe coffee.' 

McCafe by Barista invites guests to enjoy high-quality frappuccinos and smoothies and these locations are offering three unique Frappes this winter. Following the Strawberry Creme Brulee Frappe and normal Creme Brulee Frappe released in late November, the Cookies & Cream Frappe will release soon, filled with rich vanilla sweetness!

Cookies & Cream Frappe Medium: ¥470 / Large: ¥540 (Tax Included) 

 

The drink is a rich blend of creamy vanilla made from Madagascar Bourbon vanilla beans, blended with crunchy Oreo cookie bits and topped with whipped cream and chocolate sauce. What's not to love?

Tezuka Productions Starts First Official NFT Project "From the Fragments of Tezuka Osamu"

Tezuka Productions has officially started an auction for the company's first NFT project starting on December 1, 2021. These will feature the beloved character Astro Boy, an intrinsic part of Japanese popular culture. 

Manga is a huge part of Japanese pop culture and has impacted people and industries around the world. Osamu Tezuka laid the foundation for the medium's popularity, and is still called "the Godfather of Manga." He studied medicine at Osaka University in his early years but soon decided to become a manga creator, making his debut in 1946. His works had a major impact in postwar Japan, appealing to readers of all ages with easy-to-read dialogue and many themes that spoke to the people, including dignity, the destruction of nature, and the harm of war. In his lifetime, he drew over 150,000 manuscripts and worked on over 700 titles. 

This new NFT project features many of Tezuka's beloved works and will be offered in two forms: Mosaic Art NFTs and Generative Art NFTs. While Astro Boy takes center stage for now, Black Jack and Phoenix will be coming soon. 

In his later years, Tezuka wrote for boys' magazines creating beloved children's stories. It's hard to imagine how the author would have handled the current pandemic sweeping the globe. Certainly, he would have tried to help cheer up the children of the world, and with this in mind, Tezuka Productions will donate 20% of each NFT sold to donate to UNICEF and other organizations benefiting children in Japan.

840 colorful original Tezuka works are available, with the original texture of these creations kept intact. Osamu Tezuka left behind a massive number of manuscripts, with 95% of them being in black and white. Many of these images are very rare and have never been included in any books or magazines. How would you like to own one of these one-of-a-kind tokens?

© 2021 Tezuka Productions, All Rights Reserved.
Produced by double jump.tokyo Inc.

Eve will release his new song Aisai on December 3 at midnight on all major streaming services. 

The singer-songwriter performed the explosive Kaisen Kitan, the first opening theme for the Jujutsu Kaisen anime series. The track has been streamed over 200 million times and the music video has been watched over 180 million times. With over 3.5 million subscribers on YouTube, the singer has become a viral sensation with other tracks like Parallel Lines and Faint at Night. Eve's new track Aisai is incredibly emotional and is the perfect song to bring 2021 to a close.

The cover for the new song was made by niL, who worked on the music video for Yuseiboushi. Be sure to stream the song on December 3!

Pui Pui Molcar and Godiva Christmas Cake Now on Sale

Orders are now open for a Godiva Christmas Cake featuring the adorable hamster/car hybrid characters from Pui Pui Molcar! Godiva stores nationwide will accept orders until December 5, and those wanting to snag one can also put in an order at the Godiva online store. ZOZOTOWN is also selling collaborative goods based on this unlikely team. 

Pui Pui Molcar is the first animated television series directed by Asaki Misato and it instantly captured the hearts of children and adults alike with its short episodes and fluffy characters. The series began broadcasting in January 2021, and is only the first week, the official Molcar Twitter page exceeded 100,000 followers. Following a cast of tiny guinea pigs turned into cars, it's a fun watch for the entire family.

Pui Pui Molcar x Godiva Christmas Cake: ¥6,480 (Tax and Shipping Included) 

The collaborative cake features a chocolate plate with popular Molcar characters and is topped with kiwi, grapefruit, peaches, and other fruits. The chocolate cream is made with fresh Hokkaido cream with a hint of cocoa from Central and South America. Sweets and sour strawberries give the pastry a kick, and the sponge within is incredibly fluffy. The cake also comes with a limited-edition Pui Pui Molcar keychain!

Some collaboration merchandise such as bags, plushies, and apparel, are on sale at ZOZOTOWN. Check the site for more details!