Special Food Menu Arrives Early for Tokyo Disney Resort® 35th Anniversary "Happiest Celebration!" Festival
Tokyo Disney Resort is set to hold its biggest ever festival, 35th Anniversary "Happiest Celebration!," starting on April 15, 2018.
In the lead up to the event, a special menu with plenty of goodies will be released early on April 10. Let's take a look!
In celebration of 35 years, the park is releasing a hot dog stuffed with a 35cm sausage. That's plenty to leave you with a full stomach, even just looking at it!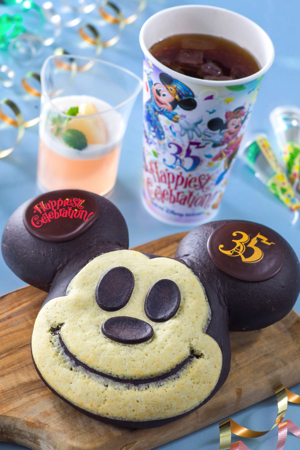 There's also "Mickey Bread" which is so cute it seems a waste to eat. It's shaped like Mickey Mouse's face who has a 35-year anniversary logo on his ear which is just ♡.
A permanent booth has also been installed at the plaza in front of the Cinderella Castle at Tokyo Disneyland selling food that can be eaten casually.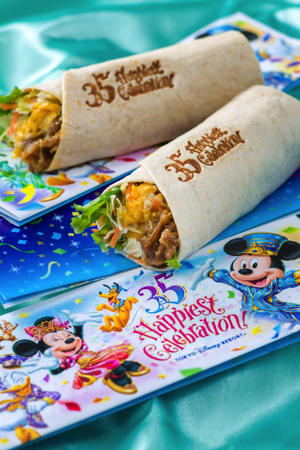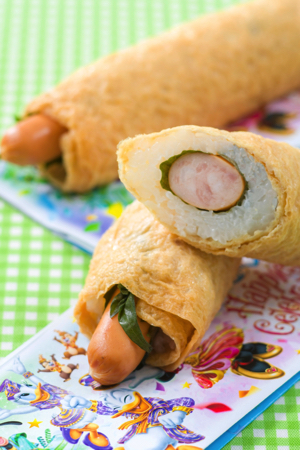 The egg and meat filled "Wrap Sandwich" and "Inari Hot Dog," which has a beefsteak plant wrapped sausage, rice and fried tofu, will both fill your belly!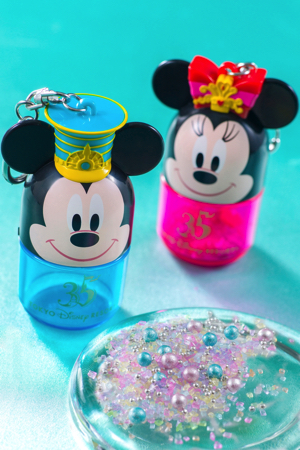 Keeping with the 35th anniversary celebratory vibe, there's also plenty of souvenirs to get your hands on from the menu too. The item to look out for is the "Sweets Topping with Souvenir Case." Inside the case is sparkly topping sugar which can be put on various desserts sold around the park! Feel the festivity everywhere you go at Tokyo Disney Resort.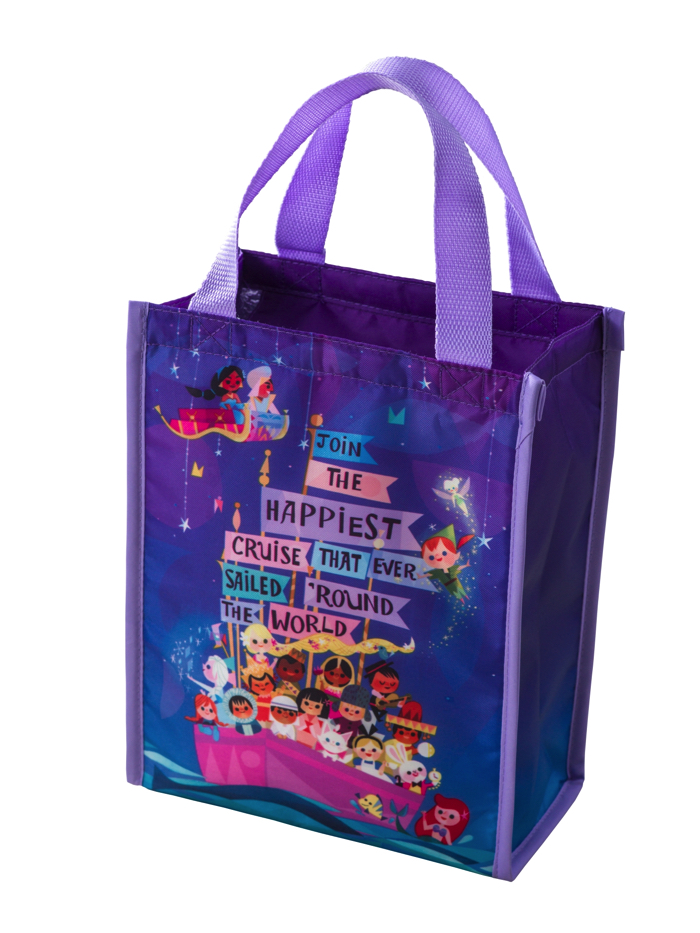 Don't miss this extra special event and the limited edition menu!
■Information
Tokyo Disney Resort® 35th Anniversary "Happiest Celebration!"
Running: April 15, 2018 ― March 25, 2019
Special Menu: Available from April 10, 2018
RELATED ENTRIES
Valentine's Day 2020 in Japan: Must-Buy Chocolate & Sweet Gifts

Christmas is over, and Easter is still on the horizon, but if you love chocolate as much as we do, never fearーas our sweet tooth cravings will soon be satisfied with the season of love.

In Japan, shop's and restaurant's are already carving their Cupid arrows to fire at customers for Valentine's Day to tempt them into one of their many tantalising treats. If you're in Japan this year, we've whipped up a list just for you of five must-buy gifts for Valentine's Day 2020.

Garrett Popcorn

Almond Chocolate Truffle | Garrett Valentine's Tin | Valentine's Mix

Garrett Popcorn is an American brand of popcorn that boasts a myriad of gourmet handcrafted popcorn flavours. You may not know that it's also a household name in Japan, where they also make the popcorn fresh every day for snack-hungry customers. For Valentine's, they serving up an exclusive series full of love which consists of the "Almond Chocolate Truffle," "Garrett Valentine's Tin," and "Valentine's Mix."

Almond Chocolate Truffle in Garrett Valentine's Tin – From ¥1,130

First up, the Almond Chocolate Truffle. If you're not already drooling at that name, let the description begin: this popcorn takes Garrett's crushed almond CaramelCrisp™️, coats it in chocolate, and sprinkles it generously with a dust storm of cocoa powder. The fragrant scent and texture of the almonds adds an incredible touch to the combination of the sweet, velvety milk chocolate and the slightly-bitter bite of the cocoa powder. Get in the Valentine's mood even more by purchasing one of the Garrett Valentine's Tin – the perfect accompaniment to your movie night in with your loved one.

Valentine's Mix (Chocolate Cocoa & Strawberry) – ¥1,200

Valentine's Mix (Chocolate Cocoa & White Chocolate Bark) – ¥1,200

Last year, Garrett Popcorn release a cute heart-shaped tin big enough to fit in the palm of your hands. 2020 will see the return of the tin, this time with two different designs: one with kissing lips and the other with hearts.

Inside the first tin is a mix of sweet chocolate cocoa flavoured CaramelCrisp™️ and sour freeze-dried strawberries. The other tin, which has a more sophisticated chocolate brown and salmon pink design, contains the same cocoa flavoured CaramelCrisp™️ but combines it with "white chocolate bark" – a white chocolate made with almonds and dried cranberries.

▶︎Garrett Popcorn Valentine's Day Products

Running: January 10, 2020 – February 14, 2020 (Mix available from January 17, 2020) *While supplies last

Prices:
・Almond Chocolate Truffle: Small ¥620/Medium ¥1,100/Large ¥1,720/Jumbo ¥3,450/Quart Tin ¥1,750/1 Gallon ¥4,400/2 Gallons ¥8,400
・Garrett Valentine's Tin/Quart Tin: From ¥1,130
・Valentine's Mix: ¥1,200
Available: Garrett Popcorn Shops®︎ branches in Japan
Official Website: http://jpgarrettpopcorn.com/

KitKat Chocolatory

Ruby 2020 Assortment

KitKat Chocolatory is releasing a new assortment of KitKat treats for the Valentine's season in Japan made with ruby chocolateーthe fourth type of chocolate alongside milk, white, and darkーwhich was developed by Belgian-Swiss chocolate makers Barry Callebaut.

KitKat Chocolatory Ruby 2020 Assortment – ¥1,200

Ruby chocolate gets its striking pink colour from the original bean and has a distinct fruity sourness to it. This is the perfect Valentine's Day giftーor even just as a treat to yourself!

▶︎KitKat Chocolatory Ruby 2020 Assortment

Price: ¥1,200
Running: from January 15, 2020
Available: KitKat Chocolatory store/Online
Official Website: https://nestle.jp/brand/kit/chocolatory/

GODIVA

Valentine's Collection

GODIVA, one of the main players in the Japanese chocolate game, has developed the "Chocolate Chronicle Sweet Collection"ーan assortment of individually unique chocolates. The "chronicle" refers to the many places the chocolates have encountered since being created, both in the past and present.

Chocolate Chronicle Sweetheart (Contains 6) – ¥3,240

Chocolate Chronicle Chic Assortment (Contains 15) – ¥6,264

The "Original Maya" considers the civilisation and mysteries of Mesoamerica. The "Cocoa Honey Delight" uses honey to sweeten the chocolate like they did in the latter half of the Middle Ages when there was no sugar. The "Modern Love"burns into your mind the image of its vivid red heart lovingly made with sweet and sour strawberries, ganache, and milk chocolate.

▶︎GODIVA Valentine's Collection 2020

Running: from January 10, 2020 (Limited Time)
Prices:
Chocolate Chronicle Sweetheart: 6 Set ¥3,240/12 Set ¥5,400
Chocolate Chronicle Chic Assortment: 4 Set ¥1,296/6 Set ¥2,160/10 Set ¥3,240/16 Set ¥5,400
Chocolate Chronicle Sweet Kare Assortment: 6 Set ¥1,080
Chocolate Chronicle Chic Collection: 4 Set ¥1,836/6 Set ¥2,700/9 Set ¥3,888/12 Set ¥5,076/15 Set ¥6,264/20 Set ¥8,208
Official Website: https://www.godiva.co.jp/

Koi Suru Chocolate

Valentine's Collection 2020

The base of these treats is chocolate by Shiroi Koibito. The collection was first released in January 2018 and is very reminiscent of Hokkaido chocolate. There are lots of chocolates in the collection made with cute pink ruby chocolate too.

Mille-feuille (Contains 3) – ¥520

These mille-feuille are layered with milk and white chocolate and coated in things like couverture chocolate and ruby chocolate.

The Heart (Contains 7) – ¥1,080

Each of these hearts has its own distinct sauce: the ruby chocolate has blackcurrant, the milk chocolate has caramel, and the white chocolate has yuzu.

▶︎Koi Suru Chocolate Valentine's Collection 2020

Release Date: January 17, 2020
Available: ISHIYA store/Online
Prices:
Mille-feuille: 3 Set ¥540/6 Set ¥1,080/12 Set ¥2,160
The Heart: 7 Set ¥1,080/14 Set ¥2,160
Official Website: http://www.ishiya.co.jp/koi_choco/

Morozoff

Valentine's Dessert Plate

Morozoff specialises in western-style sweets, and at Cafe Morozoff, they're serving up a Valentine's-only dessert.

Valentine's Dessert Plate – ¥1,200

The beautiful dessert plate is an assortment of cute heart-shaped treats. The rich chocolate mousse has an orange scent, and the fluffy chocolate sponge combines sweet and sour strawberries with smooth whipped cream which elevate the flavour of the chocolate.

▶︎Morozoff Valentine's Dessert Plate

Running: January 15, 2020 – February 14, 2020

Available: select Cafe Morozoff branches in Japan
Price: ¥1,200 (comes with tea or coffee)
Official Website: http://www.morozoff.co.jp/

Did you enjoy this list? There's plenty of Valentine's Day delights to be enjoyed while in Japan. Which on this list has you drooling the most?

Succulent Amaou Strawberries From Fukuoka Take These Desserts to the Next Level

BAKE CHEESE TART, a company in Japan specialising in baked cheese tarts (hence the name), is releasing two new desserts on February 15, 2020. Made with amaou strawberries, the Amaou Ichigo Cheese Tart and Amaou Ichigo Sundae will be served for a limited time until March 31, 2020.

The Amaou Ichigo Cheese Tart was first released in February last year as a seasonal product for spring where it was well-received by sweet-tooth customers. They were so popular in fact that there was growing demand from them for it to return, so BAKE CHEESE TART is delivering that sumptuous request. Topping decoratively with freeze-dried amaou strawberries, the tarts are a sweet call to the coming spring.

The Fukuoka-grown strawberries have been nicknamed the "King of Strawberries." The tarts are filled with a creamy cheese mousse and mixed with a puree made from the sweet berries. They add a rich sweetness to the slightly sour mousse, bringing together a mix of delightful flavours that will leave you wanting another. They also give the inside a light pink colour.

The Amaou Ichigo Sundae has a dollop of soft serve ice cream so soft it's almost like melted fresh cream. It's topped with a sauce and powder made from those incredible strawberries, as well as freeze-dried strawberries. This bright-red mountain of a dessert is a satisfying experience to both look at and consume.

While these two desserts are being sold, they will be served in special springtime packaging designed by creative studio KLOKA, a notable player in the creative scene that has had a hand in art direction for fashion magazines, shopping centre displays, and more.

Information

Amaou Ichigo Cheese Tart

Price: ¥300 Each (Tax Included)

Available: At all BAKE CHEESE TART branches in Japan (excluding SAN-A PARCO CITY in Okinawa)

Running: February 15, 2020 – March 31, 2020

Amaou Ichigo Sundae

Price: ¥500 Each (Tax Included)

Available: At select BAKE CHEESE TART branches – click here for actual list

BAKE CHEESE TART Official Website: https://cheesetart.com/

Explore Kyoto With a Hot Pudding Latte From Kyo Yasaka Pudding

Kyo Yasaka Pudding is a shop with a new vision. Located in Kyoto's tourist hot spot of Higashiyama ward, it's home to a team of people who love and are well-versed when it comes to food. Their incredible purin, or Japanese custard puddings, are made carefully one by one to make people happy. These puddings are tried and tested: much trial and error was done to ensure the ingredients, flavours, technique, and appearance were perfect.

On January 24, they're set to release a new product to the menu: the Kyo Yasaka Hot Pudding Latte.

This hot beverage combines a pudding latte, made from incredible Kyoto milk, with super rich caramel cream. It's then topped with a mix of tempting decorations. The caramel and cream are of a high quality, with the caramel cream itself having a unique and irresistible bitter bite you won't find anywhere else.

This is the perfect accompaniment to a winter walk through Kyoto while sightseeing.

Information

Kyo Yasaka Hot Pudding Latte

Release Date: January 24, 2020

Price: ¥700 (Tax Included)

Kyo Yasaka Purin

Address: 87-4 Hoshinochō, Higashiyama Ward, Kyoto, Kyoto Prefecture

Official Website: https://www.kyo-yasaka-pudding.co.jp/

Make Your Own Rilakkuma Valentine's Day Treats With Kai's Recipe Kits

Cupid is readying his arrows for Valentine's Day 2020 which is right around the corner. It's the time of the year to show your special someone that you love them with some tasty chocolatey treats.

If you're wanting to make a grand gesture this year by making your own gifts, but are struggling for ideas or are intimidated by the task, the Kai Corporation in Japan has you covered with its collection of Rilakkuma goods. Now you can make some Instagram-worthy gifts with little effort. Let's take a look.

Make lots of Rilakkuma chocolates with this simple tool

Rilakkuma Silicone Chocolate Maker – ¥850 (Before Tax) – Buy Here

Five different patterns of Rilakkuma, Kiiroitori, and Korilakkuma make up this silicone tray, allowing you to make lots of bite-sized chocolates at once. This is perfect for sharing between you and your loved one or amongst friends. It can be used for making gummy treats and ice for drinks too, meaning it's useful for the entire year.

Make cute cookies by simply pressing your dough

Korilakkuma Cutter Set – ¥650 (Before Tax) – Buy Here

Anyone can make cute Korilakkuma cookies easily with this cutter set which you simply press the dough with. It comes with two different poses so you can make an assortment of them. If you know someone who's not a fan of chocolate, then this is a perfect alternative.

Decorate your sweets and desserts with this mini chocolate tray

Mini Chocolate Tray – ¥650 (Before Tax) – Buy Here

This chocolate tray makes makes chocolate bears which can hold things like nuts and candy. They can be used in a lot of creative different ways. The tray was made in collaboration with Cookpad.

Super simple recipes that take out the work

Here are some super simple recipes that remove the labour out of making and decorating sweet treats. Learn how to make Instagrammable delights with these items and techniques.

Korilakkuma Cookie Marshmallow Sandwich – Item Used: Korilakkuma Cutter Set

All you need to do is warm some marshmallows in a microwave and stick them between two cookies for a gooey and crunchy treat. At some toppings like freeze-dried strawberries for colour and to make them even cuter.

Gateaux Chocolate Cupcakes – Item Used: Rilakkuma Face Cupcake Paper Wraps (5 Included)

Make your Valentine's cupcakes even more adorable with these paper wraps with Rilakkuma's kawaii face on them.

Tiny Bear Chocolates: Item Used – Mini Chocolate Tray

There are many creative ways you can utilise these tiny bear chocolates. Make them hold small candy, nuts, and other delicious bites, or just simply top them on another dessert.

Take the stress out of making something for Valentine's Day this year with this range of items from Kai.

Cute and Chewy Pompompurin Confection Now Being Sold at Lawson Convenience Stores in Japan

Lawson, one of the main convenience store chains in Japan, has released the all-new Mochi Mochi Pompompurin Yaki, a cute and chewy confection filled with custard pudding flavoured cream.

The kawaii sweet recreates Pompompurin's adorable sleeping form. Inside of him is a squirt of purin, or Japanese custard pudding, flavoured cream, which happens to be Sanrio Golden Retriever's favourite treat. You'll find yourself reaching for your phone to snap a photo of him to post online before tucking in.

The confection will be discontinued once all have been sold, so if you're in Japan, head to your closest Lawson.

©1996, 2020 SANRIO CO., LTD. APPROVAL NO.S604266

4 Matcha-tastic Desserts Selling at Convenience Stores in Japan

If you love delicious Japanese desserts and are keen to discover more, you've visited the right website. Today with the help of Instagrammer Yukko, we'll be looking at matcha desserts you can purchase from Japanese convenience stores. 

Matcha Purin Cake Sandwich: ¥324/ Family Mart

Matcha Purin Cake Sandwich: ¥324

This is a fluffy sandwich with a hearty filling of sweet matcha purin, matcha cream, whipped cream and red bean paste. The fluffy cake and light cream create a wonderful balance of textures and enjoy a moderate sweetness. This dessert is sure to leave your stomach fully satisfied.

Dorayaki Pancakes Stuffed with Matcha Cream: ¥300/ 7-Eleven


Dorayaki Pancakes Stuffed with Matcha Cream: ¥300


The delicious aroma of the matcha will entice you before you have even tried it. The refined, rich matcha flavour will spread throughout your mouth and melt beautifully. 

Uji Matcha and Shiratama White Dumpling Parfait:¥300/ 7-Eleven


Uji Matcha and Shiratama White Dumpling Parfait:¥300

This is a luxurious parfait containing Shiratama dango, warabi mochi, matcha whipped cream, dorayaki pancake pieces, plain whipped cream, matcha mousse and matcha starch cakes. Enjoy a variety of textures – perfect for the matchaholic!

Matcha & Sweet Red Beans & Whipped Cream Doyayaki: ¥140/ 7-Eleven

Matcha & Sweet Red Beans & Whipped Cream Doyayaki: ¥140

Sweet red bean paste, matcha sauce, whipped cream and chewy warabi mochi are stuffed between two matcha dorayaki. The matcha sauce is rich and plentiful, creating the perfect matcha-tastic treat.

 If you're on a matcha hunt, how about starting at the convenience store? There are just so many matcha desserts to discover. Mogu Mogu Yukko's Instagram is full of delicious desserts that you can buy from Japanese convenience stores and supermarkets. If you're looking for a sweet treat, make sure to check it out.

 Original Article Contents and Photos By: Mogu Mogu Yukko

*Convenience stores are always updating their products and therefore the desserts mentioned in this article may stop selling at any time. Please check the convenience store's social media or official website for the most up-to-date information. 

Tokyo Disneyland's Very Very Minnie! Event is a Must-Experience For Minnie Mouse Fans

Fans of Minnie Mouse won't want to miss her special "Very Very Minnie!" event that she is hosting at Tokyo Disneyland right now until March 19. Expect to see plenty of cute decorations, experience eating cute food, and getting your hands on some cute merchandise♡

Hand washing area

You're sure to have never experienced hand washing like this before. Keep your hands clean at the park with this special soap which when dispensed is shaped like Minnie Mouse wearing her iconic ribbon. This is available for the duration of the event only, so head to Tomorrowland or Critter Country to try it out.

Exclusive Minnie merchandise

Around 80 pieces of limited edition Very Very Minnie! merchandise are being sold for the event.

Parkers – Medium ¥4,900, Large ¥5,200 / Cap – ¥3,000 / Scarf Towel – ¥1,500

Dress up like Minnie Mouse with one of the two parkers, one featuring white and black polka dots of different sizes, and the other with red and white ones. There's also a cute cap, and scarf towel, so you can enjoy the event even more.

Cushion – ¥2,300

Hand Cream Set – ¥1,600

Wall Pocket – ¥2,900 (*Items in pockets sold separately)

There's also  a cushion which you can put your hands in to keep warm this winter, a set of hand creams, a useful wall pocket which you can store various items inーand many more items, up to 80 of them!

Themed menu

When looking for something to eat, make sure you try out one of the many Minnie-themed food and drink items.

Cranberry Vanilla Mouse Cake with Souvenir Plate – ¥800 / Yoghurt & Raspberry Mouse with Souvenir Cup – ¥800 / Served at: Sweetheart Cafe

At the Sweetheart Cafe, you can get your hands on one of two of these desserts which come with their own free souvenirs which you can take to use at home. You won't be able to resist the addictive sweet and sour flavour of the berries.

Special Set – ¥1,980 / Served at: The Plaza Inn

The Plaza Inn has a very special set prepared: a hearty meal featuring two hamburgers, ice cream for dessert with a white chocolate mousse adorned with Minnie's ribbon, and more.

Popcorn with Buckets – ¥2,300

You'll find this bucket sold at the popcorn wagon next to The Gazebo. It features a design of Minnie looking good in various outfits. If you're wanting popcorn at Very Very Minnie! then look no further.

Minnie Mouse's influence can be felt all over Tokyo Disneyland right now, so make sure you see everything when visiting for Very Very Minnie!

©️Disney

Check Out Tokyo Disneyland's Adorable 'It's Very Minnie!' Show

Tokyo Disneyland has launched its Minnie-tastic programme Very Very Minnie on January 10 and it will run until March 19, 2020. The programme is packed with exciting limited period events including themed decorations, merchandise and special foods and drinks. Today we'll be focussing on the It's Very Minnie! show. 

Presented at Showbase, It's Very Minnie! is a musical revue show featuring Minnie Mouse and her Disney friends. The show is a mixture of Latin music, romance and even club scenes. As Minnie and friends dance rhythmically to the music, their colourful costumes colour the stage in a variety of styles. Each show lasts approximately 25 minutes. 

Minnie dances in a classic red and white polka dot outfit. Her performance to Minnie Oh Minnie will have you singing along in no time. 

As the lively music kicked in, Donald, Chip and Dale took to the stage in their Latin costumes.

As the music was constantly switching, the characters and dancers changed costumes at lightning speed.

Finally, Mickey and Minnie danced together. Just watching the couple dance will warm your heart. 

Seeing Minnie in a beautiful pink dress, the crowd couldn't help but scream "so cute!"

The show was a mix of the park's many nostalgic tunes and Minnie in her many adorable outfits. From the very moment the intro played and Minnie's figure appeared, fans instantly went wild. Watching fans chant their love for Minnie was very touching to see. 

The timing of the dancers and characters was perfect. They even got down from the stage to interact with the audience, who were singing and clapping along to the music with excitement. 

Some songs and costumes in the show were even having their debut. The stage was buzzing with so much excitement that it was impossible to look away. 

Just watching Minnie's variety of expressions will make you fall in love with her even more. You will want to go see her again and again. This is one of the best shows in history that Disneyland has ever put on. 

Whether you're a Minnie fan or not, anybody is bound to enjoy this fun-filled show. 

©️Disney

Tokyo DisneySea's Pixar Playtime Event Now in Full Swing and Loved by Pixar Movie Fans

You say there's a snake in your boot? That's because Tokyo DisneySea's long-awaited Pixar Playtime is finally here, partner! Running from January 10 to March 19, this special event is a celebrating of all-things Pixar, with appearances from fans' favourite films from Toy Story to Finding Nemo and beyond.

Today, we're taking a small peek into what Pixar fanatics can look forward to. From shows to food and merchandise, this is an event you won't want to miss!

Pixar Playtime

Pixar Playtime is an annual event that plunges guests into the wonderful worlds of Pixar's filmography, giving them a chance to meet and celebrate with some of the most iconic characters in animation history. For Pixar Playtime 2020, Tokyo DisneySea has been decorated like a colourful board game with squares which guests can move along and challenge themselves to the many different objectives written on them. There are many programmes prepared for this year, including the one below.

The "Pixar Playtime Pals" Show

Taking place at Piazza Topolino in Mediterranean Harbor, the Pixar Playtime Pals show invites guests into playing various fun games inspired by the Toy Story, The Incredibles, and Finding Nemo films.

As the games progress, more and more characters begin to appear to raise levels of excitement including those from Ratatouille, Up, Brave, and Inside Out.

It's an exciting time for Pixar fans to interact with lots of their favourite characters.

Decorations Aplenty

Tokyo DisneySea is littered with decorations referencing Pixar's films for the event including the iconic Pixar Ball.

Other things guests will spot is the colourful roulette featuring numerous characters, a game booth based on the Toy Story film series, a plethora of photo spots including the one above of Jack-Jack from The Incrediblesーthe list goes on. There's plenty to be enjoyed at every turn, so be sure to take it all in.

Themed Menu

Special Set – ¥1,980 @ Horizon Bay Restaurant

This special set is inspired by Finding Nemo. The pink mashed potato spread on the hamburger is made to look like coral.

There are also other little motifs, like this fish-shaped carrot which is orange like the titular clownfish himself.

The captivating colours of the lemon roll cake bring to mind Dory swimming through the ocean, while the accompanying pumpkin cream soup is sure to warm you up.

Sparkling Drink (Orange & Strawberry) – ¥450 @ Horizon Bay Restaurant

This orange and strawberry flavoured sparkling drink is inspired by Hank the octopus. It's topped with strawberry flavoured pearls which look like octopus suckers and add a delicious chewy texture to your sipping experience.

Orange & White Chocolate Mousse w/ Souvenir Mug – ¥800 @ Mamma Biscotti's Bakery

This two-layered cup dessert is made from orange and white chocolate mousse. You're sure you recall the famous claw scene from Toy Story as your fork descends onto the custard-flavoured Little Green Man. The dessert comes with a free Toy Story and star design mug.

Blueberry Cheesecake w/ Souvenir Plate – ¥800 @ Mamma Biscotti's Bakery

The fresh smell of blueberry will hit your nose as you munch into this moist cheesecake, topped with strawberry chocolate-coated wheat bran. It also comes with a plate featuring the Pixar Playtime board game design.

Special Merchandise

Mug – ¥'2,300

It wouldn't be a Pixar event without some love for Luxo Jr., the famous lamp that is a symbol of Pixar. The "Playtime" text written on the mug depicts various movies from the animation studio.

Pouch Set – ¥2,100

You're sure to be spoiled for choice when picking which of these pouches to use, but luckily they come as a set, so you get all three. They feature cute designs of the Pixar character cast.

Osenbei – ¥1,100

This set of osenbei rice crackers make for a perfect souvenir. There are five flavours in the set including persimmon seed, sweet & salty, curry, salted, and cheese.

Jump into the wonderful world of Pixar at Tokyo DisneySea's Pixar Playtime Event.

©️Disney

Tokyo DisneySea To Hatch 'Disney Easter' Foods, Events and More This Spring

DisneySea will hold its 78-day fun-filled Disney Easter event from March 27, to June 12, 2020.

Make sure to visit the Mediterranean Harbor for the Tip Top Easter performance where Mickey Mouse and friends will put on an exciting show to celebrate the coming of spring. Look out for the usapiyo – the half bunny half chicks that are born from Easter eggs. 

From March 27 to May 31, 2020, there will be a special programme called CookieAnn's Greeting Drive where Duffy's friend CookieAnn and Mickey Mouse will be seen driving around American Waterfront on the Big City Vehicle.

There will be lots of photo spots with interactive features around Mediterranean Harbor and American Waterfront where you can interact with the adorable uchipiyo – your Easter is bound to be filled with magic. 

There will be 80 new merchandise items featuring Disney friends and usapiyo designs.

Hand Puppet: ¥2,800

Toy Badge: ¥1,900 Each


Cream Sandwich Cake: ¥1,500/ Chocolate Crunch ¥1,700

From usapiyo puppets that cry like a real usapiyo and soft toy badges of hatched usapiyo chicks to a cream sandwich cake decorated with the face of an usapiyo, there are plenty of spring souvenirs that you won't be able to resist.

Tokyo DisneySea will also be celebrating the Easter tradition of Easter egg hunting with the Egg Hunt Tasting menu which includes 15 varieties of Easter-themed foods and drinks. 

Horizon Bay Restaurant Special Set: ¥1,980

Horizon Bay Restaurant will be serving up a special hamburger decorated with an usapiyo-themed cheese slice for mains. The set will include an usapiyo dessert made from colourful marshmallows and raspberry cream that is arranged to look like a bird's nest. 

Horizon Bay Restaurant Special Drink (Orange and Cream): ¥450

Enjoy the gradation of colours in this refreshing orange soft drink. It is topped with chocolate usapiyo ears to add that special spring feeling.

New York Deli Special Set: ¥1,260

At New York Deli, enjoy a fried chicken sandwich drizzled with teriyaki sauce and topped with egg salad. The fried chicken is hugged between two pink buns to represent spring. This special set will provide you with enough energy to carry on your DisneySea adventure. 

Enjoy the vibrant spring scene at Tokyo DisneySea this year.

*All images are representations
©Disney

Tokyo DisneySea Holds Duffy and Friends Heartwarming Days Programme

As Japan braces itself for the cold winter, Tokyo DisneySea launched its heart-warming programme Duffy and Friends Heartwarming Days to run from January 10 to March 19, 2020. The event includes photo spots, cute food, merchandise and a new appearance from Duffy's friend CookieAnn. We headed over to check out the programme and here's our list of recommendations on what to look out for: 

Duffy and Friends Heartwarming Days

CookieAnn loves to cook. Duffy and Friends have gathered at Cape Cod to make a fresh batch of waffles filled with love, especially for all the visitors. This is the perfect spot to take a photo with your friends.

Decorations

Cape Cod is dressed in beautiful Duffy and Friends decorations that are sure to put a smile on your face. You just can't miss this adorable photo spot where Duffy and Friends are making a tower of waffles together. 

There are other photo spots where Duffy and Friends are seen getting ready to hand out waffles to everyone. At Cape Cod Cook-Off, some decorations illustrate the bench full of ingredients. 

From the doors to the greenery surrounding the buildings, Duffy and Friends can be seen frolicking together all over Cape Cod. If you have a spare moment in your busy schedule, make sure to check it out. 

Don't forget to take a picture of Duffy and Friends sat on the bench!

Special Menu

Cape Cod Cook-Off First Prize Set (Comes with souvenir lunch bag): ¥2,280
+Souvenir Tumbler Soft Drink Set: + ¥1,600


There is also a Duffy and Friends Heartwarming Days-limited food menu. The special set includes a hamburger, chips a drink and includes a souvenir lunch bag. Just carrying the adorable pink lunch bag around with you will make you happy. 

Vanilla and Peach Mousse with Souvenir Cup: ¥900


There are two new desserts on the menu. This three-layer dessert consists of vanilla and peach mousse with a final chocolate topping to finish. This refreshing dessert is moderately sweet and will fill you with happiness after the first bite. 

Waffle with Souvenir Plate: ¥900

The waffle is topped with a cloud of whipped cream and garnished with raspberry-flavoured chocolate and a tangy sauce. The sweet sauce and soft waffle is a perfect match.

Special Merchandise

Waffle Maker: ¥4,200

Waking up every morning to the smell of a fresh Duffy pancake might be just what you need to get out of bed every day.

Stuffed Toy: ¥2,100 (Each)

The special merchandise includes Duffy and Friends in special themed costumes, themed souvenir snacks and much more. 

Plain Waffle: ¥2,000

There are so many edible souvenirs. As expected, you can take home a Duffy waffle for your friends back home. The heart shape is just irresistible.

Strawberry Fromage Latte: ¥1,900

 The latte is also very cute. After you finish drinking it, you can use it to store small items too.

Even the Disney Resort Line has transformed into a Duffy and Friends-themed monorail. Each carriage enjoys unique decorations so if you are a fan of Duffy and Friends, you just can't miss having a ride in one. We rode the second carriage which was ShellieMay-themed. From the grab handles to the seats, everything was pink, fluffy and adorable.

Duffy and Friends will keep you warm this winter with their heartwarming merchandise, foods and drinks. Tokyo DisneySea should definitely be on your bucket list if you haven't been already. 

Delicious Valentine's Desserts and Drinks All Over Japan For You and Your Sweetheart

As Valentine's fever slowly sets in across Japan, for many of us, thoughts turn to what we could give to our lovers. For the rest of us, how about a  bit of self-love with a romantic dessert for one? Whether it's for just yourself or that special someone, if you're in Japan, you got to try one of these Valentine's-limited desserts.

Eggs 'n Things

Fondant Chocolate Strawberry Pancakes: ¥1,580 (Before Tax)

Eggs 'n Things Fondant Chocolate Strawberry Pancakes will be love at first bite. Hazelnut gianduia chocolate pancakes are topped with a luxurious mountain of fruity strawberries and drizzled with chocolate sauce for an overall mellow flavour. The pancakes come with a generous tower of whipped cream – a sweet treat perfect for you and your sweetie. 

▼Eggs 'n Things

Fondant Chocolate Strawberry Pancakes 

Price: ¥1,580 (After Tax)
Selling: January 16 – February 27, 2020
Available At: Most Eggs 'n Things restaurants across Japan

Not Available At:
・EGGS'N THINGS Lalaport Nagoya minato AQULS
・EGGS'N THINGS Coffee OPA Takasaki
・EGGS'N THINGS Coffee Kashiwa Takashimaya Station Mall

Official Website: https://www.eggsnthingsjapan.com/

nana's green tea

Choco Orange Latte/Hōjicha Chocolate Brownie Parfait

nana's green tea is serving up a gorgeous Valentine's latte and parfait topped with orange zest and gold leaf. The Choco Orange Latte is full of chocolatey goodness. The orange zest contributes a tangy kick to the sweet yet bitter chocolate latte. The Hōjicha Chocolate Brownie Parfait is topped with Valentine's limited hōjicha chocolate brownie and hōjicha ice cream, drizzled with chocolate sauce and sprinkled with gold leaf. nana's green tea is the perfect place to enjoy a sip of luxury with your lovebird. 

▼nana's green tea

Choco Orange Latte/Hōjicha Chocolate Brownie Parfait

Selling: January 6 – February 14, 2020
Available At: All nana's green tea restaurants

Please check the official website for pricing.

Official Website: http://www.nanasgreentea.com/

Sarabeth's

Choco Pudding French Toast: ¥1,600 (Before Tax)


 Sarabeth's Choco Pudding French Toast is made with their special challah bread. The bread is toasted and topped with their popular Chocolate Pudding dessert. The beauty of this Valentine's-limited dessert is captivating. Enjoy a moment of pure bliss with this luxury treat.

▼Sarabeth's

Choco Pudding French Toast

Price: ¥1,600 (Before Tax)
Selling: January 14 – February 14, 2020
Available At: Sarabeth's LUMINE Shinjuku, Shinagawa, Tokyo, Nagoya and Osaka

Official Website:http://sarabethsrestaurants.jp/

Segafredo Zanetti Espresso

Chocolat Peach Melba: ¥560 (After Tax)

White chocolate is poured over a peach melba sauce made from peaches and raspberries. The barrister then seals the drink under a thick lid of their unique, smooth foam. The sweetness of the chocolate enjoys a fruity accent and the rich flavour of the milk will warm your body and your heart.

▼Segafredo Zanetti Espresso

Chocolat Peach Melba

Price: ¥560 (After Tax)
Selling: January 7 – February 14, 2020
Available At: All Segafredo Zanetti Espresso Cafés in Japan

Official Website:https://www.segafredo.jp/

Give yourself and/or your loved ones a wonderful treat this Valentine's Day.