With just a small bit of ingenuity, turn everyday food into something cute using Kaori's recipe series! With a few simple ideas, an ordinary recipe magically transforms into a cute dish.
With spring break on the horizon, let's make some scones from hot cake mix! In this article, you'll learn how to make "Korilakkuma Scones."
A lot of people have also asked to show the face-drawing process, so I'd like to include that this time too!
1: Ingredients
200g hot cake mix
2tbsp vegetable oil
2tbsp milk
2tbsp fresh cream
☆You can use milk as a substitute if you don't have fresh cream.
☆If you add all of the milk and fresh cream and it seems difficult to mix, add a little more milk and fresh cream little by little.
2: Throw all of the ingredients into a mixing bowl and mix.
3: After mixing, it's time to shape the face. At this point, after molding them into round balls, flatten the bottom part of the face.
☆"They look beautiful, they're all equal and uniform!" People have complimented me for that. When I'm making the shape, I plan it out and endeavour to create one shape across the board. After getting the quantity right with the ingredients, I think it's good to divide them all into individual pieces.
Scones are bumpy on the surface, so they're easy to mold♡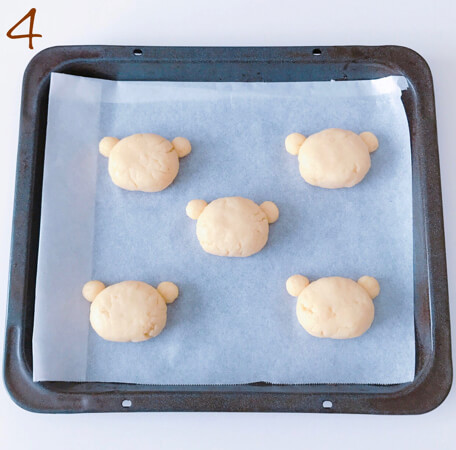 4: Next, attach the ears. For the ears, I used mix that I had separated for the face in step 3. Each ear uses 2g of mix, so take that and make them round.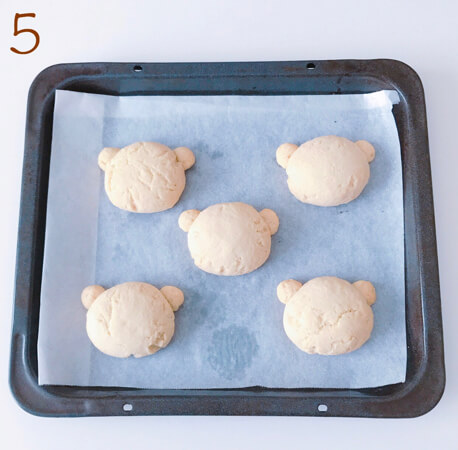 5: Put them into a 180℃ pre-heated oven and lower the temperature to 130-140℃. Baked for 20-25 minutes.
Once they have colour on them, dash on some almond oil partway through the cooking.
They are fully baked in the photo above.
6: Now it's time to decorate the face. First, use a pink chocolate pen to squeeze onto the ears, and white for the mouth.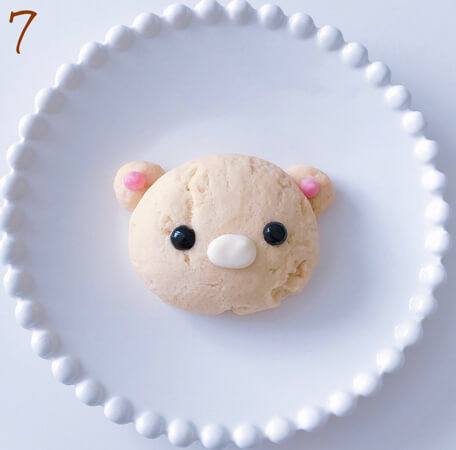 7: Then draw on the eyes. Try to maintain a balance between the left and right eye – make them line up.
8: Once the mouth you drew in step 6 has set, use a black chocolate pen to draw on a nose and the mouth details.
All done♡
I also tried decorating it with a cherry blossom flower that I made with nerikiri dough to give it a springtime feel♡
There's plenty more character-themed dishes on the way from Kaori! In the mean time, please check out her Instagram page where she has uploaded many pictures of her character dishes.
■Profile
Kaori Kubota(@kaopan27)
I live in Hokkaido and enjoy making dinner, sweet treats and character food using bread♡
I want to see my family smile, so I enjoy transforming food into characters and making cute meals♡
You can see more of my character food and bentos on my Instagram page → @kaopan27
RELATED ENTRIES
Kyoto City Kyocera Museum of Art Opens New ART LAB KYOTO Shop

Kyoto City Kyocera Museum of Art opened its new museum shop ART LAB KYOTO on May 26 where it is set to promote the centre of Japanese culture—Kyoto, a place which reveals in tradition and history while constantly evolving and innovating.

The museum shop opens in line with the recent revamp the museum underwent, with design work co-created by Japanese architects Jun Aoki and Tezzo Nishizawa.

ART LAB KYOTO is a spacious shop were guests can get their hands on goods related to exhibitions held at the museum as well as books and items on everything from traditional Kyoto culture to the city's contemporary art, items made in collaboration with artists, exclusive sweets, and more.

Let's take a select look at just some of the items you can pick up at ART LAB KYOTO.

Kyoto City Kyocera Museum of Art x BEAMS

Kyoto City Kyocera Museum of Art has teamed up with BEAMS to release a line of original merchandise bearing the museum's logo—a new logo which represents both the design of the revamped museum carried conceived by the museum's newly-appointed museum director Jun Aoki, and contemporary art. The merchandise's design is minimal, combining white and grey.

The line-up aims to function not just as souvenirs, but as items that can be used in everyday life, from bags to notebooks and more.

Kyoto City Kyocera Museum of Art Collection x Miyawaki Baisen-an

Miyawaki Baisen-an is a preserver of traditional Japanese folding fans which has been around since 1923. The company has joined hands with Kyocera to release an exclusive line of fans that represents the art museum.

Kyoto City Kyocera Museum of Art Collection x Juko Confections

"Juko" is a confectionery from Kyoto which changes flavours with the season. Twice a month, they will be sold in limited quantities at the shop.

SCANDAL Announce 'Kiss from the darkness' Live Stream as World Tour is Cancelled

All planned dates of SCANDAL's world tour SCANDAL WORLD TOUR 2020 "Kiss from the darkness" have unfortunately been cancelled in response to the novel coronavirus (COVID-19).

The band and staff had previously considered postponing the tour, but due to new announcements being released everyday on lockdown measures, as well as restrictions being placed on indoor events, it became difficult to predict how everything would unfold throughout the year, and so it was decided that the tour be cancelled. Information on ticket refunds till be announced at a later date.

However, not all is lost as SCANDAL has announced that they will perform on a special live stream on August 21, 2020—the date of the bands 14th anniversary. Check the details below and SCANDAL's official website for more information.

Information

SCANDAL WORLD TOUR 2020 "Kiss from the darkness" Livestream

Date: August 21, 2020

Time: From 19:00 (JST) (Subject to change)

Ticket Price: ¥3,000

Ticket Release Date: From May 27, 2020 at 22:00 (JST)

Buy Tickets: https://eplus.jp/821/scandal/

SCANDAL Official Website: https://www.scandal-4.com/

BiSH Announce Greatest Hits Album With All Proceeds Going to Music Venues in Japan

Japanese idol group BiSH, also known as "the punk band without instruments," have announced the release of their first ever greatest hits album FOR LiVE – BiSH BEST-. The 27 track record will drop on July 8, 2020.

The album will be sold at CD shops and online music stores in Japan only—there will be no digital release on online music services. The reason for this is that BiSH want people to support their favourite music stores.

All proceeds that Avex and WACK receive from the album will be donated to over 70 music venues which BiSH have performed at in the past.

WACK music executive Junnosuke Watanabe spoke about this project and how he wanted to do something to support venues and CD shops who have had to close due to COVID-19. The album is being promoted with the hashtag #BiSHベストアルバム大作戦 ("Operation BiSH Greatest Hits Album").

Details about the album will be announced in the near future.

3 New Limited-Edition Botanical Drinks to Arrive This Summer at BOTANIST Tokyo

BOTANIST Tokyo, the flagship shop of BOTANIST in Omotesando, has announced a new collection of limited-edition drinks will be served on the second floor BOTANIST Cafe from July 12, 2020. BOTANIST Tokyo is currently closed but it scheduled to reopen on June 1.

There are three new refreshing drinks to choose from, all of which can be ordered for takeout. From apple mint to grapefruit, each beverage us the perfect accompaniment for cooling you down in Japan this summer.

REFRESH MENU


Refresh Soda: ¥600 (Tax Included)

A combination of grapefruit jelly and fizzy soda water make this one of those drinks that you go "Ahh!" afterwards on a hot summer's day. There's also a hint of sweet green apple.

Botanical Melon Soda: ¥800 (Tax Included)

This is a smoothie which blends together two types of melon soda and adds melon jelly and a dollop of ice cream. It's like a dessert in a cup!

Banana & Avocado Refresh Smoothie: ¥720 (Tax Included)

Enjoy the sweetness of banana and sugar beet together with the smoothness texture of the avocado in this smoothie which has apple and mint mixed into it for that refreshing summertime kick.

The cafe's regular menu has also been revised to add three new desserts.

REGULAR MENU


Vegan Waffles w/Drink: ¥800 (Tax Included)

These vegan waffles are healthier for the body if you're looking for some guilt-free indulgence. It's topped with soy whipped cream, maple syrup, and fruits of your choice.

Lemon Cheesecake w/Drink: ¥1,000 (Tax Included)

A crunchy cookie base, a creamy cheese top, and a lemon to top it all off. The combination of the salty flavour with the sour hit is a match made in heaven.

Homemade Rich Pudding: ¥500 (Tax Included)

An in-house made purin, which is a type of Japanese custard pudding. It's a delightful mix of rich egg and subtly sweet soy whipped cream.

Customers who spend over ¥4,000 (tax included) on items in the Refresh Series will also be entered in for a chance to win a "Refresh Soda." The soda is available while supplies last.

Information

REFRESH MENU
Serving: June 1, 2020 – July 12, 2020

REGULAR MENU
Serving: From June 1, 2020

BOTANIST Tokyo
Address: 6-29-2 Jingumae, Shibuya, Tokyo (1st Floor – Shop / 2nd Floor – Cafe)
TEL: 1st Floor: 03-5766-3777 / 2nd Floor: 03-5766-3778
Opening Hours: 11:00-20:00
Official Website: https://shop.botanistofficial.com/

Japanese Figure Skater Yuzuru Hanyu to Release 3rd Photobook

Famed Japanese figure skater Yuzuru Hanyu's third photobook YUZU'LL BE BACK Ⅱ~Dancin'on The Edge3 will be released on June 19, 2020, covering his 2019-2020 skating season.

The new book centres on all six of Hanyu's entries from the 2019 Autumn Classic International to the Four Continents Figure Skating Championships held in February this year.

The photobook is 144 pages long, covering everything fans of one of history's greatest figure skaters could hope for.

Photos: スポーツニッポン新聞東京本社編集局写真部・小海途良幹、長久保豊

Information

YUZU'LL BE BACK Ⅱ~Dancin'on The Edge3

Release Date: June 19, 2020

Price: ¥2,750 (Tax Included)

Pages: 144

Size: A4

Available: Japan (Bookstores, Amazon, 7 Net Shopping, HMV&BOOKS Online, e-hon, Rakuten Books, and elsewhere)

OMOTENASHI MATSURI Festival to Deliver Japanese Culture to the World in Free Twitch Live Stream

OMOTENASHI BEATS has announced that it is set to serve Japanese culture to the world with its new DJ party event "OMOTENASHI MATSURI" which is set to stream live on Twitch on June 7, 2020.

OMOTENASHI BEATS is a project that fuses Japanese music with DJ culture. Its concept is to get people visiting Japan to experience Japanese culture and to deliver Japanese music to the rest of the world.

The event will be completely free to watch to everyone around the world on Twitch.

OMOTENASHI MATSURI / Official Trailer 

The DJ line-up OMOTENASHI MATSURI is as follows:

DJ KOO: A resident DJ with a career spanning 40 years who is also the leader of Japanese pop band TRF.
Motsu: Former member of m.o.v.e, a band with many a hit song including the Around the world which was used in the anime series Initial D.
DJ Arisa Komiya: Also known as the voice actress of Aqours member Dia Kurosawa in Love Live! Sunshine!!
DJ Zu from i☆Ris: A member of i☆Ris, a music unit formed of voice actresses and idols.
Shinichiro Kamio: The voice of Rio Mason Busujima from rap project Hypnosis Mic.
DJ Miyu Takagi: The voice actress for Shinobu Inuyose from the multimedia project D4DJ.
MIMORI from kolme: A member of kolme who write and produce their own music.
Tsunko: A cosplayer, anime song DJ, and the voice actress of Miyake Aoi from D4DJ.
Asanyan: DJ and multi-talent from social media.
DJ CAESAR from TOKYO: Produced Mobile Suit Gundam 40th Anniversary BEST ANIME MIX and is a huge name in the anime song scene.

10 big names will grace the line-up of the event. This will also be the first time Shinichiro Kamio and MIMORI have performed as DJs.

Tropical Flavoured Pikachu Puré Gummies Dropping This Summer

Japanese confectionery company Kanro has revealed its new limited-edition, tropical flavoured Pikachu gummies which it developed in collaboration with Pokémon for its Puré gummy range. They will be released in Japan on June 2, 2020.

The sweet and chewy tropical gummies are made with pineapple juice which is the main flavour, mango juice, and banana juice. They also added a soda flavour for that Pikachu thunderbolt kick (and to balance the flavours!)

They come in limited-edition Pikachu shapes

A packet of these gummies includes the classic heart-shaped Puré gummy sweets as well as Pikachu-shaped ones. There are also four packet designs all featuring original and exclusive Pikachu illustrations.

Additionally, for a limited time, the regular lemon, grape, and muscat grape Puré gummy packaging feature Pikachu's paw prints on the front and back. There are even hidden Pikachu-shaped gummies inside these regular packets.

Pikachu online promotion

The product is being promoted over on the official Puré Twitter page. Pikachu is set to take over the page this June with promotional videos.

Fate/Grand Order: Camelot -Wandering; Agateram- Anime Film's Main Theme Details Revealed

Fate/Grand Order The Movie Divine Realm of the Round Table: Camelot is an upcoming two-part anime film series, with the first part Wandering; Agateram set for release on August 15, 2020. The series is based on the popular mobile RPG game Fate/Grand Order which has over 50 million downloads worldwide.

It has been revealed that the first film's main theme is entitled Dokuhaku ("Monologue") which is written and sung by Maaya Sakamoto and composed and arranged by Takahito Uchisawa of J-rock band androp. Uchisawa previously collaborated with Sakamoto on her 24th single Replica. Nasu Kinoko, the creator of the Fate series, said that the song influenced him when he was writing the scenario for Divine Realm of the Round Table: Camelot, and that it's a popular song amongst players of FGO.

It was also revealed that Maaya Sakamoto will perform the second main theme for the Fate/Grand Order game. Titled Katsudou, the lyrics were written by Sakamoto, it was composed by Koga Shohei of yourness, and the song was arranged and music performed by yourness.

Maaya Sakamoto | Comment

"I asked the director how he wanted me to portray the last scene of the first film and how best to connect it to the second. I gave seriously thought to the song's role as a main theme song and came up with this song, 'Dokuhaku.' When you see that final scene in the theatre, I'm sure you'll be staring at the credit roll unable to even stand as you process the many different emotions swirling inside Bedivere. I think the song we've written is a suitable match for that final moment. Be sure to experience it in the theatre."

©TYPE-MOON / FGO6 ANIME PROJECT

Information

Fate/Grand Order The Movie Divine Realm of the Round Table: Camelot (Wandering; Agateram / Paladin; Agateram)
Wandering; Agateram Release Date: August 15, 2020
Official Website: https://anime.fate-go.jp/ep6-movie/

Japan's Manga Artists Join Hands For New Manga Project Depicting Life During COVID-19

Over 50 manga artists in Japan are coming together for the launch of the new "MANGA Day to Day" project which will depict daily life during the novel coronavirus (COVID-19) pandemic.

The project is set to roll out for free in mid-June on Twitter and Comic Days. A teaser by famous manga artist Tetsuya Chiba (Ashita no Joe; Notari Matsutarō) was released on May 22, 2020.

A related project entitled "Day to Day" is also taking place over on the Japanese literature news website TREE where over 50 popular authors have penned writings and essays on the restrictions of today's everyday life. In addition to Japan, both projects have caught the attention of overseas news media and websites too. Like the related "Day to Day" project, "MANGA Day to Day" will have one new manga strip released for free each day on Twitter and Comic Days. A piece entitled Akudama by Tetsuya Chiba is already available to see over on the project's official Twitter account.

People's lives have changed drastically as a result of the pandemic. To pass down this time in history to the next 100, or even 200 years, the pieces contributed to the "MANGA Day to Day" project will be compiled into a book that's scheduled for release in early 2021. A special edition of the book will also be compiled featuring both the manga and writing pieces.

Be sure to follow the Twitter account below to keep up to date.

Subaru Shibutani Documentary DVD, Blu-ray and Photobook to Cover Singer's Solo Career

Subaru Shibutani is a Japanese singer and actor who began his solo career last year. Since going solo, he has travelled the world while writing music. In April 2019, he announced the launch of his music label "World art." His first album Nisai hit shelves in October the same year, and in January this year he embarked on his first live tour across Japan and Asia.

Now, a feature length documentary covering all of this is set to be released on July 1, 2020.

The documentary film is entitled Nisai to 364 Nichi ("Two Years and 364 Days) and will be released in Japan on DVD and Blu-ray. Subaru Shibutani's staff have over 500 hours of footage to use for the documentary, which will cover the recording of the Nisai album, behind-the-scenes of his live tour—which was unfortunately cut short due to the COVID-19 outbreak, forcing dates in Asia and the finale in Osaka to be cancelled—and more. Shibutani's past year has been edited into a detailed 3-hour feature for the film.

Documentary Film 「二歳と364日」〈Documentary of 二歳〉 SPOT映像

A photobook will also be released alongside the DVD and Blu-ray featuring photos taken from the singer's live shows.

To promote the upcoming releases, Shibutani's live performance of Boku no Uta taken from the first day of his tour at Makuhari Messe was uploaded to his YouTube channel. Check it out below.

Subaru Shibutani – "Boku no Uta" [Official Live Video]

Re:Zero Mobile Game 'Lost in Memories' Pre-Registrations Open

Sega is set to release its first ever mobile game Re:Zero − Starting Life in Another World Lost in Memories for Android and iOS this year. The game is based on the popular anime series Re:Zero − Starting Life in Another World.

Pre-registrations for the game opened on May 22, 2020, and over 50,000 people have registered so far. A new teaser preview and details on the game have also been released.

What's 'Re:Zero − Starting Life in Another World Lost in Memories' About?

The video game is based on the popular light novel series Re:Zero − Starting Life in Another World. Players will take the role of series protagonist Subaru and relive the experiences of the anime's story. They will experience the turning point of the "IF" story, i.e. "What if I had chosen differently…?" Players' choices will affect the story, which will also have woven into it new and original contentーwith everything written by the light novel's author Tappei Nagatsuki. Interact with your favourite characters, engage in battles, and level up.

Pre-Registration Campaign

Sega had several tiers of gacha tickets to give out to players depending on the number of people who pre-registered. For exceeding 20,000, players will receive an item called "Rem ★3" and 10 gacha tickets, plus three extra for breaking 50,000 pre-registrations.

A new teaser video was released for the game which features its main theme song Reloaded which was used as the ending theme for season two of the Re:Zero − Starting Life in Another World anime series.

nonoc Comments (Extracts from video comment)

"I've been given the opportunity to sing the Re:Zero theme song Reloaded for the game. The song is about the mental state of the protagonist Subaru, how fate is divided left and right for him, and how he has had to 'reload' is life countless times. I sing about how prepared he has to be in choosing so many different paths, so be sure to pay attention to the song and lyrics. Please look forward to both the game and the song."

nonoc's Full Comment: https://sgap.ps/C8Qdri

Re:Zero Author Tappei Nagatsuki is writing this adventure RPG

The game features a turn-based battle system. Players will combine their characters and skills for epic battles, and there's also auto and fast modes for lighter play. Players will get to see their favourite characters from the original story fight with high quality animation. They can also create parties with sub-characters and enemies from the anime series.

©Tappei Nagatsuki・KADOKAWA / Re:Zero − Starting Life in Another World 2 Production Committee
©SEGA

Information

Re:Zero − Starting Life in Another World Lost in Memories

Release Date: 2020

Platform: iOS/Android

Price: Base game is free (paid items available)

Genre: Adventure/RPG

Official Website: https://re-zero-rezelos.jp

*Listed company names and product names are registered trademarks of their respective companies.

Demon Slayer: Kimetsu no Yaiba Collaborates With Baby Star Ramen Noodle Snack

Oyatsu Company has teamed up with the popular TV anime series Demon Slayer: Kimetsu no Yaiba to release limited-edition packaging of its popular Baby Star Ramen dried noodle snack. The product released on May 25, 2020 in Japan.

Demon Slayer: Kimetsu you Yaiba

Demon Slayer: Kimetsu you Yaiba is a manga series written and illustrated by Koyoharu Gotōge which follows Tanjiro Kamado who becomes a demon slayer after his family is killed and his younger sister Nezuko turns into a demon. It was serialised in Weekly Shōnen Jump from 2016 and recently concluded with its 20th volume on May 18, 2020. It has shipped 60 million copies. The upcoming anime film Demon Slayer: Kimetsu no Yaiba the Movie: Mugen Train will continue the story of the anime series's first season when it drops on October 16, 2020.

Baby Star x Demon Slayer

The collaboration will be for the ume kombu onigiri (plum kelp rice ball) flavour of the popular Baby Star snack, which just so happens to be a favourite of Demon Slayer's main character Tanjiro. You get the refreshing taste of the plum and the delicious flavour of the kombu.

There are four packaging designs to find as pictured above, each featuring familiar faces from the anime series.

A campaign is also being held for 400 fans to win an original Demon Slayer A2 poster. Each pack of the snack features an application mark on the back which they can use to sign up. This is being held in Japan only. Full details can be found on the campaign website.

©Koyoharu Gotouge / Shueisha・Aniplex・ufotable

Information

Demon Slayer Baby Star Ramen (Ume Kombu Onigiri Flavour)
Weight: 50g
Price: Open Price

Release Date: [May 25, 2020] Japanese Convenience Stores / [June 15, 2020] Japanese Supermarkets
Campaign Website: https://www.oyatsu.co.jp/campaign/kimetsu_poster/