MMN Festival 2018 Report: MOSHI MOSHI MUSIC FESTIVAL & Up-and-Coming Artists at Tower Records
The MOSHI MOSHI NIPPON Project has one goal: to promote Japanese pop culture to the people of the world. On March 24th and 25th, MOSHI MOSHI NIPPON FESTIVAL 2018 in SHIBUYA was held, delivering Japan's popular culture to the world from the Shibuya and Harajuku area.
There were several places this year's festival took place. One of those locations was Tower Records Shibuya, where we held a music event titled "Featuring Japanese New Music: MOSHI MOSHI MUSIC FESTIVAL." Here, music artists with huge influence in the scene, as well as music media companies who have hooked up with new talent, came together as curators to deliver a fantastic showcase of promising artists. The event took place at the CUTUP STUDIO on B1F of Tower Records Shibuya.
Day One at the CUPUP STUDIO saw many performers. This included MANON, a hopeful new artist signed to ASOBISYSTEM, as well as three other artists recommended by music media company Spincoaster: SIRUP, Mizuki Ohira with Kobayashi Utena, and The Wisely Brothers.
Recognised R&B artist SIRUP warmed and spellbound the room with his sugary vocals and mellow, infectious beats.
Mizuki Ohira rocked the steelpans while Kobayashi Utena played the marimba, giving rise to an exotic musical co-performance. Three-piece female band The Wisely Brothers sent forth new-age girl power with their heavy garage rock. They also spoke about there being so much manga in Japan as one of the things they like about the country.
The second half of the event was graced by an MC battle produced by WREP, a hip-hop radio channel, hosted by Zeebra and Hachi Moji. Four spectators from the audience were appointed as team leaders and had to create teams from the 12 battle MCs present at the show.
The 4 teams battled it out in a tournament for the title of best MC. MCs that participated in the battle included MC Seishain, MC Matsushima, MC MIRI, Kizal, SAM, SHO GEN, Datemegiri, TKdakurobuchi, NiLL Nico, 8×8=49, FRANKEN, and Yuma.
Team SHO GEN, TKdakurobuchi & NiLL Nico and Team MC Matsushima, MC Seishain & SAM came out victorious. At the end of the battle, the chief members of the teams SAM and TKdakurobuchi clashed in a final battle with SAM taking the crown. The winning team took home a cash prize with the hip-hop fans in the crowd in a flurry of excitement. This marked the end of the first day.
For Day Two, Natalie Music worked as curators for the live stage event "Live Natalie meets MOSHI MOSHI NIPPON." MISMOPE were the first on stage with their spacey performance, followed by Nemuri Haru, who left a huge impact with her mad mix of poetry and rap.
Monari Wakita fitted in nine songs in 30 minutes, demonstrating her multi-layered musicianship. The packed-out CUTUP STUDIO also got involved with some fiery call & response.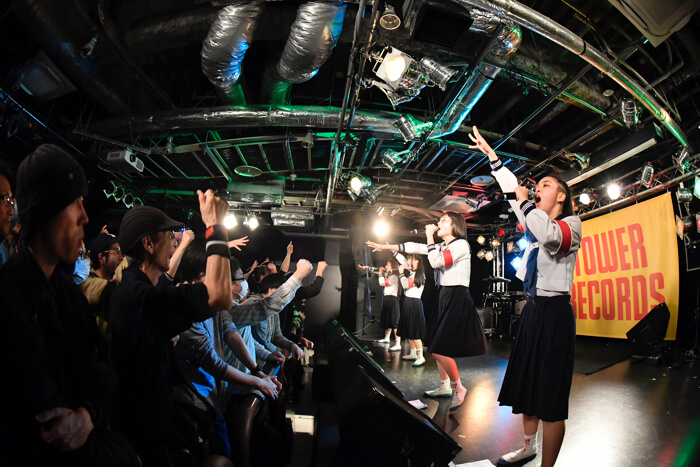 Atarashii Gakkou no Leaders wowed the audience with their infectious outlook and sharp, nimble dancing. During their song Saishuu Jinrui, which is the lead song taken from their first major album Mae Narawanai released on March 21st, they demonstrated their acrobatic bodies to the tune of a lively piano.
Five-member band Luby Sparks, who are recognised in the British alternative rock scene, also announced their new vocalist Erika for the first time.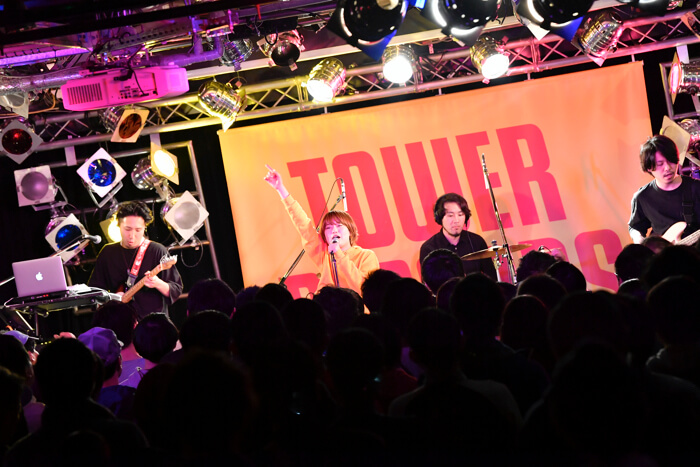 The last performer of the day was SHE IS SUMMER, who performed a string of popular hits such as Machiawase wa Kimi no Iru Shinsen and Tobikiri no Oshare Shite Wakarebanashi wo. The two-day festival came to a close with MICO's energetic, jumpy performance.
RECOMMENDED ENTRIES
16,000 People Attend MOSHI MOSHI NIPPON FESTIVAL 2018 in SHIBUYA!

MOSHI MOSHI NIPPON FESTIVAL 2018 in SHIBUYA promoted Japanese culture to people of the world from Shibuya on March 24th and 25th. The weekend event ended with huge success.

There were 5 main areas where the festival took place this year. Let's break them down one by one and see what happened.

Tower Records Shibuya CUTUP STUDIO / MOSHI MOSHI MUSIC FESTIVAL

A music event titled Featuring Japanese new music "MOSHI MOSHI MUSIC FESTIVAL" took place. Down in the B1F CUTUP STUDIO at Tower Records Shibuya, influential artists and the music media, who had previously hooked up with many promising artists, became official curators to provide a line-up of artists.

On Day 1, MANON served as the opening act to the first half of the event, followed by the three artists recommended by music media company "Spincoaster" – SIRUP, Mizuki Ohira with Kobayashi Utena, and The Wisely Brothers. It was a thrilling string of performances as expected from Spincoaster, who showcase fresh music from both inside and outside Japan.

In the second half we saw the MC battle produced by WREP, a hip-hop radio channel, under Zeebra and Hachi Moji. 4 teams battled it out in a tournament for the title of best MC, with MC Matsushima, MC Seishain and SAM taking the crown. Winners received a cash prize, wrapping up the first day of the event.

On Day 2, Natalie Music worked as curators for the live stage event "Live Natalie meets MOSHI MOSHI NIPPON." MISMOPE, Nemuri Haru, Monari Wakita, Atarashii Gakkou no Leaders, Luby Sparks, and SHE IS SUMMER took to the stage. Each of them offered a different genre as up-and-coming artists and sang the two-day festival into a close.

Tower Records Shibuya SKY GARDEN / MOSHI MOSHI MUSIC FESTIVAL

Up on the rooftop of Tower Records Shibuya, the Sky Garden, a selection of groups from the idol genre, a unique part of Japanese pop culture, performed on stage as artists that MOSHI MOSHI NIPPON wanted to show to the world.

On March 24th, a total of eight idol groups performed including Yamakatsu and CY8ER, and on March 25th nine performed, such as Lucky Doll and The Dance for Philosophy, all of who enthralled the idol fans gathered at the venue.

Laforet Museum Harajuku / Harajuku Kawaii Market presented by Mynavi Baito

The Harajuku Kawaii Market was presented by Mynavi Baito at Laforet Museum Harajuku and centered on the theme of "Find Japan's Kawaii♡".

There was a whole collection of booths from fashion to beauty, fortune-telling, DIY and more, as well as appearances from models active in Japanese fashion magazines, artists, and a popular Youtuber.

Performers Rei Maruyama and Yuri Suganuma hosted the stage. The two of them are friends and so had a good, natural flow in directing the stage.

Talk sessions were held around fashion, cosmetics, how to be photogenic and more and saw the likes of Saki Shibata, Rinko Murata, Megane, Noah Satou, Ayaka Segawa, and Rikako Ōya from Babyraids Japan.

Mynavi Baito also presented their Challenge Award themed on fashion where school students were tasked with designing the cutest part-time work outfit to show to the world. Japanese models stepped out onto stage wearing each of the costumes.

Artist, model and actress Natsume Mito produced her first ever show for the event – a fashion show themed on a picture book. Rilakkuma attended too for his inauguration ceremony to be appointed as a Shibuya Tourism Ambassador. He handed out maps to people at the event.

MAGiC BOYZ and Amato Danshi performed live at the market with their catchy music and electrifying dance moves.

The booth area bustled with people who attended DIY workshops for making accessories and pin badges, the fortune-telling area, hair styling booth and more. Japan's kawaii was delivered across two days through the on-stage performances and many booths.

SHIBUYA CAST / MOSHI MOSHI NIPPON MARKET

A market was held at SHIBUYA CAST called "Enjoy Hanami Early in Shibuya." It was dotted with an array of food booths where people enjoyed strawberries from the city of Tamura in Fukushima Prefecture, the popular Kyoto souvenir "Tokyo Baum," and Japan's dashi stock. There were performances, people tried on kimono, there was a footbath and more. This area was particularly popular with overseas visitors.

Official tours were held called "HARAJUKU EXPERIENCE" with SHIBUYA CAST as the start and finish point. They were very well received. Aimed at foreigners, the tours took them around the fascinating areas of Shibuya and Harajuku.

It was just in time for the cherry blossoms at SHIBUYA CAST which were in full bloom this weekend, making the event even more brilliant.

 

RE THINK CAFÉ SHIBUYA / MOSHI MOSHI CAFÉ

The MOSHI MOSHI CAFÉ opened at RETHINK CAFE SHIBUYA with the concept of "Clean & Hungry."

A campaign was held for people to receive free sweets from areas around Japan by taking a photo of food they ordered from the café and posting it online with the specified hashtag.

Lots of people posted their food on social media and were able to enjoy free sweets from regions across Japan that are hard to get your hands on in Tokyo. The café served up the individual charms of regions in the country.

Onden Shrine / MOSHI MOSHI ENNICHI

Onden Shrine is where the local gods of Harajuku are enshrined. An Ennichi event was held for the festival titled "Tie Links With the Gods of Harajuku."

Harajuku-style rainbow coloured cotton candy, cute amezaiku and other treats were sold as food for Ennichi, and there was a booth for foreigners to learn Japanese shrine etiquette.

Bilingual staff lectured on the manners and etiquette to teach the proper way of praying at shrines in Japan.

Traditional Japanese performance opened the stage with taiko drums and Awa Odori. There were also character DJs, a display by pro kendama performer EASY and many other things for kids and adults alike to enjoy. At the end of the day was a large Bon Odori dance which the performers, attendees and staff joined in with.

16,000 people attended this year's MOSHI MOSHI NIPPON Festival across the two days. Just like last year, many foreigners attended the event, but this year the variety of content at the festival was upped, the number of families increased, and we saw lots of children getting involved in the booths. MOSHI MOSHI NIPPON promoted Japanese culture to even more people this year, not just with those in attendance, but event to people on the street who were given sampling bags.

Further reports of the event for each area of the festival will be posted on the MMN website in the coming days. Stay tuned and don't forget to check the official event page: https://fes18.moshimoshi-nippon.jp/index.html

MMN will continue to deliver Japanese popular to the world through our website and official events. On our website, we post interviews with Japanese artists active both in Japan and overseas, spots to visit and food to try in Japan as recommended by popular models, fashion trends in Japan, and much, much more. We provide information from a unique perspective, so be sure to check us out.

■Information

MOSHI MOSHI NIPPON FESTIVAL 2018 in SHIBUYA

Date: March 24, 2018 – March 25, 2018

Time: 11:00-21:00

<Performance Line-up>

MOSHI MOSHI MUSIC FESTIVAL

Location: Tower Records Shibuya B1F CUTUP STUDIO / Tower Records Shibuya Rooftop

・Opening Act: MANON

・Spincoaster Stage: Mizuki Ohira with Kobayashi Utena / SIRUP / The Wisery Brothers

・WREP BATTLEFIELD presents Batotsuku (19:00 START)

MC: Zeebra/八文字

DJ: YANATAKE

MC BATTLE: MC BATTLE: MC Seishain / MC Matsushima / MC MIRI / Kizal / SAM / SHO GEN / Datemegiri / TKdakurobuchi / NiLL Nico / 8×8=49 / FRANKEN / Yuma

・Live Natalie meets MOSHI MOSHI NIPPON: Atarashii Gakkou no Leaders / SHE IS SUMMER / Nemuri Haru / MISMOPE / Luby Sparks / Monari Wakita

・MOSHI MOSHI IDOL SPECIAL: APPARE! Harajuku / Wyenra / QUEENS / Kus Kus / CY7ER / Sakadori Hasshinkyoku / C-Style / Jewel☆Neige / sora tob sakana / Nankini! / NEO JAPONISM / PPP!PiXiON / The Dance for Philosophy / Lucky Doll / Yamakatsu

Harajuku Kawaii Market presented by Mynavi Baito

Location: Laforet Museum Harajuku

MC: Yuri Suganuma / Rei Maruyama

Akari Abe / Amato Danshi / Manaka Arai / Alice Ikeda / Ellie / Rikako Ōya (Babyraids Japan) / Anna Kawamura / Chamereon Takeda / Aino Kuribayashi / Ren Koseki / Noah Satou / Saki Shibata / Hikari Shibata / Ayaka Segawa / Ema Tanioku / Eri Tanioku / Chie Tsuji / Mei Nagasawa / Fusedy / MAGiC BOYZ / Michi / Natsume Mito / Rinko Murata / Megane / Anna Yano/ Yuna Yabe / Yutaro / Una/ Yoshiaki / Rilakkuma (Shibuya Tourism Ambassador)

MOSHI MOSHI ENNICHI

Location: Onden Shrine

MC: Mio Ooyama

EASY / Coroton / Satsumasendai Odoridaiko / Shimockey / TAKARABUNE / Maidreamin / YUMENOYA Ukon Takafuji Japanese Dance Show & Bon Odori

MOSHI MOSHI NIPPON MARKET

Location: SHIBUYA CAST

MIOCHIN

<Organizer> MOSHI MOSHI NIPPON Executive Committee

<Support> Shibuya City / Shibuya City Tourism Association

<Co-Operation> TOKYU CORPORATION / SHIBUYA CAST. / Tower Records Japan Inc. / Laforet HARAJUKU / Religious Corportation Onden Shrine / Jnnovations, Inc.

<Sponsors>

Mynavi Baito / NIPPON PAINT HOLDINGS CO.,LTD / Bijuu co.,ltd. / KitKat Chocolatory / Amato Danshi / Maidreamin / Don Quijote Co., Ltd. / HAPPINET CORPORTATION / POKKA SAPPORO Food & Beverage Ltd. / KAGAMOKU CO.,Ltd / DIDYCO / FUSOSHA / Aqua Belle / Keihen Sangyo / Clarence Lee Design & Associates / Henkel Japan Ltd. / Yuzawaya

<Content Partners> Gurunavi, Inc. / Airbnb Inc. / Natalie / Spincoaster / WREP / SHIBUYA FASHION FESTIVAL / Japan Promotion

Official Event Website: https://fes18.moshimoshi-nippon.jp/index.html

MMN Website: http://www.moshimoshi-nippon.jp (Japanese, English, Chinese)

Additional Information! Maidreamin, Kendama Performers, TOTTI CANDY FACTORY to Participate & Character DJ Festival Will be Held

The MOSHI MOSHI NIPPON Executive Committee will hold the country's biggest inbound event for promoting Japanese pop culture to the world, "MOSHI MOSHI NIPPON FESTIVAL 2018 in SHIBUYA," across the areas of Shibuya and Harajuku on Saturday March 24 and Sunday March 25. New artists have been added to the event line-up as well as their performing dates. Registration for the event is also now open. Those who register for the festival will receive an original bag as thanks.

Register Here: https://mmnf2018.peatix.com

This year's MOSHI MOSHI NIPPON FESTIVAL will take place in four main locations. Here are the artists who will perform as well as the content and activities to be held at each location.

In this article, we will take a detailed look at the stage performances and booths you can expect to see at Onden Shrine.

EASY – The Kendama Performer

EASY is a professional kendama ("sword and ball"Japanese toy) performer who is performing throughout the world. Don't miss this chance to enjoy his breathtaking kentama performance!

Maidreamin

The popular cast members of the maid café, "Maidreamin" will gather at Onden Shrine! They will grab ojou-sama (ladies) and goshujin-samas' (masters) hearts with their songs and dance performances.

Detailed information:https://www.moshimoshi-nippon.jp/ja/98007

TOTTI CANDY FACTORY

TOTTY CANDY is popular for its giant rainbow-colored cotton candy. Cotton candy is eaten by many people as an Ennichi (hopping day) food. This cotton candy named TOTTY CANDY has the essence of Harajuku-style!

Character DJ Festival

 

DJs disguised as popular characters will perform on-stage at Onden Shrine and will grab audience's hearts with their tunes and fantastic performances. DJs – Shimockey and coroton and many more.

DJ/Shimockey and coroton

<Free Entry to MOSHI MOSHI NIPPON FESTIVAL 2018 in SHIBUYA>

Register for free entry to this year's festival!

To register, place visit the Peatix website below and follow the instructions. Upon completing your registration, you will receive a QR Code from Peatix that you must take with you and present at each area on the day of the event.

Click here to register.

*Upon registering, you will be signed up as a MOSHI MOSHI NIPPON Member where you will receive newsletters and other information. You will also be signed up to Omotenashi Platform.

Those that register for the event in advance will receive an original bag as thanks. There are 1,500 bags available on a first-come, first-served basis. You will find in them one of either popular products from KitKat Chocolatory: the "KitKat Chocolatory Moleson" (¥500) or the "KitKat Chocolatory Moleson Matcha" (¥500). Bear in mind that stocks are limited, so don't forget to sign up early!

■Information

MOSHI MOSHI NIPPON FESTIVAL 2018 in SHIBUYA

Venue: LAFORET MUSEUM HARAJUKU, SHIBUYA CAST, TOWER RECORDS Shibuya, Onden Shrine

Date: 03/24 (Sat.), 25 (Sun.)

Time: 11:00 to 21:00 ※the opening hours differ depending on the venue

Official site:https://fes18.moshimoshi-nippon.jp/ja/

Pre-register (free):http://mmnf2018.peatix.com

ASOBISYSTEM and Airbnb Join Up to Bring Models as Tour Guides to MMN Festival 2018

ASOBISYSTEM Co., Ltd and Airbnb Japan, Inc. have joined up to promote the expansion of the appeal of Japan's multilayered culture and regional communities. Firstly, to further interest in Harajuku's unique culture, the two companies are offering numerous experience-based services.

ASOBISYSTEM is centered around promoting more "fun" (asobi) to today's age. They focus on Harajuku culture, something distinctive of Japan. In doing so they have supported and helped grow the culture that is born on the streets of Harajuku including fashion, music and lifestyle. In the beginning, it was just in Japan, but since then they have continued to be active in promoting Harajuku culture worldwide. Harajuku is a town steeped in fascination, and ASOBISYSTEM are focused on it becoming a melting pot cultural area recognised by the people of the world.

Airbnb was established in 2008. They have interacted with a multitude of regional communities and offer a unique travel experience that enables people to connect with the culture of their place of destination. Airbnb aims to realise a world where you can travel to live life.

The first plan of action for ASOBISYSTEM and Airbnb is offering official tours with popular models who will serve as tour guides for MOSHI MOSHI NIPPON FESTIVAL 2018 in SHIBUYA which will take place on March 24 and March 25! There are 3 models who will work as tour guides: Saki Shibata, Ayumi Seto and Yuri Suganuma. To experience each of their special tours you must book in advance, so be sure to check them out ASAP.

Full details: https://www.moshimoshi-nippon.jp/ja/96761

Experience the ever-growing culture of Harajuku with Airbnb.

■Information

MOSHI MOSHI NIPPON FESTIVAL 2018 in SHIBUYA

Locations: SHIBUYA CAST. / Tower Records Shibuya / Laforet Museum Harajuku / Onden Shrine

Dates: Saturday 24 March – Sunday 25 March

Time: 11:00-21:00 *Times differ at each area

Official Event Website: https://fes18.moshimoshi-nippon.jp/ja/

Free Pre-Registration: http://mmnf2018.peatix.com

MMN Festival 2018 – SHIBUYA CAST: Ren Koseki Visits Maid Café "Maidreamin"

MOSHI MOSHI NIPPON FESTIVAL 2018 in SHIBUYA will take place in Harajuku & Shibuya on Saturday March 24 and Sunday March 25. The festival will take place in 4 main areas. One of them is SHIBUYA CAST which is where we will hold the MOSHI MOSHI NIPPON MARKET where you can enjoy Japanese food while taking in the cherry blossom scenery. Maid café group Maidreamin will also appear at the market. With that in mind, Ren Koseki dropped by the café in Shibuya to see what they're all about. Maidreamin has recently become popular with female customers too who pop in for the maid experience. Ren had her fill by trying their great food, watched a live performance and got involved in dressing up.

Maidreamin offers an experience like no other, taking on the concept of a "dream country littered with 'moe' and 'kawaii' for all customers who enter." This is expressed in many ways as expected from a dream country. When you enter the café, it's said that you're entering the country. Upon entering, you are greeted, and a ceremony is held to welcome you into the country. When you blow on the candle and it lights up you become a goshuin-sama (master) if you're male or ojou-sama (lady) if you're female. Animal ears will 'sprout' from the top of your head when you enter the Maidreamin country as you're given an animal Alice band to wear.

 

All food and drink items on the menu come with either a Maidreamin 'omajinai' service or a drawing performance. Omajinai is when you chant a spell together with a maid to make your meal even tastier. Be sure to try chanting "oishikunaare, moe moe kyun♡" ("abracadabra, become delicious♡") together with your maid. Those who want even more fun should get the "LOVE Kakuteriimin" (\1,240). A maid will call your name while making a cocktail right in front of you and put on a truly moe performance. It's recommended for friend groups and work colleagues. Ren ordered strawberry milk. You can order from either a non-alcoholic and alcoholic menu.

 

The menu is so plentiful you'll keep saying "cute" without even thinking. You can of course omurice, a classic maid café dish where you can request a maid to draw something on it, as well as the animal parfait which was just updated at the end of February. It's proven popular with overseas influencers and girls in Japan for its cute appearance, delicious tasty and amount. Friends get together to each order the Bear (chocolate banana), Cat (vanilla), Dog, (tea), Panda (matcha) and Rabbit (strawberry) parfaits and take a group photo.

  

This is the \880 "Mori no Kokage no Usa-chan Parfait" (Bunny Under the Forest Bower Parfait). You can get a "Sakura Float" to go with the parfait (\1,100. Comes with the maid omajinai). We really want you to try it!

Ren has actually been to Maidreamin before. She had been wanting to try on the maid outfit again, so she transformed into a maid with "Magical Change" (\3,240), a popular original Maidreamin maid outfit that you can wear at the café. Among the maids there are 3 different outfits: "Training," "Original" and "Dream Outfit". Only a select few can wear the Dream Outfit. It's a yearned for uniform whose wearer is known to have gone through the most strict and demanding reception training in the maid café industry. Only famous and successful applicants can wear it.

 

After changing into your maid outfit, take a commemorative chekki photo (\800). When taking a photo on stage where the maids perform live you can get a nice photo album and a maid will draw on the photo for you. It will encapsulate your time in the country!

 

Maidreamin has many overseas fans, so much so that they received an offer to perform the song for Anime Expo 2017 which is held in Los Angeles every year. If you order from the 'Live Menu' you can see them perform live too.

Look out for the ♪ badge on maids' uniforms. This will tell you if they are a maid that performs live and who has a repertoire of over 10 songs they can perform. Shiorin gave an energetic performance for Ren. Those who want to have even more fun with the live show can buy a "Magical Stick" penlight. If you hand over your penlight to a maid that's off stage, they might even dance otagei for you with the penlight, a type of choreographed dance performed by fans at idol shows! All of the maids at Maidreamin can perform otagei, making it the only maid café where all the maid staff can do it.

During the MMN Festival, you can catch popular Maidreamin maids including Dorisu, who gave Ren the welcome ceremony, as well as Hinata and Amo on the live stage at Onden Shrine on Saturday March 24 at 13:30-14:00. Hinata is a member of Moe Kami 8, a group formed by popular members of the maid café. The three of them will perform together with the top 17 maids of maid idol unit QSCS, who have over 450 members.

The services below are scheduled for the Maidreamin booth at MMN Festival 2018. Since the maid dress-up time is different from the café's normal time, this is your chance to enjoy eating a parfait and more while dressed as a maid, something you normally can't do. This is a must-do for both first timers, regular customers and cosplayers alike.

Sakura Float (w/ Maid Omajinai Good Luck Chant): \1,100 (tax incl.)

Chekki Photo (w/ Drawings by Maid + Album): \800 (tax incl.)

Maidreamin Maid Cosplay (30 Outfits): Outfit Rental – Advance Booking \3,980 / Same-Day Booking \4,500 (Return Time: 12:00-17:00)

Rubber Keyring (Maid Outfit Version): ¥600

Animal Alice Band: ¥600

Free Pre-Registration⇒

■Information

Maidreamin Shibuya

Address: Houraiya Bldg. B1, 30-1 Udagawacho, Shibuya, Tokyo

Access: 7-minutes on foot from Shibuya Station "Hachiko Exit"

TEL: 03-6427-8398

Opening Hours:

Monday-Thursday, Sunday, Holidays 13:00-23:00

Friday, Saturday, Day Before Holidays 13:00-05:00

MMN Festival 2018: Laforet Harajuku — Natsume Mito's Self-Produced Picture Book Themed Fashion Show With Guest Models

MOSHI MOSHI NIPPON FESTIVAL 2018 in SHIBUYA will take place in Harajuku and Shibuya on Saturday March 24th and Sunday March 25th. Model and artist Natsume Mito has produced her very own show titled Tobidase! Picture Book Show ~Storytime With Natsume Mito~  that she's set to showcase at  Laforet Museum Harajuku on March 24th.

This marks the first fashion show Natsume Mito has produced and will be based on a book she has chosen: Bulldog Tantei to Kieta Hoshi by Tomonori Taniguchi (BUNKEIDO Co., LTD.)

The story is as follows. The stars have disappeared from the sky. During this time, a letter arrives for the bulldog detective requesting he search for the lost stars. He accepts and heads out to find them. He's able to locate them, but why did they disappear, and who sent the letter…? This exciting story is full of heart and can be enjoyed by kids and adults alike.

In an entirely experiment, the world of the book will be brought to life through fashion! Natsume Mito will read the book aloud and models will take to the stage to thrill the audience. The line-up features a string of fantastic models representing the aomoji-kei fashion culture: Yuri Suganuma, Ema Tanioku, Eri Tanioku, Aino Kuribayashi, Chie Tsuji, Abe Akari, Saki Shibata, Rinko Murata, Manaka Arai, Alice Ikeda, Una, Anna Kawamura, and more.

Everything from the picture book to the model selection, casting and even the stage performance itself including the walking and lighting was thought up by Natsume Mito herself.

The outfit styling has also been entirely done by Natsume Mito. She dropped by some of her favourite second-hand clothing stores to pick out clothes which she made into outfits for each model while thinking about the role casting and story of the picture book. She even remade some outfits herself to fit the image of the show!

Finally, here's a message to everyone from Natsume Mito:

I love picture books and I love fashion too so I and thought it'd be fun to create a fashion show that combined those two worlds, so I decided to create a picture book fashion show. The art in this book is cute and the story is really moving. I wanted to do a show that presented a sparkly world, so I chose this book.

I did things like coordinate clothes, and I was super excited when thinking up the performance! This is my first time trying this, so there are still parts that I can't imagine how they'll turn out, but I'll work my hardest so that everybody who comes to watch will have smiles on their faces and get sucked into the world of the book. I want to create a stage performance so that people can come to be interested in picture books.

I'm also thinking up content that everybody can enjoy, so please be sure to come by! I'm also posting videos of the show being prepared on Instagram stories, so please check if out if you'd like.

Todibase! Picture Book Show ~Storytime With Natsume Mito~ will begin at 13:40 on Saturday March 24th at Laforet Museum Harajuku. Don't miss Natsume Mito's first challenge!

■Information

Todibase! Picture Book Show ~Storytime With Natsume Mito~

Location: Laforet Museum Harajuku

Date: Saturday March 24, 2018

Time: 13:40 START (subject to change)

*Please note that admission may be restricted in case of overcrowding.

MOSHI MOSHI NIPPON FESTIVAL 2018 in SHIBUYA
Locations: SHIBUYA CAST. / Tower Records Shibuya / Laforet Museum Harajuku / Onden Shrine
Dates: Saturday 24 March – Sunday 25 March
Time: 11:00-21:00 *Times differ at each area
Official Event Website: https://fes18.moshimoshi-nippon.jp/ja/
Free Pre-Registration: http://mmnf2018.peatix.com

MMN Festival 2018 – Laforet Harajuku: MAGiC BOYZ, Yutaro and Other Stage Contents on March 25th!

It's finally March, which means "MOSHI MOSHI NIPPON FESTIVAL 2018 in SHIBUYA" (MMN Festival) is almost here.

This year's MMN Festival will move away from the Tokyo Metropolitan Gymnasium and take place around the Shibuya and Harajuku area! We will deliver Japanese culture to the world to the fullest in the form of music, fashion, food, tourist experiences and more from Shibuya.

This year's MMN Festival is free for all to enter! But don't forget: you must register in advance to attend.

Register here:

This year's main locations are Laforet Museum Harajuku, Tower Records Shibuya, SHIBUYA CAST., and Onden Shrine. All locations are free to enter upon registering in advance.

Let's take a detailed look at the stage content and performances you can look forward to at Laforet Harajuku on 25 March.

<Slot 1 – 13:00 Start>

TALK: A Lesson on Being Photogenic – Hosted by Popular Models

A host of models will offer tips & tricks on taking Instagram-worthy photos as well as a range of how-to's! The line-up includes Rikako Ōya (Babyraids Japan) who has an article series on MOSHI MOSHI NIPPON, Ellie, Yuri Suganuma, Ema Tanioku and Yuna Yabe will look at cuts from each of their posts will checking their Instagrammable points. You may even get to hear about their top secret techniques and backstories behind their photoshoots.

TALK: April Horoscope Rankings: Zodiac Signs with Guest Fortune Teller

Hikari Shibata, a model who receives huge support for her fashion and lifestyle posts from girls of her generation, will have her fortune told by Chamereon Takeda through horoscopes. Chamereon Takeda has published 18 books to date. She has become famous for her predications which are so on point you'll end up laughing. She currently has over 50,000 followers on her official LINE account, and she has appeared on TV, radio and in magazines.

In addition, the constellations will be ranked on stage in relation to love! This is your opportunity to see and experience a fortune-telling by the real-life Chamereon Takeda, who you normally have to book to see. It promises to be a fantastic stage performance. Her fresh and humour-filled dialogue can be enjoyed even with beginners to fortune-telling. Look forward to it.

LIVE: Amato Danshi

Amato Danshi will return for a second performance on 25 March. They are a six-member idol group whose concept is themed on the world's trending sweets. Their songs too are centered around sweets, such as Shu Cream (Cream Puff) and Taiyaki. The group are also recognised for giving food reviews in their songs. A book on sweets is scheduled to be released from them in May. Their performance is a must-see as they head towards expanding their activities. Also, a café called "Amato Café" will open at SHIBUYA CAST. for the festival selling sweets recommended by the members! Sweet lovers must make sure to check out the performance and the café.

<Slot 2 – 15:00 Start>

TALK: "Spring Cosmetic Recommendations" with Noah Satou & Ren Koseki
Model and band vocalist Noah Satou will introduce recommended spring cosmetic items together with model Ren Koseki, who has appeared on TV and radio and has over 100k followers on Twitter.

The two of them post videos of themselves trying out cosmetics on their YouTube channel. You may get to hear about their recent finds as well as secret make-up techniques!

FASHION: Mynavi Baito presents Challenge Award
Mynavi Baito will return once more on March 25. They are known for their slogan Suki wo, baito ni ("Make your passions your job"). They are a website that posts information about part-time jobs. At MMN Festival, the company are set to present a project titled "Big Challenge of the Youth" which will have students enrolled in design schools get involved in creating kawaii part-time job outfits to promote to the world! The outfits will be exhibited on stage at the Harajuku Kawaii Market where models Yuri Suganuma, Mei Nagasawa and Anna Yano will dress in them. You will be amazed at how much these fashionable outfits will exceed your expectations. Look forward to an exciting stage event created by the youth of today.

LIVE: MAGiC BOYZ

MAGiC BOYS are a hip-hop group made up of three high school students MCs Toma, Ryuto and Mahiro, and elementary school student DJ Jo. They have earned the portmanteau nickname "Magibo" from their fans. They have released one album to date, have collaborated with recognized Japanese rappers as well as up-and-coming artists and have received support from music providers. And that popularly is growing at a fast rate! Their performance is an absolute must-see as they ride their budding momentum!

<Slot 3 – 17:00 Start>

TALK: Q&A with Yutaro!
Yutaro is active as a star shop assistant at the second-hand clothing store 3to2bunno1 in Harajuku, as an actor and as a model. He has been featured numerous times on TV and in magazines.

Yutaro is going to hold a public Q&A session at the festival where you might have the opportunity to hear things you normally wouldn't be able to from him about his private life, fashion and more! If you attend, this might be your chance to have a direct conversation with Yutaro!

FASHION: Learn Japanese Spring Trend Styles with Shibasaki & Rinko♡

Saki Shibata and Rinko Murata are models who have gained immense popularity with teenage girls. They have also appeared in countless magazines. The two of them are going to hold a market onstage selling their own personal items! They will give a lecture on styling points such as introducing co-ords using the items on sale at the market and suggestions on possible co-ords you could create with them.

And of course, you'll be able to purchase their everyday clothes there too! The personal items that will be exhibited are scheduled to go up on the event website in advance so don't forget to check them out.

<Free Entry to MOSHI MOSHI NIPPON FESTIVAL 2018 in SHIBUYA>

Register for free entry to this year's festival!

To register, place visit the Peatix website below and follow the instructions. Upon completing your registration, you will receive a QR Code from Peatix that you must take with you and present at each area on the day of the event.

Click here to register.

*Upon registering, you will be signed up as a MOSHI MOSHI NIPPON Member where you will receive newsletters and other information. You will also be signed up to Omotenashi Platform.

Those that register for the event in advance will receive an original bag as thanks. There are 1,500 bags available on a first-come, first-served basis. You will find in them one of either popular products from KitKat Chocolatory: the "KitKat Chocolatory Moleson" (¥500) or the "KitKat Chocolatory Moleson Matcha" (¥500). Bear in mind that stocks are limited, so don't forget to sign up early!

■Information

MOSHI MOSHI NIPPON FESTIVAL 2018 in SHIBUYA

Locations: SHIBUYA CAST. / Tower Records Shibuya / Laforet Museum Harajuku / Onden Shrine

Dates: Saturday 24 March – Sunday 25 March

Time: 11:00-21:00 *Times differ at each area

Official Event Website:https://fes18.moshimoshi-nippon.jp/ja/

Free Pre-Registration:http://mmnf2018.peatix.com
RELATED ENTRIES
FRUITS ZIPPER Announces First Arena Live Show at Tokyo Metropolitan Gymnasium this Fall

On June 26, FRUITS ZIPPER held a one-man live performance at the "Sayonara Nakano Sunplaza Music Festival," marking the culmination of Nakano Sunplaza's rich history as it undergoes a fresh transformation in honor of its 50th anniversary this year.

With the opening SE playing, laser beams filled the venue, creating an atmosphere brimming with anticipation as the live performance kicked off with "Sekaiwa Kimikara Hajimaru." Popular upbeat songs like "Kanpeki Shugide☆," "Cho Medetai Song – Konnani Shiawasede Iinokana?-" and "Fure Furu Summer!" followed, captivating the audience from the beginning and keeping the excitement alive.

During the MC segment, it was announced that their hit song "Watashino Ichiban Kawaiitokoro," which garnered a staggering 800 million views on TikTok and surpassed 12 million views on the music video since its digital release last year, would be released as the group's first-ever CD single in this September. The announcement of the release consisting of a first-press limited edition, regular edition, and member edition featuring solo jacket designs for each member, heightened the excitement of the audience even further. With smiles on their faces, the group delivered an outstanding performance of all 14 songs, bringing the live show to a close.

As the encore calls echoed through the venue, a sudden news program-style video began playing on the screen, and the expressions of the members reflected a sense of nervousness. Within the homage-like footage resembling the moment of the Olympic host city announcement, it was revealed that the Tokyo Metropolitan Gymnasium had been chosen as the venue for the grand finale of their nationwide tour in this fall. Suzuka Chinzei expressed, "Having the opportunity to perform in such a large venue in our second year since debut is an amazing challenge, and we were able to make this decision because of all of you being here. We will train together as a group leading up to this day, so please stay excited!" The audience responded with warm applause to her heartfelt words.

During the encore, they unveiled their new song "Pure In the World," which is sure to become a new staple that energizes their live performances. The song was produced by Tamaya2060% from Wienners. At the finale of the event, which was filled with "super celebratory" announcements for both fans and members, they performed "Cho Medetai Song -Konnani Shiawasede Iinokana-?" once again. The audience joined in with loud handclaps and responded to Luna Nakagawa's shout of "FRUITS ZIPPER Arena Live Show!" with chants of "Congratulations!" The entire venue came together as one, closing the curtain on a memorable night.

FRUITS ZIPPER will kick off their first nationwide tour in September. The pre-sale of tickets for the tour finale at the Tokyo Metropolitan Gymnasium has begun and will run until July 3.

Information

[Tour Information]
FRUITS ZIPPER JAPAN TOUR 2023 -AUTUMN- TOUR FINAL
Date: October 28, 2023
Venue: Tokyo Metropolitan Gymnasium
Time: Doors 16:00/ Starts 17:30
*Please note that there will be no meet-and-greet session on the day.

[Ticket Information]
-VIP Standing: ¥16,500 (Tax included) *Exclusive to FC members / Up to 2 tickets per application.
-General Arena Reserved Seat: ¥8,000 (Tax included) *Up to 4 tickets per application.
-Reserved Stand Seat: ¥5,500 (Tax included) *Up to 4 tickets per application.

▼VIP Ticket Benefits
-Reserved seating in the front section.
– Commemorative merch gift.
-Original electronic ticket.

[Ticket Pre-Sale Information]
KAWAII LAB. OFFICIAL FANCLUB
Application Period: 6/26 at 21:00 – 7/3 at 23:59
URL: https://kawaiilab.asobisystem.com/

Playguide
Application Period: 6/26 at 21:00 – 7/3 at 23:59
URL: https://t.pia.jp/pia/artist/artists.do?artistsCd=M4140001

[Contact]
HOT STUFF PROMOTION
050-5211-6077
https://www.red-hot.ne.jp/

For the latest tour information, check here:
https://kawaiilab.asobisystem.com/

[Release Overview]
FRUITS ZIPPER 1st Single CD "Watashino Ichiban Kawaiitokoro"
Release Date: September 13, 2023

[Editions]
Limited Edition [CD]: ¥3,000 (Tax included)
Regular Edition [CD]: ¥1,200 (Tax included)
Member Edition [CD/7 versions]: ¥1,200 (Tax included)

[Specifications/Tracklist]

■ Limited Edition (The Cutest Packaging)
Tracklist:
M1. Watashino Ichiban Kawaiitokoro
M2. Pure In the World
M3. Zutto, zutto, zutto!
M4. Cho Medetai Song -Konnani Shiawasede Iinokana?-
Bonus: Music Video DVD

■Member Editions (Member Solo Jacket)
Tracklist:
M1. Watashino Ichiban Kawaiitokoro
M2. Pure In the World
M3. Limited Edition Songs for Each Member Edition *
M4. Cho Medetai Song -Konnani Shiawasede Iinokana?-

*
Suzuka Chinzei Edition: "skyfeelan"
Luna Nakagawa Edition: "Kanpeki Shugide☆"
Amane Tsukiashi Edition: "Re→TRY & FLY"
Karen Matsumoto Edition: "Happy Chocolate"
Noel Hayase Edition: "RADIO GALAXY"
Yui Sakurai Edition: "Sekaiwa Kimikara Hajimaru"
Mana Manaka Edition: "Furefuru Summer!"

The schedule for in-store events will be announced on FRUITS ZIPPER's official SNS channels.

■Regular Edition
Tracklist:
M1. Watashino Ichiban Kawaiitokoro
M2. Pure In the World
M3. Cho Medetai Song -Konnani Shiawasede Iinokana?-
M4. Watashino Ichiban Kawaiitokoro (Instrumental)
M5. Pure In the World (Instrumental)
M6. Cho Medetai Song -Konnani Shiawasede Iinokana?- (Instrumental)

【KAWAII LAB.】IDOLATER Releases New Single 'Aimai Silhouette'

On May 31, the idol group IDOLATER released its 11th single, Aimai Silhouette.

Unlike the group's more mature love songs released in the past, this new track is packed with cuteness and a fresh sound.

City Pop TOKYO Collaborates with Idol Group FRUITS ZIPPER to Produce Member-Inspired Legendary NFTs

The NFT project City Pop TOKYO is inspired, fittingly, by City Pop, a music genre from Japan that is immensely popular worldwide, particularly among Gen Z. Now, the project is collaborating with the incredibly popular idol group FRUITS ZIPPER!

Starting at the end of April, Legendary NFTs inspired by the members of FRUITS ZIPPER will be released sequentially as part of the City Pop TOKYO NFT collection. These collaborative NFTs feature rare designs that are unique among the other characters in the City Pop TOKYO NFT collection and were drawn by Natsumi Sato, the illustrator who oversaw character design for the collection.

This collaboration will commemorate the release of City Pop TOKYO's main collection, which will be available starting at the end of April. City Pop TOKYO will allow both NFT holders and non-holders to participate in new character development through a series of Twitter posts after the main NFT collection is sold. Characters will level up by earning training points when they post on Twitter, which will also be reflected in their NFT properties. The final ranking will be based on level, and a subsequent audition will be held, with winners being invited to join ASOBISYSTEM as new talents.

For this collaboration, the wildly popular FRUITS ZIPPER is sure to bring some new excitement to this incredible project.

Information

<Collaboration Details>
●Seven FRUITS ZIPPER NFTs inspired by the group's members will be added to the City Pop TOKYO collection as Legendary NFTs.
● Legendary NFTs were created by Natsumi Sato, the illustrator behind City Pop Tokyo. Each special edition release has its own unique parts.
● Unlike standard collections, Legendary NFTs will be sold via auction.

Available: April 19 at 21:00 ~ April 20 at 21:00
Amount Available: 7
Price: To be determined at auction

Below are the NFT designs. Illustrations will be sent to auction winners as NFTs.

<Special Benefits for Legendary NFT Holders>
● One NFT airdrop from City Pop TOKYO's main NFT collection
● Easier to accumulate XP points when developing characters on Twitter
● A 3D model from the Gemie Metaverse (Design to be selected from airdrops from the main collection)
●NFT airdrops of future collections (details to be announced as soon as the collections are available)
*Legendary NFTs cannot participate in the promotional game or audition.
*The images and designs of the characters may be used by the FRUITS ZIPPER and its members during their activities.

About City Pop TOKYO
City Pop TOKYO plans to release 1984 original NFTs based on City Pop, a music genre from Japan that is immensely popular worldwide, particularly among Gen Z. The project's characters are featured in trendy outfits and makeup representing symbolic fashion styles in Japan, such as GAL, SHOWA, and REIWA. After the NFTs are sold out, they can be registered as talents with ASOBISYSTEM and entered into the METAVERSE'S GOT TALENT NFT talent audition using Twitter! Successful entries will be invited to have full-fledged virtual careers, appearing in ads and releasing music. Community members can participate in surveys and vote on songs and other releases, coming together to help develop new talent.

Through this project, City Pop TOKYO will work to reaffirm the usefulness of Web 3.0 technology and NFT and further promote Japanese culture to people worldwide.

・Website: https://www.city-pop.tokyo/
・Twitter: @CityPopTokyoNFT
・Discord: https://www.city-pop.tokyo/

<Participating Businesses>

Kingdom Labs
Kingdom Labs is a venture studio that aims to support and invest in projects in the gaming and toC areas within the Web 3.0 domain. The company provides consistent support to entrepreneurs building innovative business models across various industries, from planning to execution. One of the company's key strategies is to partner with large companies that are expanding their business to Web 3.0 or that exist in a different area but hope to create Web 3.0 services. Kingdom Labs takes a unique, multi-disciplinary approach to maximize the interests of investors and partners, leverage its global team, and to grow its global portfolio and investment experience. The company also operates the world-renowned NFT collection Monkey Kingdom.

Representative: CSO Maurice Ng
URL: https://www.kingdomlabs.com/

UPBOND Inc.
UPBOND offers Wallet, which easily allows customers to manage their assets and connect to many Web 3.0 services. Its non-custodial wallet enables general consumers to easily engage with Web 3.0 marketplaces and allows enterprises to obtain customer information with its decentralized identity solution. UPBOND works with top-notch Japanese corporates to bring their business into this new frontier while also updating customer relationships.

Representative: Director Takashi Mizuoka
Head Office: 6-31-15 Jingumae, Shibuya-ku, Tokyo (8F)
URL: https://www.upbond.io

GEMIE
GEMIE is an Asian entertainment-focused metaverse platform inspired by fan culture. The company aims to help artists achieve their full potential by providing them with the tools, resources, and opportunities they need to reach their goals and allowing them to interact with fans from all over the world without limitations.
Comment: "Instead of holding a talent show by region or country, why don't we do it in the metaverse so there won't be any geographical locations – you will be surprised how many talented artists who are worth a shot are scattered in our everyday life!"

Representative: Co-founder John Fung

FRUITS ZIPPER to Embark on First National Tour in September

Idol group FRUITS ZIPPER will embark on its first nationwide tour, FRUITS ZIPPER JAPAN TOUR 2023 -AUTUMN-, this September.

FRUITS ZIPPER has been climbing to the top of the idol scene at a breakneck pace. Their first overseas solo performance in Taiwan was recently a huge success, and tickets for their first anniversary live shows at Toyosu PIT in Tokyo and Namba Hatch in Osaka in May sold out immediately after going on sale.

The tour will begin with a concert in Osaka on September 3, followed by performances in Aichi, Fukuoka, Hiroshima, Hokkaido, and Kanagawa. Tickets for the presale lottery are now on sale for members of the KAWAII LAB fan club.

FRUITS ZIPPER's single Watashino Ichiban Kawaiitokoro, released last year, has inspired over 700 million related videos on TikTok, while the music video has been viewed over 10 million times. Keep an eye on their activities in the near future!

Information

FRUITS ZIPPER JAPAN TOUR 2023 -AUTUMN-

Date: September 3, 2023
Venue: Zepp Namba / Osaka
Time: Doors open at 16:00 / Show starts at 17:00
Contact: Kyodo Information – 0570-200-888

Date: September 5, 2023
Venue: Zepp Nagoya / Aichi
Time: Doors open at 17:30 / Show starts at 18:30
Contact: Sunday Folk Promotion – 052-320-9100 (12:00~18:00)

Date: September 8, 2023
Venue: Zepp Fukuoka / Fukuoka
Time: Doors open at 17:30 / Show starts at 18:30
Contact: Kyodo West Japan – 0570-09-2424 (11:00~15:00 / Closed on Sundays and Holidays)

Date: September 10, 2023
Venue: BLUE LIVE HIROSHIMA / Hiroshima
Time: Doors open at 16:00 / Show starts at 17:00
Contact: YUMEBANCHI (Hiroshima) – 082-249-3571 (Weekdays 12:00~17:00)

Date: September 13, 2023
Venue: PENNY LANE24 / Hokkaido
Time: Doors open at 17:30 / Show starts at 18:30
Contact: Mount Alive – 011-623-6555

Date: September 16, 2023
Venue: KT Zepp Yokohama / Kanagawa
Time: Doors open at 16:00 / Show starts at 17:00
Contact: HOT STUFF PROMOTION – 050-5211-6077 (Weekdays 12:00~18:00)

[Tickets]
VIP Standing: ¥16,500 (Including Tax, excluding drinks)
miniVIP Standing: ¥7,700 (Including Tax, excluding drinks)
General Standing: ¥5,500 (Including Tax, excluding drinks)
2F Reserved Seat: ¥5,500 (Including Tax, excluding drinks)
*Available tickets for Hiroshima and Hokkaido are VIP and General Standing only

KAWAII LAB. Fan Club Presale Tickets (Lottery)
Entry Period: April 10 at 21:00 ~ April 17 at 23:59
URL: https://kawaiilab.asobisystem.com/
*Up to 2 tickets available per person per show

New information will be announced on the official FRUITS ZIPPER social media pages when available.

KAWAII LAB. Report #19: New Idol Group CANDY TUNE Shares Thoughts on Upcoming Debut Concert

Following the success of the idol groups IDOLATER and FRUITS ZIPPER, KAWAII LAB., a project created to introduce Japan's growing idol culture to the world, has revealed the new group CANDY TUNE! Just as candy comes in a variety of flavors and shapes, each member of CANDY TUNE has their own unique personality and passion. Keeping KAWAII LAB's goal of bringing Harajuku to the world at the forefront of its activities, this idol group is ready to perform its pop tunes for audiences around the globe.

The group's name was created to convey gentleness, harmony, and sweet melodies, and on March 7, the debut album from these new idols hit all major streaming services. The titular CANDY TUNE is filled with powerful pop tracks already capturing the hearts of listeners around the world.

In CANDY TUNE's first appearance in the KAWAII LAB. Report series, we interviewed the members about their upcoming debut concert, KAWAII LAB. SESSION ~CANDY TUNE~. Are they ready to take to the stage?

-Your debut concert is coming up soon! How are you feeling? Share a message with the fans!

Bibian Murakawa

"Hi everyone! I'm Bibian Murakawa and my member color in CANDY TUNE is pink. The seven of us have been working together during all kinds of different lessons to become world-class idols. Everyone is so cheerful and each member has her own hobbies and special skills. It's been a blast spending time with them every day! We want the world to know what we're like inside and out, and to love us for who we are!"

Twitter: @bibian_ct1203
Instagram: @murakawabibiann
TikTok: @murakawabibiann

Mizuki Kirihara

"After so much training and so many different lessons, I'm happy to finally be able to perform on stage. We're lucky to have such amazing songs and costumes, and I hope to express myself in authentic CANDY TUNE style. Just spending each day with the members and staff, in general, fills me with so much happiness, and I can't wait to bring that joy to the fans! I just hope everyone can be happy!☺️"

Twitter: @mizuki_ct0221
Instagram: @kirihara_mizuki
TikTok: @kirihara_mizuki

Rino Fukuyama

"I feel blessed to have had all these months of lessons and prep before our debut, and I've really been giving my all! I want this to be the best possible debut concert and I hope we can exceed everyone's expectations. I know I'll be nervous before we go on stage, but this is something that will happen only once in my life, so I want to enjoy it as much as I can! I hope you enjoy listening to our music right up until you see the live performance!"

Twitter: @rino_ct1224
Instagram: @rinomaru_
TikTok: @rinomaru_

Nanako Ogawa

"Only a few days are left until our debut. I still can't believe I'm about to become an idol! (Laugh)

Thankfully, I've been able to interact with fans even before our debut. I feel so happy when I see people's words of support and hear about fans keeping track of new information coming out about CANDY TUNE each day. I hope I can cheer everyone up, even if it's just a little bit. Through CANDY TUNE, I'll make many dreams come true and devote myself to becoming someone's hope in this world!"

Twitter: @nachico_ct1001
Instagram: @__nchisan__
TikTok: @__nachisan__

Natsu Minami

"Not long ago, everything felt so new and I was just trying my hardest to keep up with lessons each day. But as we get closer to our debut, I feel more and more like I've really become an idol. I'm both nervous and excited about what I'll see at our first concert since it will be my first time appearing as a real idol! I'm just so happy to be a member of CANDY TUNE…I'll keep bettering myself right up until the show on 3/14!"

Twitter: @natsu_ct0317
Instagram: @nattanntan
TikTok: @nattanntan

Shizuka Miyano

"Each member of CANDY TUNE is very unique, and I think that really comes through in our performances. I can't wait to show you all how much we've grown! So many people have supported us since before our debut, and we'll never stop being grateful for that. Having been able to perform as idols in such a wonderful environment is a blessing. We'll keep improving ourselves in order to give even better performances in the future, but first, we want to give our all at our debut!"

Twitter: @shizuka_ct0530
Instagram: @myn_szk_ct
TikTok: @miyano_shicha.

Kotomi Tachibana

"I'm thankful to have been given so many opportunities leading up to our debut, like dance and singing lessons, speaking lessons, and so many other things that other idols might have never had a chance to do. I'm working hard every day to put those efforts to good use during our first live show! I have so many feelings about our first concert–I wonder what the view will be like! I want it to be a huge success, and while I'm a little anxious, I'm just looking forward to meeting the fans more than anything! ♡ I hope the concert makes everyone happy!"

Twitter: @kotomi_ct0525
Instagram: @kotomi_5chan
TikTok: @kotomi_5chan

Check out each member's profile here: https://www.moshimoshi-nippon.jp/ja/676709

The members of CANDY TUNE have been working hard as a team each and every day in preparation for their debut concert, focusing on the feelings they hope to convey to their new fans.

The girls are sure to put on a memorable show, and there's no doubt that their historical first performance will bring happiness to each and every person in attendance. Be sure to keep an eye on CANDY TUNE going forward!

CANDY TUNE Releases First Album 'CANDY TUNE'

CANDY TUNE, the newest group from KAWAII LAB, released their first album on March 7. KAWAII LAB is continuing to introduce Japanese idol culture to fans around the world.

The seven-member group is comprised of members Rino Fukuyama, Mizuki Kirihara, Natsu Minami, Nanako Ogawa, Bibian Murakawa, Shizuka Miyano, and Kotomi Tachibana. Just like candy, which comes in tons of different flavors and shapes, the members will bring their own unique personalities and quirks to their pop tunes as they carry on KAWAII LAB's mission of sharing Harajuku style with the world.

Two songs on the group's first album CANDY TUNE were produced by Naoki Kubo and Suu, former members of SILENT SIREN–the sweet and playful Kiss Me Patissier and the inspiring song hanamaru. Hirotaka Hayakawa, who has produced hit songs for countless artists, also contributed. Nanairo Prologue tells the story of the seven members moving forward across a rainbow-colored bridge, andMikan na Seishun (Unfinished Youth) has a fast-paced sound sure to be a hit with new fans. The group's artist photo and the jacket art for the album were provided by Yuko Takayama (yenter).

CANDY TUNE will hold its debut concert titled KAWAII LAB. SESSION ~CANDY TUNE~ on March 14 at Spotify O-EAST. To commemorate the special occasion, IDOLATER and FRUITS ZIPPER will also perform. The three groups will perform the FRUITS ZIPPER hit track Watashi no Ichiban Kawaiitokoro together during the event, and tickets are now on sale.

Additionally, new interviews with the members and behind-the-scenes footage have been uploaded to CANDY TUNE's official YouTube channel.

Information

CANDY TUNE – CANDY TUNE (1st Digital Album)
Streaming: March 7, 2023
Streaming URL: https://kawaiilab.lnk.to/CANDYTUNE
Available to stream on all major subscription music streaming services

Tracklist:
M1 Kiss Me Patissier
M2 hanamaru
M3 Nanairo Prologue
M4 Mikan na Seishun
M5 Kiss Me Patissier -Instrumental-
M6 hanamaru -Instrumental-
M7 Nanairo Prologue -Instrumental-
M8 Mikan na Seishun -Instrumental-

[Debut Concert Details]
Event Title: KAWAII LAB. SESSION ~CANDY TUNE~
Venue: Spotify O-EAST
Date: March 14, 2023
Time: Doors open 17:30 / Show starts 18:30 / VIP Event Ends 22:30
Performers: IDOLATER / FRUITS ZIPPER / CANDY TUNE

[Tickets]
Admission: VIP ¥5,000 / General ¥3,000 / Day-of ¥3,500
Tickets: https://w.pia.jp/t/candy-tune/

<Profile>
The idol group CANDY TUNE consists of seven members: Rino Fukuyama, Mizuki Kirihara, Natsu Minami, Nanako Ogawa, Bibian Murakawa, Shizuka Miyano, and Kotomi Tachibana.

The group was formed by the KAWAII LAB project, started by ASOBISYSTEM to promote Japanese idol culture around the world. CANDY TUNE will make its debut in March 2023.

Just like candy, which comes in tons of different flavors and shapes, the members will bring their own unique personalities and quirks to their pop tunes as they carry on KAWAII LAB's mission of sharing Harajuku style with the world.

Twitter: https://twitter.com/candy_tune_
Instagram: https://instagram.com/candy__tune
TikTok: https://www.tiktok.com/@CANDY_TUNE
YouTube: https://www.youtube.com/channel/UCU0PgOXf0lxzVxN2TLzMJkw
note(Live Schedule):https://note.com/candy_tune

<What is KAWAII LAB?>

KAWAII LAB is a new project by ASOBISYSTEM aiming to promote Japanese idol culture to the world. The company works to discover, train, and produce idols with the potential to be active on the world stage.

KAWAII LAB is produced by Misa Kimura, a model and TV personality. A fan of idols for many years, Kimura was formerly the leader of the idol group Musubizm.

Other KAWAII LAB. groups include IDOLATER, a culture-holic idol group consisting of finalists from ASOBISYSTEM's first national audition in 2018, and FRUITS ZIPPER, a group transmitting NEW KAWAII from Harajuku to the world debuting in April 2022.

In March 2023, the project launched a new idol group.
KAWAII LAB. will continue to promote Japanese idol culture to the world, launching and developing new idol groups, not only in Tokyo but in other cities as well!

Twitter: https://twitter.com/kawaii__lab
YouTube: https://youtube.com/channel/UCW8Q9LBGGBgK6a-u0C0h95A
Fan Club: https://kawaiilab.asobisystem.com/

【KAWAII LAB.】New Idol Group「CANDY TUNE」Debut Concert Planned for March 14 at Spotify O-EAST

A new idol group is coming in March 2023 from KAWAII LAB. , to promote Japan's growing idol culture to the world.

So far, four members have been announced ahead of the group's debut concert. The group name and details of their debut concert have just been revealed!

Following IDOLATER and FRUITS ZIPPER, the third idol group born from KAWAII LAB. has been announced as CANDY TUNE. The name is meant to evoke the image of both kindhearted girls and catchy melodies and harmonies.KAWAII LAB. will continue to focus on its concept of promoting Harajuku culture to the world.

The four members announced so far are Mizuki Kirihara, Rino Fukuyama, Natsu Minami, and Nanako Ogawa. More members will be announced in the near future.

Clockwise from top: Mizuki Kirihara, Nanako Ogawa, Rino Fukuyama, Natsu Minami

CANDY TUNE's debut concert titled KAWAII LAB. SESSION ~CANDY TUNE~ will be held on March 14 at Spotify O-EAST! IDOLATER and FRUITS ZIPPER, both created by KAWAII LAB., will also perform, with the members of CANDY TUNE performing on the same stage as their seniors for the first time.

Information

KAWAII LAB. SESSION ~CANDY TUNE~
Venue: Spotify O-EAST
Date: March 14, 2023
Time: Doors open 17:30 / Show starts 18:30 / VIP Event Ends 22:30
Performers: IDOLATER / FRUITS ZIPPER / CANDY TUNE
https://w.pia.jp/t/candy-tune/

[Tickets]
Admission: VIP ¥5,000 / General ¥3,000 / Day-of ¥3,500
Tickets: https://w.pia.jp/t/candy-tune/
VIP Admission Lottery: February 2 at 21:00 – February 15 at 23:59
General Sales: February 18, 12:00~

■CANDY TUNE Official Social Media
Twitter:@candy_tune_
Instagram:@candy__tune
TikTok:@CANDY_TUNE

Ayakashi Triangle Anime Adaptation by Philosophy no Dance Now Streaming, Non-Credit Opening Released

The groovy 5-member funk, soul, and disco idol group Philosophy no Dance has been
chosen to perform the opening track for the highly-anticipated Ayakashi Triangle anime
adaptation. The group has been wowing music fans with its philosophical lyrics and comical dance moves. This impressive new track titled Neppu wa Ruten-suru is now available to
stream on all major platforms.

Ayakashi Triangle was created by Kentaro Yabuki, known for his previous work To Love Ru. The series follows Matsuri Kazamaki, an exorcist ninja, as he attempts to defend his
childhood friend from evil spirits.

Composed by SoichiroK/Nozomu.S and with lyrics written by Ameko Kodama, Neppu wa
Ruten-suru is a catchy pop track perfect for capturing the worldview of the series.
Beginning with an incredible guitar riff, the five members' voices intertwine with one
another in an incredibly unique way.

A non-credit version of the opening theme has also been uploaded to the Aniplex YouTube
channel.

©矢吹健太朗/集英社・あやかしトライアングル製作委員会

New Idol Group from KAWAII LAB Project Reveals 2 More Members

In March 2023, a brand-new idol group from KAWAII LAB will be born, furthering the project's aim to introduce Japanese idol culture to the world. The first two members of the mysterious group were revealed in December 2022 and two more members have just been announced.

Following Rino Fukuyama and Mizuki Kirihara, gravure model Natsu Minami and experienced idol Nanako Ogawa have joined the new group. The number of members has not yet been revealed, but more additions to the group are expected to be announced ahead of the girl's March 2023 debut.

The group's name and debut concert details will be announced in the future.

Following the stunning success of both IDOLATER and FRUITS ZIPPER, we're looking forward to seeing KAWAII LAB's third group!

<Member Comments>


Natsu Minami

"Nice to meet you! I'm Natsu Minami, but you can call me Nattan.
I've worked as a model in the past, including some gravure shoots. From this point on, I'm going to use what I've learned to improve my singing and dancing, so look forward to it!

This is my first time taking lessons like this and participating in recording sessions. I've worked alone in the past, but the other members have been so supportive and I love them already! I'll do my best to show you all how much I've grown when we debut!"

Birthplace: Tokyo
Height: 156cm
Birthday: March 17, 2001
Talent: Making clothes
Hobbies: Photography, cosplay

Twitter: https://twitter.com/nattanntan
Instagram: https://www.instagram.com/nattanntan/
TikTok: https://www.tiktok.com/@nattanntan


Nanako Ogawa

"I'm incredibly grateful to be surrounded by girls who have experience as idols and who have such amazing potential. I can't believe I'm here.

Now that I'm spending time with these incredibly strong members each day, I can't wait until we make our debut!

I'll do my absolute best to devote myself to this group in my own way, so I hope you'll support me!"

Birthplace: Hokkaido
Height: 160cm
Birthday: October 1, 1999
Talents: Figure skating, finding ♡ in my everyday life, memorizing choreography quickly
Hobbies: Taking selfies, fortune telling, social media, watching mukbangs

Twitter: https://twitter.com/__nchisan__
Instagram: https://www.instagram.com/__nchisan__/
TikTok: https://www.tiktok.com/@__nachisan__

Information


KAWAII LAB. is a project spearheaded by ASOBISYSTEM with the aim of introducing the world to popular Japanese idol culture. The company works to discover, train, and produce idols with the potential to be active on the world stage.

KAWAII LAB is produced by Misa Kimura, a model and TV personality. A fan of idols for many years, Kimura was formerly the leader of the idol group Musubizm.
Other KAWAII LAB. groups include IDOLATER, a culture-holic idol group consisting of finalists from ASOBISYSTEM's first national audition in 2018, and FRUITS ZIPPER, a group transmitting NEW KAWAII from Harajuku to the world debuting in April 2022.
In March 2023, a new idol group will be born.
KAWAII LAB. will continue to promote Japanese idol culture to the world, launching and developing new idol groups, not only in Tokyo but in other cities as well.
Twitter: https://twitter.com/kawaii__lab
YouTube: https://youtube.com/channel/UCW8Q9LBGGBgK6a-u0C0h95A

IDOLATER
Official HP: https://note.com/idolater
Twitter: https://twitter.com/Official_IDLT
Instagram: https://www.instagram.com/idolater_official/
YouTube: https://www.youtube.com/IDOLATER
TikTok: https://www.tiktok.com/@idolater.official?lang=ja-JP

FRUITS ZIPPER
Twitter: https://twitter.com/fruits_zipper
Instagram: https://instagram.com/fruits_zipper
YouTube: https://youtube.com/channel/UCQG8tNnV4hKetLhMb4MopHQ
TikTok: https://www.tiktok.com/@fruits_zipper
note: https://note.com/fruits_zipper

New Idol Group from KAWAII LAB Project Coming in March 2023

In March 2023, a brand-new idol group from KAWAII LAB will be announced, furthering the project's aim to introduce Japanese idol culture to the world. Two members have been announced ahead of the group's debut.

Rino Fukuyama and Mizuki Kirihara have been announced as members, both having former idol experience. It's unclear how many members the group will have in total, but more details are expected to be revealed in the coming months.

We're looking forward to seeing what KAWAII LAB's third group will be, following the stunning success of both IDOLATER and FRUITS ZIPPER.

<Member Comments>

Rino Fukuyama

"I'm Rino Fukuyama, also known as Rinomaru, and I'm happy to announce that I'll be a member of a new idol group from KAWAII LAB. It still feels like a dream, and I'm so excited to work in a totally new environment.
Lessons have already started, and seeing the incredible potential of the other members has me so excited to see what's to come. Honestly, I think we're going to be one of the strongest groups out there, so be sure to stay tuned!
I'm looking forward to taking on all kinds of new challenges. We're all going to make our dreams come true, so please support us!"

Birthplace: Tokyo
Height: 155cm
Birthday: December 24
Talents: Dance, Choreography, English (Spent time abroad)
Hobbies: Watching girls' basketball, Cosmetics

Twitter: https://twitter.com/aksb_rino
Instagram: https://www.instagram.com/rinomaru_/
TikTok: https://www.tiktok.com/@rinomaru_

Mizuki Kirihara

"I'm so happy that I'll be an idol in this new environment with these wonderful members.
I hope everyone will support me as I do what I love and strive to become more expressive and strong.
We're getting ready to show you so many different sides of ourselves, and we'll be sure to never lose our sense of gratitude.
I'll pour everything I have into this and will make my dreams come true, and in the future, I want to show those who support me so many unique things!"


Birthplace: Ibaraki Prefecture
Height: 148cm
Birthday: February 21, 2003
Talent: Dance
Hobbies: Music, Leaning languages (Korean, English)

Twitter: https://twitter.com/kirihara_mizuki
Instagram: https://www.instagram.com/kirihara_mizuki/
TikTok: https://www.tiktok.com/@kirihara_mizuki

<Comment from KAWAII LAB. Producer Misa Kimura>
"I'm so pleased to announce that a new group is on the way from KAWAII LAB. As always, I'll do my very best to make KAWAII LAB the best it can be–a place where these girls can be serious about their idol careers and bring audiences the biggest possible thrills. Between IDOLATER, FRUITS ZIPPER, and this new group, I hope you're looking forward to what's coming from KAWAII LAB!"

Information

<What is KAWAII LAB?>

KAWAII LAB. is a project spearheaded by ASOBISYSTEM with the aim of introducing the world to popular Japanese idol culture. The company works to discover, train, and produce idols with the potential to be active on the world stage.

KAWAII LAB is produced by Misa Kimura, a model and TV personality. A fan of idols for many years, Kimura was formerly the leader of the idol group Musubizm.

Other KAWAII LAB. groups include IDOLATER, a culture-holic idol group consisting of finalists from ASOBISYSTEM's first national audition in 2018, and FRUITS ZIPPER, a group transmitting NEW KAWAII from Harajuku to the world debuting in April 2022.

In March 2023, a new idol group will be born.

KAWAII LAB. will continue to promote Japanese idol culture to the world, launching and developing new idol groups, not only in Tokyo but in other cities as well!

Twitter: https://twitter.com/kawaii__lab
YouTube: https://youtube.com/channel/UCW8Q9LBGGBgK6a-u0C0h95A

<KAWAII LAB. Groups>

IDOLATER
Official HP: https://note.com/idolater
Twitter: https://twitter.com/Official_IDLT
Instagram: https://www.instagram.com/idolater_official/
YouTube: https://www.youtube.com/IDOLATER
TikTok: https://www.tiktok.com/@idolater.official?lang=ja-JP

FRUITS ZIPPER
Twitter: https://twitter.com/fruits_zipper
Instagram: https://instagram.com/fruits_zipper
YouTube: https://youtube.com/channel/UCQG8tNnV4hKetLhMb4MopHQ
TikTok: https://www.tiktok.com/@fruits_zipper
note: https://note.com/fruits_zipper

Popular Illustrator and Character Designer Mika Pikazo Holds Solo Exhibition in Shibuya

Mika Pikazo is an illustrator and character designer. The artist has designed characters for many popular titles including Fire Emblem Engage, the latest in Nintendo's Fire Emblem series, as well as book covers and CD jackets.

Starting December 10, the artist will hold his second solo exhibition in three years at the Hz event space in Shibuya.

According to a press release, the exhibition is being held to show a number of creations Pikazo has made recently, and aims to show off new animation and past illustrations to merge his past and future selves. The creator hopes to challenge himself more going forward.

The first main visual, REVENGE, can be seen on the exhibition's official website. A total of three visuals have been newly drawn for the event and will be released sequentially. In addition, a number of collaborative works with other creators will be on display, so art fans won't want to miss out.

Limited-edition merchandise featuring new illustrations will be on sale at the venue, and autograph sessions are planned to be held. For more details, check the official Twitter page!

Be sure to come to see Mika Pikazo's colorful pieces in person!

Information

Mika Pikazo Exhibition – REVENGE POP

Running: December 10 – December 29, 2022

Hours: 10:00-20:00

Venue: Hz, 1F (4-3 Udagawacho, Shibuya-ku, Tokyo)

Admission: Free

Official Website: https://revenge-pop.mikapikazo.info/

13th BT21 Cafe to Open in Tokyo, Yokohama, Nagoya, Osaka, and Sapporo

The 13th iteration of the BT21 Cafe will open at six venues in five cities around Japan. Fans in Tokyo, Yokohama, Nagoya, Osaka, and Sapporo will want to visit this exclusive event titled ~MAGICAL TIME~. The first cafe opens in Shibuya on November 3. In celebration of BT21's 5th anniversary, this special cafe is filled with joy and excitement and aims to give fans the best possible experience.

Cafe Menu

Magical Tea Time Set

Food Plate

Food Plate (7 varieties)

Dessert Plate

Dessert Plate (7 varieties)

Drinks

Magical Milk Tea

Black Tea

Iced Coffee / Hot Coffee

Original Goods

Acrylic Keychain (7 varieties, Random)

Acrylic Clip (7 varieties, Random)

Satin Sticker (7 varieties)

Clear Folder (2 varieties)

Handkerchief (7 varieties)

Tote Bag

Mug

Masking Tape / Balloon on a Stick

Dolomite Coaster (2 varieties) / Mirror (2 varieties)

[Online Store Exclusive] Acrylic Keychain (7 varieties, Random)

The cafe's new menu includes afternoon tea, perfect for warming the body and soul during the cold winter months. The colorful food items and desserts are sure to be a hit on social media, and fans will enjoy the Magical Milk Tea and other dishes inspired by the popular BT21 characters.

 

In addition to new merchandise and bonuses featuring newly-drawn art, a photo spot will welcome guests to the cafe and invite them to celebrate this five-year milestone. 


Why not take a break from everyday life to enjoy a magical time with these cute characters?

©BT21

Information

BT21 Cafe #13 ~MAGICAL TIME~

Venue/Dates


■Shibuya, Tokyo:

BOX cafe&space SHIBUYA109

Running: November 3 – December 10, 2022

Address: SHIBUYA109 B2F (2-29-1 Dogenzaka, Shibuya-ku, Tokyo)

■Oshiage, Tokyo:

BOX cafe&space Tokyo Solamachi

Running: January 13 – February 19, 2023

Address: Tokyo Skytree Town, Solamachi 1F (1-1-2 Oshiage, Sumida-ku, Tokyo)

■Yokohama, Kanagawa:

Collabo_Index Lumine Yokohama

Running: January 13 – February 5, 2023

Address: Lumine Yokohama 6F (2-16-1 Takashima, Nishi-ku, Yokohama, Kanagawa)

■Nagoya, Aichi:

BOX cafe&space Nagoya LACHIC #1

Running: December 2, 2022 – February 5, 2023

Address: LACHIC B1F (3-6-1 Sakae, Naka-ku, Nagoya, Aichi)

■Shinsaibashi, Osaka:

Shinsaibashi contact

Running: November 11 – December 18, 2022

Address: 1-6-24 Kitahorie, Nishi-ku, Osaka

■Sapporo, Hokkaido:

Cafe Interlude, Coach & Four Shinakawa

Running: November 3 – December 29, 2022

Address: 18-chome 3-jo, Kita-ku, Sapporo

Reservations: https://box-cafe.jp/



Online Shop

Open: November 3, 11:00 – December 4, 23:59
https://box-cafe.jp/online_store/