The Furukawa Festival will take place in the small town of Furukawa in Gifu Prefecture on April 19 and 20.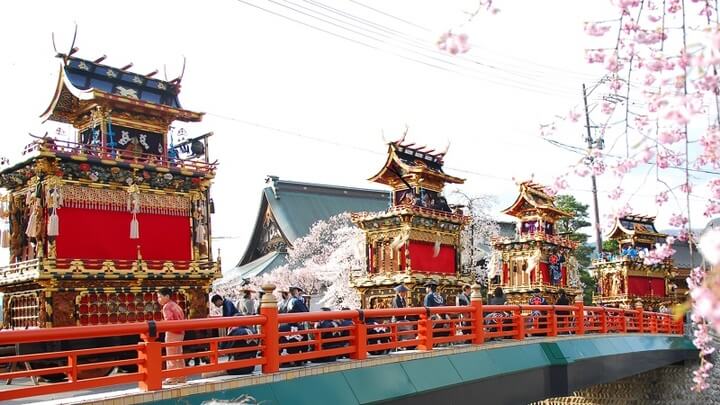 A regular festival with a 400-year tradition that has been around since the Edo Period, the Furukawa Festival is appears at Keta Wakamiya Shrine where ceremonial Shinto rituals are held including the procession of the mikoshi portable shrine and yatai floats, and the heroic and breathtaking Okoshi Daiko drum performance. The Furukawa Festival receives much praise in terms of its cultural value: the Okoshi Daiko and yatai floats were registered on UNESCO's Intangible Cultural Property List and the festival itself was inscribed on the Intangible Cultural Heritage List in December 2016.
The thunderous Okoshi Daiko will begin around 20:30 on the 19th to signal the start of the festival. Large paper lanterns are raised and men and women of all ages all carry smaller lanterns. People carry smaller called tsukedaiko that represent each town borough which are rammed into each other. The procession follows the two larger drums attached to a float manned by two men. It's a fierce and passionate sight.
The highlight of the Okoshi Daiko and festival is the yatai float parade. The yatai floats are made by Hida's master craftsmen. Their beauty was born in a splendid fusion of Kyoto, Edo and Kansai culture.
On the morning of the 19th the 9 floats are pulled through the town. On the 20th, they are paraded through the festival area and showcase lion dancing, karakuri puppetry, and kabuki performances from children. Afterwards, the floats move through the side streets, and when night falls, they are lit with torches while being pulled magnificently through the town.
Experience the Furukawa Festival which was continued to bear cultural importance for Hida.
■Information
Furukawa Festival
Date: April 19, 2018 – April 20, 2018
Location: Furukawa-cho, Hida-shi, Gifu Prefecture
Time: April 19 – 08:00-00:30 / April 20 – 08:00-19:30
TEL: 0577-74-1192