Quil Fait Bon Shizuoka's Strawberry Tart is Made With Strawberries Freshly Picked on the Same Day
Quil Fait Bon is a fruit tart store that has begun sales of a new limited stock product at its Shizuoka branch. The Morning Picked Strawberry Nectar Tarts were released on April 6, 2018 and are made in the city of Kikugawa.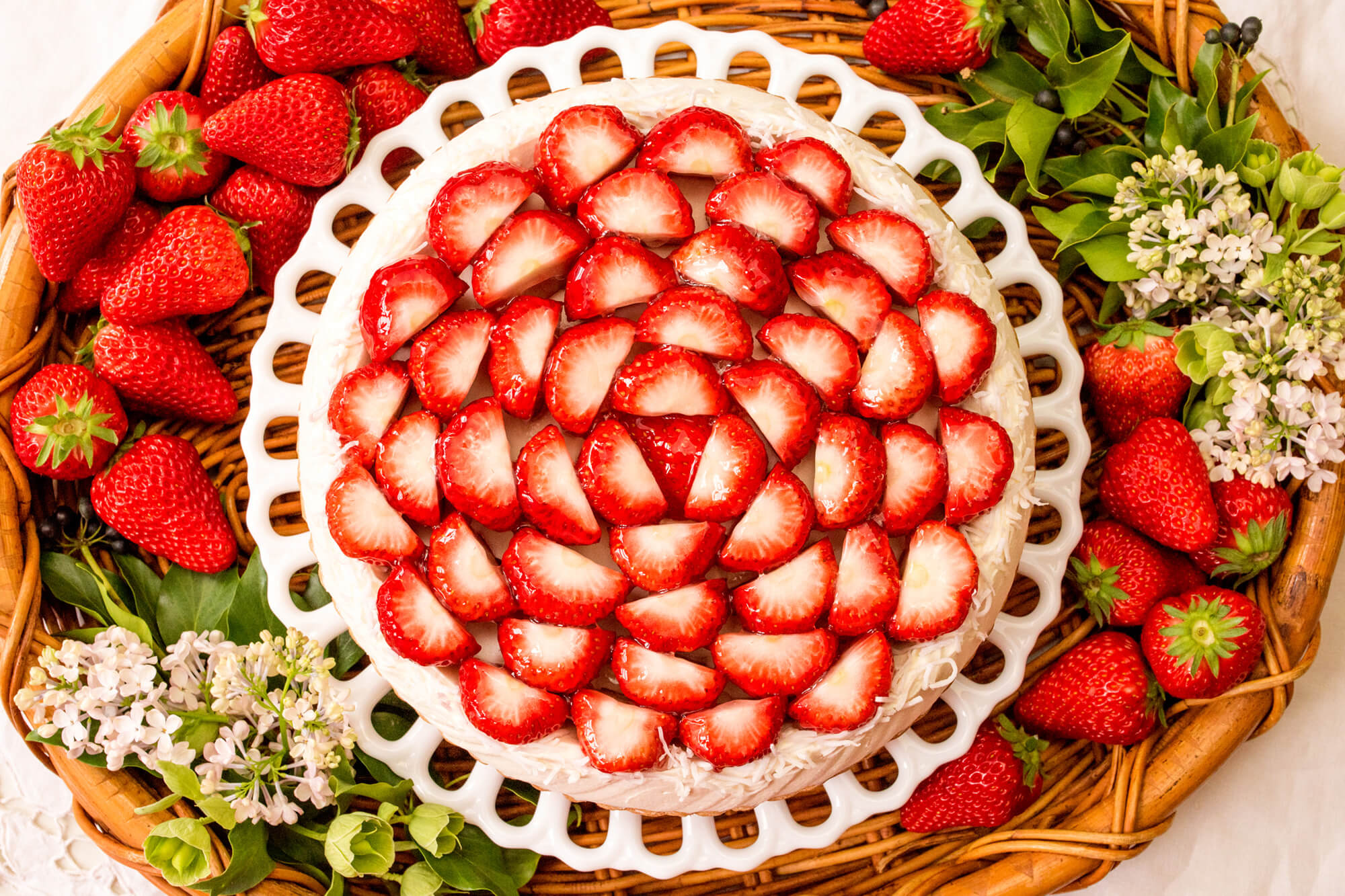 The tarts are made with strawberries freshly picked on the day. They are juicy and have a strong flavour. Due to the delivery of the strawberries differing each day, sale announcements are made on Quil Fait Bon's official Facebook page.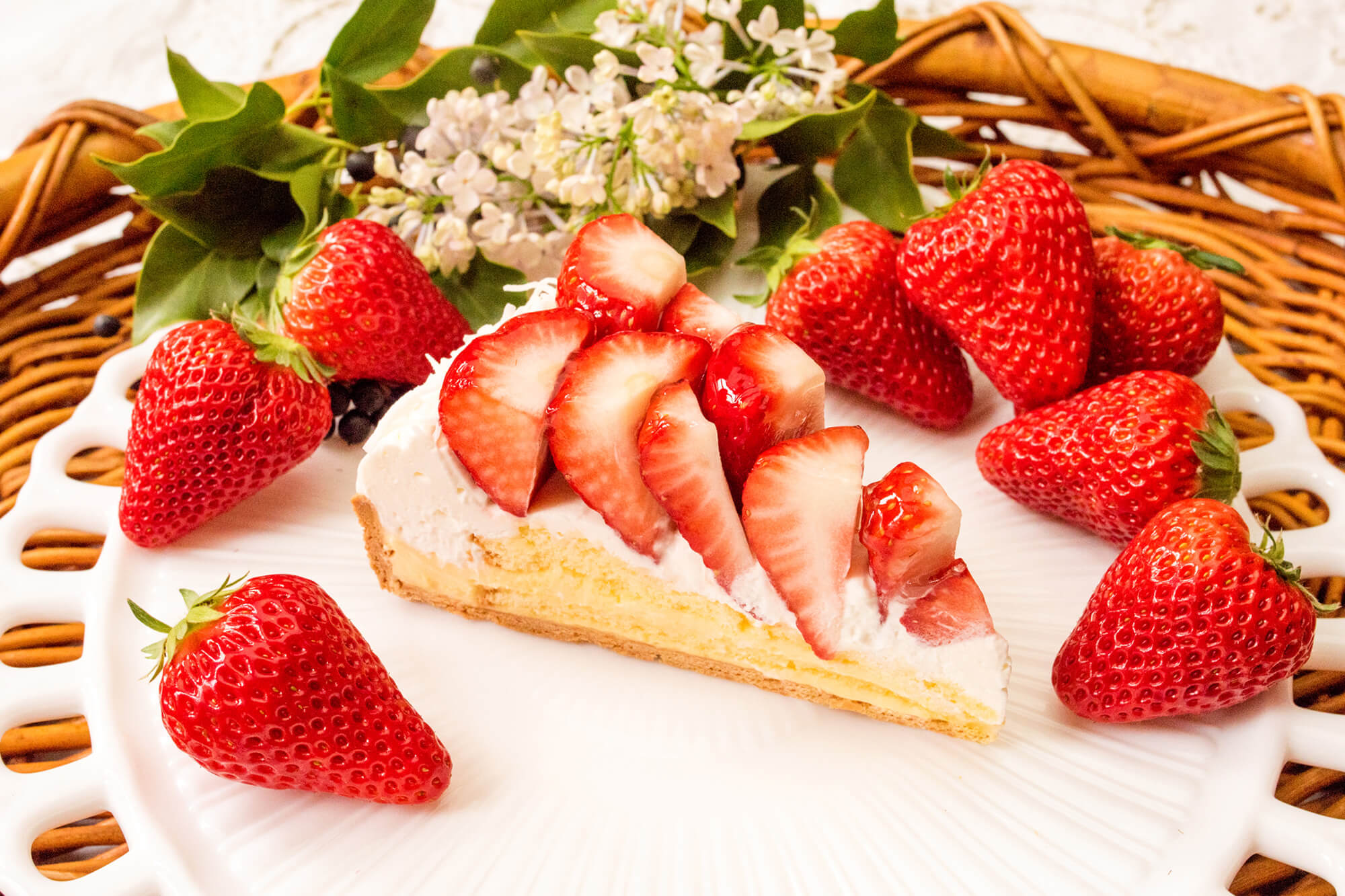 Ripe strawberries are used which are grown using a special method. The method has the strawberries exposed to the cold which tightens the fruit, causing the sugar content to rise. The time taken to grow these strawberries means people can enjoy very delicious strawberries. They aren't picked until they are a vibrant red and have taken on their best flavour, meaning they are completely ripe when served. These are some seriously irresistible, luxurious strawberries. Combined with simple complements for the tarts – fresh cream and custard – their flavour is only elevated.
Feast on a gourmet tart made with the freshest, most succulent strawberries on the market.
■Information
Morning Picked Strawberry Nectar Tarts (菊川市産 朝摘み 寒蜜いちごのタルト)
Price: 1 Piece = ¥1,382
*Due to limited quantity, the tarts are sold only in slices. Reservations not permitted
Available: April 6, 2018 until around the end of April.
Sold from 5pm on weekdays.
Quil Fait Bon Shizuoka
Address: 2-4-15 Ryogaecho, Shizuoka-shi, Shizuoka Prefecture
TEL: 054-205-5678
Website: http://www.quil-fait-bon.com
RELATED ENTRIES
Top 5 Delicious Must-Eat Parfaits in Fukuoka

This time, we're here to present a sweet assortment of parfaits in Fukuoka that are sure to get your mouths watering. We are joined by Instagrammer

moe

who has provided us with photos and descriptions of this tasty line-up.

green bean to bar CHOCOLATE in Imaizumi

 

Let's begin with the Chocolate Glass Parfait, an extravagant parfait which is made with cocoa beans from various different regions, offering plenty of flavour. It's a refreshing parfait topped with chocolate tea granita jelly. It's also drizzled in a chocolate sauce which is made with cocoa beans and imbued with berries. If you're a chocoholic then this one will provide the hit you need!

▼green bean to bar CHOCOLATE

Address: Nishitetsu Tenjin CLASS 1F, 1-19-22 Imaizumi, Chuo Ward, Fukuoka, Fukuoka Prefecture

Opening Hours: 11:00-21:00

Closed: Wednesdays

Patisserie Georges Marceau in Watanabedori

A floral fragrance dances around this beautiful parfait, which one would expect the refreshing peach to be the centerpiece, only to find out that other fruits come through the flavour assortment too like lychee and raspberry. As well as fruits, the parfait includes sherbet, panna cotta, and other refreshing combinations.

▼Patisserie Georges Marceau

Address: 1F, 5-8-19 Watanabedori, Chuo Ward, Fukuoka, Fukuoka Prefecture

Opening Hours: 10:00-20:00 (Until 19:00 on Sundays)

No Fixed Holidays

Oyatsu cafe Hibi to in Hirao

This classic strawberry parfait contains double-sized cornflakes. I would change nothing about its taste or appearance, which also matches the atmosphere of the cosy and beautiful cafe.

▼Oyatsu cafe Hibi to (Japanese: おやつcafe日々to)

Address: Maison Sansou 2F, 2-17-21 Hiaro, Chuo Ward, Fukuoka, Fukuoka Prefecture

Opening Hours: 11:00-20:00

No Fixed Holidays

Kurasukoto in Hirao

Left: Coffee Jelly Parfait / Right: Strawberry Parfait

Coffee jelly is a bitter flavour more suited to the adult palate. It goes perfect with the condensed milk and caramel nut-topped smooth ice cream cake. Piled with juicy strawberries and blueberries, you're sure to enjoy your fill with this strawberry parfait.

▼Kurasukoto

Address: 2F, 1-11-21 Hiaro, Chuo Ward, Fukuoka, Fukuoka Prefecture

Opening Hours: 11:30-18:00 (Food Last Orders 17:15 / Dessert Last Orders 17:30)

Closed: Sundays & Mondays

momotose in Hirao

Strawberries, kumquat, and flower petals adorn this piece of parfait art. The combination of the sour fruits and sweet ice cream is a match made in heaven. As well as parfaits, momotose also sells other delicious desserts too like roll cake.

▼momotose

Address: 1F, 3-19-20 Hiaro, Chuo Ward, Fukuoka, Fukuoka Prefecture

Opening Hours: Lunch 11:00-15:00 / Tea 14:00-18:00 / Dinner 18:00-21:00

No Fixed Holidays

Winter is Coming But Hotel Chinzanso Tokyo's Yuzu Lemon Afternoon Tea Will Warm You Up

Hotel Chinzanso Tokyo will begin serving its new citrus fruit-packed Yuzu Lemon Afternoon Tea on November 1 at the Le Jardin, the hotel's lobby lounge which offers a view of the beautiful garden.

You'll see yuzu and lemons throughout the year, but it is said that winter is the best season to enjoy them. Both lemons and yuzu are said to have a relaxation effect, and so Hotel Chinzanso Tokyo will beckon guests through its cosy doors with the afternoon tea set's refreshing citrus fragrance, inviting them to an early wonderful winter at the beginning of November.

The set includes an assortment of sweets including a yuzu and lemon flavoured savarin, a lemon cheesecake that squeezes out all the juicy nectar of the citrus fruit, and more. The lemons and yuzu are the citrus kingpins of this afternoon tea.

The seasonal scones are a mix of yuzu and vanilla scones and silky white chocolate scones to relieve some of the sourness. Enjoy together with a mix of dips including salted clotted cream for even more flavour.

On the savoury side of things there is a tempting mix of bites and nibbles, including the use of spicy ginger to warm up your cold body.

Welcome the winter early this year and do it in style with Hotel Chinzanso Tokyo's new afternoon tea set.

Information

Yuzu Lemon Afternoon Tea

Running: November 1, 2019 – November 30, 2019 (*Reservations available only on weekdays)

Time: 12:00-18:00
Location: Le Jardin, Hotel Chinzanso Tokyo

Price: Yuzu Lemon Afternoon Tea ¥4,000 / With Welcome Drink ¥4,500 (Tax and service charge not included in price)

Le Jardin Webpage: https://www.hotel-chinzanso-tokyo.com/dining/le-jardin/

Hotel Chinzanso Tokyo

Address: 2-10-8 Sekiguchi, Bunkyo Ward, Tokyo

Official Website: https://www.hotel-chinzanso-tokyo.com/

Take A Tasty Trip to Tokyo Kaikan to Indulge in Mouthwatering Marron Chantilly Desserts

Kiyotaka Katsume (勝⽬ 清鷹) is the first ever confectioner of the 70-year-old Tokyo Kaikan. This autumn, Tokyo Kaikan is selling Mont Blanc Marron Chantilly dessertsーwhich were invented by Katsumeーfor a limited period only.

Earl Grey Marron Chantilly: ¥908

The Earl Grey Marron Chantilly is only available from October 1 to October 31. The flavour and aroma of earl grey tea leaves has been fully extracted to add to the flavour of the cream.

Premium Marron Chantilly: ¥1,500

The premium Marron Chantilly is only available from September 1 to October 31. Japanese chestnuts sourced from Kasama are shredded with whipped cream for a light and fluffy texture. This is a paradise for anyone who loves chestnuts.

Pumpkin Marron Chantilly¥908

The Halloween-themed desserts at Tokyo Kaikan are a big hit every year. This year, the Pumpkin Marron Chantilly will be taking to the scene to deliver the very best flavours of Halloween. Just looking at this Halloween-coloured dessert is enough to make your mouth water. It is such a shame that it is only selling from October 18 to 31.  

Dig into one of these delicious Marron Chantilly desserts surrounded by the luxurious atmosphere of Tokyo Kaikan. 

5 Must-Try Desserts On Fukuoka's Beach-Lined City Of Itoshima

Itoshima is a city located in the western part of Fukuoka and is known for its many gorgeous and picturesque locations-especially its beaches.

Today, we are joined once again by Instagrammer

moe

who is here to show us the best delicious drinks and desserts to enjoy while gazing out at Itoshima's breathtaking beaches and rural landscapes.

OYATSU-STAND in Nishi-ku

Left: Tapioca Milk Ryokucha Green Tea / Right: Tapioca Milk Houjicha (¥600 Each)

What better way to enjoy a refreshing green bubble tea than with a sun-kissed blue sky and ocean right in front of you? As well as ryokucha and houjicha, there are plenty of other thirst-quenching flavours to choose from as well, including Japanese tea latte.

▼OYATSU-STAND

Address: 2198-3 Kota, Nishi-ku, Fukuoka

Business Hours: 10:30am until sunset

No Fixed Holidays

Itoshima Sabo in Nishi-ku

Specially-Made Single Classic Pancake – ¥500

You'll find yourself reaching for your camera to snap a picture of this Instagram-worthy pancake, branded with the cafe's name Itoshima Sabo in Japanese. They serve everything from breakfasts to full course meals.

▼Itoshima Sabo

Address: 2915-1 Kota, Nishi-ku, Fukuoka

Business Hours: 10:00-21:00

No Fixed Holidays

KUROKI in Nijoishizaki

KUROKI is a French restaurant that serves up a variety of courses. This fluffy homemade roll cake is filled with rich and smooth cream. You can order it as a set together with a meal too. Don't forget, this place is reservation-only!

▼KUROKI

Address: 459-3 Nijoishizaki, Itoshima, Fukuoka

Business Hours: Lunch 12:00-17:00 (Reservation Only) / Dinner 18:00~ (Reservation Only)

Closed: Sundays

Sumi Cafe in Hon

Salted Milk Houjicha Purin – ¥500

Sumi Cafe is a long-standing cafe that can be found by following a narrow road along the countryside. This irresistible salted milk houjicha purin is combined with astringent chestnut and candied chestnut to make a luxurious dessert.

▼Sumi Cafe

Address: 1454 Hon, Itoshima, Fukuoka

Business Hours: 12:00-17:00 (Lunch Last Orders 15:30 / Cafe Menu Last Orders 16:30)

Closed: New Year's Holiday

Loiter Market in Shimakeya

Left: Salt & Caramel / Right: Milk & Strawberry (¥400 Each)

Made with organic ingredients, Loiter Market's gelato is served in cute pastel colours. The salt and caramel is a must-try, it's made with salt sourced in Itoshima.

▼Loiter Market

Address: 166-3 Shimakeya, Itoshima, Fukuoka

Opening Hours: 12:00-17:00

No Fixed Holidays

Did you enjoy these picks? If you're looking for even more desserts to try in Fukuoka then be sure to check out

moe's

Instagram page which is filled with just that!

Häagen-Dazs Release New Soybean Flour Brown Sugar Syrup and Zunda Mochi Ice Creams

Häagen-Dazs Japan has announced that it will release two new flavours from its popular hanamochi ice cream series on September 17: "Soybean Flour Brown Sugar Syrup" and "Zunda."

Soybean Flour Brown Sugar Syrup Hanamochi

The soybean flour brown sugar syrup hanamochi was released back in 2015 and returned again in 2017. This year, Häagen-Dazs is bringing is back even more delicious than before. They have blended together a variety of soybean flours to elevate the ingredient's original flavour.

The top of the mochi is sprinkled with a blend of lightly roasted black and yellow soybeans. By roasting them, the original taste and fragrance of the soybean comes through tenfold. Dark roasted soybean has also been combined with milk for a velvety texture, and the entire thing is drizzled in a rich original brown sugar syrup sauce which further enrichens the soybean flavour.

Zunda Hanamochi

Zunda is sweet soybean paste made from mashed edamame beans and a flavour that has been gaining popularity in Japan in recent years. Häagen-Dazs is incorporating the flavour for the first time in their hanamochi series.

The lumpy texture of the crushed edamame goes deliciously well with the chewy mochi, taking the original authentic taste and texture of edamame to a whole new level. Mixing it with soybeans and rich milk turns it into a smooth ice cream in your mouth. The sauce also contains a sprinkle of salt to bring out the flavour of the zunda.

The packaging has also been updated, inspired by their flavours and topped with a golden lid, giving it a modern-Japanese appeal. Don't miss out on these two new flavours.

Information

Soybean Flour Brown Sugar Syrup Hanamochi (Limited Edition)

Price: ¥319 (Tax Included)

Release Date: September 17, 2019

Available: At supermarkets, convenience stores, and department stores across Japa

Product Page: https://www.haagen-dazs.co.jp/hanamochi_1909/

Zunda Hanamochi (Limited Edition)

Price: ¥319 (Tax Included)

Release Date: September 17, 2019

Available: At supermarkets, convenience stores, and department stores across Japa

Product Page: https://www.haagen-dazs.co.jp/hanamochi_1909/

Kusatsu Onsen's Emerald Green Pudding is a Must-Try After a Dip in the Hot Springs

Kusatsu Onsen is a hot spring resort in Gunma Prefecture that is one of Japan's three principle hot spring locations. The site opened its new Japanese custard dessert (known as 'purin') shop, Kusatsu Onsen Pudding, on August 24, which serves the most incredibly smooth purin you have ever tried, each inspired by the hot springs.

Once you've stepped out of the nice warm hot springs of Kusatsu Onsen you can refresh yourself with a delicious purin packed full of love from the shop which has created a flavour you can only try by travelling to Gunma and going there. Each and every dessert is made fresh in the shop to further elevate its exclusivity as a local speciality.

Kusatsu Onsen Pudding also makes sure to use local and regional ingredients where it can to help support manufacturers and producers. Their purin is also made with a special type of milk sourced from in Gunma known as Haruna milk. The milk is made as delicious as can be by ensuring cows are raised on a healthy natural diet of grass on green pastures in Gunma bathed in plenty of sunlight.

Yuhata Purin

The Yuhata purin is inspired by the hot spring areas where mineral deposits are harvested, its jelly taking on a gorgeous emerald green colour. It's lemon and lime flavoured, the perfect flavour to enjoy when stepping out of the hot water, and one which goes surprisingly well with purin.

Yumomi Purin

The staple purin of the store, this purin is based on yumomi, a method used for cooling the hot water with paddles from which cold water gushes forth. This velvety delight is made with lots of fresh cream and high-quality vanilla beans from Madagascar for added punch.

Furomage

A pun on the word fromage, with furo in Japanese meaning "bath," the Furomage purin uses a rich cream cheese base which has a seriously smooth texture. It's topped off with strawberry jelly for the perfect combination, packing a perfect balance between sweet and sour.

Yuhata Soft (Milk/Yuhata/Mixed)

Choose from the Yuhata soft serve ice cream which is ramune flavoured and inspired by the flowing water of the hot springs or the Haruna milk-mixed vanilla flavoured Milk soft serve. If you can't pick, then choose mixed for a bit of both. A satisfyingly refreshing pick for when you're done in the hot springs.

The shop has plans to sell purin made using bamboo steamers in the near future, so you're pudding can be steamed like yourself after a dip in the water! The wooden spoons used to eat the desserts are also made in the image of the paddles used in yumomi too.

Tokyo Station's Christmas Cakes Are a Must-Buy Present This Holiday Season

Two of Tokyo Station's shopping areas, GRANSTA and GRANSTA MARUNOUCHI―which are accessible inside the ticket gates and outside the ticket gates respectively―are set to hold the GRANSTA Christmas Fair from November 5 to December 25.

GRANSTA x Tokyo Staion Hotel

The main GRANSTA shopping area is joining hands with Tokyo Station Hotel for the very first time to release a line of hotel-original Christmas cakes.

Noel – ¥6,200 (Tax Included) @ Tokyo Station Hotel (*10 servings per day)

This pine tree stump chestnut cake was originally sold to support the reconstruction work of the Tokyo Station Marunouchi Building which was held until 2012. Topping the chestnut sweet potato base is a mix of chestnut mousse and coffee cream. This is topped with two types of chestnut pastes in a spiral shape to create the tree rings.

Bûche Chocolat Vanille – ¥5,500 (Tax Included) @ Tokyo Station Hotel (*10 servings per day)

The Bûche Chocolat Vanille is an exquisite yule log made with melt-in-the-mouth chocolate mousse and vanilla cream inside which hides sweet and sour, kirsch-soaked cherries and sauteed pears. The top of the log is temptingly lined with even more cherries to give it both that rich look and even richer taste.

Tokyo Station Marunouchi Building Cake Designs

GRANSTA will also sell cakes inspired by Tokyo Station. As well as the ones shown here, there are ones based on the bullet trains and more.

Station Building Fruit Cake – ¥4,320 (Tax Included) @ Colombin (*only 100 available)

Exclusive to GRANSTA comes this special Christmas fruit cake based on the station building. It would make great gift to bring to the Christmas party.

Cupola de Tokyo – ¥3,780 (Tax Included) @ Caffarel (*only 50 available / *design still a WIP so may differ from the photo)

This colourful Christmas cake draws inspiration from the gorgeous interior designs of the north and south domes of the Tokyo Station Marunouchi Building.

Suica Penguin Cakes

The adorable Suica Penguin is the mascot of Suica contactless smart cards used at train stations.

Suica Penguin Cake – ¥5,400 (Tax Included) @ Dalloyau (*only 100 available)

The main Suica Penguin cake is a combination of chocolate mousse and a cream made from tonka beans. This cute cake is sure to bring joy to any child this Christmas♡

Suica Penguin Chocolate Raspberry – ¥490 (Tax Included) @ Fairycake Fair (*30 servings per day)

Fairycake Fair has whipped up a chocolate cream-topped cupcake filled with raspberry jam. This one is for those who want something a bit smaller than a ginormous cake!

There are lots more cakes to look forward to, including ones in very limited quantities. If you're in Japan this Christmas season, be sure to pay a visit to GRANSTA and GRANSTA MARUNOUCHI in Tokyo Station.

©Chiharu Sakazaki / JR East / DENTSU Suica by JR East Suica

Information

GRANSTA

Address: JR East Tokyo Station Building Floors B1F & 1F (Inside Ticket Gates), 1-9-1 Marunouchi, Chiyoda Ward, Tokyo

Opening Hours: 8:00-22:00 (Until 21:00 on Sundays)

*Opening hours differ for select shops in GRANSTA

*The GRANSTA New Area opening hours are from 9:00-22:00(Until 21:00 on Sundays)

GRANSTA MARUNOUCHI

Address: JR East Tokyo Station Building Floors B1F (Inside Ticket Gates), 1-9-1 Marunouchi, Chiyoda Ward, Tokyo

Opening Hours: 10:00-22:00 (Until 21:00 on Sundays)

*Opening hours differ for select shops in GRANSTA MARUNOUCHI

GRANSTA Official Website (Japanese): https://www.tokyoinfo.com/shop/mall/gransta/

White Miso Cheese & Fig Shaved Ice Serving This September at Hachiya in Tokyo

Since July, the tea stand cafe Hachiya has been releasing one brand-new shaved ice flavour every month. The final flavour arriving on September 2 is the autumn-vibe white miso cheese and fig shaved ice which will be sold exclusively at the Sendagaya branch until September 30.

White Miso Cheese & Fig Shaved Ice – ¥1,000 (Tax Included)

The shaved ice is an original homemade blend of full-bodied white miso cheese syrup and fig syrup. The milk white and light pink contrast make this one beautiful and delicious-looking dessert.

Hidden inside the shaved ice is sweet white bean paste dressed with cashew nuts. It's also topped with extra cashew nuts as well as dried strawberries. The dessert has a soft chewy texture and is packed with flavour which fills your mouth as it melts on your tongue.

September marks the end of the summer and the call of autumn. Japan is known for its celebration of the seasons, so why not join in with this delicious autumnal delight? And if you're no good with cheesy desserts, you can order the shaved ice with just fig syrup too.

This is a limited-time item which will discontinue once all of the syrup runs out. Don't miss out!

Information

White Miso Cheese & Fig Shaved Ice

Running: September 2, 2019 – September 30, 2019

Available: Hachiya (Sendagaya Branch)

Price: ¥1,000 (Tax Included)

Hachiya (Sendagaya Branch)
Address: 4-1-8 Sendagaya, Shibuya, Tokyo

Opening Hours: 9:00-19:00
TEL: 03-6368-6647

Closed: Weekends & Public Holidays

Hachiya Official Website: http://8ya.jp/

Halloween Treats, Wagashi, Drinkable Potato Desserts & More at GINZA SIX This Autumn

This autumn, Ginza's biggest shopping complex GINZA SIX is serving up a sumptuous selection of seasonal sweets and desserts. Their main components this year are apples and potatoes. Expect to enjoy potato in an entirely new way, and get ready for the spooky season with a line-up of Halloween treats that everyone can enjoy.

Let's take a look at just some of the gourmet delights arriving for the autumn season, some of which are already on sale.

Potato Desserts

Drinkable Potatoes (Purple Sweet Potato/Ripe Potato/Potato Leaf) – ¥600 Each @ Minamikaze Noukasha Dessert House (Available: October 1 – October 31)

We're at a point in time now where not only can we eat potatoes―we can drink them too! These potato dessert drinks come in three flavours: fruity Purple Sweet Potato, rich Ripe Potato, and Potato Leaf. The potatoes used to make all of the drinks were farmed from Minamikaze Noukasha's 160 potato farms.

Set of 5 Native Potato Pies (Oiran Potato/Genji Potato/White Potato/Hayato Potato/Tanegashima Purple Sweet Potato) – ¥2,500 @ Minamikaze Noukasha Dessert House (Available: October 1 until all sold)

Methods to make potato cultivation even easier were introduced almost 400 years ago in Japan. Cultivating original varieties of potatoes is difficult―it's mostly not done today. These pies are proudly made with those rare native potato varieties.

Potato Parfait – ¥2,000 @ JOTARO SAITO (Quantity: Only 10 served per day)

This gorgeous parfait is made with a purple sweet potato and sweet potato cream and is layered with agar-agar, rice flour dumplings, and ice cream. Inspired by the form of an affogato, it's topped with potato ice cream drizzled in a warm rice sauce.

Halloween Goodies For Grown-Ups

Halloween Party Pumpkin Purin – ¥4,800 @ Marlowe (Available: October 1 – October 31) *Must order within 3 days

This party-sized Halloween-exclusive rich pumpkin custard pudding contains cinnamon and nutmeg. It's even topped up with a jack-o-lantern face.

Glowing Lollipop Candy – ¥833-¥1,111 @ Candy Art Museum by PAPABUBBLE (Available: September 21 – October 31)

These lollipops come on sticks with LED lights that make the candy glow a ghoulish light, making them a great Halloween treat.

Halloween Afternoon Tea Set – ¥4,200 @ THE GRAND GINZA (Available September 1 – October 31)

Feast on an exquisite Halloween afternoon tea set made up of an exquisite selection of drinks and desserts.

Apple Desserts

Apple Gummy – ¥2,777 / Apple Gummy Candy – ¥1,666 @ Candy Art Museum by PAPABUBBLE (Available: August 27 – November 4)

The apple gummy is about the size of a Jonathan apple. If you're wondering what flavour it is, you'll have to wait until you bite into it to find out! The apple gummy candy set takes on flavours of different apple varieties.

Pom Caramel – ¥800 Each @ PHILIPPE CONTICINI (Available: August 27 – November 4)

These cute and round vanilla flavoured apple mousses are filled with an apple compote, which has a hint of star anise, and cream caramel. They're packed full of apple-y goodness and maintain PHILIPPE CONTICINI's refined flavours.

This Year's Must-Try Autumn Treats

Bessei Maruto Parfait "Shubo" – ¥2,300 @ Nakamura Tokichi Honten (Available: October 1 – November 30)

Exclusive to the Ginza branch of Nakamura Tokichi is this specially made parfait, layered with autumn-time ingredients including Japanese chestnut matcha cream, fig, chestnut sherbet, and bean paste. You can really taste the rich matcha notes in this beautiful dessert.

Kyoto Koicha Terrine Inori no Kajitsu – ¥2,000 @ Tsujiru (Available from September 1)

A great little gift is this terrine chocolat, made with chestnut, black soybeans, fig, and cranberries.

Did you enjoy this list? All of these items are autumn-exclusives and some are very limited in stock. Be sure to enjoy all the flavours of autumn this year in Japan.

*All listed prices include tax

Information

GINZA SIX

Address: 6-10-1 Ginza, Chuo Ward, Tokyo

Opening Hours: Shops/Cafes (B2F-5F) 10:30-20:30 / Restaurants (6F, 13F) 11:00-23:00

*Business hours differ from shop to shop.

No Fixed Holidays (But shops and restaurants will be closed on August 26, 2019)

Access: Directly connected to Ginza Station via the Tokyo Metro Ginza Line, Marunouchi Line and Hibiya Line.

TEL: 03-6891-3390
Website: http://ginza6.tokyo/

4 Must-Try Kawaii Bubble Teas & Desserts in Kyoto

Japan is a haven for bubble tea and tapioca-based beverages. Here on MOSHI MOSHI NIPPON we have covered many shops selling these tasty drinks in Harajuku―the town which started the tapioca boom in Japan―but today we will be heading to the ancient city of Kyoto.

We are joined by Kyoto café life tiara who posts photos of the best drinks and desserts they have tried around the Kansai region of Japan. They have provided us with photos of two must-try bubble teas and two must-try desserts in Kyoto.

ROCCA & FRIENDS PAPIER KYOTO in Shijo

ROCCA & FRIENDS PAPIER KYOTO is just a 5-minute walk from Shijo Station. The cafe is made from a traditional townhouse along an old-fashioned Kyoto-esque street.

It takes a little while for your drink to arrive placing your order, but that's because each beverage is carefully handmade from fresh. I ordered the mango smoothie soda and the strawberry smooth soda. Both are fruity and super refreshing and full of chewy tapioca pearls.

▼ROCCA & FRIENDS PAPIER KYOTO

Address: 735-2 Shinkamanzacho, Shimogyo Ward, Kyoto, Kyoto Prefecture

Opening Hours: 10:00-18:00

Closed: Mondays

Official Instagram Page: https://www.instagram.com/rocca.papier/

&Hana in Shijo

&Hana is located at the back of Kyoto Daimaru. The cheese rose tapioca milk tea I bought is a cute pink colour. It's a mix of rose which is good for skin and relaxation, sweet brown sugar tapioca, and sour cheese.

Draped at the back of the cafe are bunches of dried flowers which provide an Instagrammable background for your drinks.

▼&hana

Address: 619 Nishiuoyacho, Shimogyo Ward, Kyoto, Kyoto Prefecture

Opening Hours: Weekdays 11:00-22:00 / Weekends & Holidays 10:00-22:0

No Fixed Holidays

Official Instagram Page: https://www.instagram.com/and_hana_/

KISSHOKARYO KYOTO in Gion

This honey and tea parfait is special because they only serve 20 of them a day. Tapioca pearls go well not just in drinks but in desserts like this one too♡

The fluffy shaved ice is a perfect match with the homemade Earl Grey tea syrup. The rest of the parfait is made up of milk tea flavoured jelly, tapioca pearls, tea ganache, and other delightful surprises.

I enjoyed mine with lots of syrup and roasted soybean flour!

▼KISSHOKARYO KYOTO Gion Honten

Address: 306 Ishibashicho, Higashiyama Ward, Kyoto

Opening Hours: 10:00-19:00 (Last Orders 18:30)

No Fixed Holidays

Official Website: https://kisshokaryo.jp/

MASHOLA in Kawaramachi

MASHOLA is a South Korean-style cafe which of course sells tapioca pearl drinks, but also this delicious capo egg brulee tart as well. As soon as you put the order in their fire up the tarts fresh along with hot tapioca pearls for a heavenly melt-in-the-mouth experience.

They also sell bottled strawberry milk packed full of fresh strawberries, and for an extra ¥80 you can top if off with tapioca.

▼MASHOLA

Address: 406 Sakuranocho, Nakagyo Ward, Kyoto, Kyoto Prefecture

Opening Hours: 11:00-20:00

No Fixed Holidays

Official Website:  https://mashola.business.site/

Did you enjoy this list? Kyoto café life tiara has lots of other tempting recommendations of drinks and desserts on their Instagram page too, so if you're looking for something to try while in the Kansai region of Japan be sure to give them a follow.

Text & Photos: @happy_pinkrose_tiara

Translation: Joshua Kitosi-Isanga

Colourful New Agar & Mango Jelly Drink Released at Kyo Yakasa Pudding in Kyoto

Kyo Yakasa Pudding opened its doors to the world back in April, and since then they have whipped up many different kinds of Japanese custard pudding, known as purin. Earlier this month they released their all new "Yasaka Cider," a jelly-like drink which became a hit on Japanese Instagram (search with #京八坂プリン).

The shop's most popular product since launching is the Kyo Yasaka Pudding―named just like the shop. It has a honey and lemon flavoured jelly which is full of agar and mango jelly balls, giving it a cute appearance and very refreshing flavour and completely new kind of texture.

Now, the shop has released its new Yasaka Cider. The word "Cider" in Japanese doesn't actually refer to the alcoholic drink, but instead is usually a carbonated mixture of lemon and/or lime.

Available this summer only, the Yasaka Cider is the perfect accompaniment for cooling yourself down while strolling the streets of Kyoto, filled with Kyo Yasaka Pudding jelly, agar balls, mango jelly balls, and an in-house made lemon slice and honey mix. The beverage is made fresh to order and comes in a cute bag which you can carry around easily with you.

There are lots of great photo opportunities for Instagram in the store too! If you're in or travelling to Kyoto this summer then be sure to stop.

Information

Kyo Yakasa Pudding

Address: 87-4 Hoshinocho, Higashiyama, Kyoto, Kyoto Prefecture

Opening Hours: 10:00-17:30

No Fixed Holidays

Website: http://www.kyo-yasaka-pudding.co.jp

Spooky Halloween Doughnuts Float Into Krispy Kreme Japan

Krispy Kreme Doughnuts Japan (KKDJ) is carving its jack-o-lanterns out early this year in time for Halloween as it reveals its new series of holiday-themed doughnuts titled "MONSTER HARVEST in Monster DINER."

This pumpkin, chestnut and apple flavoured selection will be available at most Krispy Kreme branches across Japan from September 11 to October 31.

Pumpkin Custard Jack

Price: ¥230

The jack-o-lantern is the centrepiece of Halloween, and now you can much on one in doughnut form! Its face is coated in dark chocolate and filled with a velvety pumpkin custard cream. It also contains some pumpkin seeds for a crunch.

Black Cat Chestnut

Price: ¥250

The black cat's dark chocolate covered face includes crunchy cracker ears, giant white chocolate button eyes, and caramel chocolate nose and whiskers. Inside it's filled with a rich chestnut cream made from domestic chestnuts. The bottom part of the face is also sprinkled with tasty poppy seeds.

Apple Caramel Monster

Price: ¥230

This cute apple monster is a new addition to the KKDJ Halloween range. It's made from a juicy, sweet and sour apple nappage made from the juice of apples grown in Aomori Prefecture. The single eyeball is made from a mix of white and dark chocolate and is what makes this doughnut so cute. The single pumpkin seed at the top completes the monster's apple disguise.

Halloween Sprinkle

Price: ¥190

Covered in rainbow sprinkles, this custard pudding (purin) flavoured doughnut is subtly sweet and satisfyingly crunchy.

Halloween Dozen (Box of 12)

Price: ¥2,000

If you're having a Halloween party with family or friends then this box of dozen doughnuts is the perfect treat, containing all of the above doughnuts as well as some of KKDJ's classic doughnuts. You save ¥440 by picking up this box.

Don't miss this year's seasonal delights from Krispy Kreme.

Information

MONSTER HARVEST in Monster DINER

Running: September 11, 2019 – October 31, 2019
Krispy Kreme Doughnuts Japan Website: https://krispykreme.jp/