The World's Most Kawaii Purikura Shop "Moreru Mignon" Opens New Branch in IKSPIARI
Moreru Mignon is a purikura haven that prides itself on the concept of offering the world's cutest purikura photos. Now, the shop is opening a new branch inside IKSPIARI®, a commercial facility located inside Tokyo Disney Resort®.
SHIBUYA 109 store:https://www.moshimoshi-nippon.jp/62982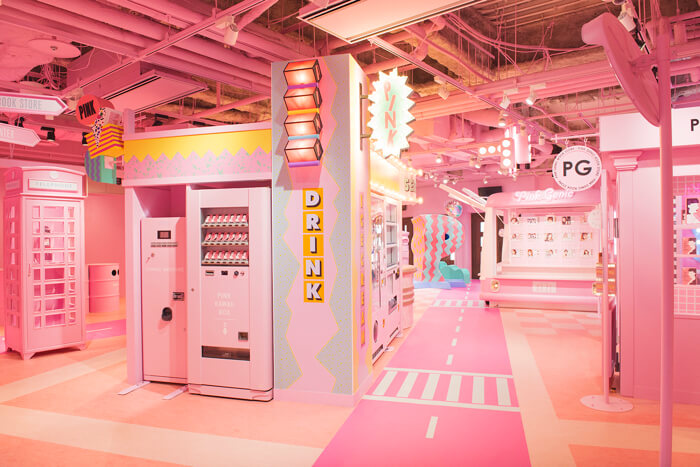 The interior of the shop is a pink photogenic wonderland. This will be the first Moreru Mignon to open in Chiba Prefecture. It boasts as the biggest puri machine chain in Japan.*
*As of February 2018, recorded by FuRyu.
The Maihama IKSPIARI branch of Moreru Mignon calls itself a town where people can become special guests. They offer a range of outfits and services for your purikura experience. Enjoy taking lots of photogenic pictures in this puri paradise ♪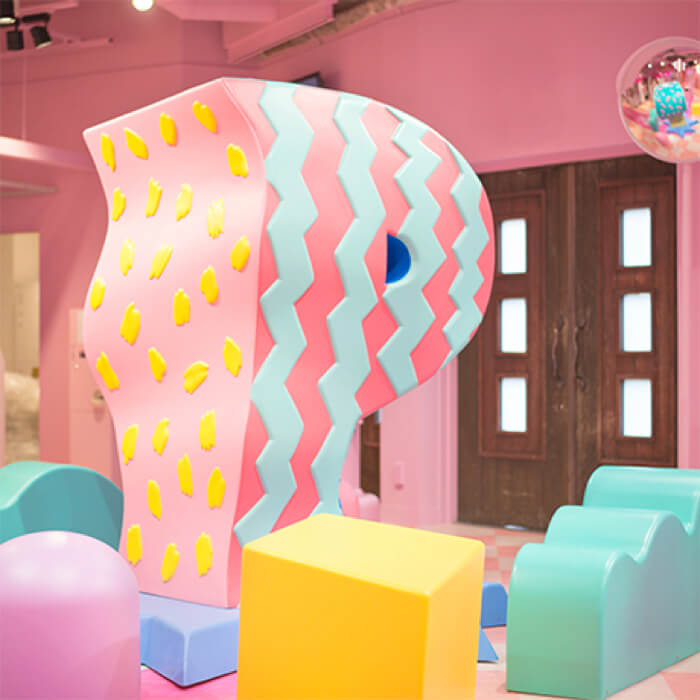 PINK MONUMENT
The PINK MONUMENT is an art display in the shop decorated in pop colours. The inspiration behind the design is parks, and the centerpiece is the giant letter 'P' which towers over the surroundings.
PINK GENIC BOOK STORE
This location is made to look like a foreign arty bookstore. The huge books and hands are like trick art, and the decorative and unique walls and floor make for great photos. Check out the lit-up book title and vividly coloured bookmarks too.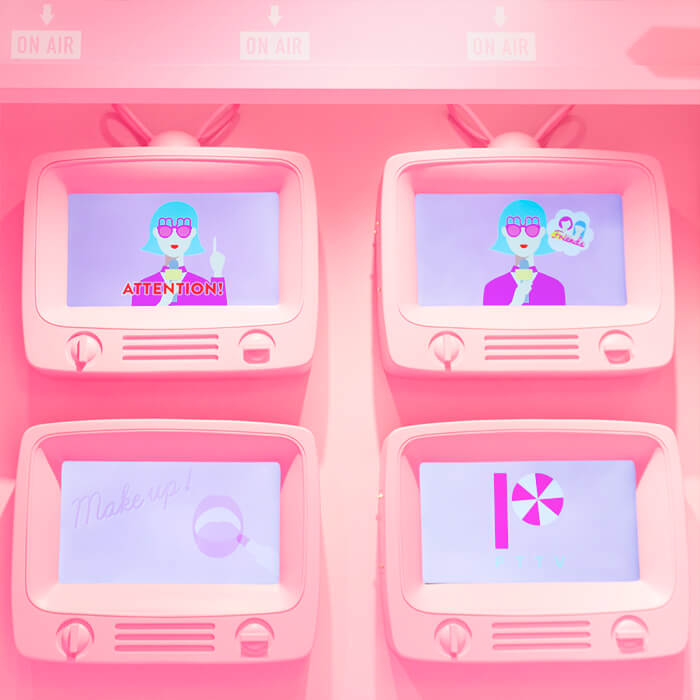 PINK TOWN TV
The TVs fit into the world of Moreru Mignon too and actually play videos on how to enjoy yourself at the shop, cautions to keep in mind, and more. The pink coloured picture tubes also make this a perfect photo spot.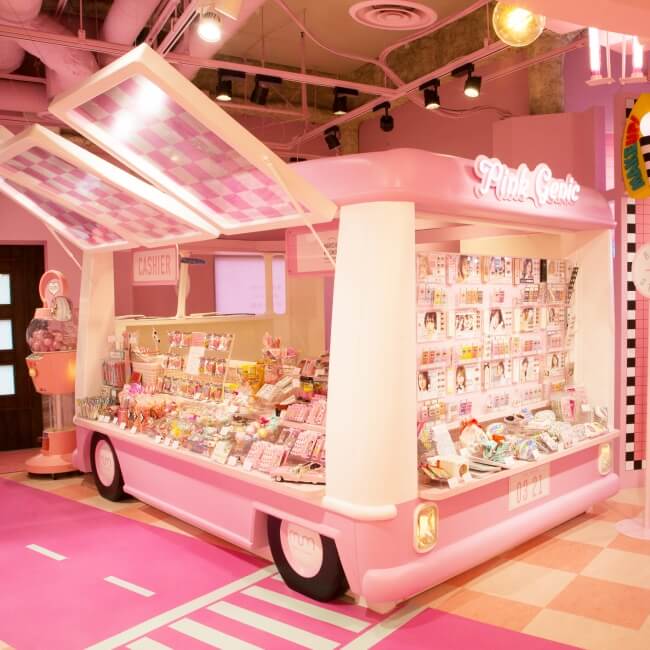 marché mignon
This pink bus sells colourful snacks and miscellaneous items. Some of the products also come in limited edition Moreru Mignon Maihama IKSPIARI packaging. They even sell colour contact lenses.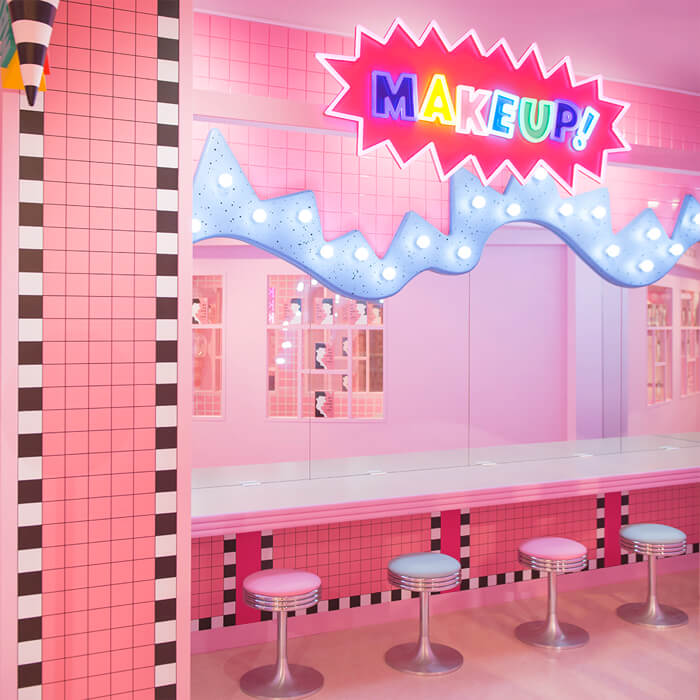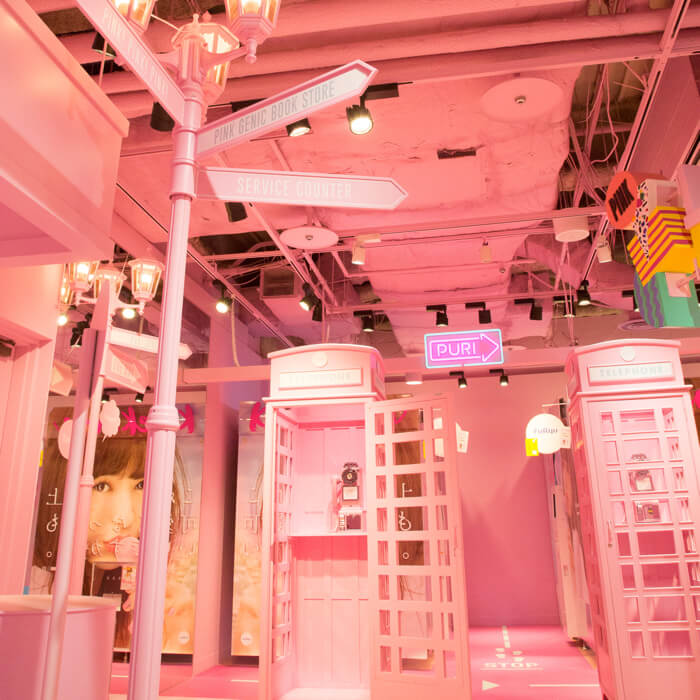 People who take photos in one of FuRyu's 12 popular machines or use the main space will be able to buy some original merchandise.
Enter Moreru Mignon, the world's cutest purikura shop, and snap some kawaii pictures!
■Information
Moreru Mignon Maihama IKSPIARI
Address: TRAIL & TRACK, IKSPIARI 2F, 1-4 Maihama, Urayasu-shi, Chiba Prefecture
Opening Hours: 10:00-22:00
Website: http://www.puri.furyu.jp/
RELATED ENTRIES
Enter the World Of My Neighbor Totoro in Japan's Oita and Miyazaki Prefectures

My Neighbor Totoro is one of Studio Ghibi's most celebrated animated feature films, adored by people around the world. If you've visited Japan, you're bound to have run into something Totoro-related, but did you know there's actually several locations in Kyushu which takes it to the next level, bringing the world of the film to life?

Today, we are joined by Rie who posts her Kyushu travels on her Instagram page. She has provided us with photos of these amazing spots, which are must-visits for Totoro fans, along with her thoughts.

Tataragi Bus Stop | Hita, Oita Prefecture

When you roll up to Tataragi Bus Stop (多々良木バス停) in Oita's city of Hita, you are welcomed by a giant piece of wall art made into the moss that grows on the wall. This bus stop is actually a stop used exclusively by school buses, so ordinary people can't actually catch a bus here. And unfortunately, you won't see any cat buses running down the street if you wait long enough in the rain, but it's still a must-visit for fans.

Address: Amagasemachi Gota, Hita, Oita, Japan (In Japanese: 大分県日田市天瀬町合田)

Totoro's Forest | Saiki, Oita Prefecture

This area is visited by many tourists and sightseers throughout the year because of how similar it looks to something from My Neighbor Totoro. There is a small park near the bus stop which is known as Totoro no Mori (Totoro's Forest).

Being surrounded by nature, enveloped by the green trees and foliage, makes you feel like Mei and Satsuki from the movie. It's like being transported back to my childhood. It's a strange place that makes you feel nostalgic even if it's your first time visiting.

Address: 1368 Ume Oaza Minamitabaru, Saiki-shi, Oita Prefecture (In Japanese: 大分県佐伯市宇目大字南田原轟1368)

Takahara, Miyazaki Prefecture

The next spot I want to show you is where an ordinary person made their very own Totoro statue. If you hold up an umbrella in the rain you can take a photo that recreates that one scene from te movie. There is a sign nearby the statue with a caution written on it as the Totoro is actually inside a family garden. When visiting to take a photo, please make sure to follow the caution and not cause any trouble for people in the neighbouring area.

Address: 7538-6 Kamamuta, Takaharu, Nishimorokata-gun, Miyazaki Prefecture (In Japanese: 宮崎県西諸島県群高原町大字蒲牟田7538-6)

Rie posts photos of all her visits around Kyushu on Instagram, so if you're thinking of ever visiting there, be sure to follow her for ideas on where to go.

Photos by Rie

*The information listed in this article is correct at the time of publishing

INFOBAR xv Phone Celebrates Release With Photo Spots in Tokyo, Osaka, Nagoya & Sendai

Japanese telecommunications operator KDDI is setting up photo spots based on the INFOBAR mobile phone at "au" branches across Japan, beginning in Tokyo before moving to Nagoya, Osaka and Sendai. People are free to snap pictures at these spots and post them to social media.

The exhibition is being held to commemorate the release of the INFOBAR xv which hit the market on November 29, 2018. The photo op spots are inspired by the colourful buttons on the phone, an iconic part of its design.

The set was designed by Japanese balloon artist Emi Jinguu who has competed and won in US competitions.

Head to one of the au branches below and snap some stylish pictures!

Sailor Moon Purikura Photo Machine Opening in Collaboration With PINKPINKMONSTER

The popular purikura photo printing machine line PINKPINKMONSTER is teaming up with Sailor Moon to create an all-new cute machine. "Purikura" is a type of photograph you take, decorate with touchscreen pens and print immediately.

In the run up to its opening one of the six available photo frames has been unveiled (pictured above). This is the first time that Sailor Moon has collaborates with a purikura machine.

PINKPINKMONSTER create innovative machines that take frames and designs to a whole new level. They have gained attention for the bright-pink kawaii exteriors of their machines. Moonlight Densetsu will provide the soundtrack to your experience as you craft your photo.

This dream collaboration is every girl's dream and will run from January 11 to March 31 next year.

Photo Opportunities in Harajuku This Summer – Showcased by "Harajuku girls" Yuna Yabe & MIOCHIN

Yuna Yabe and MIOCHIN bring the second entry to their featured article series. In the first article, they visited 6 different second hand clothing stores in Harajuku. This time, they head to various photogenic places around Harajuku. The locations they visited were submitted by their followers on social media who were asked to recommend Instagram-worthy locations in Harajuku. They took plenty of photos, so let's see how their trip went!

Instagram Worthy Spots in Harajuku Recommended by People


Yuna Yabe and MIOCHIN go through Harajuku almost every day. But just because they're always there, they may still be unaware or not know about some spots. So here's some spots recommended by their followers!


Yuna: "This is from @killer_princess2. Doesn't it look amazing?! It's completely black! You'll be able to take a super cool picture if you wear a monotone outfit! Personally, I definitely want to go and see this."

Yuna: "This is from @misa.s.world. Is it a shop display? What an extremely cool place! It made me think that although I'm in Harajuku almost every day there's still place I don't know ahout."

MIOCHIN: "This is from @kanon_thx. This is the World Clock monument at the MOSHI MOSHI BOX Harajuku Tourist Information Center managed by the MOSHI MOSHI NIPPON Project. It's a famous spot for photos in Harajuku. It's easy to find and colourful so I definitely recommend it!"

MIOCHIN: "This is from @twintail.g__. The colourful graffiti is cute! It looks like a place where you could take an Instagram photo if you match outfits with a friend♪"

Thank you to everyone who submitted recommendations. Yuna and MIOCHIN will now set off into Harajuku to take some pictures!

Visiting the Recommended Places!


The first place they went to is the "Now Is Forever" graffiti located just a short walk from Family Mart on Shibuya Cat Street. It wouldn't be an exaggeration to call this place the most popular with people visiting Harajuku for taking Instagram photos. It's a bit of a walk form the station, but its colours make it stand out so it's very easy to find and an easy location for snapping shots for your page.

Next, they headed in the direction of Takeshita Street with the "Now Is Forever" to the back of them. They went through Cat Street and took the first left to find the black concrete wall.

Yuna: "When I looked at the photo of this that a follower sent, I really wanted to come here! It's simple but you don't really see walls like this, so I recommend it to people!"

★TIP
When taking a photo of something black, you can make the black colour more compact and take a better photo by lowering exposure. Depending on what app or device your using the interface will be different, but most use a sun icon for exposure.


Cat Street is a graffiti gold mine. You'll run into many great photo opportunities just by walking.

↓

★TIP
Harajuku's streets are narrow and there's a lot of obstructions, but if you take advantage of that you can take some very different looking photos from other people. This photo is made gorgeous with the flower bed in a blurry foreground.

Yuna: I put on the VSCO C1 filter on my app. Normally I'm the type to not add flashy things, but the VSCO filters look natural and stylish so I recommend them!

The brick wall at MICO Jingumae*, a commercial complex in Cat Street, is also a recommended spot. It's easy place to take simple photos in full outfits. *Address: 4-25-4 Jingumae, Shibuya, Tokyo

↓

★TIP

When taking a photo try to make skilled use of blank spaces. By adding stamps later on it's easy to incorporate more of your style into it!

MIOCHIN: "I used the LINE Camera app and added stamps. The colourful stamps are cute and stand out because the photo has a simple background!"

↓


There's a sudden refreshing path when you climb the stairs at MICO Jingumae. You can get away from the hustle and bustle of Harajuku and have a breather.

This street has a European vibe to it. From Cat Street it's close to Omotesando Crossing along Meiji-dori. Walk along the little path beside Laforet Harajuku.


This street goes by the names Mozart Street and Fontaine Street. The two of them discovered a water fountain in front of the building with the beauty salon. Despite being smack in the middle of Harajuku it had an exotic atmosphere.

Did you enjoy this trip? Yuna and MIOCHIN went to stroll around photogenic spots in Harajuku and there were many they hadn't been introduced to yet. Part of Harajuku's appeal is how shops, displays and graffiti/illustrations change every day. No matter when you go, you're sure to have a great time. Why not visit yourself this summer?

This series can also be enjoyed on YouTube. Be sure to check it out below!

Photogenic Art Exhibition 'Vinyl Museum' to Take Place at BALLY Ginza

Vinyl Museum―a participation-based art exhibition―will make its return at BALLY Ginza, running from July 21 to August 5.

We previously covered the first holding of this event which brings together a variety of art displays specifically intended for people to take photos of for their Instagram pages. Last year's event in Omotesando drew in 5,500 people and over 7,000 posts were posted on Instagram.

This second event will take place in Ginza and hopes to bring in more foreign tourists. They have increased the number of booths on show, and the attendee rate is expected to be around 7,000.

■Information

2nd Vinyl Museum

Running: July 21, 2018―August 5, 2018

Address: BALLY Ginza 2F, Tokyu Plaza Ginza, 5-2-1 Ginza, Chuo, Tokyo

Access: 1-minute on foot from Exit C2 / C3 of Ginza Station via Tokyo Metro Ginza Line, Marunouchi Line, or Hibiya Line

Entry Price: ¥1,800

Website: http://vinyl-museum.com/

TOKYO ICE CREAM LAND Art Exhibition to Take Place During Golden Week at Minato Mirai in Yokohama

TOKYO ICE CREAM LAND is a majorly Instagrammable art exhibition that will take place during Golden Week (April 28th-May 27th).

TOKYO ICE CREAM LAND is the first art event in Japan to be themed around ice cream. It was held for the first time last year in Omotesando where 7,000 girls turned up for 3 days of ice cream fun. They all documented their experience in the kawaii venue on social media.

This year, as a special gift for those who attend on the weekends and holidays when the event takes place, the first 100 people to turn up will receive a ¥500 shopping coupon that can be used to buy food and items at select Colette Mare stores!

Let's all take some great pictures at the photogenic TOKYO ICE CREAM LAND♡

■InformationTOKYO ICE CREAM LAND

Address: Colette Mare, HULIC Minato Mirai, 1-1-7 Sakuragicho, Naka-ku, Yokohama-shi, Kanagawa Prefecture

Running: April 28th, 2018―May 27th, 2018

Times: [April 28th-May 6th] 11:00-20:30 / [May 7th-May 27th] 11:00-20:00
Price: Advance ¥500 (Limited tickets available) / Same-Day ¥1,000

*Free for those aged 10 and under.

Shopping coupons will be handed out: April 28th-May 6th, May 12th-13th, 19th-20th, 26th-27th

TEL: 090ー9818ー7717

Website: http://tokyophotogenicteam.com

*Official website and ticket sales will go live on April 17th.

Take Photos of Cherry Blossoms in Famous Japanese Parks and Win Prizes in the Photo Contest by PARKFUL

PARKFUL, a park app and web media site, is holding its first photo contest in 2 years to take photos of cherry blossoms in parks.

The theme this time is to take photos of cherry blossoms in famous parks close to you. They are taking applications not only for cherry blossoms in famous parks that everyone knows about, but famous cherry blossoms in parks that are closer and more local to people too. You can get involved either via the easy-to-use PARKFUL app or on their website.

The photo contest is looking not just for snaps of the flowers – applicants need to take into account the attraction and distinct beauty of parks too. Winners can receive a \30,000 Amazon Gift Card.

Get involved and take some picturesque photos of cherry blossoms in Japanese parks ♪

■Information

PARKFUL Photo Contest

Theme: "Cherry blossoms at famous parks near you"

Parks: Accepting all parks listed on the PARKFUL app (*applications accepted on the website too)

Running: March 20, 2018 – May 31, 2018

How to Apply (App):

・Post a photo on the PARKFUL application (https://parkful.net/parkful/)

・In your post, include the hashtag #sakura2018 and comment your recommended points about the park.

・You must provide an e-mail address on your profile as this is how winners will be contacted.

Content Page: https://parkful.net/2018/03/photocontest-sakura2018/

Let's wear a kimono and enjoy Harajuku! 7 recommended photo spots in Ura-Harajuku

Princess One Spoon Tokyo

This is a store that sells 500 kinds of accessories, girly sundries and sweets items. It is recommended to take a photo in front of the store since the exterior of the store is Western-style.

Tonchan Street

You can find many stylish adds on "Tonchan Street" behind MOSHI MOSHI BOX.

Let's find your favorite location!





How did you like our recommended photo spots? In this article, I introduced to you some standard/new photos spots of Ura-Harajuku.

Feel free to contact MOSHI MOSHI BOX if you ever get lost!

Why not check out this article as well.

https://www.moshimoshi-nippon.jp/34595

An "Instagram spot" will be installed in Harajuku/Omotesando for a limited time offer

A spot good for Instagram shots will be installed in Omotesando from the 11th of February (Sun.) for a limited time offer.

Also, Keeda Oikawa who creates illustrations for many medias such as "VOGUE NIPPON" and "ELLE JAPON," will hold a live painting event which couples can enjoy.

Spots where you can take photos with photogenic angel wings, swings with small birds, heart shaped monuments and a point where you can turn into a beautiful butterfly will be installed. The spots are ideal for taking photos with your boyfriend/girlfriend or friends.

In addition, for those of you who upload photos with the tag "#bnavi_omosan_pj" onto your SNS you can get a "set" of brand new "WHOOMEE" items produced by Igari Shinobu (lottery basis – 10 persons limited) from the 11th of February (Sun.) to the 31st of March!

Let's take photogenic photos at the limited time offer photo spots.

◼Information

Address: B1 Espoir Omotesando Building, 25-15, 4th Street, Jingumae, Shibuyaku, Tokyo

Period: 2018/02/11 (Sun.) to late March

Live painting event: 2018/02/11 (Sun.) 14:00 to 15:00

Beauty-navi

Let's wear body armor & become a SAMURAI in front of Sakurajima! A photo event will be held in Kagoshima

A try-on experience of Japanese body armor and photo taking event will be held at "Senganen," a Japanese garden attached to the former Shimazu Clan, in Kagoshima. This event will take place from the 8th of December 2017 (Fri.) to the 10th (Sun.), and from the 15th of December (Fri.) to the 17th (Sun.).

Kacchu means "body armor."

Yoroi Musha (body armored warrior) Shashinkan (photo studio) is a place where you can wear kacchus and take a photo in front of Sakurajima.

 

You can view the vast sceneries of Kinko Port and Sakurajima from the Senganen garden. It is said that Atsuhime who became famous through the long-running historical drama series on NHK, visited this garden.

Let's wear a kacchu at this historical site and become a Sengoku Warrior.

◼︎Information

Yoroimusha Shashinkan

Address: Hidenariso inside Senganen, 9700-1, Yoshinocho, Kagoshimashi, Kagoshima Prefecture

Date  :12,08(Fri.)~10(Sun.)、15(Fri.)~17(Sun.)

     (1)10:00~10:45、(2)10:45~11:30、(3)11:30~12:15、

     (4)12:15~13:00、(5)13:00~13:45、(6)13:45~14:30、

     (7)14:30~15:15、(8)15:15~16:00

Access: 30 minutes on bus from Kagoshima Chuo Station (get off at the bus stop, "Senganen Mae")

Price: Kacchu of Yoshihiro Shimazu – 8,000 yen / Kacchu of Masamune Date – 6,000 yen

Kacchu of Yukimura Sanada (for kids) – 4,000 yen (※including the entrance/photo-taking fees)

Content: On a sunny day: two patterns (inside the building), two patterns (outside the building)

On a rainy day: four patterns (inside the building)

・The photo will be posted a few days later (one of the photos you like will be developed and the other photos will be delivered in a digital form)

・Two persons can wear the kacchus as the same time

・You can choose the kacchu you like from the following items. Yoshihiro Shimazu's kacchu who is famous for the quote "Tekichu Toppa (breaking through the enemy's army group)," Masamune Date's kacchu who is known as the ancestor of the "ruler of virtue in Bakumatsu Era (End of Edo Era) and Yukimura Sanada's kacchu (for kids).

URL:http://www.senganen.jp/yoroi/

Japanese people recommend their favourite tourist spots in Instagram photo campaign!

The Ryokan Tokyo started a limited period campaign on September 8th for Japanese people to take one photo of Japan that they would show to foreigners highlighting their favourite thing about the country.

Campaigners must post a photo on Instagram with the hashtags #私の好きな日本 ("my favourite Japan") and #TheRyokanTokyo. Two lucky winners will be chosen to receive a ticket for a free night at The Ryokan Tokyo YUGAWARA. Those of you with plans to come to Japan while the campaign is running should definitely search #私の好きな日本 on Instagram and check out people's photos.

The main targets for the The Ryokan Tokyo YUGAWARA are tourists and travelers coming from overseas. They offer people a chance to experience a traditional Japanese ryokan in a casual and friendly environment.

The number of overseas visitors coming to Japan has continued increasing in recent years, so a lot of media in Japan are covering foreigner's image of Japan from overseas as well as interesting and fun parts they like about the country. In response to this, The Ryokan Tokyo have set up this campaign for Japanese people to show their perspective of Japan. They will cover things such as "interesting things inherently Japanese," "a scene or moment captured in one photo to show to overseas visitors, showcasing the charm of Japan," "wonderful things about Japan," and so on. They will deliver they favourite things about the country to people both inside and outside Japan.

The celebrate the start of the campaign, The Ryokan Tokyo released a photo together (pictured above) with the commemorative photo service "Lovegraph" with the same theme of "my favourite Japan."

Check out the campaign photos and maybe even get involved yourself!

■Information

Instagram Photo Campaign #私の好きな日本

<Theme>

Take a photo showcasing your favourite thing about Japan and post on Instagram with #私の好きな日本 ("my favourite Japan"). Photos must be your own and must cover something along the lines of "interesting things inherently Japanese," "a scene or moment captured in one photo to show to overseas visitors, showcasing the charm of Japan," "wonderful things about Japan" etc. You are free to choose the subject of the photo, including people and scenery. (*Please make sure to gain permission from any person(s) you are taking a photo of)

<How to Participate>

1:Follow the following 2 official Instagram accounts.

@theryokantokyo:https://www.instagram.com/theryokantokyo

@lovegraph_me:https://www.instagram.com/lovegraph_me

2:Take your photo following the theme above

3:Post your photos on Instagram with the hashtags #私の好きな日本 and #TheRyokanTokyo

※Make sure to include both hashtags in your post.

※You can add hashtags to past photos you have taken and already uploaded.

※You can enter with as many photos as you like.

<Participation Requirements>

Photos taken must be your own.

※Minors must receive permission from a parent or guardian to enter the campaign.

<Campaign Duration>

Photos to be posted between Friday September 8, 2017 and Saturday September 30, 2017.

<Results Announcement>

Monday October 2, 2017

<The Ryokan Tokyo YUGAWARA Free Ticket Validity Period>

Saturday October 14, 2017 to Monday November 13, 2017

<Guidelines>

Please read and understand following list of precautions and prohibited items carefully before entering the campaign.

※By entering the campaign, you acknowledge and agree to the possibility that your campaign photos are subject to be posted on via the @theryokantokyo and @lovegraph_me accounts and on the official websites of The Ryokan Tokyo and Lovegraph. You also agree that your photos may be modified or cropped.

※The free accommodation ticket to The Ryokan Tokyo YUGAWARA will only be given to people that are able to stay at there between Saturday October 14, 2017 and Monday November 13, 2017.

※Please note that if you do not respond to the winning message within 7 days your placement will become invalid.

※If you are chosen as the winner of campaign, you will be contacted via Instagram with a direct message from @theryokantokyo.

※Winners are chosen by The Ryokan Tokyo.

※For more guidelines and information, please visit the campaign page below.

5 Must-Visit Spots in Harajuku Recommended by the MOSHI MOSHI BOX Harajuku Tourist Information Center

Summer is here, and that means all the kids and tourists are lining the streets of Harajuku. As part of our MOSHI MOSHI NIPPON Project, we also manage a tourist information center in the heart of Harajuku called the "MOSHI MOSHI BOX," where we offer tourist guidance to lots and lots of people every day.

With that in mind, the MOSHI MOSHI BOX staff would like to recommend some of the popular locations around Harajuku, so be sure to use this as a reference guide when you visit!

1:Meiji Shrine

The best places in Harajuku to enjoy are those where you can sightsee but also shop at the same time! But shops in Harajuku open later than usual, so we recommend taking a stroll to Meiji Shrine in the morning.

Of course, you can visit and pay homage at the shrine, and upon heading up to it you will be met by the "Mori no Terrace," a place with gorgeous tables and chairs made out of wood for you to sit and relax and enjoy the warmth and scent of nature. You should totally check this place out after you have gone to see the shrine.

For more details on Meiji Shrine, please visit: http://www.moshimoshi-nippon.jp/51035

■Information

Meiji Shrine
Address: 1-1 Yoyogikamizonocho, Shibuya-ku, Tokyo

Opening Hours: Opening hours subject to change depending on the month, so please check the homepage below.
TEL: 03-3379-5511
Official Homepage: http://www.meijijingu.or.jp/index.html

2:Discover the Latest Trends at Harajuku's Bargain Shops!

When you think of Harajuku, you think of it as the number one fashion hub. One of the great things about Harajuku is how you can get some of the most popular and trending items at a super cheap price.

3 standout shops we recommend are SPINNS, Santa Monica Haraujuku, and KINJI. Whichever one you go to you'll find lots of different clothes all at an affordable price, so you're going to want to check these out for sure.

3:Hungry? Then go to the Pomu Pomu Purin Café!

If you find yourself feeling peckish while on your Harajuku shopping spree, then we recommend having lunch at the Pomu Pomu Purin Café! The café is completely theme around the popular character Pomu Pomu Purin. It has a delicious menu filled with treats that look both kawaii and tastes great.

The café also has seasonal menus limited to whatever season it is, meaning an enjoyable time however many times you decide to go.

Full details regarding the Pomu Pomu Purin Café can be found here:  http://www.moshimoshi-nippon.jp/27816

■Information

Pomu Pomu Purin Café Harajuku

Address: CUTE CUBE HARAJUKU 3F, 1 Chome-7-1 Jingumae, Shibuya-ku, Tokyo, 〒150-0001

TEL: 03-5786-0770

Opening Hours: 11:00-21:00 (irregular holidays)

>>next page