Ninja, Cosplay & Other Themes at Concept Hotel – Stay & Get a Third Night Free
bnb+ is a design concept hostel that is holding a free campaign for guests staying there for three nights that offers them the third night for free. The campaign is running from July 25 to August 31.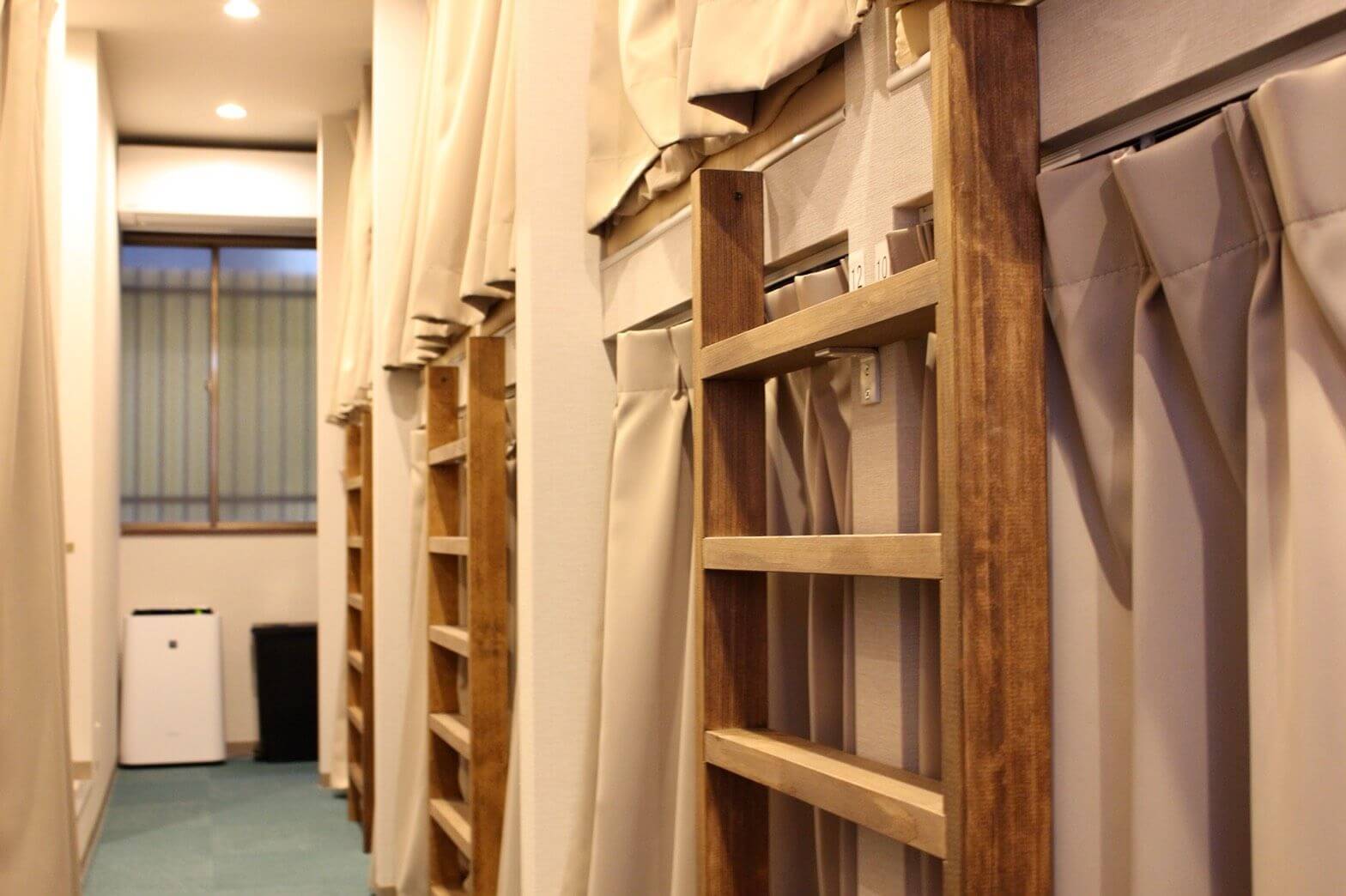 bnb+ has branches in Tokyo, Mejiro, Otsuka and Tamachi. bnb+ Secret Base Mejiro is located in the corner of a quiet neighbourhood. It's easy to get to as it's close to major stations such as Ikebukuro and Shinjuku. The hostel's 'communication space' has relaxing facilities like that of a cafe.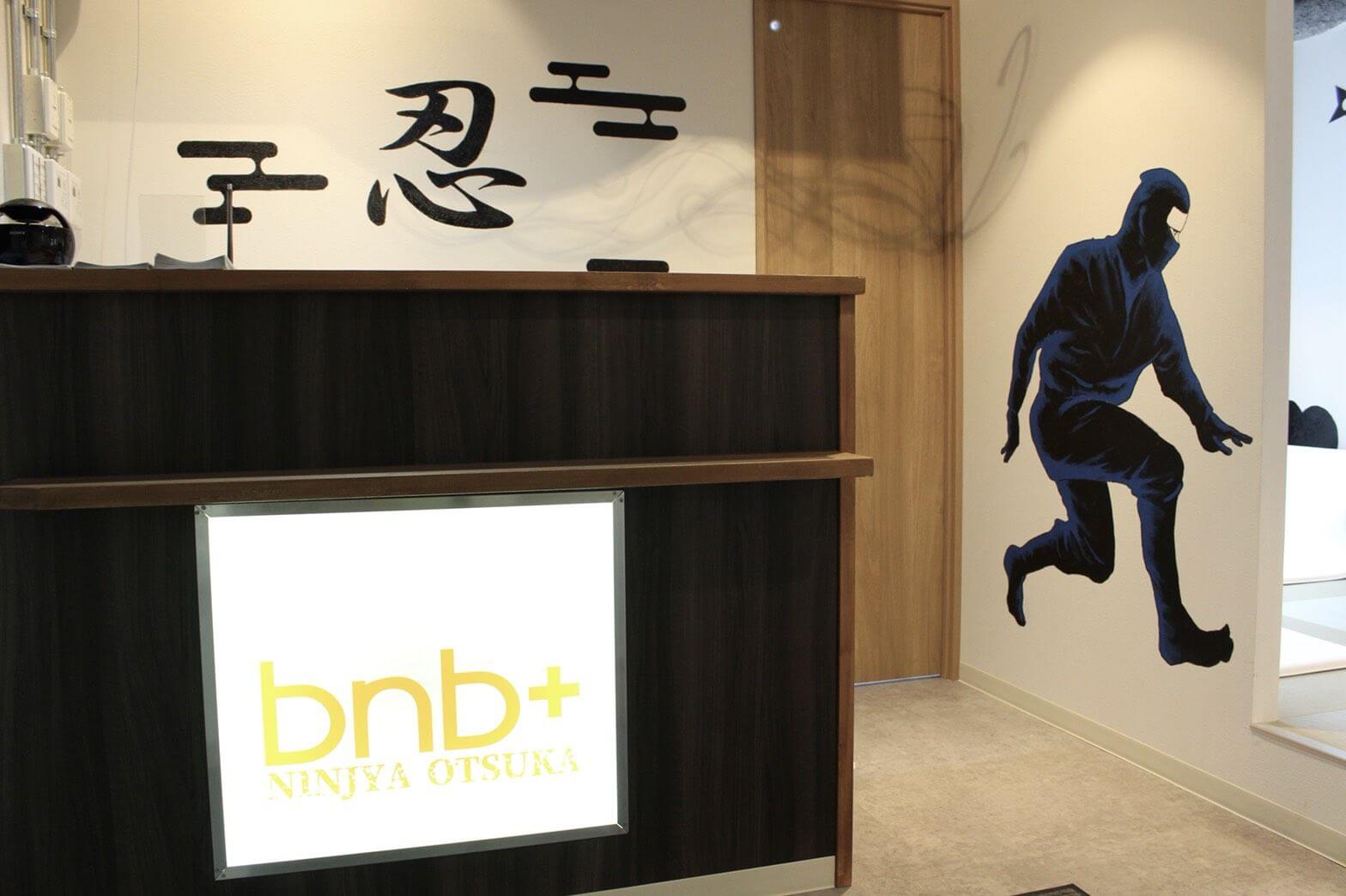 bnb+ Ninja Otsuka is about a 3-minute walk from Otsuka Station. The hostel is ninja themed, and the communication space takes on the form of a traditional tatami room.
bnb+ Tokyo Tamachi opened in June this year. It's easily accessible being just a 10-minute walk from Tokyo Station, 15-minutes from Ginza Station and about 20-minutes from Shinjuku Station.
These hostels are all affordable and have their own theme, so be sure to check them out if you're planning to travel in Japan.
■Information
bnb+ Secret Base Mejiro
Address: Muramatsu Bldg. 2F, 3-2-9 Mejiro, Toshima-ku, Tokyo
TEL: 03-6908-3345
E-mail:  info_mejiro@bnbplus.jp
Access: 1-minute on foot from Mejiro Station
bnb+ Ninja Otsuka
Address: Prosperity Kita-Otsuka 3F, 2-7-11 Otsuka, Toshima-ku, Tokyo
TEL: 03-6903-6466
E-mail: info_otsuka@bnbplus.jp
Access: 3-minutes on foot from Otsuka Station
bnb+ Tokyo Tamachi
Address: Bright Bldg. 3F, 3-20-9 Shibaura, Minato-ku, Tokyo
TEL: 050-5329-2450
E-mail: info_tamachi@bnbplus.jp
Access: 5-minutes on foot from Tamachi Station
Website: http://bnbplus.jp
RECOMMENDED ENTRIES
We all know that staying in a hotel can be pretty expensive. But if you're looking to stay somewhere that is stylish and clean with the benefit of being cheap, then look no further. Here are 5 affordable hostels and capsule hotels located in Tokyo.

BOOK AND BED TOKYO (Asakusa)

"BOOK AND BED TOKYO" is a hostel designed around the concept of being able to stay in a bookshop. There are 4 branches of BOOK AND BED TOKYO, with the fourth and latest set to open in Asakusa. The hostel comes with an authentic cafe bar menu serving original cocktails, coffee and more from bookshelves to both overnight and daytime guests. From just ¥3,800, you can look forward to the pleasure of books and rest in the very special experience of staying overnight at a book store.

Full Details: http://www.moshimoshi-nippon.jp/67896

IMANO TOKYO HOSTEL

IMANO TOKYO HOSTEL is located 10 minutes from Shinjuku station and 3 minutes from Shinjuku-Sanchome Station by foot, right by the Hanazono Shrine. The hostel has both normal rooms and traditional Japanese style rooms. A big highlight of the hostel is the cafe & bar on the first floor. (Cafe – 8:00-17:00 / Bar – 18:00-23:00). Accommodation prices from ¥3,500.

Full Details: http://www.moshimoshi-nippon.jp/34372

IMANO TOKYO GINZA HOSTEL

"Imano Tokyo Ginza Hostel" is also located in Shinjuku. The hostel features a comfortable lounge for guests staying the night where they can enjoy chatting together. It's a place that recognises and seeks to preserve that "one-in-a-lifetime encounter" while on a trip. As well as a female-only floor, Imano Tokyo Ginza Hostel offers a wide range of different bedding types and room types, from family rooms which the whole family can enjoy together to cost-effective dormitory rooms. Accommodation prices begin at ¥3,400.

Full Details: http://www.moshimoshi-nippon.jp/59036

GLANSIT AKIHABARA

"GLANSIT AKIHABARA" is a capsule hotel located just 3 minutes' walk from Akihabara Station, making it easily accessible, standing at 10 stories high. At every turn of the hotel, from the earthen-coloured bedding area and lounge, is placed materials associated with nature, showing the hotel's hospitality not just in its functional aspect but its make up too. Beds are fitted with original mattresses provided in joint development with bedding manufacturer Tokyo Nishikawa. Accommodation prices start at ¥3,500.

Full Details: http://www.moshimoshi-nippon.jp/58782

FromScratch TOKYO

"FromScratch TOKYO" is an accommodation aimed at foreigners located close by Sumiyoshi Station, a 20 minute train journey from Shinjuku Station via the Toei Shinjuku Line. It includes a shop that rotates services – during the daytime it's a cafe that serves Japanese tea, while at nighttime it turns into a bar serving Japanese alcohol. Artists are invited to display their latest works and live events are also hosted. FromScratch TOKYO enables guests to immerse themselves in Japanese culture with Japanese tea and alcohol served with with art, music, or on its own.

Full Details: http://www.moshimoshi-nippon.jp/60179

Do any of these hotels and hostels peak your interest? Each one of them serves up their own slice of originality, promising a unique experience to whichever you visit. Pick which one suits your needs most during your travels to Japan!

EAST BLUE Kasai Tokyo Hostel is Easily Accessible from Narita Airport & Haneda Airport

EAST BLUE Kasai Tokyo is a new hostel opening on June 29, 2018. It's located just a five-minute walk from Kasai Station and houses 88 beds.

The concept behind the hostel is 'Meet-Up & Casual Stay.' Guests can smell the sea breeze from the stylish facility which has a naturally retro feel to it. Its highlight is the hospitality which brings about a gentleness.

Its location makes it very easily accessible. You can walk there from Kasai Station via the Tozai Line exit in just 5-minutes, get a limousine bus from Haneda Airport in 25-minutes or Narita Airport in an hour. It's also close to Nihonbashi in Tokyo.

Kasai is an area surrounded in nature, including places like Edogawa, Arakawa and Tokyo Bay. It's also close by Kasai Rinkai Park and an aquarium which not only gives you that feeling of being at a resort, but it also means you get to experience the seasons and all they have to offer all year round. There's even a shuttle bus there that can take you to Disneyland and DisneySea in just 15 minutes! It can be used from the early morning into the evening.

The building underwent renovation to offer a 'casual stay.' The first floor front and public lounge uses beach house natural wood to match the area around Kasai and Rinkai. There's also a space for kids.

The accommodation plans cater to a variety of guests and offers rooms for 2-4 people which are perfect for couples and families.

The logo of the hostel is a clover which expresses destiny and bonding. Head to EAST BLUE Kasai Tokyo and meet all kinds of people of different ages and from different countries.

■Information
EAST BLUE Kasai Tokyo

Address: 3-12-13 Nakakasai, Edogawa-ku, Tokyo

Time: Check in 3pm / Check out 10am

Access: 5-minutes on foot Kasai Station via Tokyo Metro Tozai Line

Website: http://www.eastblue-kasai.com

Get to Know People at the New Sociable Hostel, Café & Diner Establishments Opening in Asakusa & Higashi-Kanda

Universal Hostel SEVEN GARDEN and Sustainable Hostel KIKKA are two hostel, café and diner fusions opening in Asakusa and Higashi-Kanda respectively on August 1, 2018.

The concept behind the establishments are to get people socializing with each other regardless of what country they're from, their sex, age, culture and values. They hope to create lots of opportunities and chances for people to bond and make a connection.

The café and diner areas are open to the public and not limited to guests, meaning people can easily and freely feel closer to one another.

Universal Hostel SEVEN GARDEN @ Asakusa

The café and diner at the Asakusa is named Well and is the first ever branch. There you will be greeted by the hospitable Digi Mama, a digital character and snack mama. The more she interacts with customers the more her experience will grow and in turn lead her to grow and mature every day. 'Mingle Drink Tickets' will also be handed out which aim to get people talking and making friends. As for the hostel, there's everything from dormitory rooms to individual rooms that can hold up to 4 people max. The beds are by Simmons so you can expect a comfy and cozy night.

Sustainable Hostel KIKKA @ Higashi-Kanda

The theme of this establishment is 'sustainable' which hopes to have people engaging in a natural environment without effort through dining and accommodation. Food, drinks, events and the use of amenities are linked to the Table for Two service provides meals for children in Africa. Additionally, items used by staff go towards a project by apparel brand Salasusu which supports the activities of Cambodian women. KIKKA will be home to Salasusu's first permanent sales area in Japan.

All the architecture and products used on the ground and first floors of KIKKA was made in collaboration with Suppose Design Office. They made full use of the existing building framework to further develop its design and functionality. The café is run in collaboration with well-established chef and author Shiori. They sell rice balls in the café using specialty products and ingredients from all 47 prefectures in Japan to tie the country's culture together in one place.

If you're looking for somewhere to stay in Tokyo and what to get to know people then consider staying at Universal Hostel SEVEN GARDEN or Sustainable Hostel KIKKA.

■Information

Universal Hostel SEVEN GARDEN @ Asakusa

Address: 1-34-2 Asakusa, Taito, Tokyo

Price: ¥4,800 per night

Rooms: Dormitory – 24 / Individual – 4

Website: https://seven-garden.com/ja/hotel/SEVENGARDEN

Sustainable Hostel KIKKA @ Higashi-Kanda

Address: 1-3-3 Higashi-Kanda, Chiyoda, Tokyo

Price: ¥3,800 per night

Rooms: Dormitory – 60 / Individual – 16
RELATED ENTRIES
Tokyo Cherry Blossoms 2020: Hotel Gajoen Tokyo Reveals Cherry Blossom Food Menu

Hotel Gajoen Tokyoーwhich is both a museum and hotelーhas announced its plans to serve up cherry blossom themed food at its numerous restaurants this spring beginning in March.

Hotel Gajoen Tokyo is situated along Meguro River, which is one of the most famous cherry blossom spots in Tokyo during springtime and Hanami season. To chime in this year's sakura season, the hotel's restaurants are preparing a selection of gourmet cherry blossom food and desserts.

Sakura Dining – From ¥7,000 (Before Tax/Service Charge) @ RISTORANTE "CANOVIANO" / Serving: March 20, 2020 – April 5, 2020


Dine in style at RISTORANTE "CANOVIANO" where they're serving up their 'Sakura Dining' course. Based on the idea of a cherry blossom bento meal, the heapfuls of veggies conjure up the image of the budding flowers of springtime.

Sakura Lunch – ¥5,000 (Before Tax/Service Charge) @ RISTORANTE "CANOVIANO" / Serving: March 16, 2020 – April 10, 2020


An assortment of hors d'oeuvres such as the "Cherry Blossom Carpaccio," "Sakura Ebi Pasta," and other spring-inspired delights.

Sakura Afternoon Tea – ¥4,000 (Before Tax/Service Charge) @ New American Grill "KANADE TERRACE" / Serving: March 14, 2020 – April 12, 2020


Treat yourself to a luxurious afternoon tea with cherry blossom bon bon chocolates, panna cotta, and moreーand wash it all down with a cup of floral cherry blossom tea. Available this spring only.

SAKURA LADY – ¥1,200/ Shizuku Sakura drops – ¥1,000

KANADE TERRACE also has two cherry blossom cocktails: the "SAKURA LADY" (¥1,200) and "Sakura Drops" (¥1,000). These drinks are inspired by blooming cherry blossoms and dancing cherry blossom petals. The "SAKURA LADY" is a gin-based White Lady cocktail.

Sakura – ¥600 (Tax Included) @ PATISSERIE Lien 1928 / Serving: From March 1, 2020

This luxurious dessert is surrounded by white chocolate and is made up of strawberry biscuit topped with strawberry jam and cherry blossom cream, creating a tempting and extravagant fragrance of strawberries and cherry blossom flowers. It also contains a bit of jelly with Japanese sake in it which adds a full-bodied flavour to the overall dessert.

Experience Japanese spring in luxury this year at Hotel Gajoen Tokyo.

Japan Airlines Offers Special Travel Plan to the Love Live! Sunshine!! Setting in Hakodate

JALPAK, a division of Japan Airlines (JAL), has announced a very special collaboration with the anime series Love Live! Sunshine!!.

Titled "Go And See Saint Aqours Snow in Hakodate!" (Saint Aqours Snowに会いに函館へ行こう!), the travel plan offers fans of Love Live! Sunshine!! to visit Hakodate, the setting of episodes 8 and 9 of the anime series. Hakodate was also newly-entered into Anime Tourism 88's "Real Life Anime Locations I Want To Visit" for 2020. The plan comes in two packages: the "JAL Dynamic Package" which departs from locations across Japan, and the "JAL Inbound Dynamic Package" which departs from Thailand.

Exclusive Merchandise – Folder

Exclusive Merchandise – Hakodate "Saint Snow" Acrylic Stand


Those to take part in the tour will receive some exclusive Love Live! Sunshine!! collaborative merchandise. Guests will stay at Hakodate Kokusai Hotel, where the Aqours members stay in the anime series. They will get the full Hakodate experience just like the members.

Hotel Image

The package also includes a digital stamp rally held across 11 locations where the Aqours and Saint Snow characters appear, and you'll get to wear the same pyjamas the members wear in the animeーwhich aren't available anywhere else as of yet.

Jump into the world of Love Live! Sunshine!! and feel like you're really living the anime series!

Information

"Go And See Saint Aqours Snow in Hakodate!" (in Japanese: Saint Aqours Snowに会いに函館へ行こう!)

JAL Dynamic Package Tour

On Sale: February 14, 2020 at 10:00 (JST) – April 27, 2020 at 17:00 (JST)

Tour Dates: Between February 28, 2020 – May 4, 2020 (Hotel stays available until May 8, 2020)
Departing: From participating airports in Japan (please check the website)

Arriving: Hakodate Airport
Hotel Destination: Hakodate Kokusai Hotel
Website (PC):  https://www.jal.co.jp/domtour/jaldp/lovelive/
Website (Mobile): https://sp.jal.co.jp/domtour/jaldp/lovelive/

JAL Inbound Dynamic Package Tour

On Sale: February 28, 2020 at 10:00 (JST) – April 30, 2020 at 17:00 (JST)
Tour Dates: Between March 6, 2020 – May 7, 2020
Departing: From participating airports in Thailand (please check the website)

Website (PC): http://www.th.jal.co.jp/thl/th/jaldp/campaign/lovelive/

5 Must-Eat Cherry Blossom Foods & Desserts at Hotels in Tokyo

We're keeping the cherry blossom theme running here on MOSHI MOSHI NIPPON as we approach spring. Today, we're showcasing something for those planning a trip to Tokyo for the cherry blossom and Hanami season: 5 must-try cherry blossom foods and desserts served at hotels across Tokyo.

Sakura Strawberry Afternoon Tea at InterContinental Tokyo Strings


Sakura Strawberry Afternoon Tea – ¥4,800

The fraisier is a strawberry cake said to represent the coming of spring in France. At Rhythmos, a cafe and bar at InterContinental Tokyo Strings, it's served in a glass so you can see all the delicious insides, from the round-sliced strawberries to the beautiful green pistachio mousseline cream. The pure white crémet d'Anjou has a fluffy texture and is mixed with refreshing and sour strawberry and raspberry sauce which elevates the flavour of the fromage blanc.

Other treats to pick from include the cherry blossom ganache tart which has a faint cherry blossom fragrance, cherry blossom and strawberry cream-stuffed macarons, strawberry daifuku, and more―all with spring flavours and colours.

The savoury line-up too offers some elegant and unique items. There's the sandwich wraps which include cherry blossom leaf-topped grilled chicken with a lining of shredded dried plum, strawberry ceviche with grilled scallops, and much more.

▶︎Sakura Strawberry Afternoon Tea

Running: March 1, 2020 to April 30, 2020

Location: Rhythmos Café and Bar (InterContinental Tokyo Strings)

Time: 14:00-18:00 (Last Orders 16:30)

Price: ¥4,800 per person

Official Website: https://intercontinental-strings.jp/?updatelang=yes

InterContinental Tokyo Strings

Address: 2-16-1 Konan, Minato Ward, Tokyo

Official Website: https://intercontinental-strings.jp/?updatelang=yes

For more details, check out our previous article here: Cherry Blossom Themed Menu to be Served at InterContinental Tokyo Strings in Spring 2020

Cherry Blossom Afternoon Tea at Hotel Chinzaso Tokyo


Cherry Blossom Afternoon Tea

On the top plate is a collection of four pink and white desserts. This includes some tempting macarons which are filled with a cherry blossom ganache. The macarons themselves are vanilla flavoured, packed with cherry blossom cream, and have prints of delicate cherry blossom flowers on them.

On the lower tier are crunchy pie sandwiches filled with a cream cheese that is laced with cherry blossom leaves, while the bottom tier is an assortment that includes refreshing shrimp, grapefruit and asparagus sandwiches, and more.

▼Cherry Blossom Afternoon Tea

Running: February 17, 2020 – April 12, 2020
Time: 12:00-18:00
*On weekdays between January 6, 2020 to February 28, 2020, the afternoon tea will be served from 14:30-18:00 due to the holding of the sweets buffet
Location: Le Jardin at Hotel Chinzaso Tokyo
Prices: Cherry Blossom Afternoon Tea ¥4,000 / With Welcome Drink ¥4,500

Hotel Chinzaso Tokyo

Address: 2-10-8 Sekiguchi, Bunkyo Ward, Tokyo

Official Website (English): https://www.hotel-chinzanso-tokyo.com/

For more details, check out our previous article here: Cherry Blossom Afternoon Tea in Japan: Hotel Chinzaso Tokyo's Beautiful Floral Menu

Sakura Picnic Basket at Grand Hyatt Tokyo's Steak House "The Oak Door"


Sakura Picnic Basket – ¥5,500

The Oak Door is noted for its use of high quality ingredients prepared in a dynamic way. This spring, they have the perfect pick to give you that feeling that the Japanese Hanami season is here with a cherry blossom picnic basket. This stylish selection has the lot: food, dessert, glasses, and cutlery. The burgers bear pink buns which are stuffed with prime beef patties, pastrami beef, and veg. They also have skewered vegetables too like radishes. Seeking that springtime sensation? Then order your very own Sakura Picnic Basket!

▼Sakura Picnic Basket at Grand Hyatt Tokyo's Steak House "The Oak Door"

Running: March 1, 2020 – Mid April 2020
Time: 9:00〜22:00

Price: ¥5,500

Location: The Oak Door (Grand Hyatt Tokyo Floor 6F)

Grand Hyatt Tokyo

Address: 6-10-3 Roppongi, Minato, Tokyo

Official Website (English): https://www.hyatt.com/en-US/hotel/japan/grand-hyatt-tokyo/tyogh/offers

Gorgeous Springtime Cherry Blossom Set at Keio Plaza Hotel

At eight of Keio Plaza Hotel's restaurantsーwhose menus span traditional Japanese dishes, French food, Chinese cuisineーthey are cooking up their own unique cherry blossom servings.


"Kadode" Lunch & Dinner – ¥15,500 @ Soujuan

A traditional kaiseki-style Japanese course consisting of a bounty of luxury ingredients like Japanese Black wagyu beef, caviar, and more.


"contente" French Lunch – ¥9,000 @ Duo Fourchettes

You need only look at the dishes served at Duo Fourchettes to understand the level of quality and beauty that goes into their dishes. This French lunch line-up is packed with plenty of seasonal spring ingredients, and there's even a succulent strawberry-packed dessert to indulge in.

▼Gorgeous Springtime Cherry Blossom Set at Keio Plaza Hotel

Running: March 1, 2020 – April 30, 2020
Prices:
"Kadode" Lunch & Dinner – ¥15,500 @ Soujuan
"contente" French Lunch – ¥9,000 @ Duo Fourchettes

Keio Plaza Hotel
Address: 2-2-1 Nishi-Shinjuku, Shinjuku, Tokyo

Official Website (English): https://www.keioplaza.com/

Spring Sakura Sweets & Pastries at Grand Nikko Tokyo Daiba

At the "Bakery & Pastry Shop," which is managed directly by the hotel, they have a beautiful choice of desserts perfect for Hanami flower-viewing.


Sakura Opera – ¥610

This three-layered cake is made up of matcha joconde biscuit, adzuki and cherry blossom butter cream, and strawberry jelly. It's also topped with white chocolate by French premium chocolate company Valrhona.


Spring Milk Cream – ¥320

The pastry of these eclairs are made with plenty of milk and are filled with a homemade cherry blossom milk cream. The cherry blossom petals on top are pickled in salt to give a slight salty bite, contrasting deliciously with the sweetness of the cream.

▼Spring Sakura Sweets & Pastries at Grand Nikko Tokyo Daiba

Running: March 1, 2020 – April 30, 2020
Time: 10:00-20:00
Location: Bakery & Pastry Shop at Grand Nikko Tokyo Daiba
Prices:
Sakura Opera – ¥610
Spring Milk Cream – ¥320

Grand Nikko Tokyo Daiba
Address: 2-6-1 Daiba, Minato Ward, Tokyo
Official Website (English): https://www.tokyo.grandnikko.com/eng/

Which of these picks has your mouth watering the most? If you're travelling to Tokyo for the springtime cherry blossoms, why not book at one of these hotels and start your trip with a delicious sakura treat?

ART LAB KYOTO: The New Shop Opening at Kyoto City Kyocera Museum of Art

ART LAB KYOTO is the new museum shop set to open at Kyocera Museum of Art on March 21, 2020 in line with the revamp currently undergoing at the museum, with design work being co-created by Japanese architects Jun Aoki and Tezzo Nishizawa.

Kyoto is known as a hub of Japanese culture, managing to maintain traditions while constantly evolving. ART LAB KYOTO will embody everything about this idea when it opens after the museum's revamp. The spacious shop will not only sell merchandise related to the exhibitions, but books and goods related to art from Kyoto both traditional and contemporary, items in collaboration with external artists, original and exclusive sweets, and more. ART LAB KYOTO will also host events promoting the diversity of art and culture in Kyoto.

Information

ART LAB KYOTO

Address: Kyoto City Kyocera Museum of Art Floor B1F (124 Okazaki Enshojicho, Sakyo Ward, Kyoto)

Grand Opening: March 21, 2020

Closures: Open every day until April 30, 2020 except March 23. The schedule commencing May will be posted at a later date on the official website.
Opening  Hours: 10:00-19:00

Official Website (English): https://kyotocity-kyocera.museum/en/

Kissho Caren: Gaze at Shizuoka's Moonlit Night Sky From Your Hot Spring With New Hotel Plan

Kissho Caren is now offering a new hotel plan for women only which is available until the end of March 2020.

Kissho Caren is an incredible hideaway resort and inn located alone the quiet shores of Hokkawa Hot Spring in Shizuoka. All rooms offer a breathtaking ocean view, and all rooms, plus the restaurant and infinity pool open-air baths, offer a panoramic spectacle where the sky and sea meld together into one beautiful scene. Guests can also witness the "Moon Road," a popular power spot of Hokkawa Hot Spring which was chosen as one of Japan's "100 Moon Views."

Kissho Caren boasts two of its own water sources for its flowing water. It houses 18 water spots, including hot springs in seven locations around the inn and its sister facility Tsuruya Kisshotei, as well as rentable baths, foot baths, and the beachside "Kurone Rock Bath." All of these hot water spots are fully equipped with bath towels, face lotion, and other amenities. The inn's hospitality is also well-praised, including its salon which offers barely tea, soft drinks, and tokoroten made in the city of Izu. In the evenings, it also offers beer amongst other things.

After checking in, guests choose a yukata and obi of their liking and enjoy a luxurious and tranquil afternoon tea. The seasonal pancakes are prepared in front of you by the chef and are topped with sweet and refreshing soft serve ice cream and served with beautiful tea. The pancakes are mixed with whey which has a lot of skin benefits, and the teas vary from Izu guricha tea to Izu aloe tea which have anti-ageing benefits and strengthen the immune system. All of this takes place at Aodake which is open 14:00-15:30.

At the Kissho Spa, one can spy the gorgeous ocean from the window. Guests can enjoy some relaxing thalassotherapy with the warm climate of the beach and seaweed, oils prepared in Izu Ōshima, guricha tea, and other local treatments, all of which are popular.

The French course dinner comes with a free drink and flambéed dessert. All rooms also come with lots of other hopsitable gifts too, including a free mini bar and snacks, 20% off from the Kisso Spa, and more.

If you're looking for a place to stay with your girlfriends in Japan, then we recommend putting this place on your list. Don't miss out on this limited-time, girls-only offer.

Information

Girls-Only Amenity-Packed, Wine & Flambéed Dessert Plan

Running: January 6, 2020 – March 31, 2020

Prices (1 Night With Breakfast/Prices Per Person):

From ¥26,500 (2 People/1 Room)
From ¥24,500 (3 People/1 Room)
From ¥23,500 (4 People/1 Room)

*An extra ¥5,000 on public holidays. An extra ¥2,000 from February 9, 2020. Includes tax and service charge.

Meals:

Dinner: French dinner course at "Four Season" restaurant
Breakfast: Japanese breakfast at "Four Season" or teppanyaki breakfast at "Aodake"

Includes:

1 free drink (White or Red Wine/Sparkling Wine/Soft Drink)
Flambéed dessert after dinner
Free mini bar in all rooms and confectionery set
20% off Kissho Spa (Discounted: ¥8,000 / Usual Price: ¥10,000): 60-minute body lymphatic drainage/60-minute facial treatment

Kissho Caren

Address: 1130 Naramoto Higashiizu, Higashiizu, Kamo District, Shizuoka

Official Website: https://www.kissho-caren.com/en/

Kyoto Brighton Hotel Offers 5 New Hotel Plans For Springtime, Cherry Blossom & Temple Experiences

Kyoto Brighton Hotel is now selling reservations for its new "Haru no Asobi Plan" (Springtime Fun Plan) which is taking place between March and May this year and offers guests the opportunity to enjoy Kyoto in the spring and its cherry blossoms.

Spring in Kyoto is the most popular season for tourists and travellers who flock from not only across Japan but from around the world. The Haru no Asobi Plan is made up of 5 exciting plans to see the ancient capital's breathtaking cherry blossoms, vibrant green maples, and other offerings.

"Asakatsu" – An early morning temple visit and stroll

Get away from the crowded streets and enjoy the rare opportunity to experience incredible early morning sights you don't normally get to see. Spend a quiet morning in a gorgeous environment in this plan. Several temples and gardens are in place for the experience: Kōdaiji Temple, Bishamon-do Temple, Taizō-in, Haradanien, and Tenryū-ji.

Kiyomizu-dera Temple special night viewing

One of the must-visit spots when travelling to Kyoto is Kiyomizu-dera, officially a World Heritage Site. This plan rents out the temple for you to experience it at nighttime. The main building is currently undergoing large-scale renovation to secure the roof as well as the inner construction of the temple. Seeing the temple is truly a sight to behold.

You are guaranteed a view of the famous "Stage of Kiyomizu," an enormous veranda attached to the main hall. The surrounding trees will be lit with enchanting lights, and you'll be able to gaze at the distant city nightscape. Experience Kyoto like never before as the warm lights illuminate the Niōmon (Deva Gate), 3-storey pagoda, and purified water which runs from the Otowa Waterfall.

Discover the world of Kyoto embroidery

The traditional practice of Kyounui, or Kyoto-style embroidery, has continued since the Heian Period and is even garnering attention overseas. It's a delicate and refined style of embroidery unique to Kyoto.

After your embroidery session which will take place in a Kyoto town house nearby the cherry blossom-filled Hirano Shrine, you'll look at kimono and yukata so beautiful they'll look like they should be in an art museum, before heading to eat together with the creator.

See the green maple trees of Hōgon-in on a private train

Board the private 1-2 carriage Randen train on the Keifuku Electric Railroad, which runs from Shijō-Ōmiya to Arashiyama. This cute retro train will take you Arashiyama where the green maples are breathtakingly beautiful.

You'll also get to stroll through the quaint gardens of Hōgon-in Temple, view artwork painted by Noriko Tamura, and more.

Sky Bus

Enjoy a panoramic view on a private ride of the Sky Bus, a double-decker bus which is gaining huge popularity right now. You will ride through the city of Kyoto and see the rows of pink cherry blossoms. In April, they will also do an evening tour of the cherry blossoms so you can see them at night, and in May they'll do a green maple tree tour.

Discover the beauty of Kyoto in this very special hotel plan at Kyoto Brighton Hotel.

3 Breathtaking New Rooms to Open at Hoshino Resorts OMO7 Asahikawa

Hoshino Resorts OMO7 Asahikawa, a branch of Hoshino Resorts' hotels for tourists and travellers, has announced that it is opening three new room types to guests from April 1 to make their stay and travels that much better. They are the "Double Room," "Superior Room," and "Family Room."

OMO7 Asahikawa opened in Hokkaido April 2018 as the first branch of Hoshino Resorts's "OMO" brand of city tourism hotels. The hotel offers not only a great sleep, but enjoys the benefit of its location with must-see sights surrounding it, and all of this to make guests' stay the best it can be.


The hotel's Studio Rooms, formerly named the DANRAN Room before the renovation, have received praise from guests that have stayed there for offering everything they needed while being compact, as well as it being easy to kick back and relax in them. It was revealed that in 2019, the average number of people staying in a single room at Hoshino Resorts OMO7 Asahikawa was higher than the average of that in other city hotels in Asahikawa, as well as the hotel being popular for catering to tourist and sightseers' needs.

The hotel has now renovated 111 of its rooms in response to it being used by a lot of people because of its catering towards tourists' needs. It has also added the three new types of roomsーDouble, Superior, and Familyーwhich incorporate the well-received functionality of the Studio Rooms. That's 226 room renovations out of the hotel's 237 rooms.

All beds have storage space underneath them. Those travelling in big groups like families will especially benefit from this if they have a lot of luggage as they can save on plenty of space in rooms.

New rooms are furnished with new sofas and tables for maximum comfort amongst friends and family where they can talk about their trip while enjoying local drinks and snacks.

Also, in the Superior Rooms and Family Rooms, where there is a small amount of guests, beds can be folded and turned into spacious sofas.

The OMO brand promises "a reasonable price for your travels," and this rings true: the new Family Rooms start at ¥5,500, allowing an affordable stay so you can spend more on the local sights.

Room bookings will open on February 3, 2020, so if you're visiting Hokkaido, be sure to check out Hoshino Resorts OMO7 Asahikawa.

You Can Take Your Pets to These Hotels and Accommodations in Japan

Online travel booking website Rakuten Travel has released this year's list for the most popular hotels and accommodations you can stay at with pets in Japan. The list is based off travellers' reviews taken from the website. This list has been updated and published every year since 2014, making this its 6th run.

Placing number one on the list for the first time is Yutsura, a ryokan Japanese-style inn which opened in Shizuoka in April 2018 and can be rented by one person or group for one night. Up to six people in a single group can stay there along with up to 5 small dogs weighing 5kg or less. It's highly favoured amongst travellers who want to take their dogs on the road due to the extent the inn caters for pets. Guests can enjoy having the dogs in their rooms as well as feed their pets there, all without being a bother to other guests.

Nipponia Sawara Merchant Town Hotel in Chiba Prefecture came in second place. You can feel the history of this hotel accommodation which is renovated from a traditional storehouse and townhouse. It allows up to three pets in a room which collectively weigh 25kg. There are three types of rooms to choose from, including one with a dog park. It also offers various services, including a free night for one dog, snacks and amenities for dogs, and more.

In third place is Dog Pension R65 in Shizuoka Prefecture which allows not only big and small dogs, but cats and other pets too. It offers large footbaths for dogs to use, dog parks, and many other services that cater to pets. The hotel also offers cottage-type accommodation rooms separate from the main building too if you're looking to spend some peaceful time away with your beloved companion.

If you're looking to travel around Japan with your pet, be sure to check if a hotel allows animals. Check the link below for the full Top 10 list.

Matcha Desserts in Sapporo You Just Have To Try

We've previously covered the best spots to try delicious matcha desserts in Kyoto. Now, with the help of expert dessert Instagrammer Kei, we are going to introduce you to some of the most delicious spots to try matcha desserts in Sapporo, Hokkaido.

If you want to discover more delicious cafés, desserts and drinks in Hokkaido, make sure to check out Kei's Instagram (@607keih).

 

KotoniSand, Nishi Ward

Macchan French Toast: ¥1200

 From dinners to desserts, this café serves up lots of meals based on their delicious thick-sliced bread. Bread flavours include plain, matcha and even coffee. You can order to go or enjoy the eat-in-limited menu. This fluffy french toast is soaked in matcha liqueur and is full of flavour even before trying it with the toppings. Take a bite of it with the red bean paste for a flavour adventure. A limited number of these are sold per day so if you want to try it, make sure to get there early. 

▼KotoniSand

Address: 1-1-1 Yamanote 5 Jō, Nishi-ku, Sapporo, Hokkaido

Opening Hours: 11:00-18:00
Closed: Tuesdays
Official Website: https://kotonisand.business.site

Ame no hi to yuki no hi, Minami Ward

Gelato Futatsu: ¥450

Located before Jozankei's onsen hotspot is a café called Ame no hi yuki no hi. It serves delicious pizzas and a variety of gelato flavours depending on the season. Their matcha ice cream is delicious. They even allow you to order two or three flavours at once so you can enjoy a mix and match of combinations. 

▼Ame no hi to yuki no hi

Address: 2-4-1, Jozankeionsennishi, Minami Ward, Sapporo, Hokkaido 

Opening Hours: 10:00-17:30
Closed: Thursdays
Official Website: https://www.amenohitoyukinohi.com

KANON pancakes, Shiroishi Ward

Matcha Tiramisu Pancake: ¥1500

This is a famous pancake shop in Kikusui. Tuck into a stack of fluffy pancakes inside the relaxing and soothing restaurant. The Matcha Tiramisu Pancakes are soaked with liqueur, creating a texture that is softer and moister than their standard pancakes. In addition to the matcha liqueur, the pancake is also dusted with matcha powder for a richer matcha flavour. Finally, they are drizzled with delicious brown sugar syrup and topped with walnuts.

▼KANON pancakes

Address: 5-5-18 Kikusui 3 Jo, Shiroishi Ward, Sapporo,

Opening Hours: 10:00-17:00 (Last Orders: 16:00)
No Regular Holidays
Official Website: https://kanon-pancakes.com

Any cafe, Kita Ward

Matcha Kintoki: ¥1350

This shop uses gluten-free ingredients in their food. This pancake dish is made using unpolished rice powder, three pieces of Turkish delight, red bean paste, rice flour dumplings, and cream made from Hokkaido-produced mascarpone and fresh cream. The cream is full of the bitter and delicious flavour of matcha, making the pancake sweet and very delicious. 

▼Any cafe

Address: 3-2-24 Kita 18 Jonishi, Kita Ward

Opening Hours: 11:00-18:30 (Last Orders: 18:00)
Closed: Tuesdays

Official Instagram: https://www.instagram.com/any_cafe_sapporo/

If you are looking for delicious matcha desserts in Sapporo, let this article help you decide where to go. When your food cravings kick in, make sure to visit Kei's Instagram which is full of the most delicious meals, drinks and desserts in Hokkaido. 

Original Article Contents and Photos by: Kei (@607keih )

Tour Tokyo, Pick Strawberries and Enjoy Afternoon Tea On The ichigosan bus

From their popular AWAPA Foam Party event where you can dance in a club filled with foam to their BATHTUB CINEMA event where you can watch a movie with your friends in a bathtub, Afro&Co. never fails to bring us new and creative ways to have fun. They are now collaborating with Saga prefecture to run the 'ichigosan bus': a sightseeing bus which will introduce you to wonderful spots in Tokyo with an unexpected strawberry twist to celebrate the first anniversary of Saga prefecture's strawberry farm 'ichigosan'. Enjoy strawberry picking inside the bus and then tuck into a strawberry-tastic afternoon tea set and much more. The bus will be running for a five day period from January 1 to 19, 2020.

ichigosan Afternoon Tea

ichigosan Panna Cotta

The ichigosan bus commemorates one-year since Saga Prefecture launched their new brand of delicious succulent strawberries called 'ichigosan'. The collaboration hopes to spread the delicious flavour of ichigosan strawberries to as many people as possible with the five-day-limited strawberry-tastic bus tour. Hop on the red double-decker bus, which looks just like a London tour bus, to enjoy strawberry picking on floor one and an original strawberry afternoon tea set prepared by a chef from Royal Garden Cafe Aoyama on floor two.

ichigosan Crêpe

ichigosan Tart

This three-experience-in-one tour bus introduces you to the newest famous spots in the city, offers you a fun strawberry picking experience and even comes with a delicious strawberry afternoon tea set. You can book tickets in advance online and there are two kinds of tickets available for on-the-day purchases. As this is the best season to enjoy ichigosan strawberries in Japan, make the most of it on this tour and you will be berry pleased.

Information

ichigosan bus

Running: January 15 – 19, 2020

Operating Times: 11:00 – 18:30

Arrival and Departure Point: Royal Garden Cafe Aoyama

(2 Chome-1-19 Kitaaoyama, Minato City, Tokyo)

Bus Tour Time: 55 Minutes

5 Tours per Day

Price: Tickets are sold in pairs, ¥3,800 Per Person

Tickets: Reserve online or purchase on the day. There are two kinds of same-day tickets. (Subject to change)

Official Website: https://www.saga-ichigosan.jp/ichigosanbus2020/

Beautiful and Delicious Lunches You Have to Try in Fukuoka

With the help of moe, we've covered the best food spots in Fukuoka to enjoy a beautiful scenery, for desserts and much more. Today, we're joined by food Instagrammer moe again to introduce you to the top lunch spots in Fukuoka. 

cafe mii, Asakura

Curry Plate

cafe mii is one of those places that very few people know but is very delicious. The curry plate is full of spices and is accompanied by fried vegetables and many other side dishes. As Asakura is known for its delicious vegetables, this is the perfect opportunity to get your fill. The café is relaxing and the perfect spot to enjoy a quiet lunch.

▼cafe mii

Opening Hours: 11:00-17:00 (Last Orders: 14:30)

Closed: Wednesdays
Address: Floor 2, 531-2 Tonta, Asakura, Fukuoka
Website: https://www.instagram.com/cafe_mii/

Cosses, Chihaya

Plate Lunch

Cosses is a bakery shop full of pastries and desserts. The Plate Lunch includes a hamburger steak, soup, salad, yoghurt and much more. The thick bread that comes with the set perfectly completes it. The wide shop is full of delicious bread and pastries that would be perfect to bring back to your family.

▼Cosses

Opening Hours: 10:00-21:00 (Last Orders: 19:30)
No Regular Holidays

Address: Namiki Square Floor 1, 4-21-45, Chihaya, Higashi-ku, Fukuoka

Official Website:http://cosses.orto-cafe.com/

Chocolate Bar, Hirao

Chicken Curry Risotto

Whether you're looking for lunch, dinner or a casual snack, this is the place to go. When you order the Chicken Curry Risotto, you can choose how spicy you want it. Risotto and curry is quite a rare combination, but it is very tasty. After your lunch, you can choose to have a gâteau au chocolat from the main menu. 

 

▼Chocolate Bar

Opening Hours: 

Lunch Menu:  11:30-15:00 (Last Orders: 15:00)

Café Menu: 14:00-17:00 (Closed from 17:00 to 18:00)

Dinner Menu: 18:00-22:00 (Closed from 22:00)
Closed: Sundays
Address: 1-11-22 Takamiya, Minami-ku, Fukuoka

Official Website: https://www.facebook.com/CHOCOLATE-BAR-726314500885075/

Filipepe, Kego

Dry-Cured Ham and Creamy Lemon Spaghetti

Filipepe is a hidden Italian restaurant. The Dry-Cured Ham and Creamy Lemon Spaghetti is covered in a refreshing lemon cream sauce. The thinly-sliced cured ham and creamy pasta make the perfect combination. The tongue-tantalizing menu also includes fish, meat and much more.

▼Filipepe

Opening Hours:

Lunch: 11:30-14:00 (Last Orders: 14:00)

Dinner: 18:00-21:00 (Last Orders: 21:00)
No Regular Holidays
Address: Floor 3, 3-1-28 Kego, Chuo Ward, Fukuoka,
Website: https://www.facebook.com/Filipepe-フィリペペ-699810910145678/

Good up coffee, Hairo

Homemade Red Bean Paste on Toast

Good up coffee's homemade red bean paste on toast is often greeted by a long queue of customers. The fluffy bread is like a giant cushion and is filled with a generous serving of red bean paste. The butter melts, creating a moderate salty touch to the meal. This is a very popular shop and often sells out so if you want to try it, make sure to get there early.

▼Good up coffee

Opening Hours:

Monday, Tuesday, Friday, Saturday: 12:00-20:00

Wednesday and Sunday: 12:00-18:30
Closed: Thursdays
Address: 1-chōme-15-18 Takasago, Chuo-ku, Fukuoka
Official Website: https://www.instagram.com/good_up_coffee/

KURASUKOTO, Hairo

Lunch Plate

Fukuoka's famous and popular café KURASUKOTO serves parfaits, doughnuts, puddings and other famous desserts as well as delicious lunches. Choose to have meat or fish for your lunch plate and it will be served with lots of healthy vegetables. The café also sells small miscellaneous goods too.

▼KURASUKOTO

Opening Hours:11:30-18:00
Closed: Mondays and Sundays
Address: Floor 2, 1-11-21 Hirao, Chuo Ward, Fukuoka
Official Website: https://www.kurasukoto.com/shop-hirao/

Eureka, Sakurazaka

Duck and Lotus Root Ragout Pasta

Bistro and café Eureka is an isolated restaurant located out of the way in a residential area. The Duck and Lotus Root Ragout Pasta is available in the lunchtime menu and is served with tasty relishes made from pomegranate and Japanese persimmon. Duck and lotus root is cooked in a delicious ragout sauce with tagliatelle. The meal comes with relishes so your stomach will be left completely satisfied.

▼Eureka

Opening Hours:Monday-Thursday: 12:00-20:00 (Last Orders: 19:00)

Friday and Saturday: 12:00-22:00(Last Orders: 21:00)
Closed: Sundays
Address: 1-4-19 Sakurazaka, Chuo-ku, Fukuoka

Official Website:https://www.instagram.com/eureka.sakurazaka

Yamamoto no Hamburg, Ropponmatsu

Hamburger

The Kanto region's popular hamburger restaurant Yamamoto no Hamburg has opened in Fukuoka. Here, you can enjoy a burger served in a large curry bowl fit for a curry soup. The hamburger is surrounded by a hearty serving of sauce and is even topped with a mince cutlet. There is a bottle of Chinese red chile oil on the table for a satisfying meal. 

▼Yamamoto no Hamburg

Opening Hours:

Lunch: 11:30-15:30 (Last Orders: 14:30)

Dinner: 17:30-22:30 (Last Orders: 21:30)
No Regular Holidays
Address: Ropponmatsu Kobo Floor 1, Chuo Ward, Fukuoka

Official Website:  http://www.yamahan.tokyo/news/

 If you're stuck on where to get lunch in Fukuoka, or love looking at gorgeous food, let moe's Instagram be your guide. 

Original article contents and photos by: moe

Sanrio Puroland to Run "Sweets Puro very berry sweets Party" Next Year

Sanrio Puroland (Puroland) will be running its popular dessert-themed event "Sweets Puro very berry sweets Party" from January 10 to March 10, 2020. 

Puroland's restaurants will be selling Sweets Puro-limited desserts full of a variety of berries. Restaurant Yakata on floor 4 will be serving a berry and chocolate-themed dessert buffet on select days.

As the first dessert buffet to be held since Puroland's renovation, there will be a photo session allowing customers to take photos of the food and characters too. 

The event will also see the return of the evening main show "Miracle Illusion☆Happiness", which was last performed in September 2019 and ended with guests longing for more. Hello Kitty and her beloved boyfriend Dear Daniel will also appear in adorable angel costumes. This is a wonderful chance to enjoy delicious desserts, fantastic illumination and beautiful projection mapping.

The "My Melody Strawberry Illuminations Ichigo Ichie" is another Sweets Puro-limited event to be returning this year following its popularity. This event will run from January 10 to February 14, 2020. From February 15 to March 10, 2020, Hello Kitty's cute singing voice will echo throughout Puroland as she performs at the illumination show "SPARKLE!! Sweet Lights".

After the illumination show, Puro Village will be illuminated entirely in sweet pink illumination. 

Meet the characters dressed in berry-themed costumes at the "Very Berry Character Hug Time" event and enjoy the Valentine's Day and White Day-themed event "Special Sweets Greeting" (fee applies). 

You also can't miss the dessert house photo spot and dessert-themed character merchandise, which will be available for a limited time only. 

Puroland will be bursting with sweet goodness that you just can't miss next year.

©1976, 2009 SANRIO CO., LTD.©1976, 1990, 1993, 1996, 1999, 2001, 2004, 2010, 2019 SANRIO CO., LTD.