Kuriya Kashi Kurogi & Sarutahiko Coffee to Open Collaborative Cafe in Minami Aoyama
Sweet shop Kuriya Kashi Kurogi and roastery cafe Sarutahiko Coffee are collaborating to open their own cafe for a limited period from August 12 to November 11.
Both chains have innovated the worlds of traditional Japanese food and coffee respectively and are now coming together to co-open a new cafe.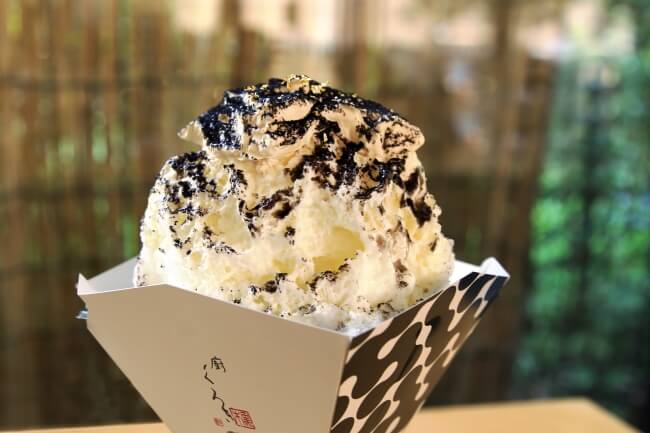 The highlight of this collaboration are the two original shaved ice flavours, 'Sumitachibana' and 'Sumizumi,' both of which can't be found anywhere else.
Sumitachibana is a mix of cold-brew coffee syrup, sudachi citrus syrup, and a homemade cream cheese. It's a never-before-seen combination that is both rich and refreshing.
The coffee served at the cafe is made using rare beans that won Cup Of Essence (COE) and geisha beans. Every mug of this drip coffee is made carefully one by one.
The cafe interior uses white as a base colour and is decked out with handmade antique wood and aluminium furniture to give it a unique but mellow atmosphere.
Enjoy a relaxing time with a mug of high class coffee and Japanese sweets made using carefully selected ingredients.
■Information
Kuriya Kashi Kurogi x Sarutahiko Coffee
Address: 5-4-50 Minami Aoyama, Minato-ku, Tokyo
Opening Hours: 11:00am-8:00pm
No Fixed Holidays.
Access: 3-minutes from Omotesando Station via Tokyo Metro
Kuriya Kashi Kurogi Website: http://www.wagashi-kurogi.co.jp/
Sarutahiko Coffee: http://sarutahiko.co/
RECOMMENDED ENTRIES
5 Newly Opened Stores in Harajuku & Omotesando Selling Popular Sweets

Hey, everyone. Shiota here, the Director of the MOSHI MOSHI BOX Harajuku Tourist Information Center. Harajuku is a candy and sweets battleground, with many different stores lining the streets. Today, we take a look at Instagram-worthy goodies from much talked about newly opened stores!

"THE PARFAIT STAND" – Takeout Parfaits
Located exactly ZERO minutes from the Takeshita Exit of Harajuku Station is THE PARFAIT STAND, the sister store to popular cheese tart shop BAKE CHEESE TART.

Topping the parfait isn't fresh cream, but meringue! The taste and texture of the parfait is irresistible throughout, with ice cream, purin, mousse and more. Just holding it is kawaii and something new to take onto the streets of Harajuku with you♡

Full Details: https://www.moshimoshi-nippon.jp/100198

"LONG! LONGER!! LONGEST!!!" – Japan's Longest Food & Sweets
Opening as Japan's first shop to center around the 'length' of food, LONG! LONGER!! LONGEST!!! is located along Takeshita Street. The menu has three size variations, the same as in the store's name. 'LONGEST' in fact offers the longest food product in Japan!

They have lots of products on offer, including soft serve ice cream, tornado potato, churros and more. You'll never forget about their crazy length once you try one!

Full Details: https://www.moshimoshi-nippon.jp/93395

"GOMAYA KUKI" – Sesame Ice Cream
GOMAYA KUKI is a store selling sesame ice cream which has received support from inside and outside Japan. They have opened a store in Ura-Harajuku. One serving is covered in close to 9,000 sesame seeds!

Their menu is full of new, unique products including ice cream made with sweets friend in sesame oil, Japanese-style parfaits sprinkled with sesame seeds, and more. They also offer takeaway ice cream in cups.

"Q-pot CAFE." – Accessories Turned Into Sweets
This café is inspired by Q-pot., an accessory brand who create kawaii products themed around sweets.

The café is decorated in all things sweet as far as the eye can see. The interior has a fairy-tale like atmosphere that female customers will love. The sweets here are both sweet in appearance and taste looking exactly Q-pot.'s necklaces, rings and so on.

"The Pie Hole Los Angeles" – Original Pies from LA
This popular store hails from Los Angeles and sells their own original pies and organic coffee, and it's found its way to Takeshita Street in Harajuku!

Since April 4, they have been holding their second all-you-can-eat session for all their pie products every Wednesday. From sweet pies to classic pies, each and every one is handmade with care and attention. Why not head to one of their all-you-can-eats to try them yourself?

Are you hungry now? Be sure to use this list as reference if you're looking for a café in Harajuku!

And if you're unsure of how to get to any of these places, then pop into the MOSHI MOSHI BOX and we'd be happy to help!

Sales of New Ujimatcha latte starts at "the AIRSTREAM GARDEN" in Omotesando

"Chushutsusha" which introduces the culture of Japanese tea to the world, has developed a new menu item of the demand center style café, "the AIRSTREAM GARDEN" named "Koini Ochiiru (fall in love) Ujimatcha Latte" released on the 6th of April (Fri.)

Hibiki Fujioka (barista) and Yuya Koyama (Japan's first "charista" – tea barista) developed "Chushutsusha" which is introducing the new café culture of Japan created based on the key word of "extracting technology." They decided to develop and sell "Ujimatcha Latte" at "the AIRSTREAM GARDEN" created based on the key word of "creating a new community by extracting our passion."

 

"Ujimatcha Latte" (550 yen – tax included) uses the single-origin matcha tea leaves produced in "Tsujiki," the tea producing farm family in Ujishi, Kyoto. It is a brand new Japanese tea which has a rich flavor that goes well with the taste of milk.

 

"the AIRSTREAM GARDEN" is also selling many other kinds of drinks and food items. Their original blend of coffee created by a professional roaster will be served in two ways (espresso and hand drip). The café latte created with their special espresso machines is one of the most popular menu items they sell! For those of you who want to enjoy the real taste of coffee we recommend you choose the hand dripped coffee.

The lunch box menu items produced by the catering service, "Mo:take" will be offered on a day-by-day basis. Both main and side dishes can be chosen at your own will and you can eat your food on the wood deck or you can takeout your order.

 

Why not spend a splendid time at "the AIRSTREAM GARDEN" which will sell some very special menu items?

■Information

the AIRSTREAM GARDEN

Address: 13-8, 4th Street, Jingumae, Shibuya-ku, Tokyo

Business hours: 11:00 to 18:00

TEL:03-6408-9085

Website:https://airstream-garden.com/

A café that offers special coffee! Ebisu's popular café "Sarutahiko Café" is for coffee lovers.

Hello, my name is Shiota. I am the curator of MOSHI MOSHI BOX Harajuku Information Center.

Ebisu is an area that tops my chart in "the area in which I want to reside." I visited Ebisu, an area where many fashionable and food-loving people gather with one of my center staff, Ellie.

In this article, I will introduce to you the special coffee shop, "Sarutahiko Coffee" Ebisu Main Store which is gathering much attention nowadays.

The interior the shop has a warm atmosphere.

The inside of the store is small but it has a cozy atmosphere. The interior's color coordination is very fashionable.

And the charm point of this shop is that the staff are all very friendly. They are not pushy with their customers but are very kind and thus the atmosphere of the shop is very good. I can tell that they are relating with their coffee and customers with love. I visited the shop before, privately and at that time I stayed in the shop for a long time.

Tomoyuki Otsuka – the head of the shop.

He used to be an actor but changed his job and started to sell coffee.

He studied about coffee very hard and has lots of knowledge about coffee.

He did not have enough money to install a counter when he first started the shop, so he made the counter himself. He said he sanded the planks used in his shop himself using sandpaper!

Official coffee shop of Sarutahiko Shrine in Ise

Many coffee shops in Japan have an English name but Sarutahiko Coffee uses Kanji characters for the shop's name (猿田彦珈琲).The name "Sarutahiko" was officially bestowed by Sarutahiko Shrine in Ise.

So, the shop is officially approved by the shrine. They also sell souvenirs other than coffee. The shrine enshrines "Michihiraki" so the souvenirs are popular as gifts at wedding parties.

Michihiraki blend (5 packs) (959 yen, tax included)

Menu items which make you want to drink many cups of coffee

Sarutahiko Coffee offers hand-dripped coffee. It feels good to watch the staff making your coffee. Sarutahiko Coffee is a coffee shop which promotes the culture of "hand dripped coffee." Before they started offering hand dripped coffee, such coffee was thought to be the "wrong" way to make coffee.

Classic French Short (399 yen, tax included)

The deep dripped hand dripped coffee is more bitter than other coffees. It has less sourness and it is easy to drink.

Caramel Flappe Short (529 yen, tax included)

This drink is not too sweet and has a strong coffee flavor. It is recommended for those of you who love sweet desserts and do not drink coffee so often. The ice melts tenderly inside your mouth so you won't get a headache.

Coffee of the day, Sarutahiko French (300 yen, tax included)

When we see "coffee of the day," it makes us think that we will only be able to drink this coffee today, so we had better not miss this chance.

The "coffee of the day" offered on the day I visited the shop was "Sarutahiko French," a standard coffee of the shop which is bitter but fresh at the same time.

The Japanese-style design of the cup is very cute.

By the way, did you notice that the prices of the menu items noted above are cheaper than the usual prices in other shops? Very reasonable indeed!

This is because the head of the shop wants to create a community-based shop.

"I want my customers to visit my shop several times per day and feel that the shop is a part of their daily lives."

The head of the shop is surely a passionate person who loves his coffee, customers and the local area he resides in.

I became a fan of Sarutahiko Coffee through this visit.

Currently, there are seven branches of Sarutahiko Coffee inside Tokyo. Let's visit one of their shops and have a real good coffee!

◼Information

Sarutahiko Coffee Ebisu Main Shop

Address: 1F, Saito Building, 1-6-6, Ebisu, Shibuyaku, Tokyo

Business hours: weekdays: 8:00 to 1:00

Saturday and Sunday: 10:00 to 1:00

Holidays: no holidays

TEL: 03-5422-6970
RELATED ENTRIES
Sanrio Characters' Collab Café extends opening period

Sanrio Characters' Collab Café has extended the opening period of the cafe at Narita International Airport passenger terminal 2 until July 30. The café serves a menu of food and drink collaborated with Sanrio's beloved characters Cinnamoroll, Hello Kitty and My Melody.

Additional Menu: Cinnamoroll's Fluffy Egg Pancake

Cinnamoroll's Fluffy Egg Pancake is on sale for a limited quantity from June 19 to celebrate Cinnamoroll's 1st place at 2021 Sanrio Character Ranking. The pancake represents the fluffy clouds in the sky. Additionally, the 2nd edition of visit campaign limited to weekdays has been launched from June 14.  2 original coasters will be given for each menu item ordered for a limited quantity so don't miss out! 

© 2021 SANRIO CO., LTD. APPROVAL NO.627430

Information

Sanrio Characters' Collab Café
Running:April 14, 2021 – July 30, 2021
Place:Narita Anime Deck/ Narita International Airport passenger terminal 2, main building 2nd floor
Opening:10:00~16:00(Food L.O.15:30)
Official Site:https://www.animedeck.jp/ja/narita/

Mr. Fullswing Manga Celebrates 20th Anniversary With Themed Cafe in Ikebukuro

In celebration of Mr. Fullswing's 20th anniversary, Animate are collaborating with the manga series to serve up a themed menu at their own Animate Cafe in Ikebukuro from June 23 to July 26. The entire menu including the meals, drinks, and desserts are all inspired by the series, and fans can get their hands on some exclusive merchandise too.

Mr. Fullswing is a baseball manga series written and illustrated by Shinya Suzuki which was serialised in Weekly Shonen Jump from 2001 to 2006. This year marks 20 years since it was first released.

Menu item names have been translated from Japanese.

A peek at the manga-themed menu

Is That Rice? No, It's Curry | ¥1,000

Rations From Shiba | ¥1,000

Gou's Secret Batting Form ~Hachiku~ | ¥800

Sei's Secret Batting Form ~Utsusemi~ | ¥800

Terrible Tatsuragawa's Glasses | ¥600

A peek at the merch

CoLotta Acrylic Plate Key Rings | 15 Designs | ¥800 Each 

Acrylic Character Key Rings | 14 Designs | ¥800 Each

Acrylic Uniform Key Rings | 14 Designs | ¥650 Each

Campaign to win a free photo card

24 photo cards based on the manga volume front covers

Win a birthday bromide photo

For every ¥2,000 spent at the cafe on menu items or merchandise, customers will receive one free photo card. There is also a birthday campaign being held from July 19 where you can win a free birthday bromide for every ¥2,000 spent.

(C)鈴木信也/集英社

Tokyo's Craft Chocolate Shop nel Releases Cacao Kintoki Shaved Ice Desserts

nel craft chocolate tokyo, a craft chocolate shop located in Nihonbashihamacho, Tokyo, released two chocolate shaved ice desserts last Wednesday for the hot summer season. The desserts are also being sold at Saryo Tsukikage, a restaurant inside the hot spring ryokan Yuen Bettei Daita in Setagaya.


Left: Cacao Kintoki | Right: White Cacao Kintoki

Cacao kintoki is a type of shaved ice made with specially-selected cacao beans from Vietnam. It uses a 'bean to bar' method where the shaved ice is made from scratch, roasting the beans fresh to create the dessert.

The two new treats at nel use a chocolate base and add cacao pulp to the mix, adding a natural fruity flavour derived from the bean. Each is also served with a special cacao sauce for extra flavour. The white cacao version is made by combining with in-house white chocolate. It also comes with an Okinawan passion fruit and cacao pulp sauce, resulting in a sour kick and refreshing taste.

Saryo Tsukikage

The open-air baths at Yuen Bettei Daita

A special matcha version of this shaved ice can also be enjoyed while bathing in the open-air baths at Yuen Bettei Daita. It's made with nel's homemade white chocolate as well as dark chocolate, cacao pulp, and specially-selected yame matcha from Shimokita Chaen Ōyama, a cafe in Setagaya.

Hetalia World★Stars Themed Cafe to Open at Tower Records

Tower Records has announced a collaboration with the Hetalia World★Stars anime series which will take place at three TOWER RECORDS CAFÉ branches: in Shibuya and Umeda NU Chayamamachi from June 9 and Nagoya Sakae SKYLE from June 22.

The cafe collaboration will see two different menus served across two periods. See the Information section at the bottom for more details.

The cafe collaboration's main visual

Menu ① Line-Up

Gutentag! Assorted Germany Plate / Dobrý den! Czech Style Goulash / Ahoj! Slovakian Kapustnica Set – ¥1,500 Each (Tax Included)

Buono! Panna Cotta & Tiramisu Set / Anmitsu Parfait – ¥1,300 Each (Tax Included)

Italy's Bicerin / Germany's Spezi / Japan's Matcha Milk / Czech's Berry Lemonade / Slovakia's Honey Wine-Style Apple Juice – ¥800 Each (Tax Included)

Menu ② Line-Up

C'est bow! Big Brother's Special Pot-au-feu / Hello! England's Meat Pie / Здравствуйте! Our Beef Stroganoff – ¥1,500 Each (Tax Included)

Hi! Hero's Special Muffins / Hào chī! Sesame Seed Dango & Annin Tofu – ¥1,300 (Tax Included)

America's Cherry Cola Float / England's Biscuit Tea / France's Rose Ginger Ale / Russia's Varenye Tea / China's Floral Jasmine Tea – ¥800 Each (Tax Included)

Available in Menus ① and ②

Pochi-kun's Latte | ¥800 (Tax Included)

Takeout Bottle Drink | ¥972 (Tax Included)

Menu Order Bonus Items

Menu ① Postcard

Menu ② Postcard

Menu ① Business Card Set (3 Included)

Menu ② Business Card Set (3 Included)

Menu ① Sticker (You must book a table in advance to receive)

Menu ② Sticker (You must book a table in advance to receive)

Exclusive Merchandise

Pins | ¥440 Each or Full Set ¥4,400 (Tax Included)


Key Rings | ¥880 Each (Tax Included)


Mini Character Acrylic Stands | ¥990 Each (Tax Included)


Folder Set (2 Included) | ¥990 (Tax Included)


Acrylic Diorama | ¥3,850 (Tax Included)

Hetalia World★Stars is a manga series by Hidekaz Himaruya that's serialised in Jump Comics+. In promotion of the new original net anime series which began airing on April 1, Tower Records has teamed up with the popular franchise to create a themed cafe experience with food, drinks, and desserts.

Fans can also get their hands on a selection of cafe-exclusive merchandise featuring their favourite characters including Italy, Germany, America, England, France, Russia, China, Czech, and Slovakia. These items are also available at Tower Records' online shop in Japan.

Since you have a time limit of 80 minutes to dine at the cafe, you can book a table in advance, which also earns you some freebie merch. Tickets are now available. Additionally, if there is a free table on the day, you can also go straight in. Same-day tickets are available in limited quantities.

©日丸屋秀和/集英社・ヘタリアW★S製作委員会

Information

Hetalia World★Stars x TOWER RECORDS CAFÉ

TOWER RECORDS CAFE Shibuya
Menu ①: June 9, 2021 – June 21, 2021

Menu ②: June 22, 2021 – July 4, 2021

Address: Tower Records Shibuya (Floor 2F), 1-22-14 Jinnan, Shibuya-ku, Tokyo


TOWER RECORDS CAFE Nagoya Sakae SKYLE
Menu ①: June 22, 2021 – June 28, 2021

Menu ②: June 29, 2021 – July 4, 2021

Address: SKYLE (Floor 9F), 3-4-5 Sakae, Naka-ku, Nagoya-shi, Aichi-ken

TOWER RECORDS CAFE Umeda NU Chayamachi


Menu ①: June 9, 2021 – June 14, 2021

Menu ②: June 15, 2021 – June 20, 2021

Address: NU Chayamachi (Floor 6F), 10-12 Chayamachi, Kita-ku, Osaka-shi, Osaka


*There are two menus available with different food and bonus merch

Buy Merch Online: https://tower.jp/hetalia
*The merch will be available both online and in-store at TOWER RECORDS CAFE Shibuya and Umeda NU Chayamachi on June 9 and subsequently TOWER RECORDS CAFE Nagoya SKYLE on June 22

Collab Cafe News: https://tower.jp/article/news/2021/05/26/n101
Collab Cafe Webpage: https://tower.jp/hetaliaws-cafe

*Opening hours and cafe content subject to change depending on COVID-19

Receive a Sweet Kiss From Snoopy With PEANUTS Cafe's New Merchandise Series

Six branches of PEANUTS Cafe in Japan, including PEANUTS Cafe Nakameguro, released a new collection of products and pouches on May 26.

The colourful line-up is made from TPU, a material that's lightweight, waterproof, and has high wear resistance, making it a convenient pick when a sudden downpour of rain erupts when you're out.

The collection features a kissing-Snoopy design along with the line "WE'D VOTE SWEETIE!"

The Line-Up

TPU Daily Shopper Bags | ¥3,740 Each (Tax Included)

These shopping bags are handy to take out when popping to the shop. They are durable, can fit inside a handbag or other bag, and can carry 5kg of items.

TPU Daily Pouches | ¥1,650 Each (Tax Included)

These zipped pouches are perfect for storing little everyday items like lipstick, earphones, and so on. Since they're see-through, they're great for putting cosmetics in when you're out so you can see exactly what you want to take out. You can even use it for coins and money. Perfect for the summer leisure season too as they're durable against rain and dirty.

Tyvek x PVC

These bags look like paper – the inside is made from Tyvek and the inside from PVC. These too are water and dirt resistant.

Hour Glasses

These hour glasses make as beautiful room decorations whether for yourself or as a gift to someone. Sit back and watch the relaxing sand and feel the tiredness of the day slip away.

Triple Pouch Set | ¥2,970 (Tax Included)

A collection of three pouches featuring Flying Ace Snoopy and the Peanuts Gang. Each one is of a different size which you can use for storing various items, like earphones, cords, and so on. You could even use them for bagging up a gift for someone. The pouches also have the PEANUTS Cafe logo on them.

©2021 Peanuts Worldwide LLC 

gelato pique café Begins Serving Desserts Made With American Cherries

gelato pique café is now serving up a selection of three desserts topped with seasonal American cherries. The items are available on the menu until July 15.

American Cherry Crepe: Have In ¥980 / Takeout ¥970

American Cherry Soft Cream: Have In ¥580 / Takeout ¥570

American Cherry Soda: Have In ¥580 / Takeout ¥570 (Photo for illustrative purposes only – served in a takeout cup)

American Cherry Crepe & Soda Set: Have In ¥1,380 / Takeout ¥1,370

Plain Crepe & American Cherry Soda Set: Have In ¥980 / Takeout ¥970

The American Cherry Crepe is filled with sweet and velvety royal milk gelato and seasonal American cherries. The sweetness of the gelato, sour kick of the cherries, and rich chocolate ganache cream make for a tasty combination, complemented by the range of textures including the soft fruit and crunchy granola.

The American Cherry Soft Cream contains a cherry sauce made with fresh cherries – and the whole thing is topped off with a cute cherry.

The beautifully red American Cherry Soda is made completely out of sweet cherries. The cherry syrup adds a gorgeous gradation to the drink as well as a refreshing after taste. There are two ways to enjoy this special drink: as it is, which offers a feeling of refreshment, or mixing the milk-flavoured gelato in for sweetness and creaminess.

Information

AMERICAN CHERRY SPECIAL

Serving: May 25, 2021 – July 17, 2021

Where: gelato pique café (Participating Branches: Atre Ebisu, Lumine Ikebukuro, Mitsui Outlet Park Makuhari, Mitsui Outlet Park Kisarazu, Mitsui Outlet Park Jazz Dream Nagashima, Gotemba Premium Outlets, Mozo Wonder City, Namba Marui, Mitsui Outlet Park Hokuriku Oyabe, Kanazawa Forus, Tamagawa Takashimaya S.C)

*Tamagawa Takashimaya S.C is now serving the soft cream

*Opening hours subject to shortening depending on COVID-19

Official Website: https://pique-cafe.com/

Japan is home to many official Moomin establishments including the Moomin Shop, Moomin Cafe, and Moomin Stand. Located up and down the country, each brand began the Snufkin Fair on Friday last week.

 

Moomin Cafe: Snufkin Fair Menu

Camping Feast: Hot Skillet Chicken on the Bone | ¥1,700 (Tax Included)

Camping Feast: Hot Skillet Grilled Salmon | ¥1,700 (Tax Included)

Northern Europe Blueberry Coffee Jelly | ¥550 (Tax Included)

Snufkin Hat Cream Soda | ¥1,100 (Tax Included)

Snufkin Coffee Smoothie | Regular ¥580 – Large ¥700 – 2 Hattifattener Cookies +¥70 (Tax Included)

Snufkin Fair: New Merchandise

Kalita Coffee Mill | ¥9,020 (Tax Included) – Kalita Hasami Ware Dripper | ¥3,850 (Tax Included)

Kalita Vintage Snufkin & Moomin Mugs | ¥1,540 Each (Tax Included)

Kalita Measuring Spoon | ¥1,650 (Tax Included)

Kalita Stock Bag | ¥3,300 (Tax Included)

Wall Mug (Mustard Moomin – Red Little My – Olive Snufkin) | ¥2,200 Each (Tax Included)

Robert Bowling Coffee (Coffee Beans – Coffee Powder) | ¥2,036 Each (Tax Included)

Harmonica Charm (Ivory – Red – Black) | ¥2,310 Each (Tax Included)

Embroidered Handkerchiefs (Snufkin – Hattifatteners – Moomin) | ¥1,100 Each (Tax Included) *Moomin Shop exclusive

Outdoor Snufkin Hat | ¥3,520 (Tax Included) *Moomin Shop exclusive

Polo Shirts (Navy Moomin & Shadow – Black Moominpappa) | Sizes: S, M, L, XL | ¥4,290 Each (Tax Included) *Moomin Shop exclusive

Bonus Items | Left: Moomin Shop, Right: Moomin Cafe (Limited Stock)

The Snufkin Fair is centred on Snufkin, a character who appears in the Moomin series. He's a wanderer, explorer, and philosopher. The fair is being held at six Moomin Shop branches, three Moomin Cafe branches, 11 Moomin Stand branches, and the Moomin Japan online shop.

At the Moomin Cafe, fans can tuck into one of two camping-style skillet dishes along with some coffee desserts and more. Over at the Moomin Shop, there's plenty of items to get your hands on including apparel such as polo shirts and hats. There's even a cafe mill, dripper, vintage mugs, measuring spoons, and more all made in collaboration with Katila which are all available both at Moomin Cafe and Moomin Shop. Roll up to the Moomin Stand for Snufkin and Hattifattener inspired drinks. Have your coffee smoothie topped with some Hattifattener cookies. And if you spend over ¥4,400 on select Snufkin Fair items, you'll get a free bonus item: a coffee bag-style jute pouch. There are two designs available depending where you spend – at Moomin Shop and Moomin Cafe.

Don't miss your chance to enjoy some Moomin goodies at the Snufkin Fair this spring.

AMAZAKE STAND to Open its Second Branch in Sendai Serving Rice-Malt Sweet Sake

AMAZAKE STAND opened its first branch in Kamakura a year and a half ago as the first store in Japan serving homemade rice-malt amazake sweet sake. The cafe has announced that its second branch will open in Sendai on June 10, 2021. It hopes to promote the delicious taste of amazake to more people and pass it down to the next generation.

Homemade Amazake – Plain (Small Size) | ¥390 (Tax Included)

Strawberry Chocolate Amazake – Blueberry Cheesecake Amazake – Apple Pie Amazake | From ¥600 Each (Tax Included)

Amazake is a great alternative for those who can't handle the taste of ordinary strong sake. The cafe makes it with koji and rice from Tohoku and offers it in a range of different flavours. All beverages are made without granulated sugar and include a range of ingredients that have beautifying effects on the skin and help with recovering from fatigue such as grape powder, amino acids, and Vitamin B.

Enjoy a Cup of High Quality Japanese Tea in the Morning at This New Cafe in Nagoya

Mirume Shinryoku Sabo is a new cafe and tea-lover paradise that opened in Nagoya on May 10, 2021, serving high quality bottled Japanese tea, desserts, and other delicious delights.

Daifuku : Eat-In ¥250 (Tax Included)

Ise Tea Sweet Bean Jelly: Eat-In ¥250 / Store ¥500 (Tax Included)

Ise Tea Cheesecake: Eat-In ¥350 / Store ¥3,300 (Tax Included)

Mirume Shinryoku Sabo is the newest cafe to be opened by Shinryoku Sabo, an award-winning tea company in Mie Prefecture. The cafe's tea experience includes using a kyuusu, which is a type of small teapot, to brew Isecha green tea. Customers can learn the best way to prepare tea from an in-house instructor of Japanese tea, who will also provide backstory on the tea leaves used. Their deliciously brewed cup can be paired with a variety of desserts like daifuku, maju, cheesecake, and more.

The cafe also sells the "Morning Bottle," its signature bottled cold-brew tea which is prepared on the day in the early morning. Bottles can be returned to the cafe to be reused, allowing for no waste. Since the tea is cold-brewed, it also contains little caffeine.

Information

Mirume Shinryoku Sabo
Address: 1-36-57 Nagono, Nishi Ward, Nagoya, Aichi 451-0042, Japan
Opening Hours: [8:00-10:00] Morning Bottle only / [11:00-22:00] Cafe & Store
Closed: Wednesdays

TEL: 052-551-3366

Official Site:https://www.shinryokusabo.co.jp/

Deliciously Luxurious Matcha Shaved Ice to be Served in Shinjuku This Summer

This summer, Southern Tower Dining and Lounge South Court—both of which are located inside Odakyu Hotel Century Southern Tower—are serving up a fluffy matcha shaved ice dessert called Wa -Nagomi- from June 1 to September 30.

Southern Tower's Famous Fluffy Light Snowfall Wa -Nagomi- Shaved Ice | Eat In ¥1,470, Takeout ¥700

The matcha-flavoured shaved ice has a texture as light and fluffy as snow. As you spoon through the dessert your taste buds are met with a range of delicious tastes and textures like the Japanese rice flour confection known as gyuhi, winter melon syrup, black soybean flour ice cream, and cream.

The dessert can also be ordered for takeout. The black soy bean flour ice cream adds a crunchy cereal-like texture to the soft shaved ice, and with the takeout option, there's also chocolate-coated wheat bran and brown sugar syrup.

Information

Wa -Nagomi-

Japanese Name: 和 -なごみ-

Serving: June 1, 2021 – September 30, 2021

Where: Southern Tower Dining / Lounge South Court (Odakyu Hotel Century Southern Tower Floor 20F)

Address: 2-2-1 Yoyogi, Shibuya, Tokyo

Opening Hours:

[Southern Tower Dining] 11:30-16:00 (Last Orders 15:00) / 17:30-22:00 (Last Orders 21:00)

[Lounge South Court] 10:00-23:30 (Last Orders 22:30)

Southern Dining Official Website: https://www.southerntower.co.jp/restaurant_lounge/st_dining/bar_lunch/

Retro Looking Tram Turns Into Cafe in Fukuoka's City of Omuta

Tram No. 204, a tram that used to run in the city of Omuta, Fukuoka, has been placed in front of the west entrance of Omuta Station as a symbol and turned into 'hara harmony coffee,' a new cafe.

The cafe opened on March 28, 2021.

A little look at the menu

Coffee (Hot/Iced)

Fruit Sandwiches (Kiwi/Pineapple/Strawberry/Strawberry & Anko)

hara harmony coffee serves coffee, fruit sandwiches, and other items from Coffee Salon Hara, a now-closed cafe that was loved by the people of Omuta for many years. They will also introduce alcohol to the menu as well as a night-time service in the near future. The cafe even sells souvenirs.

Roll up to the retro tram for a nostalgia trip and cup of coffee.

Tokyo's New Museum Cafe is a Haven For Fans of Architecture

Japanese company Banc, which specialises in setting up hotels and other sites, held the grand opening of the new Architecture Cafe Sumika, a new museum/cafe in Shinjuku, Tokyo, on April 28.

A peek inside

A recreation of Fallingwater, a house designed by the architect Frank Lloyd Wright 

Painting by chalk artist Misuzu Wakai

Architectural designs recreated at the new museum cafe

Villa Savoye (Le Corbusier)
Fallingwater (Frank Lloyd Wright)
Casa Ligornetto (Mario Botta)
Sky House (Kiyonori Kikutake)
Maison a Bordeaux (Rem Koolhaas)
Malin Residence "chemosphere" (John Lautner)
Eames House (Charles and Ray Eames)
Silver Hat (Toyo Ito)
Fisher House (Louis Kahn)
Mailam House (Paul Rudolph)
The Glass House (Lina Bo Bardi)
Steel House (Kengo Kuma)

A little look at the menu

<Miho Chef Chocolatier> Premium Gateau Chocolate: ¥1,200 / Raw Marble Chocolate: ¥1,000 / Raw Dami Chocolate ¥450

<Ten no Ya> Egg Sandwich: ¥750

Architecture Cafe Sumika aim sto be a cosy space for architecture lovers who can enjoy thinking about their ideal home, talking about their favourite architect, and thinking about how architecture changes with the times. The cafe has recreated 12 architectural marvels from 12 different renowned architects, each at which sits at a different table.

 

The cafe, which is located in Shinjuku Sanchome, employs a spacious cafe area with high ceilings that can be enjoyed by both lovers of architects and cafe enthusiasts where they can relax with a cup of tea, coffee, a soft drink, or even alcohol, the latter of which is served at bar hours from 18:00, completely changing the atmosphere into a night museum. There's also a tasty food menu to tuck into.

If you're looking to speak to someone about architecture and real estate, Architecture Cafe Sumika also houses its own resident experts. Customers can also enjoy a range of other works by architects and interior designers.

In celebration of the cafe's opening, a competition is being held to create a jungle gym for children where entrees can win cash prizes, the top being ¥300,000. More details below.

Information

Architecture Cafe Sumika

Address: 6th Sanwa Bldg Floor 4F, 3-6-7 Shinjuku, Shinjuku-ku, Tokyo
Opening Hours: Cafe 10:00-18:00 / Bar 18:00-04:00 (Last Orders 03:00)
No Fixed Holidays
TEL: 03-5315-0396
Official Website: https://sumika-shinjuku.com/

1st Architect Contest

Submission Period: June 20, 2021 – June 27, 2021
Winner Announcement: June 28, 2021
Winning Work Display Period: July 1, 2021 – August 30 2021

Submission Entry: Children's Jungle Gym

Size: Max 60cm x 60cm x 40cm

Colouring: Any

Cash Prizes: Winner ¥300,000 (1 Person) / Runner-Ups ¥100,000 (7 People)
Submissions: Must be made by June 19, 2021

How Winners Are Selected: Entrants will be posted on the cafe's official Instagram – the most popular from the votes will be selected