Fireworks inside a mall?! Enjoy the wonders of projection mapping at Ginza San-ai Dream Centre!
From Friday 10th August 2018, make your way to San-ai Dream Centre, which is located at the crossing on Ginza 4-Chome, to witness fireworks blooming in the mall by 80 Ricoh Ultra Short Throw Projectors.
As fireworks are heavily associated with Japanese summers, this is the theme for the projection mapping project. Combining colours and 3D images, Ginza's night sky will glisten as fireworks launch into the sky, producing a magical atmosphere. This project was first launched in December 2017 with the intention of contributing to Tokyo's diverse culture and entertaining visitors in Ginza.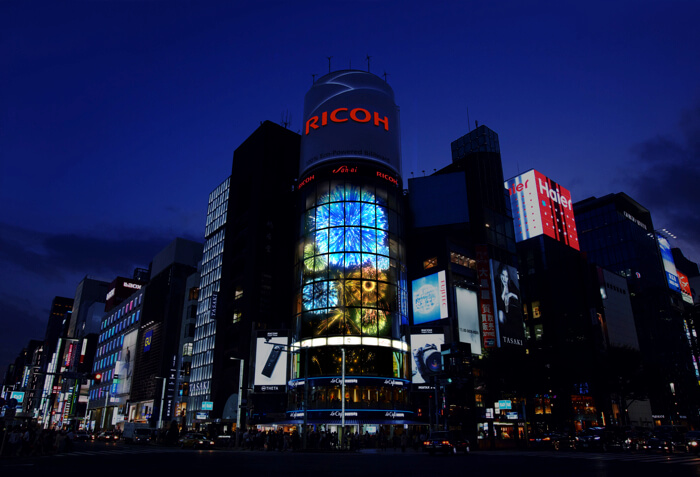 Since opening in January 1963, San-ai Dream Centre has become a landmark of Ginza. The projection mapping will utilise every inch of the many characteristic glass windows of the mall. Digital image artist group WOW, who operate globally, was in charge of using this characteristic building as their canvas, transforming every inch into a fun display.
Enjoy the summer feeling of fireworks launching into the night sky of the city.
■Information
Display period: Friday 10th August 2018 — Sunday 16th September 2018
Display times: 19:00 — 23:30  (One cycle lasts 7 minutes and is repeated every 30 minutes)
Display area: San-ai Dream Centre (Ginza 4-Chome Crossing), 5-7-2, Ginza,  Chūō Ward, Tokyo
Access: Directly outside Ginza station (exit A2), 2-minute walk from Higashi- Ginza station (exit A1), 4-minute walk from  Yūrakuchō (exit A0 on the Eastern side)
Official website: http://jp.ricoh.com/company/advertisement/dreamcenter/
RELATED ENTRIES
Sensuously Scrumptious Mont Blanc Parfait Arrives at GINZA SIX Tsujiri

The Ginza branch of long-standing Uji tea shop Tsujiri has unveiled a seasonal treat that will be available this autumn only. It was released on September 18 and will be served until October 31.

Tsujiri Ginza is the only branch of Tsujiri in the Kanto region of Japan, aiming to offer a "new kind of matcha experience" to the people of Tokyo. This autumnal mont blanc parfait dessert is made from an aromatic chestnut cream made in France, matcha soft serve ice cream made by the Uji matcha experts at Tsujiri, and fluffy fresh cream, creating a seasonal mix of flavours.

Once you're done shopping around the extravagant town of Ginza, why not treat yourself to a tasty matcha-packed delight?

Information

Tsujiri Ginza

Address: GINZA SIX Floor B2F, 6-10-1 Ginza, Chuo Ward, Tokyo

Opening Hours: 10:30-20:30

TEL: 03-6263-9988

Tsujiri Official Website: http://www.tsujiri.jp

This Irresistible Tart is Made From Rare and Delicious Heart-Shaped Grapes

 Fruit tart specialist shop Qu'il fait bon will be selling a brand new kind of lovable tart which is made using a rare species of grape sourced from Yamanashi prefecture. The tart is currently selling at Grand Maison, Ginza and Hamamatsu. These will be available for a limited period only. 


The tart is covered with incredibly rare "My Heart" grapes, which were developed by the grape research institute Shimura Budou Kenkyusho. Growing and cultivating these grapes was no easy task and took an incredible amount of time. There was only a short window of time available to harvest the produce and even then the harvest was small, so stocking up was very difficult. Despite the challenges, these tongue-tantalizing tarts are being sold this year, however, they are in limited supply. 

Shine muscat grapes and loubell muscat grapes were crossbred to create this new kind of grape. The marvellous flavour of both parent grapes can be tasted. The new grapes have a high sugar content, a wonderful scent and the skin is wonderfully crunchy.  

Take a bite into the special Yamanashi Grape My Heart Tart and you will be filled with a sophisticated fruity flavour. The adorable heart-shaped grapes are layered perfectly on top of a bed of white wine custard. You just have to try this delicious and beautiful tart!

Halloween Treats, Wagashi, Drinkable Potato Desserts & More at GINZA SIX This Autumn

This autumn, Ginza's biggest shopping complex GINZA SIX is serving up a sumptuous selection of seasonal sweets and desserts. Their main components this year are apples and potatoes. Expect to enjoy potato in an entirely new way, and get ready for the spooky season with a line-up of Halloween treats that everyone can enjoy.

Let's take a look at just some of the gourmet delights arriving for the autumn season, some of which are already on sale.

Potato Desserts

Drinkable Potatoes (Purple Sweet Potato/Ripe Potato/Potato Leaf) – ¥600 Each @ Minamikaze Noukasha Dessert House (Available: October 1 – October 31)

We're at a point in time now where not only can we eat potatoes―we can drink them too! These potato dessert drinks come in three flavours: fruity Purple Sweet Potato, rich Ripe Potato, and Potato Leaf. The potatoes used to make all of the drinks were farmed from Minamikaze Noukasha's 160 potato farms.

Set of 5 Native Potato Pies (Oiran Potato/Genji Potato/White Potato/Hayato Potato/Tanegashima Purple Sweet Potato) – ¥2,500 @ Minamikaze Noukasha Dessert House (Available: October 1 until all sold)

Methods to make potato cultivation even easier were introduced almost 400 years ago in Japan. Cultivating original varieties of potatoes is difficult―it's mostly not done today. These pies are proudly made with those rare native potato varieties.

Potato Parfait – ¥2,000 @ JOTARO SAITO (Quantity: Only 10 served per day)

This gorgeous parfait is made with a purple sweet potato and sweet potato cream and is layered with agar-agar, rice flour dumplings, and ice cream. Inspired by the form of an affogato, it's topped with potato ice cream drizzled in a warm rice sauce.

Halloween Goodies For Grown-Ups

Halloween Party Pumpkin Purin – ¥4,800 @ Marlowe (Available: October 1 – October 31) *Must order within 3 days

This party-sized Halloween-exclusive rich pumpkin custard pudding contains cinnamon and nutmeg. It's even topped up with a jack-o-lantern face.

Glowing Lollipop Candy – ¥833-¥1,111 @ Candy Art Museum by PAPABUBBLE (Available: September 21 – October 31)

These lollipops come on sticks with LED lights that make the candy glow a ghoulish light, making them a great Halloween treat.

Halloween Afternoon Tea Set – ¥4,200 @ THE GRAND GINZA (Available September 1 – October 31)

Feast on an exquisite Halloween afternoon tea set made up of an exquisite selection of drinks and desserts.

Apple Desserts

Apple Gummy – ¥2,777 / Apple Gummy Candy – ¥1,666 @ Candy Art Museum by PAPABUBBLE (Available: August 27 – November 4)

The apple gummy is about the size of a Jonathan apple. If you're wondering what flavour it is, you'll have to wait until you bite into it to find out! The apple gummy candy set takes on flavours of different apple varieties.

Pom Caramel – ¥800 Each @ PHILIPPE CONTICINI (Available: August 27 – November 4)

These cute and round vanilla flavoured apple mousses are filled with an apple compote, which has a hint of star anise, and cream caramel. They're packed full of apple-y goodness and maintain PHILIPPE CONTICINI's refined flavours.

This Year's Must-Try Autumn Treats

Bessei Maruto Parfait "Shubo" – ¥2,300 @ Nakamura Tokichi Honten (Available: October 1 – November 30)

Exclusive to the Ginza branch of Nakamura Tokichi is this specially made parfait, layered with autumn-time ingredients including Japanese chestnut matcha cream, fig, chestnut sherbet, and bean paste. You can really taste the rich matcha notes in this beautiful dessert.

Kyoto Koicha Terrine Inori no Kajitsu – ¥2,000 @ Tsujiru (Available from September 1)

A great little gift is this terrine chocolat, made with chestnut, black soybeans, fig, and cranberries.

Did you enjoy this list? All of these items are autumn-exclusives and some are very limited in stock. Be sure to enjoy all the flavours of autumn this year in Japan.

*All listed prices include tax

Information

GINZA SIX

Address: 6-10-1 Ginza, Chuo Ward, Tokyo

Opening Hours: Shops/Cafes (B2F-5F) 10:30-20:30 / Restaurants (6F, 13F) 11:00-23:00

*Business hours differ from shop to shop.

No Fixed Holidays (But shops and restaurants will be closed on August 26, 2019)

Access: Directly connected to Ginza Station via the Tokyo Metro Ginza Line, Marunouchi Line and Hibiya Line.

TEL: 03-6891-3390
Website: http://ginza6.tokyo/

4 Must-Visit Fireworks Festivals in Kyoto This Summer

Kyoto―also known as the "old capital" and said to be the birthplace of Japanese culture. In its 1,200 year history, this ancient city has given rise to much of what can be considered quintessential Japanese culture. Fireworks are a monumental feat of summer in Japan with countless festivals up and down the country dedicated to them, and Kyoto is no exception.

If you're in Kyoto this summer then you mustn't miss these 4 fireworks festivals.

Kameoka Peace Festival Hozugawa River Fireworks Festival – A Magnificent Arsenal of 8,000 Beauties

This long-running event is held every year to pray for world peace. Its spectacular display features a lineup of fireworks specially selected by the Japan Fireworks Artist Association which aims to evolve the tradition of firework culture. Expect to see the night sky illuminated with a rainbow of colours from the festival's launch of 8,000 fireworks, including the Starmine which shoots a cloud of bright stars into the overhead abyss, as well as some original fireworks crafted for the festival such as the "Kamemaru Hanabi."

▼Kameoka Heiwasai Hozugawa Fireworks Festival (Kameoka Peace Festival Hozugawa River Fireworks Festival)

Date: August 11, 2019

Time: From 19:30
Location: Hozubashi Bridge
Official Website: http://kameoka-hanabi.jp/

Kyoto Nantan City Fireworks Festival – The Spectacular Starmine

Held by the riverbed of the Katsura River, the fireworks festival in Nantan makes use of the opposite shore from the viewing point which makes the fireworks look like they are raining down from the sky like a waterfall. The finale of this festival welcomes the behemoth of all Starmine fireworks which rips across the night sky in a blazing spread. The festival is also held as part of the Bon Festival and so lanterns are let loose down the Ōi River, creating a sight of subtle grace and beauty.

▼Kyoto Nantan City Fireworks Festival

Date: August 14, 2019

Time: From 19:30

Location: Katsura River
Official Website: http://www.yagi-hanabi.com/

Miyazu Toronagashi Fireworks Festival – Floating Lanterns & Fireworks For 400 Years

Held in the city of Miyazu, this festival combines fireworks with floating lanterns and shoryobune―boats adorned with tanzaku paper slips that are sent out to light the way for the deceased as part of the Bon Festival.  Floating lanterns on the water (known as toronagashi in Japanese) in Miyazu began 400 years ago. This year, it was counted as one of Japan's three biggest toronagashi events.

Together with the boat, around 10,000 lanterns are sent into Miyazu Bay, creating a beautiful and majestic atmosphere. Close to 3,000 fireworks are set to illuminate the sky above, leading to an indescribable beauty as the fireworks and lights give off their own light.

▼Miyazu Toronagashi Fireworks Festival

Date: August 14, 2019

Time: From 19:30

Location: Shimasaki Park
Official Website: https://www.kyo.or.jp/miyazu/hanabi/

Ine Fireworks – Fireworks Galore Envelop Ine Bay

Around 1,200 fireworks climb up and over Ine Bay, lighting the calm water surface and the funaya boat houses of Ine with their brilliance. The boat houses themselves are also strung and lined with hanging lanterns.

▼Ine Fireworks

Date: August 24, 2019

Time: 20:15

Location: Ine, Kyoto
Official Website: http://www.ine-kankou.jp/inehanabi/

Did you enjoy our pick? It isn't summer in Japan without fireworks. If you're travelling to Kyoto to catch some sun this year, finish the day off with one of its many fireworks festival―from traditional Kyoto-esque events to large-scale ones with 8,000 fireworks ready to be deployed.

Irresistible Midsummer Parfait Fair Tantalises at Shiseido Parlour in Ginza

Get ready to dine on desserts in style as Shiseido Parlour announces its second-ever Midsummer Parfait Fair at its Salon de Cafe in Ginza which will be held from August 1 to 25.

Four incredible summery parfaits make the fair's lineup, each centred around local and seasonal fruits. This year sees the return of the popular mango, fig and strawberry flavours, and for the first time ever, a melon flavour made with melons from the city of Furano in Hokkaido.

Hokkaido Prefecture Furano Melon Parfait – ¥1,980 (Tax Included)

Made with sweet and fragrant Furano melons grown in Hokkaido's city of Furano, this angelic delight of a parfait is made with classic silky vanilla ice cream, refreshing hibiscus jelly, and for added accent, a squeeze of cranberry sauce. The fresh melon piece toppings are packed full of mouth-watering melon juice. The melon is served in several different ways for textural enjoyment including skinless slices, a slice with the skin on, and melon balls.

Wakayama Prefecture Kinokawa Fig Parfait – ¥2,160 (Tax Included)

The seasonal figs in this parfait have been grown and nurtured laboriously. The figs are plucked in Wakayama prefecture and are served fresh on your dessert. Tucked under the hearty serving of figs is a red wine-laced compote, sauce and sherbet while placed gracefully on top is a baked tuile. There is also a fig and apple jelly for that cheek-sucking sweet kick.

Okinawa Prefecture Apple Mango Parfait – ¥2,580 (Tax Included)

If you love mangoes, then you're in for a treat with this parfait which is prepared with mangoes from Okinawa which have been cut up into different shapes and sizes. The dessert contains a midsummer medley of ingredients including a tropical homemade mango sherbet, an exotic sauce, milk flavoured ice cream, and cranberry sauce. Savour the succulent taste, smooth texture and sweet aroma of the elusive Keats mango, the richest and most delicious of all mangoes, and one which has only a limited production in Okinawa from mid-August onward.

Nagano Prefecture Hatake Kobo Koihime Strawberry Parfait – ¥1,890 (Tax Included)

Finally, this tempting parfait is made with strawberries from Hatake Kobo in Nagano. Because of the regional climate of Nagano, these gorgeous strawberries are delicious from summer through fall. They are served with classic vanilla ice cream for the absolute perfect pairing.

Which of these do you want to try the most?♡

Information

Salon de Cafe – Shiseido Parlour

Address: Tokyo Ginza Shiseido Building 3F, 8-8-3 Ginza, Chuo, Tokyo
Opening Hours: [Tuesday-Saturday] 11:30-21:00 (Last Orders 20:30) / [Sunday & Holidays] 11:30-20:00 (Last Orders 19:30)

Closed: Mondays (Unless it falls on a national holiday)

*Closed August 26, 2019 – October 31, 2019 for renovations

Official Website: https://parlour.shiseido.co.jp/?rt_pr=pl274

The Leo Lionni Cafe in Ginza Extended Its Running Period and Refreshed Its Menu

The Leo Lionni cafe located at Sunday Brunch, MARRONNIER GATE GINZA 1 is remaining open for a longer period due to popular demand. The limited-time cafe will now be open until September 29. This cafe is themed around the world of Leo Lionni; a famous children's picture book author whose illustrated stories include Swimmy and Frederick. Some of his works have even featured in school textbooks. After much anticipation, the cafe has released a brand new menu.

The renewed menu includes three new items which are based on Frederick; the story which has been praised as Lionni's best and most popular by both children and adults. A new Frederick-themed meal, cake and drink will be made available from July 20. When you order the Frederick-themed meal, the world of Frederick will unfold before you as if it has been cut straight out of the book and served up on a plate. There is no doubt that you will find these dishes so cute that you will not want to eat them.

Frederick's Sunny Soup and Rice: ¥1,480

This is a corn, pumpkin and minced chicken dish served with a cold soup and brown rice. This depicts the image of Frederick collecting the sun as he does in the story. The rice is served hot.

"I know it" Cheesecake: ¥1,250 (price with drink set)

This is a baked cheesecake made using rhubarb and summer berries sourced from Hotaru Noen Tatsuno Farm, Nagano. This delicious cheesecake depicts the scene right at the end of the story where the mice praise Frederick saying: "but Frederick! You are a poet," to which Frederick replies: "I know it".

Frederick Cheese Tea: ¥900 

This is a pineapple iced tea with cream cheese and a Frederick biscuit perched on the top. The pineapple flavour is sweet yet slightly sour. This is bound to leave you feeling refreshed, making it the perfect summer drink. 

From July 13 to September 29, 2019, there will be a special discount campaign running at the Minna no Leo Lionni Ten; an exhibition dedicated to Lio Lionni which is currently running at the Seiji Togo Memorial Sompo Japan Nipponkoa Museum of Art. Please consider stopping by. 

Copyright © 2019 by Blueandyellow, LLC Licensed by Cosmo Merchandising

Information

Leo Lionni Cafe

Running: April 3 ー September 29, 2019 

Opening Hours: 11:00 ー 21:00 

Last orders: Food: 20:00, cakes/drinks: 20:30

Reservations can be made for until 5 pm. Customers without reservations will be served on a first-come-first-served basis after 5 pm.

Running at: Sunday Brunch  MARRONNIER GATE GINZA 1 (4th floor)

Address: 2 Chome-2-14 Ginza, Chuo City, Tokyo

* New menu will be released on July 20

Official Website: http://leolionnicafe.com/

Minna no Leo Lionni Ten Exhibition (Tokyo)

Location: Seiji Togo Memorial Sompo Japan Nipponkoa Museum of Art

Running: July 13 ー September 29, 2019 

Opening Hours: 10:00 ー 18:00 (Last entries accepted until: 17:30)

Closed: Mondays (Exceptions: July 15, Aug 12, September 16, 23)

Website: https://www.asahi.com/event/leolionni/

Minna no Leo Lionni Ten Exhibition X Leo Lionni Cafe Reciprocal Discount Scheme

If you attend the Minna no Leo Lionni Ten Exhibition held in Shinjuku and retain your ticket or ticket stub, you can exchange it at the Leo Lionni Cafe for a ¥100 discount off your meal. Likewise, if you attend the Leo Lionni Cafe, you will be presented with a ¥100 discount for entry to the Minna no Leo Lionni Ten Exhibition. 

※ ¥100 will be taken off your meal price at the Leo Lionni cafe for every exhibition ticket presented.

※ Please be aware that ¥100 discounts for the Leo Lionni Exhibition will no longer be available once stocks have been fully depleted. 

Japanese Souvenirs to Take Home With You This Summer at GINZA SIX

GINZA SIX hails as the largest shopping facility in Tokyo's upmarket district Ginza. This summer, the centre has a prepared a lineup of must-buy souvenirs and gifts, particularly in the food department, that will delight the family back home. Many of these items are available at GINZA SIX only giving you even more incentive to pay a visit while in the capital.

Listed by price range, we have selected some of these summer treats that we know you'll absolutely want to get your hands on.。

¥999 and under summer gifts made for showing a little thanks

Namacha Tea Jelly @ Nakamura Tokichi Honten – ¥417 (GINZA SIX only)

Tokichi is serving up a special GINZA SIX-only flavour of its matcha namacha jelly with added matcha bean paste. This bean paste is specially prepared matcha wrapped in white bean paste. It has a smooth texture and slight sweetness that marry together deliciously and heighten the richness of the flavour of the matcha.

Summer Limited Kohaku Tani Goldfish Yukata Ver. @ GINZA KYOUKASUIGETSU – ¥550 (GINZA SIX only)

These snacks comes in summery yukata design packaging with goldfish on them. Perfect for reminding one of Japanese summer.

¥1,000-¥2,999 summer gifts for adults

KOHAKU Fruit Bar @ PALETA – ¥1,482

This traditional wagashi (Japanese confection) is made from melted agar agar, sugar and starch syrup which is hardened to create a lollipop-like treat. Each one is handmade and crated with love and care by the confection artisans at PALETA who make them transparent like refreshing Japanese ice candy.

Basket of 5 Mio @ KASHISHOU SUEHIROAN – ¥1,759

This set comes with 5 different seasonal flavours which makes for the ultimate taste-testing gift.

¥3,000-¥4,999 delicious summers gift to share

Semi-Dried Fruits Box @ AYAfarm – ¥3,519

The perfect sharing gift to pick up, this box contains 9 different semi-dried fruits sourced from high quality fruits in Japan. The circular shape of the box make it great as a gift, and since each fruit is packaged individually, they can be enjoyed over time.

¥5,000+ premium Ginza-quality summer gifts for someone special

Parfum du Miel Series @ ハL'ABEILLE – ¥6,000 (GINZA SIX only)

Treat yourself or someone special to this premium lineup of original honeys which include bergamot, cognac and rose flavours. A sweet and tasty accompaniment to tea or ice cream.

This is just a small selection of the items on offer over at GINZA SIX right now this summer. To see more, be sure to plan a shopping trip there while in Tokyo.

Information

GINZA SIX

Address: 6-10-1 Ginza, Chuo Ward, Tokyo

Opening Hours: Shops/Cafes (B2F-5F) 10:30-20:30 / Restaurants (6F, 13F) 11:00-23:00

*Business hours differ from shop to shop.

No Fixed Holidays (But shops and restaurants will be closed on August 26, 2019)

Access: Directly connected to Ginza Station via the Tokyo Metro Ginza Line, Marunouchi Line and Hibiya Line.

TEL: 03-6891-3390
Website: http://ginza6.tokyo/

17 Fireworks Festivals Taking Place This Summer in Ito City

This summer, Ito city will be seeing lots of large-scale fireworks festivals take place between July 20 and August 24.  

Ito Onsen Yume Hanabi/ Ito Onsen, Ito Coast 

The Yume Hanabi (Dream Fireworks) event will be held 10 times during the summer fireworks season. Enjoy a range of fireworks exploding before your very eyes. The sizes of the fireworks range from an outer diameter of 9 cm to 30 cm. Each day, between 1,000 and 1,500 fireworks will pierce the night sky with a beautiful show of colours. The best spot to watch these would be from a simple patch of grass in Nagisa Park. 

July 20 (Sat)  20:30 ー 20:50 (Approx. 1,000 fireworks)

July 28 (Sun) 20:30 ー 20:50 (Approx. 1,000 fireworks)

July 30  (Tues) 20:30 ー 21:00 (Approx. 1,500 fireworks)

July 31 (Weds) 20:30 ー 21:00 (Approx. 1,500 fireworks)

August 2 (Fri) 20:30 ー 20:50 (Approx. 1,000 fireworks)

August 3 (Sat) 20:30 ー 20:50 (Approx. 1,000 fireworks)

August 6 (Tues) 20:30 ー 20:50 (Approx. 1,000 fireworks)

August 7 (Weds) 20:30 ー 20:50 (Approx. 1,000 fireworks)

August 17 (Sat) 20:30 ー 20:50 (Approx. 1,000 fireworks)

August 24 (Sat) 20:30 ー 20:50 (Approx. 1,000 fireworks)

Usami Summer Festival  Kaijo Hanabi Taikai/ Usami Coast

This festival remains popular among the locals but is still yet to be discovered by tourists. This is the perfect spot to relax and enjoy the view at your own pace. The road leading from Usami Station is a pedestrian zone lined with stands and stalls, making it the perfect place to enjoy the festival vibes. 

August 1 (Thurs) 20:00 ー 20:30 (Approx. 1,500 fireworks)

Floating Lanterns Uchiage Hanabi/ Ito Coast

Bright lanterns are floated down the Matsukawa river which runs through the heart of the city. As the last magical lantern makes its way down the river, the fireworks are set off into the sky, illuminating the lanterns as they float downstream.

August 8 (Thurs) 20:50 ー 21:00 (Approx. 800 fireworks)

Taiko no Hibiki (Echoing Drums)  Uchiage Hanabi (Ito Kaigan)

Head over to Nagisa Park to witness the taiko drum battle. Nagisa Park is one of the best locations in Ito city to watch the fireworks. The energy from the drums will resonate throughout the entire park. As the battle reaches its climax, fireworks will soar into the sky, exploding to the beat of your heart.

August 9 (Fri) 20:50 ー 21:00 (Approx. 800 fireworks)

Anjin Large-Scale Seaside Fireworks Festival / Along Ito Coast 

This is the largest fireworks festival in Ito. Over the course of an hour, approximately 10,000 fireworks will be launched from five different areas along the coast, striking vibrant streaks of colour into the night sky over the sea. The fireworks range from digital Star Mines to Niagara fireworks. For those of you who want to escape the crowds to watch the fireworks at your own pace, we recommend the seating area, where you can fully enjoy a closeup view of the breathtaking fireworks for just ¥2,000 per seat. August 10 (Sat) 20:00 ー 21:00 (Approx. 10,000 fireworks)

Yanmono Sato Hanabi Taikai /Yawatano

In just 30 mins, 3,000 fireworks are fired into the sky, bursting into dynamic patterns that illuminate the sea and create a scene of lingering beauty that you will not be able to peel your eyes from. The fireworks are set off right before the spectator's eyes so you can watch the fireworks develop into spontaneous beauty right above you. 

August 14 (Weds) 20:00 ー 20:30 (Approx. 3,000 fireworks)

Kawana Dolphin Beach Large-Scale Seaside Fireworks / Dolphin Beach Park

This is a popular event among locals as well as tourists. Although there are not as many fireworks, the fact that viewers can enjoy them close up more than makes up for it. Niagara fireworks that shower over the ocean and Star Mines that blossom above you are just some of the popular kinds of fireworks this festival will allow you to witness.

August 15 (Thurs) 20:00 ー 20:30 (Approx. 2,000 fireworks)

Ito Hot Springs Hashi Festival Fireworks/ Ito Beach

At this unique festival, a tower made of chopsticks used at the hot springs is set on fire for a memorial service. A portable shrine overflowing with strong energy is carried through the streets as part of a parade. The event also sees hand-held fireworks, enhancing the festival vibes. The fireworks explode over the sea, colouring the sky with a scene that represents the end of summer. 

August 22 (Thurs) 20:30 ー 21:00 (Approx. 1,500 fireworks)

The summer holidays is the perfect time to enjoy a fireworks festival, so why don't you check one out?

Ginza's Hidden Tokyo Ghoul Restaurant Receives Extended Opening Period

To celebrate the upcoming July 19 release of Tokyo Ghoul S, Japanese movie studio and production company Shochiku opened its 'immersive' blood-themed Tokyo Ghoul restaurant on July 5. The location of the restaurant has been kept a secret, but it is somewhere in Ginza, wrapped in 40,000 beautiful roses.

The restaurant was originally set to stay open until August 4, but due to all tickets for its 31-day run selling out in just three days, it has been extended until August 18. Tickets for these extra two weeks will go on sale on the restaurant's official website on July 12 at noon (JST).

Tokyo Ghoul Restaurant Details: The Location of This Bloody Rose Tokyo Ghoul Restaurant in Ginza is a Secret

Die-hand fans of Tokyo Ghoul aren't going to want to miss out on this exclusive ghoulish gourmet experience.

Information

Ghoul Restaurant

Running: July 5, 2019 – August 18, 2019 (*extended by two weeks)

Opening Hours: Two Slots – Slot ① Meeting 17:00 / Dining 17:30-19:30, Slot ② Meeting 20:00 / Dining 20:30-22:30

Location: Somewhere in Ginza (*Those who purchase a ticket will be told the exact location)

Official Website: http://afroand.co/ghoulrestaurant/

Goldfish Festival, Fireworks And Much More Family Fun at Aquamarine Fukushima

During the summer holiday period between July and September, Aquamarine Fukushima is holding a range of events and supporting children to learn about marine life independently. Come join in the festival fun with goldfish scooping games, quoits, and much more. There will also be a fair from August 11 to 15. 

Aquamarine Fukushima Rare Creatures Picture Book <Complete the pictures!>

Dates: July 13 ー September 1

Aquamarine Fukushima is displaying rare creatures and ecological systems. The children can write the name of the new creatures they discover in their own picture book. Once they have completed the picture book, it will be an original record of discoveries. As the children record the features of the animals and other organisms they discover, adults will also find this information beneficial when looking around the exhibitions. 

How to take part: Pick up an application form at the entranceway on floor 1 of the aquarium main building (Honkan). The answers will all be distributed in one place. (Subject to change).

Summer Aquamarine Fukushima: Children's Answer Room

Open: July 20 ー September 1 

Here, all the answers to the children's puzzles about Aquamarine life are presented in panels and explained in easy terms. Along with the picture book where the children can record interesting life forms, this is the perfect way to support independent exploration. 

Goldfish scooping and Fun Fair

You can purchase goldfish that were bred at the aquarium, or catch them yourself at the goldfish scooping area. There is also a games corner where you and your children can enjoy a range of fun activities such as quoits. 

The goldfish building, which just opened last year, will be bringing back its 60cm-large Goldfish Nebuta lantern. To raise spirits during Japan's O-bon lantern festival, the aquarium will be open for much longer so that a lantern event can be held in the evening. 

Iwaki Traditional Vegetable Marché

Open: August 17 ー 18 (11:00 ー 14:00)

Head to the Aquamarine Aguri located outside Aquamarine Fukushima to purchase everyday vegetables as well as Japanese vegetables that have been grown through the cooperation of Iwaki farmers and Iwaki city. The traditional Iwaki marché sells mainly traditional summer vegetables such as okuimo potatoes, yardlong beans, beefsteak plants, kojiroi cucumbers, and much more. From local vegetables to healthy goods, everything is produced at Aquamarine Fukushima. 

Iwaki Fireworks Festival 

Enjoy the sight of fireworks soaring through the sky before your very eyes from the Aquarium grounds. This large-scale fireworks event will run until 9 pm on August 3.

Running: August 11 ー 15 (8pm) . 

※ Last entries: Up to 1hr before closing time. 

Come visit Aquamarine Fukushima for a perfect fun-filled day with the family!

Information

Goldfish Display and Sales

Running: August 11 ー 12 (Monday, national holiday) 

Times: 10:00 ー15:00、16:30 ー19:00

Goldfish Scooping/ Fair

Running: August 11 ー 15

Times: 16:30 ー19:00

The goldfish scooping event will end once all fish have been caught.

Water Yo-Yo Fishing, Quoits, Fishing Games, Barbecue Skewers: ¥300 per turn.

 

Aquamarine Fukushima 

Address: Tatsumicho-50 Onahama, Iwaki, Fukushima

Official Website: https://www.aquamarine.or.jp/

The Entire World Is Curious About PAPABUBBLE's Candy Art Museum To Open In Ginza

Described as the "most interesting sweets shop in the world", PAPABUBBLE sells a range of cute and fun confections. On July 1, PAPABUBBLE will open a Candy Art Museum on basement floor 2 of GINZA SIX.

PAPABUBBLE has set up shop in over 30 cities worldwide. The main shop will contain art pieces made from candy. Considering all the candy shops that are currently out there in the world, nobody has ever seen anything quite like this before. 

The museum contains around 20 different ornaments that are edible sweets. Visitors who wish to purchase the ornaments can do so. Besides the standard sweets, the display items and range of sweets for sale will be changed every day. 

When the museum opens in July, visitors will be able to enjoy the wonderful texture and flavour of candy lampshades, enjoy the artistic and charming glow of candy mushrooms, and gaze in bewilderment at an antique vase baumkuchen cake. 

To commemorate its grand opening, customers who spend more than ¥5,000 (after tax) on display items or on the sweets shop range will receive either a soft gummy brain or soft gummy dentures. This campaign will be running throughout July. 

Along with the grand opening of the art museum, there will also be Ginza-limited products on sale that are completely unique to the Ginza branch. The lineup includes sweets made from ingredients that are rarely seen in Japan. This includes colourful and fruity chocolate such as rocky roads and soft candy sweets made from snow sugar. PAPABUBBLE will also sell souvenirs that represent Ginza such as Kirihako boxes which are beautiful boxes made from wood. 

If you are in Tokyo, you just cannot miss this museum that is overflowing with originality.

Information

Candy Art Museum by PAPABUBBLE (Gallery of Sweets Art by PAPABUBBLE)

Address: B2F, 6-10-1, Ginza, Chuo Ward, Tokyo 

Opens: July 1, 2019 

Opening Hours: Mondays ー Sundays (10:30 ー 20:30)

TEL: 03-6228-5535

PAPABUBBLE JAPAN Official Website: http://www.papabubble.jp

Summer 2019 Japanese Fireworks Festivals With The Wow Factor

Hello everyone, this is Midori from MMN's Editorial Department!

The first thing that pops into your head when you think of summer is fireworks. During the summer, Japan hosts so many large-scale fireworks events that it can be difficult to decide which one to visit. However, some festivals really stand out from the crowd. Today, I will share with you some fireworks festivals I would highly recommend for their extra wow-factor. 

If you're interested, check out the 2019 list for the top 10 fireworks festivals in Japan. 

2019 Artistic Fireworks at Moerenuma Park, Sapporo

Last year, this event was cancelled due to an earthquake, so excitement levels are high this year. 

This year, the fireworks dream team have put together a special non-stop program which includes the highest fireworks in the whole country. A fireworks photo and painting competition will be held after the fireworks event day.

▼2019 Artistic Fireworks at Moerenuma Park

Date: September 7, 2019

Official Website: https://www.moere.jp/

Relax 221m Above Ground: The RESTAURANT LUKE with SLY LOUNGE Fireworks Plan

Fireworks events held within the city can get very crowded, so how about watching them explode beautifully in the night sky from a restaurant? RESTAURANT LUKE with SLY LOUNGE is the perfect place to watch the Sumida River Fireworks festival and its 20,000 fireworks, or the Edogawa Fireworks Festival, where 14,000 fireworks are launched. Make sure to ask for the fireworks plan if you want this experience.

Being able to watch fireworks high in the sky is a wonderful lifetime opportunity. 

▼RESTAURANT LUKE with SLY LOUNGE

Address: St.Luke's Garden, 47th floor, 8-1 Akashicho, Chuo City, Tokyo

TEL: 03-3248-0211

Firework event plans:

July 27 Sumida River Fireworks Festival Special Plan

August 3 Edogawa Fireworks Festival Special Plan

Adults: ¥15,000, high school students: ¥6,000, middle school students: ¥4,000, elementary school students: ¥2,000 (Free for those under elementary school age)

Official Website: https://www.restaurant-luke.com/restaurant.html

Shin Yokohama Fireworks Festival  2019 Special Tickets

Kohoku-ku, Yokohama will be celebrating the 80th year of the Shin Yokohama Fireworks Festival. Tickets for seats to watch the 2019 fireworks event are now being sold. The fireworks will be launched in an area that is hundreds of metres wide. For the finale, you can enjoy yellow streams of light as they fall out of the sky. As this fireworks event is taking place at Shin Yokohama, you can get seats at the Nissan Stadium or the tennis court to enjoy a beautiful night.  

Photo: Takeshi Kanetake 

▼Shin Yokohama Fireworks Festival 2019

Date: July 7, 2019

Prices: Special entry area (unreserved seats): ¥2,000 (per person, 1m2 picnic sheet, 1 entry ticket).

Tennis court garden table seat: ¥20,000 (4 people, 4 tickets, 1 garden table), Nissan Stadium north side (for legal supporters/ event sponsors and others who contributed to the event: ¥54,000 (6 people, 6 tickets, table seating).

Official Website: http://shinyokohama-hanabi.com/

Enjoy Fishing With A Beautiful Fireworks Display In The Sky at Echizen, Fukui

Visit Echizen port to enjoy a beautiful fireworks display whilst on the hunt for fish and squid. This is a relatively cheap plan considering that you also get the chance to enjoy a beautiful view. This is a wonderful way to create special memories.

▼ Fishing and Fireworks in Echizen, 2019

Date: July 13, 2019

Price: Squid: ¥ 6,000 per person Fish: ¥7,000 per person (40 people max).

(Includes fishing equipement. Price is the same for both children and adults).

Official website: https://www.town-echizen.jp/SSL/experience/detail.php?id=90

A Cool Night at The Pool and Fireworks Every Day at Phoenix Seagaia Resort, Miyazaki

During the summer holidays, there will be a fireworks show every evening at Phoenix Seagaia Resort in Miyazaki prefecture. They have special seating, and also those who choose accommodation on the club floor can see the fireworks launched before their very eyes.

You can also enjoy the night pool or barbeque and simultaneously witness the fireworks. The best part is that there is a show everyday, so there is no need to worry about fitting it in with the rest of your plans.

▼Phoenix Seagaia Resort Summer Fireworks 2019

Event Period: Every day from July 20 ー August 31, 2019

Official Website: https://seagaia.co.jp/

This summer will be the first ever fireworks season of the Reiwa era, so how about making it extra special by attending a fireworks festival with that extra wow factor?