Michelin-Starred Restaurant Jean-Georges Tokyo to Re-Open on September 10
Jean-Georges Tokyo, run by chef of modern French cuisine Jean-Georges, is being restructured.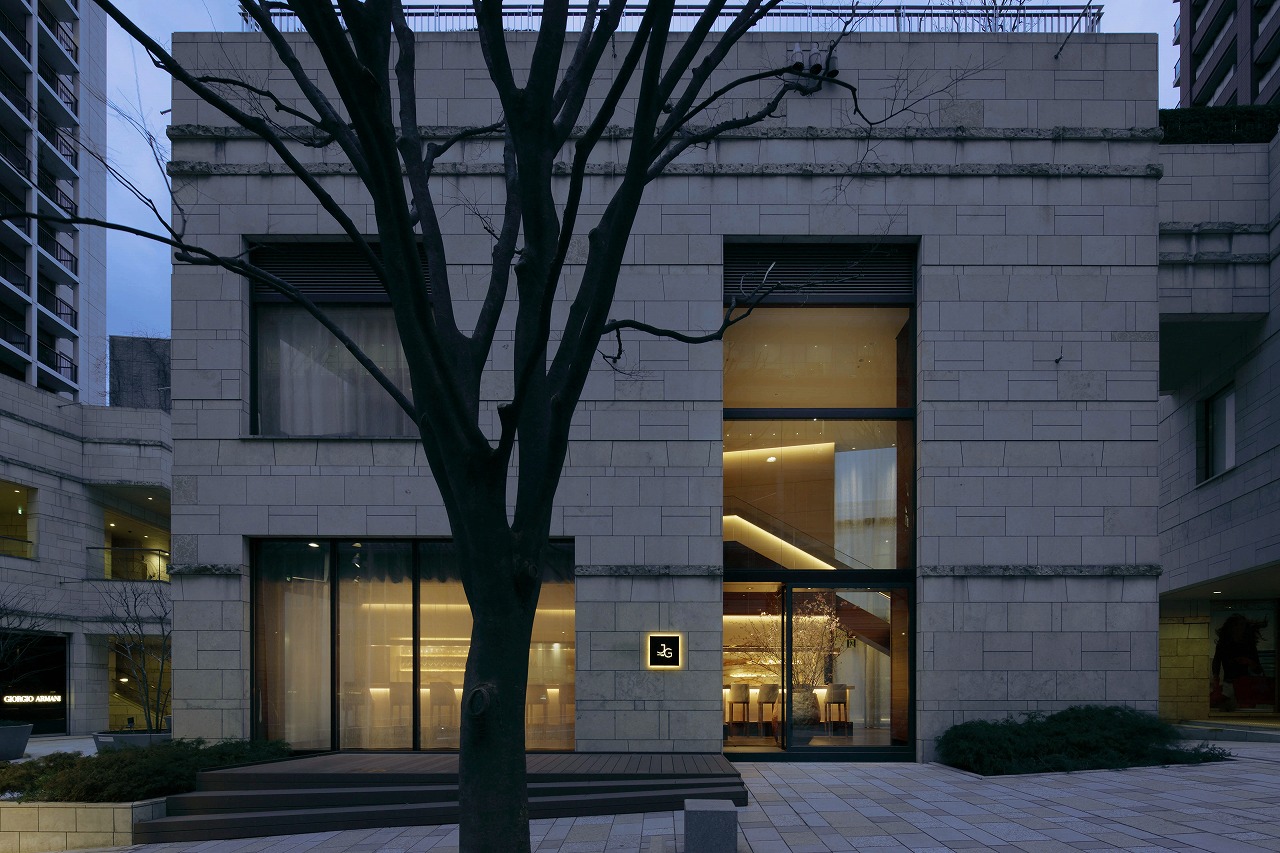 Jean-Georges Tokyo opened in 2014 and has continued to hold one star for four years in a row in Michelin Guide Tokyo.
The restaurant is different from classic French cuisine, instead serving up a modern French selection made with a variety of flavours and textures from vegetables, fruit extract and herbs, each item featuring at their own temperature.
The restaurant interior is built to look like a stylish house. The first floor is has a lively feel with 14 counter seats while the second floor has 20 tabe seats and private rooms.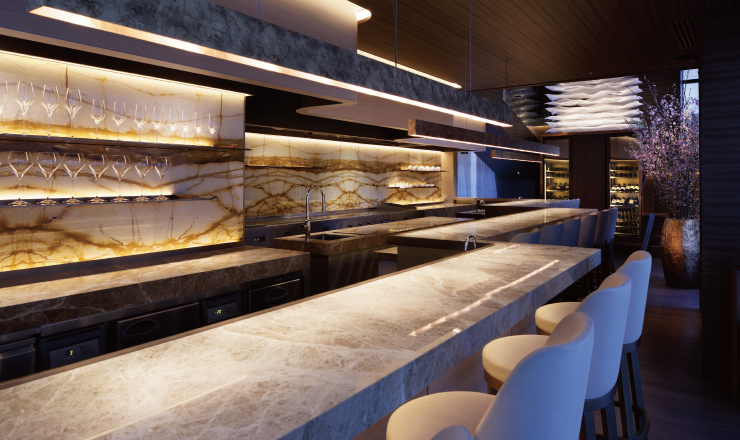 The new Jean-Georges Tokyo is introducing three new faces that have been trained by Jean Georges himself. Mr.Mochizuki is the executive chef who has worked as a chef at Union Square Tokyo and Terres de Truffes, Tokyo. The chef de cuisine is Mr.Toi, who has displayed his skills as sous chef at the Tokyo branch since its opening. Finally, Mr. Nakasato will work as the manager, who is skilled in language and has a wealth of restaurant experience and knowledge. The three of them will work together to create the kind of restaurant appeal you can only get in Tokyo.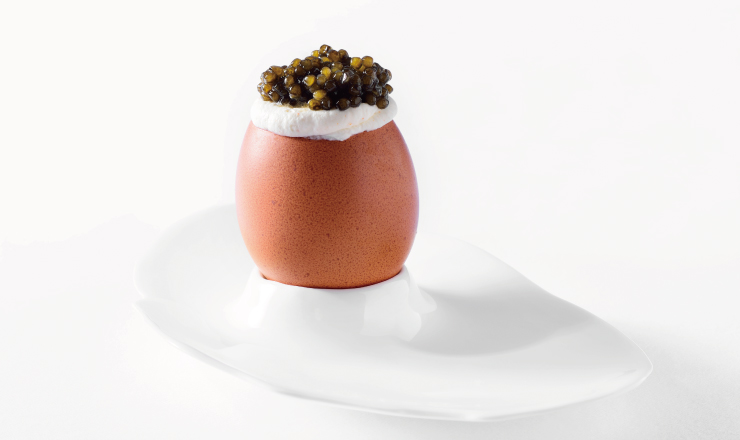 Menu
LUNCH
Lunch Prix Fixe  ¥5,800
Lunch Tasting  ¥9,800
DINNER
Prix Fixe Menu  ¥9,800
Jean-Georges'Menu  ¥19,800
Tasting Menu  ¥19,800
*All prices include tax
A separate 10% service charge will be applied.
■Information
Jean-Georges Tokyo
Address: 1F Keyakizaka-dori, Roppongi Hills, 6-12-4 Roppongi, Minato-ku, Tokyo
Opening: September 10, 2018 (subject to change)
*Management will be carried out by NOVARESE Inc. until August 31.
Opening Hours: Lunch – 11:30am-3:30pm (Last Orders 2:00pm) / Dinner – 5:00pm-11:30pm (Last Orders 9:30pm)
Website: http://www.jean-georges-tokyo.jp/
RECOMMENDED ENTRIES
【Tokyo Lunch】 Gorge on the best hamburgers at Michelin-starred restaurant known for its exquisite tasting meat

"UMAMI BURGER" from Los Angels has come to Japan this March, and draws public attention. However, the Japanese hamburger is as good as that. In these days, there are so many restaurants that serve "special hamburger" as good as the ones in hamburger stores. The latest trends of meat dish and casual dining boost the popularity of a gourmet hamburger.

Especially, the lunch time only hamburger cooked by the chef who works for restaurants that granted the stars in Michelin Tokyo. In the "Tateru Yoshino Bis" located in "Park Hotel Tokyo," there is an extreme hamburger created by Takeru Yoshino who is considered to be a French master. It was originally one of the lounge menus in this hotel, but it got very popular so he started serving it in the restaurant only at the lunch time.

The hamburger is considered to be American food, but Yoshino added the basic French cook technique on his hamburger.

The weight of the beef patty is 150g. You can put some ketchup, mayonnaise and mustard just as old American style.

 "Bis burger" in Tateru Yoshino Bis

It is has the simple but well-balanced ingredients such as cheddar cheese, lettuce and crispy bacon. Only 15 plates of this is served in a day. It cost 1900yen.

Address: shiodome media tower. 25F, 1-7-1 Higashishinbashi,Minato-ku,Tokyo

Keiko Kodera(Writer)

The hamburger from the restaurant which boasts meat dishes is as good as the one which is made by star chefs. There is a only hamburger in the restaurant on Saturdays, Sundays, and holidays called "ruli-ro" located in Mishuku that has a lot of good casual dining.

Not only is the patty grilled over a charcoal fire, but also the combination of ingredients are great. It is great thing for hamburger fans that can enjoy the hamburgers not only in hamburger stores but also some dining restaurants.

"ruli-ro hamburger" in ruli-ro

There is a lot of ingredients such as sunny side egg and smoked bacon. Other than this, ratatouille burger and avocado burger are also popular. It cost 1500yen.

Address: 3-16-3 Ikejiri, Setagaya-ku, Tokyo

−−−

Related article:【Tokyo Dinner】The yakiniku restaurants that you want to use for special occasions.

Related article:【TokyoDinner】The food that has been loved with alcohol in old town Tokyo

Enjoy a BBQ at Beer Garden on Rooftop in Roppongi

A beer garden serving authentic BBQ cuisine will open for a limited period of time from April 23 on top of Ark Hills South Tower where a luxurious rooftop garden sits.

Despite being in the middle of the big city, the garden has a freeing, spacious feeling with plenty of greenery and even sofa seats.

Food includes filling T-bone steak that uses carefully selected Iwanaka roasted pork shoulder, as well as a selection of seafood and vegetables.

In addition, downstairs in the same building, you can buy meat to take to the BBQ too. Choose your favourite ingredients and enjoy cooking it on the barbeque yourself. Of course, you can use it just for à la carte and drinks too.

The plan includes the 'Casual BBQ Course' (¥4,800 for 2+ people) where you can enjoy beef, pork and chicken; the 'Premium BBQ Course' (¥6,500 for 2+ people) that includes a T-bone steak, seafood and more; and the cook-it-yourself option (¥3,300). There's also drinks to be enjoyed with each course as well as all-you-can-drink wine.

Step away from the hustle and bustle of the busy city a little and enjoy a top-tier BBQ atop a lush rooftop garden.

■Information

ARK HILLS SOUTH TOWER ROOFTOP LOUNGE ~Roppongi BBQ Beer Garden~

Address: Ark Hills South Tower Sky Park, 1-4-5 Roppongi, Minato, Tokyo

*Please use the direct elevator on the path behind the B1F Ark Kitchen 'Etsubo' (笑壷)

Running: April 23, 2018 – September 30, 2018

Opening Hours: 17:00-23:00

*[April-June] Saturdays 12:00-23:00 / Sundays & Holidays 12:00-22:00

*[July-August] Saturdays 15:00-23:00 / Sundays & Holidays 15:00-22:00

*[September] Saturdays 12:00-23:00 / Sundays & Holidays 12:00-22:00

TEL: 03-5549-1550 (*Reception opens April 20)

No Fixed Holidays. (Except during bad weather.)

Homepage: http://arkhills.beergardens.jp/

Booking: https://www.tablecheck.com/shops/

Enjoy sushi and teppanyaki in the middle of the night at Roppongi's hidden restaurant "atelier Morimoto XEX"!

Chef Masaharu Morimoto, who works mainly in America, is taking on a collaboration. His popular fusion restaurant "Atelier Morimoto XEX" will be running during midnight from Saturday 2nd September 2017.

"Restaurant Morimoto XEX" opened in 2005, and this is exactly where Morimoto-san fused Japanese and Western cuisine. Here, you can enjoy a variety of flavours and the large range of gourmet dishes.

Morimoto-san also gained huge recognition in America for his food, opening the "Morimoto no Nippon no Restaurant". The restaurant became a big hit with Hollywood stars and celebrities. Many have stopped by for a meal.

Up until now, every floor closed at midnight, however from Saturday 2nd September, you can order from the Sushi floor until 3am every day except on Sundays and national holidays. The teppanyaki floor is open as a private room on Fridays and Saturdays,  where you can order until 3 am ー 3 floors of delicious fun!

Chef Morimoto took part in the Japanese cooking show "Iron Chef", where he became an instant sensation after being crowned as the third Iron Chef for Japanese cuisine. Following this success, he made an appearance on Iron Chef America, grabbing the hearts of the American public.

Morimoto-san opened his first ever restaurant in Philadelphia called "MORIMOTO". He is currently managing twelve chains. With former US president Obama as a regular customer, he became increasingly known as a first-class chef.

Tokyo-style Nigiri 1 piece: ¥500

A5 Rank Wagyu Beef Chateaubriand 50g ¥4,750

If you're free at night, come enjoy the food of a first-class chef that the world adores!

■Information

Atelier Morimoto XEX

Address:Roppongi Building I.K.N, 7-21-19, Roppongi, Minato, Tokyo

Telephone number:03-3479-0065

Regular closing days: Ney Year's Day

No charge fee. Service fee: 10%

2nd floor private teppan counter space only: ¥20,000 until midnight

【Opening hours from Saturday 2nd September 】

・Teppanyaki (Basement 1st floor)

 Fridays 17:30 ~ 24:00 (Last orders: 22:30)

・Teppanyaki (Private room – 2nd floor)

 Monday 〜 Thursday & national holidays:  17:30 ~ 24:00 (Last orders:  22:30)

 Fridays & Saturdays:    17:30 ~ 27:00 (Last entries/ last orders)

・Sushi (1st floor)

 Monday ~ Saturday 17:30 ~ 27:00 (Last entries/ last orders)

 Sundays & national holidays: 17:30 ~ 24:00 (Last orders: 22:30)

・Bar & lounge (1st & 2nd floor)

 Monday ~ Saturday:  17:30 ~ 27:00 (Last orders: 22:30)

 Sundays & national holidays: 17:30 ~ 24:00 (Last orders: 22:30)

Atelier Morimoto homepage: http://www.xexgroup.jp/morimoto
RELATED ENTRIES
Grab Tokyo Souvenirs at Roppongi Hills' New Food & Gift Area

The new "Food & Gift Area" at Roppongi Hills is set to open in the North Tower on Floor B1F on April 10 where you can get your hands on a huge range of exclusive gifts and souvenirs, as well as quick and delicious food. It will house a total of 19 stores; that's 12 shops selling Japanese confections and other picks perfect as gifts to yourself or someone else, and 7 eateries offering takeout and eat-in options.

In the gift area, 12 storesーa mix of new establishments as well as well-known businesses setting up shop in Tokyo for the first timeーwill open their doors, such as the New Style Ginza Sembikiya cafe, Kashi no Kirokujo which sells exquisite cakes that are hard to get your hands on, and more. And there's a whole range of Roppongi Hills exclusives too, like artistic yokan sweet bean jelly inspired by Tokyo's streets, castella with the Roppongi Hills logo on it, senbei rice crackers, assorted sliced mochiーthe list goes on.

Gift Area – Roppongi Hill Exclusives

Tokyo Enbo – ¥4,320 (Tax Included) @ Wagashi Yui

Recreated are the landmarks of Tokyo in the morning sun, with the beautiful silhouettes of the city's skyrise buildings formed into sweet bean jelly. Try and find Roppongi Hills in this picturesque perfection.

Ukeian Castella Wasanbon – ¥2,160 (Tax Included) @ Ukeian

This castella cake is made rich and moist thanks to the eggs laid by specially-bred chickens. It's made with wasanbon fine-grained Japanese sugar,  which gives it a tantalizing smell. The logo stands out too, giving it a beautiful appearance in addition to the delicious flavour.

Roppongi Hills Sanmaido (5 Included) – ¥702 (Tax Included) @ Ginza Matsuzaki Senbei

The senbei rice crackers have a gentle flavour, handcrafted one by one by the shop's master chefsーincluding the Roppongi Hills logo design of these tile-shaped rice crackersーby adding eggs and sugar to wheat flour.

Kinanomiya Sando (Exclusive Packaging/3 Included) – ¥540 (Tax Included) @ KISSHOKARYO

KISSHOKARYO Japan Premium "Miyabi" – ¥1,870 (Tax Included) @ KISSHOKARYO

Munch down on these delicious chocolate cookies made with high quality soy flour, almonds, and oat milk.

They're also serving a special Japanese parfait for eating-in, made with specially-selected Uji matcha from Kyoto and homemade soy flour.

Sankaku Box Sando – ¥1,080 (Tax Included) @ New Style Ginza Sembikiya

Roppongi Hills Exclusive Melon Parfait – ¥2,700 (Tax Included) @ New Style Ginza Sembikiya

Added to the thick and fluffy bread is fresh fruit and subtly sweet cream to make a refreshing sandwich. The chocolate sandwich in the left of the picture is exclusive to Roppongi Hills.

The must-try is the melon parfait, which is made with melons grown in Shizuoka that have been specially selected by the shop.

Cake Shop Miracle Collaboration Set – ¥3,456 (Tax Included) @ Kashi no Kirokujo

This set is an assortment made by four long-standing cake makers: Akasaka Kakiyama, Obusedo, Ganyudo, and Nanohana.

Roppongi Lingotto – ¥3,240 (Tax Included) @ Bicerin

Caffe mocha al Bicerin – ¥660 (Tax Included) @ Bicerin

Served in a limited-edition Roppongi Hills box, the "Roppongi Lingotto" bears the shopping complex's logo, and is a popular gift that was even served to members of the Japanese government at the G7 Ise-Shima and G20 Osaka summits.

When dining in, you can order a rich bicerin which is a mix of espresso, milk, and chocolate sauce topped with whipped cream that's shaped to look like a hill.

Raw Pound Cake Assortment – ¥1,700 (Tax Included) @ Pavlov

Choose from seven adorable small-size cakes, including cream vanille, pistachio fruits rouges, chocolate orange, very berry, Kyoto matcha, caramel nuts, and mont blanc.

Roppongi Exclusive GIFT – ¥918 (Tax Included) @ Jiichiro

Wrapped in special Roppongi Hills packaging, this box contains an assortment of Jiichiro treats from their popular baumkuchen to rusk, gateau chocolat, and more.

In the Food Area, seven restaurants will open serving quick, authentic food. A number of popular restaurants are also making an appearance, like Kyu Yamutei which is famous for its Osaka spice curry, as well as THAI STREET FOOD by KRUNG SIAM. The menu line-ups will include dishes exclusive to Roppongi Hills.

Food Area – Roppongi Hill Exclusives

Curry-Gear MAX – ¥1,650 (Tax Included) @ Kyu Yamutei

This curry combines unique ingredients and spices. The ingredients and roux are switched up every month, and you can pick from one to four rouxs.

Khao Soi No-Broth Mazemen Noodle Curry – ¥1,200 (Tax Included) @ THAI STREET FOOD by KRUNG SIAM

This mazemen noodle curry is a spin on the hugely popular khao soi Chiang Mai ramen, made without any broth. It has the full-bodied aroma and spiciness that comes with Thai-style curry. Change up the flavour with a topping of homemade pepper.

Fisherman's Seafood Spaghetti alla Pescatora – ¥1,848 (Tax Included) @ Pasta & Pizza Uota

Piled with plenty of seafood, this luxurious and specially-made tomato pasta wastes no flavour of the fish used for its rich sauce.

Brioche Vendée N – ¥864 (Tax Included) @ Boulangerie Bonheur

A traditional brioche from Vendée in France. It's combined with orange flower water and contains raisins soaked in Kirsch. The center is moist and just melts in your mouth.

Seafood & Eel Dashi Chazuke – ¥1,320 (Tax Included) @ Dashi Chazuke En

Another exclusive to Roppongi Hills is this chazuke, filled with all the flavours and sea like tuna, porgy, eel, and more. Try it as it is first and then pour over the broth.

Spring Vegetables & Fried Fish Lunch Box – ¥900 (Tax Included) @ Dexee Deli

A set of seasonal vegetables like edible chrysanthemums, asparagus, and cabbage, combined with fried fish, rice, and bamboo shoots.

Find a whole world of food, desserts and gifts at Roppongi Hills' new Food & Gift Area.

Information

Roppongi Hills Food & Gift Area

Address: 6-10-1 Roppongi, Minato Ward, Tokyo

Grand Opening: April 10, 2020

Official Website: https://www.roppongihills.com/

Sanrio Character Museum to Open in Tokyo's Roppongi Hills For 60th Anniversary

Sanrio is set to turn 60-years-old in August 2020. To commemorate, the company has announced that it will open a museum called "Sanrio Character Museum" in summer 2020 where it will tour around Japan until 2025. The full dates and locations have yet to be announced, but its first stop will be the Tokyo City View Sky Gallery located on the 52nd floor of Roppongi Hills Mori Tower in Tokyo. Details for this first stop will be revealed sometime next month.

ⓒ '74, '75, '76, '77, '79, '80, '82, '83, '84, '85, '86, '88, '89, '90, '92, '93, '96, '98, '99, '01, '04, '05, '20 SANRIO CO., LTD.

Since its establishment, Sanrio has sought to spread kawaii culture to the world, as well as the message of everybody getting along and being friends. But how have gotten to this point with each passing generation? The museum exhibition will answer that very question, exploring its line-up of over 450 characters Sanrio has created over the years, including the most prominent ones like Hello Kitty, My Melody and Little Twin Stars who have been around for more than 40 years. It will also showcase characters that will be nostalgic to longtime Sanrio fans.

The exhibition will peruse the history of Sanrio from before it created its characters, and delve into the origin of the company's kawaii world. Fans can expect to see valuable prints, products, materials, and more. The exhibition will also include works made in collaboration with some of Japan's up-and-coming and prominent artists. Expect plenty of kawaii, and plenty of what is sure to be invaluable information for Sanrio fans.

Information

60th Anniversary Sanrio Character Museum

Start Date: Summer 2020

*Details TBA at the time of posting this article

BALCÓN TOKYO: Roppongi's Sophisticated New Bar and Restaurant Offers Luxurious Food & Drinks

BALCÓN TOKYO is the newest luxury bar and restaurant to hit Tokyo's Roppongi district. Set to open on the 14th floor of Mitsui Garden Hotel Roppongi Tokyo Premier on January 24, BALCÓN TOKYO offers opulent lounge and balcony spaces for fine wine and dining.

Located away from the hustle and bustle of busy Roppongi, the establishment offers a breathtaking view of Tokyo's city nightscape in both the eastern and western directions.

When customers pass through the beautiful bar and lounge they are met with the spacious museum-like balcony area where they can enjoy a dining experience wrapped in soft warm lights. For those looking for a more private meal, they can reserve one of the individual private rooms, each of which has its own distinct touch and flavour. Whether you're looking for a quiet drink or dinner, or even midnight teatime, BALCÓN TOKYO caters to customers' needs.

The interior design is the brainchild of none other than Yasumichi Morita of GLAMOROUS co.,ltd., and company that specialises not only on interior and exterior building and establishment designs, but graphic visuals, products, and more.

​Taking the spotlight at dinnertime is the restaurant's incredible and mouthwatering roast beef which is aged at ice temperature and cooked carefully with time and care. The gravy sauce drizzled over the meat takes three days to make and only adds to the delicious offering of the beef.

The restaurant also offers plenty of seasonal foods and ingredients that go perfect with a glass of champagne. Whether you're celebrating something special or just out for a casual meal, the restaurant caters to all.

For breakfast, a half-buffet of western-style food is prepared where you can pick one main. And so that foreign guests can get a taste of the quality of Japanese food, all ingredients used at the restaurant are domestic to Japan. The restaurant also uses organic vegetables shipped directly from growers and producers.

To celebrate the grand opening of BALCÓN TOKYO, customers who reserve a table online or via telephone between January 24 and February 29 this year will receive a 30% discount on meal courses.

Information

BALCÓN TOKYO
Address: Mitsui Garden Hotel Roppongi Tokyo Premier (Floor 14F), 3-15-17 Roppongi, Minato War, Tokyo
Opening Hours:
・Morning 6:30-10:30 (Last Orders 10:00) *Please note that there may be waiting times due to priority going to hotel guests
・Dinner 17:00-02:00 (Food Last Orders 01:00 / Drinks Last Orders 01:30)

Enquiries: 03-6441-3231
Official Website:  http://balcon-tokyo.jp/

Reservation Page: https://www.tablecheck.com/shops/balcon-tokyo/reserve

Warm Food and Succulent Seasonal Strawberries Served at Ginza Six For Winter

GINZA SIX—officially the biggest shopping complex in Tokyo's high-end Ginza district—is home to a host of restaurants now serving some seriously luxurious and gourmet winter food.

For the winter season only, the shopping centre's cafes and restaurants have cooked up menus of food to warm both the heart and body. The extravagant line-up is made up of carefully-selected seasonal ingredients that's sure to warm you to the core. Let's take a select look at some of the things on offer.

JASMINE Specially-Made Hotpot Plan – ¥7,800 (Before Tax) @ JASMINE Washinkansai

This hot pot is made with a broth of chicken bones and collagen boiled in water and a broth of mala sauce. Both broths have a deep and nourishing taste and are filled with carefully-chosen ingredients as well as nine condiments for complex flavours. As well as that seen in the photo above, it is served as a set with an appetiser, fried gyoza, Chinese-style noodles, and almond tofu.

Matsusaka Beef Sukiyaki Gozen Hotpot – ¥3,400 @ Sukiyaki Gyu-shabu Matsuju

Warm yourself up with this hot pot which is made sukiyaki-style and contains high-quality Matsusaka beef picked out by Asahiya, a shop specialising in Matsusaka beef. The beef is soft, tender, and has a rich sweet taste and fragrance. It's served with a red miso soup seasoned with Japanese pepper which complements the salty-sweetness of the sukiyaki.

Homemade Sausage and Potato Raclette Cheese Melt – ¥2,400 (Before Tax) @ Bistro AUX AMIS

Raclette cheese is a staple food in France during the winter. This delicious dish is served with juicy homemade sausages made from yoshidabuta pig from Saitama, bacon, potato, and warm veg, all covered in a hot melted cheese. It's sure to warm you up and goes even better with a glass of wine.

Once you've had a fill of lunch or dinner, you should go and check out the in-season strawberry takeout treats and desserts that are being sold on the booth floor where the latest in culinary trends gather.

Strawberry Chocolate Sandwich – ¥300 (Before Tax) @ Patisserie Sembikiya Ginza Six

Coated in white chocolate, this biscuit sandwich is made with a strawberry ganache that squeezes every last delicious drop out of the fresh strawberries. Combined with he raspberry sablé cookies and chocolate, it's a strawberry match made in heaven.

Real Strawberry Gummies – ¥1,050 for 3 @ Candy Art Museum by PAPABUBBLE

These gummy candies are made as big as real large strawberries. They are coated in chocolate and made with lots of real strawberry juice, and when bitten into, taste fresh and juicy.

Strawberry Matcha Daifuku – ¥400 Each @ Kurogi Chacha

Kurogi Chacha's Strawberry Matcha Daifuku are filled with a whole fresh strawberry and coated in a matcha-laced white bean paste and gyūhi, a form of Japanese confection. The rich taste of the matcha comes together with the sweet and sour strawberry to create a delicious combination. They are hand-wrapped fresh as soon as your order is put in to retain their freshness.

Enjoy the full course winter has to offer at GINZA SIX, from soul-warming hotpot dishes to strawberry delights and more.

Information

GINZA SIX

Address: 6-10-1 Ginza, Chuo Ward, Tokyo

Opening Hours: Shops/Cafes (B2F-5F) 10:30-20:30 / Restaurants (6F, 13F) 11:00-23:00

*Business hours differ from shop to shop.

No Fixed Holidays (But shops and restaurants will be closed on January 1, 2020)

Access: Directly connected to Ginza Station via the Tokyo Metro Ginza Line, Marunouchi Line and Hibiya Line.

TEL: 03-6891-3390

Business hours will be shortened on December 31, 2019 and January 2, 2020 as shown below.

December 31st

Shops/Cafes (B2F-5F) 10:30-18:00

Restaurants (6F, 13F) 11:00-21:00

January 2nd

Shops/Cafes (B2F-5F) 10:30-20:00

Restaurants (6F, 13F) 11:00-22:30

Official Website: http://ginza6.tokyo/

Roppongi Hills Kicks of New Year's Celebrations with Luxurious Food, Fukubukuro, Traditional Games and More

Roppongi Hills will be kicking off the New Year's celebrations from January 1 to 3, 2020 with New Year's good fortune around every corner. 

January 1 will be filled with exciting lion dances and Japanese drum performances. January 2 and 3 will see traditional and nostalgic games that are free to play, providing fun for the whole family. 

Restaurants and cafés will be serving New Year's food themed around good fortune, happiness, good omens and new beginnings. Indulge on Spiny Lobster, fatty tuna, sea bream and many other luxurious "good fortune" foods.

Spiny Lobster and Sea Bream Acqua Pazza (Limit of 15 sold per day): ¥3,278

Mohri Salvatore Cuomo

Colourful Chirashizushi Pintokona (Limit of 10 sold per day): ¥2,020

Angus Beef Steak Burger (Limit of 15 sold per day): ¥2,800
AS Classics Diner

Crêpe 2020 (Limit of 10 sold per day): ¥980
Cafe Crepe

There are also New Year's "Fukubukuro" to look out for. This is a Japanese New Year's custom where "lucky bags" are filled with unknown contents and sold at a substantial discount. There are even January sales with items up to 70% off. Travel agency H.I.S. Co., Ltd. is bringing back their yearly dream holiday package which includes a top-quality resort lodge in the Savanna and safari experience for just ¥4 million.

Have a wonderful New Year's celebration at Roppongi Hills.

Information

Event Information

January 1: 12:00-15:00

Free Entry

Japanese Drum Performance Start Times: 12:30, 13:30, 14:30

Lion Dance Start Times: 13:00, 14:00

Sake Offering: 13:00 (First-come-first-served, limit of 200 people, entry from 12:00. Obtain a ticket from the Seiriken Haifusho (整理券配布所)

 

January 2, 3: 11:00-16:00

Entry fee applies to certain areas

Japanese Drum Performance Start Times: 11:00, 13:50, 15:30

Lion Dance Start Times: 11:10, 12:30, 15:00

Koto Performance Start Times: 11:30, 12:30, 14:30

*The Koto experience corner will be closed between the following times: 11:30-11:50, 12:30-12:50, 14:30-14:50

Spinning Top Championships: January 2 from 13:00

*First-come-first-served, 12 places, please obtain a ticket from the Seiriken Haifusho (整理券配布所). Tickets will be available from 11:00.

Kendama Championships: January 3 from 13:00

*First-come-first-served, 20 places, please obtain a ticket from the Seiriken Haifusho (整理券配布所). Tickets will be available from 11:00.

Old traditional games available: Koma-mawashi (Spinning tops), kendama, beigoma, otedama and much more

Roppongi Hills

Address:  6-10-1 Roppongi, Minato City, Tokyo 106-6108, Japan

Official Website: https://www.roppongihills.com/en/

Roppongi Hills Christmas Market 2019: Authentic German Food, Christmas Ornaments, Desserts & More

Christmastime has fallen on Roppongi Hills as it kicked off Roppongi Hills Christmas 2019 on Monday. The event sees the return of the gorgeous Keyakizaka illuminations from last year.

Keyakizaka-dori Street runs almost 400 meters, along which "Snow & Blue" LED lights glow and glisten like frost-covered trees, turning the street into a winter wonderland. For 2019, a very special photo spot has been designed by Japanese illustrator Yu Nagaba as pictured above amongst the ocean of illuminations. Over on the West Walk, passersby will spot a draped Christmas tree.

Starting this Friday (November 15), more illuminations will light up over at Mori Garden, which will reflect enchantingly from the garden lake, and 66 Plaza will be lit up too. All of these illuminations will glow until late in the night, making them a perfect spot for a little evening date.

A Christmas market will take place starting on November 30 which will feature German food and drinks, a shop where you can buy a real fir Christmas tree, and more. And on November 15, restaurants and cafes at Roppongi Hills will adorn their menus with Christmas cakes, sweets, and dinner plans.

Christmas Market 2019

2019 marks the 13th year of the Roppongi Hills Christmas Market, and this year, many of Japan's leading shops are taking part. The market will recreate the atmosphere and decor of a German Christmas market, with gorgeous decorations lining the roof, as well as the 11 stalls which will sell German-made Christmas sundries, German mulled wine, frankfurter sausages, and more. There will be over 2,000 individual items to find.

Christmas Cakes & Merry Desserts

Top: Christmas Show Girl ¥3,672 / Bottom: Christmas Tree ¥10,800 @ LOLA'S Cupcakes Tokyo

Cafes and restaurants have cooked up various treats for the Christmas season which will be sold between November 15 to December 25, including Christmas cakes to complete your Christmas dinner, desserts so cute they almost seem a waste to eat, and little items perfect to give as gifts. There's plenty on the menu to be enjoyed with friends, family and loved ones.

Have a very special and merry little Christmas this year at Roppongi Hills.

Information

Roppongi Hills Christmas 2019 

Running: November 11, 2019 – December 25, 2019
Locations: Roppongi Hills (Roppongi Keyakizaka-dori, 66 Plaza, West Walk, Roppongi Hills Arena, Rooftop Plaza, and elsewhere)

Official Event Page: https://www.roppongihills.com/en/sp/christmas/2019/

Christmas Market 2019

Running: November 30, 2019 – December 25, 2019

Time: 11:00-21:00 (Until 22:00 on Fridays, Saturdays & Christmas Eve)

Location: Rooftop Plaza

Keyakizaka Illuminations

Running: November 11, 2019 – December 25, 2019

Time: 17:00-23:00

Location: Roppongi Keyakizaka-dori

Japanese Sweets Brand Minamoto Kitchoan to Open Cafe Restaurant K. MINAMOTO in Ginza

Japanese confectionery brand Minamoto Kitchoan will open a new cafe and restaurant called "K. MINAMOTO" on October 19.

K. MINAMOTO will be located on floors 2-5 at THE HOUSE, Minamoto Kitchoan's new company building which it just moved to on October 3. The cafe-restaurant's menu concept is dubbed "Ginza Sunny Fruits." It takes into consideration how daily fruit consumption has greatly decreased today by serving up a luxurious fresh fruit-packed line-up.

Minamoto Kitchoan is a company that has made full use of fruits since its establishment, including the suikanshuku, a Japanese wagashi confection made of whole dried domestic persimmons. We can trust then that K. MINAMOTO will provide us with our 5-a-day.

Roast Beef Sandwich w/ Fruit Soup – ¥2,420 (Tax Included)

Seafood Lemon Cream Fedelini w/ Fruit Soup – ¥1,650 (Tax Included)

Each and every dish on the menu has fruit, all grown in Japan to ensure the a high level of quality. Since the dishes have fruity flavours, prepping them is simple, and they enjoy the colours and textures of each fruit.

Drinks haven't been left out either. They are made with fruit purees and syrup, or are tossed in as they are, allowing for maximum fruity goodness.

Smoked Salmon, Fruit Salad & Potato Galette w/ Fruit Soup – ¥1,980 (Tax Included)

Autumn Fruit Almond Pudding – ¥1,760 (Tax Included)

All the staff at K. MINAMOTO have a wealth of knowledge about the menu and the fruits used in each dish. Their service creates a comfortable atmosphere, and though they are polite they are incredibly friendly, so you can call out to them without worry.

Get your fill of fruit from the all-new K. MINAMOTO, opening October 19.

Information

K. MINAMOTO

Grand Opening: October 19, 2019
Address: Minamoto Kitchoan Shinhonsha Bldg. "THE HOUSE" (Floors 2F-5F), 6-9-8 Ginza, Chuo Ward, Tokyo

Opening Hours: [Mon-Sat] 11:30-20:30 / [Sun & Holidays] 11:30-19:00

No Fixed Closures

Minamoto Kitchoan official website: https://www.kitchoan.co.jp

New York-Style Cafe & Restaurant Sarabeth's Celebrates 7 Years in Japan With Special Event in Shinjuku

It has been seven years since Sarabeth Levine took her New York-based cafe and restaurant Sarabeth's to Japan back in 2012. To celebrate, the establishment will hold a special one-night event with a commemorative menu.

"Fermented Foods" is the theme of the event, which will see an incredible line-up of premium dishes. There will also be a talk by Sarabeth Levine herself who will be in attendance.

The menu line-up features a range of healthy fermented foods, like pancakes and Eggs Benedict, while drinks options include lemonade with fermented syrup, goishicha tea from Aichi Prefecture, and more. There will also be Sarabeth cookies which you can take home with you.

Information

Sarabeth's Japan 7th Anniversary Special Event

Date: November 5, 2019

Time: Reception 18:30 / Open 19:30-20:45 (subject to change)

Price: ¥3,800 (Tax Included)

Capacity: 50 (Reservation-Only)

Location: Sarabeth's Lumine Shinjuku (Lumine 2 Floor 2F, 3-38-2 Shinjuku, Shinjuku Ward, Tokyo)

TEL:03-5357-7535

Reservations:  https://sarabeths7th.peatix.com

ROPPONGI HILLS HAPPY HALLOWEEN 2019: Monster Desserts, Horror Film Parade & More

Roppongi Hills has announced this year's Halloween festival. Titled "ROPPONGI HILLS HAPPY HALLOWEEN 2019," it will take place from October 1 to 31, packed full of spooky fun from a Halloween costume parade to a ghoulish gourmet menu line-up, featuring an always-unique array of food and drink.

Halloween Cupcakes – ¥638 Each @ LOLA'S Cupcakes Tokyo (Available from October 5)

LOLA'S Cupcakes has baked up an assortment of cute monster motif cupcakes, with flavours including pumpkin, purple sweet potato and more. Whichever one you pick, it's sure to give you a smile and delight your taste buds.

Halloween Mixed Berry Cake – ¥530 @ Roasted coffee laboratory

Creepy eyeballs adorn this cake, which is topped with blackberries and blueberries while drizzled in bloody blackcurrant jam. The cake is layered with sponge, fresh cream and a sweet and sour strawberry jelly.

Happy Monster – ¥980 @ Cafe Crepe

Delight in this cute pumpkin and fresh cream crepe, filled with pumpkin ice cream and snug in an orange crepe wrap. Housed inside is an adorable purple sweet potato mont blanc monster wearing a witch's hat.

A movie-themed parade will take place on Saturday October 26 at the event in line with the 2019 Tokyo International Film Festival. Children and adults can take part in the parade if they dress up. The 1km parade will last 25 minutes.

Gift bags will be given to all kids who get involved!

▼Halloween Parade

Date: October 26, 2019

Time: 10:30-13:30 (subject to change)

Location: Roppongi Hills Arena

Participation Conditions: Anybody who dressed up can join (the theme is "Movies")

Participation: Free

Enquiries: 03-6406-6000 (Roppongi Hills Information)

Halloween will hit Roppongi Hills for the entire month of October. Be sure to visit if you're in Japan next month!

Dare To Treat Yourself to One of These 5 Halloween Dishes

One of Japan's most favourite celebrations of the year is Halloween. As autumn is setting in, you will notice halloween decorations gradually drift into shop windows and more importantly, Halloween-themed desserts and meals taking over restaurant menus. To prepare for this delicious apocalypse, we are now unveiling this year's top Halloween meals and desserts you really need to look out for. 

Krispy Kreme Halloween Doughnuts

Krispy Kreme branches across Japan will be releasing their pumpkin, chestnut and apple flavoured selection called MONSTER HARVEST in Monster DINER from September 11 to October 31.

*Some branches may not sell the Halloween collection. 

Halloween Dozen (Box of 12) Available: September 11 ー October 31, 2019 Price: ¥2,000 (before tax)

If you're having a Halloween party with friends and family then this box of a dozen doughnuts is the perfect treat. It contains autumn-limited flavours such as pumpkin, apple chestnut as well as some of KKDJ's classic doughnuts. Here's a nice trick to save money on your treats: You save ¥440 if you purchase this box over individually purchasing the same doughnuts. Add a splash of autumn colour to your Halloween with this beautiful box of delicious doughnuts. 

▼Krispy Kreme Doughnuts Japan Website: https://krispykreme.jp/

Halloween Menu at The Pokémon Cafe, Nihonbashi 

The Pokémon Cafe in Nihonbashi, Tokyo has revealed its Halloween food and drink line-up for the spooky season which will arrive early on September 7 be served until October 31.

Pikachu's Greedy Halloween Plate 2019 – ¥1,706 (w/ Plate ¥2,894)

This year's Halloween plate features Pikachu wearing a witch's hat. This filling plate features a pumpkin salad, spaghetti and more. Plenty to keep you going until the late-night candy snacking!

When ordering a drink at the cafe you'll receive one of six possible original design coasters. New designs will replace these from September 7. One of the six designs is being kept a secret!

 For the duration of the Halloween event, there's also a limited-edition lunch mat and clear coaster to get your hands on. These are limited in stock so you'll want to catch 'em all quickly! And don't forget, you have to book a table in advance to dine at the Pokémon Cafe.

© 2019 Pokémon.©1995-2019 Nintendo/Creatures Inc./GAME FREAK inc.

 Pokémon, ポケットモンスター and ポケモン are registered trademarks of Nintendo, Creatures Inc. and GAME FREAK inc.

▼ Pokémon Cafe
Address: 2-1-2 Nihombashi | Nihombashi Takashimaya SC East Bldg. 5F, Chuo 103-0027, Tokyo Prefecture
Business Hours: 10:30-22:00

Closed during Nihombashi Takashimaya SC East Bldg's closed hours.

Reservations: https://reserve.pokemon-cafe.jp/

Official Website: https://www.pokemoncenter-online.com/cafe/

Cute Halloween Desserts at The Capitol Hotel Tokyu in Tokyo

The Capitol Hotel Tokyu in Tokyo has revealed that  that it will serve up its Halloween Sweets Selection again this year at the hotel's pastry boutique ORIGAMI located on floor B2F. The confectionery chefs have spun some spooky fun into this collection of 10 cute treats.

 Frankenstein – ¥1,760 / Phantom – ¥1,760 / Cyclops – ¥1,760

The Phantom is a popular confection every year at the hotel, but this year he's had two new freaky friends carved out for him: Frankenstein's monster and a Cyclops. These white chocolate monsters are filled with chocolate-covered almonds, macadamia nuts and other hidden delights.

▼Halloween Sweets Selection

Running: October 1, 2019 – October 31, 2019

Location: ORIGAMI, The Capitol Hotel Tokyu Floor B2F

Full Sweets Line-Up: https://www.tokyuhotels.co.jp/capitol-h/restaurant/boutique/plan/50306/index.html

The Capitol Hotel Tokyu

Address: 2-10-3 Nagatacho, Chiyoda Ward, Tokyo

Official Website: https://www.tokyuhotelsjapan.com/global/capitol-h/

Cool, Cute and Cutting Edge Halloween Treats: Alice Halloween Party Buffet 2019 

Fantasy-themed restaurant Alice in an Old Castle has unveiled a new Halloween edition of their grand all-you-can-eat buffet. The Alice Halloween Party Buffet 2019 will take place from September 7 to October 31, 2019, serving up 30 varieties of desserts and light bites for their Halloween-limited event. 

This season, they are serving a mummy-themed croque madame and carrot cake with a vibrant orange Halloween colour. They will also be bringing out their Alice in Wonderland Pink Spicy Curry which is a filling curry which has become the popular number one. The Pumpkin Potage Soup and many other autumn-themed dishes will also become part of the lineup. There is surely no better way to enjoy your time than to indulge in these splendid desserts and delicious snacks. 

▼ Alice in an Old Castle

Address: Floor B1 Suzuwa Building, 2-16-8, Minami Ikebukuro Toshima, Tokyo

Regular Opening Hours: Mon-Fri, 17:00-23:30(L.O.22:30)

Weekends/national holidays  16:00-23:30(L.O.22:30)

No regular holidays (dependent on Suzuwa Building closing times)

Website: https://www.hotpepper.jp/strJ000999805/

Omotesando Q-pot CAFE. Cute Halloween Menu 

Q-pot. is known for its accessory brand, which features jewellery made to look like sweets and desserts. It is also known for the Q-pot CAFE. which flips that concept, instead making sweets and desserts that look just like real accessories. For Halloween this year, the Q-pot CAFE. has whipped up a spooky menu with the theme "DEVIL NIGHT" featuring appearances of all things Halloween from pumpkins to ghosts.

Vampire Afternoon Tea Set – ¥2,400 each (price after tax, a minimum of two people required)

*Contains milk, eggs and wheat

Take a look at this spooky afternoon tea set perfect for adults! From devils to monsters, Q-pot CAFE. has recruited a number of freaky friends for their themed dishes to terrorize your tastebuds.

The top plate comes with sponge and cream cheesecake pops coated in chocolate and salty breadsticks. The set also comes with homemade scones made from butter cream and sweet and tangy berry sauce, devil heart macaron-topped cupcakes, and pumpkin macarons which are bound to set your Halloween levels to max!

The bottom plate features savoury foods. The croissants are filled with egg, aromatic basil and dried tomatoes which provide an interesting texture.  The set also includes skewers of olives, mini tomatoes and pickles, and a Halloween Pumpkin soup.

If you are experiencing Halloween in Japan, you just have to try the themed desserts and meals!

Feast On Kyoto Vegetables & Italian Cuisine at MERCER BRUNCH TERRACE HOUSE KYOTO

MERCER BRUNCH TERRACE HOUSE KYOTO is a restaurant located by the Kamo River in Kyoto which serves brunch-style lunches with French toast during the day while in the evening it offers the chance to casually enjoy a gourmet dining experience. The restaurant has whipped up all-new dinner menu dishes that focuses on "steak, Kyoto-produced vegetables, and Italian."

MERCER BRUNCH TERRACE HOUSE KYOTO can be found on the 3rd and 4th floors of PONTONITE which has become a new landmark of Pontocho, a district in Kyoto right next to the Kamo River. From the restaurant one can enjoy a picturesque view of the river, streets and more. The restaurant's terrace seats are popular with couples, girl get-togethers, and overseas visitors as they offer the closest view of the Kamo River.

Lobster Grill & Bisque Omelette – ¥2,400 (Before Tax)

Fresh Fish Bottarga & Sautéed Manganji Togarashi Pepper – ¥1,800 (Before Tax)

The restaurant's new menu line-up will be served in the evening from 5pm. This includes the Lobster Grill & Bisque Omelette which is made with luxurious ingredients including Kobe beef fillet and lobster as well as nutrient-packed vegetables grown in Kyoto, the Fresh Fish Bottarga & Sautéed Manganji Togarashi Pepper, and many more. The restaurant is also now starting a "Prefix Dinner Course" which lets you picks your favorite main course amongst other things.

For drinks you can order one of MERCER BRUNCH's many whiskies or wines as well as fresh a mojito, fruity cocktails and more. There's even desserts prepared that go perfectly with the Kyoto vegetable and Italian cuisine combination.

Information

MERCER BRUNCH TERRACE HOUSE KYOTO

Address: 123 Ishiyacho, Kiyamachi Sanjo Sagaru, Nakagyo Ward, Kyoto , Kyoto Prefecture
Opening Hours:

[Mon-Thurs] 11:00-23:30 (Last Orders 22:30)

[Fri & Day Before Public Holiday] 11:00-Midnight (Last Orders 22:30)

[Sat] 10:00-Midnight (Last Orders 22:30)

[Sun & Public Holiday] 10:00-23:30(Last Orders 22:30)

*Dinner time is from 17:00

No Fixed Holiday

Official Website: https://mercer-brunch-kyoto.com/index.html

Roppongi Hills Renovates Food Court Revealing Mouthwatering Michelin Guide Restaurants

Looking for a delicious Michelin-approved food experience? You surely cannot go wrong with heading to Roppongi Hills; a large-scale development project located in Tokyo, which is known for its nightlife and and shopping. Roppongi Hills is also home to the shopping mall Metro Hat, which is currently renovating its food court on basement floor 2. The foodcourt will have its grand opening on October 29th. 

The renovation will introduce seven new restaurants to the food court. Some of these include ramen shops and Yakitori restaurants which are bringing brand new rare dishes and flavours to the table.

Let's look at our recommendations:

Ginza Kagari (銀座 篝)

Chicken Soba: ¥900 (before tax)

Ginza Kagari is known for their notorious never-ending queues. In 2016 and 2017, it earned a place in the Michelin Guide Tokyo and even became popular overseas. One of their specilaties is their chicken soba. The broth is packed with the goodness and flavour of the entire chicken and even the bones. The flavour of the broth is exquisite and rich. The salt kaeshi sauce which is made from a mix of soy sauce, mirin and sugar goes perfectly with the soup. The salt mixture in the sauce consists of a range of natural salts which contain the natural goodness of the sea and perfectly enhance the flavours of the soup.

Location: Metro Hat Hollywood Plaza Floor B2

Opening Hours: 11:00 ー 23:00 (L.O: 22:00)
Website: https://www.roppongihills.com/en/  (The website is scheduled to open during mid October)

Yakitori Kokorikoan (焼鳥 ここりこ庵)

Yakitori (chicken skewer): ¥200 (before tax)

You must not miss out on Kokorikoan's Chicken Skin Hotpot ー a dish that is rare even to Tokyo. This dish is the perfect opportunity to discover a new kind of flavour and a new way to enjoy food. This restaurant prepares their dishes using special and rare cuts of chicken and chicken that is freshly ground in the morning. The chicken is flavored using traditional flavorings such as tare sauce and salt as well as flavorings that are not so conventional in Japan such as balsamic vinegar, herb vinegar, madeira wine, brandy and much more. Each cut of meat is prepared with the most careful methods and best seasonings to fully bring out the flavours. 

Location: Metro Hat/ Hollywood Plaza Floor B2
Opening Hours: Lunch: 11:00 ー 15:30 (L.O.15:00)  Dinner: 17:00 ー 23:00 (L.O.22:00)

Website: https://www.roppongihills.com/en/ (The website is scheduled to open during mid October) 

 Pintokona (ぴんとこな)

As a cheap place to enjoy authentic sushi, Pintokona has become a very popular restaurant. Now, it is having a fresh renewal. This sushi is made by using seasonal ingredients from around Japan. From November 1 to 30, there will be an exciting new menu that includes fresh fish from Miyazaki and authentic shochu (Japanese spirit). There will also be a fair that you also should not miss out on. 

Location: Metro Hat/ Hollywood Plaza Floor B2
Opening Hours: Lunch: 11:00 ー 15:30 (L.O: 15:00) Dinner: 17:00 ー 23:00 (L.O: 22:00)

Website: https://www.roppongihills.com/en/ (The website is scheduled to open during mid October) 

AFURI(アフリ)

Yuzu Orange and Salt Ramen: ¥1000 (before tax) 

Popular ramen shop AFURI sells a ramen with a translucent gold-coloured soup made using the natural spring water that gushes from the foot of Mount Afuri (Mount Oyama) located in the Tanzawa Mountain Range of the Kanto Region. Carefully selected chicken bones, pot herbs, kombu (kelp) and katsuobushi (fermented and smoked fish) is boiled in the water to add to the flavour. The whole wheat flour used to make the noodles creates a wonderfully fresh, chewy texture. The chashu roast pork pieces are freshly barbecued upon each order, creating a fresh and delicious flavour. AFURI also sells vegan ramen which is particularly popular among foreigners.

We have a full report on our heavenly trip to AFURI so if you are curious to find out more, please check out our this article: Introducing AFURI—Harajuku's Michelin-Starred Ramen Restaurant

Location: Metro Hat/ Hollywood Plaza Floor B2
Opening Hours: 11:00 ー 23:00 (L.O:22:00)
Website: https://www.roppongihills.com/shops_restaurants/restaurants/00100.html

There are just so many popular shops and restaurants at Metro Hat that you will be spoilt for choice. We hope you enjoy exploring the rich culture of Roppongi.