Krispy Kreme to Release Jack O' Lantern, Black Cat & Other Spooky Doughnuts This Halloween
Krispy Kreme Doughnuts Japan have announced that they will release four Halloween themed doughnuts this year with black and pink as the primary colours. They will be available from September 12 to October 31.
The black cat is a new entry to KKDJ's Halloween doughnut range this year, with the jack o' lantern and spider being returning regulars. The doughnut dough too is new, coming as pitch black and made with bamboo charcoal powder.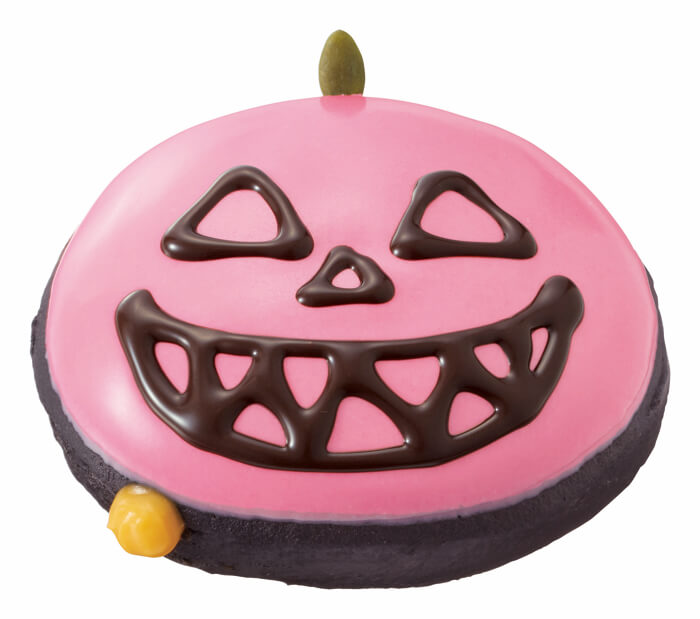 Pink Pumpkin Jack – ¥220
The jack o' lantern is a classic choice during Halloween at Krispy Kreme in Japan, but this year it's arriving in a new colour. The black doughnut is filled with rich pumpkin cream and coated with pink coloured and vanilla flavoured chocolate.
Black Cat Chocolate – ¥250
Black Cat Chocolate is the new kid on the block in KKDJ's Halloween range. This cute black kitty is filled with sweet caramel custard. Its eyes and whiskers are made of white chocolate and pupils and nose from pink chocolate. The sweetness of the caramel custard isn't too strong so it's recommended for kids too.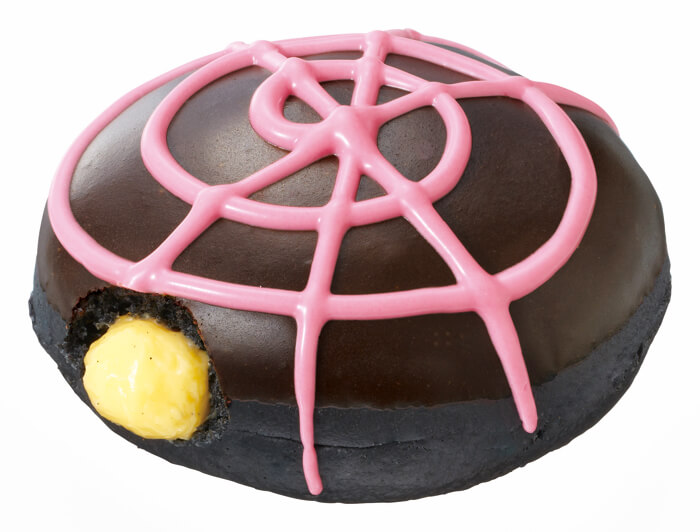 Pink Spider Custard – ¥200
This doughnut is inspired by a spider's web and takes on Krispy Kreme's classic chocolate custard flavour. The web is made from pink chocolate and it's filled with custard that has vanilla beans in it which when combined with the velvety chocolate icing has become a regular favourite.
Halloween Old Fashion – ¥200
This doughnut is made with old fashioned chocolate and a richer bitter chocolate.
KKDJ are also releasing a Halloween dozen box that's coupled with their most popular Original Glazed® doughnuts, as well as a colourful 'mini box' of 20 that includes a range of different monster doughnuts. Both boxes will also come in original packaging from October 1.
As well as doughnuts, they are bringing out a hot Sweet Potato Latte and the Krispy Frozen Sweet Potato. Sweet potato is an autumn ingredient in Japan so you can embrace the season if you order these items. They get their sweet potatoes from Tanegashima in Kagoshima Prefecture. They're high in sugar content.
Enjoy the Halloween season even more in Japan with friends and family with some delicious doughnuts from Krispy Kreme.
■Information
BLACK OR PINK?HALLOWEEN
Available: September 12, 2018 – October 31, 2018
Krispy Kreme Doughnuts Japan:
https://www.krispykreme.jp/
RELATED ENTRIES
Cute Halloween Sweets Spook Their Way Into Tokyo's The Capitol Hotel Tokyu

For this year's Halloween season, The Capitol Hotel Tokyu in Tokyo has announced that it will serve up its Halloween Sweets Selection again this year at the hotel's pastry boutique ORIGAMI located on floor B2F. The confectionery chefs have spun some spooky fun into this collection of 10 cute treats.

Frankenstein – ¥1,760 / Phantom – ¥1,760 / Cyclops – ¥1,760

The Phantom is a popular confection every year at the hotel, but this year he's had two new freaky friends carved out for him: Frankenstein's monster and a Cyclops. These white chocolate monsters are filled with chocolate-covered almonds, macadamia nuts and other hidden delights.

Witch Hat – ¥715

Dressed in a milk chocolate mousse is ganache and a rich and bitter crème brûlée made with bitter orange. It also contains a mandarin orange liqueur for deeper flavours. The mix of orange notes is refreshing on the palate.

Cross – ¥715

The orange and black Cross is a mousse cake made from pumpkin puree beneath which lies a cinnamon flavoured crème brûlée and coffee flavoured ganache. The bitter coffee elevates the exquisite sweetness of the pumpkin for a delicious combination.

Evil Eye – ¥715

Enter at your own risk with the grotesque-looking (but delicious tasting) Evil Eye mousse cake. It's made with fragrant biscuit and caramel as well as blonde chocolate from France and inside is a smooth pear jelly.

There are lots of other Halloween treats besides these coming to the hotel too, so if you're in Tokyo this October then be sure to stop by for a Happy Halloween.

*All listed prices include tax

Tokyo Disney Resort® Announces Disney Halloween 2019

Tokyo Disneyland® and Tokyo DisneySea® are set to host their special Disney Halloween event again this year from September 10 to October 31. Additionally, several park facilities and services will hold their own Halloween programs this year, including at the Disney Hotel, on the Disney Resort Line, at IKSPIARI, and elsewhere.

The theme at Tokyo DisneySea this year is "a dark and bewitching Halloween." Guests are invited to a mysterious but showy Halloween festival. The park's first ever "Festival of Mystique" show will be held at Porto Paradiso where an evil power will creep. Mickey Mouse and the other Disney cast will work to recover Halloween from this wicked power.

The theme at Tokyo Disneyland is "ghosts" where guests will be pulled into a spooky and exciting ghostly Halloween experience. At the "Spooky Boo! Parade," Mickey and Minnie will don all-new ghost costumes and beckon guests to join them in the spine-chilling and enticing celebrations. When the sun sets and evening covers the sky, Halloween music, visuals and lights will arise from the World Bazaar, and a new photo spot will be present for guests to take a picture together with the ghosts.

Cloak: ¥2,500

Headband: ¥1,800 / Light-Up Pendant: ¥1,500

Guests can also pick up a selection of dark and bewitching merchandise based on the Festival of Mystique show

Special Set: ¥1,880

Popcorn Soda & Doughnuts: ¥600

And of course, expect to tuck into a deliciously spooky menu too.

©Disney

Krispy Kreme Meets Sesame Street With Colourful Doughnut Box

Krispy Kreme Doughnuts Japan (KKD) is celebrating 50 years of Sesame Street with a collaborative box of doughnuts which will be released on February 20.

Sesame Street is a long-running American children's TV show that combines live action and puppetry. This year marks the series' 50th anniversary during which it has been enjoyed in 150 countries worldwide.

KKD has create doughnuts based on the popular characters Elmo, Cookie Monster and Big Bird.

Sesame Street Dozen (12 Doughnuts): ¥1,800 (Before Tax) – Available February 20, 2019 – Mid-April 2019

Limited edition "Sesame Street Dozen" boxes of 12 doughnuts are also available in limited quantities which include these three doughnuts as well as the store's most popular doughnut selections.

A special paper craft set can also be downloaded and printed from the official KKD Japan website once the doughnuts are released.

Elmo Custard: ¥250 (Before Tax) – Available February 20, 2019 – Mid-April 2019

Fans of Elmo can look forward to enjoying this custard cream and vanilla bean-filled doughnut covered in strawberry chocolate and topped with red sprinkles. His big wide eyes are made from white and dark chocolate and his nose from a sweet and sour mix of fruits for a burst of energy.


Cookie & Cookie Monster: ¥250 (Before Tax) – Available February 20, 2019 – Mid-April 2019

Sesame Street's Cookie Monster is never seen without his cookies, and this doughnut proves that by putting a whole chocolate chip cookie inside his mouth. The doughnut is covered in a vanilla cream made with plenty of cookies before being topped with blue sprinkles. His eyes are also made with white and dark chocolate.


Big Bird Purin: ¥250 (Before Tax) – Available February 20, 2019 – Mid-April 2019

Everybody's favourite big yellow bird is made from custard pudding flavoured chocolate and crunchy pieces of butter crunch. His eyes are made from milky white chocolate and his beak from sweet castella.

Celebrate 50 years of Sesame Street by picking up a colourful character doughnut!

Information

KRISPY KREME meets SESAME STREET
Release Date: February 20, 2019
Available: At most Krispy Kreme Doughnut branches in Japan

Official Website: https://krispykreme.jp/

© 2019 Sesame Workshop. All rights reserved.

Heart-Shaped Valentine's Day Doughnuts Arriving at Krispy Kreme

Krispy Kreme Doughnuts Japan is gearing up for Valentine's Day with a string of loving (and delicious) releases. The first of these in the run up to the season of love comes in the heart-shape of three doughnuts and two chocolate flavoured drinks which will arrive at all branches in Japan on January 9, 2019.

These doughnuts are a popular product making a return for the first time in two years. When warmed up for 12 seconds the microwave oven before being served the cream inside melts into a delicious fondant. The three flavours are chocolate and the new strawberry and banana caramel.

Fondant Chocolate: ¥230

The heart-shaped chocolate doughnut is filled with a velvety chocolate cream. The doughnut pastry is laced with cocoa and coated in dark chocolate. It is also decorated with a white chocolate pattern and topped with candied walnuts and pistachio for added texture.

Fondant Strawberry: ¥230

The strawberry doughnut is packed full of melty strawberry cream. The surface of the cocoa flavoured doughout is covered with strawberry chocolate and topped with bright-red freeze-dried strawberries and strawberry curls. It is finished with a dusting of strawberry sugar to create the perfect sweet and sour Valentine's treat.

Fondant Banana Caramel: ¥230

Oozing with banana milk cream, this delectable heart is made with a banana puree that includes milk and cream. The dough is made with chocolate and the doughnut is topped with rich caramel chocolate. It's decorated with dark chocolate lines and finished with crunchy almonds and bitter caramel candy.

Hot Orange Chocolate: Small ¥370 / Tall ¥410

The two beverages arriving are the "Hot Orange Chocolate" and the "Crispy Frozen Orange Chocolate" both of which can be ordered as a set that comes with a Krispy Kreme Original Glazed® doughnut. The drinks are made with sweet and juicy setoka oranges grown in Setouchi.

Warm your heart this Valentine's season at Krispy Kreme.

Information

3 Fondant Doughnuts & 2 Chocolate Drinks

Running: January 9, 2019 – Mid-February 2019

Available: At most Krispy Kreme branches in Japan

Krispy Kreme Doughnuts Website: www.krispykreme.com

Purple-Coloured Halloween Cat Bread Set Pouncing on Blue Jean Bakery in Osaka

For a limited time only, the Blue Jean cafe and bakery located in Hotel New Hankyu Osaka will sell its new 'Iro Neko Halloween Set' for 7 days from October 25.

Blue Jean has taken its popular cat bread, mixed it with more ingredients to make it even more delicious and made it purple. The set itself comes with the bread and some Halloween merch and goodies.

Iro Neko Halloween Set

The bread is grape flavoured and is mixed with dried cranberries and raisins. It comes decorated with bat and witch hat shaped sablé shortbread cookies. The set also includes pumpkin flavoured cat paw and financier baked desserts. It also comes with a cute blanket which will be very useful for the coming cold season.

Information

Iro Neko Halloween Set

Running: October 25, 2018 – October 31, 2018

*30 available per day on weekdays / 60 available per day on weekends

Price: ¥2,200 (Tax Included)

Available: Blue Jean Cafe & Bakery on floor B1F of Hotel New Hankyu Osaka

Selling Time: 8:00-22:00

TEL: 06-6372-5101

Krispy Kreme to Release 5 Christmas Doughnuts in Japan

Krispy Kreme Doughnuts Japan (KKDJ) is getting ready for the holiday season with its upcoming "Holly Jolly Holiday" line of cute Christmas doughnuts that will be released at most branches across Japan on November 14, 2018.

The tasty treats all take on Christmas motifs and unique shaps. KKDJ is also introducing milk tea flavoured crème for the very first time in the Milk Tea Box doughnut. Let's take a look.

Strawberry Milk Santa: This cute square doughnut is made to look like Santa Claus. His bright-red Christmas hat is a strawberry nappage and beard is made from milky white chocolate. Inside is a strawberry milk flavoured cream.

Caramel Reindeer: Another square doughnut, this time coated in caramel chocolate. It's filled with a bitter caramel sauce and a caramel cream with added salt to help bring out the flavour. You can enjoy three different textures: the fluffy doughnut itself, strawberry jelly reindeer nose and the crunchy pretzel antlers.

Milk Tea Box: This doughnut is made in the image of a Christmas present box and contains KKDJ's first ever milk tea flavoured cream. The yellow outer coating is purin flavoured and sprinkled with colourful sugar. It's also 'tied' with a white chocolate and strawberry chocolate ribbon.

Snowman Chocolate: The snowman doughnut is filled luxuriously with a rich raw chocolate cream and coated with wintery white coloured and milky flavoured white chocolate. His smile is painted with dark chocolate while his scarf is made with a sweet and sour strawberry nappage.

Sprinkle Wreath: This doughnut is a spin on Krispy Kreme's popular Original Glazed® doughnut. It's coated in a bright green vanilla chocolate and topped with red, green and white holiday colour sprinkles. It's the spitting image of Christmas.

KKDJ are also selling a limited edition design box called "Holiday Dozen" that contains all five of these doughnuts and the Original Glazed®, the chain's most popular doughnut.

Share some cute and delicious doughnuts this holiday season with friends and family!

Tuck Into Halloween Themed Vegan Food at BOTANIST Tokyo

BOTANIST Tokyo is the flagship store of Japanese botanical lifestyle brand BOTANIST, and it's there at their cafe on the second floor that they are selling Halloween themed vegan food from October 12 to October 31.

BOTANIST Tokyo is an entry brand into a botanical lifestyle. This special food event can be enjoyed by both vegans and those who haven't tried vegan food before. The menu contains a range of delicious, naturally-tasting food using absolutely no meat products, dairy products and so on.

VAMPIRE BURGER: ¥1,400 (Tax Included) *Comes with drink

As well as the cafe's usual vegan menu, you can look forward to three additional spooky selections: the Vampire Burger, Black Cat's Tiramisu, and Ghost Raspberry Tiramisu.

Black Cat's Tiramisu: ¥650 (Tax Included) / Raspberry Tiramisu: ¥650 (Tax Included)

These cute vegan Halloween delicacies will have you snapping photos without realising.

Customers who dine at the cafe on October 27 can receive a free Halloween hair service by SALONIA Hair Salon. There are wonderful presents available for people who take a picture of themselves at the cafe and post it on social media on the day too. Both the inside and outside of the cafe will be decorated with botanical Halloween decorations too and you're free to take pictures.

Enjoy a vegan-style Halloween this year!

Information

BOTANIST Tokyo

Address: 6-29-2 Jingumae, Shibuya, Tokyo

Opening Hours: 11:00-20:00

No Fixed Holidays.

BOTANIST Tokyo: http://botanistofficial.com/shop/

Halloween Themed Menu

Running: October 12, 2018 – October 31, 2018

Rilakkuma & Korilakkuma Halloween Sweets Are Arriving to Lawson Convenience Stores in Japan

Character themed Japanese sweets brand Tabemas are releasing two new treats for Halloween: one for Rilakkuma who is celebrating his 15th anniversary this year and one for his buddy Korilakkuma. The sweets will be available at Lawson convenience stores across Japan (excluding Lawson Store 100 branches) from October 16.

Tabemas are a sweets company who make wagashi―Japanese style sweets―based on familiar characters. They have teamed up with a list of popular faces including Doraemon, Mickey & Minnie Mouse, Winnie the Pooh, Hello Kitty and Pompompurin. The new Rilakkuma and Korilakkuma sweets feature both bears holding a jack-o'-lantern. They're so cute – where do you even start eating from?

The company's name "Tabemas" is a portmanteau of the Japanese word taberareru and the word "mascot," translating to "mascots that you can eat." As the name suggests, these delicately crafted treats are made to look just like the characters.

The name of this Japanese sweet is "nerikiri" which are made from bean paste. The Rilakkuma nerikiri is pumpkin purin flavoured which has both an autumn feel to it and also happens to be Rilakkuma's favourite food. Korilakkuma is maple flavoured, and both are filled with red bean paste. They look cute but are also authentic Japanese sweets!

If you're in Japan this month then be sure to find the closest Lawson to you to get your hands on these.

Information

Tabemas Rilakkuma Halloween: Rilakkuma (Pumpkin Purin Flavoured)

Tabemas Rilakkuma Halloween: Korilakkuma (Maple Flavoured)

Price: ¥280 Each (Tax Included)

Release Date: October 16, 2018

Available: At the chilled desserts corner of Lawson branches in Japan.

*Not available at Lawson Store 100 branches.

*Limited stock. Products will discontinue once all have been sold.

©2018 San-X Co., Ltd. All Rights Reserved.

*Photos are for illustrative purposes only. Actual product may differ slightly.

*Please ensure not to choke on the sweets.

*The latest information can be found on the Bandai Candy homepage.

*"食べマス" is a registered trademarks of Bandai Co., Ltd.

Product Page: http://www.bandai.co.jp/candy/tabemas/hw_rilakkuma/

Starbucks Japan Unveils Witch & Princess Inspired Frappuccinos® for Halloween

Halloween begins on October 18 at Starbucks in Japan. The coffee chain will release the Halloween Witch Frappuccino® and Halloween Princess Frappuccino®.

The theme of these two beverages is "Which are you? It's the day your decide." Customers must decide which fate lies inside them – are they a witch or are they a princess? Both are completely different in appearance but are also each made with an apple compote.

Halloween Witch Frappuccino®: Tall ¥590 (Pre-Tax) *Tall size only

If you know you're a witch, you'll receive the dark coloured witch frappe. The drink is first filled with a striking blood red apple compote on top of which sits whole blended caramel cookie made into a frappuccino. It's also topped with chocolate sauce which seeps into the whole drink to give it that witch-y look.

Halloween Princess Frappuccino®: Tall ¥590 (Pre-Tax) *Tall size only

If you're a princess, you'll get a cute princess frappe. The drink is made with apple compote along with white mocha sauce and whipped cream with sweet milky flavours. The pink and blue toppings also crown the drink for that extra princess mood.

So, which are you: a witch, or a princess?

Information

Halloween Witch Frappuccino®
Halloween Princess Frappuccino®

Running: October 18, 2018 – October 31, 2018
Available: At most Starbucks branches across Japan.

Starbucks Japan Official Website: http://www.starbucks.co.jp/

Minion Themed Banana Chocolate Halloween Tarts Released at Ministop Convenience Stores

Halloween is almost here, which means it time to start getting in the spooky mood. The new Halloween Minion Banana Chocolate Tarts just dropped pre-sales at Ministop branches across Japan on October 2, with general sales beginning on October 17 at AEON Retail.

These tarts are the perfect treat for the Halloween season, featuring designs of Minions from the popular Despicable Me film franchise together with other Halloween motifs like pumpkins and monsters. They are yellow like the Minions and banana flavoured – Minions' favourite flavour.

The tarts are crunchy and are covered with a white chocolate coating. Inside is a banana flavoured mousse layered like a cheesecake as well as chocolate mousse. The banana and chocolate make for a deliciously rich combination.

Part of the fun of buying these tarts is choosing which one to go for. There are 6 designs to choose from that include Bob, Jerry and Stuart. The packaging too has Minion decorations with Halloween colours.

A special campaign is also being held from October 2. Three lucky people have the chance to win the above Minions Christmas cake by posting their photos of their tarts with the hashtag #トリックオアミニオンタルト on Twitter and Instagram.

Get your hands on a cute Minions tart in Japan this Halloween!

Information

Halloween Minion Banana Chocolate Tart

Released:

[Ministop] October 2, 2018 (*Select branches not stocking)

[AEON Retail] October 17, 2018

Price: Open Price

Designs: 6

*Select branches not stocking.

*Limited stock. Sales will discontinue once all are sold.

*Sales subject to closure depending on the season.

*Initial sale dates differ depending on the branch.

Minion Tart Halloween Special Campaign

Present: Decorative Minion Christmas Cake

Application Period: October 2, 2018 – October 31, 2018

How to Apply

①Purchase any Halloween Minion Banana Chocolate Tart

②Follow Bandai Candy's official social media accounts: Instagram (@bandaicandy) and Twitter (@candytoy_c)

③Post a photo of your tart on Instagram and/or Twitter with the hashtag #トリックオアミニオンタルト

*Full details available on the official homepage.

Winners will receive a direct message from the official accounts. Bandai Candy will not reply to queries regarding the election results.

*Pre-orders for the decorative Christmas cake are now open on Bandai's official shopping site Premium Bandai.

*The Christmas cake is not limited to the campaign and can be purchased normally.

*Winners will receive their cakes in December 2018.

*Photos are for illustrative purposes only.

*The figures in the first photograph are not included with the tarts and are a separate product.

*The photos show a product still in development. Actual product may differ slightly.

*The latest information can be found on Bandai Candy's official homepage.

*The information written is subject to change without notice.

Product Page: http://www.bandai.co.jp/candy/minion_tart/

TM & ©Universal Studios

Halloween desserts and mascaraed parade! This year's Halloween events at Roppongi Hills

The annual event, "ROPPONGI HILLS HAPPY HALLOWEEN 2018" where visitors can enjoy foods and services related to Halloween, will be held at Roppongi Hills from October 11th (Thurs.) to 31st (Wed.) 2018.

Many kinds of unique and fun "Halloween-limited events" will be held at Roppongi Hills. This year, various menu items including items where you can change the taste by pouring a blood-looking sauce over it and delicious, photogenic items can be enjoyed.

Since the Tokyo International Film Festival is held on October 27th (Sat.), right before Halloween, a Halloween parade using the motifs of movie characters will be held in Roppongi. Also, you can enjoy many kinds of contents including a nail make up service and a stamp rally.

Roppongi Hills Halloween Parade ~Let's dress up like movie characters and join the parade~

The 16th "Halloween Parade" was held last year with about 3,000 participants. Because the Tokyo International Film Festival is held in Roppongi and it is known as the "city of movies" where many Japan premiers are held, the theme of the parade is "movies." Both children and adults will get dressed up as movie characters and join the parade. The parade, led by a brass band playing Halloween music, will depart from Roppongi Hills Arena and walk for about 25 minutes (1km). Children who join the parade can get some snacks.

Venue: Roppongi Hills Arena

Date: October, 27th (Sat.) 10:30 to 13:30 (plan)

Eligibility for participants: persons who are dressed up as a movie character can participate in the parade

Participation method: October 27th (Sat.) 9:45 to 13:00 ※Roppongi Hills Arena is the registration venue.

Participation fee: free

TEL: 03-6406-6000(Roppongi Hills Conclusive Information)

※Persons who have registered during the registration hours (9:45 to 13:00) can join the parade. Advanced registration is not necessary.

※Each group will consist of 200 persons and will start walking at different times.

※The parade will finish in about 25 minutes.

※Please note that you might have to wait for a while before the parade starts.

※All children must be accompanied with their parents or guardians (parents or guardians don't have to wear a costume)

※Please note that changing rooms and baggage compartments are not available.

※The event will be canceled depending on weather conditions.

Halloween Kids Stamp Rally

This is a service where you can collect stamps at six stores (out of 21 stores) located inside Roppongi Hills. A stamp card can be obtained at "Roppongi Hills Information Center" located inside Roppongi Hills Mori Tower 2F. A specially made soft-served ice cream will be offered at "Grand Food Hall" which was opened in Hill Side B2F on September 13th.

Venue: Participating stores located inside Roppongi Hills

Date: October, 21st (Sun.), 27th (Sat.), 28th (Sun.) 12:00~ ※The event will be finished when it reaches a fixed number.

Qualifying age: over 12 ※A parent/guardian must accompany the child

Stores: Uchino Touch (West Walk 4F), Cole Haan (Hill Side B1F), SABON (West Walk 4F), Dogs Care Joker (Hill Side B1F), BorneLund (Hill Side B2F), United Arrows Roppongi (West Walk 2F) etc.

※Numbered tickets will be distributed from 11:00 at Roppongi Hills Information Center

※Please note that the number of stamp sheets and prizes is limited.

Halloween-limited menu items ~Photogenic menu items which are too good for eating and menu items that you can change the flavor of, will be sold.

Unique and fun "Halloween-limited menu items" are now recognized as the seasonal tradition of Roppongi Hills. Delicious and photogenic menu items will be sold from October 11th to October 31st (Wed.). Let's enjoy these menu items which will make you want to take photos of them.

"Jack-o'-lantern" \1,800 (eggcellent) 15 dishes per day

A monster-size item that comes with 10 slices of originally selected chewy pancakes that contain purple potato. You can enjoy two flavors by cutting it into half and pouring a chocolate sauce over it. It is recommended that you share it with several persons.

 "Obake no Apple Pie" 1,200 yen (TUSK)

This item is a pumpkin face made with pie dough that boosts the atmosphere of Halloween. Cold caramel ice cream is placed on top of the hot apple pie so you can enjoy both crispy and soft textures at the same time. The look of the menu item becomes bloody and gory when you pour the red berry sauce over it. Let's take a video of it!

 "Halloween Burger Set" \1,680 yen (Park 6 Powered by bondolfi boncaffe) 15 dishes per day

A charming ghost hamburger that comes with fangs and a tongue made with cheese and buns grilled using bamboo charcoal. The menu comes with potato, ketchup and a drink.

Halloween Cup Cake 2018" \604/one piece (LOLA'S Cupcakes Tokyo)

5 kinds of photogenic cupcakes.  A pumpkin, skull, ghost and monster are turned into cupcakes! These items are suitable to be bought as a gift♡

"Pumpkin Aragosta" \650 yen (Park 6 Powered by bondolfi boncaffe) 15 dishes per day

The Halloween version of PARK 6's original hybrid dessert "Aragosta Soft" will be sold! A new type soft served ice cream which you can eat using just one hand. This item is very photogenic.

Roppongi Hills Observation Deck Tokyo View City ~enjoy the Halloween sky at a venue 250m above sea level~

Tokyo City View which is located on 52F of MoriTower will provide special contents from October 11th (Thurs.) to 31st (Wed.). The contents include a coupon service where persons wearing costumes can receive a Halloween-limited afternoon tea. Let's enjoy the "Halloween sky!"

Venue: Roppongi Hills Observation Deck Tokyo City View

Period: 2018 October 11th (Thurs.) to 31st (Wed.)

Time: 10:00 to 23:00 (last entrance 22:30) the venue will be opened until 25:00 on Friday, Saturday and the day before a holiday (last entrance 24:00)

※The business hours of the sky deck is 11:00 to 20:00 (last entrance 19:30)

Entrance fee – observation deck: adult \1,800, students (high school, college/university students) \1,200, children (4 years old to junior high school) \600, seniors (over 65) \1,500

Entrance fee – sky deck: additional fee (\500 – adults, \300 4 years old to junior high school) must be paid in addition to the entrance fee.  

※All prices noted above include tax

※Children below elementary school must be accompanied by their parents or guardian.

Let's wear a costume and go to the observation deck! Entrance fee discount service.

A campaign where persons wearing a costume can get a 50% discount (entrance fee) will be held! You can enjoy a fantastic time at the observation deck. Children below elementary school can enter the venue for free. Let's have a wonderful time with your family or friends.

Why not enjoy Roppongi Hills over the three week period when Roppongi Hills and Tokyo are filled with a Halloween mood?

Information

Roppongi Hills

Address: 11-1, 6th Street, Roppongi, Minatoku, Tokyo

TEL:03-6406-6000(10:00~21:00)

Pitch Black Halloween Desserts to be Sold at Croquant Chou Zakuzaku

Cream puff connoisseurs Croquant Chou Zakuzaku are getting in on the Halloween season fun this year by releasing two tasty treats. The Kuro Zaku and Kuro Zaku Soft will be available from October 1 to October 31.

The Kuro Zaku is an almond crunch croquant filled with a cream that's made with black cocoa powder. Inside that is a purple sweet potato cream that's made with 1:1 custard cream and purple sweet potato paste. The paste is made in Japan and its purple colour gives the dessert that Halloween look.

The Kuro Zaku Soft is an ice cream that's completely black – including the cone. The rich soft serve ice cream melts like fresh cream and includes a white chocolate dip made with bamboo charcoal powder.

Customers who order either of these desserts will take them selves a Halloween face paint seal too.

The shop is designed like a factory so you can eat everything freshly made. Try their delicious products for yourself this Halloween.