Lawson's Rilakkuma Chocolate Buns Are Kawaii and Piping Hot
Hi, everyone. It's Midori here from the MOSHI MOSHI BOX Harajuku Tourist Information Center.
It's gotten cold all of a sudden recently – are you all feeling well? When it's cold in Japan there's nothing better than popping down to the convenience store and grabbing a nikuman―a meat bun. So that's what I did today. I went to Lawson to buy myself a meat bun and came across something very cute they were selling!
And that was this!
"Rilakkuman"―a Rilakkuma bun!
It's a Rilakkuma manjuu which is a steamed bun with a filling. It looks just like Rilakkuma's face. So cute!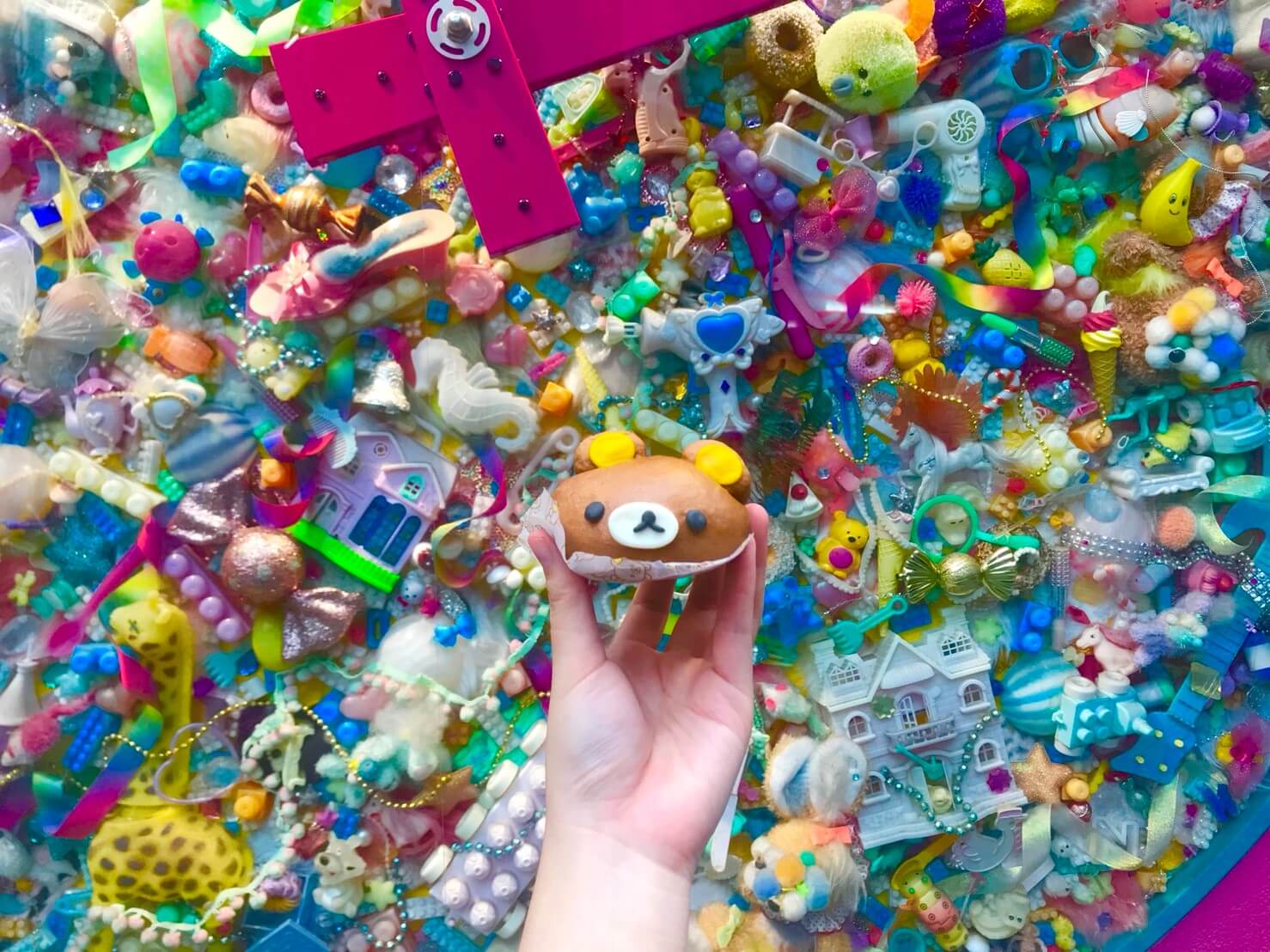 I took a picture with it at the World Clock―the MOSHI MOSHI BOX's iconic Instagram spot.
It doesn't pander to today's social media and Instagram war which is nice.

There'[s also a Rilakkuma panel displayed inside the MOSHI MOSHI BOX so I got two Rilakkuma's in one photo! That's a lot of Rilakkuma.
It seems a waste to eat it but I went all out and wolfed it down.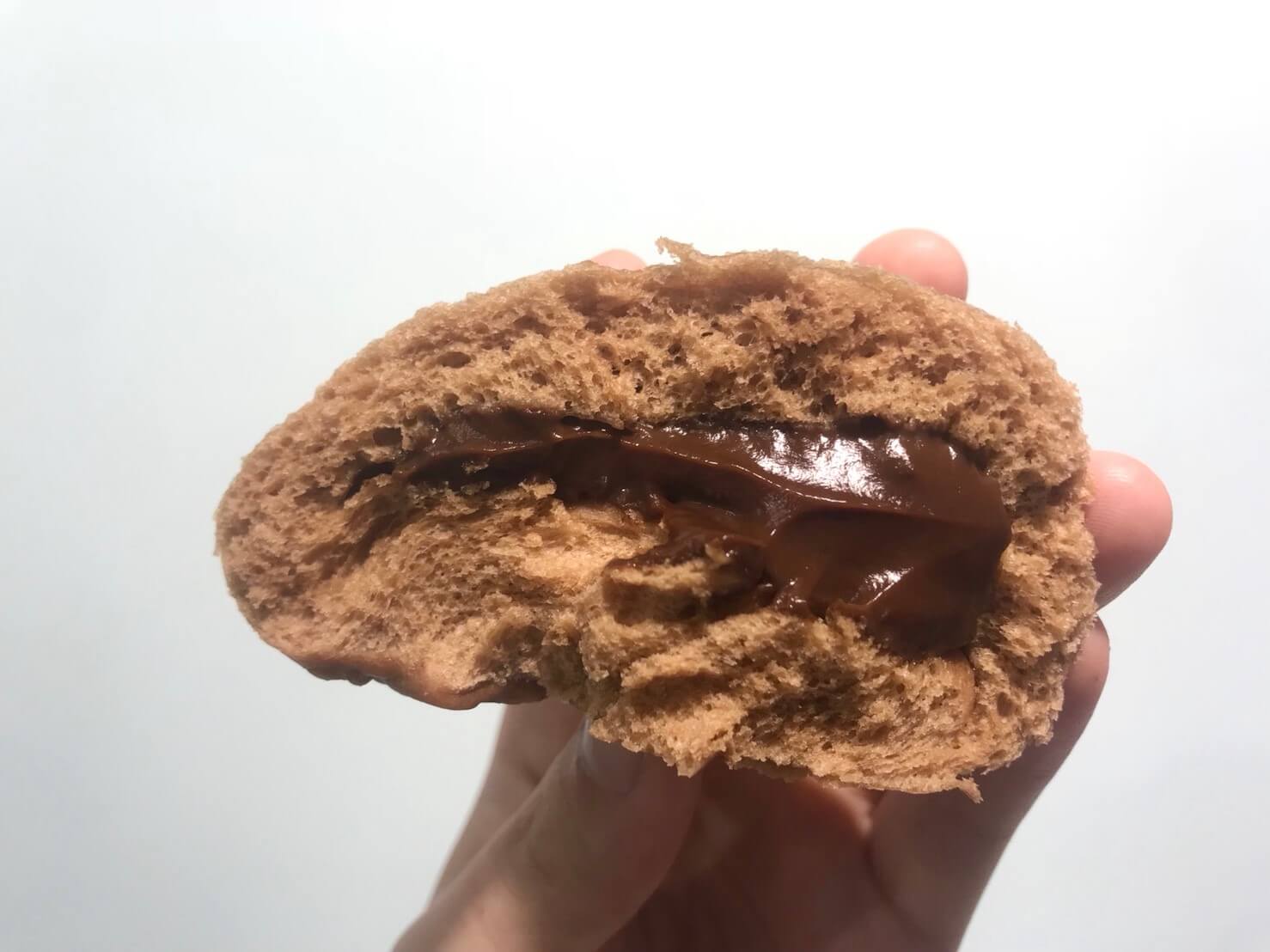 There's sweet chocolate paste in the middle.
Oh…
Oops.
I felt sorry for him but he was just delicious so I didn't hold back. It was Rilakkuma from the outset and he was cute.
The season is getting cold, so you all should try eating a Rilakkuman for yourselves too! If you're eating one in Harajuku then please stop by the MOSHI MOSHI BOX and say hi.
RECOMMENDED ENTRIES
Chow down on a cute menu at Rilakkuma Town Cafe! Coming soon to Abeno Q's Mall, Osaka ♡

This year marks the 15th anniversary for Rilakkuma. The Rilakkuma Town Cafe (リラックマタウンカフェ) that was a great success earlier this year in spring is making a comeback in Osaka this summer! The cafe will be open at DELASOUL CHARBON in Abeno Q's Mall from Friday 31st August and will close on the national holiday Monday 8th October.

Citron Melon Cream Soda — (¥990 + tax)

Three-coloured Rilakkuma Stew — (¥1,490 +tax)

Korilakkuma's Fluffy Curry Udon —  (¥1,190 +tax)

From the Citron Melon Cream Soda to the Three-coloured Rilakkuma Stew and Korilakkuma's Fluffy Curry Udon, the Osaka-limited edition menu is full of photogenic treats!

Cafe-limited clear file — (¥350 +tax)

Cafe-limited acrylic keyring — (2 designs available,¥600 each)

The cafe is also selling limited edition goods specifically designed for this occasion, including clear files, keyrings and much more!

A  special gift will be presented to those who make advanced reservations — an extra large badge with an original design (one of three designs will be chosen at random and presented to you)

This special gift will be presented to customers who dine without reservations — an original lunch mat (one of four designs will be selected at random)

You can reserve your spot at the Rilakkuma Town Cafe. For those of you who do, you will receive an original large badge as a thank you. Those of you who turn up without making a reservation will receive a lunch mat with an original design. If you order one item off the special menu, you will also receive an original postcard! For all free giveaways, the designs presented to you will be chosen at random. Which design will you receive? You'll have to wait and see! ♪

Let's celebrate Rilakkuma's 15th anniversary together! ♪ Don't forget to reserve in advance!

■Information

Rilakkuma Town Cafe Osaka

Open: Friday 31st August — National holiday Monday 8th October 2018

Location: DELASOUL CHARBON (4th-floor Abeno Q's Mall, 1-6-1, Abenosuji, Abeno Ward, Osaka

Opening hours: 11:00 — 21:20(80-minute time slots)

Entry: Reservation is encouraged (※ Customers without reservations will be accepted if seating is available)

Reservation fee: ¥500

Rilakkuma official website: http://rilakkumacafe.jp/

© 2018 San-X Co., Ltd. All Rights Reserved.

Rilakkuma's 15th Anniversary Celebrates with Strawberry Wagashi Sweets

Tabemasu is a wagashi sweets series that creates sweets of different characters. To celebrate his 15th anniversary, the company are releasing a Rilakkuma themed wagashi that features the cute bear himself and his pal Kiiroitori. The set of two wagashi will go on sale from May 15, 2018 and will be available in limited stock at Lawson convenience stores across Japan (excluding Lawson Store 100 branches).

This is the fifth Rilakkuma wagashi to be released from Tabemasu. The pack contains two wagashi: a strawberry flavoured Rilakkuma and a honey maple flavoured Kiiroitori. The release comes under the Taberareru Mascot ('Mascots You Can Eat') series, and as the name suggests, the wagashi are crafted with a great attention to detail, capturing the characters' cuteness.

The theme of this release is 'strawberry' which in Japanese is ichigo. This lines up with Rilakkuma's 15th anniversary as 1 in Japanese is ichi and 5 is go. We have Rilakkuma's cute pose holding a strawberry with both paws, and Kiiroitori with a leaf on his head also hugging a strawberry. Inside the sweets is strawberry flavoured red bean paste and vanilla maple flavoured red bean paste respectively. Kids can also enjoy eating these as they are bite-sized and easy to eat.

Find the closest Lawson to you and get your hands on a pack of these cute wagashi for yourself!

■Information

Tabemasu Rilakkuma: Ichigo Rilakkuma

On Sale: From May 15, 2018

Available: Dessert corner at Lawson stores across Japan
(13,136 stores as of the end of March)
*Not available at Lawson Store 100 branches.
*Limited quantity. Will discontinue once all have sold
*The date on which stores get the product in stock may differ from store to store.
*Select stores won't stock the product.
Type: 1 pack of 2 (Strawberry Flavoured Rilakkuma / Honey Maple Flavoured Kiiroitori)

Price: ¥366 (w/tax ¥395)

Full Details:http://www.bandai.co.jp/candy/tabemas/ichigo_rilakkuma/

Tabemasu Line-up:http://www.bandai.co.jp/candy/tabemas/

*Photos are for illustrative purposes only.
*Photos may differ from the actual product.
*The Kiiroitori wagashi contains honey. Please do not give to infants under the age of 1.
*Be careful as to not get the sweets stuck in your throat.
*"食べマス" is a registered trademark of Bandai Co., Ltd.

Top 10 Character Cafés in Japan: September 2018

Character cafés are a unique experience in Japan which sees a café collaborate with well-known anime series, game series and various franchises by decorating the café interior with designs and illustrations based on them and meals and drinks inspired by them.

Here's a compilation of collaborative cafés you can look forward to in September 2018.

 

Howacolo Club x Hands Cafe (August 22 – September 17)

The hugely popular characters of Howacolo Club―a Japanese web comic―have are teaming up with five Hands Cafe branches around Japan until September 17. There are 5 different foods and drinks themed on the characters in Howacolo Club including the popular puppy Howacolo-chan. The cafe interior, too, has been be transformed into the world of Howacolo Club with illustrations, plushies and more. Enjoy a fun café time with your pals at Howacolo Club♡

Full Details: https://www.moshimoshi-nippon.jp/122234

Cardcaptor Sakura x SAKURA Fantasy Cafe (July 12 – September 30)

The Sakura Fantasy Cafe is themed on the latest entry to the Cardcaptor series, Cardcaptor Sakura: Clear Card, with three branches that were opened in Tokyo (Harajuku), Osaka (Abeno) and Saitama (Koshigaya). The Saitama branch is the last branch open. It has a line-up of photogenic food as well as a photo spot and more, all with original illustrations drawn specially for this collaboration. There's also a range of original Cardcaptor merchandise you can't get anywhere else. The menu includes cheese toast, roast beef, smoothies, pancakes and more.

Full Details: https://www.moshimoshi-nippon.jp/116035

Pompompurin x BOYS AND MEN (August 21 – September 30)

The Pompompurin Café in Nagoya themed on the popular character Pompompurin from the Sanrio franchise is teaming up Japanese variety show Boy Boy Mugendai by BOYS AND MEN until September 30. The collaboration is based on a skit by BOYS AND MEN titled Family ('Usuika no Hitobito'), with food taking inspiration from the characters such as the Showa style noodle set pictured above that's made in the image of the father's wig from the Usui family and more.

Full Details: https://www.moshimoshi-nippon.jp/123124

2PM Members x ZooPM (August 31 – October 8)

ZooPM Café, which was first opened in 2016 for a limited time, has gotten a revamp has reopened. Each dish on the menu is inspired by the ZooPM characters such as the Pan. K half-cooked pancakes,  Pi Young cheese curry, emperor penguin and more, as well as a range of ZooPM drinks. You must book in advance and spaces are available on a first-come, first-served basis so if you're interested be sure to get in there quick.

Full Details: https://www.moshimoshi-nippon.jp/123052

Grand Blue x 46 Shokudo (September 3 – October 8)

46 Shokudo has joined hands with popular anime series Grand Blue is teaming up with to open a collaborative café called Grand Blue Shokudo which is open until October 8. The theme of the café is 'a house by the sea.' The menu is packed with themed food and meals including Food Stall Snacks, Ramen, Nanaka & Chisa's Sisterly Curry, Kebako's Keba Keba Waffle, and more. Enjoy the last summer of Japan's Heisei Period with the members of Grand Blue!

Full Details: https://www.moshimoshi-nippon.jp/125006

Natsume's Book of Friends: Tied to the Temporal World x BOX CAFE&SPACE (September 14 – October 14)

To celebrate the release of the Natsume's Book of Friends movie on September 29, two themed cafes will open in Tokyo and Saitama as well as a character café booth at the Kyoto International Manga & Anime Fair 2018. They will serve a variety of themed dishes tied to autumn as well as merchandise with an autumn-time theme. Those who book at the Tokyo café in advance will receive one of four randomly selected original stickers pictured above. The menu items will differ at all three cafés, so be sure to try them all!

Full Details: https://www.moshimoshi-nippon.jp/125852

Fate/Grand Order x Sanrio (September 20 – October 28)

Sanrio are collaborating once more with the hugely popular online free-to-play RPG mobile game Fate/Grand Order―which is based on Type-Moon's Fate/stay night franchise―to open three themed cafés. They will open in Tokyo and Osaka alongside Sendai for the first time with newly drawn Heroic Spirits. All the food, drinks and merchandise available at the cafés are inspired by the Servants of Fate/Grand Order who have been drawn with cute designs. Enjoy a Fate experience you can't get anywhere else.

Full Details: https://www.moshimoshi-nippon.jp/123977

The Pokémon Cafe x Limited Edition Autumn Menu (September 8 – October 31)

The Pokémon Cafe in Nihonbashi released a new menu for autumn which is being served until October 31. The cute menu is inspired by different Pokémon including Gastly's Menchi Katsu Burger, Tangela's Halloween Mont Blanc, Golbat's Poisonous Float Drink and more. The cafe are serving their regular grand menu too, so whether it's your first time or you're a regular you're sure to have a lot of fun!

Full Details: https://www.moshimoshi-nippon.jp/126707

Shouta Aoi × Little Twin Stars Café (September 12 – November 4)

The collaboration between Japanese voice actress Shouta Aoi and the Sanrio mascots Kiki and Lala, aka the Little Twin Stars, was so popular in Omotesando that they've teamed up once more to bring people the new Shouta Aoi×Little Twin Stars Café ~Halloween Party~ event. As well as serving the much praised collaborative themed food from last time, there will be a new range of Halloween themed food too, as well as merchandise, all with cute illustrations and designs for a fun Halloween. The cute line-up of Halloween merchandise features rare designs you won't find anywhere else, so don't miss out!

Full Details: https://www.moshimoshi-nippon.jp/126272

The Very Hungry Caterpillar x J.S. PANCAKE CAFE (September 12 – November 4 *depending on branch)

J.S. PANCAKE CAFE have joined hands with The Very Hungry Caterpillar to turn their cafés into the world of Eric Carle's internationally beloved picture book. The four month duration the cafés will be open from September to December will reflect both the growth of the caterpillar as well as the story of the book. The first month, September, will represent the sun on the day that the caterpillar was born. In October, he will eat fruits and grow. In November he will enter his cocoon. Finally, in December, he will turn into a butterfly. All of this will be illustrated on the pancakes each month. Don't miss out on this chance to fully immerse yourself in the world of The Very Hungry Caterpillar!

Full Details: https://www.moshimoshi-nippon.jp/124618

Which of these cafés has piqued your interest the most? There's a lot of great ones to choose from this month, so if you're in Japan be sure to go to as many as you can!
RELATED ENTRIES
Rilakkuma Book Cafe Themed Afternoon Teas in Osaka Will Serve Bear-Huggingly Kawaii Food

Major bookstores across Japan are rolling out the Rilakkuma Book Fair where fans can get their hands on short Rilakkuma fairy tails, exclusive merchandise, and more.


In line with the event, Fruits Parlor & Bakery Season & Co., a cafe in Umeda, Osaka, is serving up a special menu with the theme "Rilakkuma Book Cafe" from October 30 to November 30. This includes a afternoon teas which also celebrates the cafe's 1st anniversary, more exclusive merchandise, and novelties for customers who order from the Rilakkuma menu.

Rilakkuma Zukin Afternoon Tea | ¥4,000 (Before Tax) *Reservation-only

A special afternoon tea featuring 13 different goodies from desserts to a sandwich, quiche, and more. It comes with a fruit iced tea welcome drink too.

Rilakkuma Yuki Hime Afternoon Tea | ¥4,000 (Before Tax) *Reservation-only

A different afternoon tea that serves up 12 items. This also comes with a fruit iced tea.

Rilakkuma's Honey Apple Smoothie | ¥800 (Before Tax)

A honey apple smoothie topped with refreshing vanilla ice cream, smooth fresh cream, and a Rilakkuma jelly candy.

Rilakkuma's Royal Chocolate Milk Tea | ¥1,200 (Before Tax)

Classic royal milk tea served with chocolate Rilakkumas. Eat on their own or dip into your tea!

The cafe is now taking reservations for the afternoon teas. Bookings must be made two days in advance by telephone or the official website.

Information

Rilakkuma Book Cafe
Running: October 30, 2020 – November 30, 2020
Reservations: https://season-co.shop/rilakkuma2020/

Fruits Parlor & Bakery Season & Co.
Address: LINKS UMEDA 1F, 1-1 Ofukacho, Kita-ku, Osaka
Opening Hours: 9:30-22:00 (Last Orders 21:30)
TEL: 06-6743-4212
Official Website: https://season-co.shop

Demon Slayer Confections Slash Their Way Into Lawson Convenience Stores in Japan

Bandai Candy's character-inspired Japanese confectionery series Tabemas collaborating with the popular TV anime series Demon Slayer: Kimetsu no Yaiba to release two confections themed on the show's main characters Tanjiro Kamado and Nezuko Kamado as well as a collection of tarts. The sweet treats will hit the chilled desserts corner of Lawson convenience stores in Japan on October 20, 2020.

Tabemas x Demon Slayer


Tabemas x Demon Slayer: Kimetsu no Yaiba (Tanjiro Kamado/Nezuko Kamado) – ¥264 Each (Before Tax)

The tarts feature all the little details of the beloved characters, from the scar on Tanjiro's forehead and his earrings to the bamboo pipe in his sister Nezuko's mouth and her hair adornment. It also captures the designs of their clothes. Both are filled with Japanese red bean paste with Tanjiro being chocolate flavoured and Nezuko strawberry flavoured.

Demon Slayer Tarts


Demon Slayer Tarts | ¥231 (Before Tax)

An assortment of biscuit base tarts laced with caramel mousse. The tart designs feature a range of popular characters from the anime series including the Kamado siblings, Zenitsu, Inosuke, Shinobu, and Tomioka.

Demon Slayer: Kimetsu no Yaiba is a manga series by Koyoharu Gotouge serialised in Weekly Shonen Jump. The popular series has over 100 million copies in circulation and spawned a hit anime series last year. The upcoming anime film Demon Slayer: Kimetsu no Yaiba the Movie: Mugen Train, which is being animated by ufotable, is set for release tomorrow on October 16, 2020 will serve as a direct sequel to the 2019 anime series.

©Koyoharu Gotouge/Shueisha・Aniplex・ufotable

Chewy, Cheesy and Cute Moomin Obanyaki Desserts Now Being Sold at FamilyMart in Japan

Japanese convenience store chain FamilyMart released cream cheese-filled obanyaki branded with Moomin characters on August 4 in celebration of "Moomin's Day" which falls on August 9.

Moomin Mochitto Cheese | ¥138 (Tax Included)

The Moomins are the main characters of Tove Jansson's series of books and comic strips. August 9 is the birthday of the author, and so this date has become known as "Moomin's Day" amongst fans of the series.

Obanyaki are a type of imagawayaki which are like waffles and are filled with various ingredients, the most popular being red bean paste which can often be found at festivals in Japan. These chewy Moomin obanyaku however are filled with cream cheese and are stamped with the familiar faces of Moominvalley including the titular characters, Snufkin, Little My, and the Hattifatteners.

What better way to celebrate Moomin's Day than with a delicious treat? If you're in Japan this summer, head to your closest FamilyMart.

©Moomin Characters™

Information

Moomin Mochitto Cheese

Release Date: August 4, 2020

Available: Approx. 16,600 FamilyMart branches in Japan

FamilyMart Official Website: https://www.family.co.jp/

Minions Confections Sneak Their Way Into Lawson Convenience Stores in Japan

Bandai Candy's character-inspired Japanese confectionery series Tabemas released a new batch of Minion-themed Japanese wagashi confections at Lawson convenience stores in Japan (excluding Lawson Store 100 branches) on August 4, 2020.

'Tabemas' is an abbreviation of the Japanese words taberareru masukotto, meaning 'mascots that you can eat.' It is a Japanese confectionery series that combines well-known characters and Japanese sweets made from ingredients like red bean paste, sugar and rice flour.

Tabemas Minions | ¥264 (Before Tax)

The line-up includes familiar faces from the Despicable Me and Minions films, namely the childish Bob, Stuart—who loves a prank—and Kevin who has a leader presence about him. The confections feature all the little details for each character, from the goggles and hair to the colouring.

Each character has its own delicious bean paste flavouring too: Bob is banana flavoured (his favourote), Stuart is strawberry, and Kevin is chocolate. Which do you want to try the most?

© Universal City Studios LLC. All Rights Reserved.

Information

Tabemas Minion
Release Date: August 4, 2020

Available: At the chilled desserts section of Lawson convenience stores in Japan

*Not available at Lawson Store 100

*Available while supplies last

*Stock date may differ from branch to branch

*Select stores not participating

Dragon Ball Confections Kamehameha Into FamilyMart Convenience Stores in Japan

Character-inspired Japanese confectionery series Tabemas has revealed that its next batch of sweet treats are Dragon Ball Super inspired. The sweets were released at FamilyMart convenience stores in Japan on July 28, 2020.

'Tabemas' is an abbreviation of the Japanese words taberareru masukotto, meaning 'mascots that you can eat.' It is a Japanese confectionery series that combines well-known characters and Japanese sweets made from ingredients like red bean paste, sugar and rice flour. The sweets are also made with a dough called "nerikiri" which is used in making traditional Japanese wagashi sweets.

Tabemas Dragon Ball Super: ¥369 Before Tax | 1 set of 2

The confection designs include the iconic Dragon Balls from the series up to Seven-Stars, as well as Shenron.

Shenron is matcha-flavoured. Using nerikiri dough, Tabemas has brought the dragon god to life with his iconic red gaze, whiskers, and tail. Each of the seven Dragon Balls are filled with custard cream. One set of these confections comes with both Shenreon and one of the Dragon Balls, so fans can enjoy both flavours.

As well as all of the seven Dragon Balls, there are two secrets ones too. What exactly they are requires a trip to FamilyMart.

©Bird Studio/Shueisha・Fuji TV・Toei Animation

Information

Tabemas Dragon Ball Super
Released: July 28, 2020

Available: At the chilled desserts section of FamilyMart convenience stores in Japan

*Available while supplies last

*Stock date may differ from branch to branch

*Select stores not participating

Official Website:  https://www.bandai.co.jp/candy/tabemas/dragonball/

Rilakkuma Themed Wedding Ceremonies Now Available in Japan

Japanese bridal company ESCRIT INC. launched its new "Rilakkuma Bridal Fair" on July 22, 2020 in collaboration with Sun-X's popular character Rilakkuma. This will be the first ever wedding service produced in collaboration with the beloved relaxed bear.

All who join the service will receive a free "Rilakkuma & Korilakkuma Ring Pillow." Moreover, all brides and grooms who get married through this bridal fair will also receive a welcome board, cake topper, decorative stickers, soup with a design of San-X's Kiiroitori character, and a Rilakkuma dessert—all specially prepared for and exclusive to this service. There is also a "Greeting Plan" whereby Rilakkuma and Korilakuma will visit your wedding service on the day of the wedding to celebrate with everyone. This is a dream come true for any fan of Rilakkuma.

If you're planning to get married in Japan, and love Rilakkuma, then how about it?

©2020 San-X Co., Ltd. All Rights Reserved.

Rilakkuma x Tower Records Collaboration Sees Themed Cafe, Exclusive Merchandise & More

Tower Records is collaborating with Rilakkuma for "Rilakkuma x TOWER RECORDS Campaign 2020" which will run at Tower Records, TOWERmini, and Tower Records Online in Japan from August 1 to 30.f

For the campaign, Tower Records selling a range of merchandise with exclusive designs illustrated for the event, and there'll even be Rilakkuma themed cafes. Tower Records began collaborating with Rilakkuma on merchandise in 2009 and has done so every year since. This year sees the arrival of Chairoikoguma for the first time too.

Yhose who use the Tower Records app to show their coupons in-store, they will receive the above-pictured selection of must-have exclusive goodies including a mirror, postcard, bag, and bookmark. These are available on a first-time, first-served basis. Additionally, Rilakkuma themed cafes will be held at TOWER CARDS CAFE branches in Omotesando, Nagoya SKYLE, and Sapporo PIVOT which will have entirely original menus and bonus items for dining there.

Collaboration Merchandise

The merchandise collection will drop on August 1 and will include a range of Tower Records exclusives. Pre-sales opened on July 15. You can see the full list here.

Available at all Tower Records branches and Tower Records Online

Exclusive to Tower Records Shibuya, Tower Records Sapporo PIVOT, TOWER RECORDS CAFE Omotesando, TOWER RECORDS CAFE Nagoya SKYLE, Tower Records Online

Exclusive to Tower Records Online

Rilakkuma and the Honey Forest's Concert Cafe

The entire cafe menu line-up is so cute you're completely spoilt for choice.

Rilakkuma and the Honey Forest's Concert Dessert Plate: ¥2,500

"Honey Forest Concert" is the theme of the cafe, and this image is captured in the adorable dessert plate which is topped with various desserts and fruits. Everyone who orders one of these also receives a free sticker.

Rilakkuma's Meatball Stew: ¥1,580

This hot meatball stew is served in a cute bread cup with Rilakkuma poking his head out from inside.

Kiiroitori's Omurice: ¥1,580

Kiiroitori's face is made from omelette and rice. Served with a side of healthy veg.

Rilakkuma's Honey Lemon Drink: ¥850

A sweet and sour mix of honey and lemon.

Korilakkuma's Strawberry Calpis: ¥850

Strawberries are Korilakkuma's favourite, and that's the flavour of this refreshingly sweet Calpis drink, topped with Korilakkuma vanilla ice cream.

There are lots of other dishes to look forward to in addition to the ones above, making this cafe one to go back to many times. And you can special free merchandise when visiting and dining there too.

Collaboration Cafe – Participating Stores


Omotesando/Nagoya SKYLE: August 1, 2020 – August 30, 2020

Sapporo PIVOT: August 1, 2020 – August 17, 2020
Official Website: https://tower.jp/rilakkumacafe

©2020 San-X Co., Ltd. All Rights Reserved.

Information

Rilakkuma x TOWER RECORDS Campaign 2020
Running: August 1, 2020 – August 30, 2020

Official Website: https://tower.jp/rilakkuma

Rilakkuma's First Ever Official Wedding Plan Is Perfect For Your Dream Day

Wedding and reception planning company ESCRIT INC. is producing its first wedding plan in collaboration with the adorable San-X character Rilakkuma. The Rilakkuma Bridal Fair will be available for reservation from mid July 2020.

 

As the number of weddings taking place has fallen drastically, ESCRIT INC. has been working hard to breathe life back into the industry, collaborating with a number of businesses and insourcing dresses, flowers and other services to make every couple's dream day come true. They have also been running a variety of bridal fairs to help customers with a more personal approach.


From the welcome board to the cake-topper and desserts, the Rilakkuma collaboration sees a number of adorable ways to accessorise your dream wedding. The sign-up for this service opened yesterday on the Rilakkuma Bridal Fair Official Website. After signing up with your email address, you will receive a notification to reserve the bridal fair service during mid July along with the latest information.

If you and your partner love Rilakkuma, the Rilakkuma Bridal Fair is sure to exceed your expections.

Super Mario Bros. Merchandise Collection Up For Grabs in Japan

A new Super Mario Bros. merch line-up is up for grabs in the form of a lottery set to take place at 7-Eleven and Ito-Yokado stores, as well as Nintendo TOKYO, in Japan from June 27, 2020.

There are 7 different items in the collection and 19 designs in total that they come in, from a talking Mario plush to a giant Bowser bath towel, Boo hand soap dispenser set, and more.

A-Tier Prize: It's a-me, Mario! Talking Plush (30cm)


This cute talking Mario plush speaks five of the princess-saving plumber's classic lines when you press his belly.

B-Tier Prize: Fanfare Melody Alarm Clock (20cm)


The alarm clock face features a historical look at the many designs of the Super Mario Bros. games. The alarm sounds that play are those of when you clear a level in each of the games, so you can try and guess which game each sound is from when you hear it.

C-Tier Prize: Big Bowser Towel (200cm)


This 2-meter long towel features Mario's eternal enemy, Bowser—known simply as Koopa in Japan. Its convenient size means it can function as a bath towel or a blanket.

D-Tier Prize: Glow-in-the-Dark Boo Soap Dispenser Set (15cm)


Boo loves to hide in the dark and surprise the player then they least expect it. These handy soap dispensers glow in the dark, and are perfect for storing your shampoo, conditioner, or soap. You get both in the set!

E-Tier Prize: Clear Pouches (3 Designs) (12cm-18cm)


These three cute pouches vary in size and can be used for storing all your little things.

F-Prize: Brick Block Mamezara Plates (4 Designs) (8.5cm)

When you stack all four of these plates on top of each other the outer part makes it look like the iconic Brick Blocks from the video games. They are a great addition to any tabletop meal.

G-Prize: Packaged Towel Collection (8 Designs) (25cm)

The packaging designs of these mini towels are based on their respective video game cases. The packaging itself zips up so you can store whichever of the 8 towels you choose from away safely.

Last One Prize: Invincible Super Star Handy Fan (20cm)


This Super Star fan is holdable and can also be placed down thanks to the Question Block. This special "Last One" prize will be given out as the very last prize to people who draw the final lot.

Which of these items do you want the most?

©Nintendo

Information

Super Mario Bros. Lottery Collection (Japanese Title: 一番くじ スーパーマリオブラザーズ いつでもマリオ! コレクション)
Price: ¥650 per turn (Tax Included)
Official Website: https://bpnavi.jp/t/itsudemo_mario

*Select branches not participating

*You must book in advance to enter Nintendo TOKYO – most info can be found on their Twitter page
*Displayed photos are for illustrative purposes only

*The information featured in this article is subject to change without notice

Demon Slayer's Zenitsu Gets His Own Japanese Custard Pudding at Lawson Convenience Stores

Lawson Store 100 has teamed up with the internationally popular TV anime series Demon Slayer: Kimetsu no Yaiba to release a purin (a type of Japanese custard pudding) based on the popular character Zenitsu Agatsuma. The pudding hit Lawson Store 100 branches nationwide across Japan on June 3, 2020.

Demon Slayer: Kimetsu you Yaiba is a manga series written and illustrated by Koyoharu Gotōge which follows Tanjiro Kamado who becomes a demon slayer after his family is killed and his younger sister Nezuko turns into a demon. It was serialised in Weekly Shōnen Jump from 2016 and recently concluded with its 20th volume on May 18, 2020. It has shipped 60 million copies. The upcoming anime film Demon Slayer: Kimetsu no Yaiba the Movie: Mugen Train will continue the story of the anime series's first season when it drops on October 16, 2020.
The pudding's yellow colour is inspired by Zenitsu's fiery yellow hair. Zenitsu himself likes sweet foods too, making this the perfect collaboration. It's a simple and classic Japanese purin made with eggs and milk.

The pudding also comes with a free seal featuring an illustration of Zenitsu when he uses his Thunder Breathing technique.

This is a limited edition product and so is available while supplies last.  Lawson Store 100 is also holding a campaign for fans to win original and exclusive Demon Slayer: Kimetsu no Yaiba merchandise too including a tapestry, acrylic phone stand, and more.

©Koyoharu Gotouge / Shueisha・Aniplex・ufotable

Brown Sugar Syrup Dorayaki to be Sold at FamilyMart Convenience Stores in Japan

With shops and businesses temporarily closed as a result of lockdown measures in Japan, Japanese convenience store chain FamilyMart is currently collaborating with famous shops around Japan. They recently teamed up with famous matcha company Kanbayashi Shunsho Honten to stock some authentic matcha treats on its shelves.

For its 5th collaboration, FamilyMart is collaborating with Eitaro Sohonpo, a Japanese confectionery store that has been around since 1818, to bring the company's brown sugar syrup dorayaki to their own shelves from May 29, 2020. Since being released in December 2018, the dessert has been sold over 1 million times.

The dorayaki is made with Eitaro Sohonpo's brown sugar syrup and coarse sweet red bean paste. Each and every ingredient is chosen with care to create this luxurious dessert. The adzuki beans are soaked in a brown sugar syrup made from sugar from Okinawa Prefecture. It's also made with whole soybean soy sauce and a whipped cream that's made from a blend of fresh Hokkaido cream and 26% milk.

The dorayaki pastry is soaked in brown sugar syrup which when eaten with the whipped cream and coarse sweet bean paste makes it truly a dessert for the gods.

Information

Eitaro Sohonpo – Brown Sugar Syrup Dorayaki (Japanese Name: 黒みつしみうま生どら焼)
Price: ¥298 (Tax Included)
Release Date: May 29, 2020
Available: Japan (Except Okinawa)
FamilyMart Official Website: https://www.family.co.jp/

Famous Japanese Matcha Company Collaborates With Japan's Convenience Stores

With shops and businesses temporarily closed as a result of lockdown measures in Japan, Japanese convenience store chain FamilyMart decided that since people can't as easily get their hands on authentic matcha right now, they would collaborate with the famous matcha company Kanbayashi Shunsho Honten to stock some authentic matcha treats on its shelves. They were released at FamilyMart branches across Japan on May 19, 2020.

Umami Matcha Parfait

The parfait begins with a soft sponge bottom and is then layered with milk mousse and matcha mousse before being topped with matcha jelly, red bean paste, and other tasty accompaniments.

Umami Matcha Cheesecake Baumkuchen

The matcha baumkuchen is made using authentic Uji matcha and is baked to look like a cheesecake. You get the full rich matcha kick with this one.

Hidetoshi Kanbayashi (Kanbayashi Shunsho Honten) | Comment

"We use a blend of first-grade Uji matcha and top it with jelly and matcha mousse. We have made it in such a way that you can enjoy the full flavour and aroma of the matcha itself. Please enjoy."

Information

Kanbayashi Shunsho Honten Umami Matcha Parfait
Price: ¥298 (Tax Included)
Released: May 19, 2020
Available: FamilyMart convenience stores across Japan (except Okinawa)

Kanbayashi Shunsho Honten Umami Matcha Cheesecake Baumkuchen
Price: ¥298 (Tax Included)
Released: May 19, 2020
Available: FamilyMart convenience stores across Japan (except Okinawa)

FamilyMart Official Website: https://www.family.co.jp/