Lawson's Rilakkuma Chocolate Buns Are Kawaii and Piping Hot
Hi, everyone. It's Midori here from the MOSHI MOSHI BOX Harajuku Tourist Information Center.
It's gotten cold all of a sudden recently – are you all feeling well? When it's cold in Japan there's nothing better than popping down to the convenience store and grabbing a nikuman―a meat bun. So that's what I did today. I went to Lawson to buy myself a meat bun and came across something very cute they were selling!
And that was this!
"Rilakkuman"―a Rilakkuma bun!
It's a Rilakkuma manjuu which is a steamed bun with a filling. It looks just like Rilakkuma's face. So cute!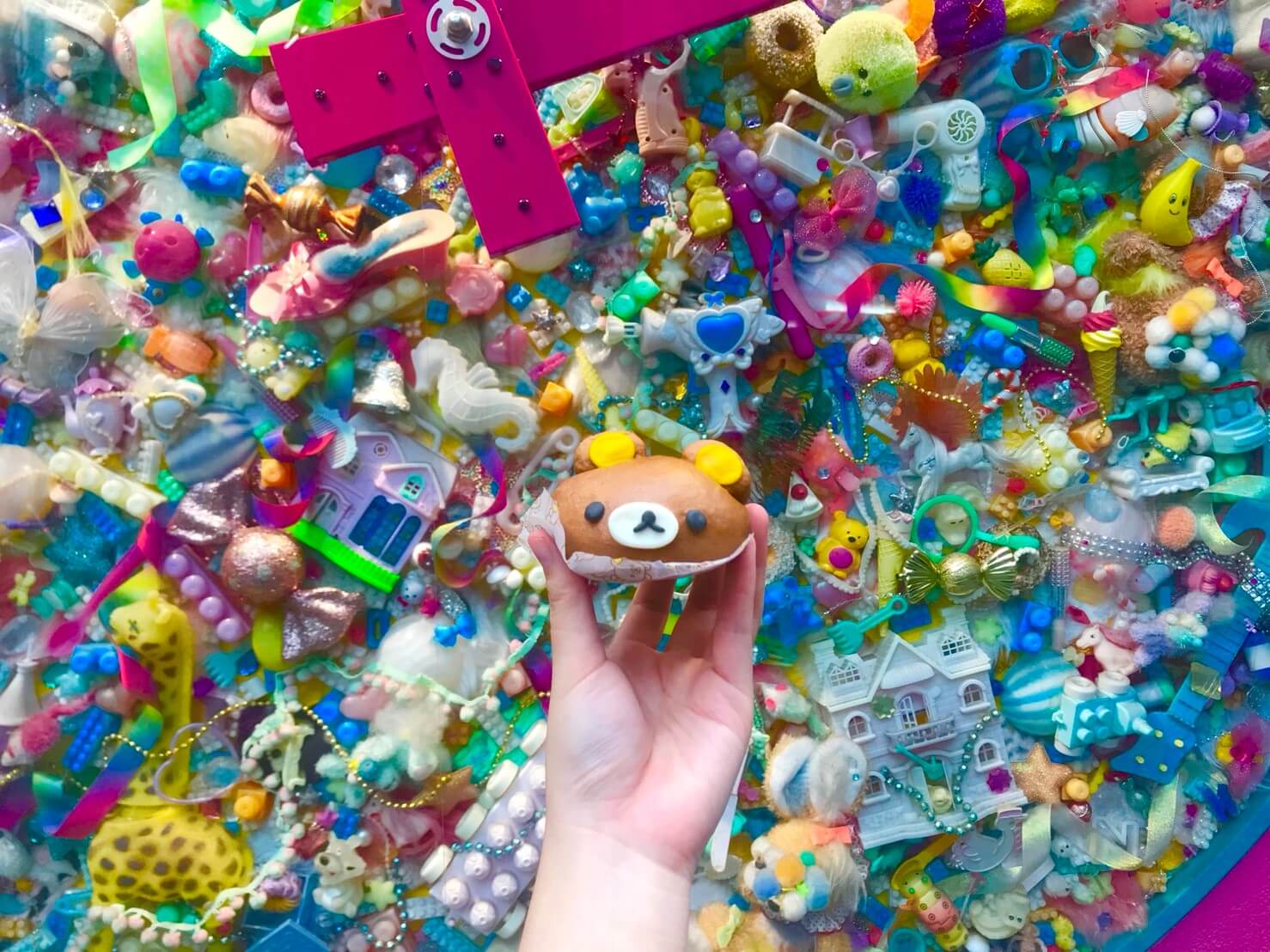 I took a picture with it at the World Clock―the MOSHI MOSHI BOX's iconic Instagram spot.
It doesn't pander to today's social media and Instagram war which is nice.

There'[s also a Rilakkuma panel displayed inside the MOSHI MOSHI BOX so I got two Rilakkuma's in one photo! That's a lot of Rilakkuma.
It seems a waste to eat it but I went all out and wolfed it down.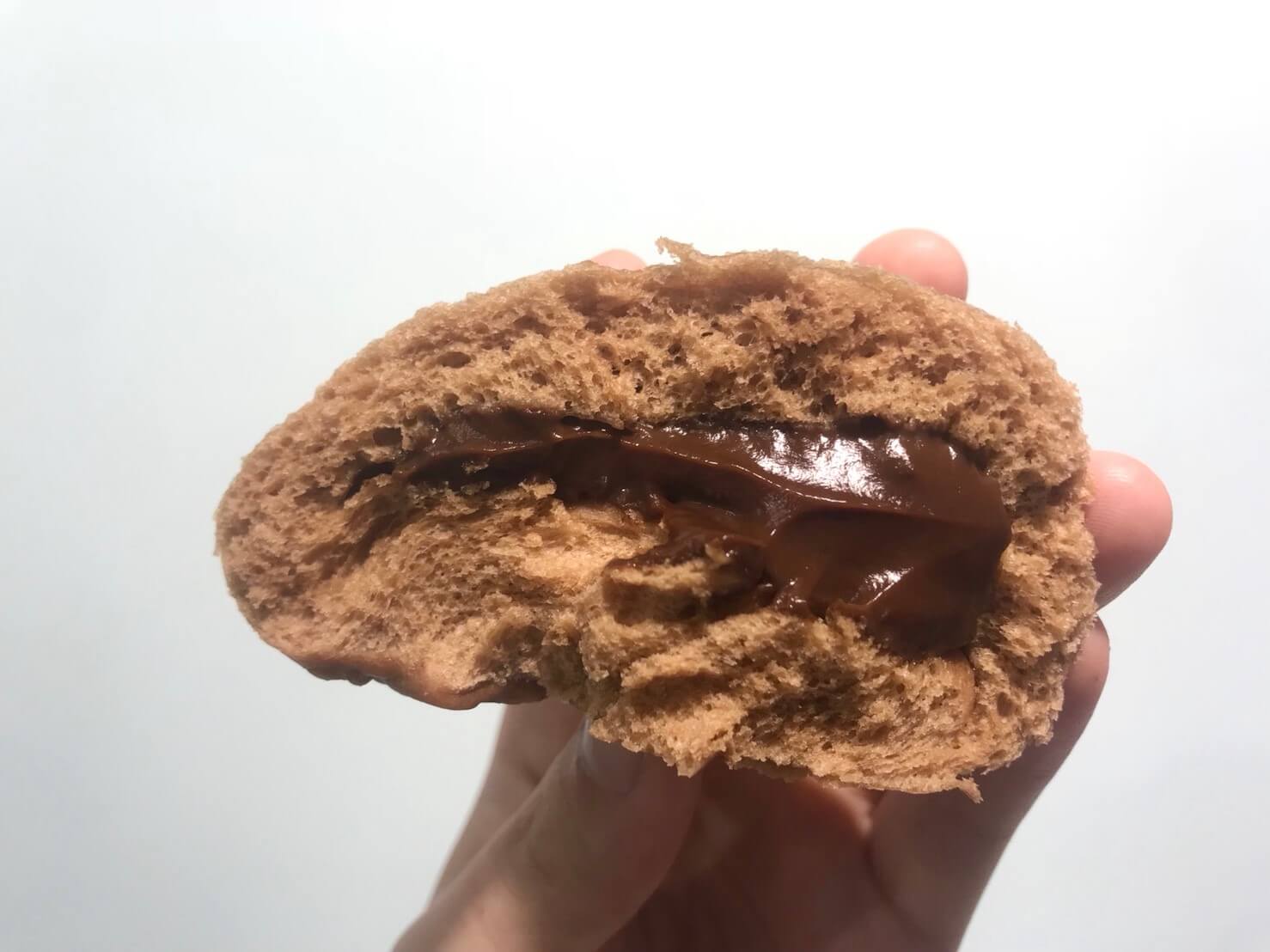 There's sweet chocolate paste in the middle.
Oh…
Oops.
I felt sorry for him but he was just delicious so I didn't hold back. It was Rilakkuma from the outset and he was cute.
The season is getting cold, so you all should try eating a Rilakkuman for yourselves too! If you're eating one in Harajuku then please stop by the MOSHI MOSHI BOX and say hi.
RECOMMENDED ENTRIES
Chow down on a cute menu at Rilakkuma Town Cafe! Coming soon to Abeno Q's Mall, Osaka ♡

This year marks the 15th anniversary for Rilakkuma. The Rilakkuma Town Cafe (リラックマタウンカフェ) that was a great success earlier this year in spring is making a comeback in Osaka this summer! The cafe will be open at DELASOUL CHARBON in Abeno Q's Mall from Friday 31st August and will close on the national holiday Monday 8th October.

Citron Melon Cream Soda — (¥990 + tax)

Three-coloured Rilakkuma Stew — (¥1,490 +tax)

Korilakkuma's Fluffy Curry Udon —  (¥1,190 +tax)

From the Citron Melon Cream Soda to the Three-coloured Rilakkuma Stew and Korilakkuma's Fluffy Curry Udon, the Osaka-limited edition menu is full of photogenic treats!

Cafe-limited clear file — (¥350 +tax)

Cafe-limited acrylic keyring — (2 designs available,¥600 each)

The cafe is also selling limited edition goods specifically designed for this occasion, including clear files, keyrings and much more!

A  special gift will be presented to those who make advanced reservations — an extra large badge with an original design (one of three designs will be chosen at random and presented to you)

This special gift will be presented to customers who dine without reservations — an original lunch mat (one of four designs will be selected at random)

You can reserve your spot at the Rilakkuma Town Cafe. For those of you who do, you will receive an original large badge as a thank you. Those of you who turn up without making a reservation will receive a lunch mat with an original design. If you order one item off the special menu, you will also receive an original postcard! For all free giveaways, the designs presented to you will be chosen at random. Which design will you receive? You'll have to wait and see! ♪

Let's celebrate Rilakkuma's 15th anniversary together! ♪ Don't forget to reserve in advance!

■Information

Rilakkuma Town Cafe Osaka

Open: Friday 31st August — National holiday Monday 8th October 2018

Location: DELASOUL CHARBON (4th-floor Abeno Q's Mall, 1-6-1, Abenosuji, Abeno Ward, Osaka

Opening hours: 11:00 — 21:20(80-minute time slots)

Entry: Reservation is encouraged (※ Customers without reservations will be accepted if seating is available)

Reservation fee: ¥500

Rilakkuma official website: http://rilakkumacafe.jp/

© 2018 San-X Co., Ltd. All Rights Reserved.

Rilakkuma's 15th Anniversary Celebrates with Strawberry Wagashi Sweets

Tabemasu is a wagashi sweets series that creates sweets of different characters. To celebrate his 15th anniversary, the company are releasing a Rilakkuma themed wagashi that features the cute bear himself and his pal Kiiroitori. The set of two wagashi will go on sale from May 15, 2018 and will be available in limited stock at Lawson convenience stores across Japan (excluding Lawson Store 100 branches).

This is the fifth Rilakkuma wagashi to be released from Tabemasu. The pack contains two wagashi: a strawberry flavoured Rilakkuma and a honey maple flavoured Kiiroitori. The release comes under the Taberareru Mascot ('Mascots You Can Eat') series, and as the name suggests, the wagashi are crafted with a great attention to detail, capturing the characters' cuteness.

The theme of this release is 'strawberry' which in Japanese is ichigo. This lines up with Rilakkuma's 15th anniversary as 1 in Japanese is ichi and 5 is go. We have Rilakkuma's cute pose holding a strawberry with both paws, and Kiiroitori with a leaf on his head also hugging a strawberry. Inside the sweets is strawberry flavoured red bean paste and vanilla maple flavoured red bean paste respectively. Kids can also enjoy eating these as they are bite-sized and easy to eat.

Find the closest Lawson to you and get your hands on a pack of these cute wagashi for yourself!

■Information

Tabemasu Rilakkuma: Ichigo Rilakkuma

On Sale: From May 15, 2018

Available: Dessert corner at Lawson stores across Japan
(13,136 stores as of the end of March)
*Not available at Lawson Store 100 branches.
*Limited quantity. Will discontinue once all have sold
*The date on which stores get the product in stock may differ from store to store.
*Select stores won't stock the product.
Type: 1 pack of 2 (Strawberry Flavoured Rilakkuma / Honey Maple Flavoured Kiiroitori)

Price: ¥366 (w/tax ¥395)

Full Details:http://www.bandai.co.jp/candy/tabemas/ichigo_rilakkuma/

Tabemasu Line-up:http://www.bandai.co.jp/candy/tabemas/

*Photos are for illustrative purposes only.
*Photos may differ from the actual product.
*The Kiiroitori wagashi contains honey. Please do not give to infants under the age of 1.
*Be careful as to not get the sweets stuck in your throat.
*"食べマス" is a registered trademark of Bandai Co., Ltd.

Top 10 Character Cafés in Japan: September 2018

Character cafés are a unique experience in Japan which sees a café collaborate with well-known anime series, game series and various franchises by decorating the café interior with designs and illustrations based on them and meals and drinks inspired by them.

Here's a compilation of collaborative cafés you can look forward to in September 2018.

 

Howacolo Club x Hands Cafe (August 22 – September 17)

The hugely popular characters of Howacolo Club―a Japanese web comic―have are teaming up with five Hands Cafe branches around Japan until September 17. There are 5 different foods and drinks themed on the characters in Howacolo Club including the popular puppy Howacolo-chan. The cafe interior, too, has been be transformed into the world of Howacolo Club with illustrations, plushies and more. Enjoy a fun café time with your pals at Howacolo Club♡

Full Details: https://www.moshimoshi-nippon.jp/122234

Cardcaptor Sakura x SAKURA Fantasy Cafe (July 12 – September 30)

The Sakura Fantasy Cafe is themed on the latest entry to the Cardcaptor series, Cardcaptor Sakura: Clear Card, with three branches that were opened in Tokyo (Harajuku), Osaka (Abeno) and Saitama (Koshigaya). The Saitama branch is the last branch open. It has a line-up of photogenic food as well as a photo spot and more, all with original illustrations drawn specially for this collaboration. There's also a range of original Cardcaptor merchandise you can't get anywhere else. The menu includes cheese toast, roast beef, smoothies, pancakes and more.

Full Details: https://www.moshimoshi-nippon.jp/116035

Pompompurin x BOYS AND MEN (August 21 – September 30)

The Pompompurin Café in Nagoya themed on the popular character Pompompurin from the Sanrio franchise is teaming up Japanese variety show Boy Boy Mugendai by BOYS AND MEN until September 30. The collaboration is based on a skit by BOYS AND MEN titled Family ('Usuika no Hitobito'), with food taking inspiration from the characters such as the Showa style noodle set pictured above that's made in the image of the father's wig from the Usui family and more.

Full Details: https://www.moshimoshi-nippon.jp/123124

2PM Members x ZooPM (August 31 – October 8)

ZooPM Café, which was first opened in 2016 for a limited time, has gotten a revamp has reopened. Each dish on the menu is inspired by the ZooPM characters such as the Pan. K half-cooked pancakes,  Pi Young cheese curry, emperor penguin and more, as well as a range of ZooPM drinks. You must book in advance and spaces are available on a first-come, first-served basis so if you're interested be sure to get in there quick.

Full Details: https://www.moshimoshi-nippon.jp/123052

Grand Blue x 46 Shokudo (September 3 – October 8)

46 Shokudo has joined hands with popular anime series Grand Blue is teaming up with to open a collaborative café called Grand Blue Shokudo which is open until October 8. The theme of the café is 'a house by the sea.' The menu is packed with themed food and meals including Food Stall Snacks, Ramen, Nanaka & Chisa's Sisterly Curry, Kebako's Keba Keba Waffle, and more. Enjoy the last summer of Japan's Heisei Period with the members of Grand Blue!

Full Details: https://www.moshimoshi-nippon.jp/125006

Natsume's Book of Friends: Tied to the Temporal World x BOX CAFE&SPACE (September 14 – October 14)

To celebrate the release of the Natsume's Book of Friends movie on September 29, two themed cafes will open in Tokyo and Saitama as well as a character café booth at the Kyoto International Manga & Anime Fair 2018. They will serve a variety of themed dishes tied to autumn as well as merchandise with an autumn-time theme. Those who book at the Tokyo café in advance will receive one of four randomly selected original stickers pictured above. The menu items will differ at all three cafés, so be sure to try them all!

Full Details: https://www.moshimoshi-nippon.jp/125852

Fate/Grand Order x Sanrio (September 20 – October 28)

Sanrio are collaborating once more with the hugely popular online free-to-play RPG mobile game Fate/Grand Order―which is based on Type-Moon's Fate/stay night franchise―to open three themed cafés. They will open in Tokyo and Osaka alongside Sendai for the first time with newly drawn Heroic Spirits. All the food, drinks and merchandise available at the cafés are inspired by the Servants of Fate/Grand Order who have been drawn with cute designs. Enjoy a Fate experience you can't get anywhere else.

Full Details: https://www.moshimoshi-nippon.jp/123977

The Pokémon Cafe x Limited Edition Autumn Menu (September 8 – October 31)

The Pokémon Cafe in Nihonbashi released a new menu for autumn which is being served until October 31. The cute menu is inspired by different Pokémon including Gastly's Menchi Katsu Burger, Tangela's Halloween Mont Blanc, Golbat's Poisonous Float Drink and more. The cafe are serving their regular grand menu too, so whether it's your first time or you're a regular you're sure to have a lot of fun!

Full Details: https://www.moshimoshi-nippon.jp/126707

Shouta Aoi × Little Twin Stars Café (September 12 – November 4)

The collaboration between Japanese voice actress Shouta Aoi and the Sanrio mascots Kiki and Lala, aka the Little Twin Stars, was so popular in Omotesando that they've teamed up once more to bring people the new Shouta Aoi×Little Twin Stars Café ~Halloween Party~ event. As well as serving the much praised collaborative themed food from last time, there will be a new range of Halloween themed food too, as well as merchandise, all with cute illustrations and designs for a fun Halloween. The cute line-up of Halloween merchandise features rare designs you won't find anywhere else, so don't miss out!

Full Details: https://www.moshimoshi-nippon.jp/126272

The Very Hungry Caterpillar x J.S. PANCAKE CAFE (September 12 – November 4 *depending on branch)

J.S. PANCAKE CAFE have joined hands with The Very Hungry Caterpillar to turn their cafés into the world of Eric Carle's internationally beloved picture book. The four month duration the cafés will be open from September to December will reflect both the growth of the caterpillar as well as the story of the book. The first month, September, will represent the sun on the day that the caterpillar was born. In October, he will eat fruits and grow. In November he will enter his cocoon. Finally, in December, he will turn into a butterfly. All of this will be illustrated on the pancakes each month. Don't miss out on this chance to fully immerse yourself in the world of The Very Hungry Caterpillar!

Full Details: https://www.moshimoshi-nippon.jp/124618

Which of these cafés has piqued your interest the most? There's a lot of great ones to choose from this month, so if you're in Japan be sure to go to as many as you can!
RELATED ENTRIES
Starbucks' Halloween Sweet Caramel Pudding Latte is Bound to Possess Your Heart

The Sweet Caramel Pudding Latte will be infiltrating Starbucks'® Chilled Cup line of beverages from September 24 for a limited period.

The ghostly touch of sweet and smooth caramel pudding is accented with a dark base note of strong coffee. If you are looking for a creamy and luxurious flavour, this is the perfect autumn treat.

Starbucks never fails to raise our spirits with their adorable themed designs. This Halloween, the cup design been invaded with an army of ghosts, pumpkins and more Halloween-themed illustrations. The heavenly golden lid adds a touch of luxury to the design and is a premonition for the sweet and rich caramel that awaits underneath. 

The Sweet Caramel Pudding Latte from the Starbucks' Chilled Cup series is bound to send chills down your spine this Halloween!

Information

Starbucks® Sweet Caramel Pudding Latte  

Price: ¥200 (200ml cup)

Release Date: September 24, 2019 

Available at: Most convenience stores across Japan. 

Product Information: http://www.starbucks.co.jp/rtd/

* Information will be published on September 24th. 

Snoopy, Joe Cool & Charlie Brown Confections by Tabemas Are Coming to Lawson Convenience Stores

Character-inspired Japanese confectionery series Tabemas has unveiled its new Snoopy, Joe Cool and Charlie Brown wagashi confections that will go on sale at Lawson convenience stores across Japan on August 20.

The characters are made from a type of dough called "nerikiri" which is used in making traditional Japanese wagashi sweets. Each of their charm points have been recreated, including Snoopy's collar, Joe Cool's shades and folded arm pose, and Charlie Brown's instantly-recognisable outfit.

Their cute designs make it hard to decide where to start eating from, with Snoopy's beady eyes, Joe Cool's composed manner, and Charlie Brown's smiley face.

Each character is filled with different flavoured bean pastes, maintaining that traditional wagashi touch. Snoopy is chocolate flavoured, Joe Cool is salted vanilla, and Charlie Brown is custard. The three of them line up perfectly for a cute Instagrammable photo. They are limited in stock so if you're in Japan this summer be sure to stop by a Lawson store.

©️2019 Peanuts Worldwide LLC

Information

Tabemas – Snoopy Series

Flavours: 3 Snoopy (Chocolate) / Joe Cool (Salted Vanilla) / Charlie Brown (Custard)

Price: ¥259 Each (Before Tax)

Release Date: August 20, 2019

Available: At chilled desserts section of Lawson convenience stores across Japan

*Not available at Natural Lawson or Lawson Store 100

*Available while supplies last

*Stock date may differ from branch to branch

*Select stores not participating

Product Page: https://www.bandai.co.jp/candy/products/2019/4549660393474000.html

Mogu Mogu Nippon | Convenience Store: 4 Icy and Not-So-Pricey Frozen Treats This Summer

The real heat of summer has finally hit us. As a result, it is getting harder to resist those delicious ice creams in the convenience store that are so easy to get hold of. Convenience stores are constantly refreshing their frozen dessert flavours and it is just too hard to decide which one to go for.

Wondering what tastes good? Don't break a sweat. Dessert-eating professional Yukko is here to help. Check out her Instagram which has plenty of information on the most irresistible frozen desserts at convenience stores.

CREAM CHEESE MACARON ICE 

Seven Eleven sells a macaron ice cream sandwich series which is massively popular every year. You just have to head there now to try the Kiri® cream cheese filling macarons which are collaboration-limited!

Just by looking at the refreshing colour of the macaron is enough to splash life back into your parched body. Sinking your teeth into the crispy macaron sure is fun.

The luxurious ice cream filling is made using 100% Kiri® cream cheese. The ice cream covers a juicy core of passion orange sauce that is thick like treacle. Its sharp, citrusy flavour is bound to instantly revitalise you. The rich cream cheese makes for the perfect balance. 

▼ CREAM CHEESE MACARON ICE 
Price: ¥257 (after tax)
Available at: Most Seven Elevens countrywide (excluding Okinawa)

Strawberries & Condensed Milk Shaved Ice

 This is part of Seven Eleven's flavoured ice series. 

When you open it, you will be instantly hit by the revitilizing red colour of the strawberries. The strawberry sauce is sweet yet sour and the ice is crunchy. Allow it a bit of time to melt first and the texture will turn syrupy.

The sweet and sour strawberry sauce is a perfect match with the condensed milk flavoured ice, which is both slightly sweet and refreshing. This is a flavour that adults will love just as much as children.

▼ Strawberries & Condensed Milk Shaved Ice
Price: ¥149 (after tax)
Available at: Convenience Store: Most Seven Elevens countrywide.

White Peach Shaved Ice with Peach Pieces

This is yet another dessert from Seven Eleven's ice Series, and this one is bursting with peachy goodness! Despite being just ¥300, it is full of flavour.

Open the lid and you will discover that it is full of delicious fruity pieces of white peach. 

Starting from the top, there are large pieces of peach followed by white peach jelly, white peach shaved ice and then white peach sauce. The peach will immediately melt in your mouth the moment you take a bite. Its juiciness will spread all over your tongue and you will be enlightened with the true refreshing taste of summer. 

White Peach Shaved Ice with Peach Pieces
Price: ¥300 (after tax)
Available at: Seven Eleven

Essel Super Cup Mango 

Having heard all the stories about just how delicious this ice cream is, I just had to try it for myself.

There are four layers to this ice cream. The moment you open the lid, the tropical fruity mango sauce layer will be enough to revitalize you. Once you make it through the mango sauce which is enriched with mango fruit pieces, you will make it to the layer of tofu ice cream. Dig a little deeper and you will arrive at a layer of passion fruit sauce.

If you reach the very bottom, you will hit the mango-flavoured ice cream. If you wait a little while for the ice cream to melt before digging your spoon in, you will be able to truly appreciate the rich-flavoured mango. This ice cream even has a special ingredient; mango pulp. This mango pulp enhances the flavour in an extraordinary way. The discovery of this new flavour will fascinate you to no end. The passion fruit sauce at the bottom has an element of crunchiness to it that resembles sorbet. The mango and mango pulp is an exquisite accent to the flavour, making it deliciously moreish as well as refreshing. 

▼Essel Super Cup Mango 
Price: ¥238 (after tax)
Available at: Convenience stores and supermarkets across the country.

All these convenience store ice creams are just too delicious to miss out on. There are many frozen desserts that will always be available, however, those listed above won't always be around, so try them while you can!

Mogu Mogu Yukko introduces lots of desserts and sweets that are easily found in convenience stores and supermarkets on her Instagram so please check out her other posts.

Writer and Photographer: Mogu Mogu Yukko

Mogu Mogu Nippon | Convenience Store: 3 Seven Eleven Matcha Desserts

If you are wondering what Japan is particularly good at, matcha desserts is definitely one of them. However, you don't have to go to a shop that specialises in matcha sweets to get your fill. Matcha desserts can be easily obtained from the convenience store and once you start, it is hard to stop. 

Today, Instagrammer Yukko is going to introduce you to three delicious matcha desserts that you can get from Seven Eleven.

Dorayaki Pancakes Filled With Matcha Cream ¥278 (before tax)

Seven Eleven is always selling some kind of delicious matcha cream-filled dorayaki. This time, the name has been changed slightly. This dorayaki is just ¥3 more expensive than last time, however it looks just as good as it always has. You just will not be able to resist buying it. 

As you take your first bite of this high-quality snack, the scent of the matcha will reach you first, followed by the flavour of the matcha which spreads instantly through your mouth. The matcha is rich yet so light that it will instantly melt on your tongue. The pancakes sandwiching the large creamy matcha filling are both fluffy and thick. Cut it in half and you will not be able to resist. 

This is a wonderful snack to sink your teeth into while you walk. If you want to keep your hands clean, you could even use a spoon to scoop out the filling. Enjoy it in your own unique way as it is tasty no matter how you choose to enjoy it!

Matcha and Matcha Parfait ¥278

As the name implies, this matcha parfait is the perfect opportunity to taste a variety of matcha flavours in one single tub. From the bottom, the cup is filled with matcha jelly, followed by matcha mousse, milk mousse and matcha whipped cream. Within the layers of matcha whipped cream you will discover a goldmine of matcha jelly and a dorayaki pancake core. 

The matcha flavour of the jelly is quite weak, however its wobbly and springy texture contributes to the deliciousness of the parfait. The moderately sweet whipped cream combined with the matcha flavour is perfectly balanced. The milk mousse has a rich, milky flavour. It may be sweet, however the matcha mousse underneath it is slightly bitter, so enjoy them together for a delicious overall flavour. 

The fluffy matcha mousse and rich matcha is unbelievably delicious. The dorayaki centre is soft, fluffy and thick which accents the flavour. Overall, the parfait is not overpoweringly sweet and the matcha flavour is gentle on your tongue.  

Uji Matcha Cream Mochi: ¥110 (before tax )

Uji Matcha Cream Mochi is a soft, thin and chewy dough that is rolled out thin and then wrapped around a large spoon of uji matcha cream. This is always a popular pick. Last time, they served the uji matcha chocolate mochi. I wonder how the Uji Matcha Cream Mochi will taste!

This time, the mochi has a slightly more springy texture. The outside is chewy, yet the inside is gooey. This mochi cake is bursting with matcha so you can really enjoy the matcha flavour. The bitter matcha flavour is perfectly balanced with a touch of sweetness. This dessert even come with a fork so that you don't have to get your hands dirty. 

I know, it is hard to choose which matcha dessert to try. Convenience stores are always refreshing the varieties of goods they sell, so if you are particularly attracted to any of the desserts mentioned above, it is probably best to try them before they are replaced.

Mogu Mogu Yukko introduces lots of desserts and sweets that are easily found in convenience stores and supermarkets on her Instagram so please check out her other posts:

Photos and Text: Mogu Mogu Yukko

Mogu Mogu Nippon | Convenience Store: Häagen-Dazs Mini Cup Houjicha Latte Ice Cream

This is the first article of a new series here on MOSHI MOSHI NIPPON we are calling Mogu Mogu Nippon ("Gobbling Japan").

It's no secret that we here at MMN love eating. At any time of the day someone in the office is eating or drinking something. We have a particular weakness for new products and limited edition seasonal items that are released here in Japan. From time to time, someone will buy something and share it amongst everyone!

In Mogu Mogu Nippon, we will showcase a selection of food, sweets and more that we want to recommend to you―our readers. For this first entry, we are heading to the convenience store to review the Häagen-Dazs Mini Cup Houjicha Latte.

Here in Japan, Häagen-Dazs regularly scoops out a variety of limited edition ice cream flavours, many of which are tea flavoured.

The one we recommend is their Houjicha Latte. This flavour was first released back in 2017 and has gone on to become hugely popular. Demand for this limited edition product to return has been huge (and I'm one of those people!). If you love tea, especially Japanese tea, then you'll find this one irresistible.

Matcha and matcha flavoured products are enjoying a boom around the world today. Like matcha, there are a lot of houjicha items sold here in Japan.

The Houjicha Latte Häagen-Dazs ice cream is on sale right now for a limited time. I ate mine during snack time.

Upon opening the lid you are met with a spiralling marble-like pattern in your ice cream which are two different types of houjicha. The ice cream is rich and has a full-bodied milk flavour. This is coupled with the fragrance and delicious taste of the tea making for a seriously refreshing ice cream. The balance between the flavours is perfect, so you get richness but your taste buds are also left feeling refreshed.

The ice cream isn't overly sweet and has just the right amount of bitterness from the houjicha. The sweetness of the milk fills your mouth and harmonises it all.

We recommend the Häagen-Dazs Mini Cup Houjicha Latte to those looking to eat a dessert made in Japan. You can pick up a cup at most convenience stores across the country, so be sure to give it a try if you're here for summer, especially if you've never tried houjicha sweets or desserts before!

Information

Häagen-Dazs Mini Cup Houjicha Latte (Limited Edition)

Available: At most major convenience stores, supermarkets and department stores in Japan

Price: ¥272 (Before Tax)

Product Page: https://www.haagen-dazs.co.jp/houjicha_latte/

Rilakkuma Umbrella by Felissimo Can Be Used in Clear or Rainy Weather

Felissimo released a new Rilakkuma-inspired beige-pink umbrella on their website on June 10.

The umbrella's design is subtle and sophisticated. The outer rim is lined with a brown coloured lace reminiscent of Rilakkuma. It also has a handle made from high quality wood carved into Rilakkuma's face. The umbrella also cuts 98% of UV rays meaning it can be used in both clear and rainy weather.

Its beige pink colour with brown lacing gives it a sophisticated feminine design.

Rilakkuma's facial features on the handle were made using laser cutting and together with the frilly cotton rope tied to it give it a polished and refined look.

There is also a name tag on the umbrella with a nonchalant Rilakkuma logo printed on it.

There is also a separate bag you can purchase to put your umbrella in after it rains so you don't get the floor wet if you go inside anywhere.

©San-X

Rilakkuma & Kiiroitori Confections by Tabemas Coming to Lawson Convenience Stores

Character-inspired Japanese confectionery series Tabemas has revealed that its next products will be based on Rilakkuma and Kiiroitori. They will go on sale at Lawson convenience stores across Japan from May 21, 2019.

Both characters are made from a type of dough called "nerikiri" which is used in making traditional Japanese wagashi sweets. Their tiny hands, ears and facial features have all been carefully and delicately crafted to create some seriously adorable sweets which, as Tabemas describes all their products, are just too cute to eat.

Rilakkuma is filled with Japanese custard pudding flavoured bean paste while Kiiroitori is filled with chocolate flavoured bean paste. Both sweets are made with natural colouring and have the deliciously moist texture that wagashi have. They are also made with chickpeas which have become popular for their high nutritional value so are a better option for the health-conscious individual.

Whether as a treat to yourself or a friend, don't miss out on these cute and tasty sweets.

©2019 San-X Co., Ltd. All Rights Reserved.

Information

Tabemas – Rilakkuma / Kiiroitori

Price: ¥259 Each (Before Tax)

Release Date: May 21, 2019

Store: Chilled desserts section of Lawson convenience stores across Japan

*Not available at Natural Lawson or Lawson Store 100.

*Available while supplies last.

Product Page: https://www.bandai.co.jp/candy/tabemas/rilakkuma2/

Enjoy your chores more than ever before with this cute Rilakkuma-themed laundry bag by Felissimo! ♪

Felissimo is making washing more fun with the new character-themed Rilakkuma laundry bag.

Rilakkuma's everyday outfit is now a laundry net?! If you take a look inside the bag from the back zipper, you will notice that the inside of the bag has been accurately created and firmly secured to look just like Rilakkuma.

You'll feel as if Rilakkuma has come to stay at your house! Without realising, you'll be smiling at the sight of your new laundry bag swaying gently in the breeze alongside the rest of your laundry no matter where you are. If you're concerned about your delicates or socks, you can still wash them together with the rest of your laundry using this bag. You can put this bag directly in the washing machine! After you've finished the washing, you can easily carry the bag to the washing line by the handle! How useful!

The bag isn't fully transparent and it's made using mesh. This makes it perfect for carrying a change of clothes to the gym or your bath set for when you go to the hot springs!

Now you can finally enjoy doing the chores around the house thanks to the Rilakkuma laundry bag!

Information

Rilakkuma Dararinno hohon ♪ Character laundry bag

Price: ¥1,950 (+ tax)
Material: 100% polyester  ※ machine washable
Size :  50.5cm long X 35 ー 55cm wide,  handle length: 25cm
Maximum weight: 6kg

You can also choose to have a brand new laundry bag delivered to you each month (charges apply).

Made in China

Click here to purchase: https://feli.jp/s/pr190425/2/

Rilakkuma-themed Japanese-style cafe Rilakkuma Tea House opens in Itsukushima, Hiroshima

Japanese-style Rilakkuma cafe Rilakkuma Tea House will permanently open up its second shop in Itsukushima, Hiroshima.

Itsukushima shrine located in Miyajima of Aki is the symbol of the shop. The large, elegant scarlet shrine gate that floats in the water is built entirely of wood and is one of the most beautiful shrine gates in Japan. The main shrine building has a long, honourable history as a world heritage site. As it was built by the sea, the beautiful wooden structure is famous worldwide.

 The Rilakkuma Tea House represents the shrine's traditional wooden architecture style and the warm atmosphere created by wood. Rilakkuma's favourite food, honey, is also a main theme.

The healthy menu and Japanese-style dessert menu which are popular at the Rilakkuma Tea House will also be available at the Itsukushima cafe. There are also dishes that use Miyajima and Hiroshima's famous delicacies including oysters and lemons. This is a flavour adventure you can only enjoy in Hiroshima!

Rilakkuma eel and oyster tempura gozen ¥1,580 (tax included)

Rilakkuma is taking a nap on a bed of fried eggs. Enjoy the crunchy eel and oyster tempura along with three varieties of traditional Japanese-style sides.

Yellow bird and fried oyster curry ¥1,280 (tax included)

This yellow bird is made from saffron rice and is topped with crispy fried oyster, which is the perfect match for the deep-flavoured curry!

There is also a dessert menu and a takeaway menu too! All the menus are packed with Hiroshima goodness!

Rilakkuma chilling out in the autumn leaves ー Japanese-style chocolate banana parfait ¥1,280 (tax included)

A bridge made from banana stretches over a valley of autumn leaves in a beautiful arch shape. The banana ice cream is complemented with gyuhi mochi cake and warabi mochi. The chewy texture of this Japanese parfait resembles banana daifuku cake!

Korilakkuma Seto Inland Sea lemon chiffon  ¥980  (tax included)

This is a fluffy chiffon cake that uses Seto Inland Sea lemons and honey. The cake is sprinkled with berries, and lemons slices decorate the cake to resemble flowers, creating a sweet yet sour flavour.

Delicious Rilakkuma/ Korilakkuma honey sandwich  ¥600  (tax included)

The Rilakkuma Brioche Bread and Korilakkuma White Bread are filled with different ice cream flavours! Those cute round eyes will win you over in no time! ♪

*Takeaway item

Rilakkuma autumn leaves manju (pack of 2) ¥350  (tax included)

These cute Rilakkuma autumn leaf-themed manju are an Itsukushima original!
*Takeaway item

Momiji manju (includes 8)  ¥1,200/Decorated wooden paddle(small, 5 patterns) ¥1,600 each/Kumano makeup brush /small dish (7 varieties) ¥800 each  (all prices with tax included)

There will also be Itsukushima Rilakkuma Tea House original goods! Of course, this includes the Itsukushima's speciality momiji manju buns, momiji wooden paddles and art overflowing with Itsukushima's specialities such as lemons!

There is just so much on the limited edition menu and there are just so many goods too! Check out the official website too! ♪

Information

Itsukushima Rilakkuma Tea House
Address:537, Nakanochohama, Miyajimacho, Hatsukaichi 739-0500,
Opening hours (subject to change):
Tea House :10:30 ー 17:30 (Lunch last orders: 16:30  Cafe last orders: 17:00)

Takeaway:10:00 ー 17:30
Shop:10:00 ー 18:00

Open all year round
Open from:Thursday 25/04/2019
※ It is possible that the reception is closed even during order times.

Rilakkuma Tea House official website:http://rilakkumasabo.jp

Netflix Original Series 'Rilakkuma and Kaoru' to be Released on April 19

Netflix just posted an English trailer for Rilakkuma and Kaoru, the first ever Rilakkuma stop-motion animation.

Netflix describes the series: "Her life might be a little mundane, but Kaoru gets to go home to Rilakkuma, her endearingly lazy roommate who happens to be a fuzzy toy bear."

The show will feature appearances from the lazy Rilakumma, the hard-working Korilakkuma, and the adorable Kiiroitori.

Twelve episodes are planned foe release across 12 months.


Lana Condor (X-Men: Apocalypse, Alita: Battle Angel) will provide the English dub for the main character Kaoru. The series is being directed by Kobayashi Masahito who has worked on many stop-motion pictures.

Rilakkuma and Kaori will hit Netflix on April 19, 2019 with a new episode airing every month.

©2019 San-X Co., Ltd. All Rights Reserved.

Cherry Blossom Jam Filled Rilakkuma Confections Releasing at Lawson Convenience Stores

Japanese confectionery brand Tabemas is releasing new cherry blossom flavoured Rilakkuma and Kiiroitori confections. You'll find them at Lawson convenience stores around Japan from March 26.

'Tabemas' is an abbreviation of the Japanese words taberareru masukotto, meaning 'mascots that you can eat.' It is a Japanese confectionery series that combines well-known characters and Japanese sweets made from ingredients like red bean paste, sugar and rice flour. Their products are hugely popular in Japan and are described as being too cute to eat. These delicate treats are the perfect dessert for the hanami season.

This product was originally released back in 2017, but this time they have made it even more delicious and fitting for the springtime. Rilakkuma is posed holding a pink cherry blossom flower while Kiiroitori is wearing one on his head. Inside both of them are two different bean pastes: Rilakkuma is brown sugar syrup flavoured while Kiiroitori is cherry blossom flavoured.

They not only taste delicious but are carefully crafted by hand so perfectly that you'll find them nearly too cute to eat!

Information

Tabemas Rilakkuma Sakura Rilakkuma

Price: ¥366 (Before Tax)

Release Date: March 26, 2019

Available: At the chilled desserts corner of Lawson branches in Japan.

*Not available at Lawson Store 100 branches.

*Limited stock. Products will discontinue once all have been sold.

*Select branches may receive stock at a different date from that of the release date.

*Select branches not stocking.

*Photos are for illustrative purposes only. Actual product may differ slightly.

*"食べマス" is a registered trademark of Bandai Co., Ltd.

Product Page: http://www.bandai.co.jp/candy/tabemas/s-rilakkuma/

©2019 San-X Co., Ltd. All Rights Reserved.

Rilakkuma Ice Cream Maker―Create Cute and Delicious Ice Cream From Home!

Kai Housewares is joining paws with the adorable Rilakkuma to release the Rilakkuma ice cream maker and ice cream spoon on March 20, 2019. This makes it easy for fans of the cuddly bear to make and enjoy rich and delicious ice cream from their very own home.

Kai has been collaborating with Rilakkuma since 2017. It began with the cookie cutter set which cut cookies into Rilakkuma shapes followed by the sandwich maker which cut your sandwiches into the shape of Rilakkuma.

Rilakkuma Ice Cream Maker: Open Price

The new ice cream maker makers it easier than ever whip up authentic ice cream. You simply put in the ingredients of your choice and flip the switch. You're able to continue mixing in ingredients while as air enters the machine, so the butterfat, which is the deciding factor of the flavour, becomes uniform, allowing you to create smooth melt-in-the-mouth ice cream. Its compact size also means it will fit nicely inside home freezers. You can make an endless amount of ice cream at home in a very short space of time♡

Rilakkuma Ice Cream Spoon: ¥600 (Before Tax)

The Rilakkuma ice cream spoon, which is sold seperately, is made from aluminium which has 12 times the thermal conductivity rate than that of stainless steel. The heat from your hand will travel down to the end of the spoon making it nice and easy to scoop your ice cream even when it's frozen solid.

Get these cute and convenient Rilakkuma items and enjoy ice cream to the fullest this spring from the comfort of your own home.

Information

Rilakkuma Ice Cream Maker / Rilakkuma Ice Cream Spoon

Release Date: March 20, 2019

Kai Corporation Website: https://www.kai-group.com/

©2019 San-X Co., Ltd. All Rights Reserved.