Minion Themed Banana Chocolate Halloween Tarts Released at Ministop Convenience Stores
Halloween is almost here, which means it time to start getting in the spooky mood. The new Halloween Minion Banana Chocolate Tarts just dropped pre-sales at Ministop branches across Japan on October 2, with general sales beginning on October 17 at AEON Retail.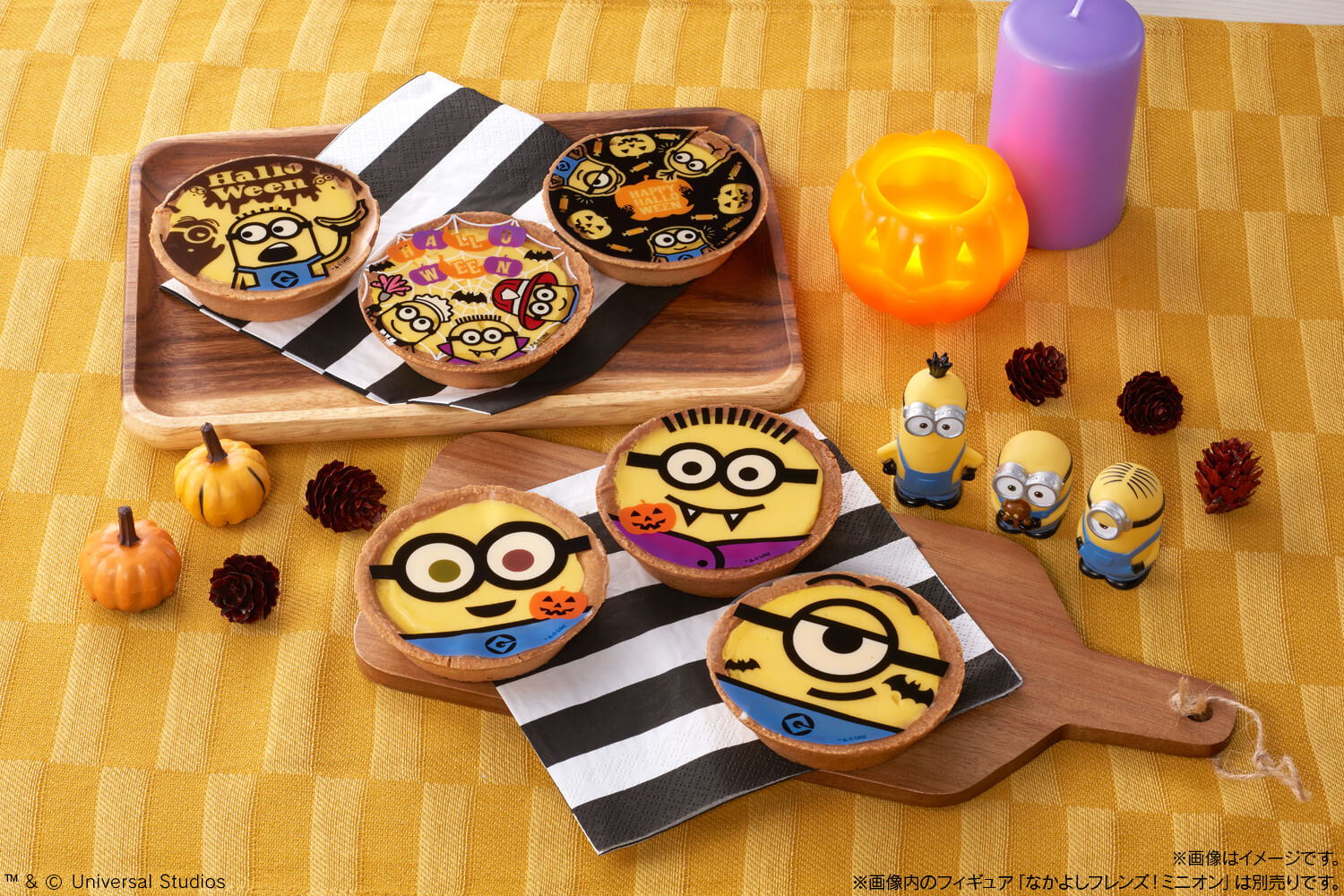 These tarts are the perfect treat for the Halloween season, featuring designs of Minions from the popular Despicable Me film franchise together with other Halloween motifs like pumpkins and monsters. They are yellow like the Minions and banana flavoured – Minions' favourite flavour.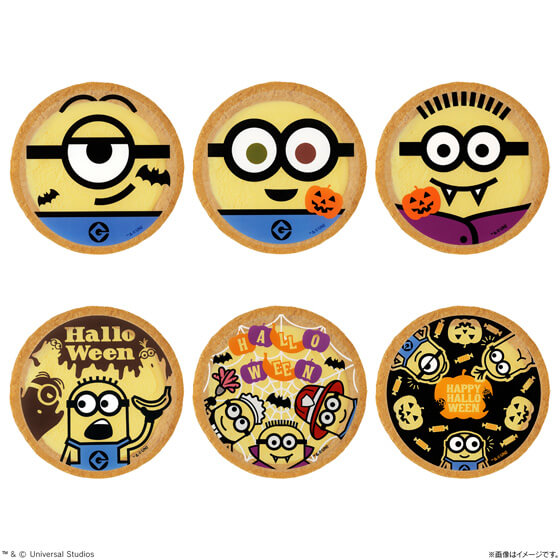 The tarts are crunchy and are covered with a white chocolate coating. Inside is a banana flavoured mousse layered like a cheesecake as well as chocolate mousse. The banana and chocolate make for a deliciously rich combination.
Part of the fun of buying these tarts is choosing which one to go for. There are 6 designs to choose from that include Bob, Jerry and Stuart. The packaging too has Minion decorations with Halloween colours.
A special campaign is also being held from October 2. Three lucky people have the chance to win the above Minions Christmas cake by posting their photos of their tarts with the hashtag #トリックオアミニオンタルト on Twitter and Instagram.
Get your hands on a cute Minions tart in Japan this Halloween!
Information
Halloween Minion Banana Chocolate Tart
Released:
[Ministop] October 2, 2018 (*Select branches not stocking)
[AEON Retail] October 17, 2018
Price: Open Price
Designs: 6
*Select branches not stocking.
*Limited stock. Sales will discontinue once all are sold.
*Sales subject to closure depending on the season.
*Initial sale dates differ depending on the branch.
Minion Tart Halloween Special Campaign
Present: Decorative Minion Christmas Cake
Application Period: October 2, 2018 – October 31, 2018
How to Apply
①Purchase any Halloween Minion Banana Chocolate Tart
②Follow Bandai Candy's official social media accounts: Instagram (@bandaicandy) and Twitter (@candytoy_c)
③Post a photo of your tart on Instagram and/or Twitter with the hashtag #トリックオアミニオンタルト
*Full details available on the official homepage.
Winners will receive a direct message from the official accounts. Bandai Candy will not reply to queries regarding the election results.
*Pre-orders for the decorative Christmas cake are now open on Bandai's official shopping site Premium Bandai.
*The Christmas cake is not limited to the campaign and can be purchased normally.
*Winners will receive their cakes in December 2018.
*Photos are for illustrative purposes only.
*The figures in the first photograph are not included with the tarts and are a separate product.
*The photos show a product still in development. Actual product may differ slightly.
*The latest information can be found on Bandai Candy's official homepage.
*The information written is subject to change without notice.
Product Page: http://www.bandai.co.jp/candy/minion_tart/
TM & ©Universal Studios
RECOMMENDED ENTRIES
Licca-chan Dresses Up as Minion in Cute Collaboration

Licca-chan is a Japanese dress-up doll series by Takara whose popularity can be compared to that of Barbie in the US. She has teamed up with Despicable Me to receive her very own Minion outfit. This version will go on Sale on August 4 at toy shops, department stores and online in Japan, as well as Takara's official shopping site Takara Tomy My Mall.

The collaboration was devised after the Minions won the Japan Character Awards 2018 which was held on March 29, while Licca-chan received an honourable mention.

Licca expressed her love for Minions on her Twitter account. Her dress-up doll outfit features a yellow shirt and denim overall, as well as engineer boots, and a Minion hat with goggles. She also comes with a Tim teddy bear which Bob is always holding in Despicable Me.

There are over 30 items of Minions merchandise available from Takara Tomy right now. Check the official homepage for more details.

■Information
Minion Daisuki Licca-chan

Price: ¥3,800 (Pre-Tax)
On Sale: August 4, 2018
© TOMY:TM & © Universal Studios
Official Website: takaratomymall.jp

LINE have released two new Minion models in their Clova Friends smart speaker range on August 21: "Clova Friends (MINIONS Kevin" and "Clova Friends mini (MINIONS Bob). They also released the Clova Friends Dock which comes with a remote control and is compatible with both Clova Friends and Clova Friends mini.

Clova Friends is a series of cute smart speakers modelled on popular characters such as those in the LINE FRIENDS gang like Brown the bear and Sally the chick.

The speakers are equipped with the AI assistant Clova which, similar to the Amazon Echo, is voice controlled and can update you not only on the news and weather but can play music and tell you fortunes too.

They have been on sale since December last year and make it feel as if you're really talking to the characters. They can be enjoyed together with friends and family too.

The newest entry to the character range include the popular Minions from the hit animated movie franchise Despicable Me.

The two types include the taller Clova Friends Kevin and the shorter Clova Friends mini Bob who has two different eye colours.

You can converse with the Minions using their language with words like "Banana" and "Bello." You can also say things to them in Japanese like kawaii ne ("Aren't you cute?"), suki da yo ("I like you") and tsukareta ("I'm tired") and they will give a wide range of different reactions. You can also make requests like asking them to do a sum or sing a song.

The models are also customizable and come with different stickers to change their facial expressions.

The Clova Friends Dock was also released alongside the two models which is compatible with your TV, house lights and air conditioning. Make your life easier by simply giviving a command like "Hey, Clover, turn off the TV" (Nee Clova, terebi o keshite).

There are also future plans to increase the number of compatible electronic devices.

■Information Clova Friends (MINIONS Kevin)

Available: LINE Clova website and Rakuten Books

Price: ¥8,640 (Tax Included)

Clova Friends mini (MINIONS Bob)

Available: LINE Clova website, Rakuten Books and select electronic stores

Price: ¥5,400 (Tax Included)Sales location details:

https://clova.line.me/where-to-buy/

Clova Friends (MINIONS Kevin)×Clova Friends mini (MINIONS Bob) Set
Available: LINE Clova website and Rakuten Books

Price: ¥9,900 (Tax Included)

Clova Friends Dock
Available: LINE Clova website and select electronic stores

Price: ¥3,780 (Tax Included)

Clova Friends×Clova Friends Dock Set
Available: LINE Clova website and select electronic stores

Price: ¥11,330 (Tax Included)
*The "Clova Friends (MINIONS Kevin)" and "Clova Friends Dock" set is available on the LINE Clova official website or Rakuen Books only.

Clova Friends mini×Clova Friends Dock Set
Available: LINE Clova website and select electronic stores

Price: ¥8,370 (Tax Included)

Clova Friends Minions Official Page: https://clova.line.me/clova-friends/minions/

LINE Clova Official Website: https://clova.line.me/

™&©Universal Studios

Limited Edition Minions Ice Cream to be Sold This Summer at Baskin-Robbins in Japan

Baskin-Robbins, known as "31" in Japan, will sell a limited edition Minions ice cream this summer from July 17 to August 30. The ice cream is based on the banana-loving Minions from the film series Despicable Me.

This limited-edition summer flavour is called Minions Meccha Fruits and as the title suggests is packed full of delicious fruit flavours. The orange coloured sourbet contains banana, apple and orange while the green sherbet is a mix of lychee, kiwi and white grape. The orange sourbet is also decorated with edible blue and yellow Minions.

For this ice cream, the usual Small Double size has been upgraded to the Regular Double at no extra cost and called Minions Double, meaning you get an extra 50%. It's served in one of three original Minion cups: 'Aloha,' 'Fever!,' and 'Tropical.' It even comes with a Minions spoon.

If you purchase three Minions Double from August 10 you can get one of the tote bags pictured above for just an extra ¥150.

If you want something to cool you down even more, then get yourself the Crushed Ice Minion pictured above which combines the Minions ice cream with crunchy shaved ice. There's also a variety pack box and two other ice creams, Minion Sweets Hunt and Bello! Minion. The seasonal Boo Ya! Minion flavour is also making a return.

Minions are set to take over Baskin-Robbins. Join the fun!

■Information
Minions Mecha Fruits

Price: Single Regular Size – ¥360

Available: From July 17, 2018 for a limited time

Minions Double

Price: ¥470 (*Cup selected randomly)

Available: July 17, 2018 – August 30, 2018

Crushed Ice Minion

Price: ¥450

Available: July 17, 2018 – August 19, 2018

Variety Bag Minion

Price: Small (6) ¥1,450 / Small (12) ¥2,800 / Regular (6) ¥2,000 / Regular (12) ¥3,380

Available: July 17, 2018 – August 19, 2018

Minion Sweets Hunt

Price: ¥4,000

Size: 19cm x 5cm

Available: From April 20, 2018

Bello! Minion

Price: ¥2,850

Size: 14cm x 5cm

Available: From April 20, 2018

Boo Ya! Minion

Price: Single Regular Size – ¥360

Available: From July 17, 2018 for a limited time

*All prices include tax. Prices differ from store to store.

Baskin Robbins Japan: http://www.31ice.co.jp/

TM & © Universal Studios
RELATED ENTRIES
Japanese Artist VERDY Releases Minions Collaboration Collection

To commemorate the upcoming film Minions: The Rise of Gru, a new apparel collection has been unveiled! The new items were made by VERDY, the artist behind popular projects like Girls Don't Cry and Wasted Youth, both of which have been noticed by celebrities overseas. Prior to the collection's launch online on July 1, fans can buy items from the limited-edition collection at Universal Studios in Los Angeles starting June 17 and at Universal Studios Japan starting June 24. 

VERDY is an incredibly popular artist who has garnered attention around the world, and his products are often seen with celebrities and big names in Japan and abroad. He has collaborated with a number of top brands in the past.

Collection

The first collaboration between the two, Minions x Vick, was released in 2020 to huge popularity, selling out within one minute of release. This second collaboration was created to satisfy huge fan demand, offering up tons of items featuring Otto, a Minion who will appear in the new film, and VERDY's signature character Vick. Fans can purchase T-shirts, hoodies, long sleeve shirts, hats, keychains, skateboards, and more. 

This is the only time you'll be able to snag these unique items, so don't miss out!

WIZARDING WORLD and all related trademarks, characters, names, and indicia are © & ™ WBEI. Publishing Rights © JKR. (s22)
Minions and all related elements and indicia TM & © 2022 Universal Studios. All rights reserved.TM & © Universal Studios & Amblin Entertainment
Universal Studios Japan TM & © Universal Studios. All rights reserved.
© Nintendo

Information

Minions x VERDY

Where to Buy: Universal Studios Japan, Studio Style

Available: June 24 – June 30, 2022
*Items only available while supplies last.
Available Online starting July 1

Available at Universal Studios Hollywood starting June 17

Kyary Pamyu Pamyu Collaborates with Famous Poeme Sweets in Ehime Prefecture

Kyary Pamyu Pamyu made waves with music lovers around the world last month when she performed at Coachella, one of the largest and most famous music festivals on Earth. On May 28, Kyary will perform in Ehime, and the artist has released details about another collaboration as part of the LOCAL POWER JAPAN Project, launched to energize Japan through the appeal of regional towns and cities.

In Ehime Prefecture, Kyary is teaming up with Poeme, a famous sweets shop in Setouchi close to the Seto Inland Sea. The shop itself opened in 1950 with a different name and quickly became popular for its Butter Manju. The buns, baked in a buttery biscuit dough with red bean paste, were an extravagant confectionary at the time. In the late 1950s, a friend of the founder Okada Kazutarou tasted the Butter Manju and said "This is a poem," hence the current name of the location. After 76 years, the name of the shop still reflects Poeme's mission that has been present since the company's founding just after WWII. 

The collaboration logo for the project was inspired by Kyary's 2018 album Japamyu, which was released after four successful overseas tours. The album cemented the artist as one of Japan's top talents, and the logo combines Poeme with Japamyu to make Poemyu.

A collaborative T-shirt is also on sale featuring the new logo and the singer's 10th-anniversary logo. The shirt is only available until June 8 on the official LOCAL POWER JAPAN Project website.

Information

Ehime's Poeme x LOCAL POWER JAPAN Project

Collaboration T-shirt
Price: ¥3,300 (Tax Included)

Where to Buy:
LOCAL POWER JAPAN Project Online Shop

Available until June 8 at 23:59
https://store-localpowerjapan.com/

Official Site: https://localpowerjapan.com


*Please allow two weeks to one month from order completion to product shipment.

*A portion of T-shirt sales will be donated to local projects and social programs.

Kyoto Sweets Shop Otabe Rereleases Demon Slayer: Kimetsu no Yaiba Snacks with New Designs

Otabe, one of the most popular sweets souvenir shops in Kyoto, Otabe, is known for its delicious matcha and mini-desserts. Starting May 12, the company has released nine uniquely packaged sweets inspired by Demon Slayer: Kimetsu no Yaiba. The limited-edition packaging will feature popular characters from the series. Previously, the company released matcha cakes for the crossover–this time, fans can enjoy choco-an flavor!

Demon Slayer: Kimetsu no Yaiba Choco-an

Demon Slayer: Kimetsu no Yaiba Matcha

Demon Slayer: Kimetsu no Yaiba Otabe (with Original Sticker)

Original Sticker: 15 varieties, 1 given at random

Focusing on the hashira from the series, fans will want to be on the lookout for their favorite character. These sweets can be bought at select stations in the Kyoto and Osaka area, major Kyoto tourist attractions, and online. In addition, matcha flavored treats will also be on sale featuring Tanjiro Kamado, Nezuko Kamado, Zenitsu Agatsuma, Hashibira Inosuke, Kagaya Ubuyashiki, and Muzan Kibutsuji.



©吾峠呼世晴/集英社・アニプレックス・ufotable

Information

Demon Slayer: Kimetsu no Yaiba Choco-an
Release Date: May 12, 2022
Price: ¥432 (Tax Included)
Where to Buy: Train station in Kyoto & Osaka area, Major Kyoto tourist attractions, online.
Details: http://www.otabe.kyoto.jp/kimetsunoyaiba/

Fruit Cakes from Patisserie Giraud Available at Gotanda Station for a Limited Time

Those passing through Gotanda Station in Tokyo might want to keep an eye out for some tasty treats on sale for a limited time. Patisserie Giraud has opened a limited-time pop-up location inside the aptly-named shop Have You Eaten This Before? The pop-up will be open until May 31, 2022.



Have You Eaten This Before? features a rotating selection of products perfect as gifts, souvenirs, or as a treat for yourself. Along with six cakes made to look just like fruits, a selection of other baked goods will also be available.

Lineup

Strawberry

Orange

Lemon

Red Apple

Green Apple

Melon

While it might be difficult to eat these beautiful cakes, you'll never forget the way the juice-filled mousse and crispy pastry fill your mouth. Which one would you like to bring home?

Information

Patisserie Giraud Limited-Time Shop
Open: May 16 – May 31, 2022
Hours: Weekdays 10:00-22:00 / Weekends & Holidays 10:00-21:00
Location: JR East Gotanda Station

Official Site: https://www.giraud.co.jp

Hilton Osaka to Hold Cinnamoroll and Sanrio Character Sweets Buffet

Folk Kitchen, a restaurant on the second floor of Hilton Osaka, will hold the Sanrio Characters Sweets Buffet ~Joyful Summer Festival~ from May 20 until September 11, 2022. The event is being held to celebrate Cinnamoroll, Pompompurin, and Pochakko coming in first, second, and third in the Sanrio Character Awards. A lineup of 25 different sweets will be available, including those filled with summer fruits like mango, peach, and watermelon! In addition, a "Zero Leftovers Campaign" will be implemented–so be sure to clear your plate!

Happy Festival Heart Mousse

Joyful Pink Cake / Lime & Raspberry

Fluffy and Crunchy Mango Pavlova

Decorated with chocolate and adorable character designs, the Happy Festival Heart Mousse is a scrumptious dish blending the flavor of banana, caramel, and rum. The Joyful Pink Cake will be a smash-hit with Sanrio lovers, featuring the soft taste of white mousse and raspberry compote with a fresh lime flavor. Tons of other original sweets will be available, including everything from gingerbread to orange tarts.

 

Visitors can also find plenty of vegan sweets. Summer Blue Sky Jello features contrasting colors of pineapple pulp and soymilk cream that look like clouds floating against a summer sky. Be sure to try the Almond & Watermelon Jello and Grapefruit and Lychee Jello too!

Tapioca and Crepe Store 'Pearl Lady' Collaborates with Sanrio Character Cogimyun

Pearl Lady, a tapioca and crepe specialty shop, will begin selling a special crepe inspired by the Sanrio character Cogimyun starting April 8, 2022! These gorgeous treats will be available at participating Pearl Lady locations while supplies last.

Cogimyun's Sparkling Strawberry Crepe

Cogimyun's Sparkling Strawberry Crepe, topped with a Cogimyun cookie, includes sweet and sour strawberry cream. 

The dough, made with tapioca flour, offers a slightly chewy texture with a rich milk and butter flavor. Customers will also receive a special sticker as a purchase bonus. Be sure to enjoy the new Cinnamoroll drink available at Pearl Lady's sister shop CHABAR!

CHABAR x Cinnamoroll Collaboration Drink

Kyo Hayashiya and Hayashiya Shinbei Offering Special Parfaits Perfect for Spring

Hibiya Hayashiya Shinbei in Tokyo Midtown Hibiya is now offering a scrumptious Strawberry Matcha Parfait until April 24, 2022! If that's not up your alley, four Kyo Hayashiya locations in Shinjuku, Omiya, Yokohama, and Ikebukuro will begin offering a Matcha and Berry Mascarpone Parfait from April 1 until May 8, 2022. 

Strawberry Matcha Parfait


The Strawberry Matcha Parfait is an eye-catching mix of green and pink, reminiscent of cherry blossoms and bright green grass. Green tea blends with rose jelly and lychee sorbet, offering a refreshing taste with a hint of bitterness. The sweet accent of crunchy chocolate feuillantine gives each bite a little kick.

Matcha and Berry Mascarpone Parfait


The Matcha and Berry Mascarpone Parfait mixes the deep, bitter taste of Uji matcha, the sweet and sour taste of berries, and the gentle sweetness of mascarpone cream. The berry sauce is blended with crunchy chocolate feuillantine, a layer of whipped cream, green tea jelly, green tea ice cream, and milk panna cotta. To finish, it's garnished with refreshing raspberry sorbet, bittersweet matcha ice cream, and fresh strawberries.

Information

Strawberry Matcha Parfait

Price: ¥1,650 (Tax Included) / with Tea: ¥2,090 (Tax Included)

Available: March 18 – April 24, 2022

Available at Hibiya Hayashiya Shinbei (Tokyo Midtown Hibiya 2F)

Matcha and Berry Mascarpone Parfait

Price: ¥1,430 (Tax Included) / with Tea: ¥1,870 (Tax Included)

Available: April 1 – May 8, 2022

*Available until April 30 at the SOGO Yokohama location.

Available at the following 4 Kyo Hayashiya locations. 

・Takashimaya Times Square (Shinjuku Takashimaya Times Square Main Building 2F)

・Seibu Ikebukuro (Seibu Ikebukuro Main Building 8F)

・SOGO Omiya (SOGO Omiya Main Building 9F) 

・SOGO Yokohama (SOGO Yokohama 10F)

McDonald's 'McCafe by Barista' to Offer Uji Matcha Sweets for Spring

McDonald's Japan locations with 'McCafe by Barista' areas will begin selling special spring treats for a limited time starting April 6, 2022. Customers will be able to grab the 'Strawberry Uji Matcha Frappe' and the 'Uji Matcha Mont Blanc Tart.'

McCafe by Barista invites guests to enjoy high-quality frappes and smoothies. The Uji Matcha Frappe was added to the regular product lineup in June 2021, and features a mellow matcha flavor. The Strawberry variant is coming back for the first time in three years. The Mont Blanc Tart is a new addition, and is a perfect treat to enjoy with this popular frappe! 

Strawberry Uji Matcha Frappe: ¥490

The Strawberry Matcha Frappe mixes together the full-bodied flavor of matcha together with sweet and sour strawberries. It includes both a strawberry paste made from whole strawberries and a strawberry whipped cream at the bottom. The drink is topped with more strawberry whipped cream and a sprinkling of matcha powder. The refreshing taste of the strawberry sauce coupled with the whipped cream serves to elevate the great flavor of the Uji Matcha even more.

Uji Matcha Mont Blanc Tart: ¥390


The Uji Matcha Mont Blanc Tart is made with Uji Matcha batter, Uji Matcha whipped cream, white bean paste, and green tea cream. The refined sweetness is complemented by the mellow aroma and slight bitterness of Uji Matcha.

How would you like to enjoy these treats beneath the cherry trees?

Information

Strawberry Uji Matcha Frappe

Uji Matcha Mont Blanc Tart

Available: April 6 – Mid-May, 2022

Available at Participating McDonald's Japan Locations with 'McCafe by Barista'

Official Site: https://www.mcdonalds.co.jp/

Sweets Shop Patisserie Pinede Offering Cat-Shaped Strawberry Mille-feuille

The sweets shop Patisserie Pinede will be offering the Yummy Kitty Cat Mille-feuille from March 18 until March 22, 2022!

The store holds a special 'Meow Meow' event on the 22nd of each month. In Japanese, the word for two, ni, sounds similar to nyan, the Japanese word for meow.


The event means tons of cat-themed sweets and decorations, including a tasty strawberry mille-feuille. This includes layers of puff pastry, cream, icing, and plenty of fruit. 

While it's hard to cut into something so cute, the sweet and sour taste is the perfect way to enjoy this meow-gical holiday!

Information

Yummy Kitty Cat Mille-feuille
Available: March 18 – March 22, 2022

Location: Patisserie Pinede

Official Site:  https://pinede.co.jp

THE STRINGS Omotesando Offering Cherry Blossom & Strawberry Afternoon Tea for Take-Out

The ZelkovA Cake Boutique at the wedding venue THE STRINGS Omotesando is offering a Cherry Blossom & Strawberry Afternoon Tea set to-go from March 3 until April 26! How would you like to experience an authentic afternoon tea experience from the comfort of your own home?

Mini Afternoon Tea Set

The original take-out box can be displayed on a table in a standard three-tier afternoon tea format. Each set contains a number of spring-inspired sweets including a tasty Mont Blanc with strawberries and a tiramisu made with sponge cake soaked in strawberry extract and layered with cherry blossom mascarpone cream. The savory menu also includes pink strawberry sandwiches with shrimp and cabbage.

 

Two kinds of tea from the luxury Singapore tea brand TWG will be included in the set, and a mini afternoon tea set with seven types of sweets will also be available for purchase.

Q-pot CAFE Introduces Cherry Blossom Inspired Seasonal Menu

To celebrate the arrival of spring, Q-pot Cafe is introducing a cherry blossom-themed menu for a limited time!

Cherry Blossom Romantic Dress Cake  Plate with Drink: ¥2,100 (Tax Included)

Enjoy this pink cherry blossom mousse and pure white whipped cream to celebrate the end of the gloomy winter season.

Rich pistachio mousse, strawberry pulp, fragrant almonds, and fluffy genoise come together in a scrumptious melt-in-your-mouth explosion of flavor.

Romantic Berry Blossom Tea: ¥850 (Tax Included) / Set Menu +¥200 (Tax Included)

A play on Q-pot Cafe's popular Flower Garden tea, the Berry Blossom Tea has a rich cherry blossom aroma with raspberries and milk added. 

Romantic Berry Blossom Tea with Bottle: ¥1,296 (Tax Included)

Take-out drinks in patterned bottles are also available! By bringing the bottle with you, the Berry Blossom Tea will be discounted to ¥750 (tax included). 

Information

2022 Q-pot Cafe Seasonal Menu

Location: Q-pot Cafe Omotesando

Available: March 1 – April 14, 2022

Online Reservations Open

Sheraton Grande Tokyo Bay Hotel Cafe Toastina Offering Strawberry Sweets for a Limited Time

Cafe Toastina, located inside the Sheraton Grande Tokyo Bay Hotel in Chiba Prefecture, is now offering delicious and very photogenic strawberry sweets and baked goods until March 31, 2022! There are tons of different ways to enjoy the event: the Sheraton Sweets Box is filled with mini-sweets and is available to take with you, and the Friday Sweets Buffet will allow guests to enjoy as many treats as they can! A cute photo wall covered in strawberries will also serve as the perfect photo spot, so visit while you can.

Strawberry Champagne Mousse

Strawberry Mille-feuille

Strawberry Paris-Brest

Strawberry Milk France / Danish with Strawberry & Mascarpone Cream

Sheraton Sweets Box

Information

Strawberry Sweets & Bakery
Running: February 15 – March 31, 2022
Location: Cafe Toastina (Hotel 2F) 10:00-23:00

Friday Sweets Buffet
Running: Fridays from February 18 – March 25, 2022

Details/Reservations: https://toastina.sheratontokyobay.com/