Shabu-Shabu Restaurant Hyoto to Open in Front of Kyoto Station
It's been 15 years since Hyoto opened back in 2003. Now, the restaurant's new flagship location in front of Kyoto Station will hold its grand opening on October 20, 2018.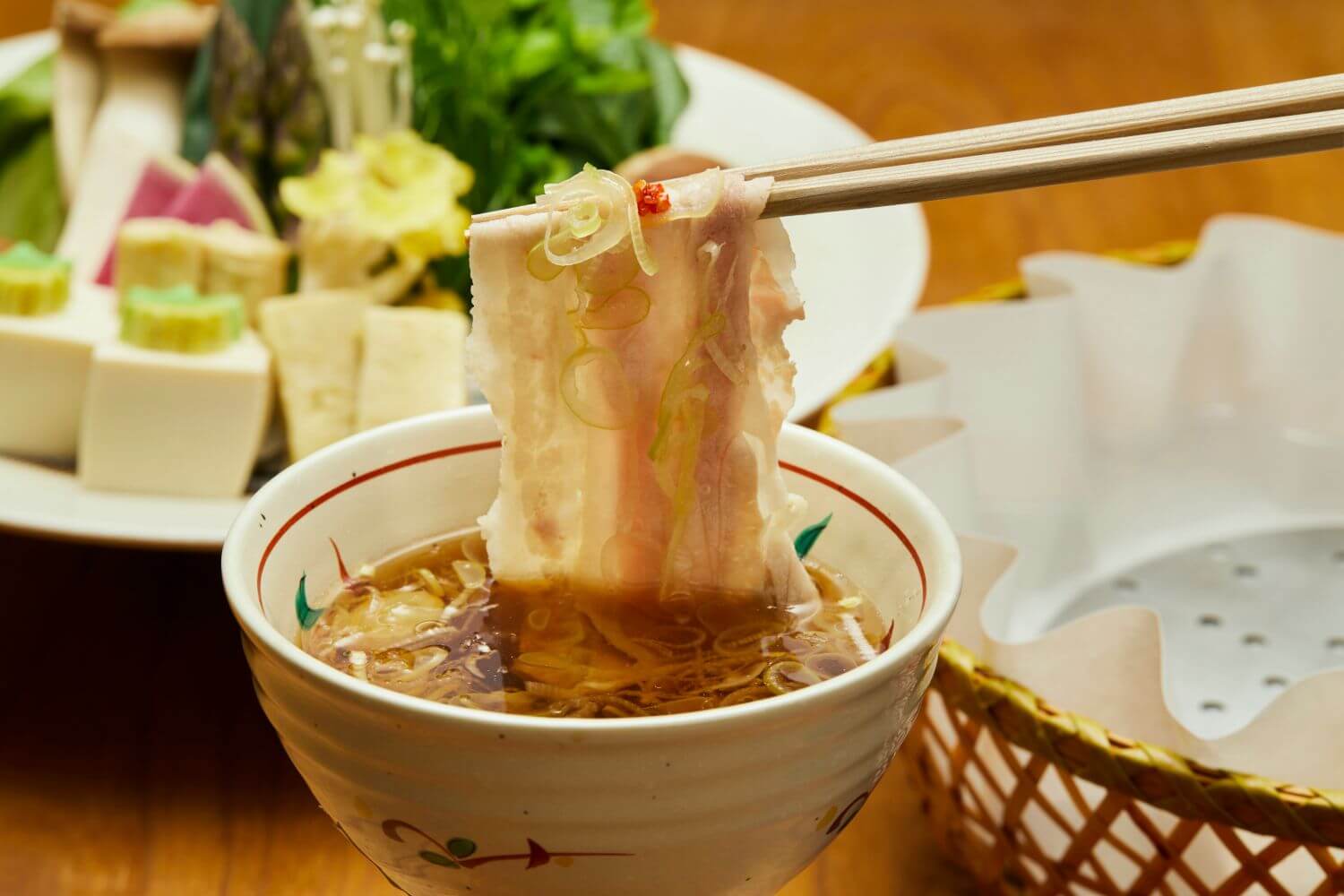 The restaurant boasts elaborate dishes, with one of their most popular items at their Karasuma branch being "Dashi-Shabu," a spin on shabu-shabu hot pot that uses dashi as a dipping sauce. Their chefs have spent many years perfecting the sauce which is made from lots of bonito and kombu.
The restaurant's Kyoto-style kaiseki food trays, created by their skilled chefs, evoke the four seasons. Other must-tries include their steak as well as the shabu-shabu which is made with omi-gyu beef―one of the top three brands of beef in Japan.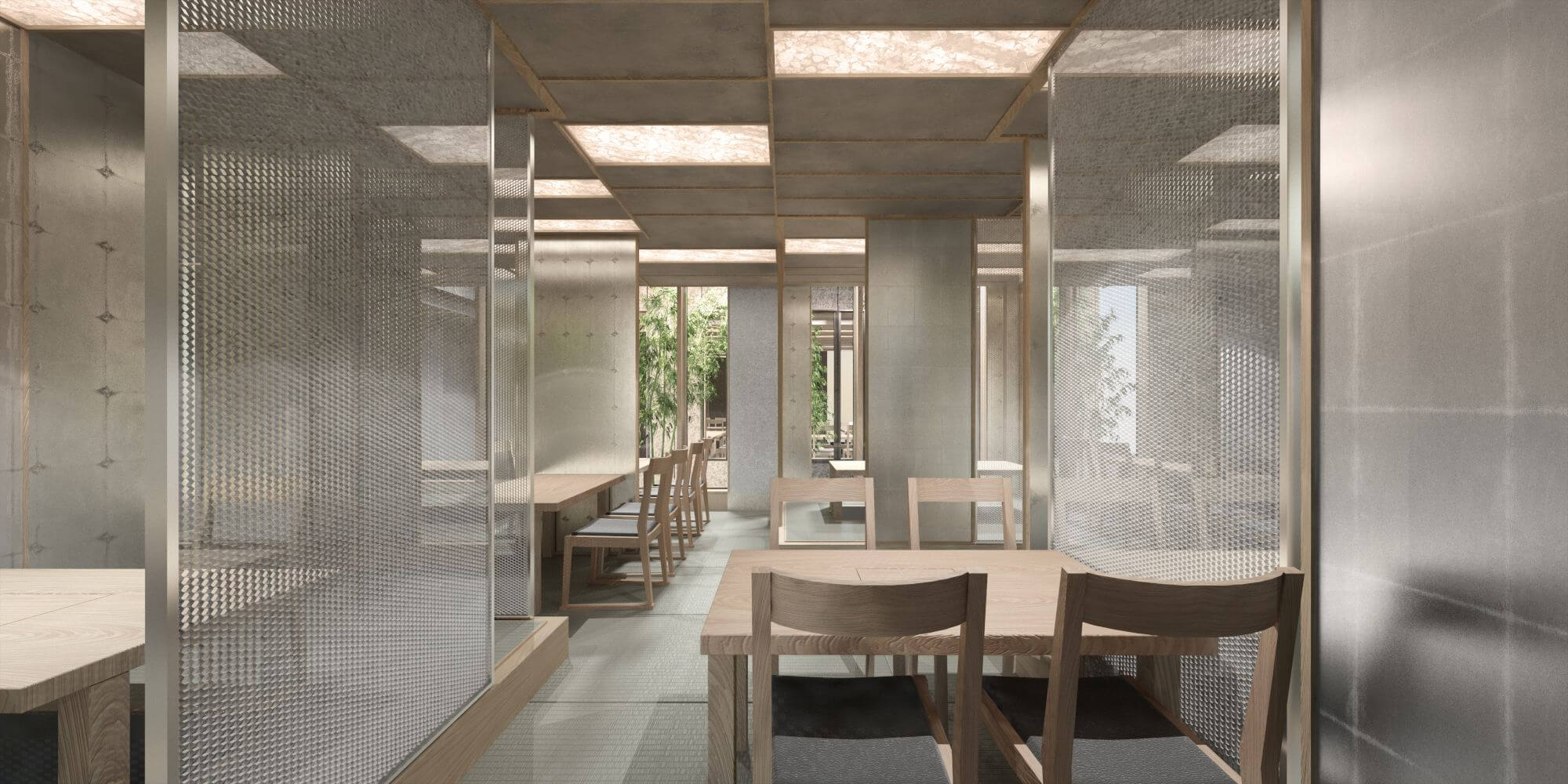 The restaurant is designed by by acclaimed Japanese architect Manabu Chiba who has won many awards. The gold leaf and white wood decor give the restaurant a stylish traditional Japanese feel. The first floor is home to semi-private tables and the second floor completely private tables. Both floors also include planted bamboo which give an air of elegance and refinement, allowing for enjoyment of both a Kyoto newness and traditional vibe.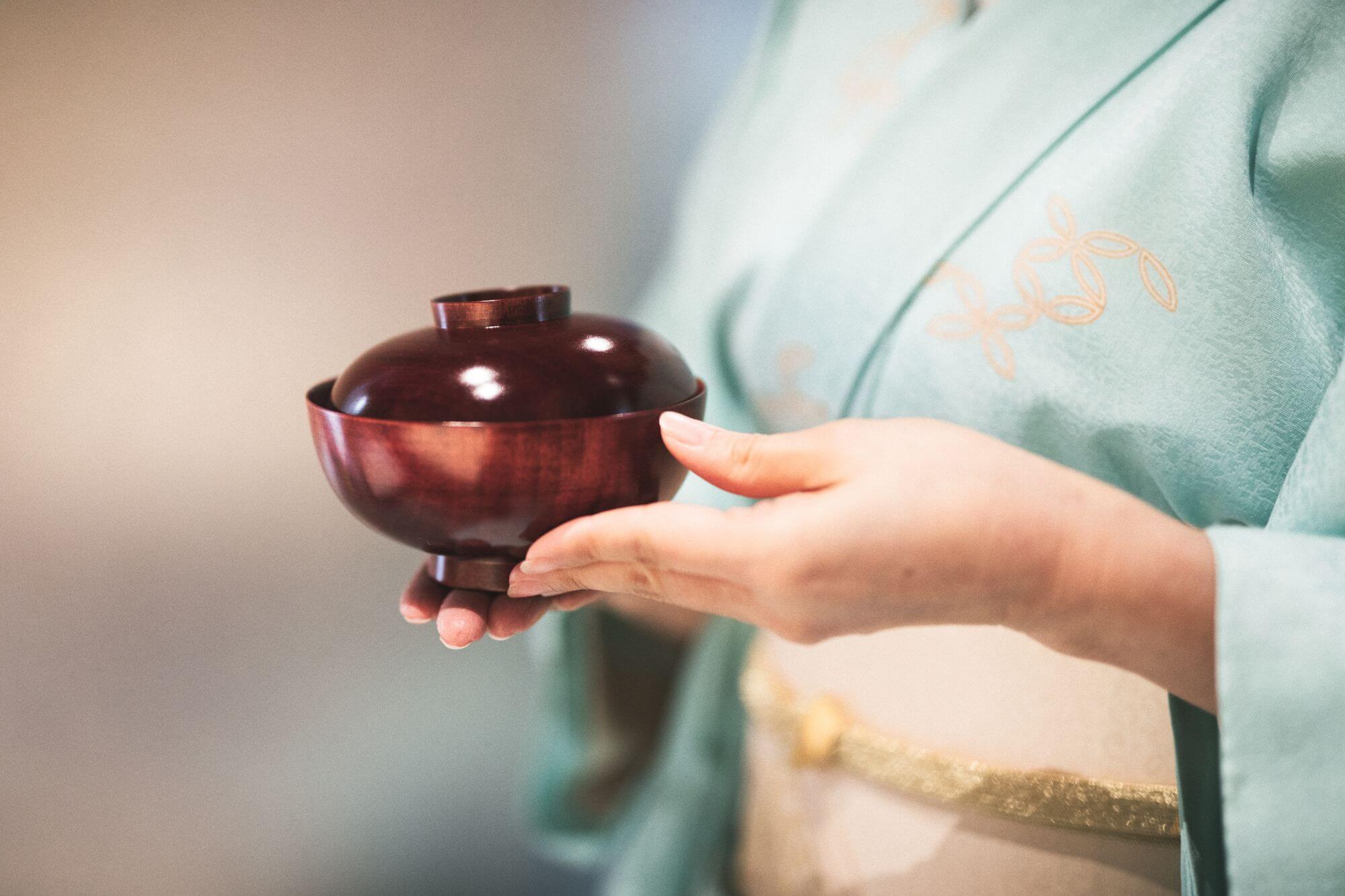 Head to Hyoto for a helping of hospitality, Kyoto style.
Information
Kyoto Hyoto – Kyoto Station Main Branch
Address: 607-12 Higashishiokojicho, Shijo-Sagaru, Nishinotoin Dori, Shimogyo Ward, Kyoto
TEL: 075-342-2338
Opening Hours: Daytime 11:30-14:00 / Evening 17:30-21:00
Closed: New Year's Holidays
Access: 10-minutes on foot from the Central Gate of Kyoto Station via JR Line or from Kintetsu Kyoto Station / 6-minutes on foot from Exit 2 of Kyoto Station via Karasuma Line
RECOMMENDED ENTRIES
Indulge in a Luxurious Afternoon Tea Set at Nanzenji Sando Kikusui in Kyoto With a Garden View

Kikusui is a 60 year old ryokan―a Japanese style inn―spanning an area over 2700m². The establishment reopened in June this year as Nanzenji Sando Kikusui and will sell a special new afternoon tea set this summer.

Kikusui continues to retain the spirit and vibe of the Meiji Era with its gardens and tea-ceremony arbours, but the terrace seats in the garden which can now be entered with your shoes on, amongst other things, have been renovated to better fit the current times.

Afternoon Tea Set – ¥3,000 per person

The afternoon tea set features a fusion of Western and Japanese styles, including things such as matcha and bean jam wafer cakes.

There are 12 original desserts and food items to choose from, as well as unlimited refills of 10 different teas from Ronnefeldt. You can also enjoy a leisurely stroll in the gardens for as long as you like. It's a perfect stopover location when sightseeing and travelling. There's plenty of food there too so you can even have a late lunch.

Pick a seat of your choice at the wide-open terrace seating area where you can hear the sounds of nature and enjoy gazing across the garden while tucking into your food.

There's plenty of other meal options too!

Chocolate Cream & Houjicha Ice Cream Affogato

This affogato is a mix of rich cream made with chocolate from Spain, houjicha ice cream, cinnamon streusel, and chocolate nibs. Pour over espresso to bring all the flavours together.

Salty Milk Ice Cream & Kitasaka Chicken Farm "Cherry Blossom Egg" Fried Purin – ¥900

This traditional fried purin made with a rich cherry blossom egg has a slightly salty flavour that complements the milky ice cream. It's described as a 'classical' dessert.

Miyazaki Mango, Passion Fruit & Apricot Seed Sorbet – ¥1,400

This dessert puts together good quality mangoes, passion fruit and apricot seeds. The added fragrance of amaretto draws out the flavour of the mango even more.

Caramel Banana & Mascarpone Ice Cream Dutch Pancake – ¥1,200

Baking this pancake at 250°c gives rise to a unique texture. The skillet keeps the pancake nice and warm until the last mouthful.

 

Muskmelon, Rich Panna Cotta, Honey Ice Cream & Noble Rot Wine Jelly – ¥1,400

The slightly sour panna cotta, noble rot wine jelly and honey ice cream bring out the sweet flavour of the muskmelon. This refreshing dessert is both unique and uniform.

Enjoy a most luxurious teatime in Kyoto at Kikusui.

■Information
Nanzenji Sando Kikusui

Address: 31 Nanzenji Fukuchicho, Sakyo-ku, Kyoto

Opening Hours: 11:00am-10:00pm (Lunch 11:00am-2:00pm / Teatime 2:00pm-5:00pm / Dinner 5:00pm-9:00pm)

No Fixed Holidays.

TEL: 075-771-4101

Website: http://www.kyoto-kikusui.com/

Miffy Sakura Kitchen & Bakery to Open in Arashiyama, Kyoto

The new takeout bakery Miffy Sakura Kitchen will open in Arashiyama, Kyoto on October 3, fusing traditional Japan with Dick Bruna's cute bunny character.

The bakery faces the main street that runs from Togetsu-kyo Bridge through the Arashiyama Bamboo Grove, the most iconic tourist spots of Arashiyama.

Vintage Mugs – ¥1,200 (Pre-Tax)

Lunch Bowls – ¥2,000 (Pre-Tax)

At the bakery you can get your hands on a range of Miffy licensed merchandise as well as a string of exclusive Miffy Sakura Kitchen made in the style of traditional Kyoto pottery and more.

Of course, there's plenty of delicious goodies to get your fingers on too like anpan sweet bread, danish pastries, ice cream, drinks and more, all inspired by Miffy.

Miffy Anpan – ¥260 (Pre-Tax)

The Miffy anpan is shaped like Miffy's face which is filled with sweet adzuki bean paste.

Miffy Fuku Daruma Bread – ¥350 (Pre-Tax)

This cute and round Miffy bread is made in the image of a daruma doll and is filled with rich matcha cream. Limited quantity available.

Carrot Bread – ¥310 (Pre-Tax)

Miffy loves carrots, so this one's dedicated to her. It's made with carrot puree and contains an egg salad.

Miffy Danish Pastry – ¥500 (Pre-Tax)

When you sink your teeth into this crunchy toasted pastry your mouth is filled with the sweet taste of butter. You can order it as French toast or enjoy it as a sandwich.

Miffy Cube (Matcha & White Chocolate) – ¥230 (Pre-Tax)

This cubed shaped bread bears the shop's logo and Miffy on the front. You'll get addicted to the sweet white chocolate and bitter matcha inside!

The bakery itself will also be decorated with all things Miffy, so if you're a fan of the cute bunny yourself you'll definitely want to go and visit.

■Information

Arashiyama Miffy Sakura Kitchen
Address: 20 Sagatenryuji Tsukurimichicho, Ukyo Ward, Kyoto, Kyoto Prefecture

Grand Opening: October 3, 2018

Opening Hours
Miffy Kitchen: 10:00am-6:00pm
Miffy Bakery: 10:00am-6:00pm

Contact
Miffy Kitchen: 075-863-2022
Miffy Bakery: 075-496-4244

Miffy Sakura Kitchen Offiみっふぃー桜きっちん公式サイト:http://www.miffy-sakurakitchen.jp

Autumn Colour Illuminations to Take Place at Kurodani Temple―Home to the Afro Buddha

Veltra, a website that offers hundreds of tours and activities for travellers across the world, is now taking bookings to go and see the autumn colour light-up of Konkaikōmyō-ji, also known as Kurodani Temple.

The plan offers the chance to see the Afro Buddha―which has made headlines on TV in Japan and on the internet―as well as the temple gardens and elsewhere lit up in gorgeous hues of reds, yellows and oranges. The autumnal colours reflected on the water surface beside the temple will provide for a gorgeous setting.

There's also an additional plan that can get you in 30-minutes earlier than regular guests and offers a tour of the area by the official gardener or a garden concierge. Guests who book with Veltra will also receive a bill with the Afro Buddha printed on it.

Kurodani Temple was founded in 1175. It incldues the site where Honen, the founder of Jodo Buddhism, stayed. It's also famous as the site where the Japanese official Kondō Isami and samurai Matsudaira Katamori held talks.

While gazing at the beautiful colours of autumn guests can also enjoy a koto performance.

Veltra also has an English page and takes bookings from inbound travellers. Book your plan to see the spectacle yourself.
RELATED ENTRIES
New Open Fruit Sandwich Shop 'Fruits Panda by bekkaku' Opens at Kyoto Tower

Kyoto-based confectionery company Bijuu opened its new shop "Fruits Panda by bekkaku" inside Kyoto Tower on June 4, 2020.

 

Premium sandwiches made with high quality bread

Fruits Panda by bekkaku serves colourful and Instagrammable open sandwiches made from bread baked by Kyoto-based luxury bread company bekkaku which is topped with a variety of fresh fruits and one of the shop's rich creams. The in-house made creams, whether it be the caramel cream, condensed milk cream, or another, all bring out the delicious taste of both the fruit and bread.

Strawberry Panda (Strawberries/Red Bean Paste/Condensed Milk Cream): ¥350 (Tax Included)

Topped with fresh strawberries and sweet red bean paste, this open sandwich is served with a side of velvety condensed milk cream for a harmony of flavours.

Kiwi Panda (Kiwi/Honey Cream): ¥350 (Tax Included)

Sweet and sour kiwis coupled with sweet honey is a match made in heaven that creates a refreshing aftertaste.

Banana Panda (Banana/Chocolate Cream): ¥350 (Tax Included)

Subtly sweet fried bananas and rich chocolate cream are a classic combination which create a full-bodied aroma and delicious aftertaste.

The shop will also be selling bekku's "Tanabiki" bread, so if you visit the shop, use this opportunity to try out their luxurious loaves.

Fruits Panda by bekkaku plans to serve seasonal combinations too so customers can enjoy their open fruit sandwiches all year round.

Information

Fruits Panda by bekkaku

Location: Kyoto Tower (Floor 1F), 721-1 Higashishiokojicho, Shimogyo Ward, Kyoto, 600-8216

Instagram: @fruitspanda

Stunning Hydrangea Parfait Now Being Served at Itohkyuemon's Cafe in Kyoto

Kyoto-based tea company Itohkyuemon is now serving its gorgeous new "Hydrangea Parfait" at each of its cafes.

Hydrangea Parfait: ¥1,290 (Tax Included) / With Drink ¥1,690 (Tax Included)

In Kyoto's city of Uji, where Itohkyuemon's cafes are based, lies Mimuroto Temple which is famous for its hydrangeas. The temple bustles with tourists and sightseers during Japan's rainy season who flock to see the gorgeous gardens. During this season, wait times for the cafe can last up to three hours.

The Hydrangea Parfait is made with mashed sweet matcha hydrangea, hydrangea-coloured crushed jelly, tea leaf-shaped matcha cookies, blueberries, and more.

Itohkyuemon will also be serving a special "Hydrangea Chakai" tea set for ¥1,900 (tax included) which sees the parfait topped with warabimochi. You also get a drink of your choice.

Information

Hydrangea Parfait
Serving: From May 19, 2020 until stock sells out
Available: Itohkyuemon Uji Honten / Itohkyuemon JR Uji Station / Itohkyuemon Gion-Shijo

Official Website: https://www.itohkyuemon.co.jp/corporate/

Kyoto Neko Neko: Cat Shaped Desserts and Pastries Served at Kyoto's New Bakery

ALL HEARTS COMPANY, a Japanese company that develops bakeries and patisseries across Japan, opened its new bakery and confectionery shop Kyoto Neko Neko in Shijo, Kyoto on June 1, 2020. There, they are serving cat-shaped pastries and desserts including Kyoto-exclusive products from their Neko Neko Bread brand and Neko Neko Cheesecake shop.

Kyoto Neko Neko Danish Bread: ¥1,200 (Before Tax)

This butter-loaded Danish pastry is folded into a braid shape and baked which keeps the pastry moist. It's topped with a sprinkling of sugar, leaving it glistening. It's recommended that you first try the pastry as it is—soft and moist. You can then try lighting toasting it which gives it a crispy texture and brings out the delicious aroma of the butter.

Products are packaged in a cute box making them a great gift idea.


Kyoto Neko Neko Cheesecake (On sale from mid-June 2020)

This cheesecake is made with Brie de Meaux cheese and is laced with black cocoa. The luxurious cheese combined with black soy beans and brown sugar syrup jelly makes for a marriage between Japanese and Western flavours. You get an extra layer of deliciousness too with a dusting of soy flour.

Kyoto Neko Neko Bread (Plain): ¥550 (Before Tax)

This Kyoto version of the Neko Neko Bread is still made without water, but rather than using only milk, Kyoto Neko Neko has added soy milk made using soy beans from a tofu shop in Kyoto, lending a smooth and rich flavour to the bread. And instead of mascarpone cheese, Kyoto Neko Neko uses soybean cream, and instead of dairy butter a soy cream butter.

Kyoto Neko Neko Bread (Houjicha): ¥680 (Before Tax)

Kyoto Neko Neko Bread (Matcha): ¥680 (Before Tax)

There's also a houjicha flavour made with houjicha tea and white chocolate, as well as a matcha flacvour combined with black soybean.

Information

Kyoto Neko Neko Shioji
Address: 578 Obiyamachi, Tachiuri Nakanocho, Shimogyo Ward, Kyoto
Grand Opening: June 1, 2020
Opening Hours: 10:30-18:00
No Fixed Holidays (Closed: New Year's Holidays)
TEL: 075-221-1001

Official Website: https://nekoshoku.jp/

Matcha and Fruit Shaved Ice & Other Desserts Arriving to Saryo FUKUCHA in Kyoto This Summer

Saryo FUKUCHA is a cafe that was opened by FUKUJUEN in Kyoto Station in April 2019. A new batch of seasonal summertime menu items are set to arrive this June, including shaved ice drizzled in Uji tea and fruit sauce, a refreshing Uji matcha soda made with fresh fruit and jelly, and floats. These items will be served from June 1 to September 30 with a takeout option available.

Summer Menu

Uji Matcha & Fruit Shaved Ice


Matcha Berry Shaved Ice: ¥950 / Strong Matcha Berry Shaved Ice: ¥1,100 / Houjicha Banana Shaved Ice: ¥950 (All Before Tax)

The "Matcha Berry" shaved ice is paired with rich Uji matcha ice cream and berry sauce. It's also topped with a wafer cake shaped like a flower and filled with white bean paste, rice flour dumplings, and fruit.

Uji Tea White Peach Soda / Uji Tea Lemon Soda: ¥650 Each (Before Tax)

Full-bodied kabusecha tea from Uji made into a soda with fresh fruit pieces and jelly for a refreshing combination. Pick from super refreshing lemon or subtly sweet white peach.

Uji Matcha Float / Houjicha Float: ¥700 Each (Before Tax)

These floats are made using the best tea leaves selected by FUKUJUEN which are used to make a rich and frothy tea latte. Added to that is a dollop of soft serve ice cream topped with red bean paste and dried wheat gluten. Choose between authentic Uji matcha or aromatic houjicha.

Takeout Menu

Strawberry Flower Wafer Cake / Chestnut Houjicha Wafer Cake: ¥350 Each (Before Tax) 

Fruit wafer cakes are a popular dessert at Saryo FUKUCHA, and for the first time ever they are making them available for takeout so customers can enjoy them at home too. Pick from the strawberry flower flavour made with white bean paste or the chestnut and houjicha with chocolate cream.

Cream Anmitsu (Matcha/Houjicha): ¥700 (Before Tax)

FUKUCHAs specially-made anmitsu, or syrup-covered anko bean jam, is the perfect way to cool down on a hot summer's day. It's mixed with Uji tea honey and topped with various toppings like milk agar-agar, black soybeans, rice flour dumplings, white peach, raspberry, and mizu manju.

Information

Saryo FUKUCHA
Address: 901 Higashi Shiokojicho, Karasumadori Shiokoji Sagaru,, Shimogyo-Ku Kyoto Station Bldg. 2F, Kyoto 600-8216 Kyoto Prefecture
Opening Hours: 8:30-21:00 (Last Orders 20:30)
*The cafe is currently running on reduced opening hours as of May 26, 2020. Hours are now 10:00-19:00 (Last Orders 18:30). Times are subject to change.
TEL: 075-744-0552

Official Website: https://fukucha-fukujuen.com/

Ginza's Legendary Strawberry Mille-Feuille Dessert Arrives to Japan's Kansai Region

VMG HOTELS & UNIQUE VENUES is now serving a certain strawberry mille-feuille at several locations across Japan's Kansai region. Available from May 26 to 31, t's a recreation of the legendary dessert "Napoleon Pie" from Ginza in Tokyo.

In 1966, Sony co-founder Akio Morita opened a restaurant called Maxim's de Paris with the idea in mind to create a place for adults to meet and socialise over food. Since opening, it has tickled the taste buds of customers with its authentic French cuisine and dazzled them with its deep crimson decor. The "Napoleon Pie" is an especially popular dessert that has gained a legendary status. The custard is laced with fragrant cointreau, and the thick pastry is stuffed with strawberries. The dessert gets its name from how it looks like Napoleon's hat.

This strawberry mille-feuille is now being sold at select locations in Kyoto and Hyogo for just six days. It's the first time for the dessert to be served in Kansai.
The dessert is available for takeout so customers can enjoy an at-home cafe experience.

Information

Kyoto: LE UN FUNATSURU Kyoto Kamogawa Resort (TEL: 075-351-8541)
Kobe: LE UN Kobe Geihinkan (TEL: 078-739-7600)

Pricing
Half Size (8cm x 11cm x 12cm): ¥3,240 (Tax Included)
Full Size (16cm x 11cm x 12cm): ¥6,480 (Tax Included)

Locations
Kyoto (FUNATSURU Kyoto Kamogawa Resort, 180 Minoyachō, Shimogyō, Kyoto) [Serving: May 26, 30, 31]
Hyogo (Kobe Kitano Ijinkan-Gai, 2-9-3 Kitanochō, Chūō Ward, Kobe, Hyogo) [Serving: May 27-29]

*Available for takeout at THE GRAND GINZA following the Kansai sales
*Delivery available in the city until June 20, 2020

Kyoto City Kyocera Museum of Art Opens New ART LAB KYOTO Shop

Kyoto City Kyocera Museum of Art opened its new museum shop ART LAB KYOTO on May 26 where it is set to promote the centre of Japanese culture—Kyoto, a place which reveals in tradition and history while constantly evolving and innovating.

The museum shop opens in line with the recent revamp the museum underwent, with design work co-created by Japanese architects Jun Aoki and Tezzo Nishizawa.

ART LAB KYOTO is a spacious shop were guests can get their hands on goods related to exhibitions held at the museum as well as books and items on everything from traditional Kyoto culture to the city's contemporary art, items made in collaboration with artists, exclusive sweets, and more.

Let's take a select look at just some of the items you can pick up at ART LAB KYOTO.

Kyoto City Kyocera Museum of Art x BEAMS

Kyoto City Kyocera Museum of Art has teamed up with BEAMS to release a line of original merchandise bearing the museum's logo—a new logo which represents both the design of the revamped museum carried conceived by the museum's newly-appointed museum director Jun Aoki, and contemporary art. The merchandise's design is minimal, combining white and grey.

The line-up aims to function not just as souvenirs, but as items that can be used in everyday life, from bags to notebooks and more.

Kyoto City Kyocera Museum of Art Collection x Miyawaki Baisen-an

Miyawaki Baisen-an is a preserver of traditional Japanese folding fans which has been around since 1923. The company has joined hands with Kyocera to release an exclusive line of fans that represents the art museum.

Kyoto City Kyocera Museum of Art Collection x Juko Confections

"Juko" is a confectionery from Kyoto which changes flavours with the season. Twice a month, they will be sold in limited quantities at the shop.

Stock Your Kitchen With Japanese Kitchenware Tools by SALON adam et rope'

SALON adam et rope' has launched its new "Nihon no Daidokoro Dougu" (Japanese Kitchen Tools) collection which features a curated selection of Made In Japan kitchenware and cookware items from high quality Japanese brands.

Kasane

Top: ¥12,000 / Middle: ¥12,000 / Bottom: ¥9,000 (Before Tax)

Traditionally, Japanese knives were made by men with men in mind, but these Kasane knives are made by women to fit with the modern age. They are made in such a way to feel comfortable in smaller hands. The handles are made from rare natural wood from the cerasus jamasakura trees of Gifu Prefecture which give them a texture that changes as you continue to use the knives. The blades themselves are made from high-carbon stainless steel which gives them superior sharpness and durability. The blade edge is the result of a new technology developed by Sumikama called "Zero Edge" which makes them thin and sharp.

Kaji Donya

 
Left: ¥1,300 / Middle: ¥2,000 / Right: ¥2,800 (Before Tax)

Left: ¥1,000 / Middle: ¥1,200 / Right: ¥2,000 (Before Tax)

These handy stackable containers are made by Kaji Donya, a company based in Tsubame, Niigata. The height of each one is the same which makes them super convenient when stacking inside fridges.

Ceramic Grill: ¥1,400 (Before Tax)

The ceramic grill is a longtime seller at SALON. If you're grilling bread on it, it leaves the outside crispy and the inside nice and soft. It uses far-infrared rays which means the water content of the ingredients grilled on it is not lost, allowing for the full tasty flavour to stay locked in and the food plump and juicy.

Experience Kyoto Culture in Arashiyama With HOSHINOYA Kyoto's New Hotel Plan

HOSHINOYA Kyoto has introduced a new hotel plan in an attempt to bring a little luxury into people's lives and lift their spirit during this stressful time. The plan will have people going to Arashiyama to experience a bit of Kyoto culture and hospitality to lift their mood.

You will board a small boat located at the port near the hotel entrance and be taken to your private room. During your sail, you will be able to soak in the gorgeous sights of nature all around. Check-in is being carried out in guest rooms, meaning you won't have to come into contact with other guests.

You have arrived at your room. HOSHINOYA Kyoto is located in Arashiyama which was formerly a holiday home destination for the Heian aristocrats. There are 25 rooms inside the garden, all of which look out onto the Ōi River. When you slide the window open, you can feel the gentle wind sweep through the valleys. Guest room walls are plastered with beautiful traditional kyokarakami wallpaper and fitted with HOSHINOYA Kyoto-original tatami sofas. Each and every part of the rooms are imbued with Kyoto culture. The rooms are not only comfortable and provide you with everything you need, but also offer a luxurious stay.

Inside your room, there are sutras which can be used for sutra copying, known as sakyou in Japanese, as well as equipment for making matcha to enjoy your own private tea ceremony without having to worry about the tradition's strict rooms. It's your very own private Kyoto cultural experience without having to worry about other people.

Dinner can be enjoyed in the main dining hall or in your room. The dining hall is fitted with semi-private booths where you can enjoy a seasonal Arashiyama 9 course kaiseki-ryori dinner with rice, vegetables, a special bento assortment, and more. For breakfast you can enjoy a morning hot pot which uses a special dashi stock packed full of seasonal veggies.

There are also activities to enjoy Kyoto's breathtaking green outdoors. Mosquito nets made from Japanese red cedar are provided under which you can take part in a stretch routine which uses breathing techniques and meditation.

Outdoor activities are severely restricted right now as a result of COVID-19, but HOSHINOYA Kyoto has made it so you don't have to do much moving around at all while still enjoying the fruits of nature.

Information

Kyoto Culture in Arashiyama (Japanese Hotel Plan Name: 奥嵐山で京文化に触れる久しぶりの優雅な一日)

Prices

From ¥50,100 per night (Includes dinner/2 people 1 room/service charge and tax not included)
From ¥50,100 per night (Includes dinner and breakfast in dining hall/2 people 1 room/service charge and tax not included)

Booking: https://hoshinoya.com/kyoto/

HOSHINOYA Kyoto Introduces New Rainy Season Themed Kaiseki Dinner Course

HOSHINOYA Kyotoーthe Arashiyama-based hotel where every room offers a river viewーis launching a new kaiseki multi-course dinner this summer which offers the chance to enjoy the early summer breeze together with the spectacular views of the rainy season. Served with nine dishes, the kaiseki meal will be available between June 1 to July 31 this year.

The days of June in Japan are hot that the month itself also goes by the name minazuki which translates to "the month without water." However, the evenings are enjoyed for their cool and refreshing air, and so June is also known as suzukurezuki, or "the month of cool dusk." Not only will guests be able to enjoy the refreshing feeling of the season, but their kaiseki meal will be inspired by the sights of the rainy season, as well as the verdant smells of early summer, too, adding an extra level of freshness.

HOSHINOYA Kyoto's dining concept goes by the name Gomi Jizai, which has people enjoying all five different tastes: sweet, salty, spicy, sour, and bitter. Ichiro Kubota, the Executive Chef at HOSHINOYA Kyoto, has truly honed his cooking abilities over the course of his career. His father was the head chef at one of the most famous restaurants in Kyoto's Gion district. It was there that Kubota really began to learn his craft, and he went on to work at first-class and Michelin star restaurants in both Japan and abroad. He has set the standard for Japanese cuisine for the next generation.

Suzukurezuki Appetisers: See and taste early summer with a Hassun dish

A hassun is a kind of dish or tray often used in kaiseki course meals to serve numerous different foods. This hassun is inspired by Nagoshi no Harae, an ancient and traditional summer purification ritual that takes place at temples and shrines in Kyoto in June. It includes goma-dofu, a food similar to tofu made with crushed sesame seeds that's eaten as a confection during Nagoshi no Harae to cool yourself down during the hot month of June.

It also comes with sweetfish dashi and watershield for that added feeling of coolness, as well as hotarukan which looks like fireflies gathered in the bamboo grass, and a texture-laden bamboo shoot and smoked salmon wrap.

Cool Kamo-nasu Eggplant Assortment: Sweet early summer vegetable appetisers

For appetisers, guests can look forward to some refreshing early summer vegetables, including kamo-nasu eggplant that's been mixed in lots of dashi, fried, and seasoned with eggplant to elevate the sweetness and combined with ice cream. There's also red sea urchin which is rich in sweetness, ginger foam, and new lotus root for bite. The bowl it's all served is made by Nobuyoshi Sasaki and features a lace design. The use of glass serves to enhance that level of freshness from the food.

Conger Eel Hanami: Recreating a hydrangea Hanami in a bowl

The bowl includes fatty conger eel which is topped with more conger eel that has been minced as well as arrowroot daffodils to make it look like blossoming hydrangeas. It is said that conger eels that drink the water at the end of the rainy season become more delicious. Gion Matsuri, a festival held in Kyoto in July, is also called Hamo (conger eel) Matsuri. The dish also includes bonito, tuna, and kombu.

Young Fried & Salted Sweetfish: Smell the verdant fragrances with fried food

Sweetfish is a popular ingredients during early summer in Japan, and this one has been salted and fried. Sweetfish (ayu in Japanese) is also known as kougyo in Japan which means "fragrant fish." It's known for its fresh smell which is likened to that of greenery. It's fried on a charcoal fire for some time which makes the head and tail smell incredible.焼

Cherry Mille-Feuille: A dessert gift from the early summertime

The crowning cherry of this dessert is smothered in acacia honey and then roasted, locking in all of that sweetness. The dessert is made with fresh cream, almond biscuit, and custard cream, all of which is layered to create a multi-textured pie. It's served with a tonka bean ice cream. Tonka beans come from the same rose family as cherries, meaning they work wonders together.

Information

Gomi Jizai Kaiseki
Running: June 1, 2020 – July 31, 2020
Serving: 17:30-20:30
Price: ¥20,000 per person (does not include tax or service charge – hotel fee charged separately)
Available: To both guests and non-guests
Reservations: https://hoshinoya.com/kyoto/en/

Father's Day: Otokomae Tofu Celebrates Dad's Around the World With New Tofu Product

Japanese tofu company Otokomae Tofu is celebrating Father's Day this year by releasing its new "Chichi no Hi Tofu" (Father's Day Tofu) at supermarkets around Japan for a limited time between June 15 and June 21.

When you pour soy sauce over the Father's Day Tofu, a message of gratitude appears on the tofu's surface in Japanese. This is a unique, one-of-a-kind tofu experience. There are four messages in total which translate to: "Manly," "Thanks always, dad. I love you, live a long life," "You work so hard papa, I love you," and "Dad."

Giving your dad some Father's Day Tofu is sure to make for a Father's Day to remember!

Information

Chichi no Hi Tofu (Father's Day Tofu)

Running: June 15, 2020 – June 21, 2020

Price: ¥158 (Before Tax)

Available: Supermarkets in Japan (Except Hokkaido and Okinawa)

Otokomae Tofu Official Website: http://otokomae.com

McDonald's Japan: Chicken Tatsuta Mentai Cheese & Other Japanese Flavoured Foods Coming to the Menu

McDonald's Japan is introducing some mouth-watering new foods to its menu including two which incorporates chicken tatsuta: the "Chicken Tatsuta Mentai Cheese" which is made with walleye pollack roe, and the bite-sized "Hitokuchi Tatsuta"ーthe latter of which is arriving to the side menu.

It is also introducing the "Rice Chicken Tatsuta" burger following the success of the "Rice Burger" which was released at stores for the first time earlier back in February of this year.


These new menu items will be released on May 13, 2020 at all McDonald's branches in Japan for a limited time.

Chicken Tatsuta Mentai Cheese

Chicken tatsuta is a popular Japanese dish which combines a soft, soy ginger-soaked chicken patty with spicy sauce and stuffs it inside a bun. McDonald's new "Chicken Tatsuta Mentai Cheese" adds spicy walleye pollack roe mayo and smooth white cheddar cheese to the equation. It will be available all day round, including for the morning menu.

Hitokuchi Tatsuta

Rice Chicken Tatsuta

The "Rice Chicken Burger" will be available in the evenings only.

Japanese actor Toshiyuki Nishida is appearing in the TV commercials to promote the "Hitokuchi Tatsuta" while comedian Nobuyuki Hanawa and actor Katsumi Takahashi appear in the "Rice Chicken Tatsuta" commercials which feature a re-recording of the song SWEET MEMORIES ~Amai Kioku~ by Seiko Matsuda.

Kyo no Ondokoro Marutamachi: Rent An Entire Kyoto Townhouse to Yourself

Kyo no Ondokoro Marutamachi is set to open in the Goshominami area of Kyoto on April 25, 2020. The single-accommodation hotel is a complete renovation of a traditional Kyoto-style townhouse.

Kyo no Ondokoro Marutamachi comes as the 7th branch of hotels from Kyo no Ondokoro. It's a single building to rent for up to 4 people, who can enjoy taking a soak in the man-made carbonated spring bath which is kind to the skin and hair, using the soft water shower, and getting ready in the spacious makeup corner. It's the perfect getaway for girl groups travelling together.

The hotel is in a convenient location for sightseeing in the ancient capital of Kyoto. The building has been completely renovated to adapt to modern lifestyle while still retaining those traditional elements of a Kyoto townhouse that was built during the Meiji Periodーand in an area that's rich in traditional scenery.

The lounge space sofa seats are inspired by Japanese rock gardens

The lounge space, which connects the second-floor bedrooms and the washitsu Japanese-style room, are furnished with unique round sofas. All the rooms open up to each other so guests can enjoy the company of each other during their travel stay.

Hinoki cypress artificial carbonated spring bath

Amenities

The round bath is made from hinoki cypress, and the carbonated water lets you stay glowing and nice and warm after you step out of it. The bathroom is also stocked full of amenities like shampoo courtesy of popular brand THREE.

Up to four people can apply their makeup together in the makeup corner

The makeup corner is big enough to sit four people so they can get ready for their day or night out together while chatting.

Colourful art pieces also adorn the walls of the makeup room, Japanese-style room and elsewhere to add a touch of beauty to them.

If you're planning a trip to Kyoto with the girls then why not book at Kyo no Ondokoro Marutamachi when it opens on April 25?

Information

Kyo no Ondokoro Marutamachi

Address: 341-2 Shōshōiotabichō, Nakagyō-ku, Kyoto, 604-0873

Grand Opening: April 25, 2020

Price: ¥30,000 per night

Bookings: Opened on March 27, 2020

Offcial Website: https://www.kyo-ondokoro.kyoto/en/