Shabu-Shabu Restaurant Hyoto to Open in Front of Kyoto Station
It's been 15 years since Hyoto opened back in 2003. Now, the restaurant's new flagship location in front of Kyoto Station will hold its grand opening on October 20, 2018.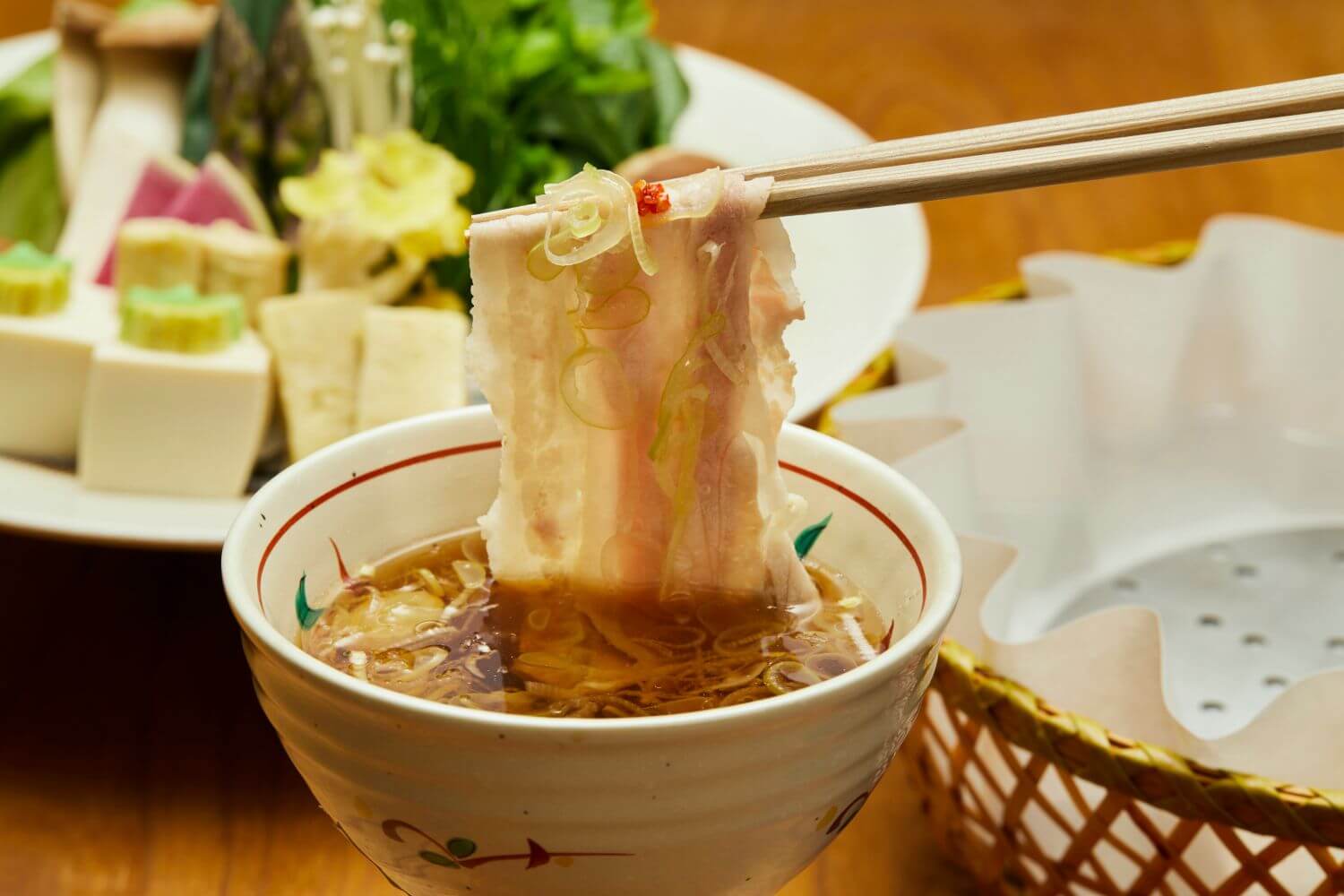 The restaurant boasts elaborate dishes, with one of their most popular items at their Karasuma branch being "Dashi-Shabu," a spin on shabu-shabu hot pot that uses dashi as a dipping sauce. Their chefs have spent many years perfecting the sauce which is made from lots of bonito and kombu.
The restaurant's Kyoto-style kaiseki food trays, created by their skilled chefs, evoke the four seasons. Other must-tries include their steak as well as the shabu-shabu which is made with omi-gyu beef―one of the top three brands of beef in Japan.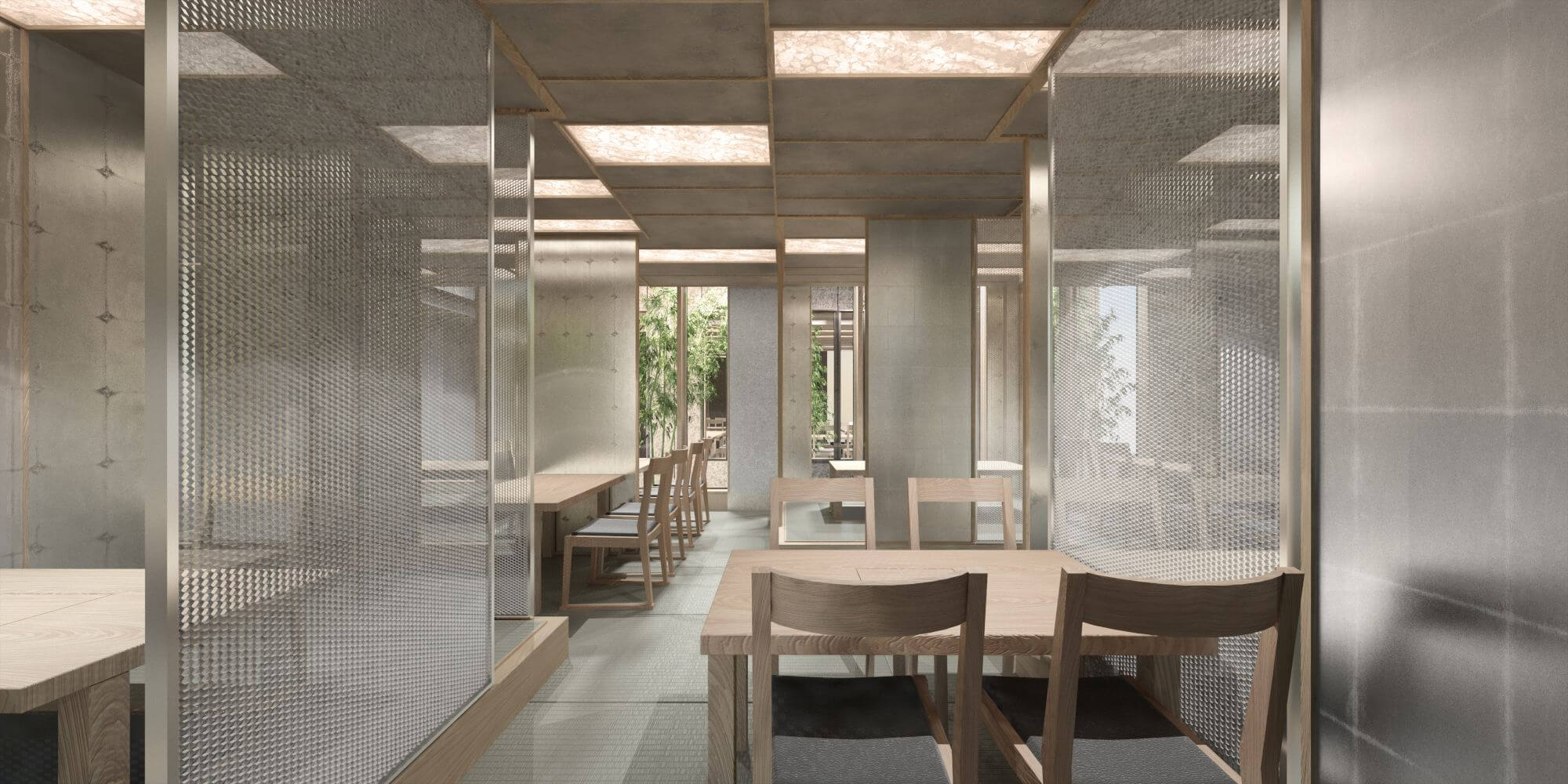 The restaurant is designed by by acclaimed Japanese architect Manabu Chiba who has won many awards. The gold leaf and white wood decor give the restaurant a stylish traditional Japanese feel. The first floor is home to semi-private tables and the second floor completely private tables. Both floors also include planted bamboo which give an air of elegance and refinement, allowing for enjoyment of both a Kyoto newness and traditional vibe.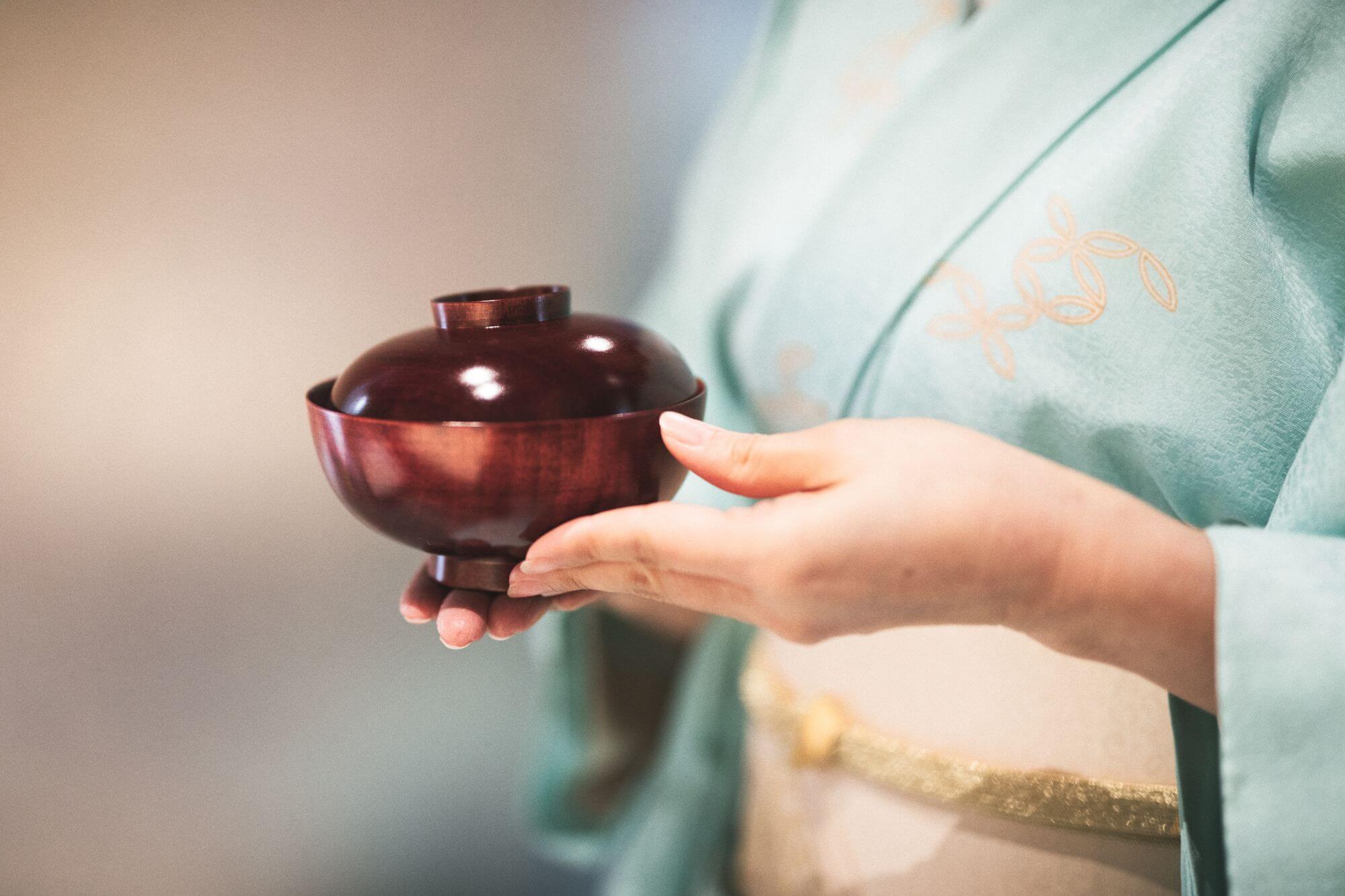 Head to Hyoto for a helping of hospitality, Kyoto style.
Information
Kyoto Hyoto – Kyoto Station Main Branch
Address: 607-12 Higashishiokojicho, Shijo-Sagaru, Nishinotoin Dori, Shimogyo Ward, Kyoto
TEL: 075-342-2338
Opening Hours: Daytime 11:30-14:00 / Evening 17:30-21:00
Closed: New Year's Holidays
Access: 10-minutes on foot from the Central Gate of Kyoto Station via JR Line or from Kintetsu Kyoto Station / 6-minutes on foot from Exit 2 of Kyoto Station via Karasuma Line
RECOMMENDED ENTRIES
Indulge in a Luxurious Afternoon Tea Set at Nanzenji Sando Kikusui in Kyoto With a Garden View

Kikusui is a 60 year old ryokan―a Japanese style inn―spanning an area over 2700m². The establishment reopened in June this year as Nanzenji Sando Kikusui and will sell a special new afternoon tea set this summer.

Kikusui continues to retain the spirit and vibe of the Meiji Era with its gardens and tea-ceremony arbours, but the terrace seats in the garden which can now be entered with your shoes on, amongst other things, have been renovated to better fit the current times.

Afternoon Tea Set – ¥3,000 per person

The afternoon tea set features a fusion of Western and Japanese styles, including things such as matcha and bean jam wafer cakes.

There are 12 original desserts and food items to choose from, as well as unlimited refills of 10 different teas from Ronnefeldt. You can also enjoy a leisurely stroll in the gardens for as long as you like. It's a perfect stopover location when sightseeing and travelling. There's plenty of food there too so you can even have a late lunch.

Pick a seat of your choice at the wide-open terrace seating area where you can hear the sounds of nature and enjoy gazing across the garden while tucking into your food.

There's plenty of other meal options too!

Chocolate Cream & Houjicha Ice Cream Affogato

This affogato is a mix of rich cream made with chocolate from Spain, houjicha ice cream, cinnamon streusel, and chocolate nibs. Pour over espresso to bring all the flavours together.

Salty Milk Ice Cream & Kitasaka Chicken Farm "Cherry Blossom Egg" Fried Purin – ¥900

This traditional fried purin made with a rich cherry blossom egg has a slightly salty flavour that complements the milky ice cream. It's described as a 'classical' dessert.

Miyazaki Mango, Passion Fruit & Apricot Seed Sorbet – ¥1,400

This dessert puts together good quality mangoes, passion fruit and apricot seeds. The added fragrance of amaretto draws out the flavour of the mango even more.

Caramel Banana & Mascarpone Ice Cream Dutch Pancake – ¥1,200

Baking this pancake at 250°c gives rise to a unique texture. The skillet keeps the pancake nice and warm until the last mouthful.

 

Muskmelon, Rich Panna Cotta, Honey Ice Cream & Noble Rot Wine Jelly – ¥1,400

The slightly sour panna cotta, noble rot wine jelly and honey ice cream bring out the sweet flavour of the muskmelon. This refreshing dessert is both unique and uniform.

Enjoy a most luxurious teatime in Kyoto at Kikusui.

■Information
Nanzenji Sando Kikusui

Address: 31 Nanzenji Fukuchicho, Sakyo-ku, Kyoto

Opening Hours: 11:00am-10:00pm (Lunch 11:00am-2:00pm / Teatime 2:00pm-5:00pm / Dinner 5:00pm-9:00pm)

No Fixed Holidays.

TEL: 075-771-4101

Website: http://www.kyoto-kikusui.com/

Miffy Sakura Kitchen & Bakery to Open in Arashiyama, Kyoto

The new takeout bakery Miffy Sakura Kitchen will open in Arashiyama, Kyoto on October 3, fusing traditional Japan with Dick Bruna's cute bunny character.

The bakery faces the main street that runs from Togetsu-kyo Bridge through the Arashiyama Bamboo Grove, the most iconic tourist spots of Arashiyama.

Vintage Mugs – ¥1,200 (Pre-Tax)

Lunch Bowls – ¥2,000 (Pre-Tax)

At the bakery you can get your hands on a range of Miffy licensed merchandise as well as a string of exclusive Miffy Sakura Kitchen made in the style of traditional Kyoto pottery and more.

Of course, there's plenty of delicious goodies to get your fingers on too like anpan sweet bread, danish pastries, ice cream, drinks and more, all inspired by Miffy.

Miffy Anpan – ¥260 (Pre-Tax)

The Miffy anpan is shaped like Miffy's face which is filled with sweet adzuki bean paste.

Miffy Fuku Daruma Bread – ¥350 (Pre-Tax)

This cute and round Miffy bread is made in the image of a daruma doll and is filled with rich matcha cream. Limited quantity available.

Carrot Bread – ¥310 (Pre-Tax)

Miffy loves carrots, so this one's dedicated to her. It's made with carrot puree and contains an egg salad.

Miffy Danish Pastry – ¥500 (Pre-Tax)

When you sink your teeth into this crunchy toasted pastry your mouth is filled with the sweet taste of butter. You can order it as French toast or enjoy it as a sandwich.

Miffy Cube (Matcha & White Chocolate) – ¥230 (Pre-Tax)

This cubed shaped bread bears the shop's logo and Miffy on the front. You'll get addicted to the sweet white chocolate and bitter matcha inside!

The bakery itself will also be decorated with all things Miffy, so if you're a fan of the cute bunny yourself you'll definitely want to go and visit.

■Information

Arashiyama Miffy Sakura Kitchen
Address: 20 Sagatenryuji Tsukurimichicho, Ukyo Ward, Kyoto, Kyoto Prefecture

Grand Opening: October 3, 2018

Opening Hours
Miffy Kitchen: 10:00am-6:00pm
Miffy Bakery: 10:00am-6:00pm

Contact
Miffy Kitchen: 075-863-2022
Miffy Bakery: 075-496-4244

Miffy Sakura Kitchen Offiみっふぃー桜きっちん公式サイト:http://www.miffy-sakurakitchen.jp

Autumn Colour Illuminations to Take Place at Kurodani Temple―Home to the Afro Buddha

Veltra, a website that offers hundreds of tours and activities for travellers across the world, is now taking bookings to go and see the autumn colour light-up of Konkaikōmyō-ji, also known as Kurodani Temple.

The plan offers the chance to see the Afro Buddha―which has made headlines on TV in Japan and on the internet―as well as the temple gardens and elsewhere lit up in gorgeous hues of reds, yellows and oranges. The autumnal colours reflected on the water surface beside the temple will provide for a gorgeous setting.

There's also an additional plan that can get you in 30-minutes earlier than regular guests and offers a tour of the area by the official gardener or a garden concierge. Guests who book with Veltra will also receive a bill with the Afro Buddha printed on it.

Kurodani Temple was founded in 1175. It incldues the site where Honen, the founder of Jodo Buddhism, stayed. It's also famous as the site where the Japanese official Kondō Isami and samurai Matsudaira Katamori held talks.

While gazing at the beautiful colours of autumn guests can also enjoy a koto performance.

Veltra also has an English page and takes bookings from inbound travellers. Book your plan to see the spectacle yourself.
RELATED ENTRIES
Attack on Titan Playing Cards Win Big at the Ani-Monozukuri Awards 2022

At the 5th annual Kyoto Ani-Monozukuri Awards 2022, a collection of Attack on Titan playing cards made in traditional Japanese style took the Gold Prize in the Craft Design category. In Japanese, monozukuri means 'to make something by hand.'

The Kyoto Ani-Monozukuri Awards aims to revitalize business between the anime industry and local companies and organizations. It honors outstanding collaborative products, inviting those with a creative streak to try their luck at designing something uniquely anime-inspired. This year's awards show saw 157 total entries, with one winning the grand prize, seven winning both gold and silver, and six winning bronze.

Charaditional Toys was launched this year, and the company aims to create items for adults who love anime characters. The Gold Award was granted to the company after judges were inspired by the traditional Japanese craftsmanship and high quality shown in the final product. Made by Oishi Tengudo, a company founded in Kyoto in 1800, the cards were made using classic methods. These 48 original playing cards are like nothing fans of Attack on Titan have seen before. 

A second project is scheduled for release in winter 2022, so stay tuned!

©諫山創・講談社/「進撃の巨人」The Final Season製作委員会

New Sake '&Soda' Made Exclusively to be Mixed with Soda Water

Shiragiku Sake Brewery will release a special sake made exclusively to mix with soda water on October 1, 2022. The beverage will be available in Okayama Prefecture.

The company's interest in creating a new sake culture led them to develop &Soda, a delicious sake made to be mixed with soda. This may be helpful for those who don't know much about sake, or who may feel intimidated by the many different types. Being able to mix it with soda will make sake drinking feel more casual. 

Sake Made Exclusively for Mixing with Soda Water, '&Soda'

"Many people may like to mix sake with soda water or drink it on the rocks. By doing this, however, a nice sake may lose its flavor, and the drinker might be wasting a nice sake for the sake of a more easy-drinking beverage. &Soda was made exclusively to be mixed. Using Asahi Rice, a specialty in Okayama Prefecture, and water from the brewery, we've created a sake that has the proper aroma and sweetness. These characteristics will come through even after being mixed! The alcohol content has been increased to 18 percent, and the package will make the product easy to find and understand," a statement from the brewery reads.

For more information on how to enjoy &Soda, please see the special website below!

Information

Sake Made Exclusively for Mixing with Soda Water, '&Soda'

Release Date: October 1, 2022

Official Site: http://www.andsoda.jp/

Sound! Euphonium Collaboration Cafe Opens at Kyoto's Hotel Keihan

Fans of the Sound! Euphonium anime will want to visit Hotel Keihan Kyoto Grande from September 23 until November 20, 2022! The second-floor restaurant Octava will be holding a special collaboration cafe with the series in conjunction with the Keihan Electric Railway. The project is part of the collaboration between the series and the local railway that began in August, and fans will be able to order food and drink items inspired by their favorite characters.

Collaboration Menu

Kumiko's Omurice

Reina's Pasta with Sweet and Spicy Tomato Sauce

Hazuki's Matcha Ice Cream & Sapphire's Macarons

Mr. Taki's Spicy Curry Pizza

Sound! Tuba-kun's Fruit Cake

Drink Menu

Kumiko's Strawberry Milk

Reina's Butterfly Pea

Hazuki's Blue Soda

Sapphire's Orange Juice

Band President & Vice President's Matcha au Lait

Straw Tags

Bonuses

Bonus for Dining In-store: Lunch Mat

Drink Order Bonus: Coaster (5 varieties, 1 secret)

*Coasters will be given at random.

Life-size Panels

From omurice and pasta to fruit cake and spicy curry pizza, there is certainly a dish perfect for everyone at the cafe. Guests can also enjoy five different types of drinks, and a coaster will be handed out at random for each order. Those dining at the cafe will enjoy their meal on a special lunch mat, and life-size character panels will be perfect for snapping some photos for social media. Music from the series will be played on-site, so come enjoy while you can!

Information

Keihan Electric Railway x Sound! Euphonium 2022

Running: September 23 – November 20, 2022

Lunch: 11:30-14:30 (Last order at 14:00)

Dinner: 17:30-22:00 (Last order at 21:30)

*From 2:30 to 5:30, only items from the take-out drink menu are available.

Reservations Now Open

Reservations: https://bit.ly/3RFPf4i   

Venue: Hotel Keihan Kyoto Grande, 2F Restaurant Octavar
https://www.hotelkeihan.co.jp/kyoto/restaurant/

Japan's Largest Sake Event TOKYO SAKE FESTIVAL to be Held in Shinjuku in October

Japan's largest sake event, TOKYO SAKE FESTIVAL 2022, will run from October 4 until October 6 at the Shinjuku Sumitomo Building's Triangle Square.

The event's aim is to make sake more mainstream around the world, with the first festival taking place in 2020. Tokyo Sake Festival blends sake with entertainment, showing off the very best of Japanese culture to those who may be new to craft sake. For the third year, former NMB48 member Yui Takano will serve as ambassador. Takano is known for leaving her idol career to manage the sake specialty store Yui Sake Shop. 

Tokyo Sake Festival 2022 is bringing together forty carefully selected sake breweries from around Japan, including Inoue Seikichi, winner of the Champion Sake award at IWC 2022. Tonoike Sake Brewery, winner of Kura Master 2022's President's Award, will also be in attendance. The full lineup can be found on the official website.

Popular influencers and artists from Raphael to BOYS AND MEN and Ukon Takafuji will take the stage during the event, so be sure to swing by if you're a fan of Japanese spirits!

Information

TOKYO SAKE FESTIVAL 2022

Dates: 

October 4: Part 1 13:30-16:30 / Part 2 18:00-21:00
October 5: Part 1 13:30-16:30 / Part 2 18:00-21:00
October 6: 16:00-19:00
Venue: Shinjuku Sumitomo Building Triangle Square
(2-6-1 Nishishinjuku, Shinjuku-ku, Tokyo)

Buy Tickets/Details: https://tokyosakefestival.bitfan.id/

Kyoto's Itohkyuemon Offering Uji Green Tea Mont Blanc Parfait & Chestnut Sweets Plate for a Limited Time

Uji, Kyoto is known for its tasty matcha. Founded in 1832, Itohkyuemon offers up some of the most delicious green tea sweets in Japan. Starting on September 1, several locations are serving up an Uji Green Tea Mont Blanc Parfait and a tasty Chestnut Sweets Plate!

Uji Green Tea Mont Blanc Parfait and Chestnut Sweets Plate

The Uji Green Tea Mont Blanc Parfait is decorated with a beautiful chestnut skin on top and served with yellow candied chestnuts and baked meringue with a dazzling white color. The inside includes cookie dough, homemade Uji green tea jelly, crunchy agar, two kinds of ice cream, and Uji green tea honey. This autumn-only parfait allows guests to enjoy the taste of Uji green tea while also sampling the delicate flavor of Japanese chestnuts. The Chestnut Sweets Plate offers eight kinds of sweets in one go, including the autumn-only Chestnut Green Tea Roll Cake and Chestnut Green Tea Daifuku, Uji Hojicha Cheesecake, Uji Green Tea & Hojicha Raw Chocolate, Uji Green Tea Mini Parfait, and Uji Green Tea & Chestnut Ice Cream.

Uji Green Tea Mont Blanc Parfait

Chestnut Sweets Plate

Information

Uji Green Tea Mont Blanc Parfait and Chestnut Sweets Plate

■Uji Green Tea Mont Blanc Parfait

Available: September 1 – Early October

Where to Buy: Uji Main Store, JR Uji Station Store, Shijo-dori Store

■Chestnut Sweets Plate

Available: September 1 – Late November

Where to Buy: Uji Main Store, JR Uji Station Store, Shijo-dori Store

Official Site: https://www.itohkyuemon.co.jp/corporate/

HOTEL SHE, KYOTO Invites Guests to Stay in a Gallery for a Limited Time

Art subscription service Casie is collaborating with HOTEL SHE, KYOTO! A special art exhibition titled GALLERY HOTEL SHE, will be held from September 17 until October 16, inviting guests to enjoy the once-in-a-lifetime experience of staying in a gallery overnight!

During the event period, guests of HOTEL SHE, KYOTO will be able to select their favorite piece of artwork from an on-site gallery. The piece will then be hung in their guestroom, and visitors can spend the night appreciating it at their own pace. This is a great way to learn more about art appreciation, and guests can enjoy discussing the art world with their friends and family. 

 

"Although we may view art in museums and other venues, it is rare to have the opportunity to select and display a work of art of our own choice," the project description reads. "Through this unique experience, we aim to provide guests the chance to actively engage with art and inspire them to make art a part of their daily life going forward."

Suntory Museum of Art to Display Art from Chishakuin Temple in Kyoto for the First Time

From November 30, 2022 until January 22, 2023, the Suntory Museum of Art in Tokyo will hold the 'Treasures from the Chishakuin Temple in Kyoto' exhibition.

National Treasure. Maple Tree. Hasegawa Tohaku. (Four of Six Sides) Momoyama Period / 16th Century.

Chishakuin Temple. [On display during the entire exhibition.]





Chishakuin Temple is located in Higashiyama, Kyoto, and is the headquarters of the Chisan School of the Shingon Sect of Buddhism. This originated with Kobo Daishi (774-835), and the sect now has 3,000 temples around Japan. Founded during the Muromachi period (1095-1143) the temple was originally built in Wakayama Prefecture in memory of Toyotomi Hideyoshi's son Sutemaru, but the builds were brought to Kyoto in 1598 on the orders of Tokugawa Ieyasu.

Kobo Daishi Scroll

Muromachi Period, First Year of Bun'an Era (1444)

[On Display from November 30 until December 26, 2022]

Kyoto Prefecture Designated Tangible Cultural Property –  Kogyo Daishi Scroll

Kamakura Period / 13th Century

[On Display from November 30 until December 26, 2022]

National Treasure. Cherry Blossoms. Hasegawa Tohaku. (Four of Five Sides) Momoyama Period / 16th Century.

[On display during the entire exhibition.]


The temple is best known today for its panel paintings and gardens, the latter of which was inspired by tea master Sen-no-Rikyu. Half of the original paintings remain, with some having been lost to fire and some simply being degraded over time. 

National Treasure. Diamond Sutra (Partial) – Zhang Jizhi

Southern Song Dynasty, First Year of Houyuu (1253)

[On display during the entire exhibition]

Important Cultural Property. Mahamayuri Scroll.

Kamakura Period / 14th Century

[On Display from December 28, 2022 until January 22, 2023]

Important Cultural Property. Green Maple and Waterfall. Song Dynasty / 13th Century

[On Display from November 30 until December 26, 2022]

Ladies at Tea. Insho Domoto. 4 sides. Showa 33 (1958)

[On display during the entire exhibition]

This exhibition will mark the first time that many of the paintings are shown simultaneously outside of the temple, including Cherry Blossoms, Maple Tree, and Pine Tree with Autumn Plants. Visitors can also enjoy National Treasures and items from the temple's treasure trove of Buddhist Art. Would you like to come and browse these incredible pieces?

Information

Treasures from the Chishakuin Temple in Kyoto

Running: November 30, 2022 – January 22, 2023
*To preserve the works, items will be switched out during the exhibition period.
*Dates are subject to change. Please check the museum's website for the latest information.

Venue: Suntory Museum of Art, Tokyo Midtown, Galleria 3F
(9-7-4 Akasaka, Minato-ku, Tokyo)
Official Site: suntory.jp/SMA/

Halloween Afternoon Tea with a Ghost Theme Coming to Kyoto for a Limited Time

Art Grace Wedding Hills, a wedding venue in Kyoto, will be offering a ghostly Halloween Afternoon Tea experience in September and October!

Mischievous Ghost Halloween Parfait *Sample Image

Sweets *Sample Image

Savory Dishes *Sample Image

Adorable ghosts and Halloween-inspired sweets made with autumn flavors such as pears, apples, chestnuts, pumpkins, and sweet potatoes will be on the menu. The Mischievous Ghost Halloween Parfait has a refreshing finish with blackcurrant mousse and blood orange jelly. The marshmallows, made to look like ghosts wearing witch hats, are perfect for posting on social media.

 

How would you like to spend a sweet time in Kyoto this Halloween season?

Information

~Trick or Treat~ Halloween Autumn Afternoon Tea

Dates:
September 4, 9, 16, 18, 25, 30
October 2, 7, 14, 15, 16, 21, 23, 30

Times: Seating 1, 13:00-14:30 / Seating 2, 15:15~16:45 (90 minute seatings)
*Must make a reservation a minimum of 15 minutes before seating.
*Only 1 seating on weekdays.

Venue: Kyoto Art Grace Wedding Hills
Details/Reservations: https://www.bestbridal.co.jp/guestparty/kyoto/artgrace_kyoto/2022event-37/


Italian Pop Trio Il Volo to Perform for Charity at Kiyomizu-dera in Kyoto, Film to be Released

Il Volo, an Italian operatic pop trio known for its incredible tenors, will be the first foreign artist to be filmed at Kiyomizu-dera in Kyoto. The concert will be held without an audience and will be filmed, with proceeds going to charity.



The musical trio is known around the world for its mesmerizing harmonies. Their music manages to sound modern while still channeling tradition, making them an excellent choice to perform at the center of Japanese cultural traditions in Kyoto. The group will also perform in Tokyo, Osaka, and Nagoya.

The music video for the group's song Grande Amore, released in 2015, has racked up over 200 million views on YouTube. Loved by fans around the world, Il Volo's music transcends language barriers, and the group is sure to impress on their Japan tour.

Information

Il Volo Japan Tour 2022 Live in Concert

Planning/Invite/Organization: Tate Corporation

In Cooperation with Sony Music Labels Inc., M.T. Studio

Teppanyaki and Yakiniku Restaurant Honten Yamashina Opens in Ginza

On July 18, the upscale teppanyaki and yakiniku restaurant Honten Yamashina opened a new location in Ginza! The hybrid restaurant has taken over the entire top floor of GINZA PLACE, which is directly connected to Ginza Station. Overlooking the Ginza 4-chome intersection, it's a gorgeous place to enjoy some authentic Japanese cuisine. 

Honten Yamashina mainly uses fully-matured Omi beef, the highest grade available among Shiga Prefecture's top-tier beef, from Okazaki Farm. The cows are allowed to fatten for a considerable amount of time and live stress-free lives for over 40 months. Less than 1% of all Wagyu cattle are shipped after 24 months of age, and this delectable meat is characterized by its sharp taste and fattiness. 

Luxurious Wagyu and Sea Urchin Sushi

Early Summer Plate to Enjoy with Seasonal Flowers

Selected Extra-thick Beef Tongue Steak Made with Refined Attention to Detail

Grilled Spiny Lobster Made on a Charcoal Grill

The Playful Yamashina Wagyu Slider

Melt-in-your-mouth Sweet Amala Tomato (Vegetable of the Day)

Hand-selected Omi Beef Steak

Truffle Omurice

Japanese-style Teppanyaki

Guests can enjoy authentic Japanese teppanyaki cuisine with a modern twist. While sitting at the contour, visitors will enjoy a live performance by Taku Osada, a teppanyaki chef with over 20 years of experience.  

The wide variety of meat can be enjoyed in a number of different ways, whether it be raw, grilled, stewed, or properly cooked. From tongue and rump to filet and sirloin, you won't leave hungry. Visitors can also enjoy seafood and seasonal Japanese vegetables along with their meat, and the flowers and leaves that adorn each plate will change depending on the time of year.

In addition to rare teppanyaki dishes like skirt steak and 3cm-thick beef tongue, Honten Yamashina also offers some playful dishes such as sliders. As the temperature differs on different parts of the steel cooking plate, each item can be cooked to a temperature that maximizes its specific flavor. Honten Yamashina also has a massive cellar housin over 1,000 bottles of wine and hard-to-find spirits. 

Japanese-style Yakiniku

For those looking for a more private experience, guests can enjoy yakiniku in a completely separate room. Each private room has a grill that will cook meat to the perfect temperature, and only at Honten Yamashina can you enjoy fully-matured Omi beef. The signature cutlet sandwich is made with chateaubriand cooked at a low temperature and deep-fried in a thin batter, then served on crispy bread with a soft, fluffy interior.

Teppanyaki and yakiniku are typically thought of as meat-based dishes, but the restaurant can accommodate vegetarian guests if contacted in advance. 

When Japan opens up to tourism, will you be visiting this incredible restaurant in the heart of Tokyo?

Long-Established Sake Brewery in Yamagata Prefecture Helps Create SAKE COLA

Aiming to create a new kind of drinking culture, Aika in Gunma Prefecture has started preorders for SAKE COLA, a new cola liquor, on the crowdfunding site Makuake. 

People love cola for its strong carbonation, sweetness, and distinctive spicy flavor. SAKE COLA has a complex, multi-layered aroma and refreshing sweetness offering a unique taste that no one has tasted before.

In creating SAKE COLA, the company attempted to keep the authentic sweetness of sake. To this end, they decided to work with Rokkasen, a long-established sake brewery in Yamagata. 

Rokkasen's authentic rice-based shochu Goujoppari is brewed in the cold like sake and distilled like a ginjo sake. It has a beautiful citrus aroma and tastes similar in sweetness despite having zero sugar.

 

Using Goujoppari as a base, malted rice is used to produce a mild, natural sweetness, and the spices added to the drink meld with the citrus scent to create a flavor defying imagination.

The flavor and aroma of SAKE COLA spread in the mouth, with the spices and herbs lingering on the tongue. The spices were mixed by Hayashi Oki, who studied in Alsace, France before working as a pastry chef at one of Tokyo's top patisseries. 

Mace, the key spice, is characterized by its sweet and somewhat pungent aroma. It's used to recreate the caramelized taste that is found in most cola.

 

Along with that, tonka beans, containing the natural sweeteners Vanillin and Coumarin, were blended into the mix to create a soft, lingering flavor. Customers are sure to enjoy it from the first sip to the last.




SAKE COLA can be enjoyed at any time. It's perfect for enjoying as an aperitif, and it can also be enjoyed with a meal, like beer or wine. 

 

Like whiskey, it can also be enjoyed while relaxing after a meal. At Christmas time, it can be added to warm red wine or served as an affogato with ice cream and a splash of liqueur. How would you like to try this unique creation?

Banyan Tree Group Opens Garrya Nijo Castle Kyoto Hotel

Banyan Tree Group, one of the world's leading independent hospitality groups, held the grand opening of Galleria Nijo Castle Kyoto, on Friday, June 17, 2022. This is the first of the group's hotels to open in Japan.

Hotel Exterior

Located south of Nijo Castle, a World Heritage Site, and named after the beautiful winter flower, Galleria Nijo Castle Kyoto is a small, modern, and minimalist luxury hotel that offers simple guests a chance to recharge themselves.

Wellbeing Room


For the grand opening, a new Wellbeing Room has been opened where visitors can experience quiet meditation.

Visitors can stroll through nearby gardens, temples, and shrines, take a tour of Kyoto's many historical sites, or spend time in the Wellbeing Room meditating or practicing yoga to recharge their batteries away from the hustle and bustle of everyday life.

The French Restaurant Singular will also offer up healthy and tasty meals with a focus on local ingredients and producers.


Enjoy a visit to Kyoto in this peaceful space perfect for resting both body and soul.