Shabu-Shabu Restaurant Hyoto to Open in Front of Kyoto Station
It's been 15 years since Hyoto opened back in 2003. Now, the restaurant's new flagship location in front of Kyoto Station will hold its grand opening on October 20, 2018.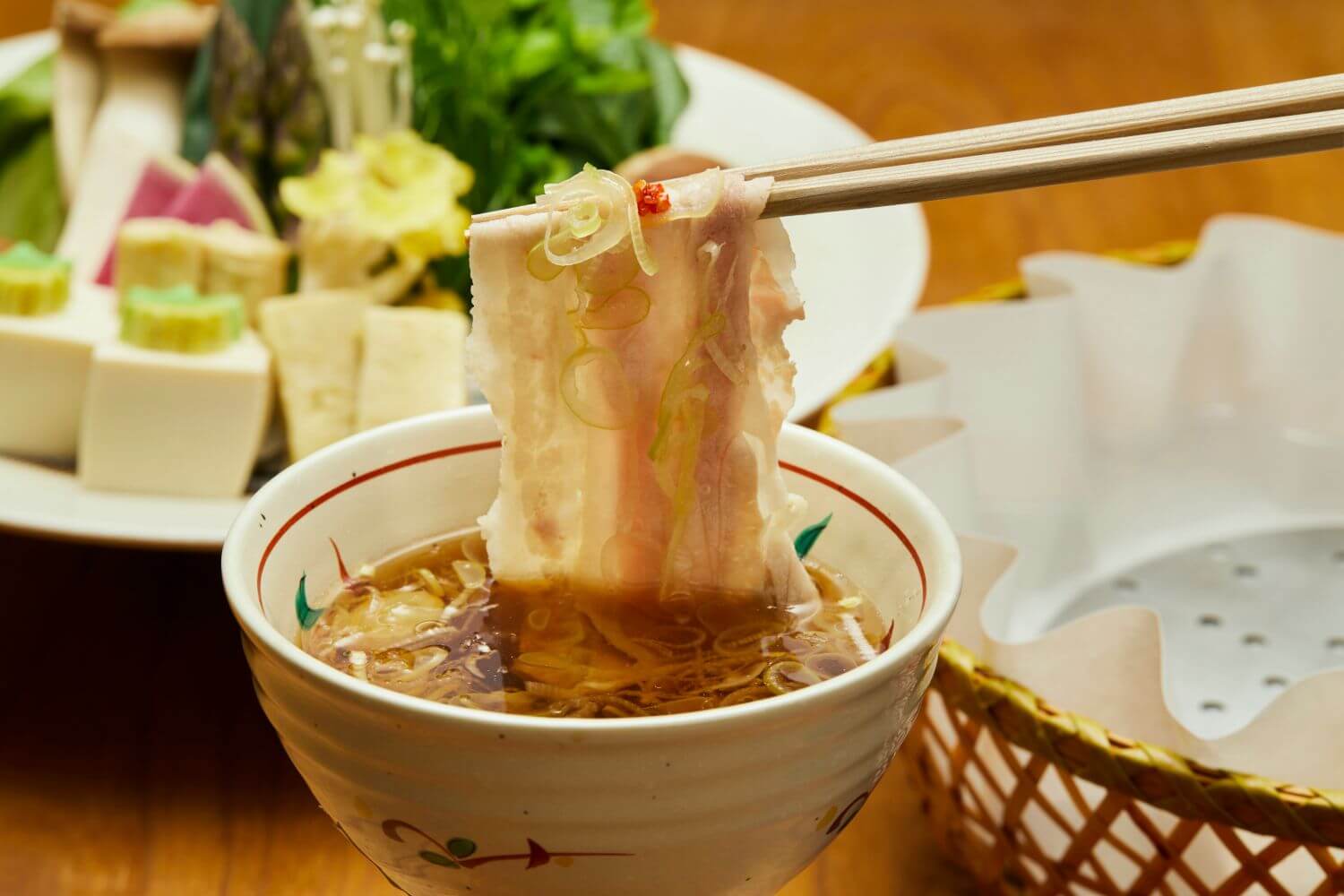 The restaurant boasts elaborate dishes, with one of their most popular items at their Karasuma branch being "Dashi-Shabu," a spin on shabu-shabu hot pot that uses dashi as a dipping sauce. Their chefs have spent many years perfecting the sauce which is made from lots of bonito and kombu.
The restaurant's Kyoto-style kaiseki food trays, created by their skilled chefs, evoke the four seasons. Other must-tries include their steak as well as the shabu-shabu which is made with omi-gyu beef―one of the top three brands of beef in Japan.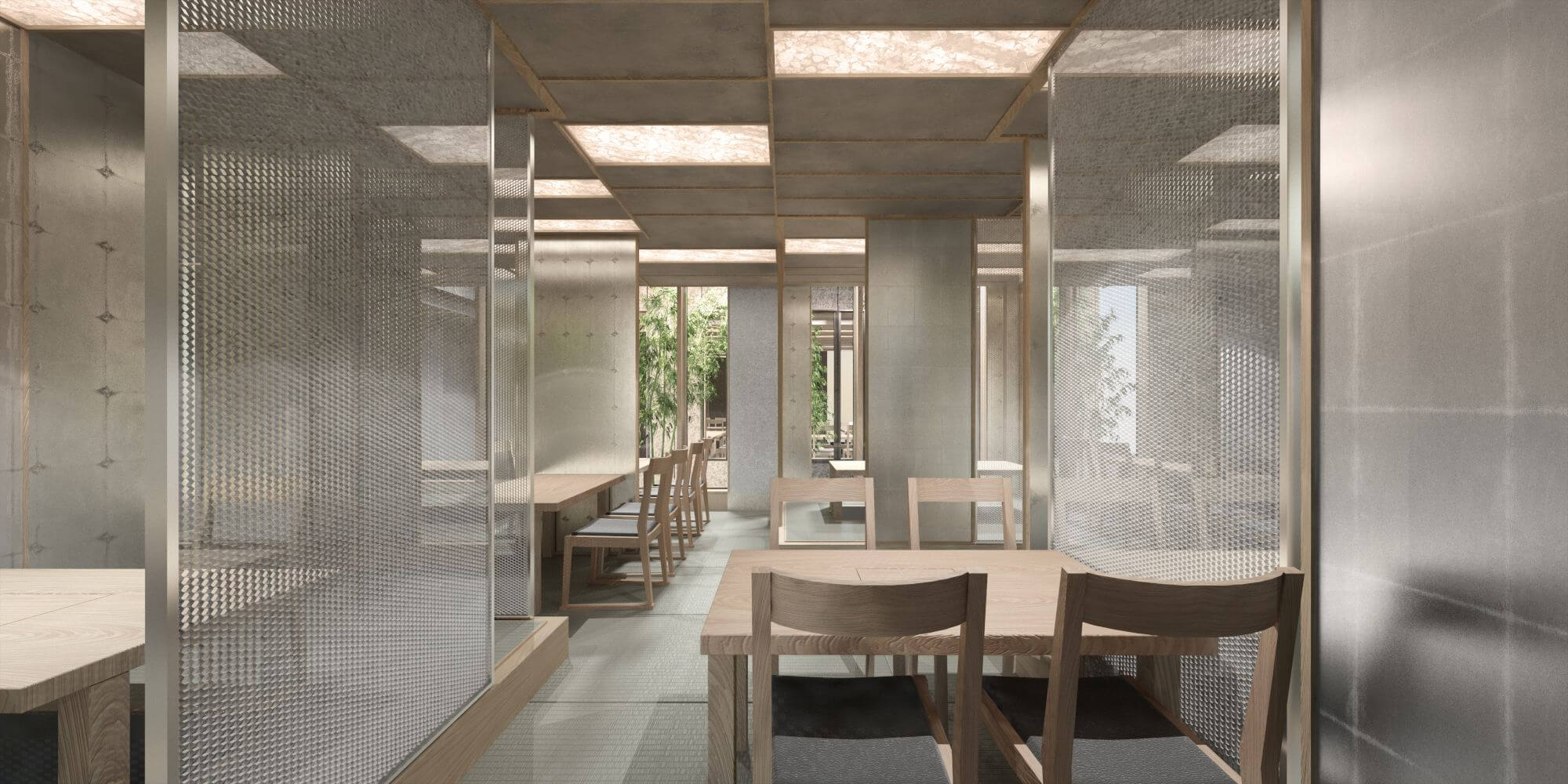 The restaurant is designed by by acclaimed Japanese architect Manabu Chiba who has won many awards. The gold leaf and white wood decor give the restaurant a stylish traditional Japanese feel. The first floor is home to semi-private tables and the second floor completely private tables. Both floors also include planted bamboo which give an air of elegance and refinement, allowing for enjoyment of both a Kyoto newness and traditional vibe.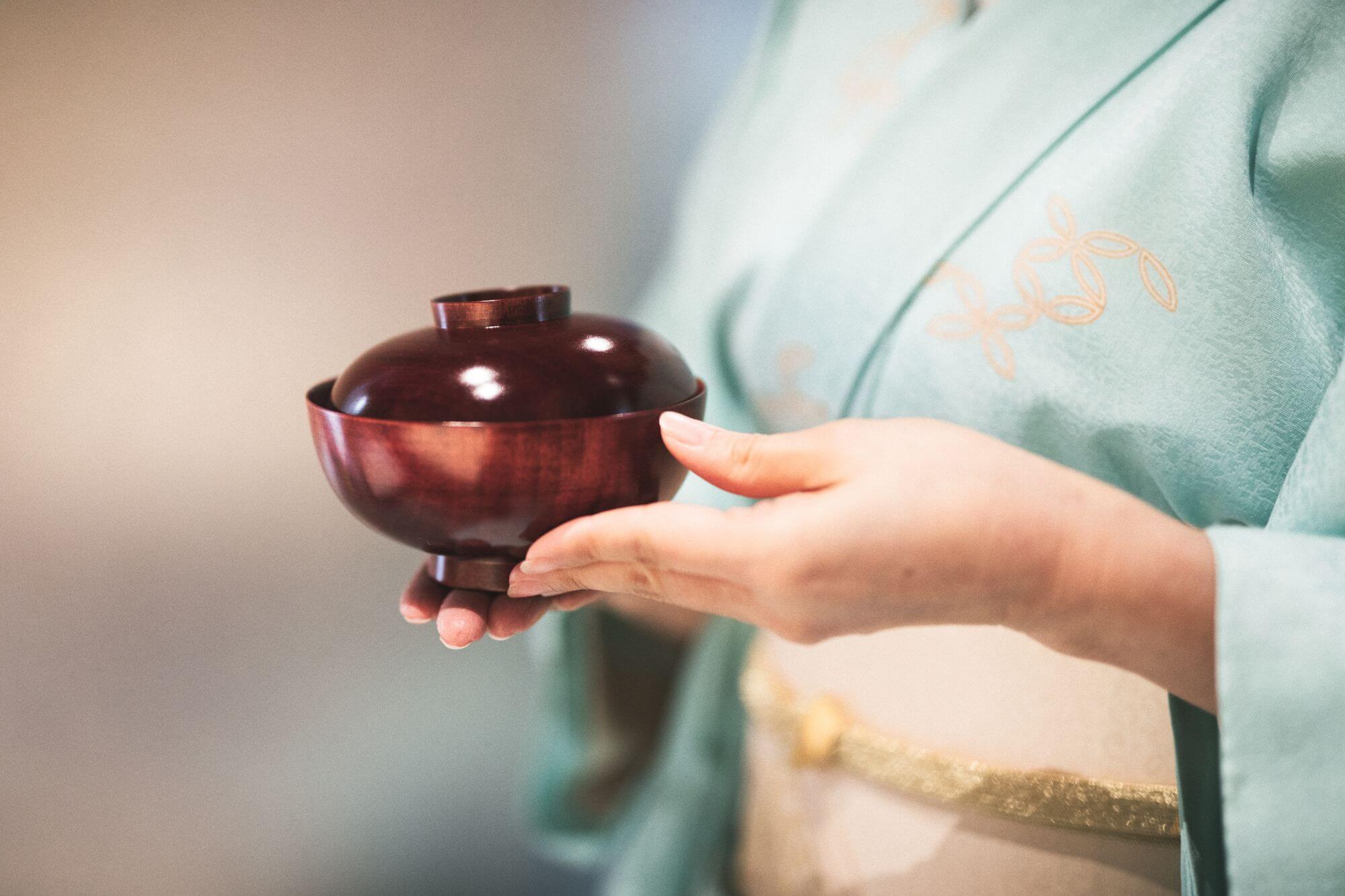 Head to Hyoto for a helping of hospitality, Kyoto style.
Information
Kyoto Hyoto – Kyoto Station Main Branch
Address: 607-12 Higashishiokojicho, Shijo-Sagaru, Nishinotoin Dori, Shimogyo Ward, Kyoto
TEL: 075-342-2338
Opening Hours: Daytime 11:30-14:00 / Evening 17:30-21:00
Closed: New Year's Holidays
Access: 10-minutes on foot from the Central Gate of Kyoto Station via JR Line or from Kintetsu Kyoto Station / 6-minutes on foot from Exit 2 of Kyoto Station via Karasuma Line
RECOMMENDED ENTRIES
Indulge in a Luxurious Afternoon Tea Set at Nanzenji Sando Kikusui in Kyoto With a Garden View

Kikusui is a 60 year old ryokan―a Japanese style inn―spanning an area over 2700m². The establishment reopened in June this year as Nanzenji Sando Kikusui and will sell a special new afternoon tea set this summer.

Kikusui continues to retain the spirit and vibe of the Meiji Era with its gardens and tea-ceremony arbours, but the terrace seats in the garden which can now be entered with your shoes on, amongst other things, have been renovated to better fit the current times.

Afternoon Tea Set – ¥3,000 per person

The afternoon tea set features a fusion of Western and Japanese styles, including things such as matcha and bean jam wafer cakes.

There are 12 original desserts and food items to choose from, as well as unlimited refills of 10 different teas from Ronnefeldt. You can also enjoy a leisurely stroll in the gardens for as long as you like. It's a perfect stopover location when sightseeing and travelling. There's plenty of food there too so you can even have a late lunch.

Pick a seat of your choice at the wide-open terrace seating area where you can hear the sounds of nature and enjoy gazing across the garden while tucking into your food.

There's plenty of other meal options too!

Chocolate Cream & Houjicha Ice Cream Affogato

This affogato is a mix of rich cream made with chocolate from Spain, houjicha ice cream, cinnamon streusel, and chocolate nibs. Pour over espresso to bring all the flavours together.

Salty Milk Ice Cream & Kitasaka Chicken Farm "Cherry Blossom Egg" Fried Purin – ¥900

This traditional fried purin made with a rich cherry blossom egg has a slightly salty flavour that complements the milky ice cream. It's described as a 'classical' dessert.

Miyazaki Mango, Passion Fruit & Apricot Seed Sorbet – ¥1,400

This dessert puts together good quality mangoes, passion fruit and apricot seeds. The added fragrance of amaretto draws out the flavour of the mango even more.

Caramel Banana & Mascarpone Ice Cream Dutch Pancake – ¥1,200

Baking this pancake at 250°c gives rise to a unique texture. The skillet keeps the pancake nice and warm until the last mouthful.

 

Muskmelon, Rich Panna Cotta, Honey Ice Cream & Noble Rot Wine Jelly – ¥1,400

The slightly sour panna cotta, noble rot wine jelly and honey ice cream bring out the sweet flavour of the muskmelon. This refreshing dessert is both unique and uniform.

Enjoy a most luxurious teatime in Kyoto at Kikusui.

■Information
Nanzenji Sando Kikusui

Address: 31 Nanzenji Fukuchicho, Sakyo-ku, Kyoto

Opening Hours: 11:00am-10:00pm (Lunch 11:00am-2:00pm / Teatime 2:00pm-5:00pm / Dinner 5:00pm-9:00pm)

No Fixed Holidays.

TEL: 075-771-4101

Website: http://www.kyoto-kikusui.com/

Miffy Sakura Kitchen & Bakery to Open in Arashiyama, Kyoto

The new takeout bakery Miffy Sakura Kitchen will open in Arashiyama, Kyoto on October 3, fusing traditional Japan with Dick Bruna's cute bunny character.

The bakery faces the main street that runs from Togetsu-kyo Bridge through the Arashiyama Bamboo Grove, the most iconic tourist spots of Arashiyama.

Vintage Mugs – ¥1,200 (Pre-Tax)

Lunch Bowls – ¥2,000 (Pre-Tax)

At the bakery you can get your hands on a range of Miffy licensed merchandise as well as a string of exclusive Miffy Sakura Kitchen made in the style of traditional Kyoto pottery and more.

Of course, there's plenty of delicious goodies to get your fingers on too like anpan sweet bread, danish pastries, ice cream, drinks and more, all inspired by Miffy.

Miffy Anpan – ¥260 (Pre-Tax)

The Miffy anpan is shaped like Miffy's face which is filled with sweet adzuki bean paste.

Miffy Fuku Daruma Bread – ¥350 (Pre-Tax)

This cute and round Miffy bread is made in the image of a daruma doll and is filled with rich matcha cream. Limited quantity available.

Carrot Bread – ¥310 (Pre-Tax)

Miffy loves carrots, so this one's dedicated to her. It's made with carrot puree and contains an egg salad.

Miffy Danish Pastry – ¥500 (Pre-Tax)

When you sink your teeth into this crunchy toasted pastry your mouth is filled with the sweet taste of butter. You can order it as French toast or enjoy it as a sandwich.

Miffy Cube (Matcha & White Chocolate) – ¥230 (Pre-Tax)

This cubed shaped bread bears the shop's logo and Miffy on the front. You'll get addicted to the sweet white chocolate and bitter matcha inside!

The bakery itself will also be decorated with all things Miffy, so if you're a fan of the cute bunny yourself you'll definitely want to go and visit.

■Information

Arashiyama Miffy Sakura Kitchen
Address: 20 Sagatenryuji Tsukurimichicho, Ukyo Ward, Kyoto, Kyoto Prefecture

Grand Opening: October 3, 2018

Opening Hours
Miffy Kitchen: 10:00am-6:00pm
Miffy Bakery: 10:00am-6:00pm

Contact
Miffy Kitchen: 075-863-2022
Miffy Bakery: 075-496-4244

Miffy Sakura Kitchen Offiみっふぃー桜きっちん公式サイト:http://www.miffy-sakurakitchen.jp

Autumn Colour Illuminations to Take Place at Kurodani Temple―Home to the Afro Buddha

Veltra, a website that offers hundreds of tours and activities for travellers across the world, is now taking bookings to go and see the autumn colour light-up of Konkaikōmyō-ji, also known as Kurodani Temple.

The plan offers the chance to see the Afro Buddha―which has made headlines on TV in Japan and on the internet―as well as the temple gardens and elsewhere lit up in gorgeous hues of reds, yellows and oranges. The autumnal colours reflected on the water surface beside the temple will provide for a gorgeous setting.

There's also an additional plan that can get you in 30-minutes earlier than regular guests and offers a tour of the area by the official gardener or a garden concierge. Guests who book with Veltra will also receive a bill with the Afro Buddha printed on it.

Kurodani Temple was founded in 1175. It incldues the site where Honen, the founder of Jodo Buddhism, stayed. It's also famous as the site where the Japanese official Kondō Isami and samurai Matsudaira Katamori held talks.

While gazing at the beautiful colours of autumn guests can also enjoy a koto performance.

Veltra also has an English page and takes bookings from inbound travellers. Book your plan to see the spectacle yourself.
RELATED ENTRIES
artKYOTO 2020: The Art Fair at Kyoto's World Heritage Site Nijō Castle

artKYOTO 2020 will take place at the World Heritage Site and former imperial villa Nijō Castle from November 6-8.

This marks the second-ever run of the event, following the success of the first last year. Once again, the grand and breathtaking Nijō Castle serves as the venue for the event where around 30 of Japan's best galleries, both old and contemporary, come together to exhibit various artworks to the people of Kyoto.

With the COVID-19 pandemic having affected Japan's economy as well as impacting society overall due to the many restrictions on movement, artKYOTO 2020 aims to bring back art and culture, as well as help circulate the economy, and contribute towards artists while promoting the value that art has on society.

Art Fair

Photo from artKYOTO 2019


Photo from artKYOTO 2019 | Photo by office TKD

The first artKYOTO event saw 31 galleries come together to promote Japan's art industry through Kyoto's history and culture. This year will see a diverse exhibit from old works to contemporary pieces.

artKYOTO 2020 will adopt all of the necessary precautions against COVID-19 while still delivering a a fully-fledged experience for people to enjoy art.

Information

artKYOTO 2020
Running: November 6, 2020 – November 8, 2020
Opening Hours: 11:00-20:00 (Until 17:00 on November 8)
Location: Nijo Castle, 541 Nijojocho, Nakagyo Ward, Kyoto

Official Website: https://artkyoto.jp/

Fall Into Autumn With an Enchanting Boat Ride Through Arashiyama in Kyoto

HOSHINOYA Kyoto has announced a special new serving for one group a day that lets them bask in the autumn colours of Arashiyama. The service, entitled "Asa no Momiji Bune" (Morning Autumn Colours Boat), will run from November 20 to December 6 this year.

A cosy autumn morning boat ride all to yourself

Sail down the tranquil Oi River, which runs right beside HOSHINOYA Kyoto, and bask in the surrounding sights of Arashiyama and Ogurayama as they burn aflame with autumnal colours. Wrapped in reds and yellows in every direction, this morning experience is a rare opportunity witness Japan's fall season like never before as you gaze at the crisp leaves of the trees and their reflection from the water's surface.

Sweet wagashi treats just for you

While on the boat, guests are treated to a cup of matcha and some seasonal Japanese wagashi confections, like hard candies shaped like HOSHINOYA Kyoto's logo and other colourful sweets made to look like maple leaves, ginkgo leaves, and more. These confections are made exclusively for the boat ride by Kameya Yoshinaga, a Japanese sweets shop that has been around since 1803, while the matcha is provided by Rishouen Chasho, a tea shop in Uji, Kyoto who have picked out specially selected leaves just for HOSHINOYA Kyoto.

The roofed Kingfisher boat

The boat guests will ride is owned by HOSHINOYA Kyoto and is called "Hisui" (Kingfisher). A switch can change the rooftop colour from white to transparent so you can look up and see the gorgeous blue sky.

If you're in Japan this autumn, and still need to find a hotel, why not treat yourself to a luxurious morning boat ride at HOSHINOYA Kyoto?

Information

Asa no Momiji Bune / 朝のもみじ舟 (Morning Autumn Colours Boat)
Running: November 20, 2020 – December 5, 2020

Time: 8:30-9:10

Boarding/Return: HOSHINOYA Kyoto

Price: ¥31,000 per group (tax, service charge, and hotel fee not included in price)

Includes: Boat ride, Japanese confections, matcha

Participation: Exclusive to HOSHINOYA Kyoto guests

Capacity: 1 group of 1-4 people per day

Reservations Required: Book at https://hoshinoya.com/kyoto/

Note: The boat ride will be cancelled during stormy weather

Premium Hotel MGallery to Open New Kyoto Yura Hotel Nijo Castle This November

MGallery, a collection of over 5,000 luxury boutique hotels in 110 countries worldwide, landed in Japan for the first time last year with the opening of the 5-star KYOTO YURA HOTEL MGallery in Kyoto. Now, the brand has announced the opening of the new "Kyoto Yura Hotel Nijo Castle MGallery" (Kyoto Yura Hotel Nijo-jo Bettei) which will open on November 28, 2020.

Situated just a short 1-minute stroll from Njio Castle Station, this small, 25 room hotel, aims to offer luxury at the highest level.

Kyoto Yura Hotel Nijo Castle MGallery was designed by Yukio Hashimoto, who has worked on countless hotels and facilities around the world. The hotel lobby and all guest rooms face a gorgeous Japanese-style garden where guests can enjoy its beautiful sights through all four seasons.

The hotel takes inspiration from Nijo Castle, a structure which has seen both the end of the shogun as well as the start of modern Japan. As you enter the hotel, from the front door through and through the main entrance, guests will find themselves in their own private domain before they reach the breathtaking Japanese garden in front of them. All 25 of the guest rooms are crafted with high quality, sophisticated interiors.

On the first floor of the hotel, guests will find a restaurant and bar. The restaurant cooks up creative French dishes made delicately with seasonal ingredients while the bar serves up MGallery's iconic "mixology" cocktails.

Kyoto Yura Hotel Nijo Castle MGallery also offers a range of activities which can't be experienced anywhere else, including private trips to local shrines and temples that the hotel has connections with.

Information

Kyoto Yura Hotel Nijo Castle MGallery (Japanese: 京都悠洛ホテル⼆条城別邸)

Grand Opening: November 28, 2020

Address: 180 Ichinochō, Nakagyō-ku, Kyoto

Kyoto Aquarium Begins Special Opening Service For After 3 o'clock

Kyoto Aquarium is now holding a special "off-peak" opening service after 3:00pm where visitors can receive free novelties amongst other things. The service began on July 23 and will run until September 30 this year.

The service comes as a measure against the spread of COVID-19. Normally, the aquarium can become crowded during the day, and to spread the number of visitors out, they are offering a special service for those visiting after 3:00pm. This means that visitors can enjoy the aquarium at a more relaxed pace and take their time.

But that's not all. On days when the aquarium closes at 6:00pm, visitors will receive a free original Kyoto Aquarium seal made to promote the new jellyfish exhibition area which opened on July 16, 2020. And on days when it closes at 8:00pm, visitors will not only receive a free folder, but can get a serving of the aquarium's mini soft serve ice cream at three times the amount as usual, or  a free mini drink.

Information

Kyoto Aquarium After 3 o'clock Special Service
Running: July 23, 2020 – September 30, 2020
[Closing Hours: 18:00] ①Jellyfish Seal
[Closing Hours: 20:00] Arriving between 15:00-17:00 = ①Jellyfish Seal / ①Jellyfish Folder, ②Mini Ice Cream or Mini Drink

*One novelty per person

*Aimed at visitors aged 3-years old and above who hold a valid ticket

*Harvest Cafe is open until 19:15

Official Website: https://www.kyoto-aquarium.com/

Chawanmushi Recipe: Savoury Dessert Made With Carrots, Cream Cheese & Mirin

Together with soy sauce and miso, mirin is a fundamental condiment in the Japanese kitchen and for many recipes for Japanese food. It's a sweet rice wine that has lower alcohol content and higher sugar content when compared to sake, adding a sweet flavour to dishes.

Today, we're taking a look at a recipe that uses "Mikawa Mirin," a brand of mirin made from high quality rice, to make carrot and cream cheese chawanmushi. Chawanmushi is a savoury egg custard dessert eaten in Japan.

Carrot & Cream Cheese Chawanmushi

Chawanmushi is made using mirin and has a smooth texture to it as well as a subtly sweet flavour. It's the perfect accompaniment to a hot summer's day.

Ingredients (Serves 1)


●Chawanmushi
60g carrots
240ml dashi
20ml soy sauce
120ml Mikawa Mirin
8g sugar
18g cream cheese
1 egg

●Okra-an
Okra
30ml dashi
0.5g salt
3ml Mikawa Mirin

Method

We will start by making the chawanmushi.

1. Slice the carrots and boil them until they become soft.

2. Add the soy sauce, sugar, and lots of mirin and cook through the dashi.

3. Cook for approximately 20 minutes on a medium heat, then cool with ice. Add the cooled carrots, cream cheese, and 20ml of the dashi into a blender and bend.

4. Add the egg to the mix and steam the mix for 12 minutes on a medium heat.

While the chawanmushi is cooling, we'll make the okra-an.

5. Mix together the okra-an dashi, mirin, and salt together. Add watered potato starch and thinly sliced okra. Leave to cool in the refrigerator.

6. Add the okra-an to the cooled chawanmushi and tuck into your cute two-layered dessert.

Carrot & Cream Cheese Chawanmushi

The dessert is an enjoyable mix of the sticky texture from the okra-an and smooth chawanmushi. It's great to have not only at lunch or dinner, but at home parties with friends too.

–How's the taste?


Misa Kimura: "It works really well with the mirin. The chawanmushi is like a sweet treat. It's super easy to make too, so I think I'll be making it at home!"

Mirin is indispensable to any Japanese cupboard and can be used in many ways, whether it be a classic Japanese dish or a dessert like this one.

Mikawa Mirin 700ml: ¥1,122 (Tax Included)

This authentic brand of mirin is made using a traditional method of Japanese brewing which blends in the delicious taste of rice. It's so delicious that you just want to drink the whole bottle. A high quality mirin, it has a distinct sweetness, colour, and texture. It has a rich flavour, and the taste of the rice elevates the flavours of its ingredients.

Mikawa Mirin Official Website: http://www.mikawamirin.jp/
Official Online Store: http://mikawamirin.jp/product/product_step1.php?m=n
Official Facebook: https://www.facebook.com/mikawamirin

Recipe


This recipe was conceived by ITEMAE, a famous restaurant serving Japanese cuisine that is listed in the Michelin Guide.

Model: Misa Kimura
Photographer: Haruka Yamamoto

Information

ITEMAE
Address: 10-14 Kamiyamachō, Shibuya, Tokyo
Opening Hours: Lunch 11:30-15:00 (Weekdays Only) / Dinner 18:00-23:30
Closed: Sundays / New Year's Holiday
TEL: 050-5595-4795

Inari Sushi Restaurant Tsurigitsune to Open in Osaka International Airport's North Terminal

Japanese food and confectionery company Bijuu is opening a new restaurant called Tsurigitsune inside Osaka International Airport's North Terminal on August 5, 2020. The restaurant will specialise in inari sushi, a type of sushi packed into pouches of deep-fried tofu.

Bijuu is known for producing and selling such products as Kyoto's famous coarse sweet red bean paste-filled yatsuhashi otabe crackers.

Tsurigitsune will serve "Kyo Dashi Oinari," a type of inari sushi made with fried tofu Saga Tofu Morioka—a long-standing tofu shop in Sagano, Kyoto—soaked in lots of sumptuous Kyoto-style dashi. The restaurant will also serve a special type of sweet otabe cracker which cannot be eaten anywhere else.


Kyo Dashi Oinari (Includes 15) | ¥3,240 (Tax Included)

The dashi that the Kyo Dashi Oinari are soaked in take up all the delicious flavour of kombu, sababushi smoked mackerel, iwashibushi pilchard, and katsuobushi dried bonito, all of which serve to add that authentic Kyoto flavour.


Tanto Otabeyasu | ¥930 (Tax Included) *Served 6:30-10:00

As well as Kyo Dashi Oinari, Tsurigitsune's menu includes a line-up of dishes that celebrate the flavour of dashi, including soba, dashimaki tamago omelette, and more.

If you're travelling to Osaka, why not get an authentic Kyoto experience too by dining at Tsurigitsune?

Information

Tsurigitsune
Grand Opening: August 5, 2020
Address: Osaka International Airport North Terminal 2F Boarding Area, 3-555 Hotarugaike NishimachiToyonaka, Osaka
Opening Hours: 6:30-20:20 (Last Orders 19:50)
TEL: 06-6836-9217

Official Website: http://www.bijuu.co.jp/tsurigitsune/

4 Must-Try Colourful & Kawaii Cream Sodas in Kyoto

The rainy season in Japan, known as Tsuyu, is finally coming to a close, which means the real summer is right around the corner. And what better way to stay cool in Japan during the summertime than with a glass of coo, refreshing cream soda?

We've compiled a list of 4 must-try cream sodas in Kyoto recommended by Tiara on Instagram, who posts photos on her Instagram of drinks and desserts she tries around the Kanto region of Japan, and who has kindly provided us with photos on this occasion too.

and C Kyoto | Kita-ku

Yellow Cream Soda / White Cream Soda / Red Cream Soda / Blue Cream Soda

and C Kyoto is a stylish bar, cafe, and second hand clothes store located right by Hirano Shrine. They serve four different colours of their cream soda which look super cute when lined up in a row.

and C Kyoto
Address: 30 Hirano Kamihatchōyanagichō, Kita-ku, Kyoto
Opening Hours: 12:00-23:00
Closed: Tuesdays
Instagram: https://www.instagram.com/andc102/

BABBI GELATERIA KYOTO | Gion Shijo

Mango Passion / Classic Blue / Amaou Strawberry

BABBI GELATERIA KYOTO is located along the Kamo River and is famous for its gelato. They also sell some super refreshing cream sodas topped with their tasty gelato.

BABBI GELATERIA KYOTO
Address: 134 Saitocho, Shimogyo Ward, Kyoto
Opening Hours: 13:00-20:00 (Temporary hours due to COVID-19)
TEL: 075-585-5200
Official Website: http://www.babbi.co.jp/showcase/gelateria-kyoto/

Kissa Zou | Imadegawa

Pudding a la Mode / Lemon Squash & Elephant Cookie

This cute cream soda comes with an elephant-shaped cookie. The custard pudding has a rich eggy flavour.

Kissa Zou
Address: 440-3 Santeichō, Kamigyō-ku, Kyoto
Opening Hours: 10:00-18:00 (Last Orders 17:00)
No Fixed Holidays
Instagram: https://www.instagram.com/kissa_zou/

Bread, Espresso & Arashiyama Garden | Arashiyama

Cherry Blossom Cream Soda

This old cafe is renovated from an old family estate which was built at the end of the Edo Period and is designated as a cultural property of Kyoto. This beautiful cafe coincides with the gardens and has gorgeous thatched roofing.

Bread, Espresso & Arashiyama Garden
Address: 45-15 Sagatenryuji Susukinobabacho, Ukyo Ward, Kyoto
Opening Hours: 10:00-18:00 (Last Orders 17:00)
TEL 075-432-7940
Official Website: https://bread-espresso.jp

Tiara has lots of other delicious dessert recommendations over on her Instagram, so be sure to follow her if you're travelling in the Kansai region and are in need of a sweet treat.

Original Text & Photo: @happy_pinkrose_tiara

Translation: Joshua Kitosi-Isanga

*The information about the items on this list are correct at the time of publishing. For the latest information, please visit each cafe's official websites and social media pages.

Wine and Dine at Four Seasons Hotel Kyoto's Luxurious New 'Champagne Garden'

Four Seasons Hotel Kyoto opened its limited-time "Champagne Garden" on July 3 at its first floor outdoor terrace restaurant Brasserie. Running until September 6, customers can enjoy free-flow French Bollinger champagne and cocktails.

Four Seasons Hotel Kyoto opened back in October 2016 as a luxury hotel, home to the famous Sekisuien Gardens which have a history spanning back 800 years and are mentioned in the The Tale of the Heike epic. The hotel's first floor restaurant Brasserie has towering 9-meter tall windows that look out onto these gardens, while inside customers can enjoy dining in a stylish environment.

The champagne served in the Champagne Garden is produced by the French Champagne house Bolligner, a company that started by Jacques Bollinger in 1829. Fermented in oak barrels, the champagne has sophisticated and complex flavours. In 1884, Bolligner received a Royal Warrant from Queen Victoria.

At the Champagne Garden, guests can enjoy four different types of canapé made by the restaurant's head chef Koga together with a glass of Bolligner. They can also order rosé wine, cocktails, or soft drinks too, all of which are free-flow. And since the restaurant faces the garden, guests can enjoy the view of the greenery throughout all four seasons, in central Kyoto.

Four Seasons Hotel Kyoto reopened on July 1 after closing temporarily due to COVID-19. The hotel has launched its "Lead With Care" program which ensures guests and staff are at the top of the priority list for safety against the coronavirus.

Information

Four Seasons Hotel Kyoto – Champagne Garden
Running: July 3, 2020 – September 6, 2020

Location: Brasserie, Four Seasons Hotel Kyoto Floor 1F

Address: 445-3 Myōhōin Maekawachō, Higashiyama-ku, Kyoto
Time: 11:00-20:30
Price: ¥8,800 per person (90 minute window)
*15% service charge and 10% consumption tax charged separately

*Booking in advance recommended

TEL:  075-541-8288

Official Website: https://www.fourseasons.com/jp/kyoto/

Kyoto's World Heritage Site Nijo Castle Announces Summer Evening Illumination Event

NAKED, INC. has announced that it is holding a special summertime light-up event at Nijo Castle, a World Heritage Site in Kyoto, from August 8 to August 30. The company has also released its first ever 3DCG VR experience NAKED NINJA -Nijo-jo Castle- on the official NAKED, INC. online store.

Enjoy art entertainment in person or at home

NAKED, INC. has collaborated with many World Heritage Sites, Cultural Properties, tourism centres, leisure spots, and more over the years. Right now, the company is grappling with the question of what the shape of tourism, as well as art and entertainment, looks like during the COVID-19 outbreak—and what shape it will take post-pandemic. Nijo Castle is no exception, a place that enjoys tourism from both Japanese people and people overseas. In considering these issues, NAKED has conceived two different ways Nijo Castle can still entertain tourism now and in the near future.

The first is holding an event in person at Nijo Castle in the form of an outdoor light-up event that will have people wandering around as opposed to being stationary. In spring of 2017, NAKED held "Nijo Castle Cherry Blossom Festival 2017" where they hosted a variety of performances and events in line with the season. In fact, one such event was planned to take place at Nijo Castle this summer, but it had to be reconsidered as a result of COVID-19. Those involved still wanted to come up with a way that people who live close by could still enjoy some leisure time this summer, which is what led to this light-up event from NAKED.

Visitors will be able to enjoy the light-up safely by staying a set distance from one another while walking around Nijo Castle. The number of people inside at once will also be restricted. As well as this, people will need to wear masks, temperature will be regulated, and alcohol gel will be provided—all to ensure that visitors are kept safe.

The second way that NAKED has devised for people to still enjoy Nijo Castle is with the release of NAKED NINJA -Nijo-jo Castle-, the company's first ever full 3DCG VR experience that lets people enjoy Nijo Castle online in a virtual space. This is so that people who cannot visit Nijo Castle can still enjoy its sights. NAKED plans to launch even more real and virtual, offline and online experiences in the future too in order to promote tourism in a new way during COVID-19.

Information

Nijo Castle x NAKED Summer Special Light-Up 2020
Running: August 8, 2020 – August 30, 2020

Time: 19:00-22:00 (Last Entries 21:20)
Location: Nijo Castle

Address: 541 Nijojocho, Nakagyo Ward, Kyoto場

NAKED NINJA-Nijo-jo Castle- VR
Price: ¥880 (Tax Included)

Official Website: https://event.naked.works/nijojo-summer2020/

Kyoto's Famous Kifune Shrine Celebrates Tanabata With Bamboo Lamp Light-Up

Kifune Shrine, which is dedicated to the god of water Takaokami no Kami, is currently holding evening illuminations with Tanabata bamboo lamps until August 15, 2020.

About Kifune Shrine

Kifune Shrine is one of Kyoto's foremost historical shrines. Records show that the shrine was already built in 677 during the reign of Emperor Tenmu. It is located near the source of Kamo River and is dedicated to the god of water who is said protect Kyoto's water sources. The area is also known for kawadoko which is where Kibune's restaurants build platforms over the river where visitors can enjoy their meal as the water flows beneath them.

Kifune Shrine and Tanabata

Tanabata is said to originate from the Suijinsai Festival (Water God Festival), with the stars themselves as the god of water. At Kifune Shrine, which is dedicate to Takaokami no Kami—the god of water—people not only pay their respects to the blessing of water, but hold Tanabata events as well as the Kifune Water Festival.

For this year's Tanabata event, bamboo lamps will be lit up with wishes written on them by people.

Tanabata Shinto Rituals and the Kifune Water Festival

Tanabata Shinto rituals and the Kifune Water Festival will be held on July 7 where people will express their gratitude to the god who watches over Kifune's waters as well as pray for water's blessing throughout the year.

Information

Kifune Shrine Tanabata Bamboo Lamp Light-Up
Running: July 1, 2020 – August 15, 2020
Time: From sunset to 20:00
Location: Kifune Shrine, 180 Kuramakibunecho, Sakyo-ku, Kyoto
TEL: 075-741-2016

Official Website: http://kifunejinja.jp

Chocolate-Piled Shaved Ice & Other Summer Season Delights at BEL AMER Kyoto Villa

Kyoto-based chocolate bar BEL AMER Kyoto Villa is serving up the perfect line of new chocolatey bites for summer 2020.


The entire line-up is a delight to look at, from a mountain of chocolate piled on top of shaved ice, a summertime mango and melon dessert, and more.

Chocolate Noir Shaved Ice x Matcha: ¥1,540 (Tax Included)

Shaved ice is the quintessential summertime dessert in Japan, and since this one is being served at a shop specialising in chocolate, what better way to serve it than drizzled in a mountain of the stuff? The shaved ice is covered in rich chocolate cream and chocolate sauce and is topped with chocolate nibs. It's also served with a side of matcha sauce which you can pour over yourself, creating a delicious harmony of flavours.


Mille-Feuille au Chocolat Exotic With 196℃ Chocolate Ice Cream: ¥1,650 (Tax Included)

This summertime dessert is made with lots of mango and melon. In the centre of it all is even more mango, as well as pineapple and coconuts, for a flavourful layered experience. Served on the side is ice cream made from BEL AMER Kyoto Villa's own original couverture chocolate.

Summer Pavlova: ¥1,320 (Tax Included)

This piece of art of a dessert is a must for lovers of matcha and melon. It's made from fluffy meringue topped with white chocolate, matcha mousse, and chocolate cream, which itself is then topped with refreshing melon and grapes for a refreshing kick.


Chocolate Croquette Sandwich: ¥990 (Tax Included)

BEL AMER Kyoto Villa is also serving up a very unique dish indeed which mixes together chocolate and croquette—a flavour that actually works, combining sweetness and bitterness. The croquette is made from potatoes. The brioche sandwich also contains cheese and bacon.

These are just some of the delights on show at BEL AMER Kyoto Villa this summer. If ever you're in Kyoto, be sure to stop by, especially in the summer.

Information

BEL AMER Kyoto Villa Bettei Sanjo

Address: 66 Sanjodori Sakaimachi Higashi Iru Kitagawa Masuyacho, Nakagyo-Ku, Kyoto

TEL: 075-221-7025

Official Website: https://www.belamer-kyoto.jp

4 Refreshing Matcha Shaved Ice Flavours Released at Itohkyuemon in Kyoto

Kyoto's famous tea shop Itohkyuemon began serving four new Uji matcha and shaved ice mixed desserts on its menu yesterday (June 29). Itohkyuemon was founded in 1832 in the latter period of Edo. Ujitawara, the place in Kyoto where the shop is located, is famous for the tea served by Itohkyuemon which has been harvested by the Ito family for years.

Uji Matcha Parfait Ice: ¥1,490 (Tax Included) | Serving: Until Late September 2020 | Avaialble: Itohkyuemon JR Uji Station/Itohkyuemon Gionshijo

The Uji Matcha Parfait Ice uses a blend of matcha and milk-infused ice as its base. It's then topped with sweet treats like rice flour dumplings, red bean paste, ice cream, matcha jelly, and more to turn it into a parfait.

Uji Matcha Daifuku Ice: ¥1,290 (Tax Included) | Serving: Until Late September 2020 | Avaialble: Itohkyuemon JR Uji Station/Itohkyuemon Gionshijo

This Uji Matcha Daifuku Ice is an upgrade of the one Itohkyuemon served last year. It has a creamy custard base with matcha daifuku hidden in the shaved ice.

Fluffy Uji Kindokei Vanilla Ice Cream: ¥990, Matcha Ice Cream ¥1,090 (Tax Included) | Serving: Until Late September 2020 | Avaialble: Itohkyuemon JR Uji Station/Itohkyuemon Gionshijo


Fluffy Uji Kindokei Rice Flour Dumpling: ¥850, Rice Flour Dumpling & Vanilla Ice Cream ¥970, Rice Flour Dumpling Matcha Ice Cream ¥1,090 Serving: Until Late September 2020 | Avaialble: Itohkyuemon Uji Main Branch

These two "Kindokei" (Gold Watch) servings use more ice. At the main branch of Itohkyuemon they're more crunchy, while at the JR Uji Station and Gionshijo branches they're more fluffy.