McDonald's Japan to Release Strawberry Matcha Frappe
The new Strawberry Matcha Frappe will be released on October 10 at McCafé by Barista outlets, the official McDonald's cafés attached to numerous McDonald's branches in Japan.
McDonald's Japan has recently been selling a series of different matcha drinks for autumn. Following on from their Brown Sugar Syrup & Soybean Flour Matcha Frappe, a Japanese-style tasting drink, the new Strawberry Matcha Frappe uses strawberries for a more Western flavour.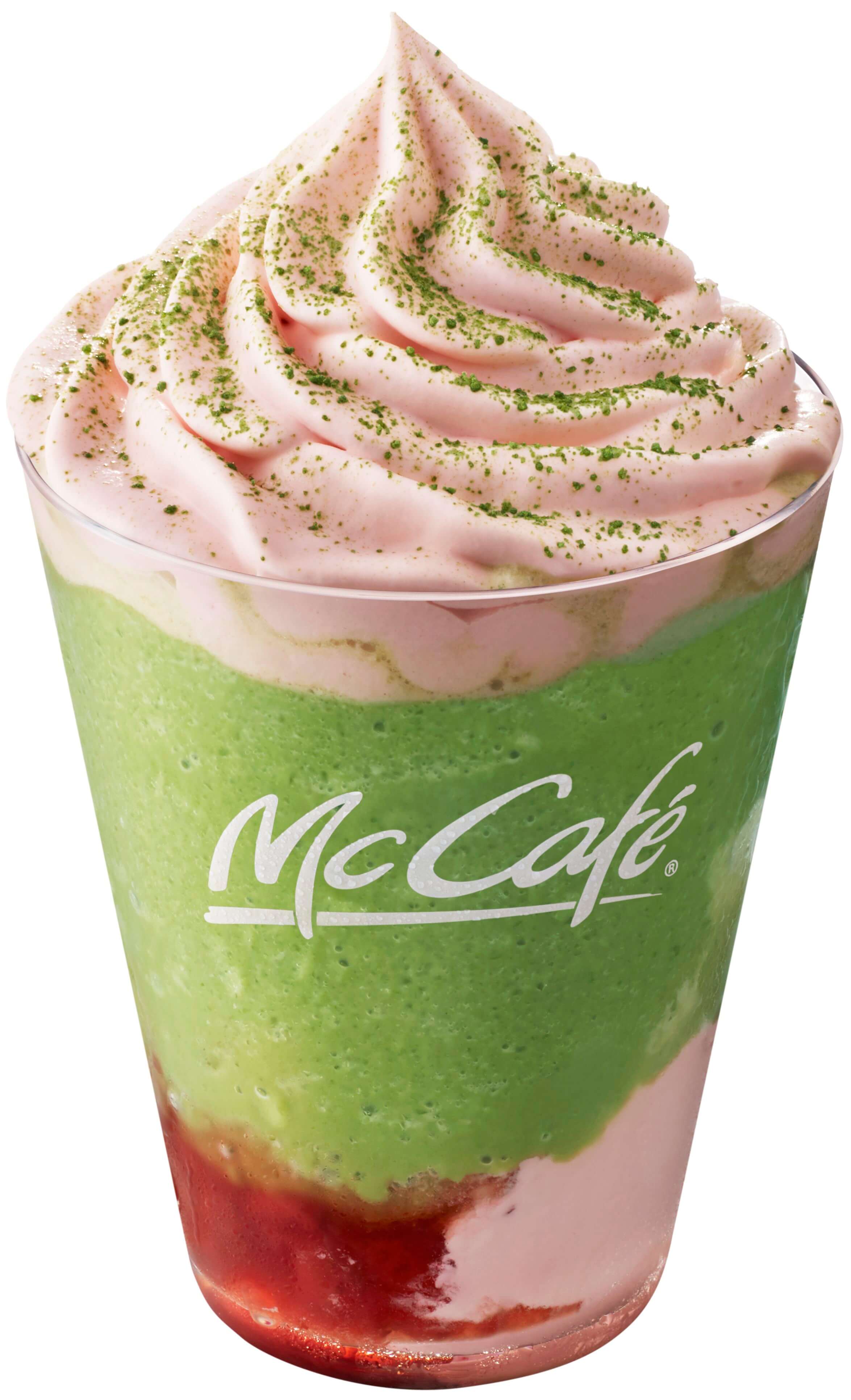 The Strawberry Matcha Frappe is a brand new drink to McDonald's, mixing together the full-bodied flavour of matcha together with sweet and sour strawberries. It includes both a strawberry paste made from whole strawberries and a strawberry whipped cream at the bottom. Sitting on top of these is a matcha latte frappe which uses slightly bitter Uji matcha from Kyoto and delicious milk farmed in Japan. Crowning the drink is more strawberry whipped cream and sprinkling of matcha powder. The refreshing taste of the strawberry sauce coupled with the whipped cream serves to elevate the great flavour of the matcha even more.
The beverage will be available from October 10. Until then you can enjoy McDonald's Matcha Latte Frappe, Matcha Latte or Iced Matcha Latte.
Information
Strawberry Matcha Frappe
Price: Regular ¥490 / Large ¥530 (Tax Included)
Running: October 10, 2018 – Mid November (Subject to Change)
Available: At McDonald's branches across Japan with a McCafé by Barista (Approx. 89 branches as of October 2018)
*The branch list can be viewed on the official McDonald's Japan homepage (Japanese).
McDonald's Official Homepage: http://www.mcdonalds.co.jp/menu/barista/
RECOMMENDED ENTRIES
McDonald's Japan to Release 4 Limited Edition Matcha Beverages Including Matcha Latte

McDonald's Japan has unveiled four new beverages that will go on sale from the company's McCafé by Barista chain from September 12 for a limited period. The drinks include Brown Sugar Syrup & Soybean Flour Matcha Frappe, Matcha Latte Frappe, Iced Matcha Latte and Matcha Latte.

Mcdonald's Japan's seasonal autumn-time matcha series of drinks is a huge hit every year. This year they are putting in even more matcha powder from Uji in each of the drinks to make the matcha flavour even more full-bodied.


Brown Sugar Syrup & Soybean Flour Matcha Frappe: M ¥490 / L ¥530

The popular Brown Sugar Syrup & Soybean Flour Matcha Frappe was first brought to McDonald's in Japan last year. It takes the classic matcha latte frappe made with delicious milk farmed in Japan and combines it with rich and flavoursome soybean flour as well as brown sugar syrup from Okinawa Prefecture. It's topped with chewy white rice flour dumplings and whipped cream. It's creamy and irresistible.


Matcha Latte Frappe: M ¥450 / L ¥490

By adding more Uji matcha to the Matcha Latte Frappe they have added an extra layer of richness of the drink. The whipped cream is sprinkled with matcha powder giving it a Japanese-style taste and appearance.


Iced Matcha Latte: M ¥390 / L ¥430

The characteristic of the Iced Matcha Latte is the full-bodied flavour created by the bitter Uji matcha and milk. Like the Matcha Latte Frappe, the whipped cream is complemented by powdered matcha which gives a Japanese flavour to this dessert drink.


Matcha Latte: S ¥350 / M ¥390

The Matcha Latte is decaffinated and combines the flavourful taste of Uji matcha and subtly sweet milk.

Try McDonald's new matcha drinks while in Japan this autumn.

■Information

McCafé by Barista Matcha Series

Location: All Mcdonald's chains with a McCafé by Barista (89 branches as of September 2018)

Available: September 12, 2018 – End of November 2018 (subject to change)

McDonald's Japan Official Website: http://www.mcdonalds.co.jp/menu/barista/

Starbucks Japan Announces Creamy Pumpkin Frappuccino® for October 1

The Artful Autumn @ Starbucks® event is still ongoing at Starbucks Coffee Japan, with the next entries to the drink line announced as the Creamy Pumpkin Frappuccino® and Creamy Pumpkin Milk® which will drop at most branches across Japan on October 1.

The first drinks in the line we saw were the three pear flavoured beverages: the Caramely Pear Frappuccino®, Caramely Pear Tea Latte and Caramely Pear Ice Tea. The second drinks were the Crispy Sweet Potato Frappuccino & Latte®.

The two new beverages coming in under a week draw out the creamy goodness of pumpkins and are honey coloured, reminding one of the hues of autumn. The drinks use a pumpkin sauce made with Ebisu Kabocha pumpkins as the base which have a distinct flavour and sweetness.

Both the Frappuccino® and the hot drink are topped with candied almonds for added texture which marry perfectly with the pumpkin as well as a bitter caramel sauce that elevates the pumpkin's sweetness even more. The Frappuccino also has whipped cream and almonds inside the drink which harmonise creaminess and crunch.

Customers who order either of these beverages will also get their hands on the third wristband of the Artful Autumn @ Starbucks® series pictured above. These are limited in quantity.

*Available with any size.

*Not obtainable with certain coupons.

*Limited edition and will not be available again.

*1 rubber band per beverage.

Japanese pop and R&B singer Thelma Aoyama is also teaming up with Starbucks again to add 5 more songs to her "recommended songs for autumn" playlist on October 1. Check it out here.

The height of autumn begins in Japan in October, so why not head to Starbucks and try the next of their seasonal drinks?

■Information

Creamy Pumpkin Frappuccino®

Tall ¥580 (Tall Size Only)

Creamy Pumpkin Milk (Hot/Iced)

Short ¥440/ Tall ¥480 / Grande ¥520 / Venti® ¥560

Running: October 1, 2018 – October 17, 2018

Available: At most Starbucks branches in Japan

Starbucks Japan Website: http://www.starbucks.co.jp/

McDonald's Japan Unveil Purple Sweet Potato McShake for Autumn Release

McDonald's new Autumn Purple Sweet Potato McShake will drop at branches across Japan from September 26.

The beverage retains the characteristic and familiar creamy texture of the classic McShake but combines it with purple sweet potatoes and regular sweet potatoes to create the perfect drink for the coming autumn season.

While this limited edition beverage is available it will arrive served in a special cup with a fallen petal design. You can enjoy the drink on its own or together as a set with the "Tsukimi Burger."

Embrace autumn-time with McDonald's new purple sweet potato McShake!

◼︎Information

Autumn Purple Sweet Potato McShake

Running: September 26, 2018 – End of October 2018 (subject to change)

Available: Most McDonald's branches in Japan

Serving Time: 10:30am – Closing Time (or until 1:00am the next day at 24-hour branches)

Price: Small ¥120 / Regular ¥200

McDonald's Japan Website: http://www.mcdonalds.co.jp/
RELATED ENTRIES
McDonald's Japan Reveals White Chocolate Strawberry Latte and Frappe

McCafé by Barista branches of McDonald's in Japan are set to release three new drinks on February 26, 2020, for a limited time: the "White Chocolate Strawberry Frappe," "White Chocolate Strawberry Latte," and "Iced White Chocolate Strawberry Latte."

White Chocolate Strawberry Frappe – ¥490

The White Chocolate Strawberry Frappe is built up of a sauce made using fresh slices on strawberry and whipped cream, on top of which rests a refreshing milk base also mixed with strawberry sauce. Topping it all off is a squirt of fluffy whipped cream, a drizzle of strawberry sauce, and a sprinkling of white chocolate nibs. The aftertaste of this tasty dessert beverage leaves you feeling refreshed while satisfying your taste buds with its sweet flavour.

Iced White Chocolate Strawberry Latte – ¥390

White Chocolate Strawberry Latte – ¥390

The strawberry sauce and strawberry syrup used in the hot and iced versions of the White Chocolate Strawberry Latte are mixed together with fluffy foamed milk and cold milk to create a succulent strawberry milk. This is finished with whipped cream, more strawberry sauce, and plenty of white chocolate bits. Containing no coffee, these drinks enjoy the subtle sweetness of the white chocolate and the tangy-ness of the strawberry milk.

Refresh yourself this spring in Japan with a cup of McDonald's new White Chocolate Strawberry drinks.

McFlurry and KitKat Come Together in Long-Awaited Collaboration at McDonald's Japan

McDonald's Japan has teamed up with Nestlé Japan to release a KitKat® McFlurry®. It was released on Wednesday at all McDonald's branches in Japan.

It has been seven years since McFlurry® and KitKat® came together in their delicious chocolatey ice cream combination. It was such a hit back in 2007 that it has finally made its fabled return to the delight of sweet-tooth McDonald's customers.

The KitKat® McFlurry® is a simple combination of smooth soft serve ice cream and crushed KitKat®. It's also drizzled in a special sauce made from rich couverture chocolate.

The mix of the wafer-like chocolate KitKat® with the soft serve ice cream is a combination to die for, and the sauce only adds to the mouth-watering flavour.

The dessert will be served in limited-edition cups as pictured above. These cups are limited in stock and will discontinue once all are sold.

Information

McFlurry® KitKat®

Running: February 12, 2020 – Early March 2020 (subject to change)

Available: McDonald's in Japan (Select branches not participating)

Serving: All Day

Price: ¥290 (Tax Included)

*KITKAT and キットカット are registered trademarks of Nestlé Group.

McDonald's Japan Official Website: http://www.mcdonalds.co.jp/ 

4 Matcha-tastic Desserts Selling at Convenience Stores in Japan

If you love delicious Japanese desserts and are keen to discover more, you've visited the right website. Today with the help of Instagrammer Yukko, we'll be looking at matcha desserts you can purchase from Japanese convenience stores. 

Matcha Purin Cake Sandwich: ¥324/ Family Mart

Matcha Purin Cake Sandwich: ¥324

This is a fluffy sandwich with a hearty filling of sweet matcha purin, matcha cream, whipped cream and red bean paste. The fluffy cake and light cream create a wonderful balance of textures and enjoy a moderate sweetness. This dessert is sure to leave your stomach fully satisfied.

Dorayaki Pancakes Stuffed with Matcha Cream: ¥300/ 7-Eleven


Dorayaki Pancakes Stuffed with Matcha Cream: ¥300


The delicious aroma of the matcha will entice you before you have even tried it. The refined, rich matcha flavour will spread throughout your mouth and melt beautifully. 

Uji Matcha and Shiratama White Dumpling Parfait:¥300/ 7-Eleven


Uji Matcha and Shiratama White Dumpling Parfait:¥300

This is a luxurious parfait containing Shiratama dango, warabi mochi, matcha whipped cream, dorayaki pancake pieces, plain whipped cream, matcha mousse and matcha starch cakes. Enjoy a variety of textures – perfect for the matchaholic!

Matcha & Sweet Red Beans & Whipped Cream Doyayaki: ¥140/ 7-Eleven

Matcha & Sweet Red Beans & Whipped Cream Doyayaki: ¥140

Sweet red bean paste, matcha sauce, whipped cream and chewy warabi mochi are stuffed between two matcha dorayaki. The matcha sauce is rich and plentiful, creating the perfect matcha-tastic treat.

 If you're on a matcha hunt, how about starting at the convenience store? There are just so many matcha desserts to discover. Mogu Mogu Yukko's Instagram is full of delicious desserts that you can buy from Japanese convenience stores and supermarkets. If you're looking for a sweet treat, make sure to check it out.

 Original Article Contents and Photos By: Mogu Mogu Yukko

*Convenience stores are always updating their products and therefore the desserts mentioned in this article may stop selling at any time. Please check the convenience store's social media or official website for the most up-to-date information. 

McDonald's Japan McCafé by Barista Releases Oreo®︎ Drink Series You Can't Resist

In Japan, McDonald's McCafé by Barista will soon be releasing a new drink series that you won't be able to resist. The new series includes the Oreo®︎ Choco Frappé, Oreo®︎ Hot Café Mocha and Oreo®︎ Ice Café Mocha and it will be released on January 15 for a limited time only.

Mc Café by Barista has developed three new drinks based on their popular Choco Frappé and Café Mocha, to which they have added crunchy Oreo®︎ cookies. The series includes both hot and cold drinks, catering for a range of moods.

Oreo®︎ Choco Frappé

The Oreo®︎ Choco Frappé is back with a rich chocolatey flavour and mellow aroma. This high-quality sweet drink is accented by crunchy Oreo®︎ cookies. With your first sip, the bitter Oreo®︎ flavour will spread through your mouth.

Oreo®︎ Hot Café Mocha


Oreo®︎ Ice Café Mocha

The Oreo®︎ Hot and Ice Café Mochas are brand new drinks. Using their Café Mocha as a base, the drinks are topped with whipped cream, drizzled with a sauce made from high-quality Belgium couverture chocolate, and sprinkled with chocolatey Oreo®︎ cookie pieces. This enhanced Café Mocha is sweet and enjoys the crunchy and bitter goodness of Oreo®︎ cookies.

 If you're in Japan, pop into your nearest McDonald's and try one for yourself!

Information

Oreo®︎ Drink Series

Release Date: January 15, 2020

Prices:

Oreo®︎ Choco Frappé: ¥410 (M), ¥450 (L)

Oreo®︎ Hot Café Mocha: ¥320 (S), ¥360 (M)

Oreo®︎ Ice Café Mocha: ¥360 (M), ¥400 (L)

 

Official Website:http://www.mcdonalds.co.jp/coffee/top.php

CHAYA 1899 TOKYO To Open in February Serving Specially Made Tea

With a history of 120 years in managing a number of old hotels and restaurants, the Ryumeikan Group will open a new café that sells Japanese desserts, pastries, tea and coffee called CHAYA 1899 TOKYO. The new café is set to open on February 21, 2020 and will embrace the delicious flavours of matcha, hōjicha and Japanese black tea. 

The café will open on floor 1 of the boutique hotel Hotel 1899 Tokyo. The café interior is wood-themed with touches of black for a casual fusion of tradition and modernity. With a space of 120 square metres, the relaxing environment is spacious enough to seat 38.

The original restaurant opened for business in December 2018. Now, CHAYA 1899 TOKYO specialises in Japanese beverages and intends to live its days as the tea shop that customers can visit as they please for a break from everyday life.

One of the most appealing aspects of the new restaurant has to be the menu. There are 10 different drinks available. Each drink is carefully made with high-quality tea leaves that were carefully selected from all over Japan. The tea varieties include matcha, hōjicha, Japanese black tea made from Japanese tea leaves. 

Rich Matcha Latte: ¥600 (After Tax)

Each cup of tea is carefully made, one by one, by the café's Japanese tea specialist. The rich matcha tea is made using traditional tools such as a bamboo whisk. From this, soy milk or milk is added to make the rich matcha latte. From three to six grams, you can choose the strength of your tea by the gram to create a more personalised matcha latte. 

 Other drinks on the menu include the Hōjicha Latte and the brand new inventions the 'Matcha Soda and 'Japanese Black Tea Soda', which will tempt you their exquisite aromas. 

The café even has a counter especially for the tea making and pouring procedures. The water for each drink is boiled in a traditional kettle by the tea specialist, who carefully regulates the water temperature and controls the brewing time according to the tea leaf. 

Matcha Pan:  ¥600 (After Tax)

As expected, the café also sells delicious sweet treats full of matcha goodness to go with your tea. The fresh green Matcha Pan are full of matcha goodness. They are made from 100% Japanese wheat, Hokkaido butter and milk. The mixture is left to rise at a low temperature over a long period of time. Afterwards, matcha from Shizuoka is added to the mix and then baked into muffins. This original and rare bread was developed with Baba FLAT – a café which sells very popular pastries and coffee in Takadanobaba, Tokyo. 

Craving more matcha? Enjoy both matcha and hōjicha at the same time in the form of a healthy snack: the Omatcha Brownie. The brownies are made from gluten-free rice flour and enjoy a moist texture and rich flavour.

Uji matcha, a high-quality and rich matcha used in tea ceremonies, is also used to make rich matcha ice cream (Koicha Gelato) and matcha cakes called "Sakecha Cakes" which combine tea and Japanese sake or brandy with cakes. The varieties of cake include matcha and Japanese sake, hōjicha and Japanese sake and black tea and brandy.

If you're looking for a unique tea experience, look no further than CHAYA 1899 TOKYO.

Information

CHAYA 1899 TOKYO

Address: 6-4-1 Shinbashi, Minato City, Tokyo

Opening Hours: 11:30 – 21:00 (Last Orders: 20:30)

Opens: February 21, 2020

Official Website: https://1899.jp/hotels/tokyo/

McDonald's Japan Releases Their First Ever Dessert Pies Aimed at Adults

McDonald's Japan will release a creamy Belgian chocolate pie and creamy sweet fromage pie aimed at adults at McDonald's restaurants across Japan from Japan 15 for a limited time.

McDonald's Japan's pie series has proven to be very popular over the years. Other pie flavours in the series include the Hot Apple Pie from the regular menu, their limited-period Sankaku Choco Pie and Bacon Potato Pie. Now, McDonald's is set to crown their first pie of the year to be "made for adults". Both pies are packed with delicious and carefully made cream – the perfect petit treat.

The Belgian chocolate cream pie is made from a crunchy pie shell that was kneaded with cocoa powder. The hollow shell is stuffed tightly with Belgian chocolate and is bursting with chocolatey goodness. There is a perfect balance of sweetness and bitterness. 

The sweet cream fromage pie is made from a crunchy shell that was kneaded with parmesan cheese. The pie shell is then filled with cream cheese. In just one delightful bite, enjoy the flavour of parmesan and cream cheese as they blend together. The aftertaste of the parmesan perfectly balances out with the sweet and salty touch of the cream cheese. 

For the first time, McDonald's is even presenting these desserts in packaging that looks like it is aimed at adults. 

The desserts look just as good as they taste so hurry down to your nearest McDonald's for a delicious and crunchy adventure.

Information

Otona no Cream Pie: Belgian Chocolate 

Otona no Cream Pie: Sweet Fromage

Selling: January 15, 2020 – Early February (Subject to Change) 

Selling throughout restaurant operating hours

Price: ¥150 (After Tax)

Available at most McDonald's restaurants across the country 

McDonald's Japan Official Website: http://www.mcdonalds.co.jp/

Matcha Desserts in Sapporo You Just Have To Try

We've previously covered the best spots to try delicious matcha desserts in Kyoto. Now, with the help of expert dessert Instagrammer Kei, we are going to introduce you to some of the most delicious spots to try matcha desserts in Sapporo, Hokkaido.

If you want to discover more delicious cafés, desserts and drinks in Hokkaido, make sure to check out Kei's Instagram (@607keih).

 

KotoniSand, Nishi Ward

Macchan French Toast: ¥1200

 From dinners to desserts, this café serves up lots of meals based on their delicious thick-sliced bread. Bread flavours include plain, matcha and even coffee. You can order to go or enjoy the eat-in-limited menu. This fluffy french toast is soaked in matcha liqueur and is full of flavour even before trying it with the toppings. Take a bite of it with the red bean paste for a flavour adventure. A limited number of these are sold per day so if you want to try it, make sure to get there early. 

▼KotoniSand

Address: 1-1-1 Yamanote 5 Jō, Nishi-ku, Sapporo, Hokkaido

Opening Hours: 11:00-18:00
Closed: Tuesdays
Official Website: https://kotonisand.business.site

Ame no hi to yuki no hi, Minami Ward

Gelato Futatsu: ¥450

Located before Jozankei's onsen hotspot is a café called Ame no hi yuki no hi. It serves delicious pizzas and a variety of gelato flavours depending on the season. Their matcha ice cream is delicious. They even allow you to order two or three flavours at once so you can enjoy a mix and match of combinations. 

▼Ame no hi to yuki no hi

Address: 2-4-1, Jozankeionsennishi, Minami Ward, Sapporo, Hokkaido 

Opening Hours: 10:00-17:30
Closed: Thursdays
Official Website: https://www.amenohitoyukinohi.com

KANON pancakes, Shiroishi Ward

Matcha Tiramisu Pancake: ¥1500

This is a famous pancake shop in Kikusui. Tuck into a stack of fluffy pancakes inside the relaxing and soothing restaurant. The Matcha Tiramisu Pancakes are soaked with liqueur, creating a texture that is softer and moister than their standard pancakes. In addition to the matcha liqueur, the pancake is also dusted with matcha powder for a richer matcha flavour. Finally, they are drizzled with delicious brown sugar syrup and topped with walnuts.

▼KANON pancakes

Address: 5-5-18 Kikusui 3 Jo, Shiroishi Ward, Sapporo,

Opening Hours: 10:00-17:00 (Last Orders: 16:00)
No Regular Holidays
Official Website: https://kanon-pancakes.com

Any cafe, Kita Ward

Matcha Kintoki: ¥1350

This shop uses gluten-free ingredients in their food. This pancake dish is made using unpolished rice powder, three pieces of Turkish delight, red bean paste, rice flour dumplings, and cream made from Hokkaido-produced mascarpone and fresh cream. The cream is full of the bitter and delicious flavour of matcha, making the pancake sweet and very delicious. 

▼Any cafe

Address: 3-2-24 Kita 18 Jonishi, Kita Ward

Opening Hours: 11:00-18:30 (Last Orders: 18:00)
Closed: Tuesdays

Official Instagram: https://www.instagram.com/any_cafe_sapporo/

If you are looking for delicious matcha desserts in Sapporo, let this article help you decide where to go. When your food cravings kick in, make sure to visit Kei's Instagram which is full of the most delicious meals, drinks and desserts in Hokkaido. 

Original Article Contents and Photos by: Kei (@607keih )

Top Matcha Desserts in Kyoto Perfect for Your Next Instagram Post

 When you think of Kyoto, matcha immediately comes to mind. Today with the help of the Kansai region's expert dessert Instagrammer Tiara, we'll be introducing you to the top matcha dessert shops of the Kansai region. 

Kawatomo, Fushimi 

Matcha Ganache Cake

This matcha ganache cake looks just as good as it tastes. The beautiful smooth matcha coating is delicious and rich. The cake is best enjoyed with a cup of coffee and is the perfect sophisticated treat. 

▼Kawatomo

Address: 792 Nishishujakuchō, Fushimi Ward, Kyoto,

Opening Hours: 11:30-18:00

Closed: Mondays, Tuesdays and Wednesdays

Official Instagram: https://www.instagram.com/chika_ara/

Chasho Shimizu Ippoen Kyoto

A delicious spun sugar decoration rests on top of the melt-in-the-mouth matcha tiramisu parfait. The mascarpone and matcha ice cream is made completely from Hokkaido milk. The balance of flavours and moderate sweetness makes this parfait irresistible. 

▼Chasho Shimizu Ippoen 

Address: 665 Honkawaracho, Higashiyama Ward, Kyoto

Entry:11:00-16:00

Closed: Mondays*

*Open on National Holiday Mondays but closed the following day. Closed during the New Year Period.

Official Website: https://ippoen.co.jp

MATCHA REPUBLIC, Shimogyō Ward

Rock Salt Cheese Bubble Matcha Latte/ Bubble Matcha Latte

This unique drink belongs on Instagram. A cute ink bottle is filled with a mildly sweet matcha drink accented with a hint of salt. You've never tried anything quite like this before.

▼MATCHA REPUBLIC

Address: Floor 1, 721-1 Higashishiokojicho, Shimogyo Ward, Kyoto

Opening Hours: 9:00-21:00

Official Website: https://www.matcha-republic.com

JTRRD cafe KYOTO, Nakagyō 

Uji Matcha Smoothie (Kyoto-Limited)

Pink, red, orange, yellow, purple, green – this Uji matcha smoothie is a rainbow of colours. There are four different designs and you can choose from three varieties of fruit to decorate the inside of your cup. Each smoothie is made of fruit and vegetables, making this a healthy way to indulge in matcha. It is so beautiful you won't want to drink it.

If you're looking for a shop to satisfy your matcha cravings, you can't go wrong with Tiara's recommendations.

Tiara's Instagram never fails to keep us updated on the most delicious and beautiful desserts in the Kansai region so check it out.  

Article Contents and Photos by @happy_pinkrose_tiara

Garrett Popcorn's Matcha Truffle Caramel Crisp Flavour Releasing for the New Year

Garrett Popcorn has announced that it will release its popular limited-edition Matcha Truffle Caramel Crisp flavoured popcorn, as well as New Year's popcorn tins with a Year of the Rat design for 2020, from December 26, 2019 in limited quantities.

Matcha Truffle Caramel Crisp / Available: December 26, 2019 – January 9, 2020 *While supplies last

The popular Matcha Truffle Caramel Crisp returns again this year, taking Garrett Popcorn's classic Caramel Crisp™, coating it in white chocolate, and sprinkling over delicious matcha powder to create the ultimate luxury popcorn.

Garrett 2020 ETO Tins / Available: December 26, 2019 – January 9, 2020 *While supplies last

To get popcorn munchers in the festive mood, Garrett Popcorn has also designed these New Year's tins featuring the classic Japanese celebratory colours vermilion and light emerald green. The design is also decorated with plum blossoms and a rat to symbolise the 2020 Year of the Rat from the Chinese zodiac.

Black Truffle / Available: December 27, 2019 – January 5, 2020 *While supplies last (At Garrett Popcorn Shops® in Harajuku/Tokyo Station/Shisui Premium Outlets/Nagoya)

The company has also developed a special new recipe to chime in the New Year: "Black Truffle," a seriously luxurious indulgence. It will be sold for 10 days only when the New year rolls around.

Enjoy a Happy New Year with a bowl of these delicious popcorn flavours from Garrett Popcorn.

Information

Garrett Popcorn Official Website: http://jpgarrettpopcorn.com/

*All items listed in this article are available in limited quantities while supplies last

Kiyomizu Cheese Kobo: Kyoto's Dessert House Releases Matcha Tiramisu and New Cheese Products

Kiyomizu Cheese Kobo opened in Kiyomizu Gojozaka, Kyoto in July this year as the first place in Kyoto to specialise in "bottled cheesecakes." This month, they are releasing four new products to continue the cheese craze right to the end of 2019.

The first is a revamp of their number one most popular soft serve cheese ice cream: the "Chocolate Mont Blanc Cheese Soft." The soft serve ice cream is a mix of refreshingly sweet milk and rich cheese topped with a full-bodied mont blanc-style chocolate—a welcome addition during the winter months when you want to stay in and indulge in some chocolate. The ice cream is finished with crushed chocolate pieces and a crowning raspberry to create a chocolate cake in a cone. You're sure to become a frequent customer after a bite of this.

And for the Christmas season only, between December 18th-25th the shop is also selling another special soft serve that's made to look like a Christmas tree. The cheese soft serve is covered with a sprinkling of Uji matcha powder and adorned with chocolate pearls and stars.

Kiyomizu Cheese Kobo is also releasing hot versions of its "Kiyomizu Cheese Drink" and "Matcha Cheese Tea," the iced versions of which were greatly enjoyed in summer. The Matcha Cheese Tea can also now be ordered with tapioca topping, creating a delicious combination between the expertly crafted rich matcha cheese tea and the chewy and sugary tapioca pearls.

Also released this month is the "Homemade Matcha Tiramisu" when is served in a traditional masu box and served only on the second floor eat-in section. This irresistible delight is made with flavourful mascarpone cheese and bitter Uji matcha from Kyoto to create a dessert that's perfect during a trip or day out in Kyoto. Because of the hard labour that goes into creating this dessert, only 5-10 are served per day, so be sure to arrive early to not miss the opportunity.

Information

Chocolate Mont Blanc Cheese Soft – ¥550 (Before Tax)

Christmas Cheese Soft – ¥400 (Before Tax) *Available December 18-25, 2019 only

Matcha Tapioca Cheese Tea – ¥550 (Before Tax)

Homemade Matcha Tiramisu – ¥540 (Before Tax)

Kiyomizu Cheese Kobo

Address: 569-10 Shiraitochō, Higashiyama Ward, Kyoto, Kyoto Prefecture

Official Website: http://kiyomizu-cheese.com/

Starbucks Japan Reveals New Matcha White Chocolate Hot and Iced Drinks For Christmas

Starbucks Coffee Japan is celebrating Christmas 2019 with two new delicious beverages: the Matcha White Chocolate Frappuccino🄬 and Hot Matcha White Chocolate, both of which will be available to order between December 19 and 25 for this year only.

Both versions of this delightful holiday season drink are the perfect accompaniment to the winter days, combining richly fragrant matcha with smooth white chocolate. The Frappuccino🄬 enjoys the addition of maple syrup for a distinct sweetness which mixes gorgeously with the matcha and milkiness of the white chocolate.

The hot version is made with foamed milk which too is soaked in the full-bodied kick of the matcha. The fluffy texture of the foamed milk together with the sweet taste and velvety white chocolate is a combination sure to get you addicted.

If you're in Japan for Christmas this year, be sure to stop by Starbucks for a cup of Matcha White Chocolate.

Information

Matcha White Chocolate Frappuccino🄬

Tall: ¥570 (Tall size only)

Hot Matcha White Chocolate

Short: ¥430 / Tall: ¥470 / Grande: ¥510 / Venti®: ¥550

Running: December 19, 2019 – December 25, 2019

Available: At most Starbucks branches in Japan

Notes: Listed prices do not include tax. Both drinks contain less than 0.5% cocoa.

Starbucks Coffee Japan Official Website: https://www.starbucks.co.jp/

Furoshiki-Wrapped Matcha and Strawberry Sandwich Biscuits Released at PRESS BUTTER SAND

PRESS BUTTER SAND released two new sandwich biscuit products on December 13. PRESS BUTTER SAND Kyoto Station will release the Tsutsumi Uji Matcha and PRESS BUTTER SAND Hakata Station the Tsutsumi Amaou Strawberry. Both are limited in stock.

Both boxes of these delicious treats contain five of the store's famous "PRESS BUTTER SAND" sandwich biscuits, and they come gift-wrapped in an original furoshikiーa type of Japanese wrapping cloth. The appearance of both products in their packaging maintain an artisanal aesthetic and capture the vibe of their respective cities.

The furoshiki were designed by Yumiko Kakizaki (BAKE Inc.), the creative director at PRESS BUTTER SAND, and several creators active around Kyoto and Fukuoka. Each design was made to represent the characteristics of Kyoto and Hakata.

Also available is the Tsutsumi Black, a set each of 5 original and black flavoured butter biscuit sandwiches.

PRESS BUTTER SAND boasts over 2.5 million sales a year on average. If you've get to try their scrumptious biscuit sandwiches then don't pass up the opportunity to try these new flavours.

Information

Tsutsumi Uji Matcha (Includes 5 Uji Matcha and 5 Original Biscuit Sandwiches)

Price: ¥3,240

Available: PRESS BUTTER SAND Kyoto Station

Running: December 13, 2019 until stock sells out

Tsutsumi Amaou Strawberry (Includes 5 Amaou Strawberry and 5 Original Biscuit Sandwiches)

Price: ¥3,240

Available: PRESS BUTTER SAND Hakata Station

Running: December 13, 2019 until stock sells out

Official Website: https://buttersand.com