Tokyo Stroll: The Café That You Want to Visit to See Someone #8 – 'Ginza West'
Ginza is a district in the heart of Tokyo famed for its extravagant streets lined with upmarket shops, luscious restaurants and fantastic entertainment. But it's not only worthy of note for its flamboyance – it's also rooted in rich culture and history.
Today, I visited Ginza West, a café that has been continuously loved in Ginza ever since it opened in 1947.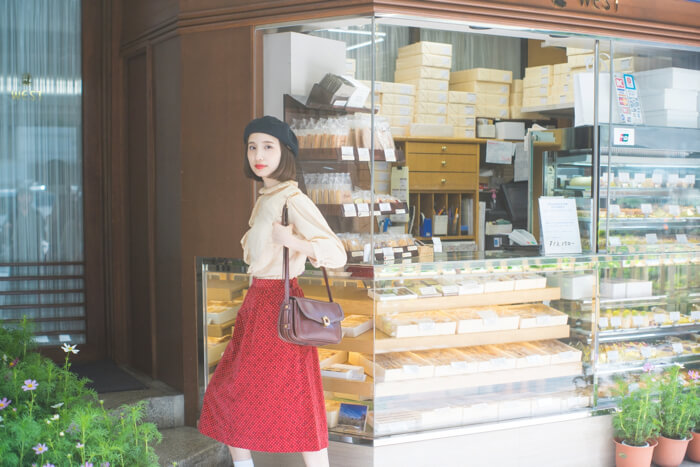 Before entering I saw lots of delicious confections lined up on display. You can order takeout too. Your mind will wander off as you ponder on which to take away for snack time.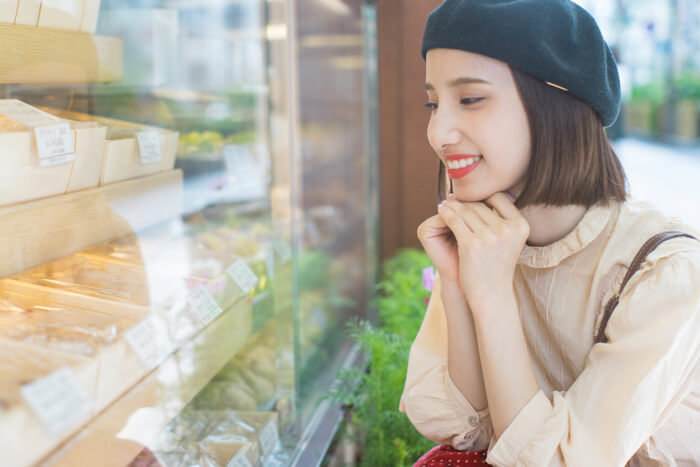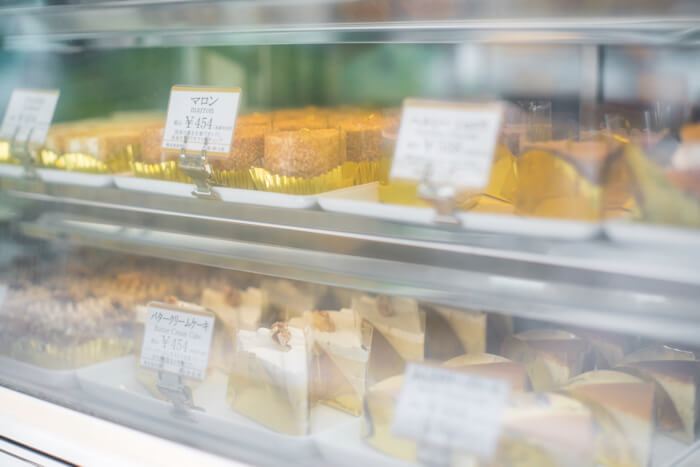 The entire café is clean and tidy throughout and you can feel the decor has grace. It's different from other cafés in that it has a dignified atmosphere to it. It has an air of tension to it, the kind that makes you straighten up your back. It's a place that's nice if someone wants to enjoy a luxurious experience once in a while.
I ordered cake and tea set! The tea cost ¥1,048. A cake set is the price of the drink plus ¥324.
You can actually have them bring you samples of cakes being served on that day. There's so many cake varieties it's hard to choose.
The most popular is this one – the Mosaic Cake!
Its appearance is cute. I ended up wanting to take a lot of photos.
The Mosaic Cake is made of cocoa sponge and butter sponge which is arranged to look like a mosaic piece. You can really taste the different flavours of each sponge. It's only moderately sweet so it's not too heavy. I wolfed it down!
And then, and then!
I got the white cream soda which I'd been wanting to try. It cost ¥1,188.
When you think of cream soda it's generally green coloured melon soda with a dollop of vanilla ice cream on top. But this one uses no colouring. The soda is clear and also served with vanilla ice cream. Try drinking it yourself after adding a syrup of your choice.
It looks like a very elegant beverage.
In terms of taste, if you eat the vanilla ice cream after drinking some of the soda (which is subtly sweet) it makes for an exquisite balance. It's a flavour I've never had before – it's a novel sensation.
Delicious.
The chairs in the café have something about them too! They feel extremely comfortable, I felt exhausted. The staff kindly told me the secret behind them.
The back legs of the chairs are a little wider than the ones at the front allowing you to lean back much easier and making it feel much more comfortable. The chair legs are also cut to a certain length to allow easier sitting.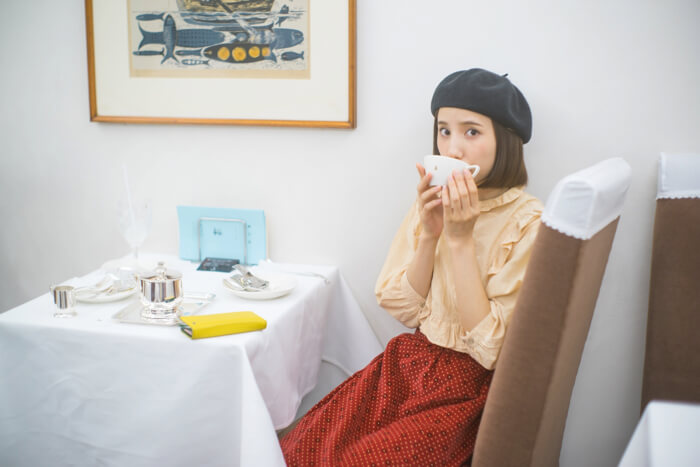 So that's why. That's why I felt so relaxed simply sitting on them. I felt I could be sat there no matter the hour.
t's a kind of consideration you'd only find at a café. Hearing about those chairs made me think that cafes really are such wonderful places. The more you learn about them, the more you come to love their charms.
I wonder where I'll visit next? Look forward to it!
Information
Ginza West
Address: 7-3-6 Ginza, Chuo Ward, Tokyo
TEL: 03-3571-1554
Opening Hours: Weekdays 9:00-22:00 (Stand Open Until 23:00) / Weekends 11:00-20:00
No Fixed Holidays.
Access: 5-minutes on foot from exit C2 of Ginza Station via Tokyo Metro Line / 10-minutes on foot from Yurakucho Station via JR Line
*347m from Ginza Station
Website: http://www.ginza-west.co.jp/
Writer: Ema Tanioku
Photographer: Haruka Yamamoto
Editor: Ai Watanabe
Translator: Joshua Kitosi-Isanga
TALENT PROFILE
Ema Tanioku
"Emaeri" is the nickname for models Ema and Eri Tanioku, who are Aomoji fashion model twins. Ema and Eri Tanioku specialise in twin fashion coordination. Over the years their fanbase has increased due to their cute looks. Ema Tanioku spreads Harajuku culture within Japan as well as overseas and works as a Harajuku Tourism Ambassador. Starting off as a model, Ema has broadened her talent range from fashion magazines to TV, and from playing the lead role in dramas to movies.
RECOMMENDED ENTRIES
Tokyo Stroll: The Café That You Want to Visit to See Someone #7 – Garden Café & Bar 'Urara' in Daikanyama

The place I am showcasing today is 'Urara,' a garden café and bar located in Daikanyama. Their shaved ice is super popular in summer. It's somewhere I love and often go to in my private time.

It's an old Japanese-style house so it has a much different atmosphere to that of stylish Daikanyama. The outside of it has a warm and welcoming feel to it that will have you wanting to see what kind of place it is.

Upon entering through the shop sign curtain, you arrive in the courtyard which is surrounded by trees. You can hear the sounds of birds from somewhere, and when the wind blows you also hear the rustling of tree leaves. You completely forget you're in Tokyo as you feel like you've come to a grandma's house in the countryside. It's very relaxing.

Hm? What's this odd looking thing?

These unique ornaments were scattered all around the courtyard ready to greet us!

This sign makes for a great photo spot. It says 'Urara' just like the name of the café. Its nostalgic design is so cute!

When you really look, it says tissue paper on it! There's lots to be discovered on the posters and signs that make up the interior, it's a lot of fun!

I ordered the Uji adzuki bean shaved ice topped with condensed milk! It cost ¥600 for the shaved ice and ¥100 for the topping. The matcha used is from Uji in Kyoto. Such a big portion of shaved ice is enough to cool you down by just looking at it.

Let's eat!

Where have I tasted this before…

The matcha seeped all the way to the middle of the shaved ice. The refreshing sweetness was so tasty. The adzuki beans are from Tokachi in Hokkaido. They were a perfect combination with the condensed milk. The ice used is natural ice from Nikko. It's fluffy, tastes great, and doesn't give you brain freeze!

Natural ice is different from regular ice. It's frozen slowly so the crystals have high density, and it takes longer for it to melt. The cool part was how it didn't crumple instantly when I poured the syrup on it!

This is blueberry syrup (¥600). The blueberries used are from Nagano. They make it from jam in the café. Isn't the colour just beautiful?

It has that sour flavour that blueberries have and a refreshing, lip-smacking sweetness.

I normally don't drink alcohol, but since Urara is a café and a bar I will show you a mojito (¥600). The mint is so refreshing!

On a hot summer's day it seems like there are people who order both shaved ice and beer together. They're seasonal items so will satisfy and cool you down.

I also got to meet Tama-chan, the cat who comes to play at Urara. One time when I came before Tama was out walking so I didn't get to meet him.

Lastly, I snapped a photo with Arai who's in charge of promoting Urara!

We're roughly the same height and have a similar interest in clothes so I grew an affinity with her.

Coffee shops and cafés in old style Japanese houses tell you something about the people associated with them.

Urara feels natural thanks to SELIN & Co., an apparel maker who make things that feel one with nature. The staff at Urara all love living things, so the big hearted atmosphere there was really wonderful.

If I was to set up a shop I wonder what it would be like…

I think I'd want to put out something warm like Urara.

■Information

Urara

Address: 20-10 Sarugakucho, Shibuya, Tokyo

Opening Hours: Weekdays 11:30am-7:00pm / Weekends & Holidays 11:30am-7:30pm

*Closed during rainy weather.

Access: 4-minutes on foot from Daikanyama Station via the Tokyu Tokoyo Line

Website: http://www.hrm.co.jp/news/2016/04/garden-cafe-bar-urara

Photographer:Haruka Yamamoto

Editor:Ai Watanabe

Design:Yuko Abe(ASOBISYSTEM)

Translater:Joshua Kitosi-Isanga

TALENT PROFILE

Ema Tanioku

"Emaeri" is the nickname for models Ema and Eri Tanioku, who are Aomoji fashion model twins. Ema and Eri Tanioku specialise in twin fashion coordination. Over the years their fanbase has increased due to their cute looks. Ema Tanioku spreads Harajuku culture within Japan as well as overseas and works as a Harajuku Tourism Ambassador. Starting off as a model, Ema has broadened her talent range from fashion magazines to TV, and from playing the lead role in dramas to movies.

Tokyo Stroll: The Café That You Want to Visit to See Someone #6 – 'Angelus' in Asakusa Loved by Osamu Tezuka

In this sixth instalment to her café series, Ema Tanioku stopped by Angeles, a café in Asakusa with a history spanning over 70 years.

Angeles is known for its history of famous frequenters including legendary manga artist Osamu Tezuka (Astro Boy). This wonderful location is always bustling with customers and is known to be full even during holidays.

When people think of Asakusa, they imagine Sensoji Temple and the district's old-fashioned architecture. However, Angeles breaks that mould and instead takes on the form of a European-style place of worship. It's different from all the rest and looks warm and welcoming from the outside.

Even if you have no plans to go into the café, the desserts on display look so invitingly delicious you'll find yourself stopping in your tracks.

"They look so tasty…"

Time to go inside!

You'll be spoilt for choice because they all look so good.

The café has three floors. It's like an atrium where you can look down below from the top floor.

People who want to kick their feet up and read in the café or relax and space out can head to the second floor which has a hiding-place-like area. There's a different atmosphere wherever you decide to sit, so it can be fun finding which part fits for you!

'Angeles' refers to a devotion in memory of the Annunciation in Christianity signalled by the ringing of church bells. Looking around at the decor you'll see things like crosses and doves as well as signs of peace dotted about.

Ema ordered the Almond Purin (¥930).

In the middle of the bowl is a melon that looks as if it's been sliced. It's also plated with various fresh fruits like banana strawberry as well as tinned pineapple and peaches and finished with a side of fresh cream. All of that hides vanilla ice cream underneath. And of course the highlight of the dessert, the purin, also tucked away!

First thing's first: munching down the strawberry! The fresh cream is a perfect complement to the fruits. Combine and gobble it all up.

And finally, the star of the plate. The purin! It has quite a sweet flavour and is supple so it's very tasty.

The café's number one recommendation on the dessert menu is the above.

The flavour of the Angelus (¥330) dessert hasn't changed for over 50 years. It comes in either black or white. The black Angeles is made with coffee flavoured butter cream and coated with sweet chocolate. The white Angeles is made with ordinary butter cream and coated in white chocolate.

Neither are overly sweet and they're at an easy-to-eat size. They were exquisite!

Angelus' speciality is their Dutch Coffee (¥620). Dutch coffee is made by dripping ice water dripped over the coffee to extract the maximum flavour. It even looks refreshing, making it perfect for the summertime heat. If you're a coffee enthusiast then you've got to try this.

 Ema was contemplating that although she's sat there there in that moment, what kind of people were talking about what kinds of things 70 years ago? The thought simply excited her ♪

"Though the generations will change, this place will continue remaining the same and probably continue to be loved by lots of people. As time flows so does the delicious taste of what they have to offer. More places like this will come to be one by one. I wonder what kind of cafe will I encounter next?♡"

■Information

Angelus

Address: 1-17-6 Asakusa, Taito, Tokyo

Opening Hours: 11am-9pm (Last Orders 8:40pm)

Closed: Mondays

Access:

3-minutes by foot from Exit 1 of Asakusa Station via the Tokyo Metro Ginza Line
4-minutes by foot from Asakusa Staion via the Tobu Isesaki Line
6-minutes by foot from Asakusa Staion via the Toei Asakusa Line
5-minutes by foot from Asakusa Staion via the Tsukuba Express

Website: http://www.asakusa-angelus.com

Model&Writer: Ema Tanioku

Profile:

"Emaeri" is the nickname for models Ema and Eri Tanioku, who are Aomoji fashion model twins. Ema and Eri Tanioku specialise in twin fashion coordination. Over the years their fanbase has increased due to their cute looks. Ema Tanioku spreads Harajuku culture within Japan as well as overseas and works as a Harajuku Tourism Ambassador. Starting off as a model, Ema has broadened her talent range from fashion magazines to TV, and from playing the lead role in dramas to movies.

Instagram: @ematanioku

Photographer: Haruka Yamamoto

Editor :Ai Watanabe

Design: Yuko Abe(ASOBISYSTEM)

Translator: Joshua Kitosi-Isanga

【Tokyo Stroll】The cafe that you want to visit to see someone #5: "café Benisica" – The Birthplace of Pizza Toast

"A café that has continued to be loved for 60 years"

In this entry to my café series, I visited the familiar Yurakucho, the center of modern Tokyo culture. This year, long-standing café Benisica turned 61-years-old. I stopped by to have my fill of their amazing pizza toast. The café is a 2-minute walk from Hibiya Station via Tokyo Metro lines, and 4-minutes on foot from Yurakucho Station via JR lines, making it an easy place to get to.

The café opened all those years ago in response to the large number of cinemas and theatres dotted around Yurakucho. They wanted to create place where people could relax on their way back from seeing a show.

Upon arrival, you can still observe stylish older ladies strolling into the café. The scene hasn't changed one bit which I found to be wonderful.

Café Benisica is famous for being the birthplace of original pizza toast. They even have a sign at the entrance telling you that! Eye-catching!!!

Without further ado, let's head on in♪

I take one step into the café, and… Huh? What's this?!

That's right. At Benisica, you can enjoy vacuum brewed coffee. This was the first time I had seen a vacuum coffee maker up close, so I gazed at them with a keen interest.

Inside, I gazed at the café décor and objects scattered around of Hibiya, a town which changes with the times. You can feel the weight of the times instore – all the wonderful items look stylish simply by being placed in there! The café interior is a collection of warm colours. It's a place where you can relax and feel comfortable.

This is Benisica's famous pizza toast, costing ¥950 (tax included). They have plenty of set menus, and drink menus are ¥1,350. The story behind the pizza toast was how if you didn't go to an Italian restaurant back then, you couldn't eat pizza. So, they took pizza and turned it into something you can eat casually – toast. Since then, it has continued to be a much-loved menu item with customers for almost half a century.

After hearing the story, I took no time at all ordering my own pizza toast! To drink, I chose a strawberry shake. Just so you know, the shake doesn't come in set orders, so be careful.

Thick servings of cheese and put onto chunky slices of toast. "The soul of the pizza toast is in the cheese!" is what you'll be saying at its presence on the toast. Its generous serving makes this pizza toast suitable not just as a light meal, but even a whole lunch. As well as the standard ingredients like salami, onion and bell peppers, I was happy that there were mushrooms too.

The bread's texture is fluffy! I was hungry, so I made short work of it. Thank you for the meal.

This is the owner of Benisica, Setsuko Murakami, who told me the story of the café. She's a very wonderful person who loves her husband very much. Not only did she tell me about the café – I got to hear about her husband's way of living and thoughts too. The words of people that have walked the road of life longer than me are deep and enlightening.

I stored the owner's story safely onto the shelves in my heart. The next time something happens, I'll rely on those special words she graciously taught me and work hard.

■Information

Café Benisica

Address: 1-6-8 Yurakucho, Chiyoda-ku, Tokyo

Opening Hours: 9:30-23:45 (Open from 9:00 on Weekends & Holidays)

No Fixed Holidays.

Access: 2-minutes on foot from Hibiya Station via the Hibiya Line, Chiyoda Line, and Toei Mita Line / 4-minutes on foot from Yurakucho Station via JR Lines

Model : Ema Tanioku

Profile: "Emaeri" is the nickname for models Ema and Eri Tanioku, who are Aomoji fashion model twins. Ema and Eri Tanioku specialise in twin fashion coordination. Over the years their fanbase has increased due to their cute looks. Ema Tanioku spreads Harajuku culture within Japan as well as overseas and works as a Harajuku Tourism Ambassador. Starting off as a model, Ema has broadened her talent range from fashion magazines to TV, and from playing the lead role in dramas to movies.

Instagram:@ematanioku

Photographer:Haruka Yamamoto

Editor&Writer:Ryoichi Komaba

Design:Yuko Abe (ASOBISYSTEM)

Translation: Joshua Kitosi-Isanga

【Tokyo Stroll】 The café that you want to visit to see someone #4 Cats working at Shinjuku-sanchome's Café Arles

"Good service, a jolly owner and cute cats – this café is sure to heal you!"

I'm Ema Tanioku and today I'll be introducing you to yet another café in Tokyo as the fourth edition of my series "The café that you want to visit to see someone". Today I'll be reporting about my visit to Café Arles which can be found at Shinjuku-sanchome. Ever since hearing that there were cats at this café, I've been set on going 〜♪♪

The café is very easy to access. To get to there, you can take the Toei Shinjuku line to Shinjuku-sanchome. From here, you can get to the café within a five-minute walk. Walking around the Shinjuku Suehirote theatre, the café soon came into sight. Somehow, I could sense the presence of cats just from the atmosphere…

There it was! The entrance to the café was decorated with many ornaments of cats and dogs. I don' know why but I was filled with excitement before even having entered.

As soon as I entered, I immediately spotted a cat.

I was then greeted by the cat's master who had a sweeping grin across his face and was wearing a hat with a cat broach. I could really feel his love for cats ♪♪

I took a sweeping glance over the café – cats, cats and more cats – there were so many cat-themed goods everywhere! Apart from cats goods, the master also collects clown goods and displayed everything all huddled together to decorate the café.

Although this was my first time at Café Arles, I immediately felt right at home as a warm feeling grew within me. I asked the master what got him into the café business and I was surprised by his response. It all started when the master was working at a mahjong parlour, where a person they knew asked them to start up a café.

The master then thought about the numerous paintings he had collected and how he was in search of a place to display them. The idea of choosing his own music, menu and decorating a café interior to his own taste really struck a chord with him.

There are many paintings displayed in the café. Amongst these are some by modern artist Tomomi Kondo, who made the paintings "please your master" and "cool your thighs", which feature the kaban neko (café cats) Ishimatsu and Jirocho, who are "working hard" by lazing around.

Café Arles is fun and draws in even more fun. The atmosphere is filled with the love and enjoyment of the customers. That's why I immediately felt so at home as soon as I entered. You can easily spend a long time here.

I asked the master what he recommends from his menu. His response? "My recommendation is what you want to eat the most!" he said wisely. I felt like eating Napolitan spaghetti and so that is what I ordered! (Price: ¥720 including tax)

It came with banana and giant corn ❤ – this excellent service made me so happy!

The gentle flavour of this homemade dish was delicious and I could really taste the Showa-retro Napolitan flavour to it. The drink, soup and salad services available gives this meal a perfect score for portion size satisfaction!

The master allowed me to take his café cat Jirocho-kun out for a walk. This was the first time I'd ever walked a cat – a new, fresh experience!

Jirocho-kun is a very calm and obedient cat, so we had a lovely stroll together. Speaking of which, Jirocho-kun loves his owner so much that he runs to meet him whenever he hears his car pull up at the shop.

This year marks the 40th anniversary of the café. "I enjoyed every minute of it" explained the master happily. The master created a place where everyone can be happy and in return everyone supports him. Perhaps this cycle is the motivational force that has kept and will continue to push this café to live and thrive.

I'm glad I came to this café today and met such a special person.

I want to come here again and have another chat with the master!

■Information

Cafe Arles

Address:1st floor, 5-10-8, Shinjuku, Tokyo

Opening h0urs: 11:30 〜 22:00

Regular holidays days: Sundays, New Year's period holiday period

Access:398 metres from Shinjuku Sanchome station (reach via Toei-Shinjuku line/ Tokyo Metro Marunouchi line

URL:https://tabelog.com/en/tokyo/A1304/A130401/13087540/

Model & Writer: Ema Tanioku

Profile: "Emaeri" is the nickname for models Ema and Eri Tanioku, who are Aomoji fashion model twins. Ema and Eri Tanioku specialise in twin fashion coordination. Over the years their fanbase has increased due to their cute looks. Ema Tanioku spreads Harajuku culture within Japan as well as overseas and works as a Harajuku Tourism Ambassador. Starting off as a model, Ema has broadened her talent range from fashion magazines to TV, and from playing the lead role in dramas to movies.

Instagram:@ematanioku

Photographer:Haruka Yamamoto

Editor:Ryoichi Komaba

Design:Yuko Abe (ASOBISYSTEM)

Translated by: Samantha Fernandes

【Tokyo Stroll】The cafe you that you want to visit to see someone #3 "Galant" —a retro café in Ueno

"It's a mysterious café vacuum sealed with an energy that feels like it's the time of the Japanese economic miracle"

We're at the third installment of this series where we take a stroll to old-fashioned cafes filled with a sense of nostalgia.

I, Ema Tanioka, will be introducing to you another retro café that I am in love with. Today, we go to "Galant" in Ueno, a town where the Showa mood still lingers.

Galant has continued to be loved by many people since it opened its doors back in 1977. This year marks the 40th anniversary of the popular café. "Galant" sounds a little space-y, don't you think? It's a little different from the norm. When I enquired to the staff about the origin of the café's name, they told me that it comes from the Mitsubishi Galant as the owner is a fan of cars. To think that a car's name became the name of a café! But it has a ring to it and is easy to remember, so it might actually be a huge success.

Anyway, without further ado, let's make our way there!

Galant is on the 2nd floor of this building. As you head up the stairs, it no longer felt like I was in the real world. A completely different world opened before me. Because of the entrance's chic brickwork, I was surprised by the dazzling lights floating inside.

And here!

Here too! There was so much sparkle.

The first thing to peak my interest was the uniform the staff were wearing. So cute… You don't see that red & yellow combination much these days. It helped amplify that retro mood of the café even more.

The male staff wore red & black! Black was the base colour and had that well defined, guy-like feel to it. Together with the checkered vests, it completed that retro look. It was wonderful. The café was also playing popular Showa era songs. I really felt like I had stepped back in time.

And then… and then! The menu arrived!

The most popular item on the menu is the chocolate parfait (¥900 tax incl.). It was absolutely stuffed with cream all the way to the middle. For people who love sweet things this is an irresistible delight. By the way, I must ask, what do you do when it comes to the cherry on top of the parfait? The truth is, I absolutely love parfaits, but I'm really not into the cherry – I usually leave it until the end. Even though it looks so cute on the parfait…

Another item is the cream soda (¥750 tax incl.). When going to a café, you just have to get a cream soda!! It's because you don't see them around much besides at cafes and family restaurants, so I'm the person that ends up ordering one unintentionally when if I see it on the menu.

There's a nice fat serving of ice cream in there. It's a drink you can enjoy that has the aesthetic of a dessert. The melon soda is crystal clear like a precious gem. The best part about cream soda is how the ice cream slowly melts into the drink. It's pretty fun to watch!

Galant is the kind of café where the more you get to know it, the more you start to love it. Its fans have been supporting it for many years, and even when I become a grandma in the future, I reckon it'll still be bustling all the same.

■Information

Galant (ギャラン)

Address: 6-14-4 Ueno, Taitō, Tokyo

Open: 8:00-23:00

Open all week.

Access: 2-minutes' walk from Ueno Station via the Tokyo Metro Ginza Line / 1-minutes' walk from Exit 5b at Ueno Station via the Hibiya Line

Model&Writer:Ema Tanioku

Profile:Ema and Eri Tanioku are well-known Aomoji-kei twin models that go by their duo name "EmaEri." Their twin-like fashion co-ordination and cute looks have earned them a fast growing fan base. They are officially appointed tourism ambassadors and work both in Japan and overseas to promote Harajuku culture. They work as fashion models in a wide range of areas and have appeared in fashion magazines as well as on TV, in dramas, movies and more.  Instagram:@ematanioku

Photograph:Haruka Yamamoto

Editor:Ryoichi Komaba

Design:Yuko Abe(ASOBISYSTEM)

Translation:Joshua Kitosi-Isanga

【Tokyo Stroll】The cafe that you want to visit to see someone #2 "Nanatsumori"—An Attractive Cafe in Kōenji

"A coffee lounge where you can step back in time and spend it in luxury."

Showa, retro-style coffee shops that are comfortable and echo a sense of nostalgia. I, Ema Tanioka, love going to these kinds of cafés. I hope to make you want to visit a place like this, the kind of place where you want to meet with someone.

For today's stroll, I went to Kōenji, a conveniently accessible location from the city just one stop from Shinjuku on the Chūō Line. When you think of Kōenji, you think of its plentiful second hand clothes shops and shops selling miscellaneous goods, among others, all with their individual traits. It's the kind of town where you're sure to discover something new each time you visit.

This time around, I went to "Nanatsumori," a café that has a retro look to it from the outside. It was built in Showa 53 (the year 1978). I heard that the building was originally used as a tea house.

At the front of the café is an old-fashioned shaved ice machine. I couldn't help turning it.

Upon entering, you can see the interior of the café has weathered. It has an atmosphere reminiscent of the Showa era, like you've just stepped back in time. No matter where you take a photograph in the café it will look beautiful.

There were lots of mysterious ornaments inside; I couldn't help but reach my hands out to touch everything♪

But, in the end, I didn't know what any of the things I'm holding in the photos were. How on earth do you use this stuff…?!

While pondering that, just simply gazing around the interior of the café filled me with a feeling of excitement.

>>next page
RELATED ENTRIES
Ginza's Gorgeous Ice Cream Shop coisof Releases Halloween Parfait

Ginza's luxury ice cream shop has released a new parfait flavour for the Halloween and autumn season.

They have called it the "Akiiro Murasaki coi Parfait" (Autumn Colour Purple coi Parfait). Coloured like the vivid sumire plant―a species of violet―this mouth-watering parfait contains a jam made in-house with whole natsuhaze, a wild type of blueberry that has been used in Japan since ancient times. It's topped with a dollop of rich and milky ice cream, a puree made from in-season purple sweet potatoes, and assorted nuts for added crunch.

Natsuhaze blueberries contain a lot of polyphenols, giving them an elegant sour flavour which goes unbelievably well with the taste of the milky ice cream and sweet potato. The parfait is served with a liqueur made from sumire extract.

For the Halloween period between October 16 to 31, the parfait can also be topped with various spooky decorations at no extra cost, like chocolate ghosts, spiders and cobwebs.

If you're celebrating Halloween in Japan this year, or want to treat your date to a Halloween treat, then take them to Tokyo's high-class shopping district Ginza for a luxurious parfait.

Information

Akiiro Murasaki coi Parfait

Price: With Liqueur ¥1,200 (Before Tax) / Without Liqueur ¥1,000 (Before Tax)

Running: October 16, 2019 – November 30, 2019

*Free Halloween parfait toppings available October 16, 2019 – October 31, 2019

Coisof

Grand Opening: January 17, 2019

Address: re:Dine GINZA Floor 9F, 4-3-1 Ginza, Chuo Ward, Tokyo

Opening Hours: 11:00-22:00

TEL: 050-3628-5009

Website: coisof.favy.jp/

Japanese Sweets Brand Minamoto Kitchoan to Open Cafe Restaurant K. MINAMOTO in Ginza

Japanese confectionery brand Minamoto Kitchoan will open a new cafe and restaurant called "K. MINAMOTO" on October 19.

K. MINAMOTO will be located on floors 2-5 at THE HOUSE, Minamoto Kitchoan's new company building which it just moved to on October 3. The cafe-restaurant's menu concept is dubbed "Ginza Sunny Fruits." It takes into consideration how daily fruit consumption has greatly decreased today by serving up a luxurious fresh fruit-packed line-up.

Minamoto Kitchoan is a company that has made full use of fruits since its establishment, including the suikanshuku, a Japanese wagashi confection made of whole dried domestic persimmons. We can trust then that K. MINAMOTO will provide us with our 5-a-day.

Roast Beef Sandwich w/ Fruit Soup – ¥2,420 (Tax Included)

Seafood Lemon Cream Fedelini w/ Fruit Soup – ¥1,650 (Tax Included)

Each and every dish on the menu has fruit, all grown in Japan to ensure the a high level of quality. Since the dishes have fruity flavours, prepping them is simple, and they enjoy the colours and textures of each fruit.

Drinks haven't been left out either. They are made with fruit purees and syrup, or are tossed in as they are, allowing for maximum fruity goodness.

Smoked Salmon, Fruit Salad & Potato Galette w/ Fruit Soup – ¥1,980 (Tax Included)

Autumn Fruit Almond Pudding – ¥1,760 (Tax Included)

All the staff at K. MINAMOTO have a wealth of knowledge about the menu and the fruits used in each dish. Their service creates a comfortable atmosphere, and though they are polite they are incredibly friendly, so you can call out to them without worry.

Get your fill of fruit from the all-new K. MINAMOTO, opening October 19.

Information

K. MINAMOTO

Grand Opening: October 19, 2019
Address: Minamoto Kitchoan Shinhonsha Bldg. "THE HOUSE" (Floors 2F-5F), 6-9-8 Ginza, Chuo Ward, Tokyo

Opening Hours: [Mon-Sat] 11:30-20:30 / [Sun & Holidays] 11:30-19:00

No Fixed Closures

Minamoto Kitchoan official website: https://www.kitchoan.co.jp

Visiting the Weathering With You Cafe Now Open in Tokyo and Osaka

LEGS COMPANY opened two cafes themed on the hit anime film Weathering with You in Tokyo and Osaka on October 8 and October 10 respectively. The cafes will run for a limited time only.

We paid a visit to the Tokyo branch which opened inside OMOTESANDO BOX CAFE & SPACE which is only a 7-minute walk from Omotesando Station.

The new blockbuster hit from internationally-acclaimed animator and film director Makoto Shinkai Weathering with You dropped back on July 19 and has since amassed over 13 billion yen (approximately US$131 million) in the box office. It was seen by 7.5 million people in the first 34 days of its release, and over 10 million after 75 days. Its huge success has cemented itself in the Japanese animated film industry as another monumental masterpieces from Shinkai. The film has also been nominated for Best International Feature Film for the upcoming 92nd Academy Awards set to take place on February 9, 2020.

While sat in the cafe you can watch scenes from the film on the giant screens while the main songs performed by RADWIMPS play.

The cafe menu features a line-up of drinks, dishes and desserts inspired by the characters and moments in the series, including the chahan set prepared by Hina for Hodaka, the Hodaka Welcome Party Set, and more.

Teru Teru Omurice – ¥1,490

This is the dish I ordered to eat. I couldn't resist how cute it was. It's inspired by the teru teru bōzu that Nagi makes, a traditional Japanese doll used to prevent rain and bring good weather. The doll's head is made of mashed potato. He's sat on a bed of ketchup rice filled with vegetables and bathed in a delicious sauce. This one's too cute it almost seems a waste to eat♡

Nagi's Teru Teru Bōzu À La Mode – ¥1,490

For dessert I ordered another teru teru bōzu treat. This one is made from gyūhi, a type of Japanese confection made from rice flour. Its head is filled with vanilla ice cream, and if you turn it over, you'll find Japanese pudding underneath, and under that granola. It's finished with a lining of bright blue lychee jelly around the outside for a hint of freshness.

The cafe offers plenty of other dishes that will leave any Weathering with You fans spoiled for choice.

Hina's Handmade Sesame Oil Infused Pea Sprout Potato Chahan Set – ¥1,490

A chahan set lovingly prepared by Hina for Hodaka. Chop up the spring onions that come on the side and add them to the soup just like Hina does in the film! This is a hearty set sure to fill you up.

Hodaka's Welcome Party Set – ¥1,590

This one-person set was made lovingly by Natsume when Hodaka comes to work at the same company as her, K&A. If you're looking for a healthy green meal packed with veggies then you'll love this one.

Clearing Up Weather Tiramisu – ¥1,490

This refreshing matcha tiramisu is inspired by the scene when Hina and Hodaka reunite, with the sauce representing the sunlight and the cotton candy the rainy clouds. Pour the sauce over the cotton candy and watch the clouds clear up.

Acai Bowl of the World's Secrets – ¥1,390

Enjoy the main key visual of the film right on top of your plate. The mild flavour of the yogurt coupled with the refreshing kiwi is a mouth-watering combination. The colours are really beautiful, too.

Swirling Snow Whipped Latte – ¥990

Inspired by the immense snow that spirals around Tokyo in the film, a cup of this whipped cream latte is perfect as a post-meal wind-down.

Left: The Fine Weather That Day (Grapefruit) – ¥1,690 / Right: The Sunset That Day (Cranberry) – ¥1,690

These two drinks are for takeout, and are based on iconic scenes in the film, specifically when the turns fine and the sunset. They are served in exclusive cafe-original bottles. Both flavours are sweet, sour and refreshing. Plus, you can reuse the bottles.

If you order one of the many drinks from the menu you'll receive one of six possible coasters chosen randomly.

The cafe has plenty of exclusive merchandise on their shelves too.

Sparkly Rain Smartphone Case (7/8 Ver. & X Ver.) – ¥3,900 Each

When you shake these iPhone cases, it looks like the rain is falling.

Raindrop Stickers (10 Designs) – ¥400

Don't you just want to collect all of these cute raindrop stickers?

If you book a seat in advance (¥650 before tax per person) you will receive one of six possible bromide pictures chosen randomly, so don't forget to reserve in advance.

Plunge yourself into the world of Weathering with You at either one of these cafes, now running until November 17.

*Photos are for illustrative purposes only. All listed prices are pre-tax prices.

©️2019 "Weathering with You" Production Committee

Information

Weathering with You Cafes

Locations/Dates:
①OMOTESANDO BOX CAFE&SPACE (Pine Under Flat B1F, 5-13-2 Jingumae, Shibuya, Tokyo) @ October 8, 2019 – November 17, 2019

②Osaka Shinsaibashi contact (1-6-24 Kitahorie, Nishi Ward, Osaka, Osaka Prefecture) @ October 10, 2019 – November 17, 2019

Table Reservations:

Price: ¥650 (Before Tax) *Includes bonus item

*Advance table reservations opened on September 24, 2019

Weathering with You Cafe Website: https://tenkinoko-cafe.jp/

Hiroo's Cafe CANVAS TOKYO Turns Into a Pure White Canvas in New Monochrome Theme

CANVAS TOKYO is a cafe and open concept store based in Hiroo, Tokyo produced and managed by BLANCA ASSOCIATION. The cafe has announced that it is taking on a new monochrome theme on October 10 where the entire cafe will be decked out in white like a blank canvas. They will also sell new products as part of the transformation.

The idea behind this concept is to make the overall look simple while putting great care and attention into the little details. Everything from the cafe exterior to its interior, cups, cutlery and so on have been dyed black and white to give a plain yet sophisticated appearance.

The cafe will also stock a new range of merchandise under the same concept, like coats and bags, allowing the cafe's stylish look to extend into the outside world too. As well as this, the cafe is introducing some new menu items, including a tea latte, bao, and more.

Black & White Sweaters – ¥12,000 (Before Tax)  *One size

Made into a loosely tailored size with wide ribbed sleeves, these sweaters have a design that makes them easy to coordinate, meaning you can pair them with countless outfits.

London Fog – ¥500 (Before Tax)

CANVAS TOKYO's original London Fog beverage is an Earl grey tea mixed with natural maple syrup from Canada, warm milk and fluffy foamed milk, effectively creating a tea latte.

Left: Fresh Salsa & BBQ Pork – ¥430 (Before Tax) / Right: Coriander & TERIYAKI Pork – ¥430 (Before Tax)

These Chinese-style steamed meat buns, known as "bao," are a popular snack item with people around the world. New York and London are known for having several stores specialising in bao.

This is just a small peek into the monochrome heaven of CANVAS TOKYO. To see it in all it's black and white glory, head to the trendy district of Hiroo in Tokyo.

Information

CANVAS TOKYO

Address: 5-19-6 Hiroo, Shibuya, Tokyo
Opening Hours:

[Weekdays] 08:45-18:00 (Last Orders 17:30) *2nd floor until 17:00

[Weekends & Holidays] 10:45-19:00 (Last Orders 18:30) *2nd floor until 18:00

No Fixed Holidays

Official Website: www.canvas-tokyo.com

Dine On Fancy Authentic Japanese Food Casually at SHARI in Ginza

SHARI is a restaurant located on the second floor of Mitsui Garden Hotel Ginza-gochome, a new hotel that opened on September 26 located within walking distance from Ginza Station and Higashi-Ginza Station. This restaurant serves authentic and fancy Japanese-style food as well as luxurious Kobe beef, gozen set meals, and much more.

Ginza is known as the expensive, upmarket part of Tokyo, and when talking about small local restaurants there the pricing threshold tends to be rather high, but at SHARI customers can enjoy proper Japanese cuisine in a more casual manner and at a much more affordable price, with the typical set lunches starting at just ¥1,200.

Sophisticated is the word that springs to mind upon entering this restaurant, as your eyes meet the gorgeous mix of wood on black. As well as table seats, they also have counter seats too, allowing for you to enjoy a little luxury on your own if you so wish.

There is an additional restaurant inside the main restaurant itself that goes by the name Teppanyaki Mitaki, a tiny six-seater restaurant that serves Kobe beef, a type of wagyu beef and one of the top three beefs in Japan.

SHARI Gozen – ¥3,000 (Before Tax)

I ordered the SHARI Gozen which is served during lunchtime. This set comes with six small bowls, each filled with different colourful foods. It's a cute-looking set♡

There's lots of meat and fish included in the set. For meat, they have steak made with domestic beef. It's succulent and drizzled in a rich sauce that fills your mouth deliciously with a single bite. With the sashimi, the restaurant makes sure to serve fish that's in reason. There were 3 types of fish so it was a very satisfying meal.

The set can also be served with a variety of deep-fried foods, stewed foods, and cold fishes, as well as rice, miso soup, desserts and more. No matter what you order you can rest assured you'll be full afterwards.

SHARI is a chic and stylish restaurant with great food, plus it's located in Ginza. And you can enjoy all of this at a super low price!

Lady's Gozen – ¥2,600 (Before Tax)

I have to recommend the Lady's Gozen if you're looking to enjoy fish and vegetables. It comes with two varieties of sashimi and one fried fish, all in season, as well as an assortment of fried food, savoury egg custard, and four side dishes.

It also comes with rice and sushi rolls as well as a dessert like the SHARI Gozen.

The whole dinner menu is lined with Japanese food, including sashimi, tempura, fried food and more. There's also various courses, including the Teppanyaki Mitaki course which is priced from ¥12,000. It comes with Kobe beef of course in addition to various other high quality ingredients.

Shu – ¥1,000 (Before Tax)

I also recommend this Japanese-style cocktail for those thinking of staying late. It's inspired by the colours used in kabuki theatre―a Bloody Mary combining shichimi, nihonshu, and tomato juice. The rim of the glass is lined with more shichmi for a spicy and refreshing kick when you sip.

Check out the cute glass it comes in too.

From affordable lunches to dinner courses made with top quality ingredients, SHARI can be enjoyed throughout the entire day with its diverse menu line-up. Be sure to pay a visit to tuck into authentic Japanese cuisine in the luxury district of Ginza.

Writer: Sayuri Mizuno (MOSHI MOSHI NIPPON)

Translator: Joshua Kitosi-Isanga

Information

SHARI

Address: Mitsui Garden Hotel Ginza-gochome (Floor 2F), 5-13-15 Ginza, Chuo Ward, Tokyo

Opening Hours: Morning 6:30-10:30 (Last Entries 10:00) / Lunch 11:30-15:00 (Last Orders 14:00) / Evening 17:30-23:00 (Last Orders 22:00)

Closures: Morning – None / Lunch & Evening – Mondays (If Monday falls on a Public Holiday, closed the following day)

Access: 4-minutes on foot from Ginza Station's A5 Exit / 1-minute on foot from Higashi-Ginza's A1 and 4 Exits

*¥500 service charge during dinnertime. 10% service charge instead for Teppanyaki Mitaki. Smart-casual dress code. Preschoolers not permitted entry.

Official Website: http://shari-the-tokyo.jp/shari/

Pink Ribbon Raises Breast Cancer Awareness with Pink Drinks and Pink Ribbon Smile Walk

Pink Ribbon aims to spread knowledge about breast cancer and conveys the importance of breast cancer screening. In order to reach out to more people, Pink Ribbon has released special drinks for the month of October that are dyed completely pink. This limited edition series debuted at Cafe & Dining Zelkova which is located on the first floor of THE STRINGS in Omotesando.

The White Chocolate Strawberry Cappuccino consists of hot milk blended with white chocolate and strawberry syrup. The beautiful blend creates a pure pink-coloured cappuccino. The Pink Lemonade is a cocktail which consists mainly of refreshing grapefruit juice. Both these beautiful drinks are Instagram-worthy.

Those who order a drink will receive a free book which is full of essential information about breast cancer. There are also donation boxes for the Japanese Foundation For Cancer Research which provides customers with the opportunity to contribute towards research that saves lives.

On October 5, there will be the Pink Ribbon Smile Walk Tokyo event where part of the terrace area will be lit up with pink illumination in order to raise awareness for Pink Ribbon's breast cancer campaigns. Make sure to get involved.

Information

White Chocolate Strawberry Cappuccino

Pink Lemonade

Available: October 1 ー 31, 2019

Available at Cafe & Dining Zelkova (THE STRINGS, Omotesando Floor 1)

Opening Hours: Weekdays: 11:30 – 22:00, Weekends and national holidays: 11:00 – 22:00

Prices:

White Chocolate Strawberry Cappuccino: ¥970

Pink Lemonade (with/without alcohol): ¥780

* The prices stated above do not include tax or service charge.

Enquiries: 03-5778-4566 (Cafe & Dining Zelkova)

Website: https://www.strings-hotel.jp/omotesando/restaurant/zelkova/info/zelkova-drink-special.html

GODIVA Releases New Heavenly Chocolixir Tea and Chocolate Pairing Drink

As the almighty creator of the chilled chocolate drink called the Chocolixir, GODIVA has now transcended to a whole new level with its Tea Magic Series which pairs luxurious GODIVA chocolate with a specially made tea. The fourth and final heavenly Chocolixir drink for the Tea Magic Series has now been revealed to be called the Chocolixir Uji Matcha Kiwami. This is a pairing of GODIVA white chocolate and Uji matcha. A limited number of these will be released for sale from October 1, 2019 to November 30, 2019.  

The GODIVA Tea Magic Series is made using the finest GODIVA chocolate. The chocolatier considers the most appropriate tea to enhance the flavour of the chocolate and only uses the finest tea leaves to make the drink. The result is a chilled chocolate tea which is filled with a flavour that will enlighten you. Hojicha Chocolate tea was the first tea of the series and was released on July 1st.

Chocolixir Uji Matcha Kiwami (270ml): ¥602 (before tax)

GODIVA's mildly sweet and velvety white chocolate is blended with rich uji matcha tea and then chilled to a perfectly refreshing temperature. A light cloud of whipped cream floats on the surface and is sprinkled with carefully made uji matcha powder. Matcha chocolate sticks garnishe the drink. 

From your first sip to your last, your mouth will be filled with a rich and luxurious matcha flavour. From time to time, your tongue will discover the exciting texture of small pieces of smashed white chocolate pieces.

This is the perfect opportunity to indulge in the luxurious flavour of mild white chocolate blended with rich uji matcha. 

Roof Star Gardens Illumination Event to Take Place On GINZA SIX's Rooftop Garden

Ginza's biggest shopping centre GINZA SIX has announced that it's set to light up its rooftop garden with an enchanting illumination event titled Rooftop Star Garden which will begin on November 26 and run until February 24 next year.

Standing at 56 meters high, the rooftop garden is the "closest place to the stars" in Ginza. This will be GINZA SIX's first ever illumination event and it will shine a bright spotlight against the nightscape of Ginza's streets.

Rooftop Star Garden will take place in two areas in the garden: the Water Fountain Area and the Forest Area, both of which will welcome star-themed light shows.

The theme of the Water Fountain Area is "Shooting Star," whose LED lights will elicit a sense of profoundness in its observers. 147 LED lights will form the main monument of this area, with bright, sparkling illuminations that will remind one of shooting and twinkling stars.

The Forest Area is made up of two separate areas between the Water Fountain Area. Lasers will shoot through crystals, creating an ocean of countless specks of light that look like little stars that make it feel like you're in space.

This limited-time event is the perfect way to spend this year's Christmas, so don't miss out.

*Photos are for illustrative purposes only

Information

Rooftop Star Garden

Location: GINZA SIX Garden (Building Rooftop)

Address: 6-10-1 Ginza, Chuo Ward, Tokyo

Running: November 26, 2019 – February 24, 2019

*Will close during bad weather or during invitation-only events

Time: Sunset to 23:00

Entry: Free

GINZA SIX Official Website: https://ginza6.tokyo/

Pretty, Palatable and Pleasant: A Purin Expert's Top 6 Purin Picks in Kyoto

Here at MOSHI MOSHI NIPPON, we have never failed to provide you with the essentials: updates on the best bubble teas around Kyoto. However, today we have a special sweet treat for you. After consulting expert Instagrammer kyoto cafe life tiara, we have compiled a list of Kyoto's top purin that will fill you with satisfaction and as well as nostalgia. Purin is a type of Japanese custard pudding loved by the Japanese for generations. When it comes to searching for the best desserts in the Kansai region, kyoto cafe life tiara leaves no stone unturned . 

Cafe Yamamoto, Higashiyama

Pudding (Set): ¥750

The bitter and fragrant caramel sauce of this purin is to die for. This purin has a rich eggy flavour and is stiffer than a traditional purin. Enjoy your purin served in a silver plate which will fill you with the nostalgia of the retro Showa Era.

▼Cafe Yamamoto (やまもと喫茶)

Address:307―2 Ishibashicho, Kyoto

Opening Hours: 7:00-17:00 (L.O.16:30)

Closed: Tuesdays

Kissa Zou, Imadegawa

The purin here is rich in flavour and garnished with a scrumptious biscuit. It is too cute to eat.

▼Kissa Zou (喫茶ゾウ)

Address: 440-3 Santeicho, Kamigyo Ward, Kyoto

Opening Hours: 9:00-18:00 (Last Orders: 17:00)

No regular holidays

BAR Tantei, Mototanaka

This fancy pudding is topped with seasonal fruit, ice cream or even cake. The retro atmosphere of the bar is the perfect place to enjoy a fancy moment to yourself.

▼BAR Tantei (喫茶探偵)

Address:

26 Tanaka Satonouchicho, Sakyo Ward, Kyoto

Opening Hours: 12:00-17:00,  19:00-02:00

Closed: Sundays, additional irregular holidays.

Takagi Coffee Takashiji Honten, Shijo Street

Homemade Purin Set: ¥ 800

Takagi Coffee is known for the unique shape of their purin, which looks very similar to a slice of cake. This purin is slightly stiffer than your usual purin and has a lovely accent of rum which adults love. This is best enjoyed with a cup of coffee.

▼Takagi Coffee Takashiji Honten, Shijo Street (高木珈琲店 高辻本店)

Address: 175 Honeyacho, Shimogyo Ward, Kyoto

Opening Hours: 7:00-19:00 (Closes at 18:00 on Sundays)

Closed: January 1-3

Salon de thé François, Gion Shijo

This purin is bigger than you expect it to be. Although the flavour is simple, it will send you on a trip to old traditional Kyoto. This purin is stiffer than usual and sweet with a gentle touch of bitter caramel sauce. This is topped with ice cream and garnished with tangy yet sweet strawberries. This purin is on a slightly more luxurious level which makes it perfect for adults.

▼Salon de thé François (フランソワ喫茶室)

Address: 184 Nishikiyamachi-dori-Shijo-kudaru; Shimogyo-ku, Kyoto.

Opening Hours: 11:00-22:30(L.O 22:0)

No regular holidays

NOTTA CAFE, Saiin

This deceiving purin may appear to look like a cake and avoid jiggling like a true purin would, however, once you take a bite, the rich custard flavour will flood your mouth. The flavour is perfect for those of you who cannot handle very sweet flavours and are looking for something more refined. To fully enjoy your experience, order this purin with the oiri sweets cream soda.

▼NOTTA CAFE (ノッタカフェ)

Address: 37 Saiinkitayakakecho, Ukyo Ward, Kyoto
Opening Hours:

Tuesdays-Sundays: 11:30-20:00

Wednesdays: 11:30-21:00
Closed: Mondays

So, how about it? For those of you who are in desperate need of a sweet fix in the Kansai region, Kyoto café life tiara's Instagram will swoop in to rescue you.

Research for article contents and photos provided by: @happy_pinkrose_tiara

This Week's Lunch: Peach & Yoghurt at dotcom space Tokyo in Harajuku

One thing I do at least once a week without fail is treat myself out to some delicious food or dessert. It's very important time well spent in order to live a happy life.

Today, I went and got my lunch early ahead of my morning work. I visited dotcom space Tokyo, a café in Harajuku where you can indulge in a laid-back experience.

©️photo Takumi Ota

The café is just a 4-minute walk from the Takeshita Street exit of Harajuku Station. Its atmosphere is so peaceful and related that you wouldn't believe it's right next to noisy and busy Takeshita Street. It's a spacious place with simple and stylish furniture and furnishings. I fancied something sweet this time, so I went and ordered the Peach & Yoghurt bread.

©️photo Takumi Ota

©️photo Takumi Ota

The interior decorating scheme is based on wood; you can feel how particular they were about the furniture. It's easy to wind down at this café due to its spacious interior. It's common to see workers scattered throughout too. It's a nice place to leave your desk for a little bit for lunch for a change of pace.

Peach & Yoghurt ¥680 / Iced Café Latte ¥550

The bread is piled with a generous serving of yoghurt cream and shiny peach which the light shines on.

I feel happy just looking at this delicious treat. Just spellbinding!

I sliced my first piece and popped it into my mouth. The bread is deliciously chewy, and the refreshing yogurt cream and sweet peach filled my mouth. The bread itself is a thick-cut slice and made by Pelican, a bakery in Asakusa. It has a chewy and moist texture you can't find anywhere else.

The yogurt cream isn't overly sweet, instead having a more refreshing flavour to it. When eaten together with the sweet ripened peach, the gorgeous mix blends together around your taste buds and melts in your mouth. Depending on the season, you can pick fruits other than peach too. They always have seasonal choices. I'm looking forward to their autumn and winter line-up.

The iced latte has a slight acidity to it, my favourite kind of flavour. It went really well with the Peach & Yogurt bread. The café is also particular about its coffee bean selection; one of its baristas is noted to be a past "Japan champion" when it comes to coffee. I've got to try the hot coffee the next time I visit.

A set meal, burger or the likes would have been good too, but I had my eyes set on a sweet dessert lunch. Getting a moment to chill out and enjoy something sweet made me happy today. I recommend enjoying some autumn fruit-topped bread too as the seasons change.

Today's Presents

Apple Juice ¥450

I's important to share the happiness between family and colleagues on when you get the chance to enjoy something tasty. I bought them some apple juice, which is poured into a cup with a smiling face on the side. It's made from 100% apples from Nagano. The straw is made from environmentally-friendly sugarcane.

Writer:Sayuri Mizuno(MOSHI MOSHI NIPPON)

Japanese Cafe Collaborates With Swedish Ceramicist Lisa Larson

Sunday Branch Marronnier Gate Ginza is a cafe in Ginza that has collaborated with a number of different characters and artists, including Shawn the Sheep since 2017, The Very Hungry Catterpillar in 2018, and Leo Lionni since 2019.

The cafe is now collaborating with Swedish ceramicist and designer Lisa Larson to open LISA LARSON Fika TOKYO. The menu will feature dishes inspired by her cute works.

Mikey Plate

​Inspired by Larson's popular cat character Mikey, this healthy dish includes almond milk rice with a side of greens.

Lion Plate

The adorable round Lion looks like he has been taken right out of Larson's works and put onto a plate.

Baby Mikey Gateau Chocolate

These baby Mikey chocolates take on a ceramic appearance like Larson's work and are filled with sesame and cocoa powder.

Bob Plate

Liten Katt Plate

These's even a meatball meal, which is a staple of the Swedish household, as well as semla, a type of sweet roll made in the country.

Enjoy food and art come together at LISA LARSON Fika TOKYO. Keep in mind that reservations get priority, so be sure to book a table in advance.

Information

LISA LARSON Fika TOKYO

Running: October 4, 2019 – January 27, 2020 (Closed January 1, 2020)

Location: Sunday Branch Marronnier Gate Ginza 1 Floor 4F (2-2-14, Ginza, Chuo Ward, Tokyo)

Opening Hours: 11:00-21:00 (Last Orders 20:00)

Website/Reservations: https://www.marronniergate.com/topic/detail/115

Food Review: Shibuya's Stylish Sandwich Shop BUY ME STAND

Hello, readers of MMN! I'm Banako of the MOSHI MOSHI FRIENDS program.

Today, I'm here to show you a unique and stylish sandwich shop I visited in Shibuya called BUY ME STAND. Shibuya is home to countless restaurants and cafes, but if it's sandwiches you're looking for, this place is the one people are going to recommend. That's how famous it is!

You can reach it in just a brisk 5-minute stroll from the New South Exit of Shibuya Station's JR Line building. You'll know it by the big windows and green and white stripes.

The store is managed by apparel brand SON OF THE CHEESE. The entire interior is coloured in mint green, and it has a vintage American vibe to it. Both the outside and inside are nothing short of stylish-looking. It has a second floor too which has table seats.

I ordered the shop's most popular menu item: "Apple Cheeks." The sandwiches are cooked to order in an open kitchen in full view of the customers.

BUY ME STAND typically serves hot sandwiches. Most of them are filled with cheese which is grilled until melted and oozing.

This is the Apple Cheeks, which costs ¥1,200. Take a look inside, what do you see?

That's right. Just as the name of the sandwich suggests, is stuffed with apple slices. As well as apple, it also contains pork belly, onions, and Camembert cheese.

Apples and sandwiches are seemingly an unlikely combination, but by my first bite into the crunchy toast I was already hooked. The melted cheese coils itself delicious around the pork belly and onions while the apple adds a favourable sweetness to the combination of flavours. It was like happiness in my mouth.

It's quite a hearty sandwich, but it comes with a crunchy coleslaw salad which is a great palate cleanser and changes up the flavour party on your tongue, so you can get through it all no problem

Since there's a lot of ingredients packed inside their sandwiches, they are also served with a burger bag like when you eat a hamburger, so you can wrap it up to ensure nothing falls out.

Sandwiches are generally seen as a quick and light meal, but BUY ME STAND has redefined their image by making their sandwiches fat and filling.

BUY ME STAND is open from 8am, and breakfast is sold until 11am where they serve a range of food options in addition to sandwiches. I wanted to try everything.

The menus differ slightly for breakfast, lunch and dinner.

BUY ME STAND is in fact a chain sandwich shop and has branches not only in Shibuya, but Yokohama, Fukuoka, and even Okinawa too, and all of them are just as fancy as one another.

Pay a visit to BUY ME STAND yourself and find your sandwich of choice!