Tokyo Stroll: The Café That You Want to Visit to See Someone #8 – 'Ginza West'
Ginza is a district in the heart of Tokyo famed for its extravagant streets lined with upmarket shops, luscious restaurants and fantastic entertainment. But it's not only worthy of note for its flamboyance – it's also rooted in rich culture and history.
Today, I visited Ginza West, a café that has been continuously loved in Ginza ever since it opened in 1947.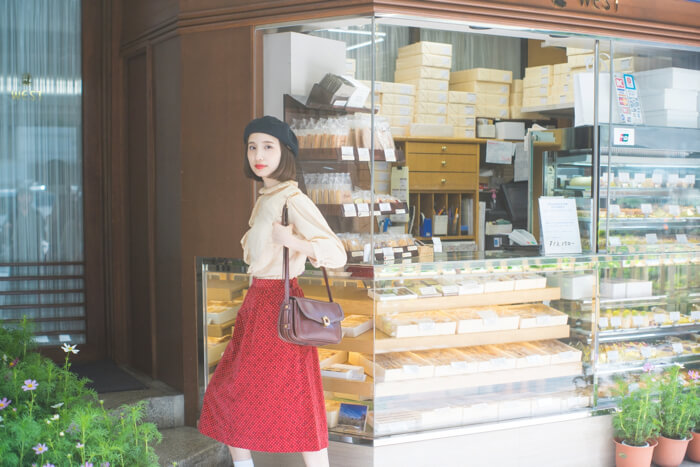 Before entering I saw lots of delicious confections lined up on display. You can order takeout too. Your mind will wander off as you ponder on which to take away for snack time.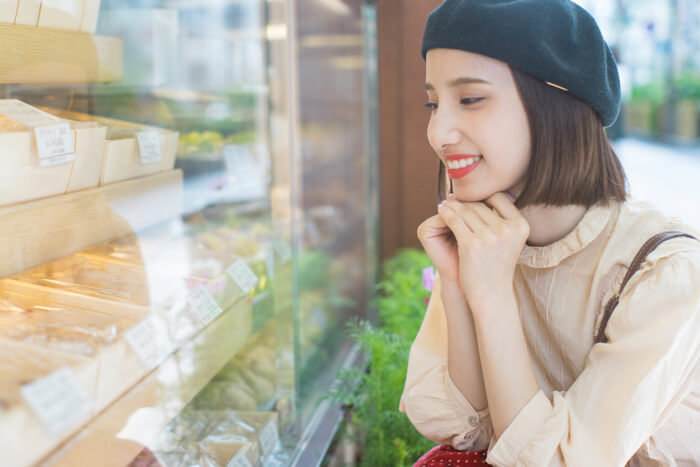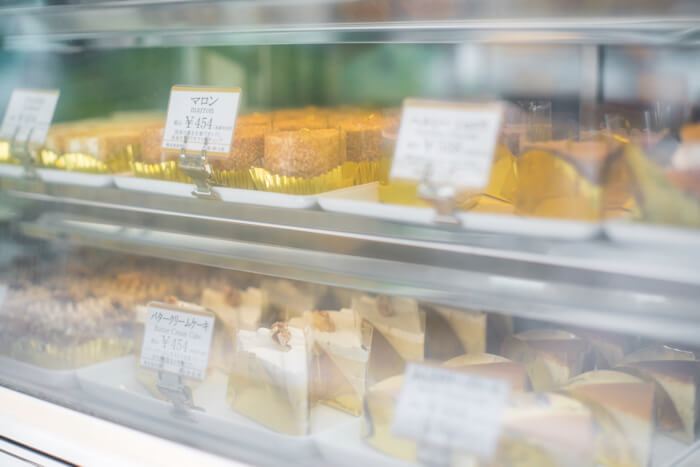 The entire café is clean and tidy throughout and you can feel the decor has grace. It's different from other cafés in that it has a dignified atmosphere to it. It has an air of tension to it, the kind that makes you straighten up your back. It's a place that's nice if someone wants to enjoy a luxurious experience once in a while.
I ordered cake and tea set! The tea cost ¥1,048. A cake set is the price of the drink plus ¥324.
You can actually have them bring you samples of cakes being served on that day. There's so many cake varieties it's hard to choose.
The most popular is this one – the Mosaic Cake!
Its appearance is cute. I ended up wanting to take a lot of photos.
The Mosaic Cake is made of cocoa sponge and butter sponge which is arranged to look like a mosaic piece. You can really taste the different flavours of each sponge. It's only moderately sweet so it's not too heavy. I wolfed it down!
And then, and then!
I got the white cream soda which I'd been wanting to try. It cost ¥1,188.
When you think of cream soda it's generally green coloured melon soda with a dollop of vanilla ice cream on top. But this one uses no colouring. The soda is clear and also served with vanilla ice cream. Try drinking it yourself after adding a syrup of your choice.
It looks like a very elegant beverage.
In terms of taste, if you eat the vanilla ice cream after drinking some of the soda (which is subtly sweet) it makes for an exquisite balance. It's a flavour I've never had before – it's a novel sensation.
Delicious.
The chairs in the café have something about them too! They feel extremely comfortable, I felt exhausted. The staff kindly told me the secret behind them.
The back legs of the chairs are a little wider than the ones at the front allowing you to lean back much easier and making it feel much more comfortable. The chair legs are also cut to a certain length to allow easier sitting.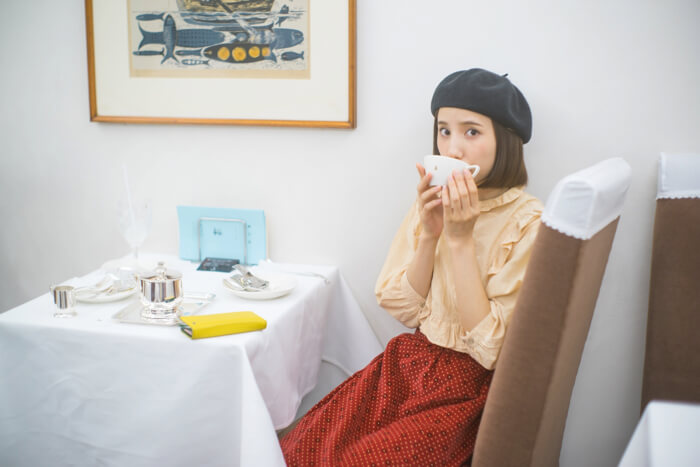 So that's why. That's why I felt so relaxed simply sitting on them. I felt I could be sat there no matter the hour.
t's a kind of consideration you'd only find at a café. Hearing about those chairs made me think that cafes really are such wonderful places. The more you learn about them, the more you come to love their charms.
I wonder where I'll visit next? Look forward to it!
Information
Ginza West
Address: 7-3-6 Ginza, Chuo Ward, Tokyo
TEL: 03-3571-1554
Opening Hours: Weekdays 9:00-22:00 (Stand Open Until 23:00) / Weekends 11:00-20:00
No Fixed Holidays.
Access: 5-minutes on foot from exit C2 of Ginza Station via Tokyo Metro Line / 10-minutes on foot from Yurakucho Station via JR Line
*347m from Ginza Station
Website: http://www.ginza-west.co.jp/
Writer: Ema Tanioku
Photographer: Haruka Yamamoto
Editor: Ai Watanabe
Translator: Joshua Kitosi-Isanga
TALENT PROFILE
Ema Tanioku
"Emaeri" is the nickname for models Ema and Eri Tanioku, who are Aomoji fashion model twins. Ema and Eri Tanioku specialise in twin fashion coordination. Over the years their fanbase has increased due to their cute looks. Ema Tanioku spreads Harajuku culture within Japan as well as overseas and works as a Harajuku Tourism Ambassador. Starting off as a model, Ema has broadened her talent range from fashion magazines to TV, and from playing the lead role in dramas to movies.
RECOMMENDED ENTRIES
Tokyo Stroll: The Café That You Want to Visit to See Someone #7 – Garden Café & Bar 'Urara' in Daikanyama

The place I am showcasing today is 'Urara,' a garden café and bar located in Daikanyama. Their shaved ice is super popular in summer. It's somewhere I love and often go to in my private time.

It's an old Japanese-style house so it has a much different atmosphere to that of stylish Daikanyama. The outside of it has a warm and welcoming feel to it that will have you wanting to see what kind of place it is.

Upon entering through the shop sign curtain, you arrive in the courtyard which is surrounded by trees. You can hear the sounds of birds from somewhere, and when the wind blows you also hear the rustling of tree leaves. You completely forget you're in Tokyo as you feel like you've come to a grandma's house in the countryside. It's very relaxing.

Hm? What's this odd looking thing?

These unique ornaments were scattered all around the courtyard ready to greet us!

This sign makes for a great photo spot. It says 'Urara' just like the name of the café. Its nostalgic design is so cute!

When you really look, it says tissue paper on it! There's lots to be discovered on the posters and signs that make up the interior, it's a lot of fun!

I ordered the Uji adzuki bean shaved ice topped with condensed milk! It cost ¥600 for the shaved ice and ¥100 for the topping. The matcha used is from Uji in Kyoto. Such a big portion of shaved ice is enough to cool you down by just looking at it.

Let's eat!

Where have I tasted this before…

The matcha seeped all the way to the middle of the shaved ice. The refreshing sweetness was so tasty. The adzuki beans are from Tokachi in Hokkaido. They were a perfect combination with the condensed milk. The ice used is natural ice from Nikko. It's fluffy, tastes great, and doesn't give you brain freeze!

Natural ice is different from regular ice. It's frozen slowly so the crystals have high density, and it takes longer for it to melt. The cool part was how it didn't crumple instantly when I poured the syrup on it!

This is blueberry syrup (¥600). The blueberries used are from Nagano. They make it from jam in the café. Isn't the colour just beautiful?

It has that sour flavour that blueberries have and a refreshing, lip-smacking sweetness.

I normally don't drink alcohol, but since Urara is a café and a bar I will show you a mojito (¥600). The mint is so refreshing!

On a hot summer's day it seems like there are people who order both shaved ice and beer together. They're seasonal items so will satisfy and cool you down.

I also got to meet Tama-chan, the cat who comes to play at Urara. One time when I came before Tama was out walking so I didn't get to meet him.

Lastly, I snapped a photo with Arai who's in charge of promoting Urara!

We're roughly the same height and have a similar interest in clothes so I grew an affinity with her.

Coffee shops and cafés in old style Japanese houses tell you something about the people associated with them.

Urara feels natural thanks to SELIN & Co., an apparel maker who make things that feel one with nature. The staff at Urara all love living things, so the big hearted atmosphere there was really wonderful.

If I was to set up a shop I wonder what it would be like…

I think I'd want to put out something warm like Urara.

■Information

Urara

Address: 20-10 Sarugakucho, Shibuya, Tokyo

Opening Hours: Weekdays 11:30am-7:00pm / Weekends & Holidays 11:30am-7:30pm

*Closed during rainy weather.

Access: 4-minutes on foot from Daikanyama Station via the Tokyu Tokoyo Line

Website: http://www.hrm.co.jp/news/2016/04/garden-cafe-bar-urara

Photographer:Haruka Yamamoto

Editor:Ai Watanabe

Design:Yuko Abe(ASOBISYSTEM)

Translater:Joshua Kitosi-Isanga

TALENT PROFILE

Ema Tanioku

"Emaeri" is the nickname for models Ema and Eri Tanioku, who are Aomoji fashion model twins. Ema and Eri Tanioku specialise in twin fashion coordination. Over the years their fanbase has increased due to their cute looks. Ema Tanioku spreads Harajuku culture within Japan as well as overseas and works as a Harajuku Tourism Ambassador. Starting off as a model, Ema has broadened her talent range from fashion magazines to TV, and from playing the lead role in dramas to movies.

Tokyo Stroll: The Café That You Want to Visit to See Someone #6 – 'Angelus' in Asakusa Loved by Osamu Tezuka

In this sixth instalment to her café series, Ema Tanioku stopped by Angeles, a café in Asakusa with a history spanning over 70 years.

Angeles is known for its history of famous frequenters including legendary manga artist Osamu Tezuka (Astro Boy). This wonderful location is always bustling with customers and is known to be full even during holidays.

When people think of Asakusa, they imagine Sensoji Temple and the district's old-fashioned architecture. However, Angeles breaks that mould and instead takes on the form of a European-style place of worship. It's different from all the rest and looks warm and welcoming from the outside.

Even if you have no plans to go into the café, the desserts on display look so invitingly delicious you'll find yourself stopping in your tracks.

"They look so tasty…"

Time to go inside!

You'll be spoilt for choice because they all look so good.

The café has three floors. It's like an atrium where you can look down below from the top floor.

People who want to kick their feet up and read in the café or relax and space out can head to the second floor which has a hiding-place-like area. There's a different atmosphere wherever you decide to sit, so it can be fun finding which part fits for you!

'Angeles' refers to a devotion in memory of the Annunciation in Christianity signalled by the ringing of church bells. Looking around at the decor you'll see things like crosses and doves as well as signs of peace dotted about.

Ema ordered the Almond Purin (¥930).

In the middle of the bowl is a melon that looks as if it's been sliced. It's also plated with various fresh fruits like banana strawberry as well as tinned pineapple and peaches and finished with a side of fresh cream. All of that hides vanilla ice cream underneath. And of course the highlight of the dessert, the purin, also tucked away!

First thing's first: munching down the strawberry! The fresh cream is a perfect complement to the fruits. Combine and gobble it all up.

And finally, the star of the plate. The purin! It has quite a sweet flavour and is supple so it's very tasty.

The café's number one recommendation on the dessert menu is the above.

The flavour of the Angelus (¥330) dessert hasn't changed for over 50 years. It comes in either black or white. The black Angeles is made with coffee flavoured butter cream and coated with sweet chocolate. The white Angeles is made with ordinary butter cream and coated in white chocolate.

Neither are overly sweet and they're at an easy-to-eat size. They were exquisite!

Angelus' speciality is their Dutch Coffee (¥620). Dutch coffee is made by dripping ice water dripped over the coffee to extract the maximum flavour. It even looks refreshing, making it perfect for the summertime heat. If you're a coffee enthusiast then you've got to try this.

 Ema was contemplating that although she's sat there there in that moment, what kind of people were talking about what kinds of things 70 years ago? The thought simply excited her ♪

"Though the generations will change, this place will continue remaining the same and probably continue to be loved by lots of people. As time flows so does the delicious taste of what they have to offer. More places like this will come to be one by one. I wonder what kind of cafe will I encounter next?♡"

■Information

Angelus

Address: 1-17-6 Asakusa, Taito, Tokyo

Opening Hours: 11am-9pm (Last Orders 8:40pm)

Closed: Mondays

Access:

3-minutes by foot from Exit 1 of Asakusa Station via the Tokyo Metro Ginza Line
4-minutes by foot from Asakusa Staion via the Tobu Isesaki Line
6-minutes by foot from Asakusa Staion via the Toei Asakusa Line
5-minutes by foot from Asakusa Staion via the Tsukuba Express

Website: http://www.asakusa-angelus.com

Model&Writer: Ema Tanioku

Profile:

"Emaeri" is the nickname for models Ema and Eri Tanioku, who are Aomoji fashion model twins. Ema and Eri Tanioku specialise in twin fashion coordination. Over the years their fanbase has increased due to their cute looks. Ema Tanioku spreads Harajuku culture within Japan as well as overseas and works as a Harajuku Tourism Ambassador. Starting off as a model, Ema has broadened her talent range from fashion magazines to TV, and from playing the lead role in dramas to movies.

Instagram: @ematanioku

Photographer: Haruka Yamamoto

Editor :Ai Watanabe

Design: Yuko Abe(ASOBISYSTEM)

Translator: Joshua Kitosi-Isanga

【Tokyo Stroll】The cafe that you want to visit to see someone #5: "café Benisica" – The Birthplace of Pizza Toast

"A café that has continued to be loved for 60 years"

In this entry to my café series, I visited the familiar Yurakucho, the center of modern Tokyo culture. This year, long-standing café Benisica turned 61-years-old. I stopped by to have my fill of their amazing pizza toast. The café is a 2-minute walk from Hibiya Station via Tokyo Metro lines, and 4-minutes on foot from Yurakucho Station via JR lines, making it an easy place to get to.

The café opened all those years ago in response to the large number of cinemas and theatres dotted around Yurakucho. They wanted to create place where people could relax on their way back from seeing a show.

Upon arrival, you can still observe stylish older ladies strolling into the café. The scene hasn't changed one bit which I found to be wonderful.

Café Benisica is famous for being the birthplace of original pizza toast. They even have a sign at the entrance telling you that! Eye-catching!!!

Without further ado, let's head on in♪

I take one step into the café, and… Huh? What's this?!

That's right. At Benisica, you can enjoy vacuum brewed coffee. This was the first time I had seen a vacuum coffee maker up close, so I gazed at them with a keen interest.

Inside, I gazed at the café décor and objects scattered around of Hibiya, a town which changes with the times. You can feel the weight of the times instore – all the wonderful items look stylish simply by being placed in there! The café interior is a collection of warm colours. It's a place where you can relax and feel comfortable.

This is Benisica's famous pizza toast, costing ¥950 (tax included). They have plenty of set menus, and drink menus are ¥1,350. The story behind the pizza toast was how if you didn't go to an Italian restaurant back then, you couldn't eat pizza. So, they took pizza and turned it into something you can eat casually – toast. Since then, it has continued to be a much-loved menu item with customers for almost half a century.

After hearing the story, I took no time at all ordering my own pizza toast! To drink, I chose a strawberry shake. Just so you know, the shake doesn't come in set orders, so be careful.

Thick servings of cheese and put onto chunky slices of toast. "The soul of the pizza toast is in the cheese!" is what you'll be saying at its presence on the toast. Its generous serving makes this pizza toast suitable not just as a light meal, but even a whole lunch. As well as the standard ingredients like salami, onion and bell peppers, I was happy that there were mushrooms too.

The bread's texture is fluffy! I was hungry, so I made short work of it. Thank you for the meal.

This is the owner of Benisica, Setsuko Murakami, who told me the story of the café. She's a very wonderful person who loves her husband very much. Not only did she tell me about the café – I got to hear about her husband's way of living and thoughts too. The words of people that have walked the road of life longer than me are deep and enlightening.

I stored the owner's story safely onto the shelves in my heart. The next time something happens, I'll rely on those special words she graciously taught me and work hard.

■Information

Café Benisica

Address: 1-6-8 Yurakucho, Chiyoda-ku, Tokyo

Opening Hours: 9:30-23:45 (Open from 9:00 on Weekends & Holidays)

No Fixed Holidays.

Access: 2-minutes on foot from Hibiya Station via the Hibiya Line, Chiyoda Line, and Toei Mita Line / 4-minutes on foot from Yurakucho Station via JR Lines

Model : Ema Tanioku

Profile: "Emaeri" is the nickname for models Ema and Eri Tanioku, who are Aomoji fashion model twins. Ema and Eri Tanioku specialise in twin fashion coordination. Over the years their fanbase has increased due to their cute looks. Ema Tanioku spreads Harajuku culture within Japan as well as overseas and works as a Harajuku Tourism Ambassador. Starting off as a model, Ema has broadened her talent range from fashion magazines to TV, and from playing the lead role in dramas to movies.

Instagram:@ematanioku

Photographer:Haruka Yamamoto

Editor&Writer:Ryoichi Komaba

Design:Yuko Abe (ASOBISYSTEM)

Translation: Joshua Kitosi-Isanga

【Tokyo Stroll】 The café that you want to visit to see someone #4 Cats working at Shinjuku-sanchome's Café Arles

"Good service, a jolly owner and cute cats – this café is sure to heal you!"

I'm Ema Tanioku and today I'll be introducing you to yet another café in Tokyo as the fourth edition of my series "The café that you want to visit to see someone". Today I'll be reporting about my visit to Café Arles which can be found at Shinjuku-sanchome. Ever since hearing that there were cats at this café, I've been set on going 〜♪♪

The café is very easy to access. To get to there, you can take the Toei Shinjuku line to Shinjuku-sanchome. From here, you can get to the café within a five-minute walk. Walking around the Shinjuku Suehirote theatre, the café soon came into sight. Somehow, I could sense the presence of cats just from the atmosphere…

There it was! The entrance to the café was decorated with many ornaments of cats and dogs. I don' know why but I was filled with excitement before even having entered.

As soon as I entered, I immediately spotted a cat.

I was then greeted by the cat's master who had a sweeping grin across his face and was wearing a hat with a cat broach. I could really feel his love for cats ♪♪

I took a sweeping glance over the café – cats, cats and more cats – there were so many cat-themed goods everywhere! Apart from cats goods, the master also collects clown goods and displayed everything all huddled together to decorate the café.

Although this was my first time at Café Arles, I immediately felt right at home as a warm feeling grew within me. I asked the master what got him into the café business and I was surprised by his response. It all started when the master was working at a mahjong parlour, where a person they knew asked them to start up a café.

The master then thought about the numerous paintings he had collected and how he was in search of a place to display them. The idea of choosing his own music, menu and decorating a café interior to his own taste really struck a chord with him.

There are many paintings displayed in the café. Amongst these are some by modern artist Tomomi Kondo, who made the paintings "please your master" and "cool your thighs", which feature the kaban neko (café cats) Ishimatsu and Jirocho, who are "working hard" by lazing around.

Café Arles is fun and draws in even more fun. The atmosphere is filled with the love and enjoyment of the customers. That's why I immediately felt so at home as soon as I entered. You can easily spend a long time here.

I asked the master what he recommends from his menu. His response? "My recommendation is what you want to eat the most!" he said wisely. I felt like eating Napolitan spaghetti and so that is what I ordered! (Price: ¥720 including tax)

It came with banana and giant corn ❤ – this excellent service made me so happy!

The gentle flavour of this homemade dish was delicious and I could really taste the Showa-retro Napolitan flavour to it. The drink, soup and salad services available gives this meal a perfect score for portion size satisfaction!

The master allowed me to take his café cat Jirocho-kun out for a walk. This was the first time I'd ever walked a cat – a new, fresh experience!

Jirocho-kun is a very calm and obedient cat, so we had a lovely stroll together. Speaking of which, Jirocho-kun loves his owner so much that he runs to meet him whenever he hears his car pull up at the shop.

This year marks the 40th anniversary of the café. "I enjoyed every minute of it" explained the master happily. The master created a place where everyone can be happy and in return everyone supports him. Perhaps this cycle is the motivational force that has kept and will continue to push this café to live and thrive.

I'm glad I came to this café today and met such a special person.

I want to come here again and have another chat with the master!

■Information

Cafe Arles

Address:1st floor, 5-10-8, Shinjuku, Tokyo

Opening h0urs: 11:30 〜 22:00

Regular holidays days: Sundays, New Year's period holiday period

Access:398 metres from Shinjuku Sanchome station (reach via Toei-Shinjuku line/ Tokyo Metro Marunouchi line

URL:https://tabelog.com/en/tokyo/A1304/A130401/13087540/

Model & Writer: Ema Tanioku

Profile: "Emaeri" is the nickname for models Ema and Eri Tanioku, who are Aomoji fashion model twins. Ema and Eri Tanioku specialise in twin fashion coordination. Over the years their fanbase has increased due to their cute looks. Ema Tanioku spreads Harajuku culture within Japan as well as overseas and works as a Harajuku Tourism Ambassador. Starting off as a model, Ema has broadened her talent range from fashion magazines to TV, and from playing the lead role in dramas to movies.

Instagram:@ematanioku

Photographer:Haruka Yamamoto

Editor:Ryoichi Komaba

Design:Yuko Abe (ASOBISYSTEM)

Translated by: Samantha Fernandes

【Tokyo Stroll】The cafe you that you want to visit to see someone #3 "Galant" —a retro café in Ueno

"It's a mysterious café vacuum sealed with an energy that feels like it's the time of the Japanese economic miracle"

We're at the third installment of this series where we take a stroll to old-fashioned cafes filled with a sense of nostalgia.

I, Ema Tanioka, will be introducing to you another retro café that I am in love with. Today, we go to "Galant" in Ueno, a town where the Showa mood still lingers.

Galant has continued to be loved by many people since it opened its doors back in 1977. This year marks the 40th anniversary of the popular café. "Galant" sounds a little space-y, don't you think? It's a little different from the norm. When I enquired to the staff about the origin of the café's name, they told me that it comes from the Mitsubishi Galant as the owner is a fan of cars. To think that a car's name became the name of a café! But it has a ring to it and is easy to remember, so it might actually be a huge success.

Anyway, without further ado, let's make our way there!

Galant is on the 2nd floor of this building. As you head up the stairs, it no longer felt like I was in the real world. A completely different world opened before me. Because of the entrance's chic brickwork, I was surprised by the dazzling lights floating inside.

And here!

Here too! There was so much sparkle.

The first thing to peak my interest was the uniform the staff were wearing. So cute… You don't see that red & yellow combination much these days. It helped amplify that retro mood of the café even more.

The male staff wore red & black! Black was the base colour and had that well defined, guy-like feel to it. Together with the checkered vests, it completed that retro look. It was wonderful. The café was also playing popular Showa era songs. I really felt like I had stepped back in time.

And then… and then! The menu arrived!

The most popular item on the menu is the chocolate parfait (¥900 tax incl.). It was absolutely stuffed with cream all the way to the middle. For people who love sweet things this is an irresistible delight. By the way, I must ask, what do you do when it comes to the cherry on top of the parfait? The truth is, I absolutely love parfaits, but I'm really not into the cherry – I usually leave it until the end. Even though it looks so cute on the parfait…

Another item is the cream soda (¥750 tax incl.). When going to a café, you just have to get a cream soda!! It's because you don't see them around much besides at cafes and family restaurants, so I'm the person that ends up ordering one unintentionally when if I see it on the menu.

There's a nice fat serving of ice cream in there. It's a drink you can enjoy that has the aesthetic of a dessert. The melon soda is crystal clear like a precious gem. The best part about cream soda is how the ice cream slowly melts into the drink. It's pretty fun to watch!

Galant is the kind of café where the more you get to know it, the more you start to love it. Its fans have been supporting it for many years, and even when I become a grandma in the future, I reckon it'll still be bustling all the same.

■Information

Galant (ギャラン)

Address: 6-14-4 Ueno, Taitō, Tokyo

Open: 8:00-23:00

Open all week.

Access: 2-minutes' walk from Ueno Station via the Tokyo Metro Ginza Line / 1-minutes' walk from Exit 5b at Ueno Station via the Hibiya Line

Model&Writer:Ema Tanioku

Profile:Ema and Eri Tanioku are well-known Aomoji-kei twin models that go by their duo name "EmaEri." Their twin-like fashion co-ordination and cute looks have earned them a fast growing fan base. They are officially appointed tourism ambassadors and work both in Japan and overseas to promote Harajuku culture. They work as fashion models in a wide range of areas and have appeared in fashion magazines as well as on TV, in dramas, movies and more.  Instagram:@ematanioku

Photograph:Haruka Yamamoto

Editor:Ryoichi Komaba

Design:Yuko Abe(ASOBISYSTEM)

Translation:Joshua Kitosi-Isanga

【Tokyo Stroll】The cafe that you want to visit to see someone #2 "Nanatsumori"—An Attractive Cafe in Kōenji

"A coffee lounge where you can step back in time and spend it in luxury."

Showa, retro-style coffee shops that are comfortable and echo a sense of nostalgia. I, Ema Tanioka, love going to these kinds of cafés. I hope to make you want to visit a place like this, the kind of place where you want to meet with someone.

For today's stroll, I went to Kōenji, a conveniently accessible location from the city just one stop from Shinjuku on the Chūō Line. When you think of Kōenji, you think of its plentiful second hand clothes shops and shops selling miscellaneous goods, among others, all with their individual traits. It's the kind of town where you're sure to discover something new each time you visit.

This time around, I went to "Nanatsumori," a café that has a retro look to it from the outside. It was built in Showa 53 (the year 1978). I heard that the building was originally used as a tea house.

At the front of the café is an old-fashioned shaved ice machine. I couldn't help turning it.

Upon entering, you can see the interior of the café has weathered. It has an atmosphere reminiscent of the Showa era, like you've just stepped back in time. No matter where you take a photograph in the café it will look beautiful.

There were lots of mysterious ornaments inside; I couldn't help but reach my hands out to touch everything♪

But, in the end, I didn't know what any of the things I'm holding in the photos were. How on earth do you use this stuff…?!

While pondering that, just simply gazing around the interior of the café filled me with a feeling of excitement.

>>next page
RELATED ENTRIES
POKÉMON COLORS Exhibition Opens at Matsuya Ginza

Matsuya Ginza opened its POKÉMON COLORS exhibition on July 22 which is set to run until August 11. The event is a kaleidoscope of bright colours and shapes of Pokémon and Pokémon motifs, with four activities and one installation to enjoy, as well as 160 original pieces of merchandise for fans to buy.

Logo mark

Art Deli Key Visual | ¥4,400

Pikachu Design Pouches – Assorted Pokémon Design Pouches | Small: ¥1,650 Each, Large ¥3,300 Each

Get your hands on a range of vivid and stylish Pokémon items, take photos at the many different photo spots dotted around the event, and learn the latest news about the Pokémon franchise.

Indigo dye art piece

Dangling from the first floor atrium is a 20-meter Pokémon art piece made by the dye group BUAISOU who used the traditional Japanese art of indigo dyeing to create it.

©2021 Pokémon. ©1995-2021 Nintendo/Creatures Inc./GAME FREAK inc.
ポケットモンスター・ポケモン・Pokémonは任天堂・クリーチャーズ・ゲームフリークの登録商標です。

Information

POKÉMON COLORS

Running: July 22, 2021 – August 11, 2021

Location: Matsuya Ginza – Floor 8F

Opening Hours: 10:00-20:00

Official Website: https://pokemon-colors.com/

Showa Summer Dessert Drinks Get Served Up at AWESOME STORE & CAFE IKEBUKURO in Tokyo

AWESOME STORE & CAFE IKEBUKURO is now serving up two new summer-exclusive dessert drinks inspired by the Japanese Showa era. The 'Imitation Gold' and 'Blue Light Awesome' are both available now until September 26.


Imitation Gold: ¥467 (Tax Included) / Blue Light Awesome: ¥467 (Tax Included) *both served in plastic cups (see below)

The Imitation Gold's flavour is reminiscent of an energy drink. It's topped with vanilla ice cream and colourful gummies. The Blue Light Awesome is a Blue Hawaiian syrup-infused pineapple juice topped with vanilla ice cream and a cherry. Both of these cute dessert drinks are the perfect refreshments for the summer.

Those who buy both drinks will also receive an original black straw to make the drinks even more Instagrammable. These are available while supplies last.

Some other popular must-tries

Other classics on the menu to try include soft and chewy bagels, coffees, and more.

Chocolate High | ¥396 (Tax Included)


Ebi Avocado | ¥396 (Tax Included)


Fuwa Toro Bacon Omelette | ¥396 (Tax Included)


AWESOME Organic Coffee (Hot/Iced) | From ¥217 (Tax Included)

Information

AWESOME STORE & CAFE IKEBUKURO
Opening Hours: 10:00-21:00 (Currently operating on reduced hours – closes at 20:00)
TEL: 03-5944-9754
Address: Q Plaza IKEBUKURO 1F, 1-30-3 Higashi-Ikebukuro, Toshima-ku, Tokyo
Official Website: https://www.awesomestore.jp/store/pages/cafe.aspx

renacnatta x Shiki Theatre Company to Release Banshu-Ori Weave Collection

renacnatta has teamed up with Shiki Theatre Company to release a collection of banshu-ori skirts and neckties, all of which will arrive on August 3.

renacnatta is a brand which weaves clothes using deadstock fabric from Japan and Italy and by using traditional Japanese weaving techniques.

Skirts

Banshu Mermaid Wrap Skirt – Matinee|Collaboration with Shiki Theatre Company | ¥35,200 (Tax Included)


Banshu Mermaid Wrap Skirt – Soiree|Collaboration with Shiki Theatre Company | ¥35,200 (Tax Included)


Neckties

Banshu Tie – Matinee|Collaboration with Shiki Theatre Company | ¥9,350 (Tax Included)

Banshu Tie – Soiree|Collaboration with Shiki Theatre Company | ¥9,350 (Tax Included)

Shows at the Shiki Theatre Company have been cancelled or postponed due to COVID-19. The collaboration comes to reignite the fire and excitement towards the theatre in these restrictive times. This August, the theatre is release a new and original musical which will see actors wearing clothing made using banshu-ori weave. This collection uses the same weaving technique.

Banshuori is a yarn-dyed textile made using a special production method which sees yarn dyed in advance and patterns woven by the dyed yarn. The items in the collection come in two colours: Matinee and Soiree, named after afternoon and evening theatre performances respectively. The Matinee line-up is beige and yellow while the Soiree picks are a mix of navy and black.

The one-size-fits-all skirts feature a comfy mermaid style with a fashionable silhouette perfect for going to the theatre with. They are made in such a way that they do not wrinkle when sitting down for long periods of time. The neckties too are made using banshu-ori weave for a smooth, sleek look.

Key Coffee Releases Limited Edition 1920's Blend

Key Coffee has recreated its coffee from 1920's when the cafe chain first opened. Named the Yokohama 1920 Founding Blend, the coffee was released on July 20 and will be available at their 54 branches up and down Japan until August 24, the same date when the coffee shop first opened.

Yokohama 1920 Founding Blend

A picture of Key Coffee's Yokohama branch in 1936 when it was known as Kimura Coffee

Retro Showa-style espresso con panna

Milk Brûlée

Yokohama 1920 Founding Blend recreates the same flavour of coffee that the cafe served in 1920 when it first opened in Yokohama, an area bustling with restaurants serving both Asian and Western cuisine. It uses Brazilian coffee beans at its base, a type which was circulated a lot at the time. It has a distinct sweet fragrance and goes well with milk and sugar.

Back them, coffee was a commodity yearned for by the people of Japan. After releasing their hit coffee syrup in 1921, Key Coffee began serving coffee in a way that was simple, tasty, and accessible to everyone such as drip coffee and their Noi coffee-making series. In the 1930's their products began to line the shelves of department stores as they began to develop as a spearhead for the emergence of coffee culture in Japan. They also began selling TOARCO TORAJA in 1978, a highly-regarded premium coffee. Today, the chain continues to be a hub for coffee lovers, and is creating new coffees and techniques.

Japan has been a boom in junkissa in recent years, a classic cafe which blends the atmosphere of the Meiji and Showa periods. Key Coffee is showcasing two coffees on their recipe page which capture this flair including an espresso con panna and milk brûlée.

BT21 Cafe to Open in Five Japanese Cities For Summer 2021

The BT21 Cafe is set to see its 9th run in Japan when six of them begin opening in Tokyo, Yokohama, Nagoya, Osaka, and Okinawa from July 22. The theme this time around is "MY LITTLE BUDDY."

Main Visual

Uchiwa Fans (7 Designs) / Coasters (8 Designs)

Customers who book a table in advance will receive a free fan, and if they buy a drink, a free coaster.

The Menu

KOYA Gapao Rice | ¥1,870 (Tax Included)

RJ Omelette Stew | ¥1,870 (Tax Included)

SHOOKY Loco Moco Don | ¥1,870 (Tax Included)

MANG Coconut Green Curry | ¥1,870 (Tax Included)

CHIMMY Chicken Over Rice | ¥1,870 (Tax Included)

TATA Bibimbap | ¥1,870 (Tax Included)

COOKY Sushi Bowl | ¥1,870 (Tax Included)

Parfaits (Mango/Melon/Grapefruit) | ¥1,540 (Tax Included)

Mini Parfaits | ¥550 (Tax Included)

Milk Drinks (Strawberry/Mango/Blueberry) | ¥990 (Tax Included)

Shuwa Shuwa Fruit Tea | ¥990 (Tax Included)

Fuwamoko Latte | ¥990 (Tax Included)

Original Merchandise

Pins | ¥660 (Tax Included)

Acrylic Keyrings | ¥770 (Tax Included)

Folders ¥440 (Tax Included) / Clear Pouches ¥1,320 (Tax Included)

Pin Case | ¥1,320 (Tax Included)

Stickers ¥770 (Tax Included) / Acrylic Coasters ¥1,320 (Tax Included)

Milk Caramels | ¥1,080 (Tax Included)

The menu line-up is based on Asian cuisine and features cute dishes, drinks, and dessert combined with the BT21 characters. There's also a collection of exclusive merchandise for fans to get their hands on.

©BT21

Information

BT21 Cafe 9th Run ~MY LITTLE BUDDY~


Tokyo Cafe ①

Address: TOKYO BOX cafe&space Omotesando Hills (4-12-10, Jingumae, Shibuya, Tokyo)

Running: July 22, 2021 – August 29, 2021



Tokyo Cafe ②

Address: BOX cafe&space Lumine EST (3-38-1 Shinjuku, Shinjuku-ku, Tokyo)

Running: July 22, 2021 – August 22, 2021


Yokohama Cafe

Address: Collabo_Index Lumine Yokohama (2-16-1 Takashima, Nishi-ku, Yokohama, Kanagawa)

Running: July 22, 2021 – August 29, 2021


Nagoya Cafe

Address: Address: Nagoya Box Cafe&Space (B1F LACHIC, 3-6-1 Sakae, Naka Ward, Nagoya, Aichi Prefecture)

Running: August 26, 2021 – September 26, 2021


Osaka Cafe

Address: kawara CAFE&DINING Shinsaibashi (Shinsaibashi OPA 9F, 1-4-3 Nishishinsaibashi, Chuo-ku, Osaka)

Running: July 29, 2021 – August 29, 2021

Okinawa Cafe

Address: OKINAWA BOX cafe&space (Naha OPA 2F, 1-20-1 Izumizaki, Naha, Okinawa)

Running: July 22, 2021 – August 29, 2021



Table Bookings
Price: ¥715 (Tax Included) *Includes freebie

Cafe Website: https://2021-1.box-cafe.jp/


Harry Potter and the Philosopher's Stone Themed Cafe in Japan Celebrates Film's 20th Anniversary

In celebration of the 20th anniversary of Harry Potter and the Philosopher's Stone, two Harry Potter Cafes are set to run for a limited time in Tokyo and Nagoya from July 22 and 23 respectively, serving magical food, drink, and dessert straight from the wizarding world.

Freebies for customers who dine at the cafe or spend a certain amount on merchandise

Gryffindor OBENTO BOX

Slytherin OBENTO BOX / Hufflepuff OBENTO BOX / Ravenclaw OBENTO BOX

Herbology Salad

Shepherd's Pie

Owl Post Snack Plate

HAPPEE BIRTHDAE Cake

Golden Snitch Parfait

スムージー グリフィンドール/スリザリン/ハッフルパフ/レイブンクロー/ホグワーツ特急カフェラテ

Hot Tea / Hot Coffee

Lunch Boxes / Teacup

Cafe Original Merchandise

Acrylic Magnets Design A / Folders Design A / Letter Set

Stickers Design A / Acrylic Charms

Eco Bag / Satin Pouch / Bandana Handkerchief

Mirror / Masking Tape Design A / Oversized T-Shirt

Fantastic Beasts Menu & Cafe Original Merchandise

Niffler Orange Tart

Magical Trunk Cake

Stickers Design B / Acrylic Magnets Design B / Folders Design B / Masking Tape Design B

The film series adaptation of J.K. Rowling's Harry Potter fantasy series ran from 2001-2011 with eight movie total. Fans gather together to celebrate 20 years of movie magic and the release of the internationally beloved series' first entry, Harry Potter and the Philosopher's Stone.

WIZARDING WORLD characters, names, and related indicia are © & ™ Warner Bros.
Entertainment Inc. Publishing Rights © JKR. (s21)

Information

Harry Potter Cafe

Tokyo Cafe

Running: July 22, 2021 – September 12, 2021

Location: OMOTESANDO BOX cafe&space

Address: Pine Under Flat B1F, 5-13-2 Jingumae, Shibuya, Tokyo

Nagoya Cafe


Running: July 23, 2021 – August 22, 2021

Location: NAGOYA BOX cafe&space

Address: LACHIC


Booking Price: ¥715 (Tax Included) *Comes with freebie
Bookings/Details: https://boxcafe-hp.jp/

Japan's Snoopy Museum Reveals New Merchandise, Workshops, and More

The Snoopy Museum has announced a sports themed event which is set to run from July 17, 2021 to January 10, 2022. Fans of the Peanuts series can look forward to new merchandise, workshops, and a themed menu at the PEANUTS Cafe.

Joe Cool 50th Anniversary Merchandise

Othello

Make Your Own PEANUTS | Running: August 5, 2021 – August 9, 2021

Snoopy Brass Charm Workshop | Running: August 12, 2021 – August 16, 2021

Charlie Brown's Pitcher Mound Hamburger

Snoopy's Longboard Surf Pizza Toast

KLOP! Baseball Maritozzo

 GOOD GRIEF! Sliding Smoothie

Inside the PEANUTS Cafe Snoopy Museum

PEANUTS Cafe Original T-Shirts – "Lifting"

PEANUTS Cafe Cooler Bag

Official App – "Find Snoopy! by Snoopy Museum Tokyo"

At the Snoopy Museum's shop, the Browns' Store, which sells exclusive Snoopy merchandise, they will sell a collection of items in celebration of Joe Cool's 50th anniversary such as a cushion and pin, an original Othello game set, and more.

Inside the museum's workshop room, fans will be able to make their very own Joe Cool design Peanuts tote bag, as well as engrave their own necklace, keying, or tag.

At the Snoopy Museum branch of PEANUTS Cafe, they'll serve up a sports themed menu with food and drink inspired by the characters from the Peanuts comic strip. The cafe will even have its own exclusive merchandise, and a new official app called "Find Snoopy!" will be released.

(C) Peanuts Worldwide LLC(短縮形 (C) Peanuts)

Information

Snoopy Museum Sports Event

Japanese Event Title: 企画展「スポーツは人生のともだち」

Running: July 17, 2021 – January 10, 2022

Time: 10:00-18:00 (Last Entries 17:30)

Closed: August 17, 2021 / January 1, 2022

Official Website: http://www.peanutscafe.jp/snoopymuseum-tokyo/

eXcafe Gion, a cafe in Gion, Kyoto is now open for business on weekdays again.

eXcafe Gion

Cat-shaped bread by Neko Neko Shokupan

The cafe is located near Tatsumihashi

eXcafe's famous Hoku Hoku Dango Set

eXcafe Gion opened in November 2019 following the opening of the popular eXcafe Arashiyama. Gion is a major sightseeing spot of Kyoto for its fusion of traditional and contemporary Kyoto culture. One of its longest and most quintessential traditions of that of Chayamachi, also called Hanamachi, where maiko and geisha live and work.

eXcafe Gion is situated near Tatsumihashi where the relaxing sounds of the Shirakawa River can be heard. The cafe incorporates elements of a traditional Japanese teahouse with tatami flooring and wooden structures, ready to welcome guests with open arms who have been strolling around to see the historical architecture of the local area.

The summer season sees locals and sightseers dressed in yukata, the sound of geta shoes clacking on the floor. Summertime is also when the cafe serves their famous Hoku Hoku Dango, a must-try if visiting Gion.

Hololive VTuber Sakura Miko Gets Themed Cafe in Akihabara to Celebrate 3rd Anniversary

In celebration of her 3rd anniversary, Hololive virtual YouTuber Sakura Miko is set to collaborate with STELLAMAP Cafe (located on floor 7F of Sofmap Tokyo AKIBA ④ Store) from July 29.

Food Menu

Drinks Menu / Latte Art

Merchandise

Sakura Miko to serve as the cafe manager

Sakura Miko will attend virtually as the cafe manager via a monitor. See her work hours below:



1. August 7, 2021 @ 11:00 / 12:30 / 14:00

2. August 8, 2021 @ 15:30 / 17:00 / 18:30

3. August 14, 2021 @ 11:00 / 12:30 / 14:00

4. August 15, 2021 @ 15:30 / 17:00 / 18:30


Table bookings run through a lottery system

Book for a day when Sakura Miko is attending
Booking Window: July 5, 2021 – July 9, 2021

Winner Announcements: July 12, 2021

Book for a day when Sakura Miko isn't attending
Booking Window: July 13, 2021 – July 16, 2021

Winner Announcements: July 20, 2021

Sakura Miko fans can enjoy a range of dishes, drinks, and desserts based on the VTuber, receive a free coaster and lunch mat when ordering from the menu, and get their hands on official and exclusive merchandise.

ⓒ2016 COVER Corp.
ⓒCopyright 2019 STELLAMAP CAFE

Minerva Cafe to Open at The Promised Neverland Jailbreak Arc Museum Exhibition

Roppongi Museum is set to open its The Promised Neverland exhibition on July 17 where it will run until December 30. The exhibition covers the Grace Field House Jailbreak Arc, where guests can feel like they're really walking through the house.

Cafe Logo


As part of the exhibition, a themed cafe called the Minerva Cafe will open inside the museum serving food and drink inspired by the anime series.

BLT Sandwich & Salmon Cream Cheese | ¥1,740 (Tax Included)

Minerva & Phil's Chocolate Banana Pancakes | ¥1,600 (Tax Included)

The Minerva Cafe menu includes the mysterious William Minerva who Emma, Norman, and Ray are pursuing, chocolate banana pancakes with Minerva and Phil designs, and more, including a range drinks.

Latte Art | ¥770 (Tax Included)

Isabella's Brown Sugar Milk Tea | ¥540 (Tax Included)

The Emma, Norman, and Ray lattes also come with a coaster you can take home, and there's a special Isabella milk tea you can buy at THE ALLEY, a food truck at Roppongi Musuem that's popular for its Taiwanese milk teas.

©白井カイウ・出水ぽすか/集英社・約束のネバーランド製作委員会

Information

The Promised Neverland Grace Field House Jailbreak Arc Exhibition

​Running: July 17, 2021 – December 30, 2021

Venue: Roppongi Museum
Address: 5-6-20 Roppongi, Minato-ku, Tokyo

Opening Hours: 10:00-18:00 (Until 20:00 on Saturdays)

Tickets: On sale June 30, 2021

Event Page: https://neverland.taiken-museum.com

Legend of the Galactic Heroes Anime Themed Cafe Opens in Tokyo

DINING CAFE ISERLOHN FORTRESS is a cafe themed on the anime adaptation Yoshiki Tanaka's science fiction novel masterpiece series Legend of the Galactic Heroes which is now open for a limited time until August 31. It's based specifically on Oskar Reuental and Wolfgang Mittermeyer, both known as the "Twin Pillars," from the Legend of the Galactic Heroes: The New Thesis series.

The New Thesis Twin Pillars Muddler | ¥990 (Tax Included)

Suzuki's Oven Baked Twin Pillars | ¥1,760 (Tax Included)

Twin Pillars Sworn Friend Dolce | ¥1,320 (Tax Included)

Drinks Menu | Serving: June 3, 2021 – July 4, 2021

Tristan Mojito | ¥1,045 (Tax Included) *Non-alcoholic option available

Beowulf's Mojito | ¥1,045 (Tax Included) *Non-alcoholic option available

Drinks Menu | Serving: July 8, 2021 – August 1, 2021

Twin Pillars Gin & Tonic | ¥1,045 (Tax Included) *Non-alcoholic option available

Twin Pillars Cider Sidecar | ¥1,045 (Tax Included) *Non-alcoholic option available

The cafe is open as part of an event centred on Legend of the Galactic Heroes. The event returns again this year, with a menu of drinks and dishes inspired by the characters, merchandise, and more.

Information

DINING CAFE ISERLOHN FORTRESS

Running: June 3, 2021 – August 31, 2021

Address: 2-1-9 Ueno, Taito-ku, Tokyo

Opening Hours: [Weekdays] 17:30-20:00 / [Weekends & Holidays] 11:30-19:00

TEL: 03-3834-4430

Official Website: http://gineiden-iserlohn-fortress.com

Vegetable Shaved Ice Arrives On Honjitsuno's Menu For Summer

Honjitsuno is a cafe based in Takeyacho, Kyoto, which introduced its new vegetable shaved ice desserts to the menu on July 1. Every month will see a different vegetable used.

Strawberry & Fruit Tomato | ¥1,600 (Tax Included)

Made with strawberry sauce, fruit tomato jam, and milk pudding. Hidden inside is soft cheesecake.

Peach & Corn | ¥1,600 (Tax Included)

Made with peach sauce, sweetcorn, custard cream, and caramel sauce. You can really taste the original sweet taste of the corn.

Matcha & Edamame | ¥1,600 (Tax Included)

Made with Mashed green soybeans, seaweed salted red bean paste, mango, and matcha sauce.

All of the sauces and jams are homemade. Combining vegetables with fruits on shaved ice creates a whole new delicious eating experience.

Information

Honjitsuno
Address: 371 Sashimonoyachō, Nakagyo Ward, Kyoto, 604-0095, Japan

Opening Hours: 9:00-18:00 (Currently operating on reduced hours)

No Fixed Holidays

TEL: 075-746-2995
Official Website: http://www.bread-espresso.jp/